21 Best Summer Wedding Suits to Keep You Looking and Feeling Cool
We've found the holy grail of men's tailoring: summer wedding suits that will have you looking and feeling cool, from slim fit to light linen
We have included third party products to help you navigate and enjoy life's biggest moments. Purchases made through links on this page may earn us a commission.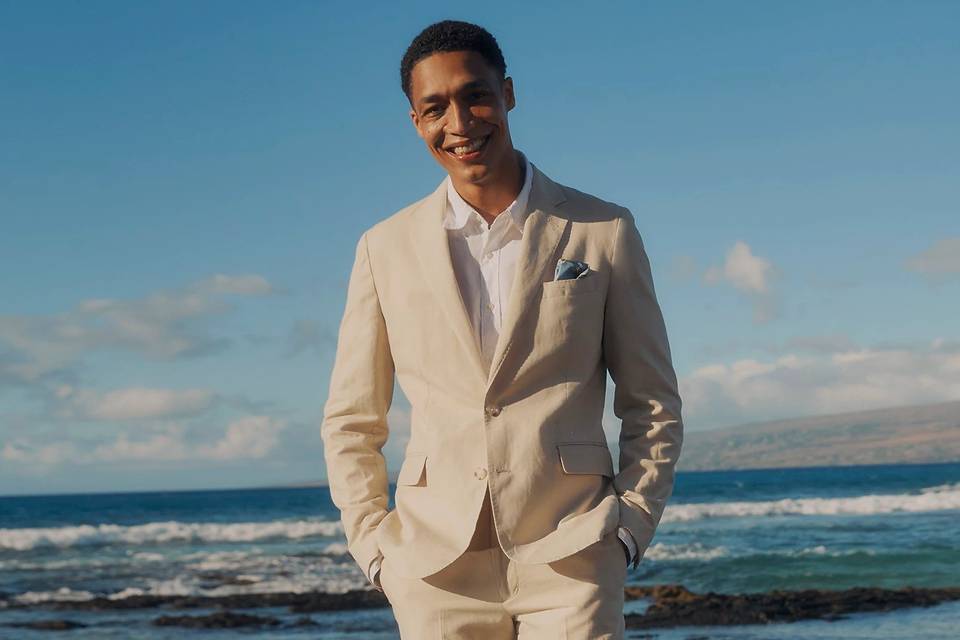 It can be a real challenge to find a summer wedding suit. Obviously, you want to look sharp - as either groom or guest, you know you're going to end up in a million photos, not to mention Insta feeds. But you also need to stay cool in summer's higher temperatures.
Well, challenge accepted. We've found not one but 21 men's summer suits for a wedding, all of which will leave you looking and feeling impeccable, whatever the weather. We've covered a range of wedding dress codes, whether smart and formal or laidback beach.
We've also referenced different styles, from fashion-led slim cuts to classic men's tailoring. All you have to do is shop our edit and choose your look - then start working on that groom speech if you're the one getting married!
21 Best Men's Summer Wedding Suits
1. Tailored Fit Taupe Check Linen Suit - £169, £80 & £80, Moss Bros.
From Moss Bros' super stylish linen collection, this slim-fit suit is a sophisticated look for a summer wedding - we're already picturing Pimm's on the lawn with a string quartet playing in the background.
2. Beige Herringbone Linen Three-Piece Italian Suit - £499, Hawkes & Curtis
This herringbone-weave linen suit is pure summer sophistication, with a nicely tailored silhouette. It's available in other colours, but the beige feels so contemporary.
3. Single-Breasted Two-Piece Suit - £2,050, Dolce & Gabbana at Farfetch
If you're looking to invest in some high quality tailoring, Dolce & Gabbana should be your first port of call. This lightweight single-breasted suit is a classic you'll be wearing again and again after the wedding.
4. Super Slim-Fit Suit Blazer & Trousers - £119.99 & £59.99, Mango
Mango never fail to impress with their affordable and chic men's summer wedding suits - this pastel blue get-up will have you looking and feeling fresh. If you're looking for a non-binary wedding outfit, this could be a great shout.
5. Regent Fit Cotton Suit Jacket & Trousers - Approx. £570 & £160, Brooks Brothers
The Regent fit suit from Brooks Brothers is best-selling for a reason - featuring a two-button front and constructed from stretch cotton twill woven in Italy, this relaxed style will naturally drape and look effortlessly cool.
READ MORE: Groom Speech Jokes That'll Have Your Guests in Stitches
6. Slim Fit Navy Linen Suit - £129, £70 & £70, Moss Bros.
This Moss Bros suit proves that darker shades can look effortlessly dapper in summer - especially when paired with a tropical print shirt. It's made from linen, to help you keep cool.
7. Super Slim-Fit Checked Tailored Blazer & Trousers - £119.99 & £59.99, Mango
Give a grey suit an upgrade by opting for one with a subtle check print. This suit from Mango is tailored to perfection so we can't quite believe you can nab it for less than £200.
8. Oversized Linen-Muslin Suit Jacket & Trousers - £438 & £320, Albus Lumen at Matches Fashion
An 'unstructured suit' - with minimal lining and shoulder padding - is just the thing for a summer wedding, as the style is lightweight but still smart. This Albus Lumen version is a perfect example. It's made from a muslin and linen-blend fabric, so is ideal for a beach wedding, and certainly a match for a typical British summer.
9. Fairway Jacket & Fishtail Trousers - £369 & £189, Mr Porter X Oliver Spencer
Oliver Spencer is the tailoring brand to know for modern classics, like this jacket and loose-fitting trousers. It's less formal than a traditional suit, but a chic option for a laidback summer wedding.
10. Wedding Crosshatch Skinny Suit - £105, £40 & £40, ASOS
ASOS's super-skinny suits are a high street favourite in fashion circles - like this stone cross-hatch slim-fit suit. It's a stylish option at a great price.
READ MORE: The Most Romantic Wedding Gifts for the Groom
11. Light Grey Havana Suit - £547, Suit Supply
Tailored from a breathable cotton-linen blend by Italy's Di Sondrio mill, this light grey Havana suit from Suit Supply is sharp and sophisticated. It's a lovely alternative to white or cream.
12. Double Breasted Linen Blazer & Trousers - £378 & £178, Reiss
If you are on the hunt for an white summer wedding suit, this Reiss option is perfection and it's a great price. Paired with a pastel shirt, loafers and a pair of sunglasses and you have yourself a wedding-ready look.
13. Royal Blue Italian Cotton Linen Slim Fit Suit - £349, Hawkes & Curtis
This exquisite royal blue summer wedding suit is a fun take on a traditional navy hue. To ensure the best fit, the trousers can be taken to a Hawkes & Curtis store for free alterations.
14.Slim-Fit Unstructured Suit Jacket & Trousers - £221 & £143, J. Crew
J. Crew is a high street hero when it comes to men's tailoring, as this Irish-inflected suit shows. It's made from a linen and cotton blend, and the cream colour feels fresh without tipping over into bright-white Man From Del Monte territory.
15. Single-Breasted Suit - £2,331, Brunello Cucinelli at Farfetch
Connoisseurs of luxe tailoring revere Italian brand Brunoello Cucinelli for the impeccable cuts and fine fabric. This single-breasted suit is pure sophistication, and the hemp linen blend should hold up well in higher temperatures.
READ MORE: 22 Stylish Groom Suit Ideas
16. Regent Fit Jacket & Trousers - Approx. £490 & £160, Brooks Brothers
Black tie needn't make you overheat in summer - just make sure you choose a suit in a breathable fabric, like this Brooks Brothers piece, which is crafted using specially designed cool technology.
17. Slim Fit Suit - £164, Marks and Spencer
To ensure comfort throughout your big day, consider opting for a Marks and Spencer wedding suit. Classic, cool and a real crowd-pleaser, this slim-fit suit comes in a gorgeous blue shade that looks seriously fresh.
18. Light Brown Havana Suit - £449, Suit Supply
Everything about the Havana suit exudes laidback cool, from the slim-fitting shape to the perfectly judged stripes. It's crafted from a breathable cotton, so would be perfect at a relaxed summer wedding - just dress it up a bit with a shirt and loafers (no socks, please).
19. Single Breasted Cotton-Linen Blazer & Trousers - £298 & £148, Reiss
Having a rustic barn wedding? A light brown suit like this one from Reiss will fit the setting wonderfully. The single-breasted silhouette gives a modern edge, yet the colourway keeps it classic.
20. Ludlow Slim-Fit Suit Jacket & Trousers - £333 & £177, J. Crew
J.Crew's Ludlow suit was a game-changer when first released, and over the years it's appeared in several different versions - like this laidback cotton version. It has an impeccable fit and is ideal for a relaxed yet stylish wedding.
20. Super Skinny Stone Suit - £62, £25 & £25, ASOS
This ASOS stone suit is a sophisticated option for either a city or country house wedding - and at a rather bargainous price point that you'll be hard-pressed to find anywhere else.
What Suit Can You Wear to a Summer Wedding?
1. Something Blue
Blue suits are a popular choice for couples who want to have a contemporary look as it works well with a number of colour palettes and has a fresh, youthful feel. If you choose to buy the suits for the groomsmen, blue suits are a great choice as they can be worn at a variety of occasions time and time again.
2. Add Accessories
What you choose to go with your wedding suit can help make it more summery. We love the idea of a tropical tie if you're thinking on having a destination wedding. Or if that's not an option, a floral shirt looks dapper at a country house wedding venue. If you have a statement pocket square, consider switching the buttonhole to the other lapel so you can show both of them off without obscuring any details.
3. Lighten Up
On a hot summer's day, wearing a dark colour can make you feel even hotter as it absorbs heat. Opt for a lighter coloured wedding suit to help reflect some of the sun's rays and keep yourself looking and feeling cool. A light brown suit is another way to add a twist to the traditional dark suit, if beige or white is too light for you.
4. Seek Out Some Shades
A decent pair of shades are the ultimate accessories for the groom at a summer wedding. Why not treat the groom and groomsmen to some fancy sunglasses as a pre-wedding groomsmen gift? It'll make for an amazing photo opportunity, or, if you're looking for an unusual wedding favour idea, treat everyone to some sunglasses.
5. Lose the Jacket
If the idea of wearing a full on three-piece suit is bringing you out in a sweat, well, that's totally understandable. Why not lose the jacket but pick a waistcoat for a look that's still smart but a bit cooler? Consider treating the groomsmen to some cufflinks as a groomsmen thank you gift as their shirt sleeves will be on show. Swapping the tie for a bowtie is a good way to make the look feel more formal.
6. Consider a Kilt
If either of you have Scottish heritage, why not choose to honour it and go for a kilt? It's a seriously smart formal look, but the kilt allows for a breeze. The look is so versatile and you can accessorise to match any colour scheme .You can hire wedding kilts from a number of wedding suit shops, or why not invest in one for the groom for a timeless formal look he can wear to a variety of locations.
What Colour Suit For a Summer Wedding?
Traditionally, a black or navy suit is worn for a wedding but if you're getting hitched in the warmer months we love the idea of wearing a lighter colour, such as light grey, blue, beige and cream. Not only will it keep you cool, it's an on-trend look for contemporary couples.
Brian Brick, CEO of Moss Bros suggests that, "if it's going to be hot, we'd recommend our Moss London slim fit lilac linen suit. But if you're not up for a bolder colour, we've got some great options in more neutral tones, as well as pastel blue, sage green and navy for a more formal setting."
Can You Wear a Black suit to a Summer Wedding?
"If the wedding is formal or if the dress code is black-tie, you'll want to go for a black suit, or even a tuxedo," says Brian.
Outside of a black-tie dress code? Wearing a black suit to a summer wedding does run the risk of getting too hot, especially if the ceremony or reception is alfresco, but if you're keen to wear a black suit opt for breathable fabrics such as linen or Brian recommends: "lightening it up a bit with a pastel or patterned shirt, a colour tie, and warm-toned shoes."
Can You Wear a Tweed Suit to a Summer Wedding?
"Absolutely. Tweed truly is a year-round, versatile fabric, so tweed suit makes a great investment you'll wear season after season," says Brian.
"At Moss, our tweed suits offer a more modern take on the timeless textile and this season, we've given tweed a summery spin in light, neutral tones, as well as more colourful ones like pale pink and light blue. If you're the groom, go for a three-piece to dress it up, and if you're a groomsman or guest, keep it simple with a tone-on-tone shirt or a tie with a subtle pattern."
You'll also need to think about what your ushers are going to wear - and what you actually want them to do on the day. Check out our guide to the usher's role guide to help you decide