Pink Bridesmaid Dresses: 37 Pretty Designs
Take a look at 37 of our favourite pink bridesmaid dresses including everything from beautiful blush tones to vibrant fuchsia shades
We have included third party products to help you navigate and enjoy life's biggest moments. Purchases made through links on this page may earn us a commission.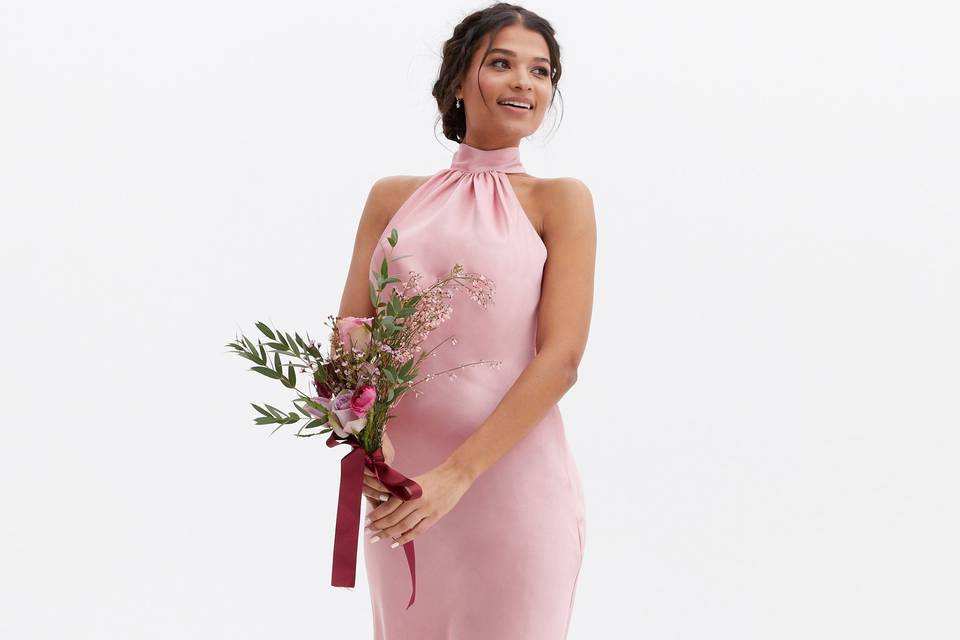 Pink is synonymous with love and romance making it a really fitting colour to incorporate into your big day and what better way to do so than by decking your besties out in pink bridesmaid dresses.
There are so many different shades to choose from - be it a pretty pastel hue, dusky rose or vibrant fuchsia - so you'll find a flattering style for all skin tones. Or, if you can't choose (and we wouldn't blame you), varying shades of pink work beautifully together if you are considering mix and match bridesmaid dresses.
Concerned that pink bridesmaid dresses might look too sugary sweet? Think again! This palette can be made seriously edgy with modern silhouettes, textured fabric and bold pops of colour. See for yourself with our edit of the 37 best pink bridesmaid dresses to shop now.
Pink Bridesmaid Dresses With Sleeves
Blush Pink Bridesmaid Dresses
1. Henriette Flower Maxi Dress - £295, Phase Eight
3D floral embellishments will take your pink bridesmaid dresses to a whole new level as showcased by Phase Eight's Henriette gown. We adore how they trail gracefully from the bodice down the pleats of the tulle skirt.
2. Plunge Embellished Waist Maxi Dress - £135, Oasis
A little bit of sparkle can make a big difference to the overall look of your bridesmaid dresses - we adore this Oasis maxi dress with its flowing fabric and glittering waist belt.
3. Tie Strap Bias Cut Maxi Dress - £105, Oasis
Another winner from Oasis is this blush pink bridesmaid dress. The simple silhouette will suit all body types, as will the soft rose colouring.
4. Seren Bodice Ankle Gown - £250, Needle & Thread
This Needle & Thread gown looks like its been plucked straight from the pages of a fairy tale so it'll complement a princess wedding dress perfectly.
5. Emma Ditsy Bodice Ankle Gown - £250, Needle & Thread
Florals, tulle and pink are a match made in heaven - the Emma gown from Needle & Thread features an intricately embellished bodice and subtle polka dot patterned tulle skirt that we can't get enough of.
READ MORE: 25 Satin Bridesmaid Dresses
6. Bardot Maxi Bridesmaid Dress - £75, Little Mistress
Your bridesmaids will feel utterly angelic in this Little Mistress off the shoulder number. We love the contrast between the fitted skirt and the delicate, draping sleeves.
7. Corset Detail Bridesmaid Dress - £45, Pretty Little Thing
For celebrity approved style, look to the pink version of the blue bridesmaid dress Molly-Mae wore to her mum's wedding. The corset detail on this halter neck beauty will define curves and create a beautiful silhouette.
8. Cut Out Sequin Bodice Maxi Dress - £179, Coast
The cut out detail on this sequin Coast bridesmaid dress adds an edgy touch to the otherwise pretty style. Pair with metallic heels like this model has done for a luxe finish.
9. Artisan Summer Beaded Floral Dress - £170, Monsoon
At first glance this soft pink bridesmaid dress from Monsoon looks pretty simple but upon further inspection you'll notice intricate floral beading that elevates the look to heavenly levels. Available in sizes 6 - 22, your whole crew will feel comfortable in this beauty.
10. Pleated Cape Bridesmaid Dress - £35, Boohoo
Boohoo's new collection of bridesmaid dresses has us swooning and that was before we clocked the price tag! For less than £40 you can nab this stunning pleated maxi dress that features a unique cape.
READ MORE: 30 of the Best Bridal Capes
11. Pleated Belted Maxi Dress - £45, Boohoo
We also adore this rose pink bridesmaid dress from Boohoo thanks to the elegant pleats and statement satin bow. It's a traditional design with a few modern elements like that sultry V-neck cut out.
12. Embellished Kimono Bridesmaid Dress - £100, Boohoo
Specifically designed to fit those who are under 5'3, Boohoo's petite beaded bridesmaid dress is breathtaking. The quality and level of embellishments that adorn the bodice mean the £100 price tag is a steal!
13. V Neck Bridesmaid Dress - £43.99, Ever Pretty
Available in sizes 8 - 30, Ever Pretty design gorgeous bridesmaid dresses that will keep all your besties happy. This pink gown is chic, elegant and will suit all kinds of weddings.
14. Bridesmaid Pearl Embellished Dress - £100, ASOS
You'd be mistaken for thinking this pearl embellished pink bridesmaid dress was by a high-end designer - we found this beauty on ASOS! From the delicate angel sleeves to the floral motifs and crotchet bodice, it doesn't scrimp on details.
15. Bridesmaid Fallen Shoulder Maxi Dress - £68, ASOS
For a unique pink bridesmaid dress, consider this fallen shoulder design from ASOS. It has a neckline that's not often seen but one we're obsessed with. Pair with gold jewellery for a glamourous touch.
16. Bridesmaid Cami Pleated Maxi Dress - £68, ASOS
Tulle bridesmaid dresses are a really trendy and popular choice - the lightweight fabric creates an ethereal effect that we reckon would be spot on if you're having a woodland wedding. Check out this ASOS dress if you want to get on board!
Mauve Bridesmaid Dresses
17. One Shoulder Bodycon Dress - £78, Chi Chi London
If you're having a glamorous wedding day, this Chi Chi London dress could be the perfect style for your maids. It's available in four other gorgeous shades but we definitely have a soft spot for this mauve hue.
18. Off-Shoulder Maxi Dress - £88, Chi Chi London
If you want to keep your bridesmaid dresses traditional and timeless, look to this bardot pink bridesmaid dress from Chi Chi London. It's a fail-safe option that you won't look back on and regret.
19. Sequin Wrap Midi Dress - £115, Quiz
Your bridesmaids will shimmer and shine down the aisle if you opt for this glittery number from Quiz. It's giving us vintage vibes with a touch of contemporary glamour.
20. Tiered Ruffle Skirt Midi Dress - £79, Coast
Upgrade your tulle bridesmaid dresses with this frothy frilled dress from Coast. The shorter skirt length and strapless style stops the look from being too much.
READ MORE: 24 Glittering Gold Bridesmaid Dresses
21. Tracy Twist Maxi Dress - £99, Monsoon
The Tracy twist dress from Monsoon can be tied in 15 different styles making it the perfect choice for a bridesmaid dress! From a one shoulder strap, to a halter neck, the versatile design offers a look to suit everyone.
22. Knit Crepe One Shoulder Dress - £135, Adrianna Papell at Debenhams
If you're planning a winter wedding, ensure your bridesmaids are kept warm and comfortable by opting for bridesmaid dresses made from thicker fabric like this dress by Adrianna Papell that is crafted from knit crepe.
Satin Pink Bridesmaid Dresses
23. Claudia Dress - £225, Ghost
Inspired by the 1930s, the Claudia dress from Ghost is elegantly crafted from satin and oozes old Hollywood glamour. If you're planning a vintage wedding, look no further!
24. Ruched Satin Maxi Dress - £90, Chi Chi London
Your bridesmaids will certainly make a statement if they step out in this fabulous fuchsia dress from Chi Chi London. The classic cut will suit all body types and can be worn time and time again in the summer months.
25. Satin Cowl Neck Maxi Dress - £42, River Island
Minimalistic lovers, we might have just found your dream pink bridesmaid dress. Featuring a sexy deep neckline and a modern cross over back, your girls will look amazing from all angles.
READ MORE: 33 Elegant Lace Bridesmaid Dresses
26. Esmee Maxi Bridesmaid Dress - £85, Pretty Lavish
Pretty Lavish bridesmaid dresses are spectacular and we love the subtle wash of pink the Esmee gown will give to your big day. It's understated and elegant in the best possible way.
27. Satin Flutter Button Front Dress - £36.99, New Look
Coming up at less than £40 per dress, can you really go wrong with this pretty pink bridesmaid dress from New Look? The buttons and bodice add a vintage feel to the overall look but the leg split keeps things fresh.
28. Satin Halter Neck Dress - £33.99, New Look
We also adore this halter neck dress from New Look! It's a seriously stylish cut which is made even more glamorous with the addition of satin fabric. We're predicted a sell-out so you might want to get this in your basket pronto...
29. Full Skirted Satin Maxi Dress - £189, Coast
If you're planning a formal celebration, you might want to dress your bridesmaids in something a little more structured. This satin dress from Coast features a full skirt that flows romantically to the floor.
30. Satin Crepe Gown - £199, Adrianna Papell at Debenhams
Combining both satin and crepe fabric, this dress by Adrianna Papell will gracefully drape across your bridesmaid's figures in the most flattering way. We adore the dusty pink colour that'll suit all skin tones.
READ MORE: 28 Affordable Bridesmaid Jewellery Gifts
31. Bridesmaid Satin Kimono Dress - £95, ASOS
The beautiful thing about satin is how it shimmers and this ASOS bridesmaid dress certainly has a lot of shine! It will look amazing when under fairy lights or when you're hitting the dance floor with your ladies.
Short Pink Bridesmaid Dresses
32. Julissa Frill Wrap Dress - £120, Phase Eight
Short bridesmaid dresses can still be modest - take the Julissa dress from Phase Eight. The wrap skirt style will flatter all figures and allows your bridesmaids to choose how much skin they want to have on show.
33. Klarika Dress - £225, Ted Baker
There is a only a hint of pink in the Klarika dress from Ted Baker so it's ideal if you aren't a fan of vibrant shades. It'll pair perfectly next to a white wedding dress, or if you're having pale wedding flowers.
34. One Shoulder Ruched Midi Dress - £50, River Island
On the flip side, this hot pink one shoulder dress from River Island will make a bold statement. The colour clashing orange heels might be a step too far on your wedding day but if you're getting married at a tropical destination we don't see why not!
35. Floral Embroidered Midi Dress - £69.99, Quiz
Quiz have some lovely high street bridesmaid dress options such as this short floral frock. The embroidered bodice pairs wonderfully with the tulle skirt - it's simply asking to be worn to a spring wedding.
READ MORE: 15 Things You Should Never Say to a Bridesmaid
Pink Bridesmaid Dresses With Sleeves
36. Alecia Pleated Maxi Dress - £189, Phase Eight
Pleated for plenty of movement, your girls will have no excuse for not heading to the dance floor in the Alecia dress from Phase Eight. You can even buy the matching clutch bag!
37. Ruched Maxi Dress - £42, River Island
Ruching is a really flattering addition to a bridesmaid dress and this River Island option has nailed it. Pair with white heels, silver jewellery and natural makeup.
Show your besties how much you appreciate them with these beautiful bridesmaid gifts for all budgets