We bet, like us, you can't wait for the end of restrictions on weddings.
We're looking forward to a time when guest limits are a thing of the past; when we can all head to the dance floor together; when - we dare to dream - we no longer have to carry a face mask.
Talking about keeping Covid wedding trends, therefore, may seem odd. Why would we want to keep anything from this turbulent period of restrictions?
The point is that some couples have been getting married since March 2020 - and we've been blown away by their creativity. They, and their suppliers, have come up with brilliant ideas to keep their weddings Covid-compliant while really elevating the day.
Some of these ideas are so smart, in fact, that we think they have real potential for weddings of the future. We're talking about the kind of menu, décor and planning trends that will help make a celebration magical, even when restrictions are a distant memory.
Here are the Covid wedding trends we fully expect to see continue - maybe for years to come.
READ MORE
1. Mindful Guest Lists
We've all heard the predictions that post-pandemic weddings will be smaller. But we are confident that if so, it's only in the short term. After all, large weddings are an important part of many different cultures.
"Some couples have been burnt so many times, so it might be they continue with a smaller guest list just to ensure they will get married this year," says planner Ashleigh Li of Pink Palms Weddings & Events.
What we are expecting, however, is to see couples continuing the restrictions-era mindset of considering more carefully who they want at their wedding - as Ashleigh puts it, thinking more intentionally about their wedding guest list.
So, big weddings will be back, but couples will just spend a bit more time deciding who they really and truly want to have with them on that special day, prioritising people they care about over obligation invitations.
"Weddings should not be about returning the favour of that distant relative who invited you to their wedding, or that co-worker who will make the office environment hell if they are not included," says Mark Niemierko, founder of luxury events company Niemierko.
"I would say confidently that every past couple of mine has made a reference to someone on their guest list they 'had to invite'. The pandemic did away with that, without causing any uninvited guests' offence. Let's keep that trend."
2. Maximalist Micro Weddings
While big weddings will be making a comeback, there will simultaneously be an attitude change among couples who were always going to have a smaller wedding - the pandemic has opened people's eyes to what can actually be achieved at a micro celebration.
"With a smaller guest count you can afford the luxuries and elevate each guest's experience in many ways that you may not have been able to with a larger celebration," says Cherelle Joseph, founder of Perfectly Planned 4 You. "Covid or no Covid, smaller weddings are the perfect celebration full of joy."
Planner Jo Pyman of One Curious Dream agrees.
"Hosting a micro wedding means you can embrace 'quality over quantity', and while some couples will still opt for a smaller guest list, they'll want to focus on spoiling their loved ones in a bigger way.
"For example, traditional three-course wedding breakfasts are being replaced with 8-10 course tasting menus, wines and Champagne are being upgraded to premium options, styling is bigger and bolder, and a focus on a magical guest experience is key."
You'll particular notice a change in the décor at smaller weddings. The idea that there's no point in decorating if you have an intimate guest list is pretty much over.
"Go to town on lining the registry's steps with blooms, have a tablescape so detailed it'll take an army to do the washing up, use that extra budget to have hand-illustrated menus and still enough to keep a full bar flowing," says Mark.
"The bespoke detail and creativity within the wedding industry that has been bubbling away, will be flowing from our brains, resulting in celebrations like you have never seen before."
READ MORE: What Is a Micro Wedding and Is It Right For You?
3. Personalised Weddings
Personalisation was a huge wedding influence before the pandemic. You might have expected all the restrictions to have made couples less interested in personalising their day - in fact, many of the Covid weddings we've seen have included even more meaningful touches, from individual thank-you notes on guests' place settings to menus featuring elevated versions of the couples' childhood favourite dishes.
This focus on uniqueness is something we predict will stick around - and we're not alone!
"2022 couples will be more focused on ensuring that their wedding reflects them, the life they are about to embark on and the wedding they want to look back on in years to come," says Cherelle. "2022 couples will feel less pressured by what a wedding 'should' look like, and draw inspiration from their own personality and relationship.
"I also think for couples who are not having a religious ceremony, they will ask a friend or family member to be their officiant."
The idea of personalisation has also started influencing wedding fashion on a greater scale.
"Another shift is the desire to wear vintage pieces - even Princess Beatrice wore a beautiful dress loaned by her grandmother, Queen Elizabeth," says Jo.
"Again, couples are keen to select elements with meaning, from the clothing they wear to the food they eat, creating a truly personal, unique, authentic experience.
"Couples will continue to choose dry-hire spaces (including marquee and tipi weddings) that they can truly personalise and inject their own personalities into the day."
4. The Minimony
2020 and the first part of 2021 have seen a necessary rise in 'minimonies' - that is, having a small ceremony and mini celebration on one day, then a larger reception at a later date. This is definitely something we can see sticking around.
"Splitting the ceremony and the reception I think is such a great idea for some couples," says Ashleigh. "A wedding ceremony is so intimate and heartfelt, and when you think about it, it's a little bizarre that we have a relatively big audience to witness something that's so special.
"Smaller ceremony numbers definitely suit some couples best if nerves are an issue, and I'd really encourage them to still think about splitting up their ceremony and reception on different days long past Covid.
"Not everyone feels comfortable, confident or wants the whole guest list to hear their future promises and vows to their partner, and you can understand why!"
You could also consider a 'sequel wedding' - an intimate ceremony with your loved ones, followed by a larger ceremony and reception.
5. Live-Streamed Weddings
Many venues invested in live-streaming technology during the pandemic, and some videographers started offering the service, to make it easier than ever to share weddings with absent guests in real time. This is a trend that's likely to turn into a wedding staple, as there will always be reasons some guests can't attend, however much they want to.
"From readings at the ceremony via Zoom to joining for speeches at the wedding breakfast, loved ones who have been prevented from physically attending (either through restricted numbers or international travel bans) have still been able to perform a meaningful role," says Jo.
"I don't think technology was ever used to this extent before the pandemic, and I think it's very likely that this will continue as we move forwards."
READ MORE: How to Live Stream Your Wedding: Our 5 Top Tips
6. Elevated Absent Guest Treats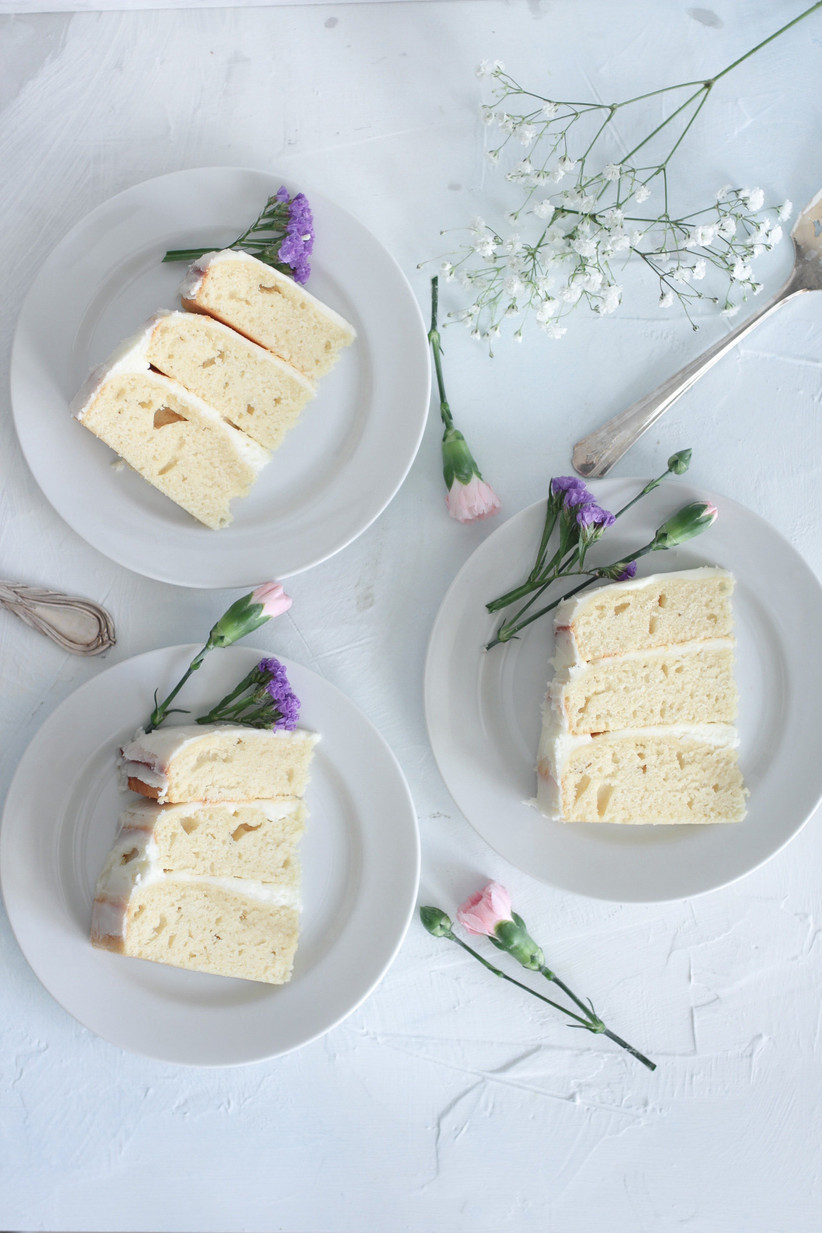 It's not just live streaming that helps involve absent guests. 2020 and early 2021 saw couples giving a taste of their wedding to loved ones who couldn't attend, from delivering pieces of the wedding cake to sending whole goodie bags with snacks inspired by the wedding menu, cocktails and even confetti to throw at the screen! Some couples also sent out playlists, so absent guests could really soak up the atmosphere. This is definitely a trend we can get behind.
7. Magical Table Lighting
Looking at all the beautiful real weddings we've featured during the pandemic, we can't help but notice a common theme: many couples have really paid attention to the reception lighting, with sparkling bubbles woven into centrepieces and candles aplenty. Maybe that's because it's more important than ever to create a welcoming atmosphere; maybe we just have a cosmic bond with couples who love fairy lights. Whatever the case, we expect lighting to continue to be a décor essential once restrictions are eased.
8. Using Wedding Planners
Due to changing restrictions, some couples, particularly in 2020, found themselves getting married at very short notice - and they turned to wedding planners to make it all happen. If couples continue to realise the value of a wedding planner post-pandemic, that can only be a good thing. With so many planners out there offering different service levels, from wedding masterclasses to sourcing every last detail, there's pretty much an option for every budget. And what could be better than having someone take the stress out of the whole process, leaving you free to enjoy the wedding?
"Wedding planners and coordinators are needed more now than ever before," says Nina Beer of Occasion Queens.
"We live, eat, breath, sleep weddings, and now we do the same for the guidelines too (well, I do anyway!) so there is no one better placed to help and support you.
"There is someone out there for all budgets. Whether it is just for a couple of hours over Zoom and you carry on planning yourself, have someone come in just on the day and coordinate, or have someone plan your whole wedding for you, there is a service that is right for you that will give you the peace of mind that your wedding is exactly what you want it to be."
READ MORE: 27 Black Wedding Planners and Stylists That You Need on Your Radar
9. Décor and Details with Love
Couples marrying during the pandemic have been very conscious that simply attending a wedding can feel like a big deal. To show their appreciation to their guests, some have really gone to town with the décor, to create a special feel. That can translate to amazing floral displays and centrepieces, which obviously we've seen at pre-pandemic weddings, but the twist here is that couples have taken extra care to ensure their décor really adds to the experience. That means centrepieces raised or arranged so guests can still talk easily, and plants on the tables that guests can take home. The trend is about simultaneously looking good and showing some love - and we're anticipating much more of this to come.
This extra focus on guests' wellbeing continues throughout the details of the wedding.
"Aside from décor detail, we have also been able to focus even more so on the guest experience," says Mark. "For example, not being able to do escort cards, my team were given images with the names of the guests to memorise (similar to the scene in 'The Devil Wears Prada') – thus as a guest arrived, my team guided them to their place setting.
"We love a quiz or game at Niemierko, and with not being able to offer dancing, things like Speech Bingo were a great hit around the dinner table. We have always loved a wedding quiz the night prior but now we can embrace other group activities that aren't taken too seriously into the day itself – and all for the fun!
"Experiences like these will remain - with venues having been tested throughout the pandemic the industry as whole will offer a service like no other."
10. Wedding Photo Spacing
Mark also predicts that wedding photos group shots changed for the better during the pandemic.
"With social distancing we saw formal photos more spaced out, and they make for good snaps, I think!" he says.
11. No-Obligation Traditions
Pre-pandemic, we were increasingly hearing from couples that they were ditching wedding traditions, seeing them as a constraint. Now there's a new mindset. When couples got married in 2020, they worked with their suppliers to make sure they could at least have a version of certain traditions, such as the first dance and cutting the cake.
"Since the wedding world has been turned on its head and we were told we couldn't do half of the things we wanted to, all of a sudden we realised how important some of those traditions were," says Nina.
"People want to make sure their big day embraces everything that at one point they thought might not be able to happen. Whether you chose to include these as part of your day or not, remember that your day has to reflect what you want and no special moment should be missed."
12. Planet-Kind Wedding Extras
During the Coronavirus pandemic, we've seen couples providing practical yet pretty extras for the guests, from ordering wedding face masks to setting up hand sanitiser stations. You can expect to see this swing towards thoughtful touches continue - non-Coronavirus-related examples would be fans at a summer wedding or umbrellas on a day with changeable weather; anything designed with guests' comfort in mind.
One thing to note: while the pandemic has, necessarily, caused an increase in the use of plastic, we fully expect sustainability to make its way back into weddings, so couples will be looking for special touches that can be recycled, or which they can hire rather than buy and dispose of.
"Hosting a sustainable and environmentally friendly wedding will continue for the foreseeable with couples making small yet significant changes to reduce their carbon footprint and environmental impact," says Jo.
"For example, lots of couples are now electing to send electronic invitations, and there are many amazing stationers who are adapting their traditional offering to meet this need.
"There's a focus on using local suppliers and produce to reduce environmental impact, and many couples have banned single-use plastics altogether. One thing is for sure, as we move forwards, couples will still want to be kind to the planet!"
READ MORE: How to Have an Eco-Friendly Wedding
And Four Covid Wedding Trends We Can't Wait to See the End of
No Sharing Food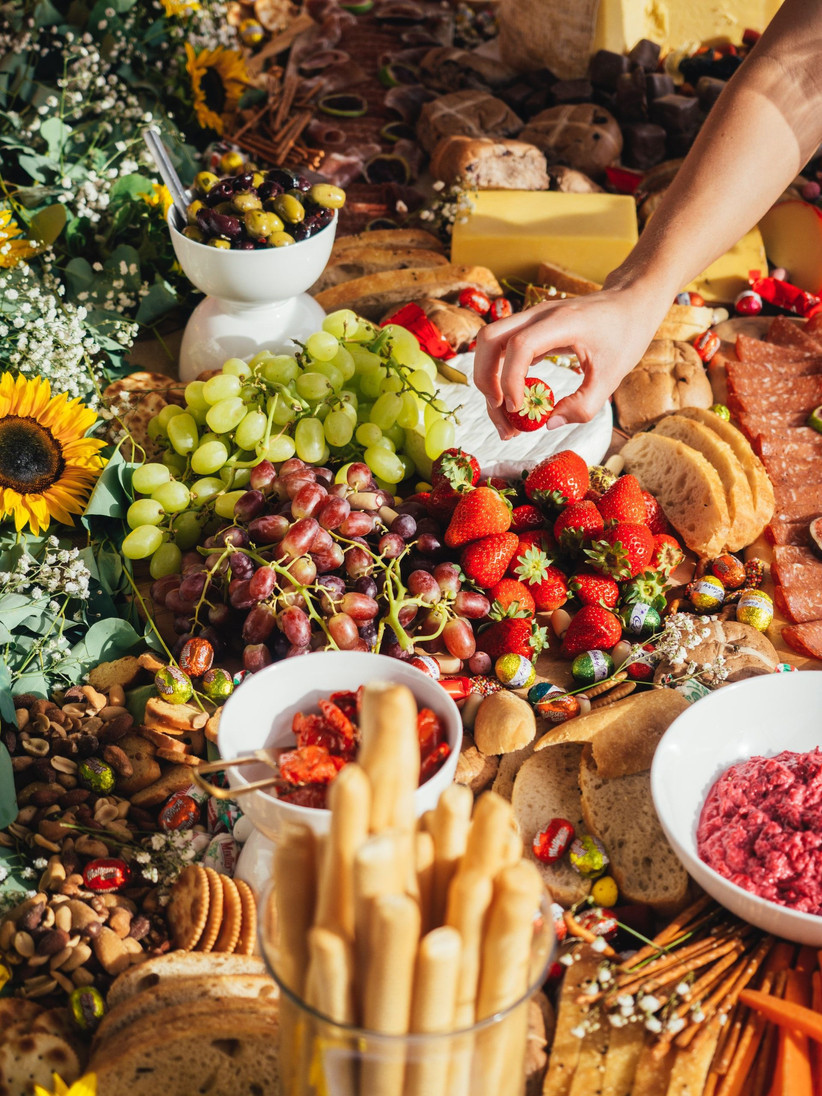 From magical dessert tables to generous buffets and family-style dining platters, sharing food really helps to create a communal atmosphere. We miss that. Particularly the whole dessert table thing.
We also miss the classic stand-up drinks receptions - there's nothing like champagne and canapés to get you in the mood!
"The drinks reception offers a break in formality that really is needed in the flow of a wedding and has been greatly missed," agrees Mark.
No Hugs
"Weddings should be full of hugs!" says Mark. "I long to see their return with no holding back."
No Large Wedding Morning Gatherings
While some people prefer a serene wedding morning with minimal participants, we know plenty of you were looking forward to a time of glorious controlled chaos as you and your wedding party all got ready together. Hopefully it won't be too long until you can.
No Live Music or DJs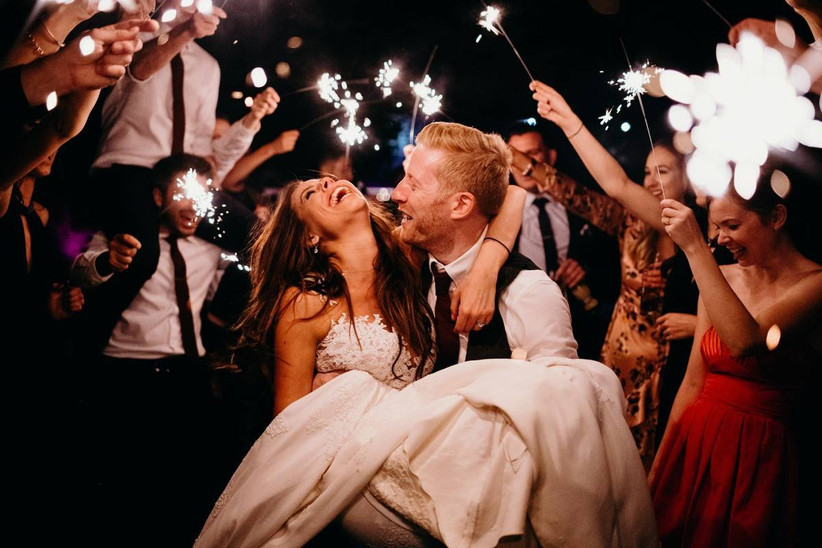 Bring back bands! Bring back DJs! And let us back onto that dance floor! Ok, apart from kitchen disco sessions we're going to be very out of practice - but enthusiasm is guaranteed.
"I have two favourite parts of my couples' wedding days," says Mark.
"The ceremony, where they maturely exchange vows acknowledging this special moment in their lives…. Then the other end of the day when maturity slightly goes out of the window and they are dancing with joy and fun like no one is watching."
Feeling inspired to start planning? Discover the 17 steps to your dream wedding day.