8 Key Wedding Dress Trends from Bridal Fashion Week
We took our seats on the front row of the bridal fashion weeks to bring you the latest 2024 wedding dress trends - which ones will you be following?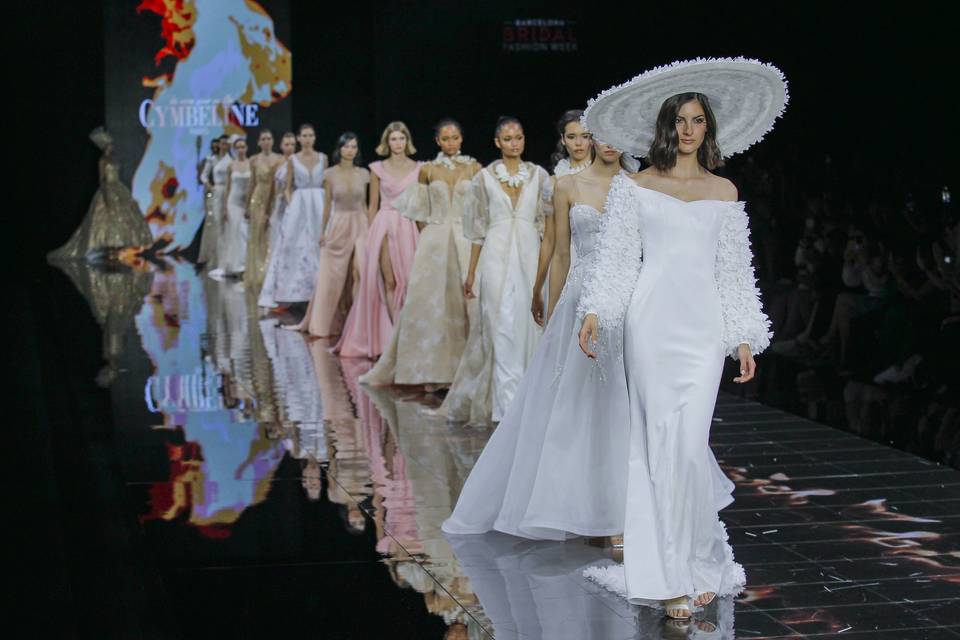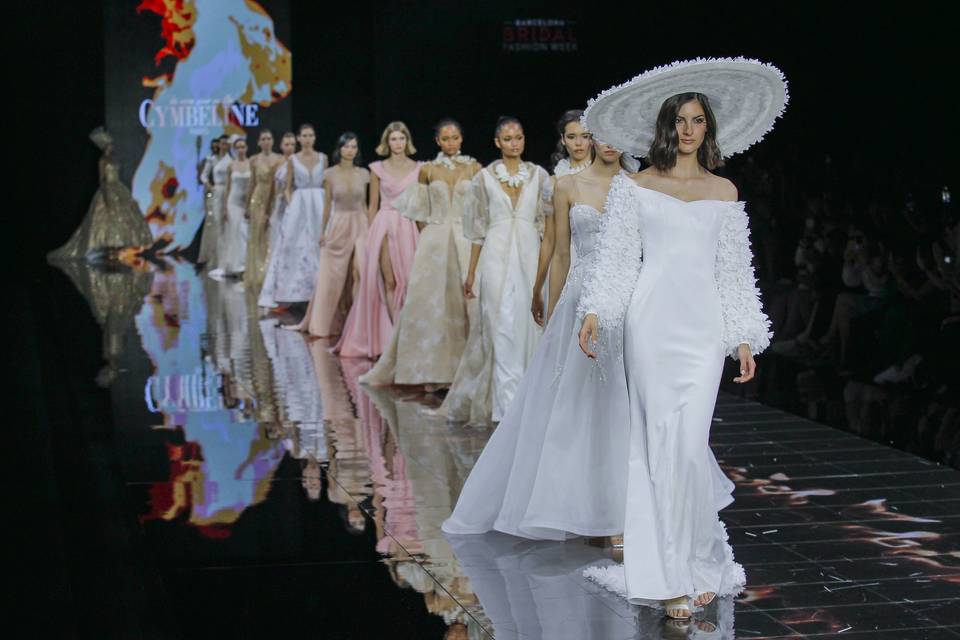 The global Bridal Fashion Weeks are the perfect place to scope out the latest wedding dress trends. We headed to London and Barcelona to discover the 2024 wedding dress trends you're about to see everywhere.
From dramatic black wedding dresses, to the ongoing puff-sleeve wedding dress resurgence (we just cannot get enough!), here is a breakdown of all the key bridal trends you're going to be seeing at weddings everywhere in the next couple of years, fresh from the wedding runways.
8 Key Wedding Dress Trends for 2024
Fresh from the bridal runways, here are the hottest wedding dress trends for the year ahead
1. Black Wedding Dresses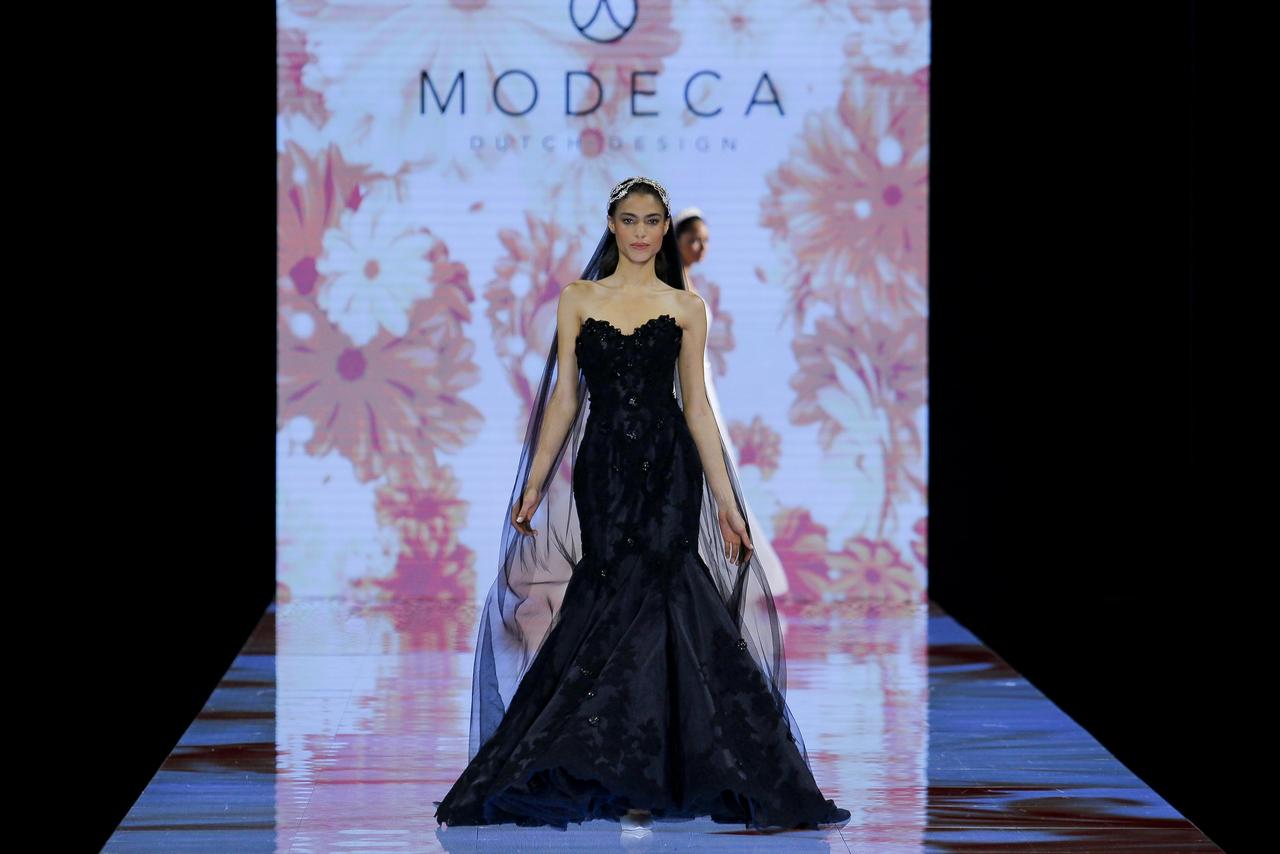 Black wedding dresses were EVERYWHERE at London Bridal Fashion Week and on the runways at Barcelona Bridal Fashion Week too. With over 372 million views on the TikTok hashtag #BlackWeddingDresses and an incredible 41,000 searches for 'black wedding dresses' globally online in May, it's clear we're all going into our gothic era.
Brands such as Maggie Sottero, Demetrios, Marco y Maria and Modeca all revealed dramatic dresses in dark hues at the shows. Gothic glamour is clearly on the rise - perhaps Netflix's smash hit Wednesday has something to do with it?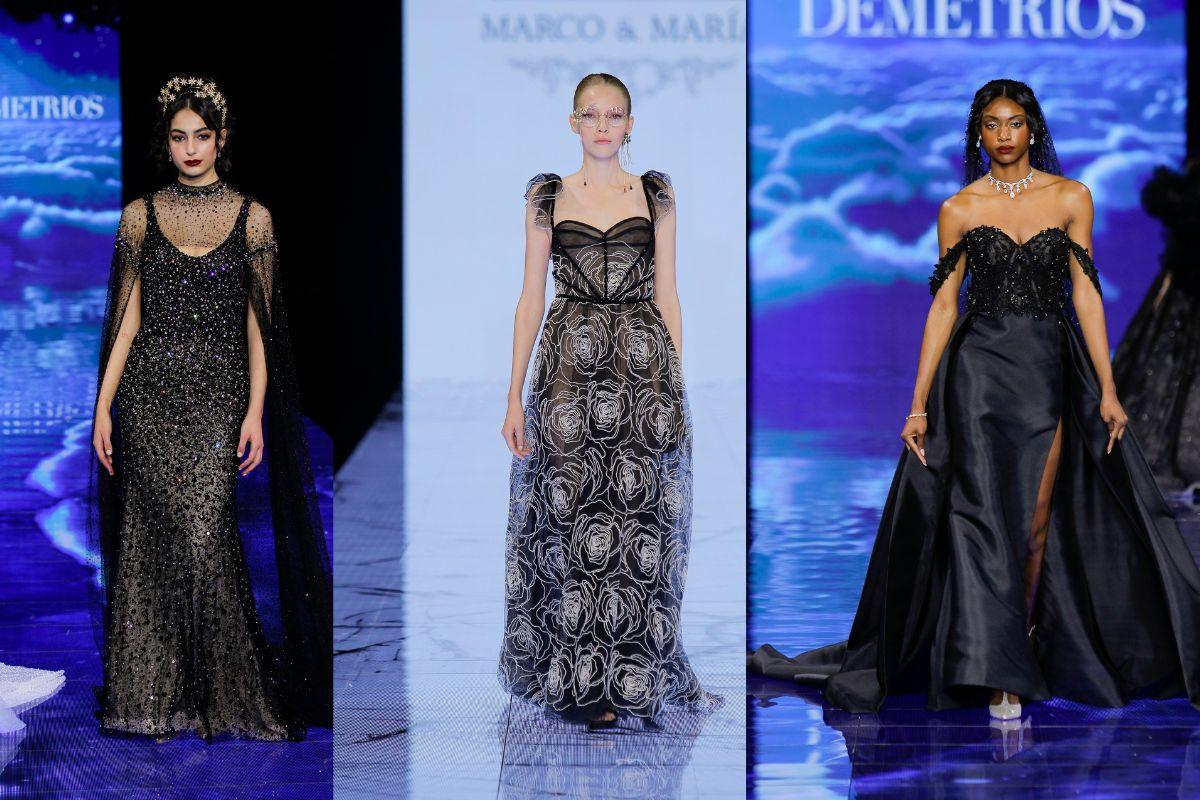 "If you love the idea of a black wedding dress, but are nervous about breaking away from tradition, why not go for a black gown for your evening reception, and wear a more traditional one to the ceremony?" suggests Zoe Burke, Editor of Hitched.
2. Statement Sleeves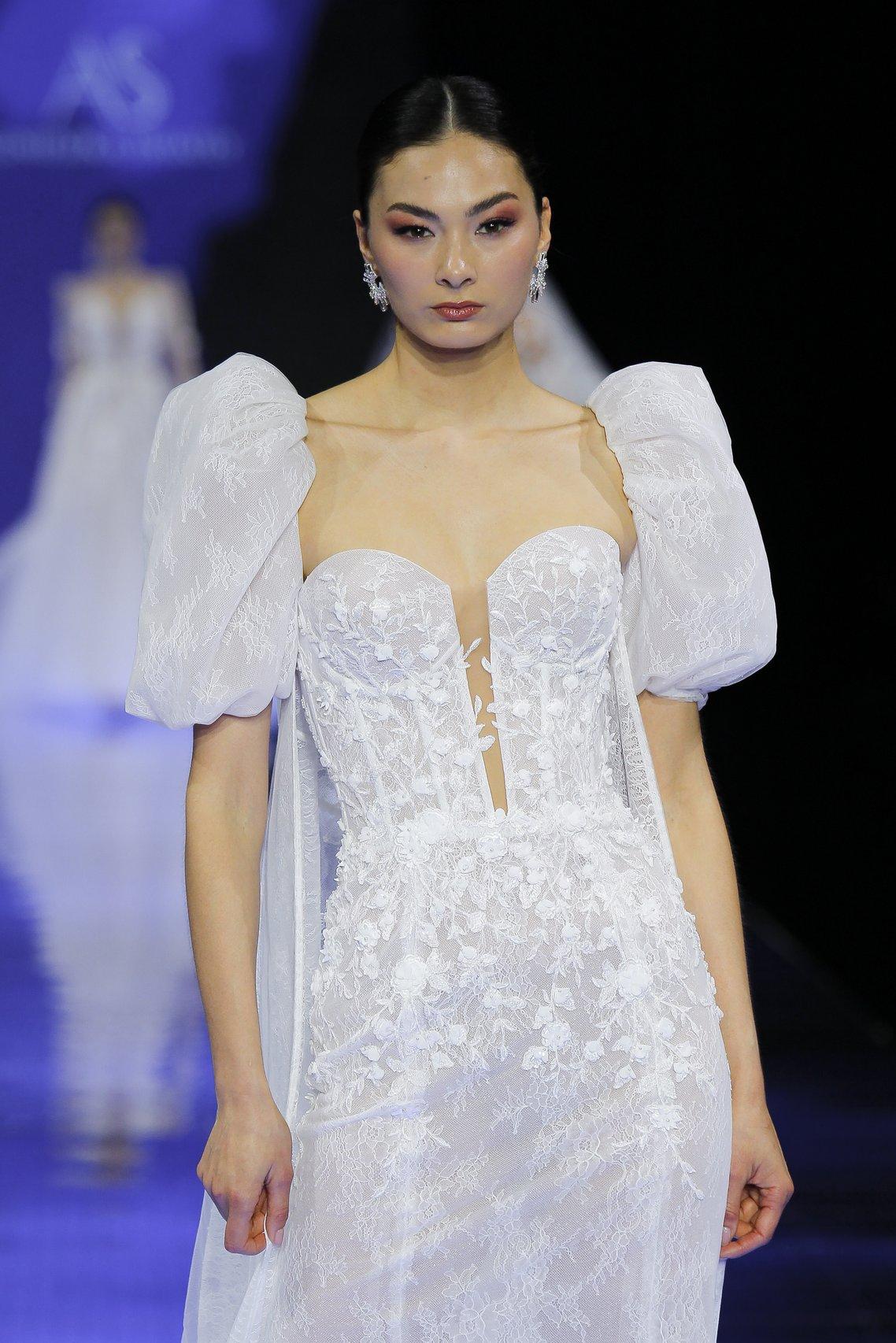 We identified puff sleeve wedding dresses (and statement sleeves in general!) as one of our key wedding trends in our last report - and this bridal trend is here to stay.
Inspired most likely by the recent Netflix series, The Crown, so many wedding dresses are taking inspiration from the iconic royal wedding dress designed by the Emmanuels for Diana, Princess of Wales.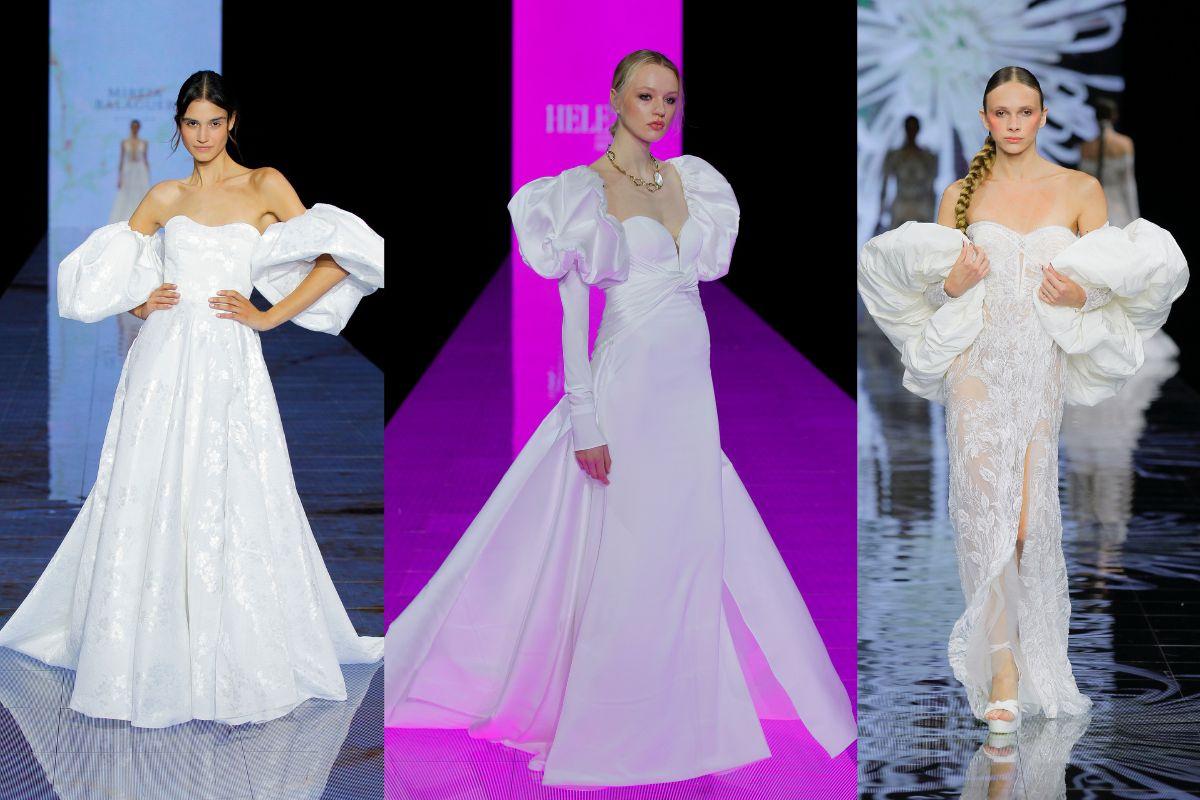 Brands such as Yolan Cris, Formoso and Pronovias all had wedding dresses with statement sleeves in their collections at Barcelona Bridal Fashion Week. The rest of the dress tends to be more pared back and simple, with the sleeves packing a real punch. Lots of the designers also showcased the option to detach the sleeves for a convertible look.
Not a fan of the puff? That's okay - Pinterest reports that searches for 'tulle sleeves' are up an incredible 65% so softer styles are on trend too.
3. Sharp Suiting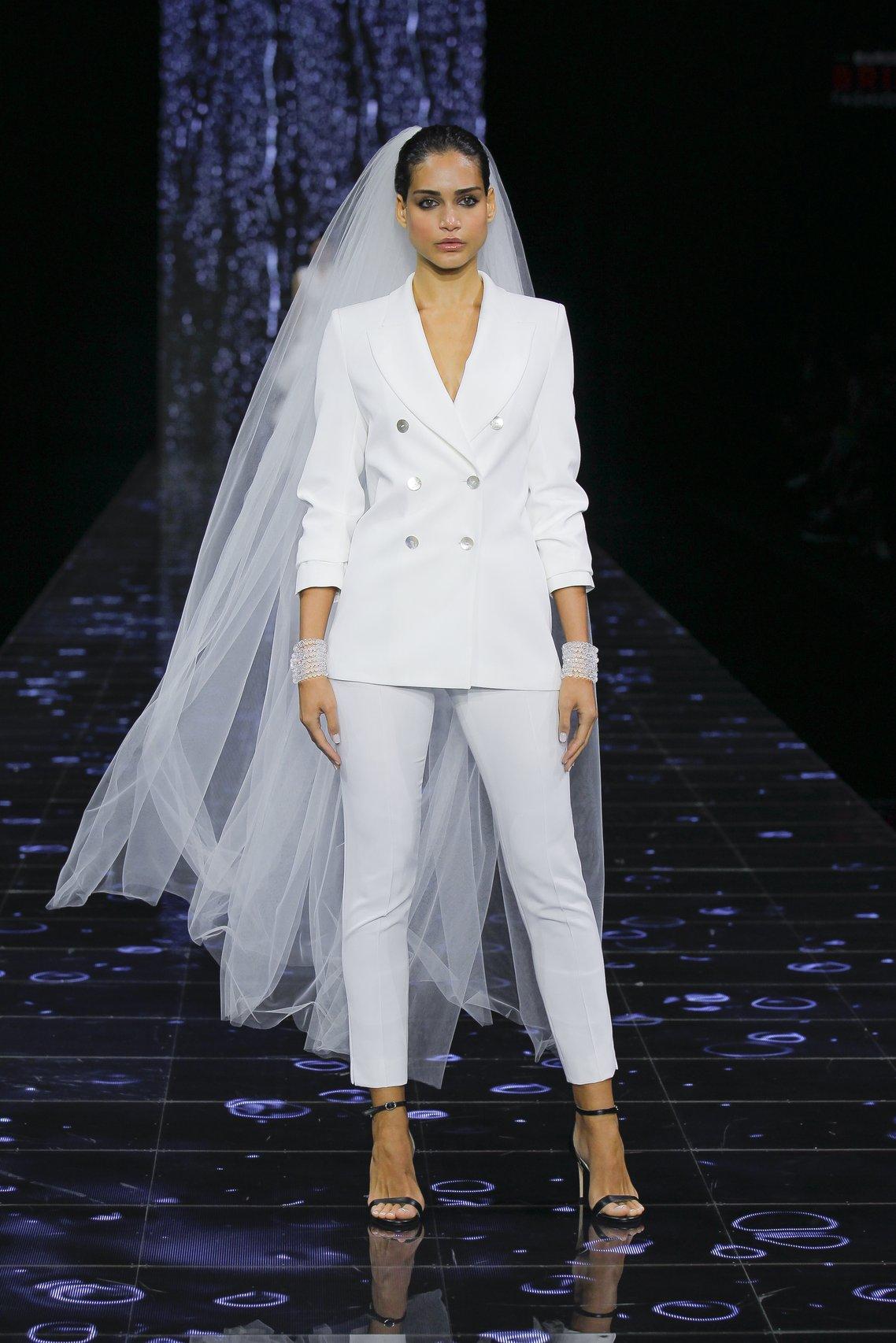 Bridal suits are really having a moment - and we're here for it. Bridal brands such as Cymbeline, Helena and Isabel Sanchis all had suit-inspired forms of tailoring in their latest collections.
There were also more bridal jumpsuits, and sparkling tunics with trousers on the runway this year, with Marylise and Pronovias both showcasing these in their collections. The suits had feminine detailing - pleated fabrics or glittering lapels and brooches, but masculine chic is definitely on the rise in bridal.
14,800 searches are made monthly for 'white jumpsuits' so this trend is huge right now.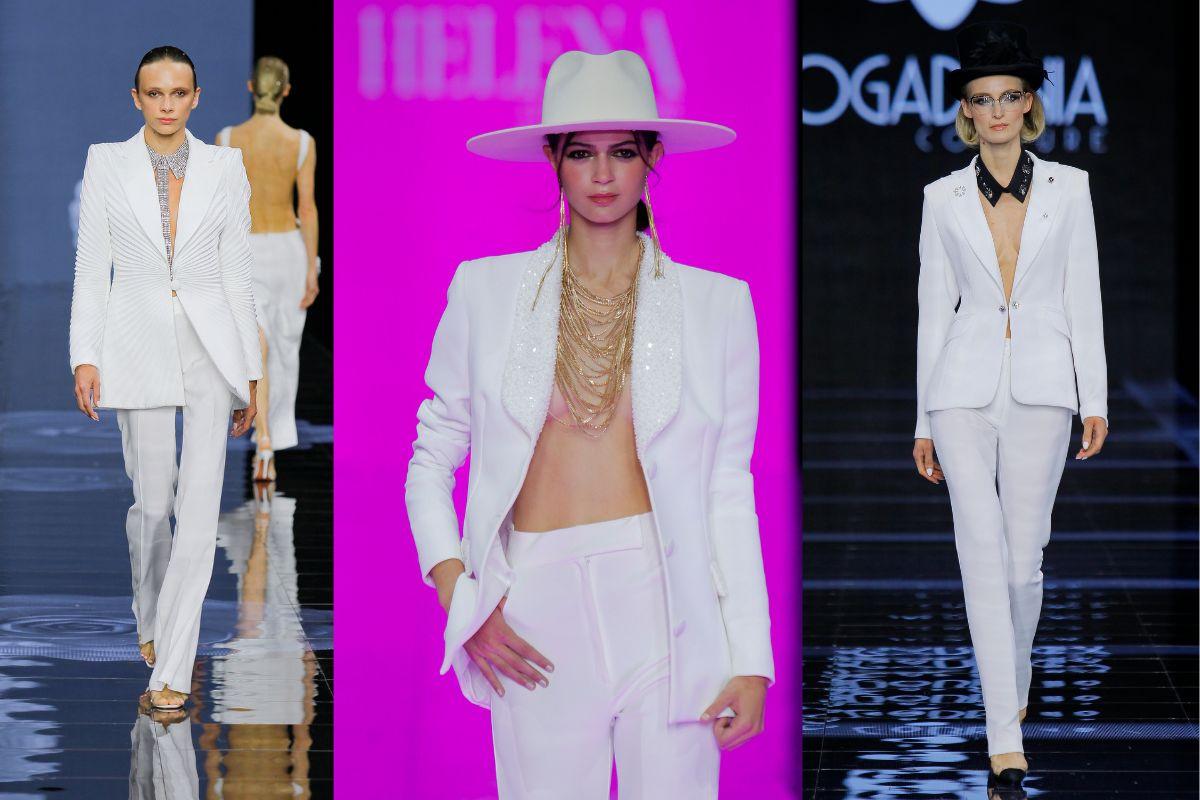 "With more couples opting to do a separate legal ceremony in a registry office ahead of their main wedding, we're definitely seeing more of a place for the bridal suit," says Zoe.
"It is still formal and special enough to make you feel wedding-appropriate, but is definitely a little more playful than a full-on wedding dress. It's also a great option for those looking for a non-binary or gender neutral wedding outfit."
4. Mini Dresses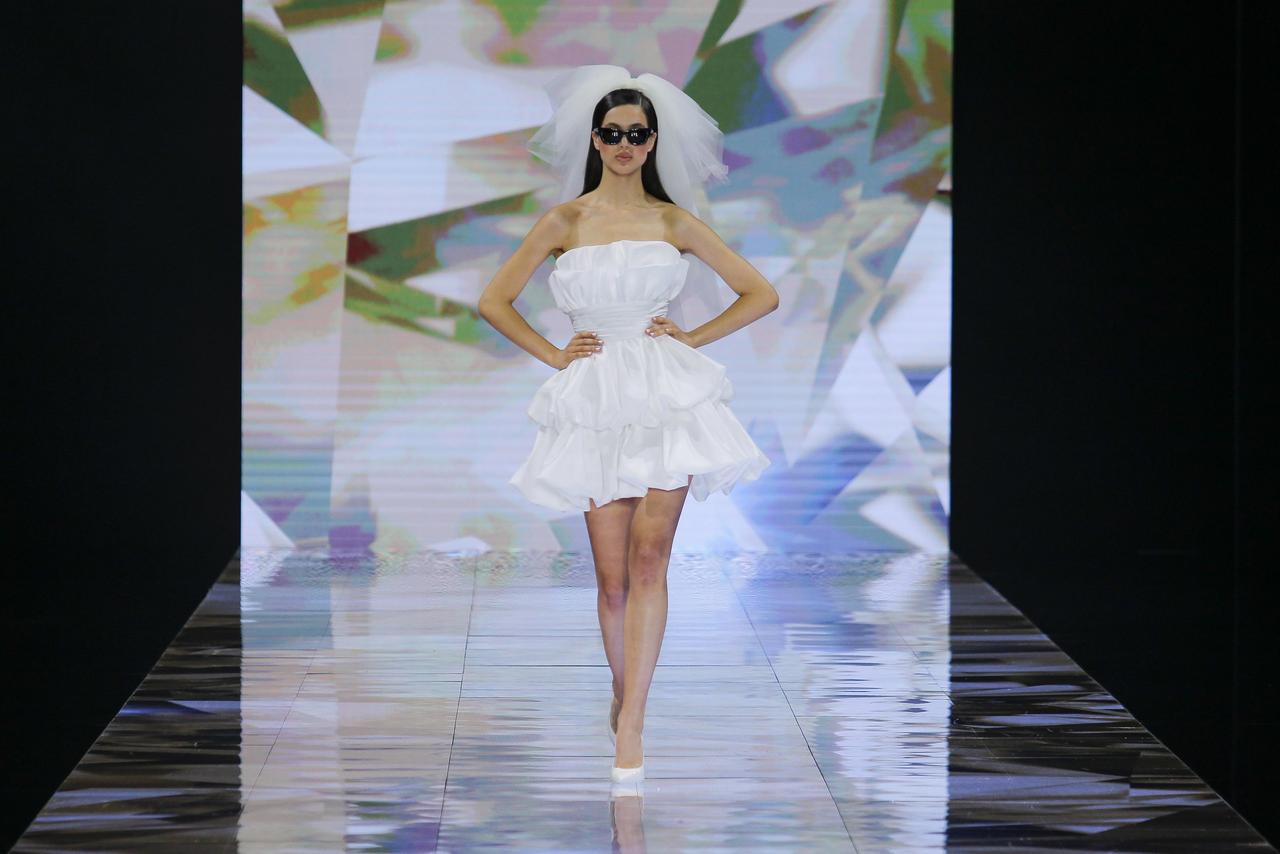 Short wedding dresses were everywhere at the London and Barcelona shows! "It's definitely a reaction to the full-length, simple, satin numbers we've seen everywhere in recent years," explains Zoe. There were a range of silhouettes, with everything from sleek and fitted, to fun puff balls strutting their way down the catwalk.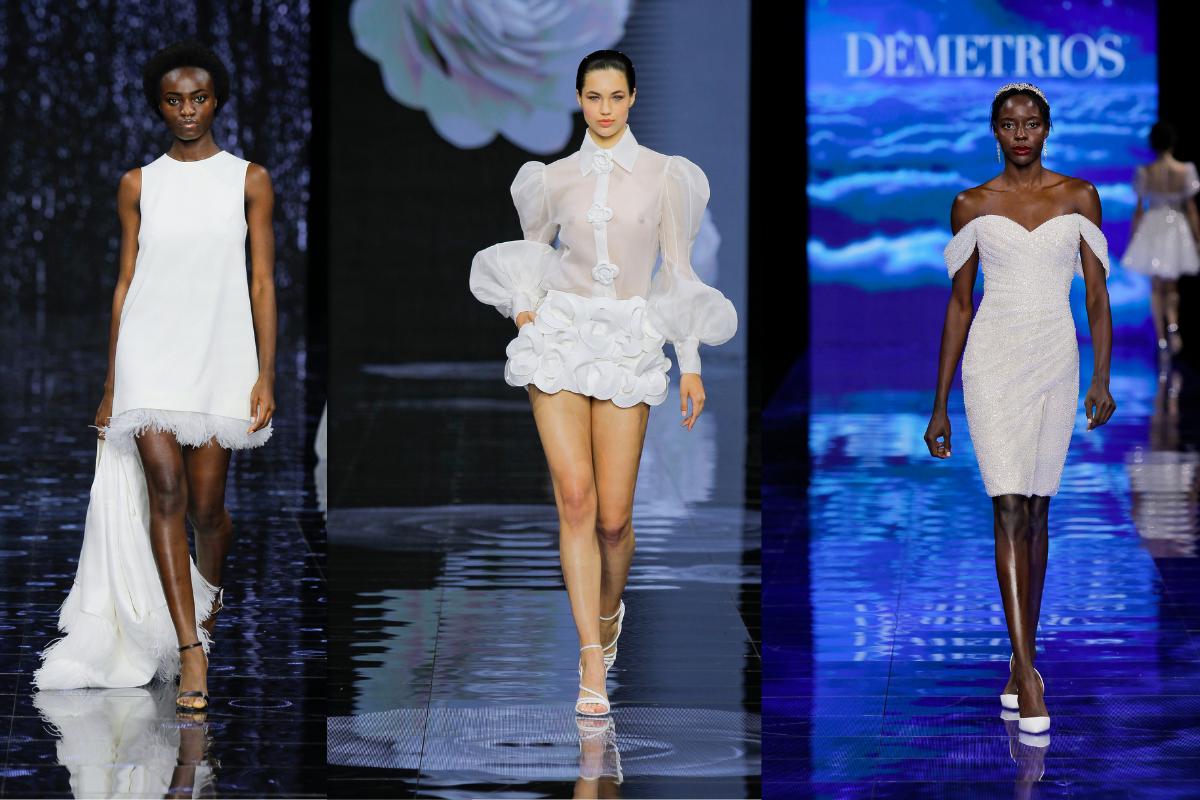 Demetrios, Cymbeline and Nicole Milano all had models walking in thigh-skimming bridal mini dresses and they were just a few of the brands to capitalise on this new wedding dress trend for 2024. There are more than 14.8million views for videos featuring #ShortWeddingDress on TikTok showing that this is a wedding dress trend people just cannot get enough of.
5. Bridal Capes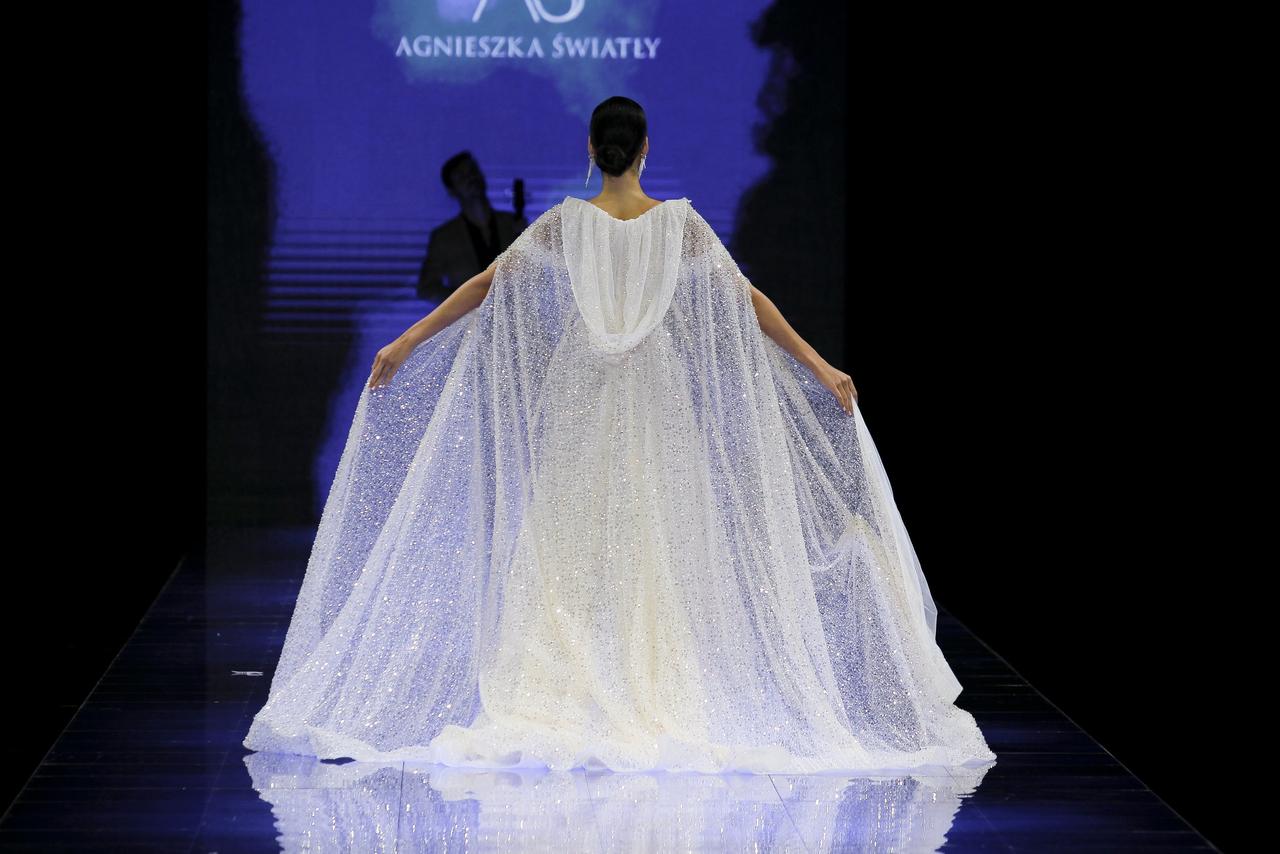 We've seen short, cute wedding veils everywhere in recent years, so it's only natural that bridal fashion is now moving in another direction.
A key wedding dress trend for 2024 is going to be the bridal cape, with wedding fashion powerhouses such as Elie Saab and Ines di Santo styling models with capes.
The models on the Yolan Cris runway were also styled with long, flowing veils, trains or capes affixed to the back of their gowns.
"This is a really cool fashion trend," says Zoe. "It allows you to transform your bridal look - you can have two wedding day looks in one, effectively, as you sport the cape or detachable train for your ceremony, then remove it for a fresh look for the evening party."
According to Google Trends, searches 'wedding capes' was up 23% in May, with 15,000 people searching for info on what is arguably one of the biggest wedding trends for 2024.
6. Pastel Hues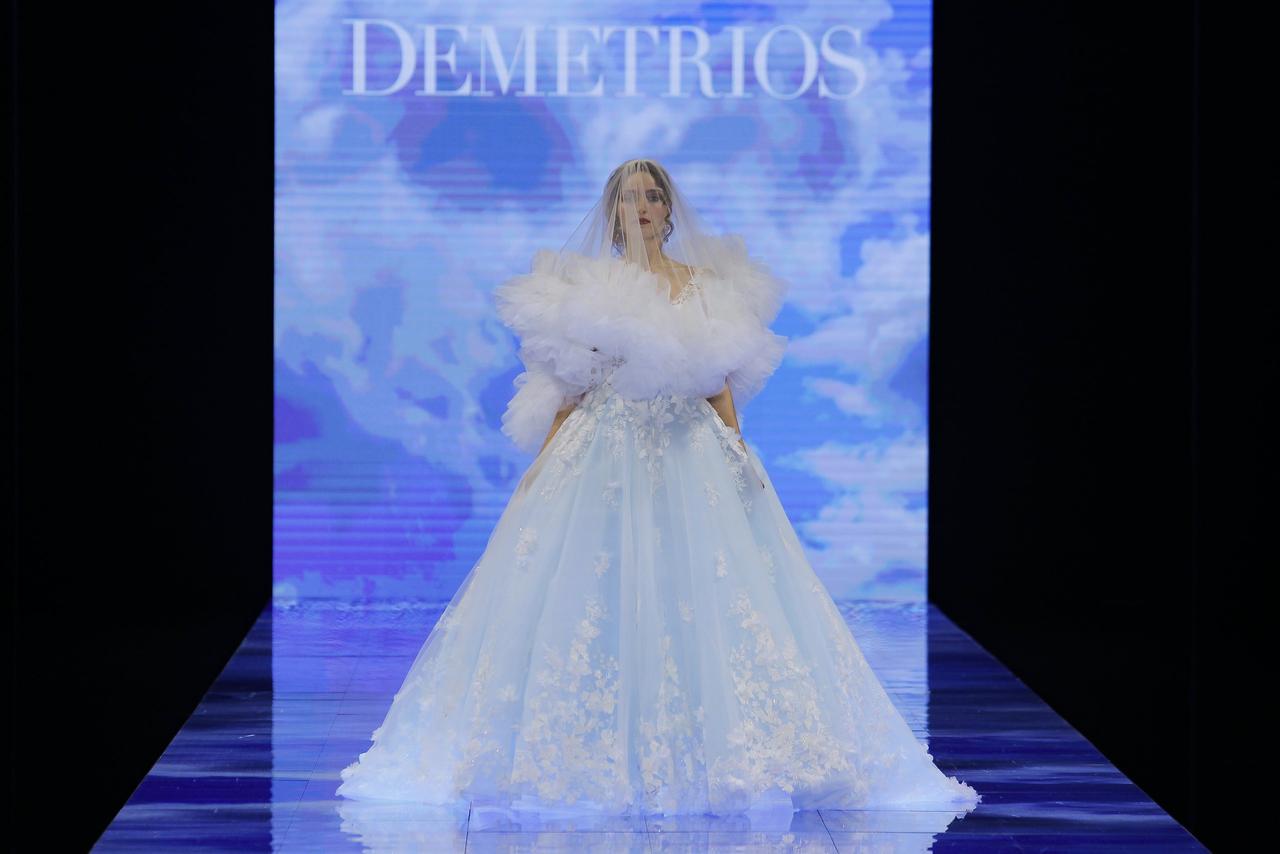 Whilst black wedding dresses definitely brought a dose of drama, there were options for nearlyweds seeking out different forms of colour too. We saw delicate blue wedding dresses, as well as floral bridal gowns and pink wedding dresses too from the front row.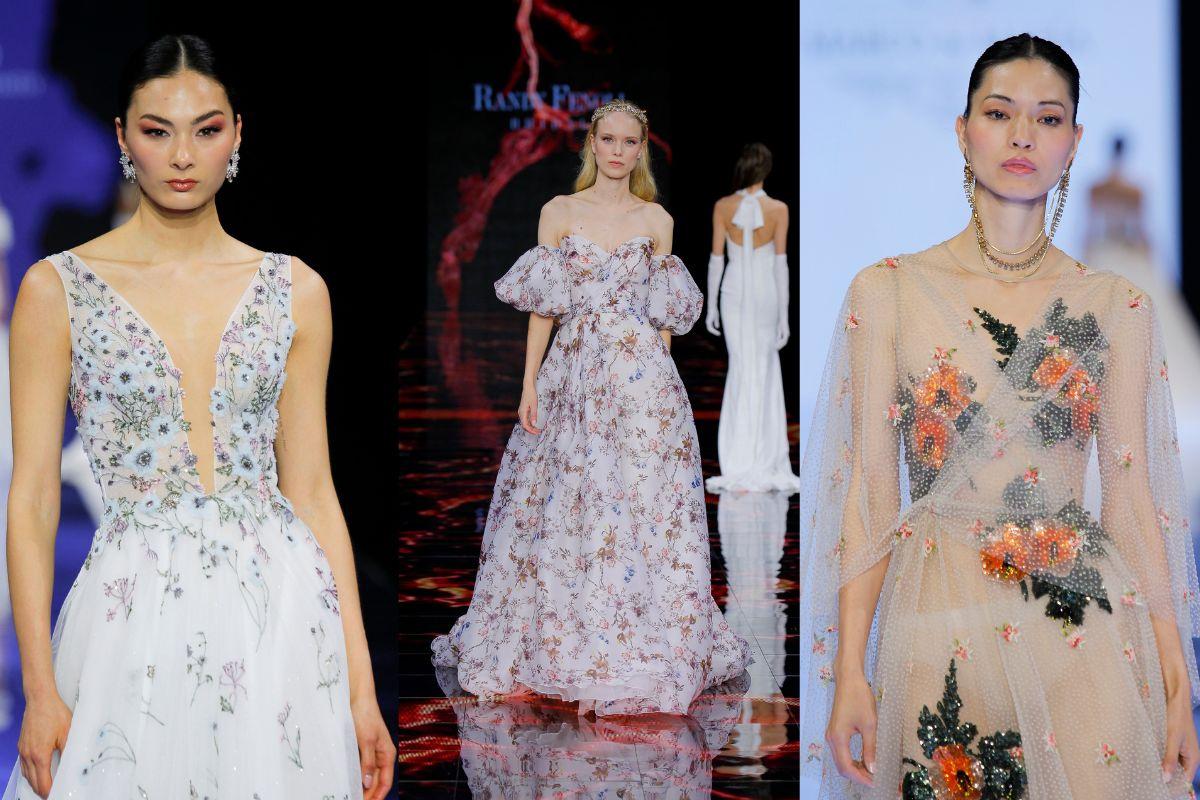 Pastel wedding dresses in soft blues and pinks were popular, particularly in the new Ines di Santo collection, and Madeline also showcased some striking floral wedding dresses - ideal for any nearlywed searching for a non-traditional wedding dress.
7. Statement Headwear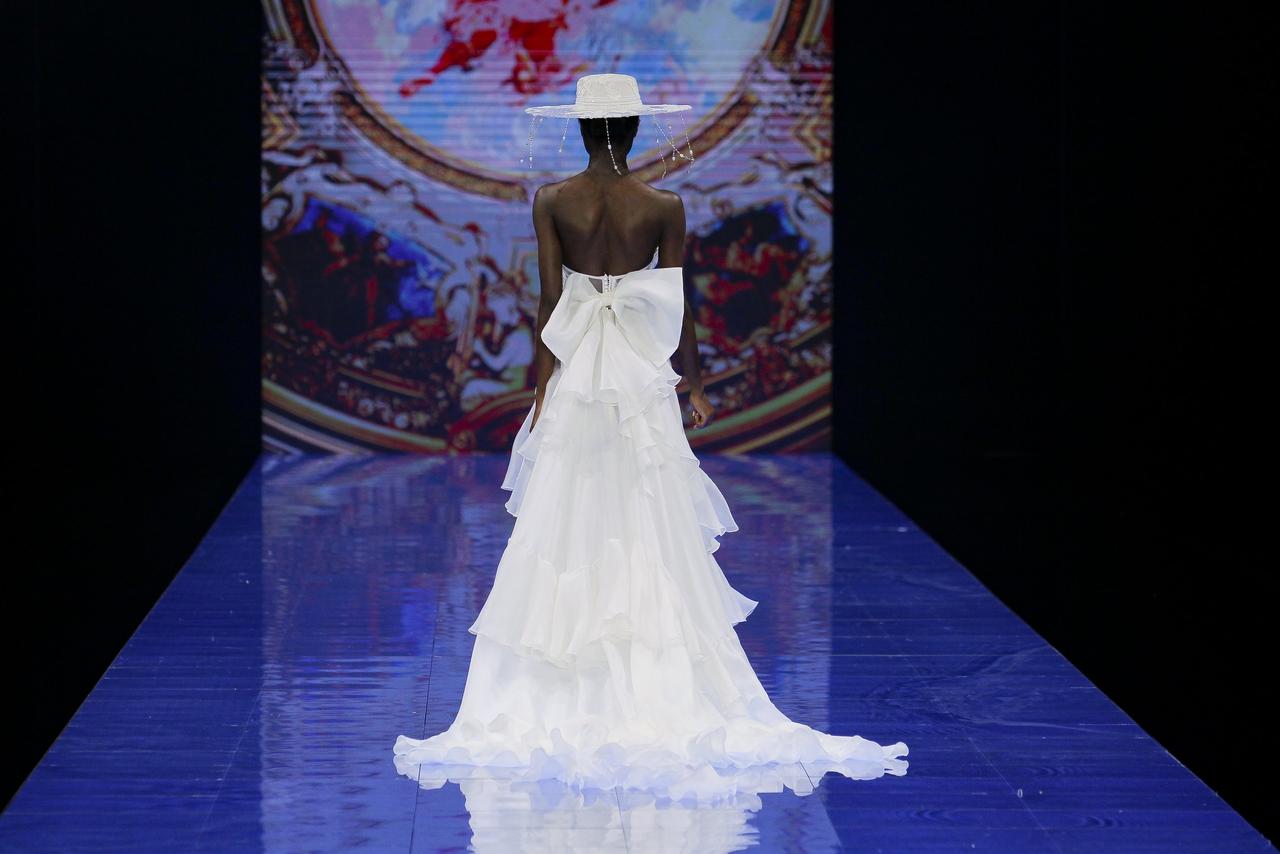 One of the more surprising trends at the shows was the styling of the models - so many brands opted to pair the bridal gowns with large hats or statement headpieces.
Modeca, Cymbeline and Lorena Panea were just some of the brands to embrace this new trend, with models sporting dramatic oversized hats. Trilbies and bowler style hats were also popular, particularly when paired with a bridal suit.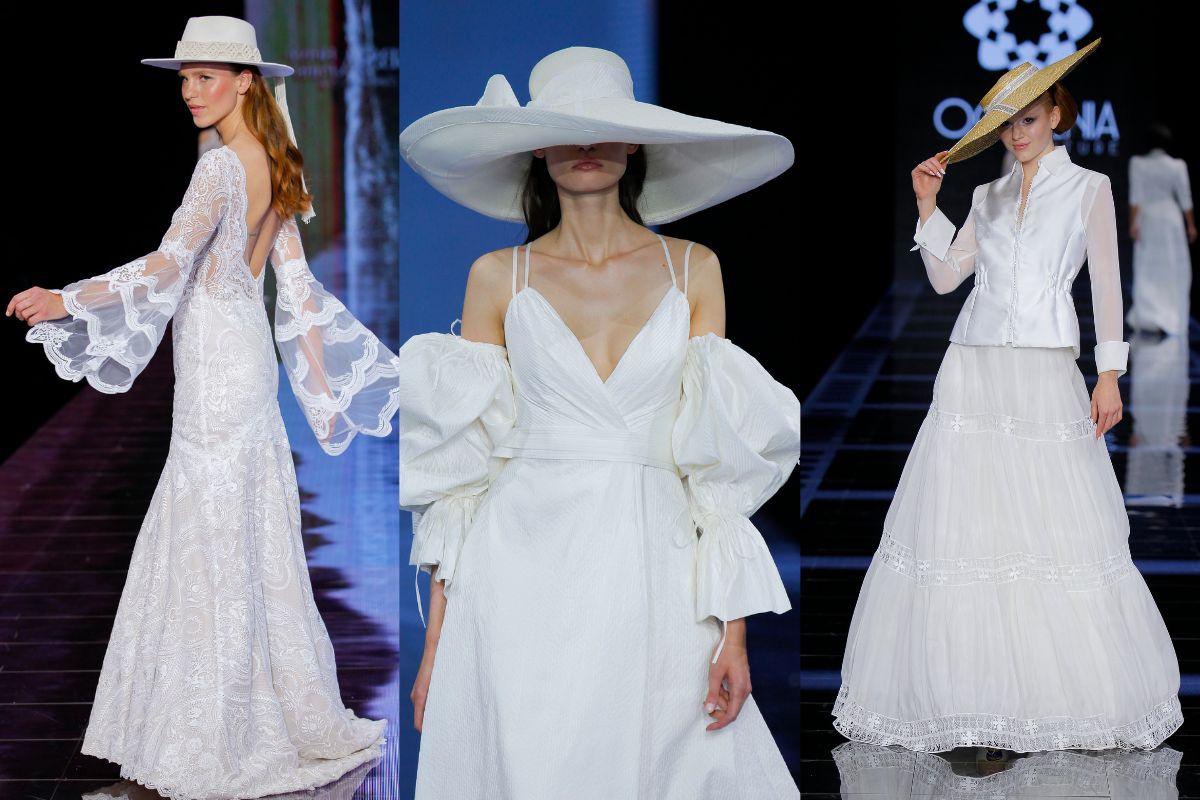 "This is a really unique wedding dress trend," says Zoe, "as typically brides go for more delicate headwear - floaty veils or glittering tiaras for example. But I was really excited to see so many designers accessorising with hats. It's such a cool new take for bridal fashion."
8. Showing Some Skin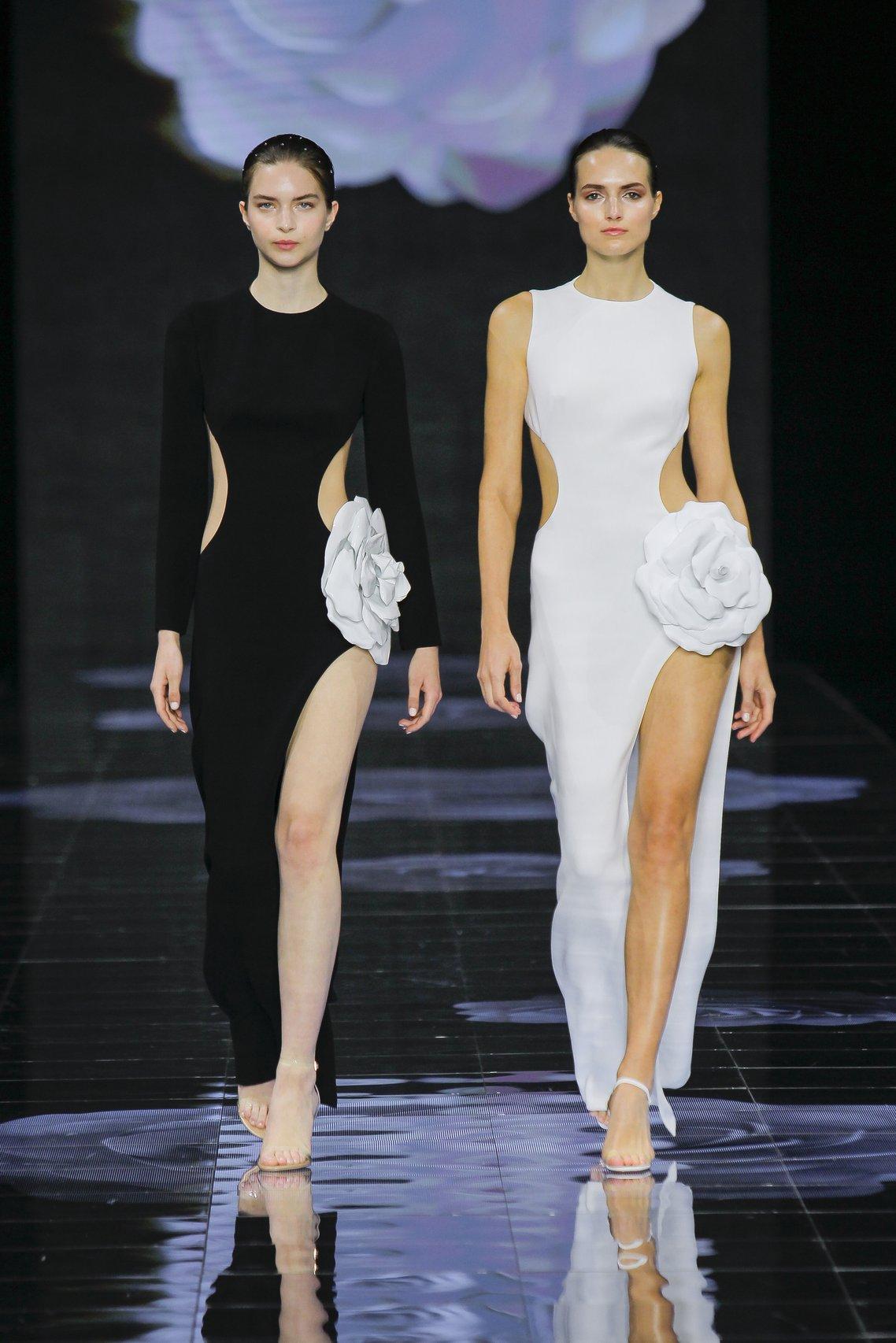 When you think of wedding dresses, you typically think of a more modest design. By their very traditional nature, they're meant to speak of innocence - the pure white, the full skirts…
But on the runways at Barcelona, it was a different story. Bridal designers such as Agnieska Swiatly, Isabel Sanchis and Formoso challenged this narrative with sheer fabrics, daring thigh splits and plunging necklines.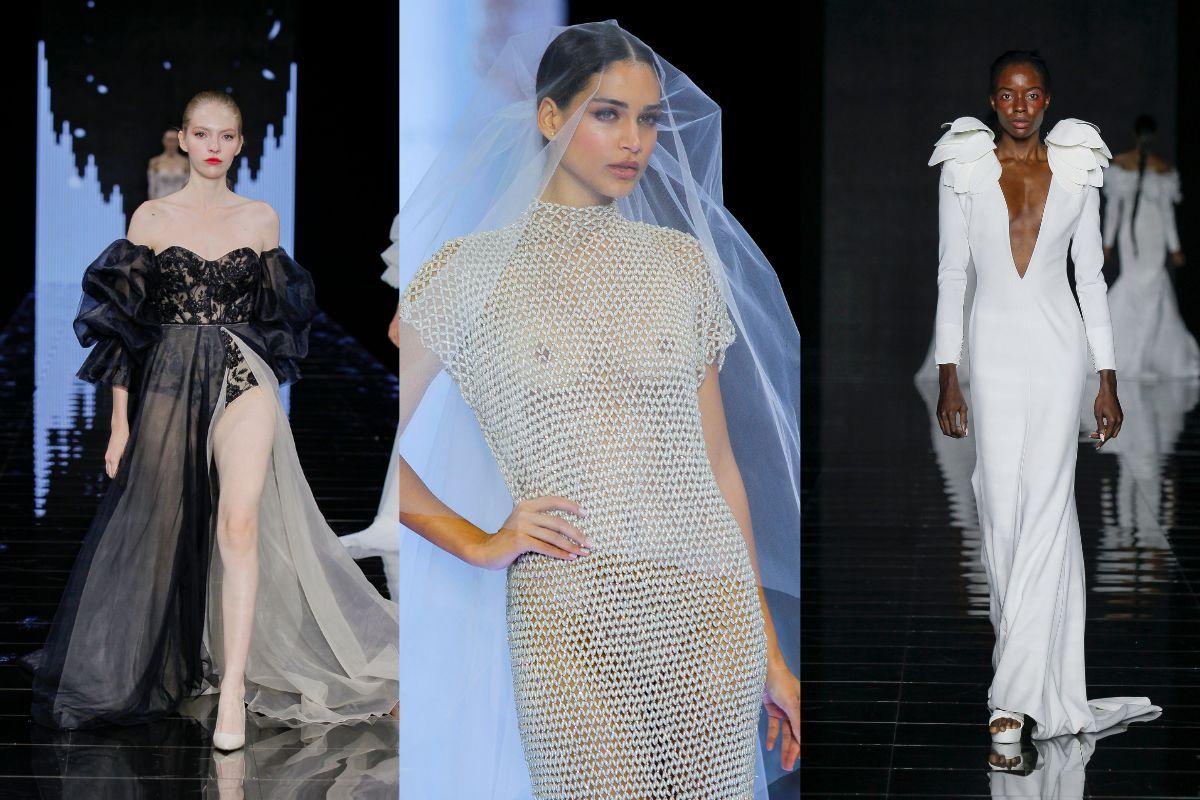 "It's safe to say the year of the sexy wedding dress is coming," says Zoe. "We had a surge of illusion dresses and striking backless gowns a while ago, but Meghan Markle's simple satin number caused more modest designs in sturdier fabrics to increase in popularity. It's been a number of years now since her wedding to Prince Harry, so it's not surprising to see the industry is keen for change. Not sure what Granny will think, though..."
Keen to discover more? Find our annual wedding trends report here.