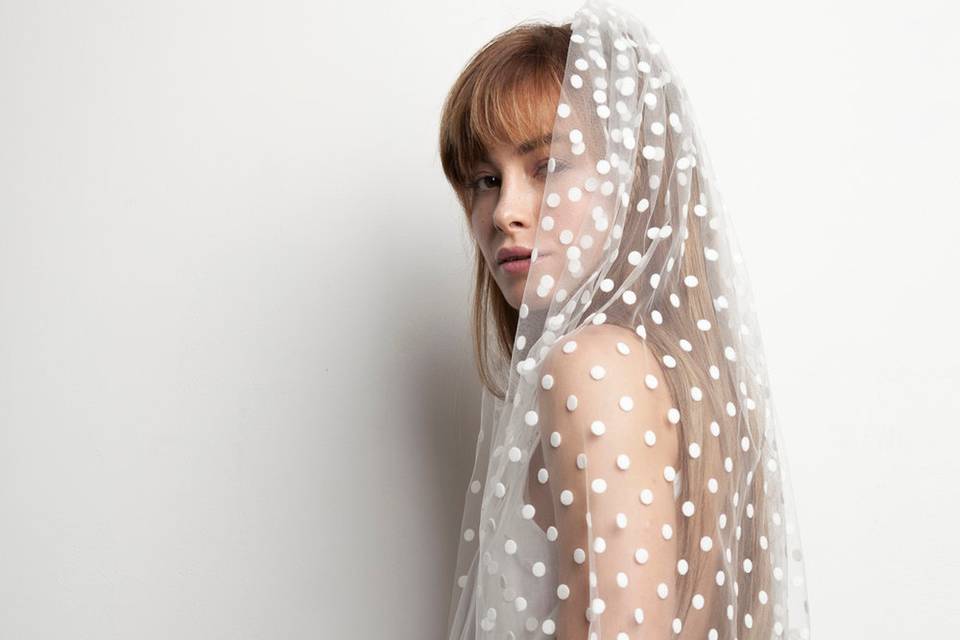 Wedding veils are likely to be the source of a whole lot of uncertainty in the run up to your wedding day. What wedding veil style will suit you? What length veil should you wear? Should you even wear a wedding veil at all?
A wedding veil is a classic choice, traditionally worn to ward off evil spirits and cover the bride's beauty. They highlight the bride as she walks down the aisle, often enhancing her wedding dress by complementing the lace or embroidery.
If you've decided you'd like to wear a wedding veil on your big day, you need to decide on a wedding veil style. That said, the decision isn't as easy as just choosing "long" or "short". From cathedral-length veils to statement veils, here is every veil style you can choose from (plus a few of our favourite veils to shop now).
The 7 Types of Wedding Veil
1. Cathedral-Length Wedding Veils
Image: Pinterest
A cathedral-length wedding veil is the longest veil type of them all and will create an utterly regal look if a bride chooses to wear one on her wedding day.
A cathedral veil will reach well past the end of the wedding dress, often measuring 120-144 inches in length.
2. Chapel Length Wedding Veils
Image: Pinterest
Also referred to as a church-length veil, chapel veils ooze drama and glamour. They're slightly shorter than cathedral wedding veils but are often chosen by brides who want the effect of a train without actually having one on their dress.
A chapel-length veil often sweeps across the floor behind the bride, extending slightly past her dress and measuring somewhere between 90 and 110 inches.
3. Waltz Wedding Veil
Image: Pinterest
If you're after a veil which falls between the calf and ankle, a waltz wedding veil is the wedding veil style for you. These are great if you're hoping to keep your veil on well into the reception, because they don't interfere with dancing.
The waltz wedding veil is also sometimes called a ballet wedding veil and measures somewhere between 54 and 60 inches.
READ MORE: 39 of the Best Wedding Reception Dresses
4. Fingertip Wedding Veil
Image: Pinterest
Fingertip wedding veils are perhaps the most popular wedding veil style, and for good reason. They fall just beyond the bride's hip and are extremely flattering to most wedding dress styles. What's more, they're often single-tiered and beautifully sheer, so if you have any lovely detailing on the back of your dress, you guests will still be able to see it.
Fingertip wedding veils often measure around 40 inches in length.
5. Elbow Wedding Veil
Image: Pinterest
Slightly shorter than the fingertip veil, elbow wedding veils typically measure 25 inches in length. Elbow veils are another hugely popular style due to their compatibility with most wedding dresses, from long sleeve wedding dresses to ballgown wedding dresses.
They fall gracefully over the bride's shoulders to her elbows, and they're a great way to cover your shoulders in a religious wedding ceremony without having to wear a bolero or shrug.
6. Shoulder-Length Wedding Veil
Image: Pinterest
As the name suggests, the shoulder-length wedding veil falls to your shoulders before being cut off. They're usually around 20 inches in length and are a great option for brides who want something understated which won't compete with their dress.
They work particularly well with dresses which are heavily embellished on the bodice. Just remember – where in your hair you place the veil will alter the length of it!
7. Blusher Wedding Veil
Image: Pinterest
Also known as an angle veil or wedge wedding veil, this veil style falls over the face and ends as the dress starts. Since it covers the face, it's often pulled back by the bride's partner at the start of the ceremony to reveal her face. This is a really romantic moment!
READ MORE: 21 Romantic Ways to Surprise Your Other Half on Your Wedding Day
3 Top Tips for Choosing a Wedding Veil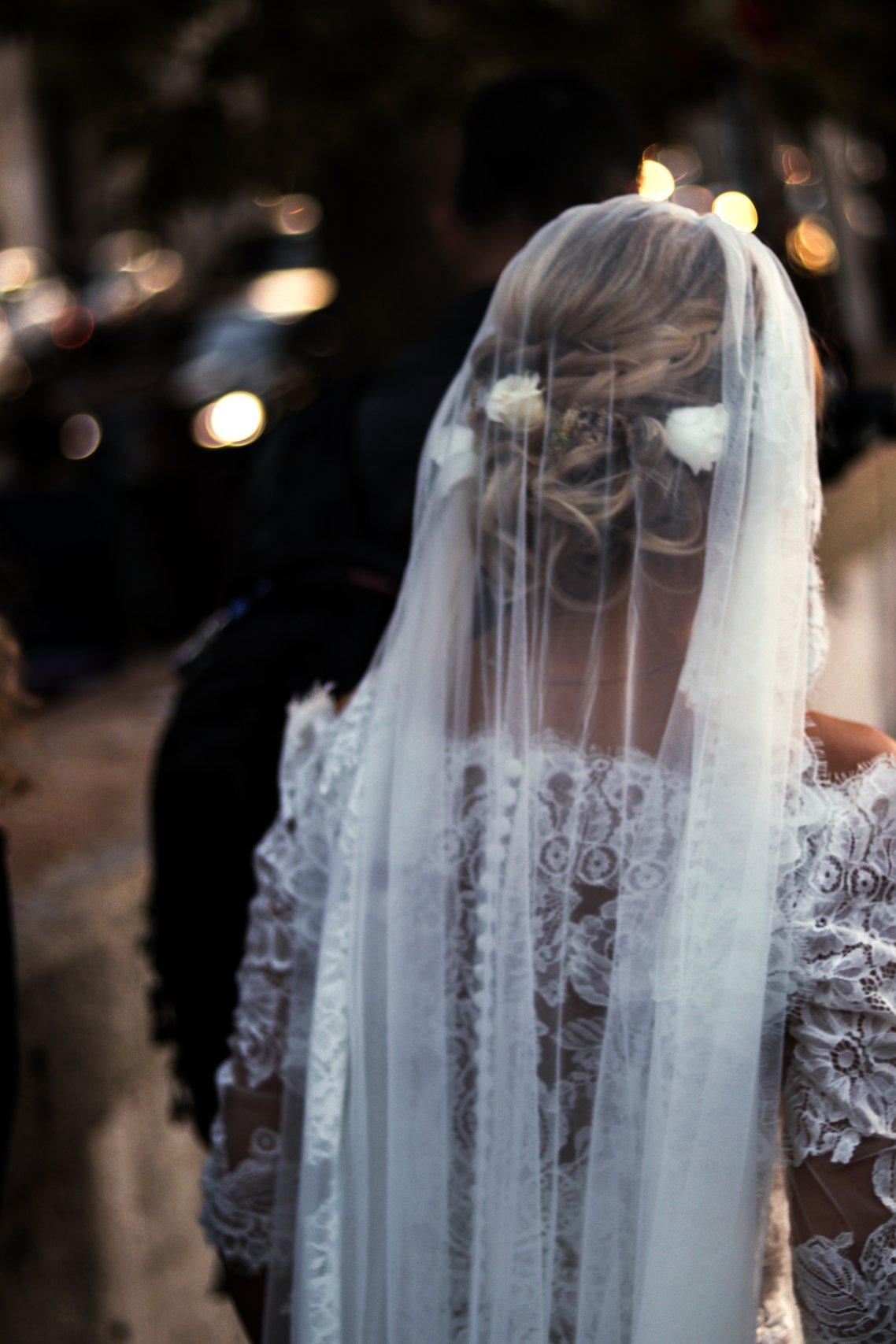 1. Consider Your Budget
As with any aspect of your wedding planning, you need to consider your wedding budget. For a seemingly small accessory, wedding veils can come with impressive price tags. Decide what you're willing to spend on your veil and that'll limit your options from the beginning.
2. Think About Your Hairstyle
The wedding hairstyle you choose will determine what style of veil you wear. If you go for a low up-do, you may wish to clip your veil underneath the base of your bun. If you choose to wear your hair down in long, tousled curls, it's nice to add the veil to the crown of your head for added volume.
Speak to your bridal hairstylist before purchasing your veil to check they'll be able to incorporate it into your chosen look.
READ MORE: 11 Tips for Growing Your Hair Longer & Stronger
3. Try Your Veil on With Your Dress
Your wedding dress is the star of the show on your big day, so you'll want a veil which enhances your dress without outshining it.
Consider what type of veil goes with which dress (more on that later) and then try on lots of different options. You'll soon be able to see which work and which don't.
Which Style of Veil Goes with Which Style of Dress?
If You're Wearing a Simple Wedding Dress
If you're wearing a simple wedding dress and don't want anything too over-the-top, a blusher wedding veil would be the perfect choice.
Choose one with a satin or lace trim if you'd like to frame your face, or a veil embellished in scattered pearls for a stylish take on tradition.
READ MORE: 15 Wedding Traditions You Never Knew the Meanings Behind
If You're Wearing a Heavily Embellished Wedding Dress
If you're already wearing a heavily embellished wedding dress, you can go one of two ways.
If you want a sparkly and glamourous bridal look, go all-out and opt for a cathedral length train. Otherwise, opt for something shorter and simple with bead work around the trim.
If You're Wearing a Dress with a Long Train
If you're wearing a dress with a long train, you can pretty much wear any type of veil. That is, of course, as long as your dress doesn't have lots of detailing to the back.
A cathedral veil would be our choice – just make sure it extends past the end of the train!
If You're Wearing a Dress with a Statement Back
If you're wearing a dress with lots of pretty back detailing, opt for a blusher wedding veil which is designed with just one single tier. This will mean the veil is sheer enough for the detail to be admired through.
If You're Wearing a Short Wedding Dress
If you're wearing a short wedding dress, you'll need to go for a shorter veil too.
A blusher veil would be a lovely choice – or how about a veil alternative like a birdcage veil or headband?
Our Favourite Wedding Veils
1. Britten Barely There Skylar Veil – £68
The Skylar veil by Britten Weddings is perfect for brides who want something subtle and understated. It would look beautiful paired with a bridal up-do and can be attached to a silver, gold or rose gold clip.
2. Ann-Marie Faulkner Peaches Silk Veil – £300
Who says your wedding veil has to be white? This chapel-length veil is crafted in a super silky peach tulle.
Two tiers are attached to a silk-covered hair comb which simply grips into the hair so it can be worn with both hair up and hair down.
3. Phase Eight Leonora Long Veil – £69
Who knew you could get such lovely wedding veils on the high street?
This veil by Phase Eight is gorgeous. It's semi-sheer, purse-friendly and is fastened into the hair with a clear hair comb that no-one else will be able to see.
4. Ann-Marie Faulkner Margarita Daisy Veil – £300
This stunning chapel-length veil is made from soft tulle embroidered with a scattered daisy design in ivory.
We're all for a statement veil, and this one would look fabulous paired with a simple wedding dress.
4. Britten Fingertip Length Lace Edged Wedding Veil – £148
Next up is another beautiful veil for brides who want to keep things simple. Elegant and classic, this off-white wedding veil has a lace trim which starts around shoulder height.
It falls to fingertip length and would look beautiful with a bridal up-do.
5. Britten Lace Flower Motif Wedding Veil – £148
If you're after something longer, the Paisley veil is a lovely choice.
It has lace motifs appliqued around the edge of the train and the front of the veil which each have silver metallic threading running through them.
6. Ann-Marie Faulkner Flores Veil – £380
If you want to add a bit of colour to your wedding day get-up, a veil like this one from Ann-Marie Faulkner would be perfect.
We love the pastel-hued embellishments which adorn the bottom of the veil – the sequins will sparkle as they catch the light! This veil can be worn as a single or double tier.
7. Soft Tulle Wedding Veil with Pearls – £96.41
On the hunt for a wedding veil with a difference? This gorgeous pearl-embellished veil is exactly that.
Ideal for fashion-forward brides, it's available in a whole array of lengths and would complement your simple wedding dress perfectly.
8. Chantilly Lace Wedding Veil – £308.62
We love the way the Chantilly lace frames the bride's face on this wedding veil. It has a cathedral-length, all-over detailing and would stun your guests as you walk down the aisle.
9. Rainbow Club Moonflower Veil – £149
The perfect companion for your boho wedding dress, the Moonflower veil by Rainbow Club is effortlessly elegant.
It's made with Italian tulle, has a single-tier design and is decorated with silver beading. What's not to love?
10. Rainbow Club Sundial Veil – £85
Adorable yet understated, the Sundial veil is perfect for classic brides.
This elegant two-tiered piece is finished off with a marrow edge and scattered with dainty little pearls. They'll sparkle as you walk down the aisle!
11. Ann-Marie Faulker Polka Veil – £125
Brides who want to rock something a little different on their big day will adore this veil by Ann-Marie Faulkner.
This elbow-length veil has been made using a delicately soft French tulle in ivory with flocked ivory spots.
How to Keep Your Wedding Veil in Place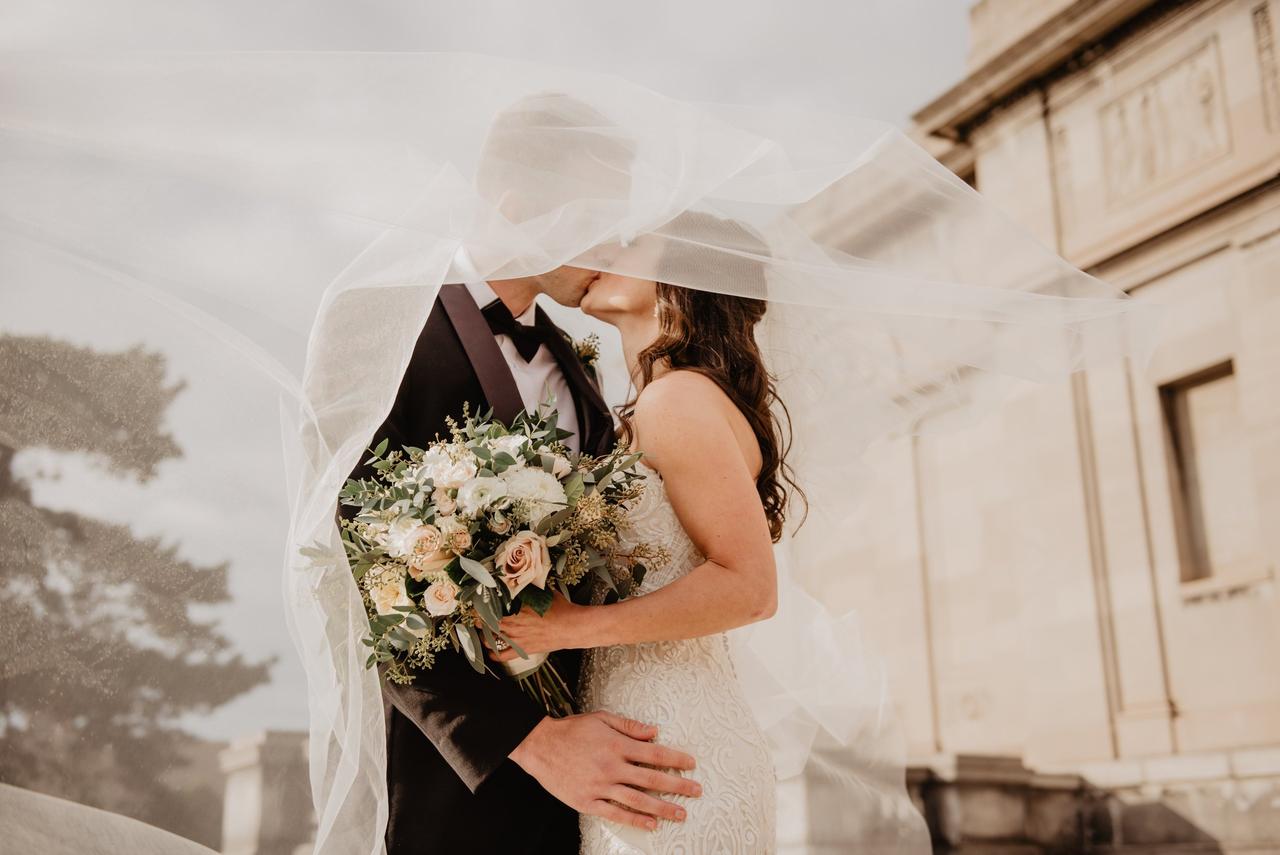 It's particularly difficult to keep your veil in place if you're wearing your hair down, but fear not! We've got some top tips for keeping your veil put all day long.
Backcomb your hair. Use a backcombing brush like this one to lift the section of the hair where you'd like to wear your veil. Then, backcomb the lower section of hair before laying the smooth section back over the top.
Use hairspray! A gentle spritz of hairspray will ensure your veil stays in place for longer. This one holds particularly well without making your hair feel crispy.
Use bobby pins if you don't want to backcomb your hair. Lift the top layer of hair, just above where you'd like the hair comb to sit, and secure two bobby pins in an "X" shape. Drop the top layer of hair and fix the hair comb where you made the "X". If your hair is really thick or extra silky, you may need more than two clips! You can get 240 bobby pins here for less than £7.
Use pin curls to keep your veil in place as an alternative to bobby pins and backcombing. Do this by creating two pins curls where you'd like to secure the veil, then placing the veil into said curls.
READ MORE: 53 Simple Wedding Hairstyles That Are Easy to Master
Now that you've chosen your wedding veil, you can add the other finishing touches to your wedding day outfit. Check out our round up of the best designer wedding shoes which are worth blowing your budget for.