Disco Balls at Weddings: 25 of Our Favourite Ideas
You can never have too many disco balls at your wedding - here's the most cool and creative ways to use them in your décor
We have included third party products to help you navigate and enjoy life's biggest moments. Purchases made through links on this page may earn us a commission.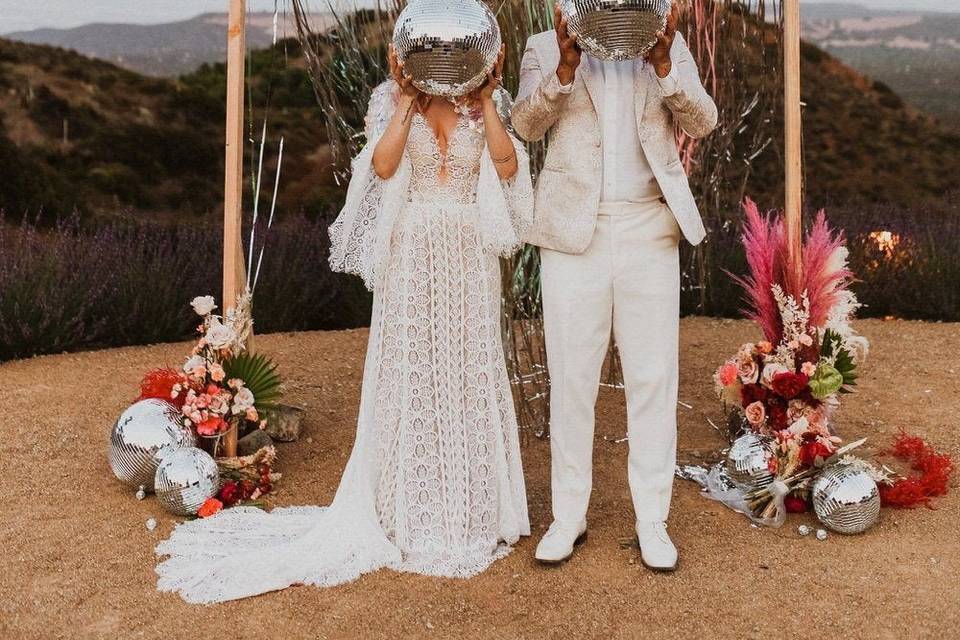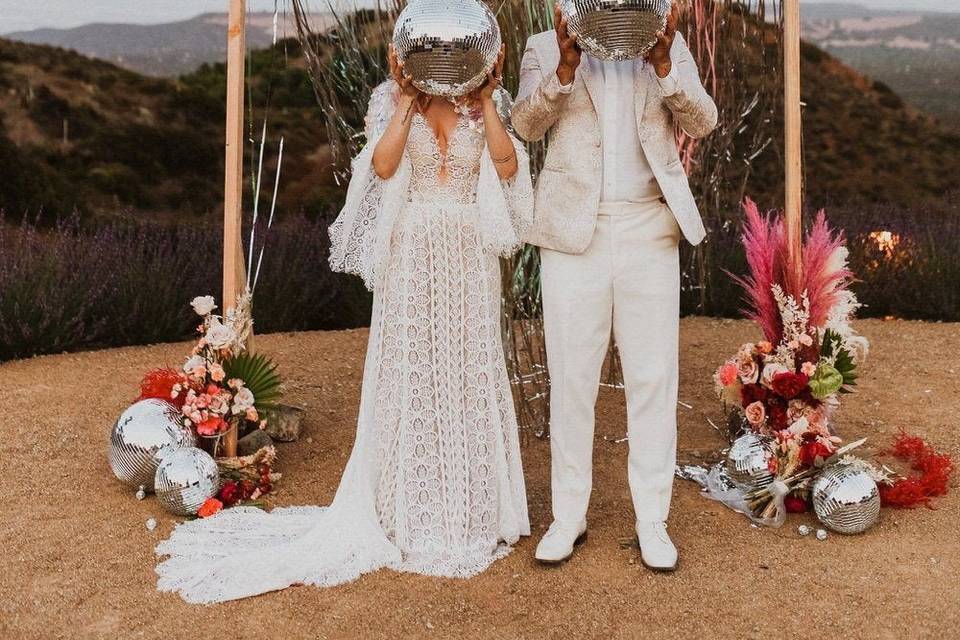 Disco balls are the latest new wedding décor trend and we absolutely love them! Bring some cool glamour to your wedding by using them in a variety of ways, from aisle decoration and place cards to lighting up the centre of the dance floor.
It's completely up to you what they symbolise too. Will you play up your mirror balls with vibrant colours and lots of attitude, or will they be elegant and romantic? Are you going boho chic, classic fairytale, or trendy and edgy? Heck, you can even do groovy '70s bell bottom-themed if you like!
From making them the star of the show to incorporating in small ways, disco balls bring that fun, party vibe to your wedding.
Add a little Studio 54 chic to your day with these 25 amazing disco ball wedding ideas!
1. Use Disco Balls in Your Photoshoot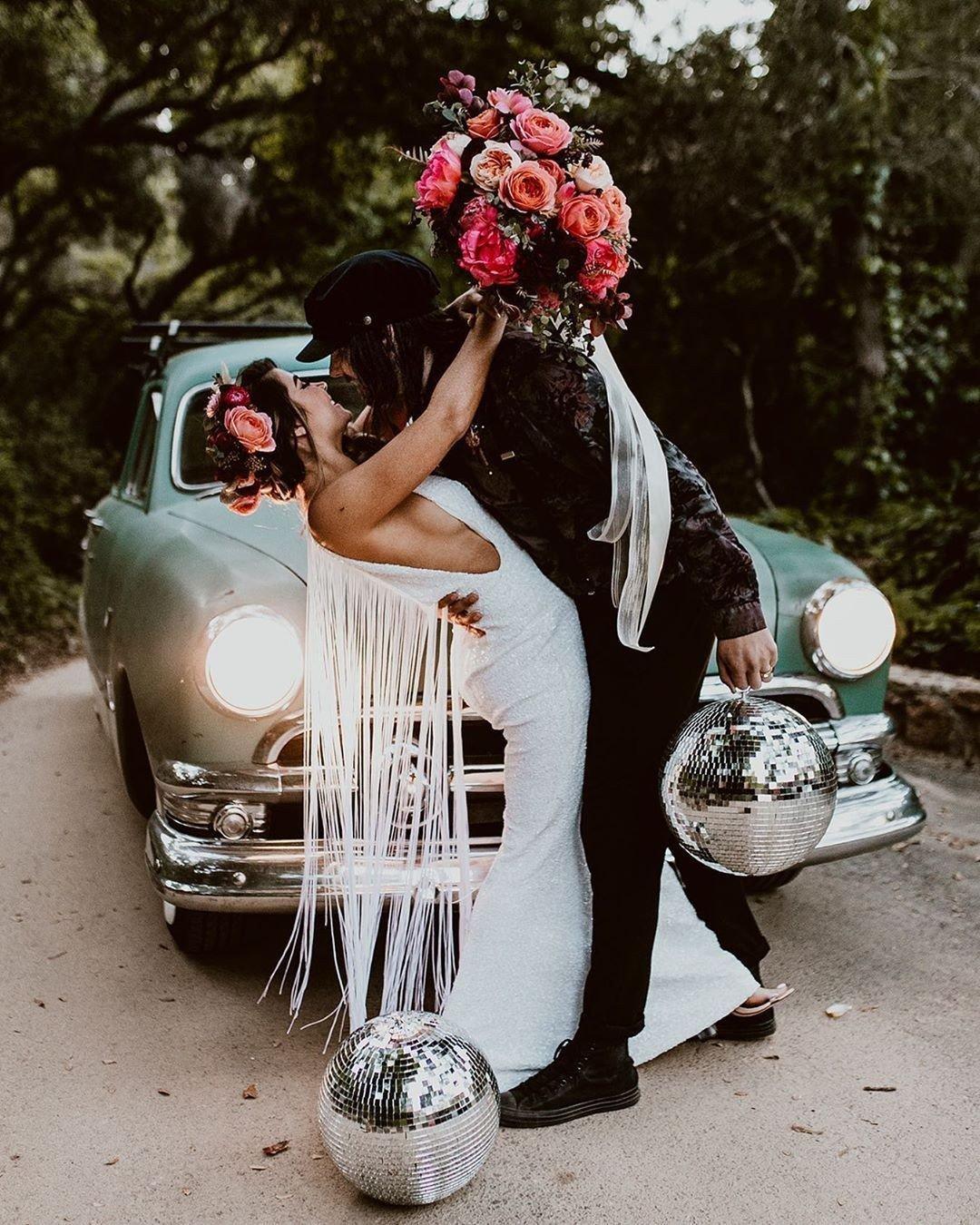 Image: Pinterest
Whether it's an engagement shoot or the couples' photos on your wedding day, disco balls are seriously fun to incorporate as props. Try throwing the ball to each other, covering your faces like our couple above, or hanging them from branches of a tree and having a dance underneath. Using disco balls outside means they'll catch the lovely light and look amazing in pictures.
2. Hang a Statement Installation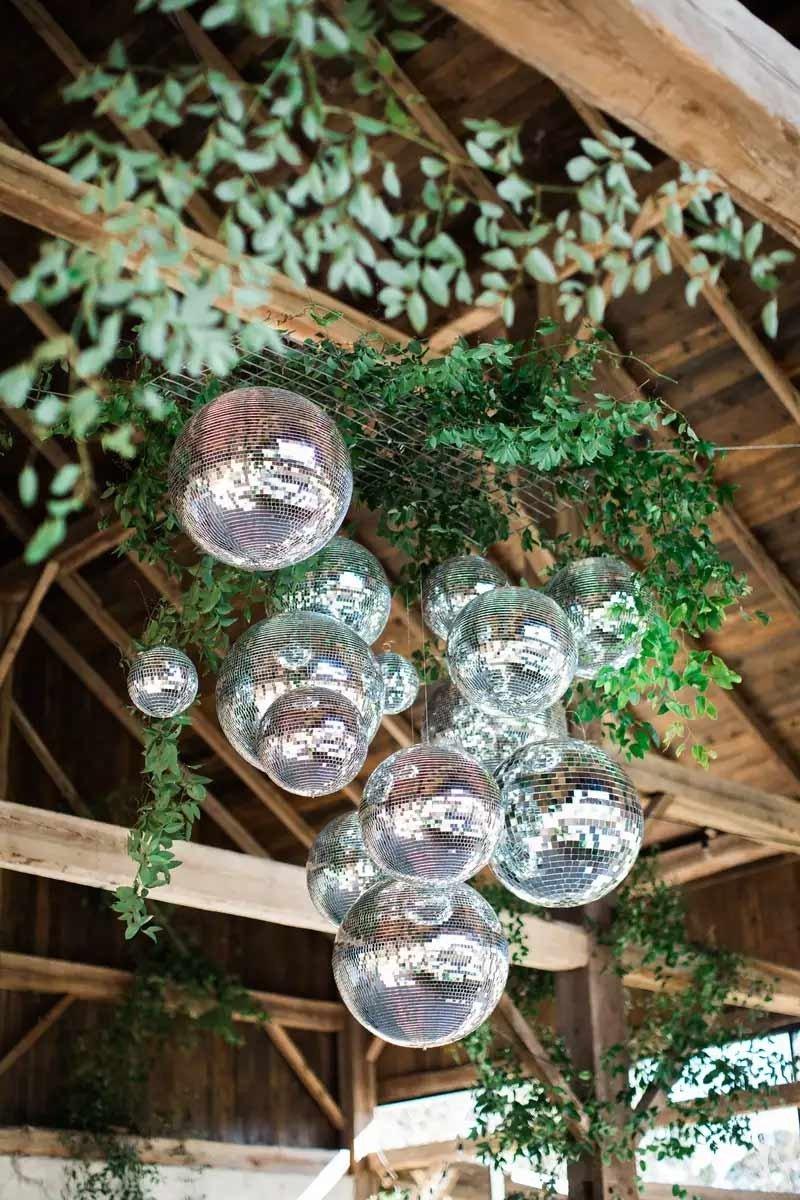 Image: Pinterest
A hanging installation will embellish any room and throw gorgeous disco light around the room when the light hits it. We adore these different size disco balls, strung at varying heights and adorned with greenery.
3. Go For Gold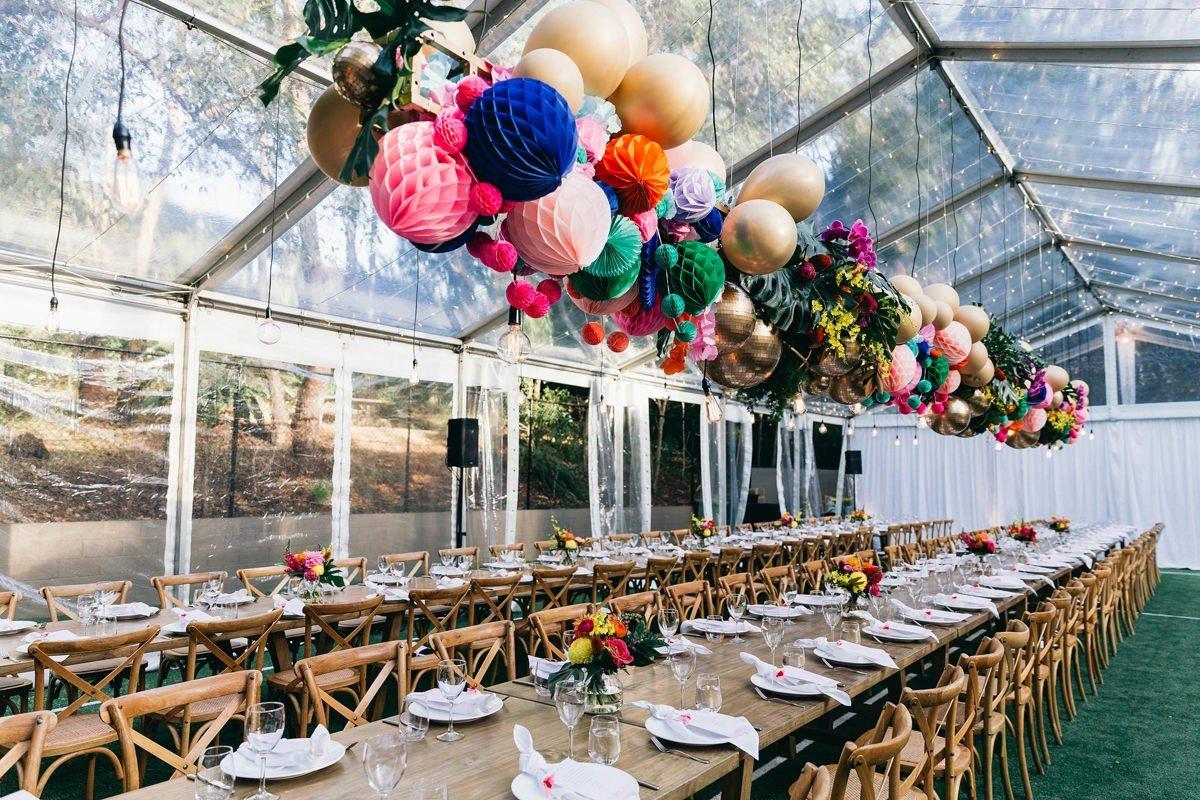 Image: Pinterest
Disco balls don't have to be silver. How gorgeous do these matte gold balls look among balloons, Edison lights and bright paper pom-poms! If gold, copper, bronze or even iridescent green/purple/blue/pink work better with your colour scheme, you can find disco balls in all those shades.
4. Adorn Your Tent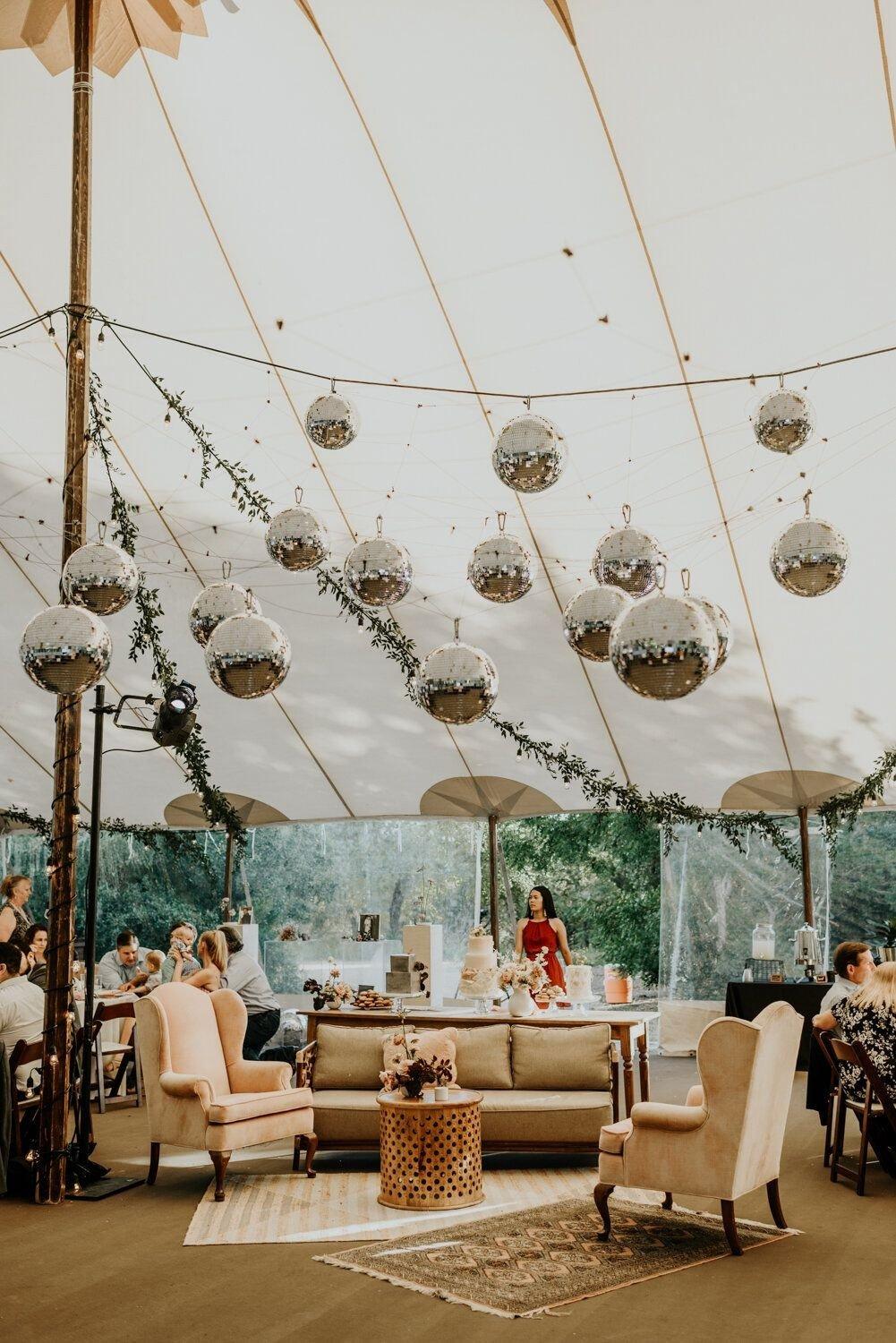 Image: Pinterest
Tents notoriously have a lot of ceiling space. Create a visual fixture by hanging disco balls above a chill-out area for eye-catching impact. The metallic mirror-effect looks amazing in contract to plush fabrics like velvet, rich woods, and vibrant Moroccan-style carpets.
5. Transform into Centrepieces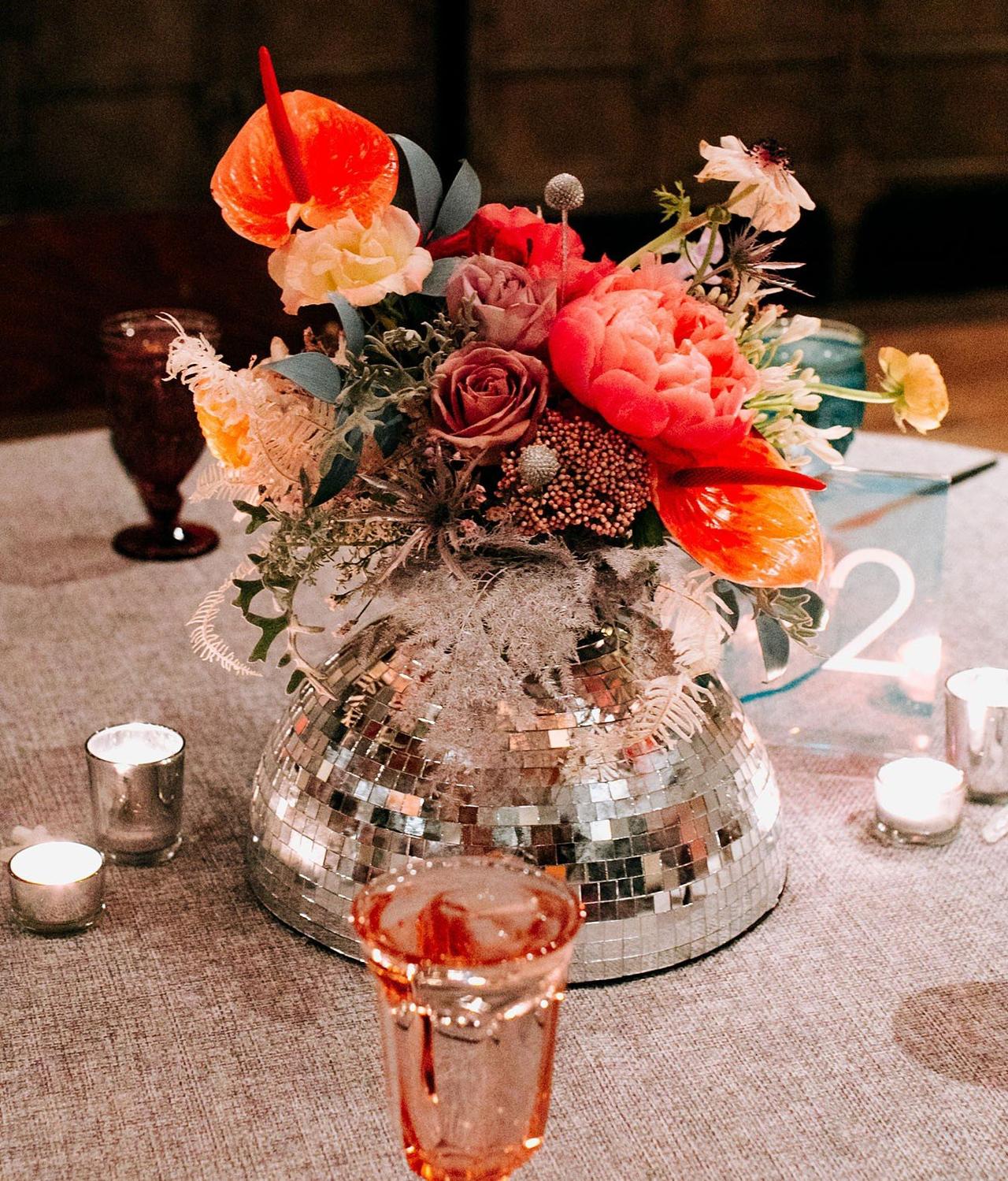 Image: Pinterest
If pizzazz is your middle name, how can you even consider a wedding without disco ball centrepieces? This eclectic look uses a halved mirror ball as a vase for a gorgeous autumnal flower selection and surrounds it with candles and jewel-tone glasses that are reflected back.
6. Combine Them With Colour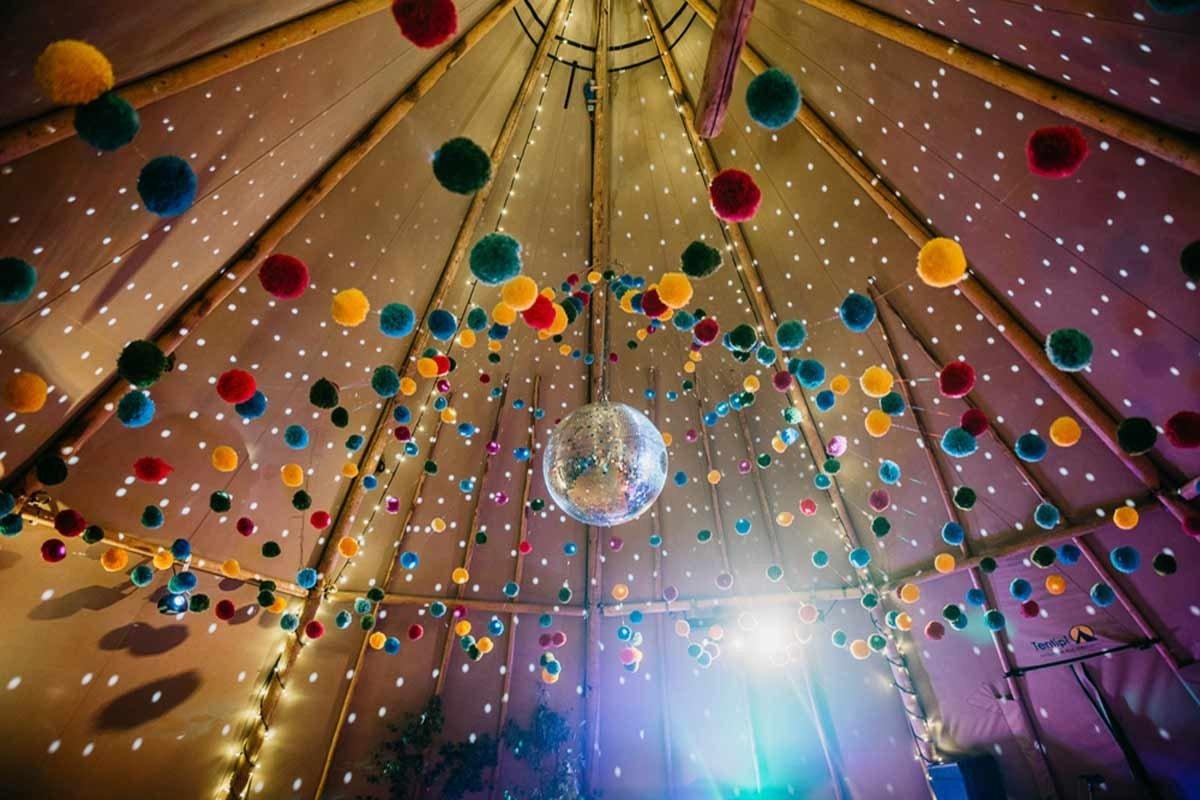 Image: Pinterest
Hang bright pom-poms and one central disco ball from your ceiling to create the coolest light display. It adds so much personality to a tipi, yurt or marquee venue.
7. Frame Your Wedding Arch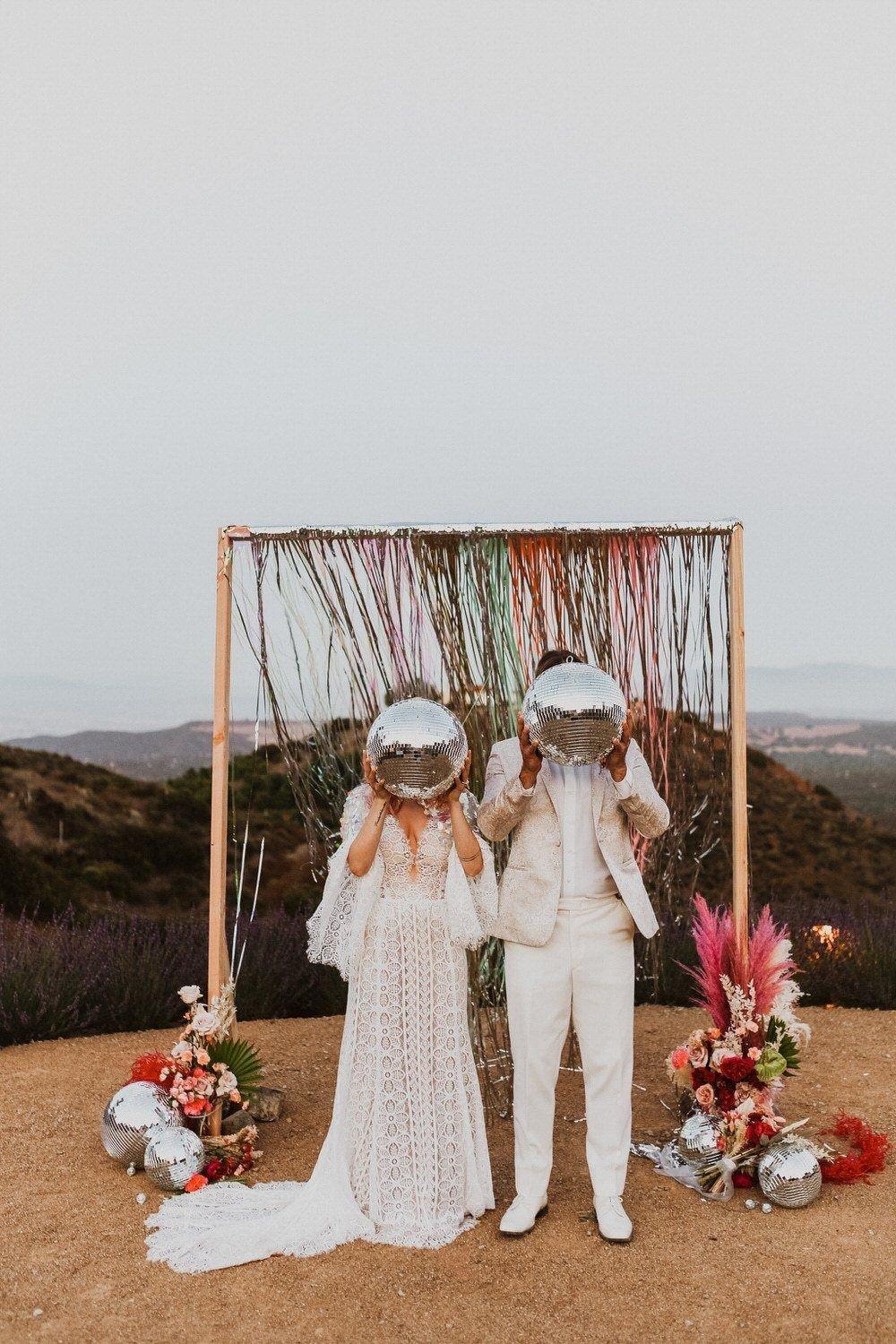 Image: Pinterest
How fabulous do disco balls look flanking the base of a wedding arch, especially paired with the tropical palms and fluffy fronds of pampas grass like in this photo. That iridescent foil fringe curtain plays right into that shimmery, shindig feel too.
8. Make a Photo Booth Backdrop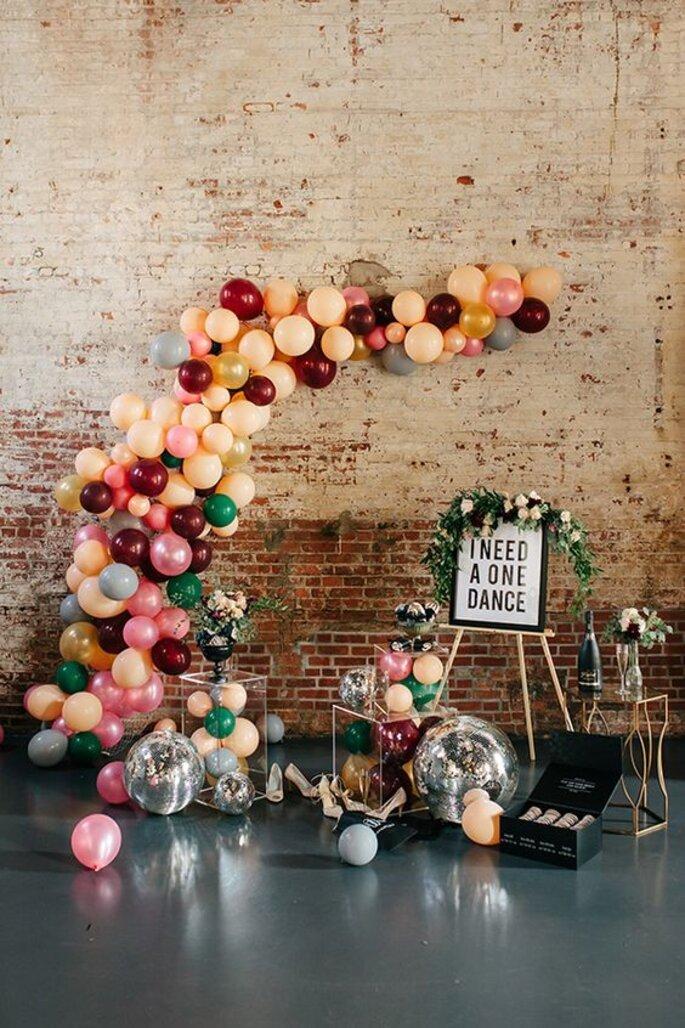 Image: Pinterest
Balloons, mirror balls and a great sign are all you need for a fun photobooth. Set them up against a cool background, like an exposed brick wall, and let your guests and photographer snap away.
9. Add Aisle Decoration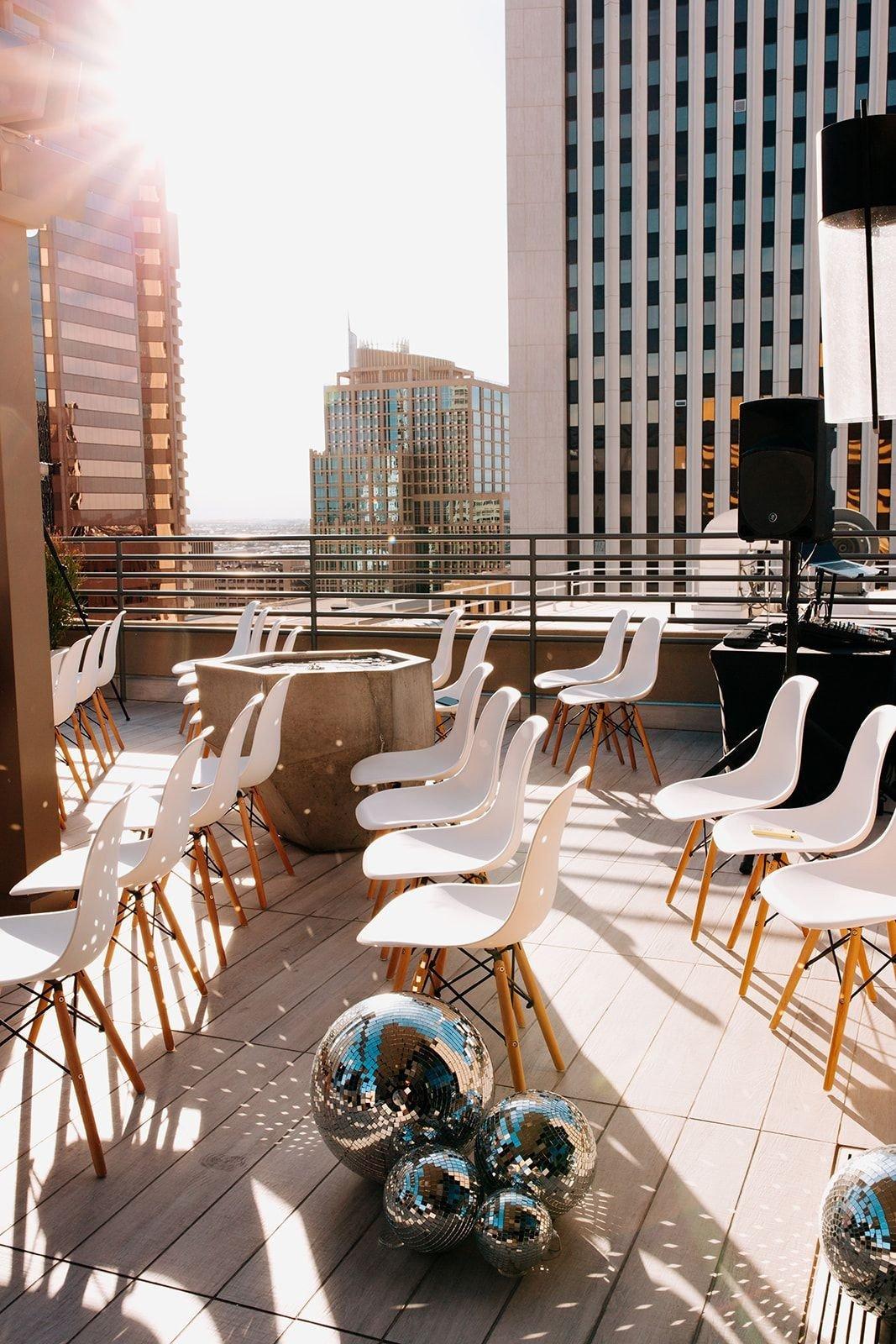 Image: Pinterest
This rooftop wedding set-up is seriously cool. Stark white chairs and different size disco balls scream modern and minimalist.
10. Set Up a Unique Top Tablescape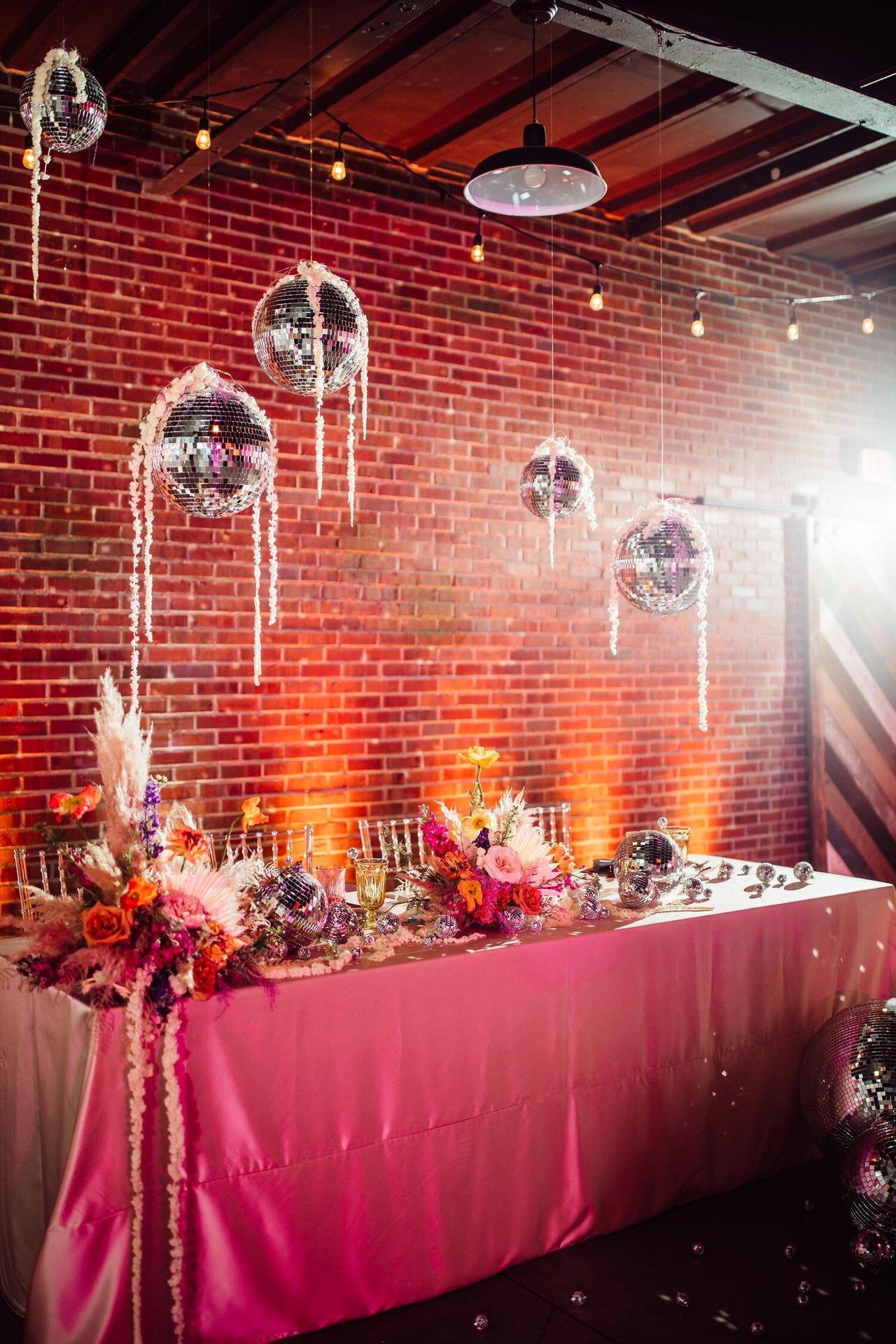 Image: Pinterest
Your top table should be the most special in the room. After all, it's not just the newlyweds there, but your best friends and your parents too. Let everyone know how how much you love your forever-VIPs by setting up a disco ball tablescape.
11. Fill a Punch Bowl

Image: Etsy
This disco punch bowl from Etsy can be customised with glitter or colour inside and will absolutely jazz up everything from your hen do and engagement party to a drinks table at your reception.
12. Create a Fairytale Chandelier Display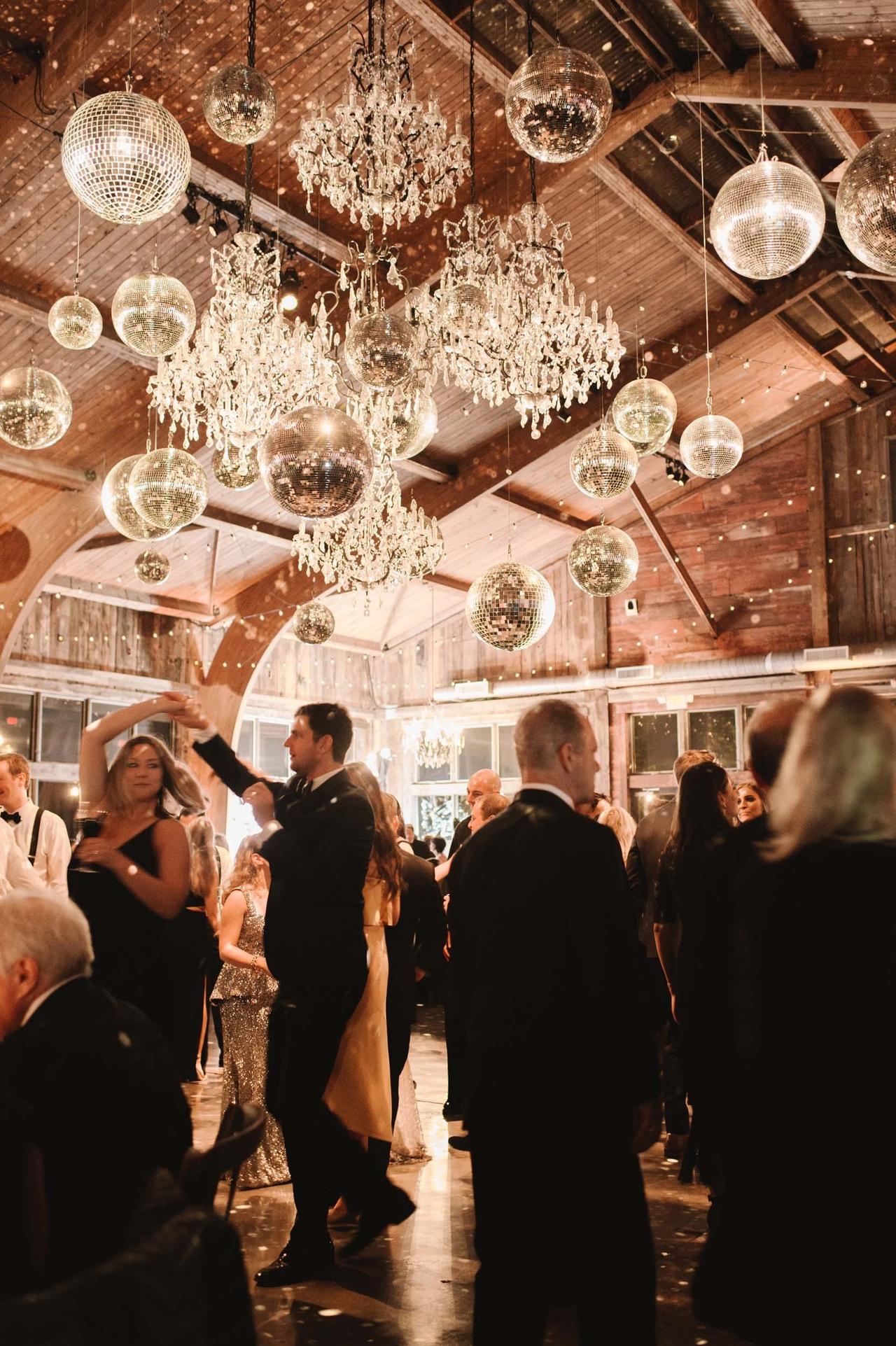 Image: Pinterest
Disco balls need light to look their best. For a romantic, fairytale dance floor, combine mirrored balls with lit chandeliers and let the light dance across the room.
13. Stir Your Drinks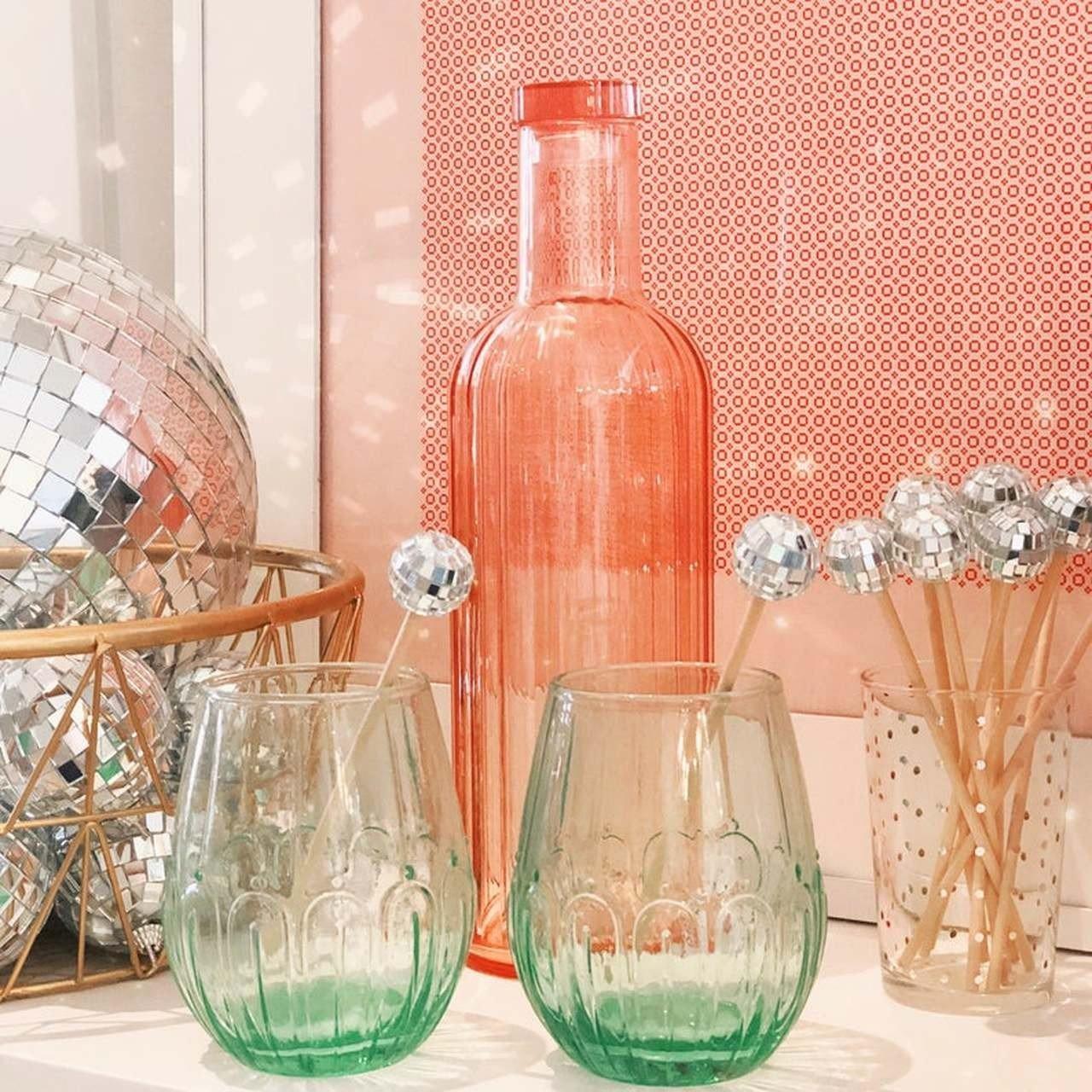 Image: Pinterest
Hell yes, those are disco ball swizzle sticks! Such a subtle and easy way to add a bit of flair to your reception drinks is to serve these mirror ball stirrers in them. They'll look fantastic in your cocktail hour photos.
14. Serve Disco Ball Drinks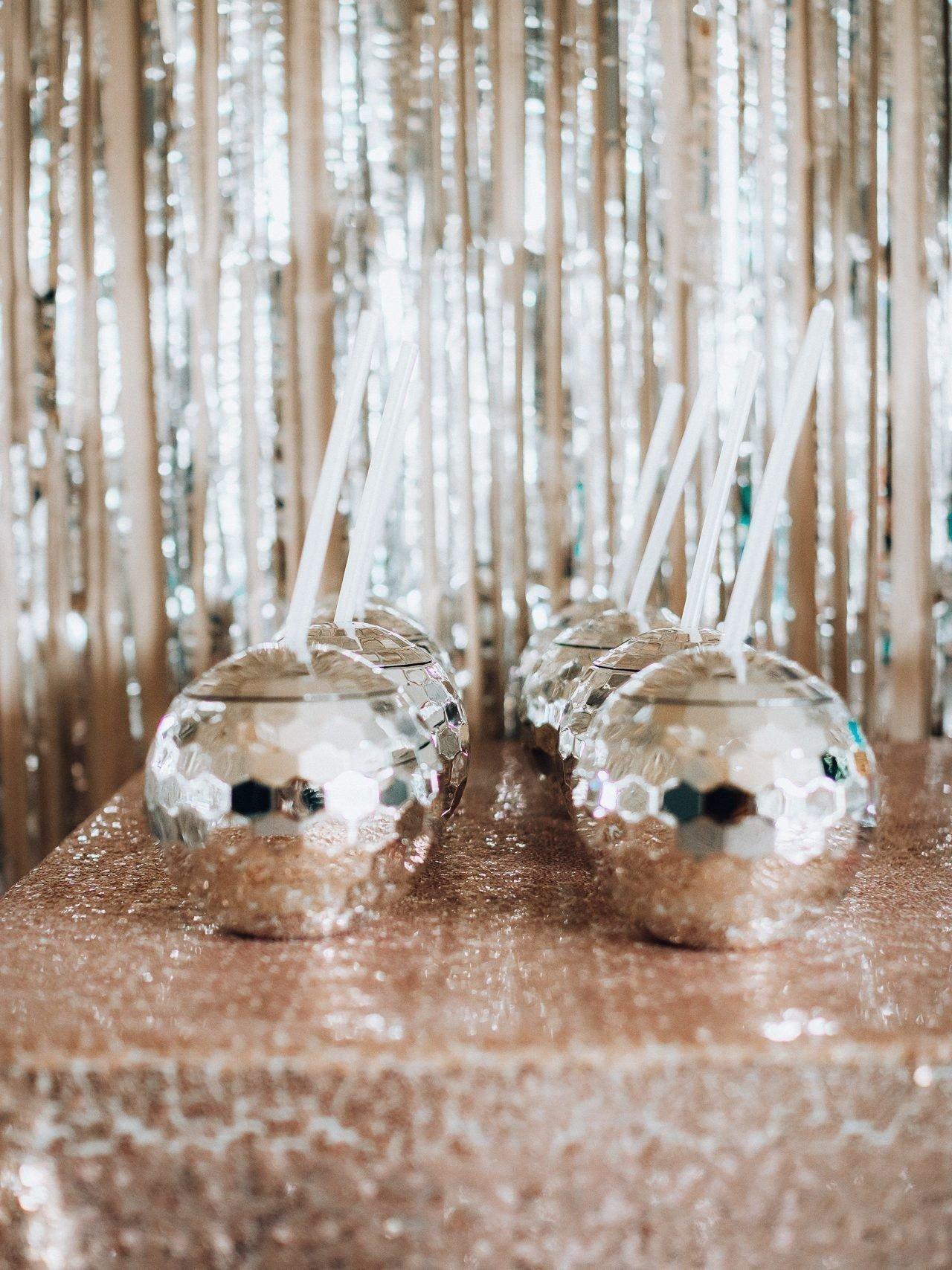 Image: Pinterest
There's nothing more extra than disco ball tumblers. If your budget can't stretch to buying 100+ for guests, how about getting them just for the top table or your bridesmaids and groomsmen? Even cuter is getting one each for all the kids at your wedding – it stops any drink spillages too!
15. Guide Guests to Their Seats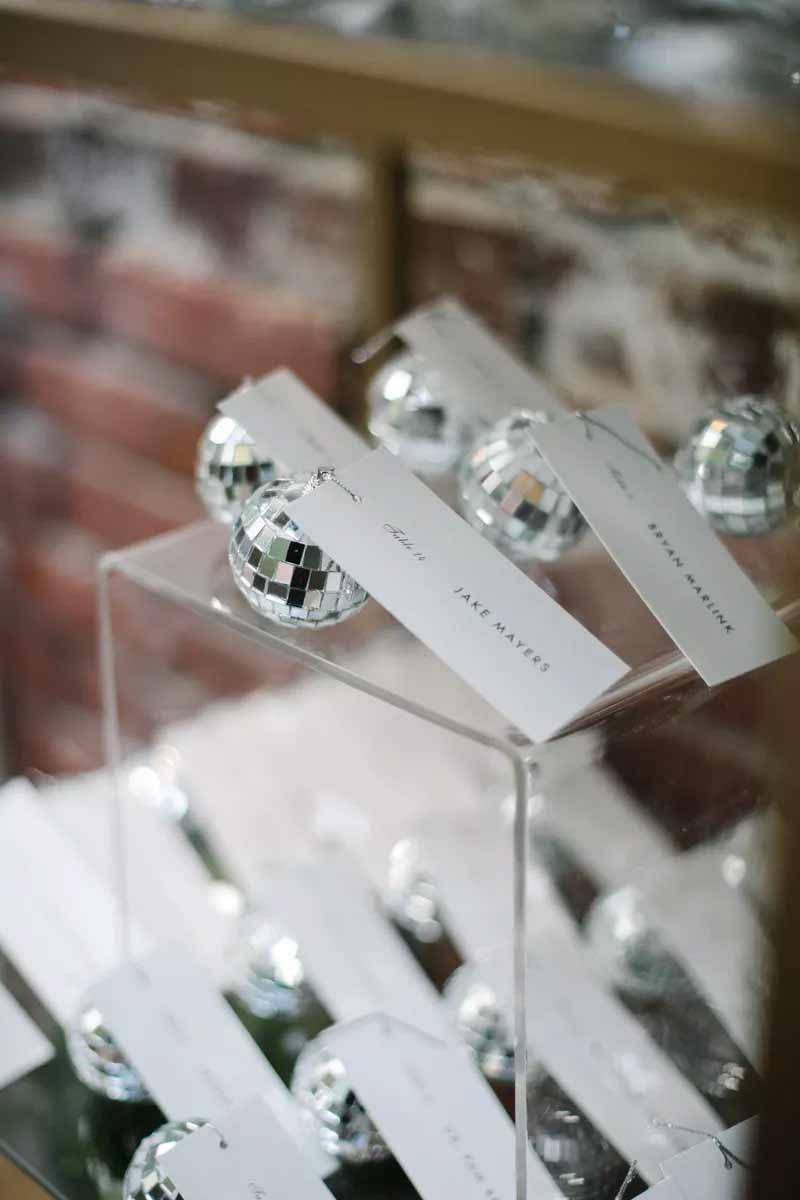 Image: Pinterest
We adore these mini disco ball place card holders. They look so chic and set the tone for a wedding reception with plenty of glitz, glam and dancing.
16. Mix with Dried Florals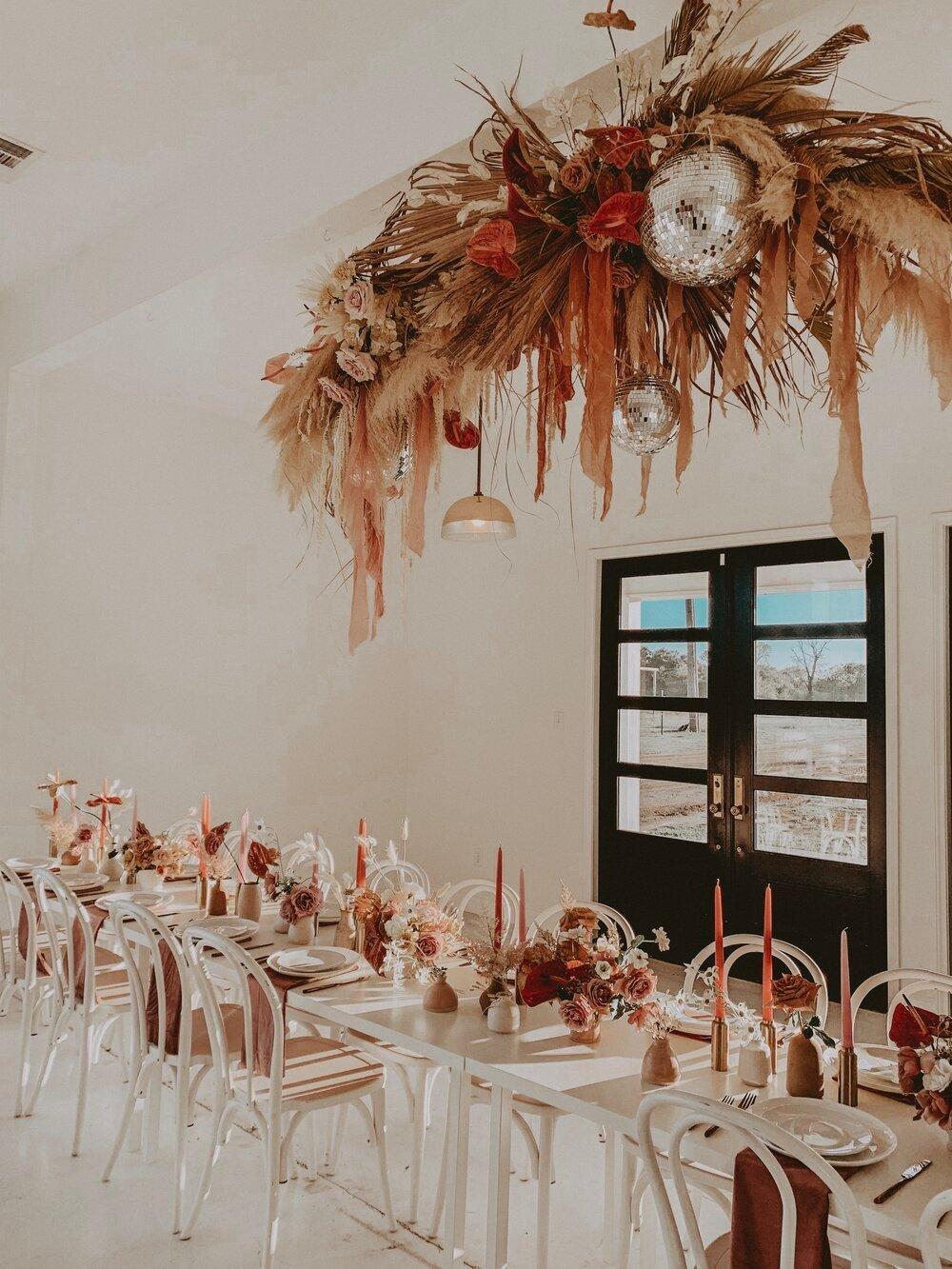 Image: Pinterest
Floral clouds and installations are a huge décor trend already. Why not ramp up the lustre by mixing in disco balls?
17. Make a Magnificent Cake Stand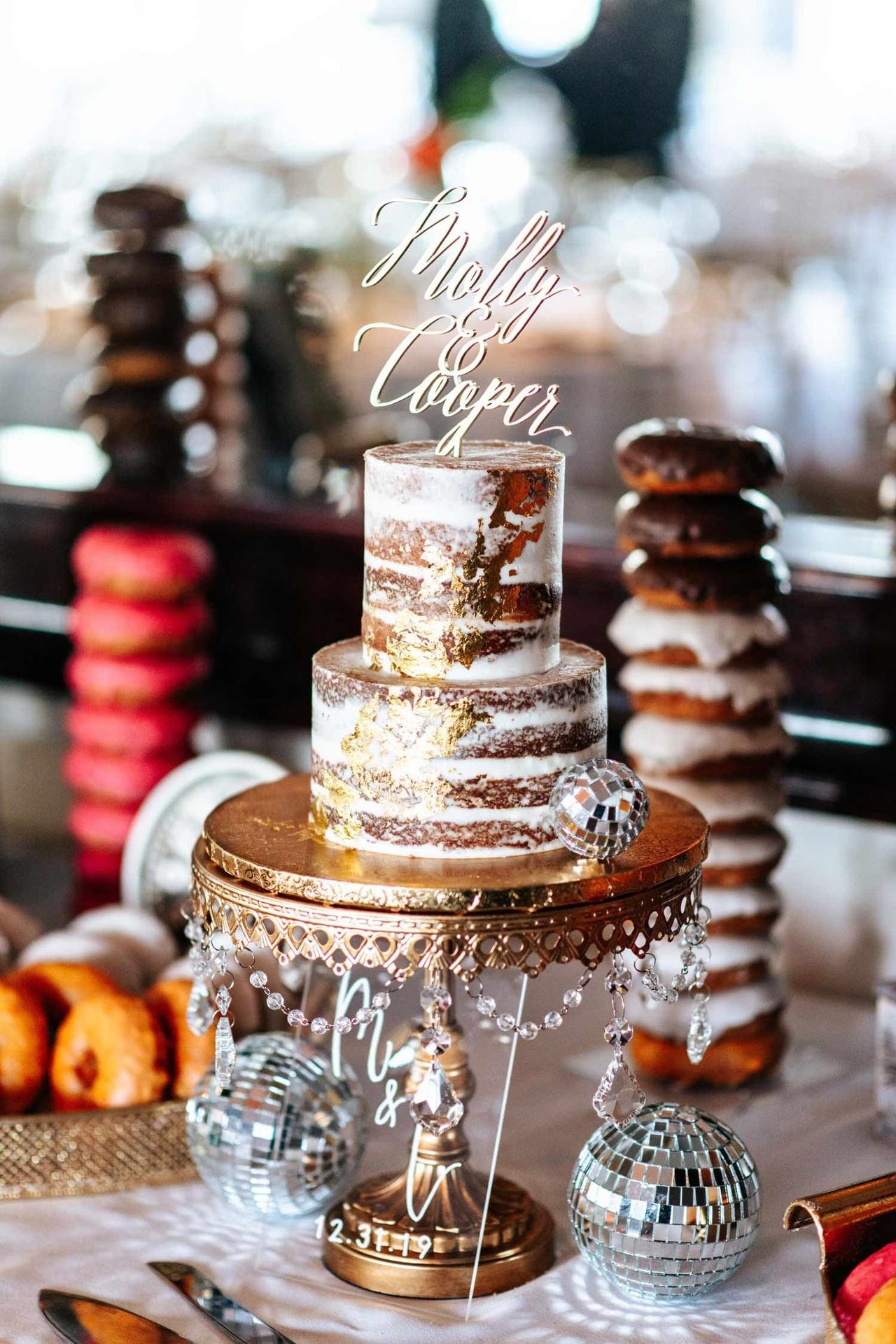 Image: Pinterest
Just a few mini disco balls dotted around and on the side of your cake stand or dessert table can elevate the entire look. A simple naked or semi-naked cake (we love the gold foil on this one) is instantly made more special by them.
18. String Up a Room-Divider Curtain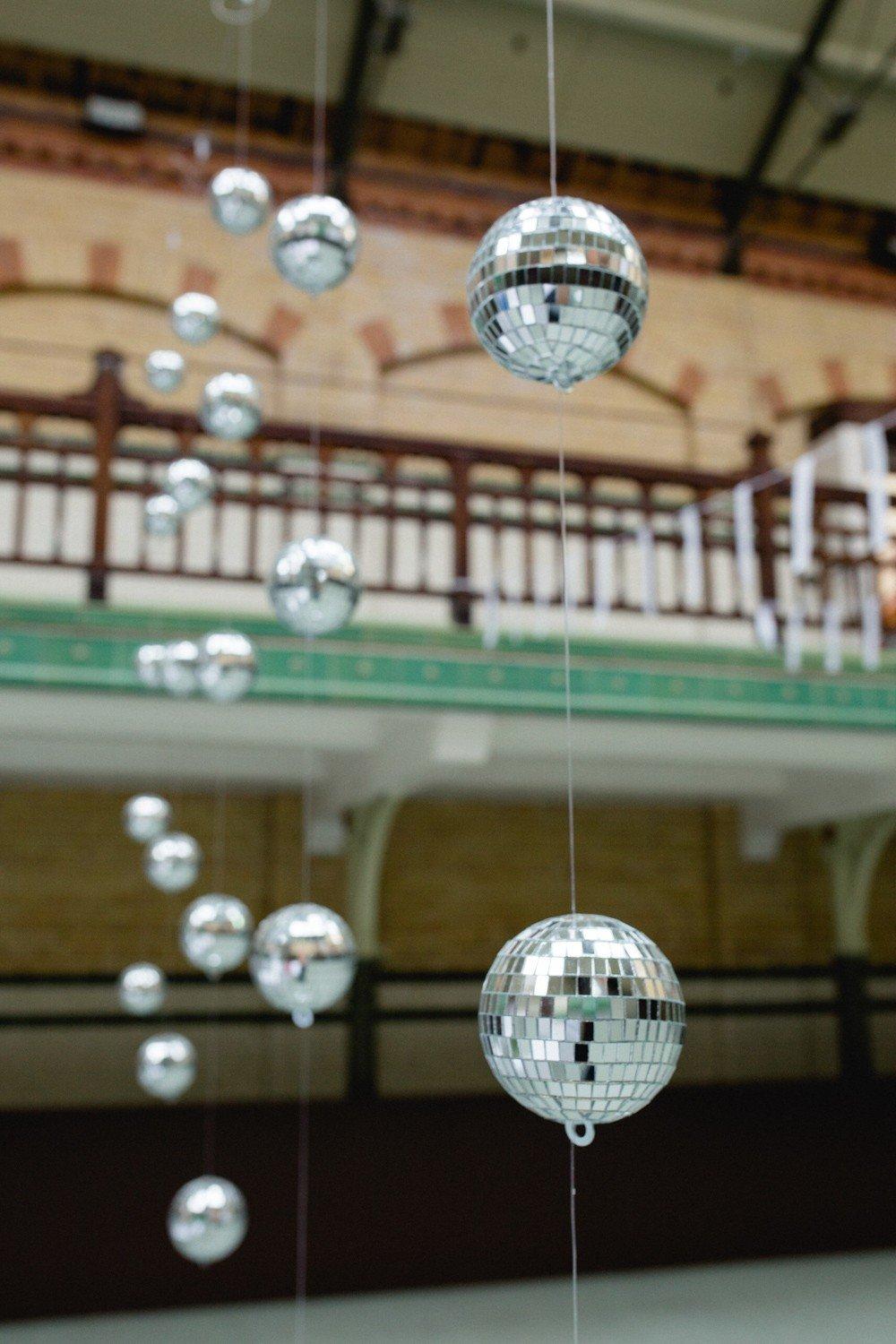 Image: Pinterest
Hang strings of mini disco balls from your ceiling and use it to frame an entrance that your guests have to walk through to get to the ceremony or reception space. It's a great way to separate spaces if you've got a big, open-plan venue. You could have a curtain of disco balls up separating the wedding breakfast tables from the dance floor until it's time to boogie.
19. Create a Disco Seating Plan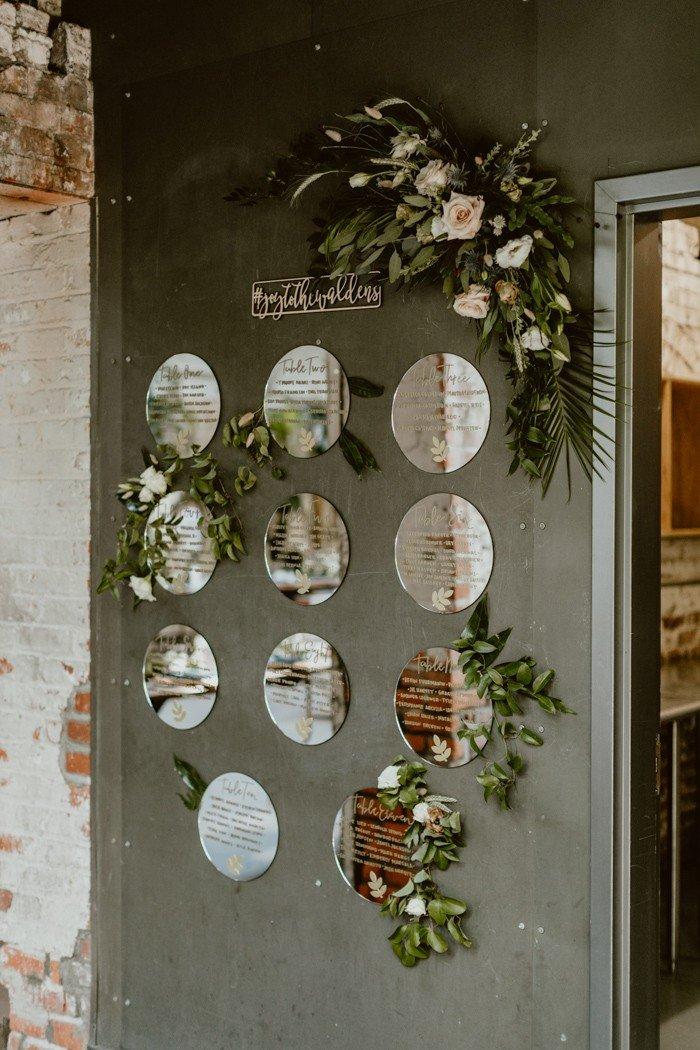 Image: Pinterest
Mirrored circular table plans embrace that disco ball feel and match with mirrored place card holders. Pair with fresh greenery for a modern look.
20. Take Your Getting Ready Shots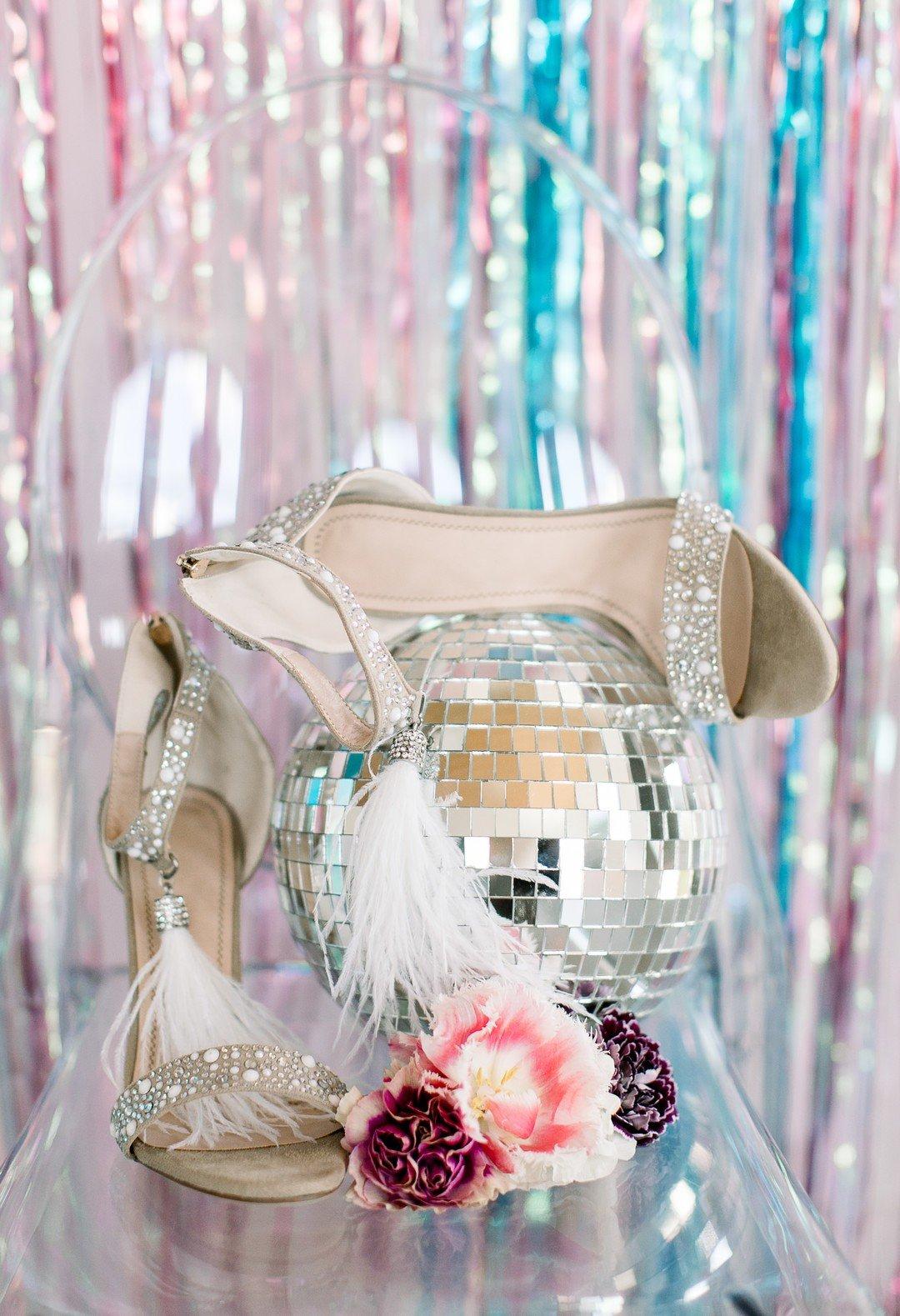 Image: Pinterest
Can't think of a way to tie mirror balls into your décor? Just use them in your getting ready shots. That could be sipping Champagne from those tumblers above with your girls as you get your hair done, or using them to prop up shots of your shoes, ring and more. Your photographer will know exactly how to capture them.
21. Smash One as a Piñata!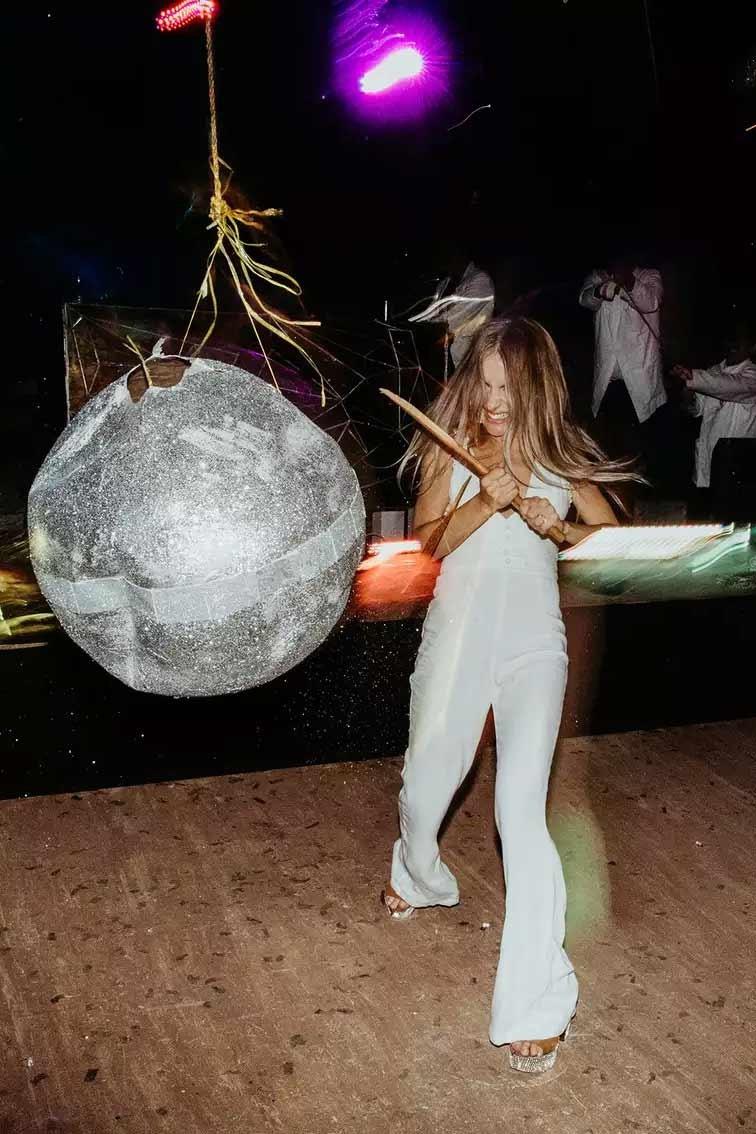 Image: Pinterest
Making a piñata is actually a super simple DIY or you can buy one. Papier-mâché a giant balloon and cover it in glitter or fringing when it's dry. Then it's up to you to decide what to put inside! We vote for sweets.
22. Accent Your Altar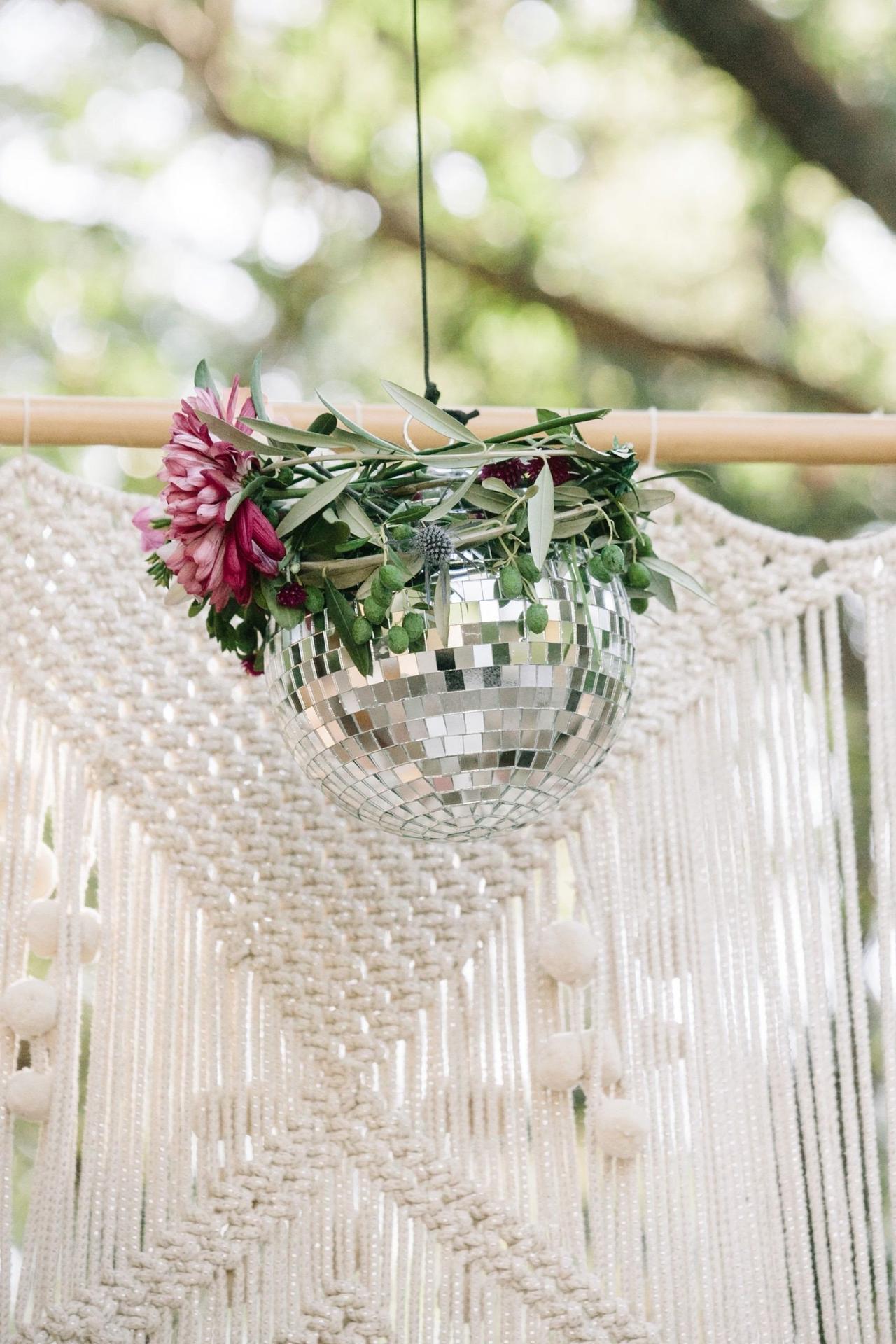 Image: Pinterest
A boho chic macrame altar is crying out for disco ball detailing. This one even gets it own flower crown!
23. Maximise Your Lighting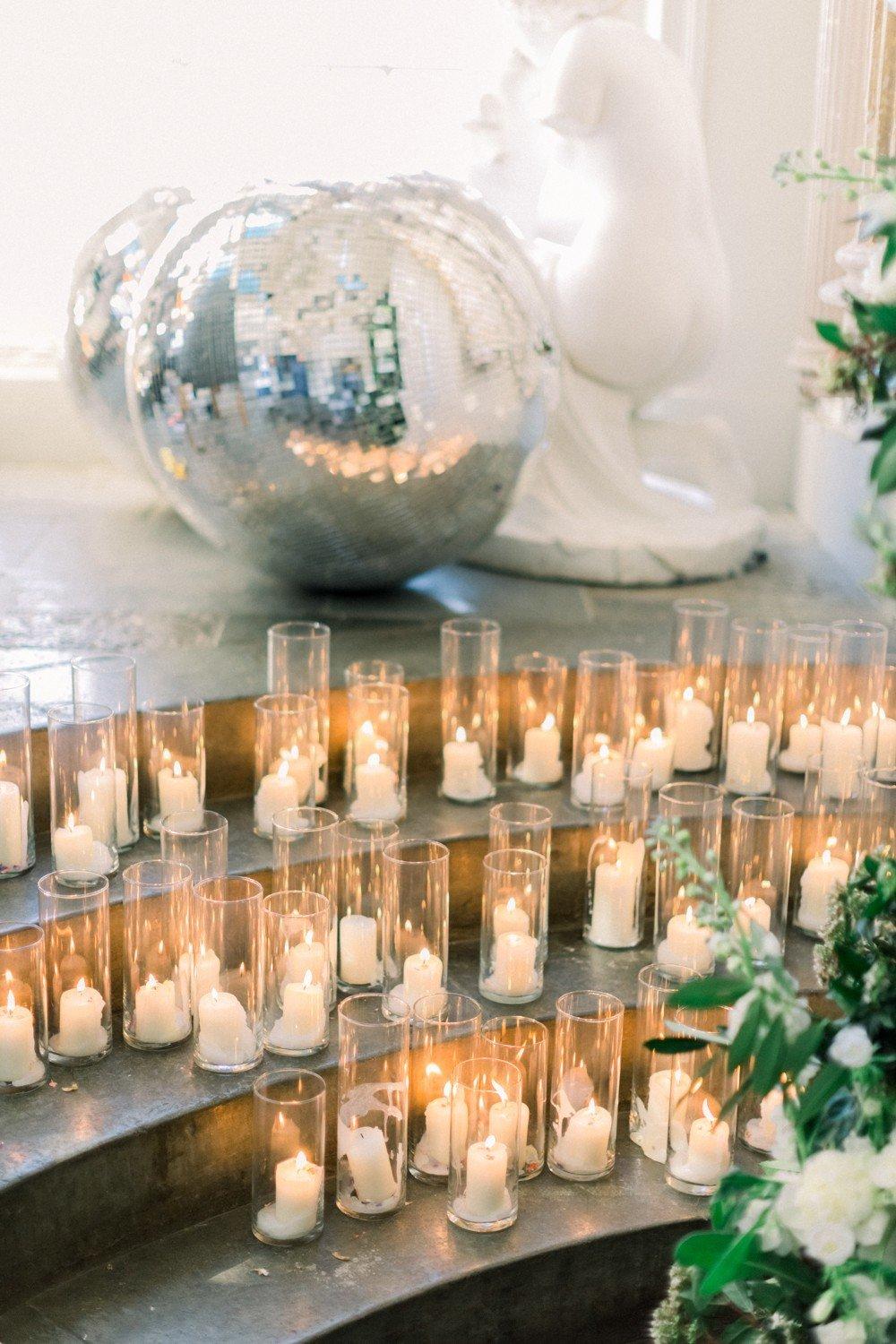 Image: Pinterest
Whether you have a naturally bright and airy venue or you're making good use of candles, a disco ball is going to intensify that light and shine. All white venues look particularly impressive with disco balls.
24. Go Outdoors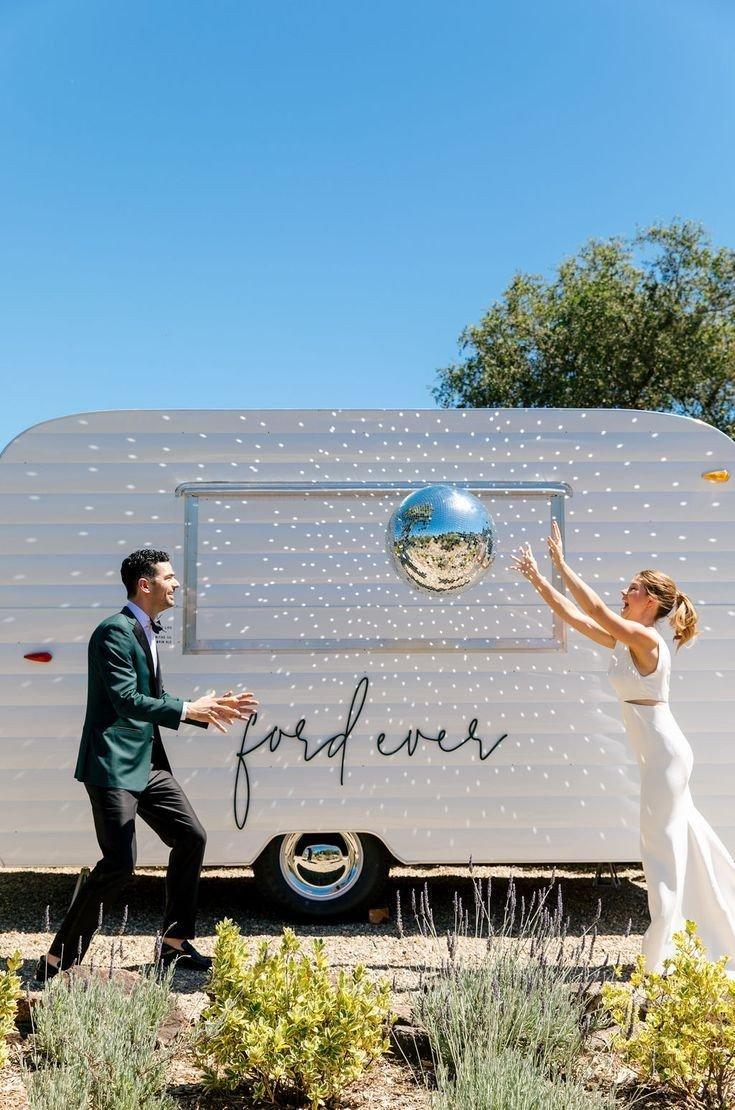 Image: Pinterest
This couple have embraced a disco ball for their couple shots and it shows off just how good these accessories look in sunlight. From an outdoor courtyard to a garden games area, disco balls hung from trees or mixed among outside festoon lighting will take your décor easily from day to night.
25. Match Your Outfit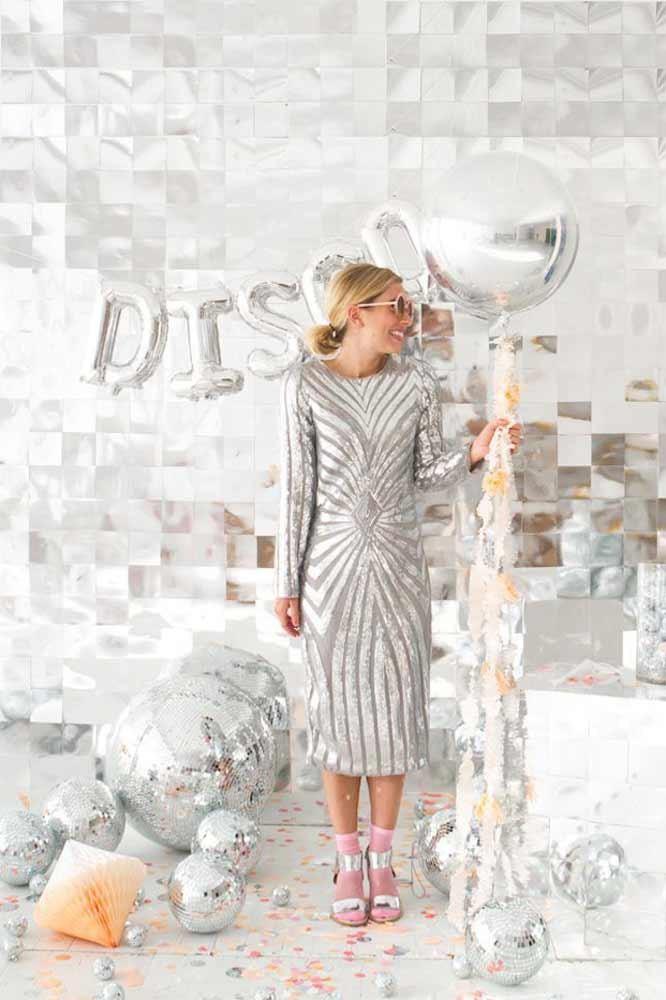 Image: Pinterest
White dress seem a bit plain to you? Go all out in a glamorous outfit that's made for dancing and match your disco ball décor! They really work with a Great Gatsby or vintage theme.
Why not check out 27 gorgeous ways to dress up your wedding chairs too?