23 Bridgerton-Inspired Wedding Ideas That Would Get Lady Whistledown's Approval
Embrace the elegant fashion, luxurious parties and playful colours of the Regency period by throwing a Bridgerton-inspired wedding. Whether you're the show's biggest fan or just fell in love with the romance, here's 23 beautiful ideas to inspire you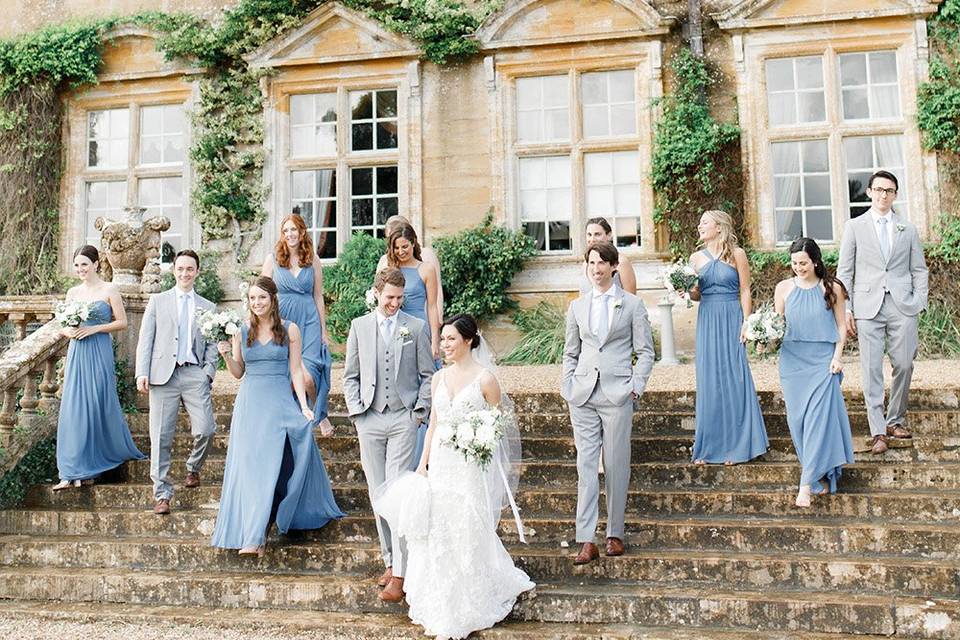 Ever since Bridgerton hit our TV screens, we've been obsessed with the amazing costumes, stunning sets and tantalising high society gossip. No wonder that the romance and decadence of the Regency period has started to inspire weddings and will be one of the biggest wedding trends for 2022.
The average couple aren't about to dress up like Daphne and Simon or word their invites like Lady Whistledown, but there's lots of influence you can find in the whimsical colour palettes, enchanting literary quotes, playful ruffles and lace, and luxury touches.
From bridesmaid dresses inspired by the Featherington's love of colour to vintage-style afternoon tea, trailing wisteria, personalised wax seals, Georgian wedding venues and modern empire waist dresses, you'll find everything you need to pull off a beautiful Bridgerton-inspired wedding.
READ MORE
Bridgerton-Inspired Wedding Décor
1. A Georgian Wedding Venue
The ultimate way to feel like you've stepped into The Ton is to choose a Regency-era wedding venue as the backdrop to your big day - and even better if it was used as one of the filming locations itself! Much of the filming of Bridgerton took place in Bath, but there are some magnificent locations in London and across the UK too.
Leigh Court played host to some of most spectacular ballroom scenes, thanks to its Great Hall which features a fairytale double staircase for a truly grand entrance, while Simon and Daphne's infamous wedding night was filmed at the beautiful Dorney Court, near Windsor.
You may have spotted Painshill Park in Surrey playing host to the Bridgerton and Featherington families on their regular walks in the show, and the grounds of Stowe House in Buckinghamshire were the glittering backdrop to the outdoor Vauxhall Ball.
Syon Park in South West London served as the notable setting for scenes with Queen Charlotte and her husband, while Hampton Court Palace stood in for St James' Palace, where Queen Charlotte rules her court. If you're after the wisteria-covered Bridgerton House, that's actually Ranger's House in Greenwich - an incredible wedding venue inside and out.
Further north is Castle Howard in North Yorkshire. The magnificent historic house played Clyvedon Castle where Simon and Daphne moved to after their marriage. The entrance hall, facade and grounds were used for filming, but - much like all these venues - there are so many more incredible corners to explore than we saw on the small screen.
2. Regency Blue Colour Palette
Regency blue was the signature colour of the period. It's a soft but striking pastel blue that combined the newly-invented Prussian Blue pigment with a traditional lead-white base and you would find it used throughout houses and in architecture of the times.
That vibrant blue hue looks incredible used as the basis of a colour scheme for a Bridgerton-inspired wedding. How gorgeous does it look above used as a linen table runner at a rustic wedding! Accompanied with white florals and lush green foliage, it's romantic, whimsical and softens hard wood colours.
Mother nature knew what she was doing when she created hydrangeas in this beautiful pale blue tone. Hydrangeas look incredible in floral installations, flower walls, bouquets and button holes. While they lend themselves to a country garden wedding like this one above, they look incredible at chic city weddings and elegant hotel weddings too.
Paired with white again, we are in love with this floral table runner that acts as a centrepiece on banquet-style tables. If you are having round tables, ask your florist to create low centrepieces for the middle of the tables that combine hydrangeas with foliage, glassware and candles.
Another way to use Regency blue in your colour scheme is in your table settings. Blue napkins wrapped with contrasting ribbon and olive leaves sit beautifully next to white and blue patterned plates with gold accents.
How stunning are these blue glasses too; jewel tone glasses are a fabulous way to add warmth to a table setting and look so good in photographs as guests carry them around for the evening.
How about these at the entrance to a wedding? Huge blue and white floral displays welcomed guests to the reception and dancefloor at this event above. Ask your florist about using tones of blue from hydrangeas, delphiniums, hyacinths, irises, forget-me-nots, thistles and stocks. You can even use dyed gypsophila in soft blue hues as filler.
3. Wisteria Decorations
It was a sad moment when we discovered that the wisteria that adorned the Bridgerton family home was added in with CGI. Luckily, if you get your timings right, you might find your wedding venue does boast its own covering of the fragrant, flowering vines.
During the months of April and June, many country house wedding venues have wisteria climbing up the front or on trellises in their gardens. You can pose in front of it for photos or you can ask for your tables to be set underneath a tunnel of wisteria at an outdoor wedding.
Since not every venue comes with its own supply of wisteria, you might have to have a little help from your florist to load up your wedding, but it will totally be worth it. Imagine all your guests entering your venue through an arch of wisteria and roses as above.
To keep your wedding as environmentally-friendly as possible, try to use wisteria only when its in season so it's not flown in from abroad. This means it'll look and smell as its best!
4. Handwritten Notes
There was no WhatsApp or emails in the Regency period, so embrace the long-forgotten art of letter writing. We love the idea of leaving a handwritten note to each of your guests on their place setting. It can actually replace a place card if you calligraph their names beautifully on an envelope and prop it up at their spot.
We realise this will take a lot of time, but it will be so appreciated by your guests. You didn't need to write a long note, but perhaps a few lines about how pleased you are they are at your wedding or a favourite memory with them? You can get personalised note cards from your stationer or special ones from the likes of Papier. It's a really special touch and will make your guests feel so valued.
5. Literary Quotes
Whether you use a favourite line from the series itself or another beloved romantic novel, using literary quotes in your wedding is a great way to personalise your wedding. While they work so well in vows and speeches, we're huge fans of incorporating them into your décor. Quotes from the likes of Pride and Prejudice make wonderful aisle runners, written in calligraphy by your stationer on fabric or paper.
Below is a Jane Eyre quote that was written on a ribbon and used in photographs before the wedding with the invitations. On the day, it was wrapped around the bouquet and trailed down the bride's hand as she walked down the aisle.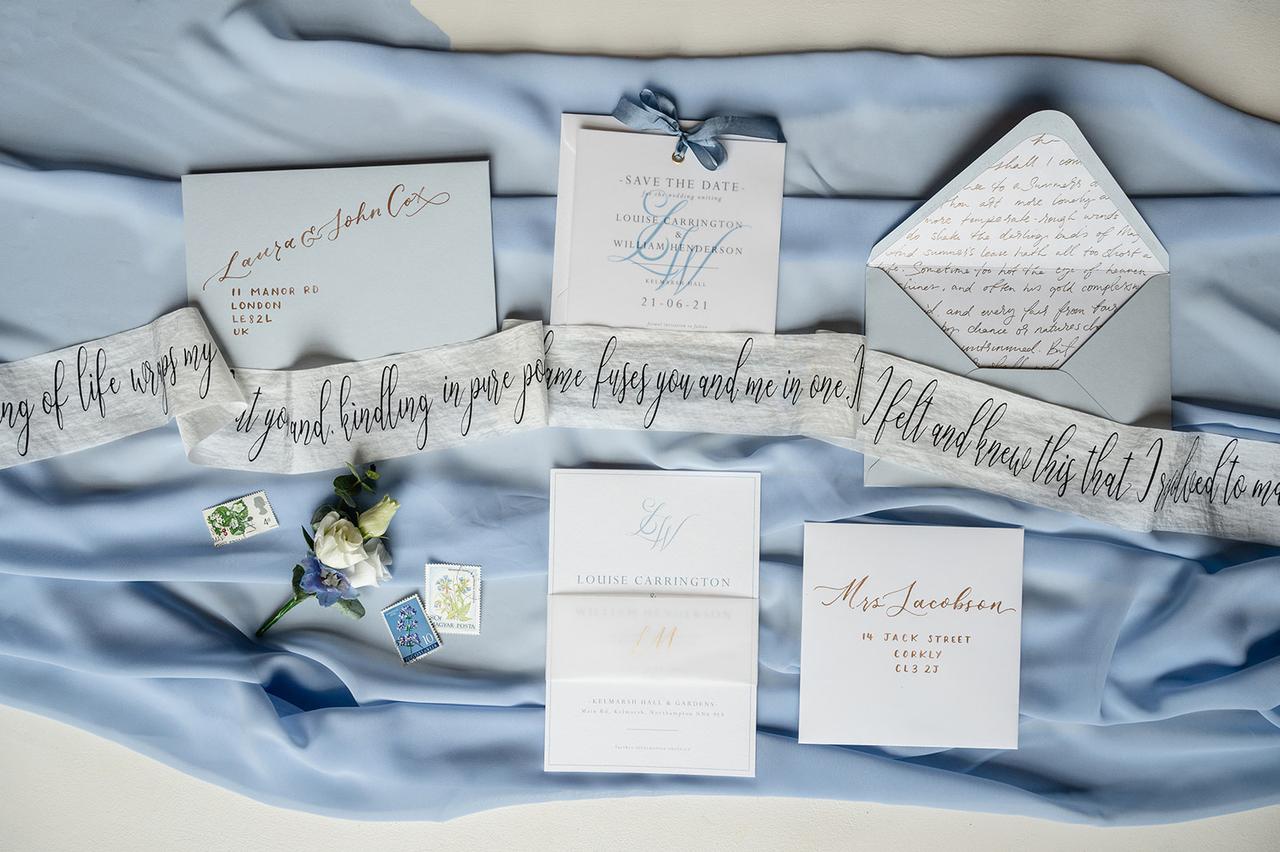 If you're both book lovers, how about naming your tables after your favourite books? You can then use literary quotes from them on your invitations, printed on menus and orders of service, or hung around the venue.
Below, this quote (or you can use a song lyrics or a movie quote, we won't tell) looks amazing on the wall and also jazzes up the ceremony backdrop in quite a plain venue.
Not sure where to start? These are our 35 favourite romantic quotes from literature, 11 magical quotes from Harry Potter, 35 romantic movie quotes and even 29 beautiful Bible verses if you want to include your faith in the day.
6. Vintage China Tablescapes
Taking tea used to be a hugely popular pastime and you can incorporate that quintessentially English habit into your wedding in a few ways. As well as offering an afternoon tea at your wedding (more on that below), we love using hired vintage china in your tablescape.
Use pretty patterned china as charger plates or serve desserts or cocktails in vintage teacups.
7. Personalised Wax Seals
Whether you go for the handwritten letters or not, you can incorporate wax seals into your wedding in lots of ways. It's the perfect way to seal your invitations, as decoration on place cards, or attaching stems of dried flowers and leaves to your stationery.
You can get a personalised seal made with your initials and wedding date (Etsy is the place to go) or you could go for a generic seal that says something like 'Love' or 'Ever After'.
8. Lanterns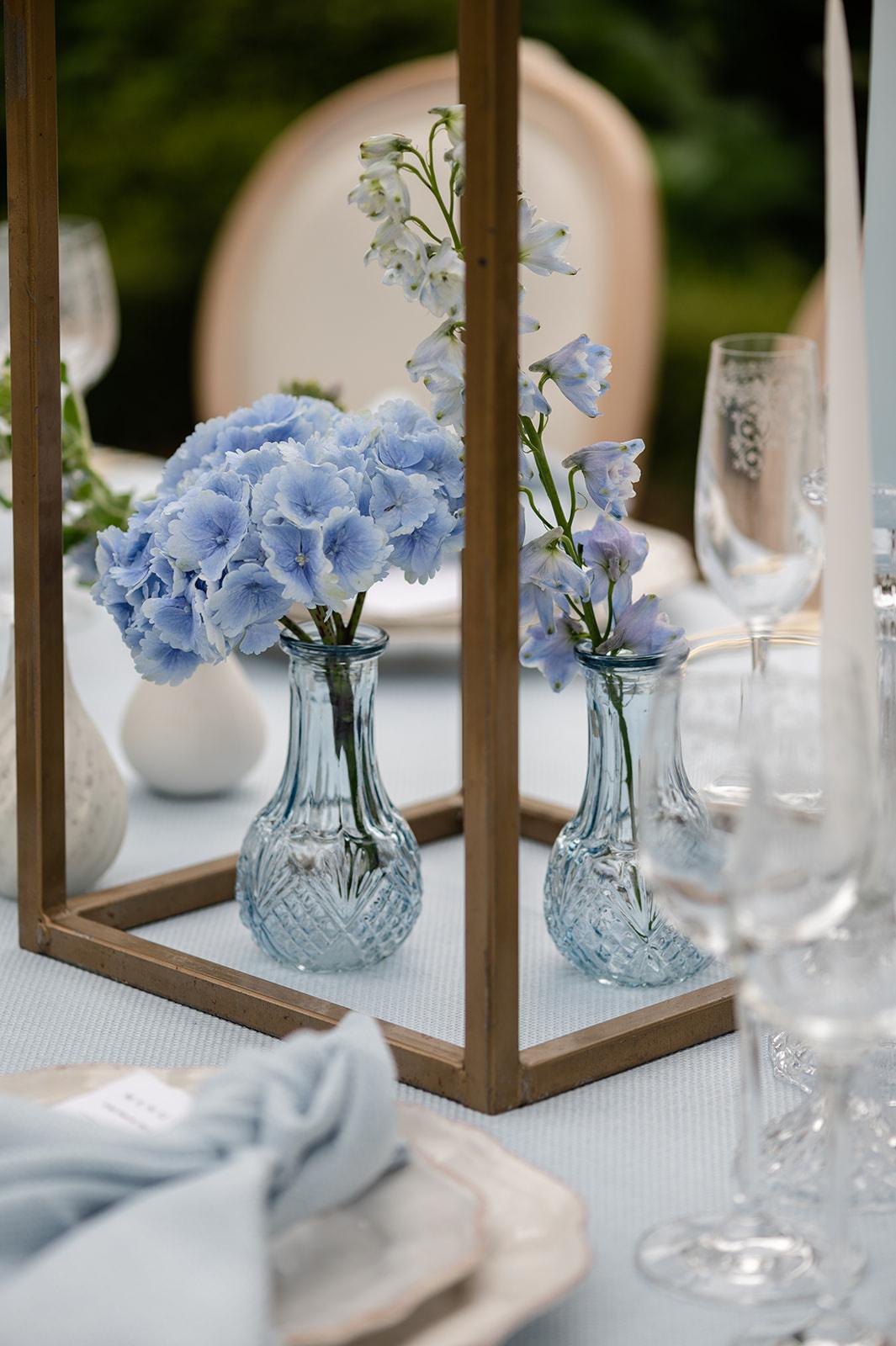 Dot lanterns around your venue for a lovely period touch to your wedding. Whether you choose empty lanterns on your table filled with vases of hydrangeas or line your aisle with lanterns filled with pillar candles, there are plenty of ways they can add interest, height and texture to your décor.
Soft candlelight is flattering on everyone and we saw it frequently used in Bridgerton. Speak to your venue about whether you can have naked flames; if not, you can go for LED candles or fill the lantern with fairylights, foliage or flowers.
If you can't have candles in glass lanterns, recreate the warm glow they give off with paper lanterns filled with bulbs, strings of festoon lights and perhaps an outdoor fire pit?
9. A Horse and Carriage
Actually riding into your wedding on a horse requires some specialist knowledge and we'd recommend you have a few lessons beforehand if that's your plan. Instead, how about the safer option of arriving in a horse and carriage? Daphne and Simon took a carriage after their wedding ceremony as they headed off to Clyvedon Castle and you could re-enact the scene.
If you are a horsey couple, what about having your horse as a guest? This couple brought along their beloved horse and had them in a floral garland that matched the bride's bouquet. It makes for such wonderful and personal photos.
10. String Quartet Entertainment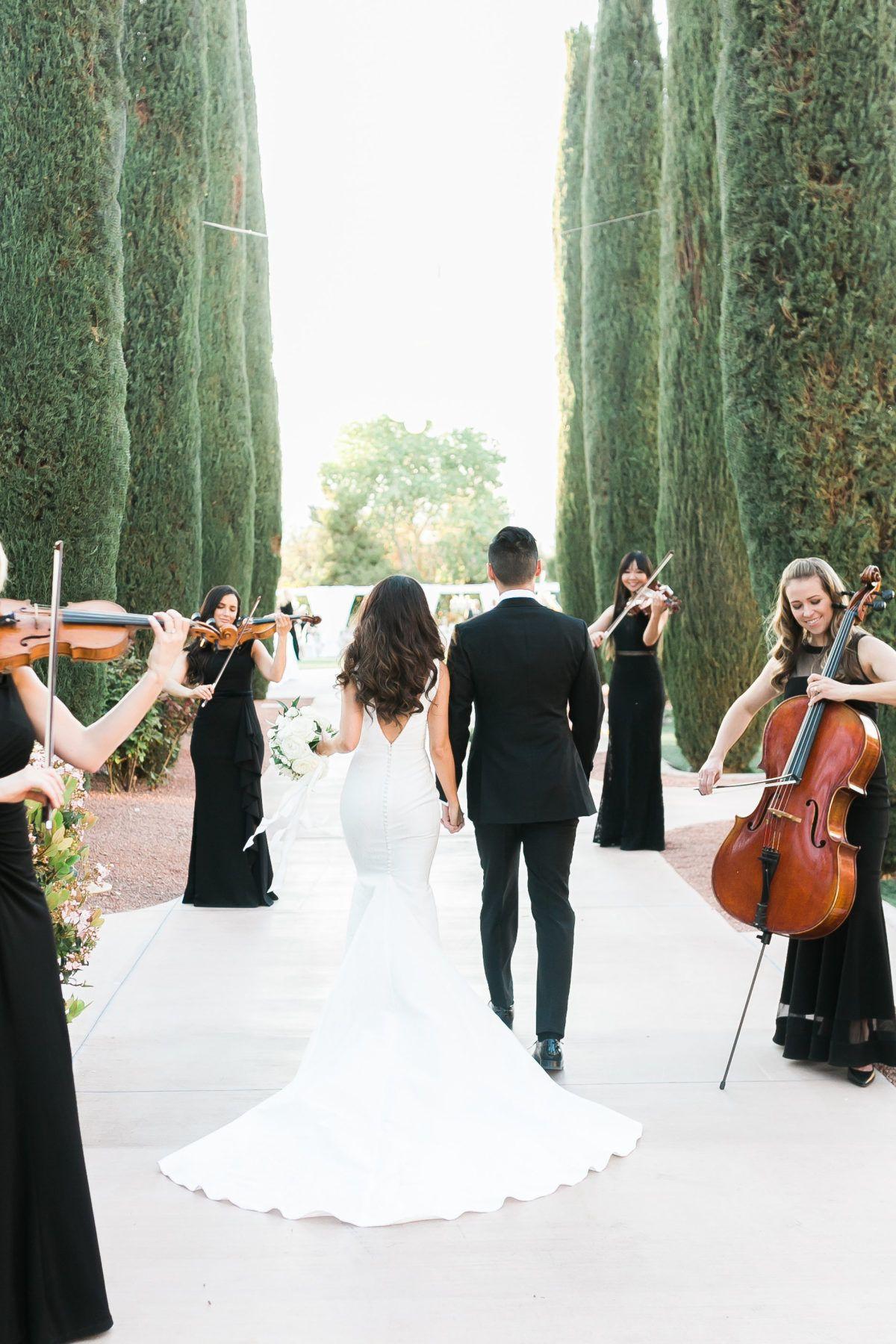 Make your wedding music part of the look of the day by hiring a string quartet to play classical covers of recent pop hits, just like they did in the show. It'll get your guests talking as they try to recognise the modern songs playing and a string band will look beautiful in photos.
Bridgerton-Inspired Wedding Outfits
11. Empire-Waist Wedding Dresses
The empire waist silhouette rose to popularity at the end of the 18th century and can be seen all over the ladies of Bridgerton. The bodice is fitted to just below the bust and then flows down into a loose-fitting skirt that skims over the body, emphasising the chest and being very flattering on curves.
The Bridgerton gals would have had lots of voluminous petticoats underneath but modern iterations of the empire waist gown are much more slim-fitting and focus on the floaty, airy nature of the skirt. You'll find these kind of dresses are hugely popular in the current cottagecore trend and we can see why; they're dainty, dreamy and wonderfully feminine.
The Watters gown above is one of our favourite versions right now, topped with a delicate floral lace pattern and the sweetest sheer puff sleeves.
An alternative empire waist gown that has more of a boho feel is this San Patrick one. This romantic gown has a little more coverage on the bust, but plenty to still attract the eye - just look at that stunning lace cummerbund under the bust and panel on the skirt.
Brides looking for an empire waist gown can find this silhouette in almost any style, and despite its long history, Jesus Peiro have managed to make a modern feeling version. The model above is wearing a dreamy lurex tinsel, puff sleeve coat over the top of this strapless empire gown. The dress itself is actually super sleek, with a chantilly embroidered bodice with crystals and cut-out flowers leading down to frosted tulle.
12. Puff-Sleeved Wedding Dresses
Puff sleeved wedding dress have boomed in popularity since Daphne, Lady Whistledown and co arrived on our screens on Christmas Day. In fact, eBay have reported a 205% rise in searches, so don't delay in finding your gown if this fun look appeals to you.
As you could see from the empire waist dresses above, that style pairs so well with puff sleeves, but you can find them on loads of different cuts, fabrics and with varying volumes. The Temperley Aurelie dress has small gathered sleeves and a lovely elongating Italian silk silhouette that balance each other out.
At the other end of the scale is this Rixo lace gown that has voluminous, sheer, short puff sleeves. It's really easy to move your arms in these kind of sleeves so if you're a big dancer and plan to boogie the night away at your reception, not only are puff sleeves on-trend but they're practical too. Win win!
13. Blue Wedding Dresses
Back to that gorgeous Regency blue! How about embracing a blue wedding dress? It's such a statement style and brave brides will find that choosing a coloured dress makes for some of the most amazing photos.
Bridal designers normally don't do dresses in blue so look at occasionwear designers. This dress is by Teuta Matoshi, who designs the most insanely romantic, whimsical and feminine gowns in lots of pastel tones. Team with minimal makeup, swept back hair and simple accessories to let the gown speak for itself.
14. Bridal Gloves
Daphne wouldn't have countenanced leaving the house for a walk or ball without a pair of gloves. Although gloves have fallen out of favour with many brides, they are such an elegant and sophisticated look that we hope Bridgerton helps bring back the trend.
Cornelia James is one of the best wedding glove designers and does gloves in short and long styles and fabrics from Duchess satin to lace, velvet and leather. Once you've got all your wedding day accessories together, a pair of refined gloves are the perfect finishing touch. Soft and luxurious, they're the ultimate opulent purchase.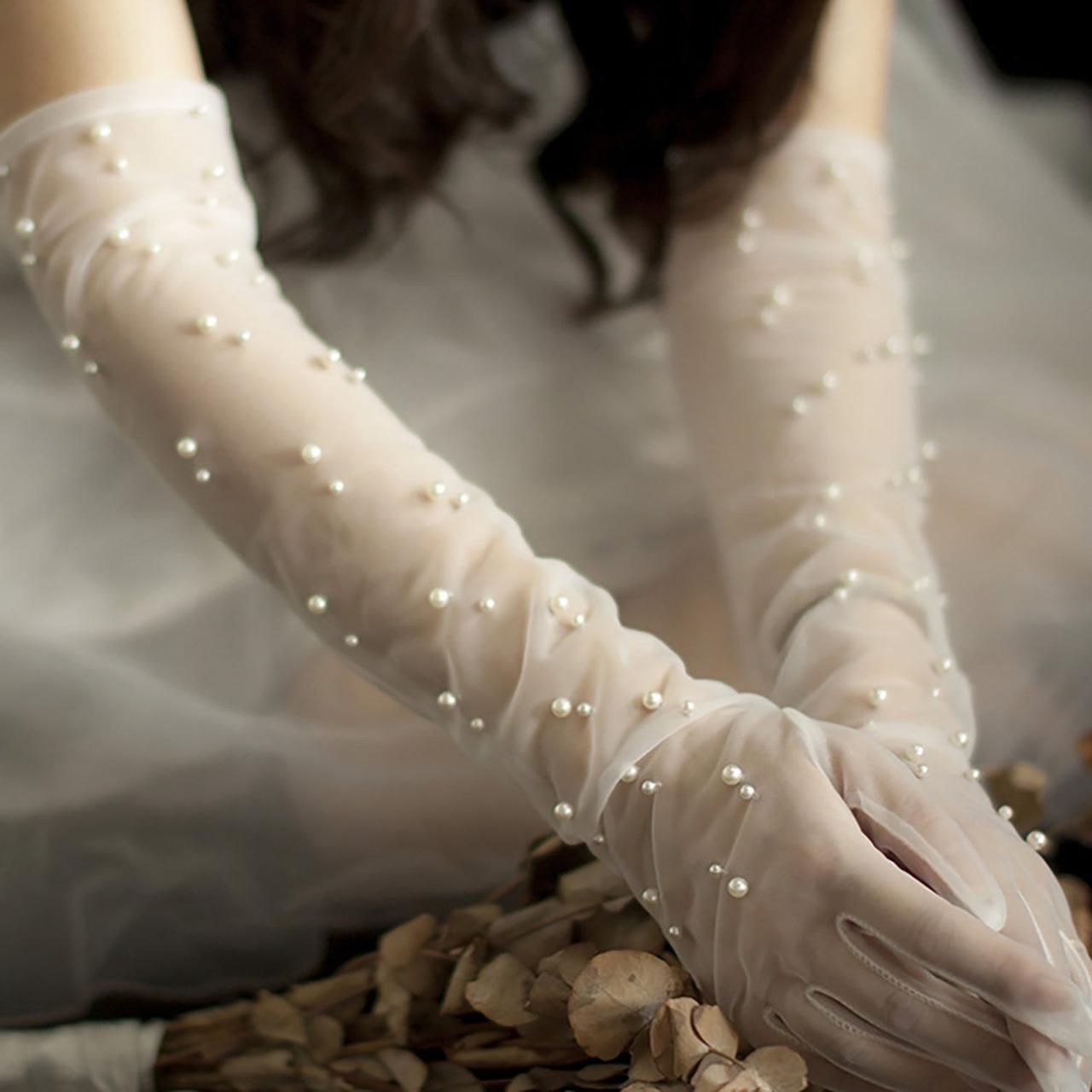 If you want something more sheer, we love a pair of tulle gloves topped with delicate pearls. They're wonderfully breathable so you won't get sweaty hands (a nightmare!) and you'll look so fancy standing at the altar and taking your glove off to put the ring on.
15. Embroidered Veil and Accessories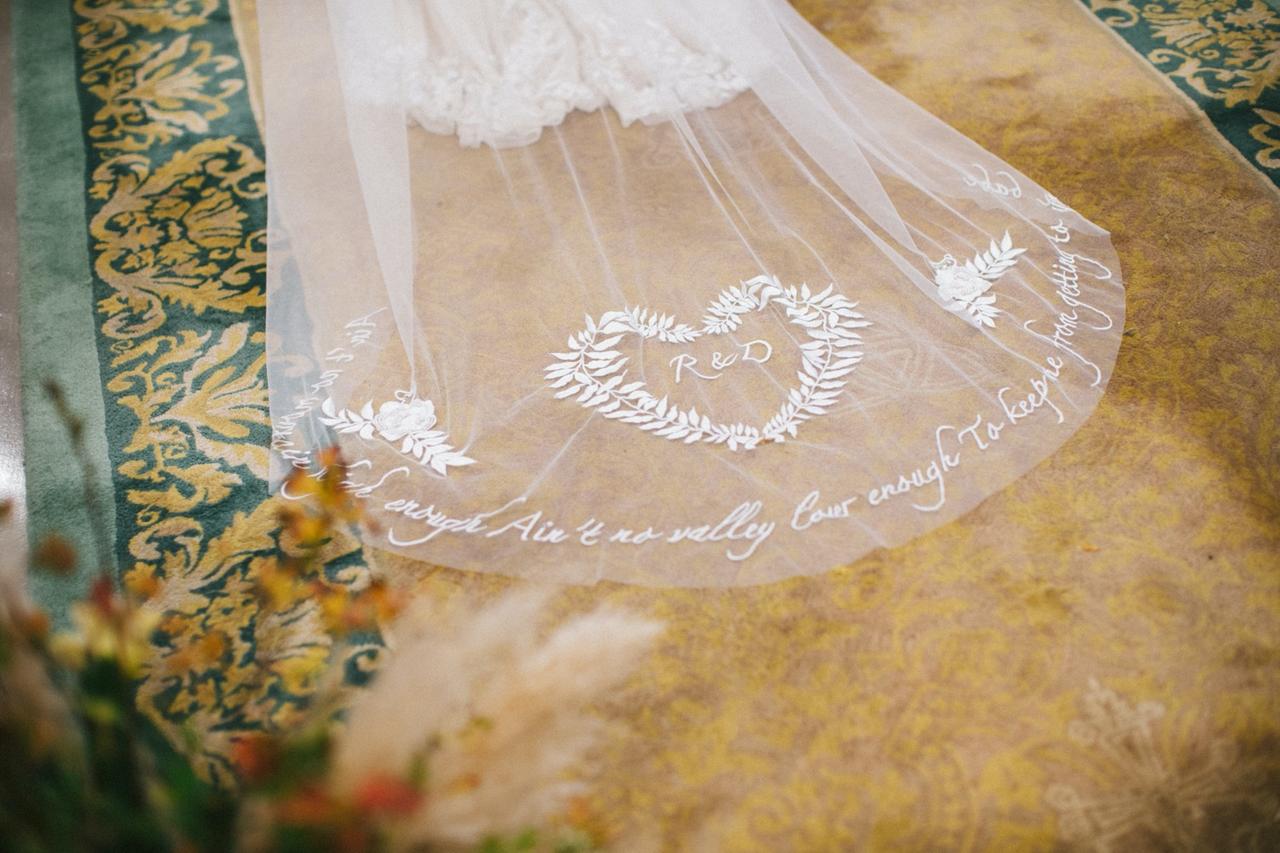 Daphne wore a cathedral-length veil in the wedding scene to Simon, which is one of our favourite lengths. (There are actually seven different lengths - you can read about them all here!). It trails delicately behind the bride as she walks down the aisle and is the last part of your outfit that your guests will see, which is odd because lots of brides didn't give nearly as much thought to their veil as their dress.
Give your veil the love it deserves and get it specially embroidered so that your whole outfit feels personal and thought-through. You could get a favourite literary quote stitched in, your initials and wedding date, or something unusual and personal.
Do you remember Meghan Markle's Givenchy veil which was embroidered with symbols of the 53 countries of the Commonwealth? We've seen veils with the couple's dog embroidered on it, their children's names, star constellations from the night they met, and lyrics from their first dance song.
If you aren't wearing a veil, you can still customise your hair accessories. This Alon Livne hair ribbon is absolutely beautiful, but you could add flowers with special meaning to a flower crown, or have hair clips with you and your partner's birthstones or even with a message engraved in it.
16. Sparkling Headpiece
We know we're not the only ones who swooned over the diamond tiaras and headpieces in Bridgerton. Eden Luxe Bridal released a whole tiara collection inspired by the TV series with curated pieces of romantic headwear, while Tilly Thomas Lux launched the beautiful Hayworth Crown (above) - a modern deco piece that puts a romantic, contemporary twist on a classic design.
You won't regret finding space in your budget for an extraordinarily beautiful headpiece, especially one with real diamonds that can become an heirloom to hand down to future generations.
17. Morning Suit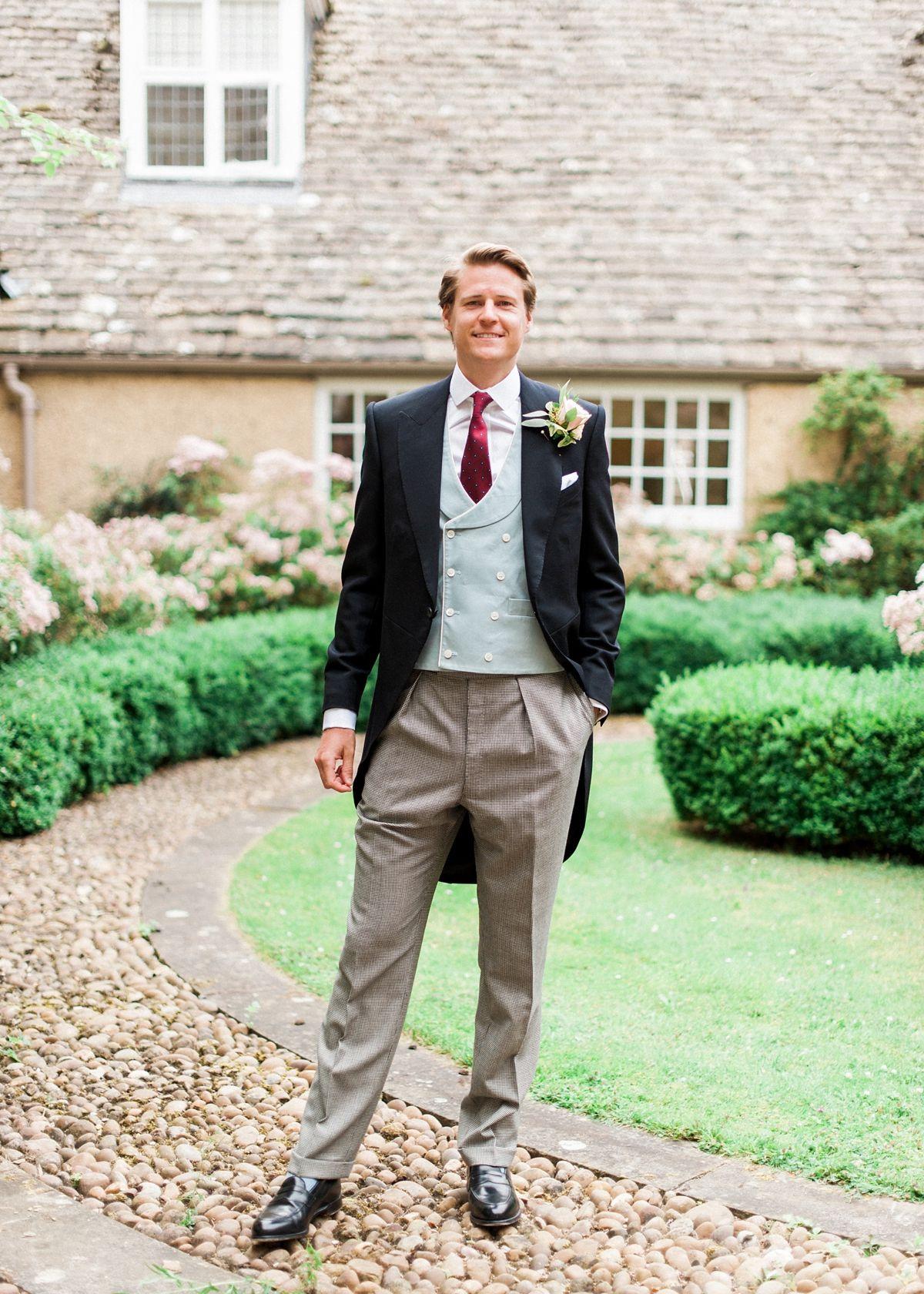 The men of Bridgerton got their fair share of sartorial snappiness and a morning suit is the perfect modern day take on their tails, britches and boots. It's all about multi-layering with a crisp shirt, colourful or printed waistcoast, and sleek tailcoat. Add in a pair of well-tailored trousers and some high-shined leather shoes and you'll be channelling the dapper sophistication of the men of The Ton.
In terms of textures, silk and velvet were very popular and translate well to seasonal weddings. Silk is breathable and good for summer, while velvet is ideal for autumn and winter weddings.
18. Colourful Bridesmaid Gowns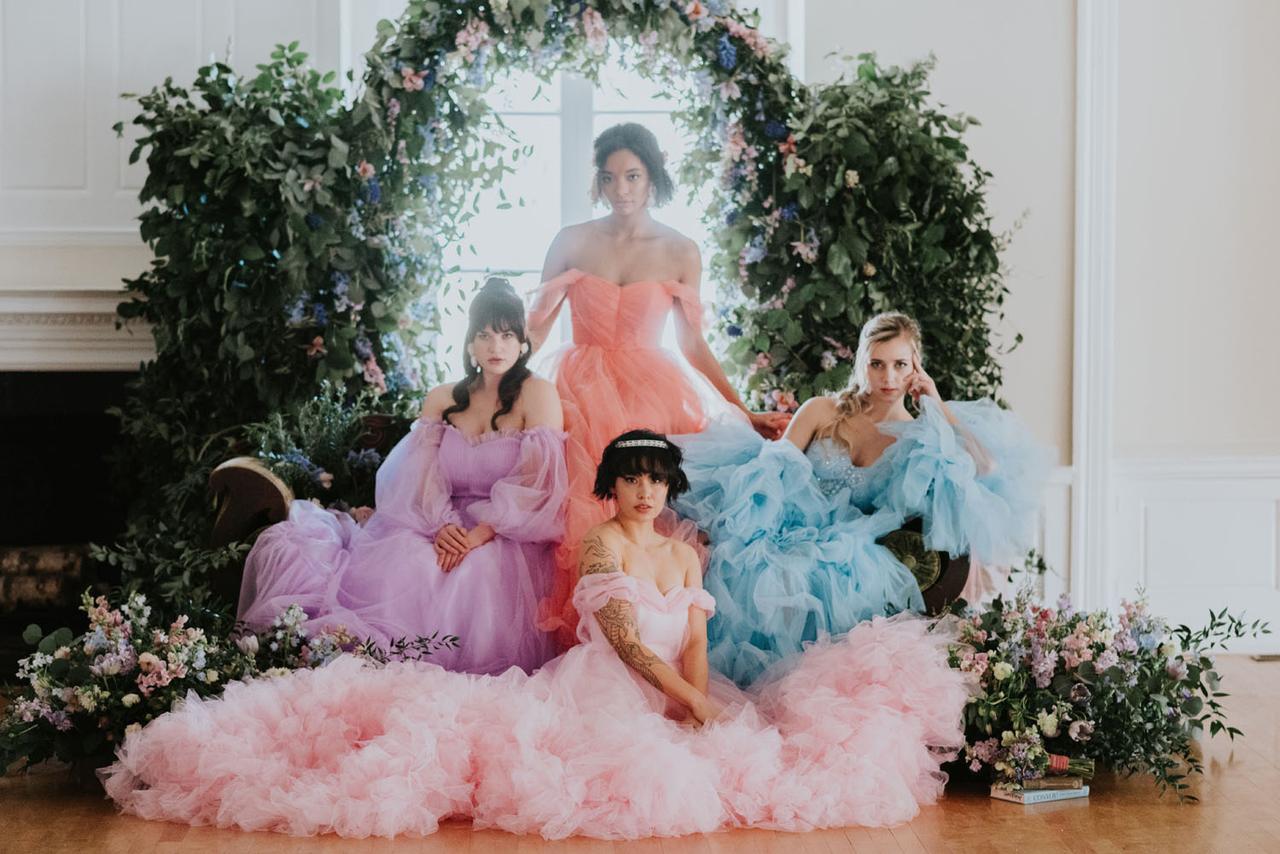 You couldn't move for colourful dresses at the Bridgerton balls and one of the best places to channel those vibrant hues is in your bridesmaid dresses.
Make like the Featherington family and choose warm shades of mustard, bright coral or dainty mint green; alternatively, the Bridgerton ladies looked darling in lilacs, pinks and pastel blues.
Mix and match different shades of jewel or pastel tones for a modern and cohesive take on the colourful bridesmaid dress trend.
Bridgerton-Inspired Wedding Food & Drink
19. Rococo-Style Cake
The Rococo era was a little earlier than the Regency period, but the extravagant and opulent style quickly seeped over to England. The characteristic gilding, white and pastel colours, and sculpted molding is a dream for cake design and we love rococo styling for a modern wedding cake.
Think lavish gold sugar craft decorations like fruits, flowers, musical instruments, angels, shells and fleur de lis on a multi-tiered, pastel cake. It's a retro look that's come right back into fashion.
You can go for a toned down version too with textured white icing, sugar roses and accents of gold molding. This one even has Bridgerton's famous wisteria, but you could just hint at it with some lilac and lavender tones.
Whatever detailing you go for, the cake should be big and bold. We're talking a minimum for four tiers and a wedding cake display table that does it justice - hell, why not go for a throne?!
20. Afternoon Tea
Afternoon tea is a wonderful choice for relaxed weddings where a sit-down meal doesn't quite work. Luckily, it's also totally on trend for a Bridgerton wedding. Get some vintage china plates, cups and saucers and line up a table full of cucumber sandwiches, mini quiches, scones and patisserie.
You can lay on fresh pots of tea or, and this is our preference, fill teapots with gin and vodka cocktails that have a tea theme, like a rose and hibiscus tea martini or an Earl Grey gimlet.
Afternoon tea is perfect for an early afternoon ceremony as guests can mingle and eat at around 4pm and then you don't need to serve any food again until the evening. You can cut your cake in between if you feel guests need a snack to see them through.
21. Spoon Food
We've all searched for that spoon scene on YouTube to re-watch time and again (it's not just us, right?).
Channel Simon's sexy spoon-licking by serving your canapes on spoons. This works so well for easy little bites and your caterer will be happy to serve it this way. Alternatively, you could serve bowl foods with spoons. Basically, whatever you do, get spoons in there.
22. Feasting Tables
Bridgerton balls were all about decadence and excess and the easiest way to recreate that experience for your guests (without the waste) is with a feasting table. It's a treat for all the sense, with so much to take in visually and loads of different tastes to try.
Grazing table companies are amazing at creating displays of every kind, whether that's meat and cheese-filled charcuterie tables, or something for vegetarian, vegan or gluten-free guests.
You can have a grazing table as a lighter option instead of a sit-down wedding breakfast, but we think they work best instead of canapes at the reception drinks or as an option to pick and choose from during the evening portion of the day.
23. Champagne Tower
Is there anything more lavish and decadent than a tower of Champagne? We don't think so. A Champagne tower looks absolutely incredible in your photographs and is a really fun moment to share with your partner as you pour the bubbles in together.
Still looking for your perfect wedding venue? How about one of these 23 beautiful historic wedding venues in the UK?