The 20 Biggest Wedding Trends You Can Expect to See in 2022
From anni-ceptions, earthy neutrals and Bridgerton blue, to rented dresses and drag queen performances - it's all going on at 2022 weddings. Discover the biggest wedding trends of next year and how to include them in your big day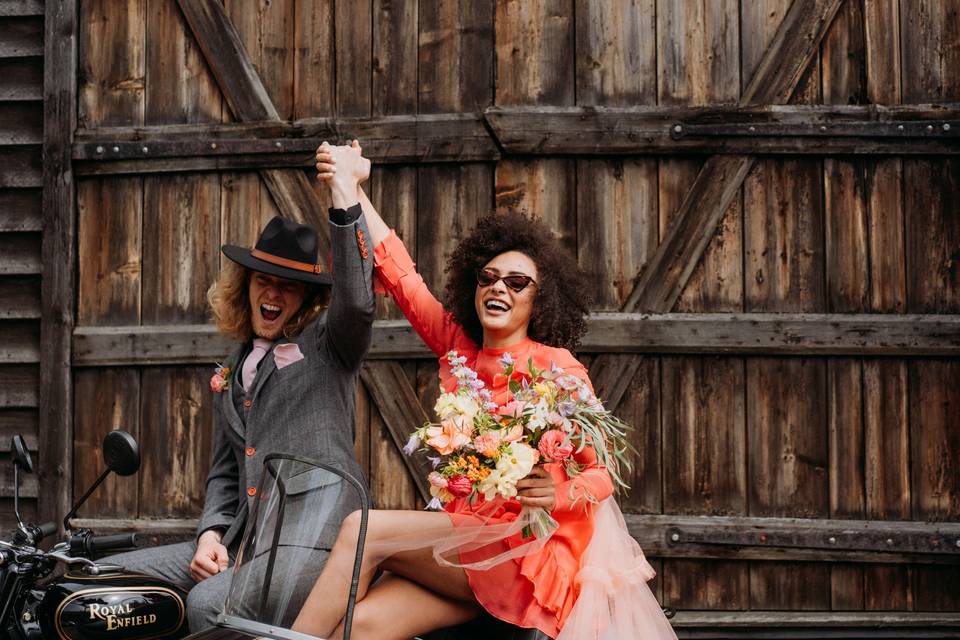 After a tough 18 months of lockdown restrictions, engaged couples are looking forward to 2022 with renewed hope and excitement. They can dream again of big parties, packed dancefloors and photos full of smiling guests. Together with loved ones, we'll celebrate all the things denied to us this past year and kick off the future with joyful enthusiasm.
From drag queen entertainment to Bridgerton-inspired dresses, scented venues to sober-curious weddings, 2022 wedding trends keep the guest experience at their heart and speak to the couple's shared passions. Naturally, Covid has left a lasting impression on 2022 trends too, and we'll see back garden weddings and destination elopements make their mark as some couples relish in the comfort of home while others get itchy feet.
Whether 2022 is the year of your wedding or anni-ception (keep scrolling to find out what that is), nuptials will be personal, creative and fun. Sustainability and supporting small businesses will remain important factors in many couples' wedding planning, and they'll balance those priorities with a need to let their hair down and catch up on all the celebrations they missed out on.
These are the 20 biggest wedding trends of 2022.
READ MORE
1. Bridgerton-Inspired Weddings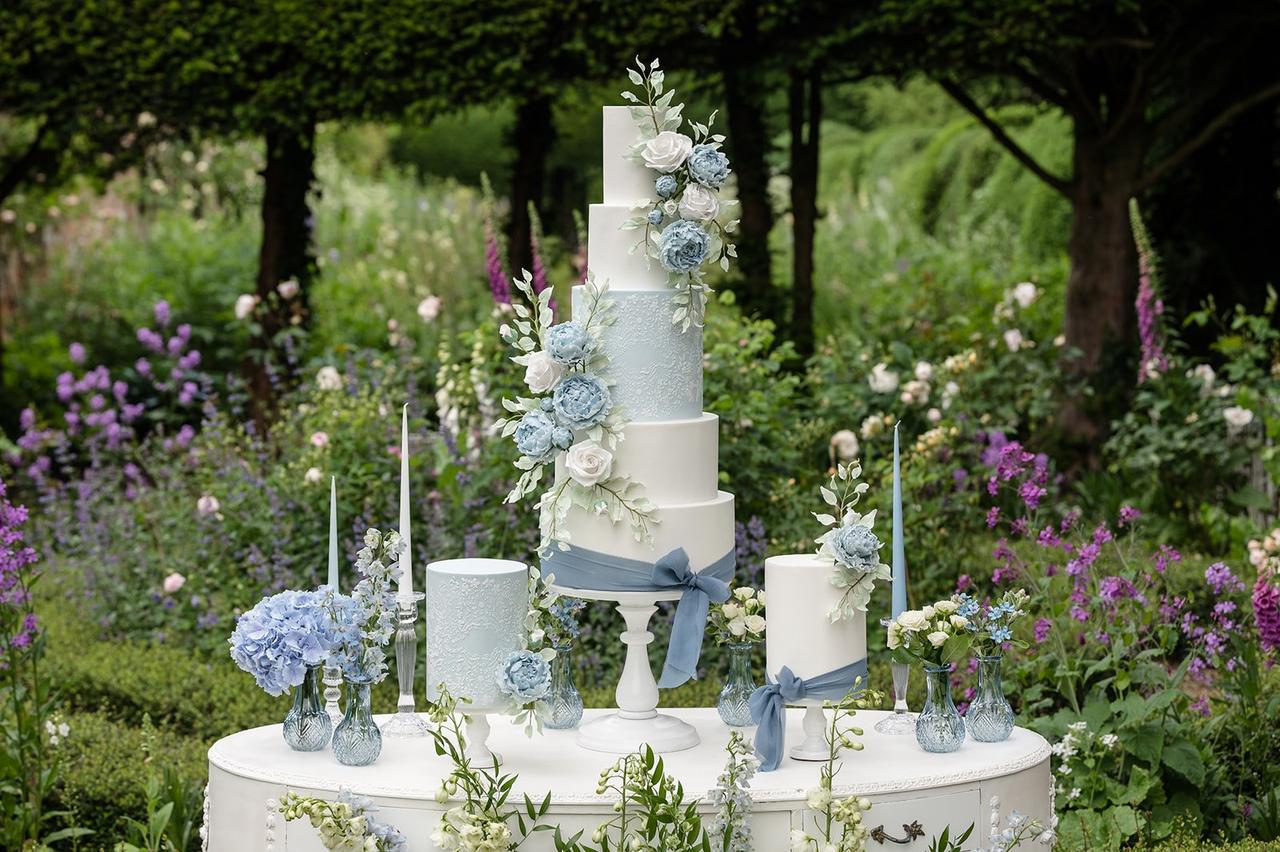 The UK's obsession with Bridgerton shows no sign of abating as 2022 is set to welcome the hotly-anticipated second series. This Regency period fascination will find its way subtly into weddings, with literary-inspired touches and splashes of Regency Blue - a signature shade from the times that used the newly invented Prussian Blue pigment.
Think a quintessentially English cottagecore aesthetic with empire-waist wedding dresses and ruffles of lace, elegant gloves, pops of blue pastels, dainty ballet pumps, trailing wisteria, handwritten notes and literary quotes, and afternoon tea with vintage china tablescapes.
eBay has reported a 205% rise in searches for 'puff sleeved wedding dress' as inspired by Daphne, Lady Whistledown and co, so don't delay in finding your gown.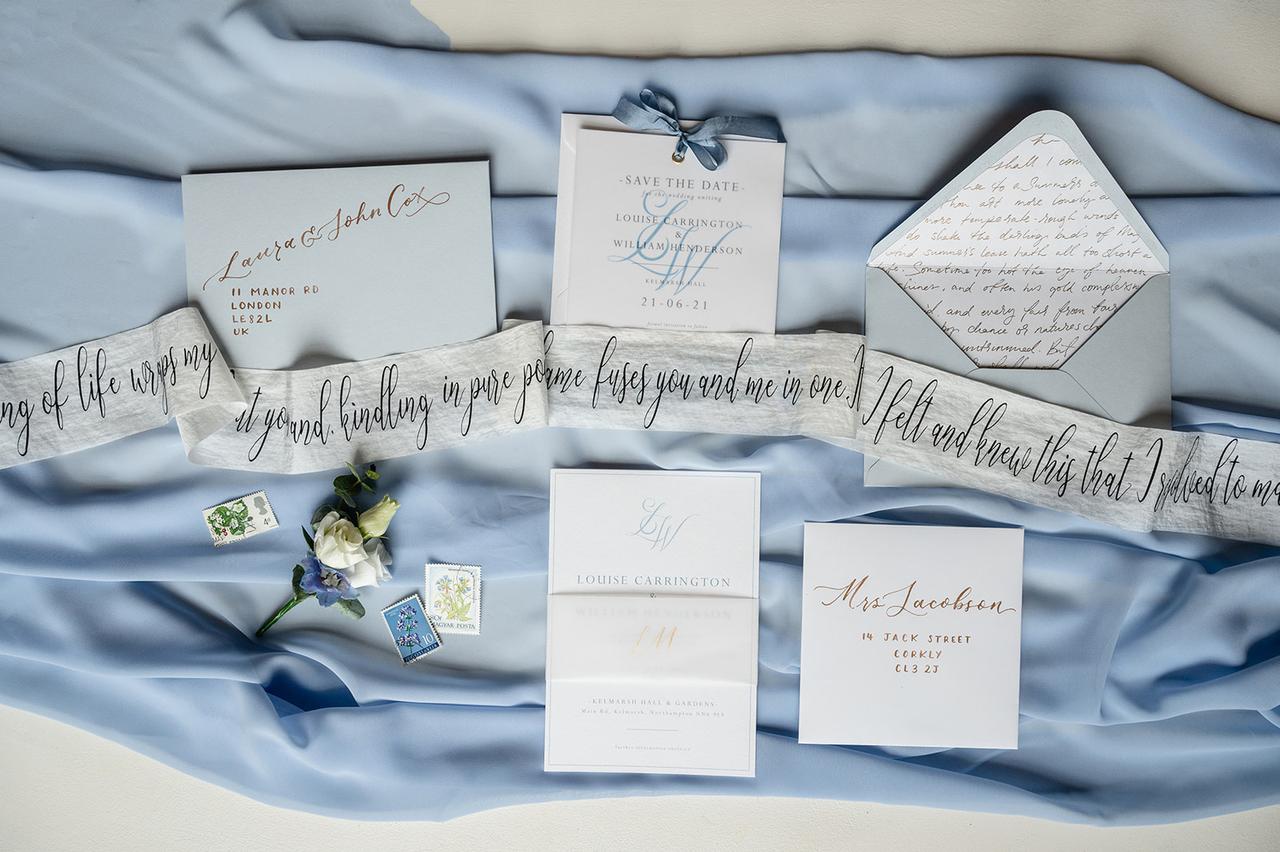 This romantic blue-inspired shoot from Vivienne May Weddings features a ribbon for the bride's bouquet with a poem from Jane Eyre: "I have for the first time found what I can truly love. I have found you. You are my sympathy - my better self - my good angel...It was because I felt and knew this, that I resolved to marry you."
Creative Director Kerrie May has seen more couples than ever inspired by their personal loves and passions: "Whether it's a bride's veil embroidered with the couple's initials and wedding date, or couples including their favourite childhood poem in their vows, to personalised wax seals on their invitations, or even handwritten, personalised notes to each guest at their place settings, I think that the last year or so has taught us the value of preserving those precious memories with loved ones for as long as possible.
"Paying attention to such delicate details will also automatically elevate the level of luxury to a couple's wedding day without adding too much on to their budget."
2. Rented Wedding Dresses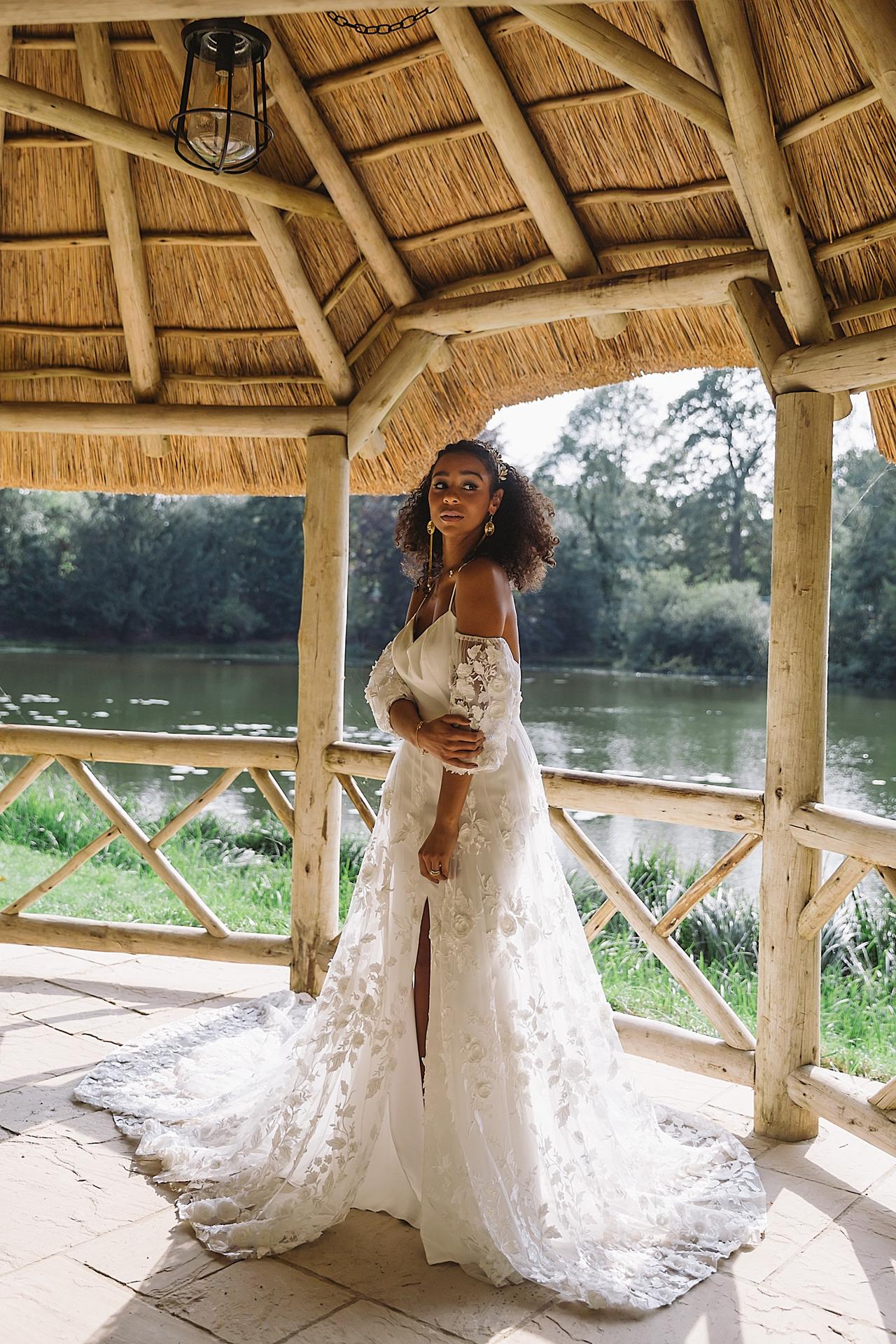 Carrie Symonds made headlines when she married Boris Johnson this year - predominantly for her rented wedding dress. She wore a Christos Costarellos-designed ivory tulle and silk gown that retails at £2,870, but was rented for just £45.
Carrie joined a wedding dress revolution that will continue strong into 2022 with brides choosing to hire one or more outfits for their wedding, meaning they can afford designers they may not be able to purchase and can change up outfits across the day without guilt. With the average bride spending £1,313 on her dress, 14% of Hitched brides said they would now consider renting their wedding dress.
The global online clothing rental market is expected to grow by nearly £700 million ($990m) over the next four years. Expect more specialist wedding dress rental services to emerge as well as dress rental services like By Rotation and Hurr Collective to branch out into the bridal market.
It's long been a tradition for grooms to rent their suits and budget- and eco-conscious brides are now taking up the mantle. You can hire a high-end designer gown for a fraction of the cost of buying, you don't need the waiting time you would for a dress to be made-to-order, and dry cleaning costs are included!
3. Anni-ceptions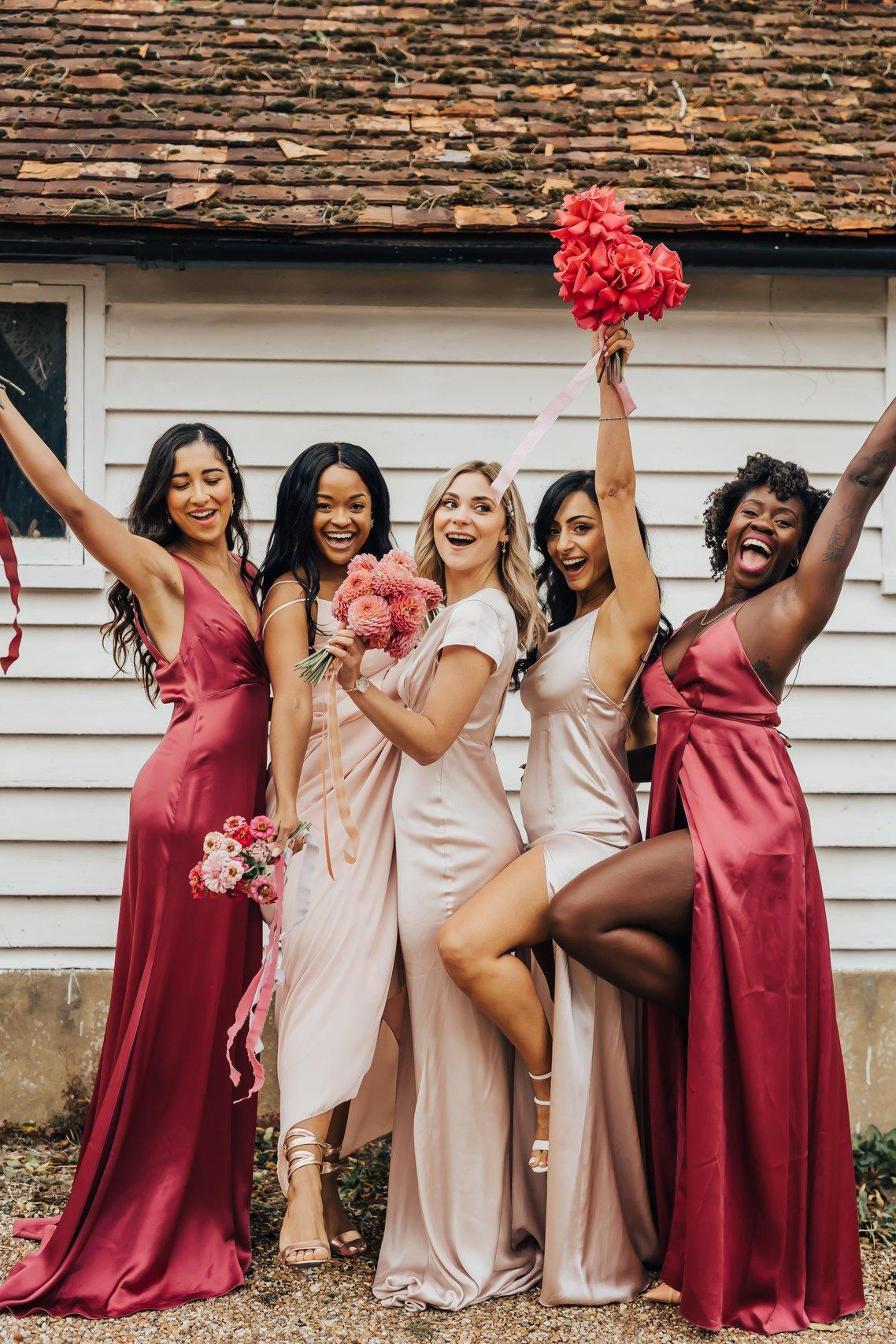 Yes, we're making anni-ceptions happen. It's a portmanteau of anniversary and reception, and this trend comes off the back of lockdown sequel weddings.
Sequel weddings saw a 9,900% uplift in Google searches this year. Lots of couples went ahead with a small wedding ceremony (a minimony) during lockdown and are saving up their large reception party (the sequel part of their day) for the first year anniversary of their original wedding date.
"Lots of couples decided to get legally married last year, or will be by the time their big 'wedding day' comes, and the options this is giving couples is so exciting," explains Ashleigh Li of Pink Palms Weddings.
"When their big celebration comes, it's working out how they want that to feel. Some are having a symbolic ceremony and walking down the aisle together, others are having a celebrant and still following a normal timeline of a wedding day. One of my couples has decided not to have the ceremony aspect at all, and will walk straight into the drinks reception together with a swing band playing!"
While this trend has come about because of lockdown, we can see it continuing in different forms for years to come. Couples who have a micro-wedding or elopement may decide they want to celebrate with all their loved ones after the event, and your first year anniversary is the perfect time for it.
READ MORE: How to Throw the Ultimate Anniversary Reception
4. Sober Curious Weddings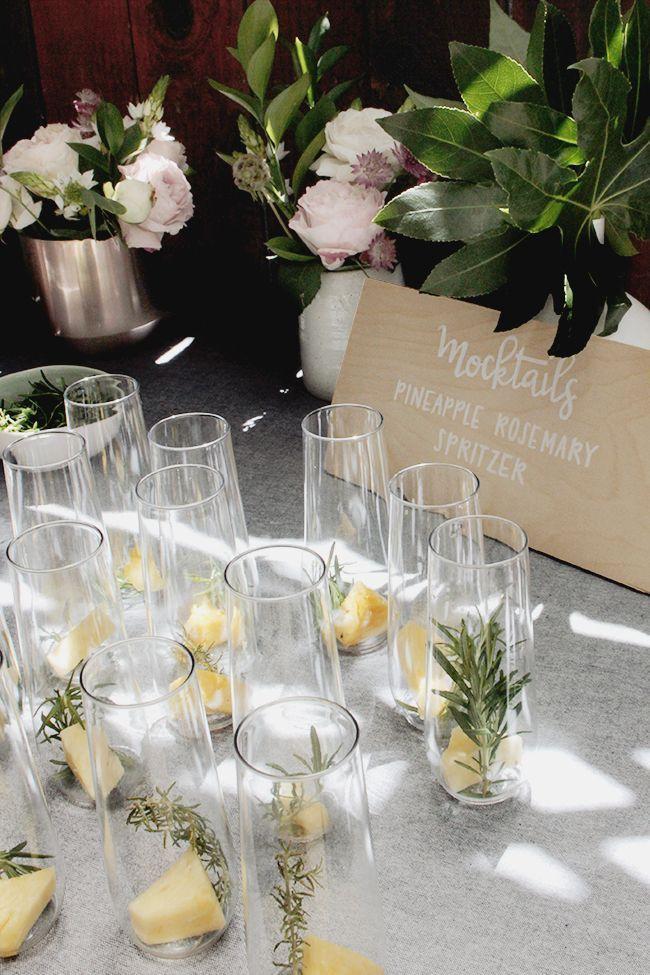 Alcohol, from a glass of bubbles for the speeches to an open bar, has always been seen as essential to a "good" wedding, but more and more couples are putting alcohol-free alternatives on their menu. The sober curious movement - those choosing to avoid or reduce their alcohol intake for personal or wellness reasons - is going to have a big impact on weddings in 2022.
There's been a large rise in searches for maternity wedding dresses and guest dresses, indicating lots more teetotal pregnant or breastfeeding guests, as well as those who've chosen to re-evaluate their relationship with alcohol over lockdown. In fact, 89% of Hitched couples said they would have guests who aren't drinking alcohol at their wedding - so how do you make them feel included?
"Offering guests a more exciting non-alcoholic drinks menu is definitely something that is going to take off," says Dan Clarke, Executive Chef at Southend Barns. "We've already seen this become more popular over the last year and brands have picked up on the trend, with the launch of delicious and indulgent drinks that are free from alcohol.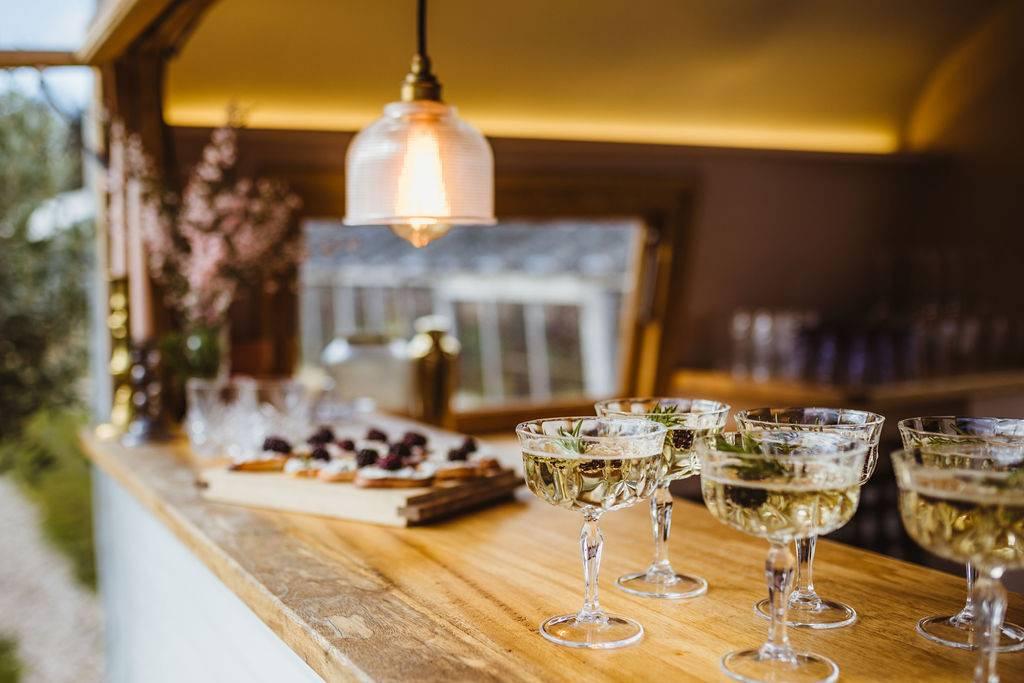 "At Southend Barns, we've created a bespoke menu of mocktails and non-alcoholic drinks such as a classic G&T using a spirit from Pentire in Cornwall, which is made using traditional gin methods but with no alcohol. We also offer Three Spirit which has an eclectic mix of herbal and fruity flavours."
Mix up your drinks offering with signature cocktails at the reception made from popular low and no alcohol spirits like Seedlip; stock your bar with alcohol-free beers; and have something more exciting than a soft drink available at the wedding breakfast for guests avoiding wine. A coffee bar will be popular with both drinkers and non-drinker.
5. Earthy, Nature-Inspired Palettes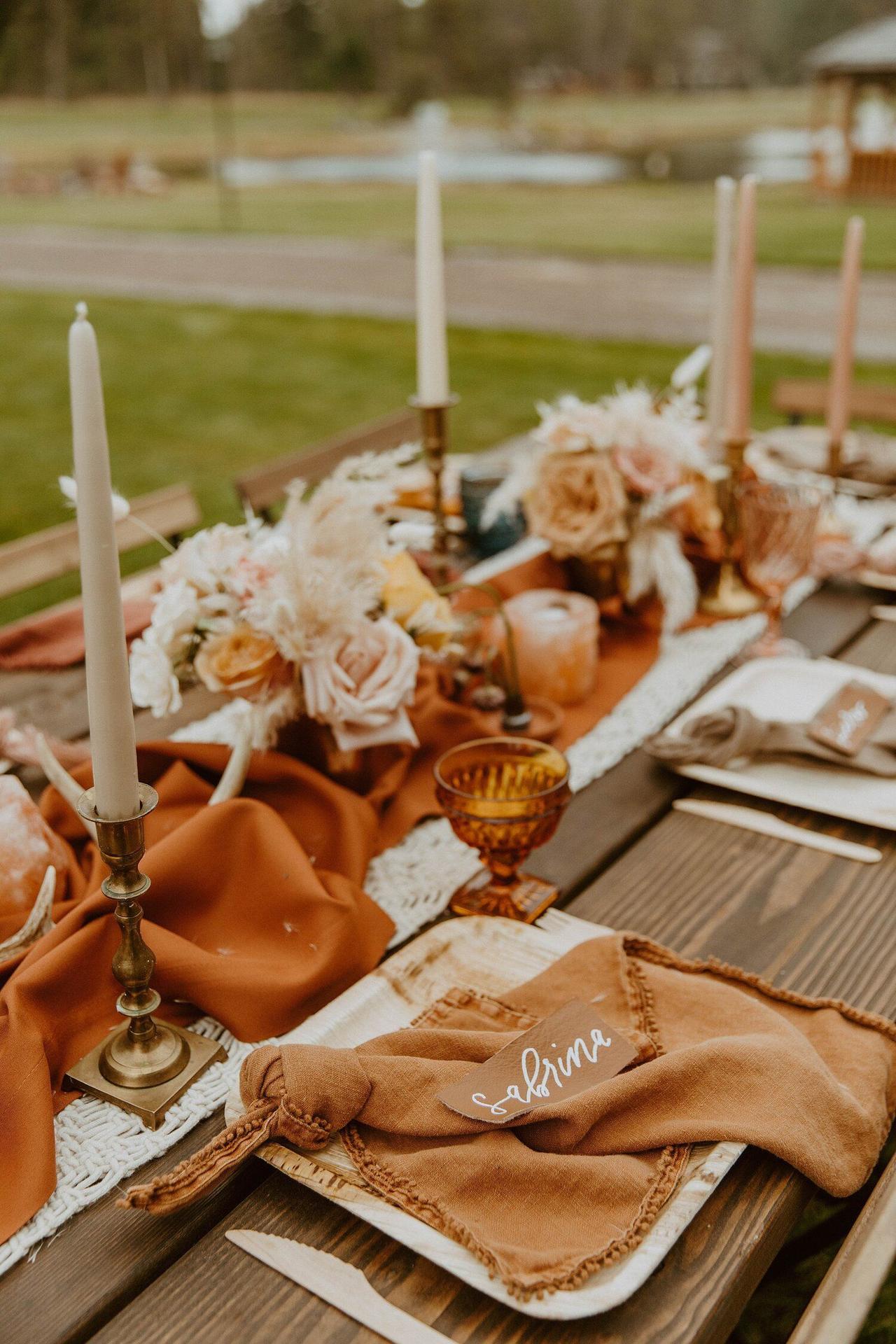 "There will be an increased focus on the environment – many people have spent more time outside because of the pandemic, and they have a newfound appreciation of nature," says Tania Burton, Managing Director of luxury caterers Ginger Snap.
"With regards to the décor, I feel that the colour palette is moving towards earthy, natural colours and away from the whites and pastels of old. I think that people are happy to move away from the traditional 'norm'. Rust is my prediction for the colour of 2022!"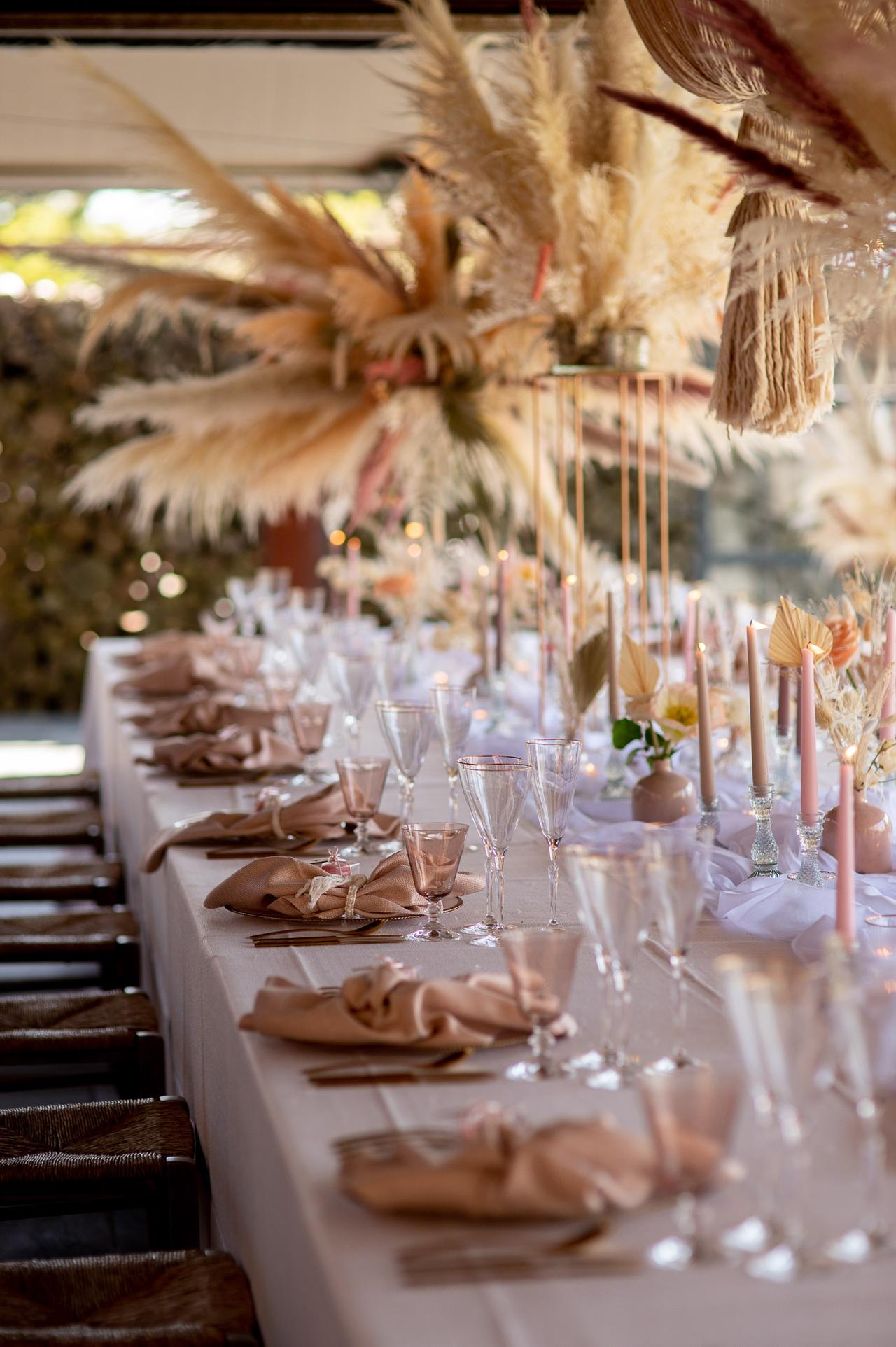 Embrace earthy textures with terracotta pots, driftwood and linen napkins on your table, with honeyed neutral colours and pops of brighter rust, amber and coral tones.
In terms of flowers, the team at Hayford & Rhodes predict nude palettes to be big in 2022, which go perfectly with earthier tones: "A sophisticated take on the more traditional pastel pinks and whites is a nude palette which includes tones of soft pink mixed in with coffees, caramels and silky ivories.
"Flowers that can be used to create this look: Café au lait dahlias, Japanese Wabara Ioli Rose, Majolica Spray Rose, Caffe Latte Rose, and Golden Mustard Rose."
6. Drag Queen Balls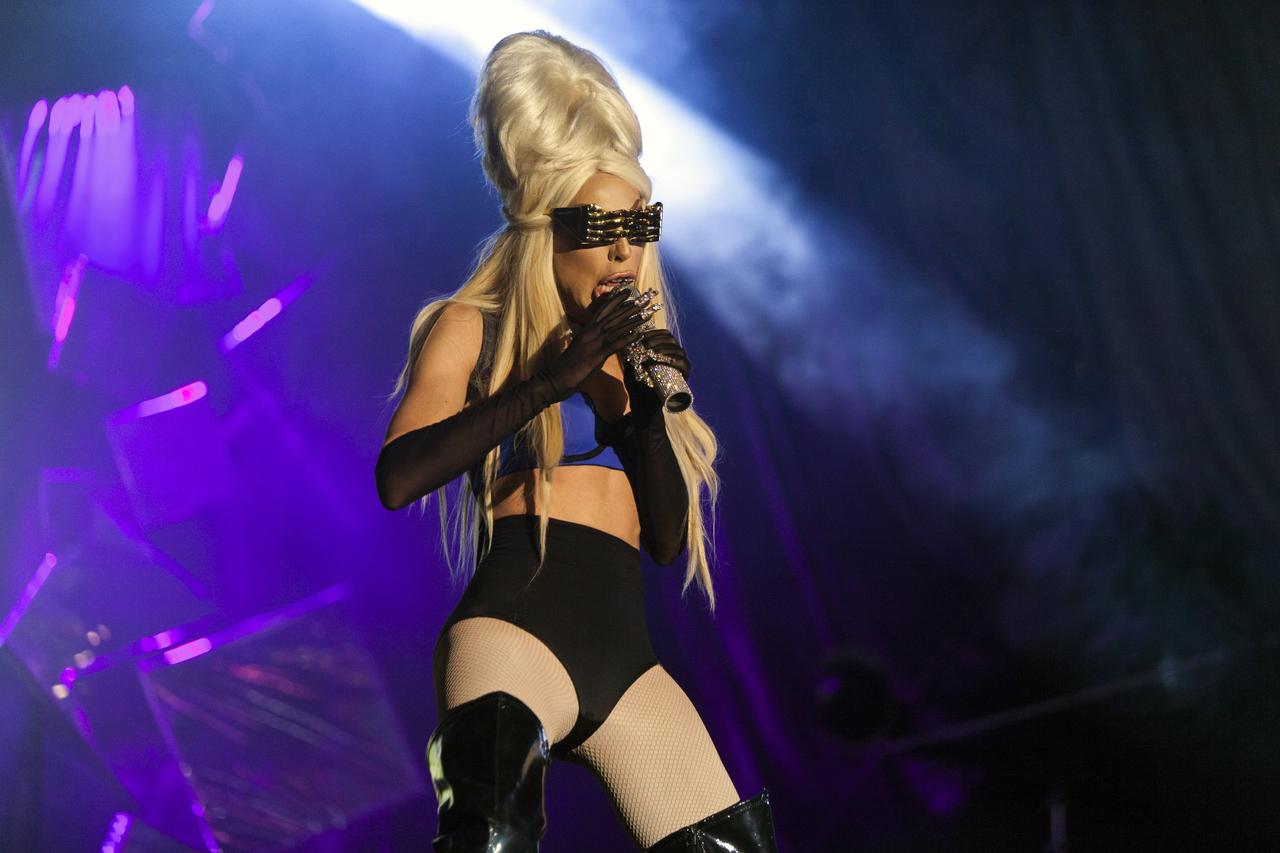 "In 2022, my LGBTQI+ clients will be having full blown and spectacular balls for their weddings," says Christopher Mills, Creative Director at The Events Mill. "We operate at the top end of the market and we've noticed a definite increase in enquiries for Drag Race/Paris Is Burning [balls] and large-scale theatrical extravaganza 'Big Bang' parties.
"This comes from our clients not wanting to conform, and their love of theatre and performance. Think highbrow cabaret/full-on theatrical production that is so much more than a wedding and more like a full immersive experience."
Drag queen entertainment will become a mainstay of extravagant receptions in 2022, with Ashleigh noticing an increase in couples booking drag queens from Ibiza superclubs as entertainment and Selfridges offering drag icon Jonny Woo as celebrant when they launched their wedding offerings for the first time in 2021.
7. Two-Piece Wedding Dresses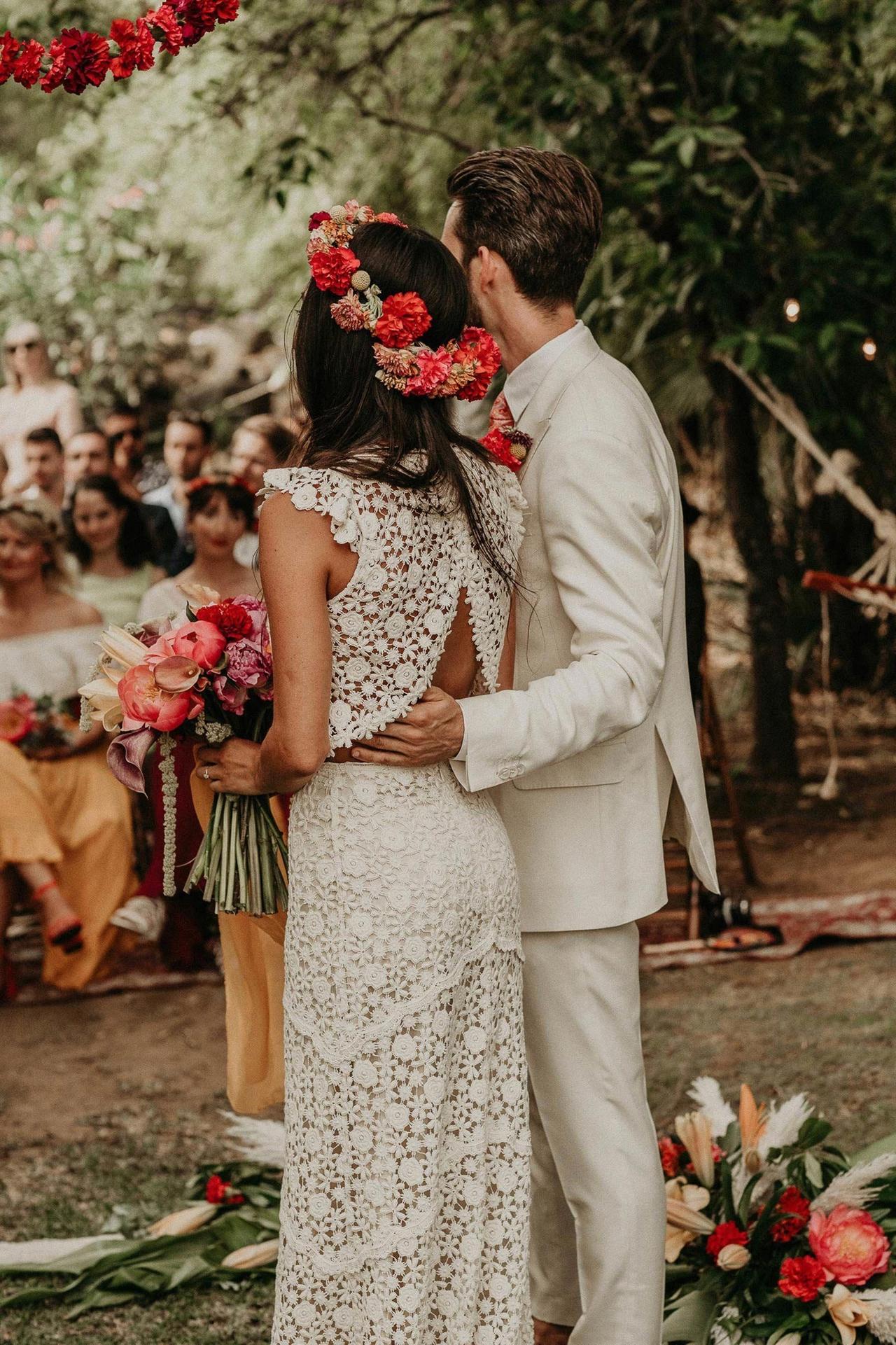 Searches for two-piece wedding dresses on Hitched went up 176% this year. With wedding dress shopping beginning around nine months before the big day, we can expect those gorgeous bridal separates to show up at weddings all across 2022.
Elegant and contemporary, two-piece dresses can be easily transformed throughout the day with the addition of an overskirt for the ceremony and a change to trousers to dance the night away at the reception. Their versatility makes for effortless and endless possibilities, and their re-wearability is a major plus for sustainable brides.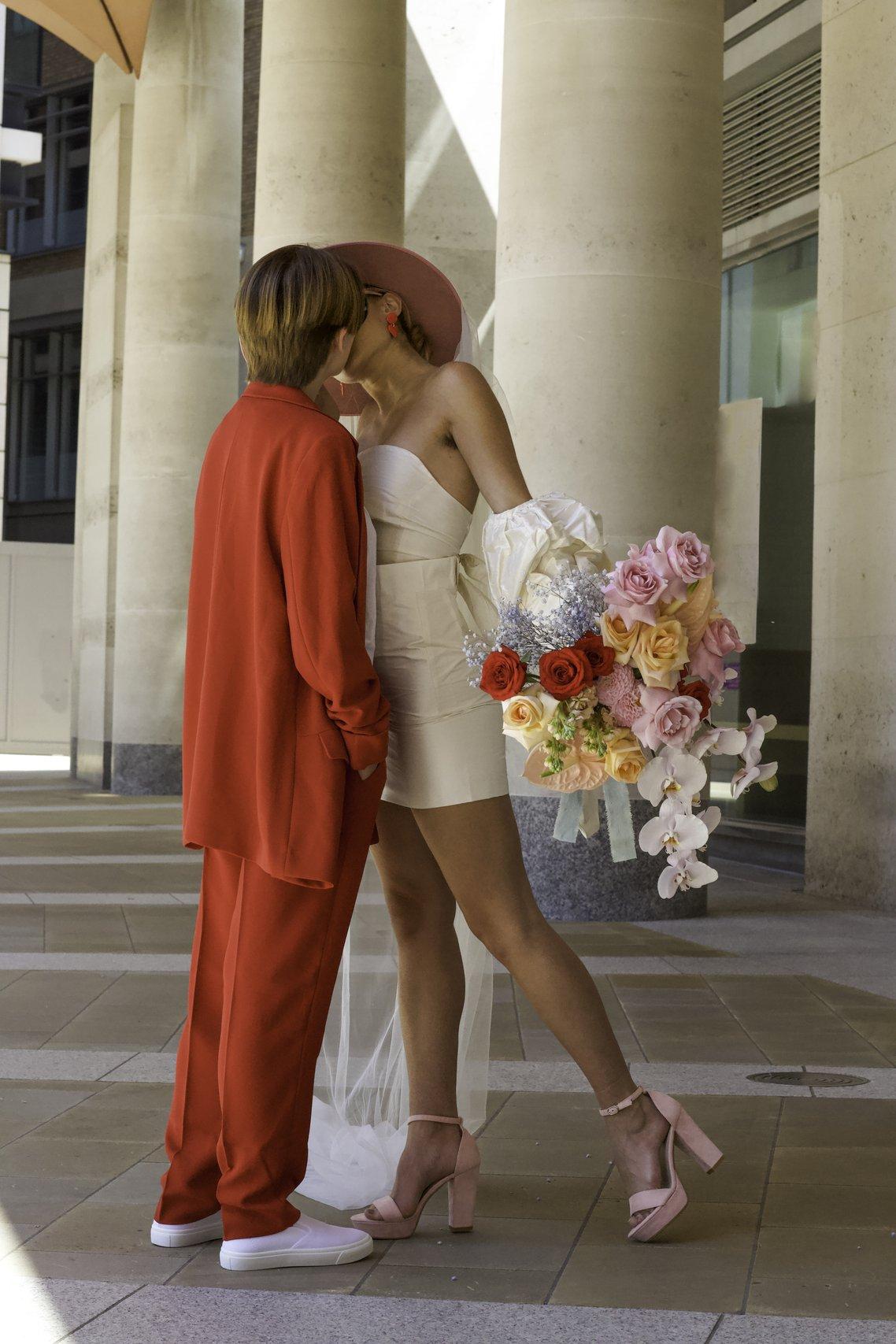 With a continuing rise in elopements, micro-weddings and casual-chic civil ceremonies, brides are looking away from the traditional gowns to something that better suits their modern, minimalist styling. We've seen searches for casual wedding dresses increasing by 197% since March 2020 and searches for bridal suits up 167%.
Many new season collections include mix-and-match two-pieces made for civil ceremonies, like Alexandra Grecco's new made-to-order, size-inclusive line Poppy and Jesus Peiro's Amalia collection. Catherine Deane has been leading the way in bridal separates for years, as have Charlie Brear and Pronovias.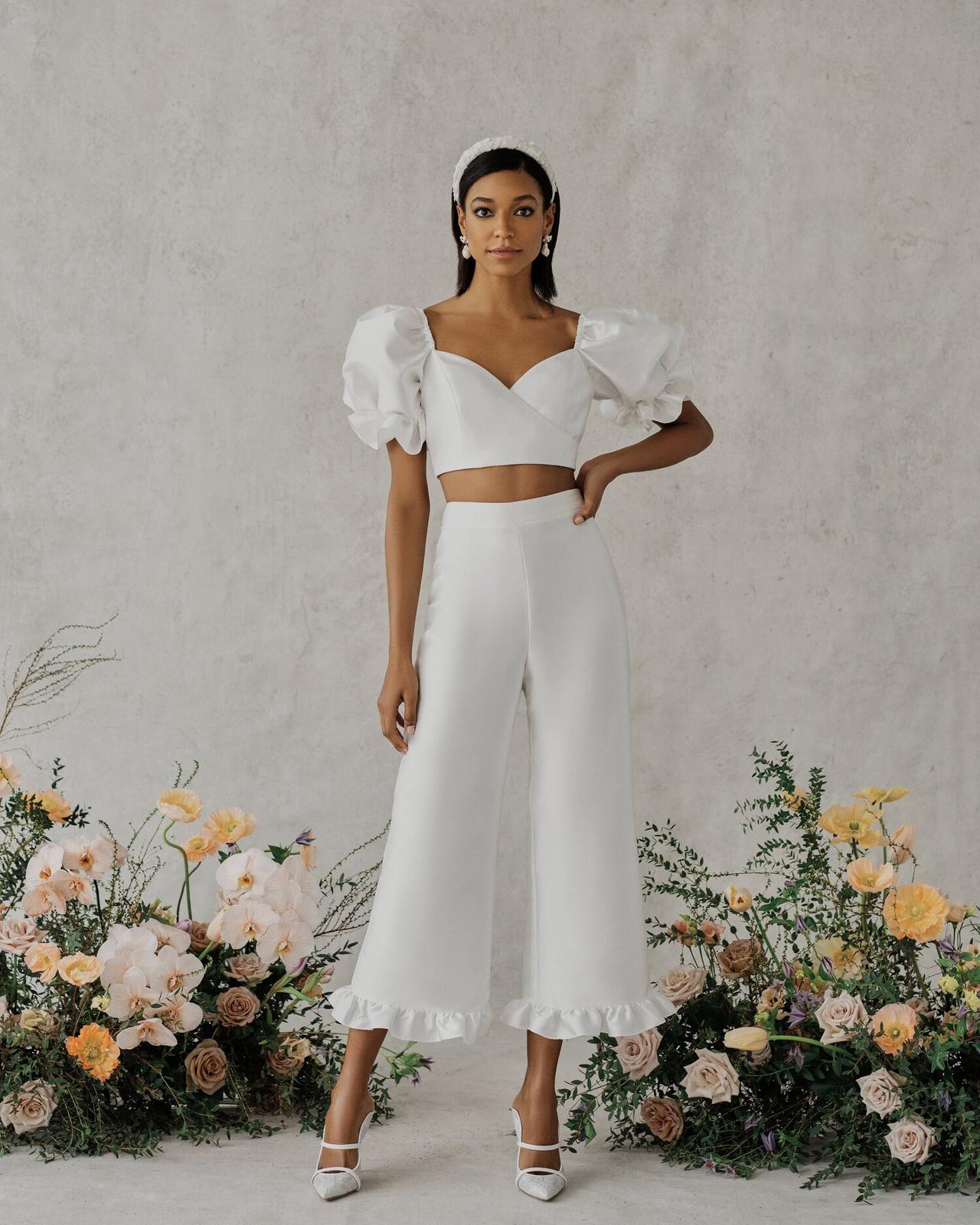 Designers are becoming more unique with their two-piece offerings, such as Andrea Hawkes' Addison leather bridal trousers, Grace Loves Lace's sultry, midriff bearing Loyola Set, and Viktor and Rolf Mariage's dramatic train blouse.
READ MORE: 48 Awesome Ways to Entertain Your Wedding Guests
8. Unusual Entertainment

As well as drag queens, Pink Palms' Ashleigh has noticed a trend for rewriting the rule book on wedding entertainment.
"For 2021 and 2022 weddings, couples are really looking into unusual entertainment. They're grasping the opportunity to do weddings differently and they are running with it! They want to concentrate a lot on music, to provide the dancefloors that we've all missed - and are looking at other entertainment options, with one of my couples booking an audio guest book inside a telephone box instead of a normal guestbook."
You'll see couples turning their receptions in adult playgrounds with beer pong, piñatas, axe throwing, bouncy castles, petting zoos, circus performers and more. Guests will be able to get temporary tattoos of the couple's faces and jump into unexpected photobooths before taking to the dancefloor.
Instead of just a DJ, expect to see a live band, saxophonist, steel drums, roaming band or Motown ensemble before the DJ does his late-night set. If they're really into dancing, a silent disco might even follow that.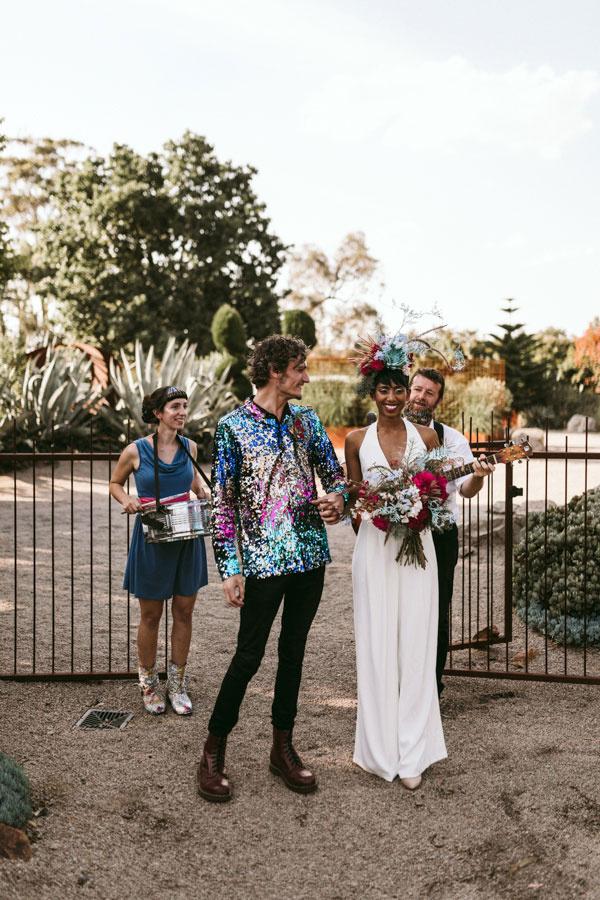 And dancefloors won't just be inside your venue. They'll spill out of marquees and tipis onto rug-carpeted ground or raised stages; terraces will be utilised for casual mingling and dancing while main halls become the nightclubs we've missed out on.
"Couples are really taking the chance to rewrite weddings and do things a little differently, representing them - whilst honouring the momentous occasion of a wedding. It's been such a joy to see their excitement come back after such a difficult period," she said.
9. Sustainable Table Designs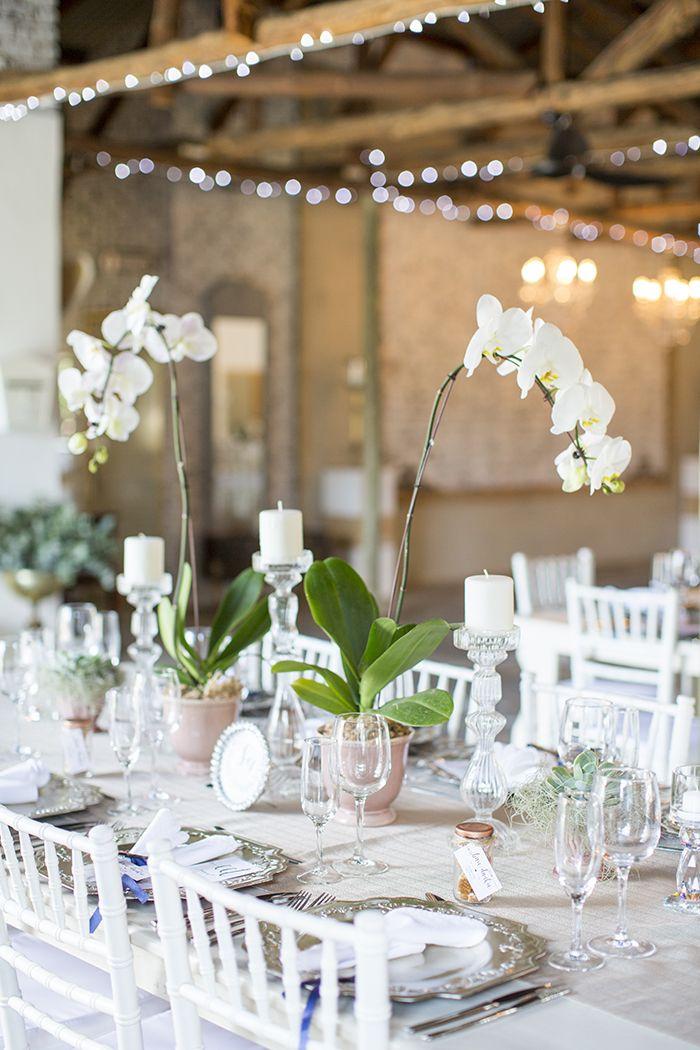 Luxury florist Hayford & Rhodes predict "re-usable designs on the tables that guests can take home" will be hugely popular in 2022.
"Use air purifying potted plants such as maiden hair ferns, English ivy, peace lilies, orchids and fig trees; also dried foliages and flowers, such as pampas grasses, bunny tails, dried ruscus, poppy and nigella pods."
10. Upcycled Fashion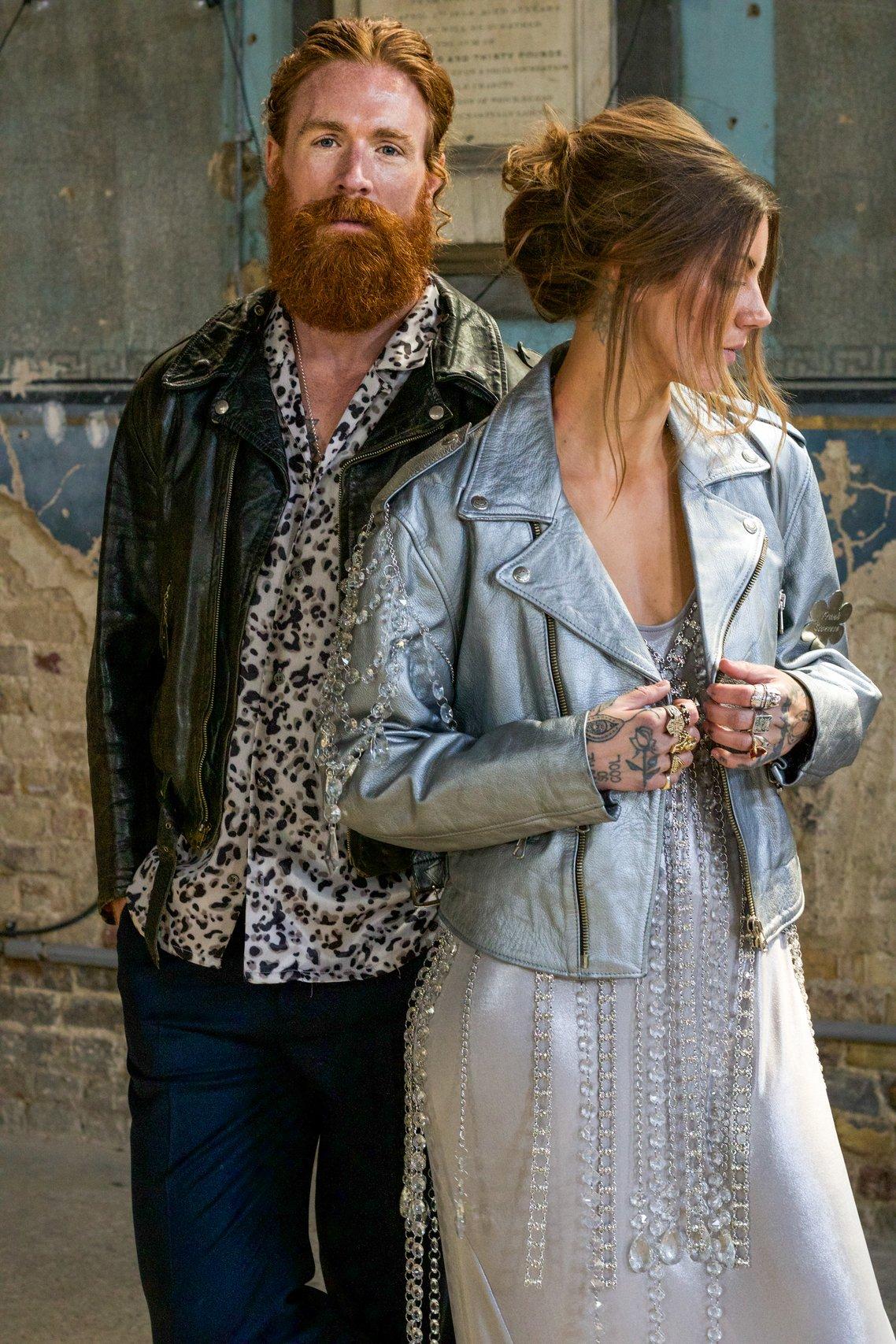 "Upcycled fashion is not new but upcycled occasionwear is something I predict will be big next year," says Christopher of luxury events agency The Events Mill. "Fashion retail has changed so much in the past year, and I feel that to stand out and be true to your own personality, bespoke tailoring is the way forward.
"Each season, with the help of the House of Bilimoria, I design my own capsule collections that are created using materials I find at flea markets, charity shops and on eBay. That way I can indulge myself in a beautiful, bespoke wardrobe, safe in the knowledge that I am saving material from landfill, and fully expressing myself in my style. Next year, the best dressed guests will be self-designers."
READ MORE: 55 Unique Wedding Cake Flavours
11. 'Flavour with Meaning' Cakes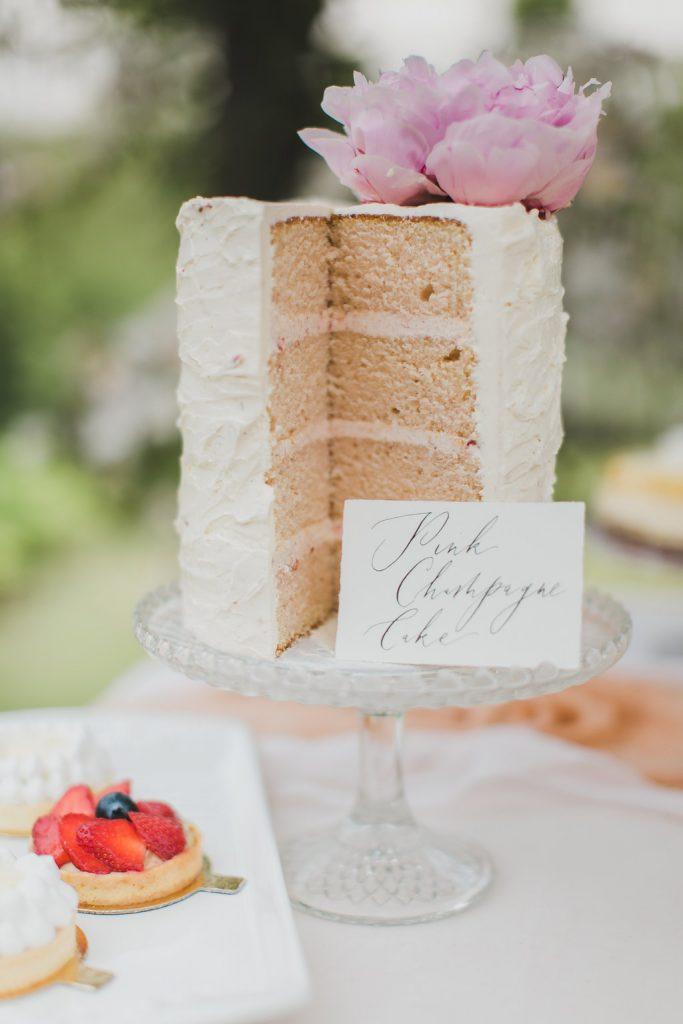 "Couples are selecting cake flavours that they really connect with, as opposed to just picking things off a menu," says Fehintola Bolodeoku, Owner and Creative Designer of MonAnnie Cakes. "These flavours could be things that remind them of their first date, take them back to childhood memories, or are connected to a favourite destination.
"It's no longer about it just being 'a cake', it's about sharing their special memories in cake form with their guests."
Looking into 2022, couples will be going beyond the wedding cake to "share a flavour experience - this can be in the form of a welcome basket full of delicious meaningful treats, or a creative patisserie table."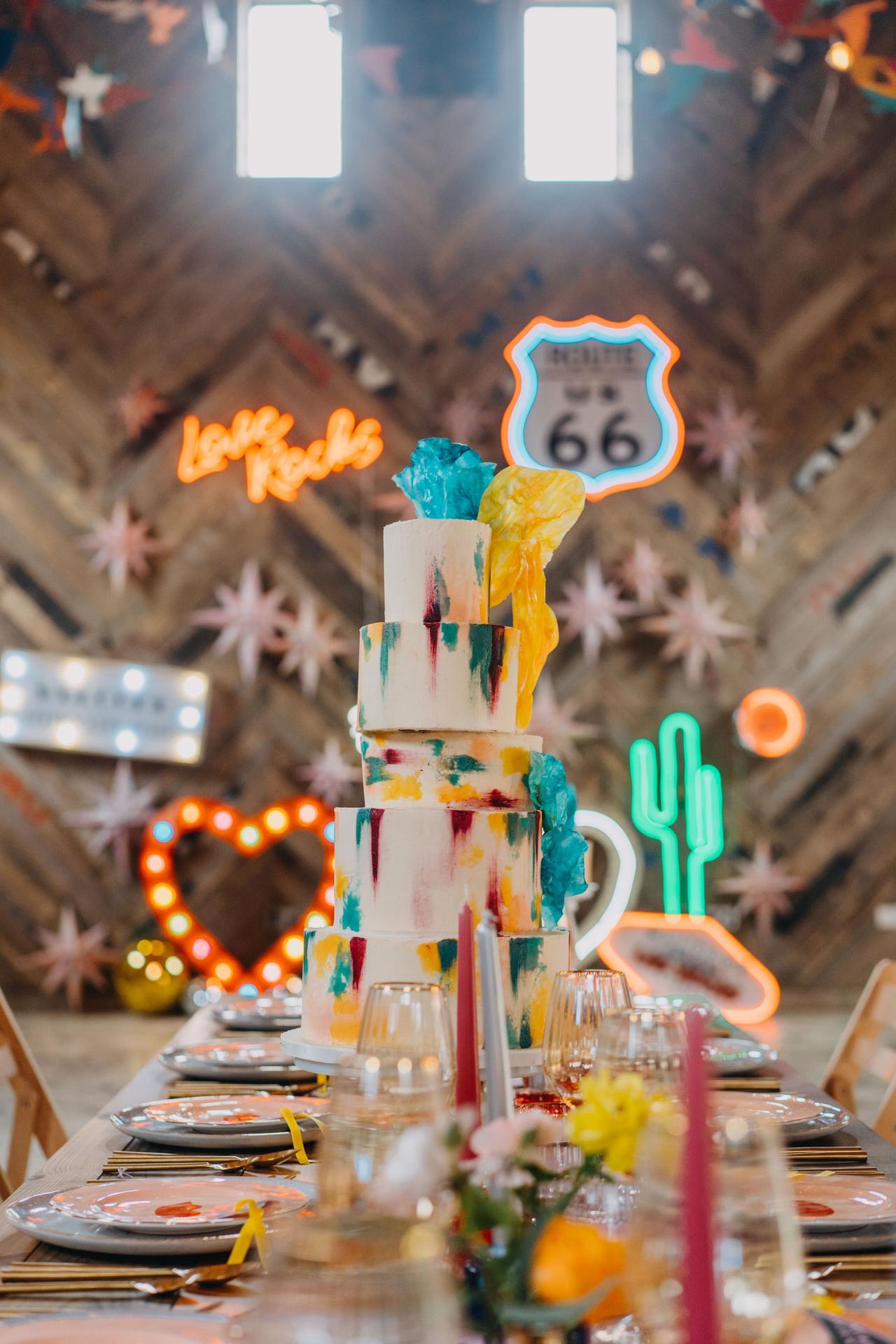 Picture rhubarb and custard or apple crumble macaron favours to remind you of nostalgic treats; Greek orange and tahini, Sicilian lemon or Irish stout cake that brings back memories of a holiday; pink Champagne buttercream to commemorate what you drank at your engagement; or an elevated chocolate masterpiece of the first dessert you cooked for your partner. It's an extra layer of personalisation that rounds off the whole wedding experience.
READ MORE: How to Host a Gorgeous Wedding at Home
12. Back Garden Escapism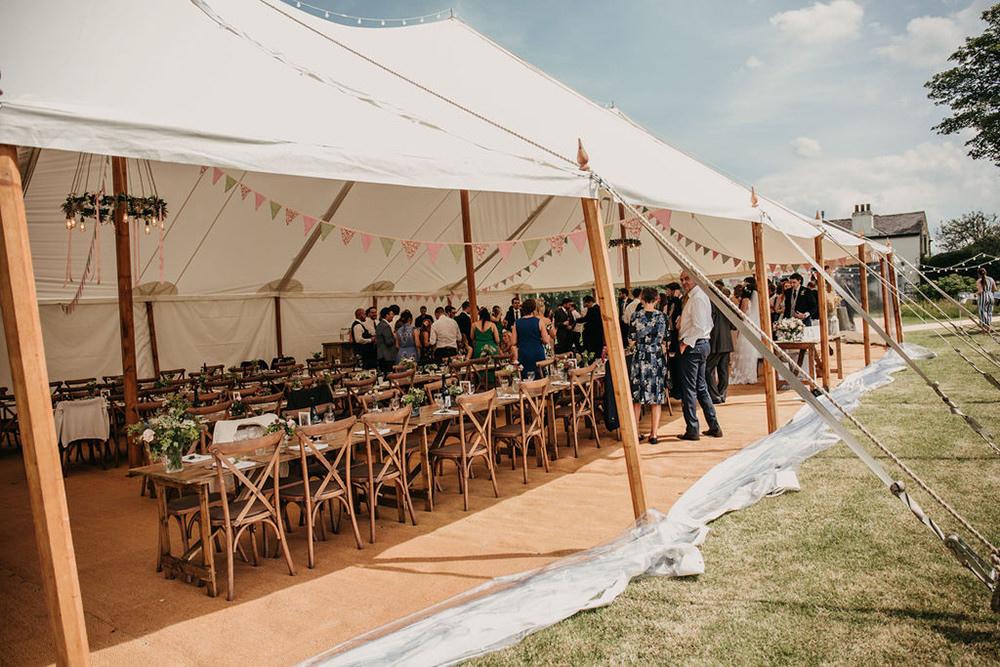 "Backyard weddings have been booming and we expect them to be popular in the upcoming year as well, for both safety and comfort," predicts wedding planner Mwai Yeboah, Founder of Love From Mwai. "Backyard weddings will rule 2021-2022 and continue to exceed all expectations."
Inside-out weddings, which flow from the house into the garden, will be particularly popular as couples continue to embrace the open-air message of the past year. Back doors will be thrown open and wedding décor will burst from the interior to exterior, creating a whimsical, playful, garden wedding experience.
With a move towards smaller weddings, the guest experience will be paramount and no expense will be spared in transforming your home into a venue worthy of a wedding. Etsy has seen a 124% increase in searches for garden wedding items, with couples investing in rustic welcome boards, personalised neon signs and custom confetti cones.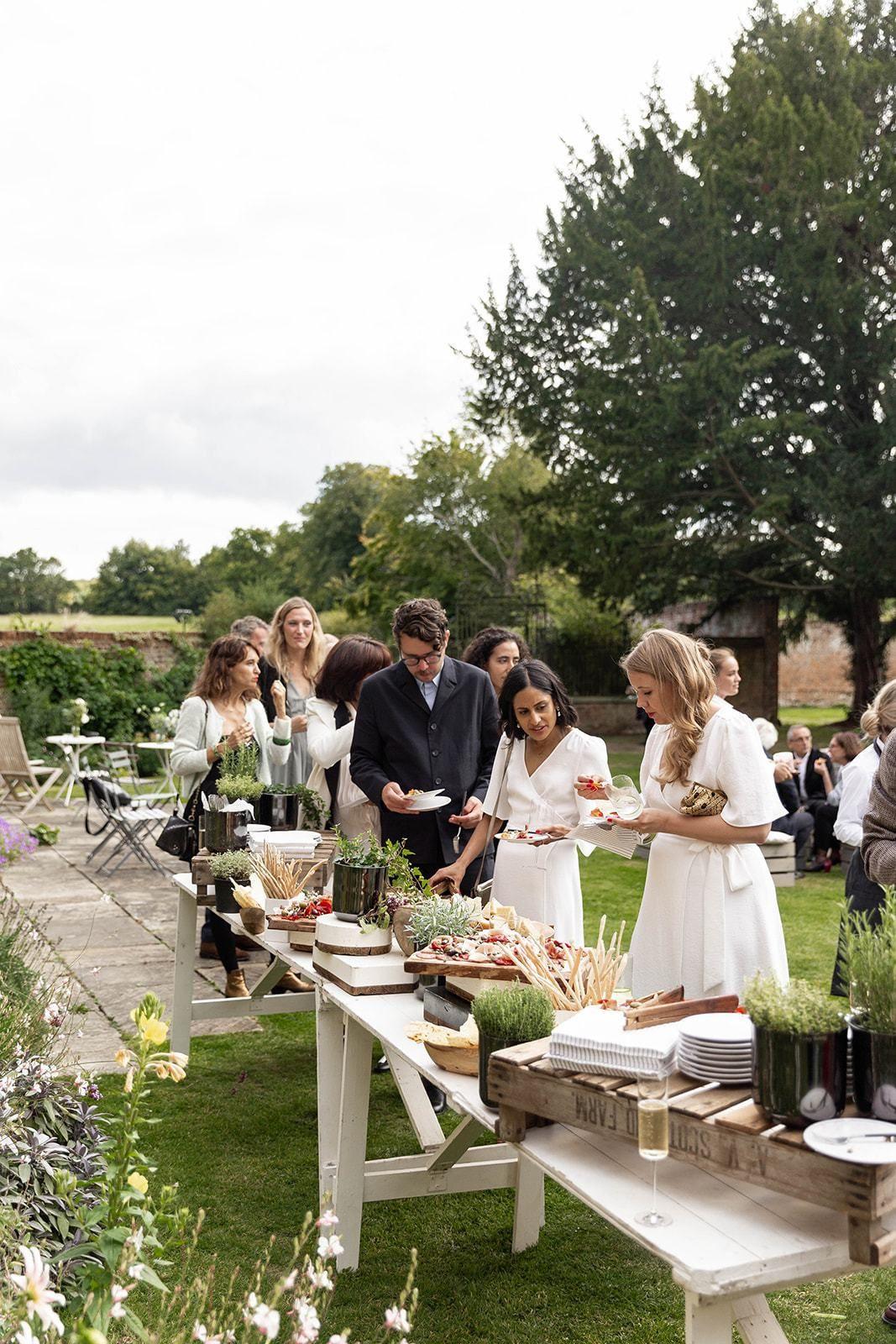 Jens Nisson, Executive Chef Director at Bubble Food, has seen demand for garden weddings soar, with couples looking to recreate the holidays they have missed this year in their own homes.
"Some clients are requesting 'At Home' marquee weddings with stunning décor and sumptuous catering so they can celebrate their marriage in their own space. Other clients are working with the travel restrictions to create destination weddings at home, from Ibiza-style, ultra-glam, sophisticated ceremonies to chic and rustic Tuscany-inspired services," he explained.
Expect couples to choose their childhood homes as the setting for their wedding and focus on having there as many of the elderly relatives they haven't been able to hug for the past year and half.
13. Bright, Bold Splashes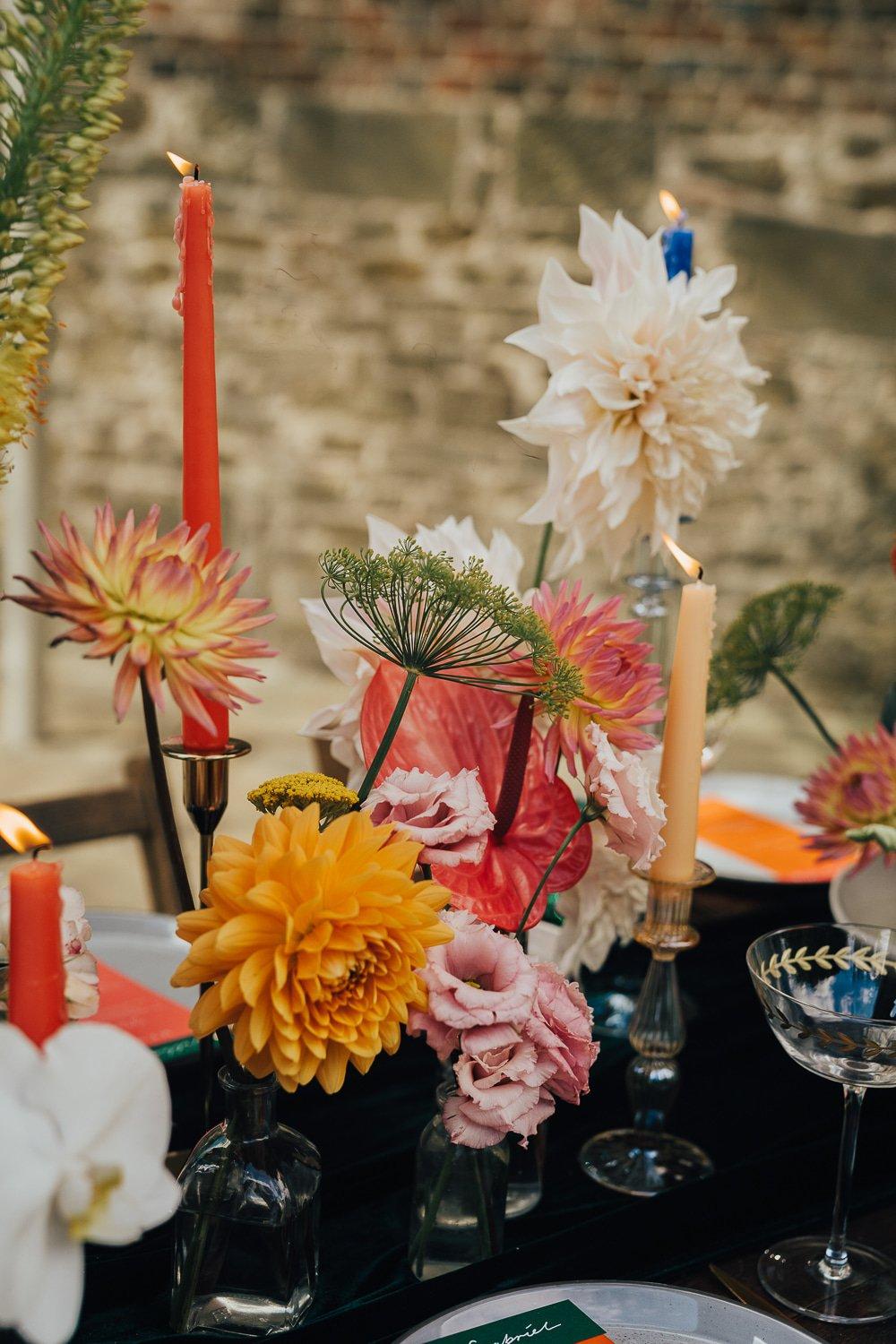 You didn't think the only colour palette that would be trending was earthy tones, did you?
"Couples are really going into colour schemes, making their wedding reflective of them and not necessarily traditional weddings. I think so many couples have realised that their relationship is what's important, not necessarily the cookie cutter approach to weddings and it's so wonderful to help them bring that together," says Ashleigh.
"Couples that previously were having all white weddings have decided it needs to feel a little more 'them' so have injected their favourite colours into the palette."
What will those colours be? Trend forecasters WGSN and Coloro predict the top five colours for spring and summer 2022 will be vibrant pink-purple Orchid Flower, earthy green Olive Oil, creamy yellow Butter, tropical Mango Sorbet and ocean-like Atlantic Blue.
14. Wedding Creches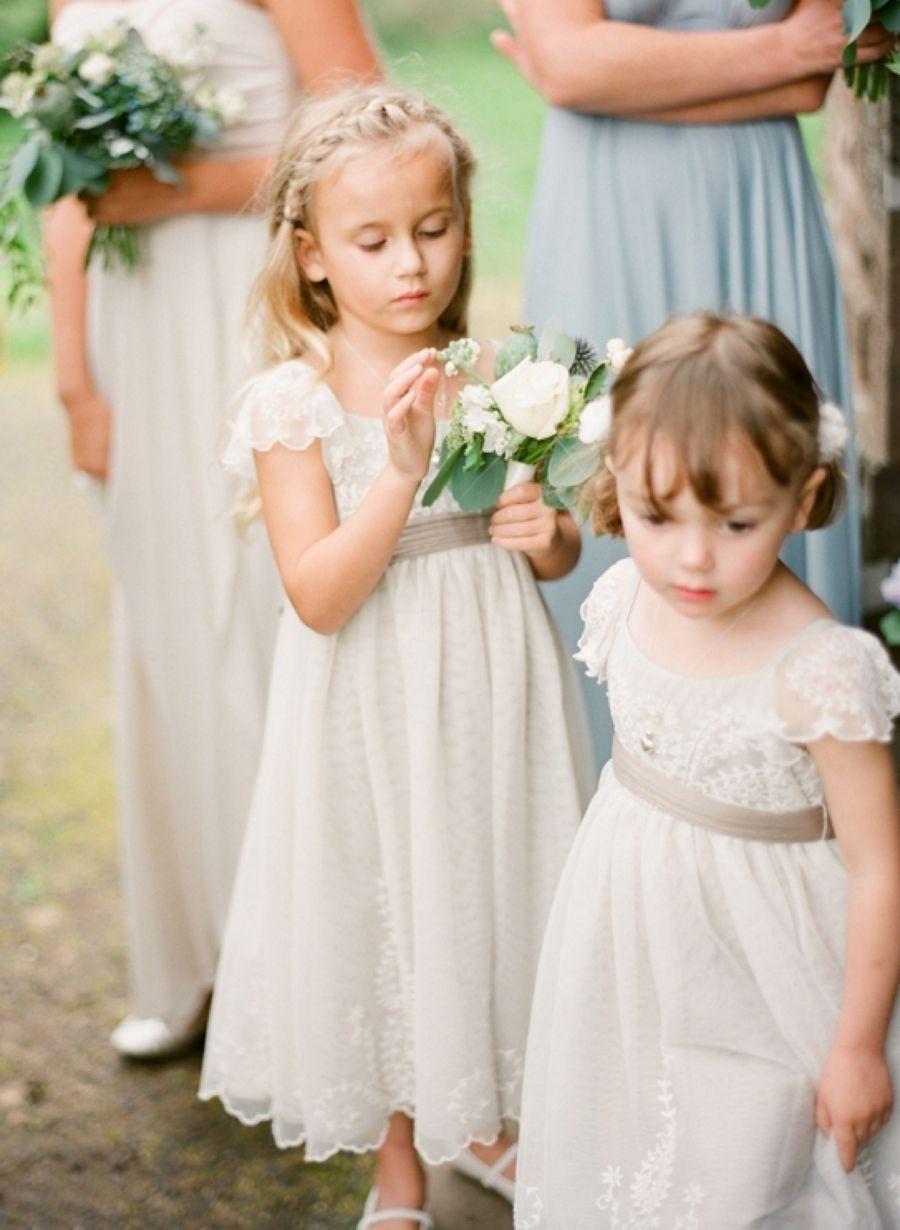 Hitched saw an 80% increase in searches for maternity wedding dresses in the last six months indicating there will be a lot more pregnant and recently-popped brides on their wedding day. From the couple to guests, we can expect more children than ever at weddings in 2022 and with that comes ingenious ways of keeping them entertained.
Wedding creches and nannying services are predicted to boom in popularity into the next year as couples hire trusted sitters to look after their little ones. It ensures guests who might otherwise need to drop out over childcare commitments can attend and gives parents a chance to let their hair down and enjoy themselves without worry.
READ MORE: Everything to Consider About Children at Your Wedding
15. Destination Elopements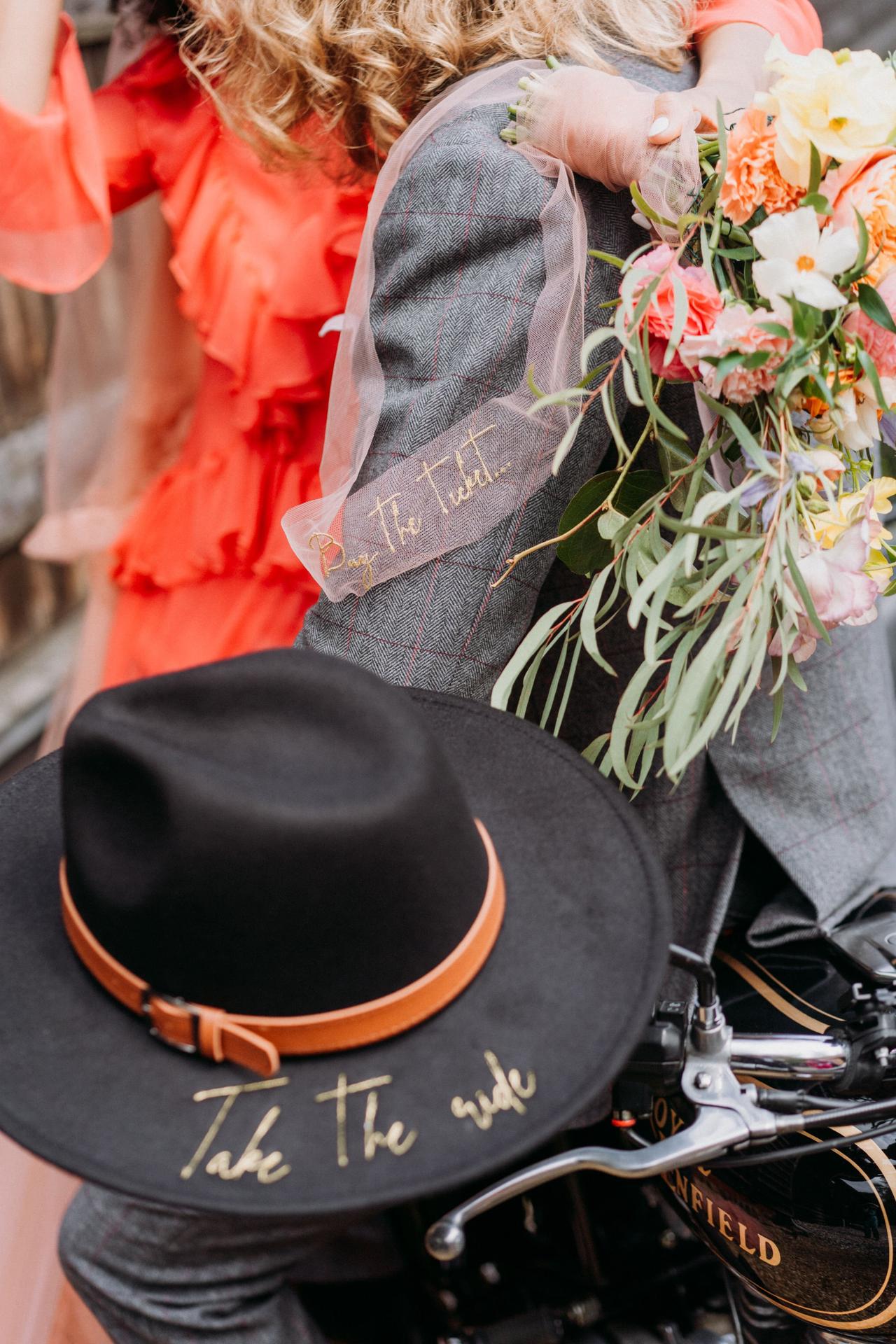 Elopements increased in popularity over lockdown as couples adapted to guest limits and turned to intimate, private celebrations with just a few witnesses or close family.
The trend for elopements has taken root in many couples' consciousness now and we'll see an increase in these special, intimate weddings in 2022 - with an added twist.
"So many engaged couples have had to reschedule or put off their wedding altogether for so long. When it's finally safe for them to host a celebration, I have a strong feeling they'll want to 'go big'—which may just mean taking their long-awaited affair overseas," predicts Mwai.
"At this point, they're not just celebrating their love; they're celebrating their health, their family and friends' health, and the fact that the world is finally reopening. I think couples will look at the world as their oyster and will want to embrace their wedding to the absolute fullest—which, for many couples, will mean opting for a fresh, far-away location."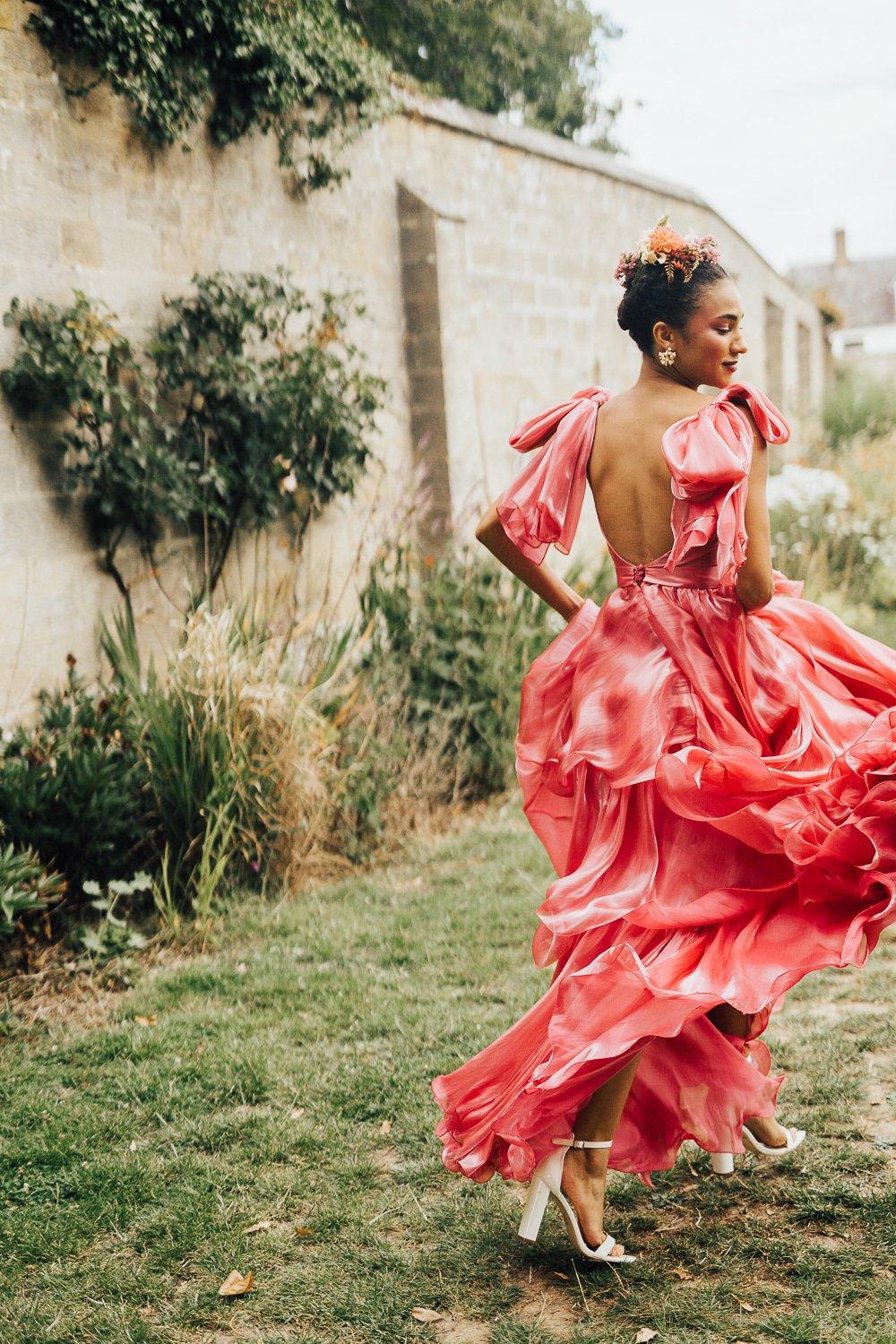 After 18 months of travel restrictions, couples are desperate to celebrate with family and friends in the sunshine - in Europe and beyond.
"At Quinta do Lago, we are witnessing a significant rise in 'destination elopements' with couples looking to create special memories with their spouse-to-be in a beautiful and unique destination," says Arina Batalha, Sales Director at luxury Algarve resort Quinta do Lago who have just launched an elopement package.
"The past year and a half has reminded us all that we need to make the most of every moment and, as a result, more newlyweds are inviting a smaller number of close friends and family. This means that couples can enjoy more intimate wedding ceremonies and also allows them to spend more time [with loved ones] in a truly special celebration."
Responding to demand, Windjammer Landing Villa Beach Resort in St Lucia have also launched their 'Just the Two of Us' elopement package which combines a private, romantic ceremony with a tropical honeymoon.
Expect them to be the tip of the iceberg of destination elopement packages.
16. Statement Outerwear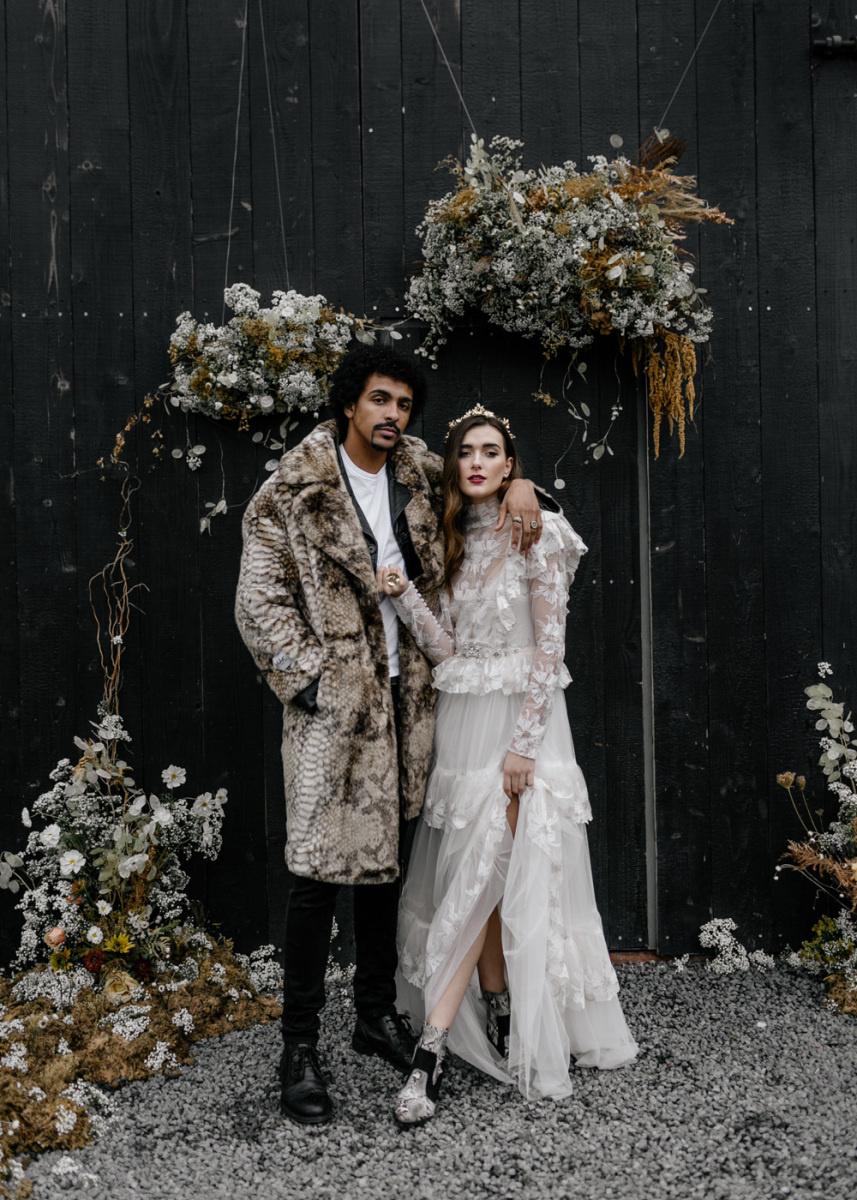 Coats aren't just for winter.
It's a cliché that Britons love talking about the weather, but 2021 has given us plenty to talk about with a summer of miserable, grey rainfall. With the peak summer months no longer guaranteeing sunshine (or even a dry day), couples will be experimenting with statement outwear that adds personality and synchronicity to their entire look.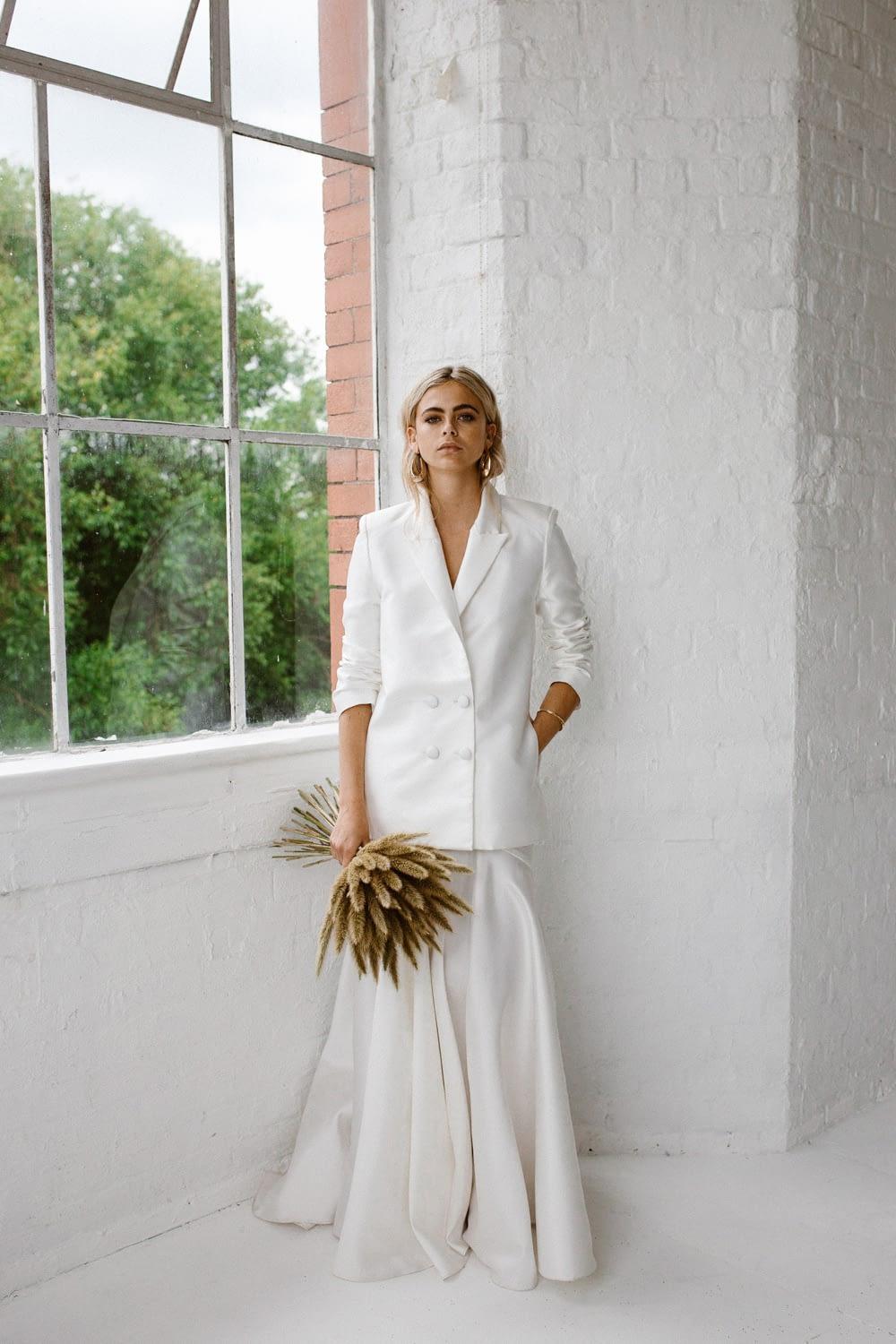 From bridal white leather coats to luxe feather and faux fur jackets; thick shearling coats; organza, tulle and clear vinyl trenches; sleek suit blazers; and heavily embellished or bold patterned outerwear, what's put on top of the dress or suit will get as much consideration as the main event.
17. Multi-Sensory Experiences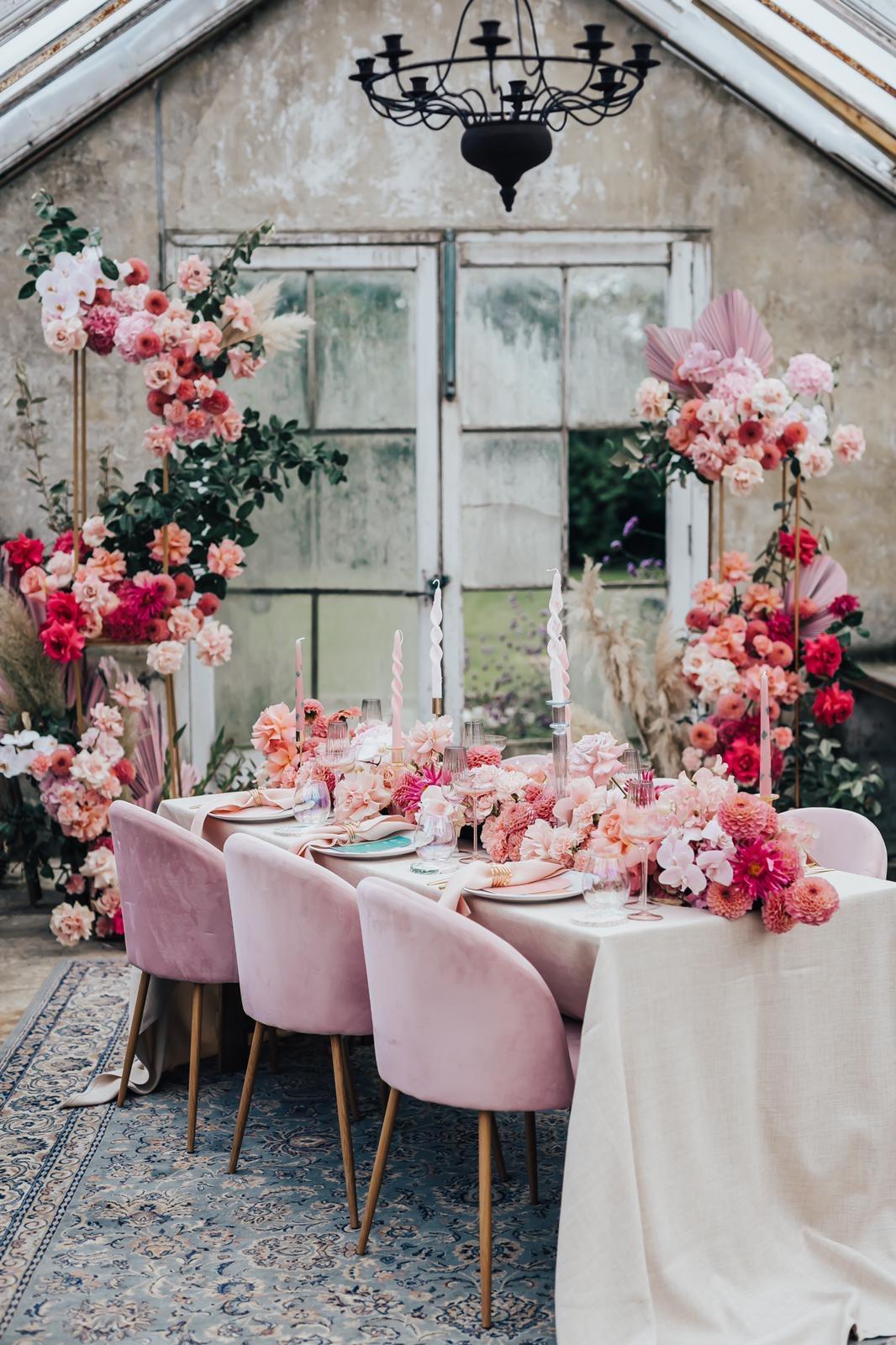 "After the restrictions of 2020/21, wedding couples will want to give their guest a genuinely unforgettable experience," says Christopher. "This can be done by considering multisensory elements, for example, food and drink that doesn't just taste and look good but feels exciting to the touch, sounds different when eaten and uses unusual ingredients.
"Smell will also be a trend and we're not talking just scented candles here. Think scented stationery, a different scent for each room at venues and new scents for each song the band plays. We all deserve a great party, so why not take it to the next level?"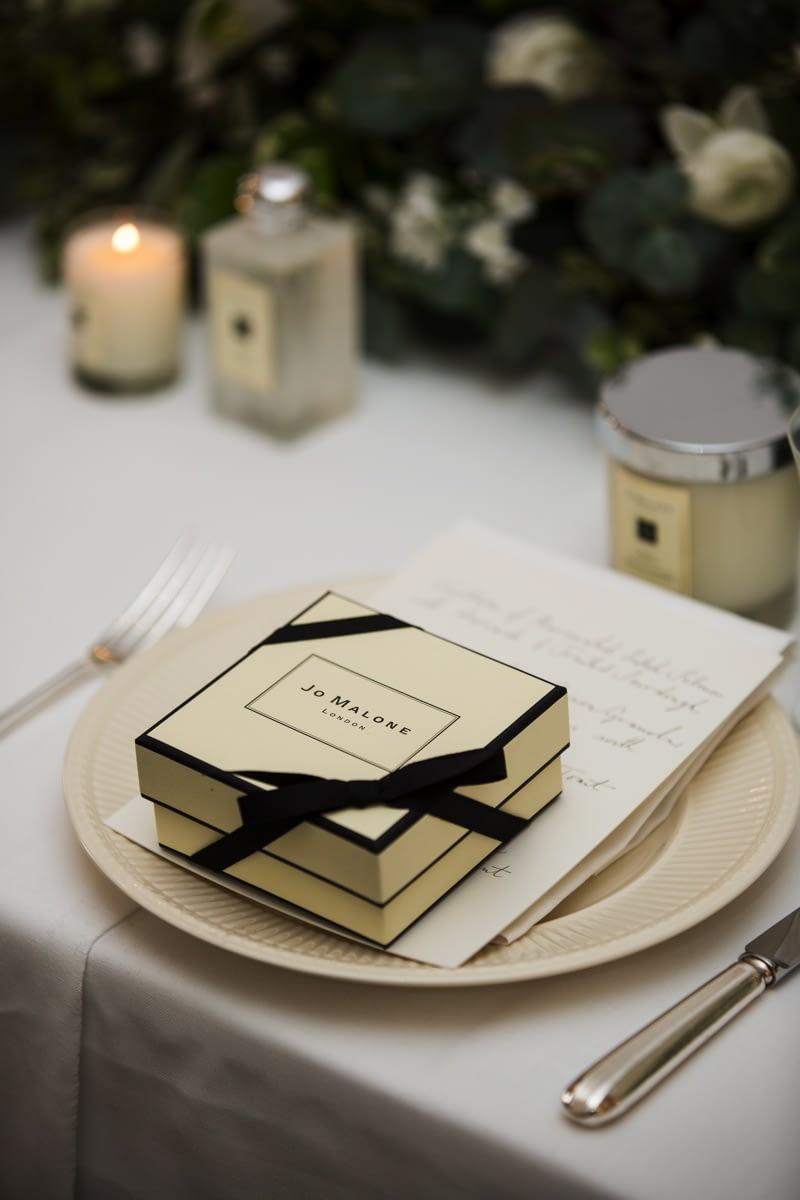 You might remember that the Duchess of Cambridge scented the whole of Westminster Abbey with Jo Malone's Orange Blossom candles for her big day. In 2022, we're seeing a modern iteration of this trend, with scents, sights and sounds to immerse the guest in the wedding experience throughout the venue and day.
18. Vegan Wedding Food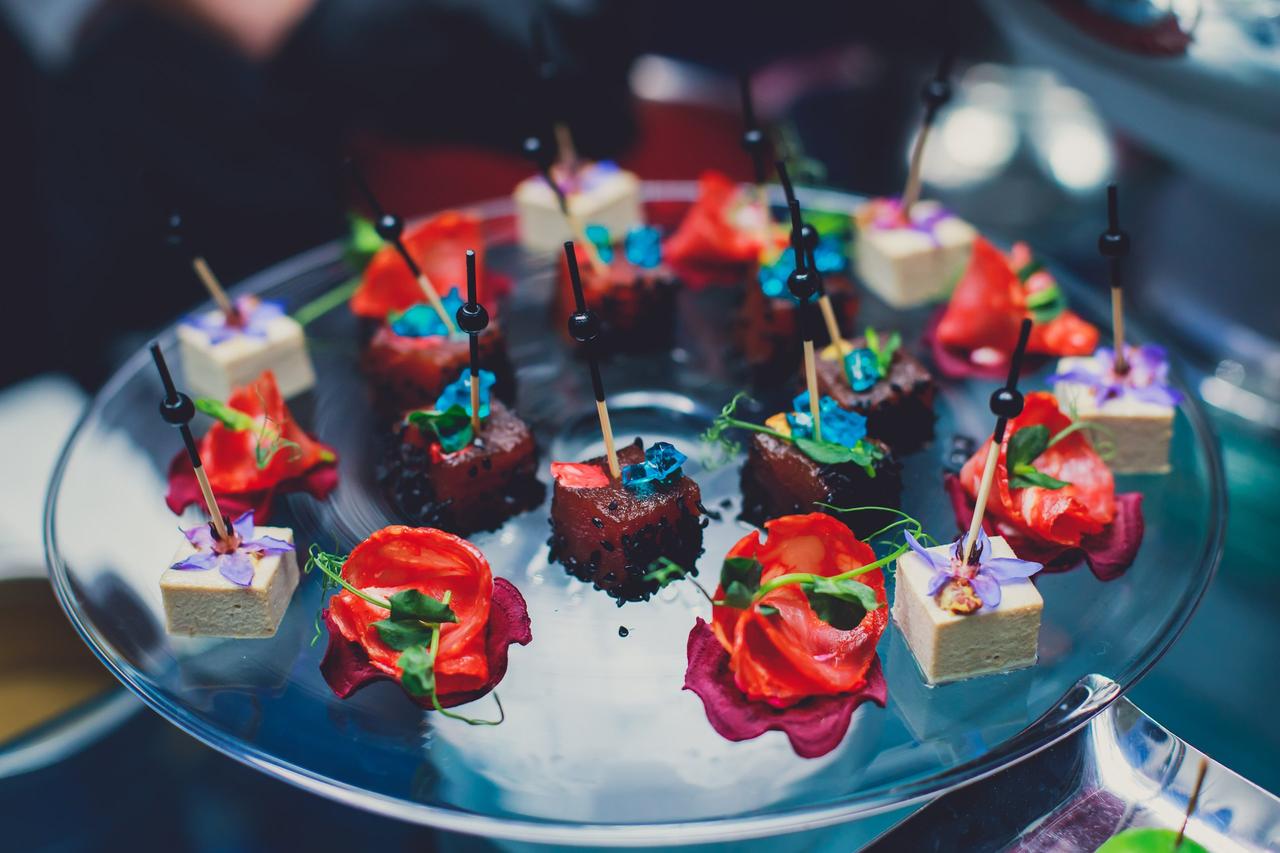 Health-conscious guests aren't just abstaining from alcohol; many people have changed to vegetarian or vegan diets during lockdown and we'll see these dietary lifestyles out in force at weddings in 2022. For those eating meat, seasonal and local will be king.
Bubble Food's Executive Chef Director Jens says: "We have seen a rise in vegan and vegetarian weddings – this summer we have a wedding booked for 230 people with a pure vegan menu.
"There is also an increased focus on provenance, with clients requesting British meats and vegetables from local suppliers and British wines, as well as bespoke menus that reflect their surrounding area."
It'll be more important than ever to taste the vegetarian and vegan options from your caterer.
READ MORE: The Best Small Wedding Cakes for Intimate Receptions
19. Small Wedding Cakes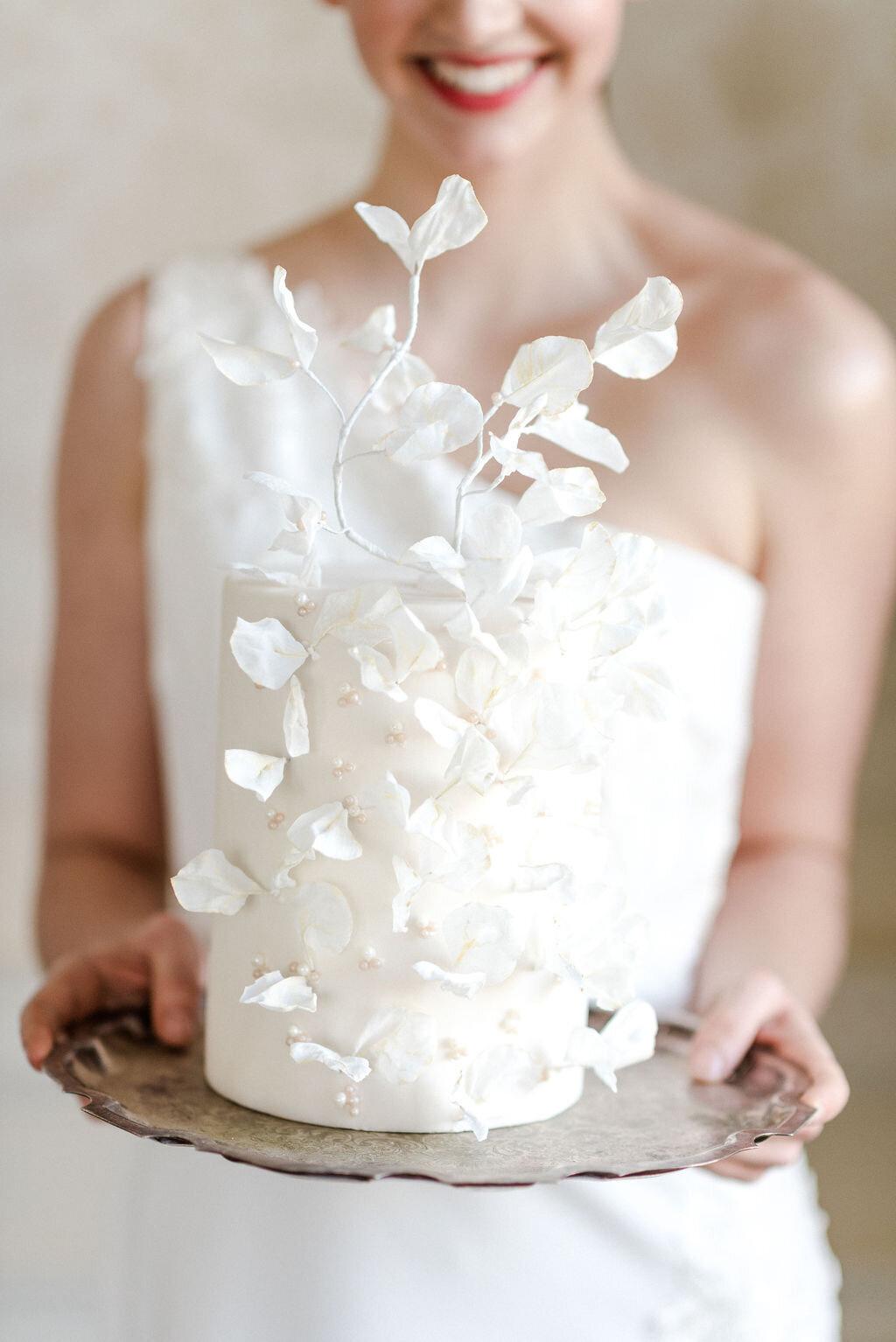 "People are having smaller, more detailed cakes, with separate 'cutting cakes' in the back for larger guest numbers," says Fen of MonAnnie Cakes. It marks "a move to more bespoke designs, that create a complete story for the couple to share with their guests on the day."
"This will take inspiration from their background, their journey together as a couple, their wedding destination, and some of their favourite things. All elegantly and tastefully done," she explains.
20. Feeling Overwhelmed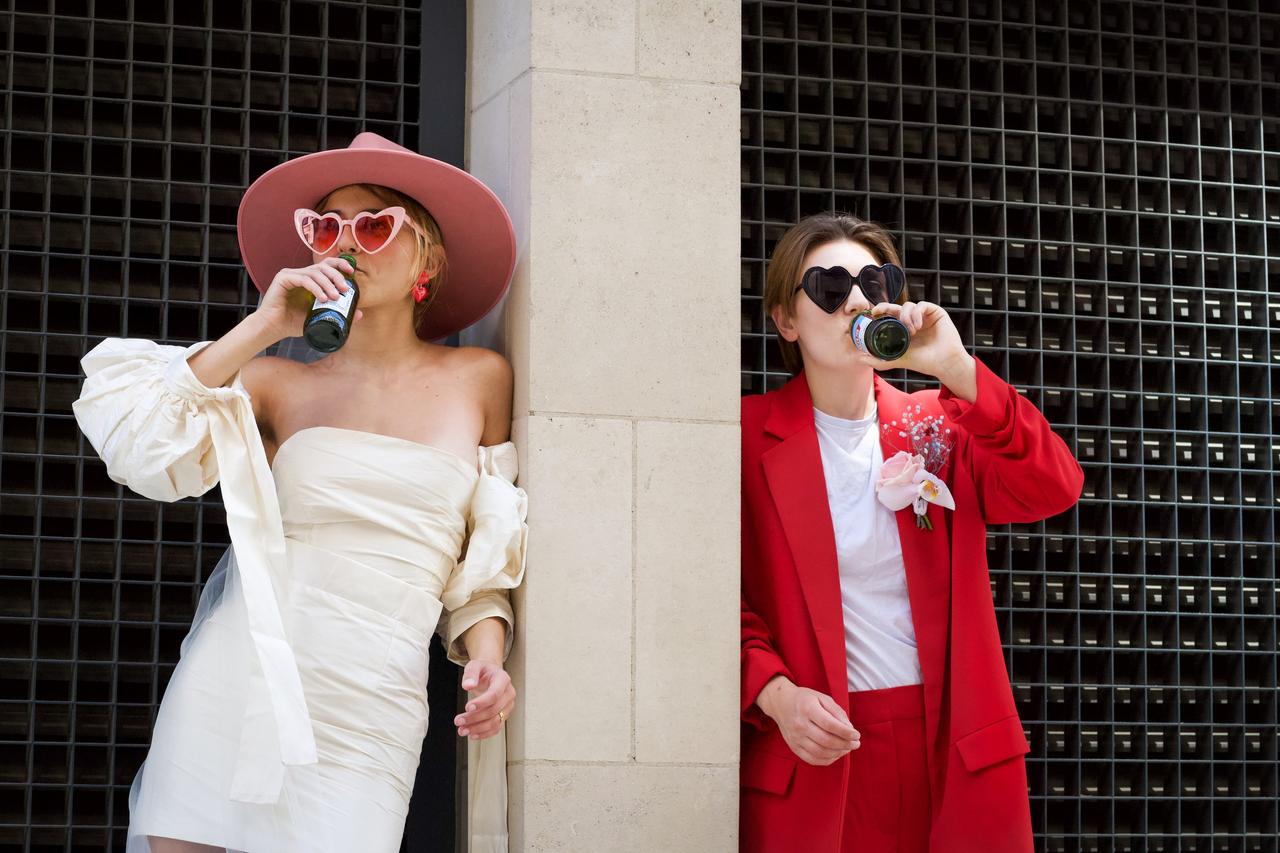 Not a trend as such, but a word of expectation: "I'm preparing all my couples for how overwhelming and emotional their wedding day will feel - for everyone!" says Ashleigh.
"Being apart for so long and having life's big moments on pause will really mean that celebrating them will be a little overwhelming, but it also means that the pressure is off - everyone will be so focused on partying and making up for lost time that they can really lean into that and relax!"
Incorporating acts of gratitude into your day and honouring lost loved ones can be meaningful ways to channel those feelings into something positive.
Confused about to include in your day? Here's 21 things real couples said didn't matter on their wedding days - so you can cross them off the list now.