12 Ways to Reinvent Traditions for an LGBTQ+ Wedding
Curious about how to reinvent or reinterpret wedding traditions for your LGBTQ+ wedding? Here are 12 creative ideas
We have included third party products to help you navigate and enjoy life's biggest moments. Purchases made through links on this page may earn us a commission.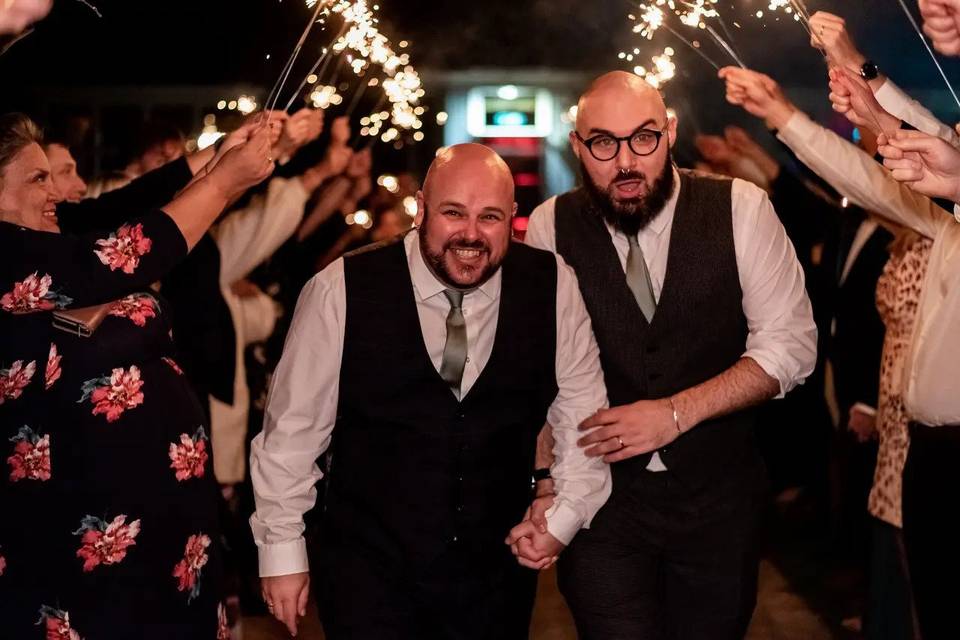 Are there different traditions for LGBTQ+ weddings? Do both brides walk down the aisle? Can the grooms carry flowers? Who proposes to who? LGBTQ+ weddings can sometimes feel tricky to plan because they don't have a script dictated by tradition, but that also means your wedding can be whatever you want it to be.
LGBTQ+ couples have a huge amount of creative freedom with their wedding day. One of the best things about an LGBTQ+ wedding is that you can do away with stuffy conventional wedding roles and customs and make the day truly your own.
We spoke with several experts in the field and a number of LGBTQ+ couples, to see how wedding traditions can be reinvented (or just outright ditched), to suit your needs and relationship.
READ MORE:
12 Traditions to Reinvent for an LGBTQ+ Wedding
1. Who Proposes to Who in an LGBTQ+ Couple?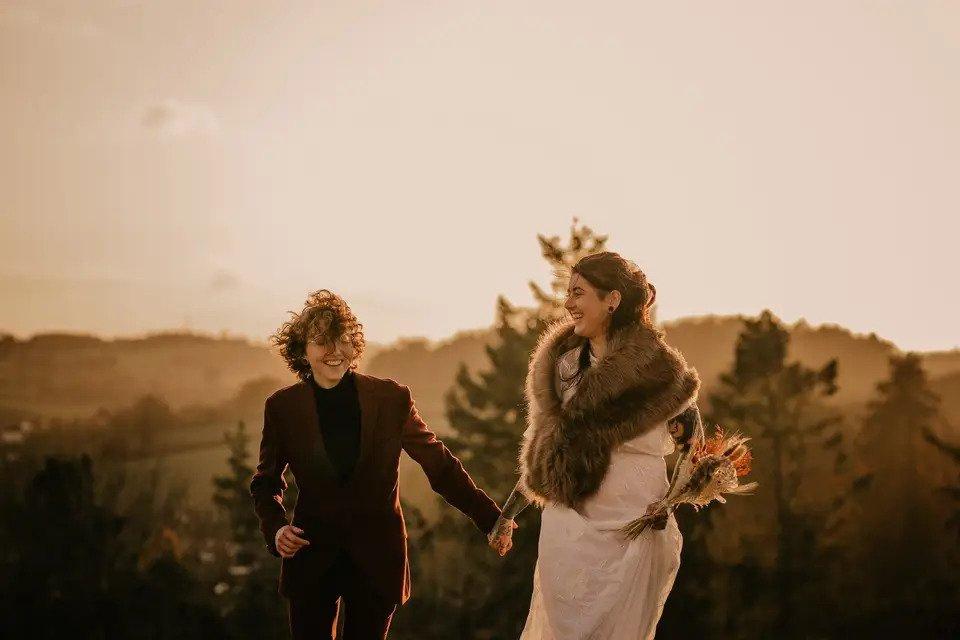 Traditionally, the groom asks the bride's father for permission to propose, before going down on one knee and offering a ring. Who says it has to be like that? Not having the traditional script to follow, like it is the case of heteronormative weddings, can lead to confusion for some LGBTQ+ couples.
Our number one tip is to listen to your partner, communicate so you make sure you don't ruin their moment, or you don't ruin theirs. If you'd like to ask, or would like to be asked, say it.
"Issy proposed to me on our anniversary in Richmond, which is a very special place for us as we'd spent a lot of time there when we were first dating," says Rachel Capper, co-founder of LGBT Fit, talking about how her partner, Isabella Beni, proposed to her.
"We had agreed to only do cards for our anniversary. She picked a bench she was happy with and made me turn around under the guise of surprising me with her card. I turned around and she was there with a ring in her hand, proposing!
"She was still sitting on the bench so I told her 'you'll need to get down on one knee and ask me again'. Then I said yes and it was the best moment."
This is their way, but there is no need to go down on one knee, or no need to have a ring. You might choose to mark the occasion with an engagement gift with similar sentimental value; you could exchange engagement watches, write a song, a poem, or buy a tree to nurture together in the garden.
2. Don't Be Confined by Wedding Party Labels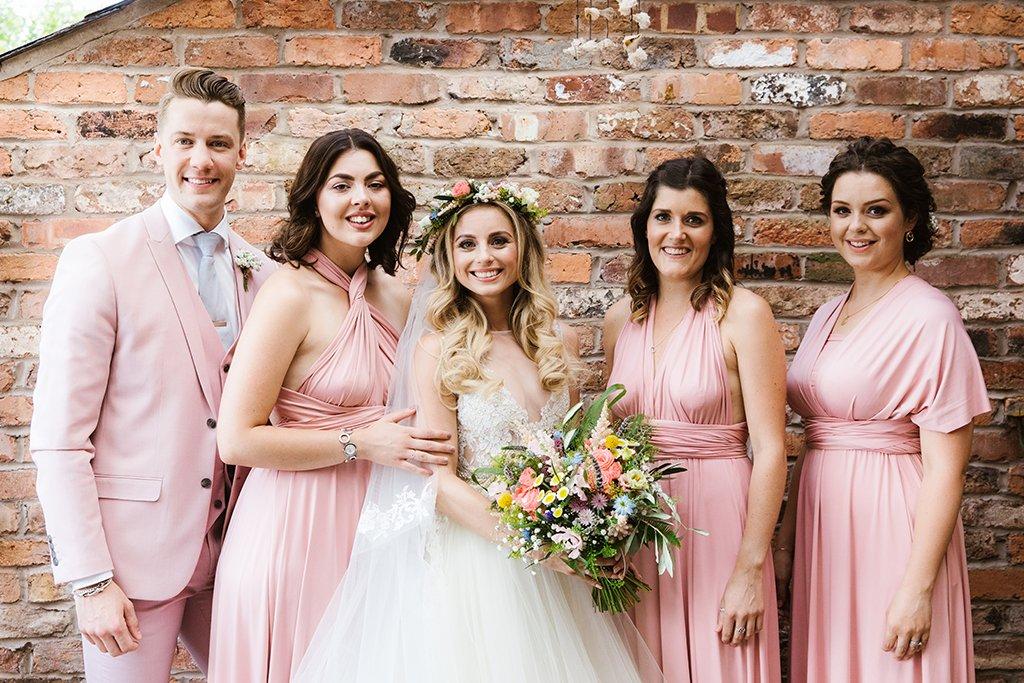 In an LGBTQ+ wedding (in fact, in any wedding!), gender shouldn't define anyone's role. The most important thing is having the people closest to you by your side. Just remember to share their duties with them. There might be a lot of stuff they need to help you with.
"For me, these are three of my best girl friends and my sister. For Iss, it's her best guy mate and three of her best girl friends," says Rachel.
"We're putting the bridesmaids in the same dress, but they're multi-way dresses so everyone can make it their own and wear something they feel comfortable in."
Your wedding party, 'I do crew' or whatever you choose to call the people that will be next to you on your big day, will have a lot of responsibilities. Here is a list of just some of the things you'll need someone in your wedding party to look after:
Hen/stag/sten do organising (if you're having one)
Be a sounding board for ideas
Attend your wedding outfit fittings
Help with hands on tasks: (addressing wedding invitations, set up the day before, assisting with wedding planning)
Be your witness to sign the register
Greeting and guiding guests to their seats
Ensuring all suppliers/items are in place
Holding the rings (if you're having them)
Getting ready with the couple]
You can call your wedding party a number of things - your bridesmates, your groomsmaids, mates of honour, your 'I do crew' or you can keep it simple by calling them a 'wedding party'. It's up to you who you assign roles in your wedding and what those roles are called - if you're looking for a totally gender neutral role, how about assigning a friend to be your 'something blue' and having them dress in that colour?
READ MORE: What is a Bridesmate?
3. What Do You Wear to an LGBTQ+ Wedding?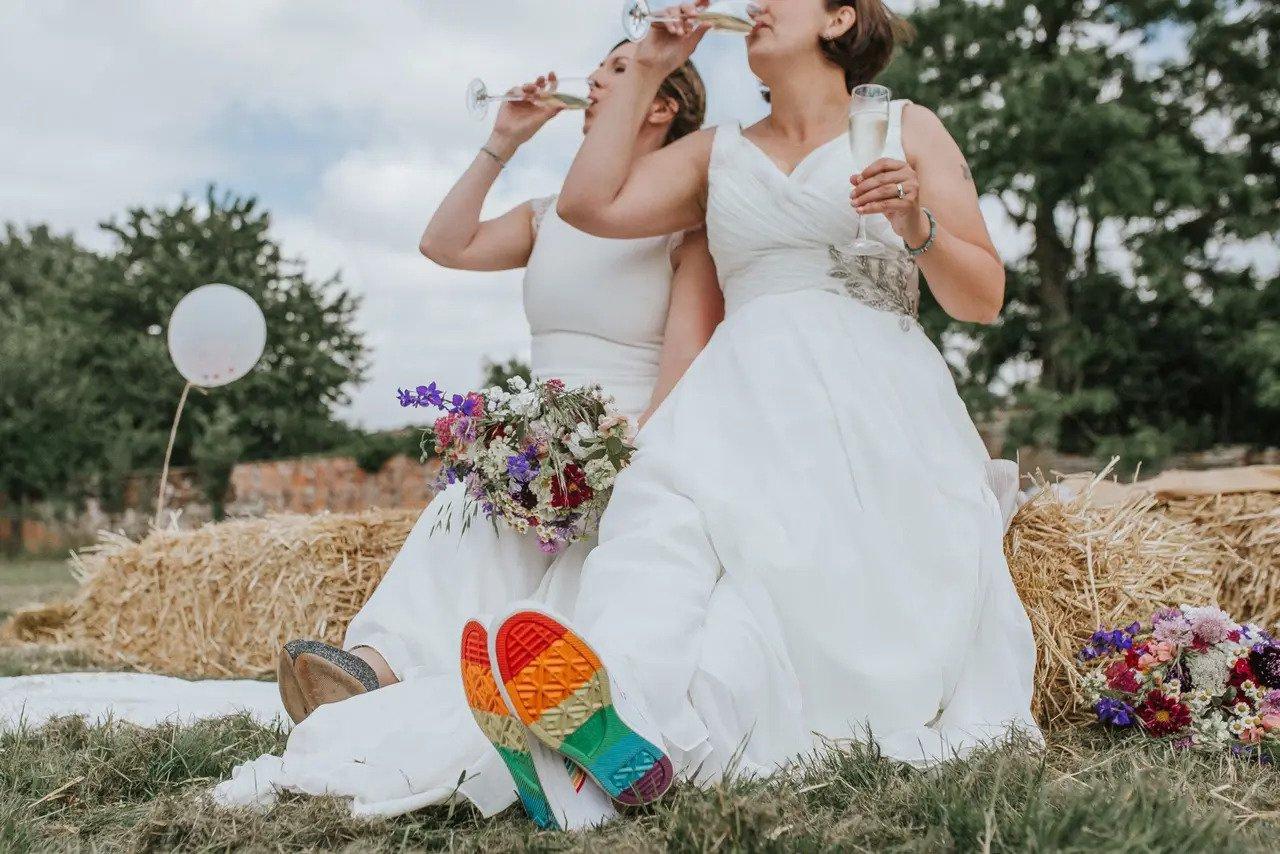 If you're the nearlyweds considering this, you can wear whatever you want! Most wedding traditions don't necessarily make sense anymore, and dress code is one of them. What to wear on your wedding day is entirely up to you. No need for this suit or that dress. Be yourself and be comfortable.
Issy and Rachael chose their wedding day outfits based on what made them feel good. Rachael says: "For Iss and I it was really weird, when we told people we were engaged, we got asked who's wearing the suit? I turned back to them and said: 'Who do you think's wearing the suit?' That one left them confused!
"Same sex and LGBTQ+ weddings don't need follow heteronormative wedding traditions, so no need for one bride to wear a women's wedding suit and one bride to wear a dress if that's not your vibe. It's all about ditching the gender standards so intrinsically present in heterosexual weddings.
"Wear what you're comfortable in and what you feel good in! Whether that's both in suits, in jumpsuits, separates or dresses. I wear a lot of dresses so I felt very comfortable in a wedding dress, though I like a very simple style so never wanted anything too grand or fussy. Issy thought she'd feel better in separates – like a crop top and flowy trousers or a skirt – but ended up finding a dress that she feels amazing in."
Of course, if there are some traditions you're a fan of - such as the surprise element of revealing your outfit, make it work for you! "We know the other one is wearing a dress, but that's all we know! It'll be a surprise for the day," explains Rachael. But that's not the only way. Lots of couples pick their outfits together so they don't have clashing suit colours or different shades of white dress. Often that means there's no need for a 'big reveal' and you can spend the night before the wedding together and many opt to get ready together.
This makes for some great getting ready photos. However, if you still want to have a big reveal, absolutely do! Bear in mind if you get ready separately, you'll probably need a second shooter for your getting ready photos.
READ MORE: The Best Non-Binary Wedding Outfits
4. Who Walks Down the Aisle?
In a traditional ceremony, the bride is walked down the aisle and 'given away' by her father. Sounds rather outdated, right? But who says it has to be your father? Why not your best friend, a very close auntie or your mum? You could even walk down together if you want. It really is up to you! There are so many ways to make this moment your own.
What if instead of having one half of the couple waiting at the top with the officiant you both walk down the aisle? Walking down the aisle together arm in arm is an incredibly romantic gesture and a glorious moment to capture on camera.
The idea of all the attention making you feel nauseous? Let's ditch the aisle altogether. There's many other ways of doing this, such as a ceremony circle, where guests can stand in a circle and leave space for the couple to join, or you could start at the front of the ceremony space and then have the guests enter after you. Why not mingle with the crowd if they're not in seats and slip your way to the front, or – a great idea for an outside space – let the guests in a processional behind you so they find their seats as you find the front.
Rachel and Issy took yet another different approach: "We've talked this one through as we were going to meet at the bottom of the aisle and walk up together, but then we decided to go separately as Issy's dad had been unwell and It means a lot to her for him to walk her up the aisle. Issy will go first and wait for me at the top, I'll then walk up afterwards."
READ MORE: Why Asking My Mum to Walk Me Down The Aisle Was the Best Decision
5. Where Do You Stand at an LGBTQ+ Wedding Ceremony?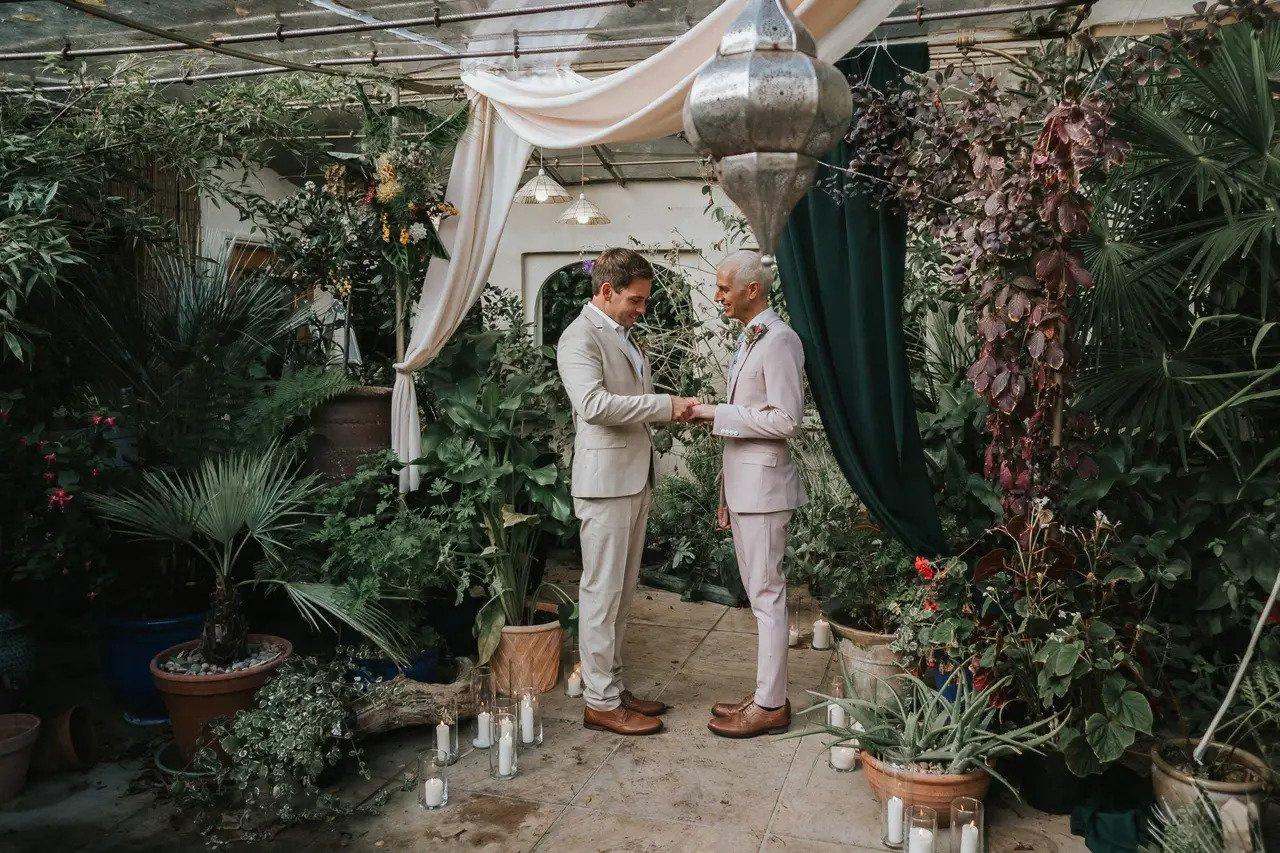 The ancient wedding tradition of the bride and groom standing in certain places dates back to a time when grooms needed their right hand free to defend their bride from other suitors - but we're hoping no sword fights break out at weddings these days…
Since you don't need to follow the traditional male and female roles, stand on whichever side you feel most comfortable on. Discuss it beforehand so you don't do an awkward little dance around each other at the altar.
Your attendants of honour can stand to the side of you, or take seats on the front row.
6. Who Holds the Flowers at an LBGTQ+ Wedding?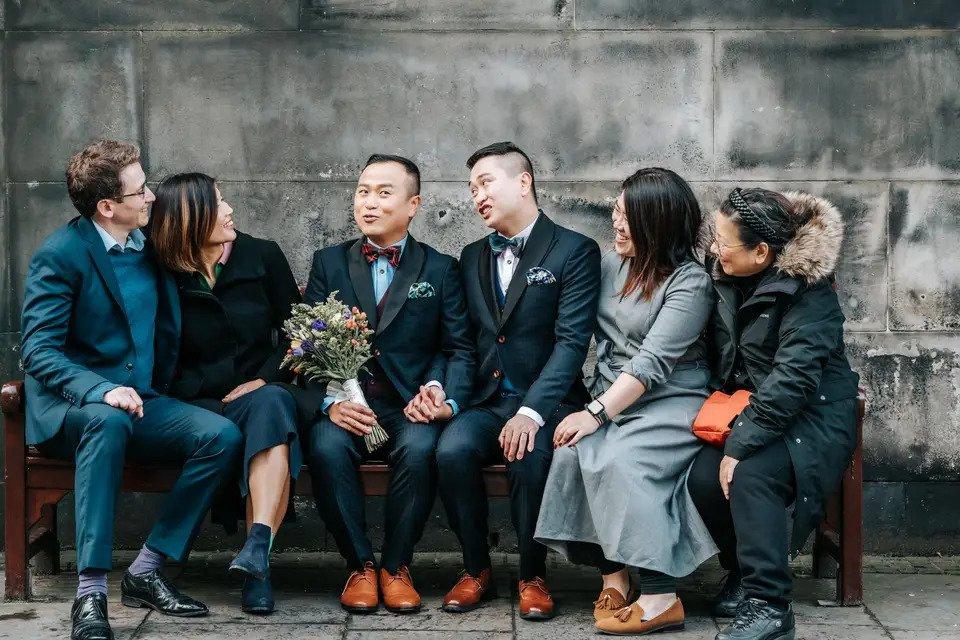 The answer is, anyone! However you may identify, there's no rule against one or both of you carrying bouquets, or getting rid of them altogether.
7. What About the Officiant?
The rules around marriage differ across the UK. Same sex marriage is legal across all of the UK, and has been since March 2014 for Wales and England, December 2014 for Scotland and since 2020 in Northern Ireland, however the types of marriage ceremony available depends on the country you're in.
For example, humanist weddings are legally recognised in Northern Ireland and Scotland, whereas they are not legally binding in England and Wales. Same sex couples currently can't marry in Church of England or Roman Catholic churches, however they can marry in a Methodist Church. As of May 2022, the Church of Scotland voted to allow same sex marriages to take place - ministers and deacons can apply to become celebrants of same sex marriage, but they will not be made to take part.
You'll need to check what the rules are in the area where you want to marry, and will want to find an LGBTQ+ friendly officiant. LGBTQ+ people deal with enough homophobia on a regular basis, so let's keep that out of our weddings. A lot of LGBTQ+ couples decide to have a celebrant instead of an officiant as it allows for a more bespoke celebration.
If you're marrying somewhere where celebrant-led ceremonies aren't legally recognised, you can have the legal part before, after or on the morning of your wedding day at a registry office and then a professional celebrant or even a friend can lead your service.
Toronto-based Max Valiquette, marketing and cultural expert and professional public speaker has been asked to officiate several friend's weddings: "When officiating same sex weddings my own experiences inform my approach, as I'm queer. When I had my first serious boyfriend, marriage for same-sex couples simply wasn't an option, so I don't approach marriage or weddings as a given."
8. What Symbolic Acts Can We Include?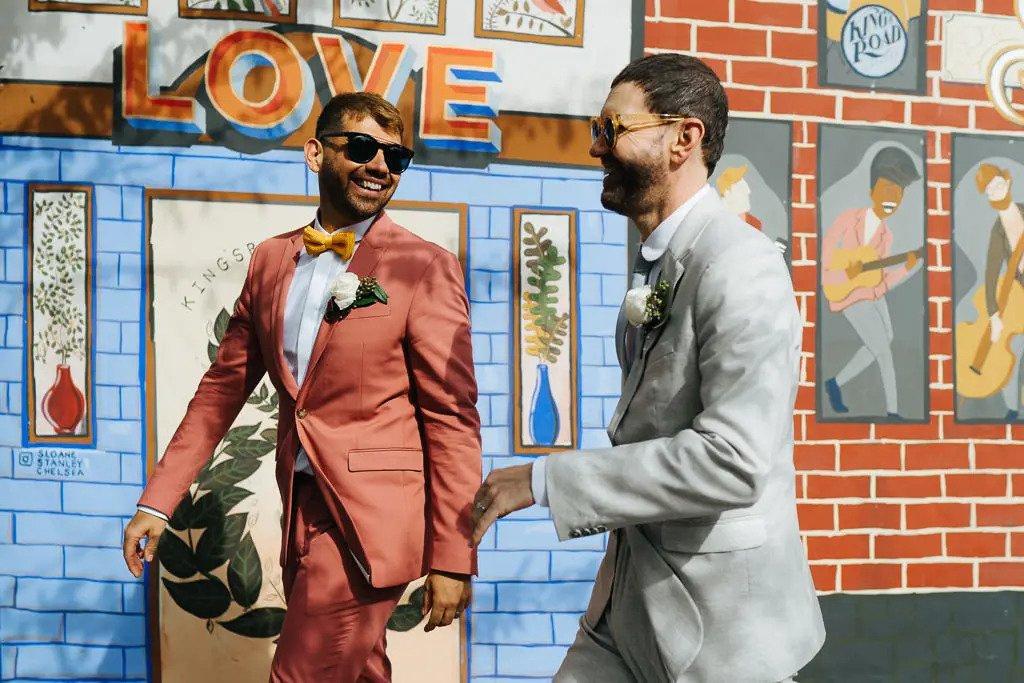 The cultural assumptions that surround a wedding (taking the husband's last name, the work of the wedding falling on the shoulders of the woman…) keep us stuck. Let's keep pushing for progress, shall we?
How about including a symbolic act to represent your love and unity that your guests will remember forever? Here's some ideas
Unity ceremony: Both of you have a container of different coloured sand. You pour them together into a vase to symbolise your two lives and personalities fusing together. Display the vase at home after as a wedding keepsake!
Handfasting: This was originally a pagan ritual, but it works so well at modern ceremonies! The couple cross their hands and the celebrant, guests or family members tie coloured ribbons round their hands to represent their joining together.
Unity candle ceremony: two candles representing each of you are lit at the start of the ceremony, and later used to light a larger central candle.
Ring warming: Your rings are passed between all your guests, so they can speak or send their wishes for your future over the rings. When the time comes to exchange them, they're imbued with the love and affection of all your family and friends.
Jumping the broom: you decorate a broom and lay it on the floor and jump over it together. It's an ancient ritual that represents sweeping away the old and welcoming the new.
9. Vows at an LGBTQ+ Wedding
Make your vows your own! At a civil or religious wedding ceremony, there are standard legal declarations and contracting words that you have to say. However, you can be creative too. Discuss your vows with your officiant first to find out what you're allowed, what you can add in and what you can omit.
Express why your partner is special to you, why you want to marry them, and take this chance to express your love with no limits or boundaries. Discover more about writing your own wedding vows here.
10. What About the Table Plan at an LGBTQ+ Wedding?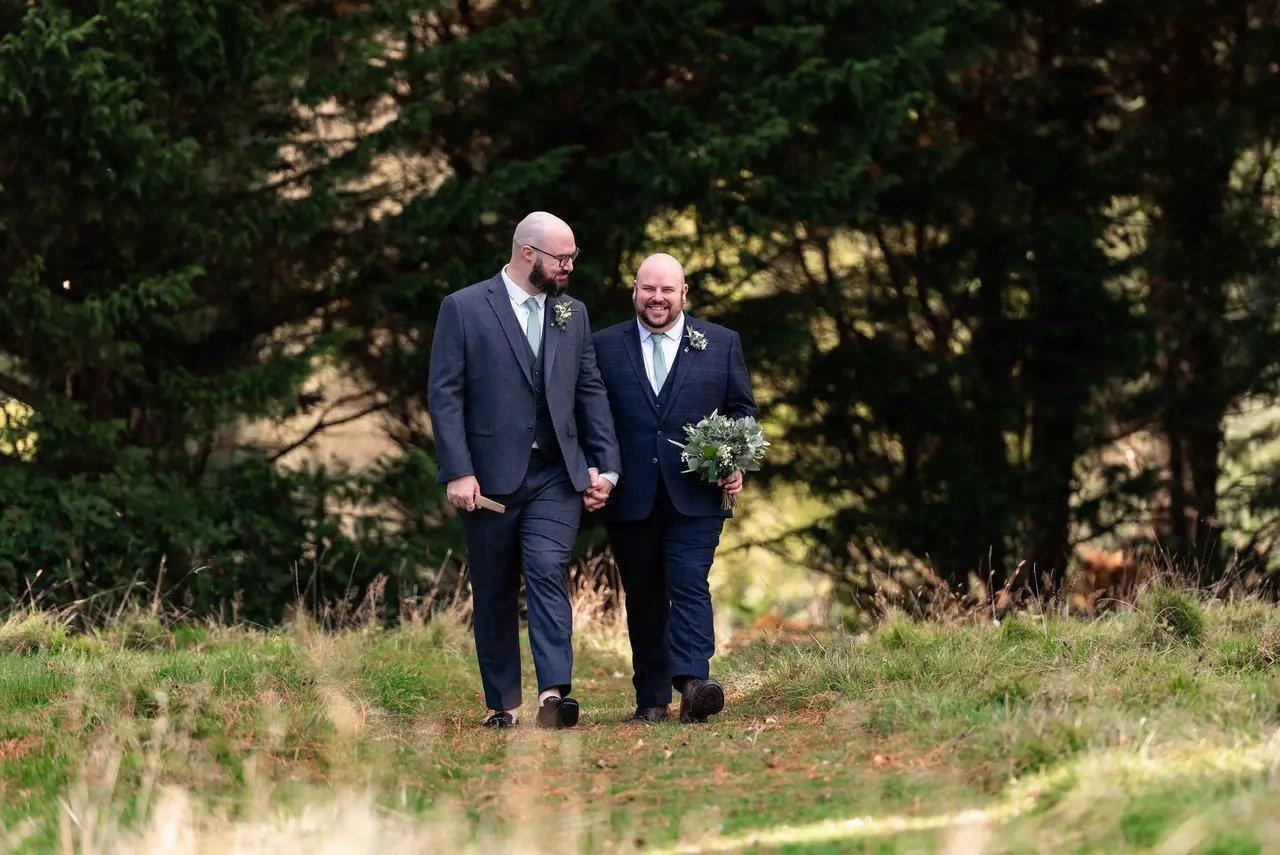 Traditionally, you're meant to alternate between male and female guests when doing your seating plan - but those rules don't apply here.
Leading British etiquette coach William Hanson says: "For same sex weddings the rule book can be adjusted or in some cases forgotten – so long as the wedding day itself is respectful, harmonious and civilised. The male-female seating plan is one traditional rule that obviously has to get abandoned as the newly married same sex couple will be seated next to each other on the 'top' table."
As an alternative to the top table, you could always have a 'sweetheart' table just for the two of you, or no top table at all. Round tables remove any hierarchy and make it easier to speak to guests you're sitting near.
Another alternative and a way to avoid the traditional top table is to have the couple head up a table together, give each set of parents another, and the same with your honour attendants. More people get to mingle and chat over dinner and there's no risk of offending anyone with your seating plan.
11. Who Gives a Speech at an LGBTQ+ Wedding?
On to the speeches. Why not mix them up? Speeches are one area of a wedding where you don't need to be bogged down by the rules, the only piece of advice to follow is to keep the toasts short (and funny!) for the benefit of your guests.
How about…
Get both fathers/mothers to give a speech
You and your partner are the stars of the show, so why not give a speech together?
Groom speech, best man speech? Nah! One of your mates is an excellent public speaker and can hold a drink? Get them to have fun while entertaining your guests.
Your mates don't want to do a speech? Get them to do a video - we're sure there's lots of funny content from your nights out together!
Get your master of ceremonies to walk around with a microphone interview style! You never know who wants to go on stage.
And when it comes to timings… you don't need to have them after dinner. Why not get people laughing at the drinks reception for a less formal feel?
12. Who Pays for What at an LGBTQ+ Wedding?
Traditionally, the bride's parents would pay for the wedding, or at least a significant portion of it. Now, more and more couples are paying for their wedding themselves or both sets of parents are chipping in equally.
This does require a delicate conversation. You shouldn't make any assumptions about who will be willing to lend you money, and you should be aware that when parents do financially contribute, they might want a say in what the wedding looks like. If you want complete control over your day, it might make sense to see if you can afford it without any extra help.
READ MORE: How to Ask Your Parents for Wedding Money
One same sex couple, who asked to remain anonymous, said: "Our biggest issue was deciding who to invite. We respectfully asked that plus ones be reserved to significant others or family; no strangers allowed! We stayed on budget, and we expected to pay for the wedding solely from our pockets.
"We find that it is easy to get lost sometimes in heterosexual weddings, since getting married has always been accepted as a norm. As a same-sex couple planning our wedding, we didn't take that for granted."
Remember, your wedding should be a celebration of your relationship and your love for each other - you can follow as many or as few traditions as you like! Discover our edit of the best LBGTQ+ first dance songs to add even more of a celebratory spin to your day.