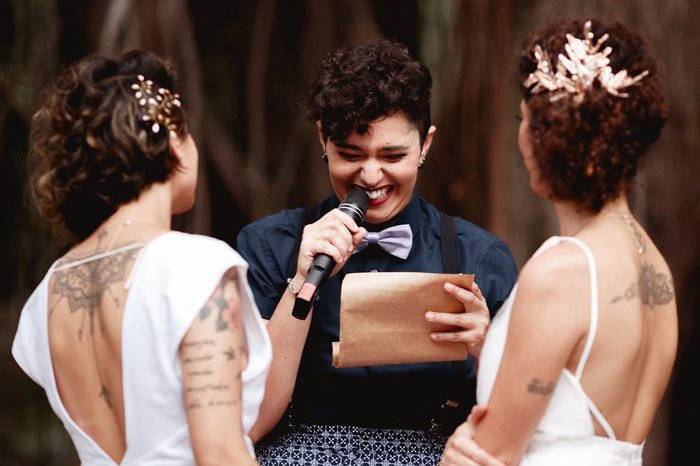 Same-sex couples have a huge amount of creative freedom with their wedding day. One of the best things about a gay wedding is that you can do away with stuffy conventional wedding roles and customs, and make the day truly your own.
It can be confusing at a gay or lesbian wedding to know what parts of the traditional marriage ceremony to keep. Who should walk down the aisle first? Do we want to be "given away"? What roles do our parents have? Will we want a best man and ushers or maid of honour and bridesmaids? We've got loads of ideas of new same-sex wedding traditions that you can incorporate and ways to use elements from straight weddings to structure your day but still make it feel personal and right for you.
Whether you're marrying in a Church (as is legal in Scotland), having a civil ceremony or hosting a celebrant-led marriage, here are the key moments where you can shake up the rules and traditions for a gay wedding.
1. Ditch Proposal Traditions
Image: Pinterest
As several same-sex couples have told us, the risk is that you both end up planning to propose at the same time! When the time feels right, either of you can pop the question. If you're both planning to, this can be a beautiful, funny moment in your love story, but for others, it could feel like something you'd always had your heart set on has been taken away.
If your relationship feels like it's heading towards a proposal, it might be a good time to casually mention how much you'd love to be the one to ask/be asked. If you don't mind, let it be a wonderful surprise. Here's some other proposal traditions you can mix up:
Traditionally the groom asks the bride's father for permission to propose, but there's no obligation in a same-sex proposal. Similarly, one knee? No, thanks.
Engagement or wedding rings may not feel as important to you. You might choose to mark the occasion with an engagement gift with similar sentimental value; we know couples who've exchanged watches, written a song, had matching engagement tattoos, or bought a tree that they could nurture together in their garden. One partner can buy it beforehand or you can choose together.
Get someone to secretly film or take photos of the engagement – it's a part of your story you'll miss if you don't have photos. Of course, that depends whether it's a public proposal or a private, intimate one. Choose a location that really speaks to your relationship: at a concert, on holiday, at your favourite romantic restaurant, with breakfast in bed, on a scenic walk.
2. Ignore Wedding Party Labels
Image: Pinterest
A gay wedding doesn't need two best men and two sets of ushers, just as a lesbian wedding doesn't need two maids of honour and bridesmaids. Gender shouldn't define anyone's role: the most important thing is having the people closest to you by your side. It's not unusual for a bride to have a mixture of men and women attendants or a groom to have a female best friend or sister taking on the best man role. The terms best man and maid of honour are totally optional too, of course. "Wedding attendants" or "honour attendants" is commonly used in LGBT weddings, although feel free to go as fun as you like. "I Do Crew", anyone?
One thing to remember while creating your wedding party is that a wedding is a big undertaking and you will need to define your attendant's duties clearly if you're not having the traditional roles. These are what's expected:
The Best Man/Maid of Honour Duties
Before the wedding, they will arrange the stag/hen do (see more below), be a sounding board for ideas, go to dress/suit fittings, help with hands-on tasks like addressing wedding invites, and help with set-up the day before.
On the day, they'll both help with getting ready and be your witnesses to sign the register, but a best man will do more greeting and guiding guests, ensure all the suppliers are in place and hold the rings (if you have them).
The Ushers/Bridesmaids Duties
The rest of your wedding party will help plan the stag/hen do, assist with any planning tasks the couple need done, and set up the venue.
On the day, they will get ready with the couple, then the bridesmaids will accompany the "bride" to the venue and walk after them down the aisle, while the ushers greet and guide guests. Both bridesmaids and ushers host tables at the wedding breakfast.
If you are having a mishmash wedding party without the traditional roles, decide who'll be greeting and guiding guests to their seats, who'll be assisting the couple arriving at the venue, and who'll hold the rings etc
3. Personalise Your Stag/Hen Dos
Image: Pinterest
Separate hen or stag nights are still popular, but more couples are opting for a joint night out with friends or doing a larger group activity like a week's holiday in a big rented villa. It's all down to you as a couple: if there's lots of overlap in your friendship group and you both have similar ideas on activities, it makes sense to have one blowout stag or hen than two smaller ones.
Most brides and grooms have ditched the tackier stag and hen aspects now, like strippers and fancy dress, so right from the start you can cross those off! Ultimately, whatever is the kind of night that means the most fun to you, do it.
4. Choose Outfits Together
Image: Pinterest
Two suits? Two dresses? One of each? Wear whatever you like! It's seriously exciting being able to throw out the rule book out the window for your wedding outfits. Some lesbian couples may choose the big white dress and veils, some may choose a bridal suit. Gay couples may opt for formalwear, a kilt or a sharp suit. Everyone has an individual style so go with what you love – and remember, if that's not white dresses and the purity connotations they have, go colourful!
Lots of couples pick their outfits together so they don't have clashing suit colours or different shades of white dress. Often that means there's no need for a "big reveal" and you can spend the night before the wedding and many opt to get ready together.  This makes for some great getting ready photos. However, if you still want to have that big reveal then absolutely do – it's all about making the day exactly what you want!
Bear in mind that if you want to get ready separately, you'll want to hire a second shooter to make sure both of you get the same attention from the photographer on your wedding morning.
5. Mix Up Your Wedding Ceremony
Walking Down the Aisle
Image: Pinterest
In a traditional ceremony, the bride is walked down the aisle and "given away" by her father. In a same-sex ceremony, there are lots of twists on this to suit each couple and their circumstances.
Being walked down the aisle to your partner means one half of the couple is already waiting at the top with the officiant and you firstly need to decide if this is what you want. Would you both like the chance to walk down the aisle (especially if you're dying to get that photo of you in your specially chosen outfit)? Do neither of you want to walk down the aisle, which can be daunting with all the attention? Does one half and not the other? Speak to each other about what you'd prefer.
Couples may take it in turn to walk down the aisle or have one half wait at the top. Alternatively, a couple can walk down the aisle together arm in arm which is an incredibly romantic and meaningful gesture and is a glorious moment to capture on camera.
If all eyes on you makes you feel nauseous then you can ditch the aisle altogether. Lovely ways to do this include: a ceremony circle, where the guests stand in a circle and leave a space for the couple to join; start at the front of the ceremony space and then have the guests enter after you; mingle with the crowd if they're not in seats and slip your way to the front; or – a great idea for an outside space – lead the guests in a processional behind you so they find their seats as you find the front.
FYI, if the grooms want to walk down the aisles with bouquets, they should do! It isn't only for the brides.
Being "Given Away"
This tradition used to be a transferal of ownership from father to husband and has a patriarchal history that you may reject. The symbolism behind being given away does not need to be traditional though – many people see it as a way of parents giving their blessing to the marriage and a happy, loving gesture. If being given away is against your principles, doesn't fit your circumstances or just makes you feel uneasy, it is absolutely optional. If you do want to adopt it, here's some ways how.
Fathers are still a popular choice for lesbian couples to walk them down the aisle and mothers for gay couples. Having a parent there is a wonderful way to include them in your big day.
Another choice is a close friend or family member who you can simply think of as support instead of "giving you away". This can be a lovely gesture of gratitude to someone who has meant something important to you.
You can have be walked down your partner's parents, one on each side, to mark the joining of two families and thank them for their continuing support.
Where to Stand
Image: Pinterest
It is customary for the bride to stand on the left side of the altar and the groom on the right (from the days when a groom would need his right fighting hand free to defend his bride from other suitors).
Since you've ditched these male and female roles, stand on whichever side you feel most comfortable (but do discuss it in advance!). Your honour attendants will then stand to the side of you or sit down on the front row. Your guests can choose whatever side they want to sit on too.
The Officiant
Same-sex couples have two options to legally recognise their relationship across the UK: a civil partnership or a marriage. Scotland is the only country in the UK where couples can have a same-sex wedding or blessing in a church; in England and Wales, your marriage ceremony will be a civil ceremony.
If you're having a registrar or member of the clergy (in Scotland), you'll want to find an LGBTQ+ friendly officiant. The alternative, and one that lots of gay couples choose, is to have a celebrant. You'll have the legal part before your wedding day at a registry office and then a professional celebrant or even a friend can lead your service. They can tell the story of your relationship, share anecdotes and make the whole ceremony so much more personal. A close friend or even a parent might be the perfect person to do the honours.
Symbolic Acts
Image: Pinterest
How about including a symbolic act to represent your love and unity that guests will remember forever?
Unity sand ceremony – each partner has a container of sand of different colours. You pour them together into a vase to symbolise your two lives and personalities fusing together
Handfasting – originally a pagan ritual, now the couple cross their hands and the celebrant, guests or family members tie coloured ribbons around their hands
First kiss, last kiss – those who gave you your first kiss when you entered the world (your parents) give you a last kiss on the cheek as a blessing before you say your vows and start a new family of your own
Unity candle ceremony – two candles representing each of you are lit at the start of the ceremony, and later used to light a larger central candle
Ring warming – your rings are handed between all your guests and they can speak or silent send their wishes for your future over the rings so when it comes time to exchange them, they're imbued with the love and affection of all your family and friends
Jumping the broom – you decorate a broom and lay it on the floor and jump over it, it represents sweeping away the old and welcoming in the new
There's loads of others you can find online that speak to what you love as a couple. Bibliophiles can ask each guest to come up in a line and present them with a book inscribed with a loving message so you build a library for yourself. Couples who love wine can have a loving cup ceremony where one pours red and one pours white into a cup and you both take a sip.
6. Write Your Own Vows
Image: Pinterest
At a civil or religious wedding ceremony, there are standard legal declarations and contracting words that you have to say. However, after that, you can be as creative as you like! Personalised vows are a wonderful way of saying what your love and marriage mean to you.
Discuss it with your officiant first to find out what your venue allows (some registry offices may be stricter), but exchanging vows that come from the heart are a beautiful moment in a ceremony. If you're having a celebrant-led ceremony, you'll be able to share any words you want.
7. Open Up Your Speeches
Image: Pinterest
At a traditional wedding reception, speeches are given in the following order: father of the bride, groom speech, then the best man speech.
Mix this up! Speeches are one area of a wedding where you don't need to be bogged down by rules, the only piece of advice to follow is to keep the toasts short (and funny!) for the benefit of your guests.
Some ideas include:
Both fathers/mothers of the brides giving a speech at a lesbian wedding or both fathers/mothers of the groom at a gay wedding
The couple themselves giving a joint speech instead of the "groom's speech"
Either of the chief attendants can give the "best man's speech" or you could ask a sibling to do this instead
A video or song from all the bridesmaids and groomsmen as an alternative to a speech
Your master of ceremonies can walk around with a mic for whoever wants to to give a short tribute. It might be easier for nervous parents or friends to contribute and include people who might be left out otherwise
Change up the timings: instead of having them after dinner as is common, why not have short speeches during your reception drinks and a more relaxed evening reception?
8. Reconsider Your Top Table
Image: Pinterest
The top table alternates female and male guests traditionally, starting with the maid of honour, then groom's father, bride's mother, groom, bride, bride's father, groom's mother, and finally the best man.
Leading British etiquette coach William Hanson says same-sex couples naturally do not need to adhere to this. "For same-sex weddings the rule book can be slightly adjusted or in some cases forgotten – so long as the wedding day itself is respectful, harmonious and civilised. This is one traditional rule that obviously has to get abandoned as the newly married same-sex couple will be seated next to each other on the 'top' table.
READ MORE: How Do I Uninvite Wedding Guests?
"Although a couple may wish to try to balance the sexes where possible, it is probably best to think more about personality and dynamics of each table. Don't seat all your shy, retiring friends on the same table or else you will get a conversational vacuum. Similarly, your four over the top, bombastic friends should be peppered throughout the room and not seated close together."
As an alternative to the long top table, you could always have a "sweetheart" table just for the two of you, or no top table at all. Round tables remove any hierarchy and make it easier to speak to guests you're sitting near.
As a couple you can head up one table, each set of parents another, and the same with your honour attendants. More people get to mingle and chat over dinner and there's no risk of offending anyone with your seating plan.
9. Make Your Own Traditions
Image: Pinterest
Weddings are about celebrating your love for each other and should be personal and reflective of your union. Don't follow any tradition that doesn't make sense to you, add new ones in and keep ones that speak to you:
Cutting the cake and the first dance are wedding stalwarts and are still lovely, intimate moments to include in your wedding
A lesbian couple may both still choose to do a father-daughter dance or a gay couple might choose to dance with their mothers. You can abandon this tradition altogether or mix it up
Most gay couples won't have a bouquet, whereas a lesbian couple might have two. You can either have or not have a bouquet toss accordingly
No one needs to be carried over the threshold like the bride usually is; try instead holding hands and entering your home together as equals
Adapt traditionally Mr & Mrs things, for example, have a cute gay wedding cake topper, grooms/brides wedding chair signs, have Mr & Mr bunting or Mrs & Mrs favours
10. Who Picks Up the Bill?
Image: Pinterest
Traditionally, the bride's parents would pay for the wedding or a significant portion of it. Now, more and more couples are paying for their wedding themselves or both sets of parents are chipping in equally.
This does require a delicate conversation. You shouldn't make any assumptions about who will be willing to lend you money, and you should be aware that when parents do financially contribute, they might want a say in what the wedding looks like. If you want complete control over you day, it might make sense to see if you can afford it yourself.
If you want to learn more about celebrants, check out our guide to humanist weddings.