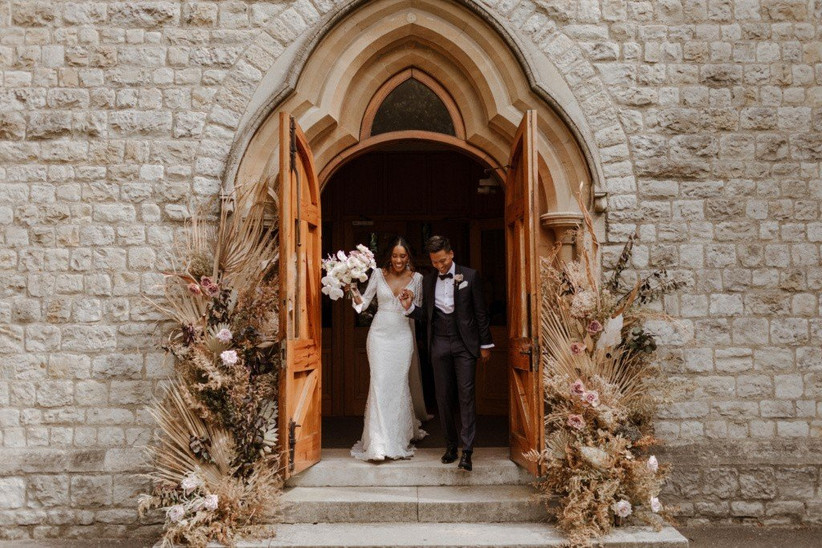 Without question, the wedding trends for 2021 are going to be influenced by the Coronavirus lockdown of 2020. From helping the British economy bounce back to adopting a 'go big or go home' mentality for postponed weddings, this period of time we've been stuck in our homes – not able to hug our loved ones – will have a profound effect on how we choose to celebrate.
You'll see on this list both a trend for intimate micro weddings and maxi-weddings where everything from your outfits to your music is oversized and extravagant. That's because we'll see two clear paths emerging out of 2020: those who feel the need to scale back and focus on a tight-knit group of nearest and dearest, and those whose passion to celebrate with everyone they care for means a BIG guest list.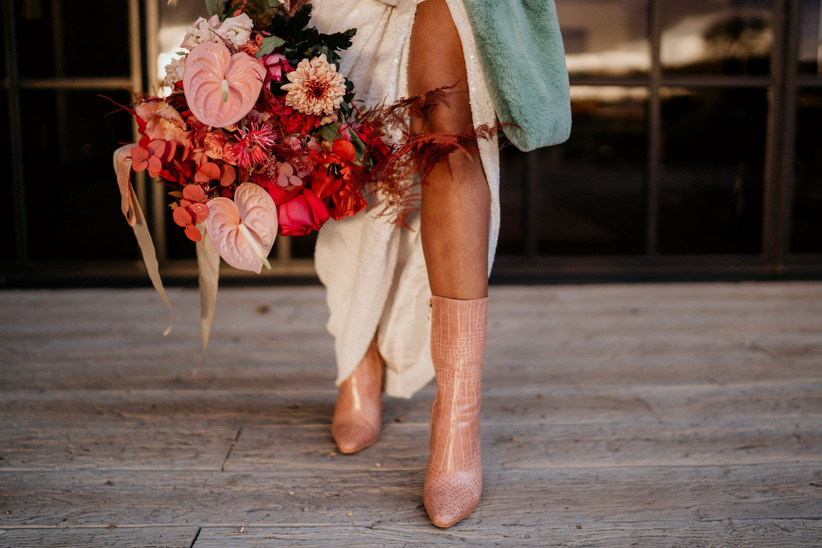 Image: Elena Popa Photography; Styling: Pink Palms Events; Florist: My Lady Garden
Expect 2021 to be a bumper year for weddings, thanks to postponed dates from this year. And with each of those couples putting their own personality and flavour on their day, we predict a really surge in creative and unique weddings.
Here are some of the biggest wedding trends to embrace for 2021.
1. Buying British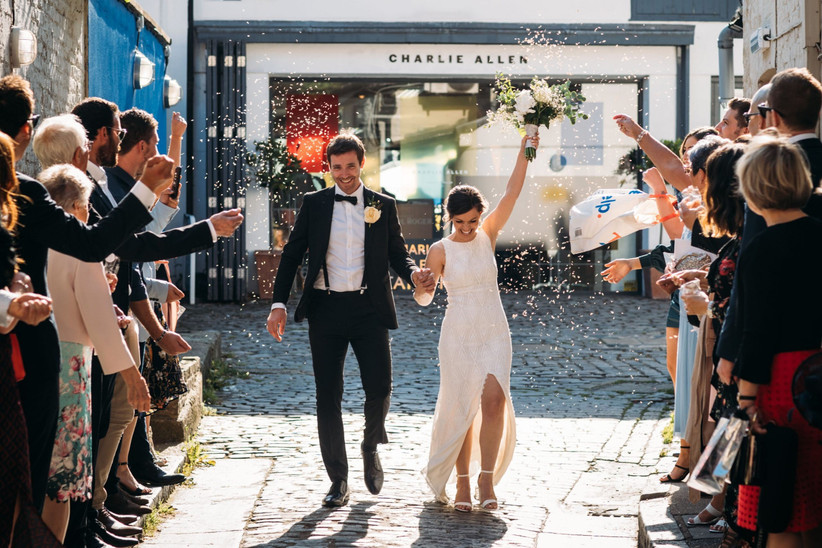 Image: Joanna Bongard Photography; Planning: Pink Palms Events
Lockdown has put a huge strain on the UK economy and, in 2021, we're going to see more couples choose to support the UK's phenomenal network of suppliers, bridal boutiques and independent businesses with their hard-earned money.
The buzz of going out to a bridal salon, to feel the fabrics of the dresses, to see the styles in person and try them on will be such a luxury and encourage more brides to invest in British brands. More couples will turn to independent shops on Etsy and local designers to buy their décor and stationery instead of choosing Amazon or a big corporate brand. Local suppliers, from caterers to photographers, will get more booking as couples choose to invest in the economy on their doorstep.
"As one client told me recently," says The Arabian Tent Company founder Katherine Hudson, "with everything going on, it's made us want to work with suppliers that are close to home."
2. Acts of Gratitude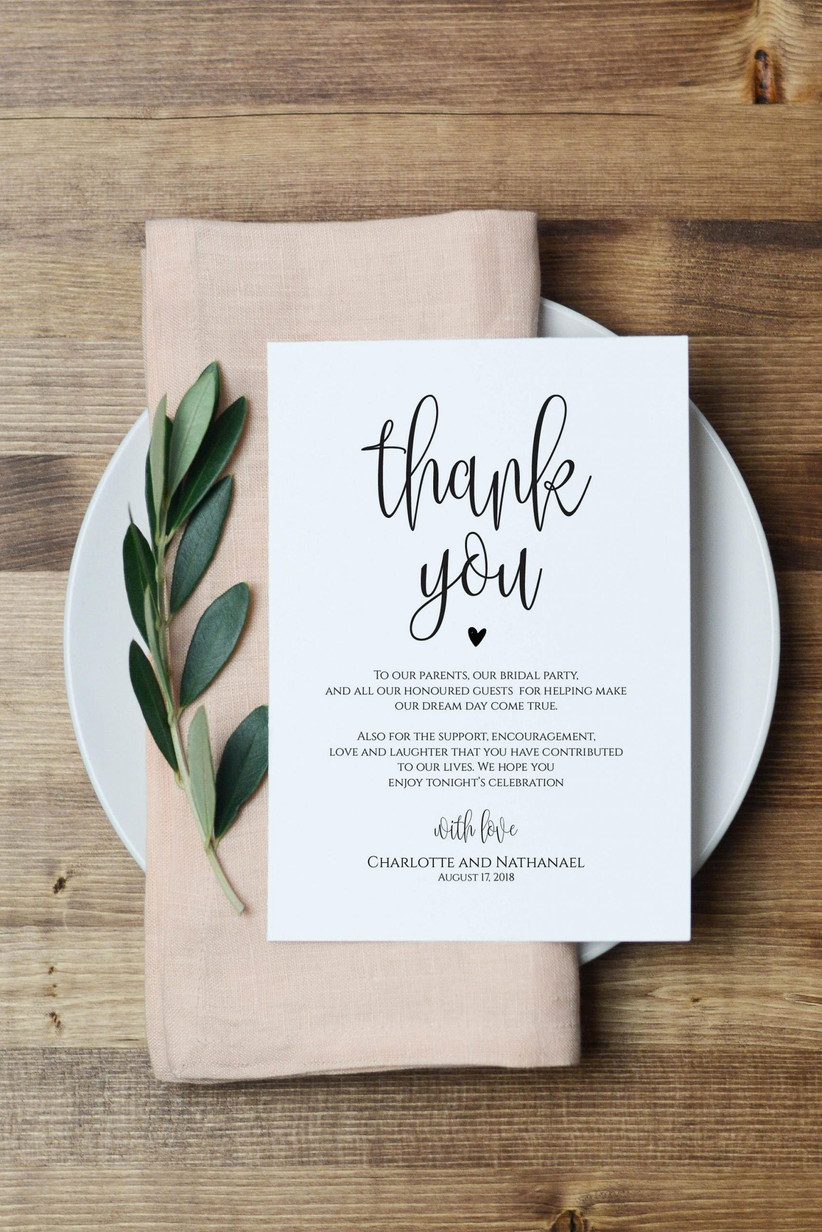 Image: Pinterest
"I think that, as a whole, weddings will have an even deeper meaning; an extra layer to the day where there is a moment to stop and reflect on the events of the past 12 months and be grateful for good health and safety, to honour the opportunity of being finally able to celebrate with loved ones," says Claire Berry, founder of event designers Perfect Cartel.
You can easily incorporate poignant acts of thank into your wedding day. Though time-consuming, a personal note on each guest place setting is a hugely meaningful gesture. Choose special guests, such as grandparents or close friends, to take home one of the flower arrangements at the end of the night. Smaller things include baking special 'thank you' biscuits for each guest, or hiring one or two babysitters to look after young guests during dinner and speeches and into the evening – it's a way of giving parents some much-needed time off.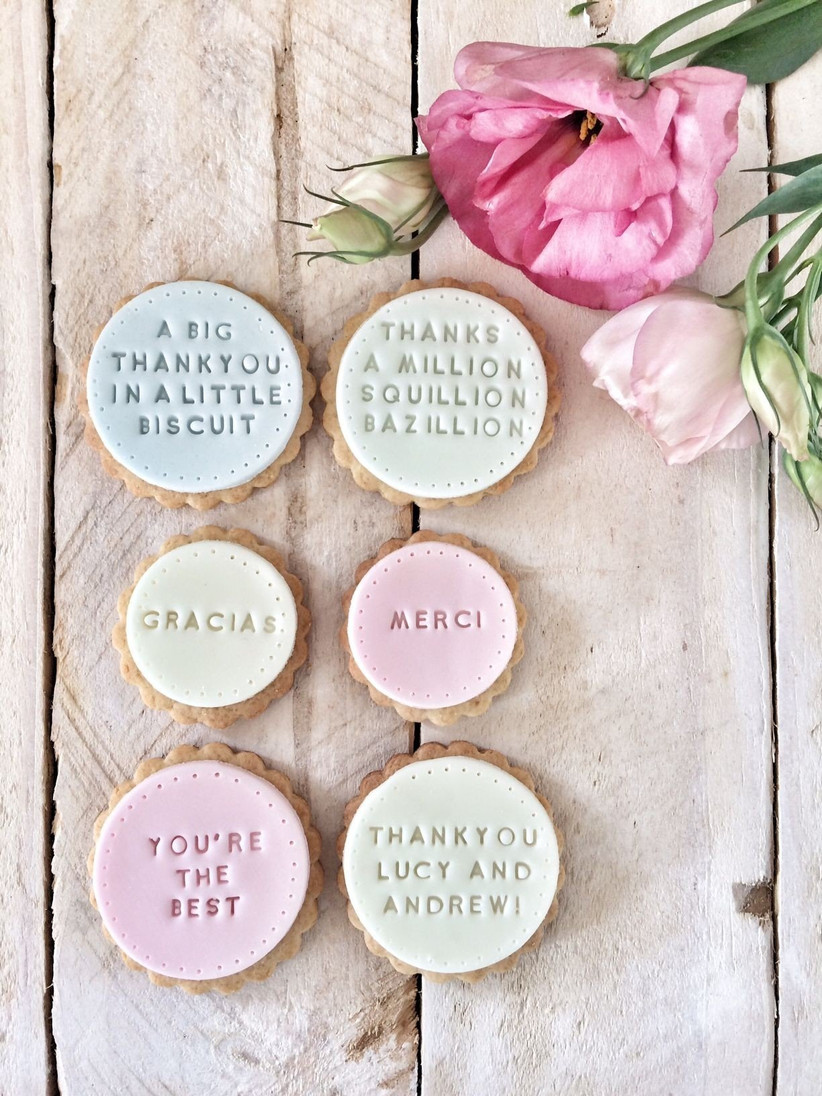 Image: Pinterest
A rather magical idea is a community candle lighting: you give one person at each table matches and, at the same time, they light the candles in your centrepieces. It creates a cosy ambience and gives everyone a moment to reflect.
Consider gratitude in your guest list too. Bubble Food's Executive Chef Director, Jens Nisson anticipates new friends made on our streets during lockdown or in community-based projects will get invites to our weddings. You might feel less willing to ask for gifts from guests too, with charity donations or funding for volunteer projects rising.
3. Locavore Menus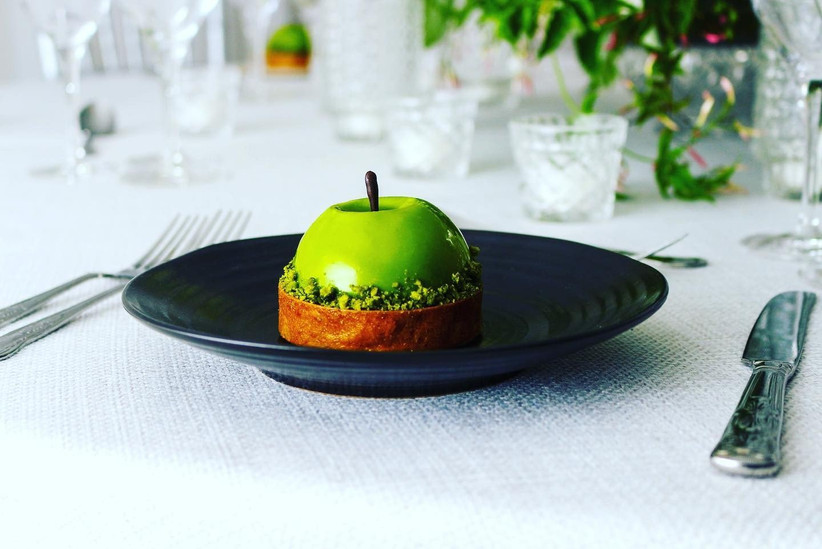 Image: Bubble Food
Buying British will be seen most clearly in wedding breakfasts in 2021, with more local 'locavore' menus requested by couples.
"I think seasonal British produce will be seen as the essential basis of the wedding menu," predicts Jens, of luxury caterer Bubble Food. "This is due to a combination of an expression of pride in the local area after testing times, support for our growers and producers, as well as likely supply chain issues with food from overseas."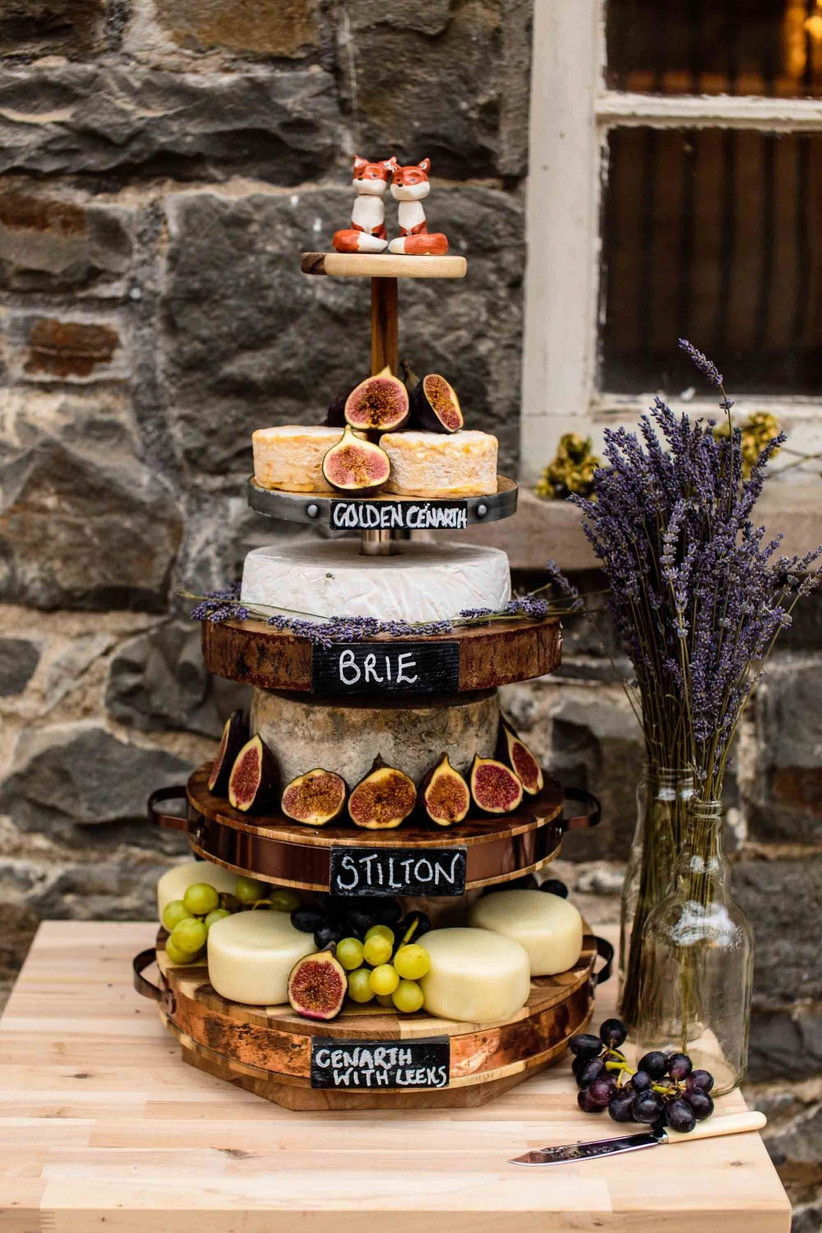 Image: Pinterest
Think locally-farmed meats, foraged ingredients, seasonal fruits and vegetables, and modern British twists on classic wedding dishes. The British beef and dairy industry have been particularly hard hit, so speak to your caterer about supporting those local farmers with your menu. Who's ever said no to a cheese board?
4. A Return to Tradition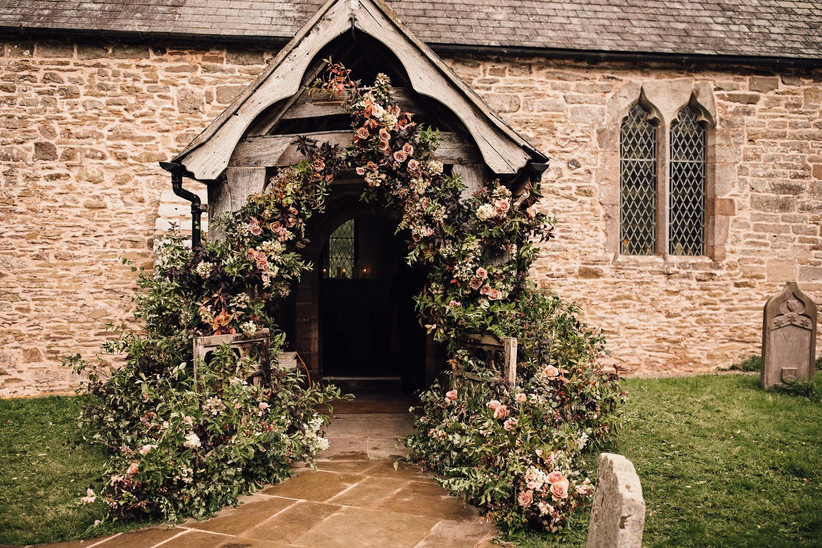 Image: Samuel Docker Photography; Florist: Liberty Lane Flowers
Weddings will go back to their heart: making treasured memories with friends and family. Experts across the wedding industry are predicting tradition to be a defining feature of 2021 weddings, from timeless dresses to nostalgic fragrances and traditional speeches.
"I am seeing a return to the more traditional side of weddings," says Jennie Evans of bespoke floral designers Liberty Lane Flowers. "Many more of my clients are choosing their local, childhood church for their ceremony, with a statement archway to frame the entrance, and delicate meadow flowers lining the aisle. They are then moving on to a marquee or sperry tent in the grounds of their parent's house or a private home setting.
"Increasingly, my brides are valuing the sentimental moments of their day and having their bouquets preserved and framed, or roses planted in their gardens that were used in the wedding flowers. Hand in hand with this comes the more traditional bouquet; increasingly I am being asked for something not too big, yet not too small, with my usual garden roses, sweet peas, and other scented garden flowers to conjure memories of the wedding day in the future."
Acclaimed bridalwear designer Phillipa Lepley predicts a boom for British dress designers and a return to ageless styles: "Brides will opt for more classic and timeless dresses, prioritising the best of the best quality."
5. Entertainment Experiences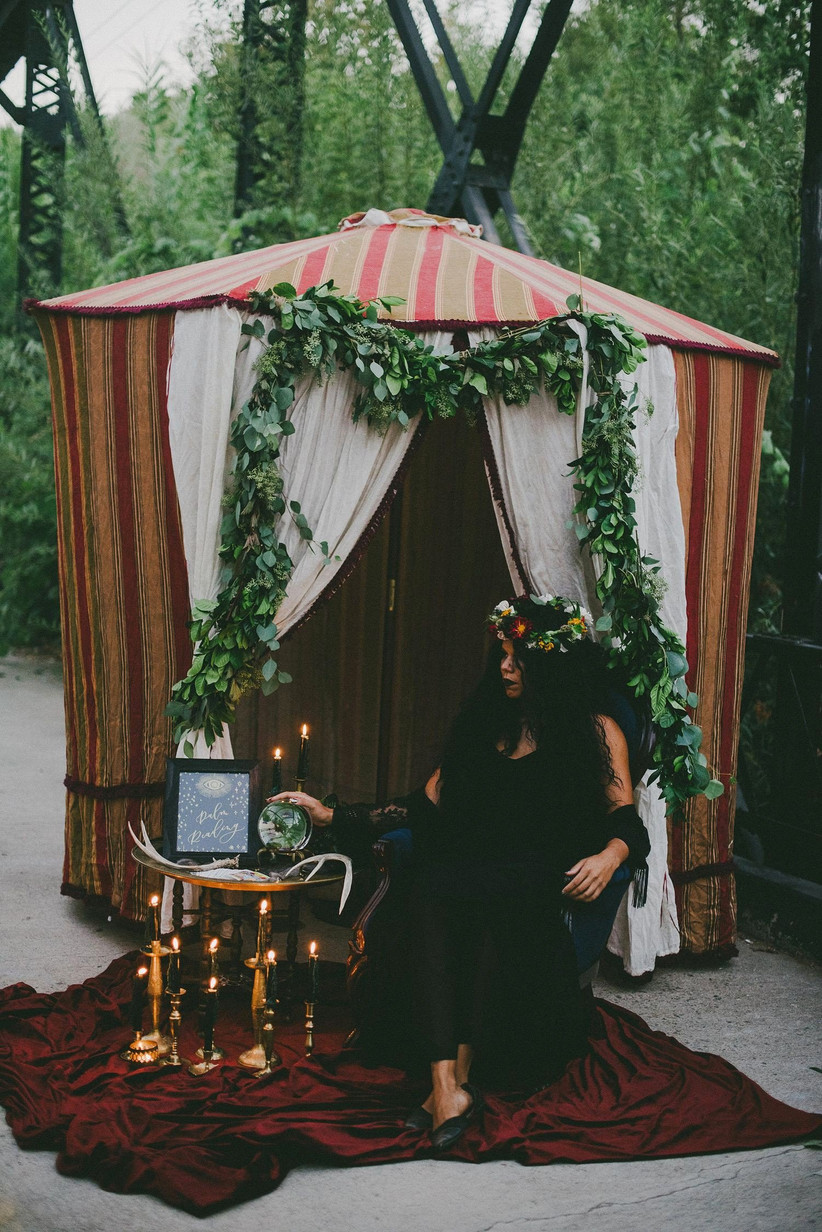 Image: Pinterest
"2021 weddings will be much more about experiences. That means couples will focus much more on entertainment and looking after their guests," says Ashleigh Li, creative director of Pink Palms Events.
"Think a cool cocktail service instead of a standard paid bar, and interactive entertainment such as comedians or tarot readers on top of music."
Palm and tarot readers have boomed in popularity as weddings, as well as interactive experiences like street artists to sketch your guests, petting zoos, acrobats and fire performers, roaming musicians, magicians and more.
6. Pastel Shades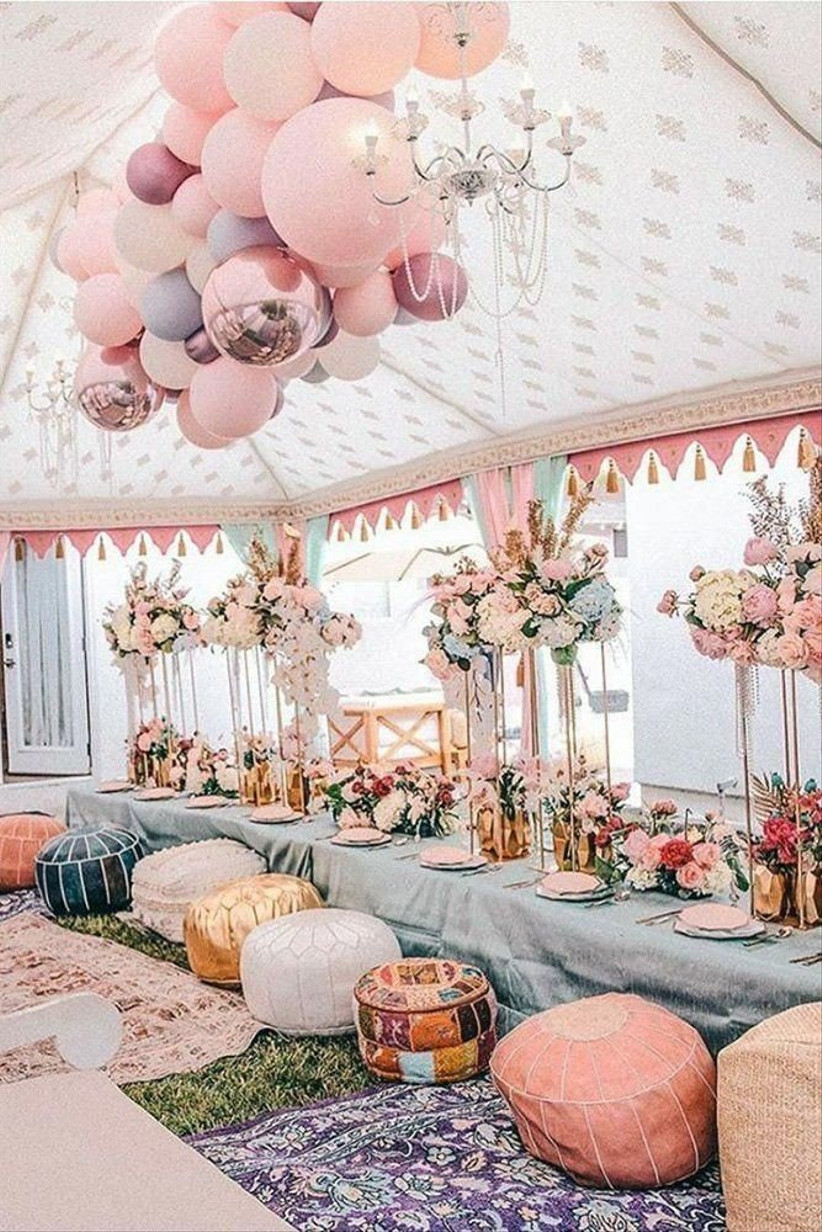 Image: Pinterest
"I think pastels are going to be huge and replace the traditional blush and ivory palette," predicts Ashleigh. "They will be key in delivering cool, calm and relaxed yet personal wedding vibes. Think gorgeous lilac, pastel pink, yellow and peach tulips and sweet peas, with a pop of colour such as orange or coral, and stationery of complementing colours too."
7. Sustainability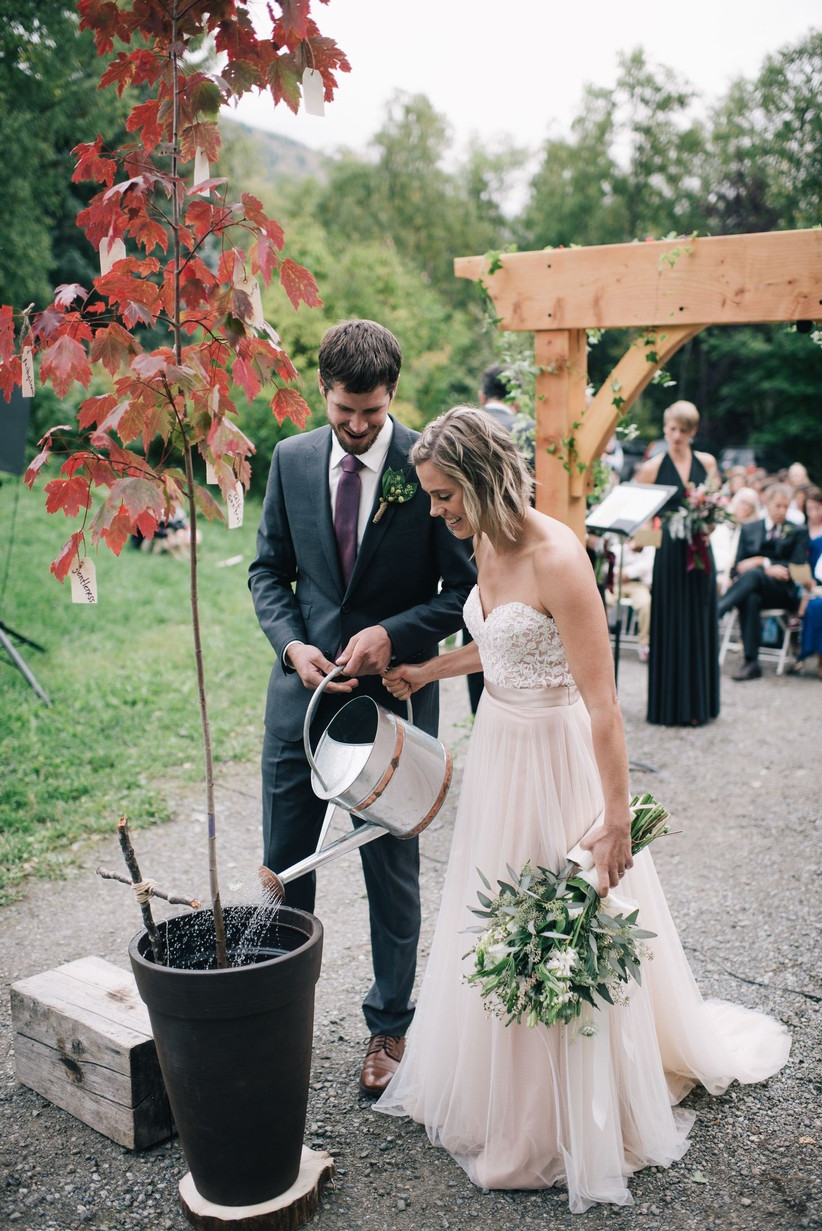 Image: Pinterest
"Couples are increasingly putting sustainability as a top priority for their wedding day and 2021 will continue to see a big growth in this. The stats are scary – one wedding day produces the same CO2 emissions as five people will produce in a year," say the team at Norfolk's stunning Holkham Hall.
Their efforts to make weddings sustainable are great ideas for all couples to adopt: arrange a tree planting party for your guests to reduce their carbon footprint; keep food miles down by opting for locally grown meat and vegetables (even better if it can be directly from the Estate you're marrying on, like at Holkham) or a vegan menu; serve local beers, wines and spirits; and choose a venue with a beautiful backdrop that doesn't require lavish decoration that will end up in landfill.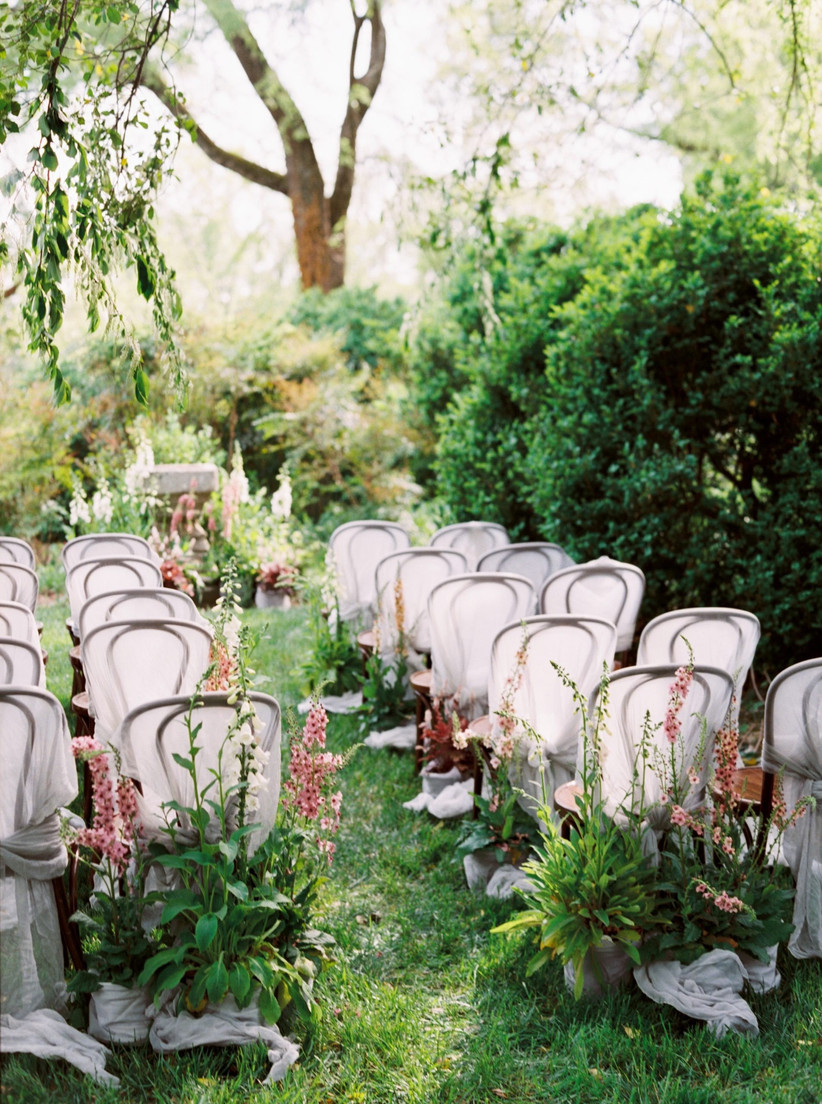 Image: Pinterest
Sue Barnes, creative director of Lavender Green Flowers, suggests using plants that can be repotted after the ceremony. "We're seeing a potential move from complex 'arranged' designs using a vast mix of cut, cultivated stems to simply stunning arrangements of one variety of seasonal flower on mass, perhaps planted where possible so that they can live on after the wedding."
8. Full-On Hollywood Glamour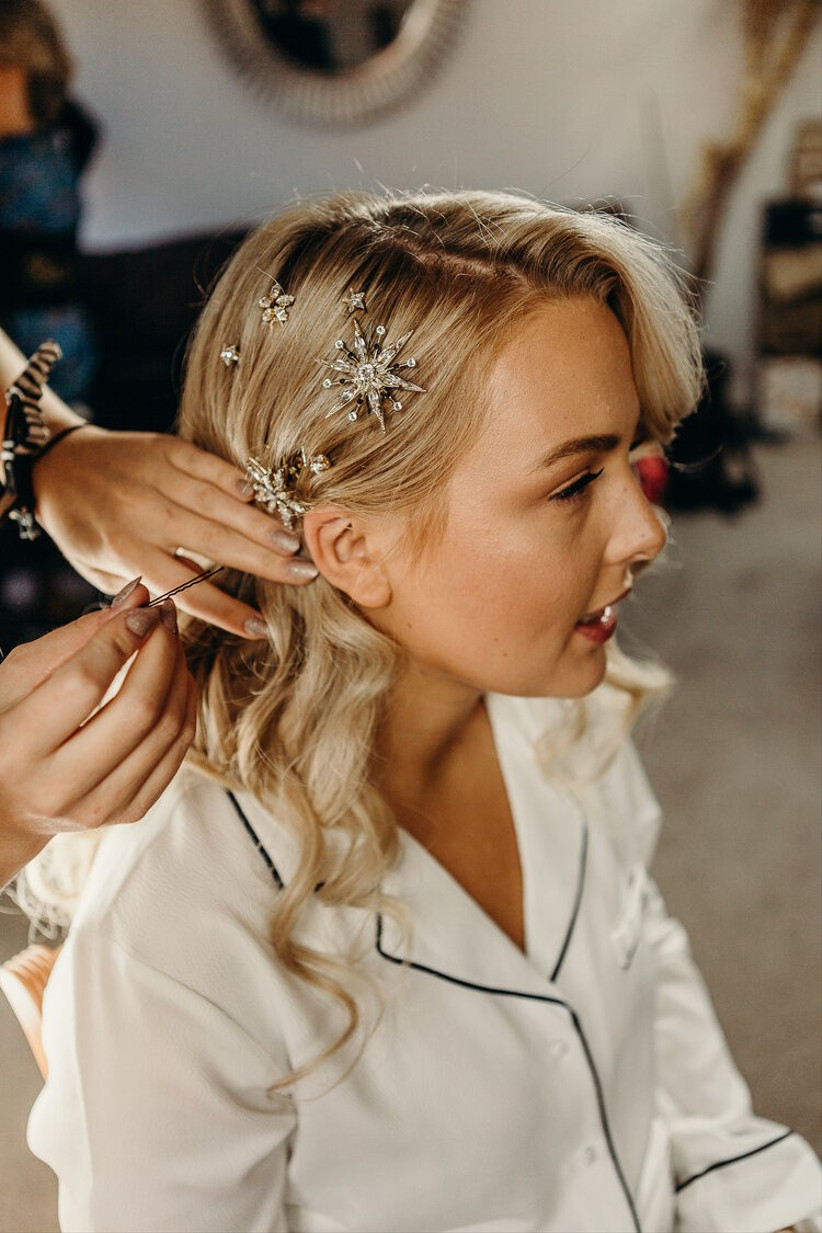 Image: Dani Taylor Photography; Accessories: Tilly Thomas Lux
"After we've all been stuck inside wearing jogging bottoms and topknots, I think we'll see a return to full-on Hollywood glamour," predicts Tilly Thomas Lux founder Sally Thomas. "Hair accessories adorned with sparkles or pearls will continue to be popular and I think we'll see renewed interest in chandelier earrings and statement necklaces."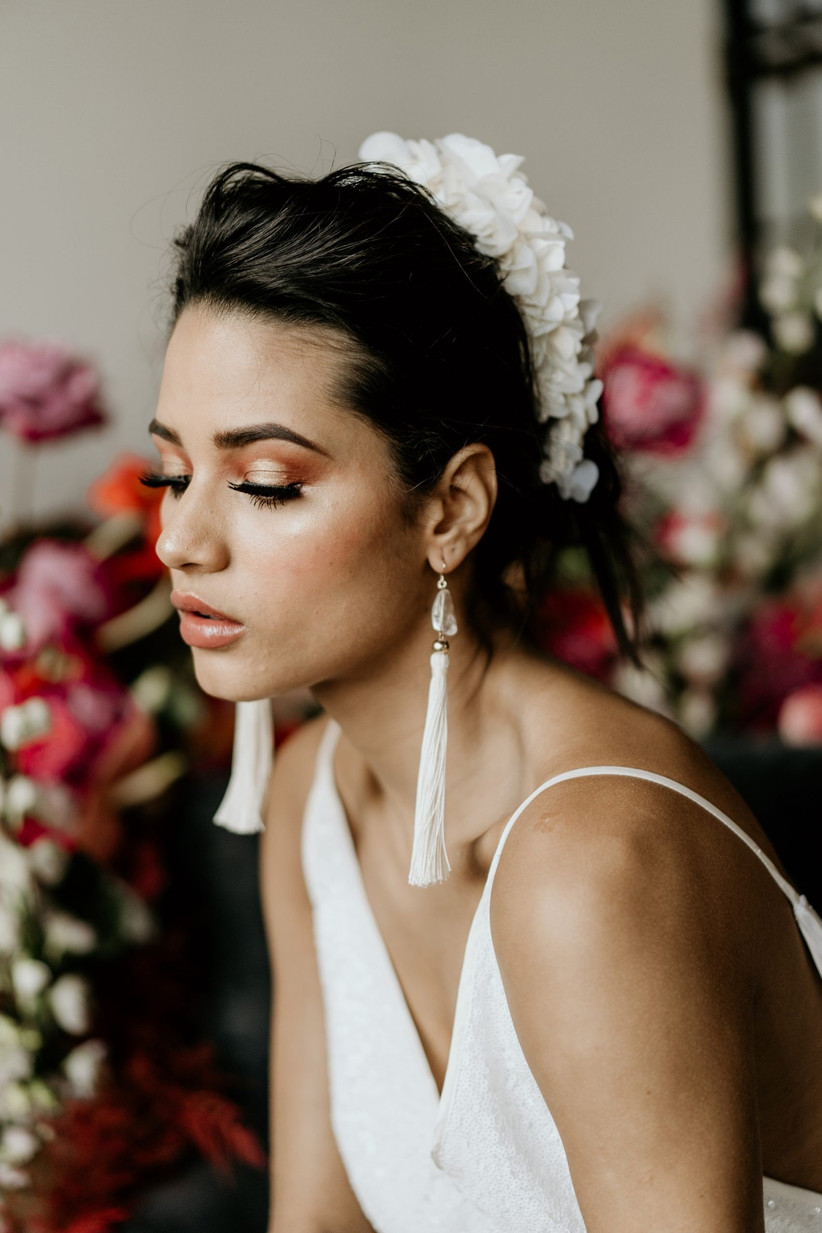 Image: Elena Popa Photography; Styling: Pink Palms Events; Hair and Makeup: Portraits Bridal
Following weeks of elasticated waistbands, couples and their guests will want to go all-out for 2021 weddings. As well as statement and sparkling accessories, expect photo-perfect hair and makeup as we make up for lost photo opportunities while there's a professional photographer around. Many people will have had to cancel holidays so will be turning to the salon for a sun-kissed look and a bronzed goddess glow to cap their glamorous look.
9. Oversized Everything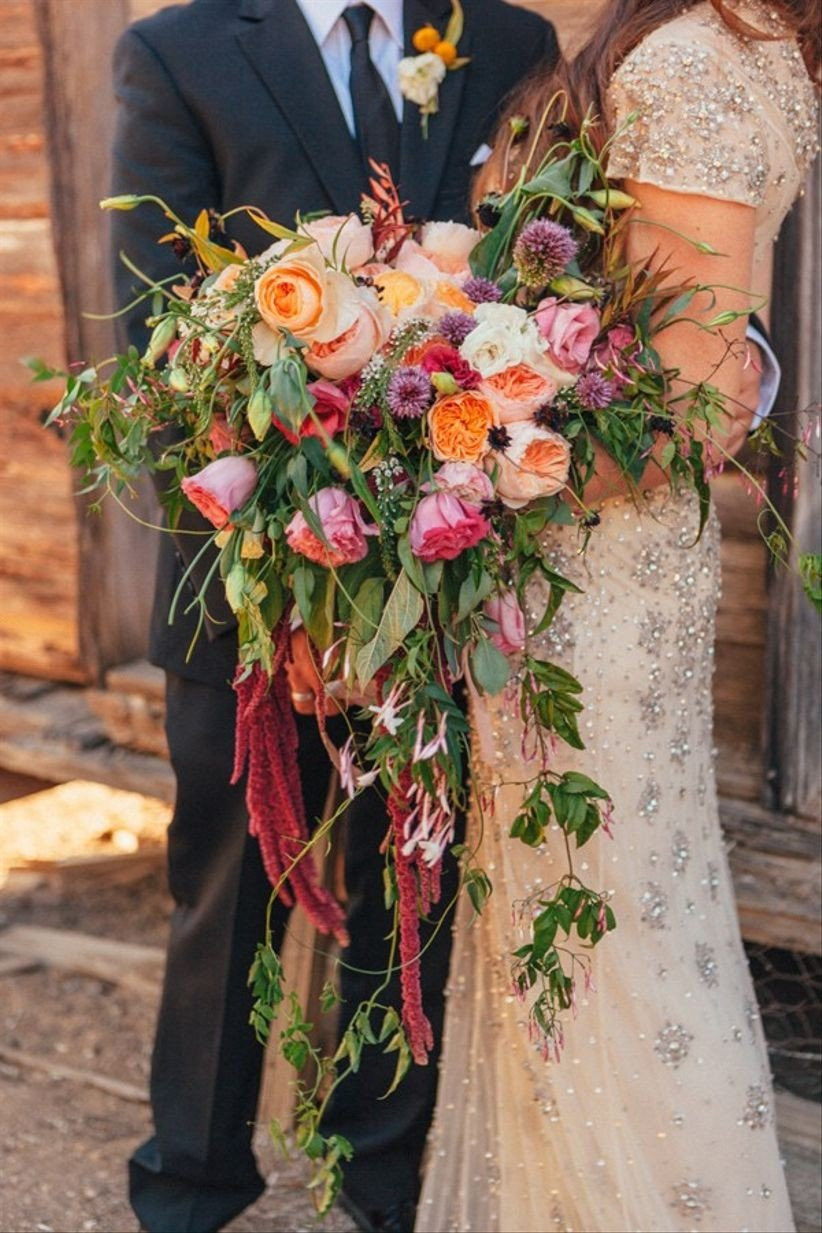 Image: Pinterest
"By 2021, fiancées will be absolutely itching to 'go big' as much as possible to finally celebrate their much-anticipated day. Imagine waiting an entire year to finally get hitched, especially when you thought the day was definitely on its way," says Charlotte Ricard-Quesada, founder of award-winning wedding planning company La Fête.
"Now, we're talking proper blowouts: extra attendees, glitter galore, bouncing balloons, exquisite bouquets of flowers throughout, and all those classic crowd-pleasing tunes."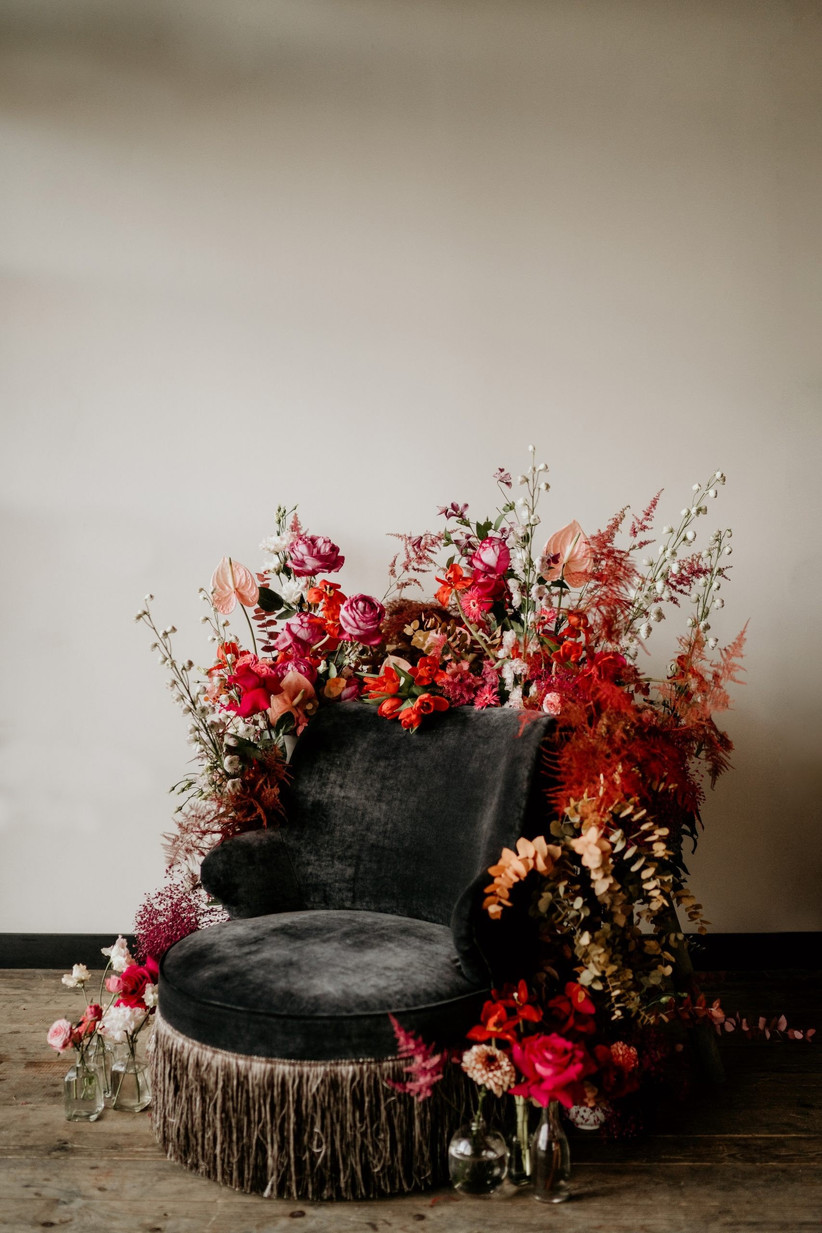 Image: Elena Popa Photography; Styling: Pink Palms Events; Florist: My Lady Garden
Postponed couples will celebrate this day like no other, and it's made all the sweeter by having to wait for it.
10. '70s Vibes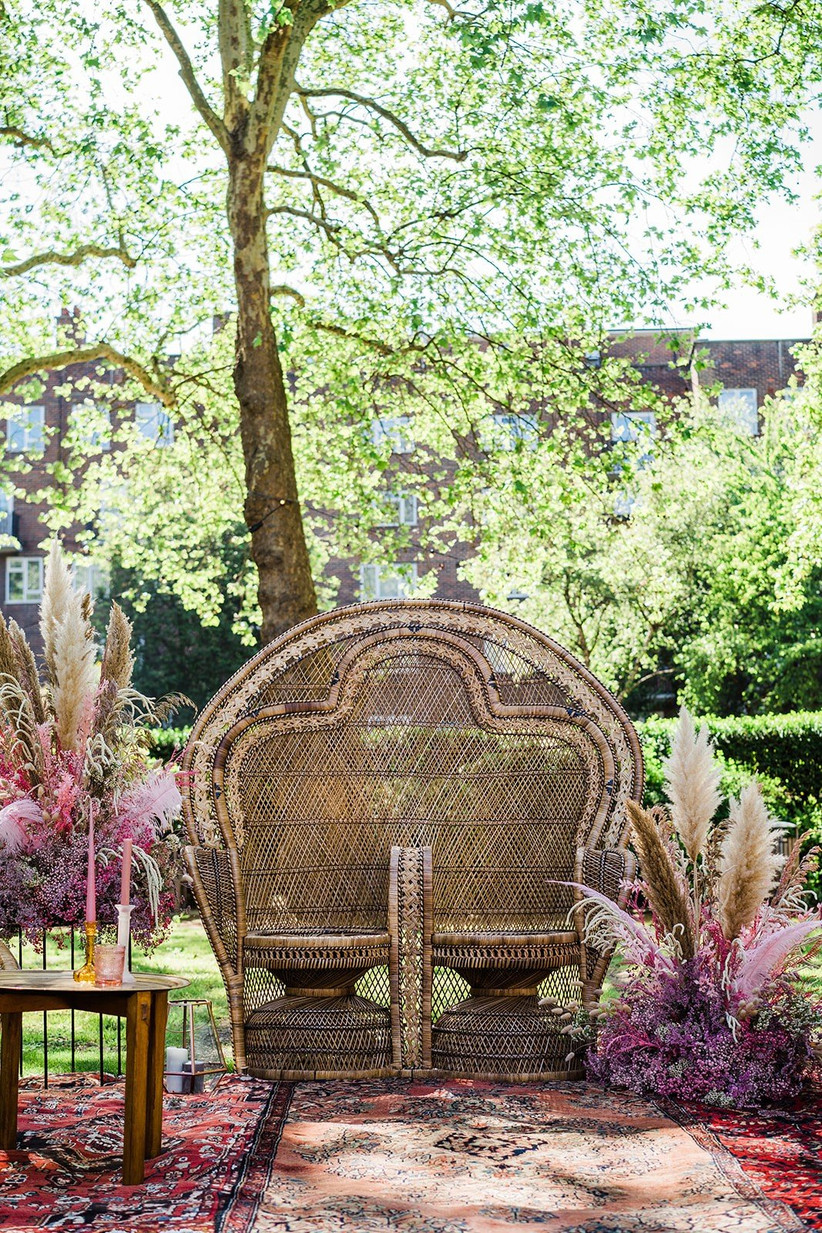 Image: Parrot & Pineapple Photography; Planner: Pink Palms Events
"Wedding décor will be sustainable, raw, natural, locally sourced and traditional. There is a strong sway towards '70s materials and aesthetic – macramé, crochet, rattan, block colours, wooden beading and textured linens," says Claire of Perfect Cartel.
We adore this rattan peacock chair, coupled with on-trend pampas grass and a Moroccan-feel carpet.
11. Immersive Ambience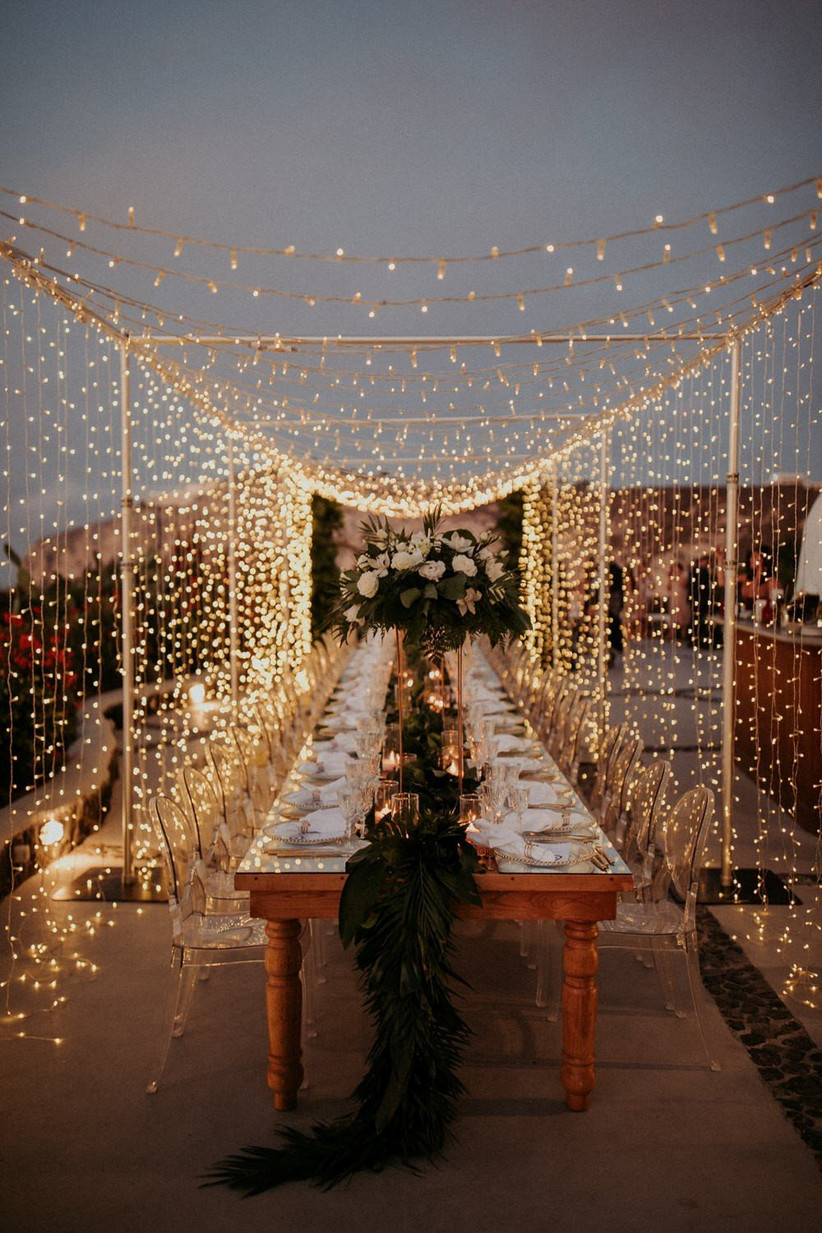 Image: Pinterest
The ambience and aura of your venue are essential for creating an unforgettable wedding experience for your guests. "I think we can all agree that mood-setting fairy lights have become indispensable elements of every celebration these days. But to truly set the mood, consider building illuminated 'caves of wonder' or creating curtains fashioned from innumerable fairy lights," suggests La Fête's Charlotte.
As well as lighting, think about designing an experience for all the senses. What about having a sax player wandering among guests? Interactive food or cocktail stations? Lots of different textures to feel, from velvet table runners to pampas grass aisle decorations?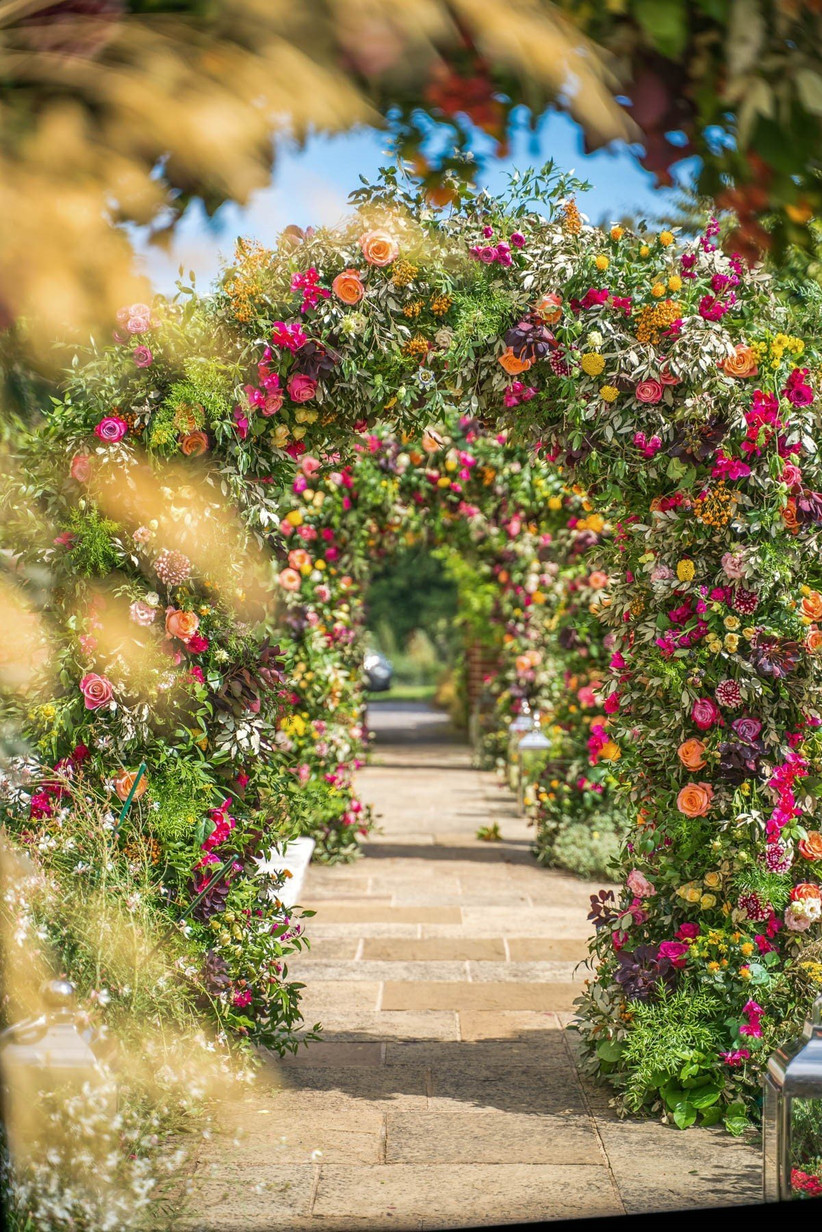 Image: Lavender Green Flowers
Lavender Green Flowers' creative director Sue adds, "We predict a trend towards creating memorable immersive moments with floral installations.
"Rather than dressing every surface in the venue with traditional designs, couples will instead focus their budget on the larger statement designs. Think sitting your guests under a canopy of hanging flowers for the ceremony, creating a woodland walkway from one venue to another, or even elaborate edible garden centrepieces forming part of the show when it comes to serving your bespoke wedding breakfast."
12. Duchesse Satin Dresses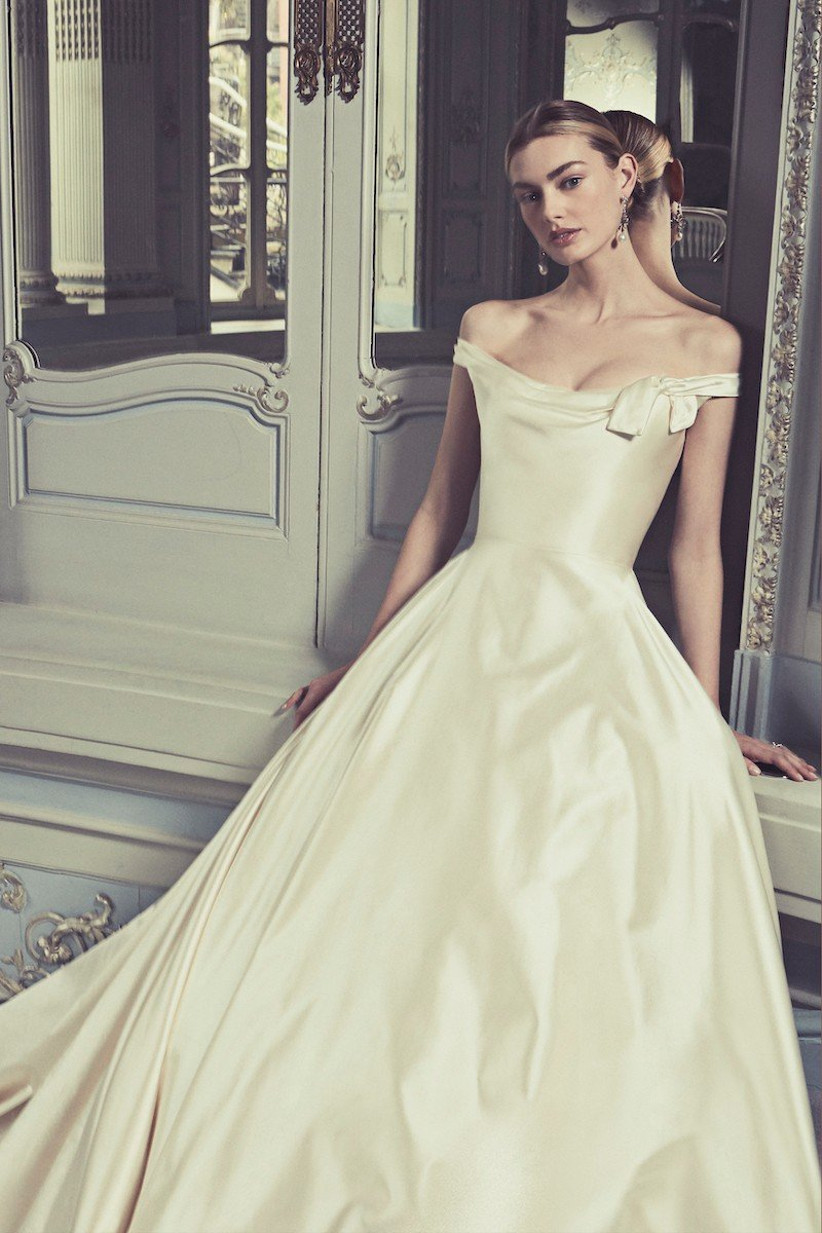 Image: Phillipa Lepley
"Duchesse satin will be a favourite fabric, which is so classical and luxurious when sculpted over waist-defining corsets and big voluminous skirts, lighting up the face with its natural glow," says Phillipa.
And what kind of dress styles will we see? "With spring/summer weddings set to dominate, we expect to see more strapless dresses. I also believe there will be a further surge in more demure, covered-up looks, so dresses with high necks and cheeky small and long puffed sleeves."
13. Breaking the Rules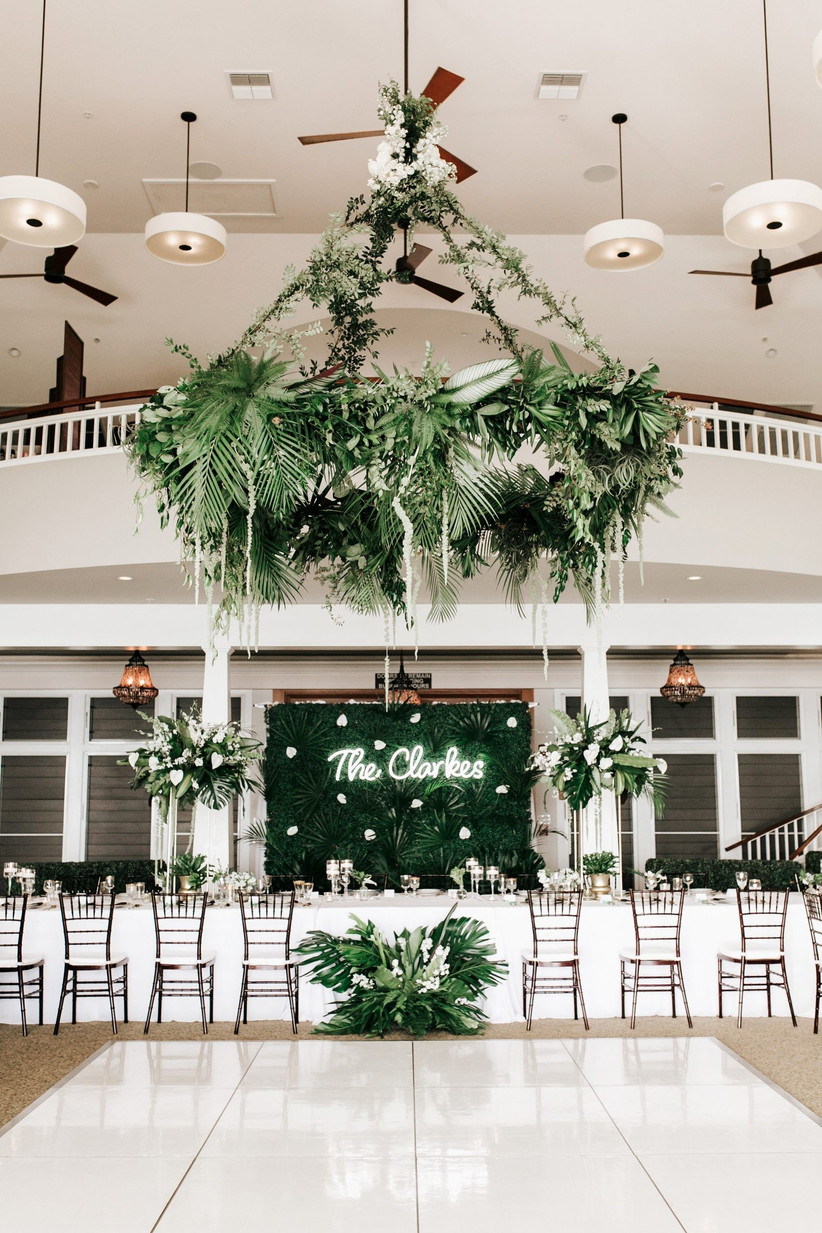 Image: Pinterest
The opposite end of the spectrum to tradition will be an influx of modern weddings with couples wanting a design that doesn't fit a classic mould.
"Couples are increasingly looking outside the wedding industry for suppliers who can fit the bill, to other industries such as interiors and fashion, so there is going to be no bigger year for ripping up the wedding rule book than 2021," says Pink Palms Events' Ashleigh.
Perfect Cartel's Claire agrees that the fashion industry will have a bigger part to play going forward. "There are so many high end designers doing off-the-rack hybrids now – especially for the non-traditional bride. Matches Fashion have a beautifully curated range; the modern girls go-to brands Kitri Studio, Simone Rocha and Cecilie Bahnsen are all also easily translated."
14. Ochre, Mustard, and Buttery Tones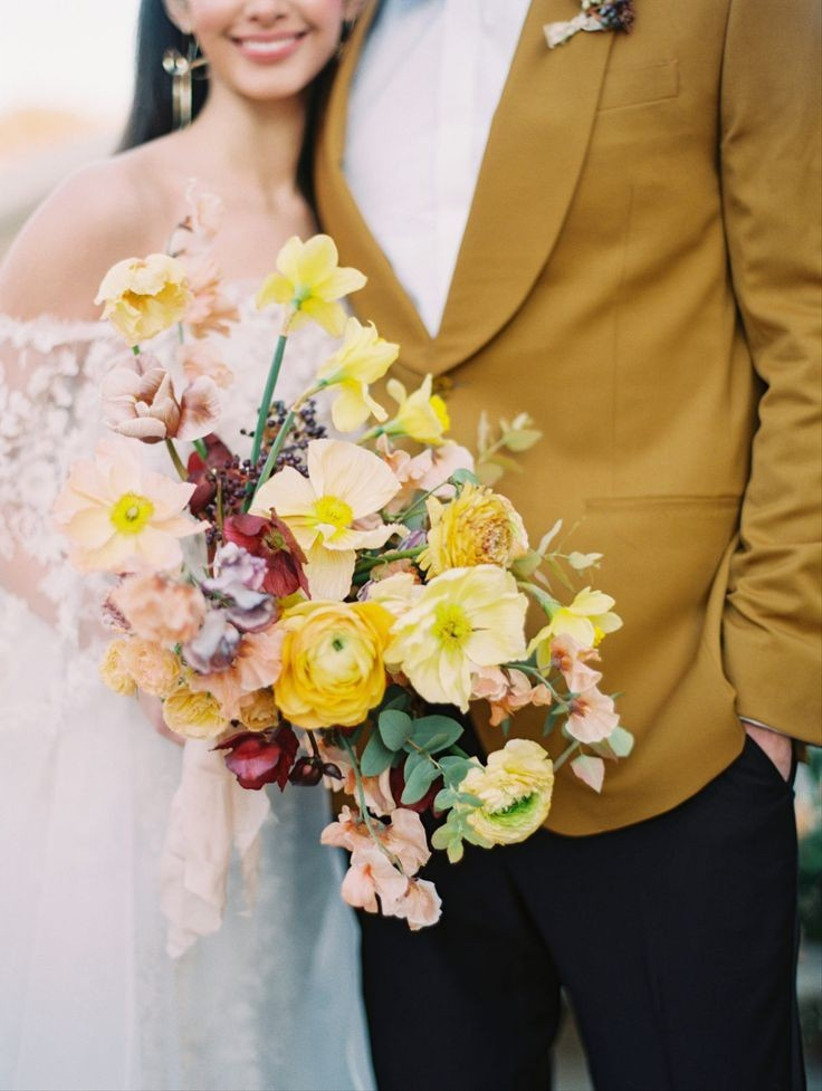 Image: Pinterest
"While there will always be a place in my heart for the white wedding, I am so excited that we are seeing more buttery yellows, ochres and mustard tones coming through in 2021 briefs," says Liberty Lane Flowers' Jennie.
"Yellow has been one of those love/hate colours for us florists for a long time and I think it is a case of doing some research into what is available for the season and finding the right tones. I am planning an early October wedding using dried bracken, autumnal-tinged foliage, buttery Caramel Antike and Honey Dijon roses, and hopefully lots of creamy Café au Lait dahlias if the frost hasn't taken them yet."
Yellow has so many wonderful tones in nature that there's shades to suit every season. Not only does it look good as flowers, but the intensity of mustard works so well with rich fabrics like velvet and satin that you can incorporate into everything from table runners to bridesmaid dresses.
15. Heirloom Investments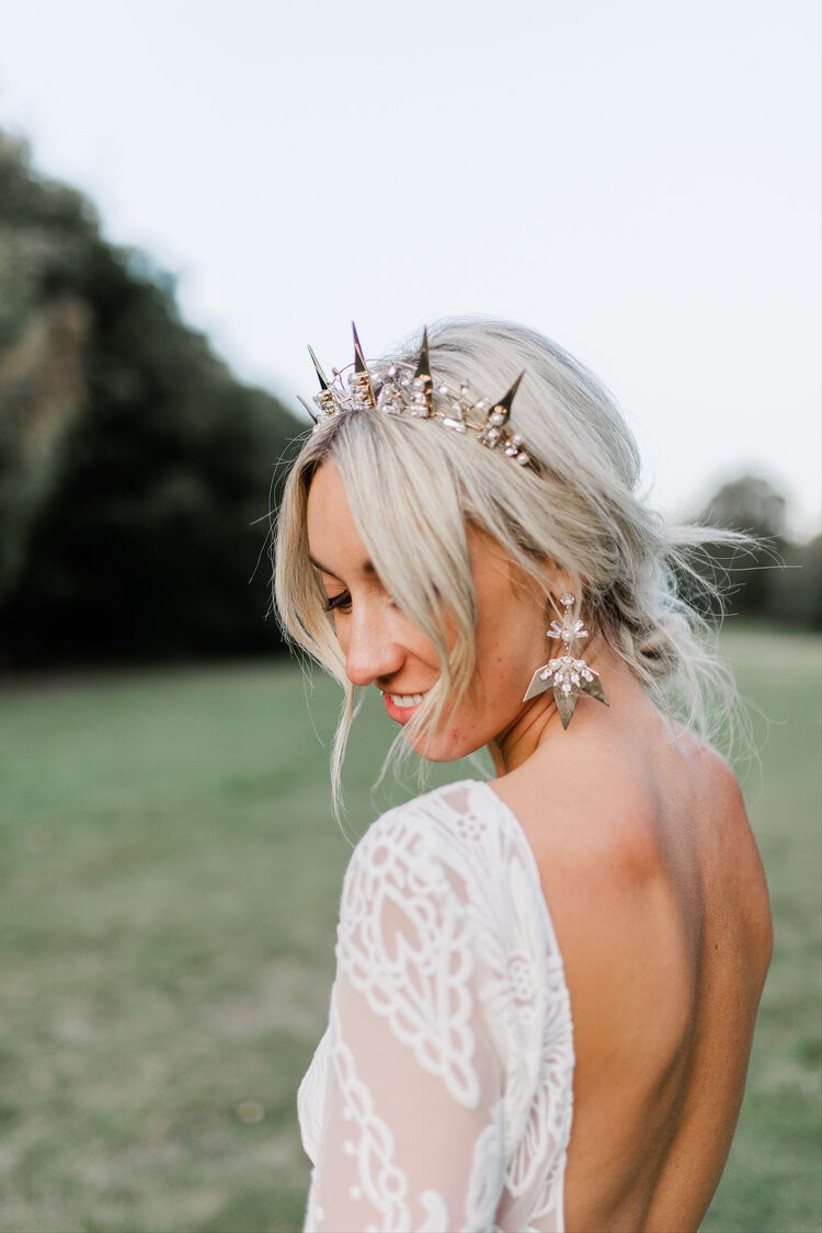 Image: Tilly Thomas Lux
"I think there will be two extremes for 2021," says bridal accessories designer Sally of Tilly Thomas Lux. " Some couples will go all out and have a decadent, no-expense-spared big day, while others will keep things more considered and invest in pieces which they can wear again and again.
"I predict we'll see lots of stunning crowns and headpieces which will become heirlooms to be passed down to future generations."
Time apart from our families has reminded us of the crucial connection between generations, which will lead to more heirlooms being worn now (Granny definitely has a brooch you've got your eye on) and heirlooms invested in for your children. Considering they predict a baby boom post-lockdown, we might need to buy several heirlooms…
16. Micro Weddings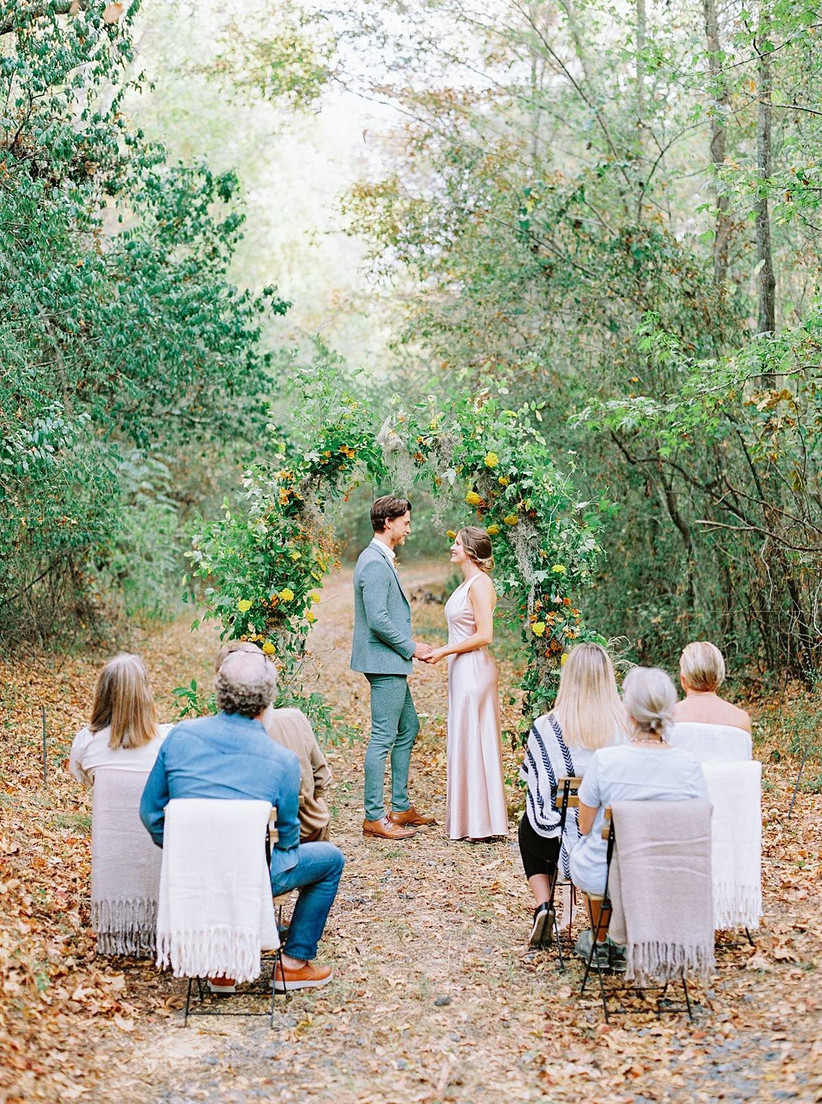 Image: Brian Smith Photography; Planning: Willow & Oak Events
Micro weddings are weddings with less than 20 guests and we'll see more and more of these intimate ceremonies in 2021. In some cases, it might be about budget constraints, but for a lot, the reasoning will be that couples simply want to scale back to just the few family and friends they can't live without.
Lockdown has been a period of reflection for many about what's truly important, and for some couples, that will crystallise exactly who they want by their side on their special day. Crucially, their budget won't change. They'll want to splash out on their guests and create an unforgettable experience.
"2021 will be a year of the authentic wedding," foresees Katherine of the Arabian Tent Company. "Gone will be the large, showy, corporate-event style celebrations, and instead weddings will become more intimate as people will want those friends that are really important to them, and will be less concerned with having people 'just for show'. The offset of having smaller guest numbers will mean couples will have more budget for stationery, jewellery, clothes, food, and decorations that are ethical and sustainable."
17. 'At Last'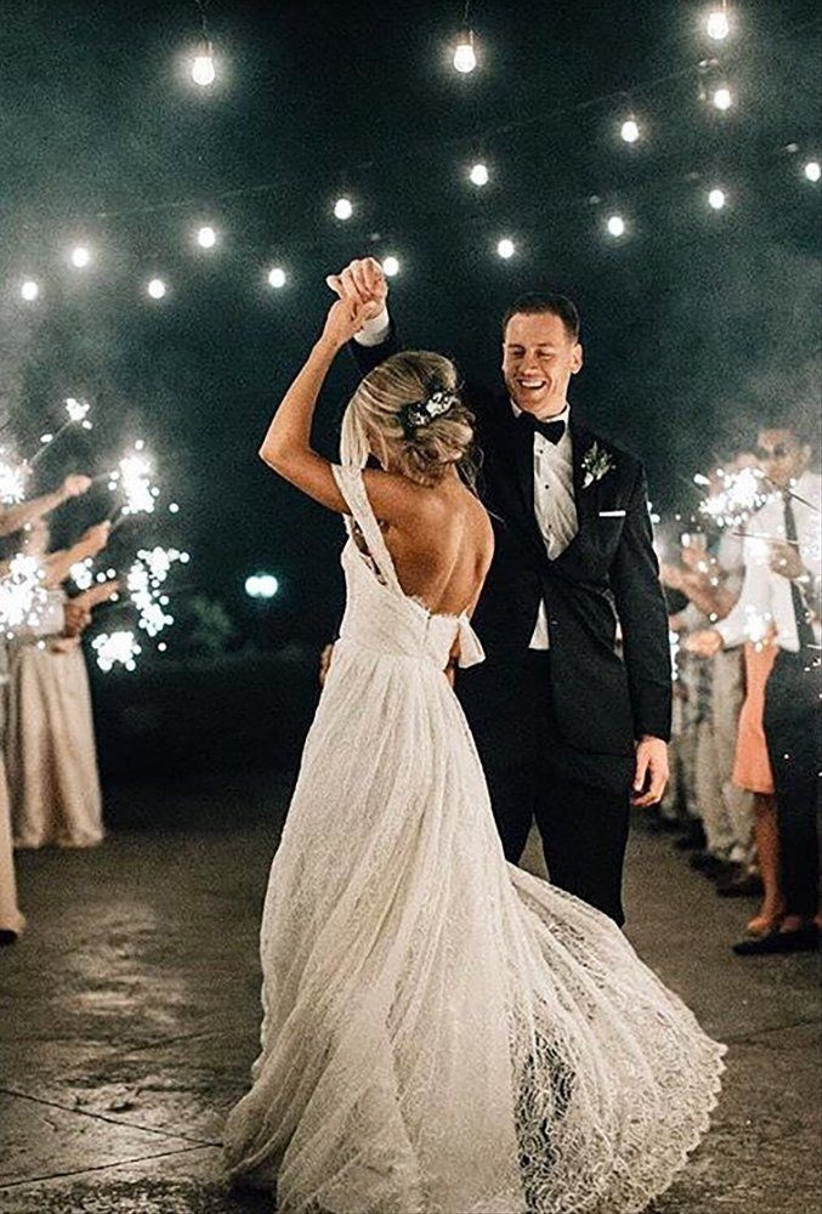 Image: Pinterest
Perhaps a little tongue-in-cheek, but you'll see 'At Last' by Etta James as a popular choice of first dance song for postponed couples, predict the team at Hedsor House.
18. Weekday Weddings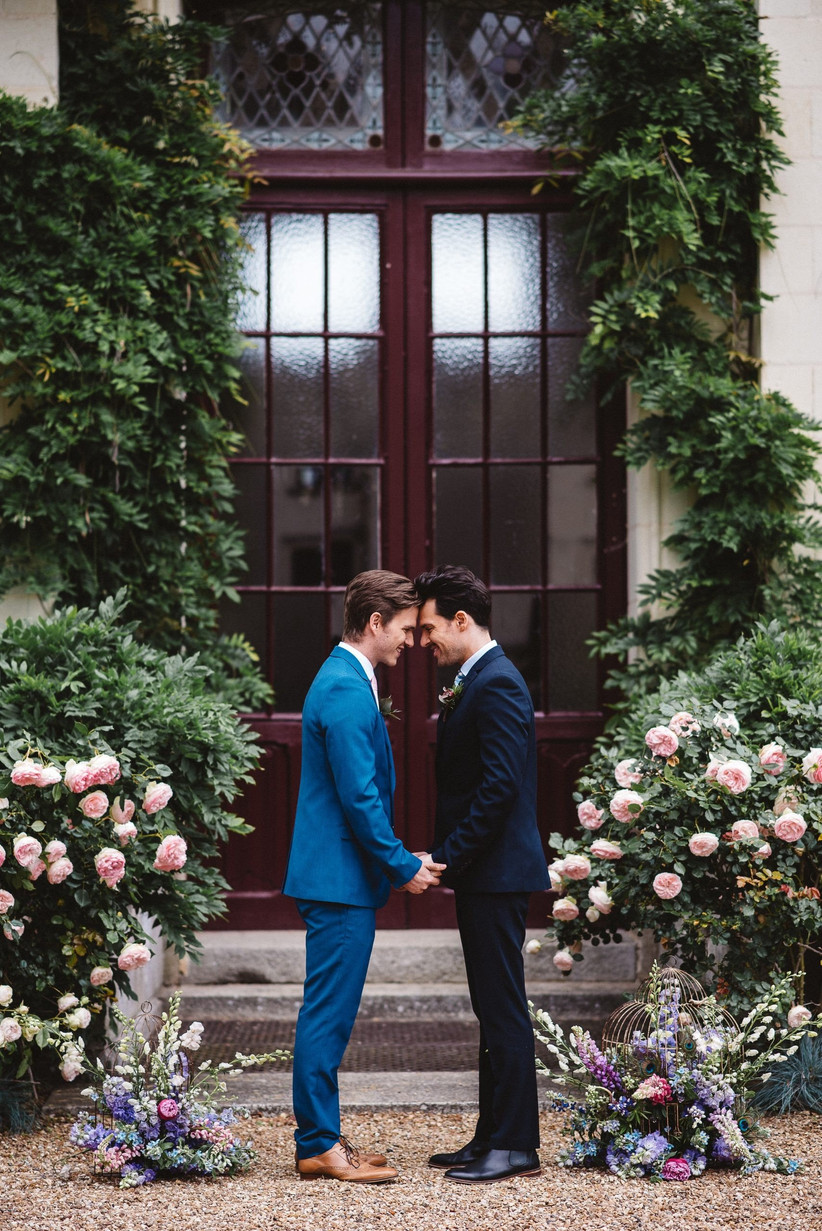 Image: Divine Day Photography; Planning: La Fête
Guests can expect to see an influx of invites to weekday weddings in 2021, according to bespoke wedding planner Charlotte of La Fête. It's due in part to the build-up of 2020 weddings which have spilled over into 2021, but also budget considerations for couples who've been more stretched than expected. Hiring venues and suppliers is cheaper on weekdays and there's more likely to be availability.
She recommends guests start saving up now for outfits (second-hand if possible), travel and hotels. "While we absolutely love the idea of a full year brimming with weddings, please be careful to avoid showing up to work hungover the next day…," warns Charlotte.
19. Long Veils
Image: Pinterest
"Long full veils will make more of an appearance, but embellished with personalised and bespoke embroidery (as opposed to lace edges, which has been trending in recent years)," says designer Phillipa Lepley. Her bespoke veils have included monogrammed initials, specific emblems and symbols, or the bride's favourite flowers embroidered into silk tulle.
Secret messages in veils is also a huge trend, made famous by Hermione de Paula, and makes for stunning heirloom pieces.
20. Ethical Dress Shopping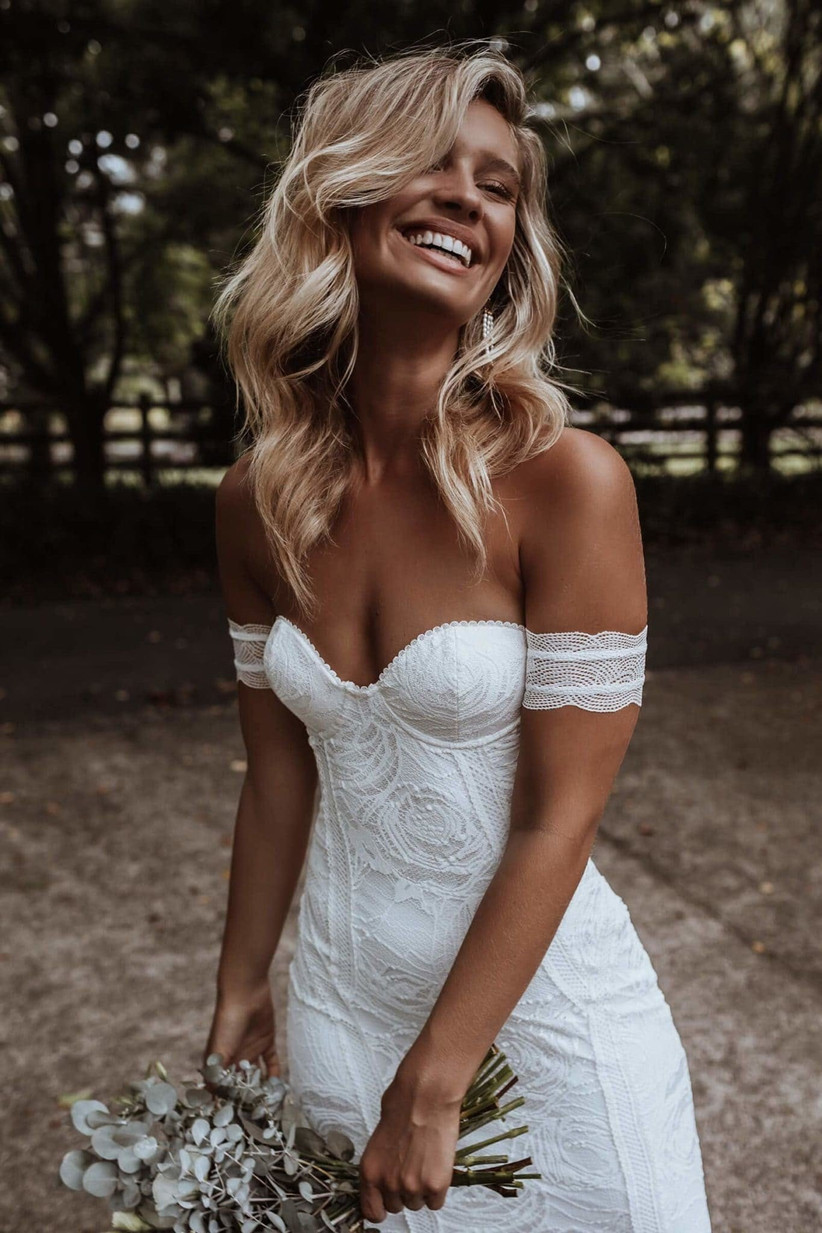 Image: Grace Loves Lace
Couples in 2021 will be prioritising how ethical and sustainable their wedding dress designer's practices are. The Coronavirus pandemic has opened many people's eyes to how companies treat their staff and those behind the scenes manufacturing their dresses – and in 2021, we'll demand better.
Megan Ziems, founder of Australian brand Grace Loves Lace who have a bridal showroom in London, says, "I think now more than ever has opened the eyes of so many brides-to-be as to how wedding dresses are made – where, by who, how? I started Grace Loves Lace knowing the importance and value of us making our wedding dresses in our own Australian studio – where we have full control of the work place health and safety, conditions, quality, skill.
"I think 2021 will be the year of women knowing what they want to support and stand for, be more in tune and educate themselves more with their purchases for their wedding. It's a day of such meaning and representation of you. I'm excited at people doing their due diligence and finding out more about what they are buying and supporting."
21. Minimal Foliage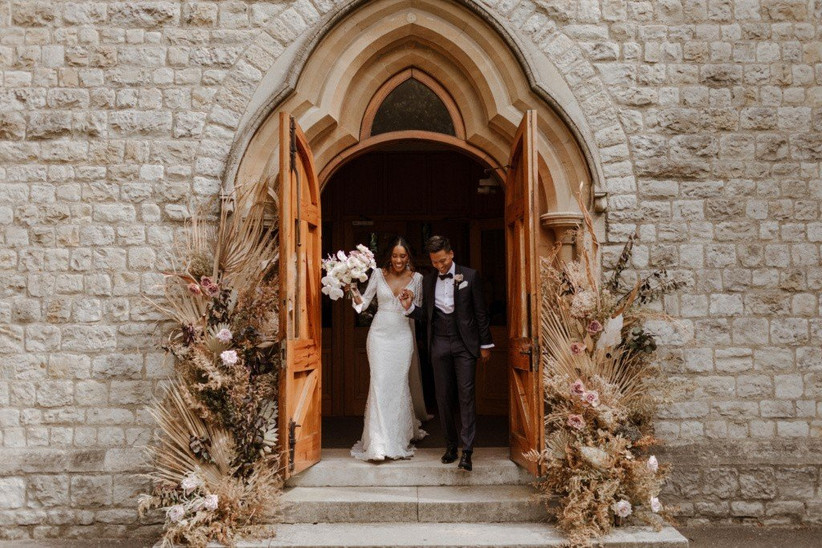 Image: Liberty Lane Flowers
Liberty Lane Flowers' Jennie predicts a move away from the British 'garden' style of floristry – rich with foliage, British-grown flowers and delicate textures – towards more structural, architectural designs, influenced by Australian florists.
"These designers are using massed florals; reflexed roses, Phalaenopsis orchids, dried textures, giant palms, and Australian natives, and arranging them with minimal green foliage. I find their designs so inspiring, and they are translatable into the garden style, too; vases of single variety massed flowers such as delphiniums, roses and a textural option such as smokebush flower would give a similar look when dried palms and Australian natives aren't an affordable selection."
…And You'll Be Doing Lots of DIY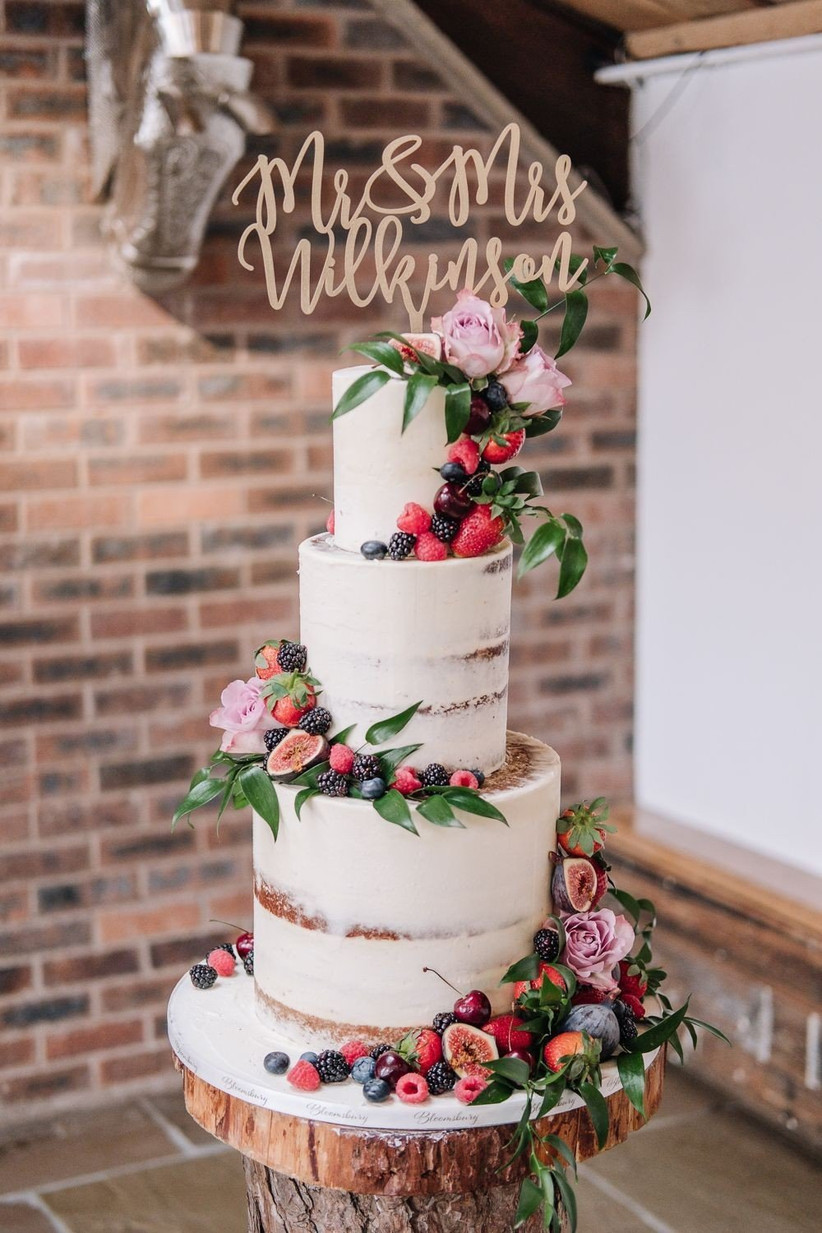 Image: Pinterest
We can hardly claim DIY weddings as a new trend for 2021 but we'll see couples who'd normally turn their noses up at the faff of crafting something themselves give it a go.
"With all the new skills we're learning in lockdown, DIY couples are going to be leading the way!" says Pink Palms Events' Ashleigh. As budgets stretch further than ever before, couples will utilise the skills of friends and family for everything from decorations to their wedding cake. We won't be afraid to ask for favours in 2021 and expect your creative and similarly financially-stretched friends to be glad to make you something in lieu of a wedding gift.
For your own crafts, YouTube, Pinterest and IGTV are treasure troves of tutorials and inspiration for DIY ideas and lockdown is the perfect time to get practising.
If you're as obsessed with disco balls as us, don't miss our guide to 25 cool ways to use them in your wedding – it's a trend that'll never die!