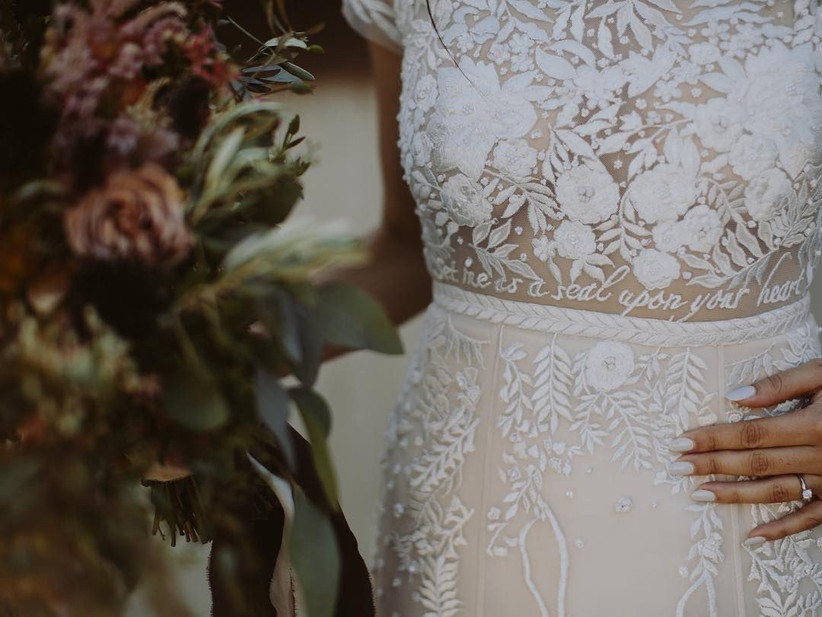 From hidden messages in wedding dresses to sustainable flowers, bubble confetti, vegan menus and bridal hats, the biggest wedding trends of 2020 have been revealed.
We spoke to experts in venues, food, drink, décor, dresses and more about what trends you can expect to see next year. If you're planning your 2020 wedding, start pinning these now!
1. Sustainable Weddings
Sustainability has been a huge topic in the news for all of 2019 and will continue into 2020. With Princess Eugenie's environmentally-conscious wedding this year, so many eco-friendly options have popped up for couples. Central to this is drastically reducing the amount of plastics used in your wedding and your carbon footprint – and there's lots of ways you'll see this happen.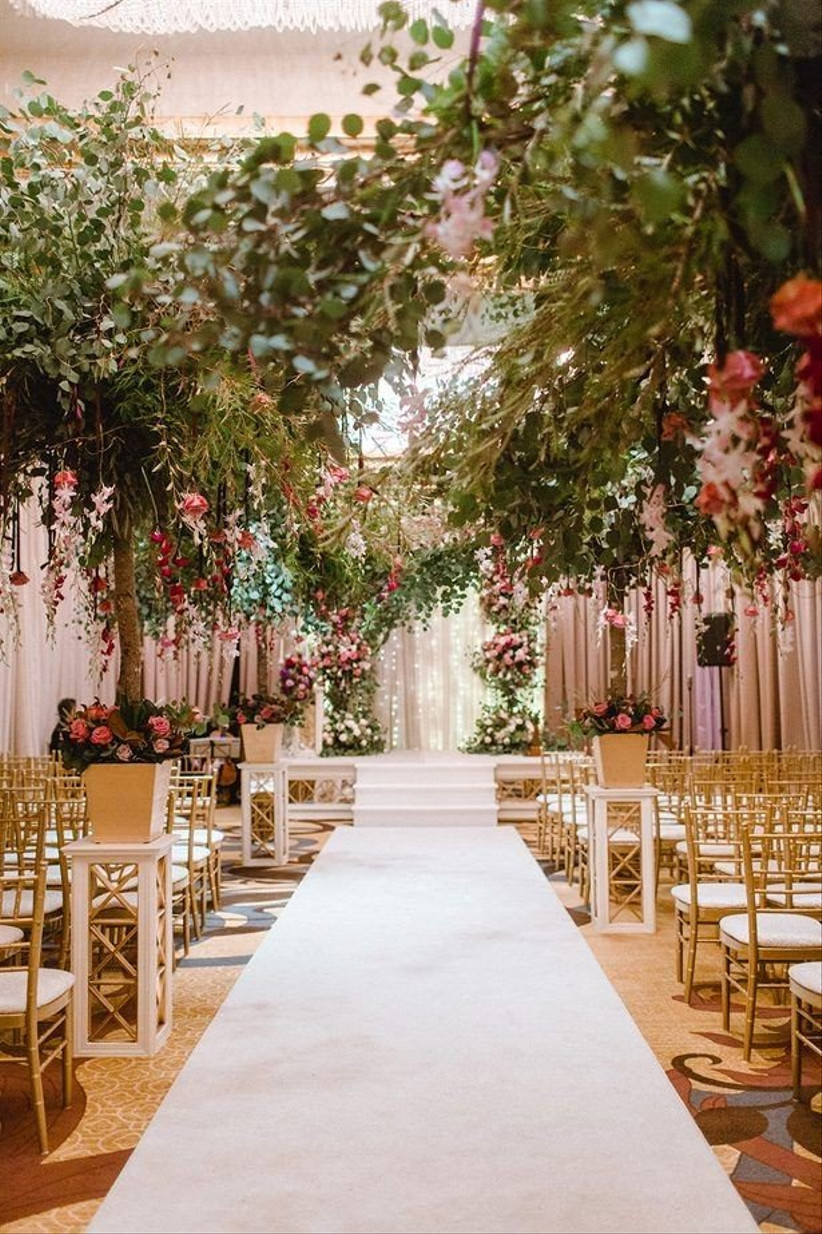 Image: Pinterest
For their flowers, couples are choosing locally grown, seasonal and even foraged flowers to give an aesthetic edge and boost their eco-credentials. Expect to see more living trees and plants in ceramic pots and cool containers instead of cut flowers. These will be planted after the wedding or given as gifts to guests.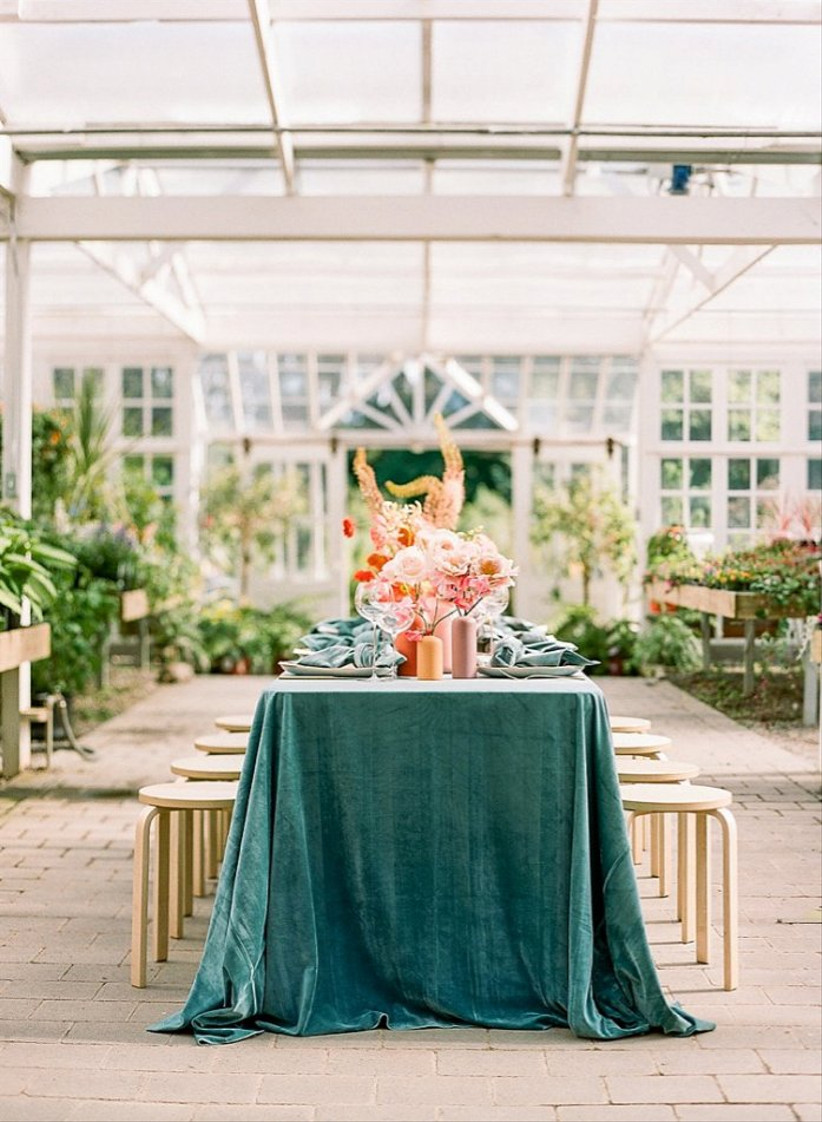 Image: Pinterest
Party architect Johnny Roxburgh says that one-time use products have had their day, with couples choosing raw materials that can be reused after the wedding. "One of my clients bought very expensive fabric for the tablecloths, which she then turned into curtains after the wedding. She had an excellent laundry service!" he notes.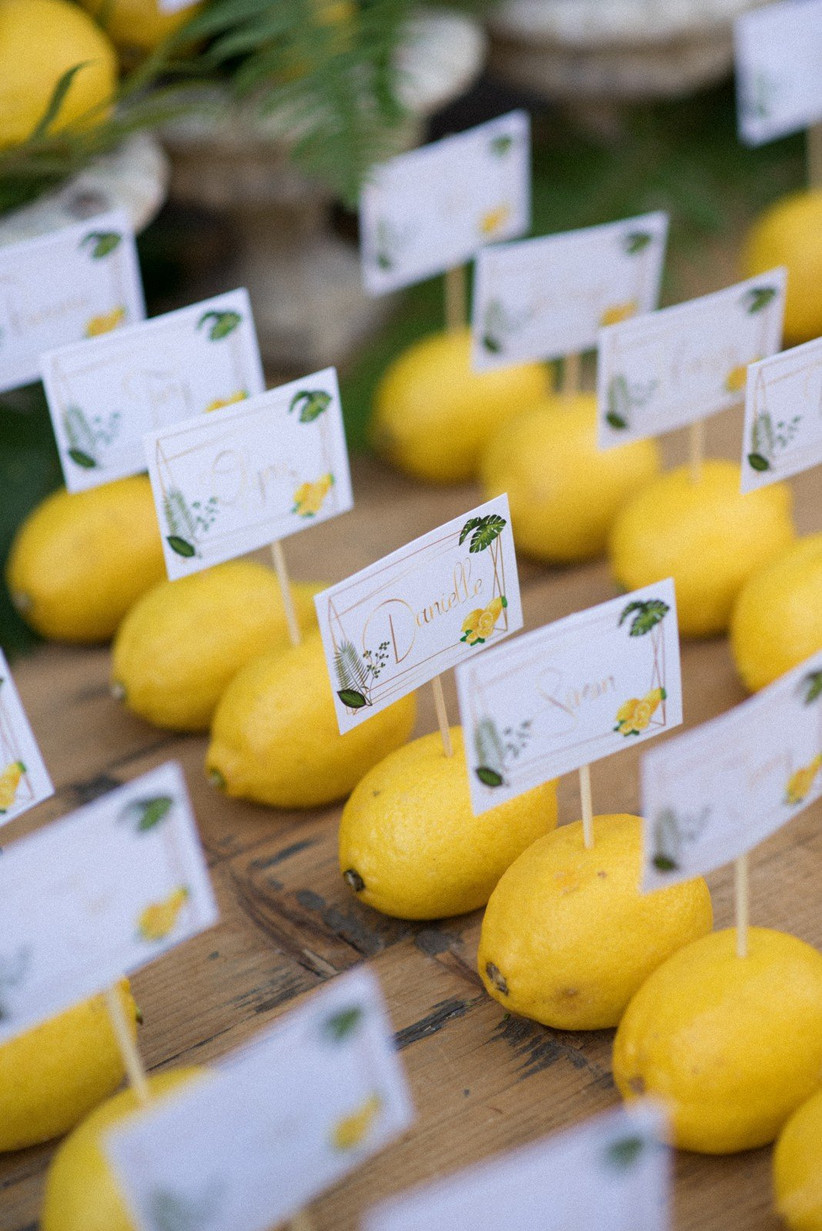 Image: Nataly Montanari
Plastic favours and place settings will be replaced by seasonal fruit, like lemons in the summer, and used in alternative centrepieces. Paper or bamboo straws will be the norm in reception drinks; petal confetti instead of paper; British or European wines served instead of those flown from across the world.
Michal Kowalski of Blooming Haus says this trend won't just stop with the couples, but will go to the heart of what suppliers offer. "Recycling, upcycling, or initiatives like our 2019 programme of planting trees for every wedding and event we produce, will become more commonplace."
READ MORE: How to Plan an Eco-Friendly Wedding
2. Embroidered Wedding Dresses
Chiara Ferragni kickstarted the trend of embroidered wedding dresses in late 2018 when she wore a custom Dior gown threaded with lyrics from her husband's songs and motifs inspired by the couple's relationship. In 2019, Hailey Baldwin looked stunning in a cathedral length, 'Till Death Do Us Part' inscribed statement veil. In 2020, we'll see the embroidery trend boom as couples find more unique ways to tell their personal love story.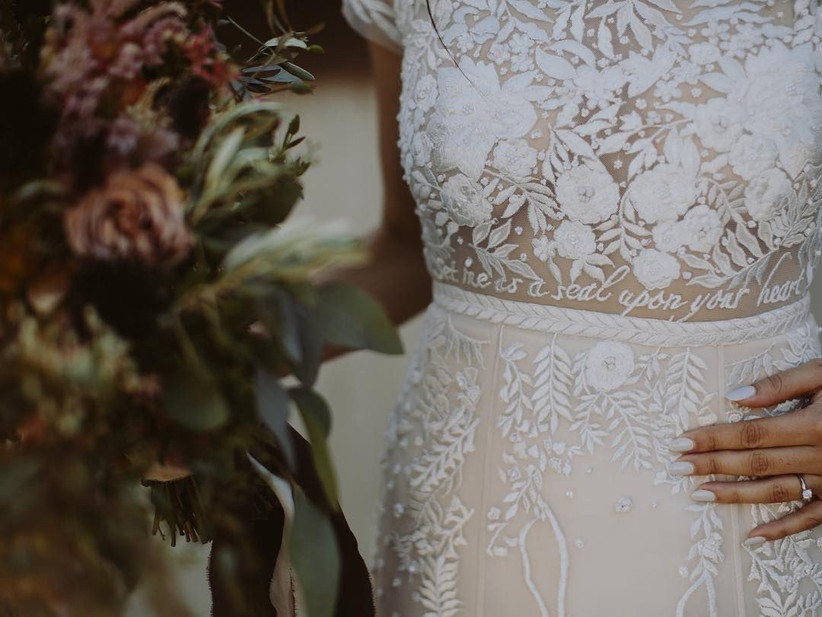 Image: Pinterest
From Bible verses like the passage from the Song of Solomon above to a love note to your partner stitched into your veil or train, there are so many ways to wear this trend.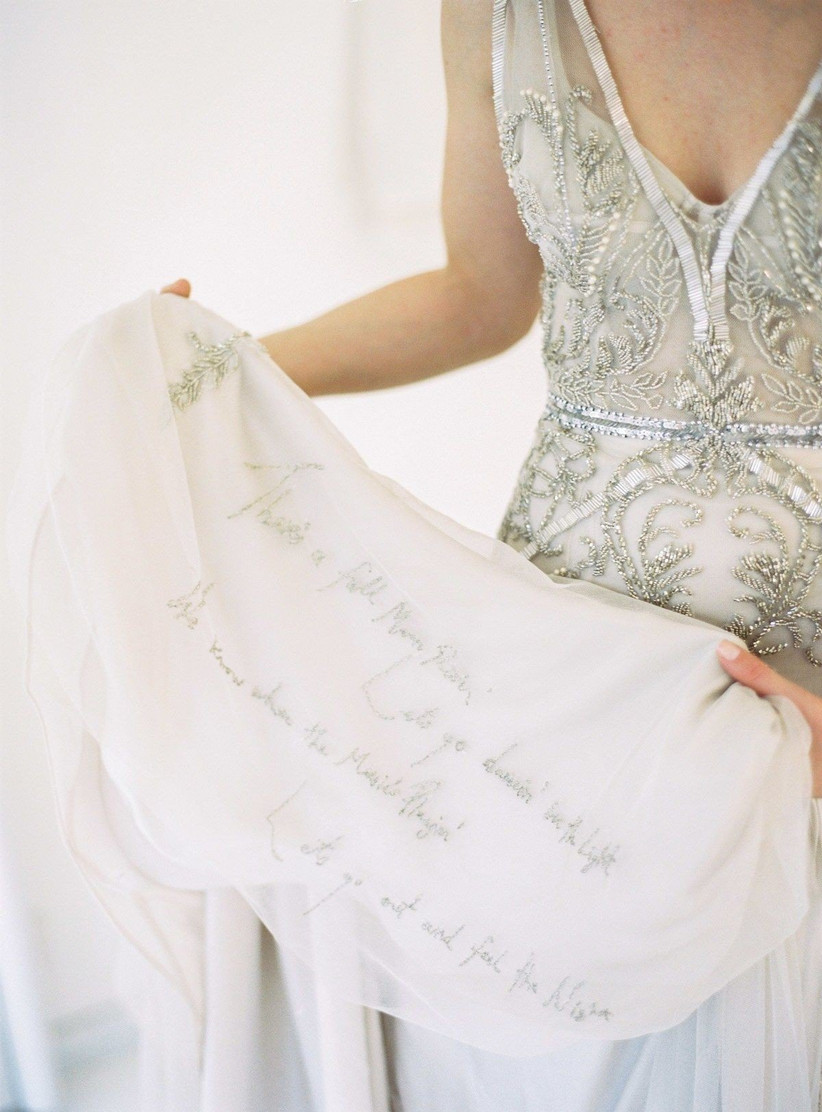 Image: Pinterest
It's an incredibly easy way to customise a boutique-bought dress, and can be anything that means something to you both, like a key that represents the start of your new life together to your initials. What's so special is that they can be done for everyone to see or as a secret message hidden in the dress that just you know about.
3. Long Banquet Tables
"Round tables are so passé! It will be all about the banquet table in 2020, and in an outside setting for absolute new decade vibes," says Most Curious Wedding Fair founder Rebecca Hoh-Hale.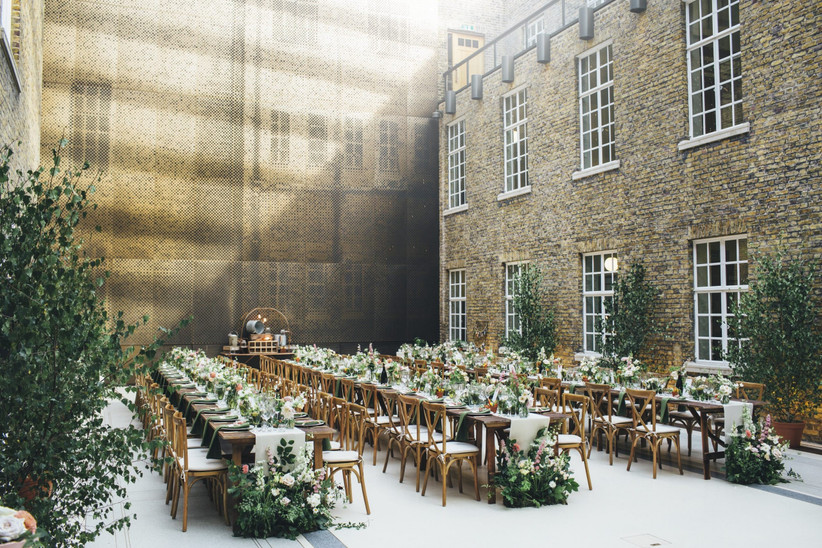 Image: Most Curious/Mark Bothwell Photographer
"Imagine you and your guests sat in linear fashion, extending out into the distance of your rural setting, at either side of a long row of tables, set with wine glasses, candles, bread baskets and delicious food stretching away as far as the eye can see."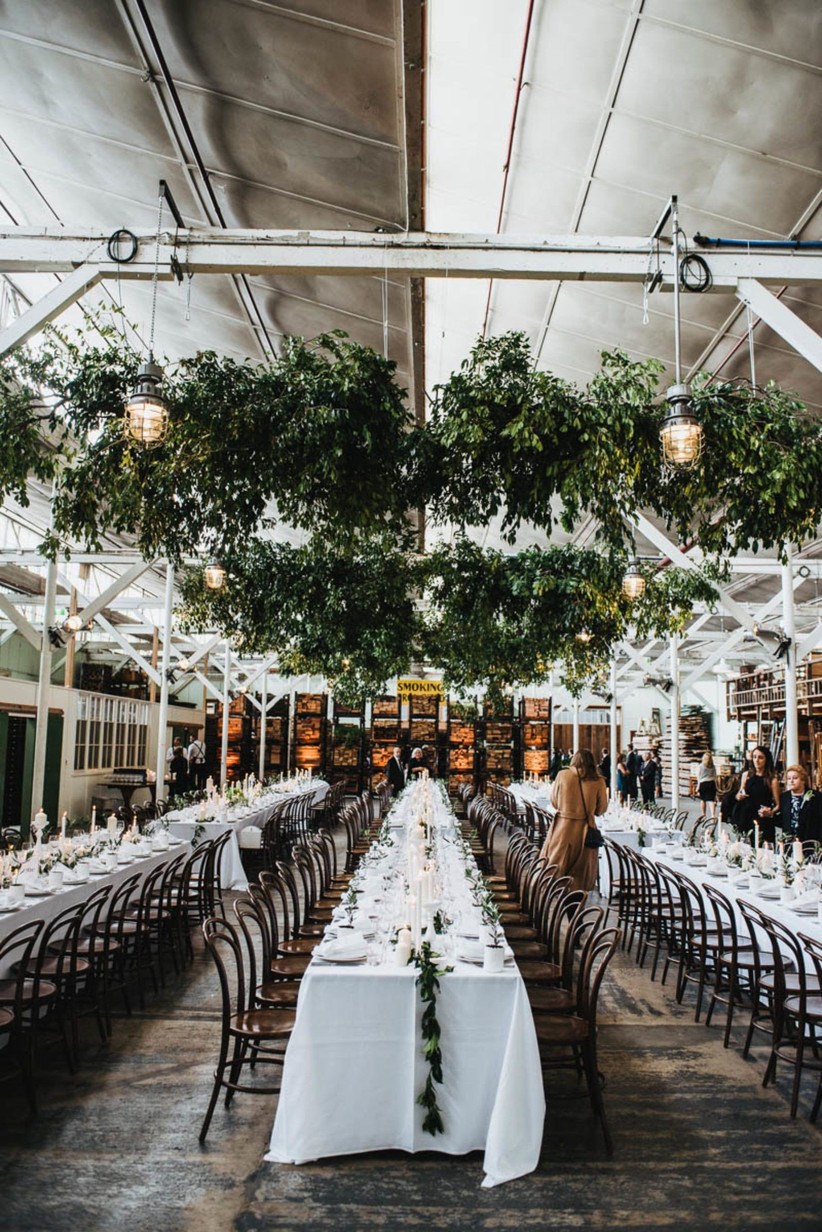 Image: Pinterest
While this looks incredible at outdoor weddings (think fairylight backdrops in the UK and a chateau courtyard for a destination wedding), it works inside as well.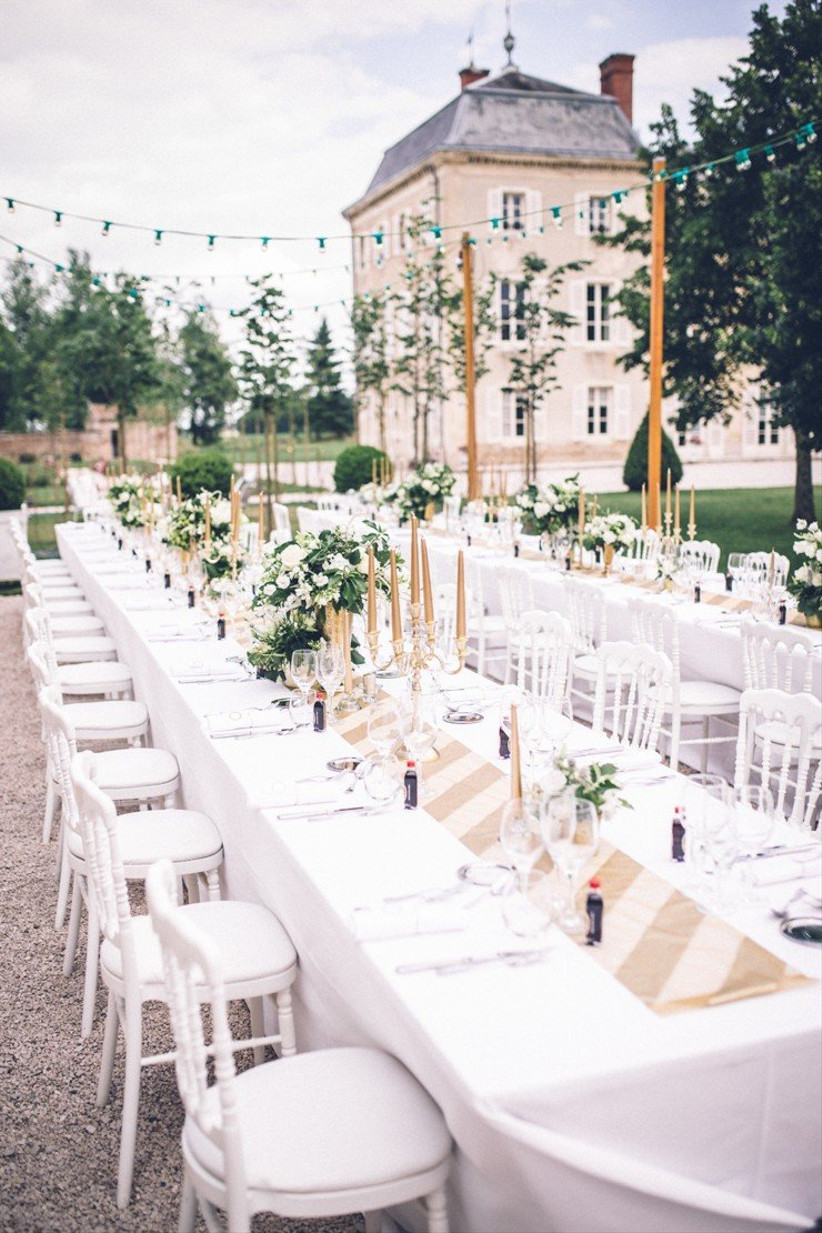 Image: Pinterest
Try this set-up in a marquee, big barn or warehouse, or in a long gallery at a stately home or castle venue. It doesn't just work for large numbers – anything from 30 guests and up looks amazing flanking a long table.
4. Floral Clouds and Sculptures
Big, unwieldy centrepieces are on their way out as couples keep them low to focus on fostering conversation between their guests. In their place, we'll see the elaborate floral displays moved off the tables and up onto the ceilings or walls with statement installations designed to transform your venue.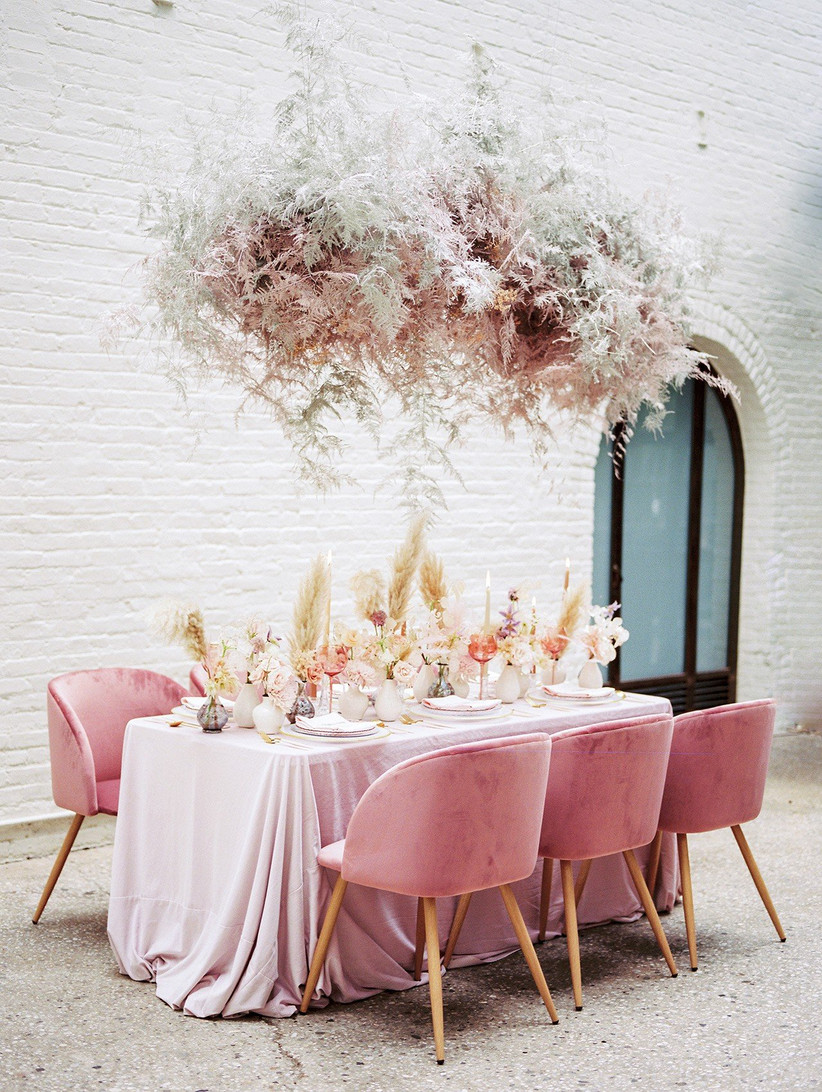 Image: Pinterest
"Impactful floral arrangements and styling elements that span the ceiling to the floor will continue to reign in 2020," says Sarah Clifford of Millbridge Court. "Think floral clouds, suspended lighting and statement chandeliers, working alongside floral aisle runners in grasses, wild flowers and bold colours."
Pamapas grass, ferns, dried gypsophila, heads of hydrangea and smoke tree branches are great for voluminous and textured floral clouds which your florist can create and suspend from the ceiling to look like they're floating. Spray them with colour and mix with wildflowers for vibrancy.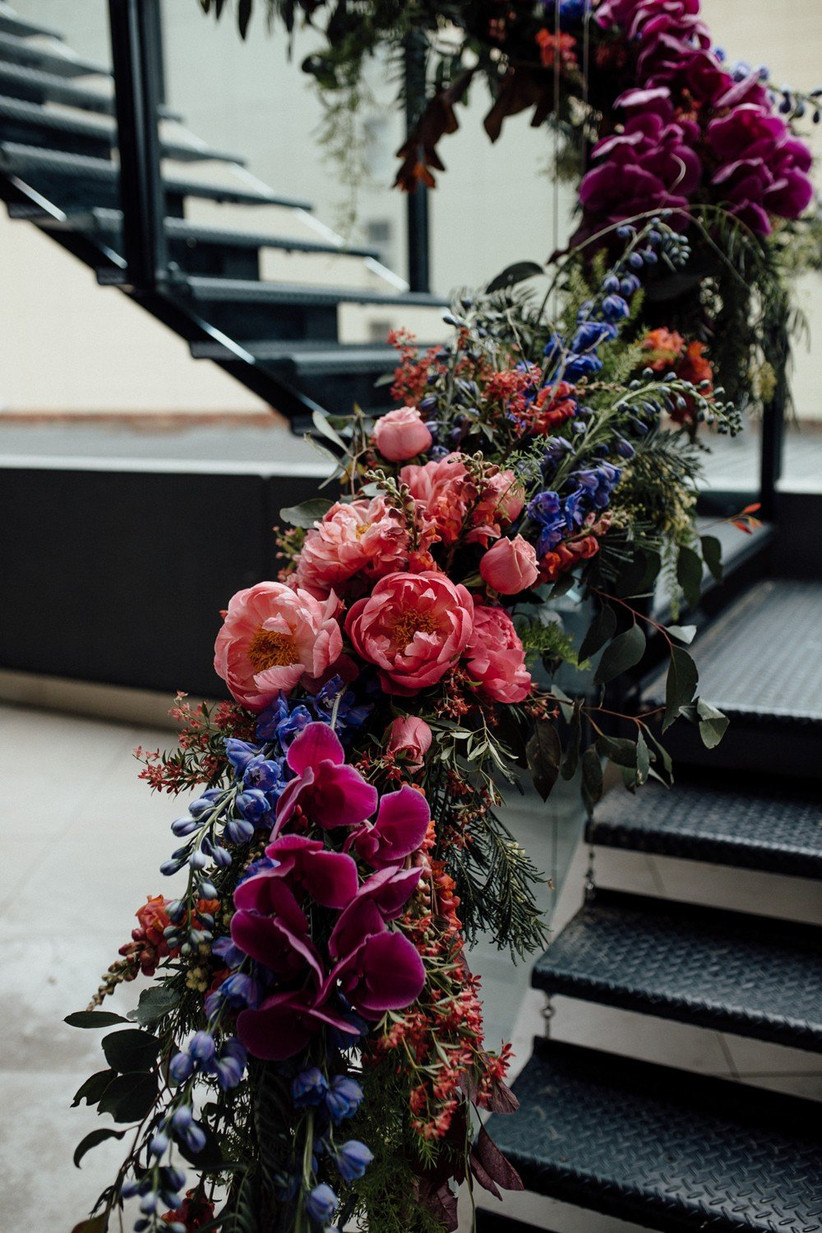 Image: Pinterest
Michal of Blooming Haus adds, "Non-restrictive will be the order of the day, which will create a sense of space and a more natural flow. Gone are the days of your guests not being able to see each other; centrepieces will stay low while couples will seek more off-table statement arrangements such as floral sculptures, floral arches and suspended installations to wow their guests."
READ MORE: How Much Do Wedding Dresses Cost?
5. The Return of the Rose
The 'It' flower of 2020 will be the rose. After years of succulents, anthurium lilies and pampas grass, the classic rose is ready for a comeback. "Blown out and seen in single colour formations, this classic beauty, ever the symbol or romance, will reclaim the wedding throne this coming year," says Most Curious founder Rebecca.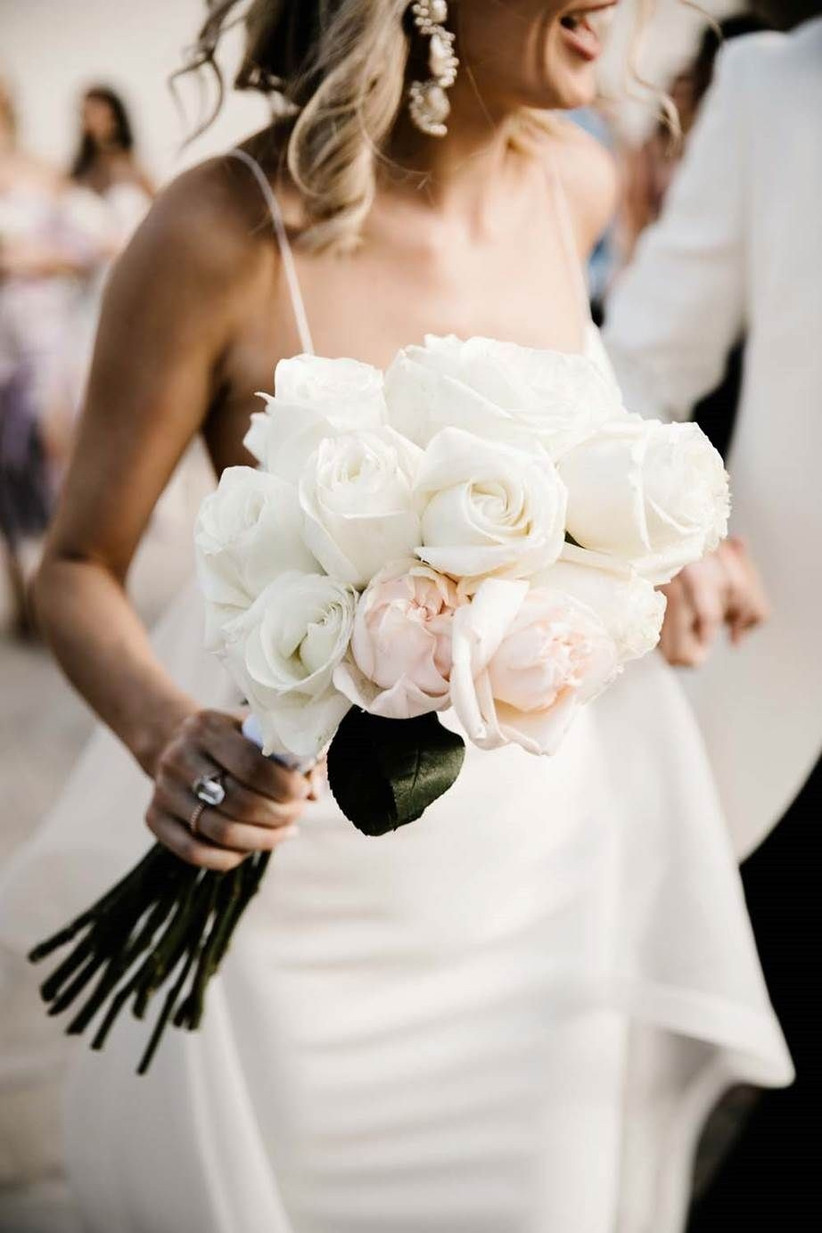 Image: Pinterest
If you're unsure where to start adding in roses, a bridal bouquet made of only one colour of roses is striking and statement. In winter, go for deep reds and pure whites. In spring and summer, peach, coral, lemon yellow and dusky pinks are beautiful. Weave roses into centrepieces, flower crowns, buttonholes and more for a delightful scent as well as look.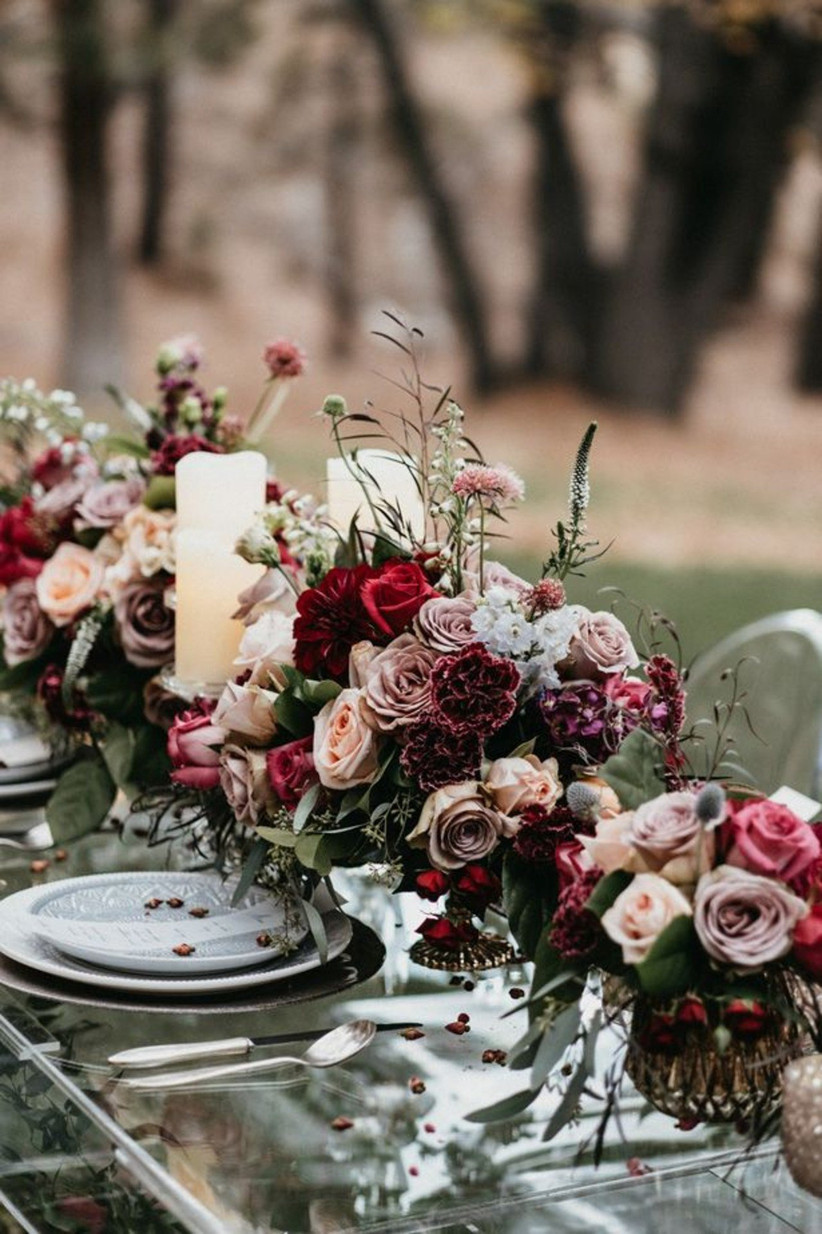 Image: Mary & Maurizio Quattro Studio
"We also cannot ignore the Gordonia or 'Fried Egg' peonies; another blousey, frilly bloom that all the coolest couples will be requesting. But beware, they are hard to get hold of outside of late spring and early summer," Rebecca adds.
6. City Weddings
With the price of weddings continuing to rise and Brexit having an impact on wedding planning, more and more couples will opt to a have a cheaper, low-key wedding close to home. An increase in licenses for pubs, bars and restaurants means you can expect to see more weddings at the couple's local haunt, where the staff know their names, the food is great and it's easy to reach for all their friends and family.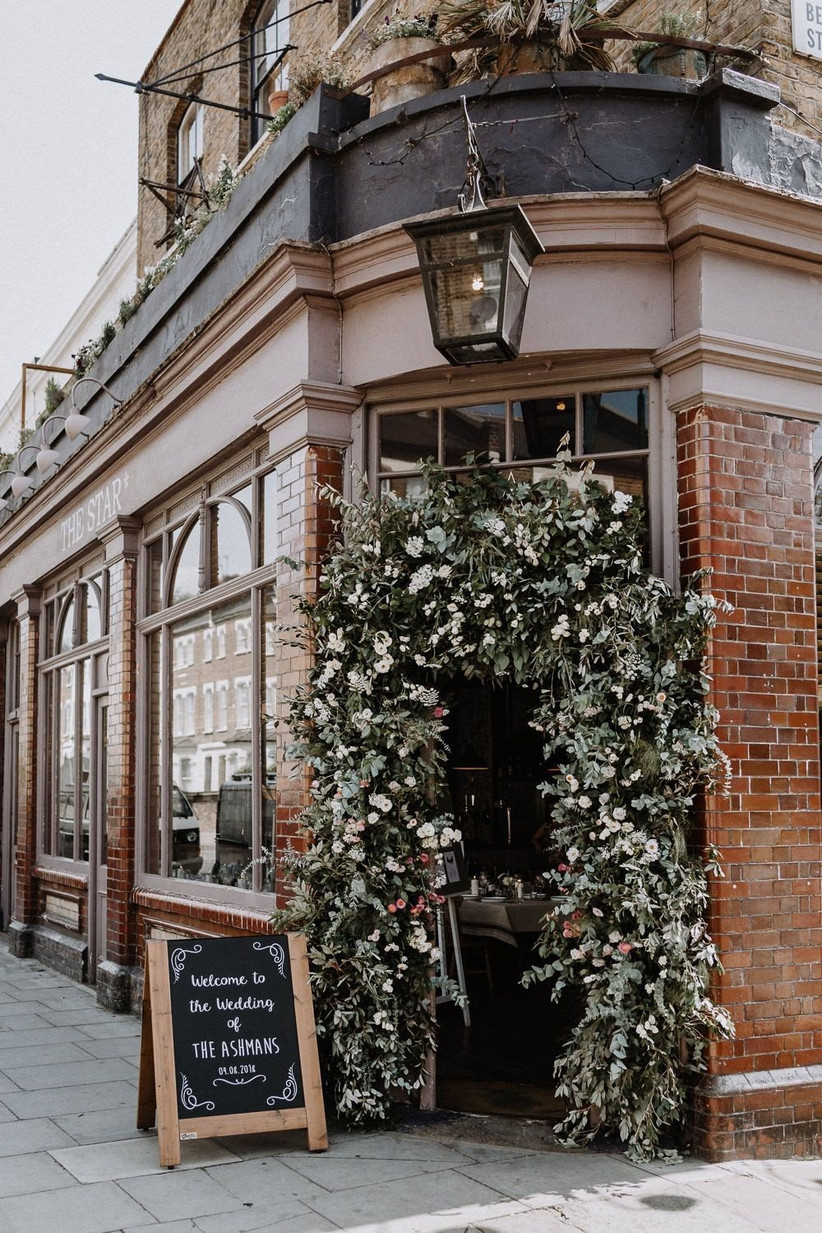 Image: Pinterest
By saving money on their venue, it gives couples more flexibility to decorate and personalise the experience for their guests. Think signature cocktails, balloons and bunting, and party games.
7. 'Instagram' Venues
The flipside to city weddings will be a rise in millennials choosing grand, impressive stately homes and alternative venues for their wedding day. It's predicted that more couples will choose to go all out for one memorable day, willing to spend big on a venue specifically because it provides an Instagram-worthy backdrop.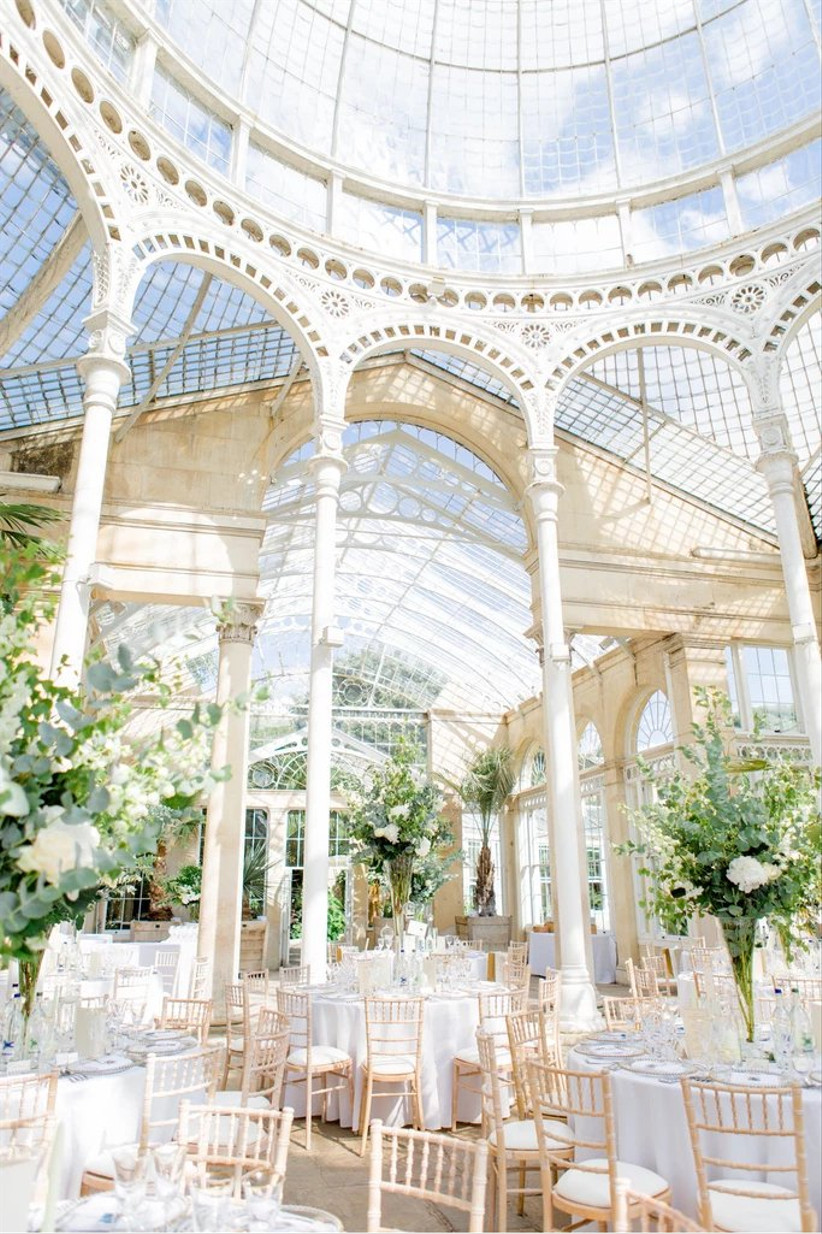 Image: Pinterest
Johnny explains, "The dreaded Brexit word will have an impact on the look and reality of weddings. The current shabby chic of lime-washed tables and country flowers will still remain, however, as the economic situation changes brides will be looking for something lavish and glamorous to create an uplifting mood."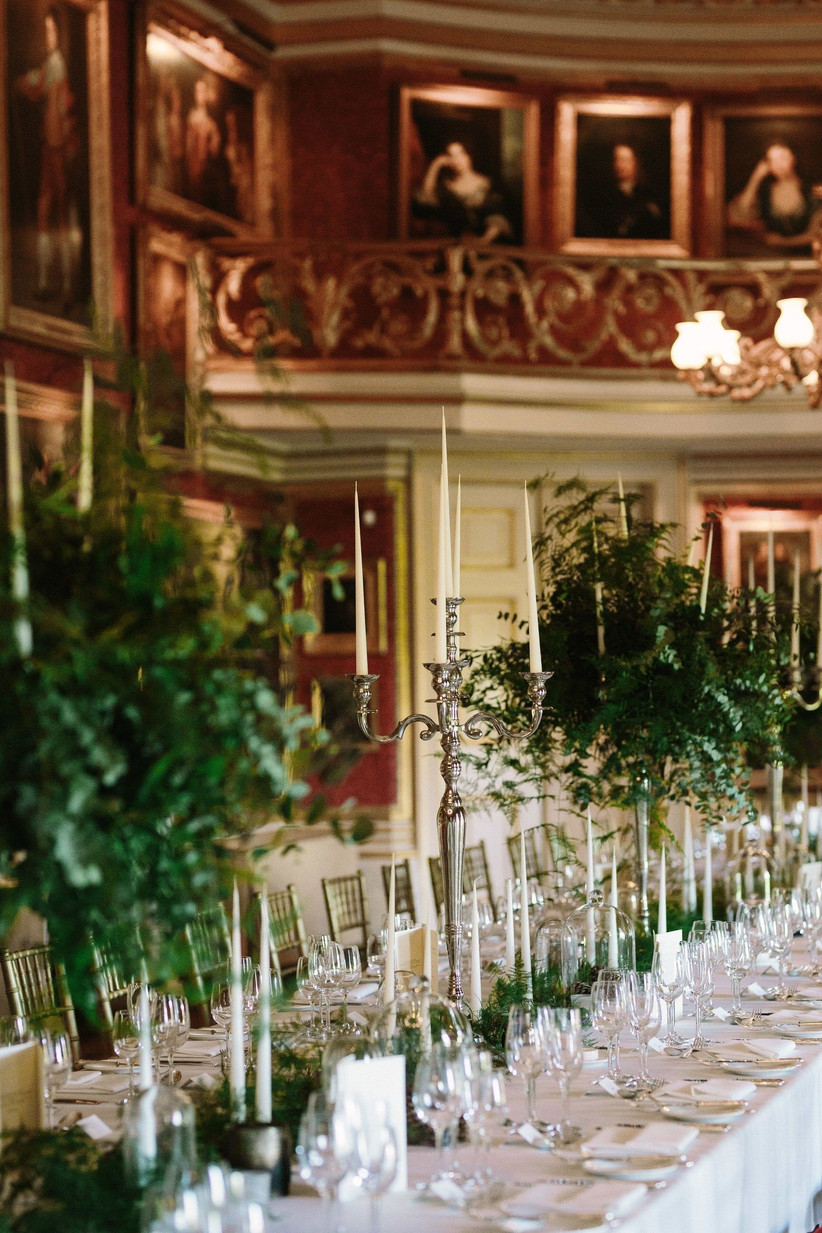 Image: Pinterest
Once again, celebrities are leading the trend. Ellie Goulding held her reception at the stunning Castle Howard in Yorkshire, while Sophie Turner and Joe Jonas chose a magnificent chateau in France. Picture botanical gardens, castles, greenhouses, vineyards and museums – something to put a smile on your face and look good on social media.
8. Maximalism
While simple and minimal might have been synonymous with modern last year, it's all about maximalism in 2020.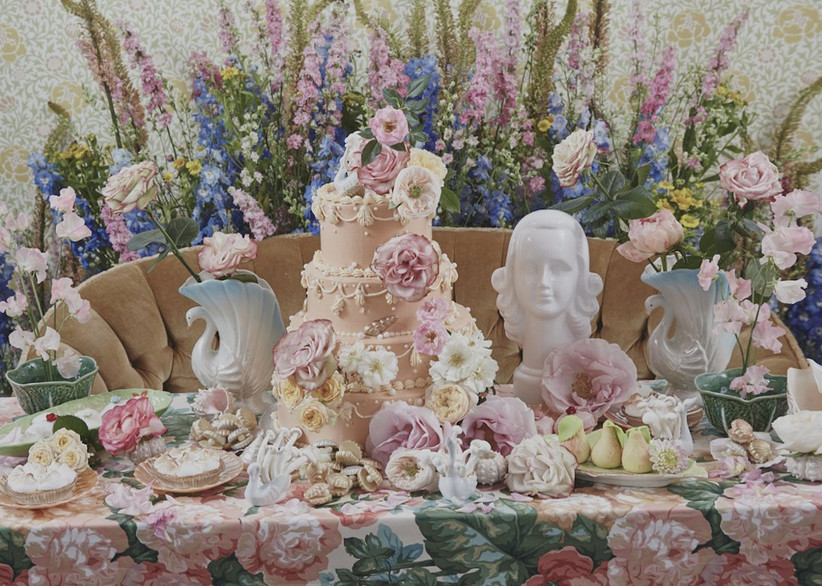 Image: Most Curious/Bloaum/Lily Vanilli
"The biggest story of 2020 for us will be the rise of fuller, fussier overall styling in all aspects of the wedding from the bride and the groom to the table and the décor," says Rebecca of Most Curious. "Pattern clashing and mixing of materials, decorativeness and chintz are exploding onto the scene after many years of austerity, minimalism and pared-back visions. Beautifying, adorning, decorating with more ornamental and OTT styles is being celebrated."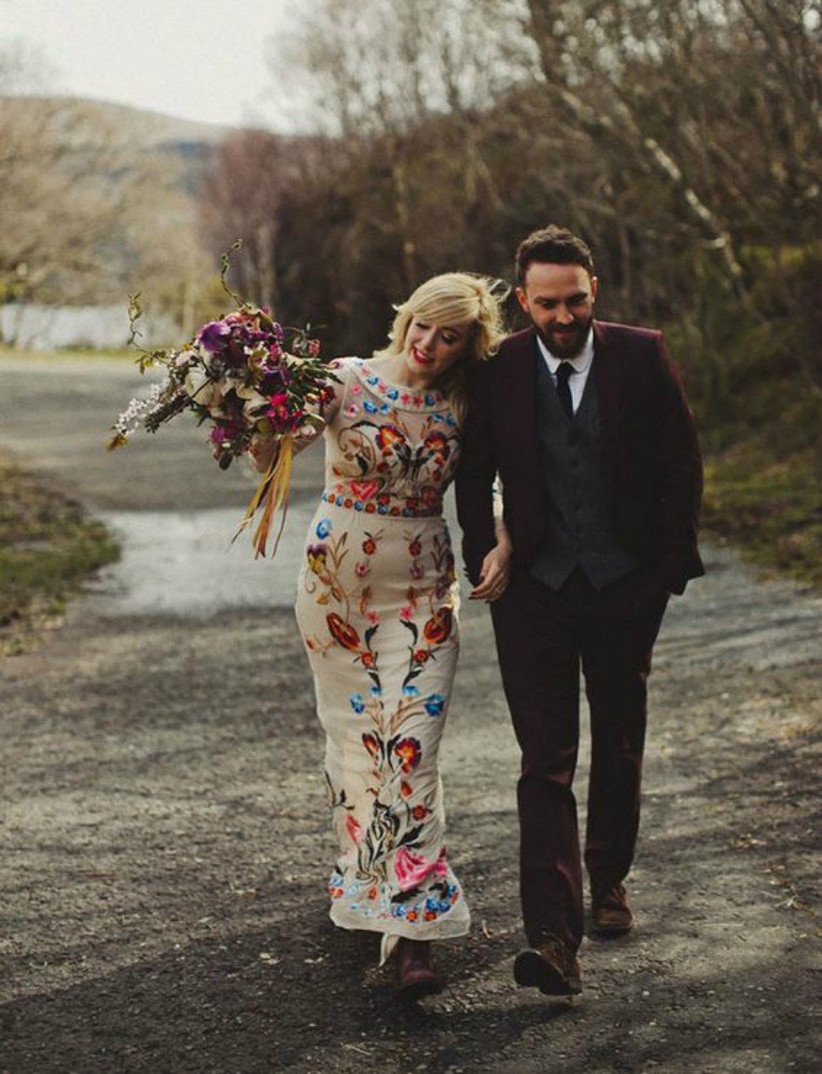 Image: Pinterest
You can expect couples to go big on one or several aspects of their wedding. That could be bold prints and colours on wedding dresses or an explosion of pattern, chintz, frills, novelty crockery, feature vases and more. Rebecca even predicts the return of the 70s dessert trolley, with kitsch wobbly jellies and cherries on top making their mark!
9. Groomsmen Grooming
Gone are the days when the groom had little to do with the wedding planning. Every stage of the wedding planning journey is now a joint decision between the couple, with men taking the lead in their outfit and grooming choices.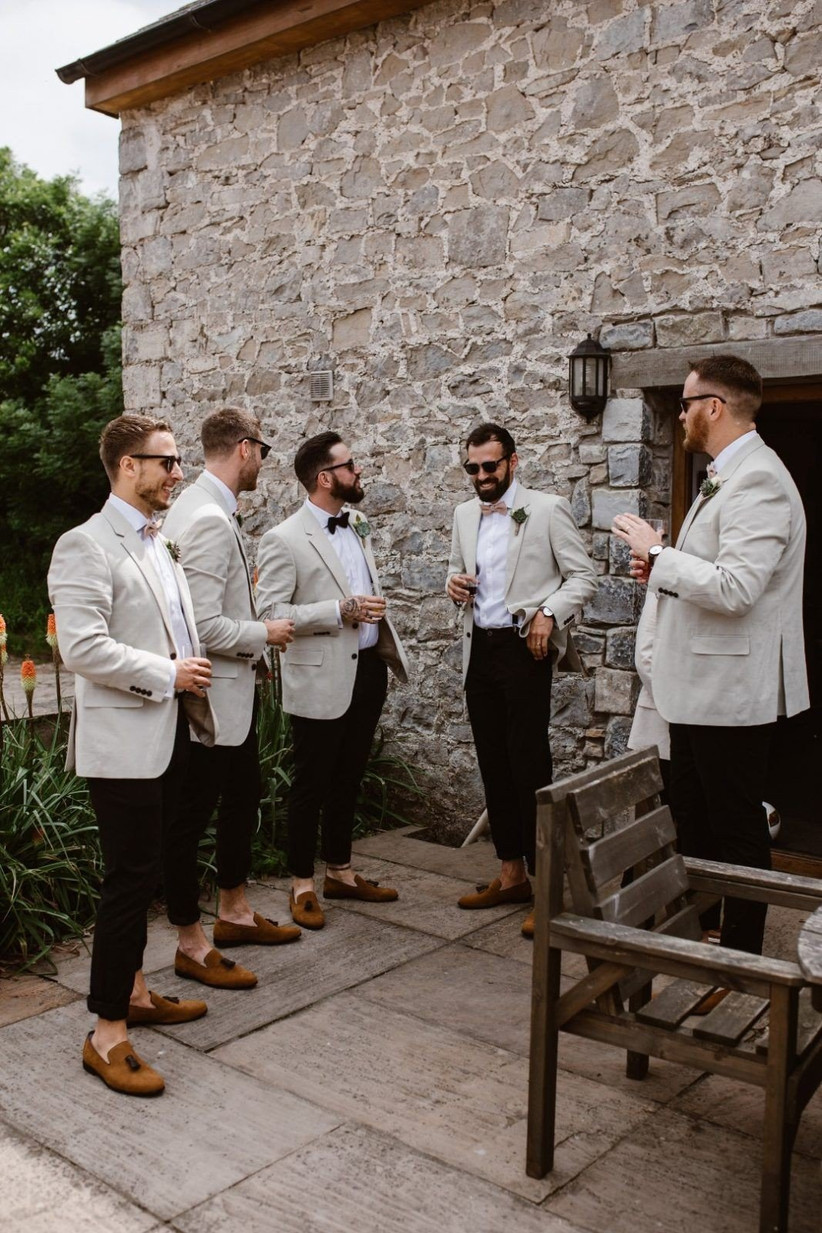 Emma Deeley of The Tythe Barn, Oxfordshire, says, "The last few years we've witnessed men taking a lot more time, care and thought about what they will be wearing and many grooms are now requesting a dedicated space at the venue to get ready with their best man and ushers. Grooms want the same attention and treatment as the brides."
You'll see more grooms and ushers making a day out of their suit buying, or choosing to get them made to measure at a tailor's that offers the same kind of special treatment as at a bridal boutique (just with whiskey not Prosecco).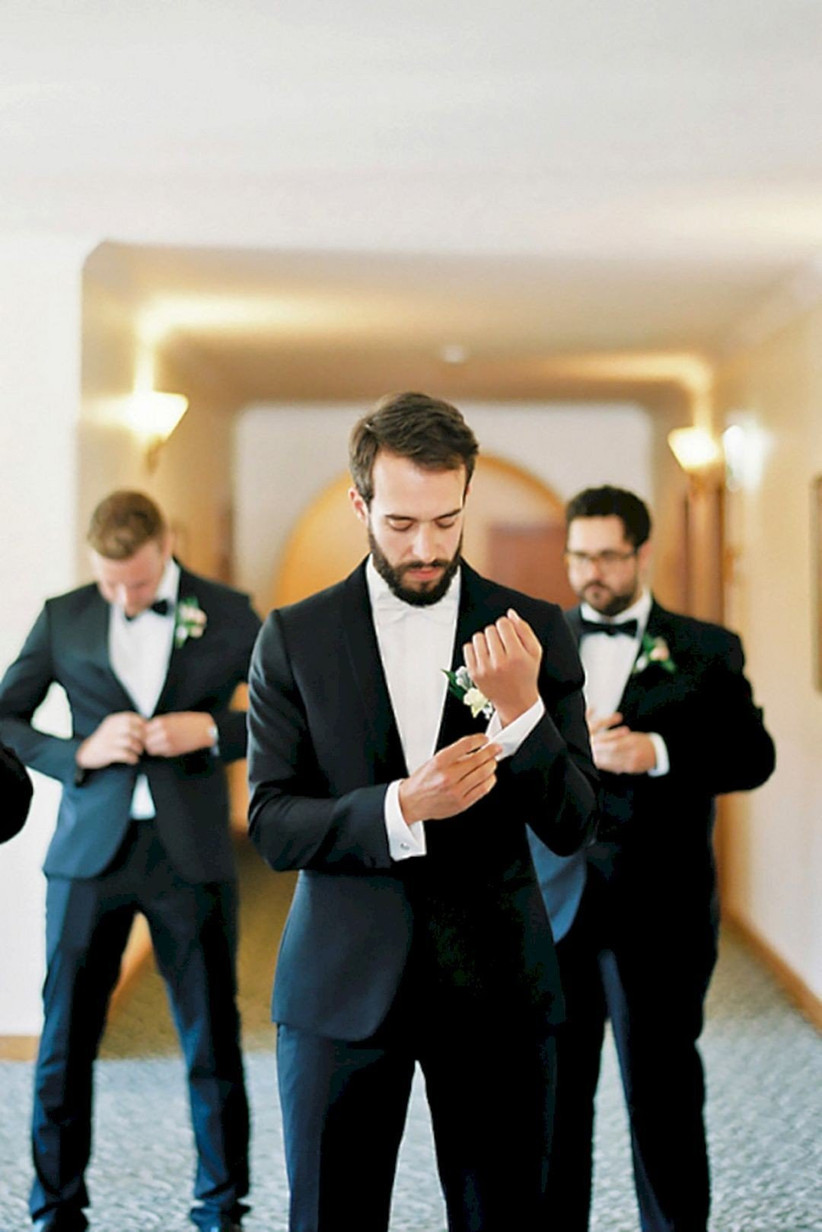 Image: Pinterest
They'll invest in a special wedding day cologne, splash out on skincare products and facials, hire a personal trainer, and get the lads together for a traditional barber shop wet shave and haircut just before the wedding. 2020 is all about grooms treating themselves.
READ MORE: 35 Wedding Decoration Ideas
10. Self-Service Bars
Wine expert Sam Tyson of Winebuyers.com says, "More and more couples are choosing to create self-service bars, beer taps and '70s style cocktail bars at their weddings which I anticipate to only rise in 2020. While arguably dangerous particularly amongst those more indulgent among us, they do make life easier for the bride and groom and give a more casual approach."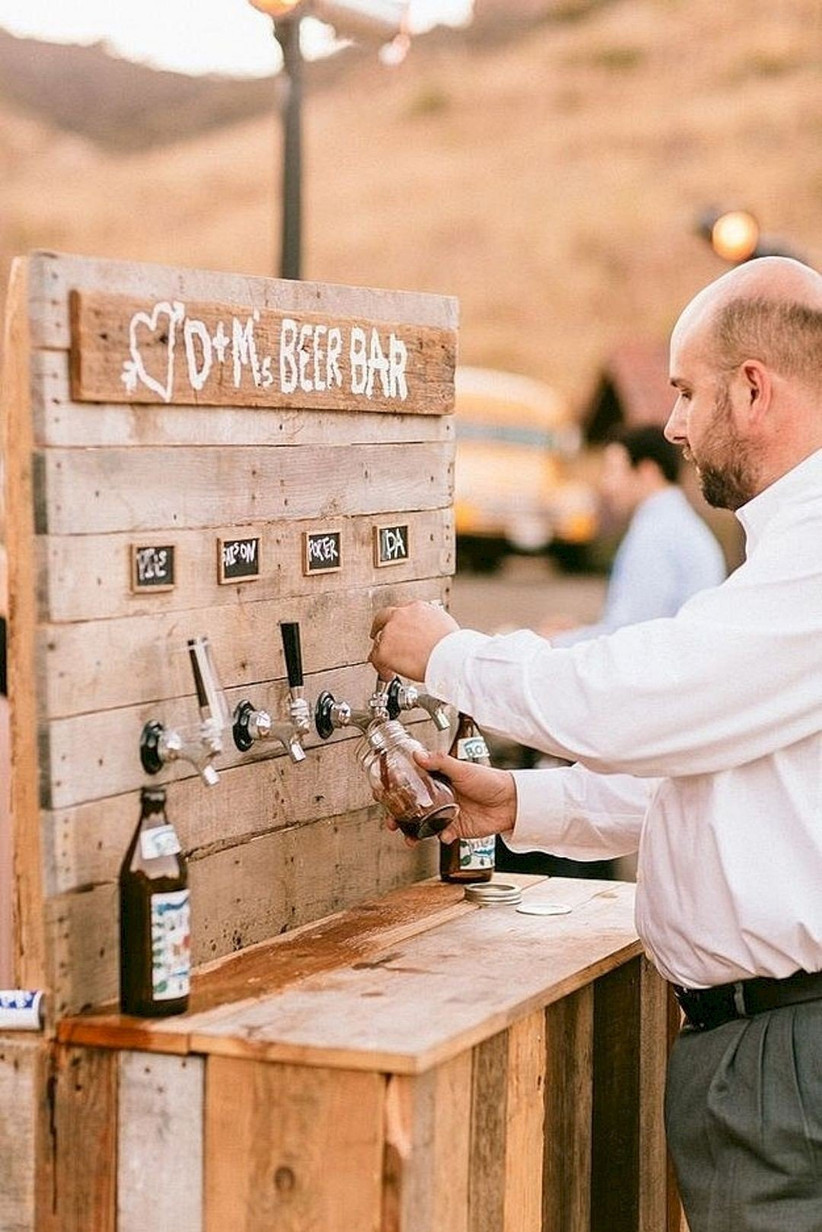 Image: Pinterest
Expect buckets, bathtubs, hollowed logs and wheelbarrows filled with ice and bottles of beer or pre-mixed signature cocktails dotted around receptions. Pop-up bars will be adorned with bottles of spirits and mixers.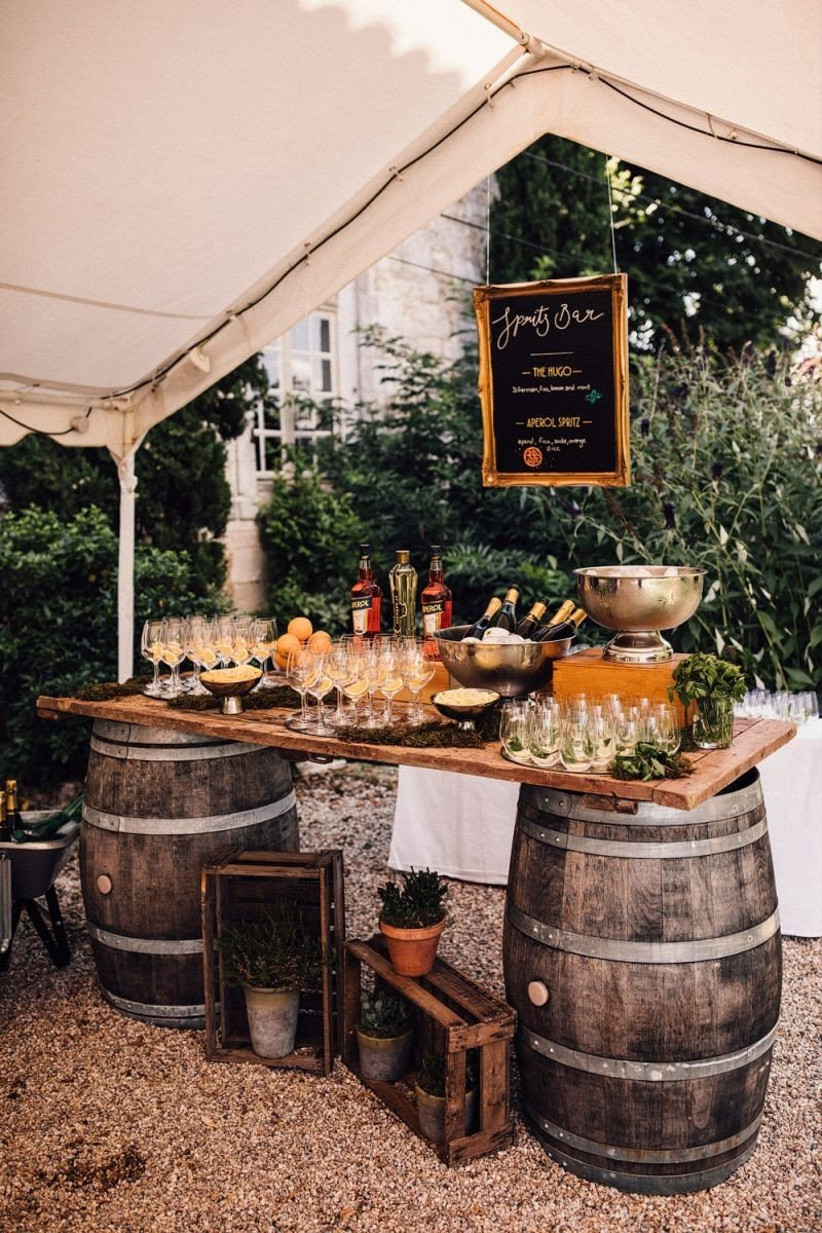 It might seem like a trend for those with deep pockets, but you can make your own DIY beer tap station pretty easily. A local brewery will happily sell you kegs and may even help make a special brew just for your big day. Just check the corkage charge on your venue.
11. Vegetarian and Vegan Menus
Full vegetarian and vegan menus will become more common, firstly, for environmental reasons, and secondly, because the choice of delicious dishes is now so extensive and creative.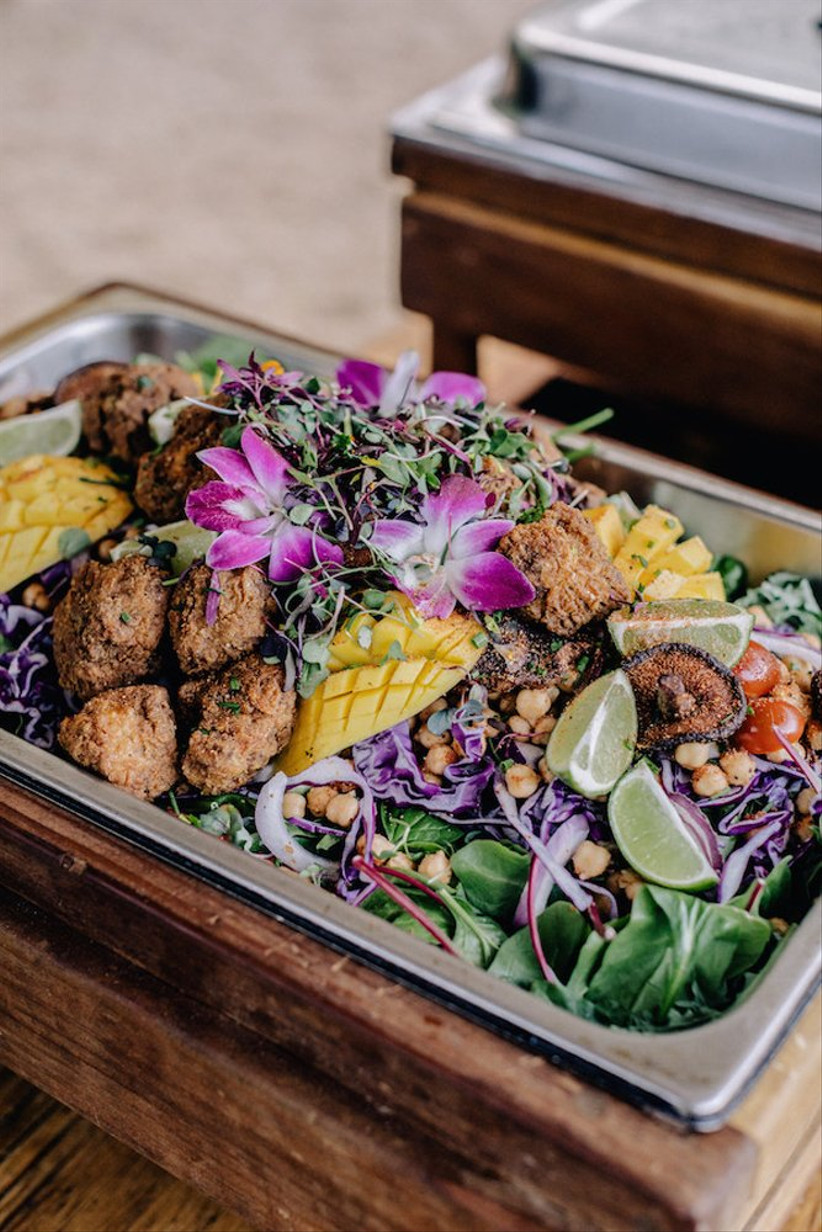 Image: Pinterest
Rather than alternative dishes for a few of your guests with dietary requirements, all the guests will eat the same wedding breakfast, making vegetarianism and veganism the norm.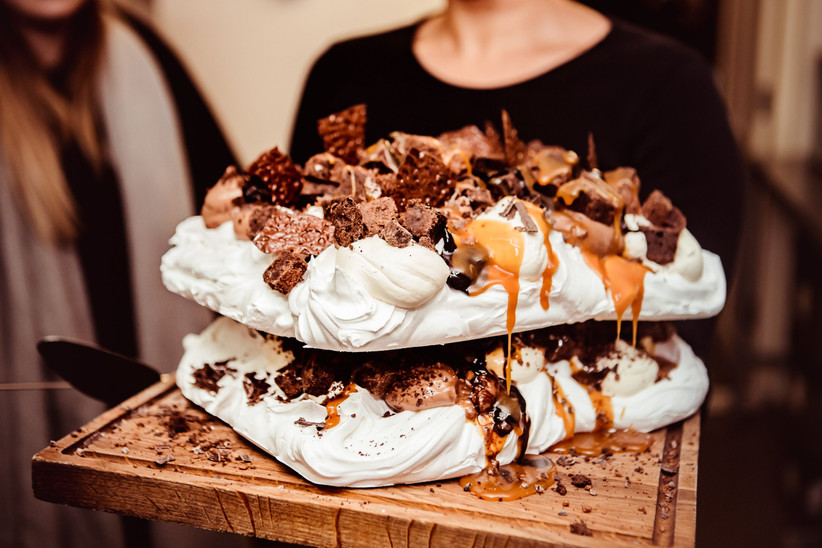 Interactive feasting will continue to be hugely popular and feed into cultivating conversation between guests. From sharing-inspired mains to deluxe desserts designed to be portioned at the table, the atmosphere will be relaxed and convivial.
12. Tactile Experiences
Michal of Blooming Haus comments, "Haptic [touchable] features are becoming extremely important in the age of online shopping, as we seek more human contact, touch and tactile experiences. We expect wedding professionals to bring this important element to the foreground in 2020 and beyond through natural texture, fabrics and pairings cleverly incorporated to surprise and delight!"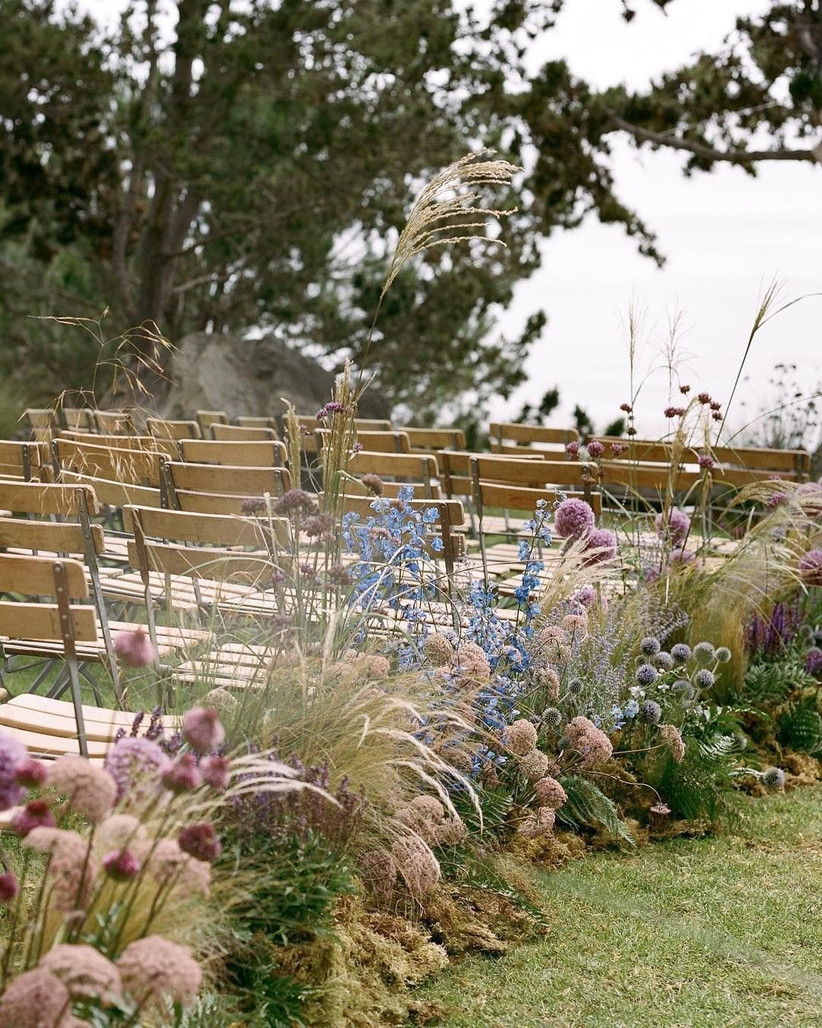 Image: Pinterest
That could mean everything from velvet tablecloths and table runners that your guests can't help but run their fingers over, to tall grasses decorating your aisles they must step through to get to their seats. Picture that wedding scene in Crazy Rich Asians and you'll know what we mean.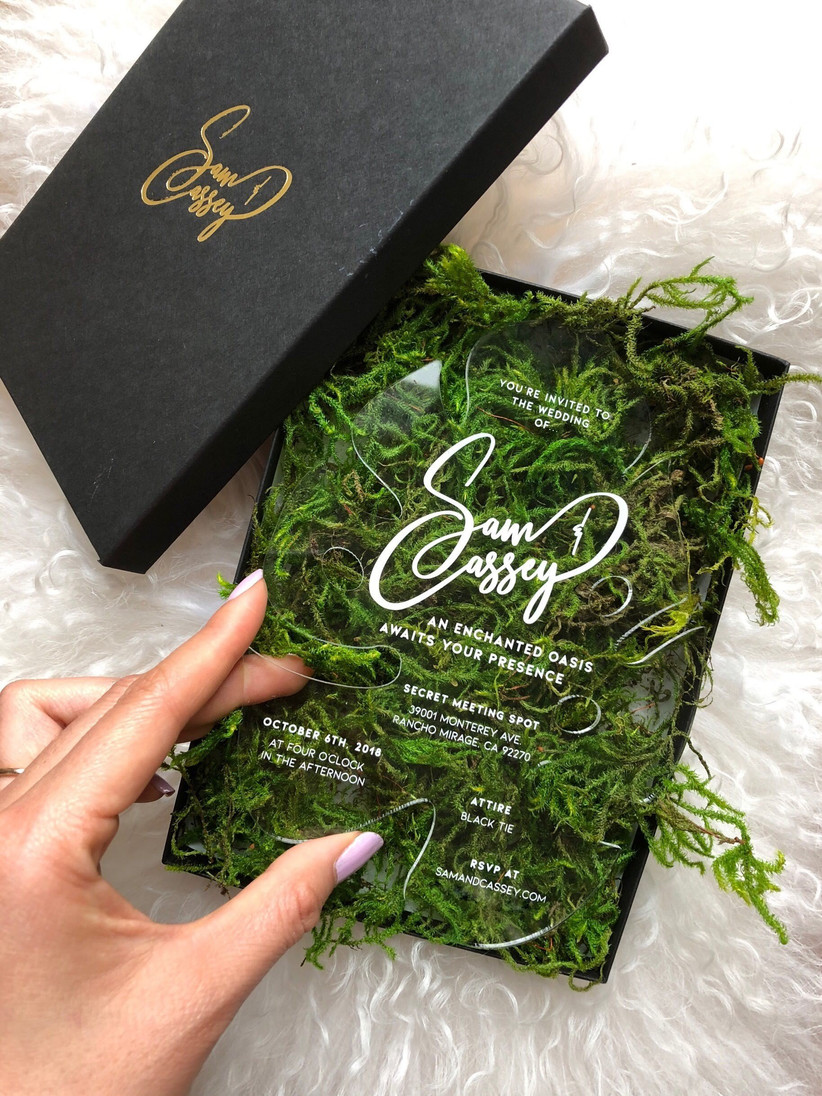 Image: Pinterest
Invitations are great for texture: smooth acrylic; thick, rough parchment; metallic foils; pressed flower paper; tassels and more. Delivering them in a box rather than an envelope adds another layer to the invite experience – be aware though, it's not particularly eco-friendly unless all of it can be recycled.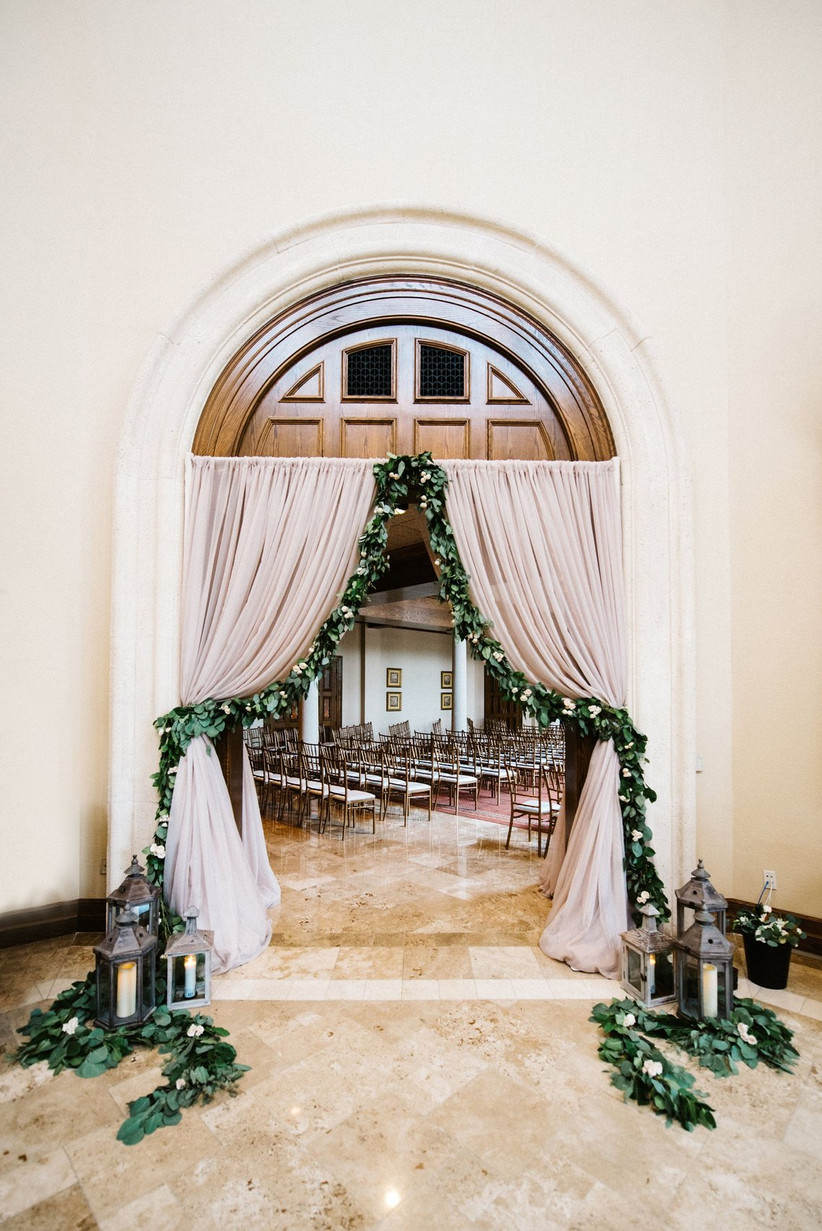 Image: Pinterest
Instead of just an arch at your altar, consider one that guests must pass under to enter your ceremony space. Draped fabrics are beautiful, while old wooden doors are a fantastic rustic option. Inside, you could use vintage furniture, eclectic patterns, or finishing touches of cushions and blankets to add even more texture to your seating.
READ MORE: 23 Awesome Eco-Friendly Wedding Products
13. Two-in-One Wedding Dresses
A ceremony dress and a reception dress will become a staple in 2020 as brides find more way to show off their personality and style. Celebrities like Billie Faiers, who changed into a playsuit for her evening party in the Maldives, and Ellie Goulding, who wore four outfits, are fuelling a demand for multiple looks through their day.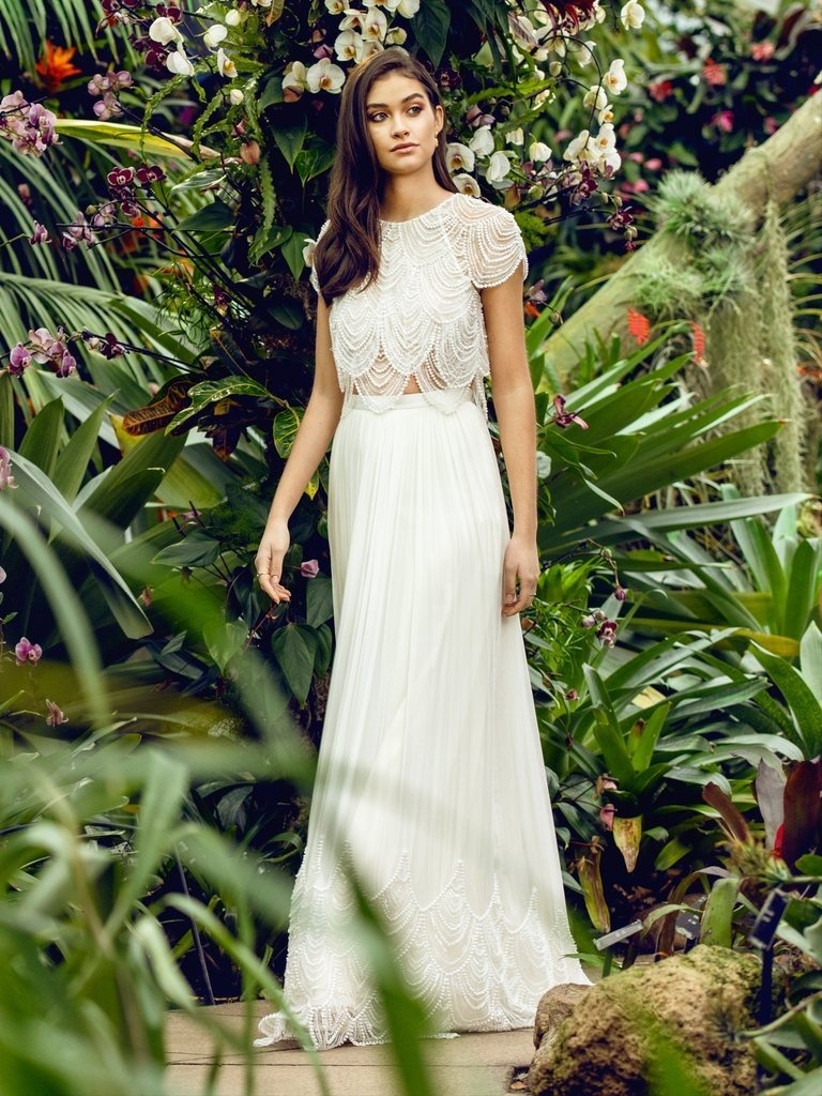 Image: Catherine Deane
As well as two dresses, this will take shape in a rise in bridal separates, where the same skirt or trousers is paired with different tops. Catherine Deane and Charlie Brear are the queens of the bridal separate.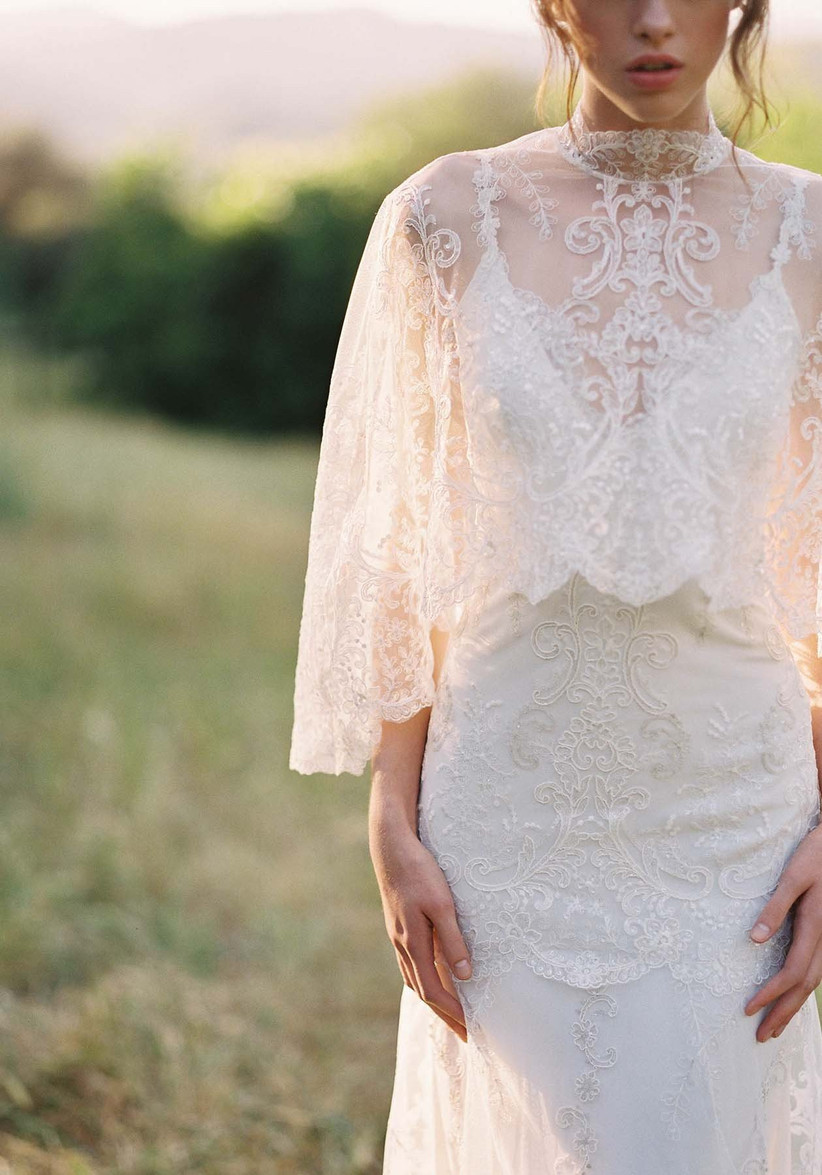 Image: Claire Pettibone
Alternatively, brides will be using cover-ups as an affordable way to change their look while keeping the same base-layer dress. Capes, full-length lace cover-ups and structured jackets will be used to adapt and individualise outfits and save the reveal of the dress in all its glory.
14. Statement Tablescapes
As huge centrepieces fall out of favour, lavish and extravagant tablescapes will step up as a way to bring interest to your tables. Personalisation is the driving force behind this: couples no longer want their wedding breakfast tables to look the same as an upmarket restaurant dining experience. Colours, textures and unique touches will bring a tailor-made look to tables.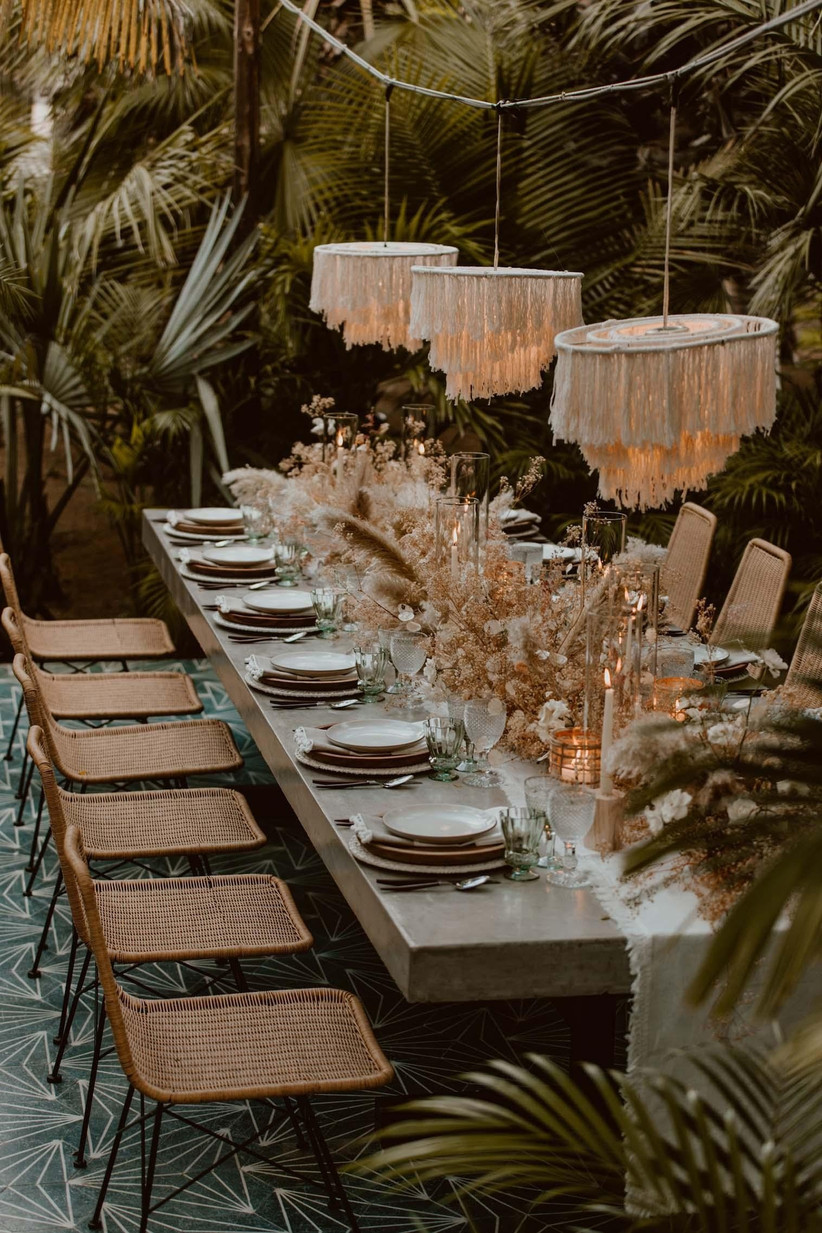 Image: Pinterest
"The styling of the food and drink is almost as important as the taste," according to Johnny Roxburgh. "There is a definite rise in the number of companies supplying a wide range of china and glass to create interesting tabletops. Even the simplest food can wow guests when served on an interesting plate."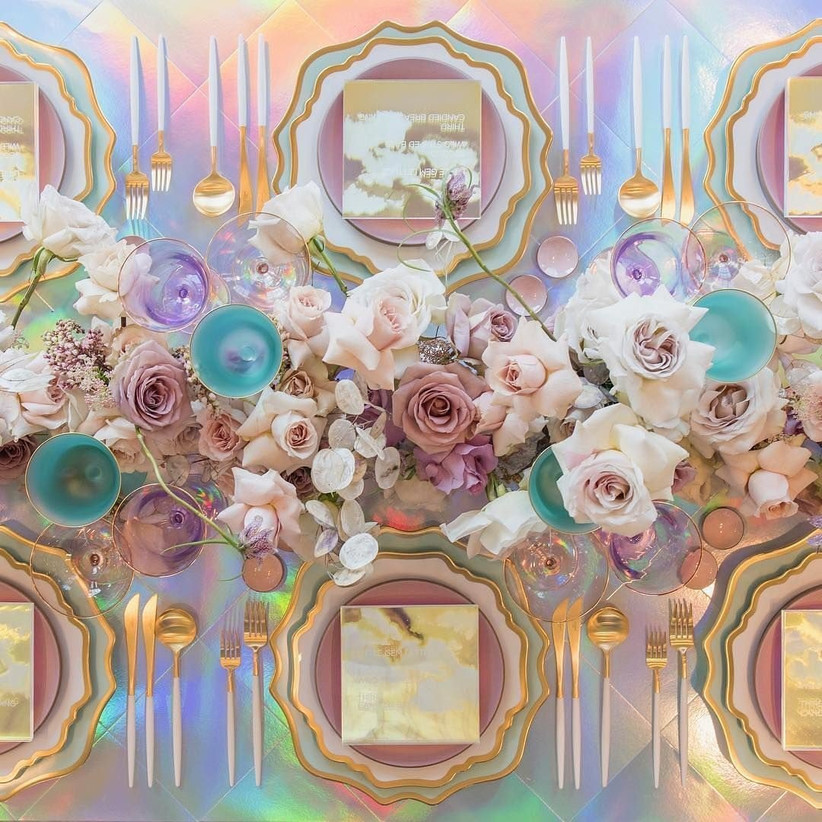 Image: Pinterest
Expect layered plates, macrame table mats, coloured glass and cutlery, textured tablecloths, and a focus on lighting. Huge candles, chandeliers and hanging lamps will draw the eye up so there's visual stimulation everywhere you look.
15. Confetti Alternatives
Confetti has had it's day. While biodegradeable petal confetti is a popular alternative, lots of other different ways of sending off the newlyweds after they've said their vows are going to be big in 2020.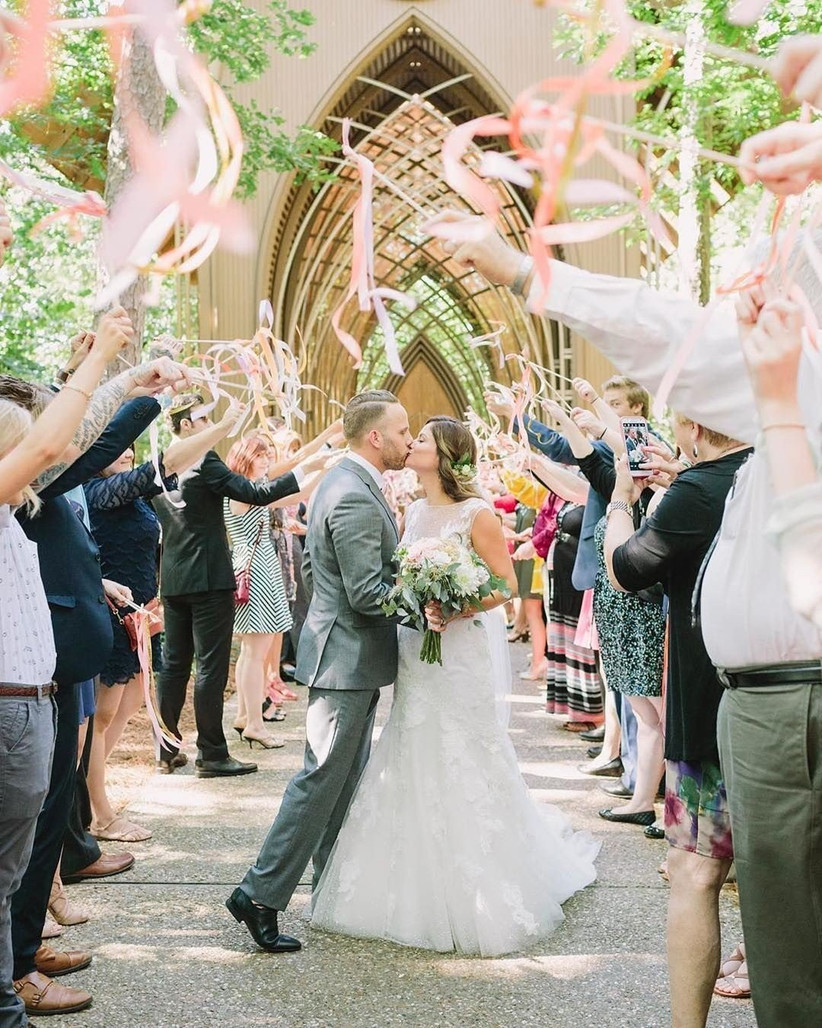 Image: Pinterest
Ribbon wands are one of our favourites. Pastel shades look amazing being waved aloft at spring and summer weddings, while jewel tones and rich earthy colours look fabulous in autumn and winter. You'll find almost any colour of ribbon wand you could imagine on Etsy but it's also easy to DIY your own.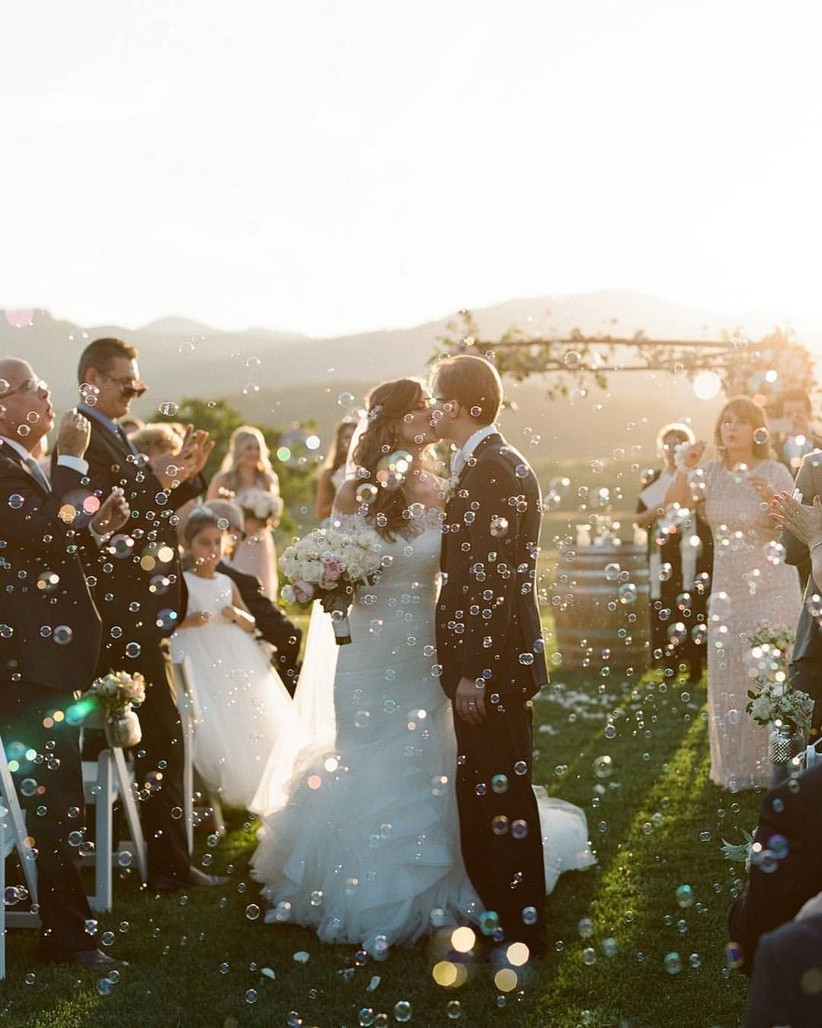 Image: Pinterest
Bubbles will also stake their place as a confetti alternative. A cloud of bubbles around the couple looks incredible in photos, especially at a sunny wedding where they'll catch the light. Bubble are pretty eco-friendly too, just make sure to buy recyclable tubes of them.
16. Sketched Stationery
"When it comes to the stationery and paper goods for your wedding, in the lead up and the day itself, the style de jour is very much hand drawn and artful," says Rebecca Hoh-Hale of Most Curious. "Not only the hand-penned lettering, but sketches and personalised illustrations are desirable for 2020 and will be loose and off-the-cuff, simply outlined and a little naive."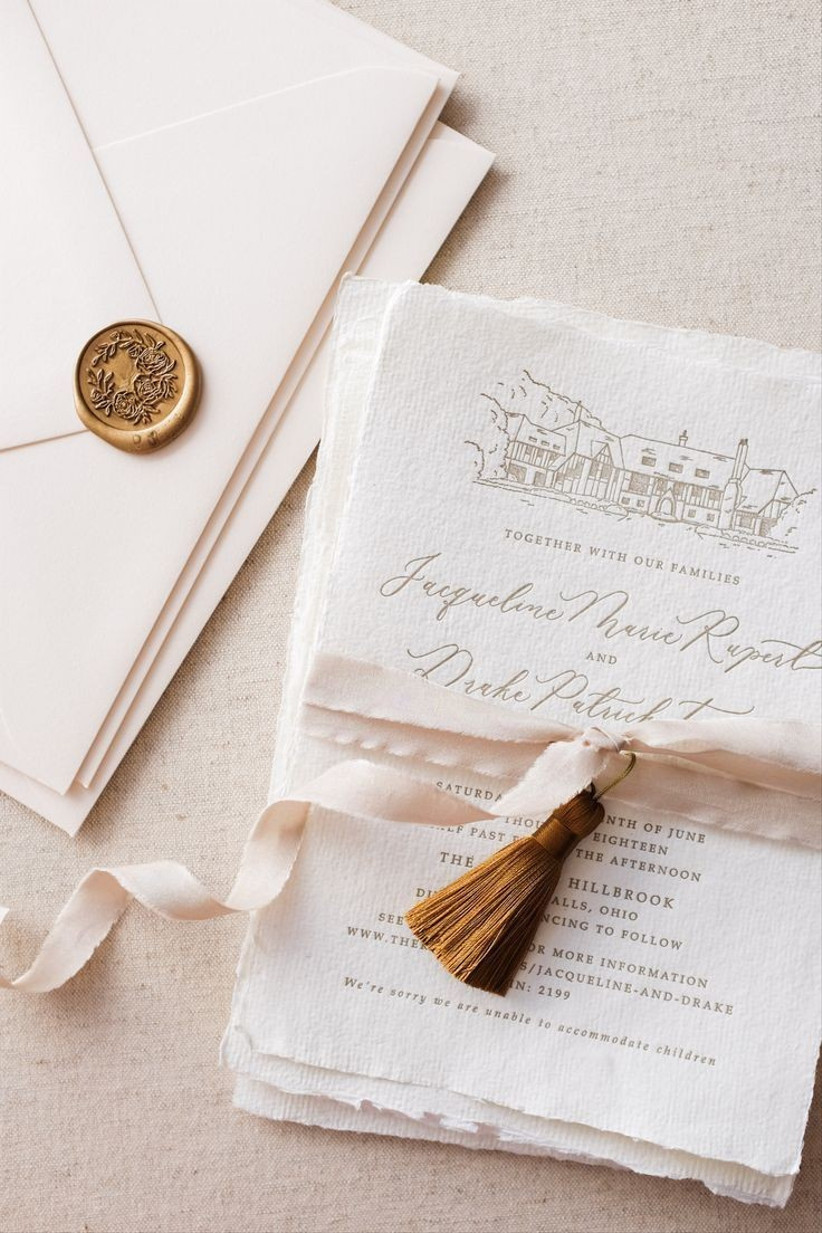 Image: Pinterest
If someone you know is good at art or graphic design, it's a wonderful personal touch to ask them to do a simple sketch or line outline of your venue or church to add to your stationery.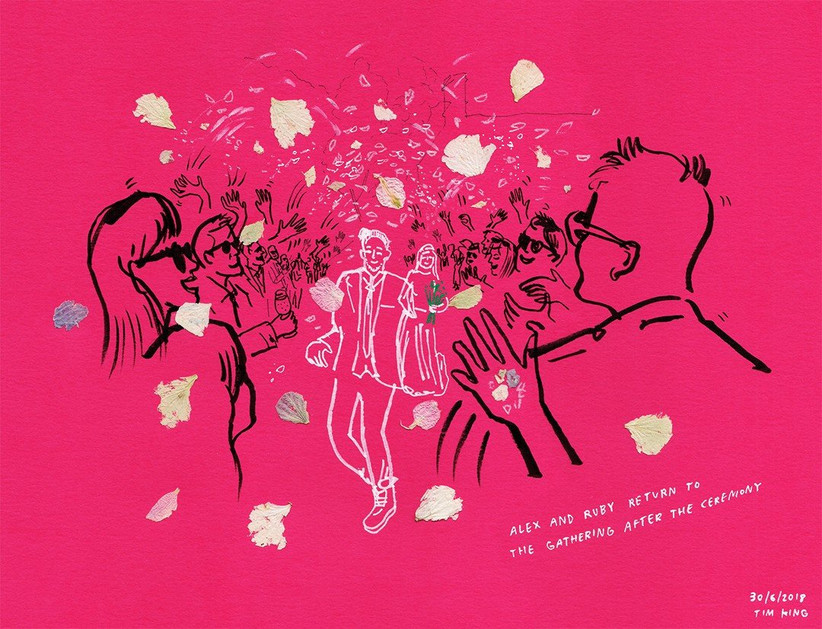 Image: Most Curious/Draw My Wedding
Want something even more special? How about these live reportage illustrations of your day as it happens? Illustrator Tim King of Draw My Wedding captures the atmosphere, emotion and unstaged moments of your wedding day in original artworks you can treasure forever – an incredible and unique idea that's going to take off in 2020.
17. Victoriana Dresses
Ellie Goulding tapped into another trend: the high necklines and low hemlines of the Victoria tend. The modern take on this modest look incorporates ruffled necklines, long sheer sleeves, period-inspired layers and lace, plus flowing skirts that give a contemporary take on boho breeziness.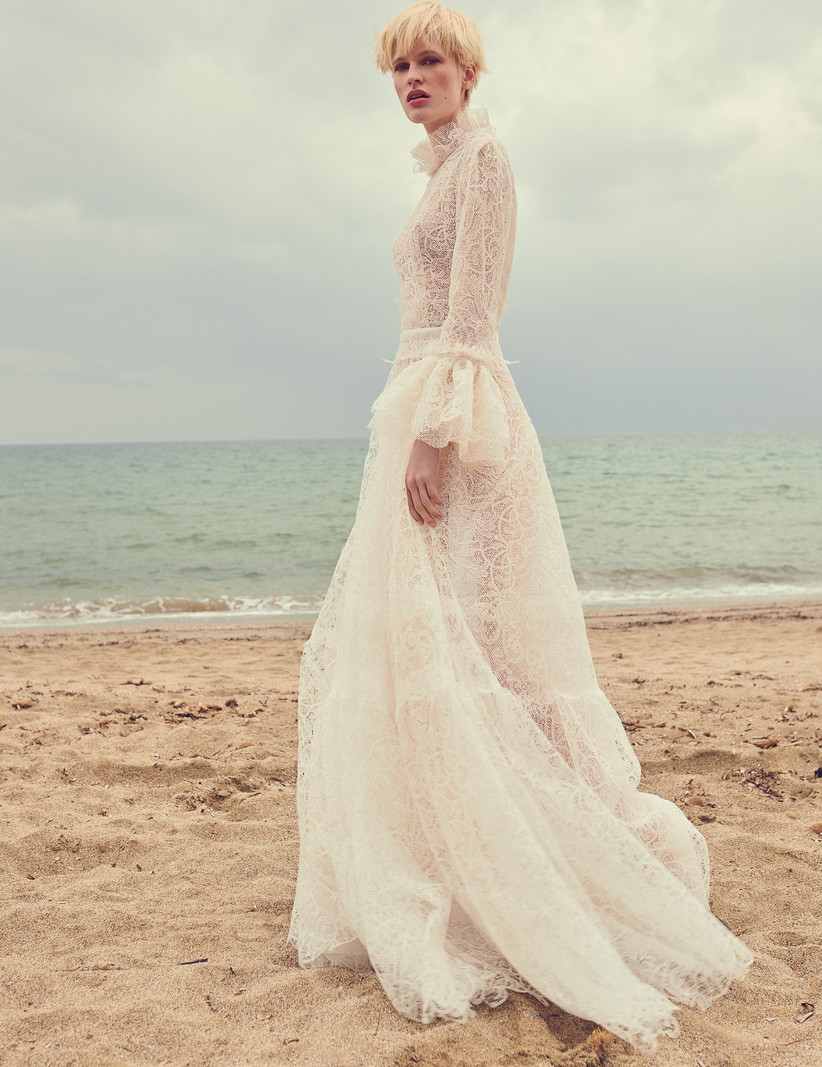 Image: Costarellos
With sheer and peekaboo fabrics, there's still a lot of sexiness to the modern Victoriana trend. Don't go thinking 'extra in Ripper Street'.
READ MORE: 45 Beautiful Tablescape Ideas
18. Point D'Esprit
Victoriana combines with another of our favourite trends for 2020: point d'esprit. This finely woven, dotted lace is a fantastic choice for vintage brides, but in 2020 you'll see bigger than ever dots on it. This Costarellos look below combines their Eoine pussybow blouse and the Acantha dress to tick the point d'esprit, high neck and two-dresses-in-one trend!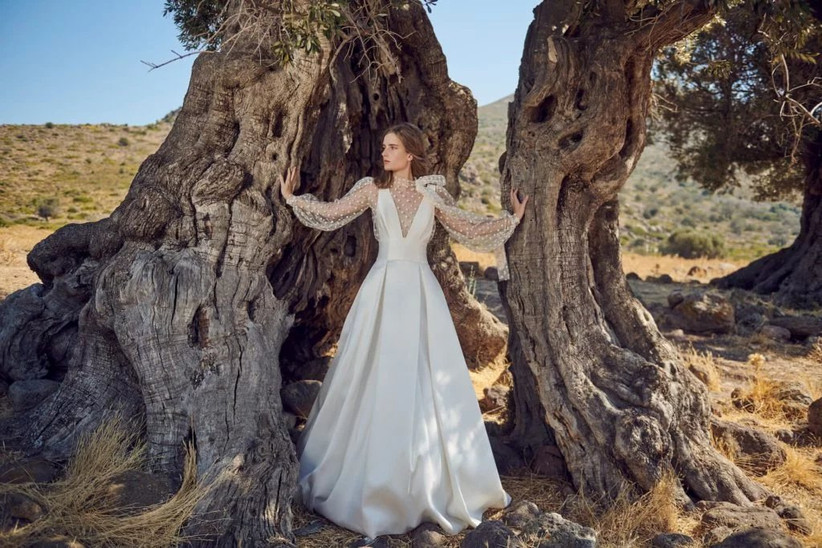 Image: Costarellos
Point d'esprit will be seen on veils, capes, pussybow neckties and sleeves, as well as incorporated into decor like tablecloths.
19. Gender-Mixed Wedding Parties
Instead of all-female bridesmaids and all-male groomsmen, 2020 will see a mix-up in how we choose who's in our wedding party.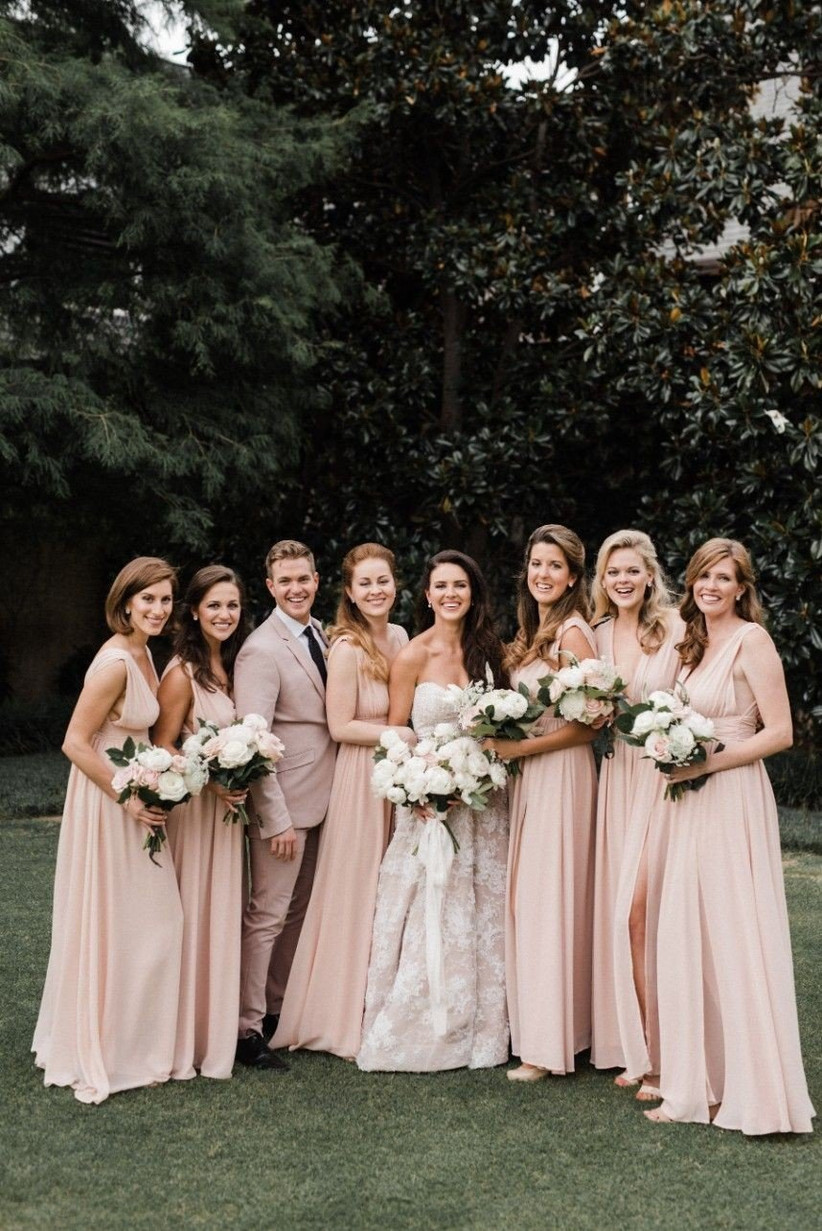 Image: Pinterest
With a rise in humanist weddings, a decline in religious ceremonies and more gay weddings, how we marry in 2020 is going to be very different from previous years. This will show itself most in the wedding party as gendered traditions are thrown out the window and replaced with just the people the couple want standing by their side.
We'll see more best women and males of honour, plus groomswomen and bridesmen. And there'll be less use of the term 'bridal party'. After all, there's not always a bride.
20. Goodbye Veils
Veils are something you go big or go home with. In 2020, we'll either see brides with cathedral-length veils (that reach the bottom of the dress) or ditching them entirely for alternative hair accessories.
Image: Pinterest
Expect to see big headbands the likes of which Blair Waldorf could only dream of, plus pretty pearl barrettes that bring the '90s classic into the 21st century. Head coverings will come in the form of hats (yes, really). Fedoras, wide-brimmed, even a top hat. You remember that scene in the Parent Trap where Annie helps out at her mum's wedding dress shoot and the model is wearing that amazing white hat? Exactly like that.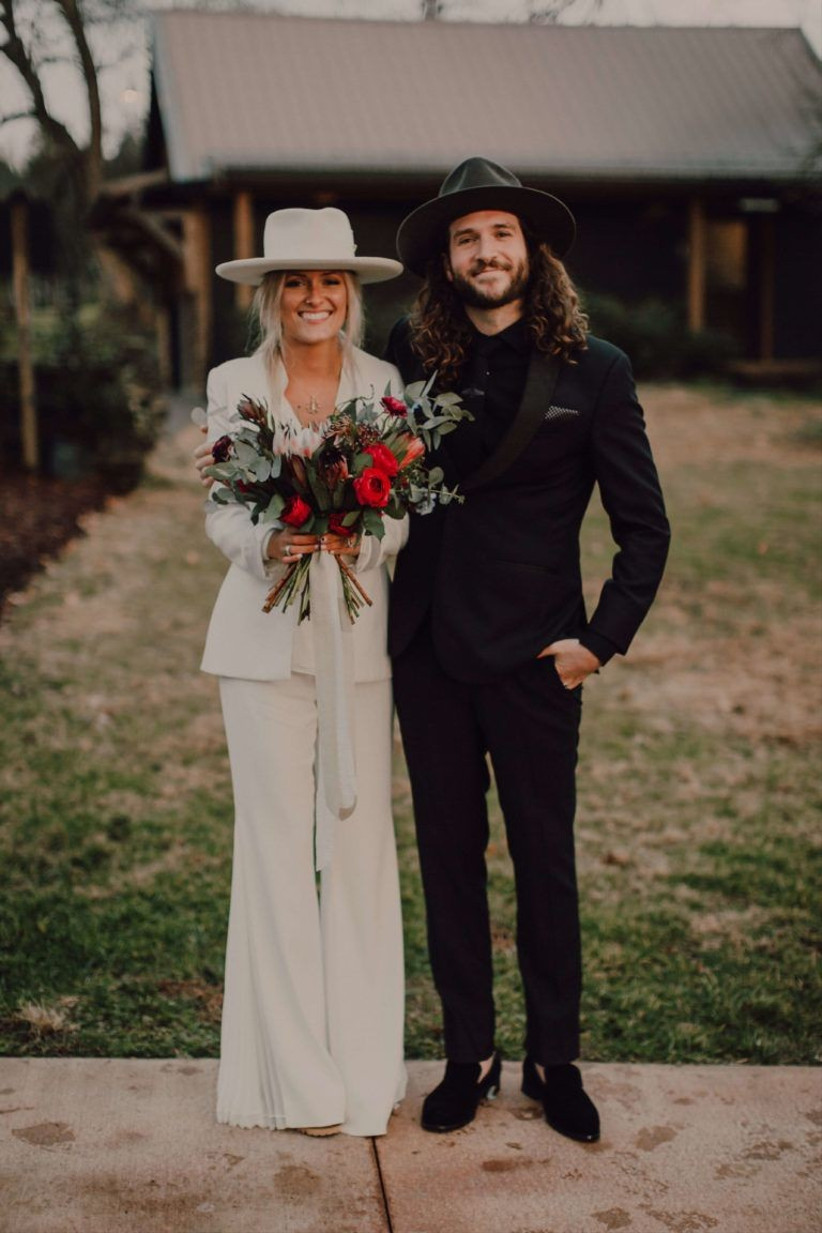 Image: Pinterest
Rebecca of Most Curious predicts that The Handmaid's Tale could even inspire a new hat look. "Headwear will have a historical flavour, with fabrics and millinery pieces close to the head with a wrapped sort of aesthetic. Regal, crescent head bands, floppy or structured visored bonnets (do not under estimate the osmosis effect of The Handmaid's Tale and Extinction Rebellion's Red Brigade imagery) or tighter capped styles will join head pieces and veils. All give that feeling of the head being covered and the face being closely framed."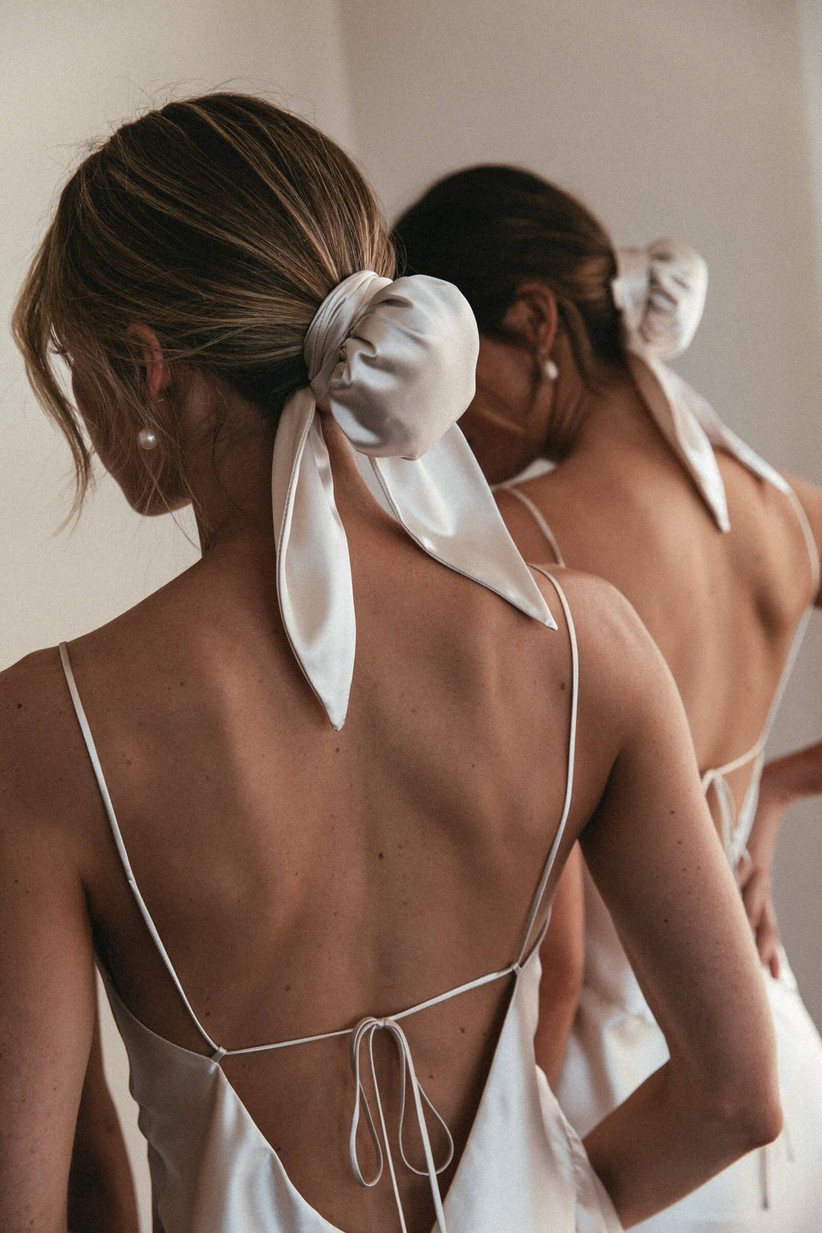 Image: Grace Loves Lace
Bridesmaids will be seen in matching hair buns, like the one below from Grace Loves Lace or simpler versions of the bride's elaborate headband.
21. The Patterned Groom
Maximalism is really playing in grooms' outfits in 2020. As well as keeping their faces fresh, men's suits will feature interesting finishes and designs, details and layers.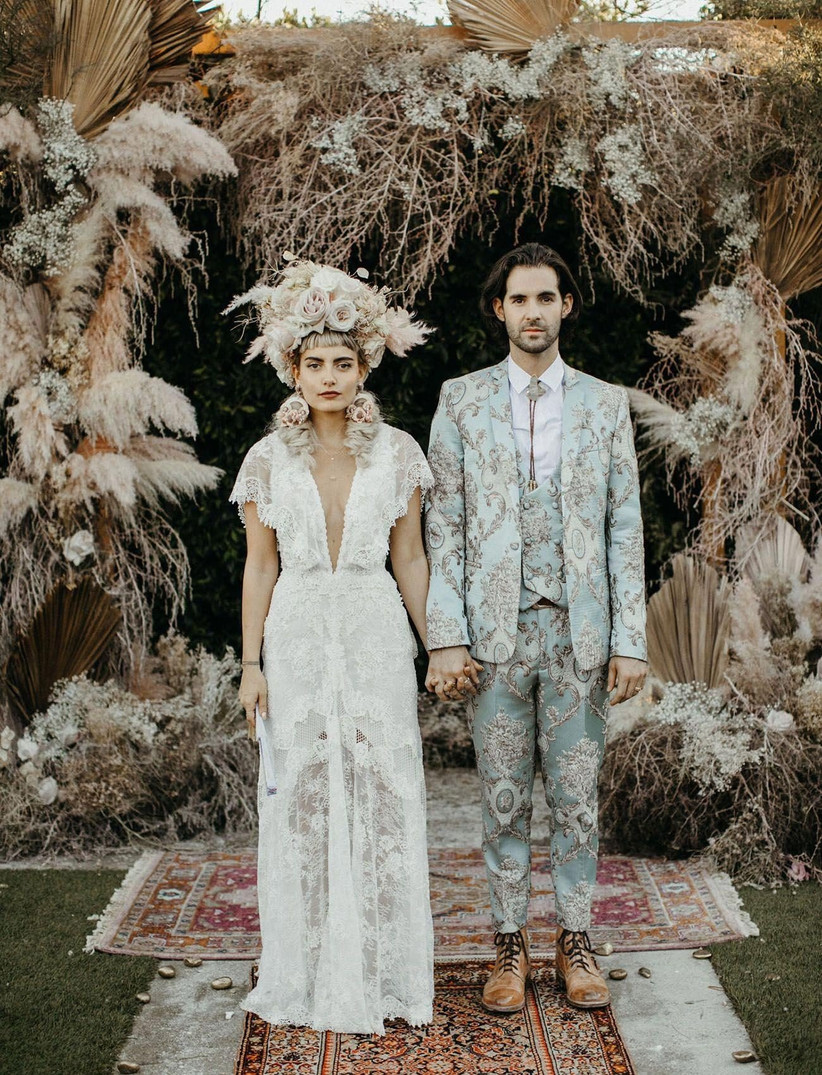 Image: Pinterest
What is Rebecca predicting? "Striped shirts under a coloured jacket, plus a Liberty print tie, or a velvet suit. Or checks, florals, maybe tartan or dog tooth, or some pattern/colour clash combos going on!"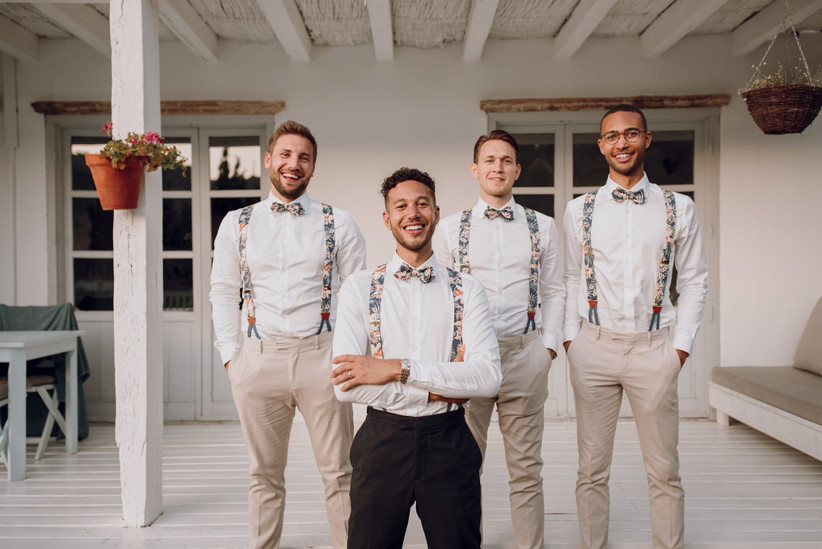 Image: Most Curious/Francis + Louise
Like these? Don't miss some of our other favourite trends: stacking rings and floral wedding dresses.