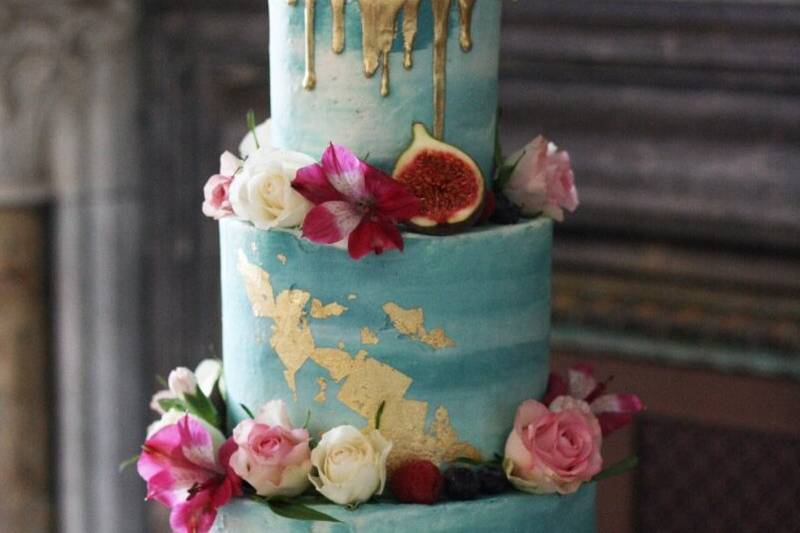 Choosing a wedding cake is often seen as one of the less stressful stages of wedding planning but, with so many wedding cake suppliers out there, making a final decision on who to book can be tricky.
To make things easier, we've put together a list of questions you need to ask your wedding cake supplier before you book with them.
READ MORE: A Guide to Wedding Cake Prices
Image: Rosalind Miller Cakes
From the design and costs to their skills and availability, there's a lot to consider so we'd recommend printing this list out and having it on hand when you speak to potential wedding cake suppliers.
The Basics
1. Are You Available on My Wedding Date?
This is probably the most important question you could ask your wedding cake supplier. There's nothing worse than totally falling in love with a wedding supplier's work, only to find out they're booked on your date. We'd advise booking your wedding cake supplier at least six months before your wedding – some professional bakers book weddings up to a year in advance!
2. Are You a Registered Food Business With a Food Hygiene Safety Rating?
Any professional wedding cake company will have some sort of food safety certificate and won't have any issue with showing it to you if requested. This will help you ensure that you're hiring a genuine, professional wedding cake supplier.
READ MORE: The Best Wedding Cakes in London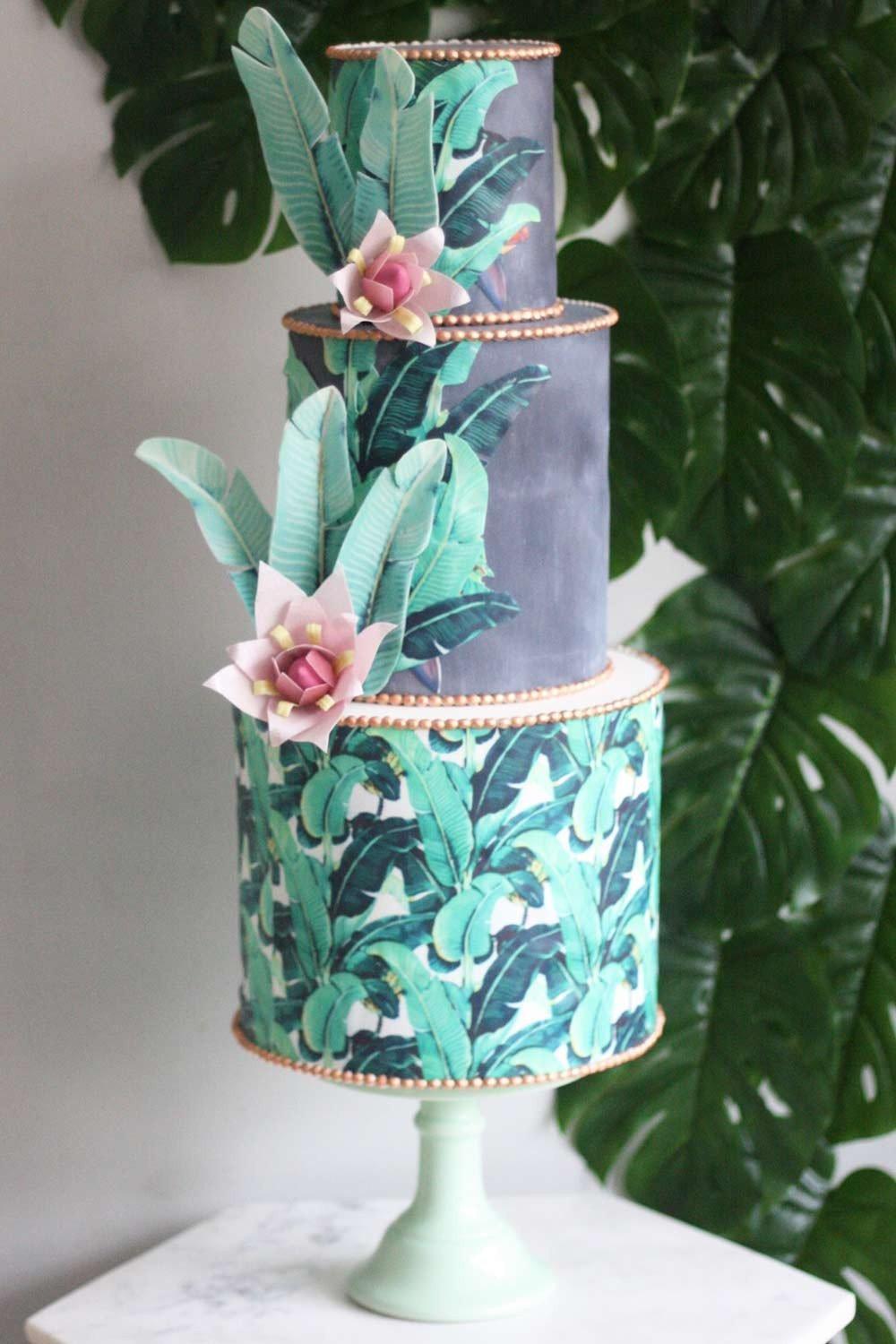 Image: Malarkey Cakes
3. How Long Have You Been in Business?
While the number of years a wedding cake company has been in business doesn't define their level of skill, knowing someone has a few years of experience behind them always helps ease any doubts you may have about hiring them. They'll have faced more challenges and know how to get round them – from keeping a buttercream cake fresh in heatwave to dealing with couples or guests with allergies..
4. How Many Wedding Cakes Have You Made?
Similar to the above question, the number of wedding cakes a person has made doesn't necessarily mean they're better than someone starting out in the business or moving into the wedding cake market. However, the more wedding cakes a supplier has made, the more experience they'll have and more examples of their work they can show you. If you're a couple who're looking for an experienced, established supplier, this is a great question to ask.
5. Did You Make All The Cakes Pictured In Your Portfolio?
When searching for a wedding cake supplier you'll see a number of beautiful cake pictures on their website and it's always worth asking which of these cakes they've created. Lots of wedding cake makers will use examples of cake designs they're willing and able to create rather than cakes they've actually made themselves.
READ MORE: The Best Supermarket Wedding Cakes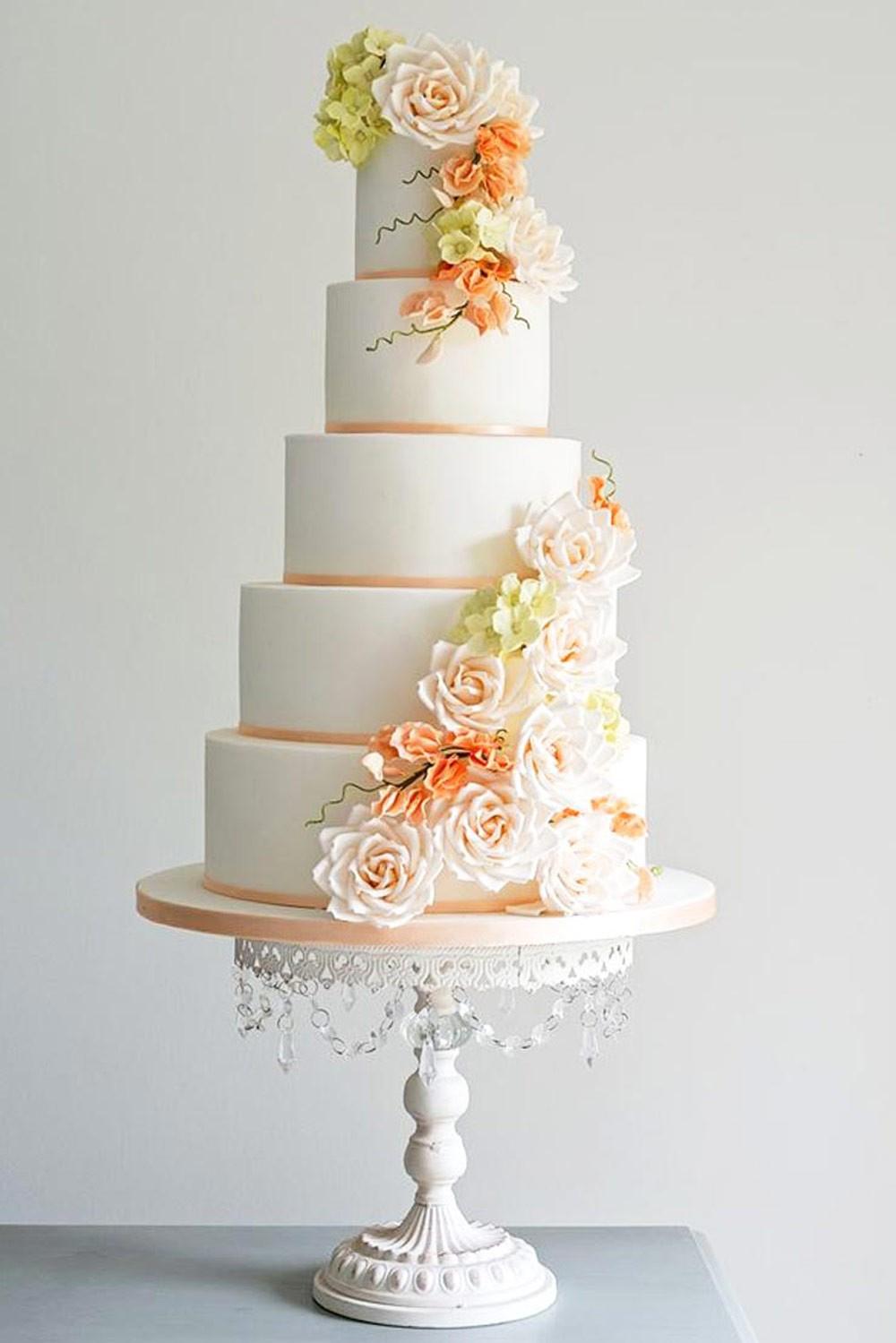 Image: Charlotte Emily Cake Design
About Your Cake
6. What Size are the Portions?
Wedding cake suppliers will be able to tell you how many portions you can get from each of their cake sizes, but it's always worth asking to see an example of their portion sizes. If you're doubling up your wedding cake as dessert, you don't want to serve tiny slices to your guests and, equally, if the cake supplier's portion sizes are huge, you might want to order a smaller size and give less out to your guests.
7. How Big Should Our Cake Be?
Your cake maker will be able to direct you to the best size and shape of tiers to feed your guests. Naturally your budget will have a bearing on this so be honest about how much you'd like to pay and see what's feasible for that cost.
8. What Flavours Do You Offer?
Most wedding cake suppliers will offer more than just the standard Victoria sponge, lemon, chocolate and fruit flavour options but don't just assume as some of them won't! If you have your heart set on a slightly more unusual wedding cake flavour, ask this question early to avoid disappointment.
9. Do You Offer a Cake Tasting?
What your wedding cake tastes like is almost as important as what it looks like. The majority of wedding cake suppliers will be able to offer you a cake tasting appointment, or at the least, allow you to try samples of all their flavours before you're asked to make your decision.
10. Can I Have Different Flavours in Each Tier?
It may sound like an obvious question, but you'd be surprised how many suppliers won't offer this service. While most wedding cake suppliers will allow you to mix and match your flavours in a multi-tier wedding cake, not all will.
READ MORE: How to Make Your Own Wedding Cake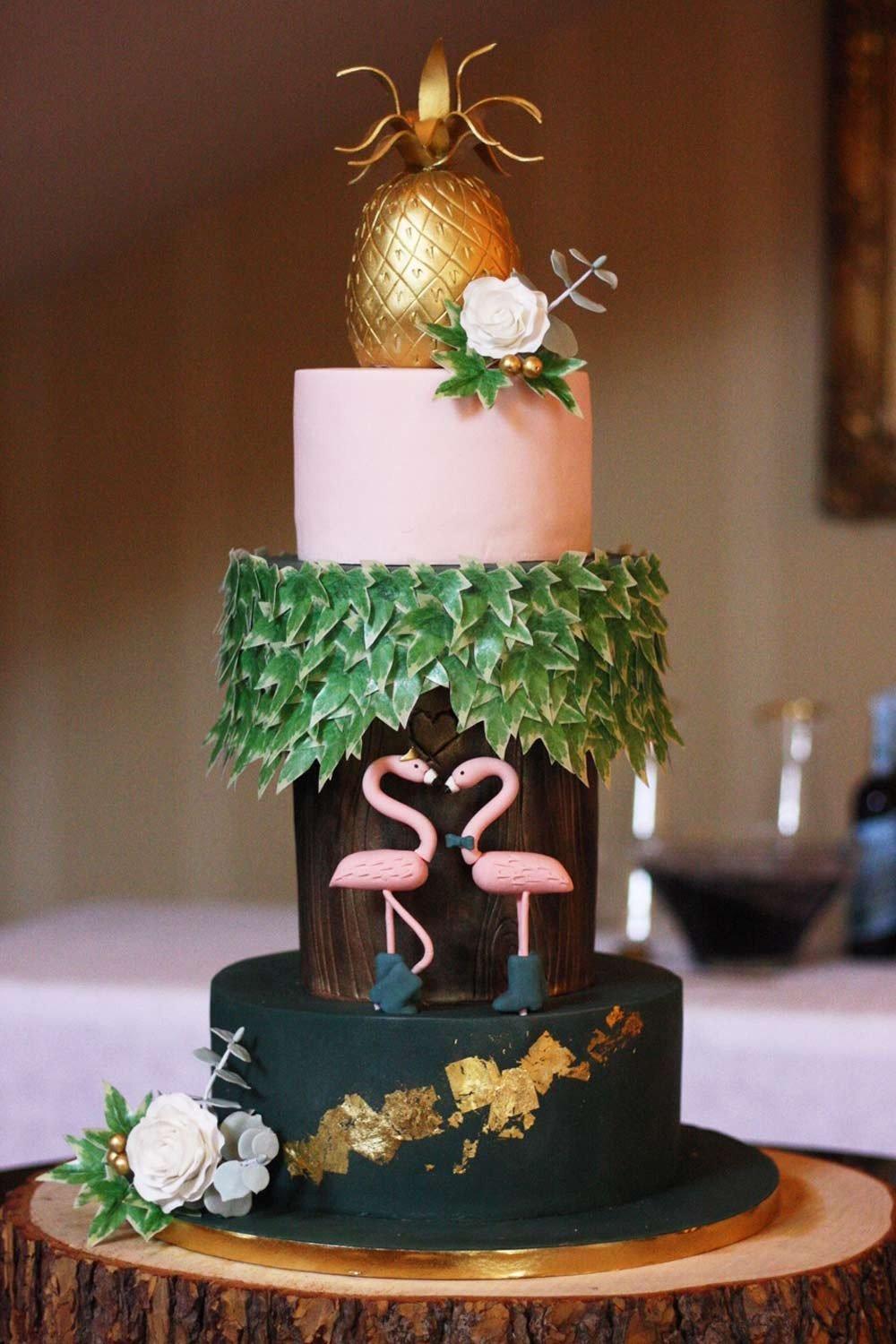 Image: Malarkey Cakes
11. Do You Offer a Design Consultation?
If you're asking for a bespoke wedding cake design or making changes to one of your wedding cake supplier's existing designs, you should expect to pay for, or be offered, some sort of design consultation.
12. Will I Get a Sketch of My Wedding Cake Design?
Again, if you're having a bespoke design created, it's really important you ask whether or not you should expect a sketch or drawing of what the wedding cake will look like.
13. Do You Use Buttercream or Fondant Icing?
Price-wise, buttercream wedding cakes tend to be cheaper than fondant and sugar work as the level of skill and time it takes to decorate is lower. Asking what services and finishes your cake supplier offers will also help you to decide if their style or price range is right for you.
14. Are Your Fresh Flowers Treated Properly?
If you're having fresh flowers on your wedding cake, make sure you check that they aren't poisonous or sprayed with pesticides. The flowers needed to be treated properly and with edible sprays if they are to be used on a wedding cake.
READ MORE: Find Your Dream Wedding Cake Supplier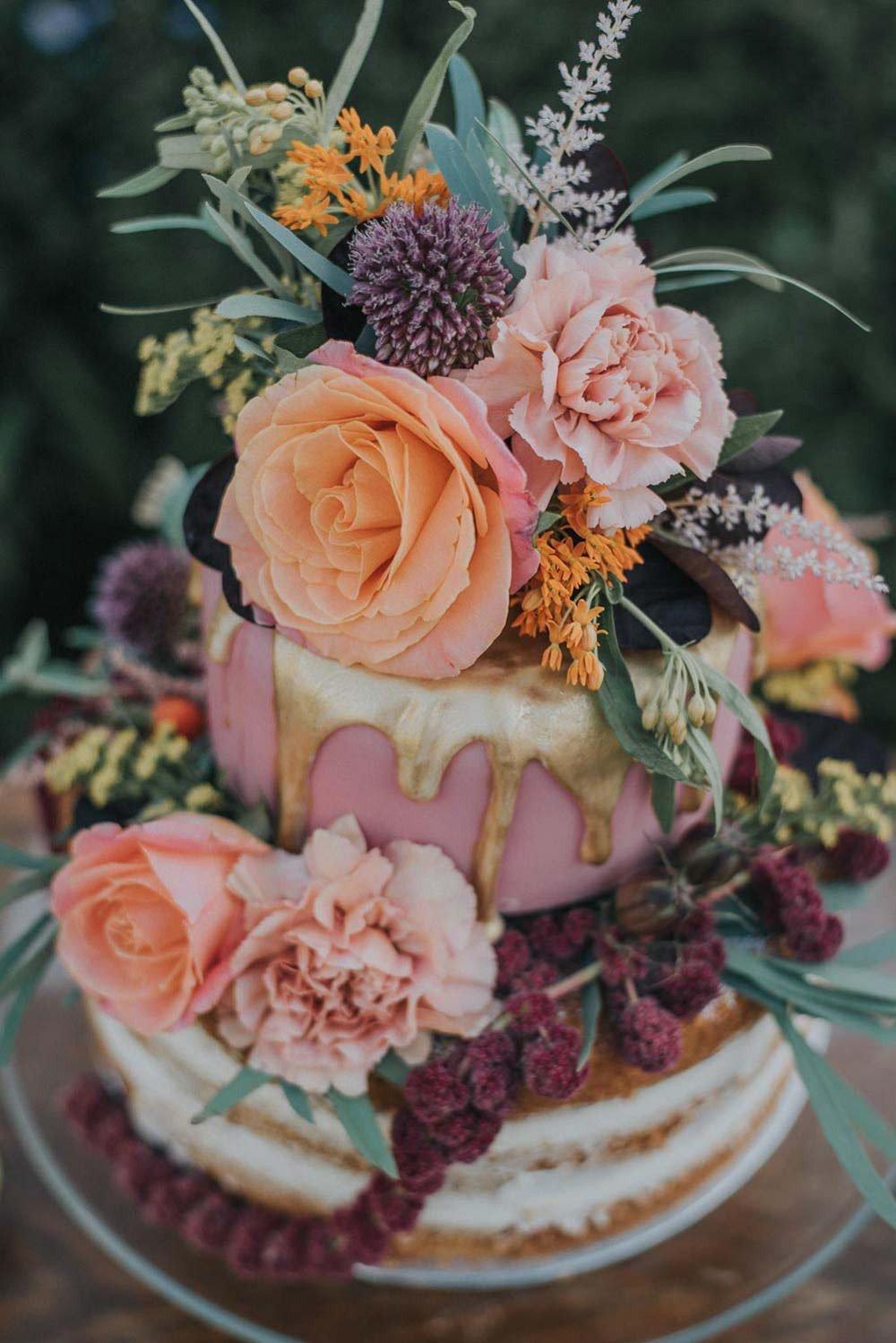 Image: Herbert & Isles
15. Do You Offer Gluten Free or Vegan Tiers?
If you or any of your guests have special dietary requirements, such as vegan or gluten free, you need to ask if your cake supplier can cater to that. Can they make a special tier for the cake or a smaller separate cake if any cross contamination might be a problem?
16. Can I View the Cake Before the Wedding?
Lots of wedding cake suppliers will send a picture of your wedding cake before the day to ensure you are completely happy with the design and to cater to any final requests you may have, but not all do so this is worth checking.
Extras
17. Do You Offer Edible Wedding Favours?
If you're already placing a wedding cake order with this supplier, you might be able to get your wedding favours at a discounted rate. Cookies, macarons or cake pops would make amazing edible wedding favours.
18. Can I Order Extra Cake in My Chosen Flavours for Cake Boxes?
If you want enough cake for all your guests without splashing out for a huge wedding cake, why not ask your supplier if they'll make up a batch of sponge and buttercream that can just be cut up for cake slice boxes?
READ MORE: The World's Most Amazing Wedding Cakes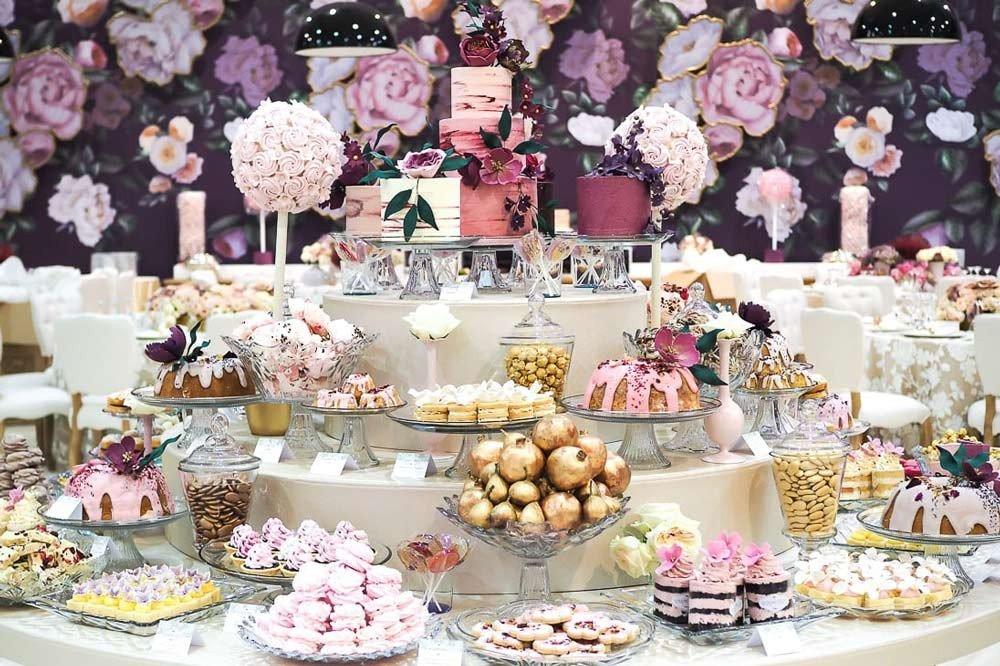 Image: Rosalind Miller Cakes
19. Do You Offer Polystyrene Tiers?
One great way to save money on your wedding cake is to have one or two polystyrene tiers that look just like cake once decorated. Not all wedding cake companies offer this service so definitely ask.
20. Can You Create a Dessert Table?
Dessert tables and wedding cake displays are a tricky thing to create. Not all wedding cake suppliers will be able to offer a service like this on the day so ask before setting your heart on a particular supplier.
Pricing and Payment
21. How Much is the Deposit?
Wedding cake prices can range from £100 up to £2,000 (yes, really!) and no one wants to be paying sums like that up front. Most cake suppliers will expect you to pay a deposit when you book and then pay the rest closer to your date.
22. When Do You Require Full Payment?
The 'pay in full' date varies depending on your supplier. Some companies will want the payment within 30 days of your wedding and some will take payment once the day is over and you're happy with your order.
READ MORE: 17 Awesome Wedding Budget Hacks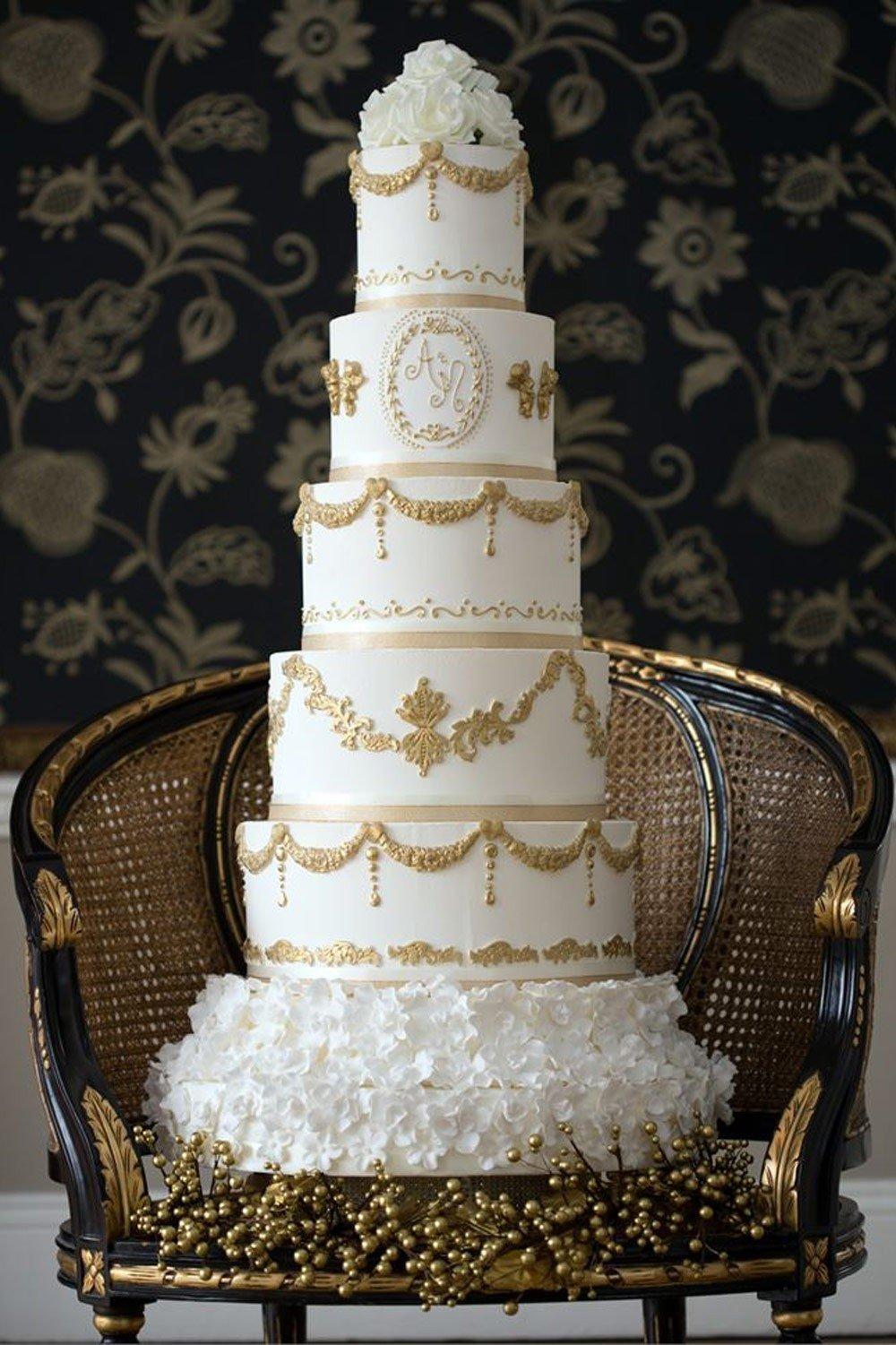 Image: Ann's Designer Cakes
23. Does the price include VAT?
Some cake makers may quote you a price that doesn't include VAT; if you are unsure then ask before you pay your deposit.
24. Do You Offer an Instalment Option?
Paying for your cake in instalments can ease the financial pressure on you of having to pay upfront; this is often an option you're ordering a cake over £500.
25. What's The Cancellation Policy?
This is a really important question to ask right at the beginning of your conversation with your wedding cake supplier. You need to know when the cancellation cut off is and what the financial consequences are for cancelling your order.
26. Can I Negotiate The Cost?
With the average cost of a wedding now at over £32,000, negotiating wedding costs is something every couple should try – but keep your negotiating expectations reasonable. Most wedding cake companies will consist of less than three people and the cost of the cake will be based on their level of skill and the time it takes to make it.
READ MORE: Discover How the Hitched Wedding Budget Planner Can Help You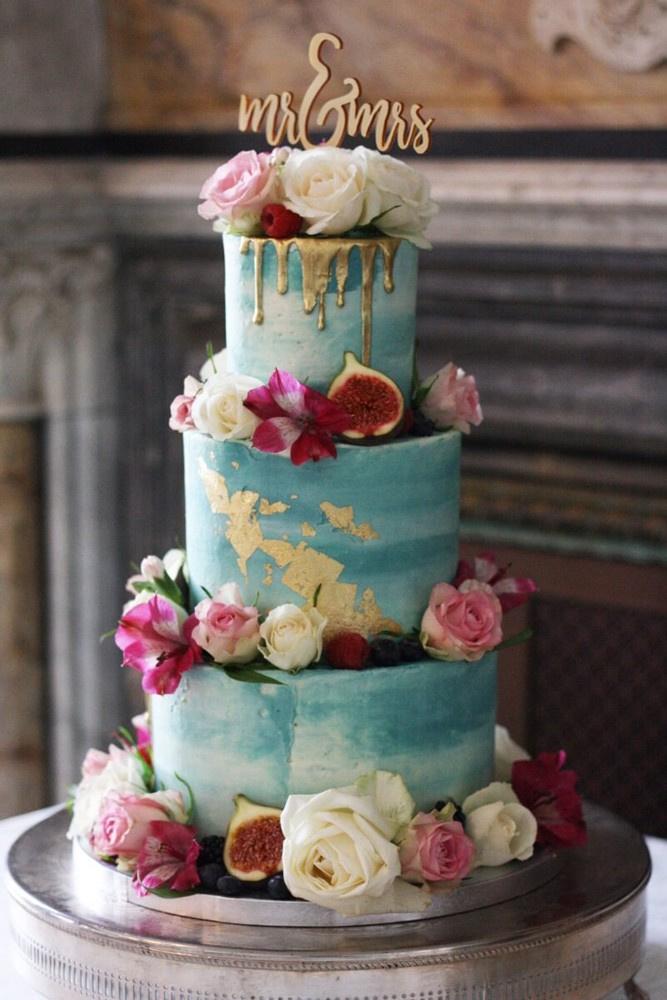 Image: Malarkey Cakes
On the Day
27. Will the Cake be Delivered? Where? What Time?
Knowing the logistics of your wedding cake order is so important. You need know who is responsible for delivering the cake to the wedding venue and whether or not someone on your end is expected to collect it.
28. Is There a Charge For Delivery?
If your wedding cake supplier offers delivery, be sure to check to see if there is a charge. Most companies will charge a mileage fee so make sure you ask to avoid any hidden wedding costs.
29. Will the Cake be Set up on the Day?
This question is particularly important if you're having a dessert table or cake display. Delivery of the cake may not include setting it up and making it look amazing. You'll need to assign a bridesmaid or trusted guest with a keen eye for design to set it up otherwise. This is not something you want to discover and worry about on the morning of your wedding!
30. Will a Cake Stand and Cake Knife be Provided?
It sounds simple but this is something a lot of couples forget to ask. While most venues will have a wedding cake stand and cake knife, it might be a different shape, style and size to one that you need.
READ MORE: Wedding Cake Stand Inspiration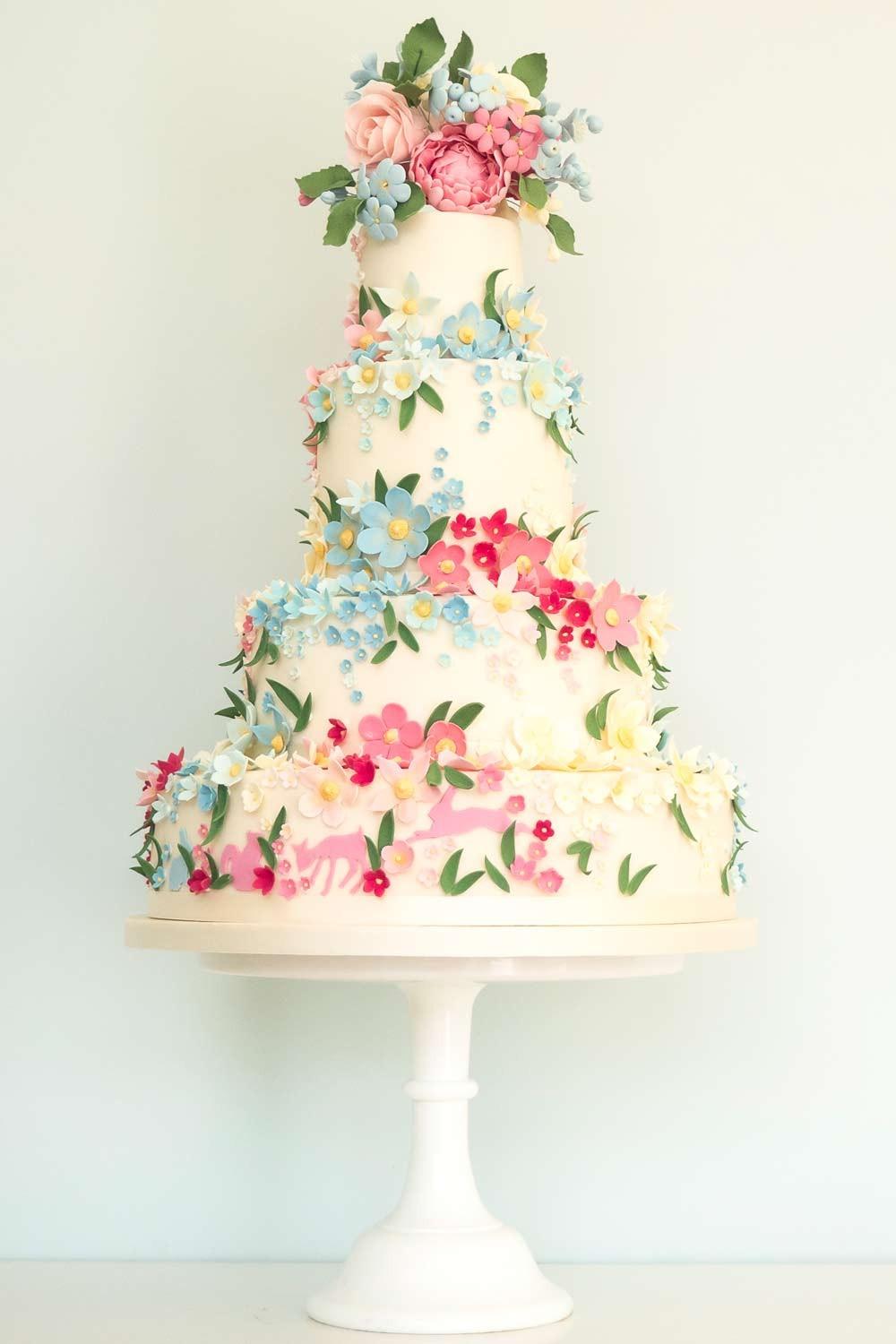 Image: Rosalind Miller Cakes
31. Who Organises Delivery Times With the Venue?
It's really important that you ensure your wedding venue and cake supplier are in contact with each other to arrange delivery times and access to the venue. This will avoid you or your partner dealing with phone calls from unorganised suppliers on the day.
32. What if the Cake is Damaged During Transition?
This is something that every couple should consider. While it's a rare occurrence, accidents happen and you need to know what rights you have. It's also worth checking what your own wedding insurance policy covers to make sure you're protected on your end.
33. What Happens if I'm Not Happy With Your Cake?
It's not the most positive scenario to think about while planning your wedding, but these things do happen and it's really important that your wedding cake supplier has a process in place for complaints and unhappy customers.
Thanks to Malarkey Cakes, Rosalind Miller Cakes and Ann's Designer Cakes for their input and advice in this article.