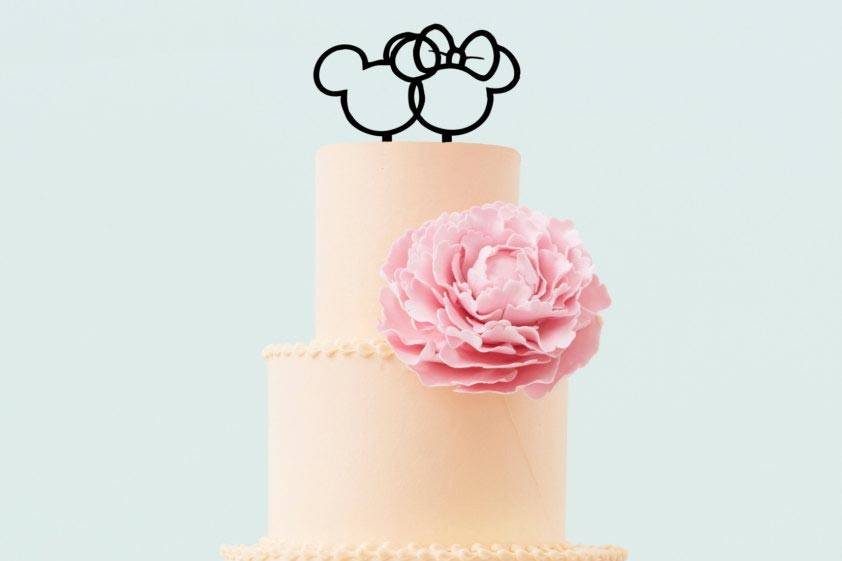 Love all things Disney? You're not alone – after all every Disney story is a beautiful fairytale with a happily ever after, and that's exactly what a wedding should be. We've rounded up our favourite Disney wedding cakes to inspire you.
If you're a Disney obsessive, we think you'll adore our round up of the best Disney love quotes – they're perfect for adding even more romance to your special day.
Tinkerbell's Magic
This wedding cake is a Disney Weddings special and it's SERIOUSLY magical. It appears like a classic, white wedding cake made up of square tiers…until Tinkerbell appears by magic and sprinkles her fairy dust all over it. Not to ruin the magic, but it's done by having video projected on to the cake and will amaze your guests. It's the perfect choice if you love a bit of drama!
Genie's Magic Lamp
Is Aladdin your favourite ever Disney film? Well, you ain't never seen a cake like this. It's made by the incredible The Mischief Maker and features the Genie's golden lamp. That's not all – it also blows out purple smoke for an extra touch of magic. Just make sure none of your guests try to rub it.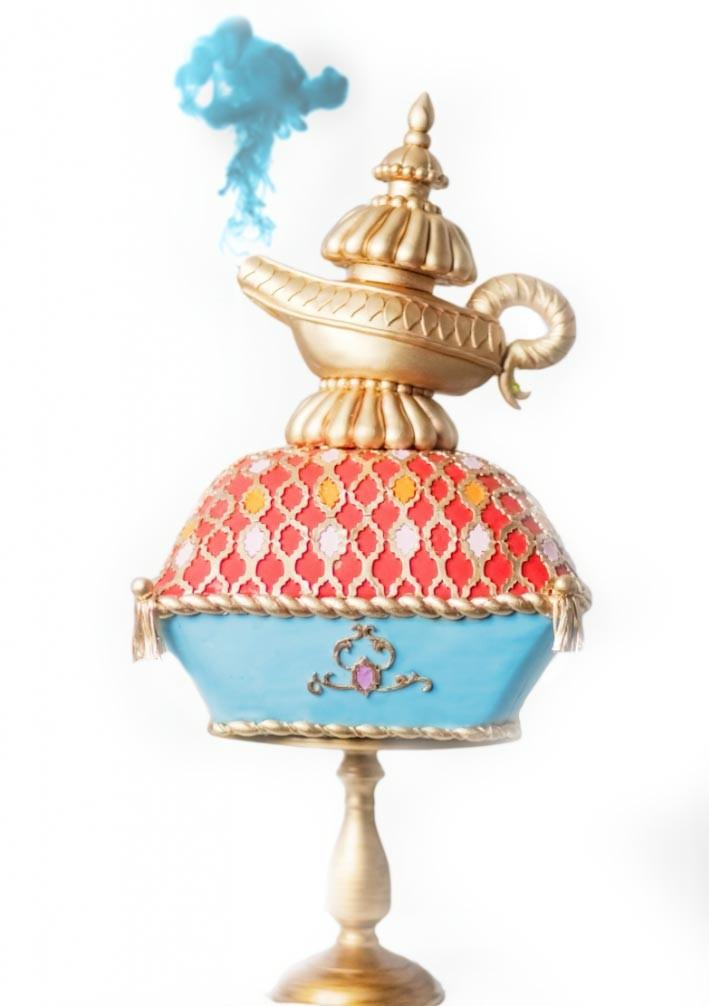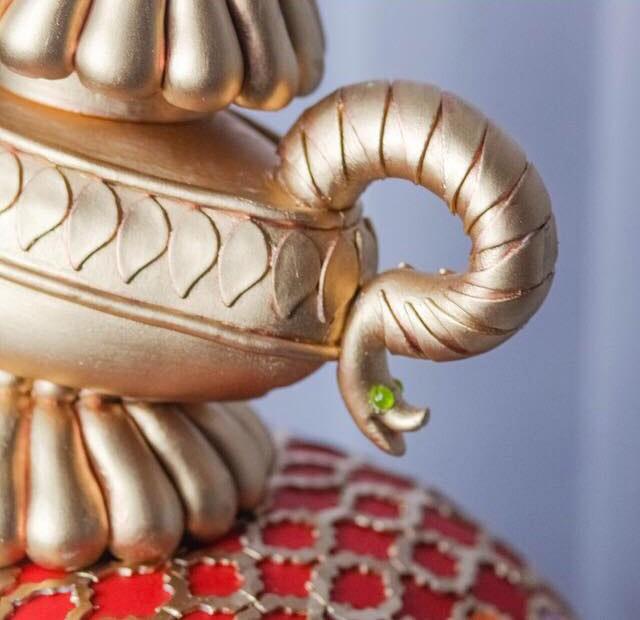 Alice in Wonderland
There are so many amazing Alice in Wonderland cakes out there – it's a popular choice as it works so well with the vintage, tea party feel favoured by many brides and grooms. And we're told there's no tea party like a Mad Hatter's tea party…
Some are more subtle, like these cupcakes by Sadie May Cakes. They're a great alternative to a wedding cake and will get the theme across without being too 'Disney'.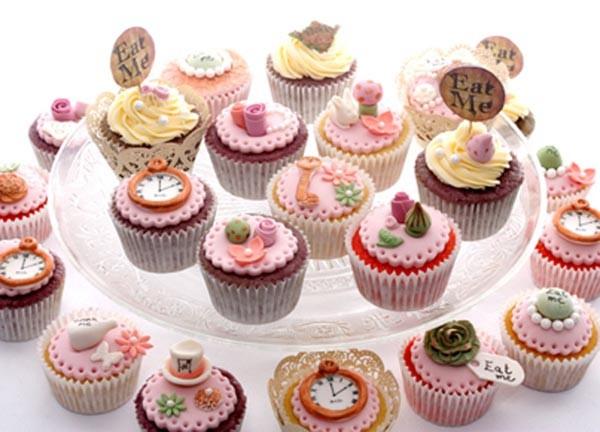 We also love this tiered cake by Sadie May Cakes which again gives a subtle nod to the Alice in Wonderland theme with the teacup detailing.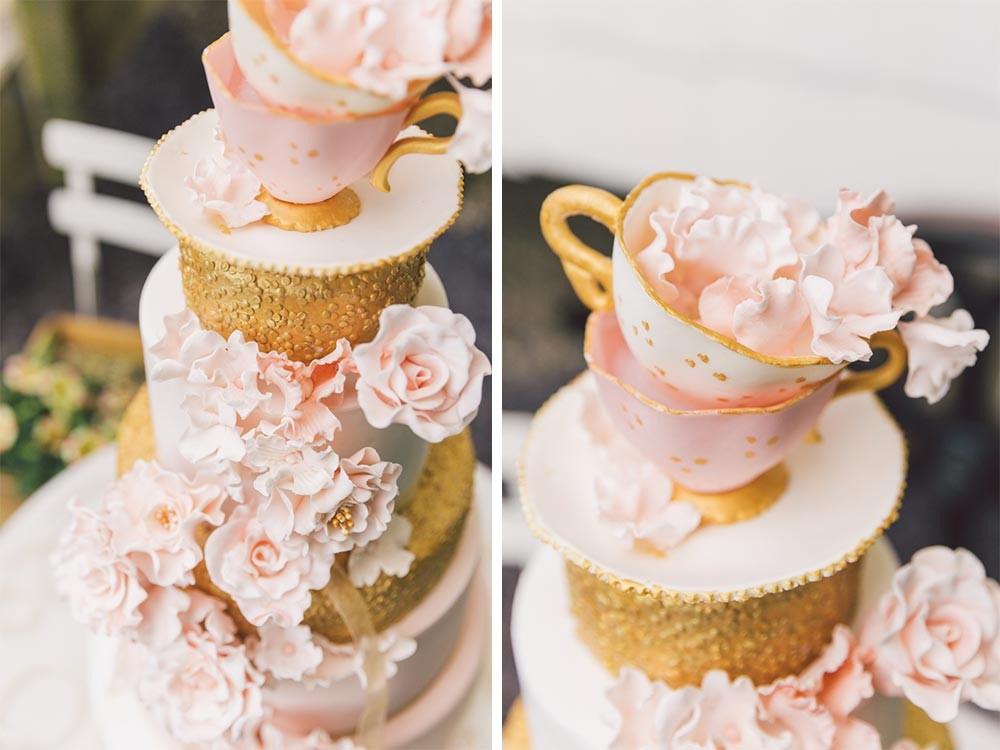 If you want an obvious theme (and really, why wouldn't you), then they also made this beauty which includes the classic illustrations from the book.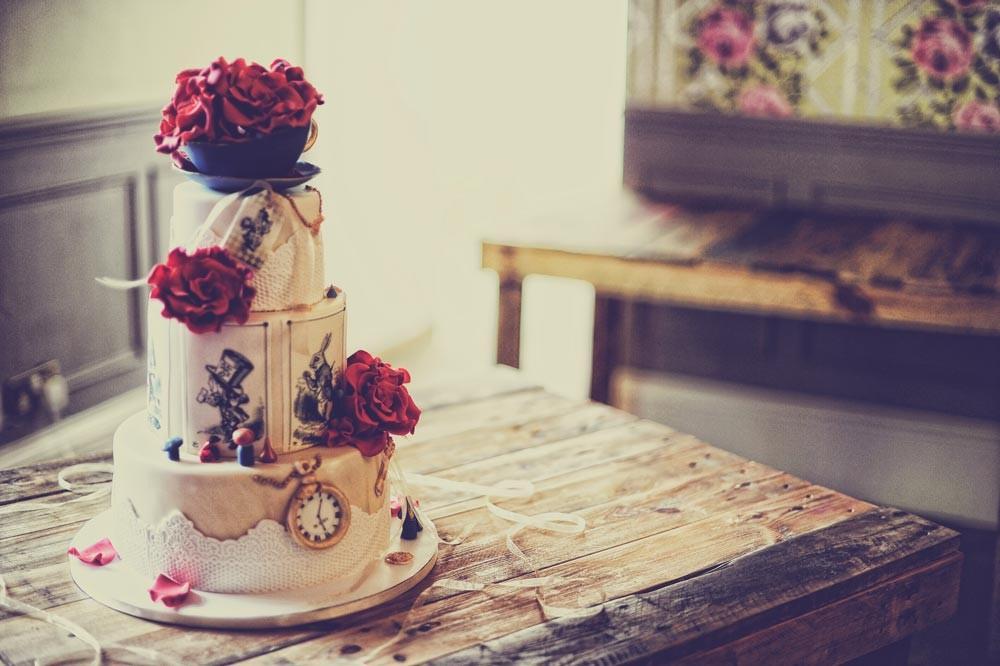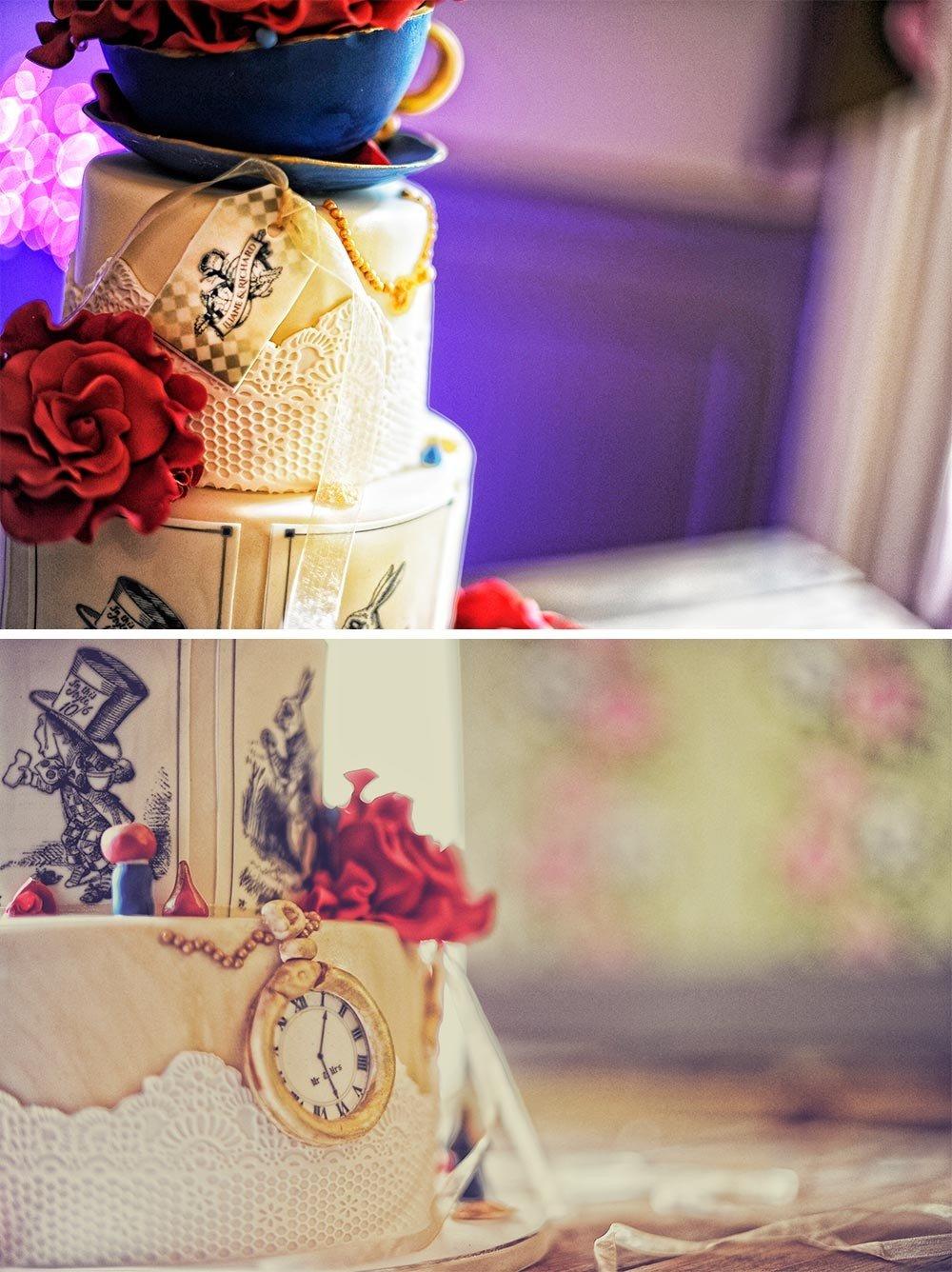 Image credit: Jason Corbett – 35mm Photography
Looking for a quirkier twist? We love this Mad Hatter cake from The Cake House. It's ideal if you're looking for a single tiered wedding cake. Why not have the time on the pocket watch set to the time you get married as a beautifully romantic way to personalise your wedding.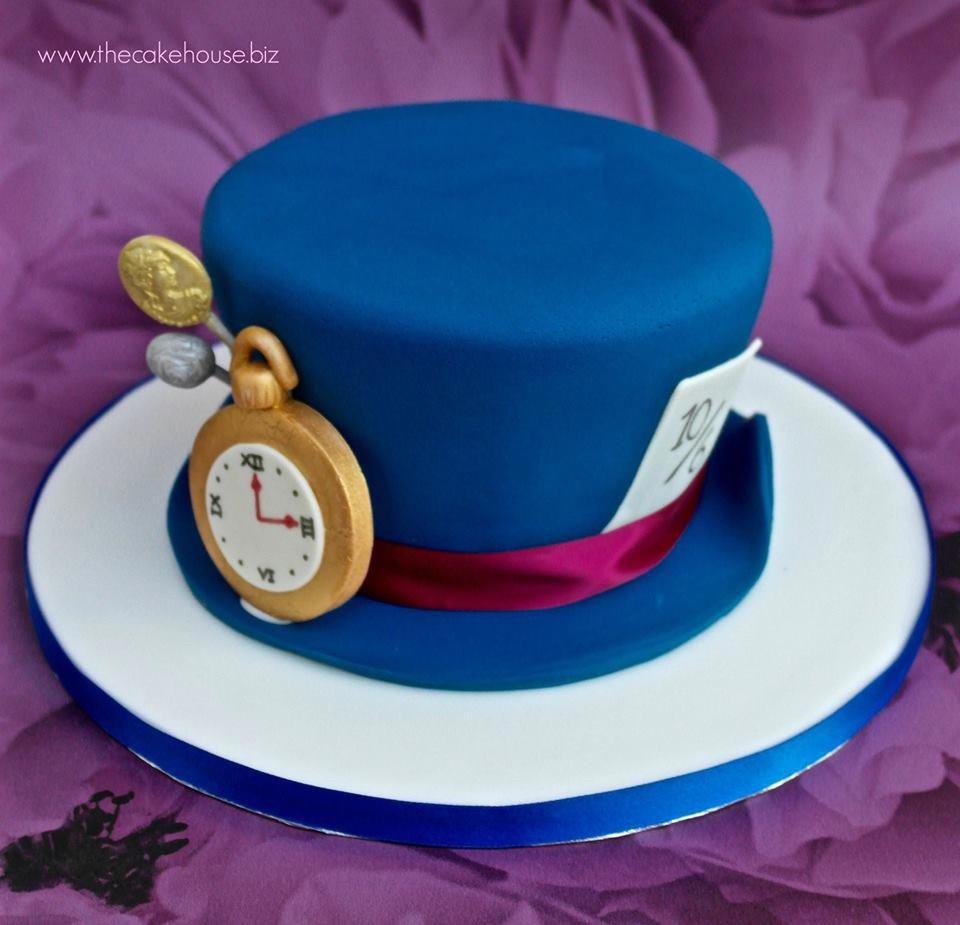 Painting the Roses Red
Love Alice in Wonderland but prefer the Queen of Hearts to the delicate vintage tea party aspect? Take a look at this amazing Queen of Hearts inspired wedding cake from I Believe It's Cake, complete with half-painted roses.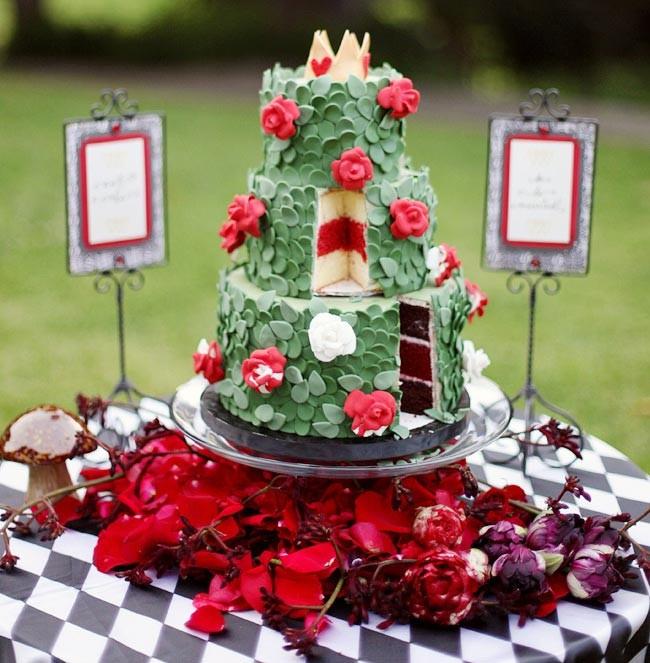 Image credit: Adrienne Gunde Photography
Ginger & Cacao also did their own subtle take on a wedding spread fit for the Queen of Hearts – the teacups and the 'eat me' flags are suitably Alice, but the cake is all Queen!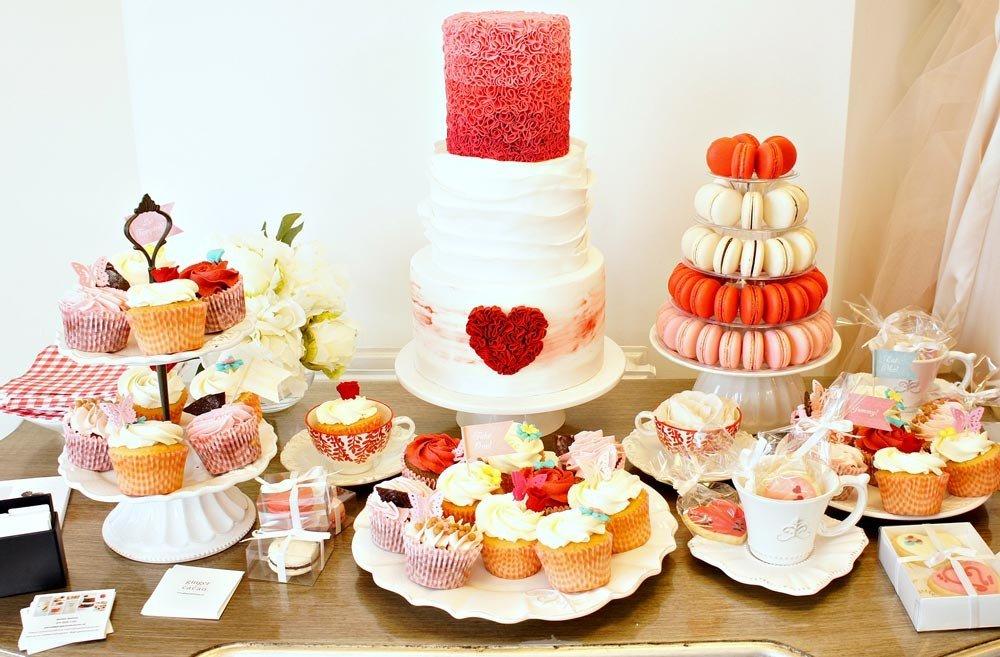 Beauty and the Beast
It's a tale as old as time, and we love it. Beauty and the Beast is a Disney classic with a romantic story line and seriously amazing first dance inspiration (Belle + Beast = first dance goals). We love this elegant wedding cake by The Mischief Maker, which has subtly been inspired by the stained glass window in the film. It's a great choice if you don't want to shout to everyone 'I LOVE DISNEY', but you want a subtle nod to your favourite film.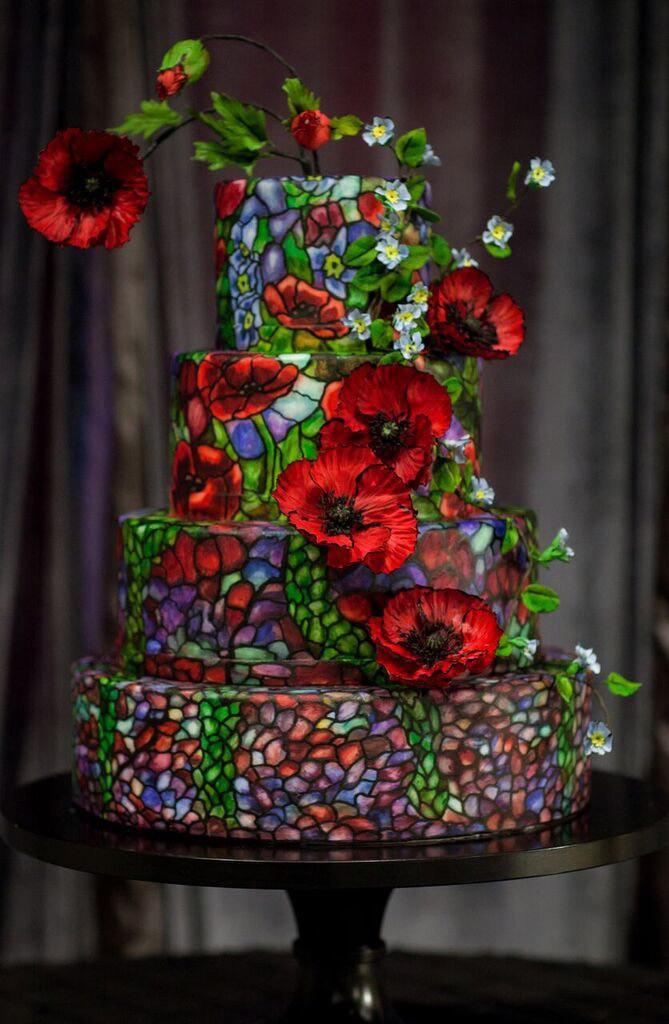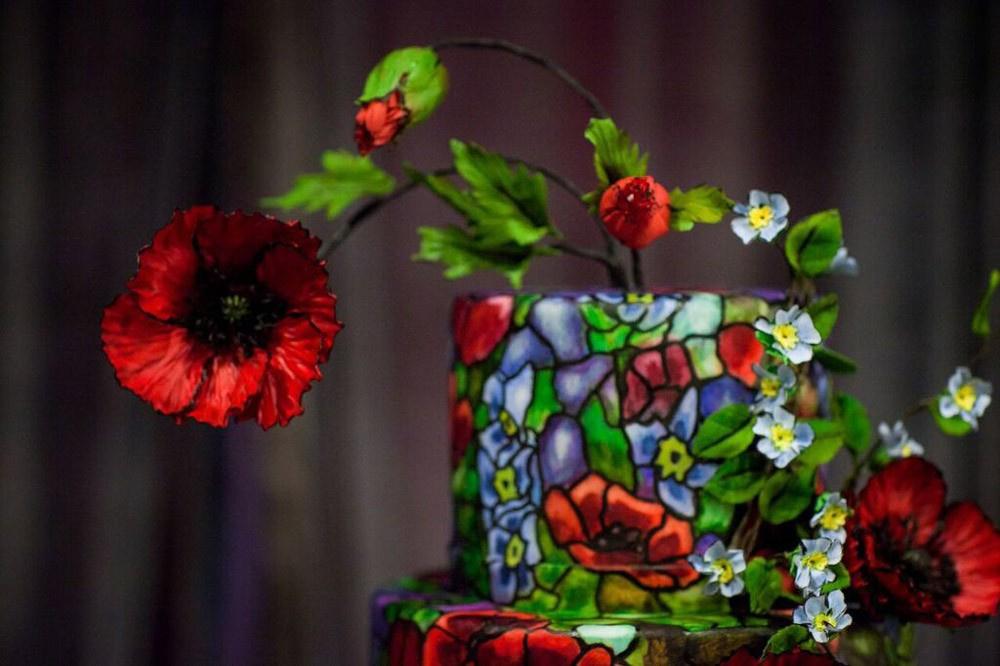 Finding Nemo
This is a more contemporary Disney film, but a classic nonetheless. This cute and colourful cake by Clare's Cake Boutique is ideal for a fun loving couple – especially if they're tying the knot at a seaside wedding venue and want to continue the theme but with a fun Disney twist.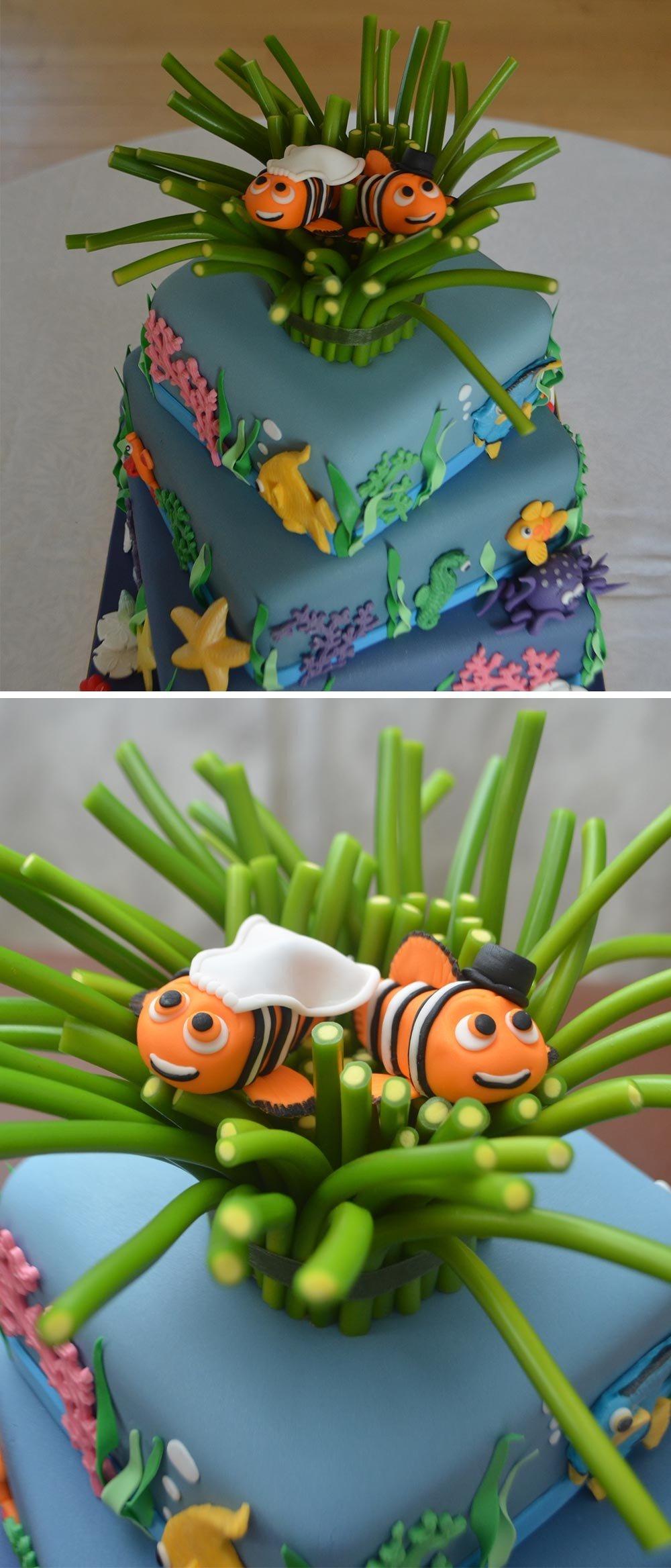 Sleeping Beauty
Who says you can't have candles on a wedding cake? You definitely can, especially when it's an amazing Sleeping Beauty inspired wedding cake, like this one by The Mischief Maker. The cake will make your guests gasp as they enter your wedding reception – but due to magic cake craft, it won't fall, despite looking precarious.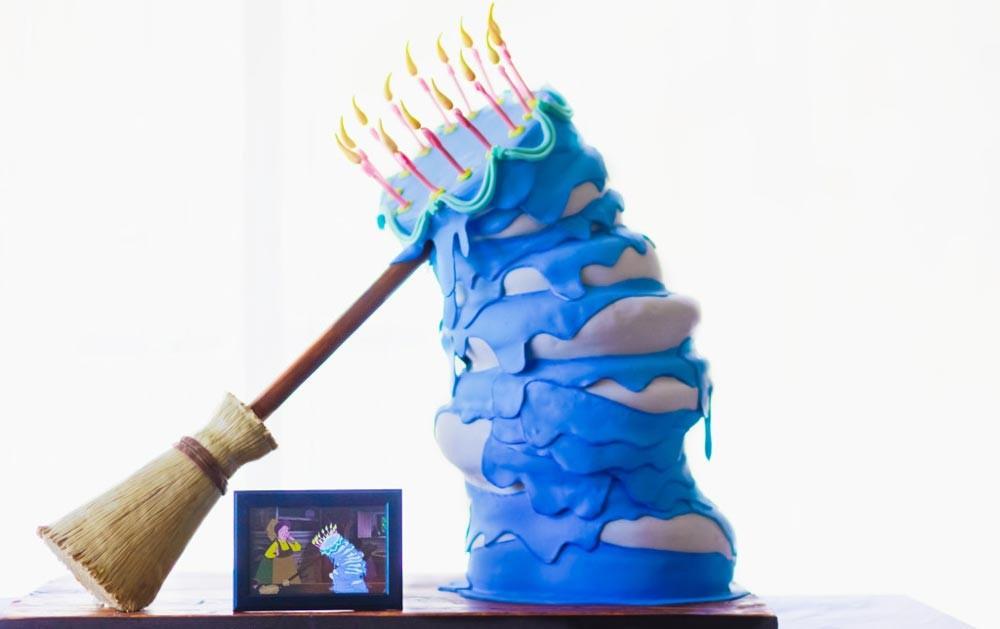 Up
Is it possible to watch Up without breaking down? We don't think so. If it's your favourite film, you can honour it with your wedding cake in a number of ways. Be inspired by our wedding cake toppers for TV and film buffs with this Disney love quote cake topper from ThePinkOwlDesigns.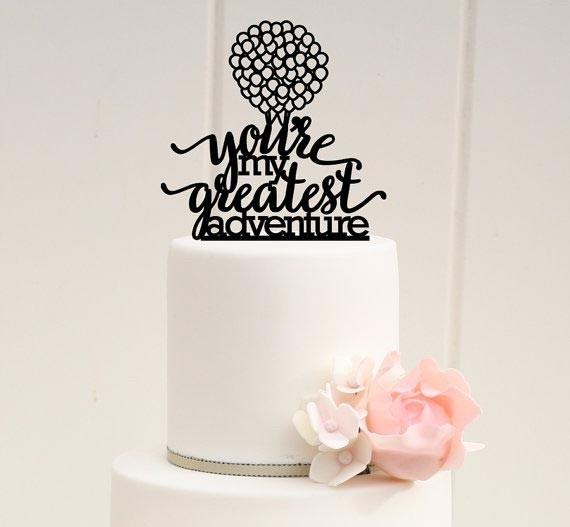 Alternatively, dress up a plain cake to look like Carl and Ellie's house with this amazing fondant icing set from Dallas2001, which includes 50 balloons, a house and clouds, ready to stick on your cake.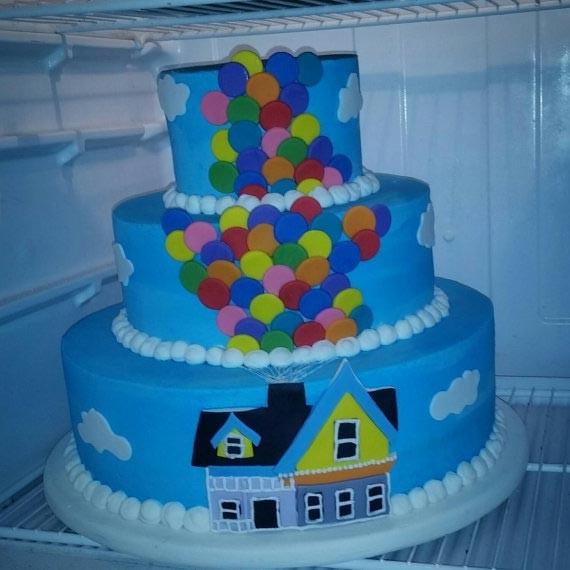 Tangled
Are you planning a Rapunzel style wedding? If so, consider this beauty from Mischief Maker – it's inspired by the tower in Tangled but it's not in-your-face obvious. The purple bloom that snakes along the side of the tiers is a nod to Rapunzel's purple dress and could also be seen to represent her long hair cascading down!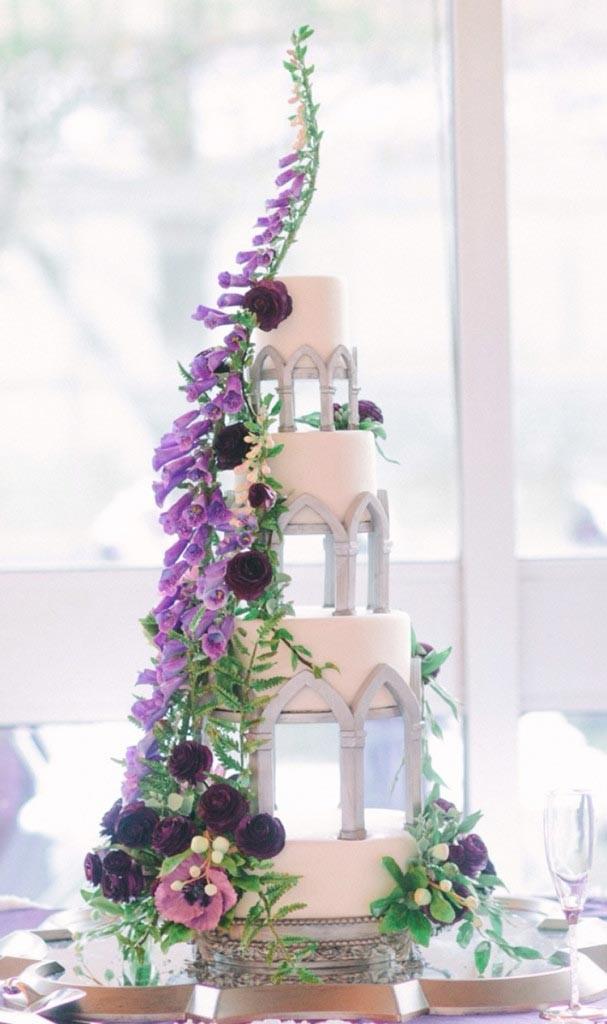 Inside Out
Fun loving couples will adore this Inside Out themed wedding cake by Mischief Maker. Consider this quirky creation if you're looking for a bold and funny groom's cake – it'll get everyone talking.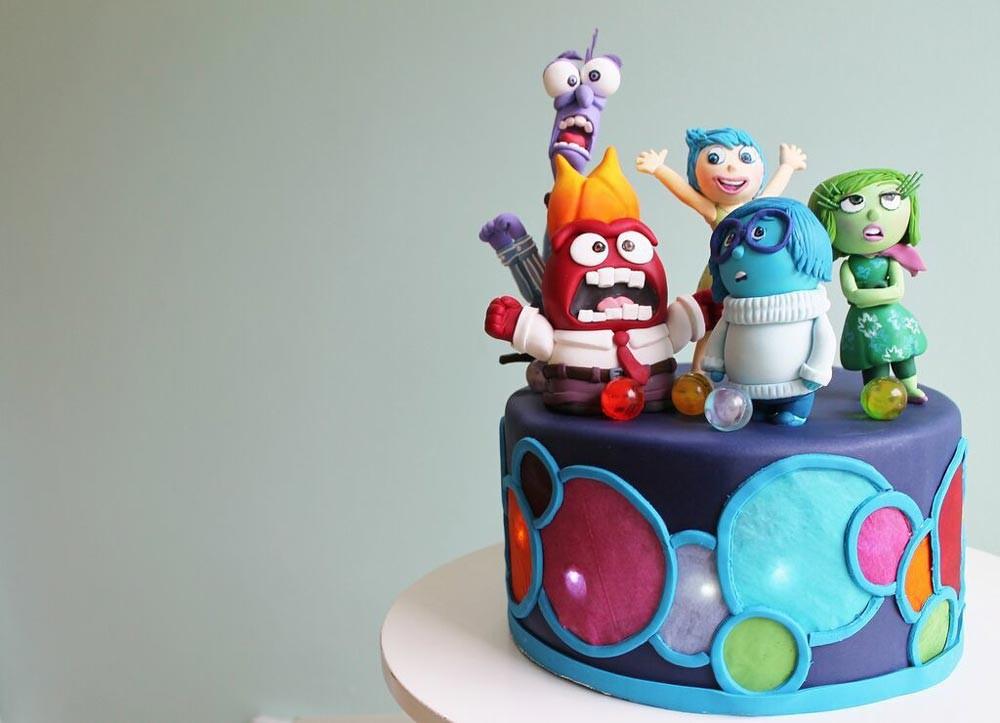 Mickey and Minnie
You couldn't really have a Disney edit without the mice themselves, could you? This cake by The Cake House combines two passions – Disney and jazz music. Talk to your cake maker to see if you can include both your interests in your cake design as it'll make it more personal to you both.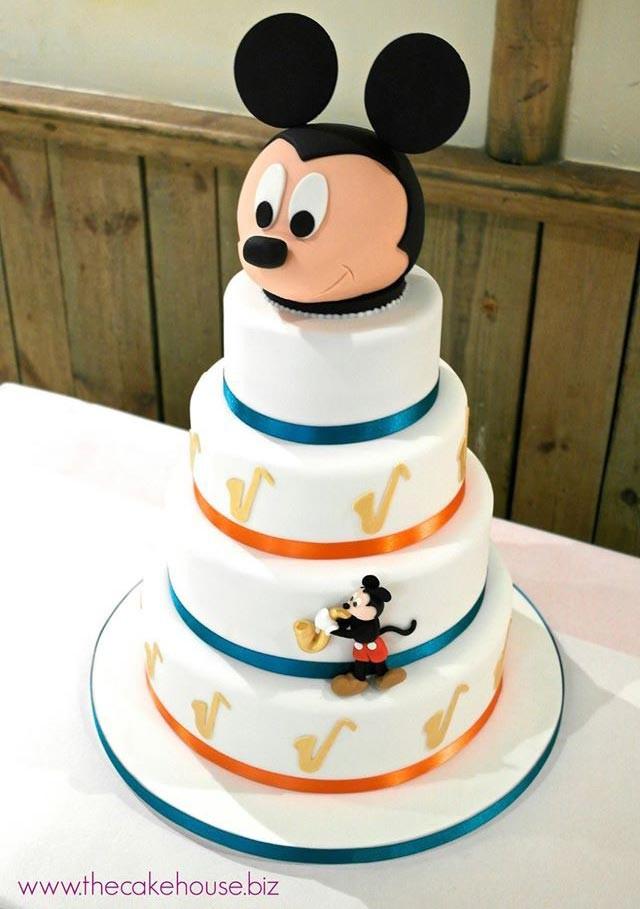 If colourful cartoon characters aren't your thing, but you can agree that Mickey and Minnie are basically the ultimate in relationship goals, consider dressing up a plain cake with a Disney inspired cake topper, like these from CakeTopDesign.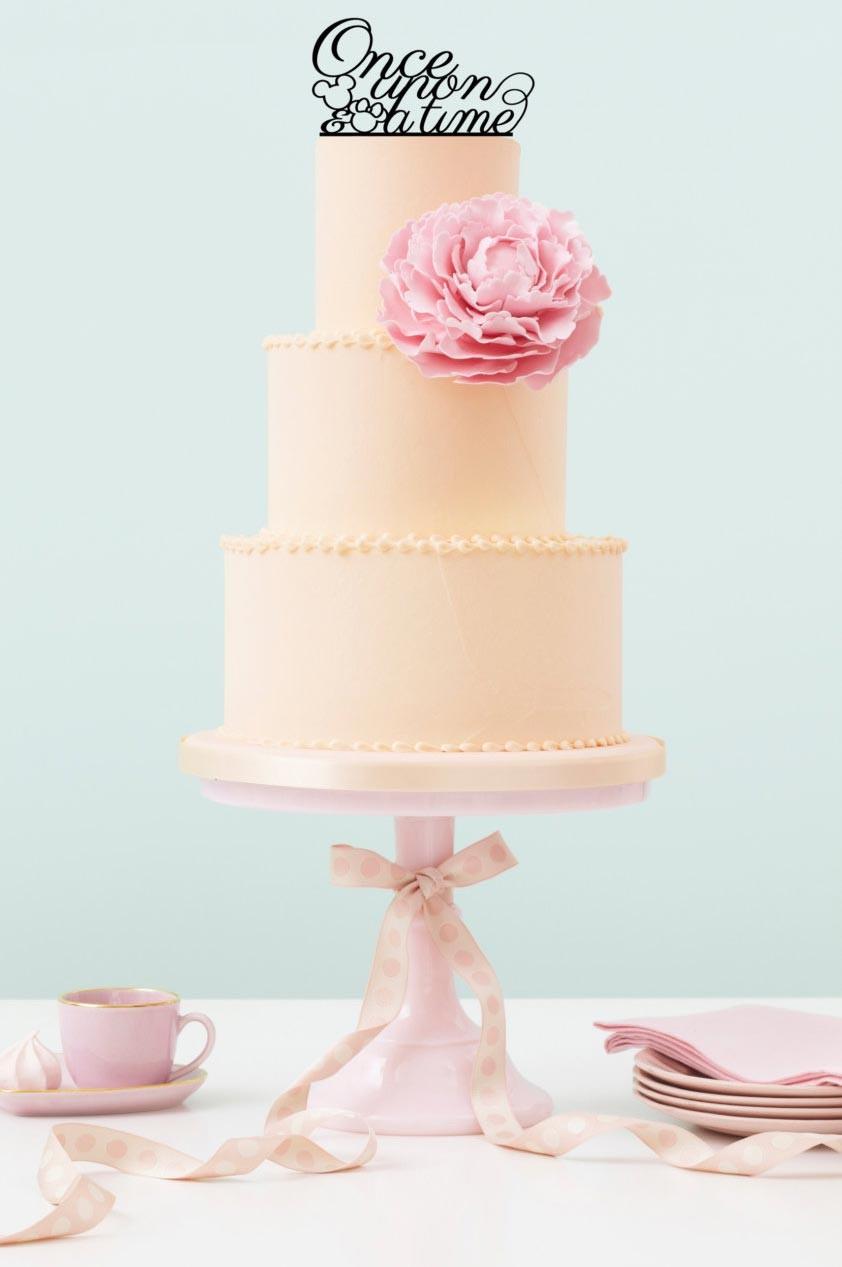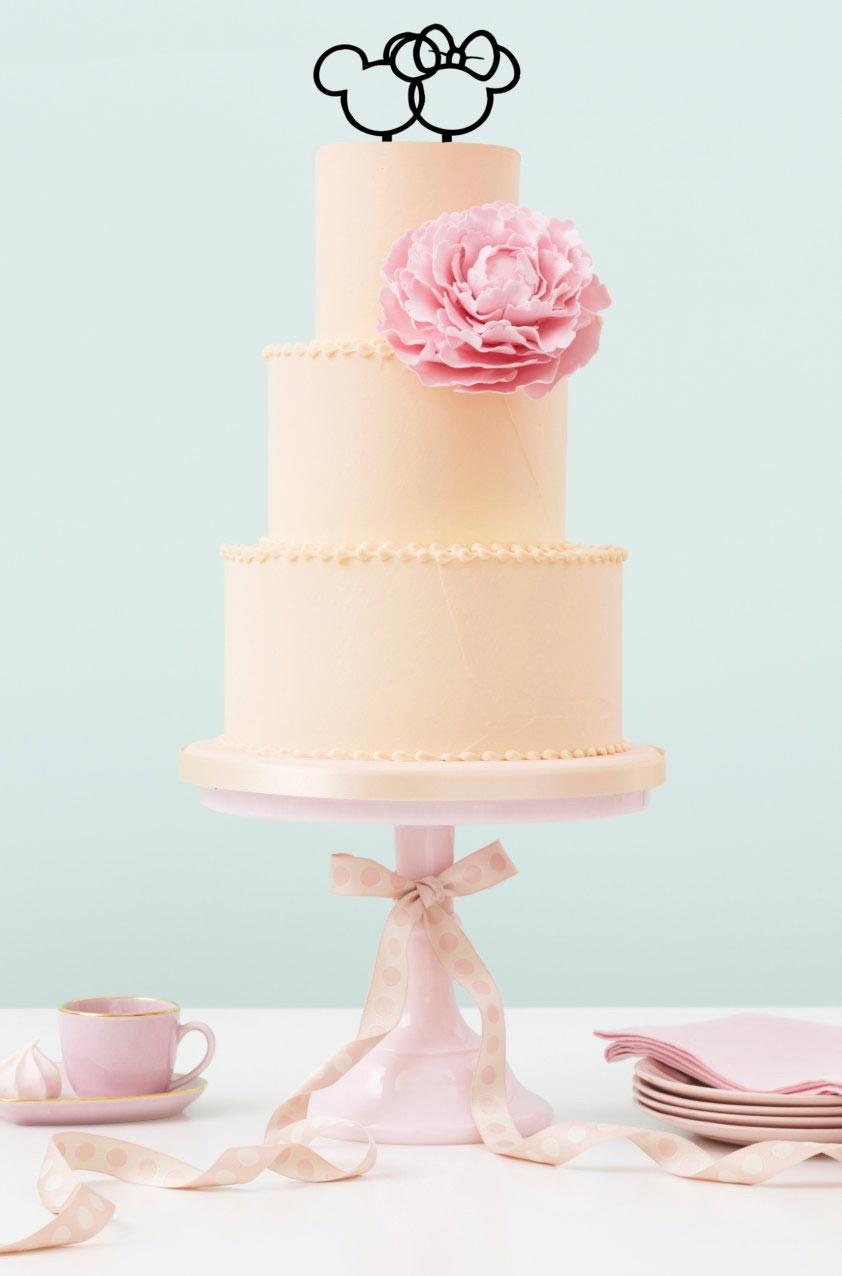 We love this wedding cake from I Believe It's Cake, which appears to be a classic wedding cake but then it's topped with a giant pair of iconic mouse ears.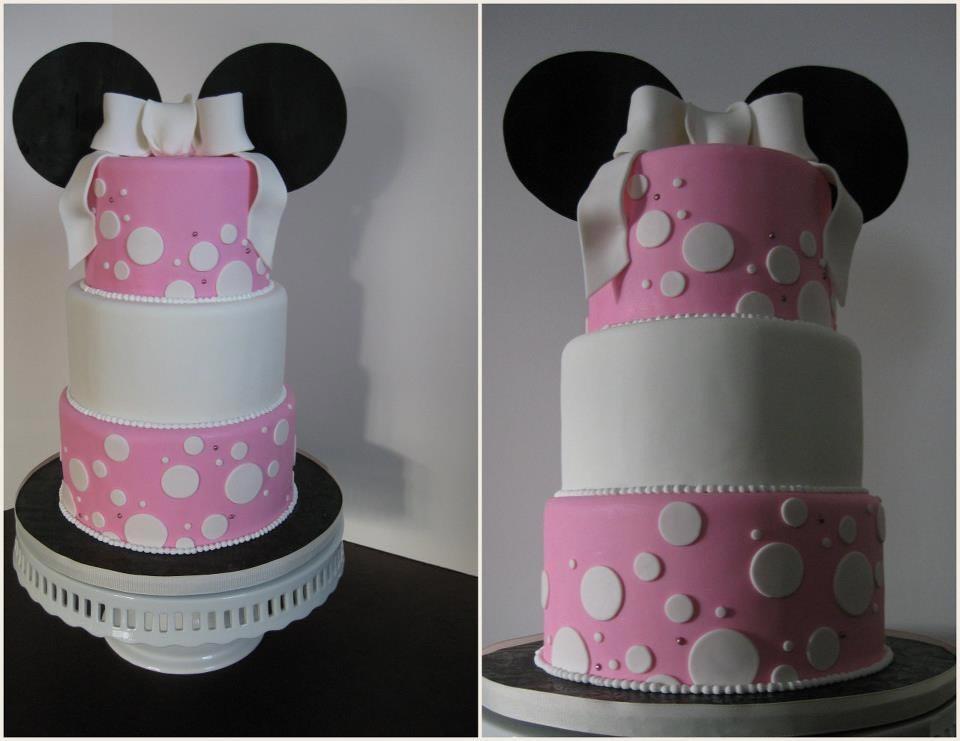 Cinderella
Planning on going to the ball and having your happily ever after, much like Cinderella? You'll love this gorgeous cake from Mischief Maker, which is inspired by the mice and birds helping to make Cinderella's first ball gown (pre-Fairy Godmother). The intricate detailing is amazing!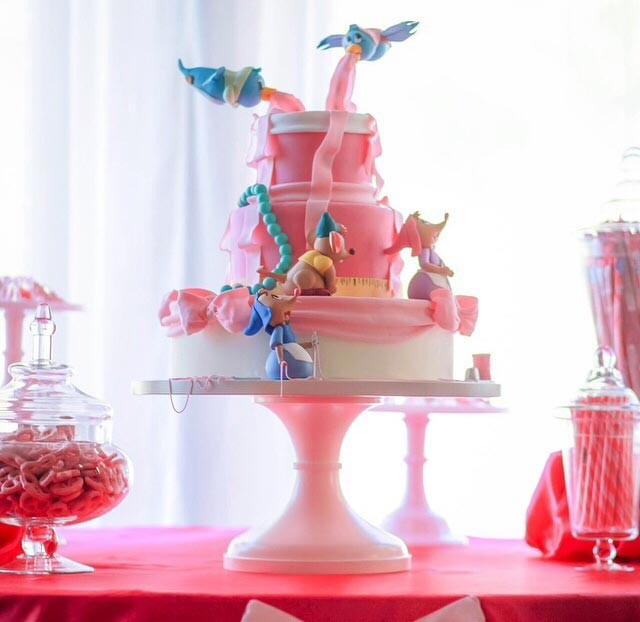 Fairytale Castle
You could dress up your wedding cake with a Disney fairytale castle cake topper, like the one below from SuntopDesigns.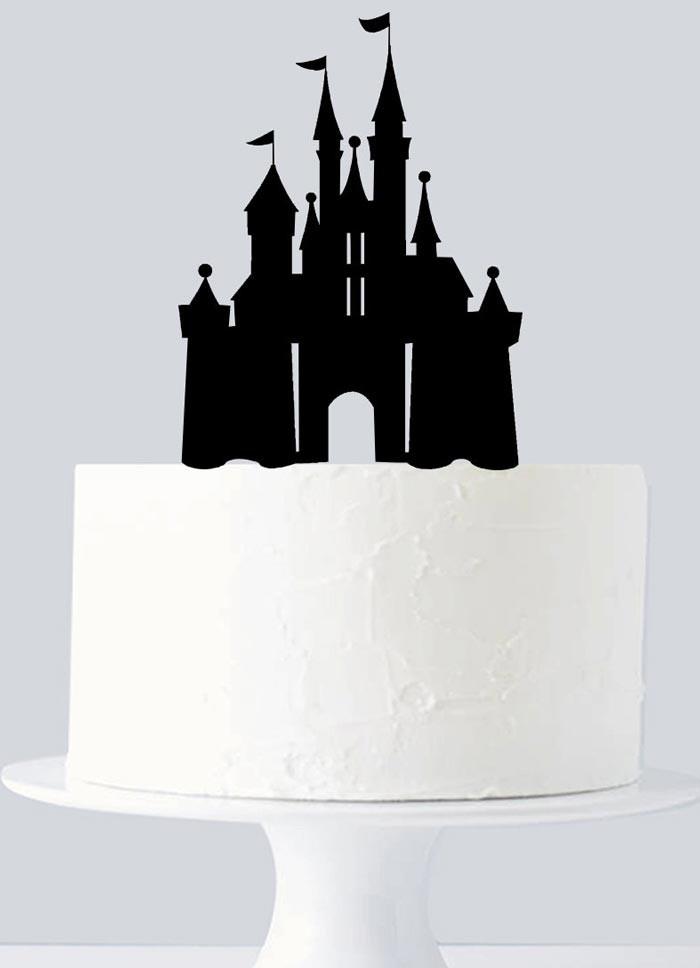 But if you'd rather have your castle and eat it too, we understand. You can do that with a castle cake fit for a princess, like this one from Cakes by Kit.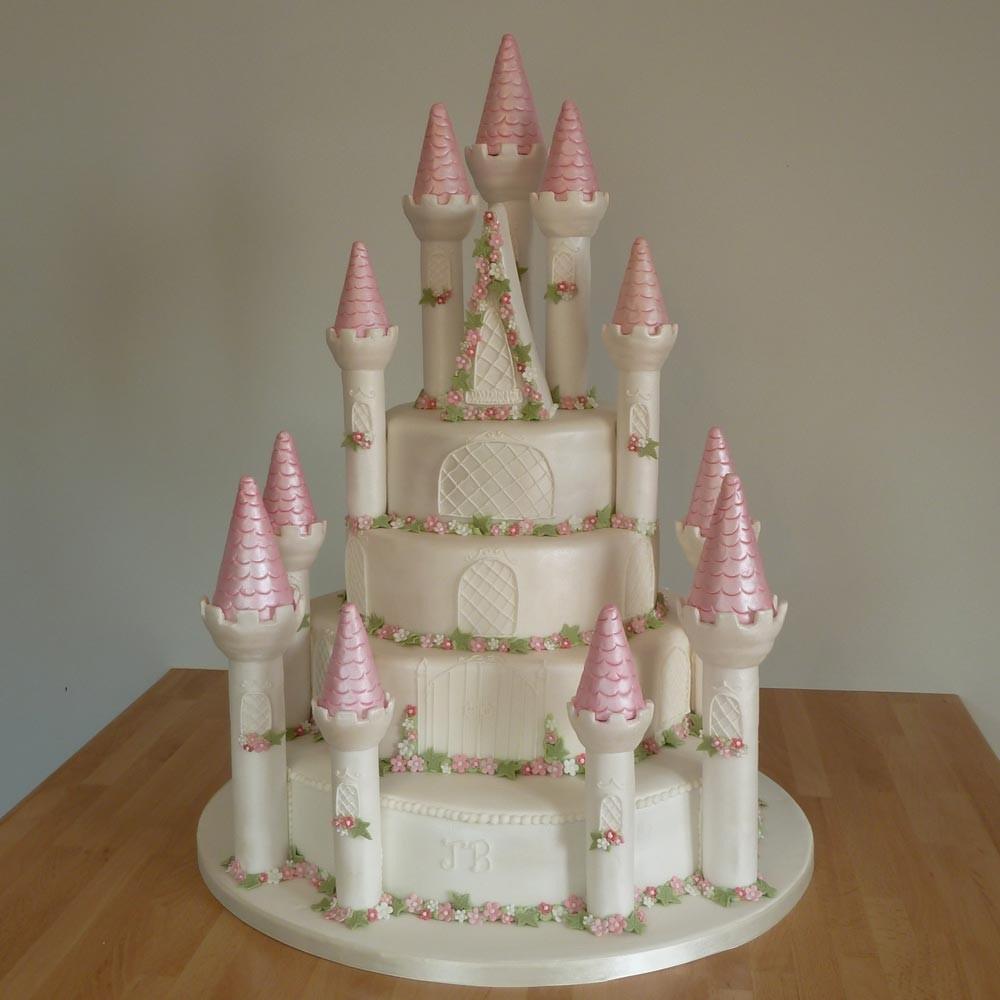 How incredible is this baked version of Cinderella's castle, by I Believe It's Cake? You won't want to cut into it, but it'll look amazing in your wedding pictures.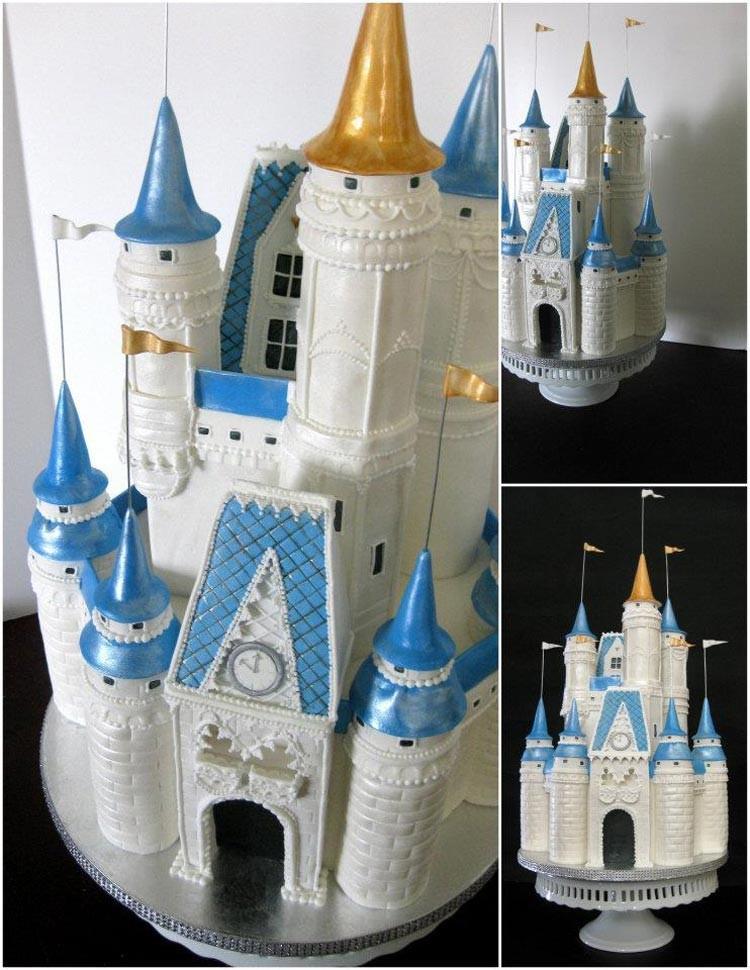 If you loved our round up of Disney wedding cakes, we guarantee you'll adore our edit of perfect fairytale wedding dresses.