45 Spectacular Buttercream Wedding Cakes
Buttercream is a versatile and delicious choice for topping your wedding day dessert with. Our edit of buttercream wedding cakes will leave you drooling...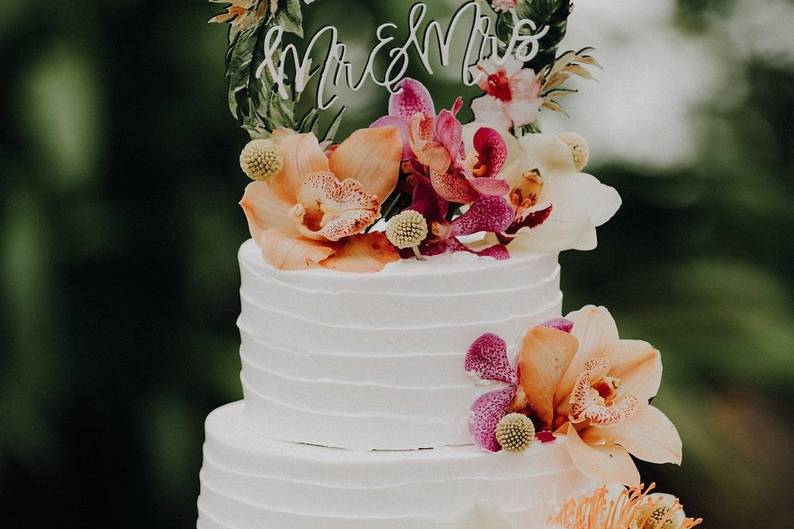 If you're looking for an amazing wedding cake that combines traditional and modern touches, then why not go for a scrumptious buttercream wedding cake? This versatile cake style is perfect if you find marzipan or thick fondant icing too sickly and it's a real crowd pleaser with guests.
Buttercream also comes in almost every flavour and colour you can think of and this flexible frosting can be made into all sorts of patterns and designs – so you can choose a cake that's filled or smothered with whatever tickles your fancy.
Do we have you convinced yet? To help in your search, we've rounded up 45 buttercream wedding cakes that will appeal to your eyes and your tastebuds.
READ MORE
1. Two Textured Buttercream Wedding Cake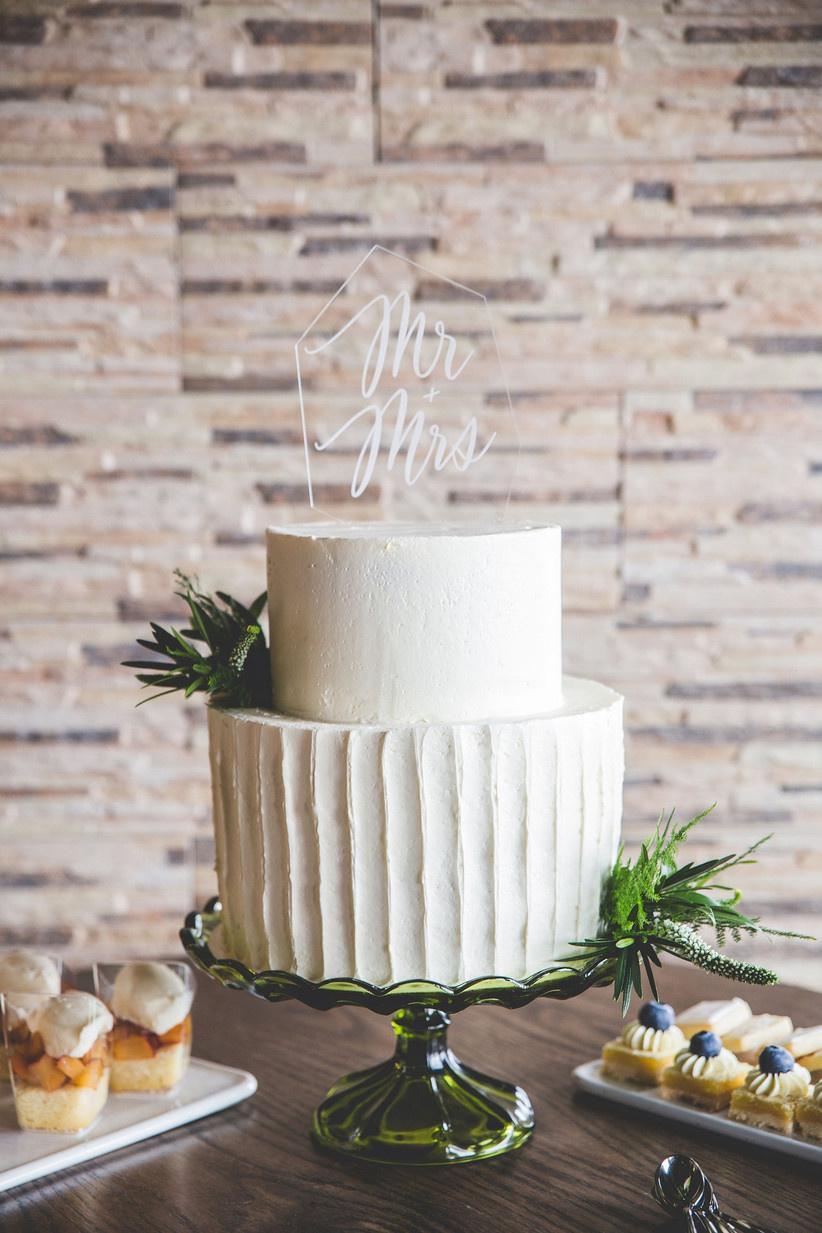 Buttercream is brilliant at creating different textures on your wedding cake and we love the contrast of the smooth top tier and panelled bottom layer on this example. It adds real interest to an otherwise simple sponge.
2. Buttercream Wedding Cake with Metallic Gold Foil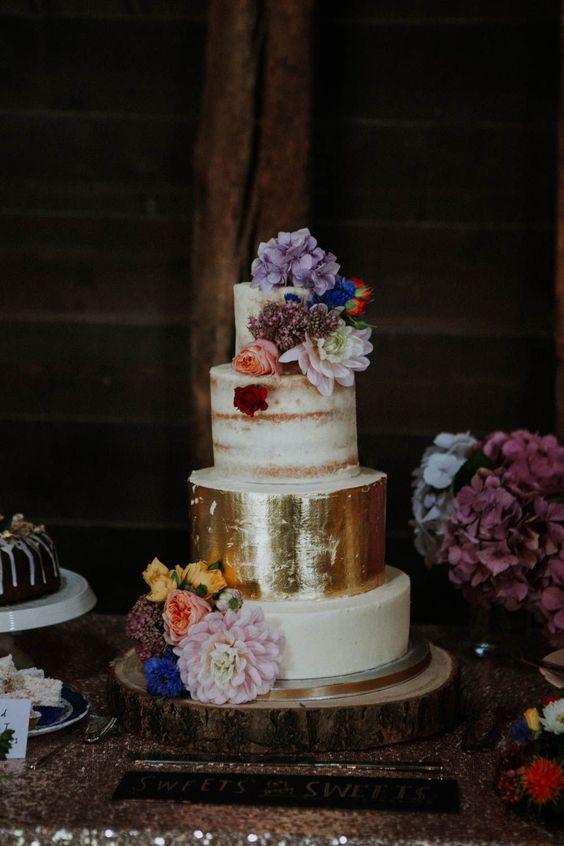 Celebrate in style with this gold foil covered buttercream wedding cake. We love the contrast between the pretty metallic middle tier and the semi-naked buttercream top tiers.
3. Buttercream Wedding Cake with Baby's Breath Garland
Baby's breathe is a popular flower of choice at weddings and the delicate white buds will look lovely decorating a buttercream wedding cake. Displaying them in a garland as opposed to sprigs makes for an even more romantic design.
4. Chocolate Drip Buttercream Wedding Cake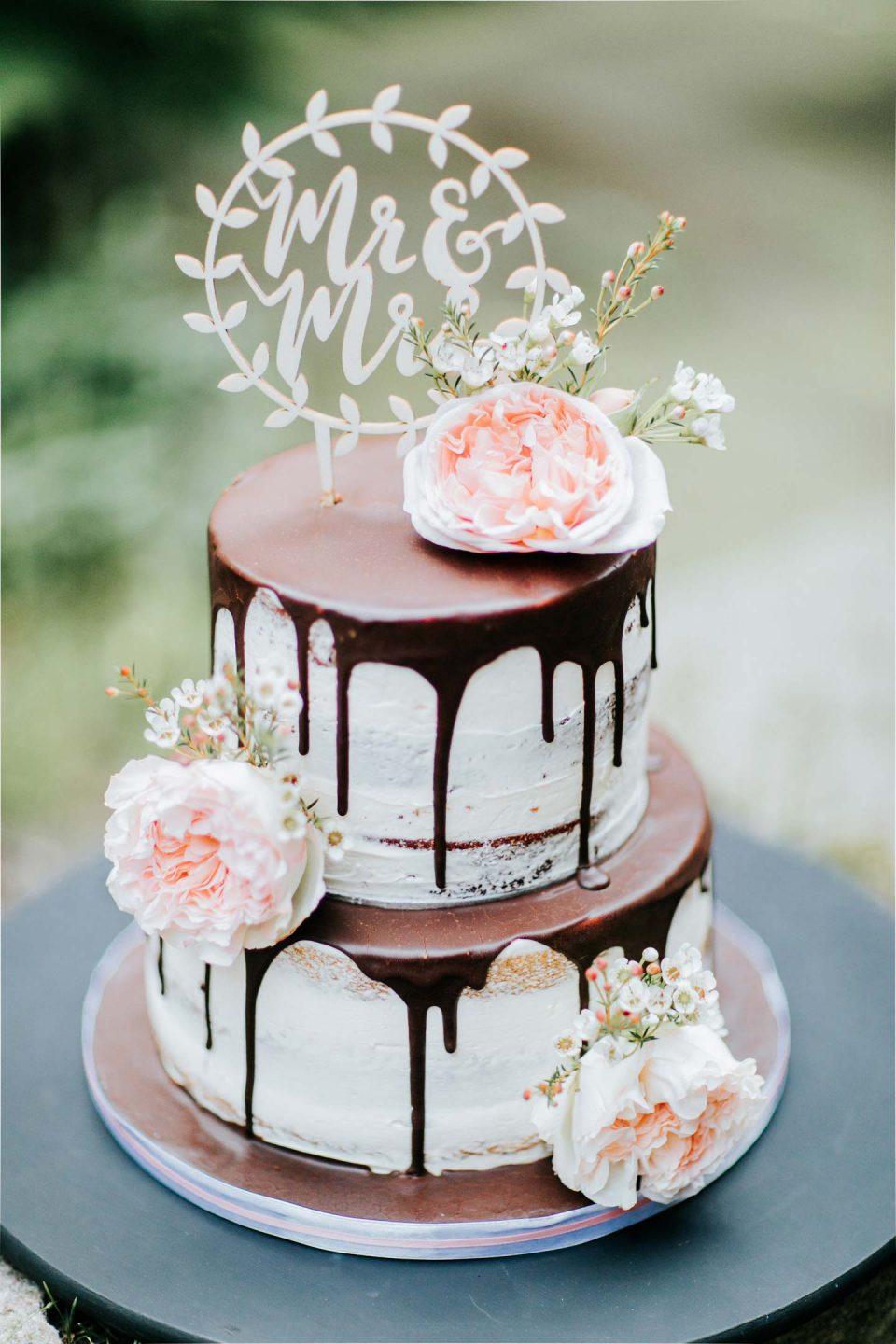 This chocolate drip buttercream wedding cake is seriously decadent! The smooth ganache effortlessly drips over crisp white textured buttercream, simply asking to be tucked into.
5. Succulent Buttercream Wedding Cake
Planning on giving your guests succulents as
wedding favours
? Go one step further and adorn your wedding cake with them too. The buttercream will act as a glue to ensure they won't budge and slip down the cake.
6. Pastel Watercolour Buttercream Wedding Cake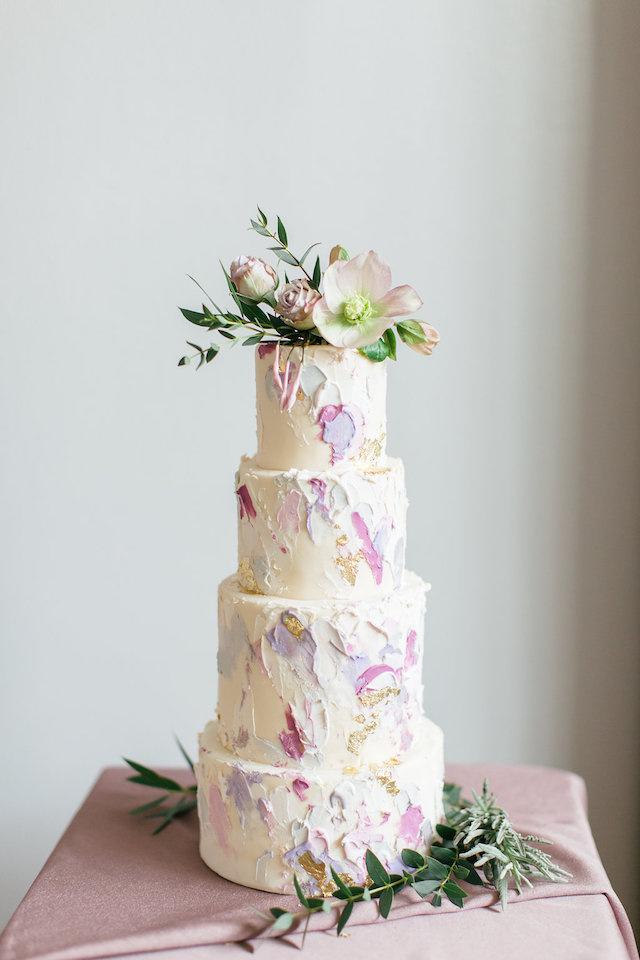 This amazing wedding cake has been created by using a palette knife to smear pastel and gold coloured buttercream onto a smooth layer of icing. It almost looks as if it's been painted using watercolours!
7. Romantic Buttercream Wedding Cake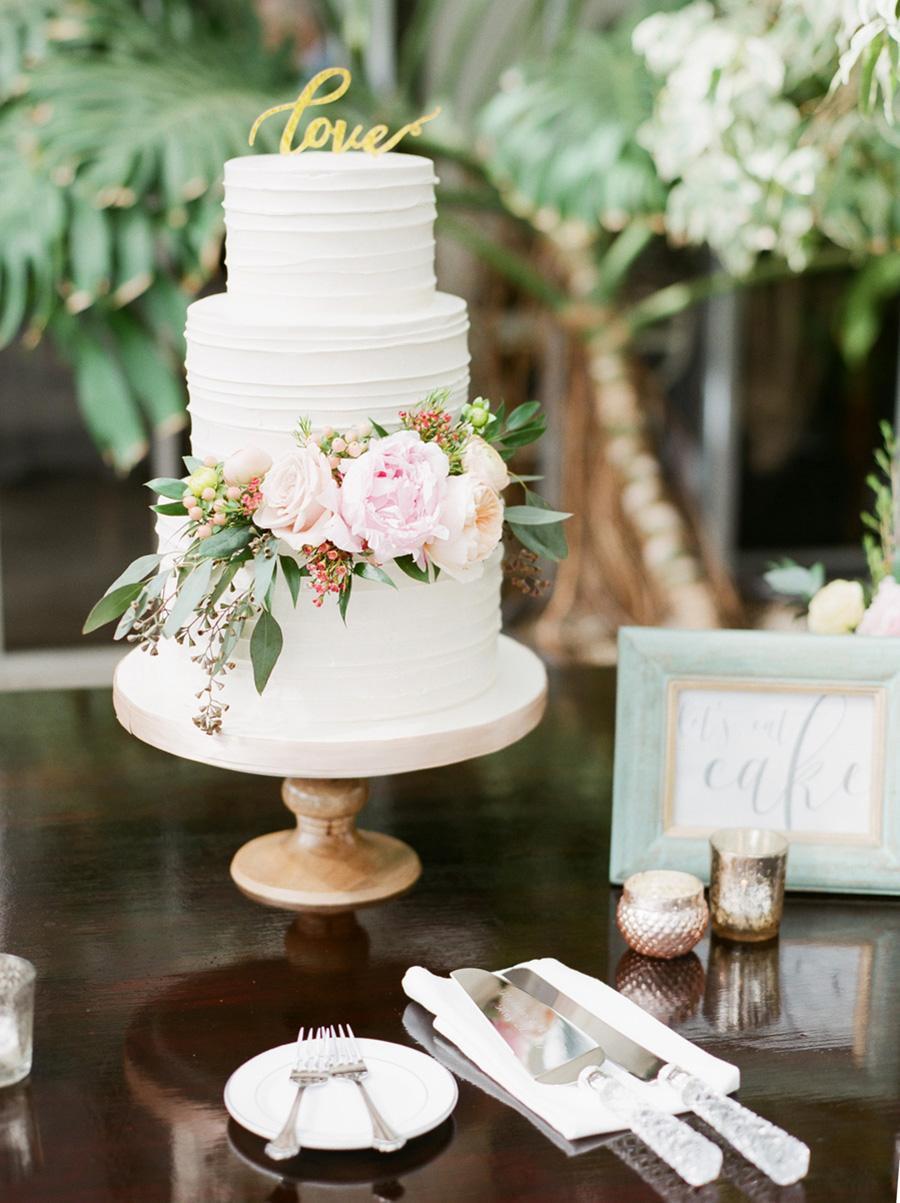 Buttercream is a classic choice when it comes to wedding cake icing so why not keep it traditional with the design too? Add some texture to the buttercream and top with romantic florals for a timeless look.
8. Yellow Buttercream Wedding Cake With Flowers
Buttercream serves as the perfect canvas to stick florals to. We love the pastel colouring of this fabulous floral masterpiece and reckon it would look glorious at a summer garden celebration.
9. Funfetti Buttercream Wedding Cake
Just look at this sweet treat! Filled with sprinkles and sandwiched with vanilla buttercream and cookie dough balls it's definitely not traditional but it sure is fun. If you're having kids at your reception (or even if you're not), this buttercream wedding cake will be a big hit.
10. Festive Buttercream Wedding Cake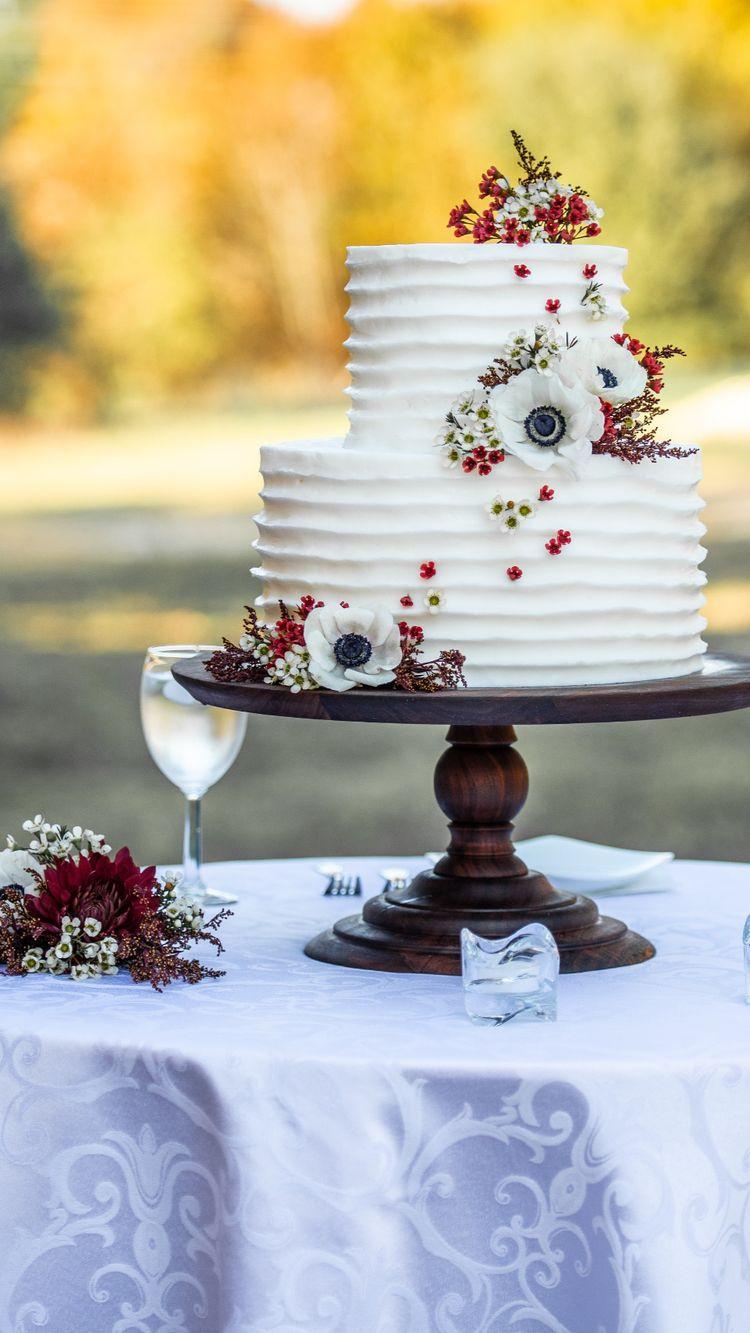 For a festive wedding cake that's far from tacky, look to this elegant design. The clean white buttercream is reminiscent of snow and the red buds contrast against it beautifully.
11. Kitsch Buttercream Wedding Cake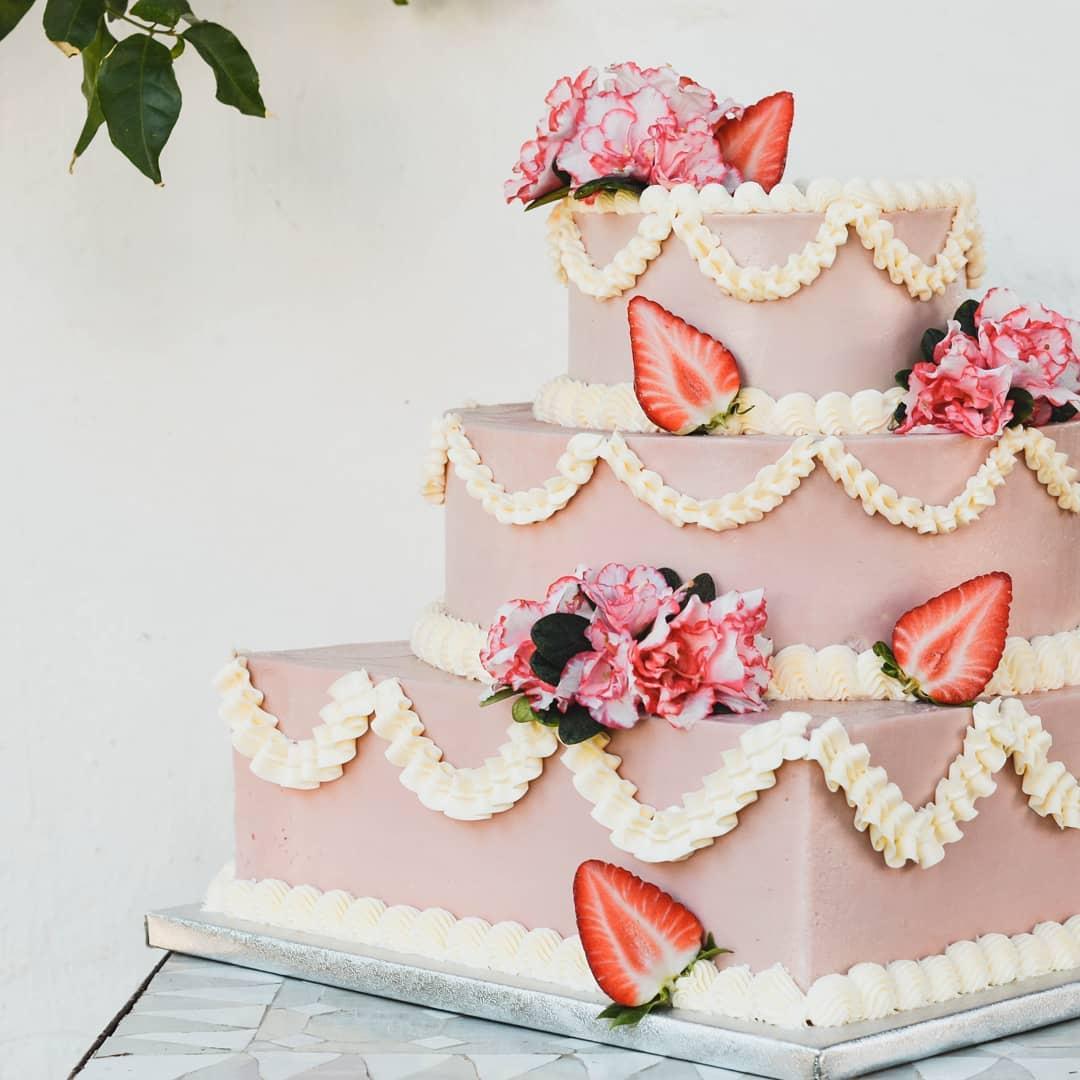 One our favourite wedding trends has got to be kitsch-style cakes and their spectacular use of buttercream. London-based bakery Lily Vanilli takes this trend to the next level with her servings of playful coloured bakes with beautifully piped buttercream.
12. Orange & Blueberry Buttercream Wedding Cake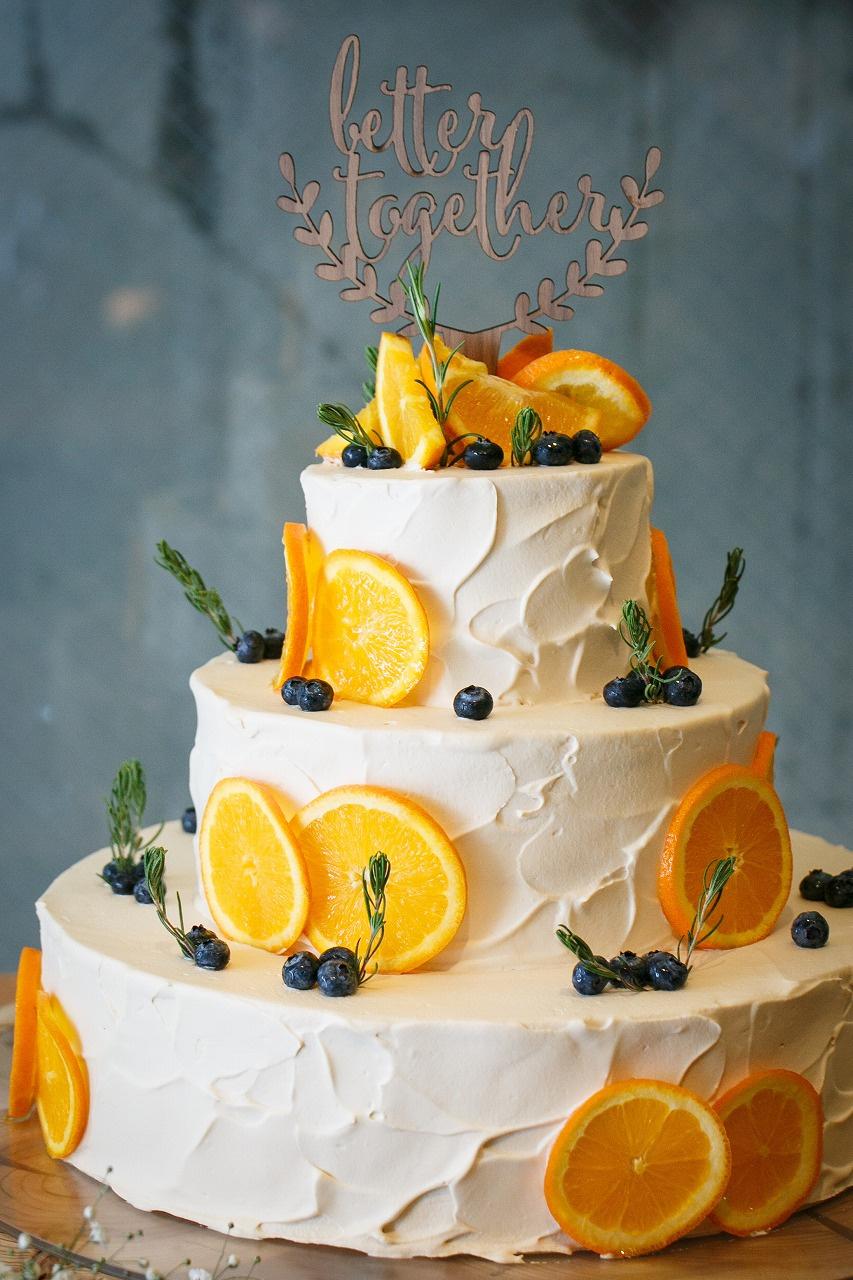 Orange and blueberry isn't a combo that's often seen but it's one that will get your tastebuds tingling. The sharp citrus flavour is perfectly balanced out by the sweet berries and smooth buttercream.
13. Copper Buttercream Wedding Cake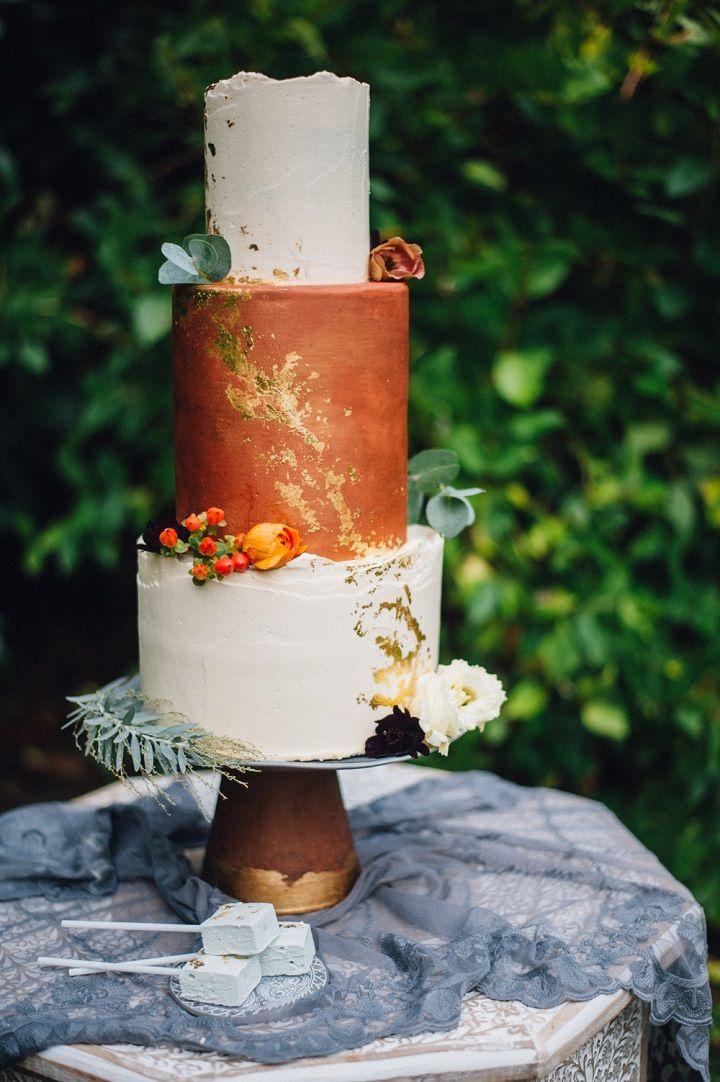 Copper and metallic gold tones were used to create this spectacular three-tiered buttercream wedding cake. It's the perfect pick if you're looking for something simple, yet with a touch of glitz and glamour.
14. Tropical Buttercream Wedding Cake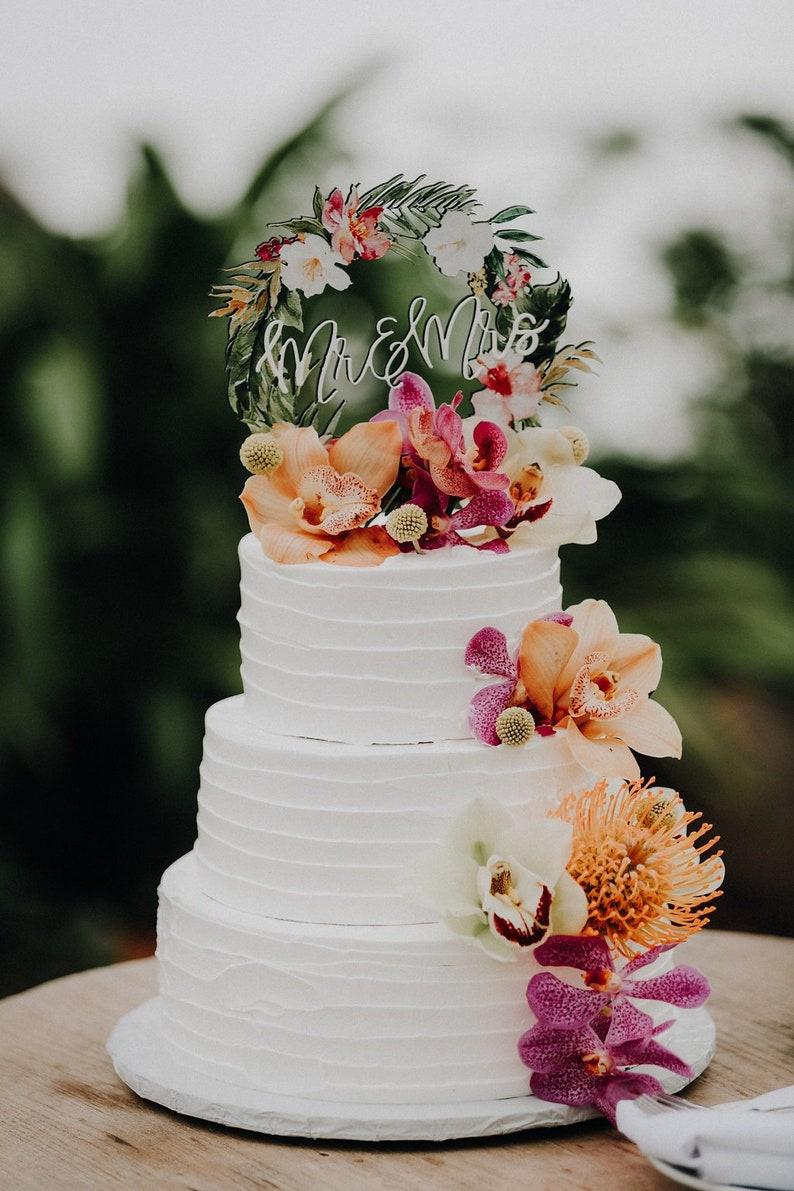 This confection stands out in the most beautiful way. Ideal if you're heading to hotter climes for your wedding day, it's assembled with textured white buttercream and vibrant tropical blooms such as orchids.
15. Paint Style Buttercream Wedding Cake with Gold Drip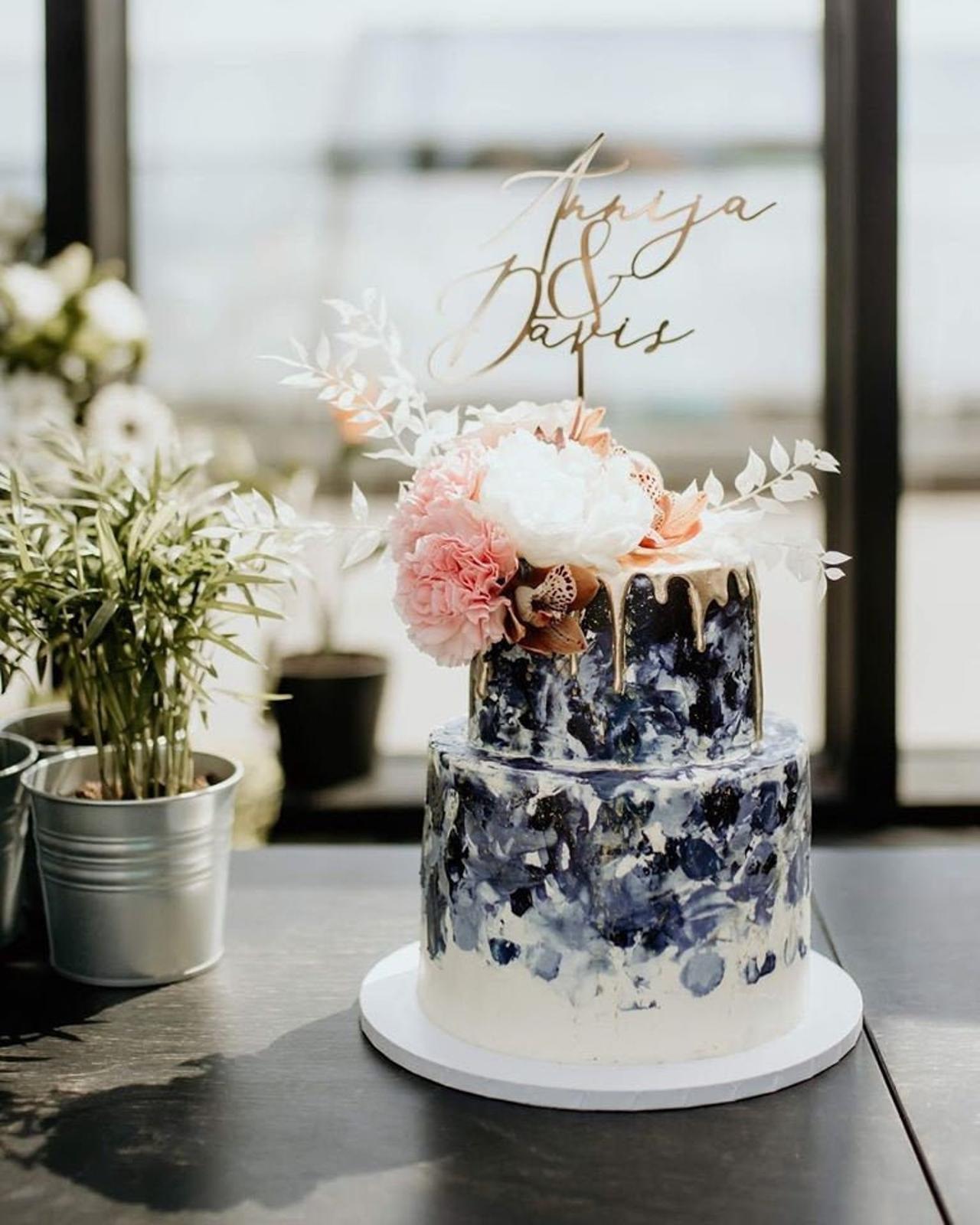 Buttercream painted wedding cakes bring an unexpected, artistic element to any sponge and while we adore this blue and white colour palette, you can mix it up to suit your wedding theme. Oh, and don't forget to add the gorgeous golden drip for extra style points.
16. Poppy Seed Buttercream Wedding Cake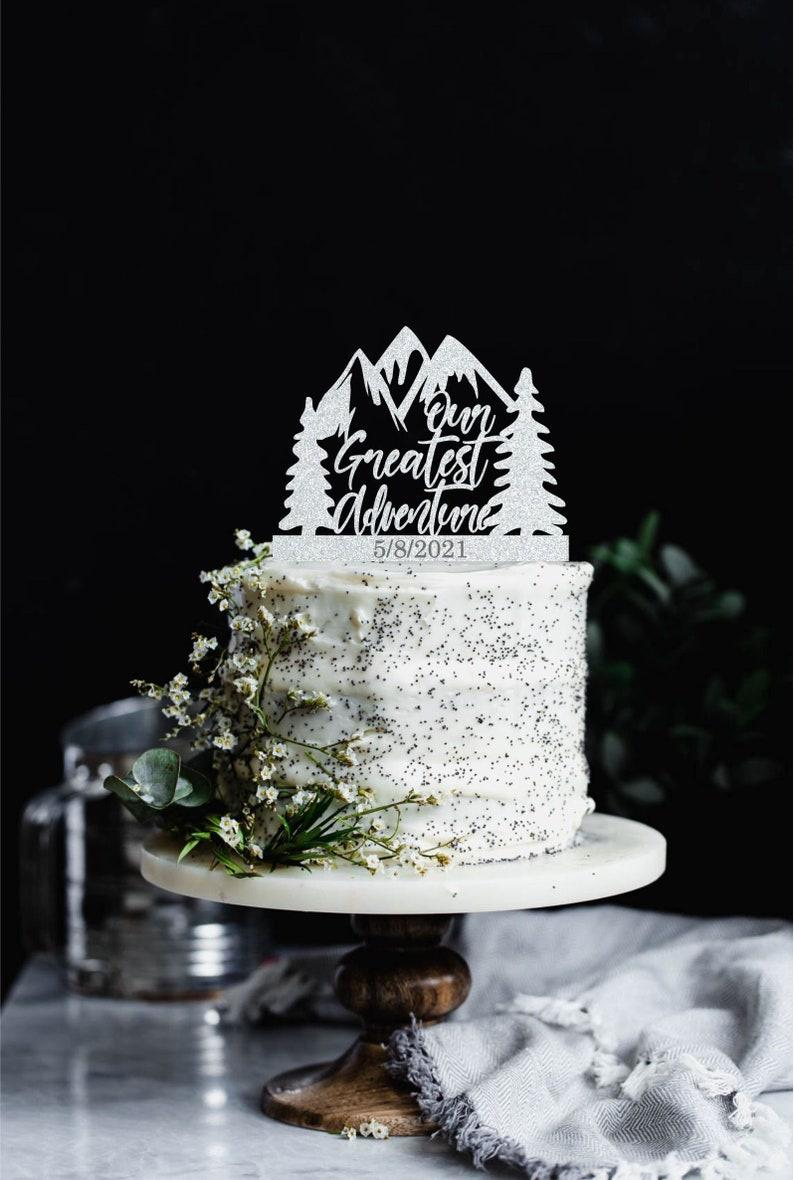 The rustic buttercream on this single tier wedding cake makes for a beautiful backdrop upon which smatterings of poppy seeds are scattered. Not only will every bite be bursting with flavour, it'll have a lovely crunch to it too.
READ MORE: 36 Naked Wedding Cakes for Stylish Celebrations
17. Beach Scene Buttercream Wedding Cake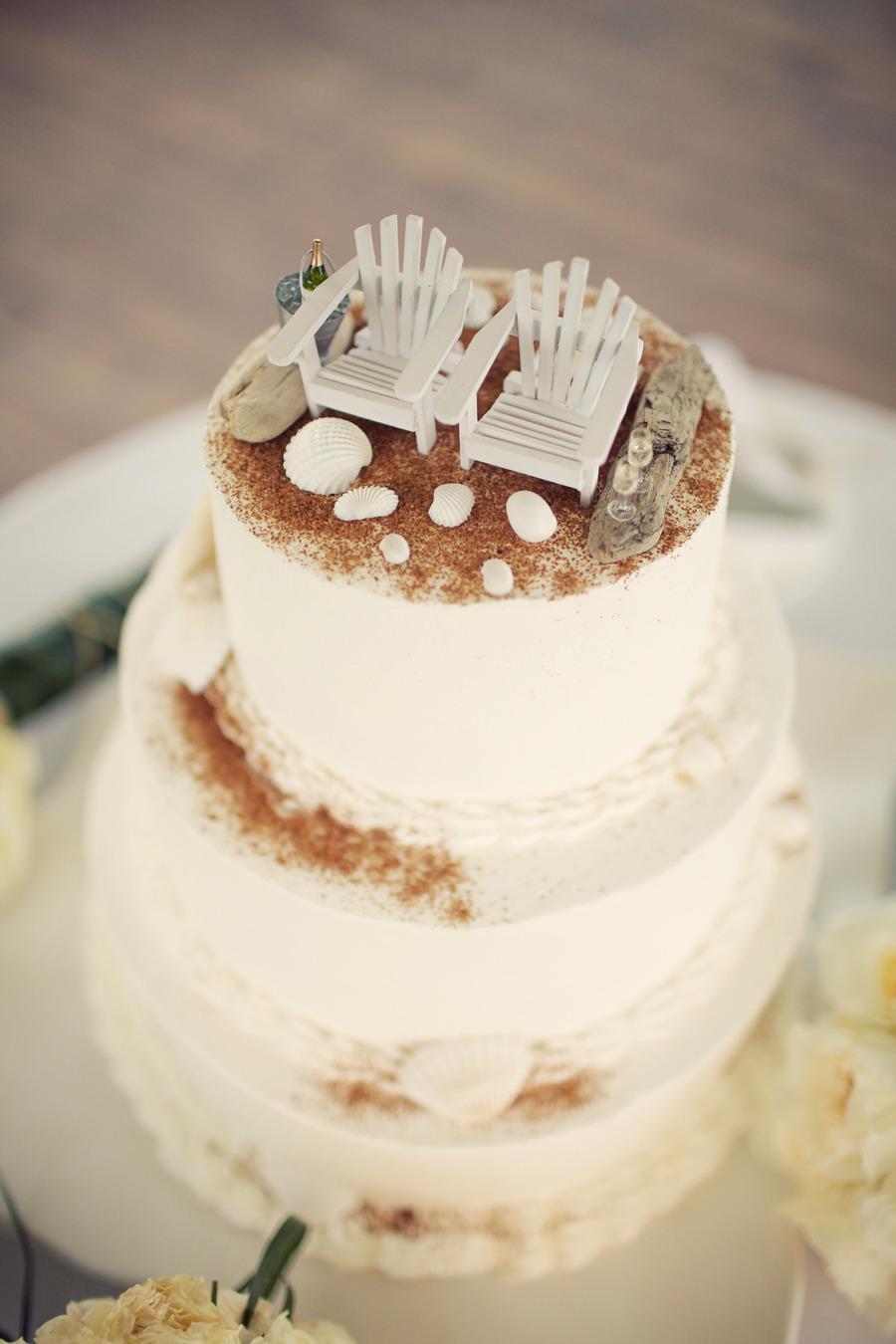 Have you seen a more fitting dessert for a beach wedding? Brown sugar has been sprinkled atop this buttercream wedding cake alongside deckchairs complete with decorative shells in order to create this adorable scene.
18. Baby Blue Buttercream Wedding Cake with Dried Orange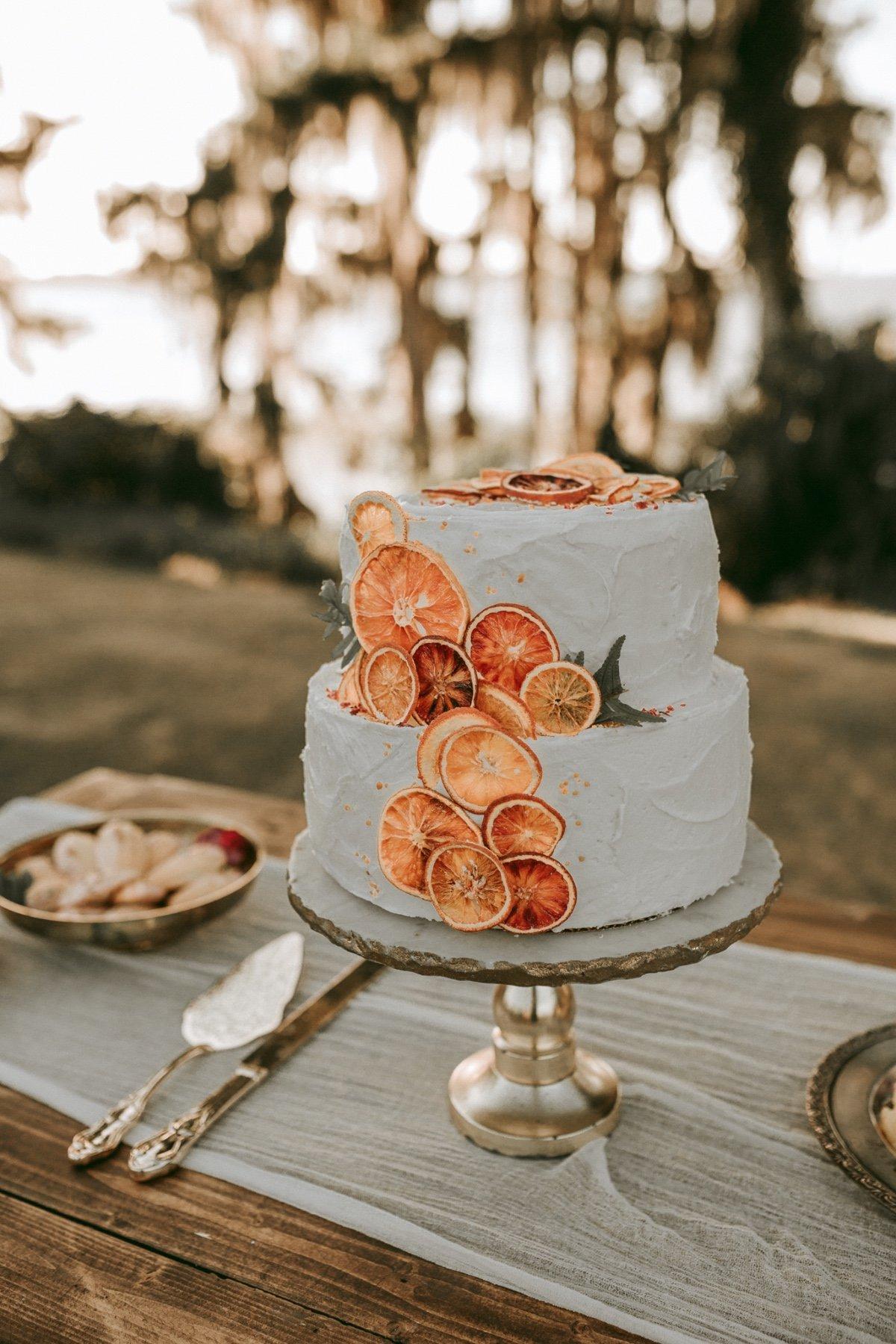 You can dye buttercream pretty much any colour your heart desires, (which is one reason why it's such a versatile ingredient), but we have a soft spot for this baby blue hue. Paired with chic dried orange slices and you have one extremely classy wedding cake.
19. Simple Buttercream Wedding Cake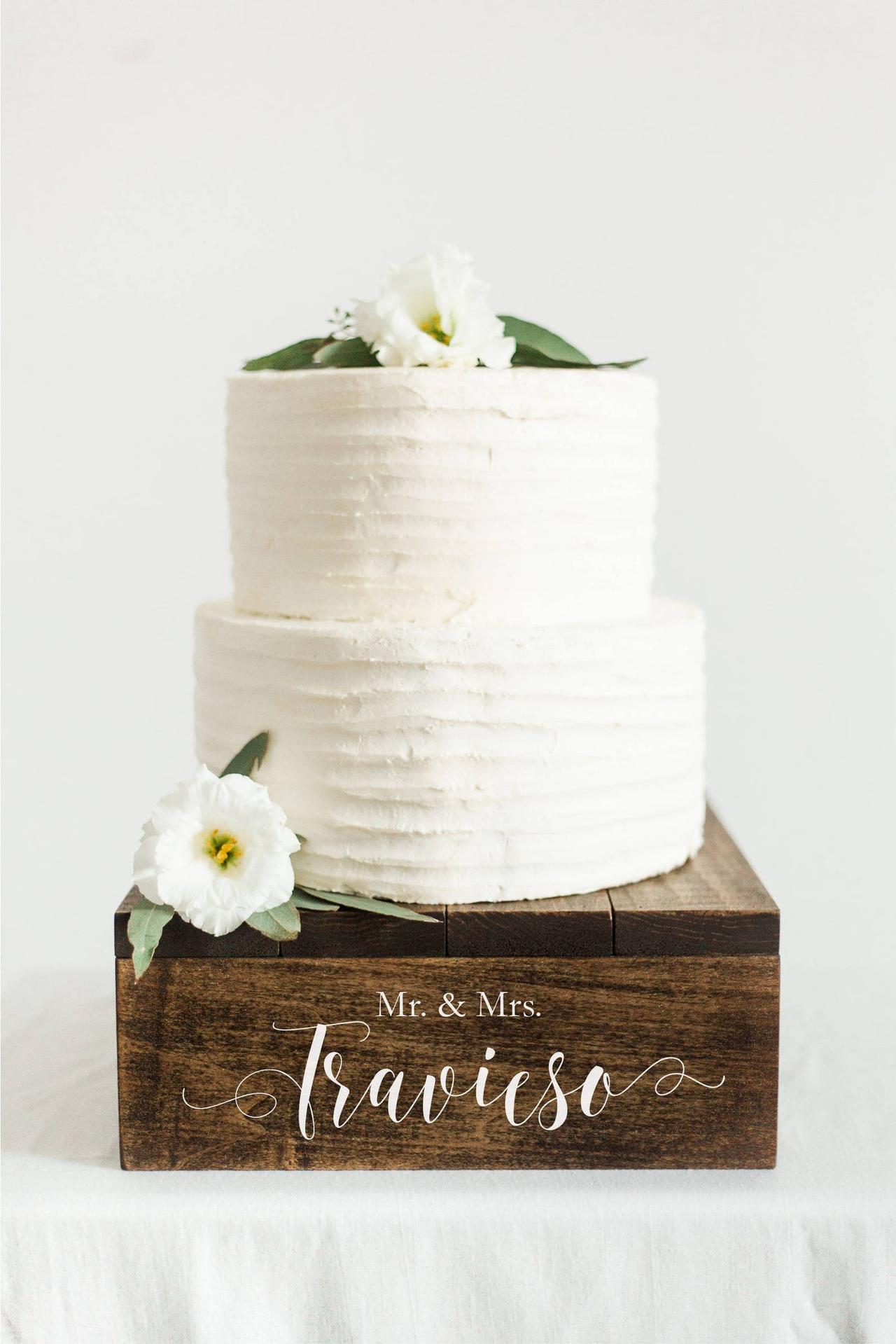 We love the idea of keeping a wedding cake simple and placing it upon an interesting cake stand. This wooden stand complements the rustically finished buttercream wonderfully.
20. Chocolate Buttercream Wedding Cake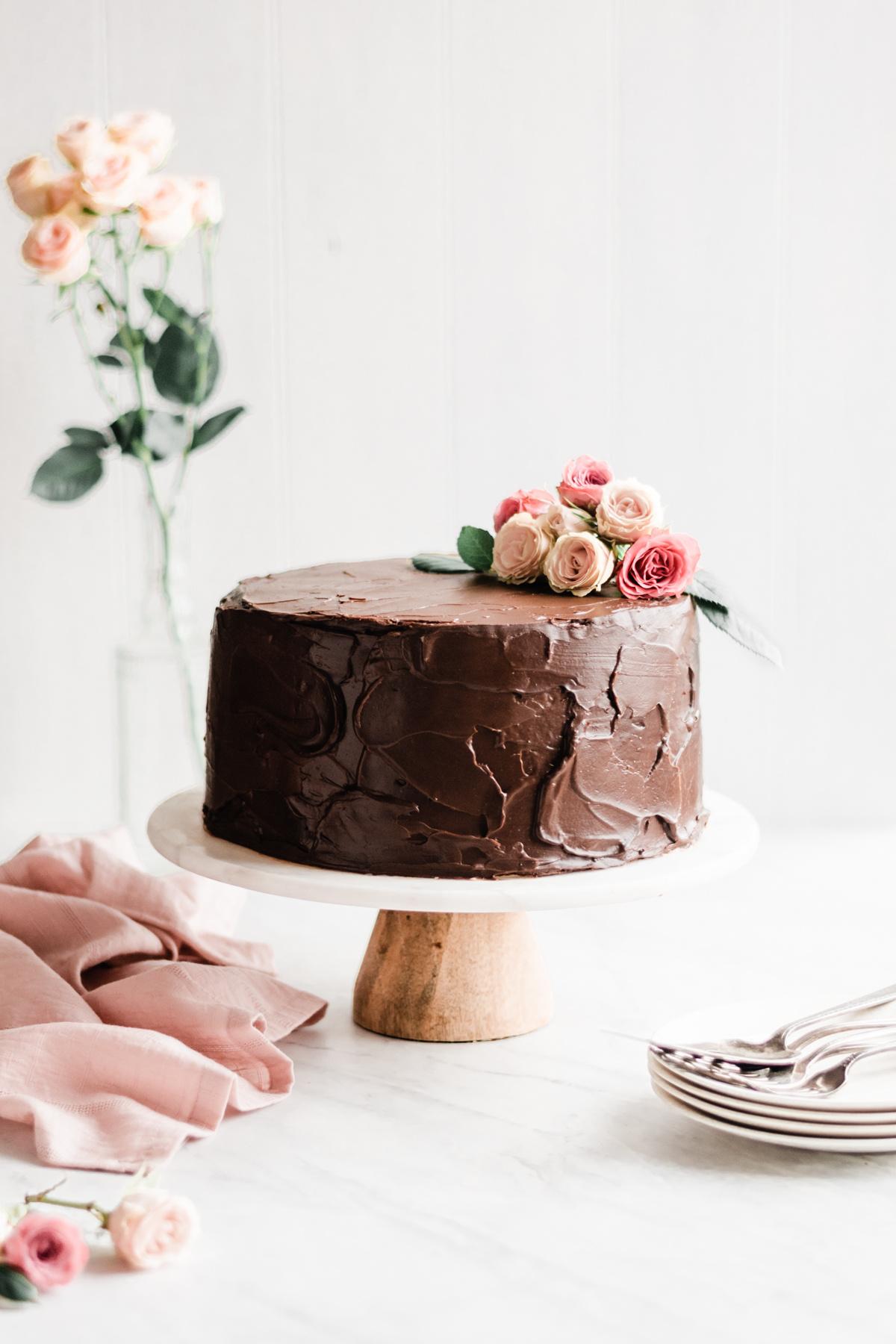 According to Hitched users, over 80% of people would rather have a chocolate wedding cake than a traditional fruitcake. If that's you, we bet a chocolate buttercream filling will have you drooling.
21. Rainbow Shag Buttercream Wedding Cake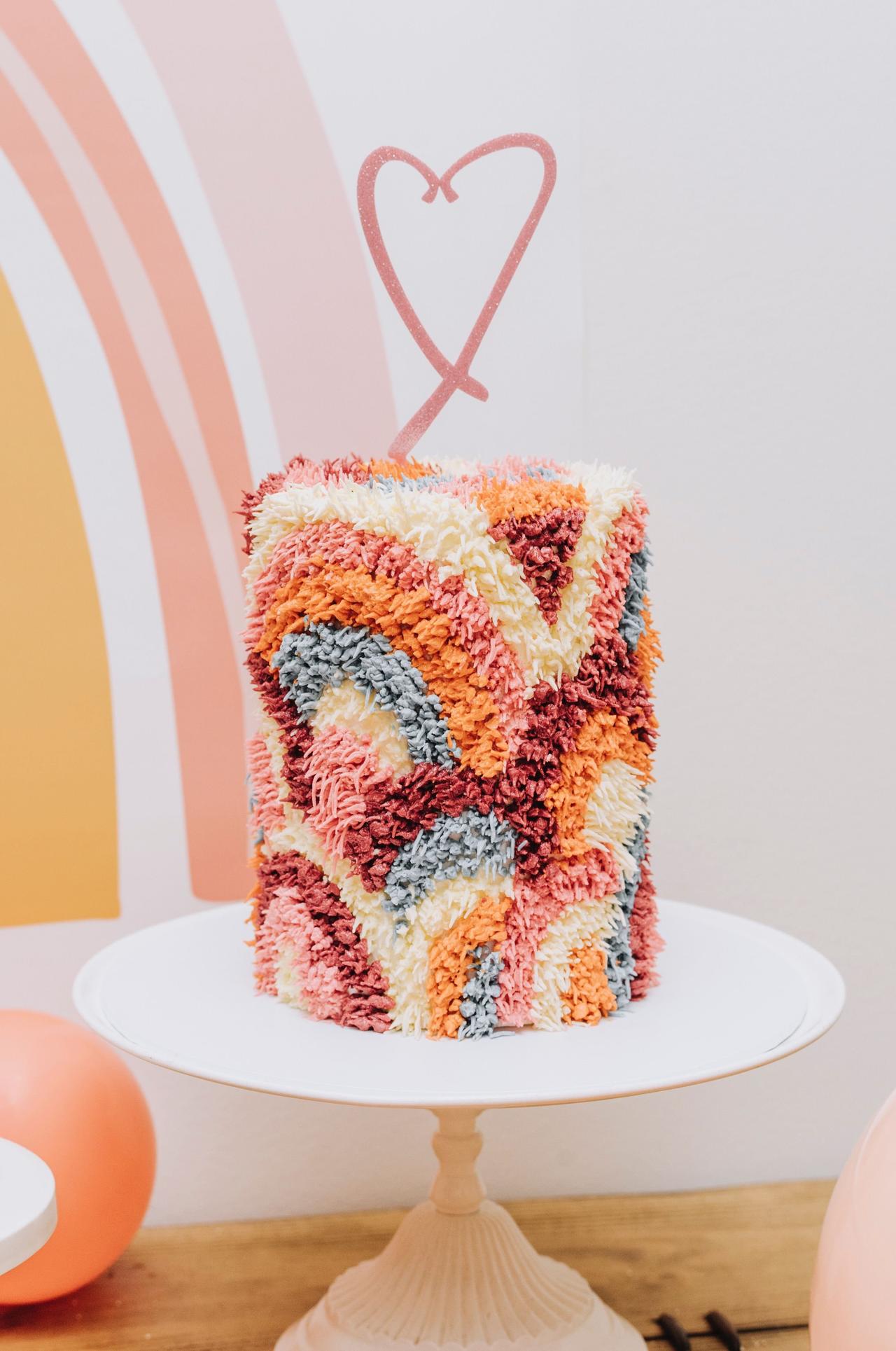 This playful wedding cake proves just how many different looks can be achieved by using buttercream. Here, different coloured buttercream has been singularly piped in an abstract pattern in order to create a shaggy style finish.
22. Buttercream Wedding Cake with Bright Blooms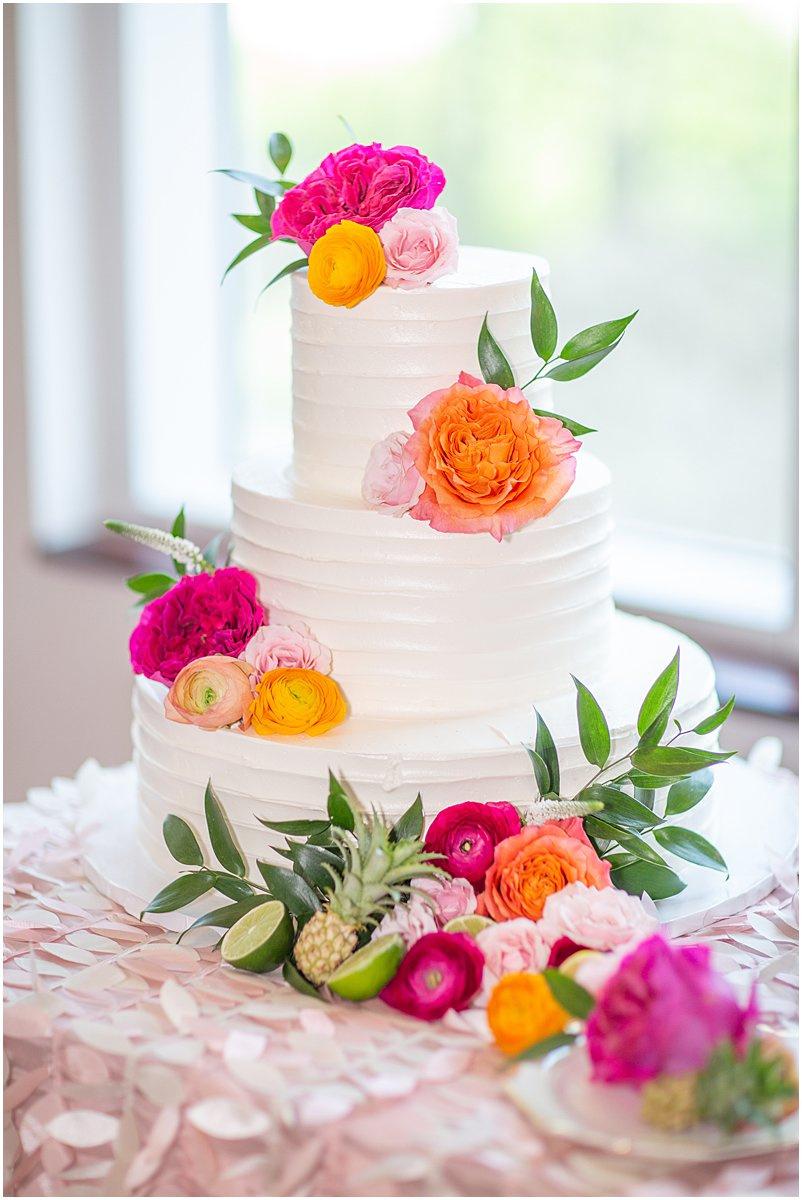 If you opt for white buttercream consider decorating your wedding cake with vibrant flowers as they'll really pop against the clean base. Better yet, add a few fun fruits into the mix too like mini pineapples and zesty limes.
23. Floral Painted Buttercream Wedding Cake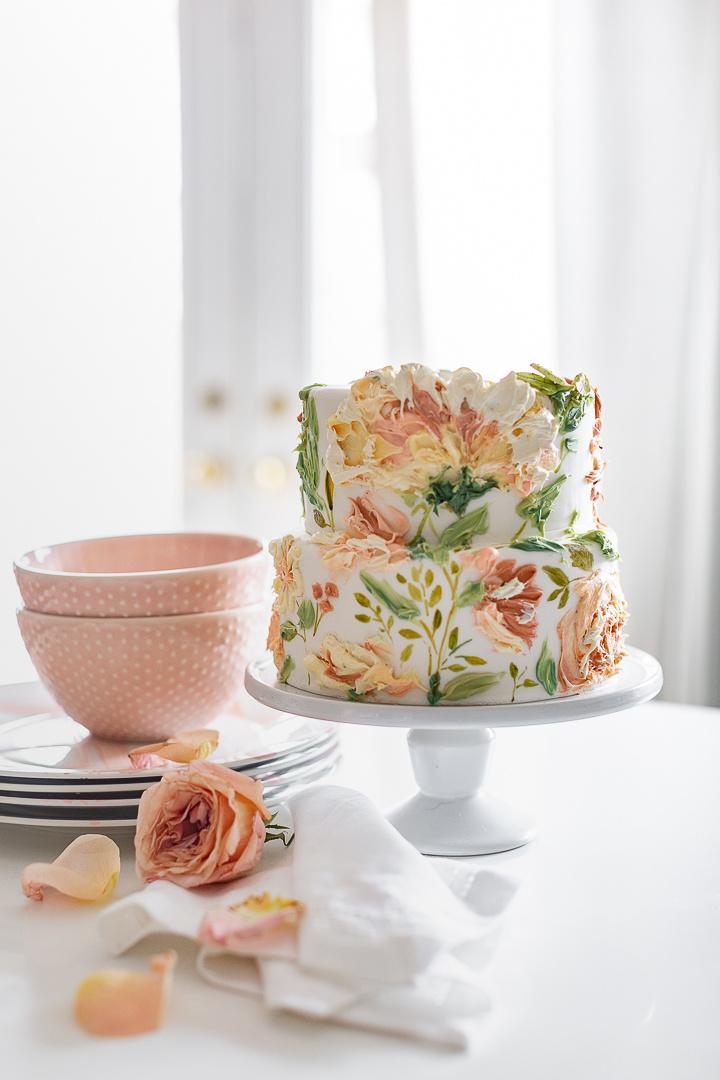 This edible piece of art features delicately painted buttercream flowers on a backdrop of smooth fondant. We can't get over the incredible detailing on the hand-painted blossoms and reckon they would make a lovely edition to a romantic wedding.
24. Sunflower Buttercream Wedding Cake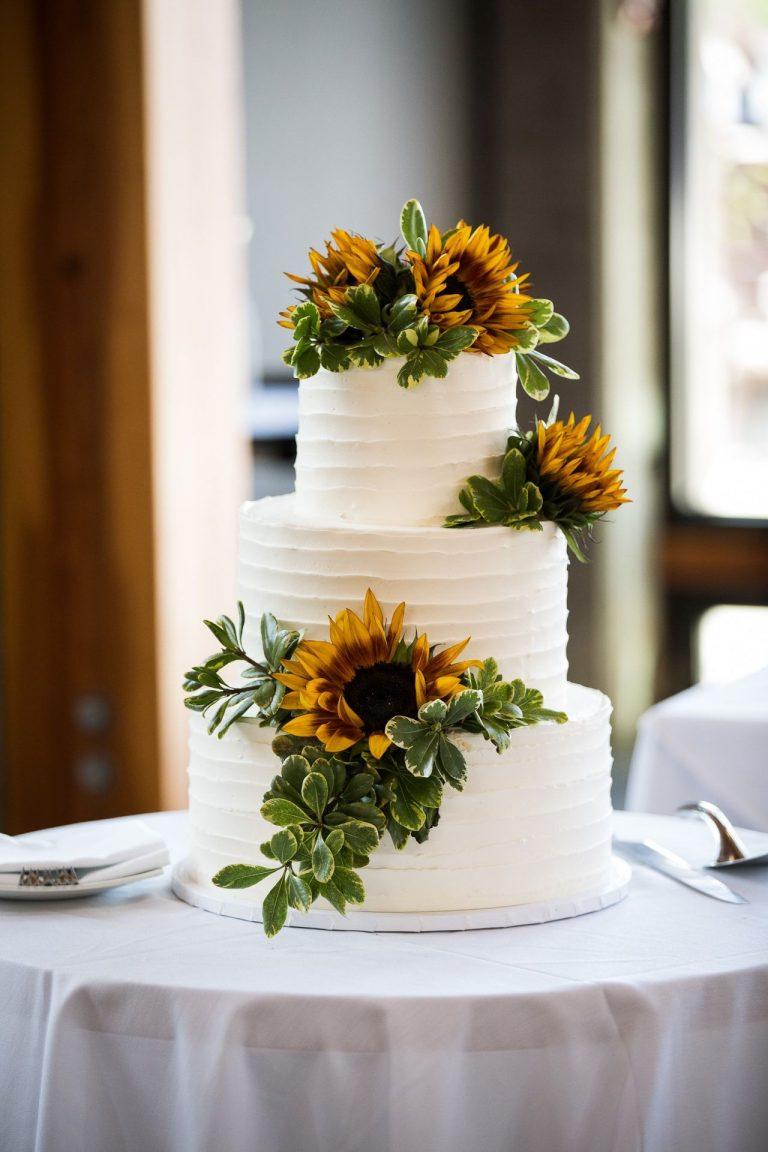 This sunflower adorned buttercream wedding cake is simply stunning. The rustic blooms give a relaxed feel to this bake while the white buttercream keeps it elegant and sophisticated.
READ MORE: 22 Stunning Sunflower Wedding Bouquet Ideas
25. Speckled Pink Buttercream Wedding Cake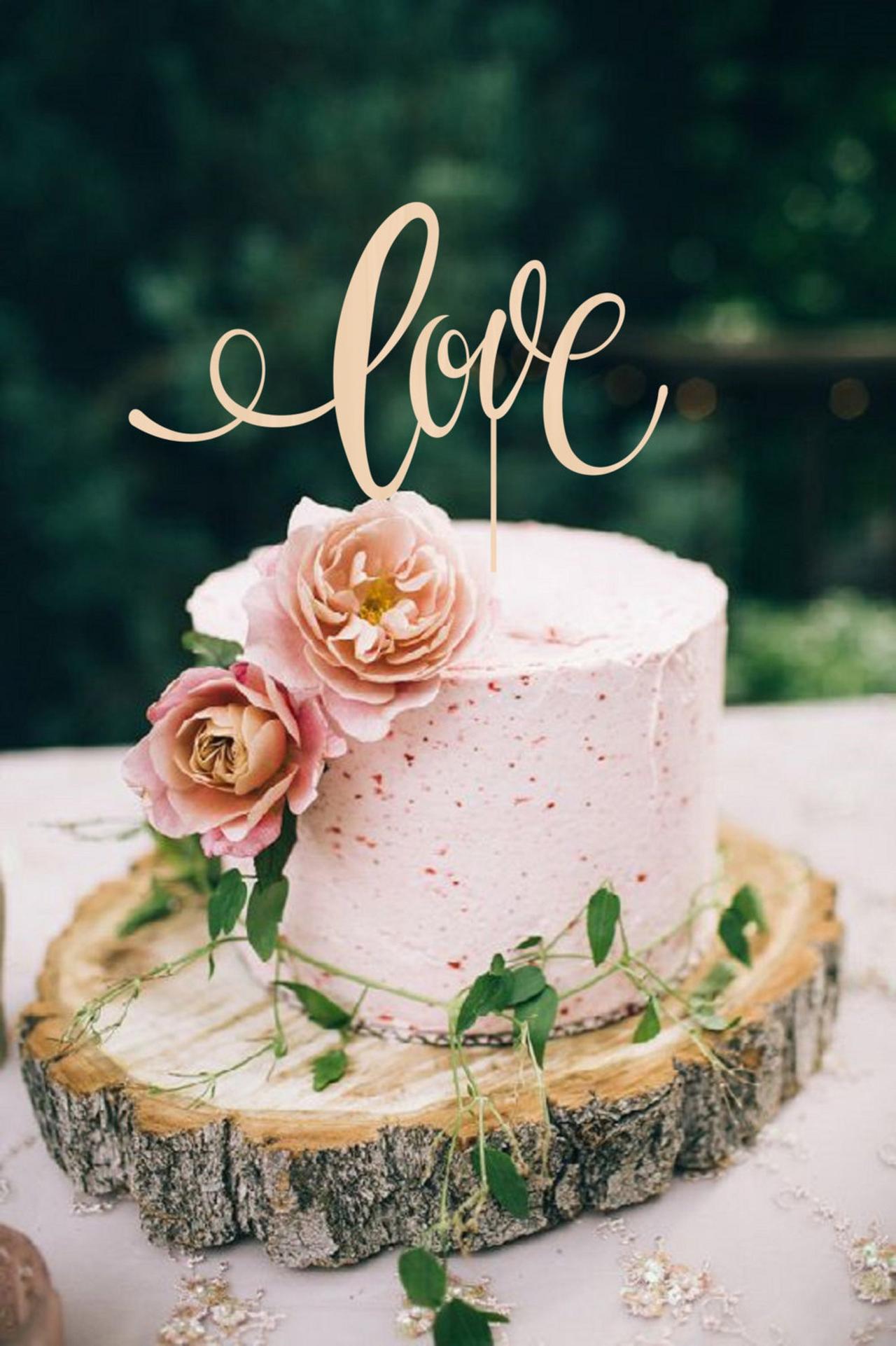 The speckled pink design on this buttercream wedding cake is unique, playful and above all beautiful. If you're planning on making your own wedding cake, this finish can be achieved by mixing freeze-dried raspberries into the buttercream giving it a soft pink hue with flecks of fruit.
26. Gilded Pink Buttercream Wedding Cake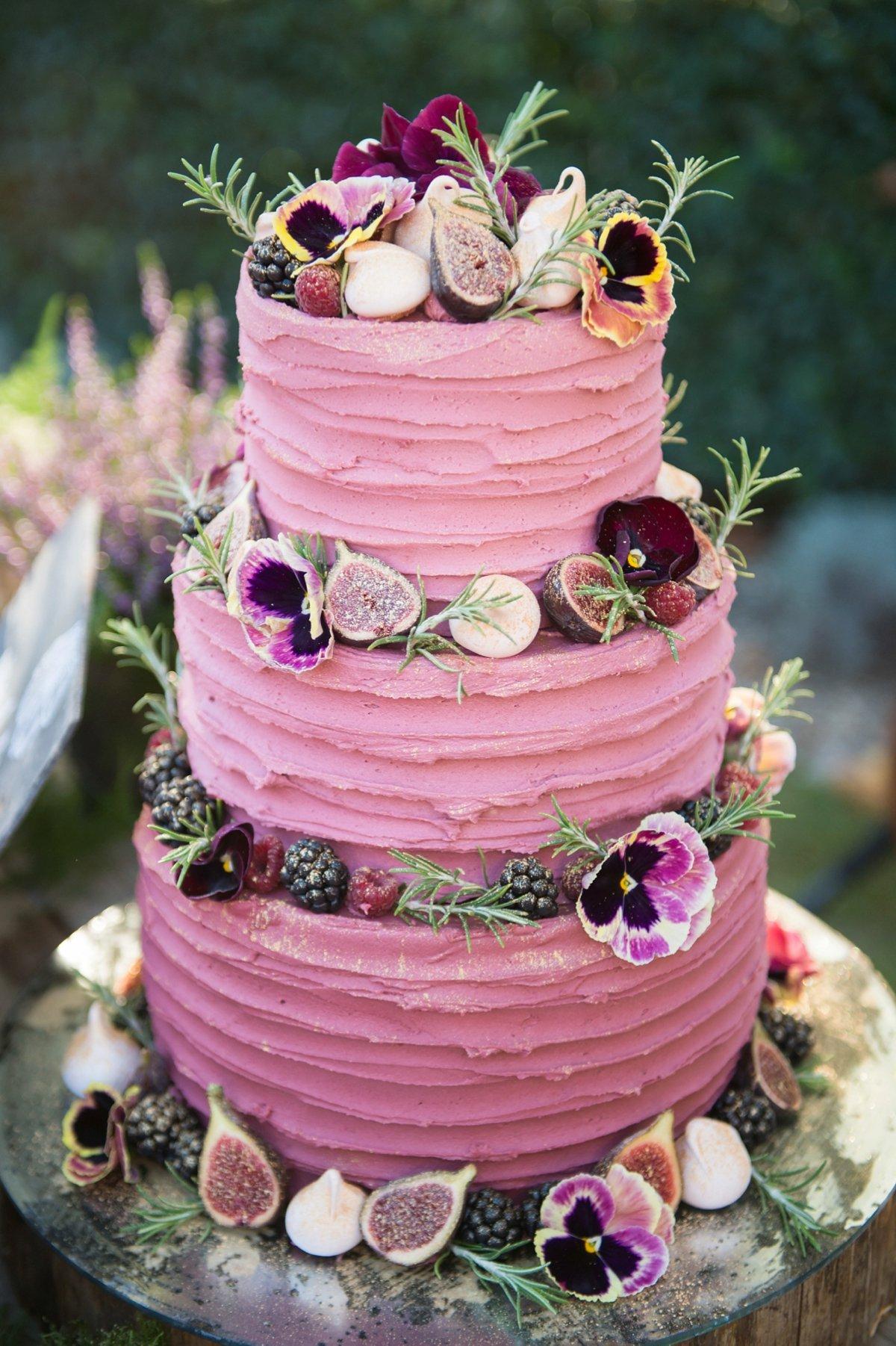 What better way to make a statement than with a decadent pink buttercream wedding cake, adorned with fruit, flowers, meringue and gold? The addition of rosemary sprigs will make this bake smell delicious.
27. Autumn Buttercream Wedding Cake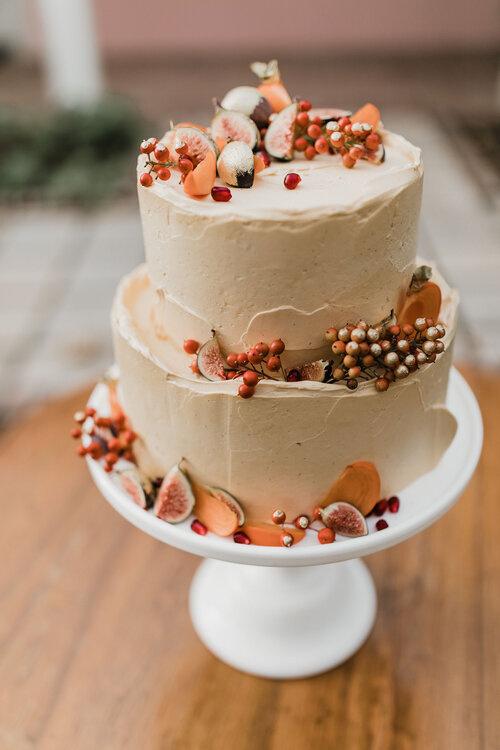 A burnt orange and red colour palette simply screams autumnal wedding and this cake is ticking all our boxes by mixing soft buttercream with pops of juicy fruit. The pomegranate seeds will burst with every bite - delicious!
28. Ombre Buttercream Wedding Cake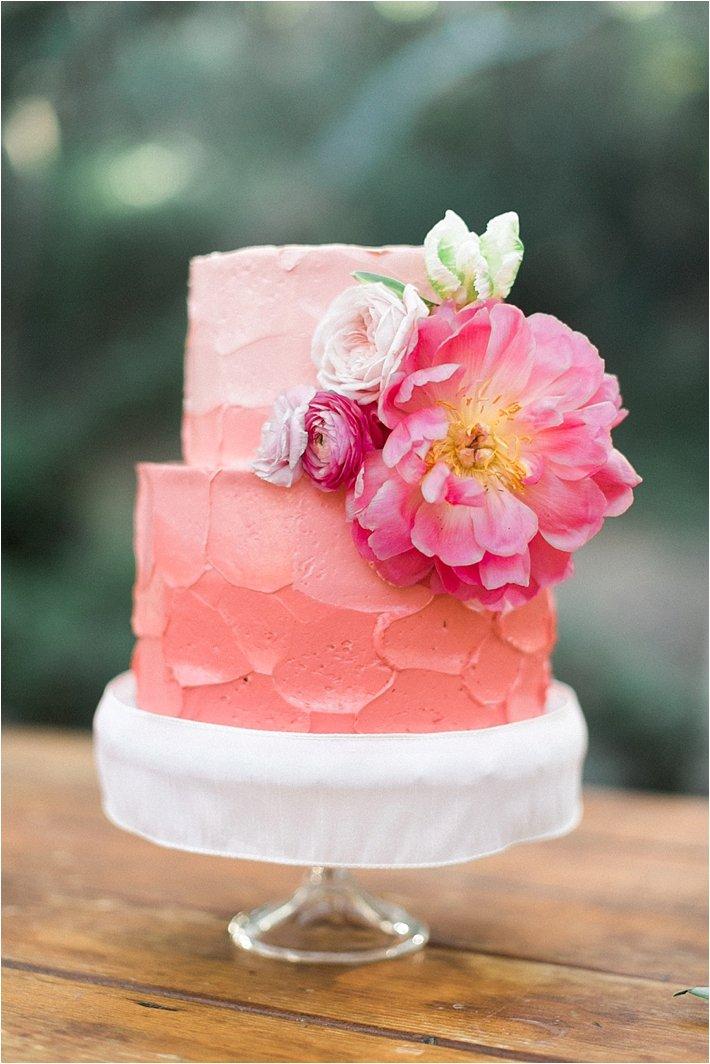 We love an ombre wedding cake - especially when it incorporates peonies. Buttercream is the fail-safe option if you want to try this trend as you can easily blend the buttercream together to create a seamless gradient.
29. Layered Florals Buttercream Wedding Cake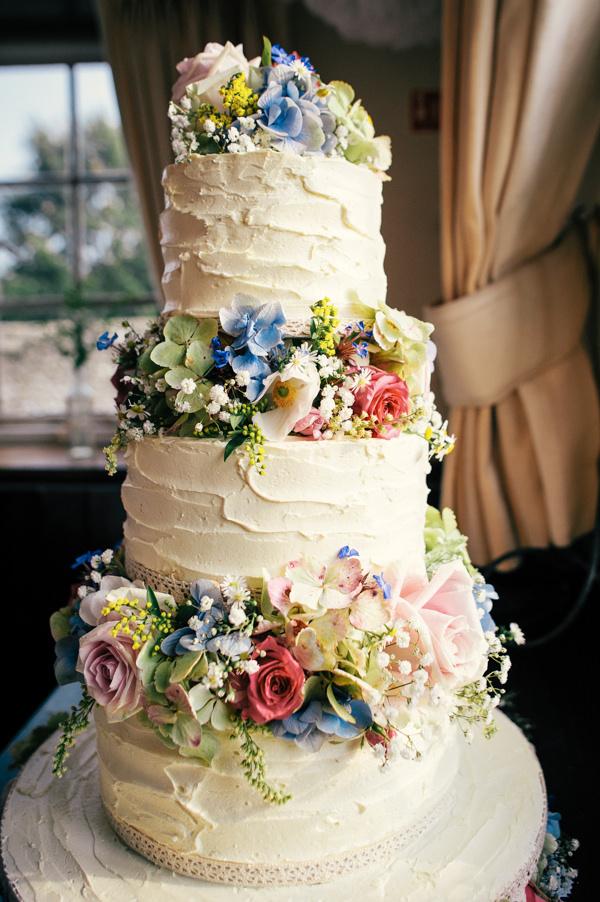 Who says you have to sandwich layers of sponge together with buttercream? This wedding has opted for lashings of rich buttercream covering each tier and filled the layers with flowers instead. Okay, it might not be edible but it looks fabulous!
READ MORE: 71 Incredible Wedding Cakes
30. Shell Buttercream Wedding Cake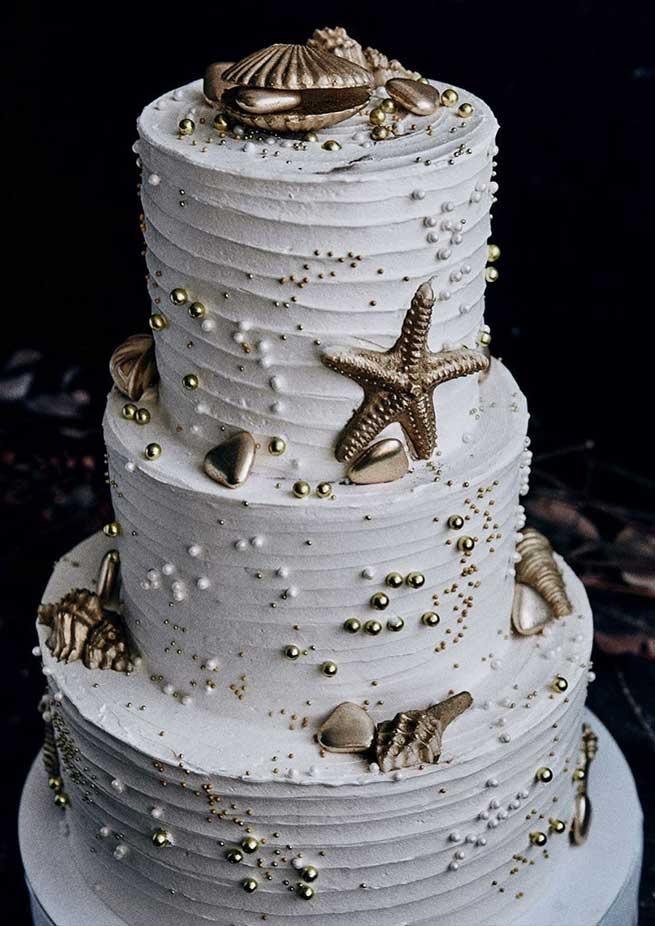 A unique take on a buttercream wedding cake, this shell covered design will be like nothing your guests have ever seen before. Whether you're marrying with the sand beneath your toes or not, this sponge is a beautiful choice.
31. Lace Buttercream Wedding Cake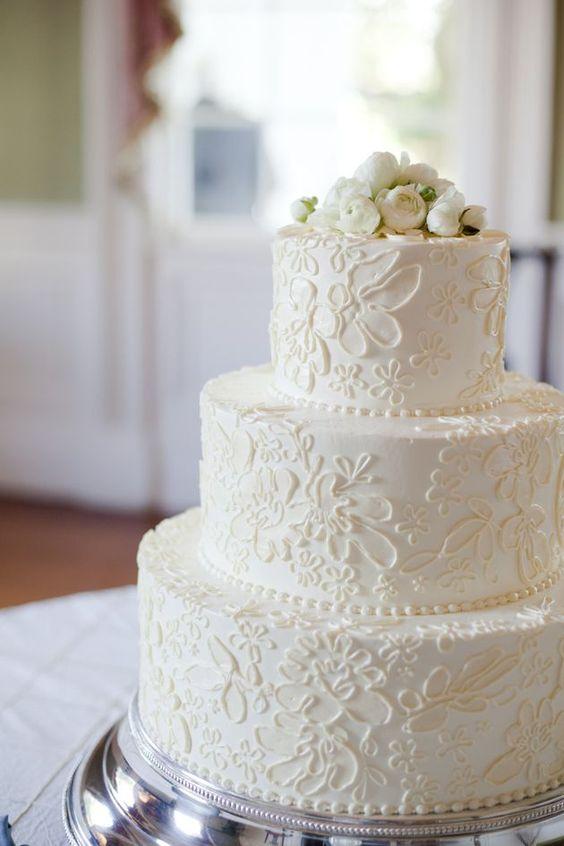 This three-tiered wedding cake may be plain white but what it lacks in colour it makes up for in pattern. Buttercream has been used to pipe dainty lace-like flowers all over its fondant base and delicate white blooms finish the look off.
32. Macaroon Buttercream Wedding Cake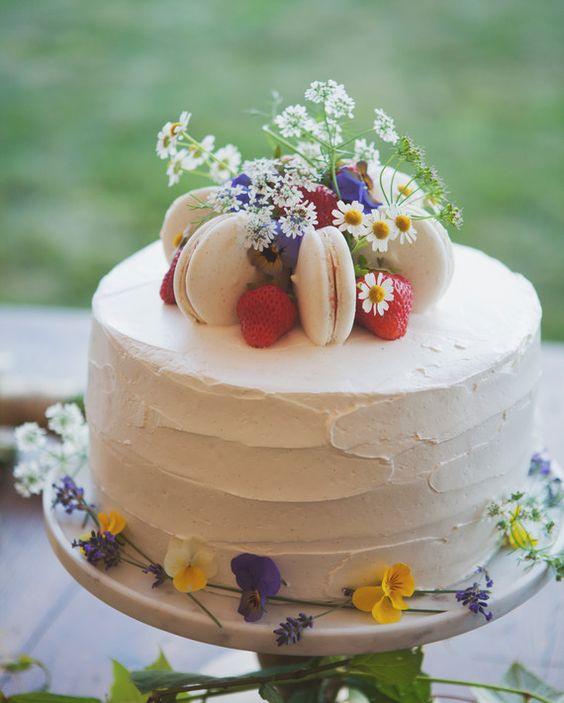 If you saw our edit of single tier wedding cakes, then you'll know that good things do come in small packages! This buttercream cake is the perfect centrepiece for an intimate wedding party and the macaroon topping is a beautiful finishing touch.
33. Flamingo Buttercream Wedding Cake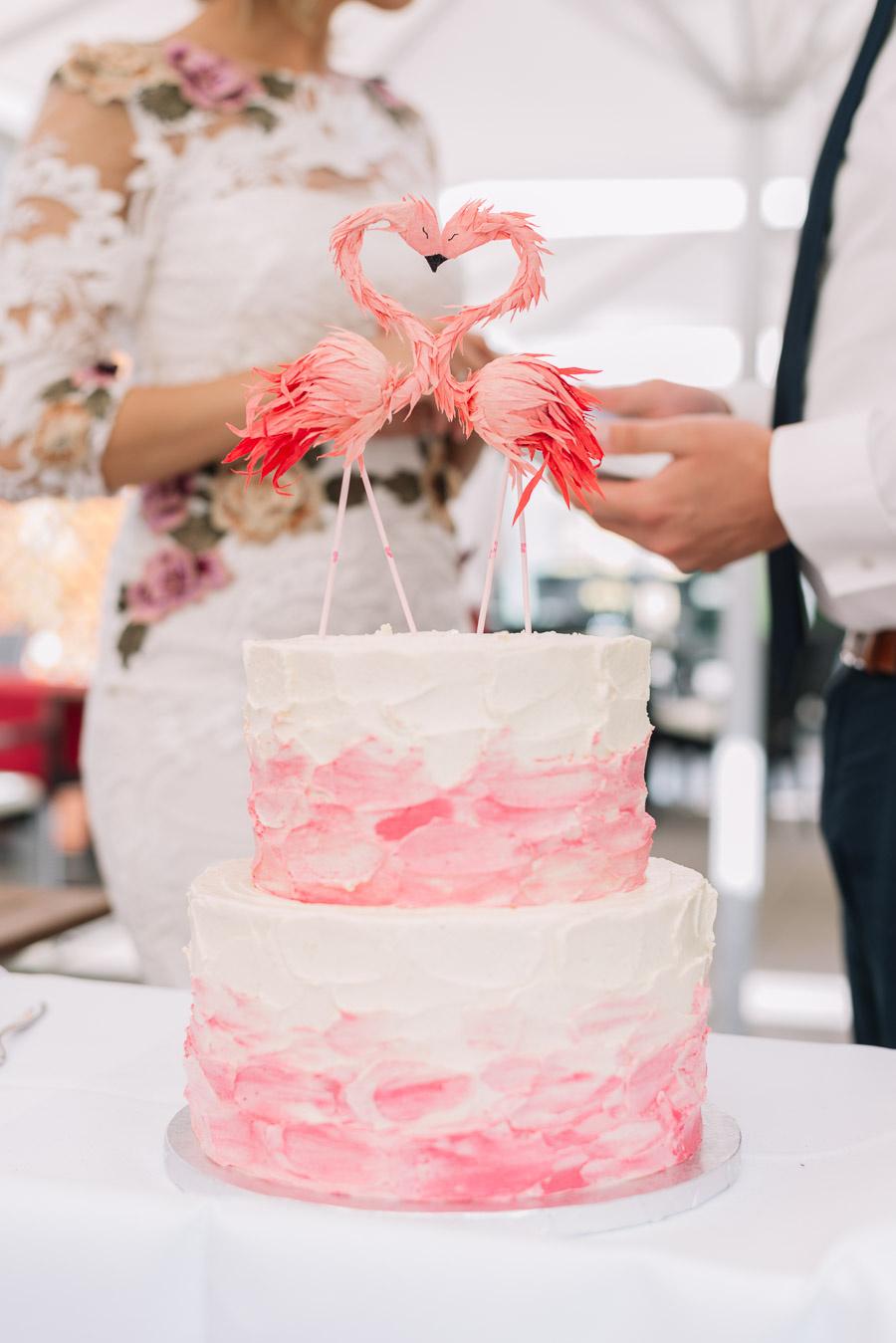 Another colourful buttercream bake, it's the fun flamingo wedding cake topper that really steals the show here. This couple have opted for a matching pink buttercream but a pale blue would work beautifully here too if you want to give the illusion of water.
34. Cheeky Dog Buttercream Wedding Cake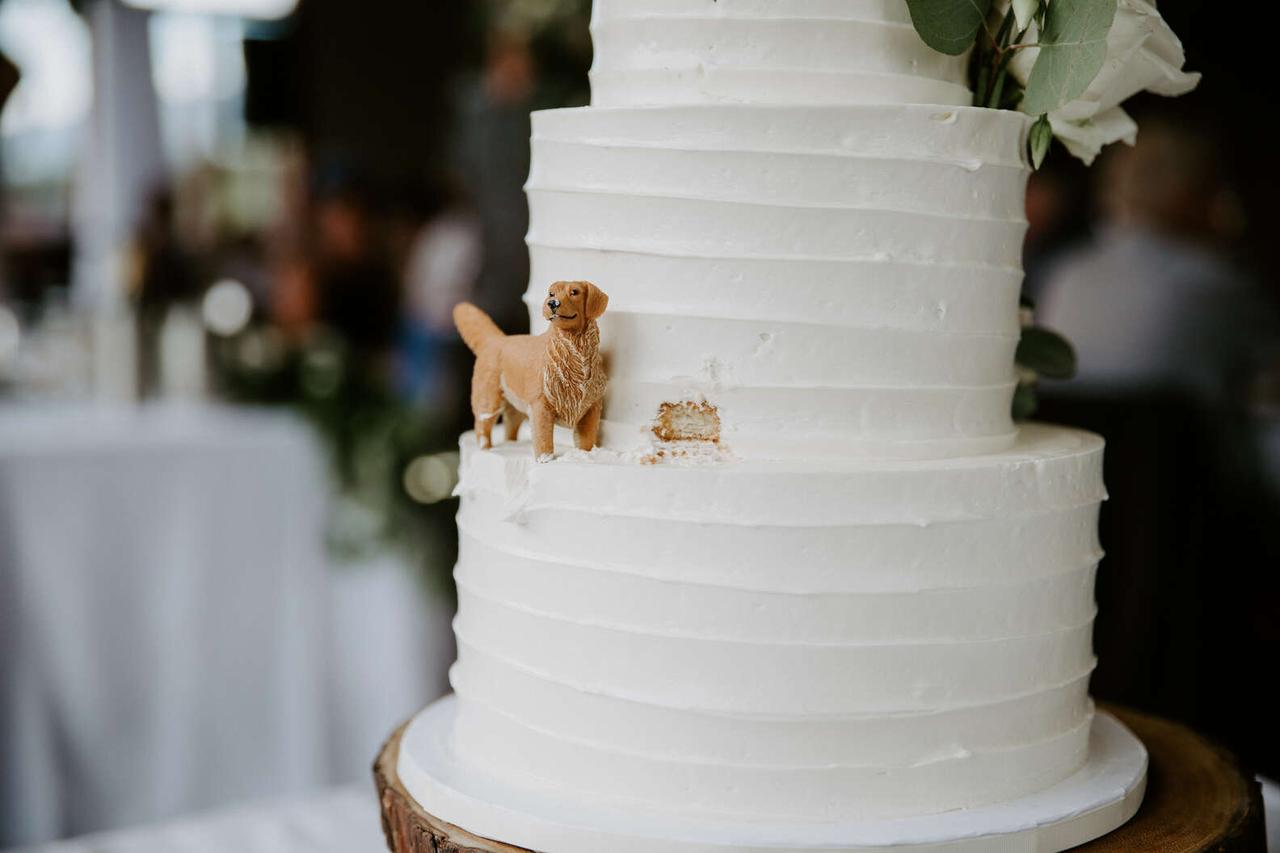 If you're having your beloved pet as a guest on the day you can incorporate them into the cake with this cheeky pooch who has taken a bite out of the buttercream! There are a number of dog decorations available on the Hitched Shop, including a Labrador and a Minature Dachshund.
READ MORE: Pet Friendly Wedding Venues
35. Galaxy Buttercream Wedding Cake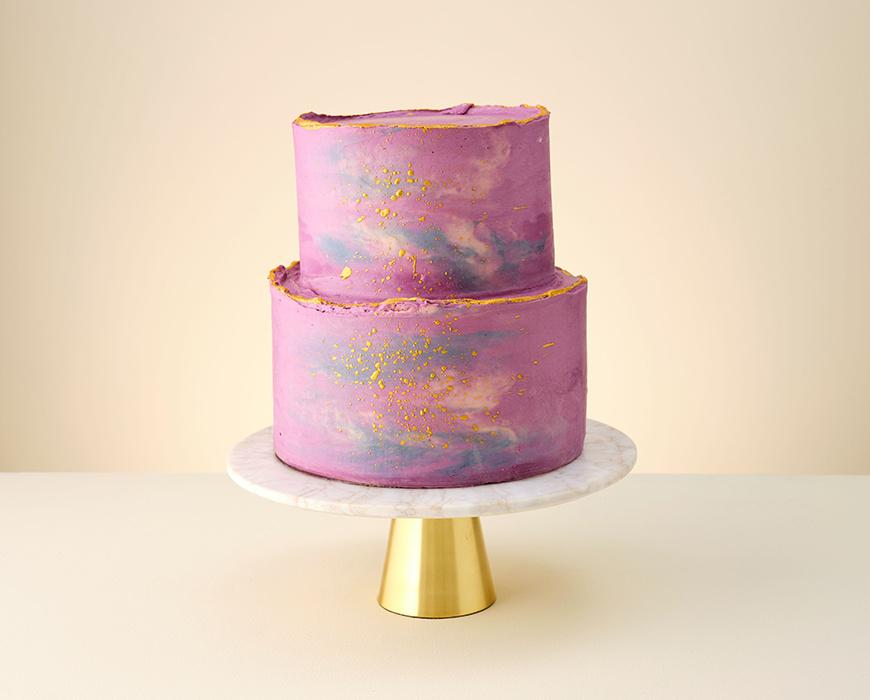 Did you know that Lola's Cupcakes also offer spectacular wedding cakes too? Choose from a chocolate or vanilla sponge, decorated with hand-brushed buttercream and gold flecks for a cool and quirky finish. This vibrant violet cake reminds us of a galaxy - ideal for a celestial style wedding.
36. Dried Petal Buttercream Wedding Cake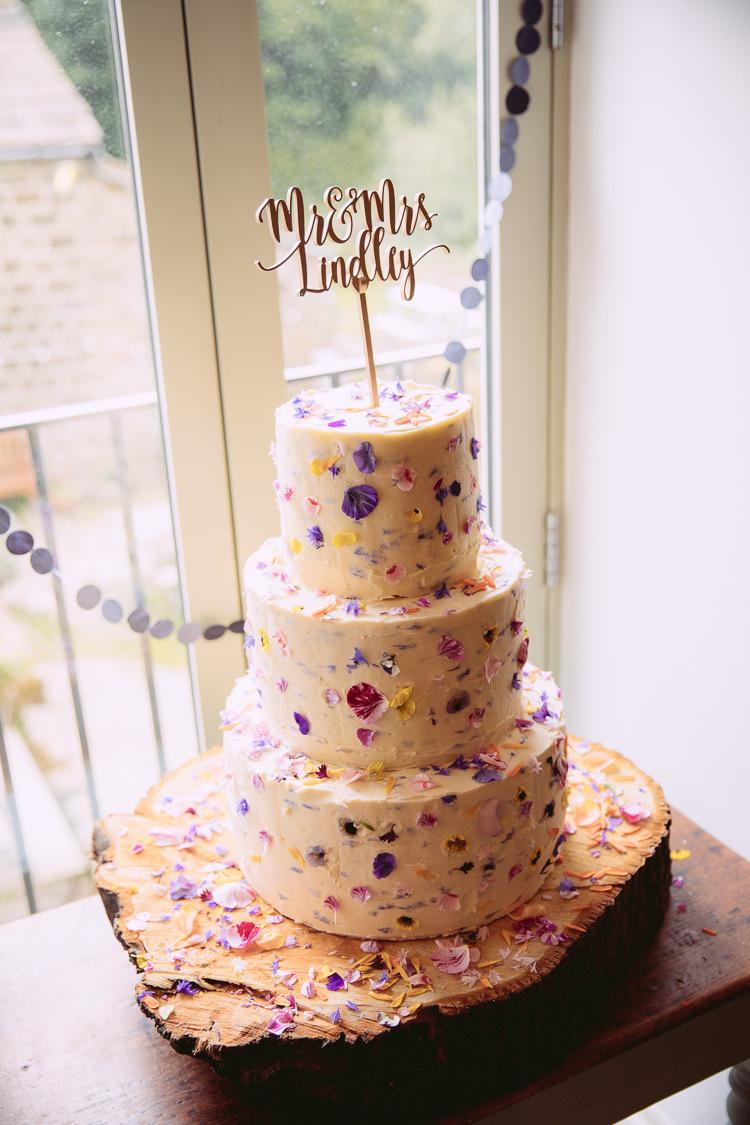 Making your own wedding cake? This floral design is an easy bake to re-create. Simply spread a thin layer of buttercream over your cake tiers and gently press in dried flower petals. You could even place the finished masterpiece on a rustic wooden slice like this couple have done.
37. Cupcake Buttercream Wedding Cake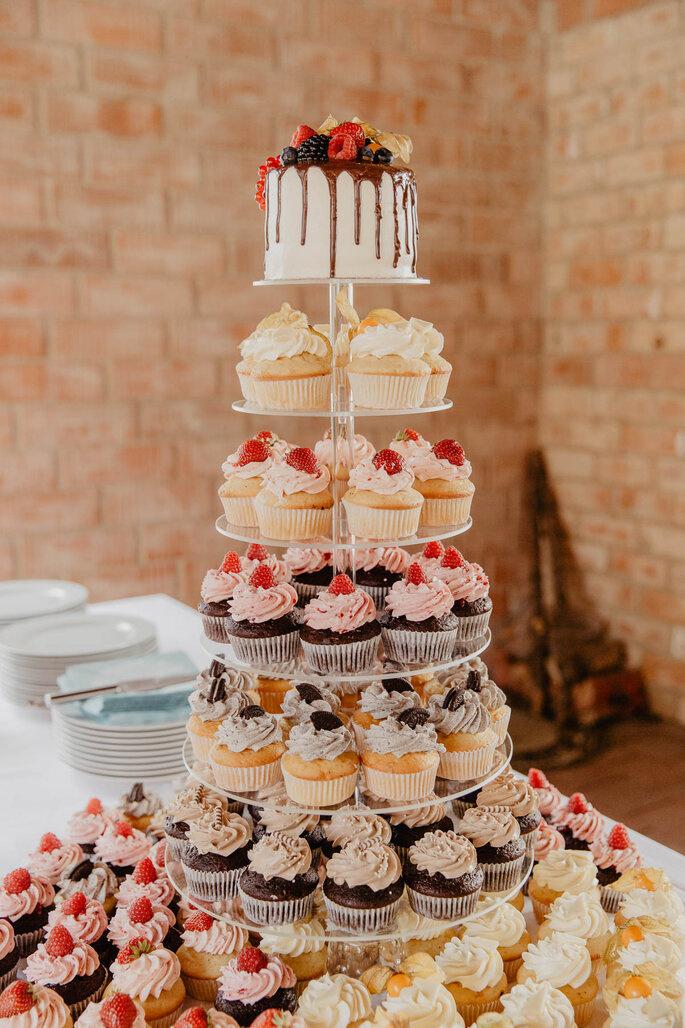 A beautiful display of buttercream cupcakes are perfect if you have a large guest list as they'll save you having to purchase a huge wedding cake. Shown here are chocolate, cookie, strawberry and lemon flavoured treats.
38. Glitter Cherry Chocolate Drip Buttercream Wedding Cake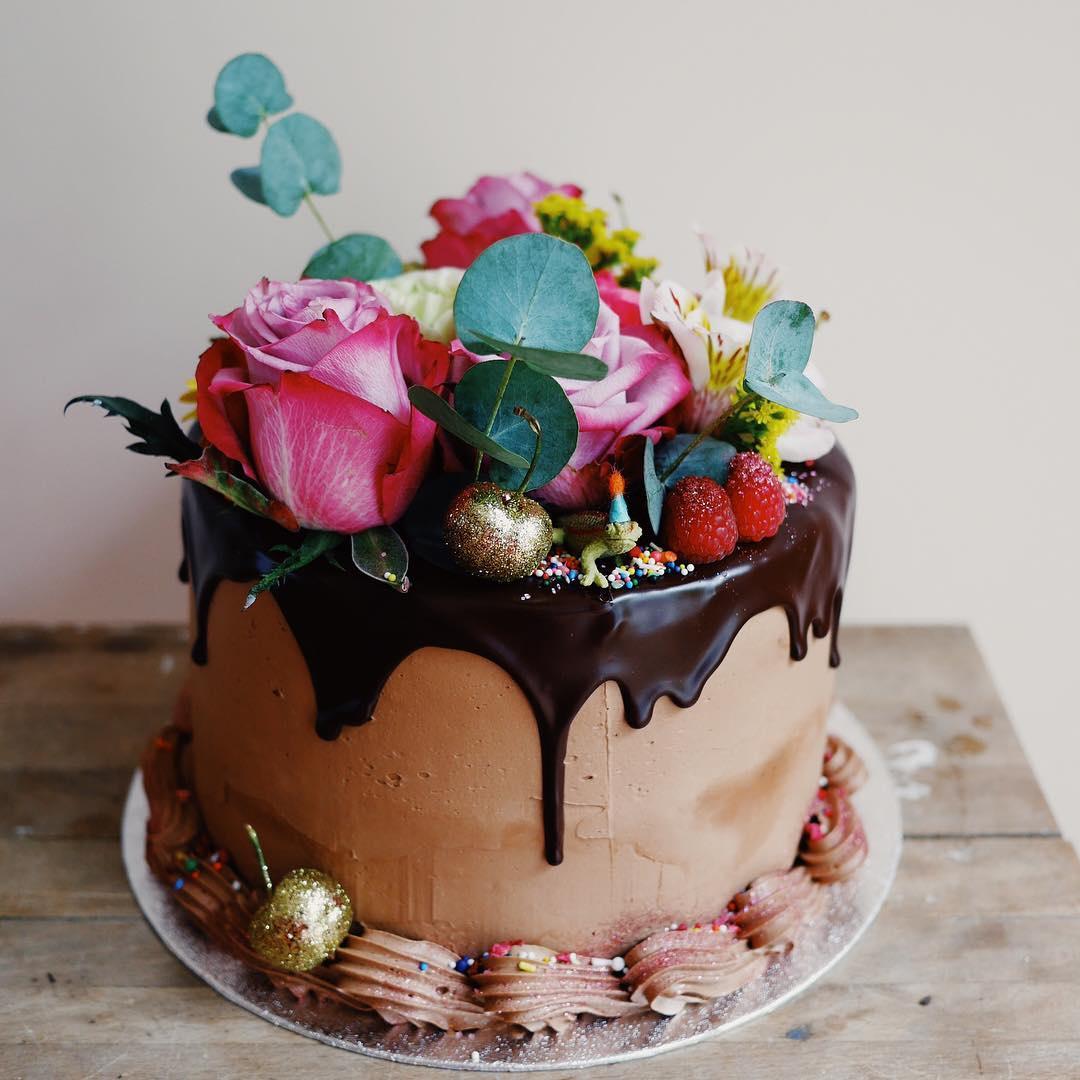 Glitter covered cherries, chocolate drips and beautiful blooms? This chocolate buttercream wedding cake from Cake Of Dreams really is a dream come true! The textured buttercream piping around the base of the cake brings the whole fun look together.
39. Sugar Pearl Buttercream Wedding Cake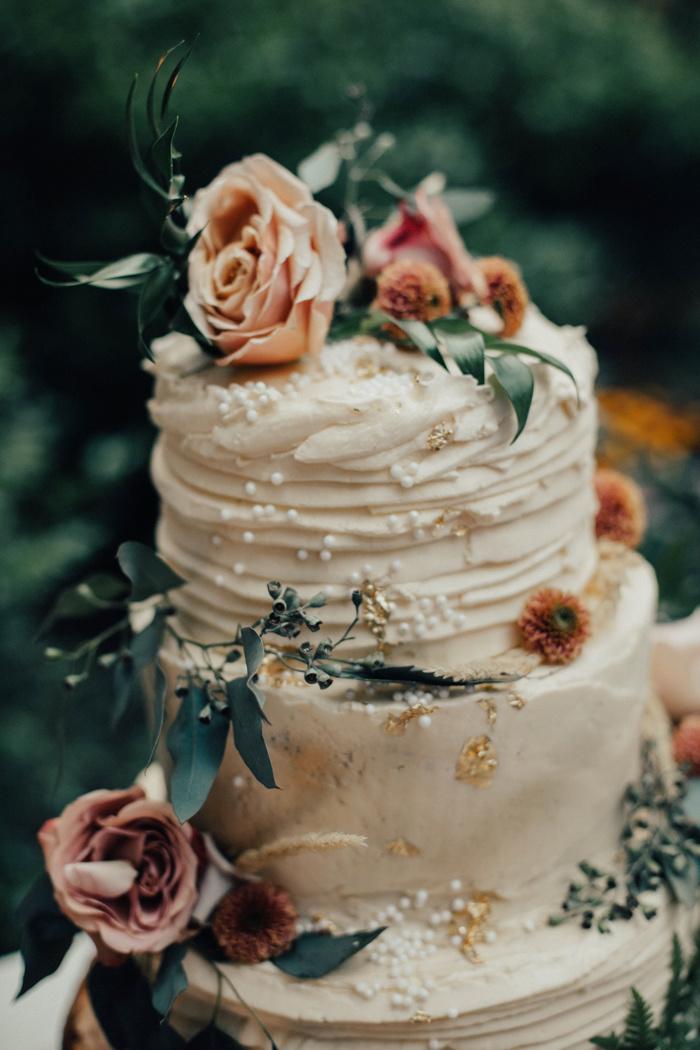 If you want to keep things fairly traditional while still making a stylish statement, then this cake's eye catching trail of sugar pearls will do exactly that. The rings of buttercream that circle the top and bottom tiers look extra indulgent.
40. Cookie Buttercream Sandwich Wedding Cake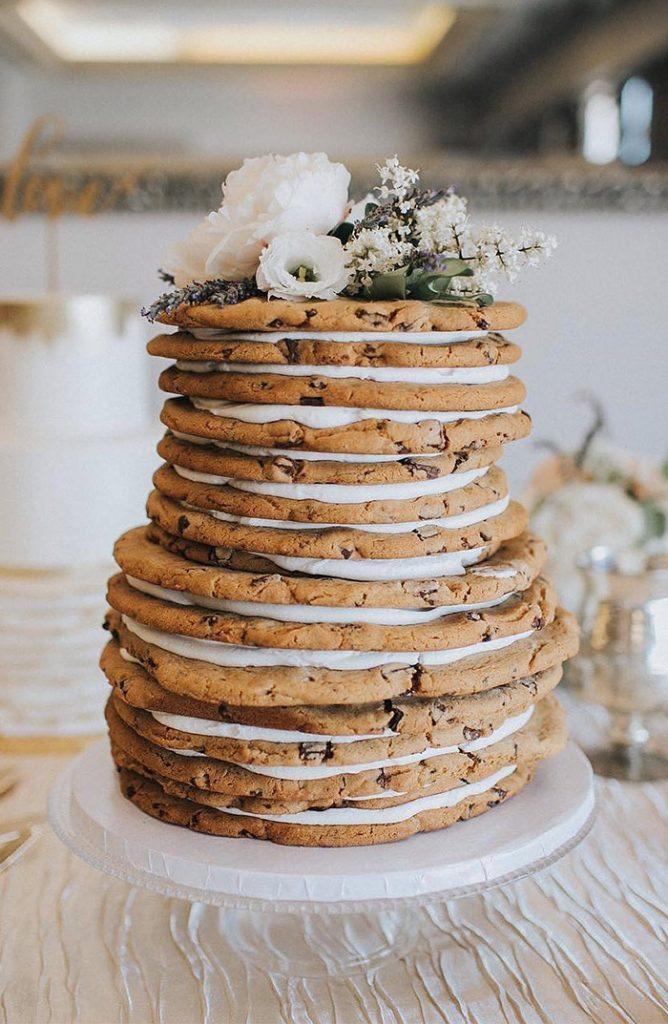 We can't think of a better use of buttercream than slathering it between chocolate chip cookies in order to create this sweet treat. Serve with shots of ice cold milk and we guarantee your guests will be going back for a second serving.
41. Rustic Buttercream Wedding Cake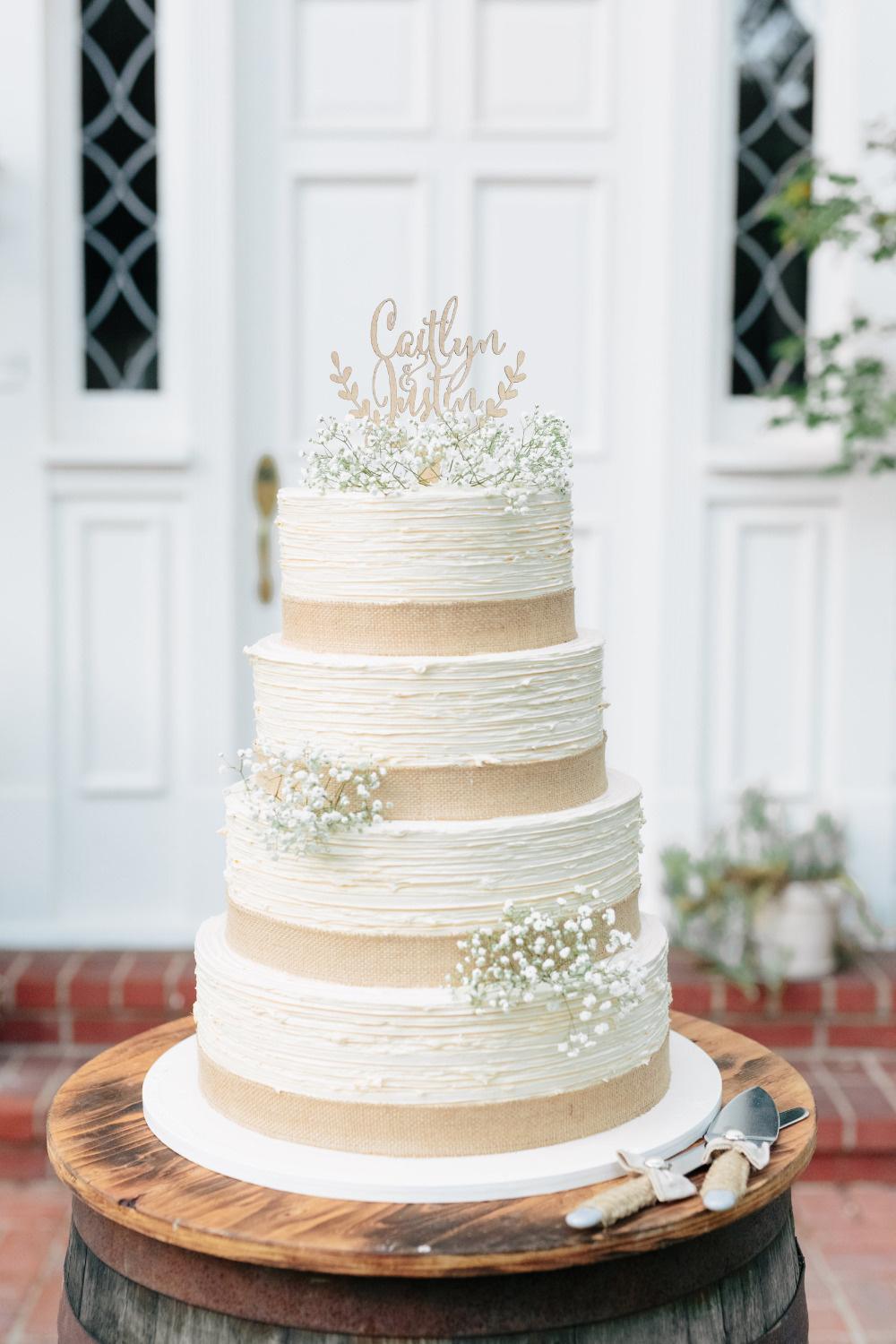 As you've seen by now, buttercream doesn't have to have a sleek and smooth finish so it lends itself perfectly to a rustic wedding theme. This cake has taken it one step further by placing brown twine ribbons around the tiers.
READ MORE: 21 of the Best Rustic Wedding Venues in the UK
42. Monochrome Buttercream Wedding Cake With Copper Drip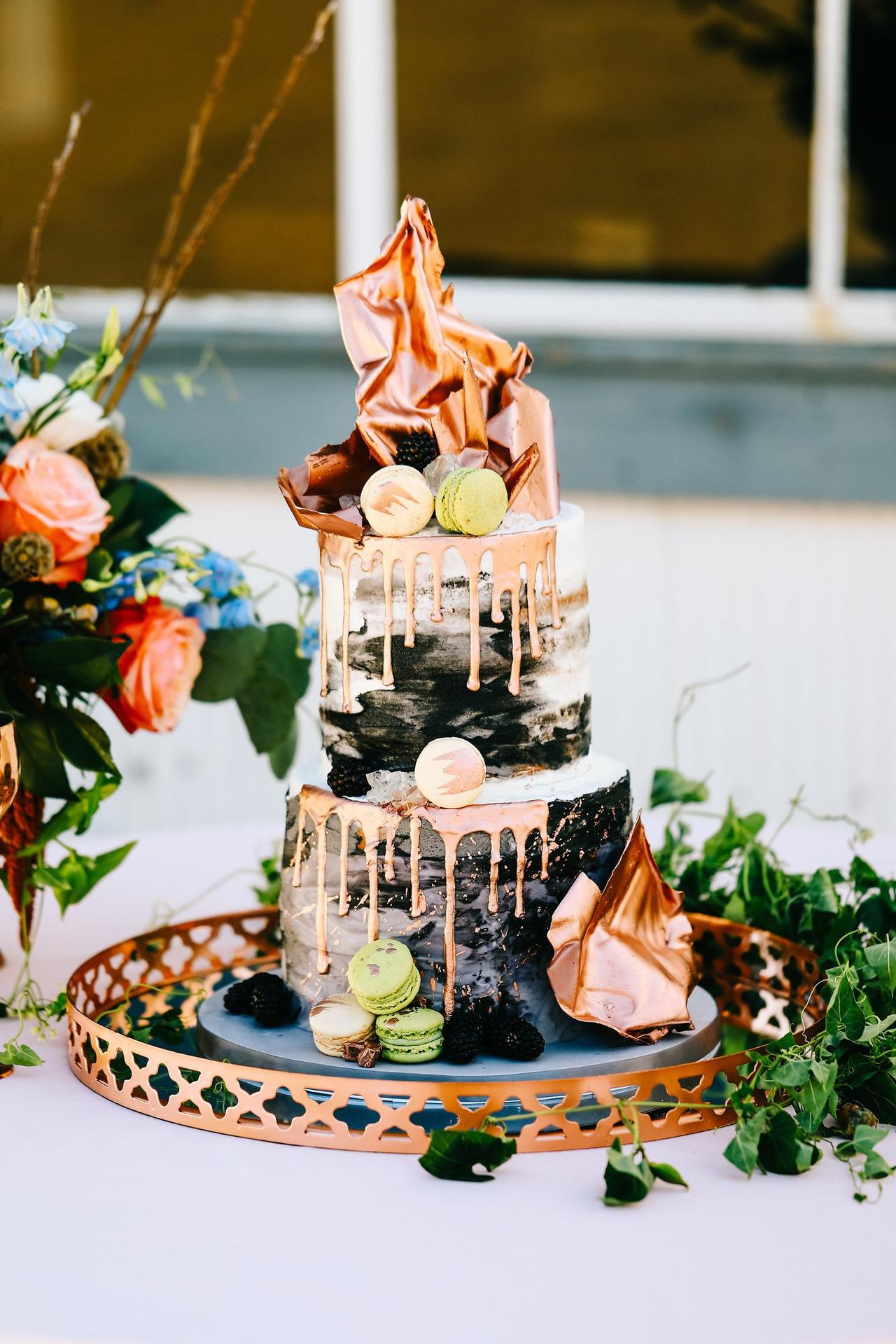 A monochrome colour palette can be far from boring and this modern wedding cake showcases this wonderfully. Featuring a dramatic copper drip against a smooth black and white buttercream base, if you want a wedding cake that stands out, this could be the one.
43. Buttercream Wedding Cake With Greenery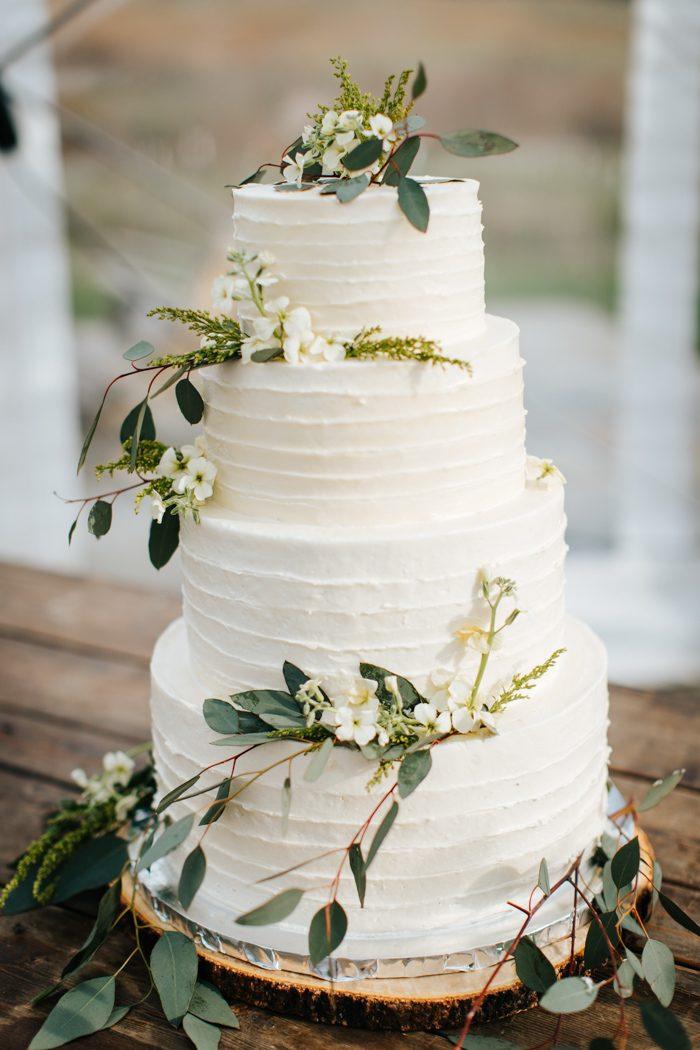 If you're thinking of choosing an ivory or white buttercream cake but don't want it to look too simple, then use this cake as inspiration. The frosted tiers have been jazzed up with gorgeous green foliage and delicate white blooms.
44. Coconut Buttercream Wedding Cake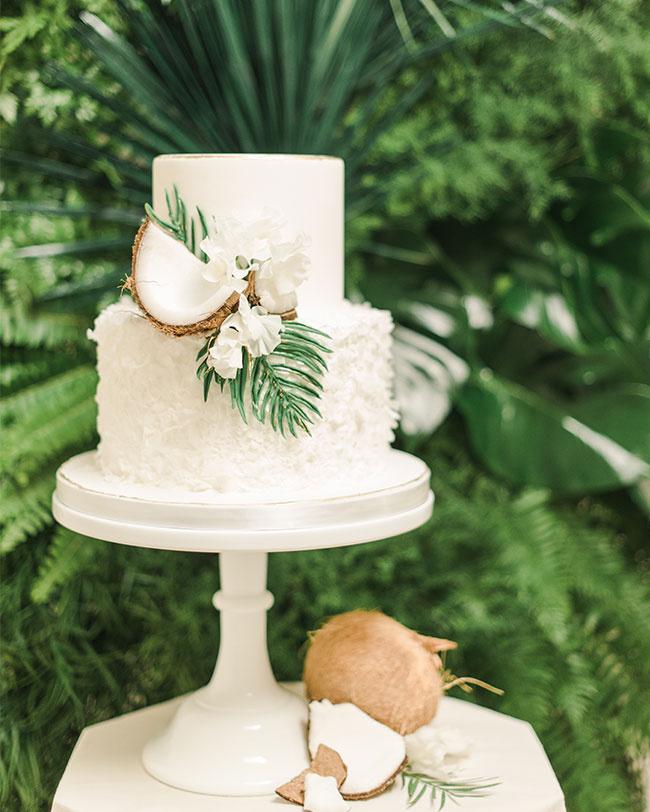 The tropical display on this wedding cake was pretty on its own, but a scattering of coconut pressed onto the buttercream made this confection even sweeter.
45. Vintage Buttercream Wedding Cake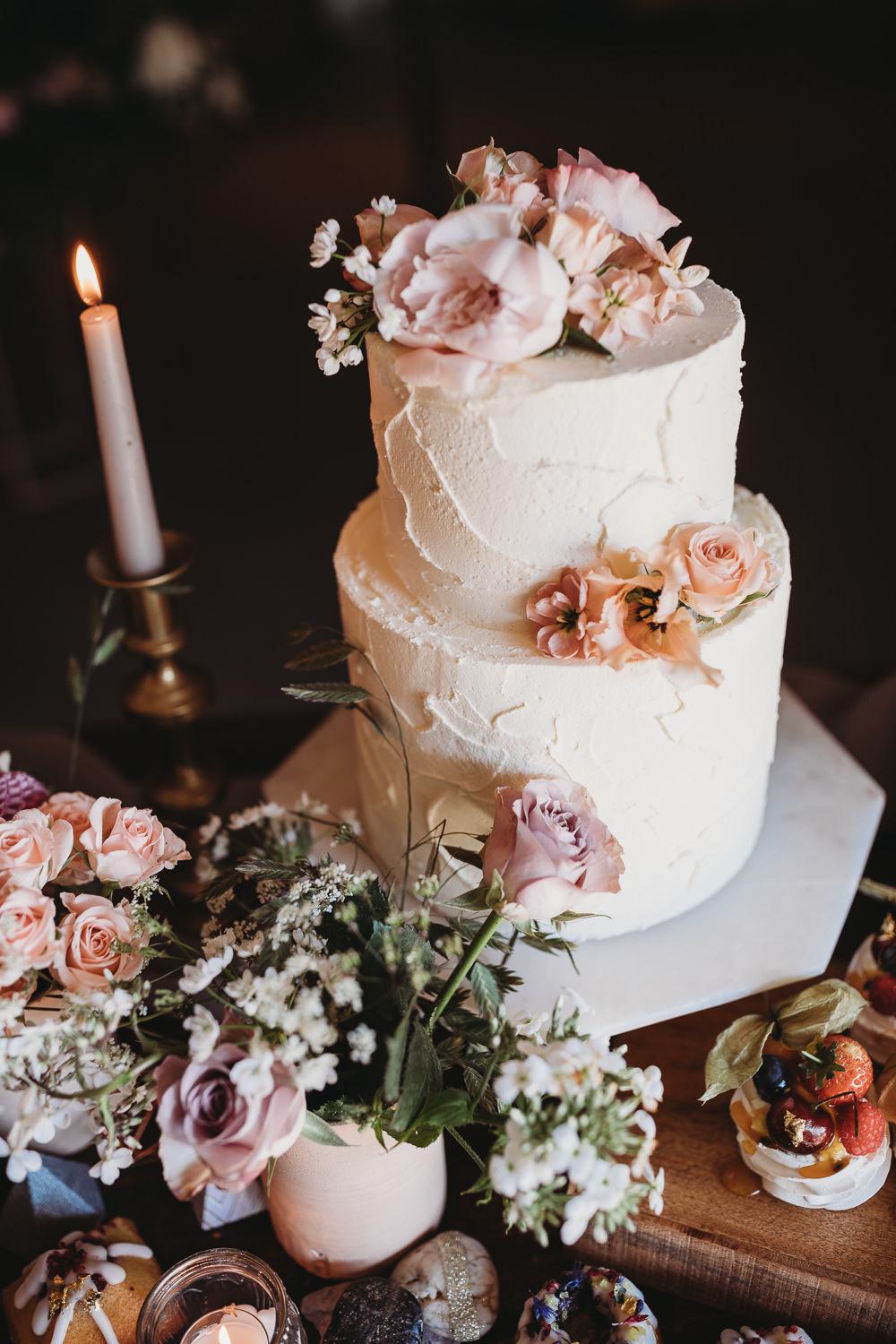 Each tier of this beautiful buttercream wedding cake was topped with vintage inspired flowers. It makes for a soft, romantic feel - especially next to a few glowing candlesticks.
Check out these incredible black wedding cake makers to make all your buttercream wedding cake dreams a reality.