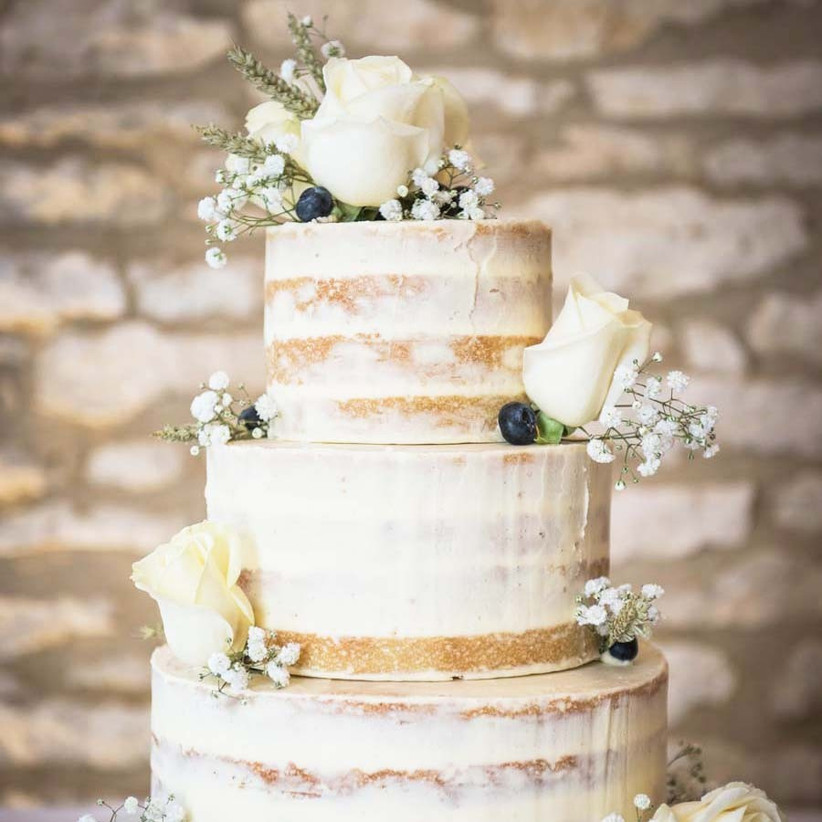 If you're looking for amazing wedding cakes that combine traditional and modern touches, then why not go for a scrumptious buttercream cake? This versatile cake flavour is perfect if you find marzipan or thick icing too sickly.
Buttercream also comes in almost every flavour you can think of – so you can choose a cake that's filled or smothered with whatever tickles your fancy. To help you in your search, we've rounded up 15 buttercream wedding cakes that will appeal to your eyes and your tastebuds.
Fabulous Florals
This three tiered beauty from Surrey based supplier Bake Rattle N Roll is a traditional ivory colour, yet the striped and piped buttercream frosting adds texture and versatility to the tiers. The great thing about floral wedding cakes is that they are a stunning choice for a wedding at any time of year.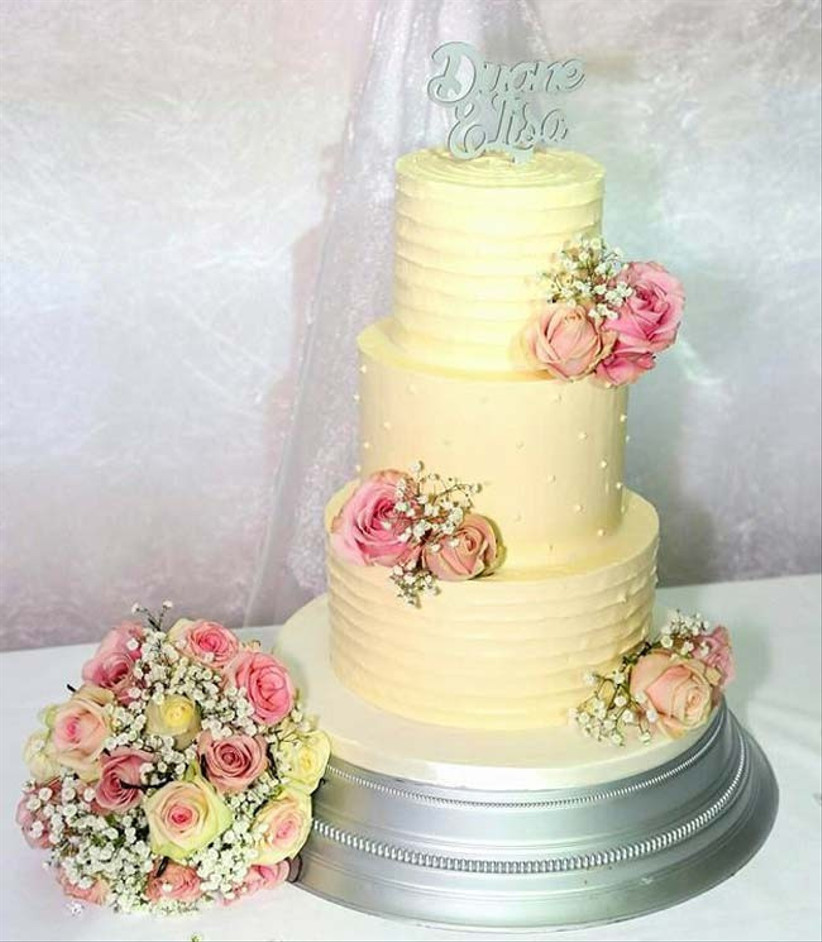 Vintage Inspired
This three tiered cake from Hayley's Piped Dreams makes an amazing centrepiece. The bunting cake topper would fit right in if you're having vintage inspired wedding décor and the smudged buttercream design also lends itself well to a rustic wedding. Take note from this dessert table set up and pick cupcakes that co-ordinate with the flowers on the cake.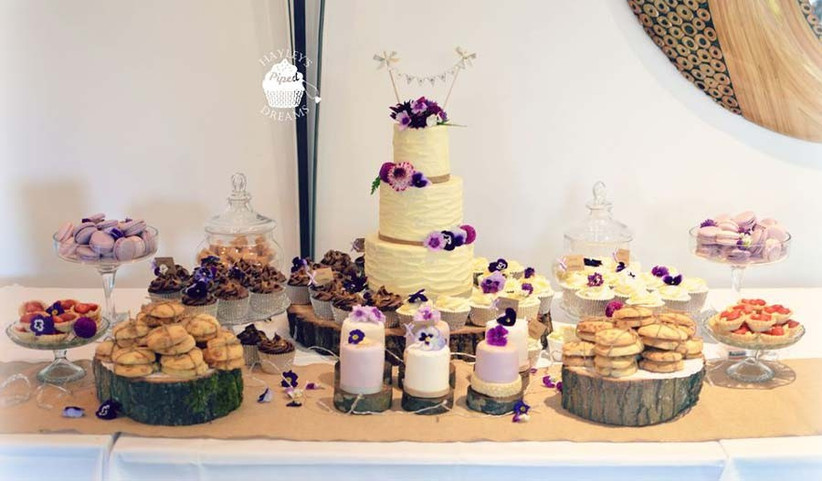 Quirky and Cool
Previously featured in our edit of alternative wedding cakes, this moon inspired cake is perfect for the couple who like to do things differently. The buttercream frosting on top of this Ginger & Cacao cake is cleverly designed to look like the moon's surface. The perfect cake if you love your partner to the moon and back!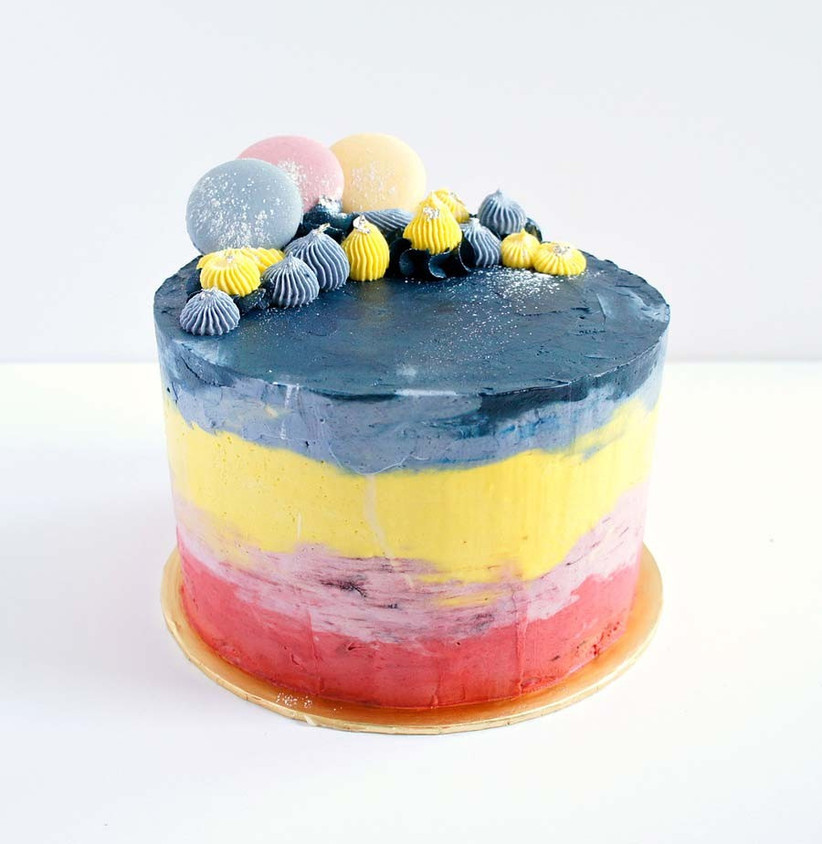 Artful Smudging
Another divine creation from Ginger & Cacao, and this time it's their two tiered wedding cake that's inspired by a painter's canvas. The richness of the colours go wonderfully with the thick buttercream smudges. Your guests will want to stand and admire this one before they tuck into a piece.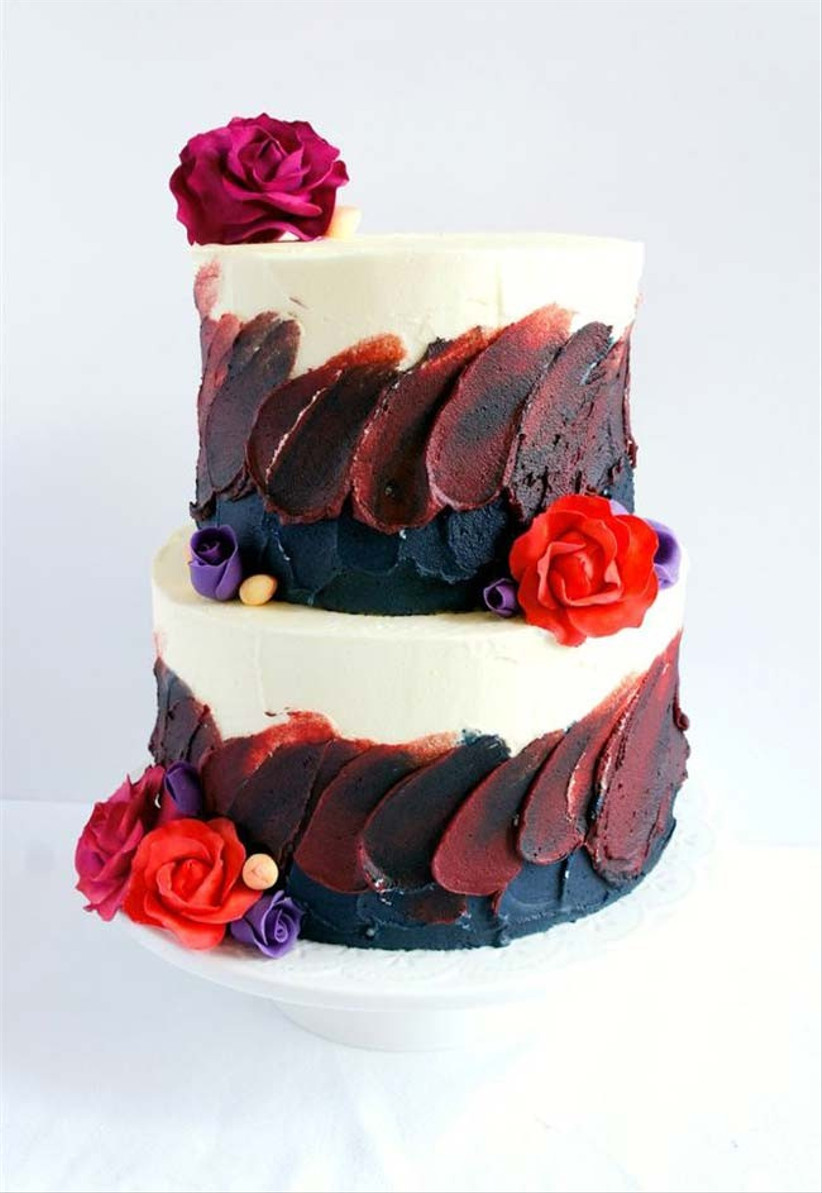 Romantic Roses
If you're getting married at a stunning rustic wedding venue, highlight this with a naked cake filled with buttercream. This three tiered one from The Pretty Cake Company looks absolutely delicious. Although the buttercream is still indulgent, this sponge cake is great if you don't want anything too sickly sweet.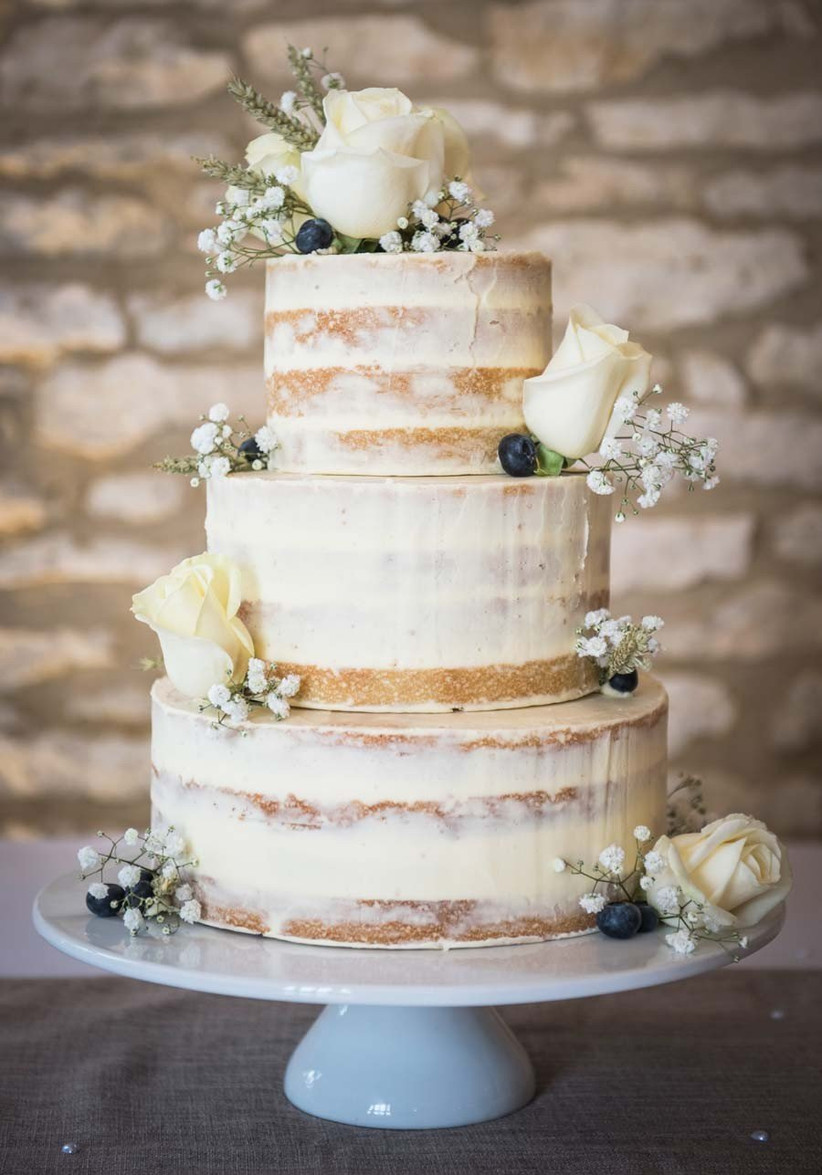 Image credit: Neil Hanson at www.nordicpics.co.uk
Drizzled Delight
The thickness of the buttercream in this cake is making us want to dive straight in! The lemon colour of this unusual wedding cake makes it eye catching. We love the addition of the piped swirls and the drizzled icing for a deliberately messy effect.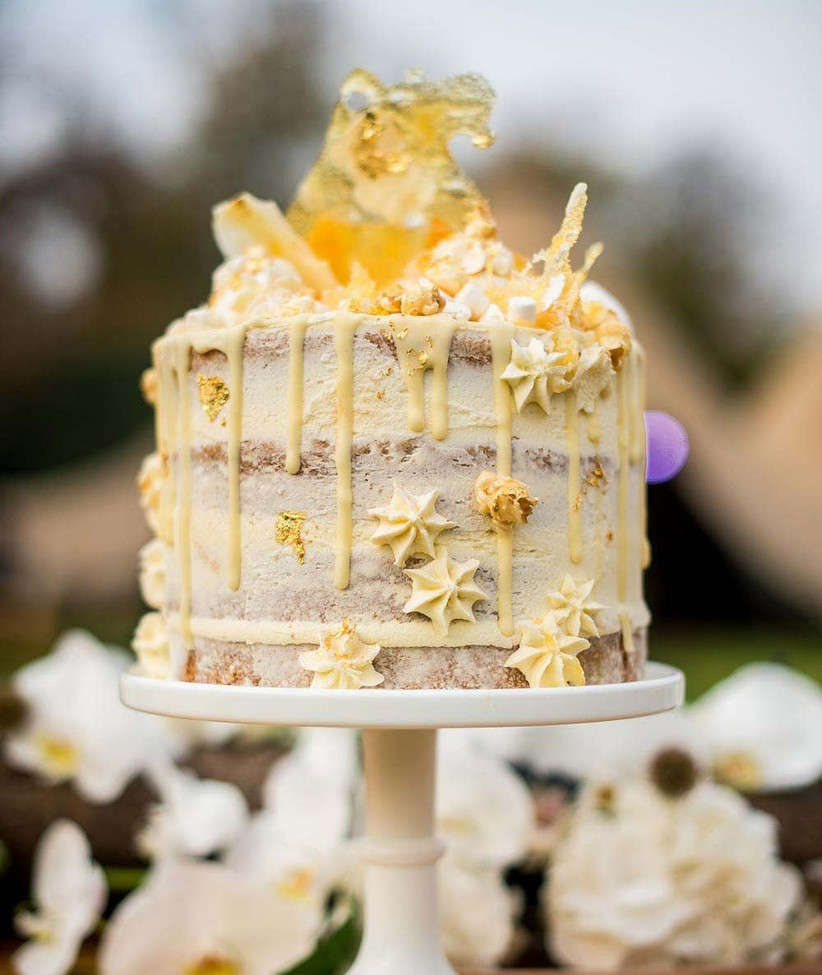 Image credit: Joe Dodsworth Photography
Marvellous Metallic
Metallic wedding cakes are so on trend right now. The silver middle tier of this design from The Pretty Cake Company adds a luxe feel, which complements the statement buttercream swirls on the bottom tier. Sit this cake proudly on a beautiful wedding cake stand.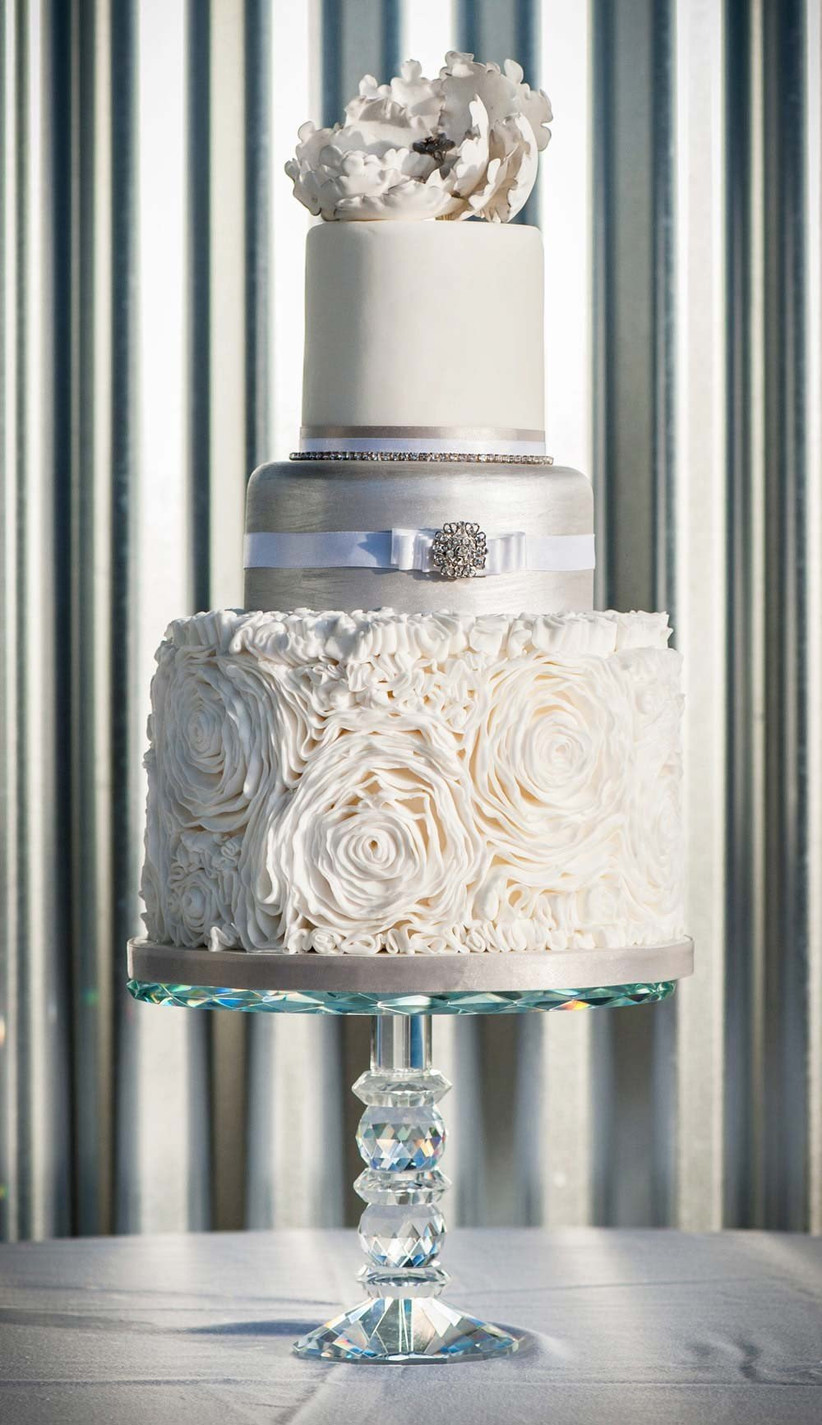 Image credit: Neil Hanson at www.nordicpics.co.uk
Elegant Ivory
This buttercream wedding cake from Willow & Bloom is ever so pretty with its trail of pink roses leading up the tiers. The flowers combined with the textured buttercream frosting gives the cake an attractive vintage vibe. The towering tiers means that there'd be plenty of cake to go around at a large celebration.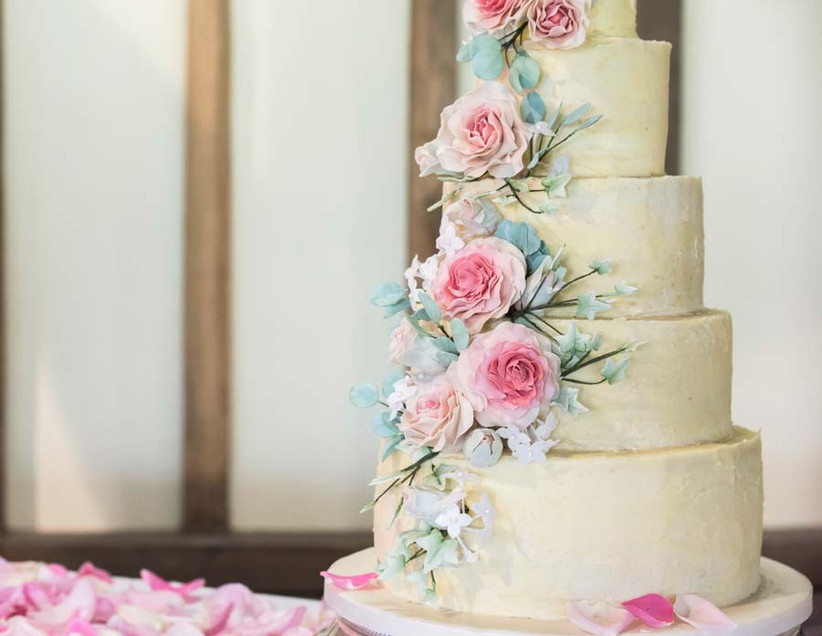 Small Yet Scrumptious
If you saw our edit of single tier wedding cakes, then you'll know that good things do come in small packages! This Ginger & Cacao cake is the perfect centrepiece for an intimate wedding party. The buttercream flower design is a beautiful finishing touch.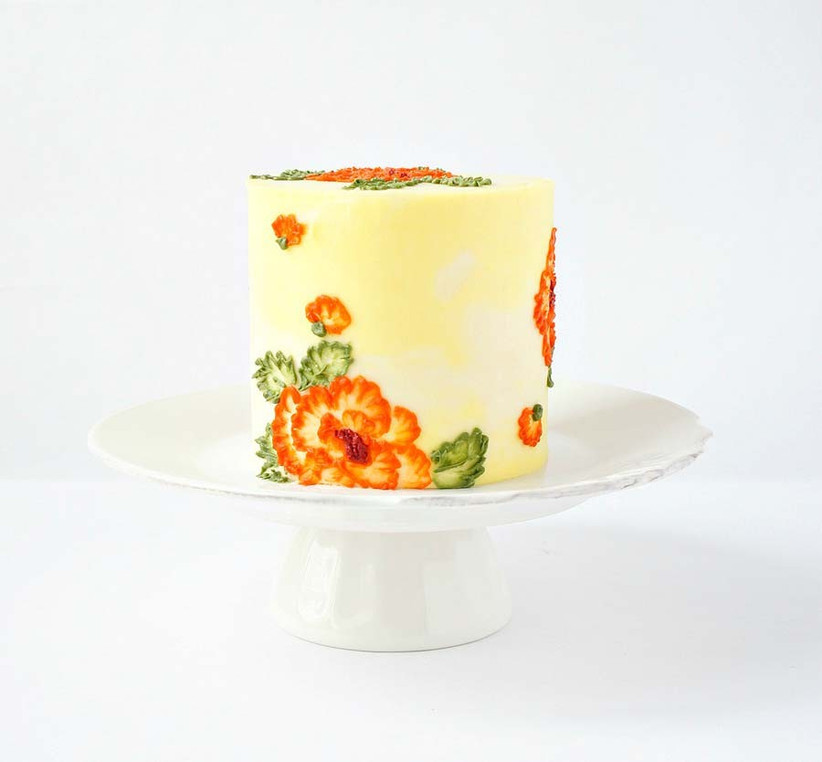 Chocolate Indulgence
This dreamy chocolate wedding cake from Willow & Bloom is a must for couples with a serious sweet tooth. The yummy chocolate swirls conceal an almond sponge filled with Madagascan vanilla buttercream – so even if your guests don't like chocolate they'll be sure to enjoy the middle bit.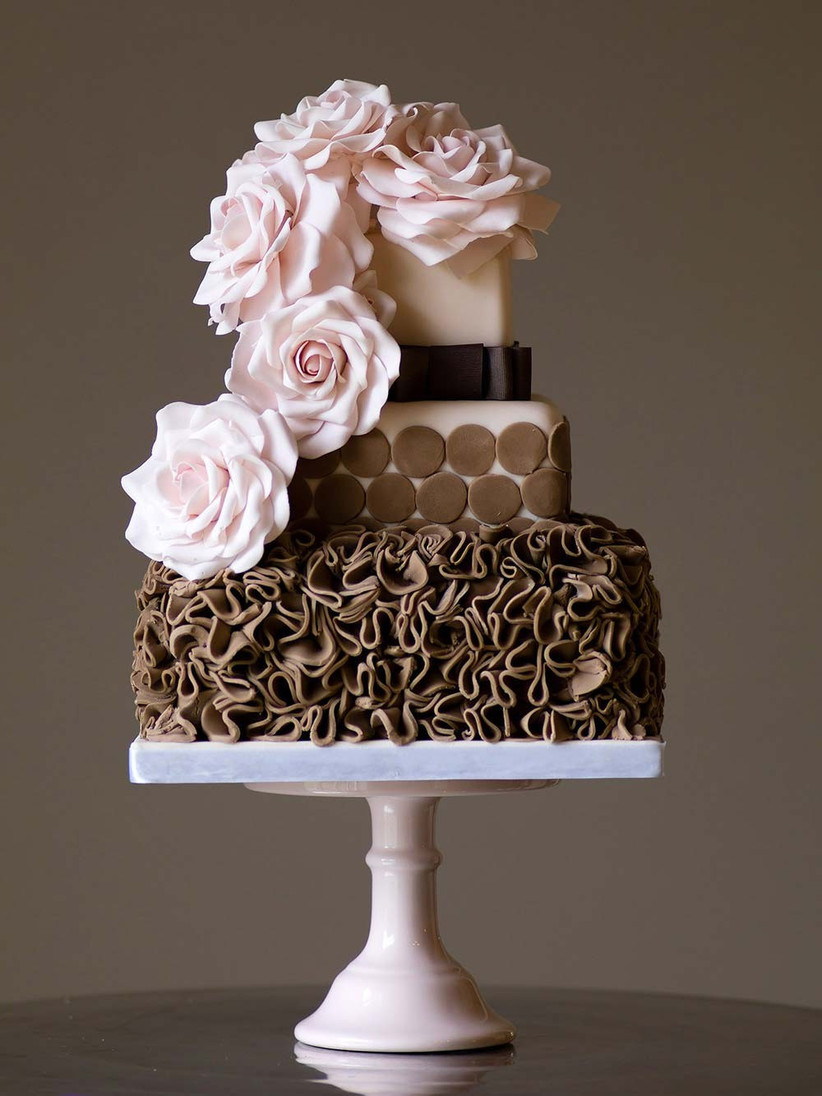 Ombre Tower
Don't fancy a traditional tiered cake? No problem. This impressive tower from Sweet As Cakes is perfect if you're looking for buttercream wedding cakes that are a bit quirky. The pink ombre effect leads beautifully up the stack of buttercream swirls and it's all finished off with some matching pink butterflies.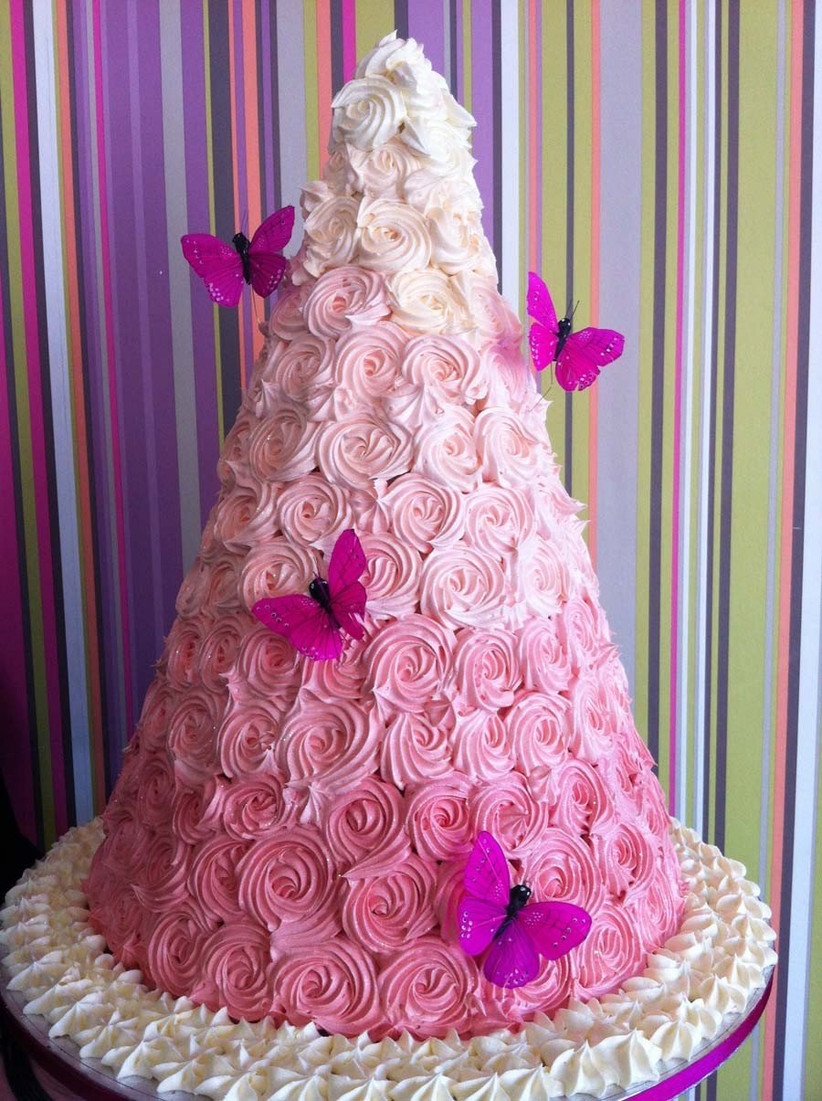 Garden Inspired
This two tiered buttercream cake from The Pretty Cake Company is perfect if you've got a medium sized guest list of 100 or under. The smudged frosting adds an interesting texture and stops the cake from looking too minimalistic. The addition of vines and pale pink roses is a pretty look if you're organising a vintage themed wedding or celebrating at a country house venue.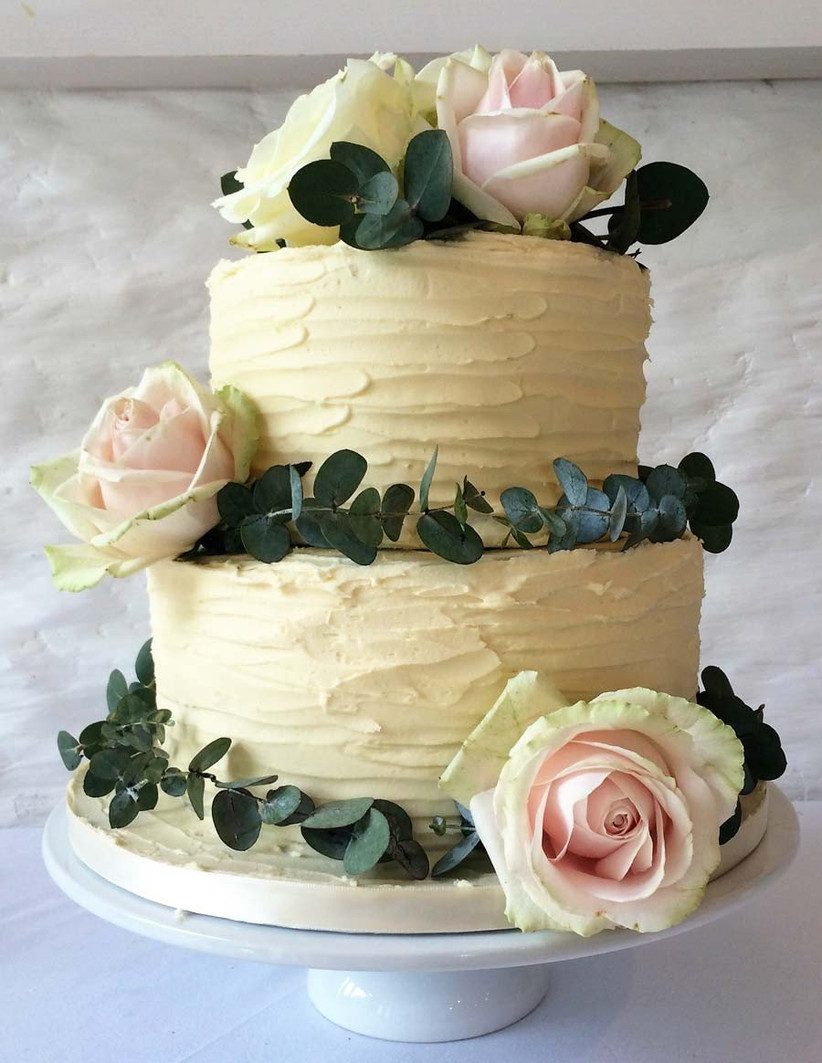 Cascading Florals
This Willow and Bloom wedding cake would make the most stunning centrepiece. If you want to keep things fairly traditional whilst still making a stylish statement, then the cake's eye catching trail of flowers will do exactly that. The rings of buttercream that circle the tiers look extra indulgent.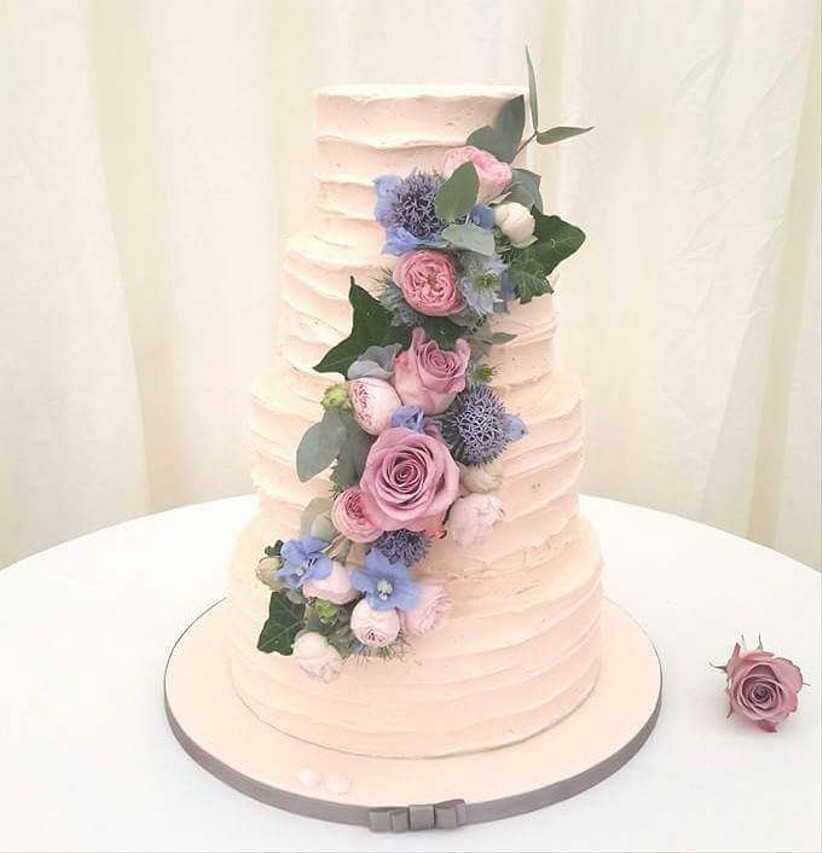 Pretty Pearls
This cake from Hayley's Piped Dreams has both a rustic and vintage vibe to it. If you're thinking of choosing an ivory or white buttercream cake but don't want it to look too simple, then use this cake as inspiration. The frosted tiers have been jazzed up with pearls, flowers and a 'Mr and Mrs' topper. To make your cake stand out even more, you could even make your guests chuckle by choosing a funny wedding cake topper.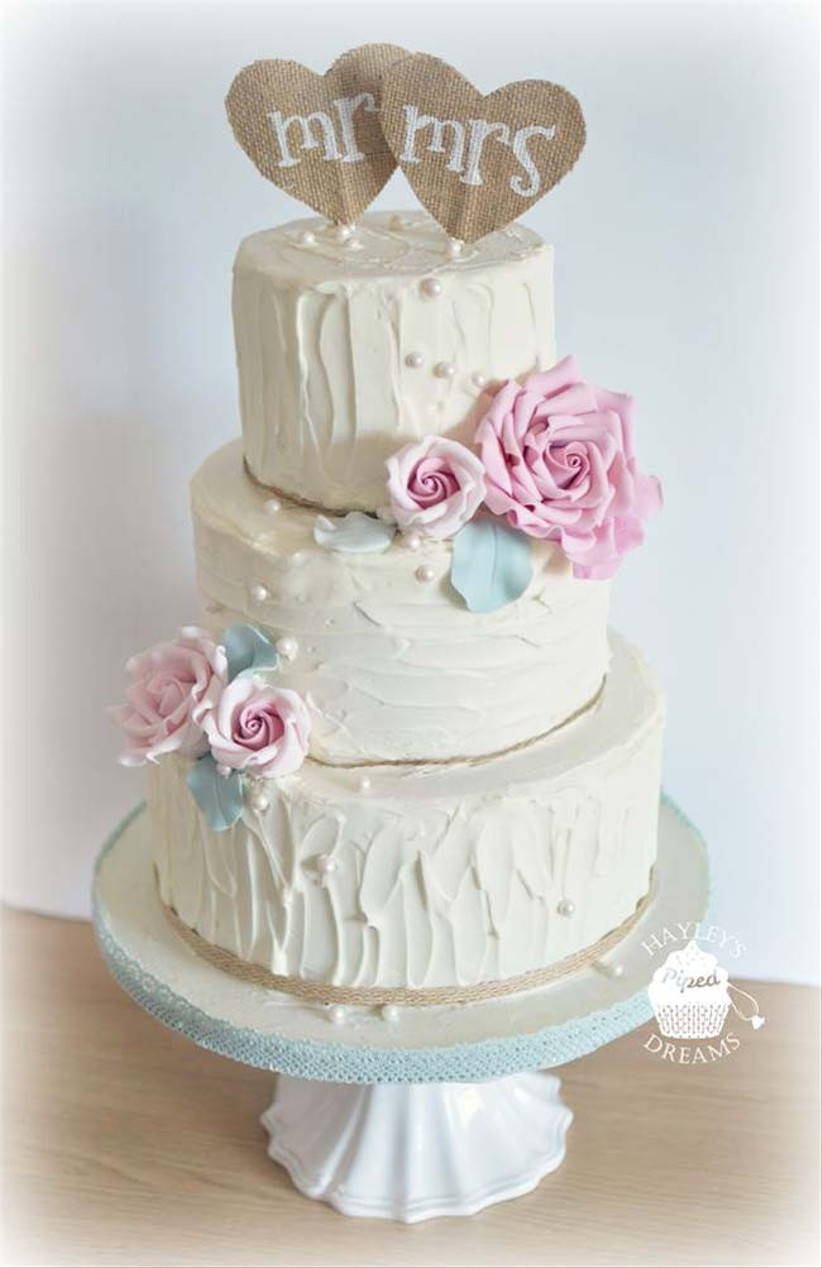 Don't forget about the important cutting of the cake – take a look at our edit of wedding cake knives which will help you do it in style.