27 Cute Engagement Ring Dishes for Storing Your Special Ring
So you've just got engaged! Now to take care of that sparkler! We've selected the very best engagement ring dishes for optimal storage.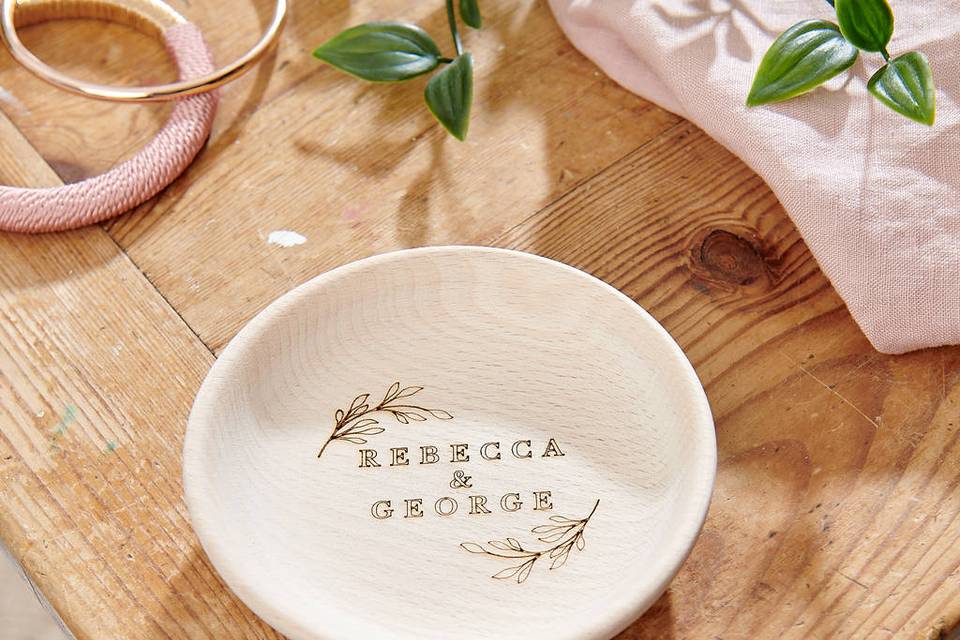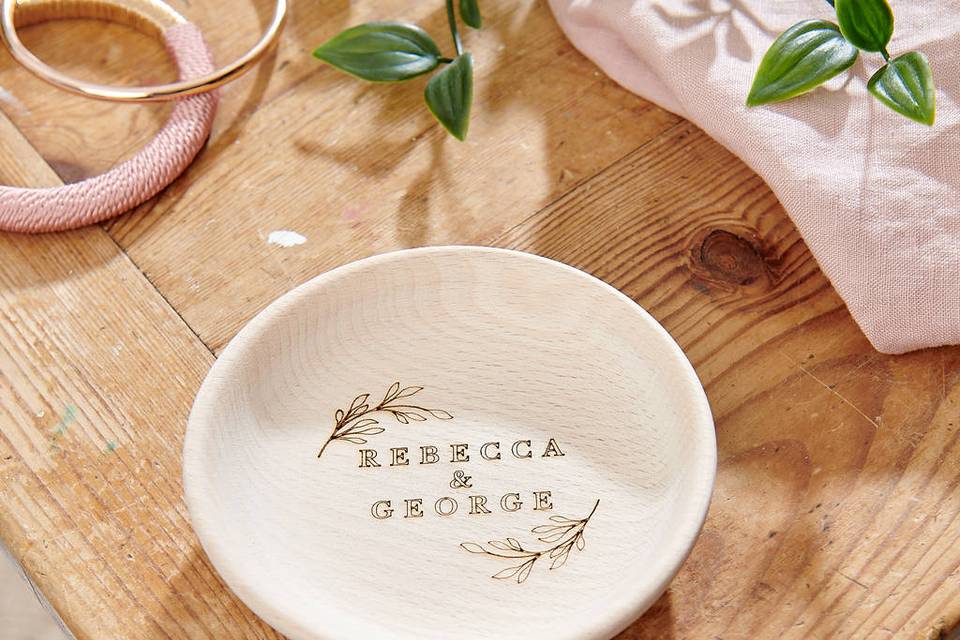 So, you've just got engaged, congrats! Now, what to do with your extra special engagement ring, which you will probably be extremely protective of right about now? Well, you could pop your ring in a jewellery box during any times you don't wear it, but you may not find that to be the most convenient way to store it, and as your special ring we believe it deserves its very own storage solution.
Enter: ring dishes, which come in all shapes, sizes, colours, and price points. Whether you want to go all out and get something super personal with your name on it and the fact you're engaged, or you just want to stick to a simple, pretty design, there's sure to be an engagement ring dish out there for you.
Ring dishes are all over the high street, and if you want to keep it simple, shop there for an affordable, simple option. For more personalised engagement ring dishes, opt for stores like Etsy and Not On The High Street, where customisation is big.
Browse our edit to find your favourite.
NB: We have included third party products to help you navigate and enjoy life's biggest moments. Purchases made through links on this page may earn us a commission.
1. Engaged 2020 Ring Dish - £15.50, Etsy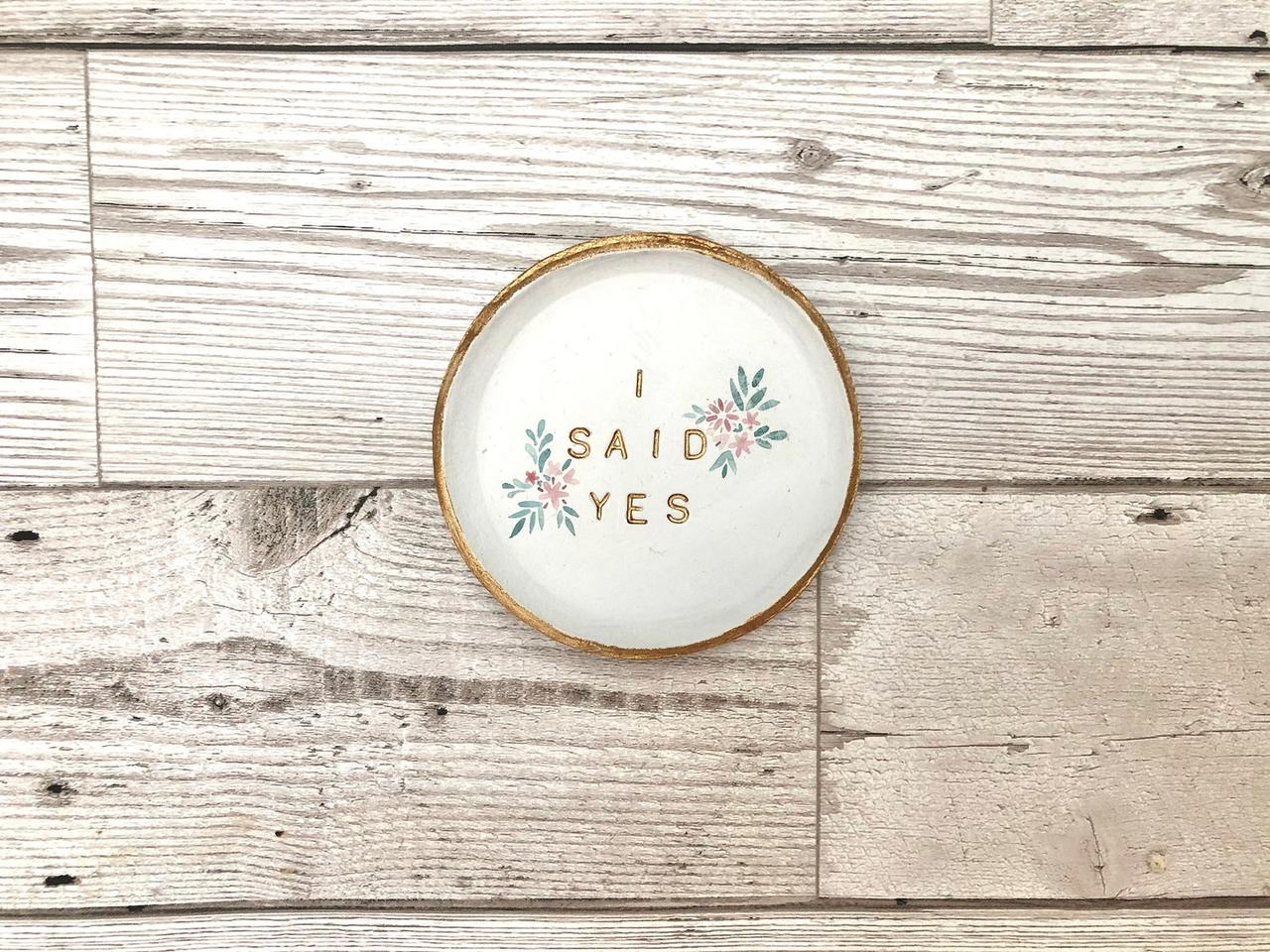 A simple yet pretty design with an 'I said yes' inscription, this is very sweet and can be bought for both you and your partner for your future wedding rings!
2. Stellar Monogram Trinket Dish - £10, Anthropologie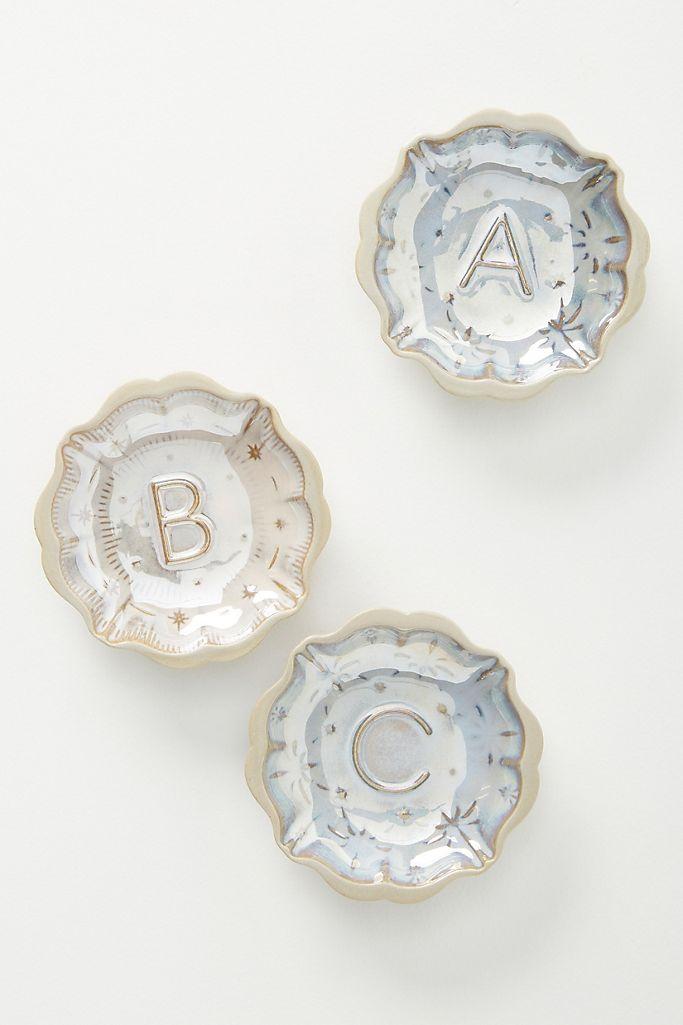 Who said your engagement ring dish has to specifically reference your engagement? There are plenty of gorgeous designs out there on the high street that would work just as well. Buy two of these in the initials of you and your bride or groom-to be.
3. Estrella Ring Holder Catch-All Dish - £18, Urban Outfitters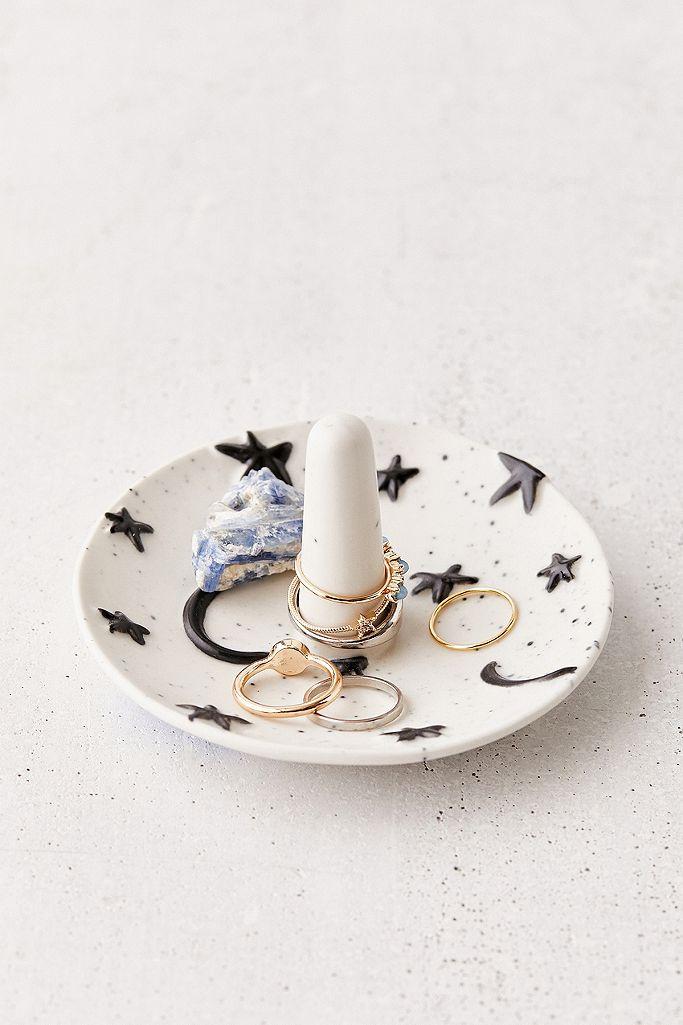 Another gorgeous understated design that can be used well after you've been engaged to keep other rings and bits of jewellery.
4. Porcelain Soap Dish - £2.99, H&M Home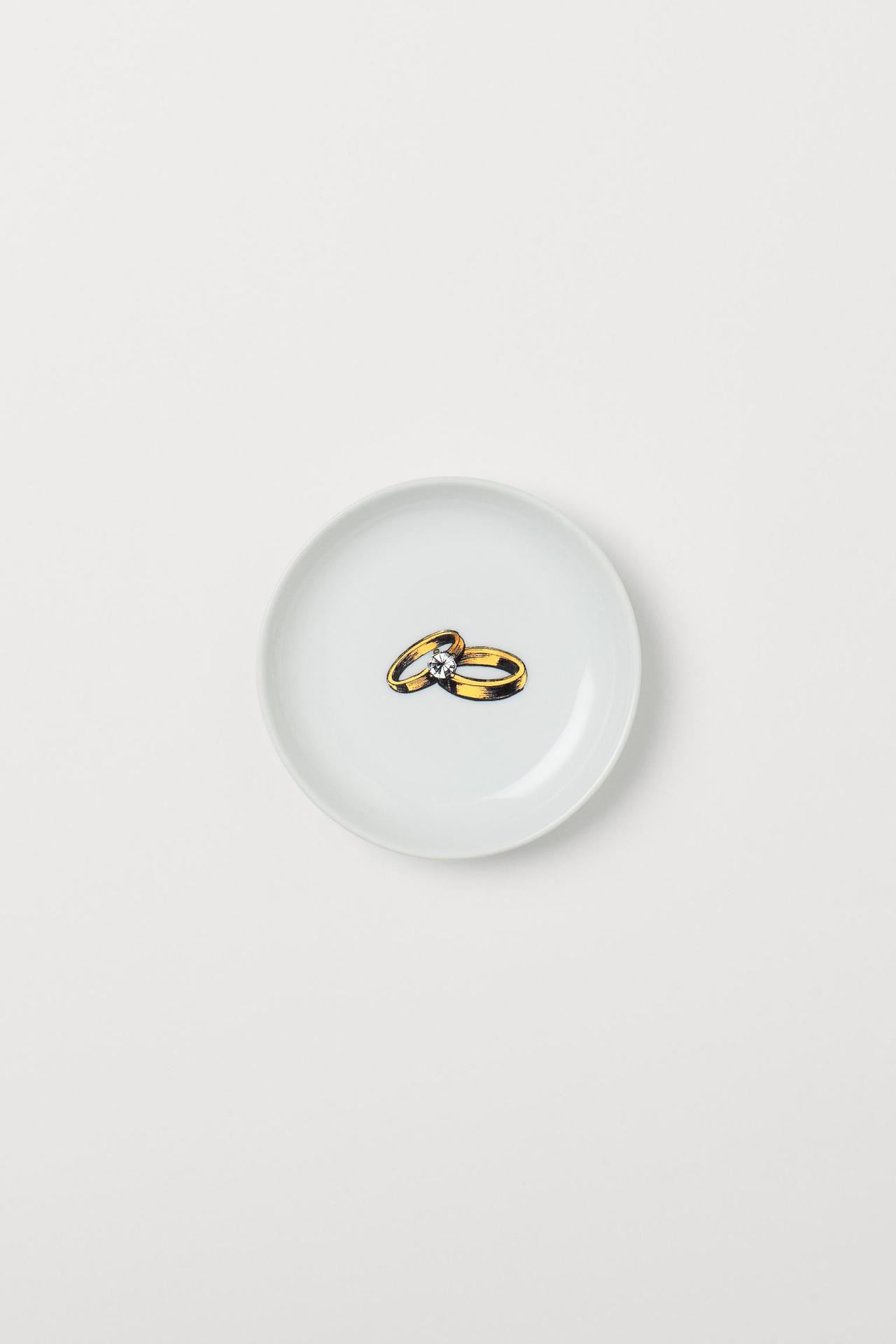 This cute dish might be described as a 'soap dish,' but it looks pretty perfect for an engagement ring dish, if you ask us! And at that price, you can easily pick up one each (for future wedding rings), with spares to boot!
5. Navy Moon Ring Holder Trinket Dish - £12.50, Oliver Bonas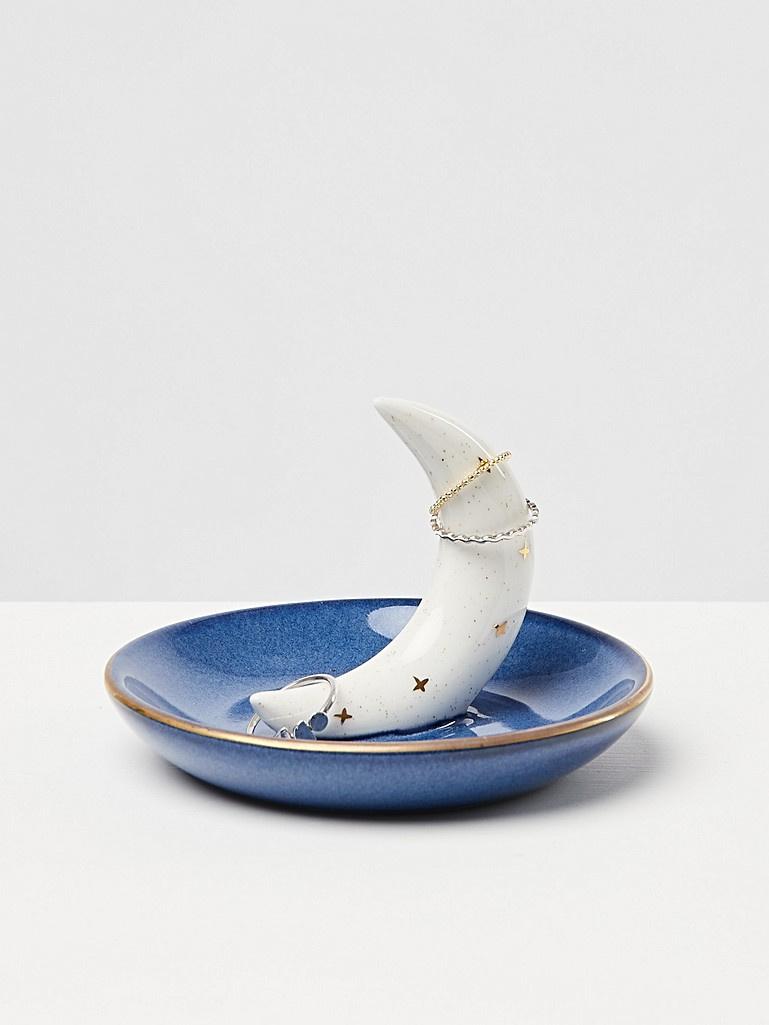 A gorgeous moon-shaped design which will be versatile post-engagement, meaning you get far more for your money.
READ MORE: Temporary Engagement Rings: 30 of the Best Placeholder Rings
6. Elephant Ceramic Trinket Dish - £9.50, Oliver Bonas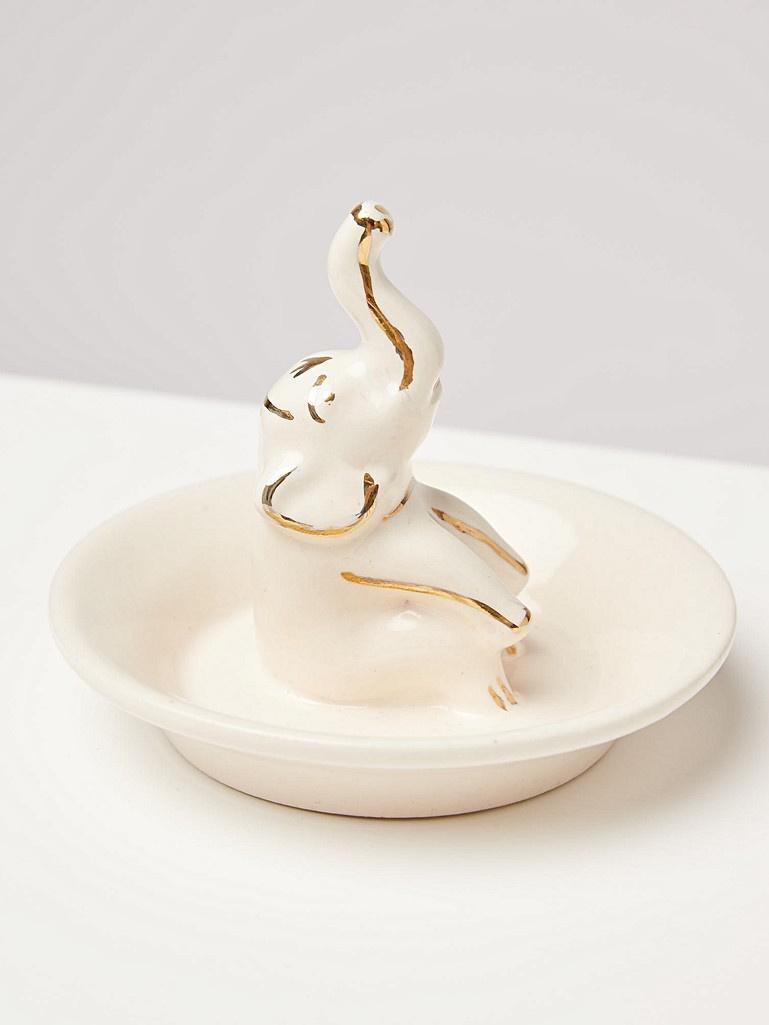 Love elephants? Enjoy this ode to the beautiful creature and pop your engagement ring in pride of place!
7. Rosa Pink & Green Stoneware Trinket Dish - £7.50, Oliver Bonas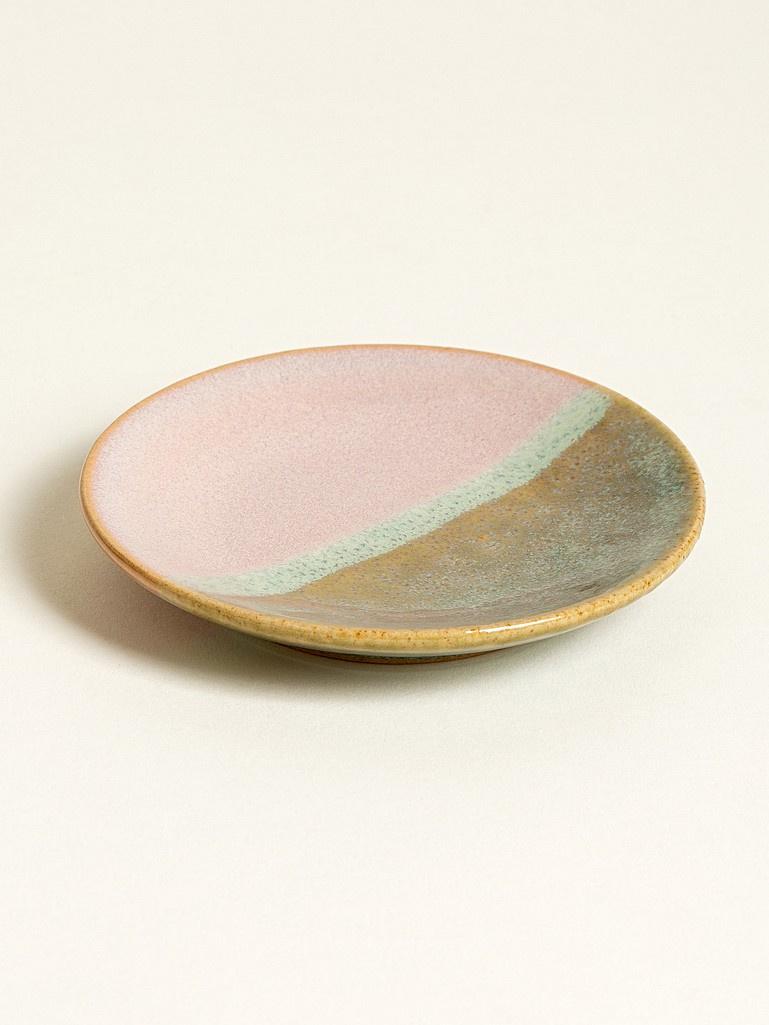 If you'd prefer more of a does-all trinket dish that you can also keep other jewellery on, this simple design is perfect!
8. Ring Holder, Engagement Gift - £9.27, Etsy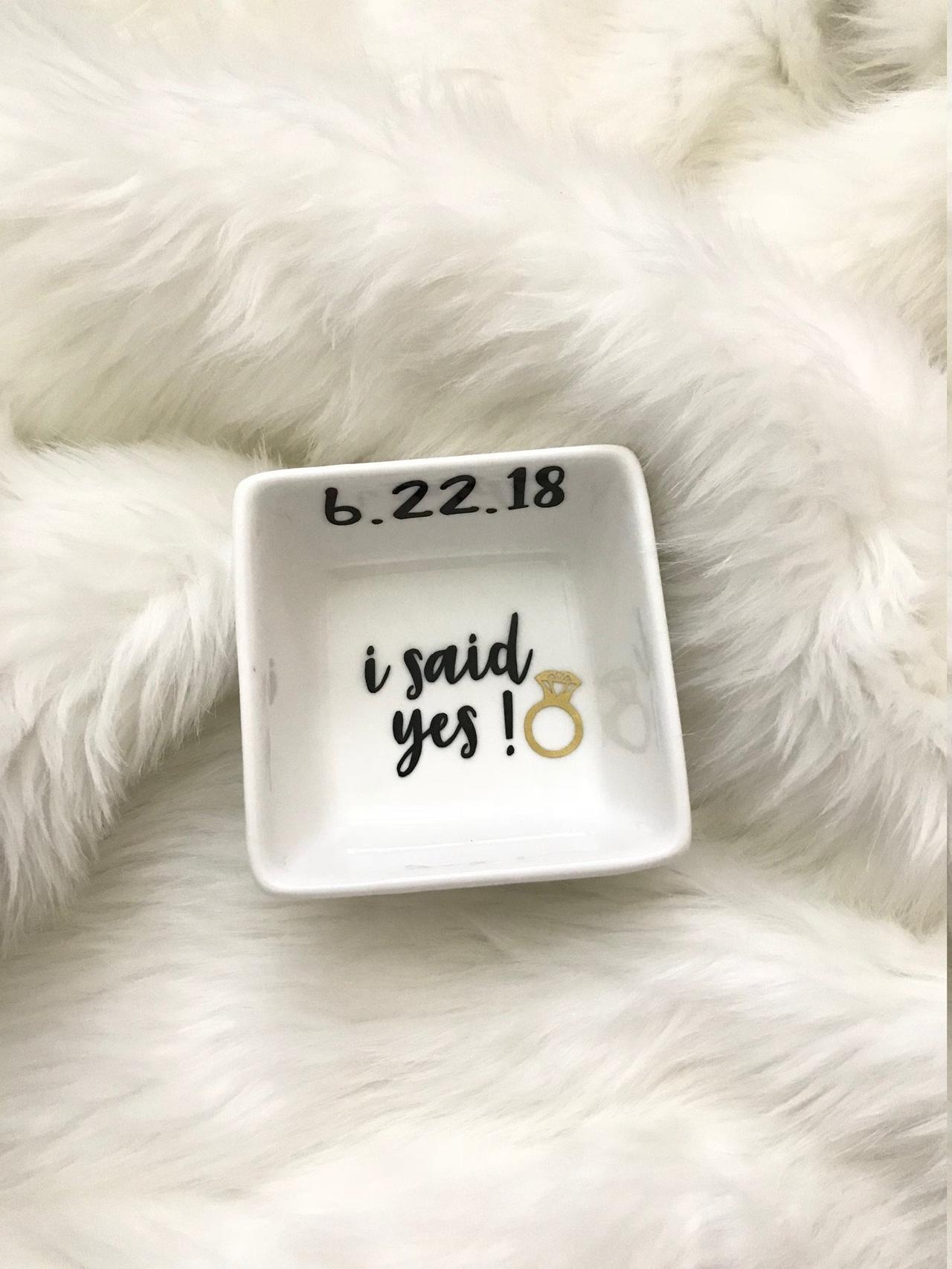 Under £10 and customisable? We are totally sold with this white dish, which is celebratory and cool.
9. Personalised Ring Dish - £17.46, Etsy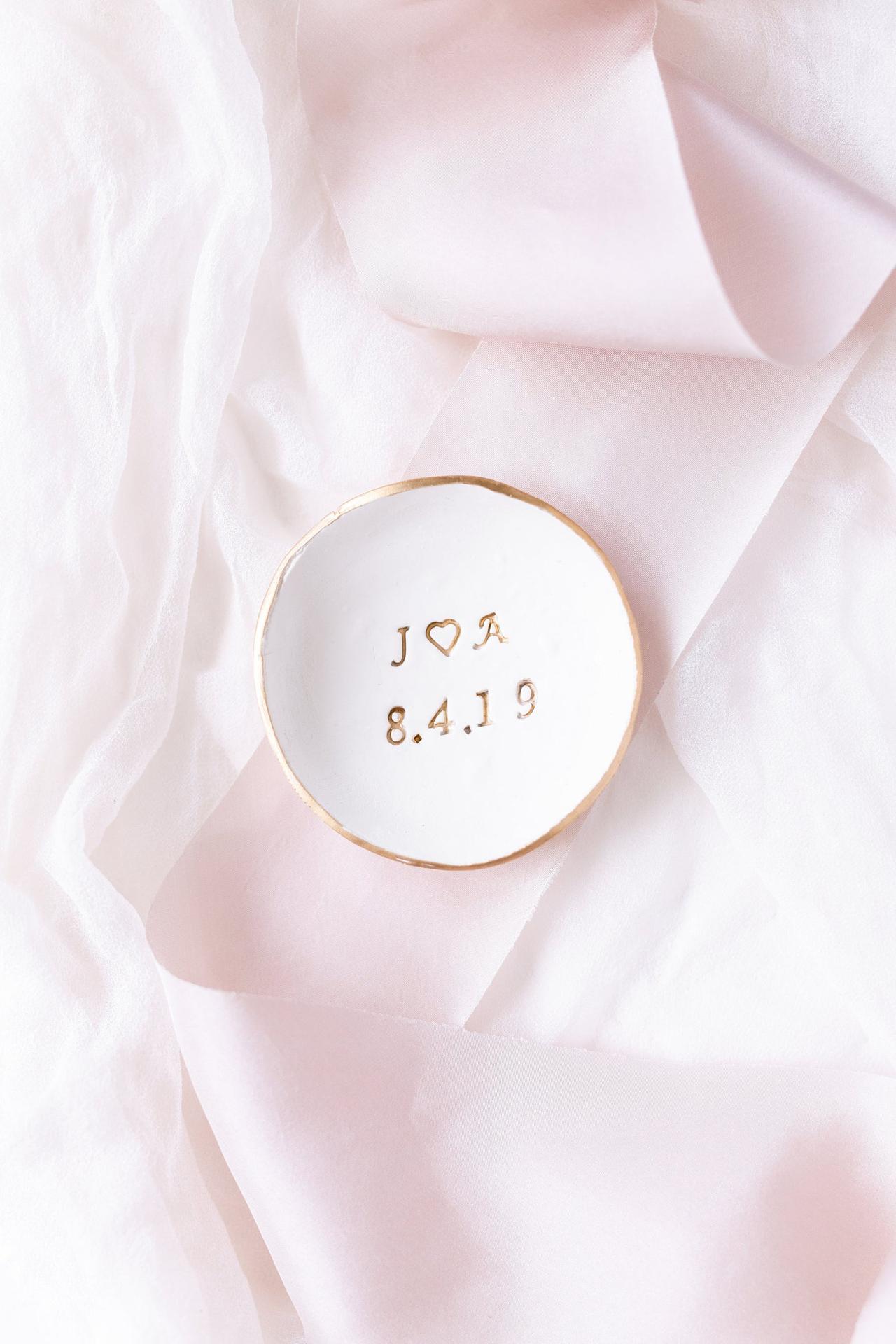 The gold rose accents on this chic design make it extra special in our opinion, and is a lovely pick if you're gifting two newly-engaged friends.
10. Personalised Ring Dish for Jewellery - £16.37, Etsy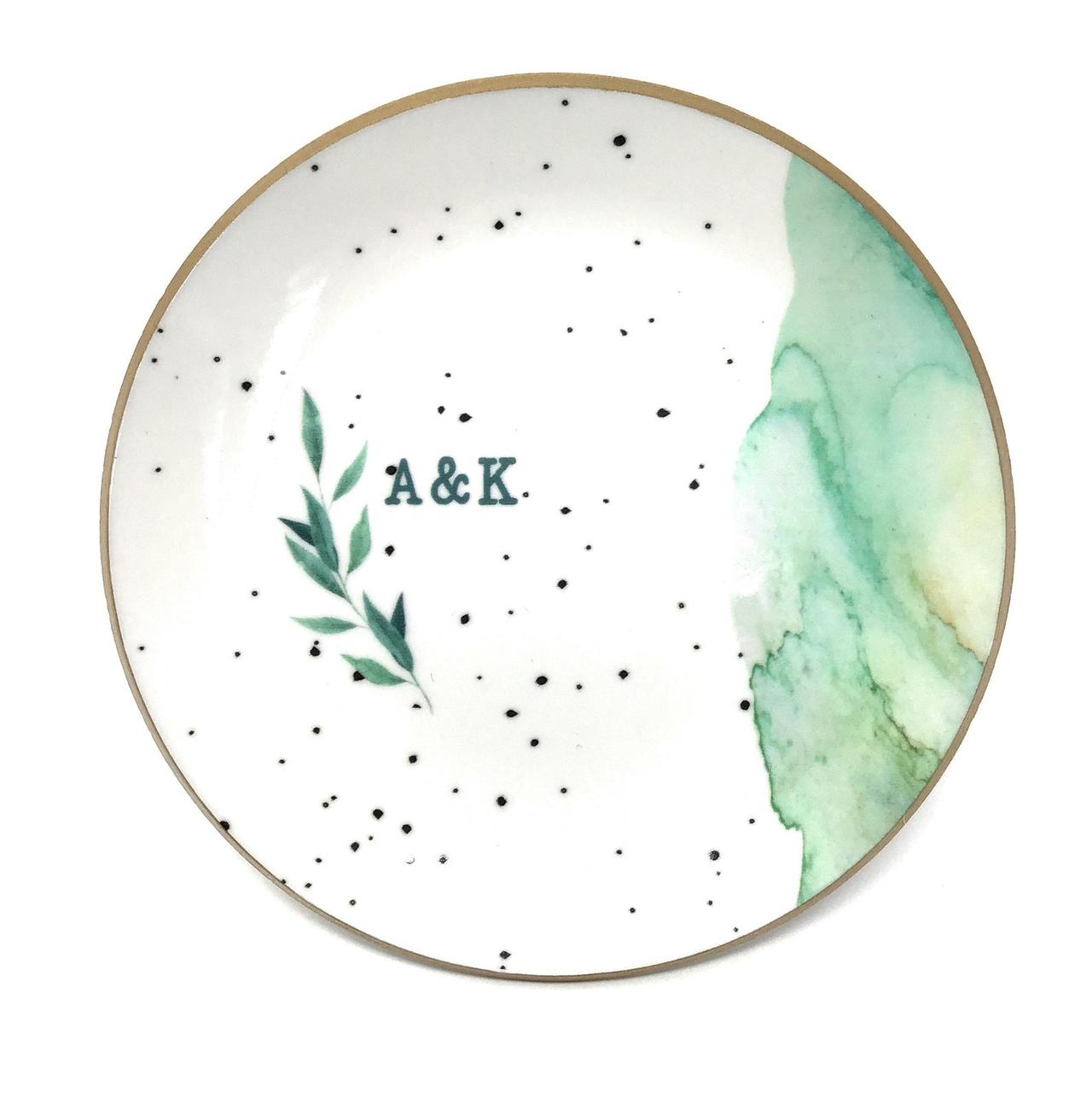 The watercolour marble effect on this initial dish is simply stunning, and not too feminine or masculine.
11. Personalised Ring Dish Handmade - £8, Etsy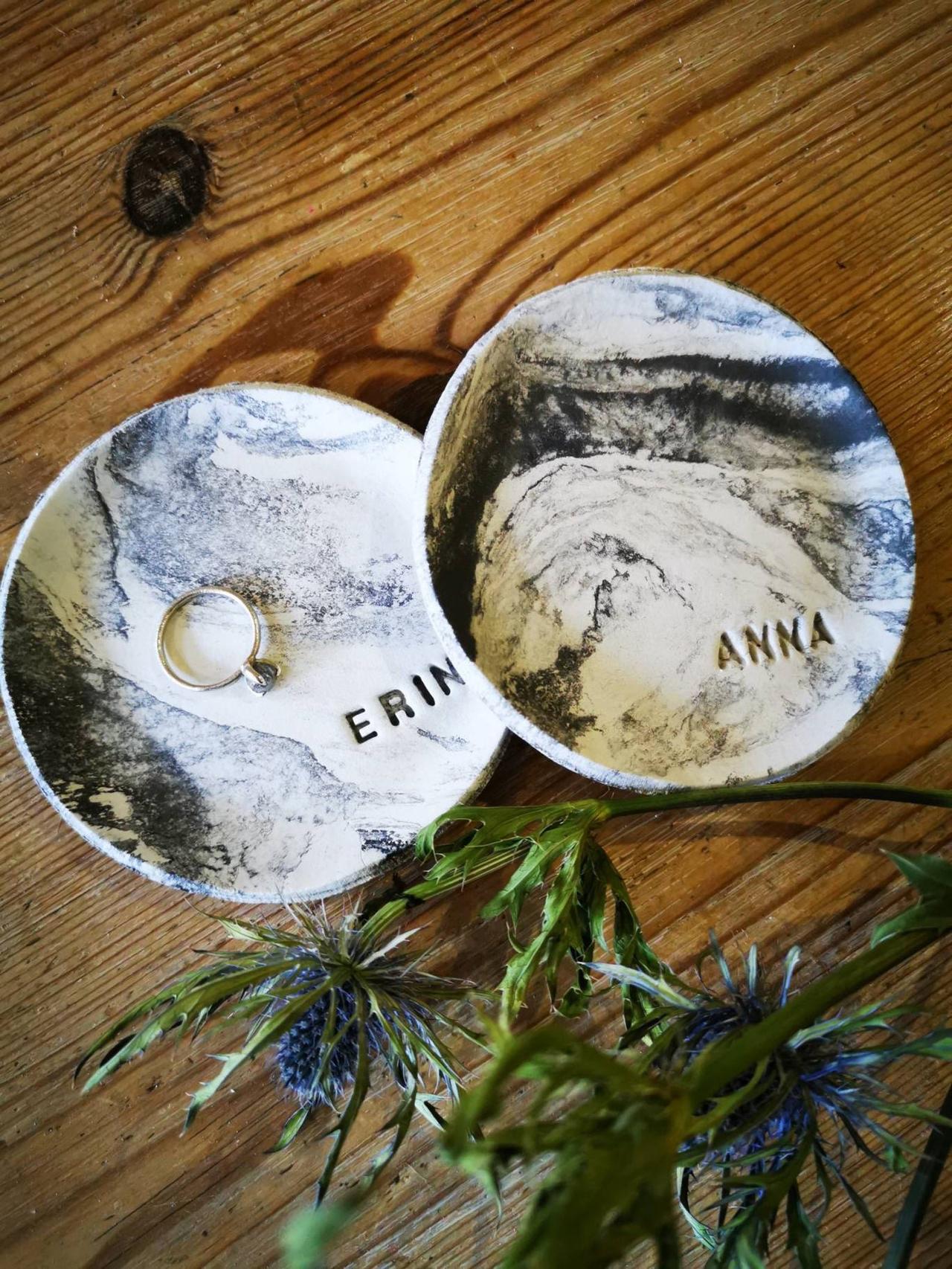 We're simply head over heels for this stunning monochrome design, which is offered in a sophisticated marble style.
12. Oyster Shell Ring Dish - £15, Etsy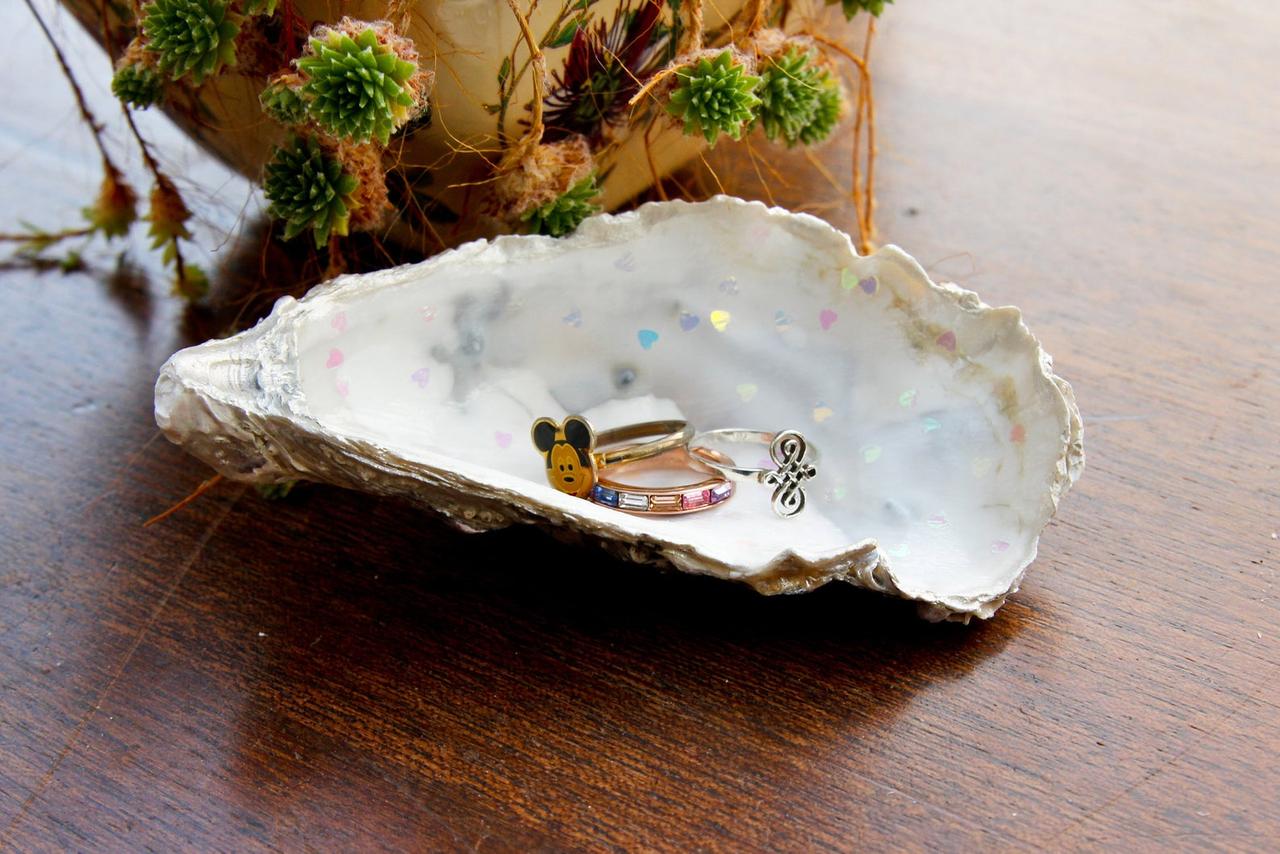 Back to less specific designs, we can't think of anything prettier than this oyster shell design with heart details.
13. Space-Themed Hand Painted Ring Dish - £9, Etsy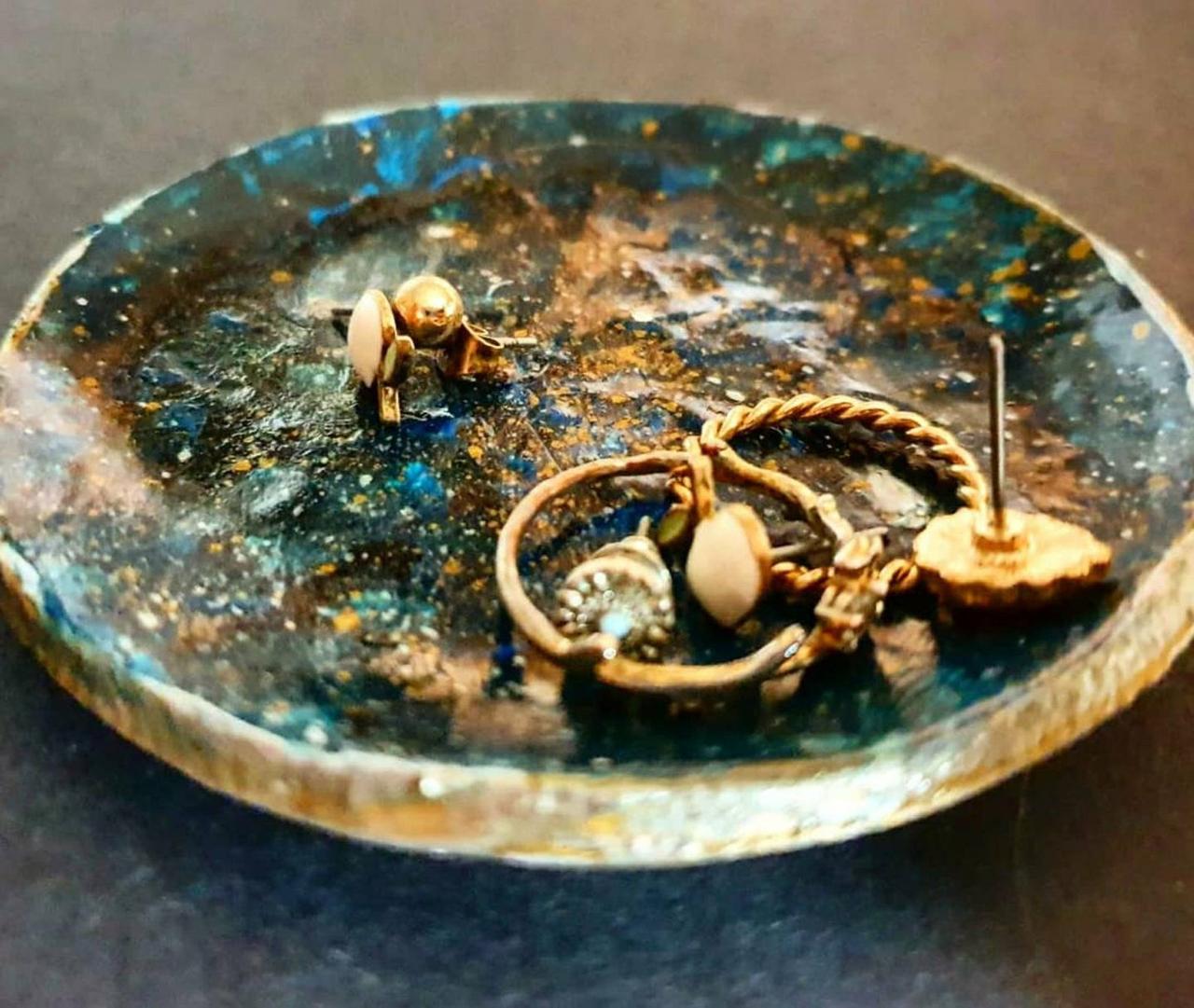 Or if you prefer the stars to the sea, this cosmic dish will be right up your street! It looks particularly lovely with a gold ring.
14. Ring Cone and Tray - £9, Etsy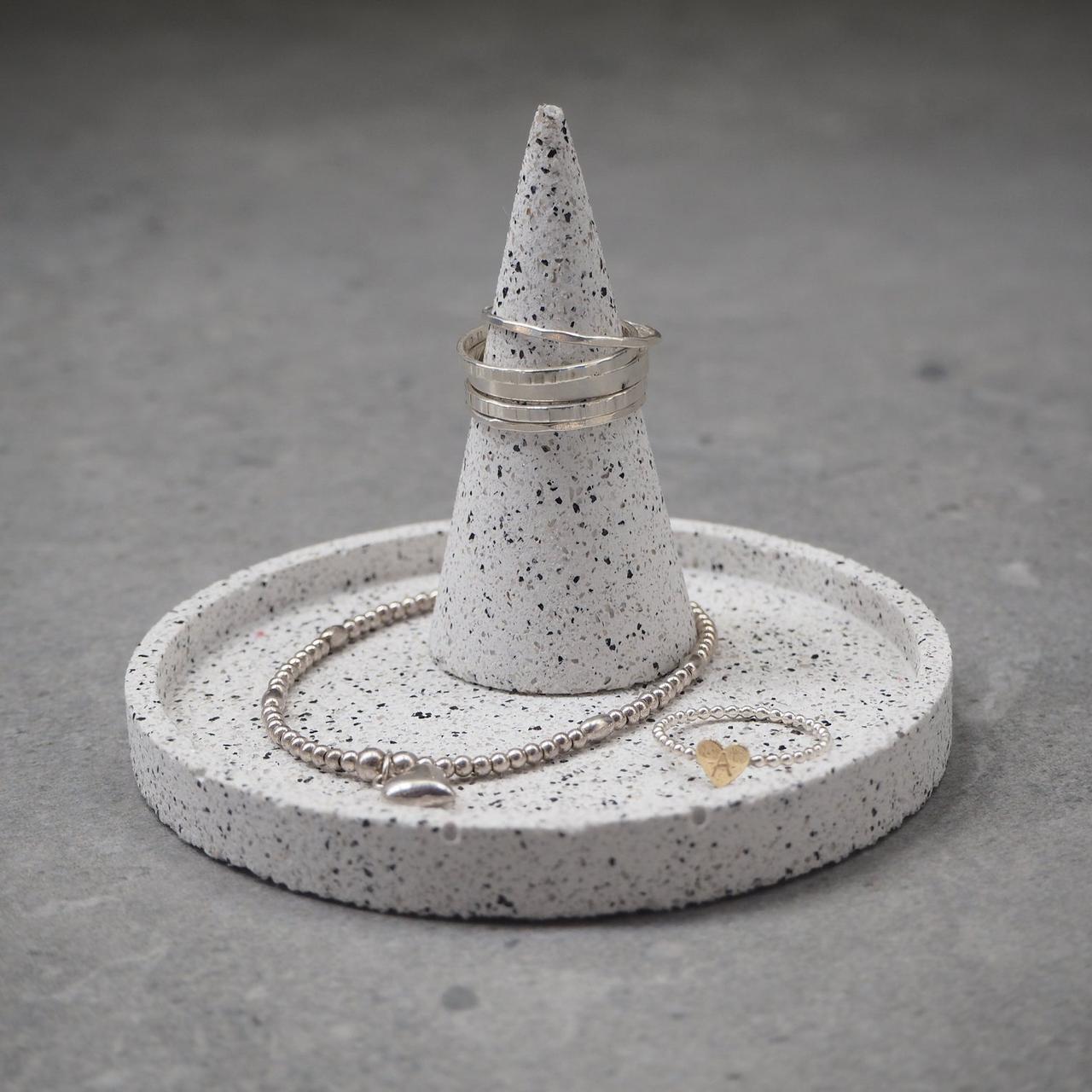 Silver engagement rings would really shine on this monochrome spotty design, which has plenty of space for more of your treasured possessions.
READ MORE: Engagement Ring Trends 2021: The 9 Most Covetable Styles to Have On Your Radar
15. Personalised Wedding Couples Wooden Ring Dish - £19, Not On The High Street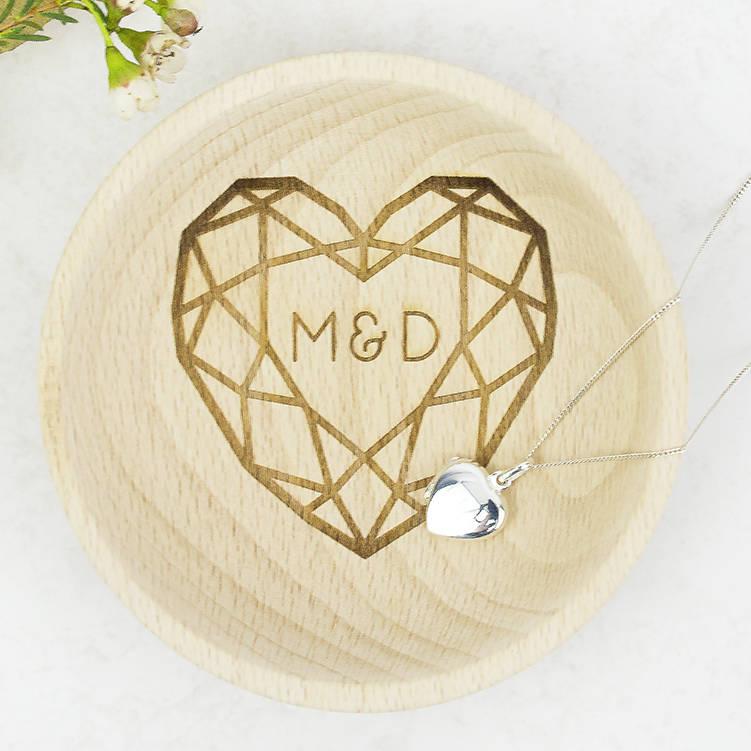 This rustic wooden design is ideal for a vintage engagement ring that deserves to sit on a classy, classic dish.
16. Personalised Wedding Gift Ring Dish - £18, Not On The High Street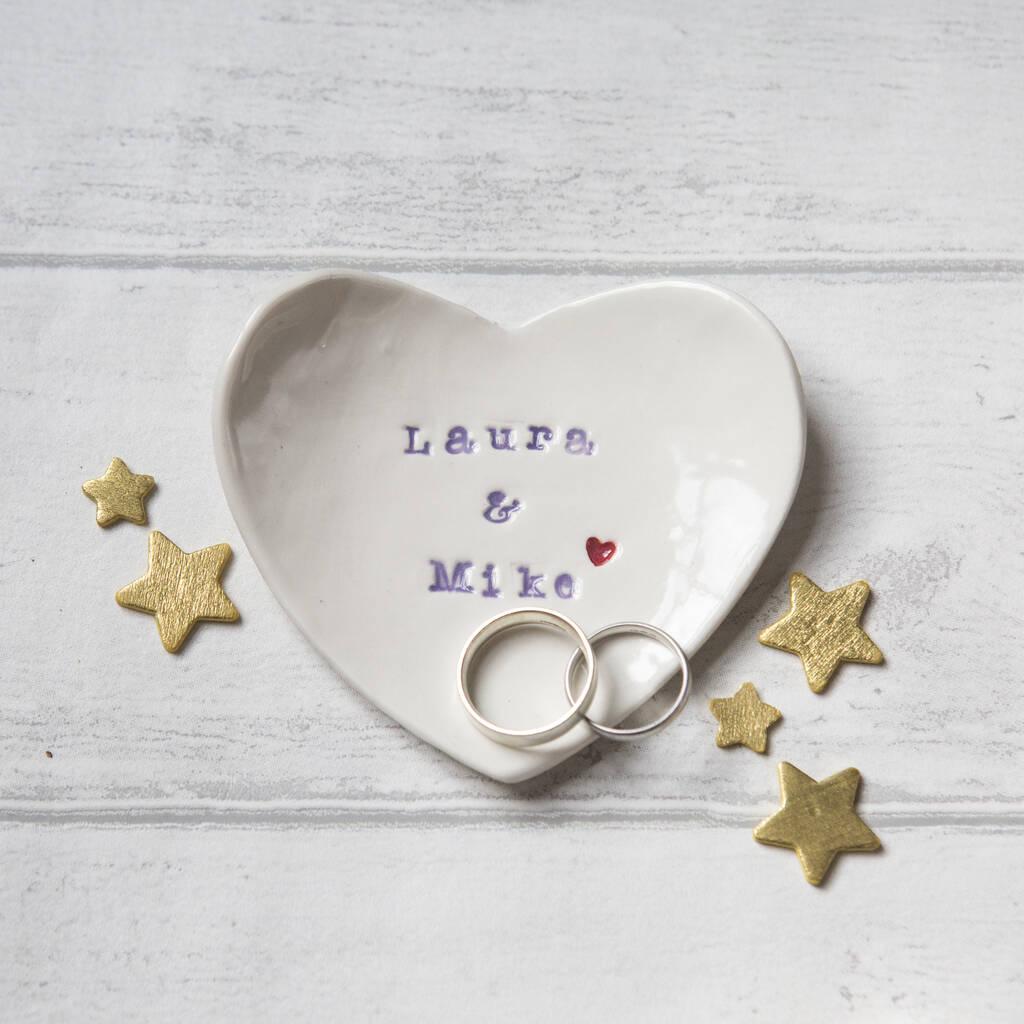 A great all-rounder, you can change the colour scheme as well as the names on this heart-shaped engagement ring dish.
17. 'Love' Decorative Porcelain Heart Dish - £10, Not On The High Street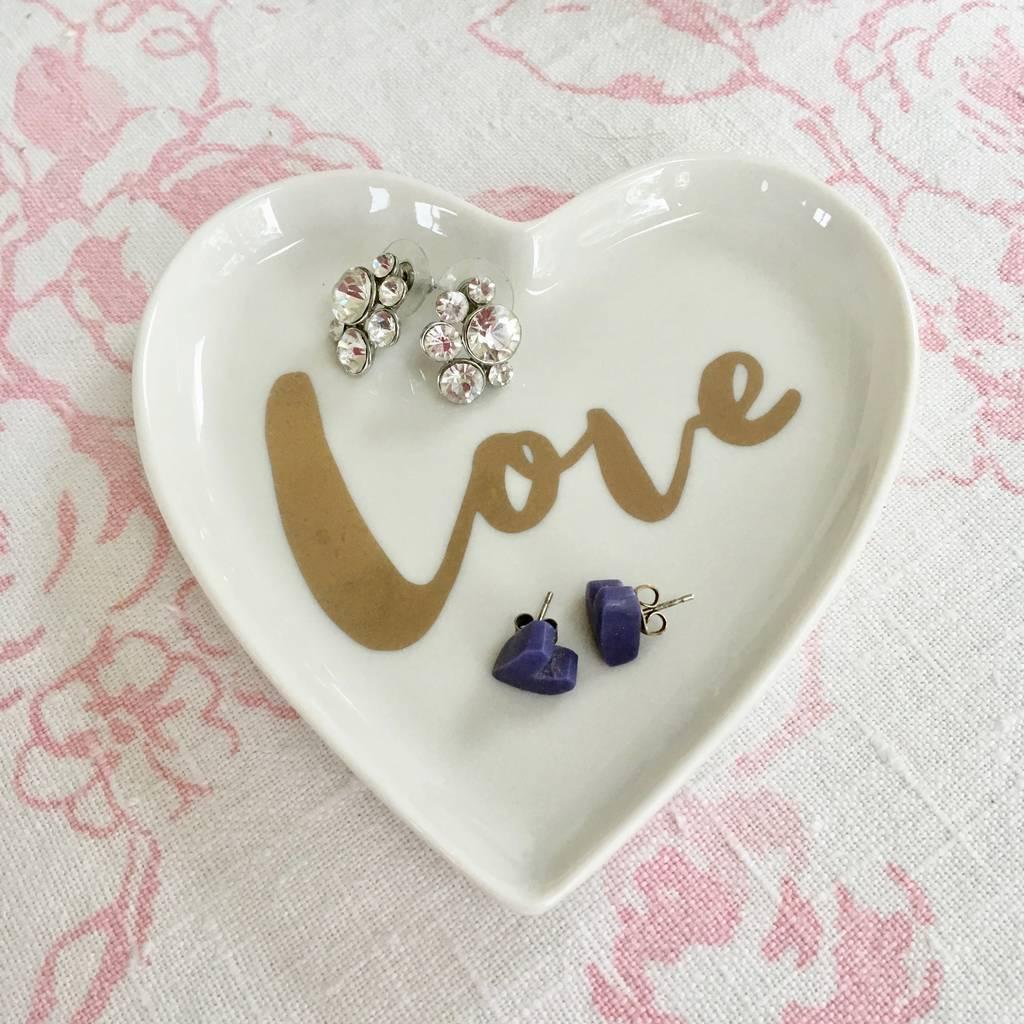 If you're not into personal messages or engravings, this dish with its simple message of love is a refreshing option.
18. Handmade Navy Blue & Gold Ceramic Ring Dish - £23, Not On The High Street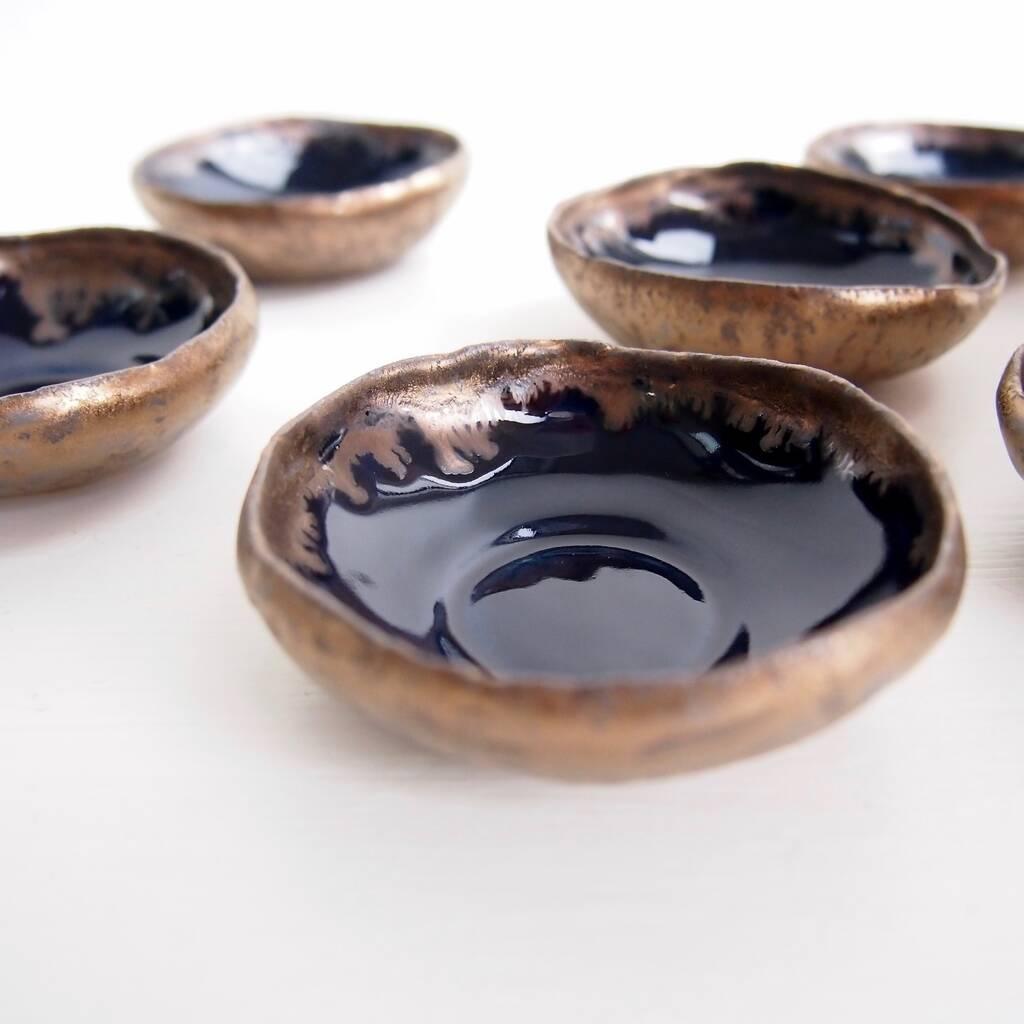 For the unique, ultra-stylish bride-to-be, this navy and gold dish is up there in our favourites.
READ MORE: 42 Simple Engagement Rings for Modern Brides
19. Kate Spade New York Key Court Ring Dish - £35, John Lewis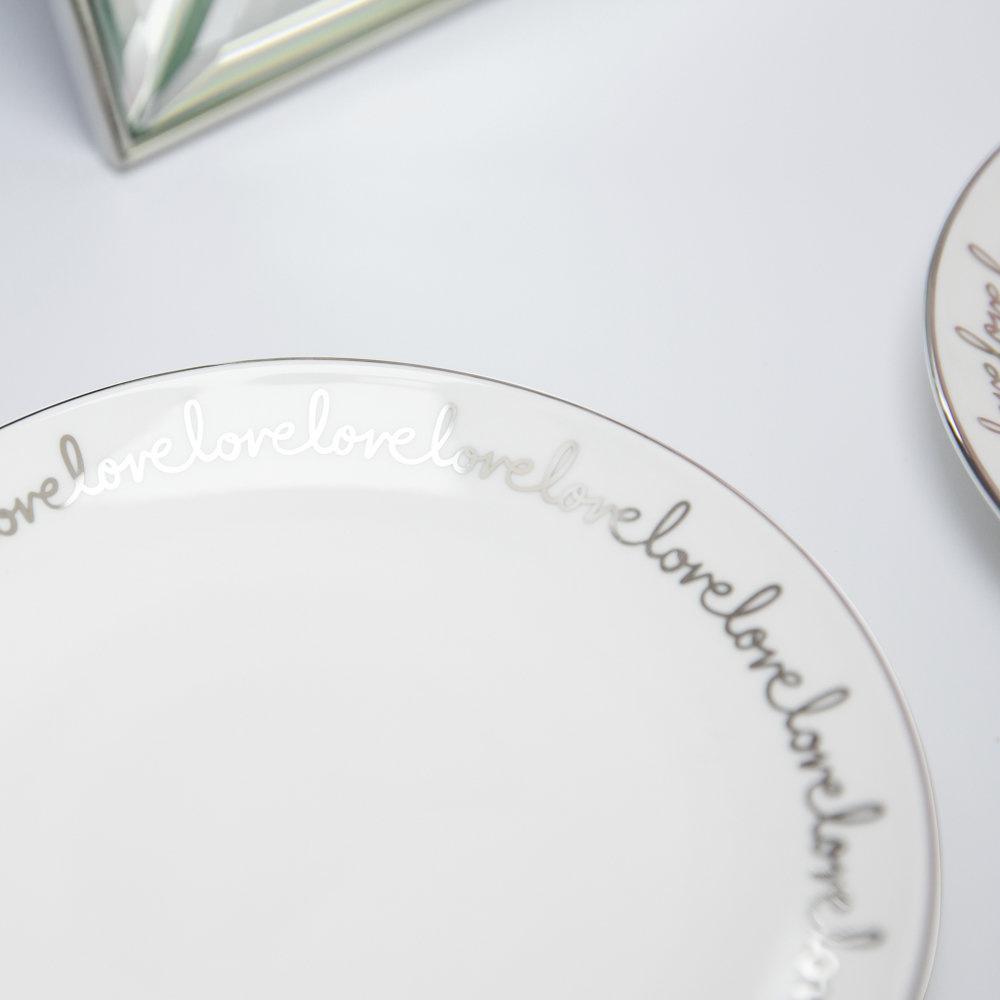 A classy design from Kate Spade New York may set you back a little extra, but it's totally worth it with dishes like this one.
20. Gold Honeycomb Bee Trinket Dish - £13, Sass & Belle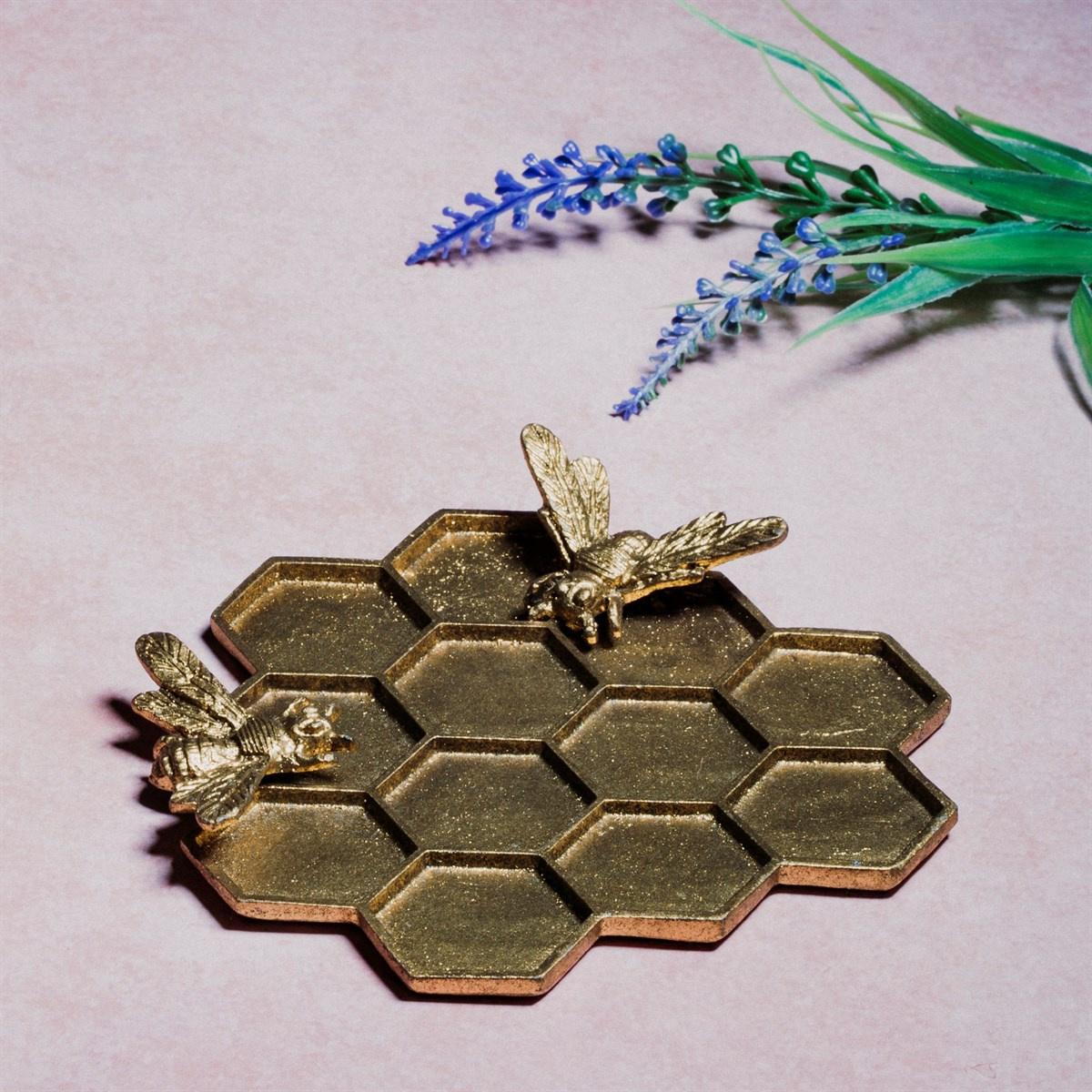 A muted gold design with bumble bees? We are totally sold. This heavyweight engagement ring dish is all quality and class.
21. Love You Pastel Pink Heart Trinket Dish - £7.50, Sass & Belle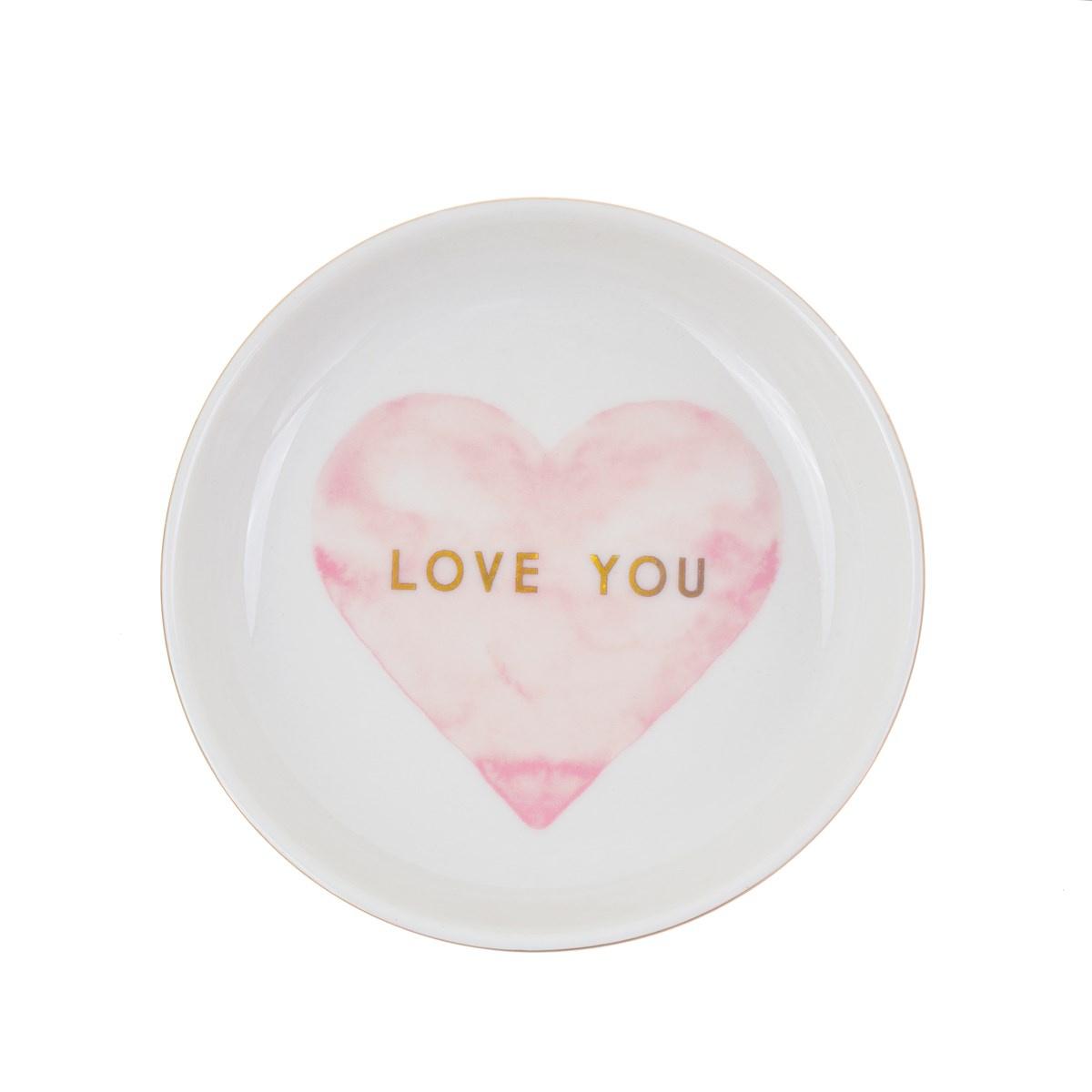 Want to give your partner a little dish when you propose, to keep their ring safe on? This sweet 'love you' dish is a great choice.
22. Heart Trinket Dish - £15, Etsy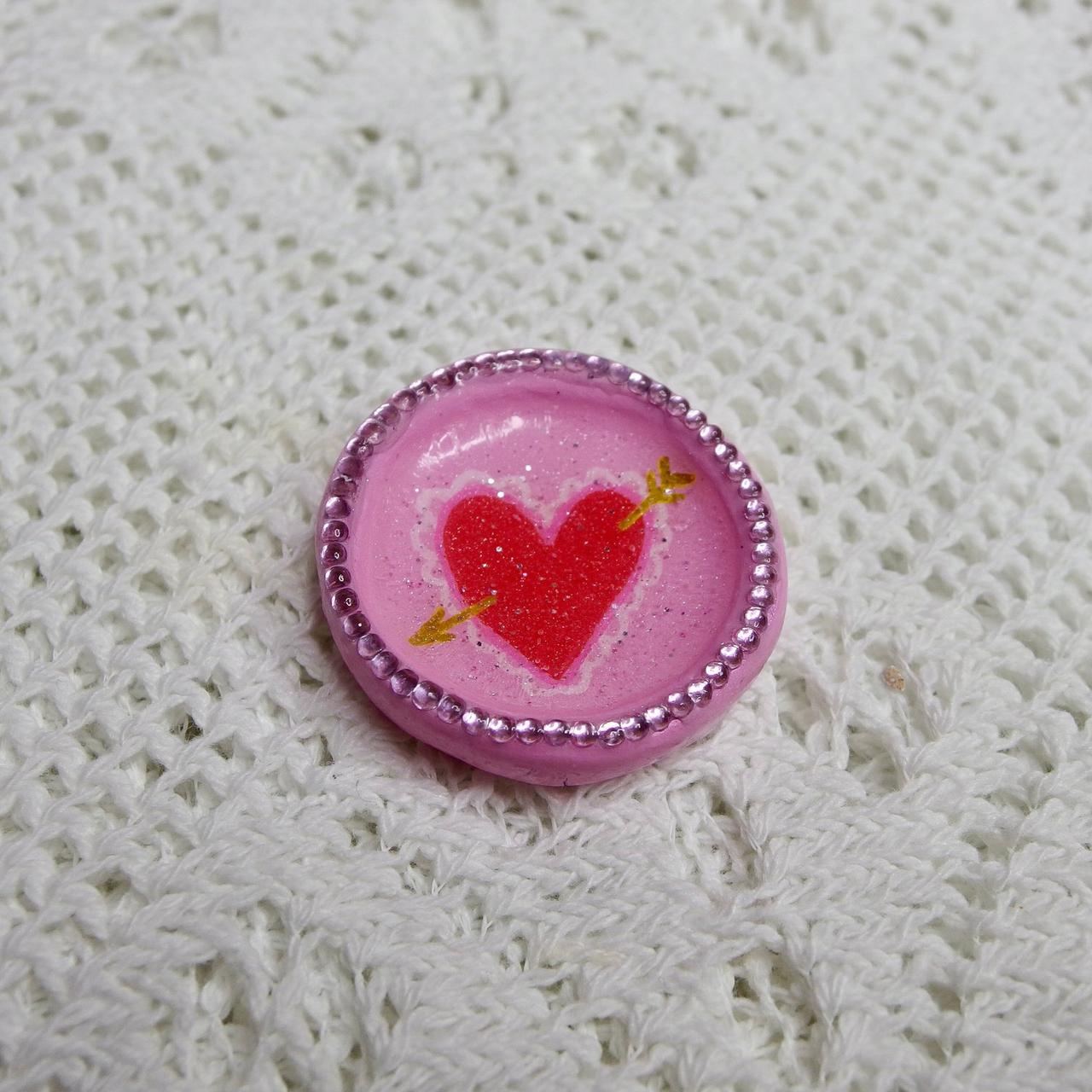 We are mad about this little heart dish, which is a great additional piece you could keep by your bathroom sink for when you're washing your hands.
23. Jewellery Dish Plate - £8.72, Etsy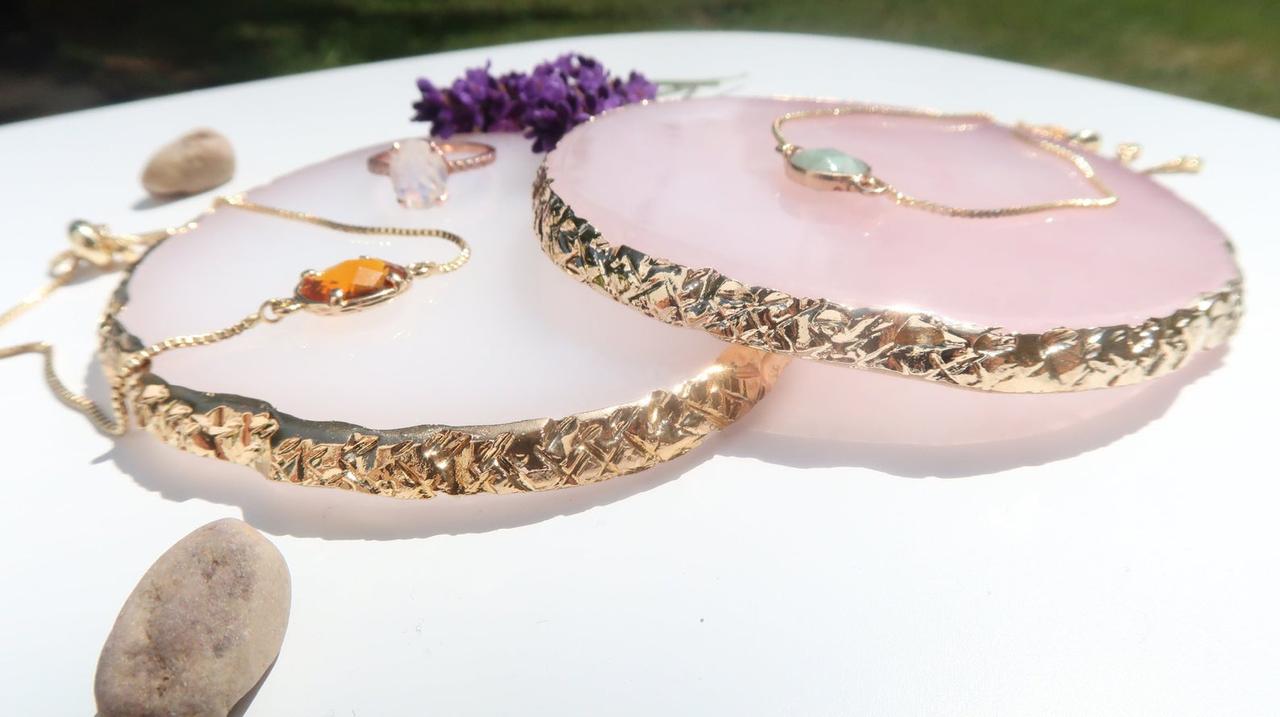 Pink and gold is one of our favourite colour combos, making this resin coaster the perfect engagement ring dish for us.
24. 'I Said Yes' Ring Dish - £6, Etsy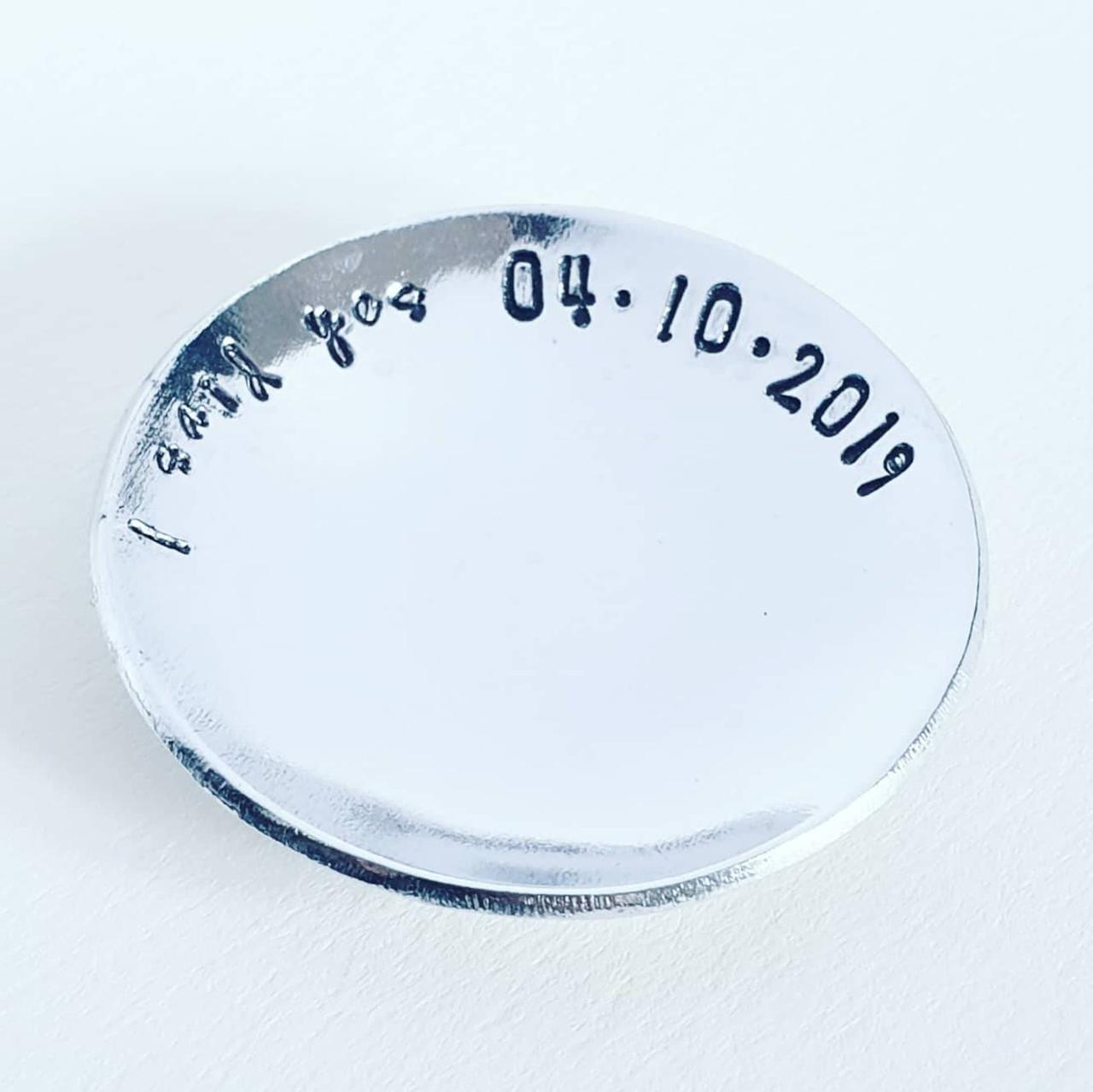 This silver reflective dish is really special and would look especially lovely housing a modern diamond with a silver band.
25. Porcelain White Ring Bowl - £20, Not On The High Street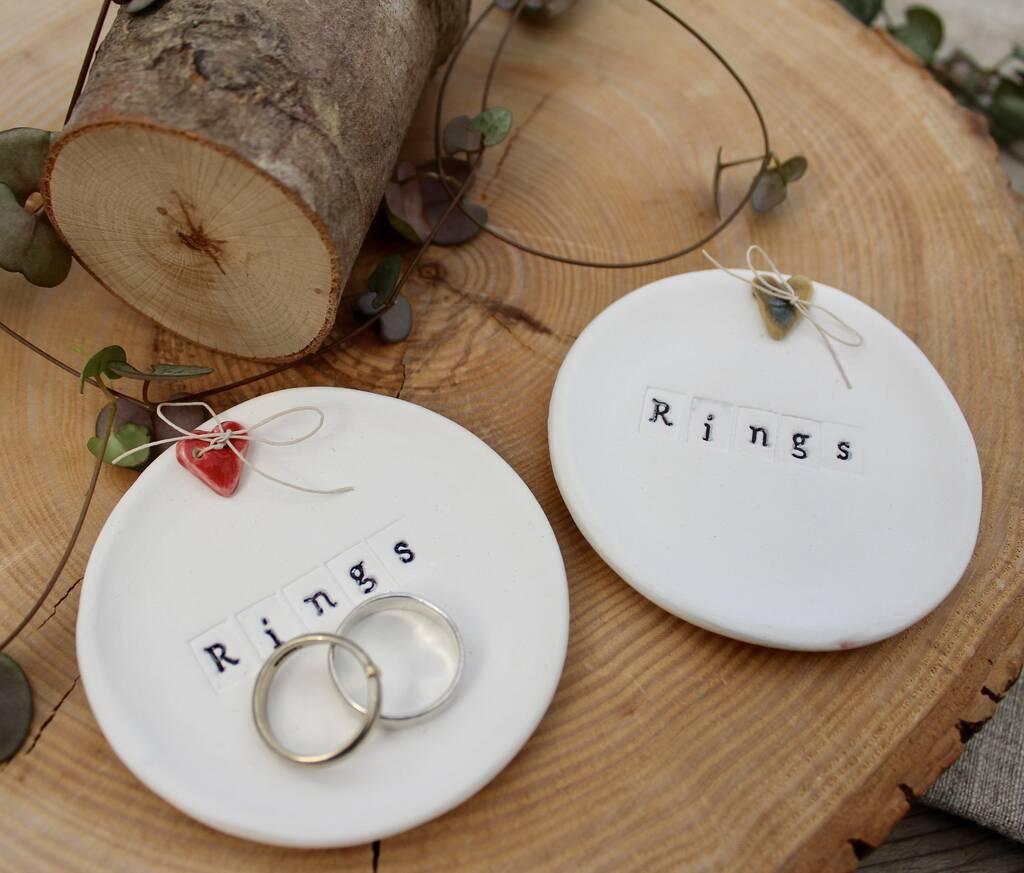 We love the pop of red or yellow colour in this simple but chic engagement ring dish. Use it for all your rings, not just your engagement ring.
26. Personalised Engagement Ring Dish - £17.50, Not On The High Street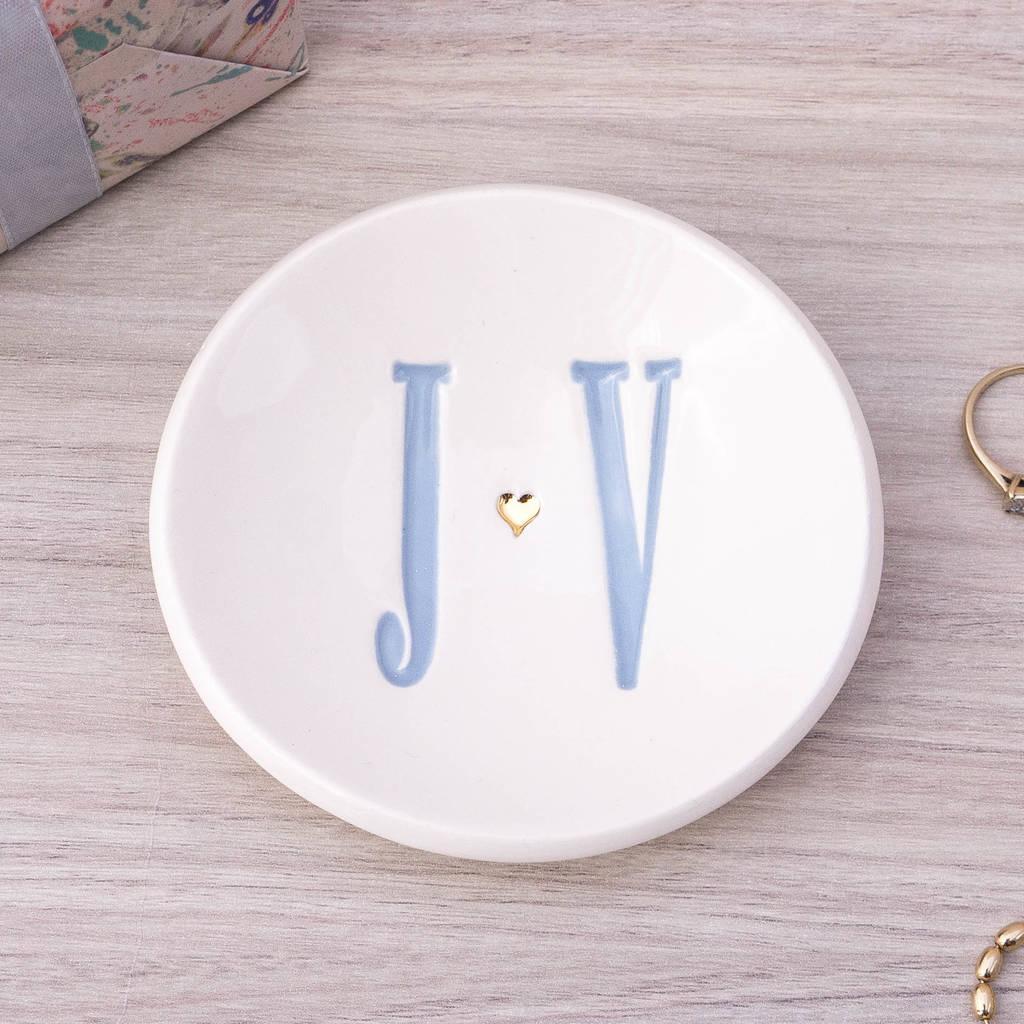 Keep it simple with initials and celebrate your love with a subtle dish such as this design from Not on the High Street.
27. Personalised Couples Trinket Dish - £18, Not On The High Street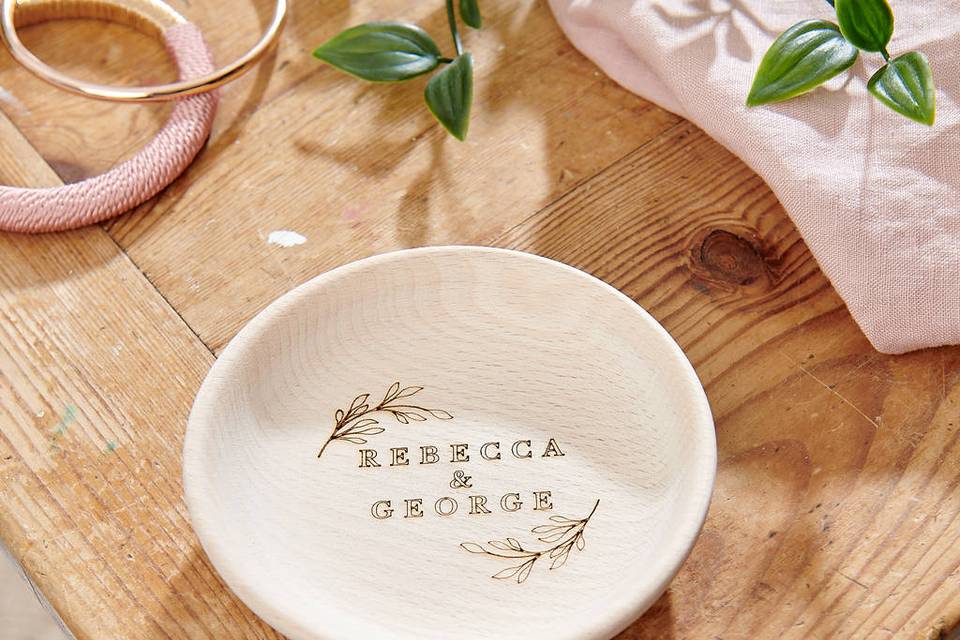 Rustic yet modern, cool yet sophisticated, and sweet but still subtle; this engagement ring dish has it all.
So you've got a cute place to store your engagement ring, but are you clued up on how to keep it looking its best. Don't miss our guide to cleaning your engagement ring at home.