How to Make Your Own DIY Photo Booth: 6 Easy Steps
From cool photo booth backdrops to what camera to use, here's everything you need to make brilliant memories!
We have included third party products to help you navigate and enjoy life's biggest moments. Purchases made through links on this page may earn us a commission.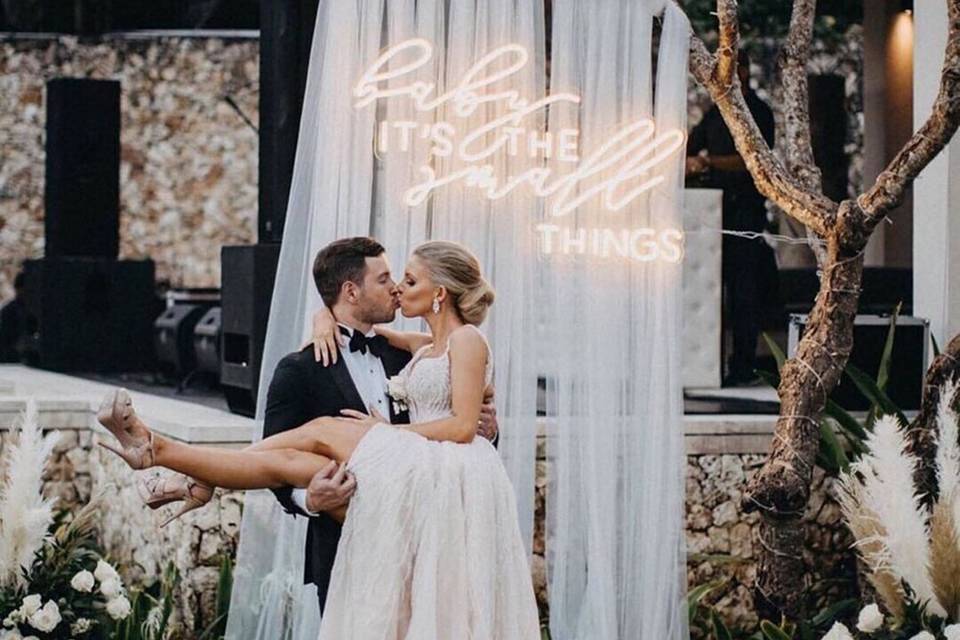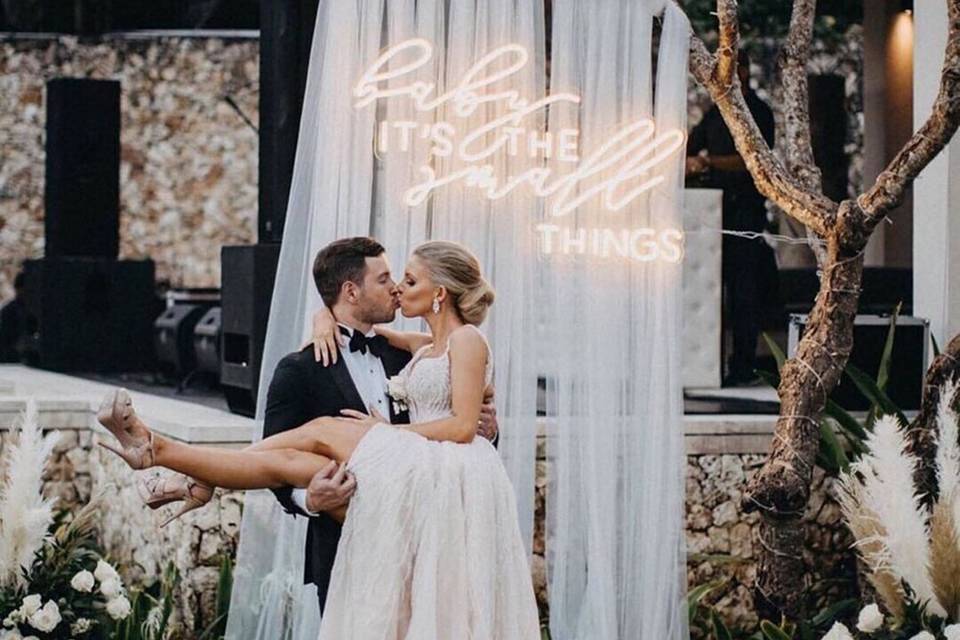 Photo booths are a great form of entertainment to have at your wedding. It keeps guests busy at the reception and you'll be left with fantastic memories from the evening.
Depending on how long you want one for and what kind it is, hiring a photo booth normally costs between £400-£700. For that price you'll get around 3-4 hours of a manned photo booth with props, dressing up boxes, digital copies of the photos and unlimited prints on the night. Usually there's extras like a guest book and USB to keep too.
If that isn't within your budget, it's very easy to DIY a photo booth. If you've already hired lots of decorative props or have some from throwing other parties, it can be just as easy to set up your own as pay someone to do it.
From where to place your booth to what camera and props you'll need, here's how to make your own DIY photo booth.
1. Find a Space for Your Photo Booth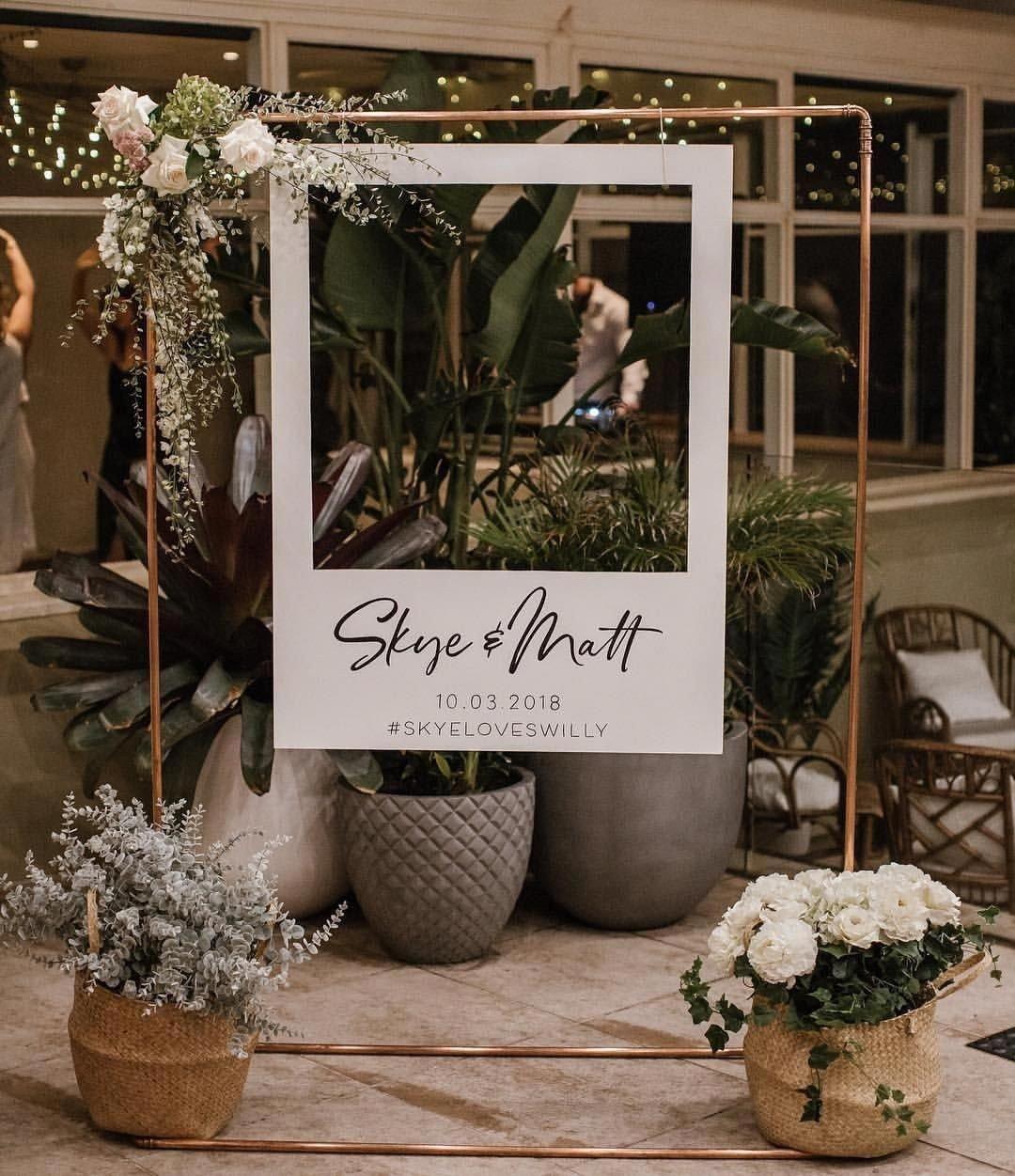 Image: Pinterest
No point in having a photo booth if no one realises it's there! Set it up just to the side of the main reception action. Try a corner of the dance floor, a small adjoining room, outside in something like a caravan or an old horsebox, in a pop-up tipi or gazebo.
If you're feeling a bit extra, you can buy this inflatable photo booth from Amazon which is the size of a room and contains colour-changing LEDs and a wind machine! Crafty couples can also build their own wooden frame, then you just need to hang curtains around the side and add a seat.
2. Create Your Photo Booth Backdrop
Your backdrop can be as elaborate or simple as you like, just make sure it's not a plain white wall. We've found some genius ideas we love from Pinterest below.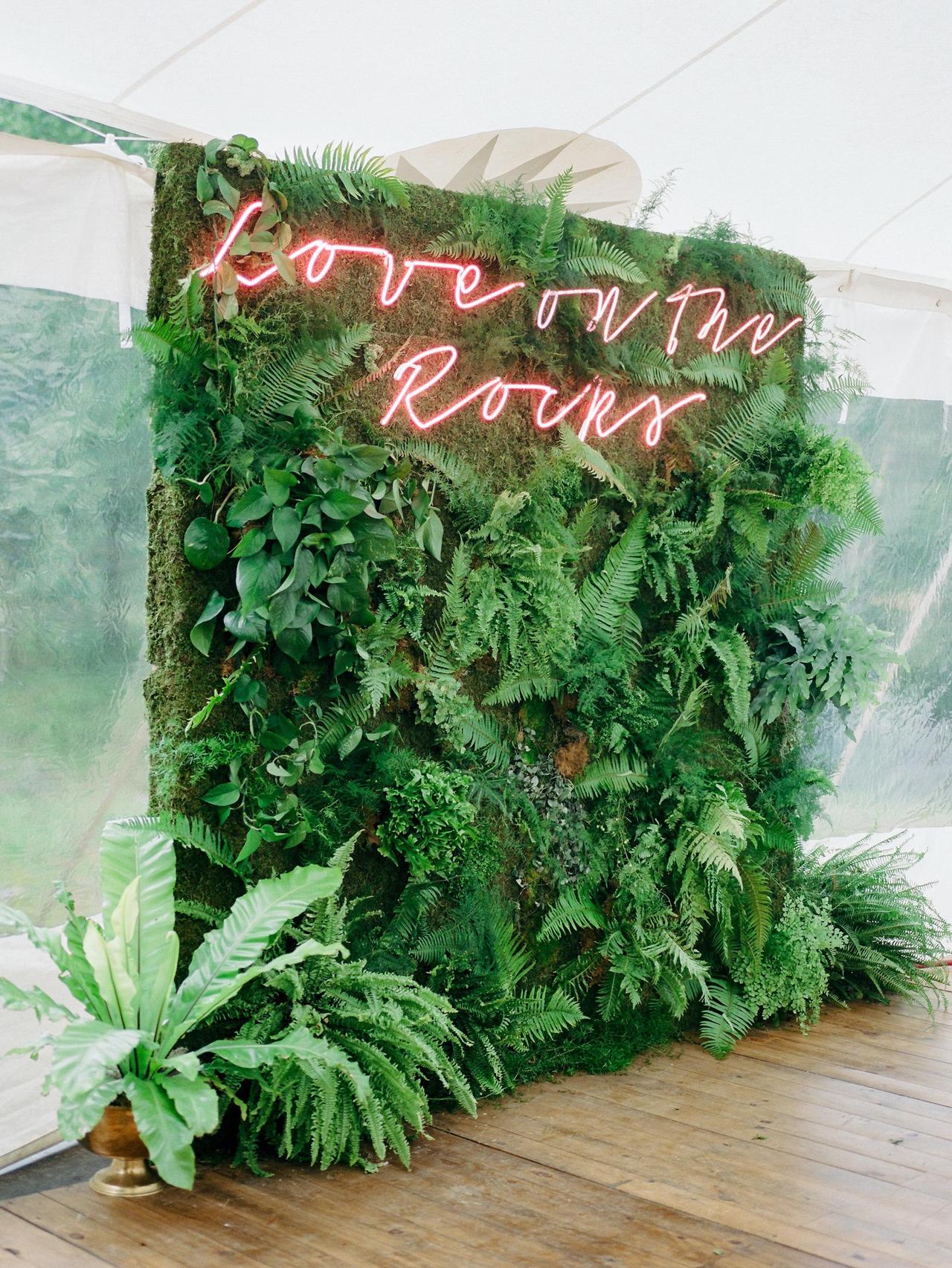 Image: Pinterest
A wall of artificial ferns might seem difficult to build but is actually quite easy. Start with an outdoor trellis like this one from IKEA and then attach these artificial moss matts all across. Then it's just a case of hot gluing on lots of artificial hanging vines, palms, and big fake ferns.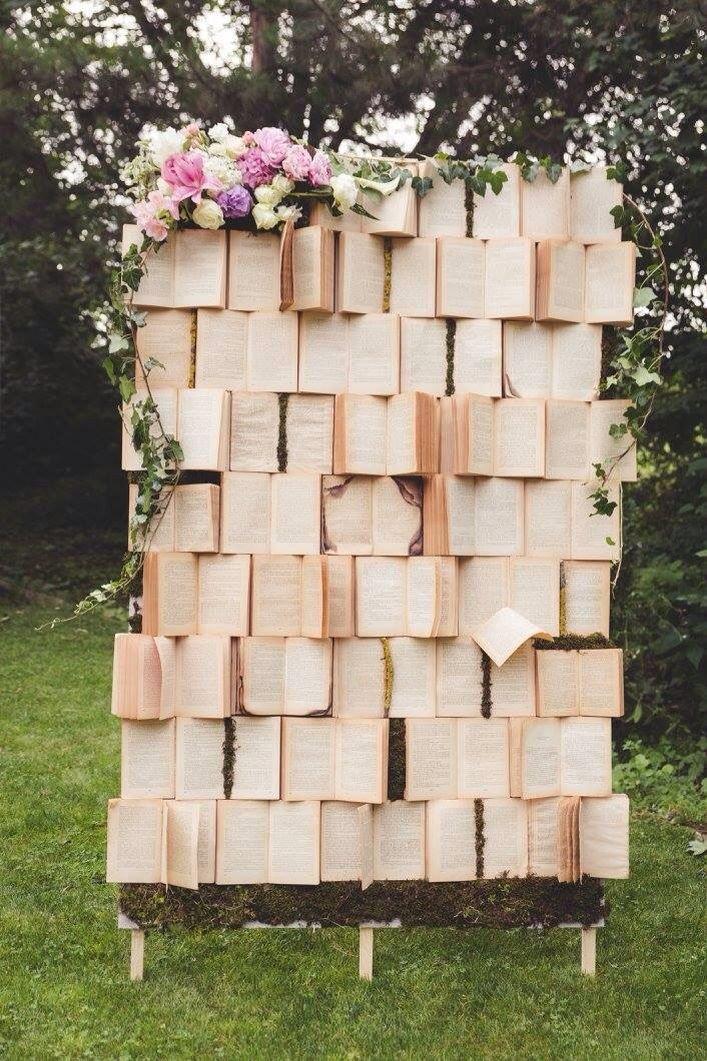 Image: Pinterest
Second-hand books can be easily glued onto pallets for a great literary-lovers' backdrop. Buy books from charity shops or collect damaged ones from friends. Schools sometimes give away old copies of English books when they're replacing their set.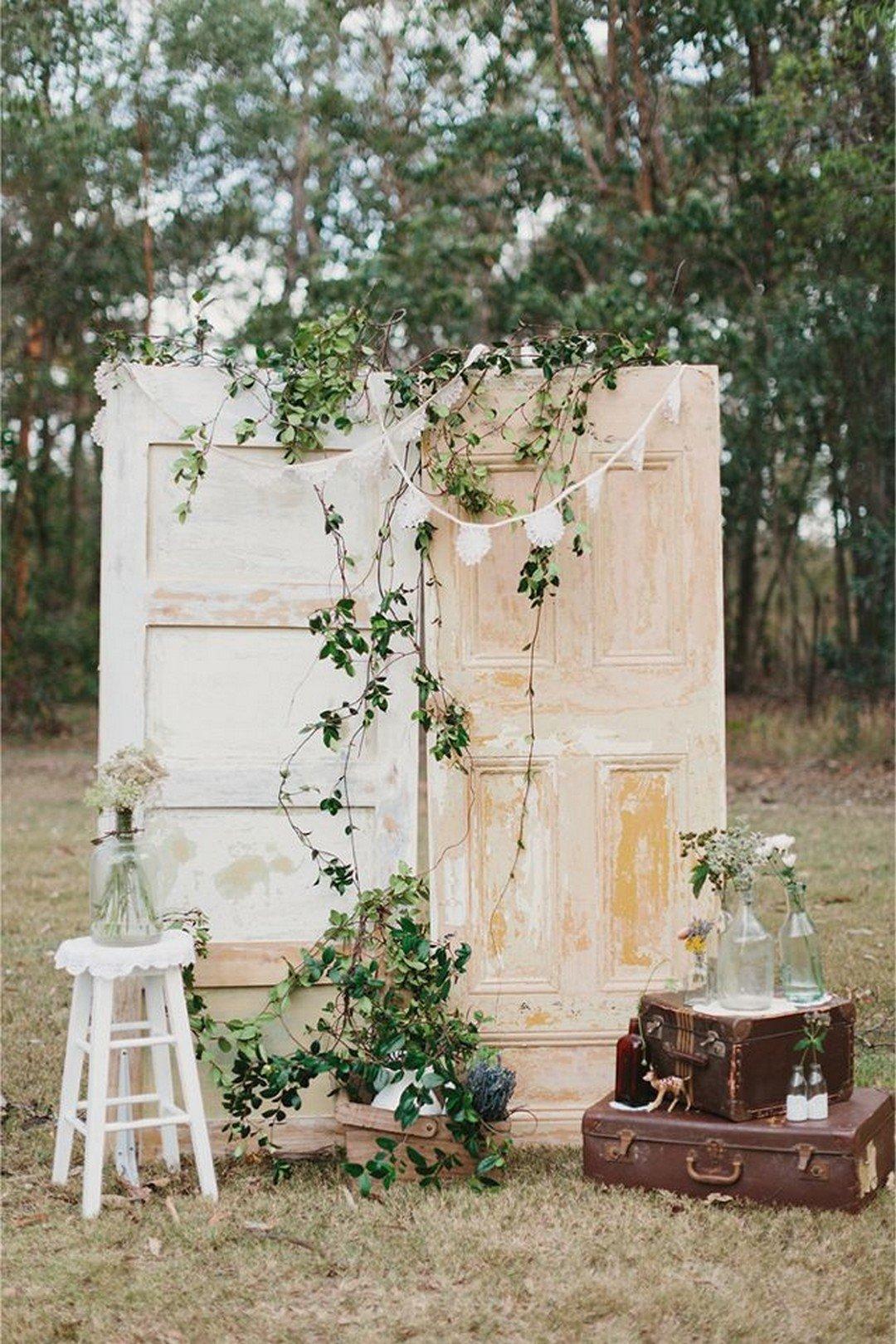 Image: Pinterest
For a rustic, vintage photo booth backdrop, use two old doors (you can often salvage these from a skip and then paint them white) or buy a wicker room divider like this one. Top with vines, bunting and place a vintage sofa in front or large suitcases.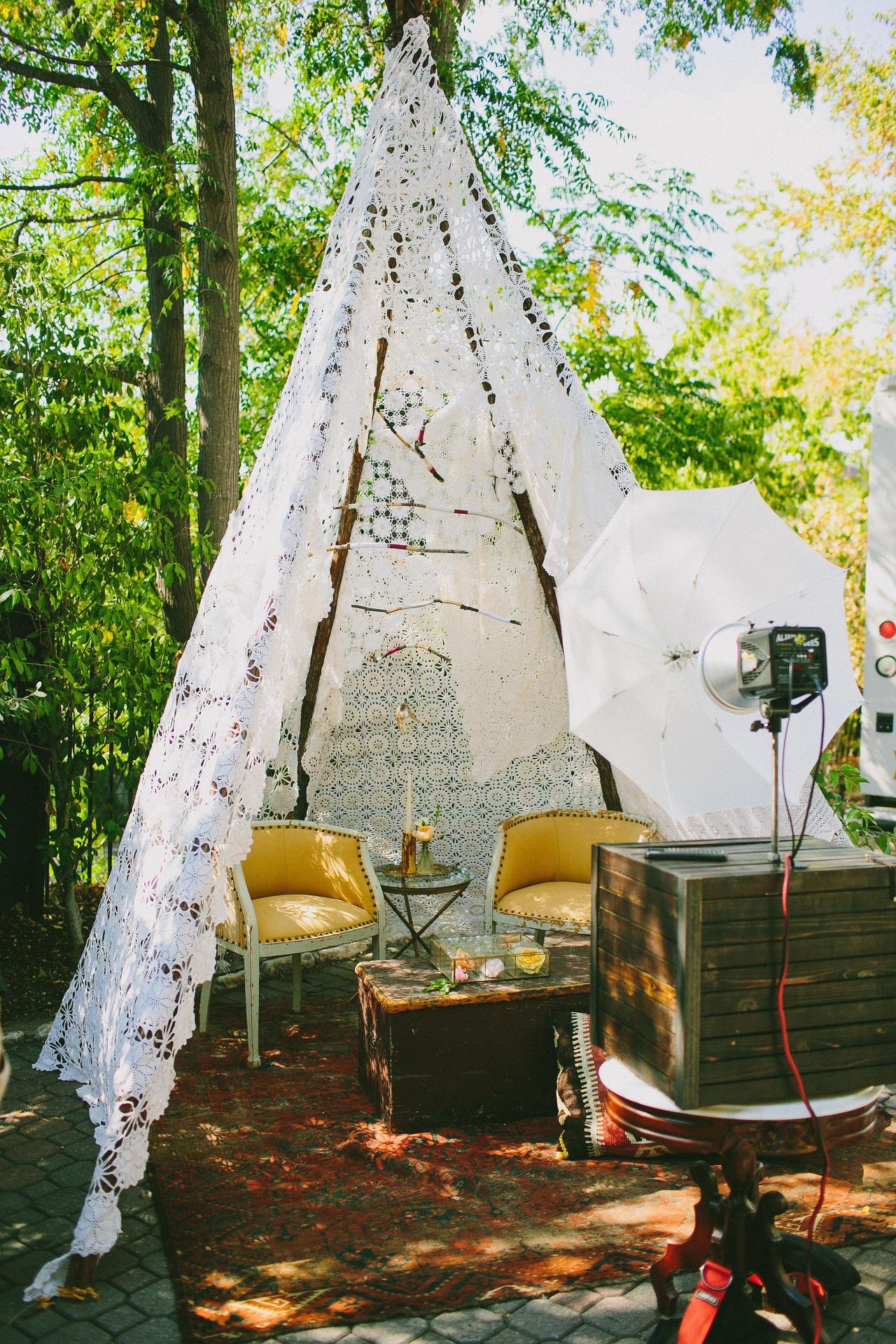 Image: Pinterest
Building a tipi frame is actually really easy, then you just need some lace curtains for a rustic boho backdrop at an outdoor wedding. Rugs and chairs make it comfy and fun for your guests. You can buy a ready-made lace tipi from Amazon if woodcraft isn't your thing.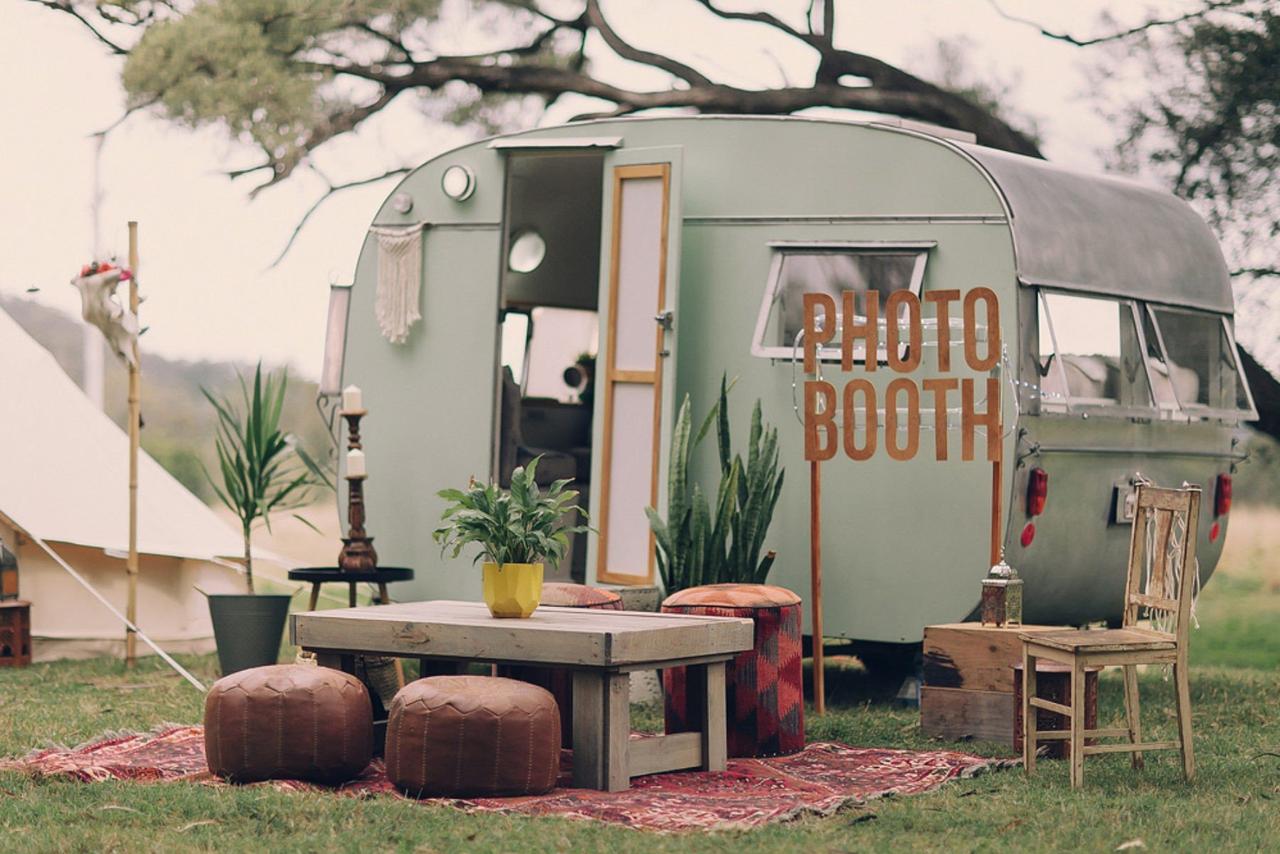 Image: Pinterest
Horsebox and caravan photo booths are popular to hire, but you can DIY your own if you have the time and patience. Strip out an old caravan, paint it pastel shades and set up a bench and camera inside. It makes for a fab vintage backdrop.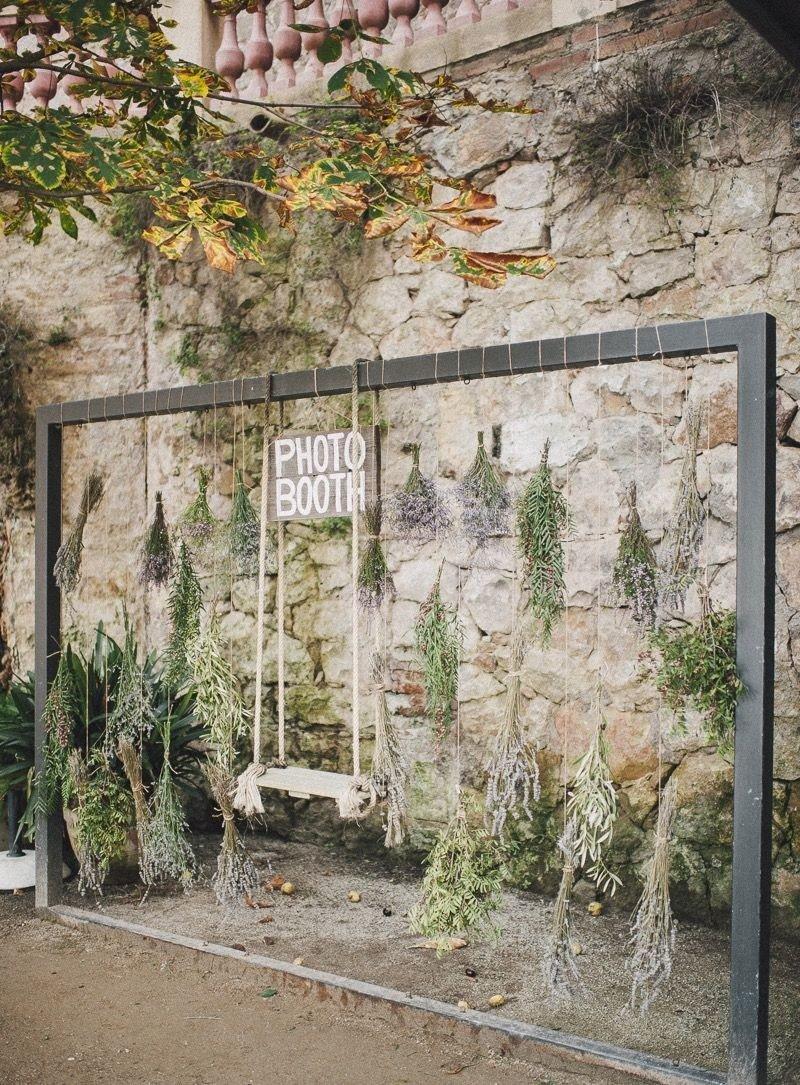 Image: Pinterest
We couldn't love a swing more as part of a photo booth backdrop. You'll get fab action shots and everyone will be laughing. It's a brilliant boho look if you combine it with bunches of dried wild flowers.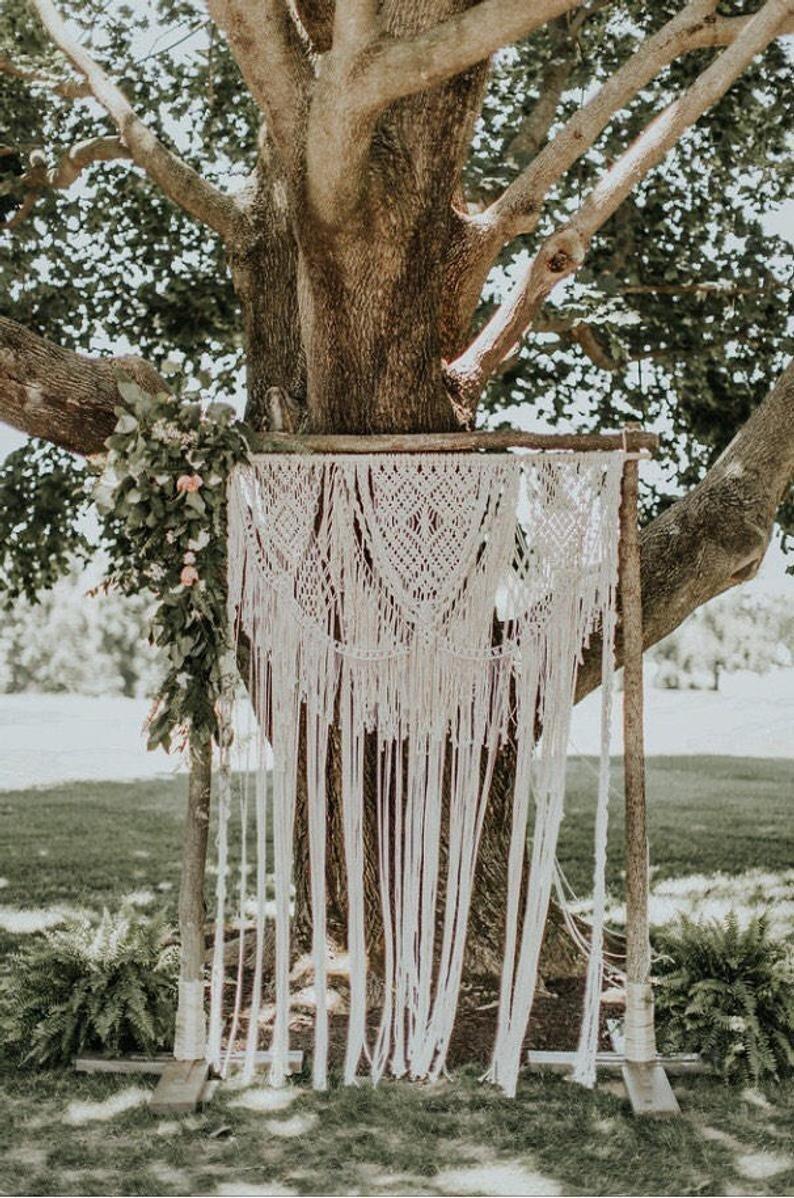 Image: Pinterest
Macrame instantly adds a boho vibe to any wedding. If you're planning a relaxed outdoor wedding with lots of cool features, a macrame photo booth is perfect. We love this one from Amazon.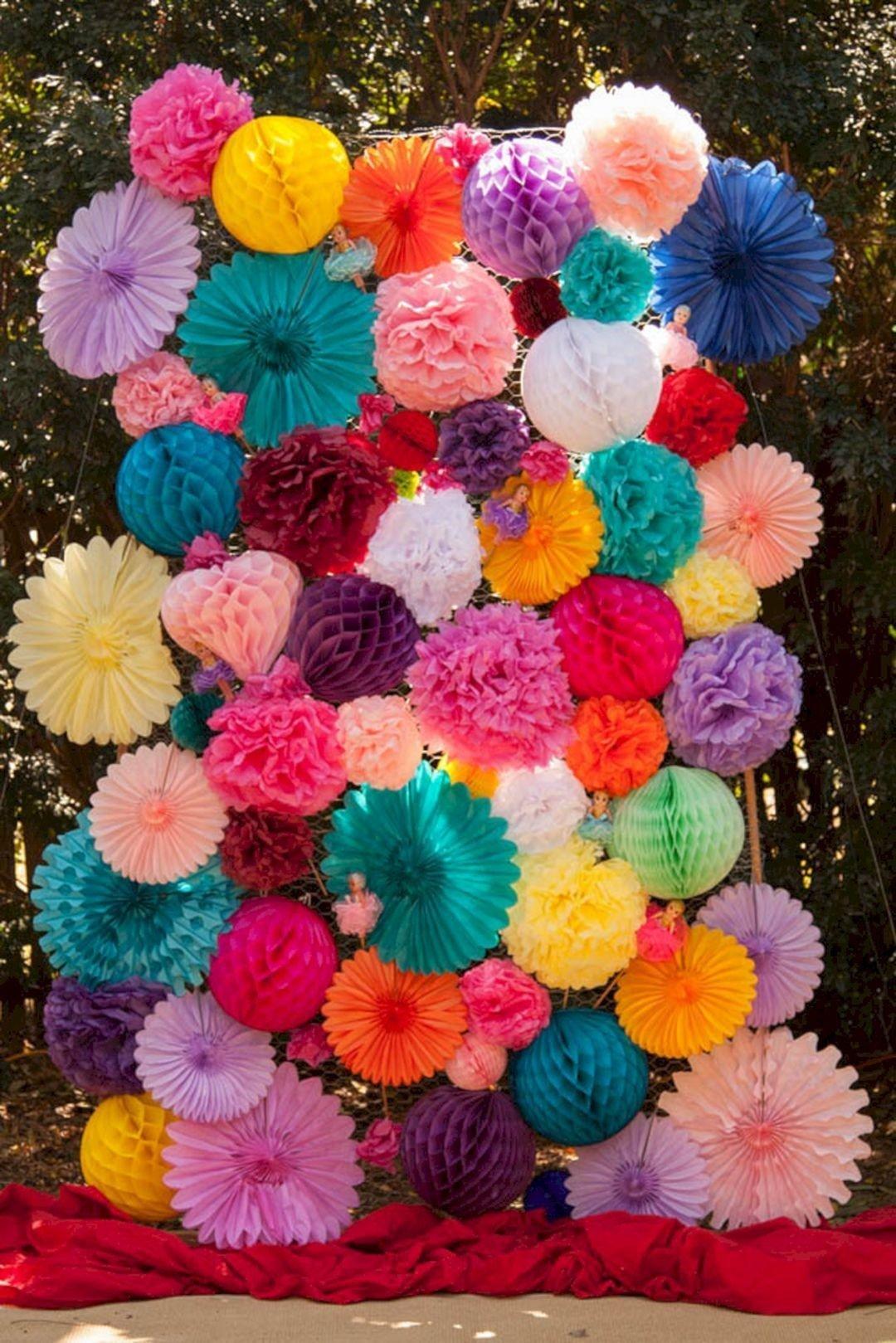 Image: Pinterest
Paper pom poms are not just seriously pretty but they're environmentally friendly too as you can recycle them afterwards. Attach them to a big outdoor trellis: remember, if it rains the paper is ruined so only make one if you're guaranteed sunshine! These brightly coloured ones are ace.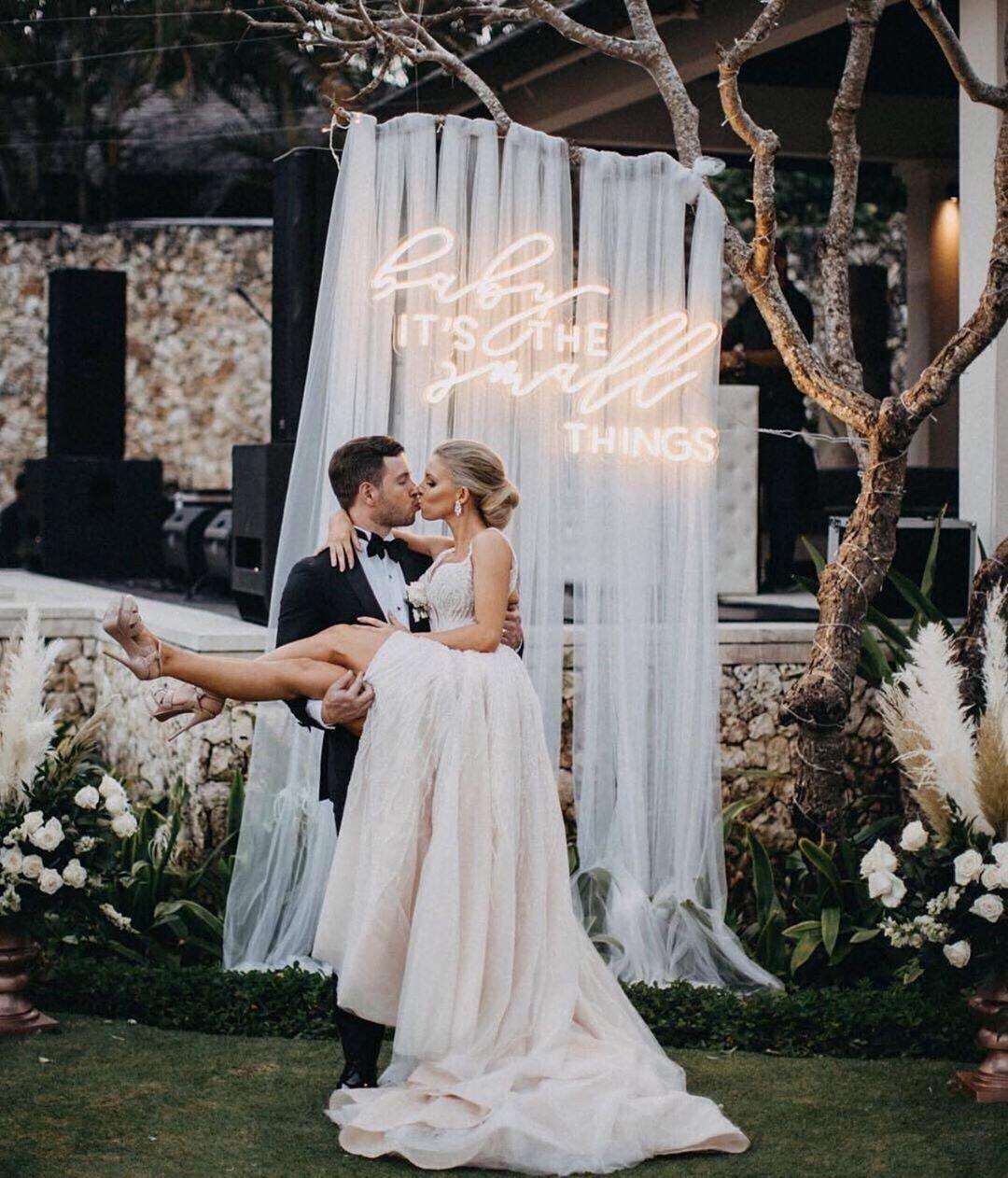 Image: Pinterest
A neon sign immediately adds interest to pictures. Invest in one you can reuse as artwork in your home or rent one. There's a slight bit more upkeep needed on a photo booth with a neon sign as someone will need to check the exposure a few times during the night, but it's worth it.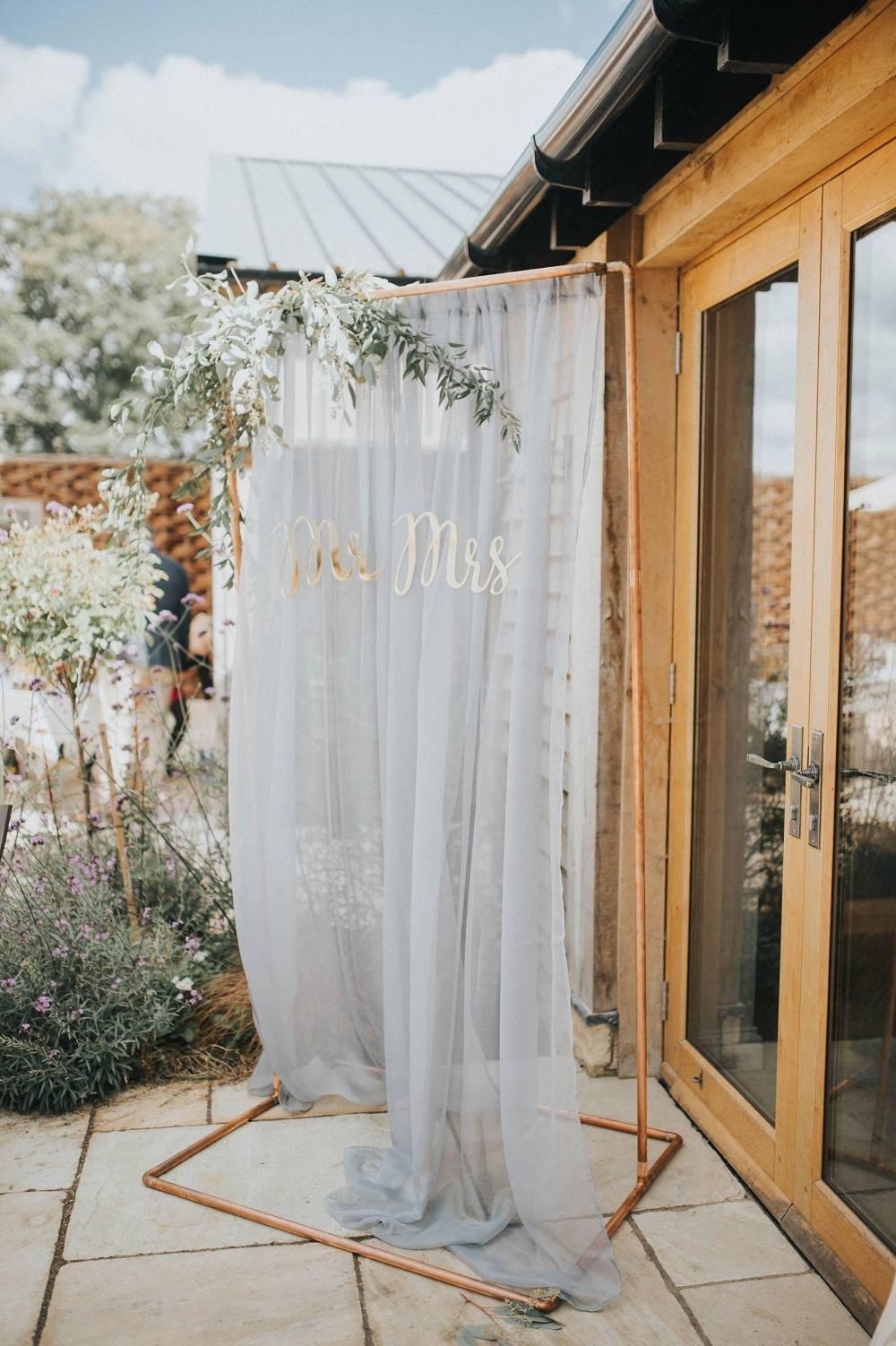 Image: Pinterest
An incredibly simple but effective backdrop is a net curtain on a frame. A metallic foil curtain would look equally as good at nighttime. You can make this with a rose gold clothes rail or buy a cheap decorative one and spray paint it the colour of your choice.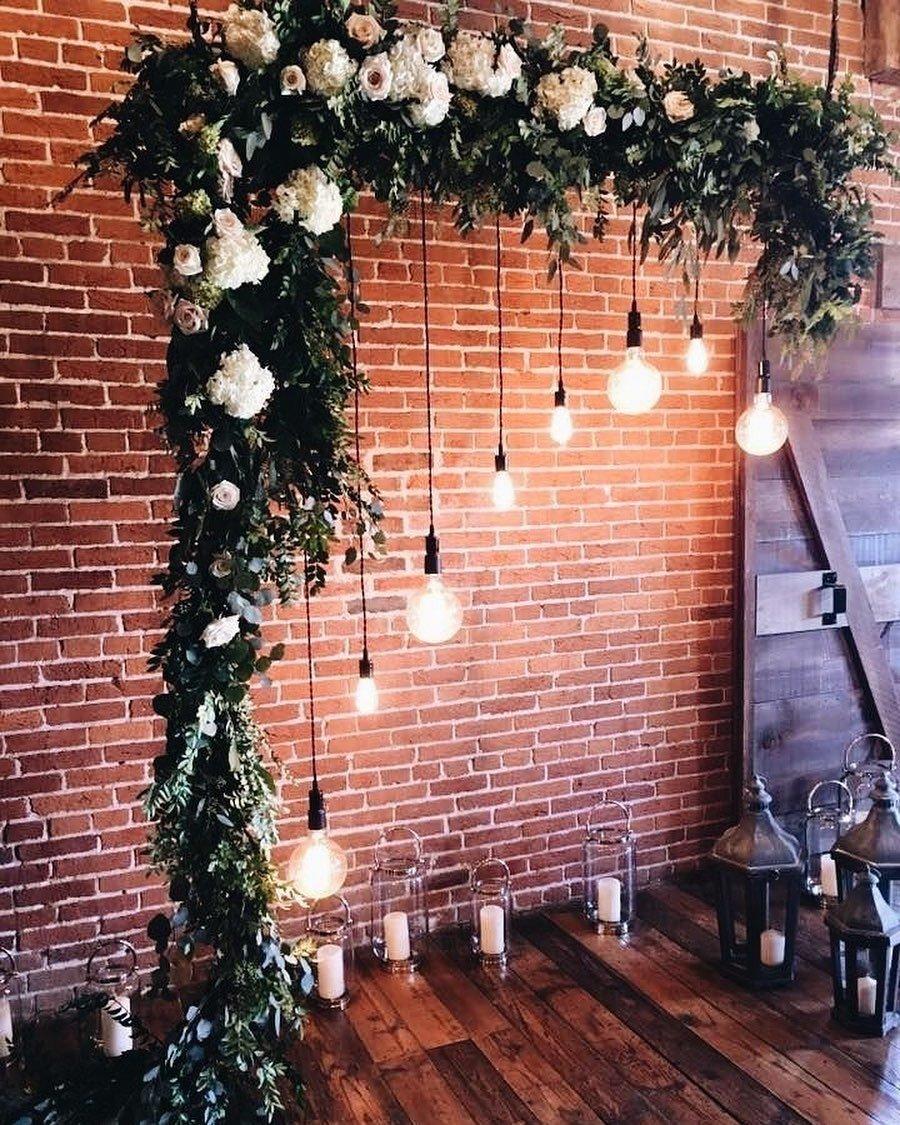 Image: Pinterest
A brick wall is a great backdrop on its own. All you need to add is a flower arch, string up some waterproof globe lights or set up lots of candles in big jars.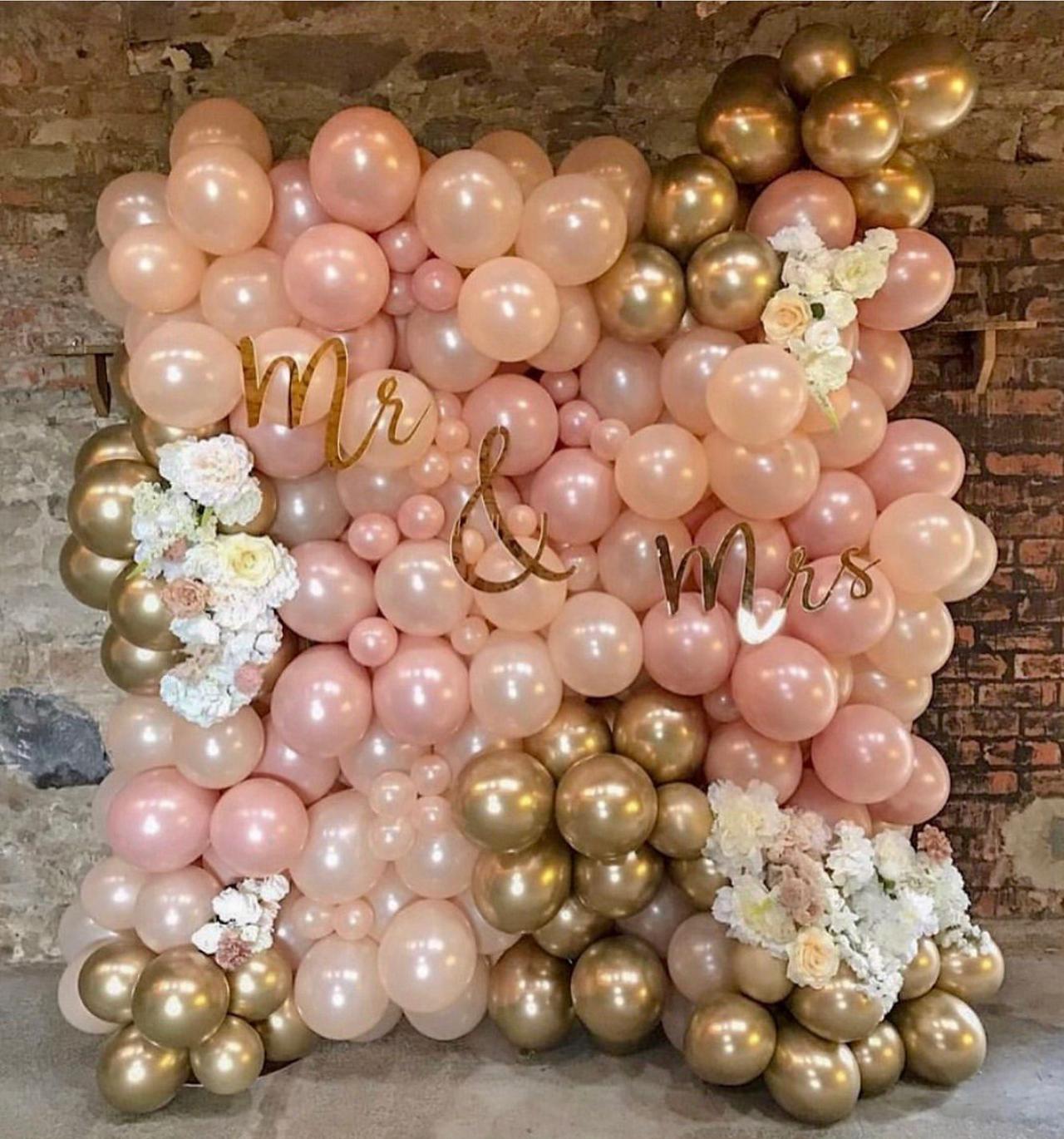 Image: Pinterest
A balloon wall is another statement photo booth backdrop that's easy and cheap to put together. You either need a lot of blowing power or a balloon pump because it's quantity that makes the wall so impressive looking. We love this rose gold balloon set.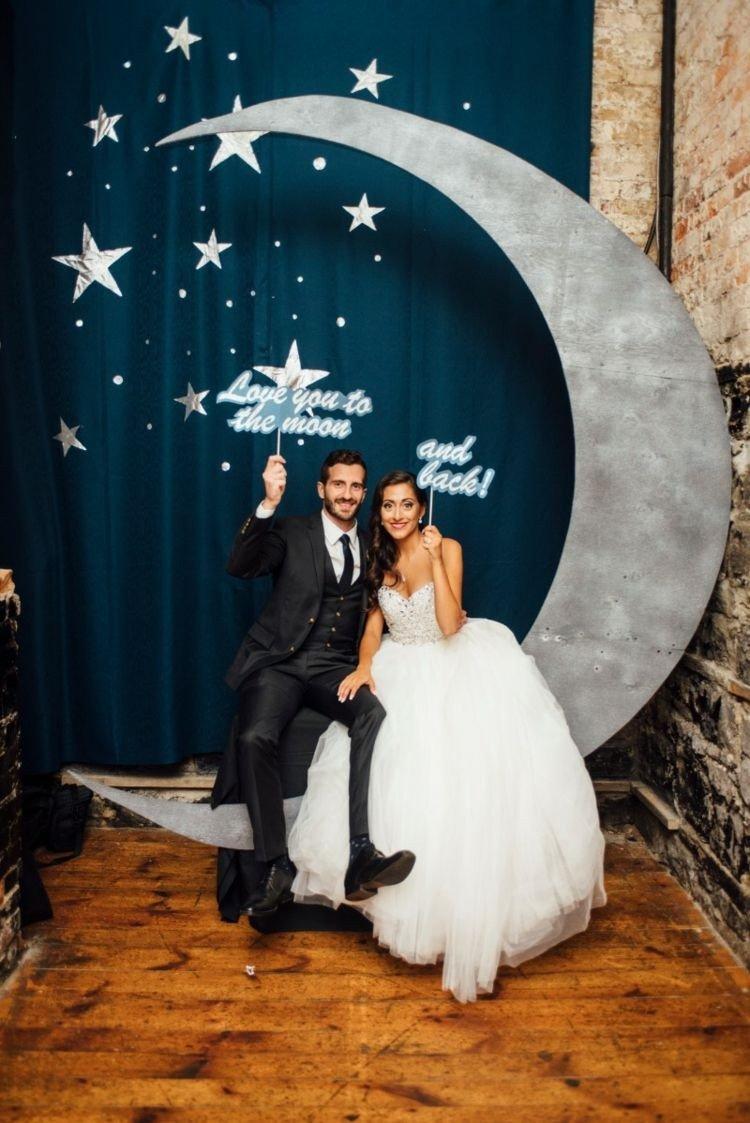 Image: Pinterest
Celestial photo booth backdrops look amazing at autumn or winter weddings when the night draws in earlier. A star or twinkling light backdrop is easy to buy or DIY, while a giant moon can be knocked up pretty easily. Cut down MDF and spray paint it in a metallic colour. Attach to a wooden crate that guests can sit on so it looks like they're sitting on the moon!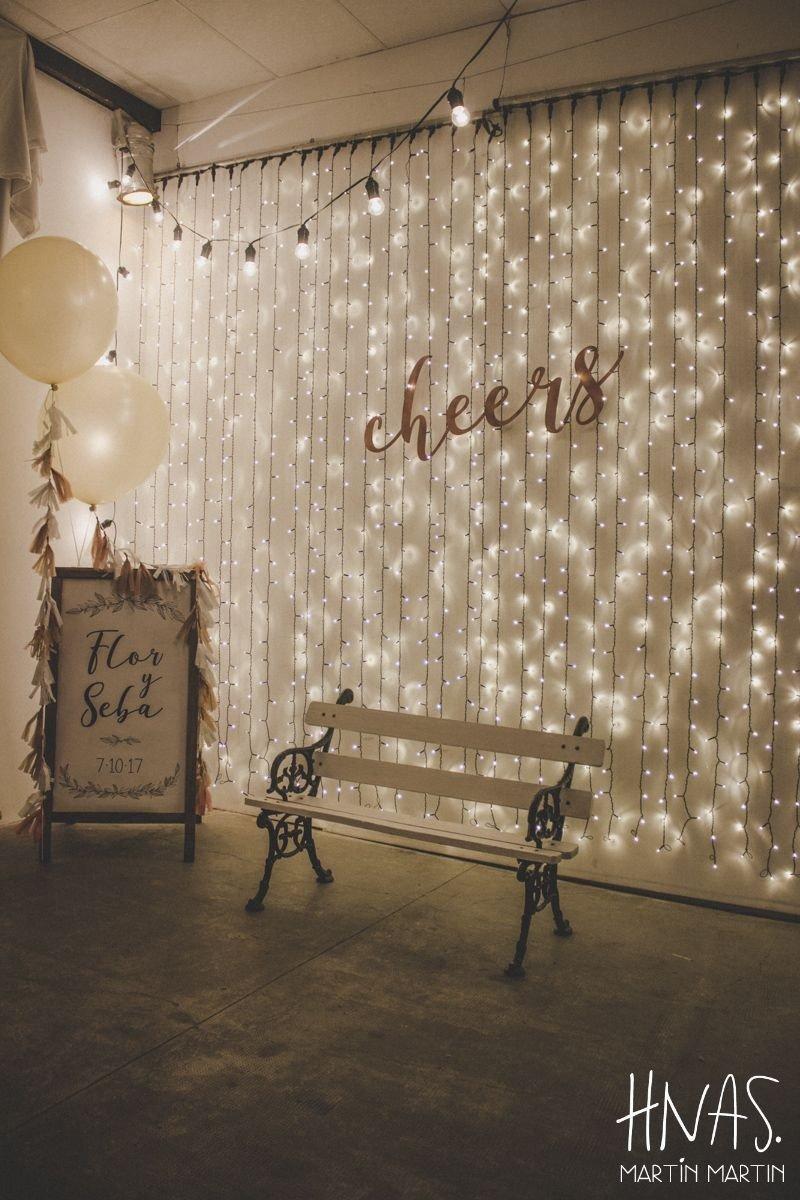 Image: Pinterest
A fairy light curtain is totally simple to string up and looks awesome as a photo booth backdrop. Similarly to the neon lights, you will need someone to check occasionally that the lighting is coming out OK in your photos and adjust camera settings accordingly.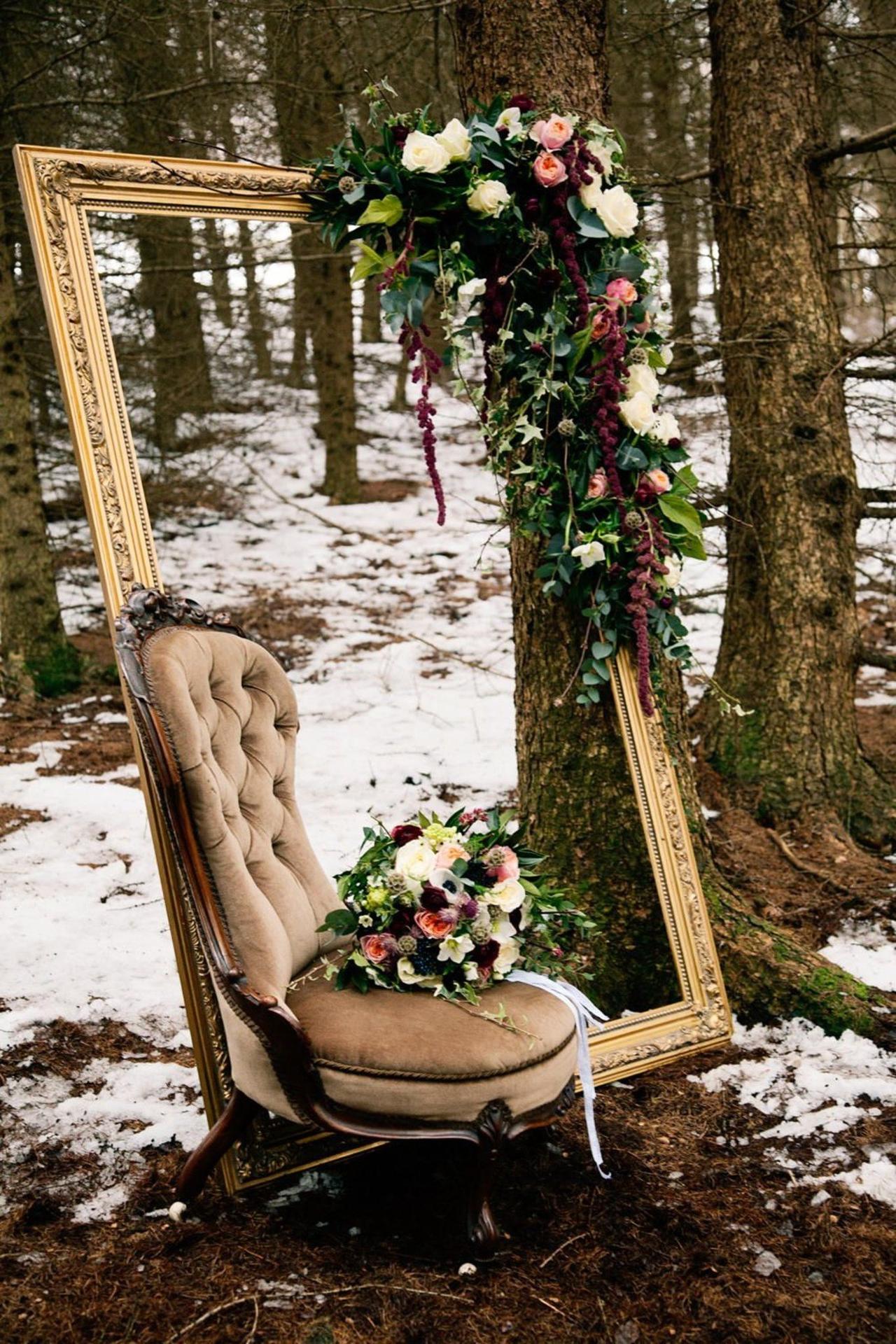 Image: Pinterest
A giant frame or a Polaroid frame can be a fab way to square up a picture. Either set up a chair in front of guests to sit on or have them pose behind it.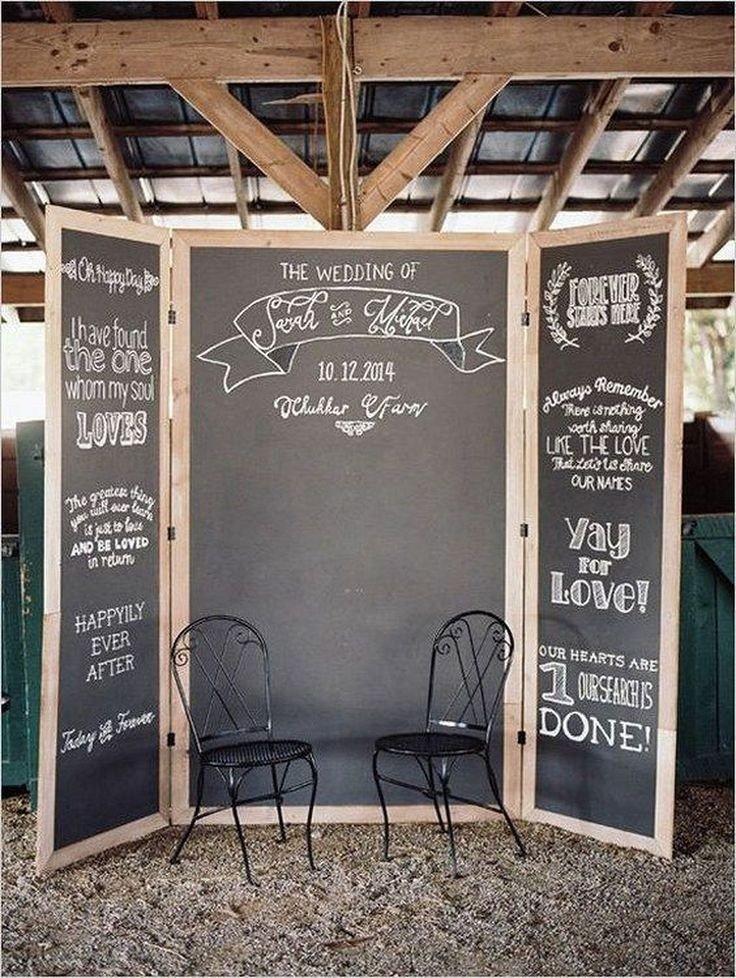 Image: Pinterest
A chalkboard can be personalised with your names, wedding date and then space for all your friends and family to leave messages. You can buy chalkboard paint (this one is also magnetic) and DIY it cheaply using an old screen door.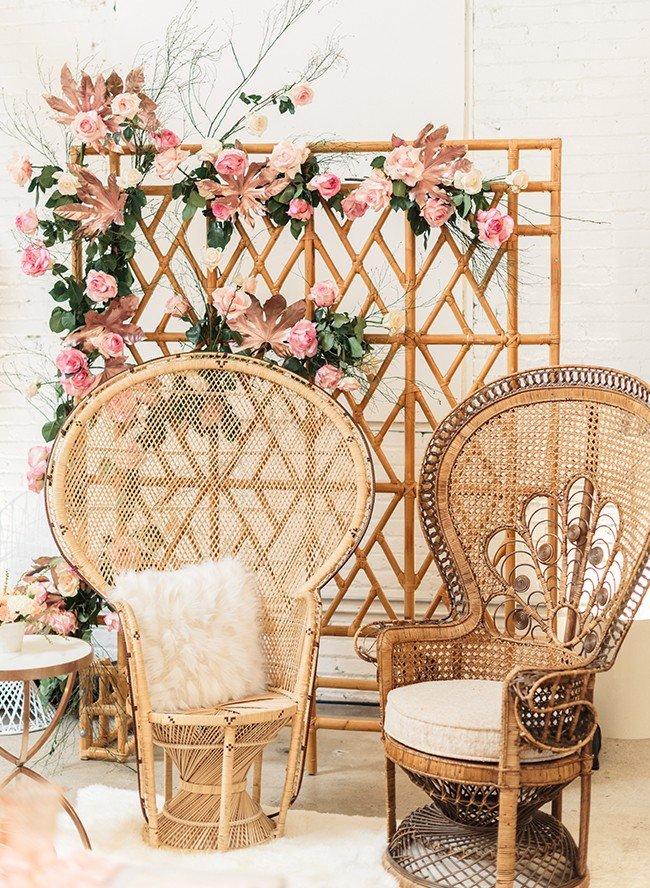 Image: Pinterest
Bamboo adds a cool retro vibe to your photo booth. Buy a bamboo screen, bamboo furniture and add a faux sheepskin rug and cushions.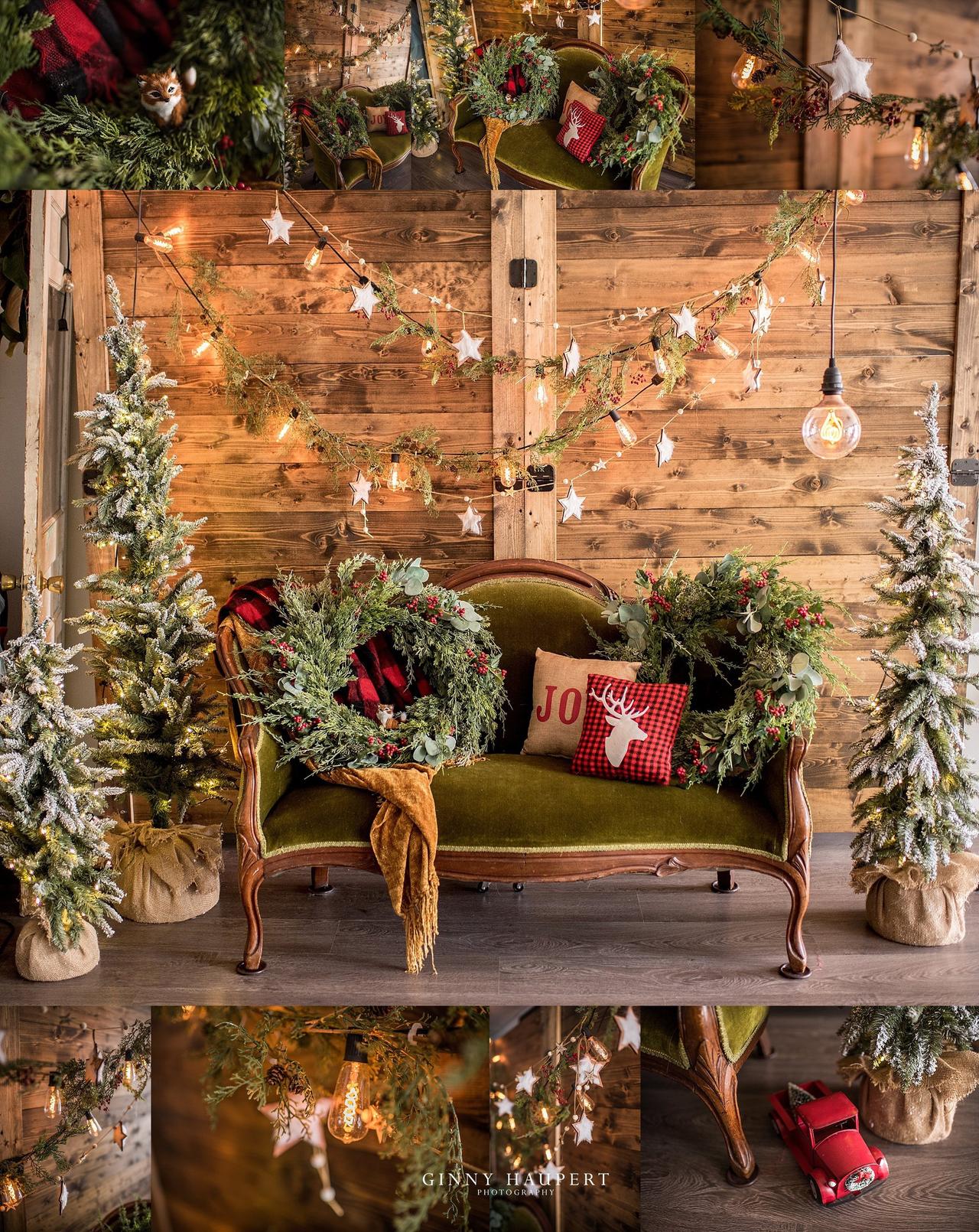 Image: Pinterest
A Christmas-themed wedding makes for a great photo booth theme. Add mini christmas trees, wreaths, warm blankets, cushions and Christmas lights. Use plush fabrics like velvet and faux fur.
READ MORE: The 121 Must-Have Wedding Photos Checklist
3. Decide on the Type of Camera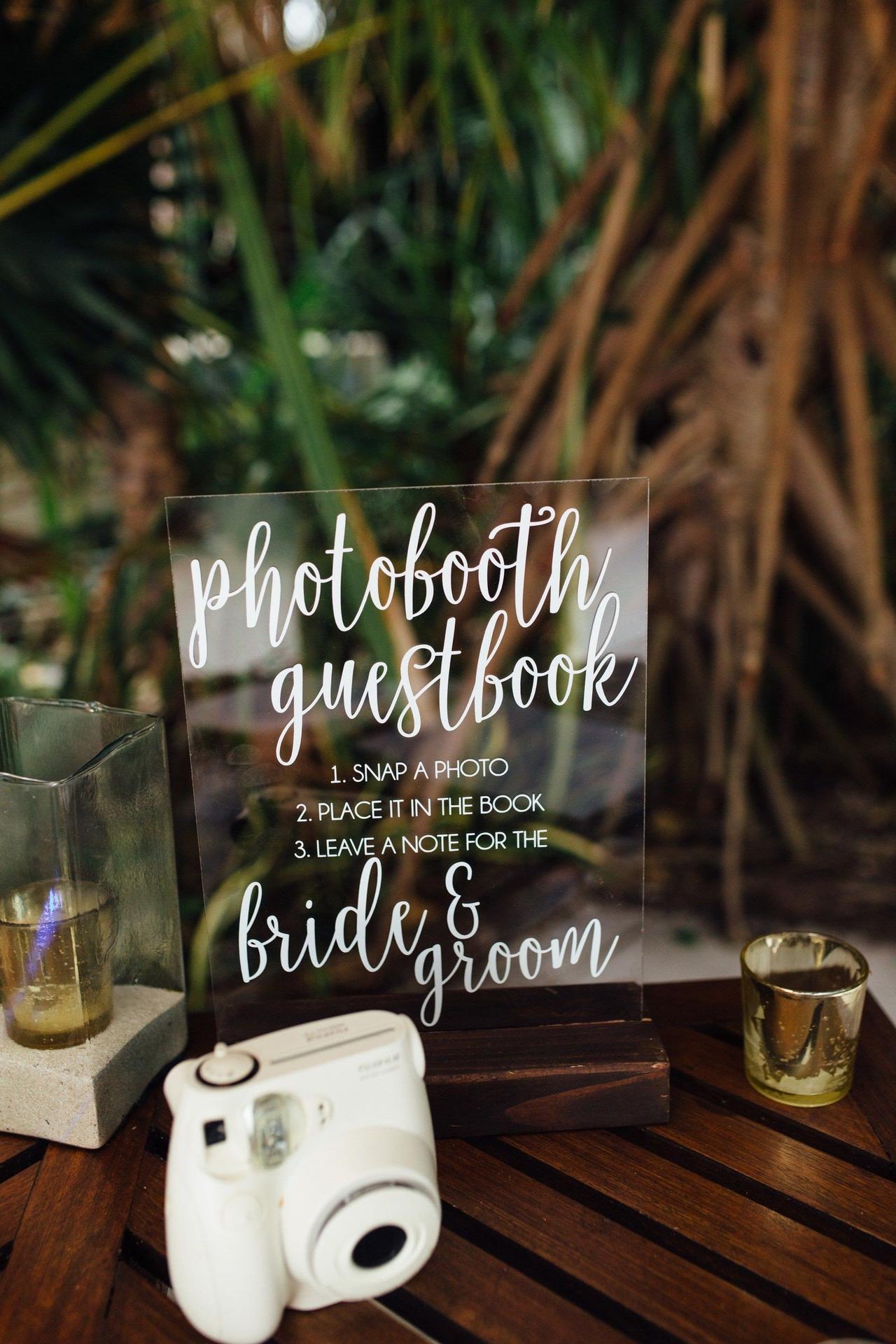 Image: Pinterest
Every photo booth needs a camera and there's a few different options.
A polaroid camera is the simple way to do it. Guests can take snaps of each other and they'll be printed instantly. Bear in mind that the film is quite expensive so this could end up being pricier than expected. This Mini Instax camera is £65 with 10 shots.
A DSLR camera on a tripod. Have a remote control that can be used to take a photo or find a few people happy to stand behind the lens for a bit. You'll need someone with knowhow to check the settings periodically, especially as the light changes. What you don't want is a glaring flash, so we recommend setting up a ring light or buying a speedlite flash. The couple will then have all the photos digitally saved to share in an online album with guests.
A selfie stick with a good quality phone is basic but will do the trick. If the guests use their own phone, make sure they're uploading them to social media with a specific hashtag so you can find them all again. This highly-rated selfie stick is less than £10.
4. Buy or Make Some Playful Photo Booth Props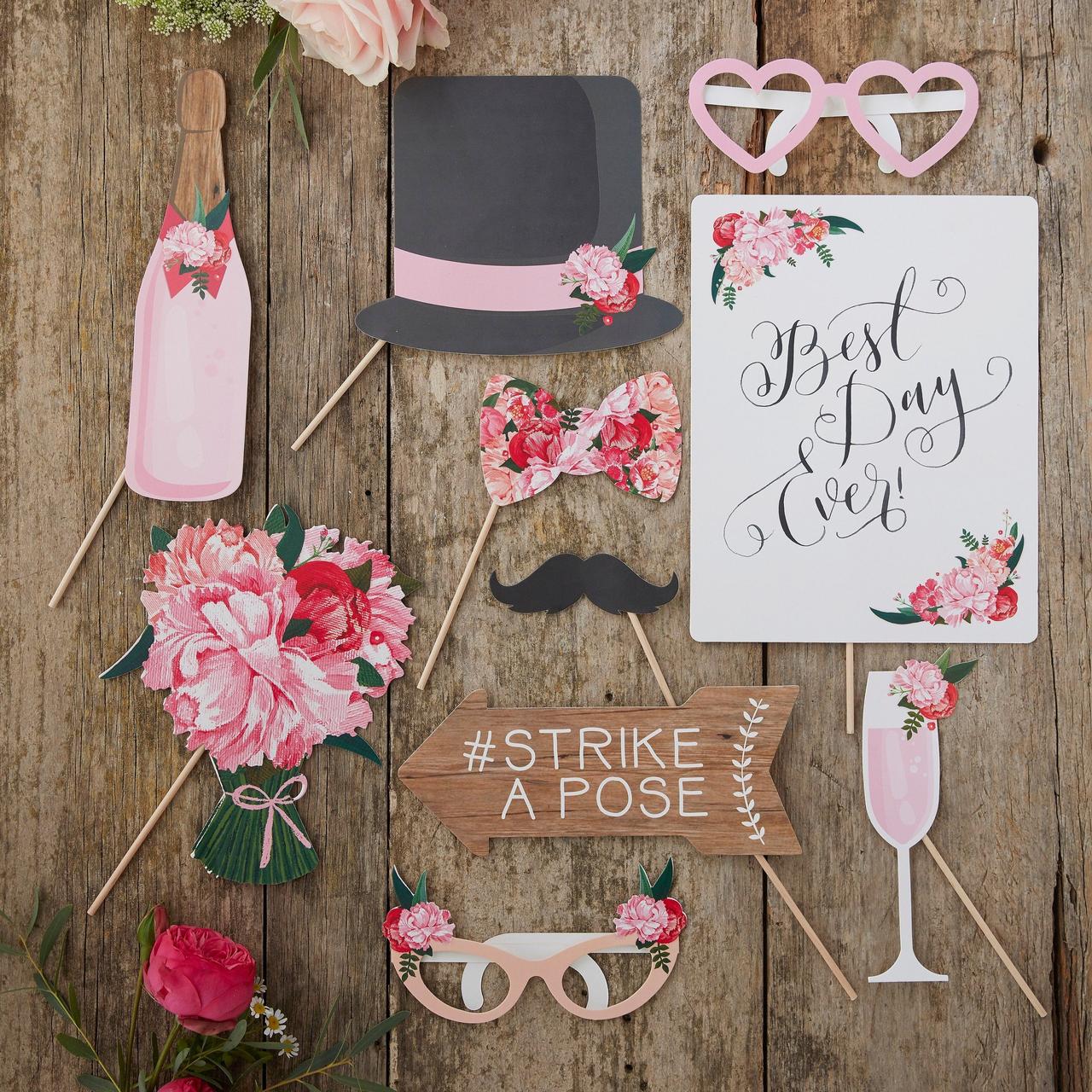 Every photo booth needs some fun props for guests to wear like hats, glasses, signs, masks, jewellery and wigs. The booth itself looks great if you accessorise it with props like vintage suitcases, a big armchair and a swing.
Amazon have a fantastic value set of 90 props for only £9.99. It includes glasses, hats, bow ties, moustaches and more, so it's pretty much everything you need for your basic fun props. We love this Ginger Ray set above that's ideal for a boho or vintage themed wedding.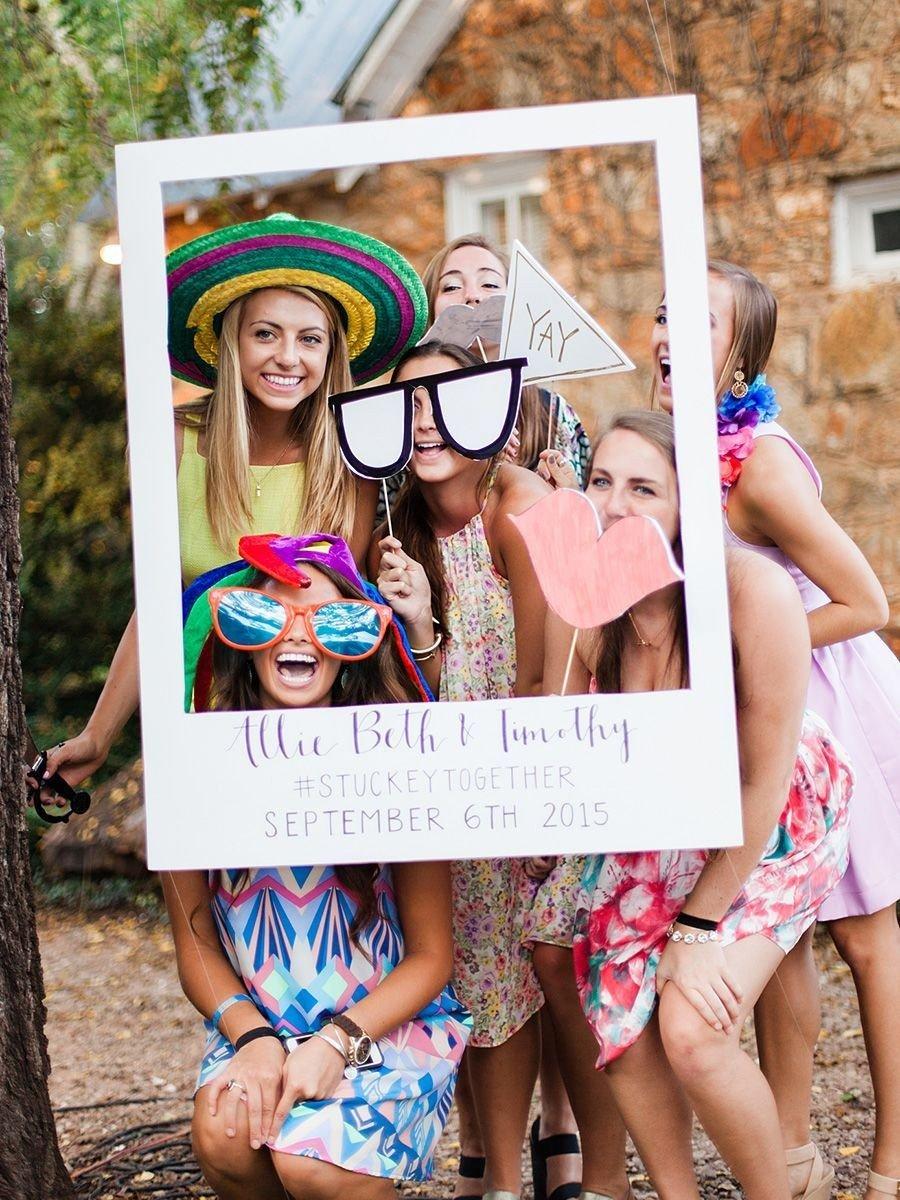 Image: Pinterest
You can buy personalised Polaroid-style selfie frames from Etsy or DIY your own with a large piece of card and some calligraphy skills.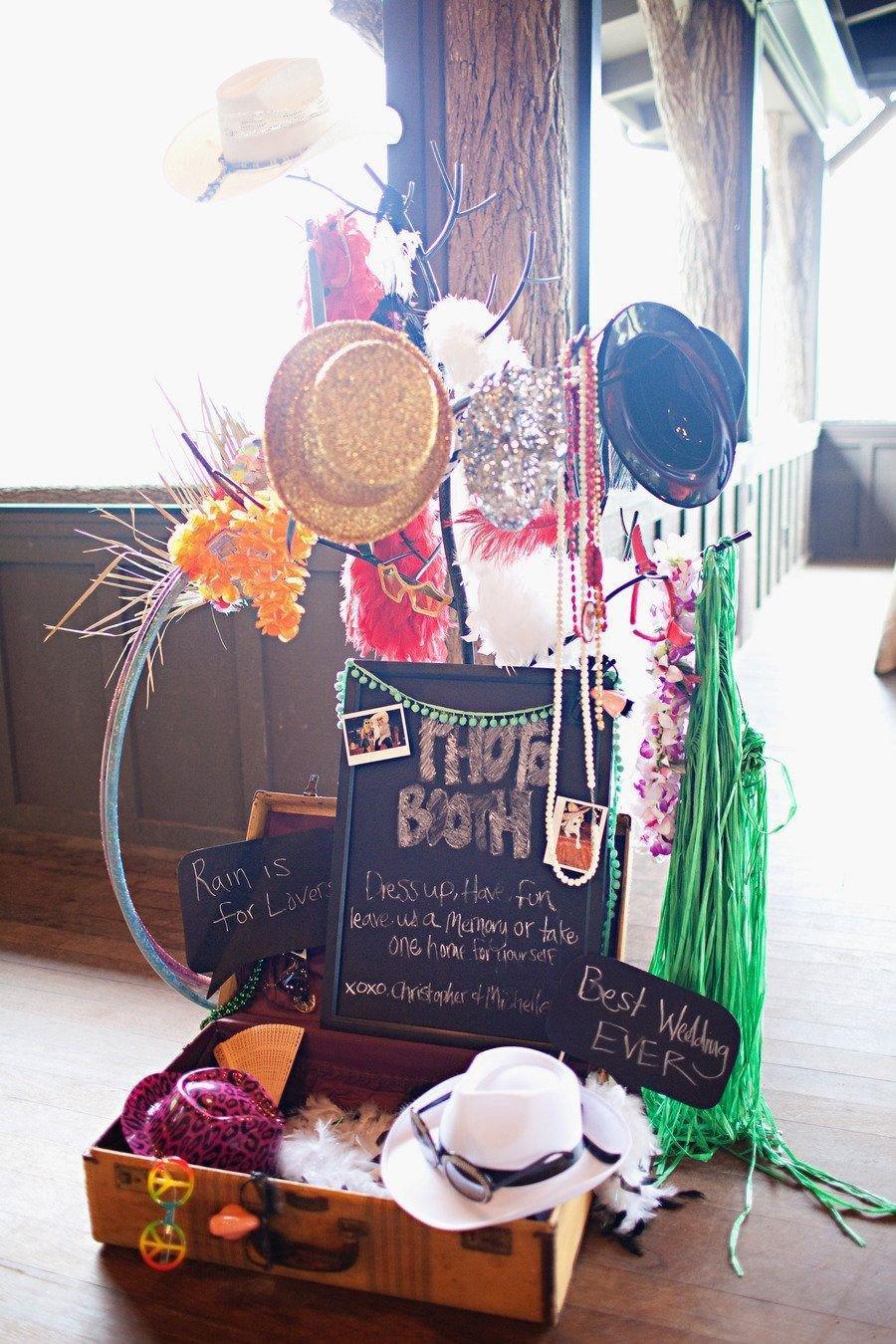 Image: Pinterest
A fancy dress box is a great idea to keep all your hats, wigs and accessories in. Amazon have a huge selection of wigs from £5. Whether you want a Cruella de Vil two-tone wig, Oompa Loompa orange, a Pat Sharp mullet, or ABBA disco-style flicks, they've got everything you could want. You can borrow hats and costume jewellery from your family and friends, or raid charity shops.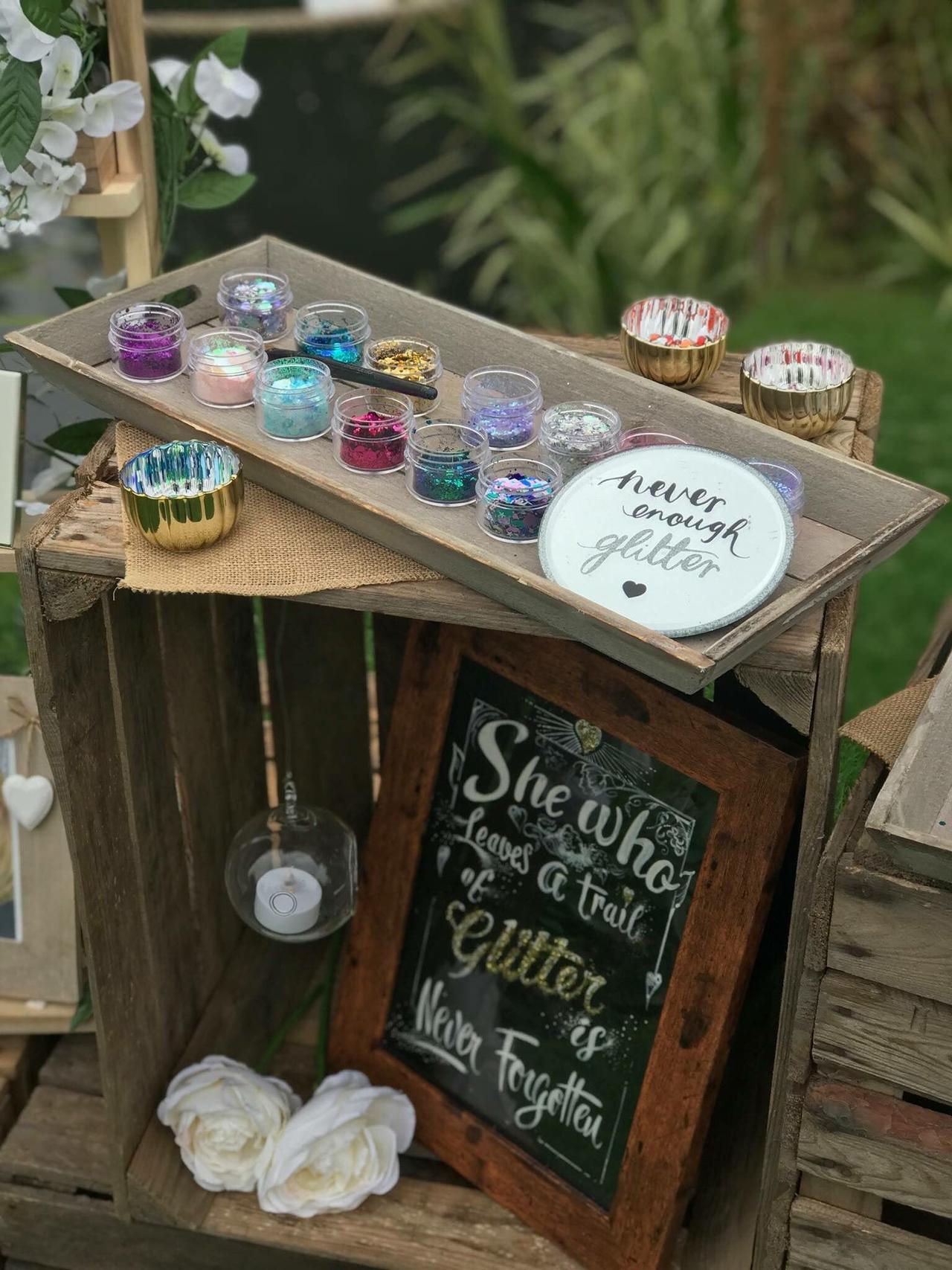 Image: Pinterest
A glitter station is guaranteed to be one of the most popular places at your wedding. This 6-pack of colourful face glitter is vegan and biodegradable and comes with fixing gel but you can also use vaseline.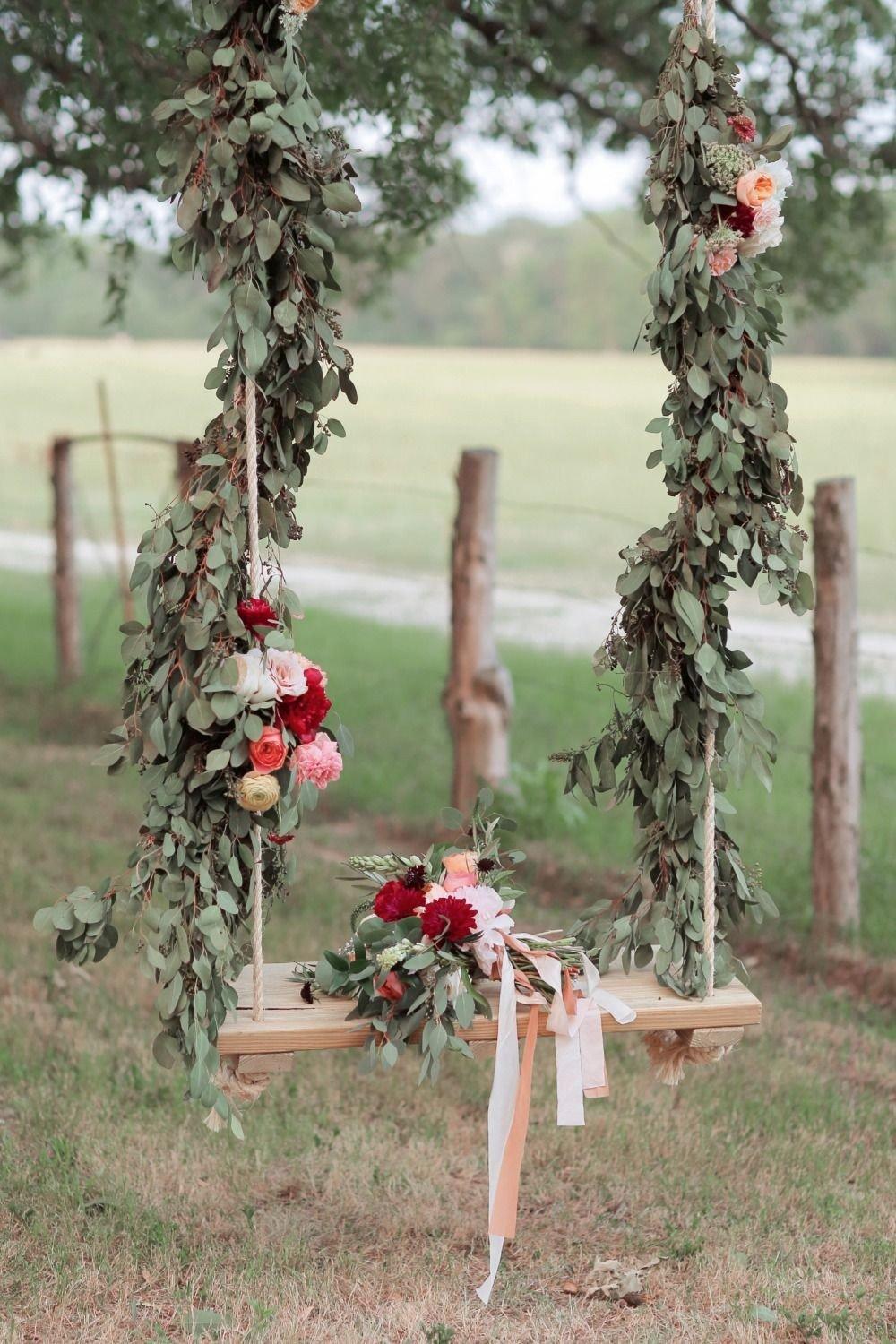 Image: Pinterest
For the actual photo booth, add some fun props like a swing. You'll need a tree you can tie it from and to double check it will hold your guests' weight (we don't want any accidents!).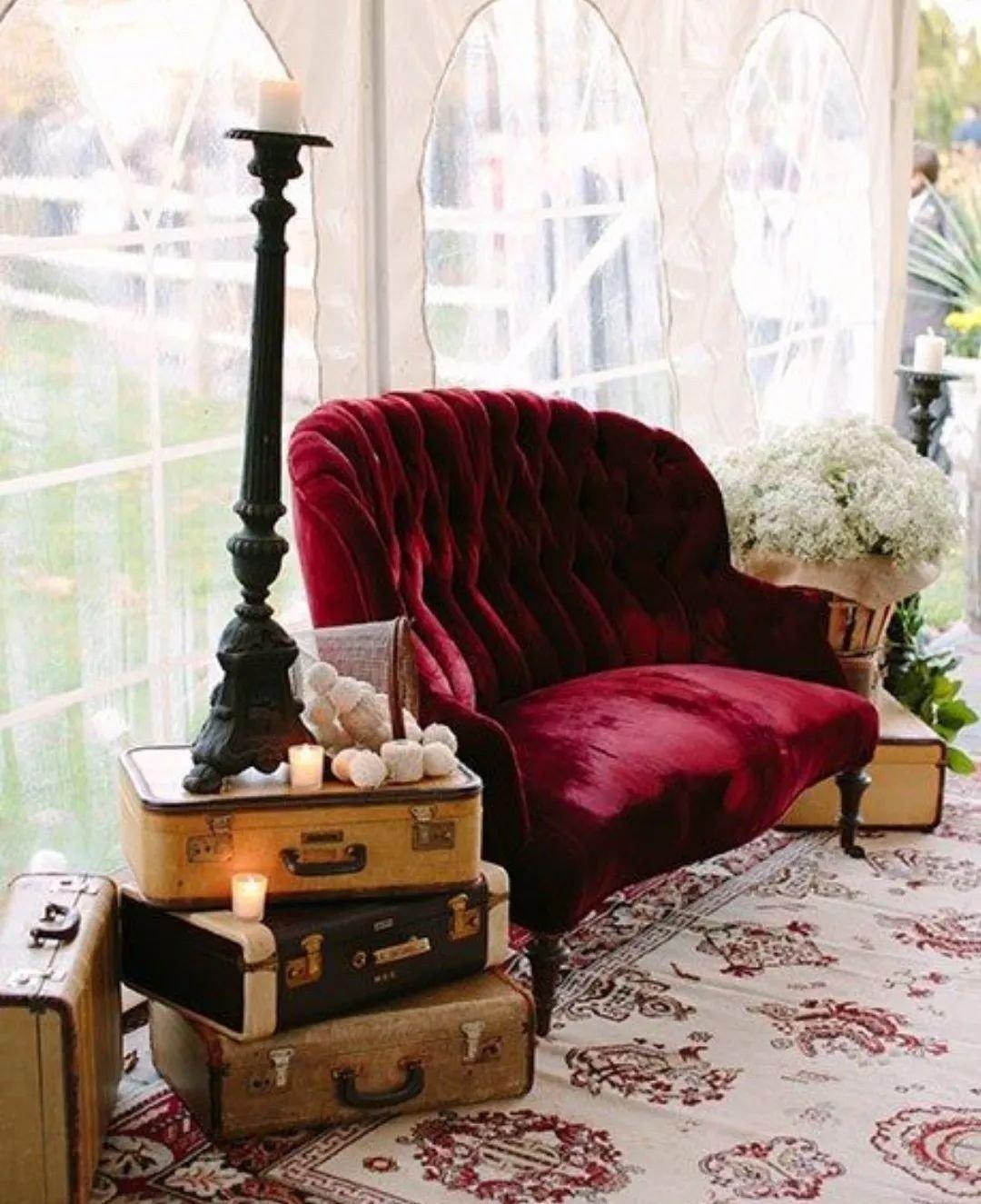 Image: Pinterest
Stack candle sticks, vintage suitcases, a big velvet chair and an antique rug for a glamorous, retro set-up. It would work perfectly for a vintage '50s wedding.
READ MORE: The Real Wedding Photo Rules for Guests
5. Add Some Lighting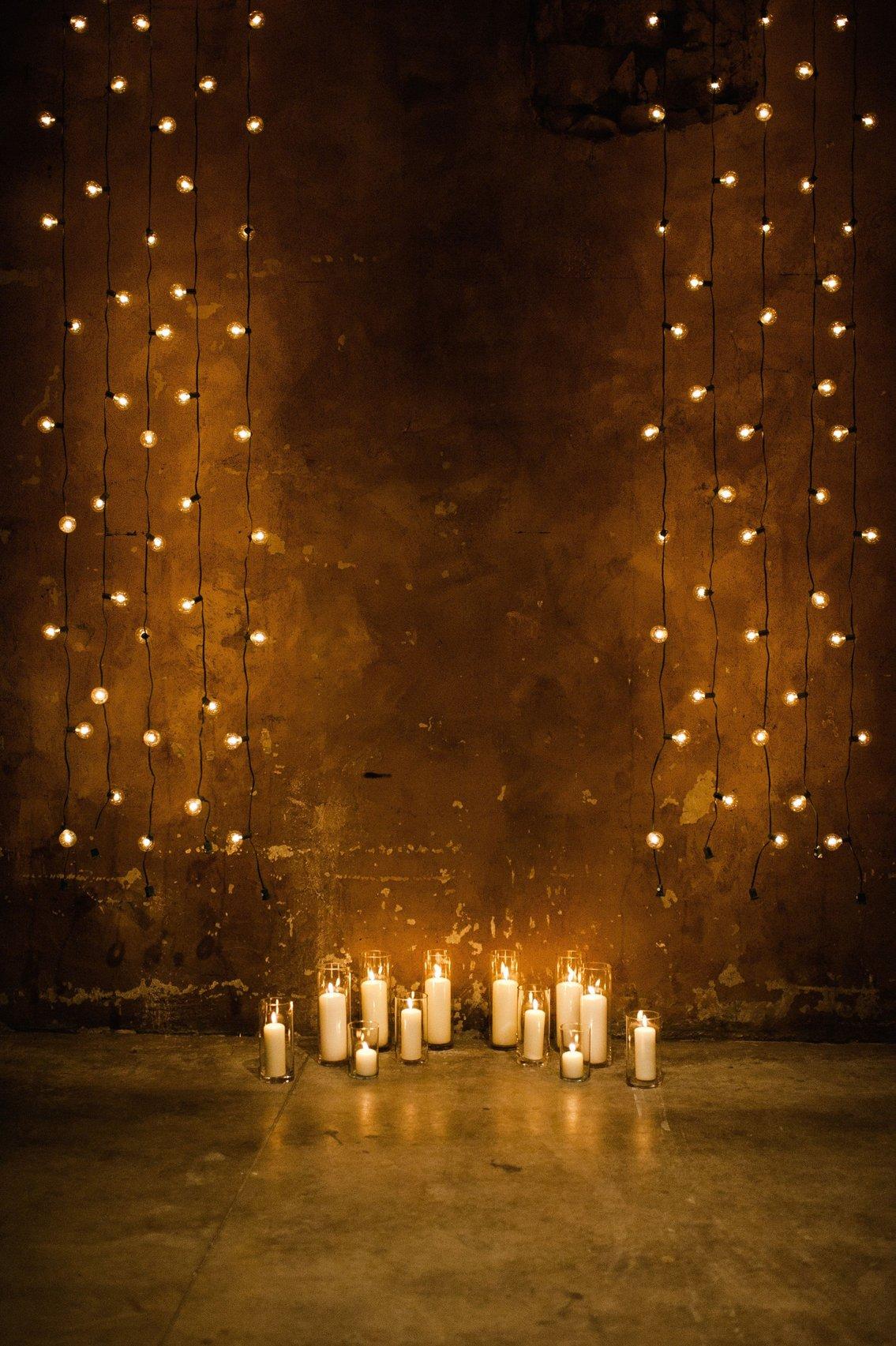 Image: Pinterest
Your reception will likely go on into the night; having some cool lighting in your photo booth adds great atmosphere. We love neon signs, candles, fairy lights, lanterns, curtains of lights, exposed Edison bulbs, a lightbox and globe bulbs.
Remember, this should always be in addition to lighting for your camera. A ring light makes everyone look better.
6. Get Guests to Share the Photos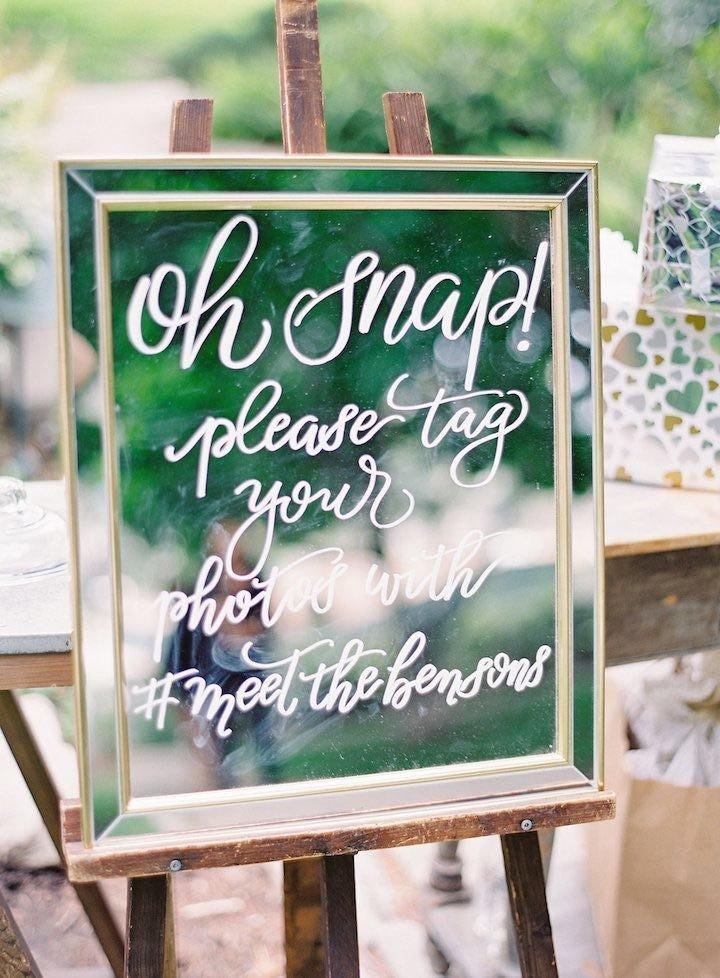 Image: Pinterest
If guests are taking photos on their own phone, use a sign to let them know what to do and how to share it. Tell your guests to grab a prop, strike a pose and the hashtag to use to share. We love this being written on a vintage mirror, chalkboard, wooden pallet or an old painted picture frame.
There you have it – six steps to making your own DIY photo booth! If you're looking for more DIY wedding photo tips, make sure you read our guide to taking brilliant photos with your smartphone.