33 Best Two-Piece Wedding Dresses & Bridal Separates
Two-piece wedding dresses are soaring in popularity - and it's easy to see why. We bring you the best bridal separates for a twist on tradition, from beautiful boho designs to elegant and modest two-piece looks.
We have included third party products to help you navigate and enjoy life's biggest moments. Purchases made through links on this page may earn us a commission.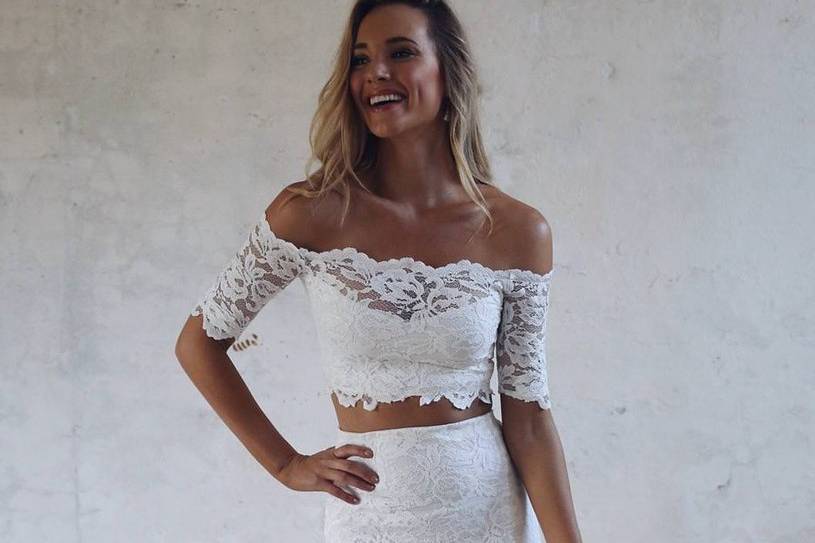 If a traditional wedding gown just isn't for you but you don't want to go too alternative, why not consider a two-piece wedding dress or bridal separates?
There was a time - around the '90s - when bridal separates meant stiff satin and ultra-formal silhouettes. Not any more. The new two-piece wedding dresses are both stylish and timeless, and can suit a range of aesthetics.
Whether you want a boho wedding dress, a sexy beach design or something elegant and modest, there's a bridal two-piece for you. You can also buy sets - a bridal top and skirt together, for example - or choose each element separately for a unique look.
"The bridal separates trend is the perfect way to create multiple looks for your big day," says bridalwear designer Rowley Hesselballe London. "Our suiting designs are the perfect way to do this - you can pair our fab wide leg trouser Greta with our blazer Sophia for the ceremony and change it up into a sequin crop top for the party!"
To get you feeling inspired, we've rounded up our favourite two-piece wedding dresses and wedding separates from the best designers and high street brands - happy shopping! And if you're after a cool bridal suit, we've got you covered.
Coast Bridal Separates
1. 3D Cluster Embellished Shell Top & Overlay Skirt – £99 & £219, Coast
Affordable high street brand Coast have a number of bridal separates in their wedding collection that can be mixed and matched. We love how this embellished top looks when worn with the sequinned skirt - it'll make an amazing statement!
Sizing: 8-18
Pros & Cons: Talk about sparkling - this bridal skirt and top combination is super glitzy and a really affordable price for the level of embellishments featured. If you think it's a little too out there, swap the top or skirt for a plainer ensemble and it'll instantly tone the look down.
2. Embroidered Cap Sleeve Bridal Top & Pleated Midi Skirt – £69 & £99, Coast
Proof that a stylish two-piece wedding dress doesn't have to push your budget to the limit, this Coast skirt and embroidered top come in at under £150 total for both bridal separates. The short sleeves and cropped length of the top make it ideal for hot summer days, and it works perfectly against the pleated skirt.
Sizing: 8-18
Pros & Cons: A pleated skirt is a flattering choice as it will elongate your legs. The crop top is made from a non-stretch fabric so ensure you buy true to size or size up.
3. Long Sleeve Feather Hem Top – £149, Coast
Bring the glamour of the 1920s to your wedding with the flapper-inspired Coast top. Cropped at the waist, it can be paired effortlessly with any silhouette you choose. See more 1920s wedding dresses here.
Sizing: 8-18
Pros & Cons: This is a fun and playful bridal top that we bet your wedding guests won't have seen worn before. If you feel the feathers won't suit your ceremony, you could always switch into this top for your wedding reception.
4. Embellished Puff Long Sleeve Top – £129, Coast
Featuring long puff sleeves in a sheer floral fabric, this bridal top from Coast is bang on trend. It looks great from the back as well, finished off with a pretty bow that trails elegantly down. It's a simple way to rock a puff sleeve wedding dress.
Sizing: 8-18
Pros & Cons: The fabric gives this look a romantic and ethereal feel. Remember as it is sheer to pair with a dress underneath or a cami slip.
5. Midi Overlay Bridal Skirt – £129, Coast
If you're dreaming of a contemporary bridal outfit that stands out from the crowd, this Coast skirt could be the one. The textured finish is unique yet would still work with all kinds of bridal tops.
Sizing: 8-18
Pros & Cons: The high waist is a flattering choice and will keep you comfortable all day. This skirt is best suited to a minimalistic style top to balance the look out and avoid it being too busy.
READ MORE: 29 of the Best 1920s Wedding Dresses
Two-Piece Wedding Dresses & Bridal Sets
6. Satin Camisole & Midi Skirt – £225 & £495, Galvan at Net-A-Porter
Sophisticated brides who are after a fresh and clean look should consider this set from Galvan. The gorgeous cami top blends effortlessly into the satin skirt for a finish that looks understated yet stylish.
Sizing: 6-16
Pros & Cons: Fashion-forward brides are bound to fall in love with these wedding separates from cool brand Galvan. Ensure you keep this set hanging so that the satin doesn't crease.
7. Ivory Corded Lace Top & Midi Skirt – £290 & £320, Self-Portrait
Cut from corded lace, this lovely top and midi skirt from Self-Portrait is a great option for a summer wedding as it'll keep you cool but the structured silhouette ensures it is wedding-ready. It's the ideal combination of traditional and contemporary.
Sizing: 4-16
Pros & Cons: The bridal top features delicate flower buttons which makes the finish extra special. Be mindful that this delicate material can get caught on accessories - we recommend putting them on after you have your two-piece set on.
8. Haisley Two-Piece – £538, Reformation
The Haisley two-piece wedding dress from Reformation is a look that is not only divine but flattering too thanks to the corset style crop top and high-waisted skirt. It has boning detail that ensures structure and makes for an amazing silhouette.
Sizing: 4-16
Pros & Cons: The strapless style is elegant and chic and the boning means you don't have to wear a bra if you don't want to. If you would feel more comfortable with one, a strapless bra will work perfectly well as the top isn't too low.
9. Kelly Satin Bustier Top & Robin Maxi Skirt – £1,350 & £995, Halfpenny London at Net-A-Porter
If you are looking for an older bride wedding dress don't think that you can't go for bridal separates - you absolutely can! Halfpenny London's Kelly top and Robin skirt oozes Hollywood Glamour and will make you feel fabulous on your big day.
Sizing: 6-16
Pros & Cons: Halfpenny London is an iconic bridalwear designer and will be such a special choice for your wedding day. It's one of the more expensive picks, but you could always pick either the bridal separates top or skirt and pair with a more affordable match.
10. Everly – £1,100, Grace Loves Lace
Are crop tops part of your everyday style? Translate that to your bridal look with this stunning wedding dress. It has an off the shoulder crop top and a flowing skirt that flares at the hem. It's a gorgeous two piece boho wedding dress.
Sizing: Made to Order
Pros & Cons: This two-piece wedding dress would work for a number of wedding venues but we think it is best suited for a relaxed and casual celebration. You can give it a more formal finish with the addition of a blazer or wedding veil.
READ MORE: 46 Stylish Mother of the Groom Dresses
11. Loyola Set – £1,800, Grace Loves Lace
Bridal separates lend themselves perfectly to a boho wedding dress, and Grace Loves Lace are a winner when it comes to this style. The Loyola set is bold and captivating and features an elasticated neckline, hem and sleeves so is one of the more comfortable designs.
Sizing: Made to Order
Pros & Cons: You can customise this set with a drawstring made from freshwater pearls. This bridal two piece is not available for priority order so if your wedding is less than 6 months away, contact the team ASAP.
12. Tilly Skirt & Top Wedding Set – £1,099, Constellation Âme
Sometimes simplicity can be breath-taking - as with this set. Together this bridal skirt and top create such an elegant silhouette, with a perfectly judged leg slit giving extra movement to the skirt. It's ideal for those who love a laid-back look that is still super special for your big day.
Sizing: 6-14
Pros & Cons: The front is fully lined so a bra isn't required, but the back is open lace which a really romantic touch. It's a customisable design as it is made to order in London so a train can be added and the length can be altered.
13. Floral Lace Crop Top & Skirt – £80 & £160, ASOS
If you're after affordable bridal separates, ASOS is your new best friend. This floral lace crop top and skirt set is less than £250 for the whole outfit, or you can buy them separately and pair with your own pieces.
Sizing: 4-18
Pros & Cons: The structured fabric gives this a cool upgrade to traditional lace. Reviews state that you may need assistant buttoning up the back.
14. Gigi Crop Top Lace Wedding Dress – £95, ASOS
The Gigi dress from ASOS gives the illusion of a two-piece wedding dress, but it's actually one complete piece. Perfect if you love the look of wedding separates but want to ensure you're comfortable on your big day.
Sizing: 4-18
Pros & Cons: As this isn't technically a two-piece wedding dress, you won't be able to mix and match your bridal top and skirt but we think these two pair together so perfectly that you won't want to!
15. Adeline Jacket & Joan Skirt – £375 & £350, Rixo
If you're a vintage-loving bride, you need to check out Rixo's bridal collection, which has some stunning pieces inspired by different eras. For those with a love for '80s glamour, it has to be the Joan skirt with the Adeline jacket. If you love an 80s vibe, you're going to adore our edit of the best puff sleeve wedding dresses too.
Sizing: 6-16
Pros & Cons: This is the ideal look for a sophisticated registry office wedding dress. It is beautiful and timeless, as well as being relaxed enough to wear post-wedding day.
READ MORE: 50 Affordable High Street Wedding Dresses
16. Gracie Top & Anika Skirt – £385 & £650, Catherine Deane
Catherine Deane is known for her romantic bridal separates, and the pairing of the Gracie top and Anika skirt is utterly bewitching. If you're choosing an intricate top as part of your two-piece wedding dress, we'd always recommend combining it with a tulle or chiffon skirt for a fresh feel.
Sizing: 4-18
Pros & Cons: The Gracie top is a versatile piece that would work layered over or under a dress - the choice is yours! The beading is subtle for just a hint of glamour but it could easily be altered to add extra embellishments.
17. Havanna Corset & Aurelia Trousers – £435 & £695, Catherine Deane
Pick the right bridal separates and you can easily pair them with other items in your wardrobe to wear again after the wedding. These Catherine Deane trousers and corset make for a chic bridal look together, but separately they also have the kind of effortless elegance that elevates any outfit.
Sizing: 4-18
Pros & Cons: We can see this bridal two-piece working well for a sunny destination wedding as the wide leg trousers are sophisticated yet will still keep you cool. The spaghetti straps aren't adjustable which gives them a delicate finish but ensure you buy true to size for a comfortable fit.
18. Behati Gown – £2,800, Grace Loves Lace
Grace Loves Lace's Behati is a vision of boho loveliness, featuring a cropped top against a full silk skirt. The burnout lace gives a nod to tradition while staying thoroughly modern. Just like this bride has done, it would fit into a beach wedding perfectly!
Sizing: Made to Order
Pros & Cons: A square neckline is a flattering pick for all body types. The full skirt will float gracefully behind you as you walk down the aisle - petite brides might wish to get the length taken up so it doesn't drag too much on the floor.
19. Lena Ivory Skirt and Top Set – £999, Constellation Âme
Sexy and laidback, we're very taken with this set from Constellation Âme. The loose-fitting top and softly flowing skirt with side split are made from luxurious ivory silk for a high-quality feel. Take a look at more sexy wedding dresses here.
Sizing: 6-14
Pros & Cons: As this dress is made from 100% silk it is dry-clean only. The heavy-weight silk will fall beautifully.
20. Henson Trousers, Parry Blouse and Oliver Corset – £POA, Halfpenny London

We love the contrast of these crisp pleated trousers with the organza pussy bow blouse from Halfpenny London. High fashion with a sexy twist, you can team this with a pair of court shoes and look catwalk - or aisle - ready in an instant.
Sizing: XS-XXL
Pros & Cons: The high neckline doesn't leave much room for a necklace so we would elevate this outfit with a gorgeous pair of designer wedding heels.
READ MORE: 34 Prettiest Puff Sleeve Wedding Dresses
21. Ariane Lace Wedding Co-Ord – £599, Whistles
We love the combination of the stunning lace with delicate eyelash trim and the on-trend high-low skirt of the Ariane Lace Wedding Co-ord. The high-neck and open back of the crop top give the look just the right amount of sexiness and style, reminding us exactly why Whistles is one of our go-to high street bridalwear brands.
Sizing: 4-18
Pros & Cons: Whistles wedding dresses are a popular choice with couples so we would add this to your basket pronto before it sells out.
22. Erin Bodice & Lea Skirt – £1,900 & £2,390, Karen Willis Holmes
For a two-piece wedding dress with a difference, we've fallen for this skirt and bodice combination. The pearl-studded skirt can also be worn over another dress, to switch up your look from day to evening. See more pearl wedding dresses here.
Sizing: 4-20
Pros & Cons: Pearls are the perfect way to add a little glimmer to your wedding dress without going full-on sparkles. This skirt is made from sheer fabric so we would recommend wearing skin tone wedding underwear.
23. Kaelyn – from £996, Willowby by Watters
It's boho glamour all the way with Willowby's bridal separates Grove and Yuzu. Pair with a flower crown for the classic boho look, or give it a modern festival feel with a panama or straw hat.
Sizing: 00-24W
Pros & Cons: This style can be made to order to ensure it fits you like a glove. If you are a petite bride, pair with heels to flatter your figure and avoid needing any alternations to the trouser leg length.
24. Meadow Topper & Riley Skirt – £627 & £1,997, Anna Campbell
This sparkling two-piece wedding dress is simply magical. We've big fans of all-over sparkle, but if you'd prefer to take it down a notch, you could always pair the top with a sleek skirt, or keep the skirt and add a plainer top. The world is your bridal separates oyster!
Sizing: XXS-XXL
Pros & Cons: You don't often get the opportunity to wear sparkles so your wedding day is the ideal occasion. This bridal two-piece will really stand out from the crowd when photographed.
25. Yucca Linen Two Piece – £335, Reformation
This white co-ord isn't from Reformation's 'official' wedding collection, but it's ideal if you want a laidback, not-too-bridal look for a super-relaxed summer celebration. The linen should help you keep your cool in higher temperatures, and we love the fluid skirt. It would also make a perfect honeymoon outfit!
Sizing: 4-16
Pros & Cons: The smocked back to the bodice gives you a little extra room for movement - just what you'll need on the dancefloor! Linen is a fabric which can crease easily so be mindful when storing this two-piece before the big day.
READ MORE: 37 of the Best Tea Length Wedding Dresses
26. Florence – £1,150, Grace Loves Lace
The Florence two-piece wedding dress is such a chic spin on bridal boho, crafted from intricate French eyelash lace. We love the easy-wearing silhouette - the skirt even comes with an elasticated waist for added comfort.
Sizing: Made to Order
Pros & Cons: Wedding dress designs don't come much more whimsical and romantic than this. If you think you'll feel a little cold in the evenings, a bridal jacket will look super cool draped over your shoulders.
27. Pearl Camisole and Belle Skirt – £390 & £1,200, Belle & Bunty
We love the clever design of the Belle Skirt - it has three perfectly placed panels, so while it looks slinky standing still, you get a flowing effect when you move. Paired with the stylishly pretty Pearl camisole, the overall effect is one of pared-back bridal glamour.
Sizing: Made to Order
Pros & Cons: This style is a cream colour which gives it a vintage appeal. It is also available in white should you wish to go for a more clean and fresh look.
Bridal Tops & Skirts
28. Lara Pearl Embellished Top – £299, Rowley Hesselballe London
If you're a fan of the pearl wedding dress trend, you'll be all over the Lara top from Rowley Hesselballe London. Hand-embellished with shimmering beads, it'll elevate a simple skirt or trousers instantly for a wedding-ready look.
Sizing: XS-L
Pros & Cons: The bodice has a hidden zip at the back which means it doesn't take away from the elegant look. It might be a little tricky to do up on your own so we recommend having someone to help on hand.
29. Delia Skirt – £825, Catherine Deane
We're obsessed with Catherine Deane's plus size bridal separates - the Delia skirt is one of our favourites thanks to its volume and ethereal style. Like all Catherine Deane separates, it is super versatile and can be paired with a number of different pieces.
Sizing: 4-18
Pros & Cons: We adore the glittering waistband on this skirt - it adds a glorious glimmer. It's also elasticated so you don't have to worry about picking an exact waist size.
30. Ruffle Rose Skirt – £POA, Halfpenny London
Halfpenny London are known for high-impact bridalwear, if you're looking for a bridal skirt for a destination wedding somewhere sunny, check out the ruffle rose skirt. It's giving us Lucy Watson's wedding dress vibes! See more ruffle wedding dresses here.
Sizing: XS-XXL
Pros & Cons: This look might be a little too dramatic for some brides but if you want to make a statement it certainly will! We're predicting that all eyes will be on you.
31. Camille Skirt – £2,500, Karen Willis Holmes
The clean lines of this Karen Willis Holmes skirt are wonderfully elegant. You can keep the look minimalist or amp up the accessories for a shot of glamour. It is edgy and contemporary, yet still keeps with tradition.
Sizing: 4-20
Pros & Cons: The high leg split adds to the sexiness of this skirt. If you would prefer to be more covered, it can be altered with a few simple stitches.
32. Bridal Skirt – £1,478.68, Etsy
The Boom Blush skirt is a beautiful starting point for a gorgeous bridal outfit. Simply add the style of top that suits your style, whether a cami, a crop top or a luxe t-shirt - plus a cool bridal cover-up for chillier evenings. Discover more pink wedding dresses here.
Sizing: Made to Order
Pros & Cons: Adding an element of colour to your wedding day attire can make for a really fun and unique look. Going for blush like this skirt still keeps the colour palette muted if you don't want to steer to far from a classic finish.
33. Florence Ruffle Ankle Skirt – £300, Needle & Thread
We're stepping delicately into non-official-bridal territory - but this ruffled skirt could be the basis of a beautiful, individual bridal look. We're picturing it with a sheeny-shiny cami, or a high-neck blouse with ruffles to pick up on the skirt detailing.
Sizing: 4-18
Pros & Cons: Needle & Thread is a brand loved by the royals - Kate Middleton has even been spotted in it! The soft Champagne colour is a lovely alternative to ivory or white.
What Are Bridal Separates?
Bridal separates typically consist of a bridal top and a bridal skirt, that when worn together create a two-piece wedding dress. "A fashion-forward twist on the classic bridal dress, they're the perfect way to create a versatile and modern bridal style," comments bridalwear designer Rowley Hesselballe London.
Bridal separates also come in the form of a "combination of tailored styles that you can mix together to make a statement look," such as jackets and trousers.
Can I Wear Bridal Separates Instead of a Wedding Dress?
Of course! "Your wedding day is about looking and feeling amazing, a dress is the traditional answer but it's certainly not the only one!" shares Rowley Hesselballe London.
One of the best things about bridal separates are that they come in a range of different styles so can be worn to any kind of wedding. From laid-back boho designs to chic structured co-ords, you can create a look to suit you.
Where to Find Bridal Separates?
You'll find that some designers offer bridal separates in their wedding collections - our favourites include Rowley Hesselballe London, Catherine Deane and Halfpenny London. You'll also come across gorgeous wedding separates on the high street, with the likes of Coast and ASOS including them in their ranges.
Can You Alter a Wedding Dress Into a Two-Piece?
You can alter a wedding dress into a two-piece by separating the bodice from the skirt. This is most easily achieved on a dress style that is A-line as the separation will be clear and clean. Read our guide on wedding dress alterations for everything you need to know!
Found your perfect pairing? Finish the look with a gorgeous wedding hair accessory - will get you inspired!