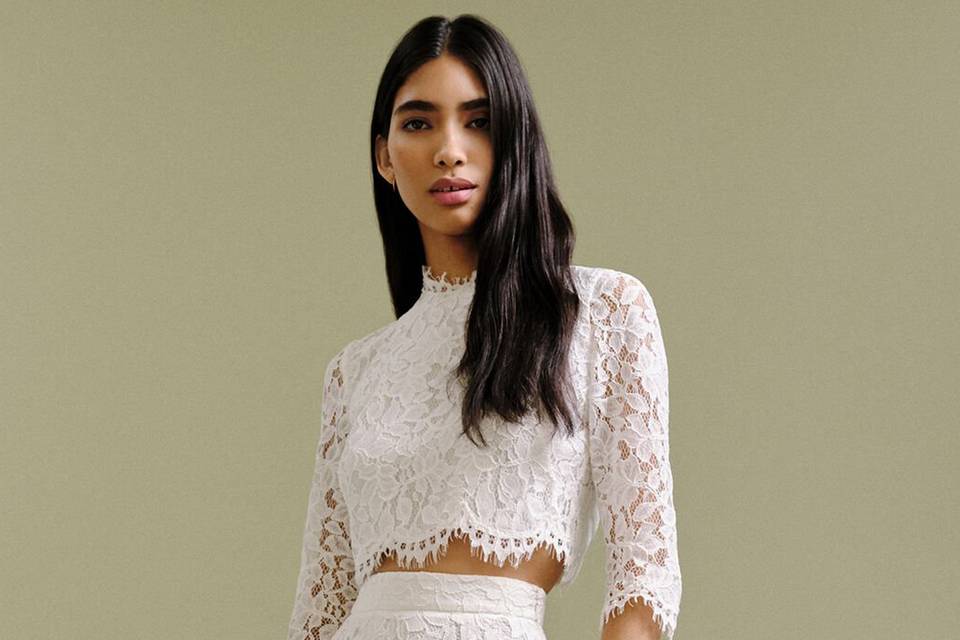 If a traditional wedding gown just isn't for you but you don't want to go too alternative, why not consider two-piece wedding dresses or bridal separates?
There was a time - around the '90s - when bridal separates meant stiff satin and ultra-formal silhouettes. Not any more. The new two-piece wedding dresses are both stylish and timeless, and can suit a range of aesthetics.
Whether you want a boho wedding dress, a sexy beach design or something elegant and modest, there's a two-piece wedding dress for you. You can buy sets - a top and skirt together, for example - or choose each element separately for a unique look.
It's no wonder two-piece wedding dresses are rapidly rising in popularity, with a 176% rise in people checking out the trend compared to last year!
To get you feeling inspired, we've rounded up our favourite two-piece wedding dresses and bridal separates from the best designers and High Street brands - happy shopping!
We have included third party products to help you navigate and enjoy life's biggest moments. Purchases made through links on this page may earn us a commission.
1. Riviera Bridal Camisole and Valletta Satin Bridal Skirt – Galvan

Pick the right bridal separates and you can easily pair them with other items in your wardrobe to wear again after the wedding. This Galvin skirt and camisole make for a chic bridal look together, but separately they also have the kind of effortless elegance that elevates any outfit.
2. Behati Gown – Grace Loves Lace
Grace Loves Lace's Behati is a vision of boho loveliness, featuring a cropped top against a full silk skirt. The burnout lace gives a nod to tradition while staying thoroughly modern.
3. Monique Skirt and Delia Skirt – Catherine Deane
Catherine Deane is known for her romantic bridal separates, and the pairing of the Delia skirt and Monique top is utterly bewitching.
If you're choosing an intricate top as part of your two-piece wedding dress, we'd always recommend combining it with a tulle or chiffon skirt for spring or summer, to get that seasonally appropriate fresh feel. For winter? Opulent satin works a treat!
4. Cropped Top with Bonded Mid-Length Skirt – Jacqui James
Two-piece wedding dresses don't have to be flowing or boho. For a sophisticated bridal look, we love this structured set from Jacqui James.
We'd team it with a fabulous pair of heels or flats - after all, the shorter length means you can really showcase your shoes!
READ MORE: 28 of the Best Designer Wedding Shoes
5. Lena Ivory Skirt and Top Set – Constellation Âme
Sexy and laidback, we're very taken with this set from Constellation Âme.
The loose-fitting top and softly flowing skirt with side split are made from luxurious ivory silk for a high-quality feel.
6. Adeline Silk Jacket and Joan Skirt – Rixo
If you're a vintage-loving bride, you need to check out Rixo's bridal collection, which has some stunning pieces inspired by different eras. For those with a love for '70s glamour, it has to be the Joan skirt with the Adeline jacket.
The skirt was designed with Bianca Jagger's iconic wedding look in mind, and it certainly gives the same feel of stylish insouciance.
7. Henson Trousers, Parry Blouse and Oliver Corset – Halfpenny London

Ok, it's not a dress, but we love the contrast of these crisp pleated trousers with the organza pussy bow blouse from Halfpenny London.
High fashion with a sexy twist, you can team this with a pair of court shoes and look catwalk - or aisle! - ready in an instant.
8. Pleated Bridal Midi Skirt and Embroidered Cap Sleeve Bridal Top – Coast
Proof that a stylish two piece wedding dress doesn't have to push your budget to the limit, this Coast skirt and embroidered top come in at under £150 total for both bridal separates.
The short sleeves and cropped length of the top make it ideal for hot summer days, and it works perfectly against the pleated skirt.
READ MORE: The 49 Best Wedding Dresses on the High Street
9. Ariane Lace Wedding Co-ord – Whistles
We love the combination of the stunning lace with delicate eyelash trim and the on-trend high-low skirt of the Ariane Lace Wedding Co-ord.
The high-neck and open back of the crop top give the look just the right amount of sexiness and style, reminding us exactly why Whistles is one of our go-tos for high street bridalwear.
10. Milos and Rhodes – Rime Arodaky
Rime Arodaky is known for high-glamour, sexy bridalwear, but the new Riviera collection shows this design house can do laidback cool just as well.
If you're looking for a two-piece wedding dress for a destination wedding somewhere sunny, check out Milos and Rhodes from the collection. The high-volume sleeves on the bralette make for a stunning silhouette, but the overall effect is still relaxed - perfect for a beach 'I do'!
11. Dita Skirt and Daffodil Top – Halfpenny London
Together, the soft champagne tulle of the Dita skirt and the ivory silk Daffodil top are giving us serious prima ballerina vibes.
However, as they're sold separately, you could also go for a slinkier effect by pairing the top with a figure-skimming skirt. And that is the beauty of bridal separates - you really can build your own look!
12. Bridal Skirt – Boom Blush at Etsy
Speaking of building your own look, this Boom Blush skirt would be a beautiful starting point for a gorgeous bridal outfit.
Simply add the style of top that suits your style, whether a cami, a crop top or a luxe t-shirt - plus a cool bridal cover-up for chillier evenings.
12. Davide Skirt and Leggio Top – Max Mara at Matches Fashion
The clean lines of this Max Mara top and skirt are wonderfully elegant.
You can keep the look minimalist or amp up the accessories for a shot of glamour.
READ MORE: 50 of the Best Simple Wedding Dresses
13. Brynna Two Piece – Reformation
Are crop tops part of your everyday style? Translate that to your bridal look with this stunning two piece wedding dress.
It has the aforementioned crop top - which has gorgeous volume sleeves - and a flowing skirt that flares at the hem.
14. Off the Shoulder Top and Pants – Cushnie at Net-a-Porter
Cushnie is one of the coolest names is bridal, and this top and trouser combination demonstrates why.
If you're looking for something traditional, clearly this is not for you. But if you're dreaming of an ultra-contemporary bridal outfit that stands out from the crowd, it could be the one.
15. Lea Skirt and Erin Bodice – Karen Willis Holmes
For a two-piece wedding dress with a difference, we've fallen for this skirt and bodice combination.
The pearl-studded skirt can also be worn over another dress, to switch up your look from day to evening.
16. Grove Skirt and Yuzu Top – Willowby by Watters
It's boho glamour all the way with Willowby's bridal separates Grove and Yuzu.
Pair with a flower crown for the classic boho look, or give it a modern festival feel with a panama or straw hat.
READ MORE: 42 of the Most Beautiful Boho Wedding Dresses
17. Riley Skirt and Meadow Topper – Anna Campbell
This sparkling two-piece wedding dress is simply magical.
We've big fans of all-over sparkle, but if you'd prefer to take it down a notch, you could always pair the top with a sleek skirt, or keep the skirt and add a plainer top. The world is your bridal separates oyster!
18. Effy Crop & Olive Skirt – E&W Couture
Welsh bridal design house E&W Couture has an utterly gorgeous bridal separates collection, including the long-sleeve Effy top.
It can be paired, as here, with matching lace skirt Olive, or you can switch up the look with a different skirt from the collection.
19. Selene Top and Spencer Skirt – Lola Varma
Sometimes simplicity can be breathtaking - as with this bridal skirt and top.
Together they create such an elegant, fluid silhouette, with a perfectly judged flare giving extra movement to the skirt.
20. Yucca Linen Two Piece – Reformation
This white co-ord isn't from Reformation's 'official' wedding collection, but it's ideal if you want a laidback, non-to-bridal look for a super-relaxed summer celebration.
The linen should help you keep your cool in higher temperatures, and we love the fluid skirt.
READ MORE: 23 of the Best Casual Wedding Dresses for Laidback Brides
21. Florence Ruffle Ankle Skirt – Needle & Thread
Again, we're stepping into non-official-bridal territory - but this ruffled skirt could be the basis of a beautiful, individual bridal look.
We're picturing it with a sheeny-shiny cami, or a high-neck blouse with ruffles to pick up on the skirt detailing.
22. Monique Top and Monica Skirt – Catherine Deane
Bring the glamour of the 1920s to your 2020s wedding with the flapper-inspired Monique top.
There are various skirt options to suit your style, but for full-on Old Hollywood glamour, it has to be the silky Monica design.
23. Cream Lurex Skirt and Cardigan – Self-Portrait
We love this skirt and cardigan for a sophisticated winter bridal look.
The black detailing against cream fabric is reminiscent of classic Chanel, but a very fresh, current interpretation.
READ MORE: 41 of the Best Winter Wedding Dresses
24. Sophia Two Piece – Rock the Frock
This glorious two-piece design takes traditional bridal satin and gives it a contemporary reboot.
The details perfectly capture the current mood, from the square neck to the tiered skirt, and yet the overall effect is timeless.
25. Zeus Top and Sémele Skirt – Otaduy
This bridal top and skirt are - much like you and your future spouse - a match made in heaven.
The delicate draped satin of the top contrasts perfectly with the embroidered cotton and tulle skirt, and that side slit is perfection.
26. Willow Crop Top and Tennyson Skirt – Sweet Caroline
Sweet Caroline is the brand to know for colourful bridal separates with a romantic yet rebellious feel.
The Tennyson skirt - pictured here with the Willow crop top - is a case in point.
With a painterly design across a flowing silhouette, it will look as stunning in your wedding photos as on the day itself.
27. Daughters of Simone – Blanca
This Seventies-inspired two-piece dress would be just the thing for an outdoor wedding, whether on a sun-drenched beach or at a festival-style celebration.
It's also available with a boho floral pattern.
28. Style 217 – Jesus Peiro
Trust Jesus Peiro to come up with bridal separates that are showstopping yet still elegant.
Style 217 is in fact a strapless dress that comes with a short-sleeve top in the same petal-strewn brocade - it's the easy way to switch up your look between day and evening.
29. Florence – Grace Loves Lace
The Florence two-piece wedding dress is such a chic spin on bridal boho, crafted from intricate French eyelash lace.
We love the easy-wearing silhouette - the skirt even comes with an elasticated waist for added comfort.
30. Pearl Camisole and Belle Skirt – Belle & Bunty
We love the clever design of the Belle Skirt - it has three perfectly placed panels, so while it looks slinky standing still, you get a flowing effect when you move.
Paired with the stylishly pretty Pearl camisole, the overall effect is one of pared-back bridal glamour.
Found your perfect pairing? Finish the look with a gorgeous hair accessory - our edit of the 53 best will get you inspired!