Your First Dance: Everything You Need to Know
Don't be daunted by your first dance - follow our expert guide and you won't want to leave the dance floor!
We have included third party products to help you navigate and enjoy life's biggest moments. Purchases made through links on this page may earn us a commission.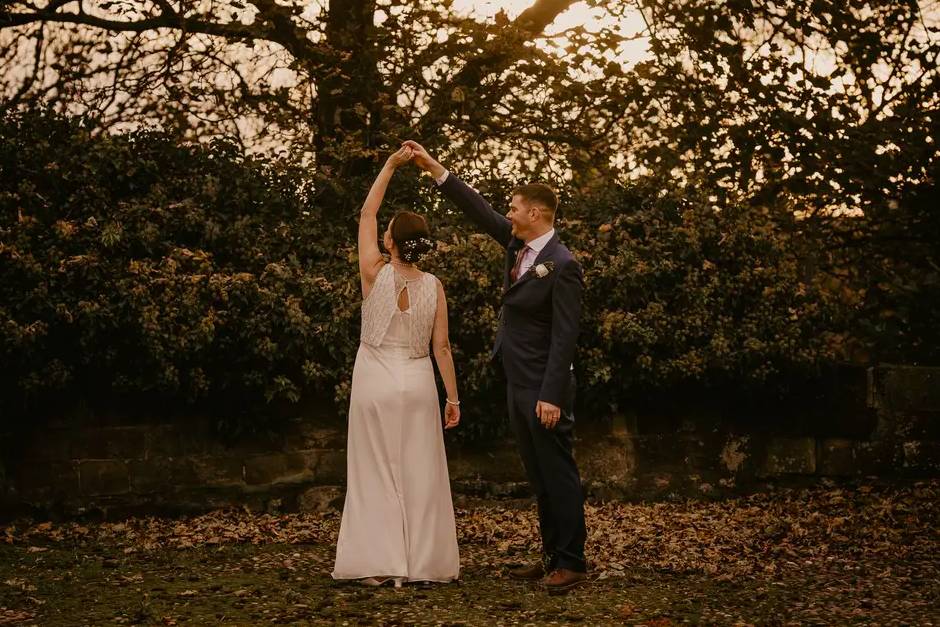 With all eyes on you as you literally take the spotlight, performing your wedding first dance can be a daunting prospect – but it doesn't need to be.
We must admit, the thought of taking to the floor to dance in front of all of our loved ones certainly had us feeling the stage fright. But as we delved further into the topic - with the help of some Hitched suppliers - we found out that the first dance doesn't need to be feared. In fact, it can be enjoyed.
Don't believe us? Scroll through our guide below where two dance experts answer all of your first dance related questions. From who's involved to when it takes place and how to banish pre-dance nerves, we've got the full lowdown on this romantic wedding tradition. We've also found some of the best first dance tutorials on YouTube so you can start getting to grips with some basic moves.
All you need to do next is select your perfect first dance song. Happy dancing!
Everything You Need to Know About Wedding First Dances
We put your burning questions to two London-based first dance wedding choreographers: Emma Weir, instructor and founder of Forever Wedding Dance, and Lukas Alexander, Founder and Creative Director of Save the First Dance Ltd. They filled us in on everything from when the dance takes place to how to nip pre-dance jitters in the bud.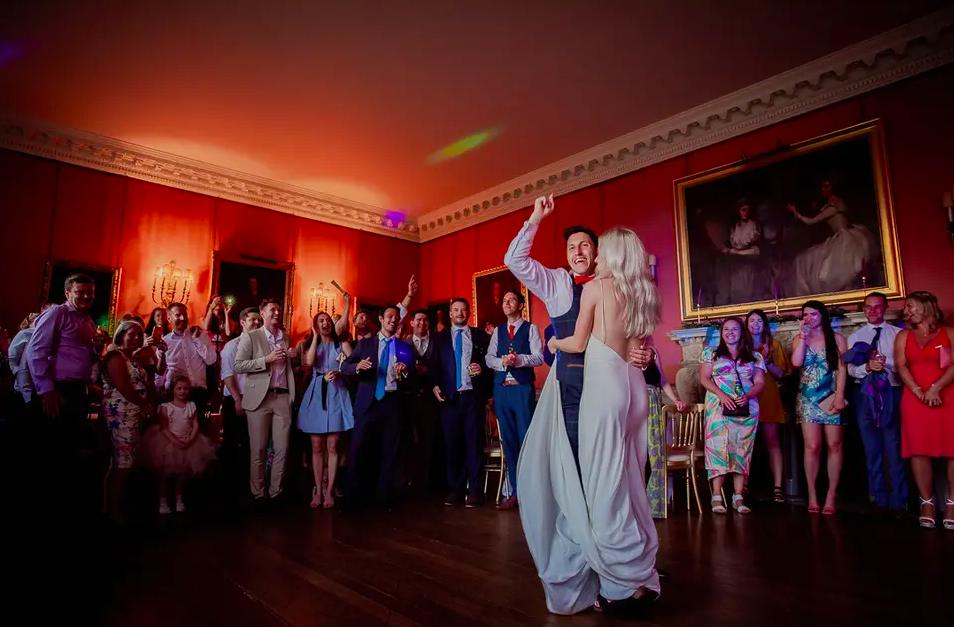 What Is The First Dance at a Wedding?
"The first time a newlywed couple dances together at the wedding reception is known as the first dance," says Lukus. "This is a much-anticipated event and a special pre-selected song is typically played while wedding guests look on. The dance floor is 'officially' open to guests following the first dance."
Who Has the First Dance at a Wedding?
"The first dance usually just features the couple although they may invite guests and other members of the wedding party to join them on the floor after a suitable time," explains Emma.
If you're not keen to be in the spotlight for an entire song, or you simply want your nearest and dearest to join you on the dance floor asap, speak with your DJ, musician or whoever is in charge of the music ahead of time. Decide on a point within the song where an announcement can be made asking your guests to join you on the floor. Alternative first dances are an emerging wedding trend - you can think outside the box if you're not keen on the idea of dancing in front of everyone.
READ MORE: 17 Songs to Avoid for Your First Dance
When is the First Dance at a Wedding?
Typically it happens at the start of your evening reception but, as with everything else about your. day, we advise following the 'your day, your way' mantra and simply perform your first dance at the time that's best for you. Emma agrees: "Usually the first dance kicks off the evening reception, getting the party started when the band or DJ begin. However, sometimes people prefer to perform the dance earlier in the reception, such as before the meal."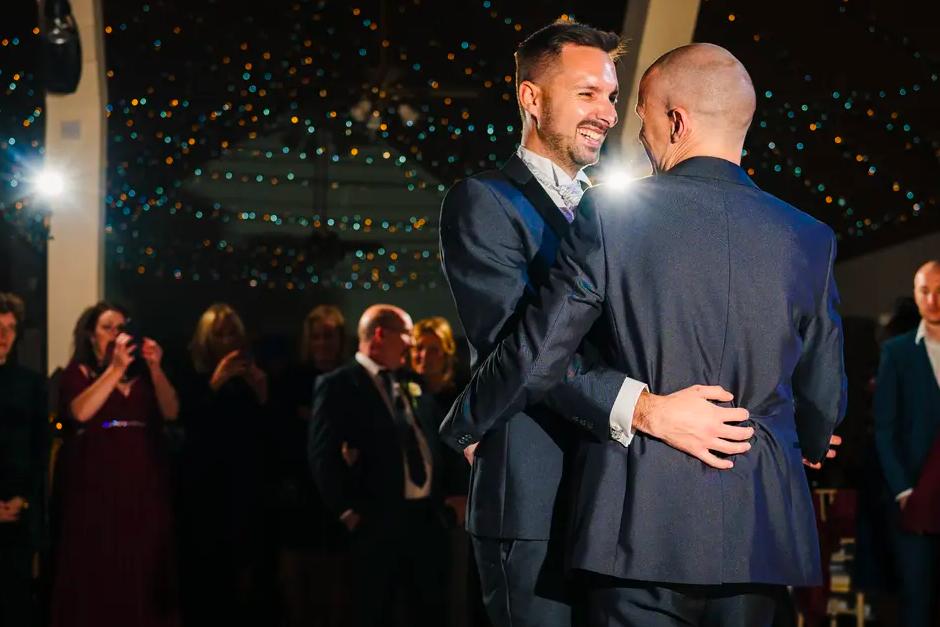 How Do I Slow Dance at My Wedding?
"The most important thing is to feel comfortable. A traditional 'ballroom' style hold is a classic and allows you to lift your arm easily to add in some twirls or do a dip. Having a dance lesson to learn the basics of hold and leading/following a few simple moves can often help with things like hand placement and finding the beat in the music which can help boost confidence on the dance floor," says Emma.
READ MORE: The 50 Best LGBTQ+ First Dance Songs
How Should I Announce the First Dance at My Wedding?
"Depending on your arrangements, this could be announced by the Master of Ceremonies, your DJ or the band. You can discuss with them whether you want to walk onto the floor over the music or for them to wait until you are in place before the music starts," Emma explains.
How Do I Do a First Dance at a Wedding?
The short answer? However you like! While slow dances were once the first dance du jour, these days anything goes and couples are encouraged to move in a way that best fits with their chosen music. Our experts agree: "These days a wedding dance can be anything you want it to be from a classic, romantic slow dance to something quirky and upbeat," says Emma, "Often couples want their song choice to reflect them and their relationship and, as a wedding choreographer, I have been asked to put together routines to all kinds of music.
"Some people know straightaway that they would like to learn a routine to their chosen song and others say they'd just like a few moves to avoid the 'dreaded shuffle' – i.e. awkward swaying without shape or style. It really doesn't have to be complex, you just need to look and feel comfortable."
Lukas echoes Emma's sentiment: "Couples can choose to do an improvised two step or waltz on the day," he reveals. "However, in recent years, we have seen couples deciding that they would prefer to be more prepared for their first dance for their special day and contact us to choreograph their routine. This is whether it will be a traditional routine or a fun surprising dance."
READ MORE: The Best First Dance Songs for a Vintage Wedding
Should I Practice My Wedding First Dance?
"Yes! Get to know your music so you can feel the beat and find the highlights in the lyrics so you can add in some twirls or dips at key moments. Even if you have lessons, definitely rehearse between sessions so that you can get the moves into your muscle memory and dance it intuitively. I recommend little and often, even if you don't have much space at home. Do it regularly and it will feel more natural," advises Emma.
We think if you're going to the effort of hiring a choreographer, practising between sessions is the best way to get the most out of your tuition. Why not make it a regular date night with a takeaway afterwards as a reward for all of your hard work? It can be a great way to spend time together ahead of the big day.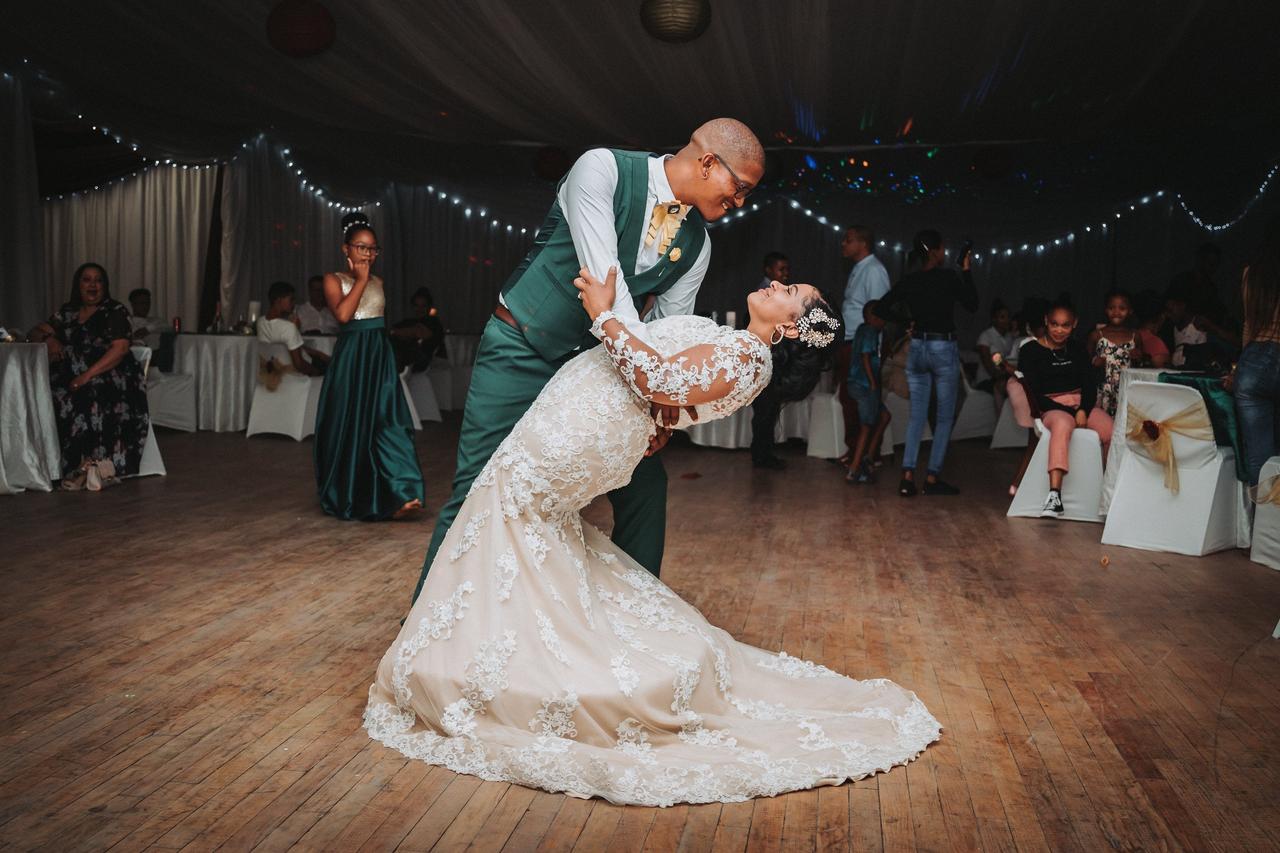 What is the Traditional Dance for a Wedding First Dance?
First dances have traditionally involved slow styles rooted in ballroom. However, increasing numbers of couples are breaking away from tradition and choosing a style that suits them and their song choice.
Emma always allows the style of movement to stem from the music itself: "Unless the couple have asked to do a particular dance (and their song works for that rhythm) I tend to borrow movements from a range of dance styles and blend them to suit the music that they have asked for."
How do I Beat First Dance Nerves?
Getting in plenty of rehearsal ahead of the big day should help to allay any pre-dance stage fright along with selecting a dance that feels natural to you: "Think ahead about what makes you feel nervous and take some time to prepare. If you think you'll feel more assured with the structure of a routine then work with your teacher to build something that suits you and rehearse it until it feels natural," says Emma.
"If you think that learning a lot of choreography will just add stress then simply get to know your music and have a few moves that you are comfortable with to give your dance a bit of shape. A teacher can help you with things like how to lead and follow with little tricks like how to place your hands to make turns smoother and improve your balance and musicality – these little details can make all the difference.
"However, the most important thing is to smile at your partner, make eye contact and have fun, even if you make a mistake. No one else will know if you go wrong unless you show it on your face so just keep smiling and relax, enjoy your day. If you look tense, your guests will feel tense on your behalf but if you're having a great time, they will too."
READ MORE: The 220 Best Wedding Songs for Every Wedding Day Moment
Wedding First Dance Tutorials
Increase your confidence and give shape to your first dance by learning some basic moves. Clear the living room, put on your favourite track and get moving!
Qualified ballroom instructor and 2018 Same-Sex Vice Ballroom World Champion, Michael Litke, talks you through some simple steps and handy hints:
This tutorial from dance pros Lindsey and Chris teaches you five simple steps that you can use to build a routine:
Put your best foot forward in a pair of super-comfy flat wedding shoes - your feet will thank you later!