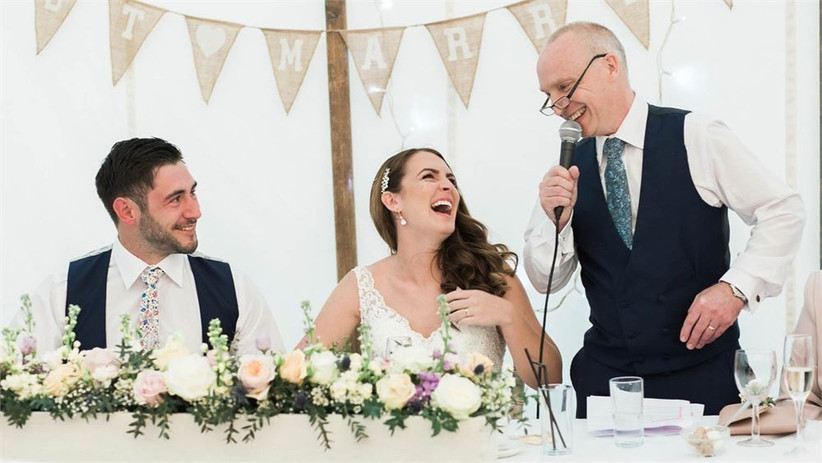 Everyone's been to a wedding where the speeches go on that little bit too long. We're all hungry at this point after all!
Whether it's because you'd prefer to give a short and sweet father of the bride speech, you're not a fan of public speaking, or you want to leave time for the best man to shine, you can still give a brilliant speech without taking 10+ minutes. Just because you might opt to go simpler, it doesn't mean it's not equally as emotional, heartfelt and memorable.
The father of the bride speech kicks off the wedding speeches and is followed by the groom and the best man. As you're the one to start off the speech section, there's a few things that are essential for you to include, like thanking the guests and paying tribute to your daughter.
Below you'll find an outline of what you need to include in a simple father of the bride speech and some examples.
Simple Father of the Bride Speech Structure
A typical father of the bride speech is between 5-7 minutes, so you'll likely be looking for 2-4 minutes if you want to go short. That's actually more time to fill than you might expect. Here's a breakdown of what you need to include in a simple father of the bride speech: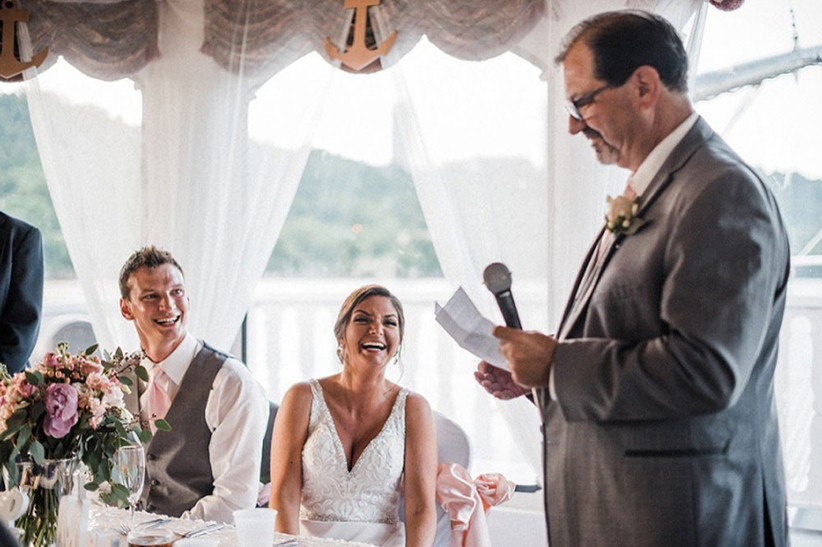 Image: Chelsea Hall Photography
1. Introduce Yourself
Most the guests will know exactly who you are, but it's worth a quick introduction and a joke to break the ice.
"Good afternoon, my name is Alan and I'm Hannah's Dad. It's customary for the father of the bride to kick off the speeches – although I never actually received a formal invitation to the wedding. Let's hope I haven't eaten someone else's meal by mistake!"
READ MORE: The Complete Guide to Father of the Bride Duties
2. Welcome Your Guests
Formally welcome your guests and thank them for being here today. If the mood is right, you can make a cheeky joke at this point too, such as, "Without all of you here today, it wouldn't be the same…but it would be cheaper."
The toast to absent friends and family usually goes to the best man or groom, depending on who is most appropriate. But if you want to say a quick word too, you should. For example, "I know Ryan is going to say a few words about Hannah's Grandad – my Dad – who is sadly no longer with us, but I wanted to say how proud I know he would be of you today. He would have loved to see you this happy; you look beautiful."
Thank the bride's mother – this could be for her hard work in bringing the wedding together or for helping raise such a wonderful daughter – and say how happy you are for the groom's family to be joining yours today.
3. Praise Your Daughter
This is the core of the father of the bride speech. You'll want this part of your speech to be memorable and heartfelt.
Try telling an anecdote that really exemplifies your daughter – this could either be something funny or silly, or it could be her passion or commitment to something. Tell her how proud you are of the woman she has become and compliment how she looks and what she's achieved.
Make sure the anecdote isn't too long. If you're worried about going over, you could stick to a short joke instead. How about "She has always brightened up our lives. You never did learn to turn lights off, did you?"? There won't be a Dad in the room who doesn't know that feeling!
READ MORE: 23 Emotional Father of the Bride Quotes and Toasts

Image: Mack Photo
4. Welcome Your New Daughter/Son-in-Law
Next turn your attention to your daughter's new spouse. How you approach this depends on the kind of relationship you have with him. If you're the kind who like to mock each other, then definitely rib him – just remember he'll be getting this from the best man as well so don't go in too hard.
Here's a sentimental welcome: "It's now the time where I'm supposed to officially welcome [partner's name] into our family, but the truth is you've been a part of this family since the day we met you."
And here's a funny one: "[Bride], you're a wonderful woman, who deserves a wonderful husband/wife. And I'm not going to rest until I get to the bottom of what's gone wrong here."
Keep the overriding sentiment positive and say how happy you are to have him in your daughter's life and for their future together.
5. Raise a Toast
Finish your speech by asking everyone to stand and raise a glass to the newlyweds. Our round-up of emotional quotes and toasts for father of the bride speeches has lots of great examples. We particularly love a simple, "Here's to the past, for all that you've learnt. Here's to the present, for all that you share. Here's to the future, for all that you've got to look forward to."
Stick to the five points above and you'll have a simple father of the bride speech that hits all the right notes and is still memorable.
READ MORE: The Etiquette of Parents Paying for the Wedding
Simple Father of the Bride Speech Examples
Here's some examples of simple father of the bride speeches that can inspire you. While we're not advocating copying and pasting these, they are pretty great templates to start building your speech from.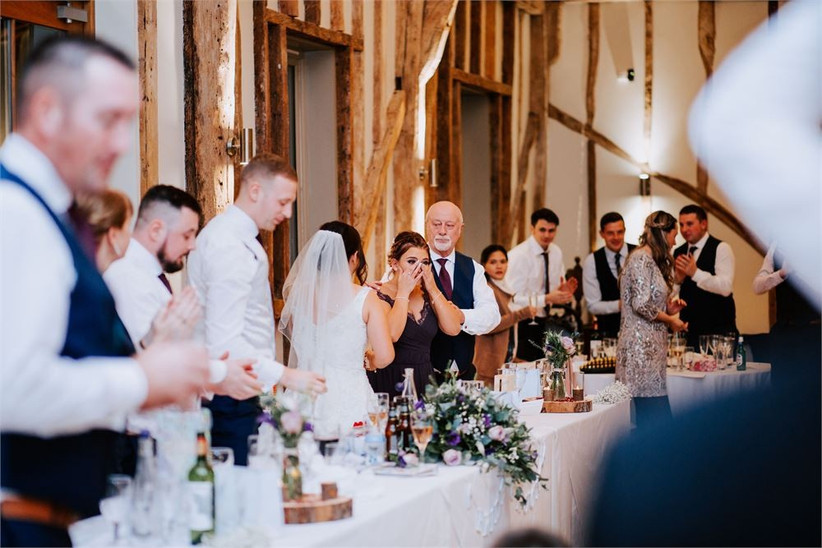 Image: Sally Rawlins Photography
Sentimental Father of the Bride Speech
"Good afternoon and thank you all so much for being here today. Marriages, like births, mark a new beginning. The day I drove home from the hospital with Claire was a new beginning for me. To be the father of a daughter seemed a bit overwhelming but I knew she deserved the world and I hope I've worked hard to be a father worthy of such a daughter.
Like me, Claire and Adam are probably feeling a bit overwhelmed today as they start a new beginning as a married couple and their own family. But I know you both have the strong foundations of love, trust and support that whatever comes your way you'll handle it together and build a marriage that lasts a lifetime.
After 31 happy years with your mother, I've learnt a few lessons I hope you don't mind me passing on. Be true to each other always; share your joys and your burdens; love much and laugh much; be each other's best friend. And when things don't go well, forgive as often as it is required. Married life is an adventure and you embark today on that adventure together. And one day, if you are as fortunate as I've been, you will stand in awe of a new life entering your family.
Claire, I'm exceptionally proud of the woman you are today and that I can't imagine anyone better by your side than Adam. It's a joy to welcome Adam and his family into ours. With all my heart, I wish you happiness as you begin the latest adventure life has to offer. Let us raise our glasses!"
Funny Father of the Bride Speech
"Welcome everyone and thank you so much for joining us on this incredibly happy day as I got to watch my daughter walk down the aisle. When Sam first asked permission to marry Alex, I thought I had better carry out some background checks. So I went to his local police station and asked if he was well behaved. The sergeant behind the desk was very reassuring. Apparently, they never had any bother with him whenever he spent the night there.
Of course, I'm joking, Sam is a great man and Alex makes a beautiful bride, and I wish them every happiness for the future. I know I echo the sentiments of Alex's new in-laws, Joan and Ken, who've we've had the privilege of getting to know over the last few years.
You might have noticed that I too am looking good in my suit today. This is actually down to a new fitness regime which includes me doing 50 push-ups a day for the last three months. I should mention none of them have been intentional – I've just been collapsing a lot every time I think of my bank balance.
But marriage is an important commitment and I've been looking forward to the day Alex find that person who makes her this happy all my life. Marriage takes love and trust and respect. It needs patience and compromise, and I should know – I've been patiently compromising for years! Still, if they are any bit as happy as my wife and I, then they will be very happy indeed. Ladies and gentlemen, please be upstanding for the bride and groom!"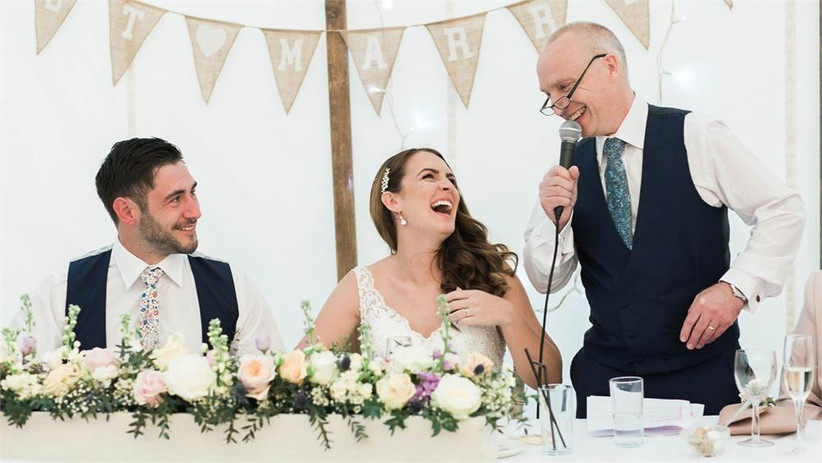 Image: Danielle Smith Photography
READ MORE: Wedding Advice for Divorced Parents
Personal Father of the Bride Speech
"I know you're all hungry so I'll make this quick! I'm John, the father of the bride, and it's my privilege to welcome you to the marriage of Laura and Rob today. Thank you from the bottom of our hearts for making this day so memorable for them.
We've had guests come from as far as the US and Australia, so a huge thanks today for going that extra (thousand) miles! Not everyone can be here today, of course, most of all Laura's sister in Paris who's eight months pregnant at the moment. She has sent you this little gift however to make her presence felt. Let us raise a glass to absent friends and family.
Speaking of making your presence felt, I became aware from the moment we brought Laura home from the hospital that we had a lively girl on our hands. From that scene-stealing role as sheep 3 in the school nativity when she stole baby Jesus right from Mary's hands to her winning goal in the Under 21s GB netball championships, she's always been star of the show. It's what we love about her, and today, there's no one who deserves our celebration more.
Rob, we've immediately seen what an impact you've had on Laura. She radiates with happiness and it's a pleasure to see what a kind, caring, genuine man you are. I'm so proud of both of you. May you all raise your glasses to the VIPs: Laura and Rob, here's to many happy years."
Short Father of the Bride Speech
"As the proud father of the bride, it is my duty and honour to give the first speech. I must admit, I am a little apprehensive today, and being a Tranmere Rovers fan I'm not used to being in large gatherings, so please bear with me.
What a magnificent venue Sophie and Nick have chosen today. It was impossible to get her out her Cinderella costume as a kid so it's a dream come true she was able to marry at this beautiful castle today, and a huge hand to all the staff who helped their day come together.
Sophie will always be my little princess, but, for the sake of my bank balance, I'm grateful she found her Prince Charming. The bravery with which he handles her demands for chicken nuggets at 1am and his chivalrous acceptance of having all her ASOS deliveries sent to his work told me he was the one! And thankfully Sophie realised that too!
Nick, Welcome to the family. You are joining a large, loving and loyal family. I'm not losing a daughter, because I can't ever give her away, but instead I'm gaining a strapping son-in-law who will clean my car and cut my grass when I get older.
I don't want to embarrass my daughter any further – I'll leave that for the dance floor – so please raise a glass with me instead to the new Mr and Mrs!"
READ MORE: Who Pays For What During Wedding Planning?

Image: Alexis Jaworski Photography
Top Tips for a Simple Father of the Bride Speech
Include a brilliant anecdote. Ask around your wife and family for their best memories, and think about childhood nicknames. Are there any funny secrets you or she have been hiding? It could be time to reveal you knew exactly who scratched your car or stole that bottle of booze from the cabinet.
Leave the big jokes to the best man and stick with short quips or one-liners.
Practise makes perfect. Rehearse your speech repeatedly, speak slowly and allow time for laughs.
Use cue cards or a prompt if you're worried about losing your thread, but don't read your speech from a card.
Avoid anything too embarrassing. Now's not the time for ex-boyfriends, crude jokes or any dirty laundry.
Not every father of the bride will adore the groom as much as their daughter. Don't include anything negative about him in the speech. Stick to praising your daughter and just say you're happy that he makes her happy.
If you're looking for more ideas for your speech, make sure to check out our father of the bride speech examples.