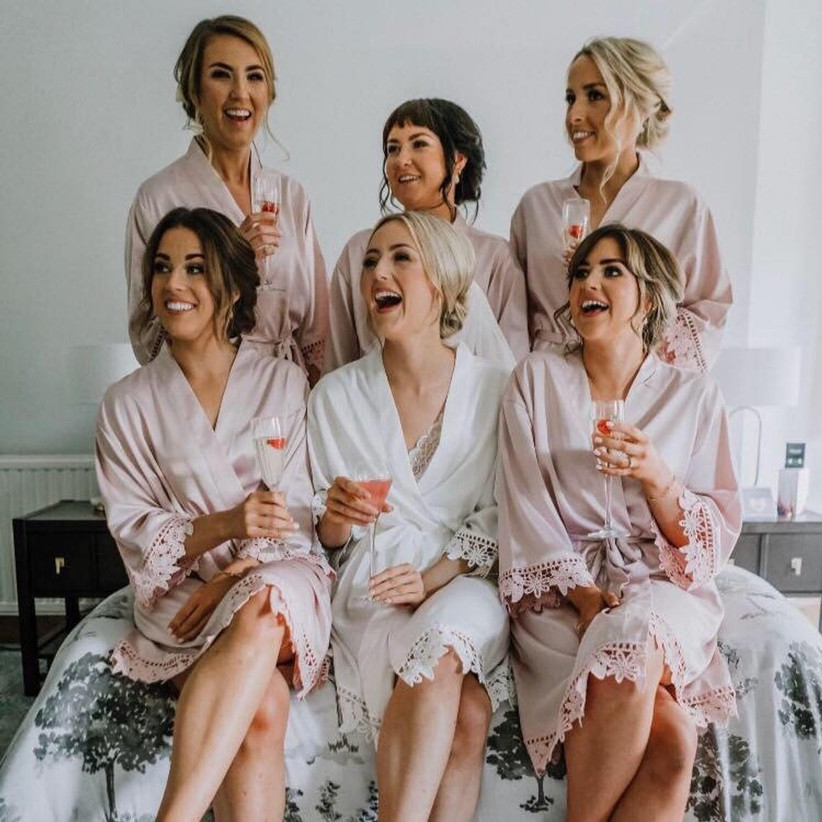 You might have found the perfect wedding dress and chosen some beautiful bridesmaid dresses, but the party starts long before you put them on. That's why we've put together this edit of the best bride and bridesmaid dressing gowns, pyjamas and robes.
Having something special for you and your bridal squad to wear really adds to the atmosphere, both the night before and on the wedding morning. What's more, photographers tend to arrive early in the day to capture all the girly moments that happen as you perfect your wedding hair and make up - it's no surprise you're going to want gorgeous bride robes and bridesmaid robes to get ready in.
Once you've found your own dream bride robe and pyjamas, you can treat your bridal party to anything from personalised bridesmaid dressing gowns to cute bridesmaid PJs. As well as looking great in the wedding album, they'll be the perfect gift to show your girls how much you appreciate them, and something they'll be able to treasure forever.
These are our favourite bridesmaid and bride dressing gowns and pyjamas. With styles ranging from pretty florals to pared-back white robes, there are plenty of wedding-morning looks here for you and team bride to fall in love with.
Bride Dressing Gowns
1. White Bridal Robe - From £95, Georgina Keeley
Luxury British designer Georgina Keeley's collection has been carefully created to make your wedding morning an indulgent experience.The white bride dressing gown is beautifully soft and has an elegant silk sash; it can be personalised with pretty gold lettering.
2. Embroidered Bridal Kimono - £59, Victoria's Secret
For the brides whose style is all about elegance, this bridal robe by Victoria's Secret is a dreamy choice. It's a silky smooth wrap dressing gown with subtle lace trim.
3. White Bridal Robe - £15, Lovelei
Keeping a close eye on your wedding spending? Lovelei is a budget-friendly bridal party robe brand. Traditional brides will love this simple bridal dressing gown - a classic white silk design that's flattering and can also be personalised on the front and back.
READ MORE: 25 Super Smart Hacks to Help You Save for Your Wedding
4. Gigi Galloon Lace Robe - £50, Figleaves
If you're dreaming of a glamorous look for your wedding morning, this Gigi Gallon Lace Robe is perfect - all-over sheer lace and silk trim are such an alluring combination.
5. Varsany Ivory Rhinestone Bridal Set – £34.99, CrystalsRus
What's better than a satin bride robe? A robe set with slippers and a tote bag, all with 'The Bride' written on them in crystals! You'll love getting ready with these fluffy slippers to add to the look, and you can store all the things you need to take to the venue – like your emergency bridal survival kit – in the tote.
6. 'Tie the Knot' Lace Kimono - £22.50, B by Ted Baker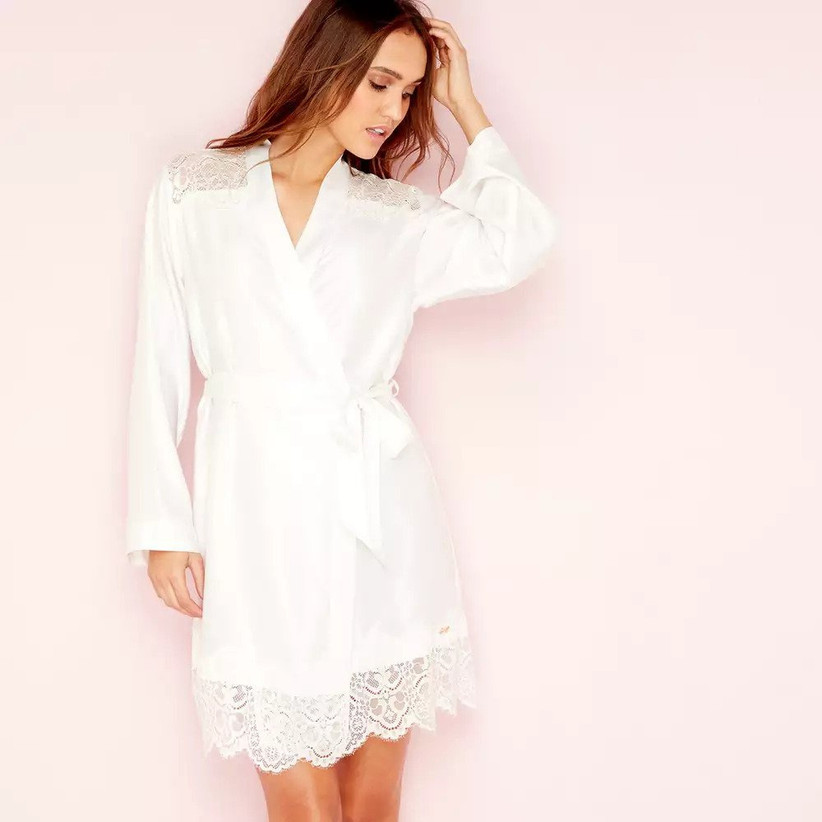 This Ted Baker kimono is such a chic option - we particularly like the lace at the shoulders - and it will look stunning in the getting-ready photos.
READ MORE: Pre-Wedding Songs: The 75 Best Songs For Getting Ready on Your Wedding Morning
7. Ivory 'Mrs' Short Dressing Gown - £20.80, Debenhams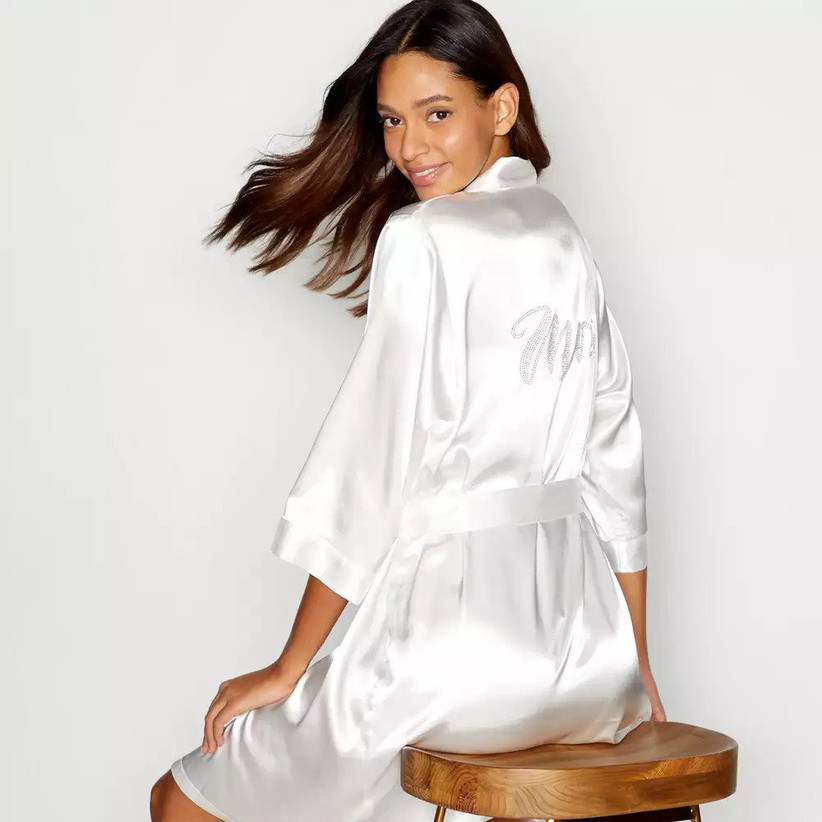 Bride dressing gowns with back detailing are such a clever idea - after all, your photographer will most likely get some shots of you from behind as you have your hair and makeup done. This Debenhams bride robe features 'Mrs' lettering on the back in glitter, to bring extra sparkle to your wedding morning.
8. Fishnet Long Lace Robe - £25, Boux Avenue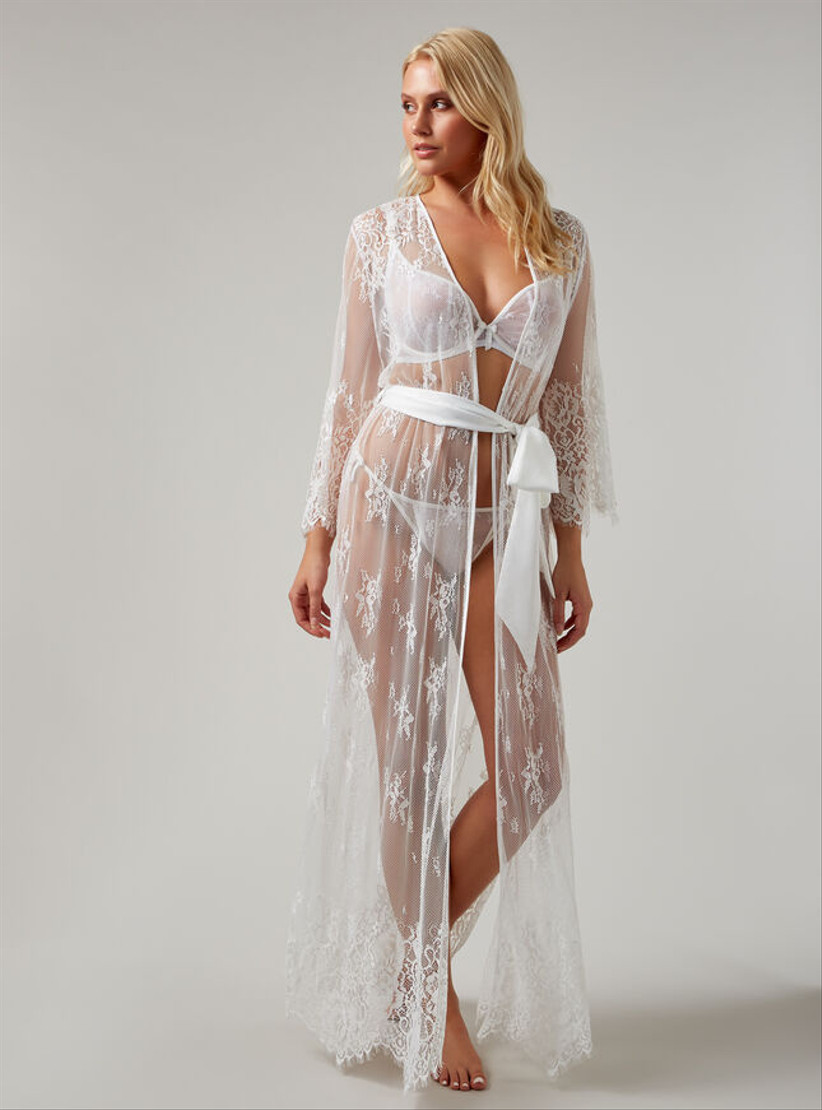 This Boux Avenue long bridal robe is more 'look at me' than 'cover-up' - but who says that's a bad thing? It won't keep you warm, but it's a smart choice if you want to show off your bridal PJs or lingerie.
9. Personalised Bride Robe - From £15, Etsy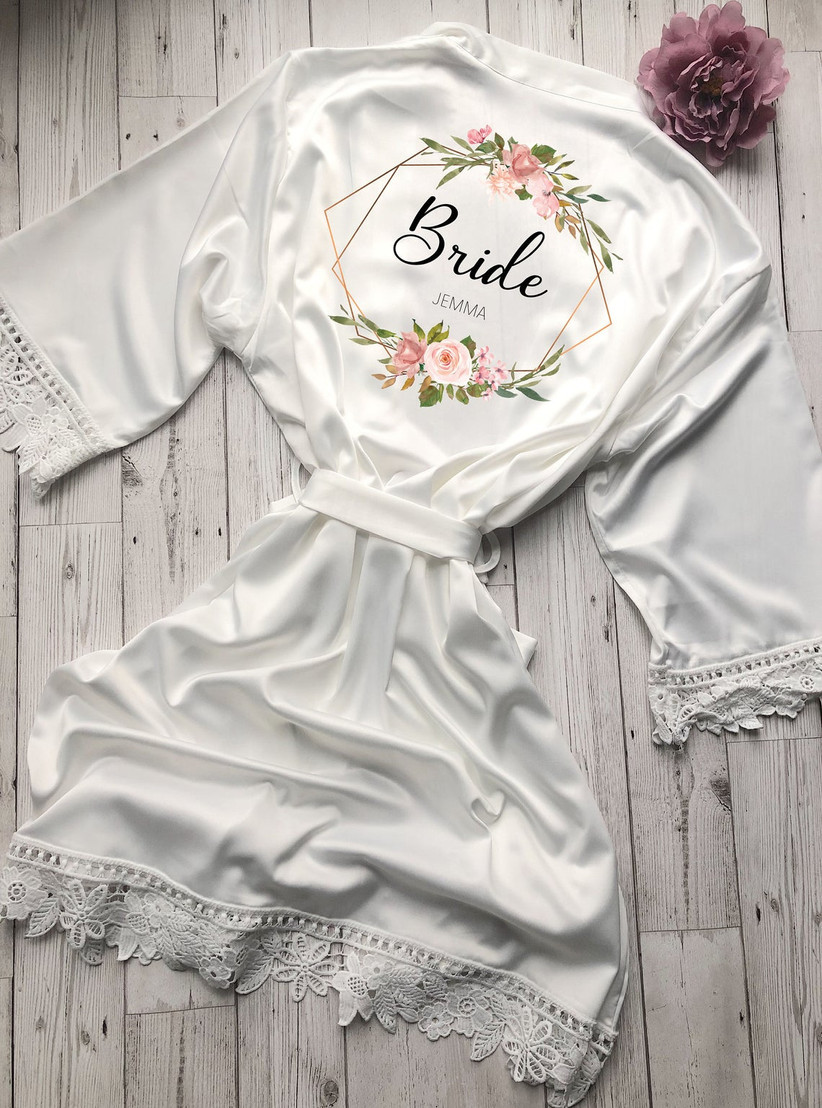 If you want a personalised bride robe, Etsy is a good place to look. We really like this pretty design, which comes in different colours and is customised with your name.
10. Personalised Bridal Butterfly Long Dressing Gown - £79, Not On The High Street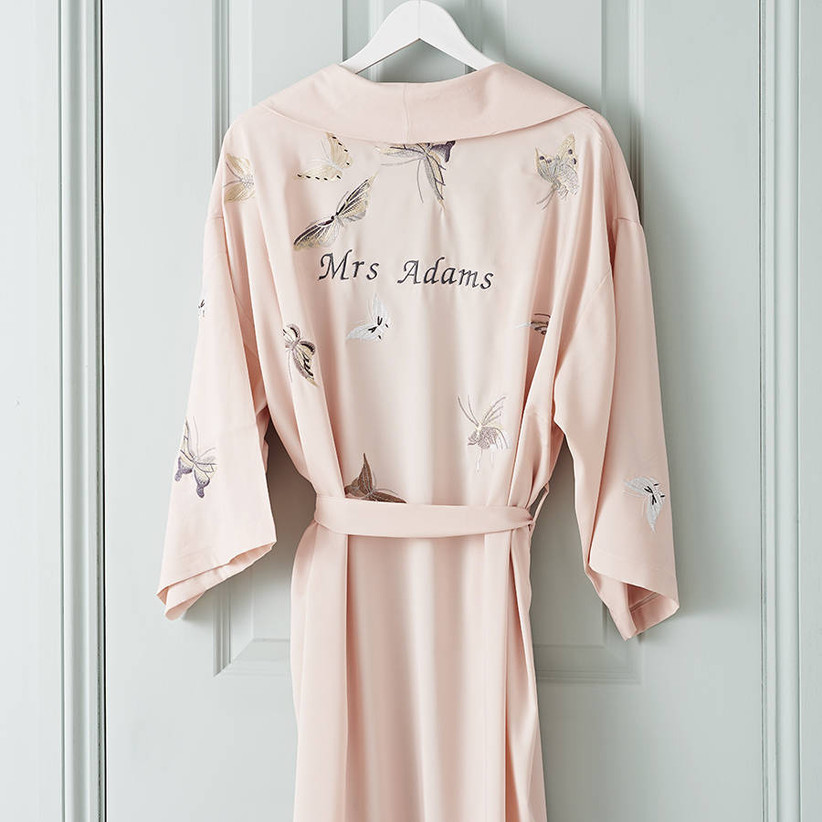 How romantic is this bridal dressing gown? The delicate pink hue and gorgeous butterfly design mean it will be a keepsake to treasure and wear again after the wedding.
READ MORE: 25 of the Best Bridal Jackets
11. Bella Robe - £90, Cosabella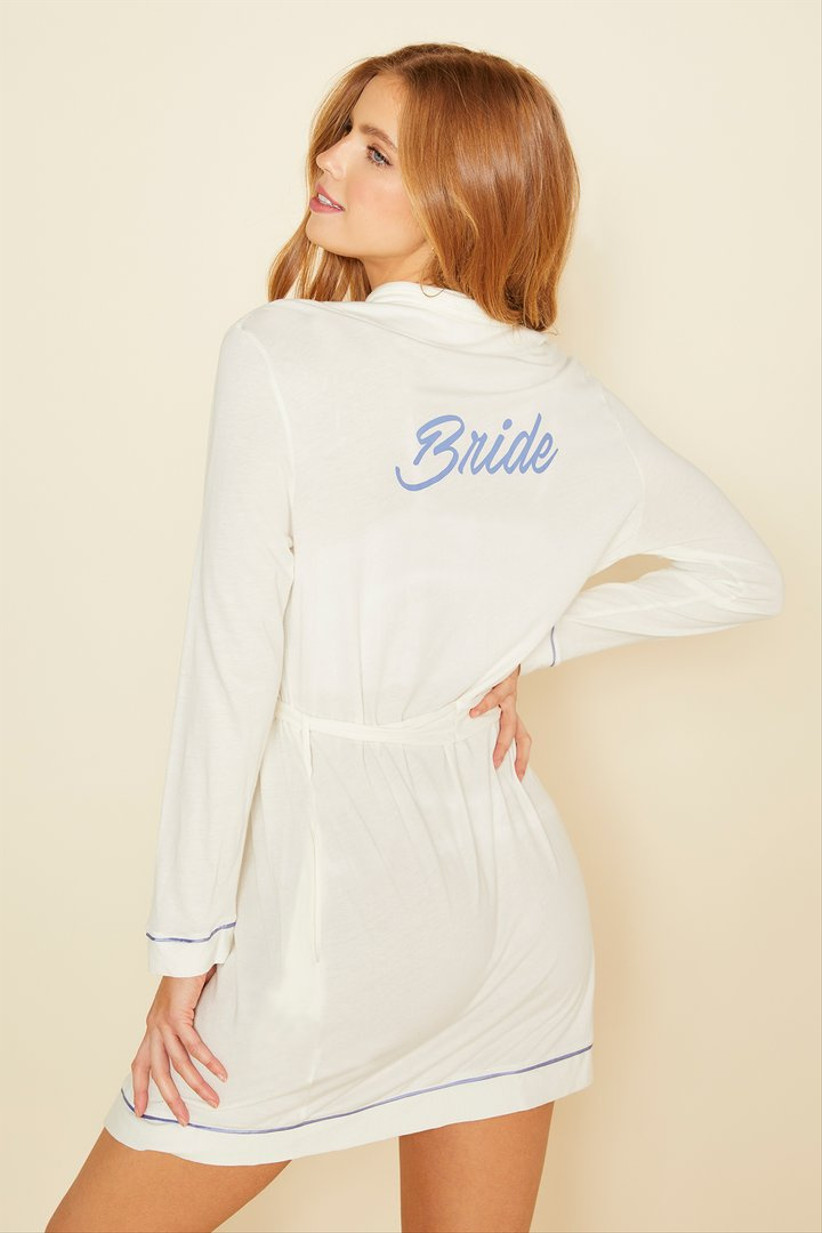 Cosabella is a favourite among fashion influencers for its easy-wearing lingerie crafted from luxurious fabrics. This short bride robe is a shining example, made from super-soft cotton and with a figure-skimming silhouette.
12. Aurora Wrap - £89, Flora Nikrooz
Cult lingerie brand Flora Nikrooz is known for its ultra-feminine designs - like the Aurora robe. Delicate, ethereal and oh-so pretty, it would be the perfect addition to any wedding morning.
13. White Satin Bride Gown - £28, Missguided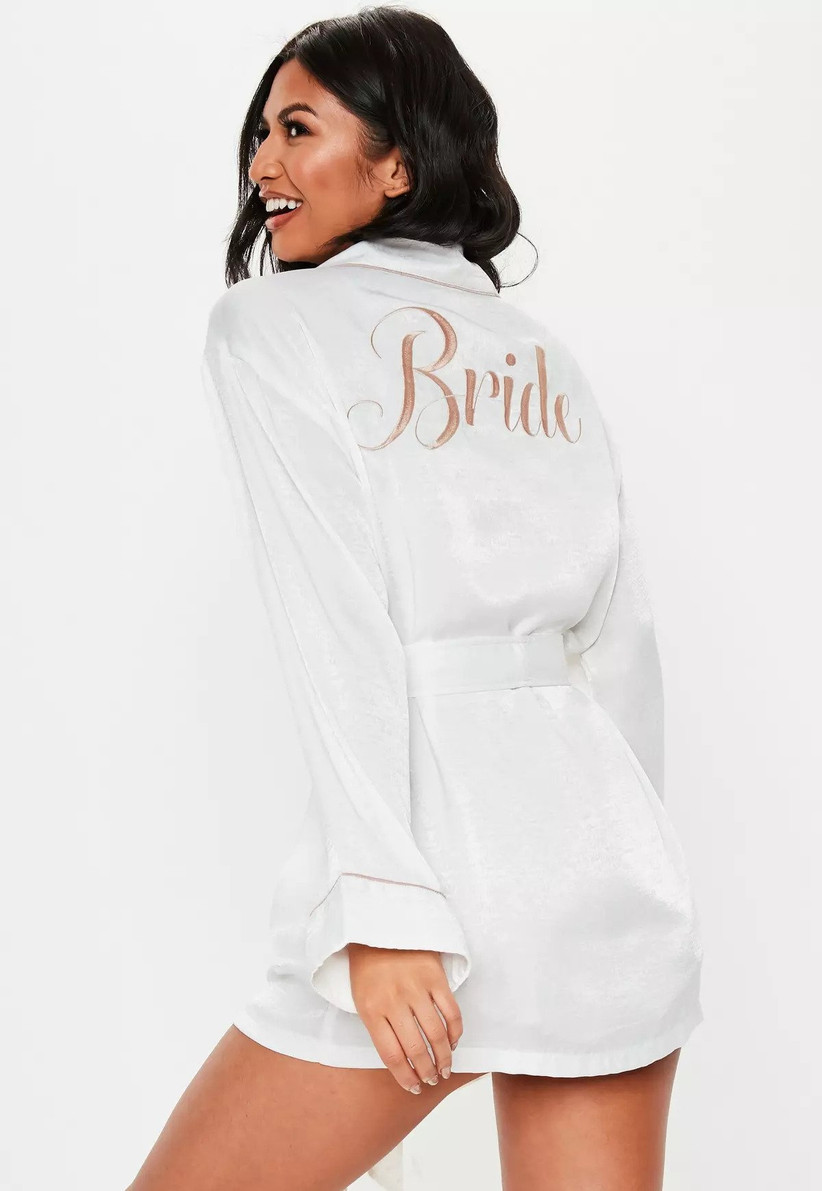 You don't have to bust the budget to get a decent bride dressing gown. The piping on this Missguided robe makes it look more expensive than it is, and the 'bride' embroidery is nicely done.
14. Silk Bridal Wrap Dressing Gown - £100, Marks & Spencer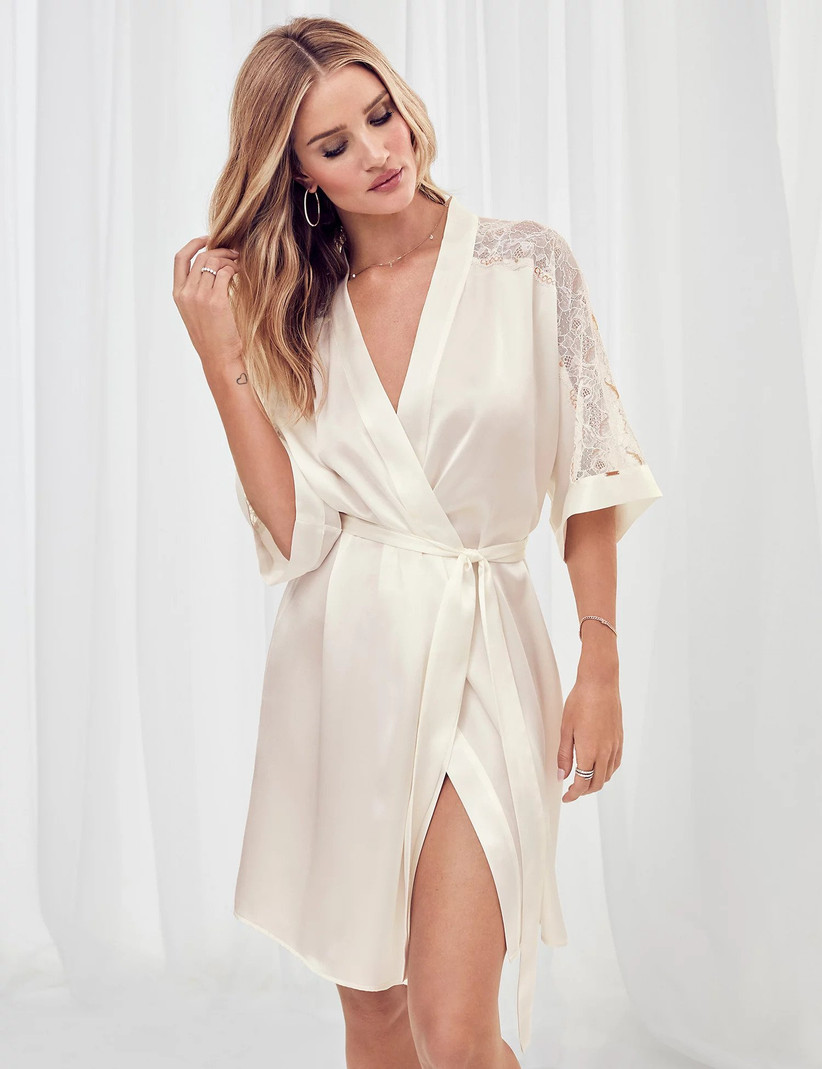 For a rather glorious indulgence, this M&S bridal dressing gown is made of pure silk. There are intricate lace panels at the shoulders to keep the look pretty.
READ MORE: 28 of the Best Designer Wedding Shoes That Are Worth Blowing the Budget for
Bridesmaid Dressing Gowns
15. Blossom Personalised Wedding Robes - from £17.90, Etsy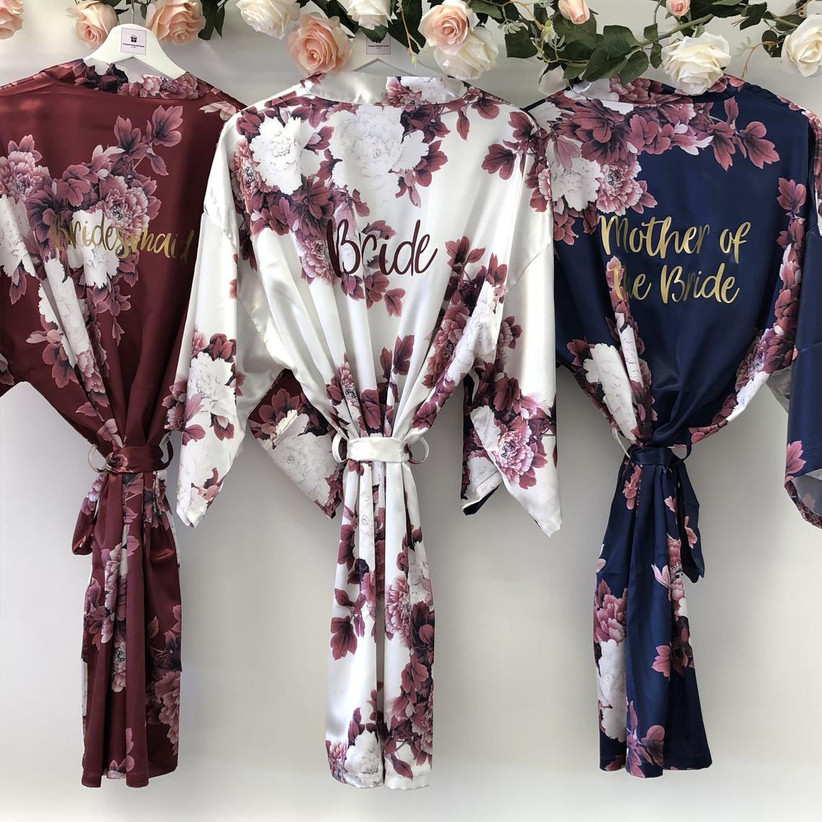 The striking colourways of these floral bridesmaid robes would be ideal for an autumn or winter wedding. You can customise the font colour, but we are rather drawn to the gold.
16. Bridesmaid Robes - from £11.99, Etsy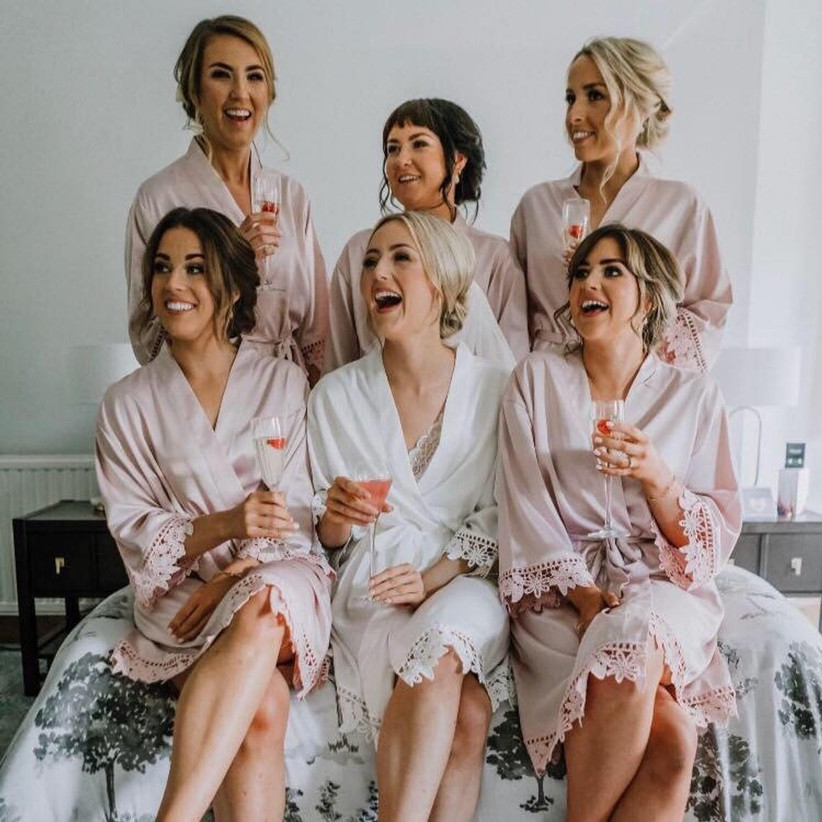 Bag a bargain by choosing these satin robes, which can be personalised with each of your squad's name and role. They come in seven colours, including champagne, light grey and blush.
17. Scatter Bud Kimono Robe - £49.95, Caro London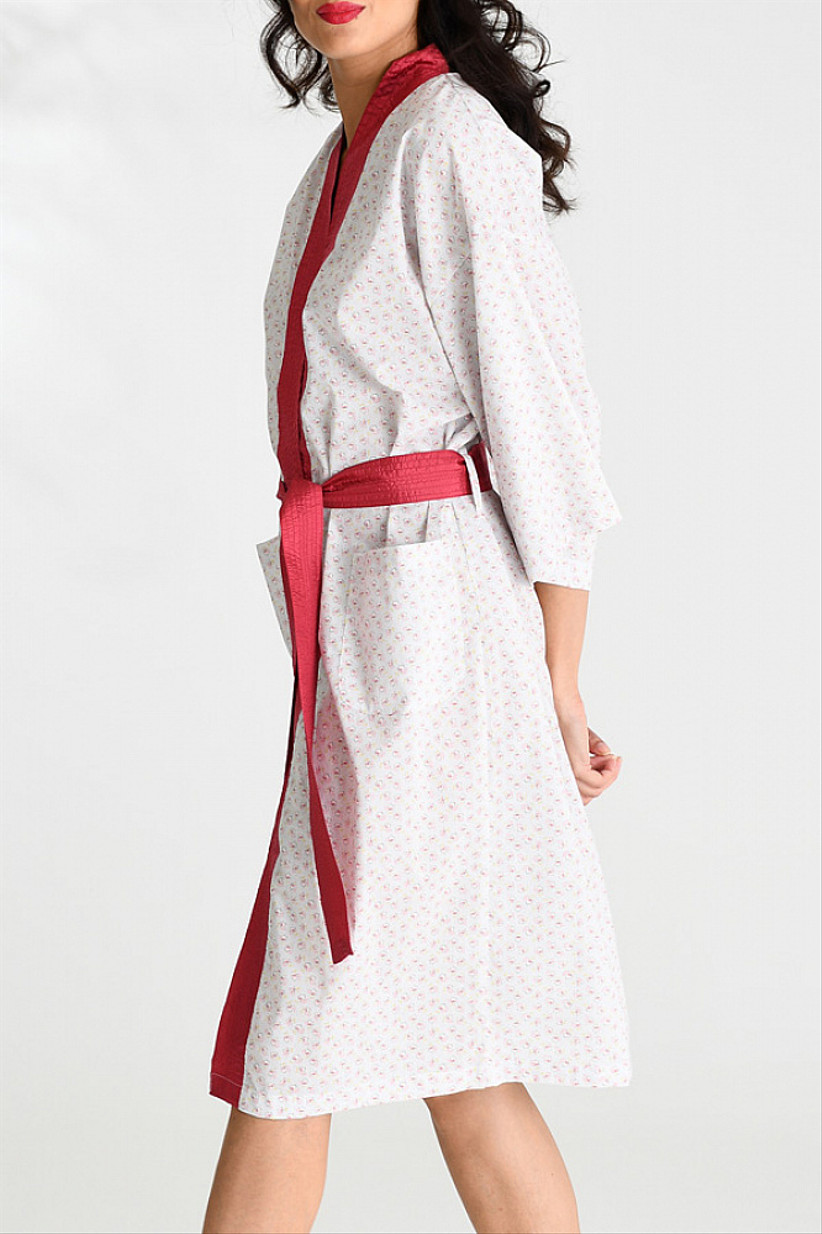 Lovers of fine prints should check out Caro London's line of kimono robes. The patterns are truly beautiful, like the Scatter Buds design, and the quality is exceptional. The brand doesn't offer personalisation, but you should be able to find an embroidery service near you that can add team bride's initials or names.
18. Light Pink Bridesmaid Dressing Gown - £20.80, Debenhams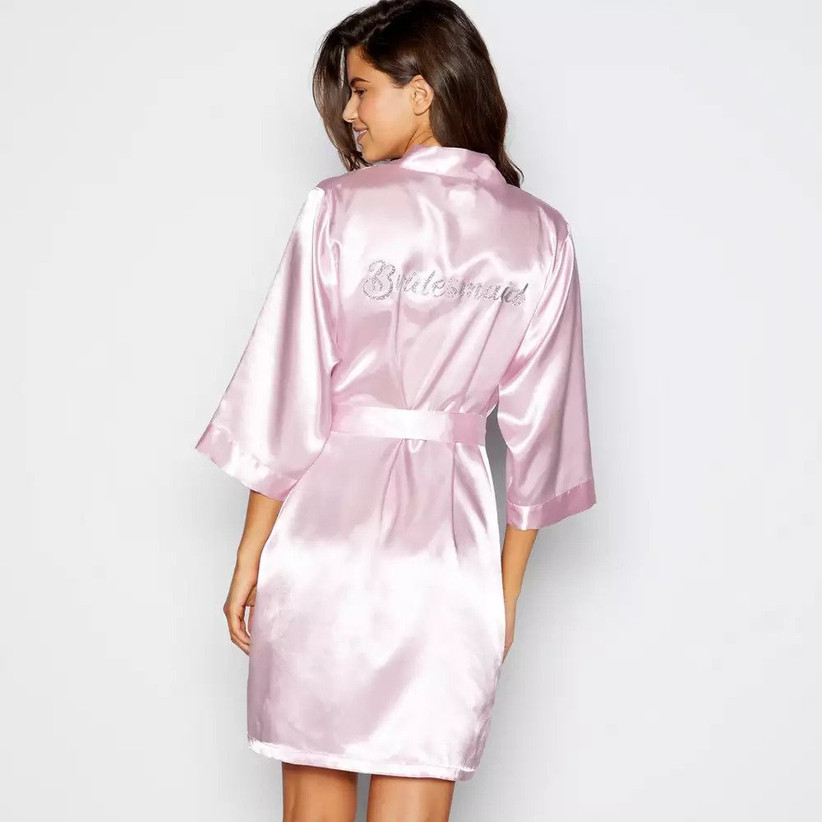 Simple and to the point, this bridesmaid dressing gown is a practical, budget-friendly option in a romantic pink hue.
READ MORE: 16 Best Places to Buy Bridesmaid Dresses Online
19. Personalised Tropical Print Kimono - £32, Not On The High Street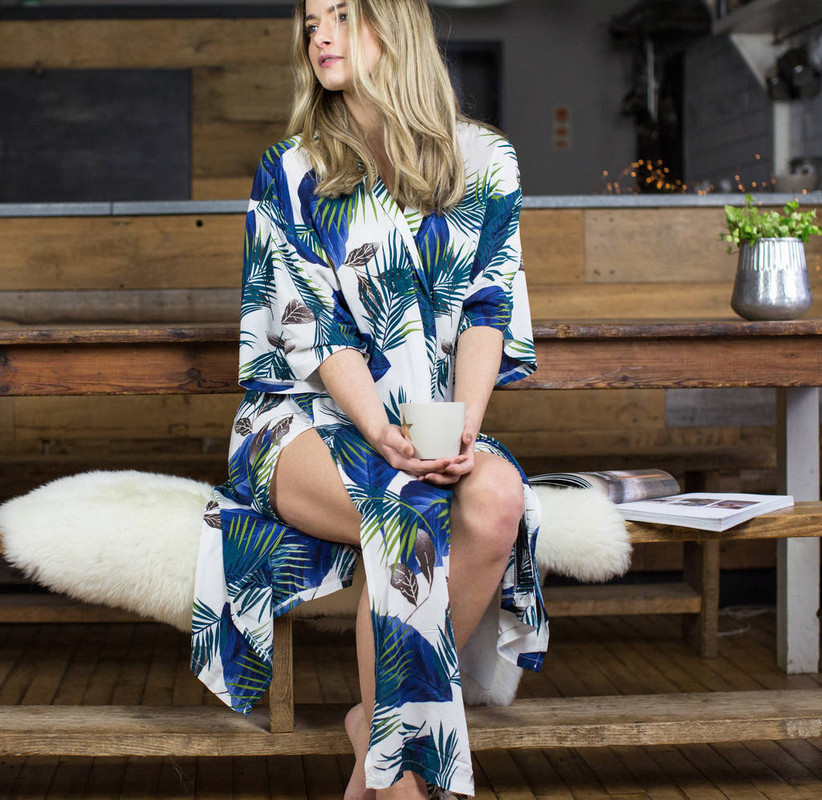 This eye-catching kimono would be just the thing for a destination wedding, and it can be personalised with your bridesmaids' names or initials in gold.
20. Crushed Velvet Fleece Dressing Gown - £45, The Luxury Gown Company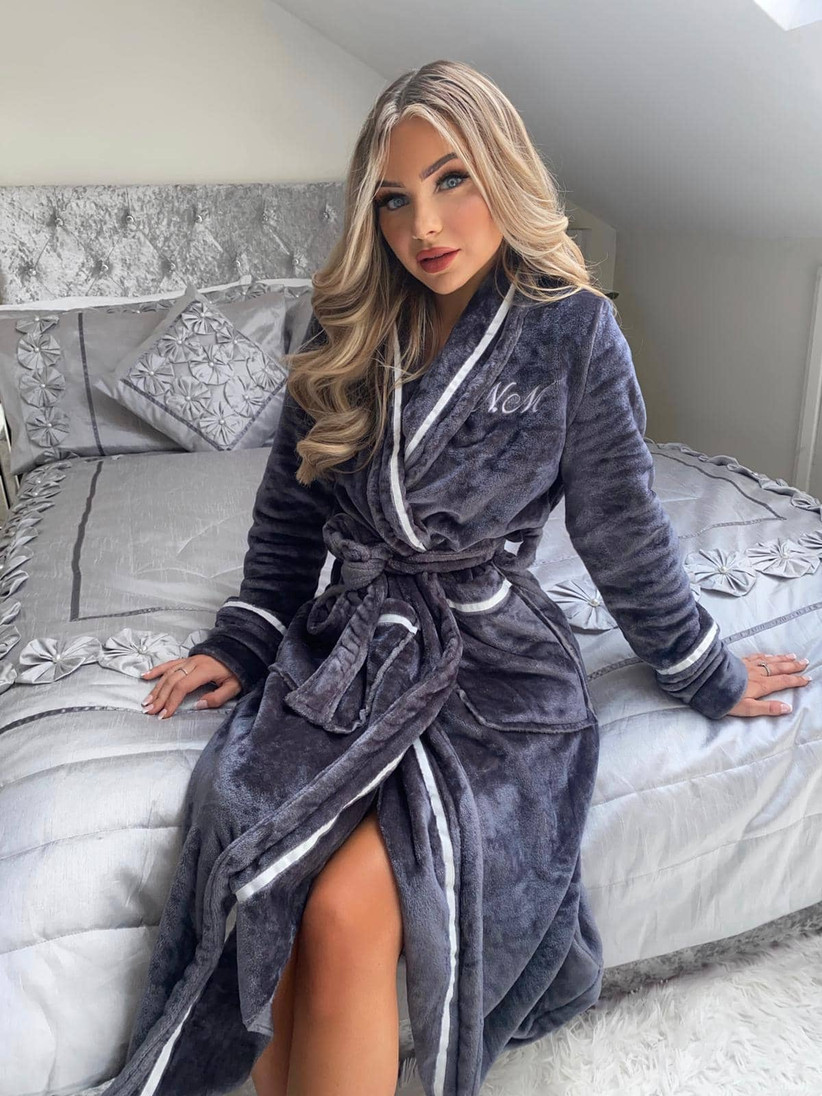 Getting married in the chillier months? Your girls will probably appreciate a cosy bridesmaid gown, like this crushed velvet style. It comes with embroidering of your choosing on the left chest, and you can also add words and emblems to the back for an extra cost.
21. Blush Bridesmaid Robe - £95, Georgina Keeley
Nothing says 'thank you for being my bridesmaid' quite like a luxe robe they can have as a wedding keepsake. This blush pink design is perfect for your squad and it can be embroidered with lettering as a lovely personal touch.
22. Turkish Bath Towel Bridesmaid Robe - from £12.29, Etsy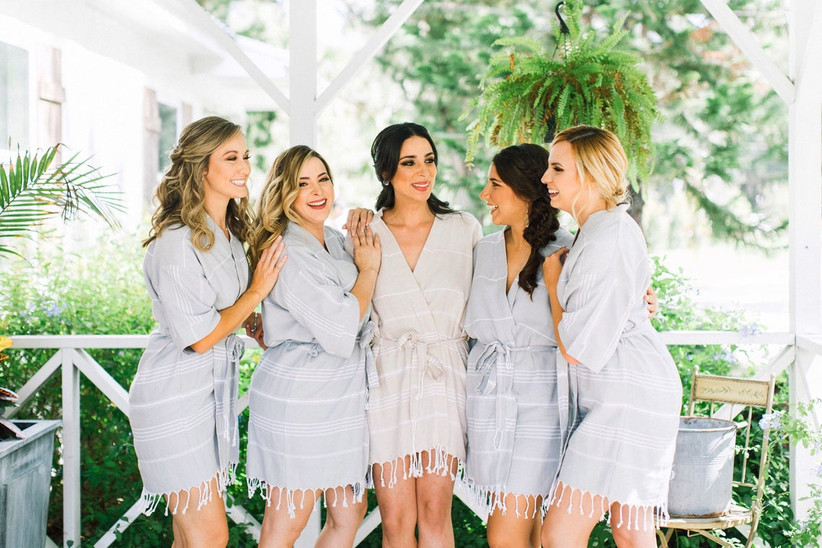 Bridesmaid robes usually come in satin or silk, so for something a bit different, take a look at these Turkish bath towel robes. They're soft and snuggly, and the muted tones are ideal if you prefer a minimalist style. There are personalisation options.
READ MORE: How Many Bridesmaids Should You Have?
23. Glitter Bride's Squad Robe - £18, Boohoo
These affordable bridesmaid dressing gowns are a cute option, with glittery 'bride's squad' lettering. They also come in black.
24. Wedding Day Dressing Gown - £35, Not On The High Street
The gold lettering on the back of these personalised dressing gowns adds a touch of glamour to the design. They come in two colourways and can be personalised with names or simply 'bridesmaid'.
25. Bridesmaid Robes - from 13.99, Etsy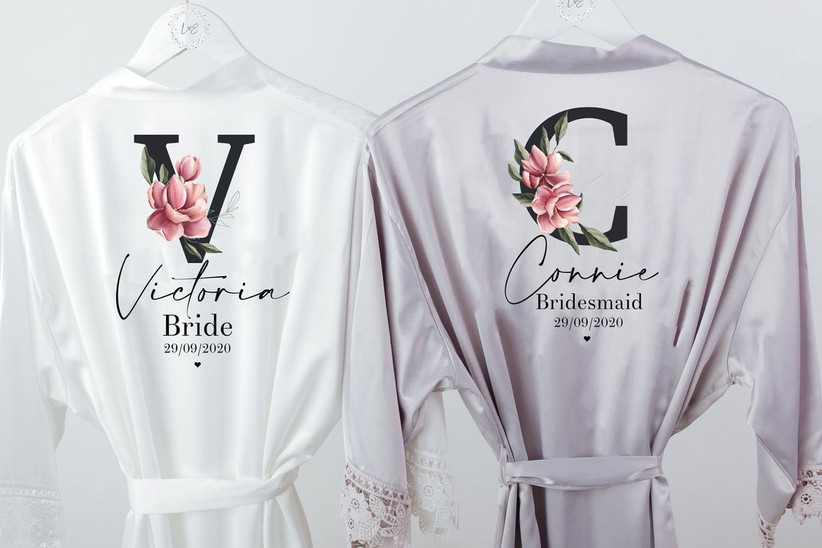 These bridesmaid robes are excellent value, particularly as you can have them personalised for each of your girls.
Bride Pyjamas
26. White Bride Foil Slogan Short Pyjamas - £10, George at Asda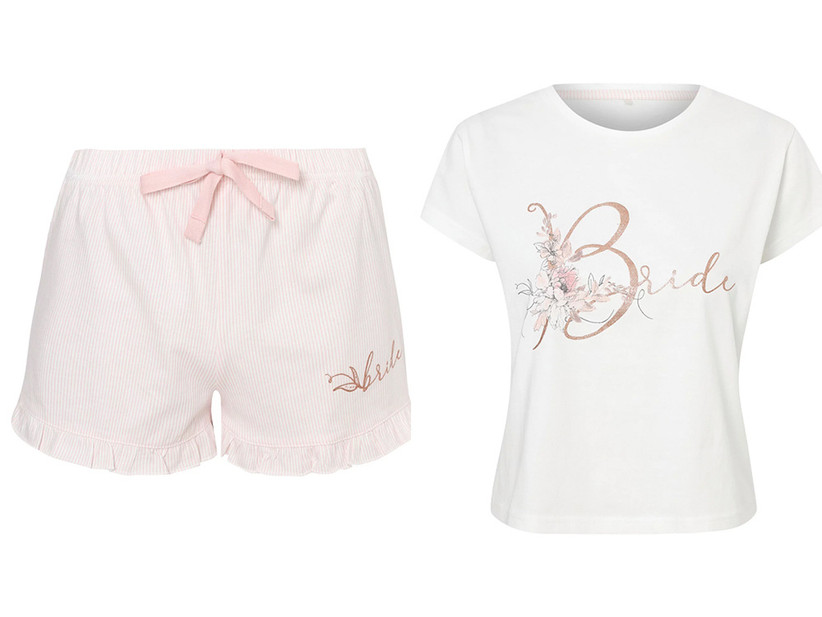 You may not have pictured yourself picking up any part of your wedding outfit at a supermarket. However, this bride pyjama set is excellent value, featuring a pretty design.
READ MORE: 37 Cheap Wedding Favours for £1 or Less
27. White Linen Pyjama Shorts Set - £90, Piglet in Bed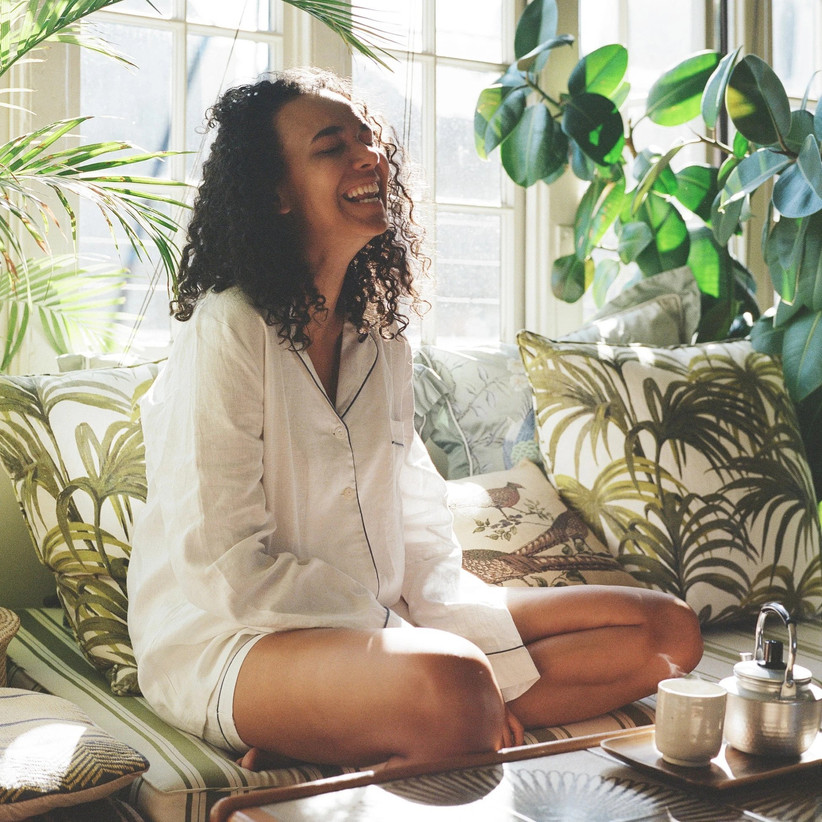 For a laidback-luxe take on bride pyjamas, choose this shorts set from chic brand Piglet in Bed. For an extra cost, you can have them monogrammed.
28. Satin Pyjamas - from £15.99, Etsy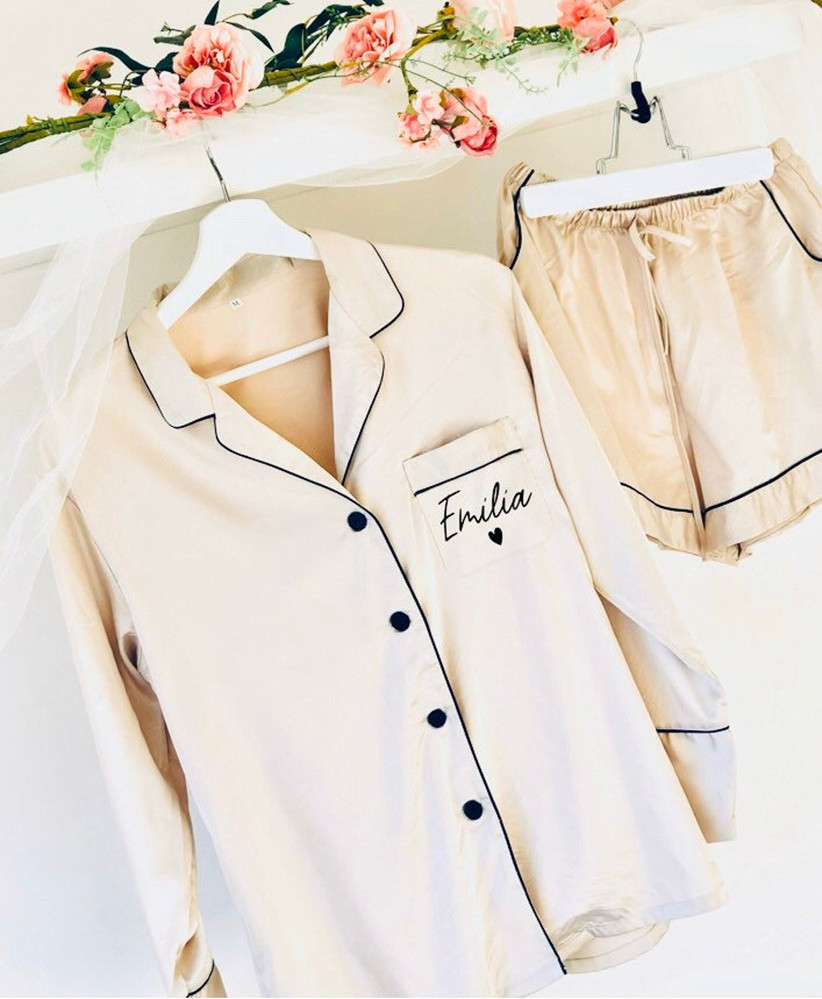 These customisable pyjamas have a definite note of vintage-inspired glamour - we imagine they're the kind of thing Old Hollywood starlets would have slept in. Sprinkle some of that stardust onto your own wedding-morning look.
29. Jersey Classic Pyjama Set - £75, The White Company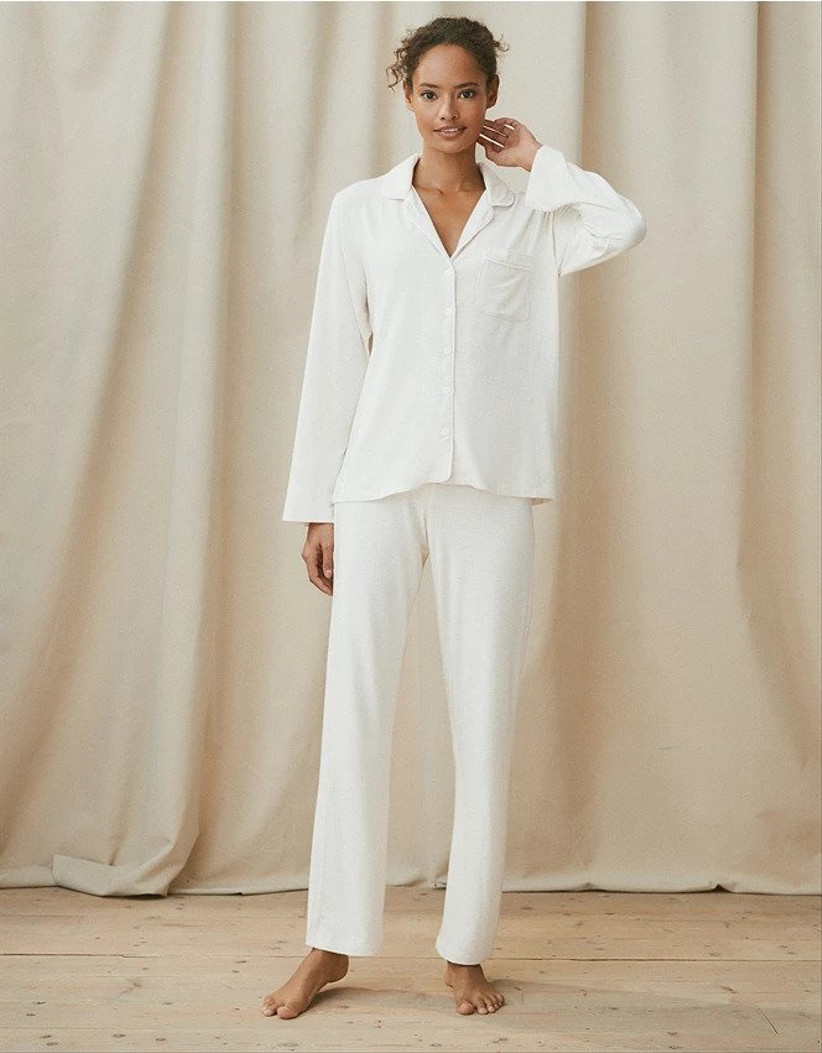 If comfort is key, The White Company is a reliable bet. Their classic pyjamas are made from softest jersey, and while these aren't specifically bride-themed, the quality means they're totally wedding-worthy - and you'll definitely wear them again.
30. Bride to Be T-Shirt & Short Set - £15, Boohoo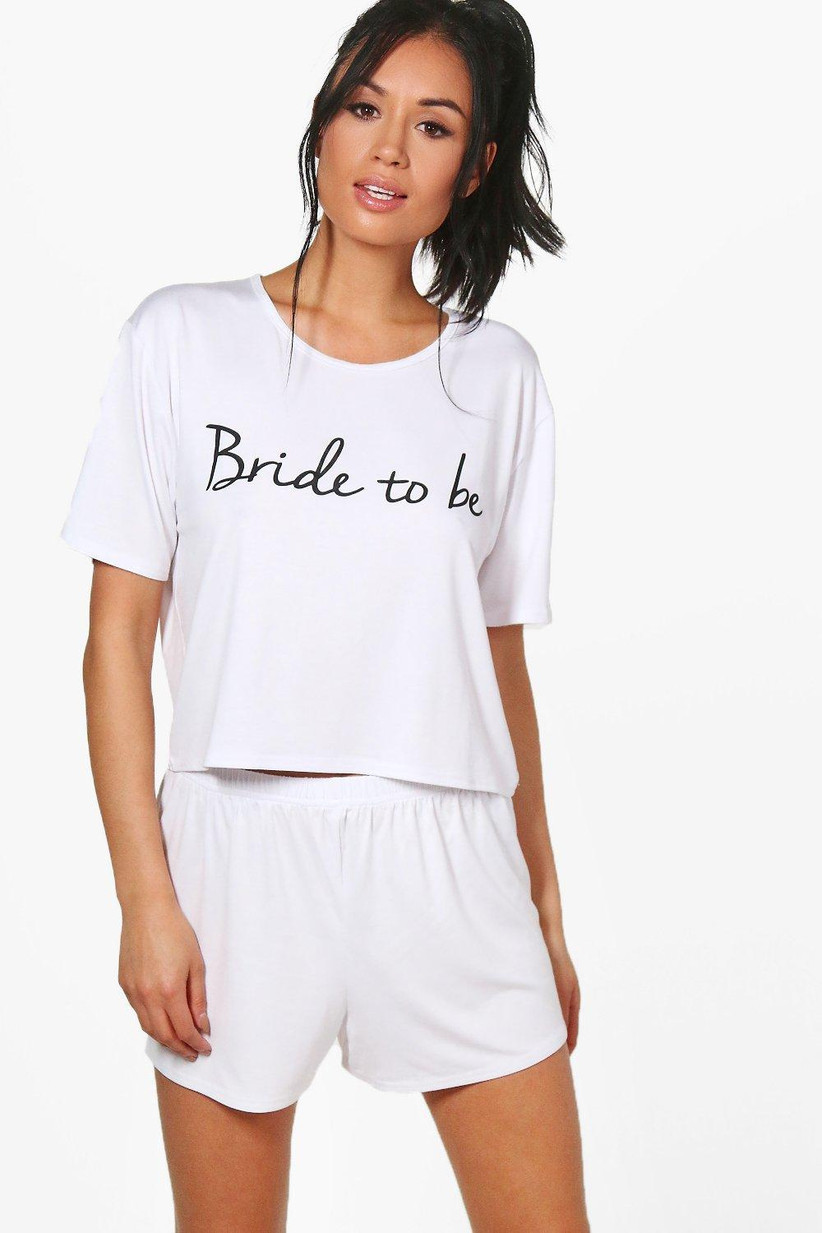 Keep it casual in a t-shirt and shorts PJ combo, like this easy-wearing Boohoo set. Just remember to swap the top for a robe before you have hair and makeup - anything you need to take off by pulling over your head risks messing up your 'do and smudging your foundation.
READ MORE: Wedding Makeup: 37 Gorgeous Ideas and Our Top Tips
31. Jaguar Print Long Pyjama Set - £150, Desmond & Dempsey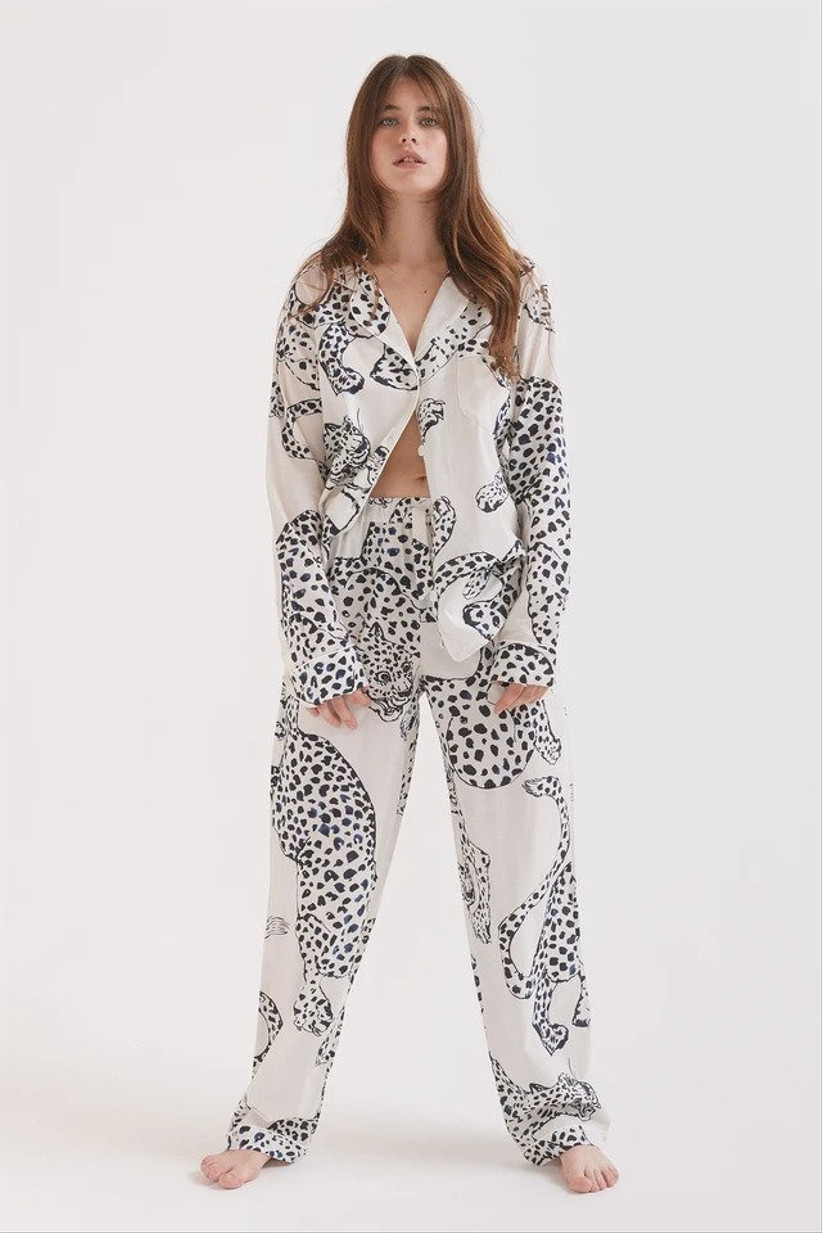 Luxe-lovers, Desmond & Dempsey is the nightwear brand you need to know. The designs are on the spendier side, for sure; think of them as investment pieces, and you also get free monogramming. Their Jaguar set may not be a classic bridal design, but we love the unique, bold print.
32. Elodie Silk Cami Set - £85, Bouxtique by Boux Avenue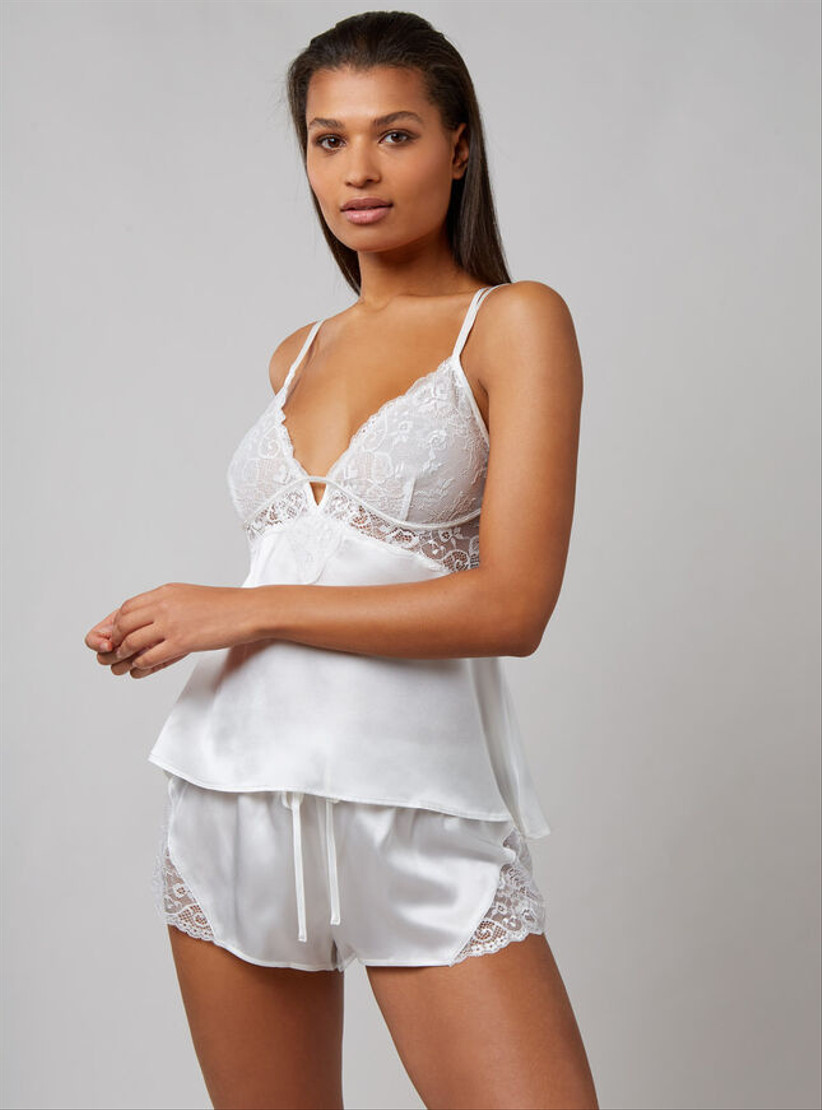 We love this chic cami PJ set. While it may not have the word 'bride' embroidered on it, the pretty lace and silk combination means it's unmistakably bridal.
33. Personalised Pyjamas - from £13.50, Etsy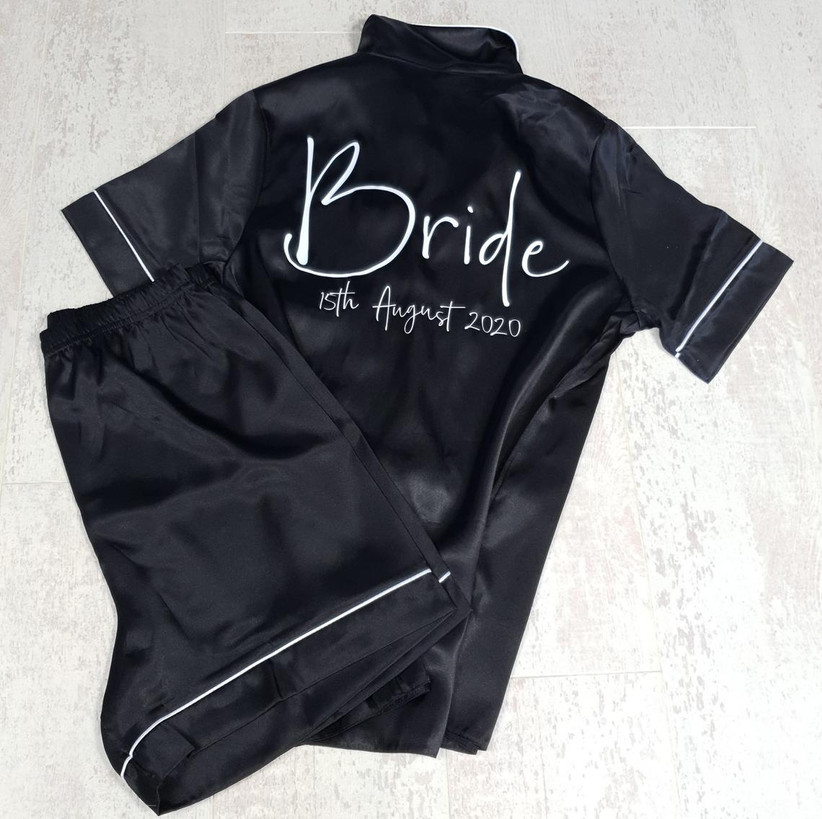 Who says bride pyjamas have to be white? This Etsy set will look particularly chic on the wedding morning, and can be personalised with your wedding date.
34. Samantha Silk French Camisole & Short - £38.50 & £49, Julianne at Figleaves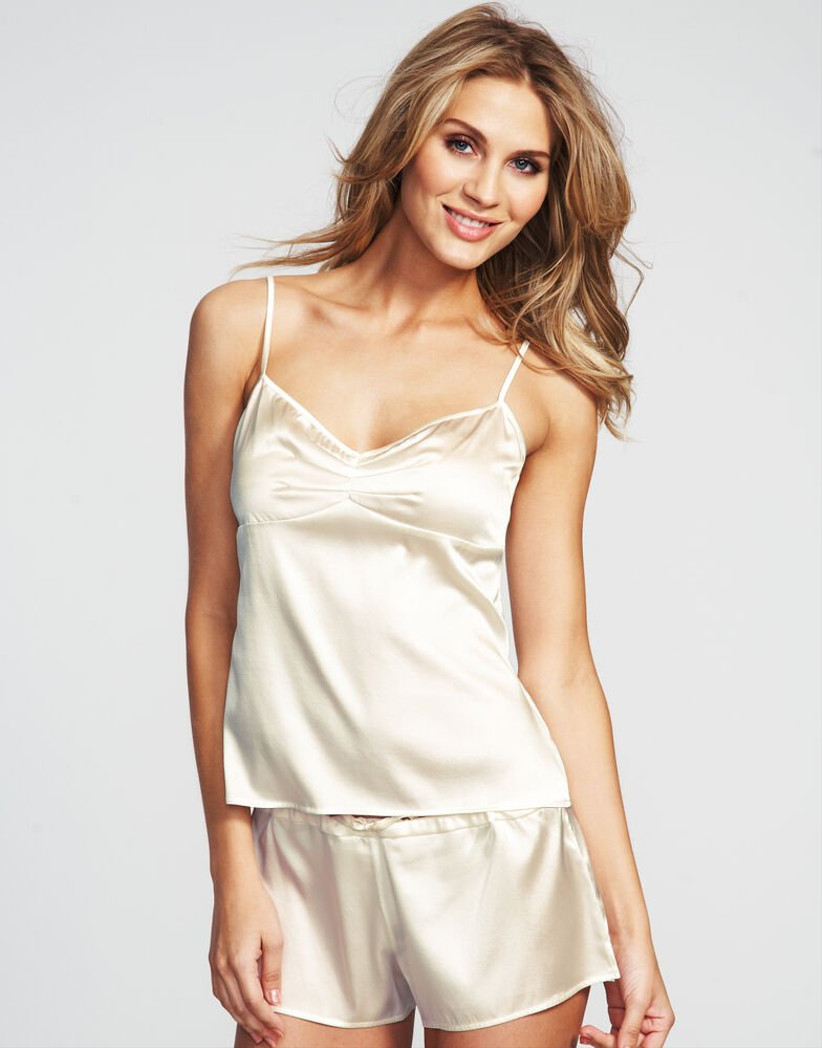 Together, this silk cami and shorts look so refined, giving you a sophisticated bridal style for your wedding morning. You can then integrate these versatile pieces into your post-wed nightwear wardrobe by easily mixing and matching with your existing PJs.
READ MORE: The Ultimate Wedding Hair Accessories Guide: 53 Gorgeous Ideas
35. Wifey Short Pyjamas - £16, Lovelei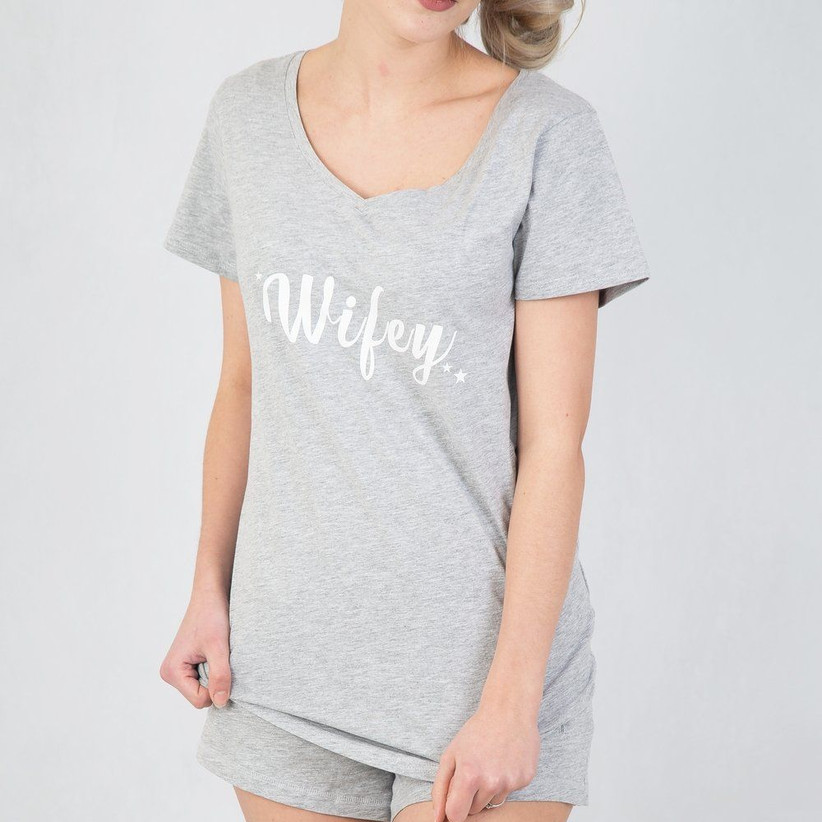 Keep it simple in this 'wifey' pyjama set. If you're in a heterosexual partnership, you may also want to check out the brand's 'hubby' PJ set for your groom's wedding morning, too.
36. Petra Long Sleeve PJ Set - £108.88, Homebodii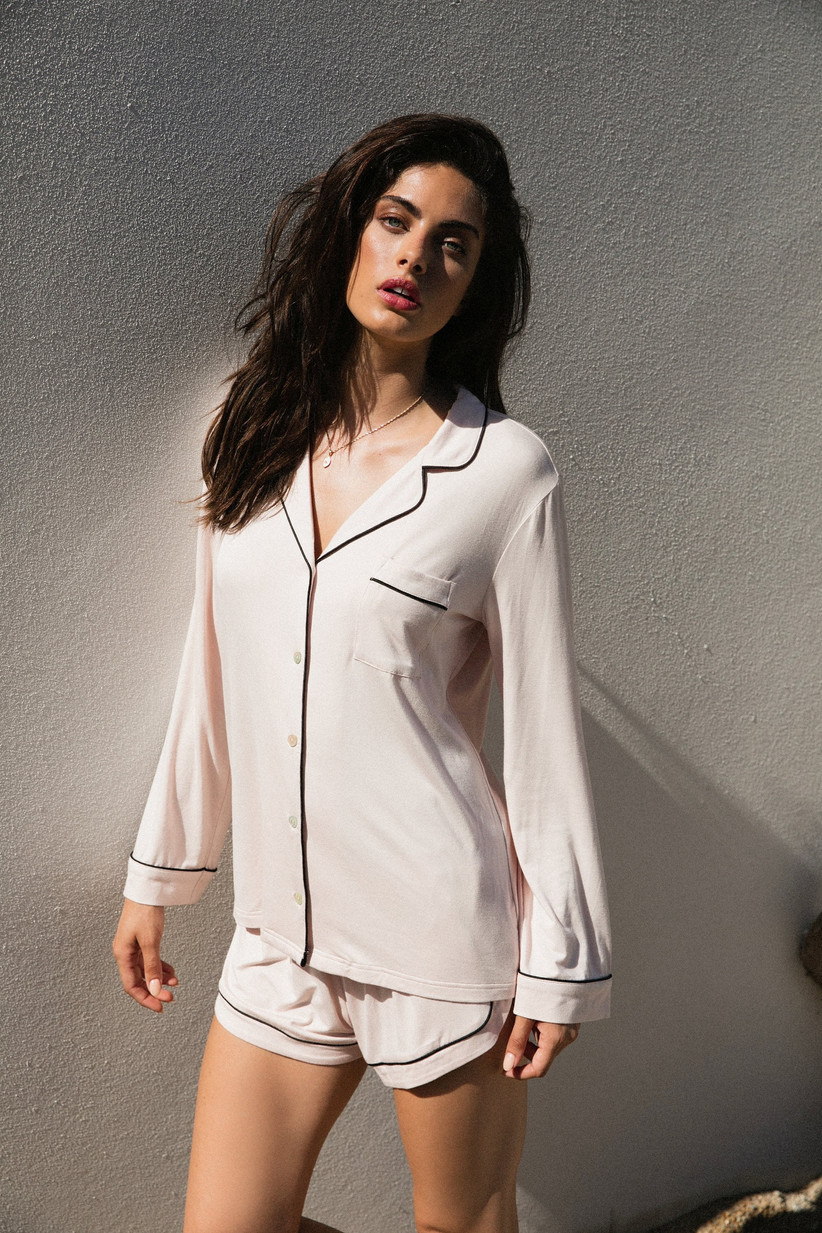 Australian brand Homebodii are the experts when it comes to lounge- and sleepwear that looks as good as it feels. Their Petra PJ set, in a romantic blush, would set the scene for a stylish wedding morning - and you can have it embroidered with your monogram for an extra charge.
Bridesmaid Pyjamas
37. Matching Bridesmaid Bridal Pyjama Set - £19.99, Etsy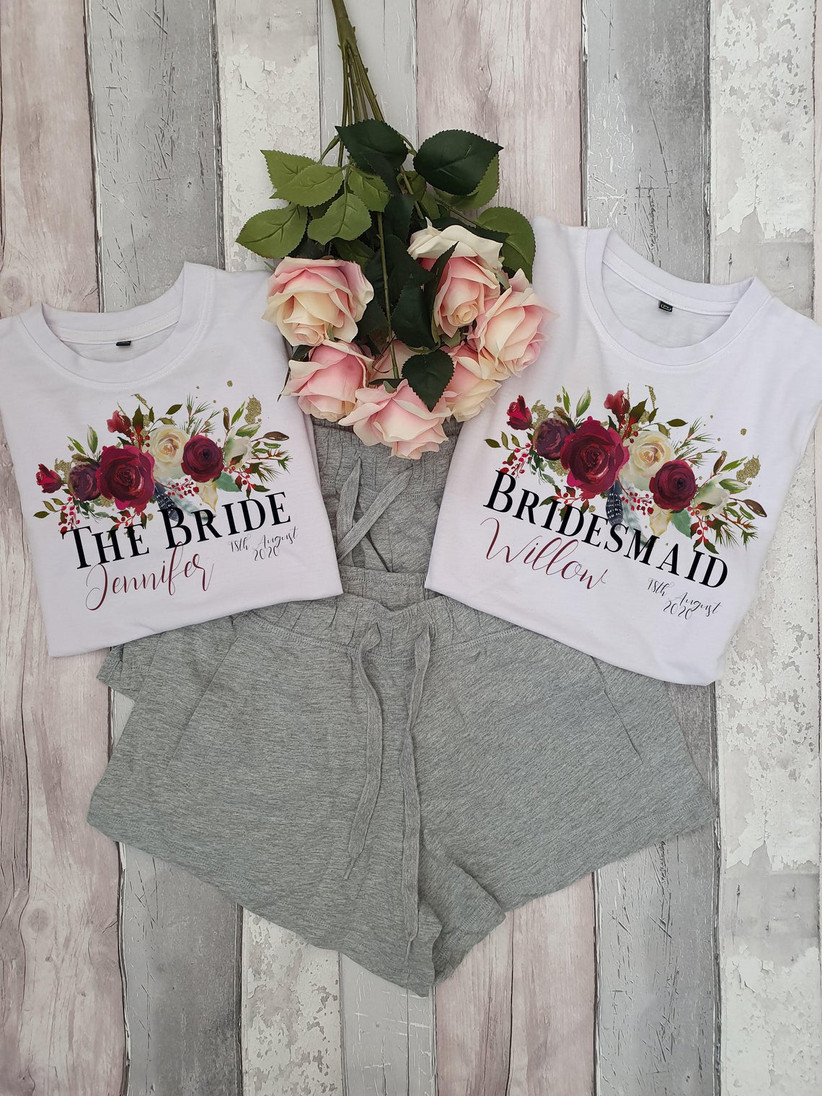 Want to match with your bridesmaids on your wedding morning? This pretty floral pyjama set comes in both bride and bridesmaid versions. It can be personalised with each member of team bride's name, making it feel that extra bit special.
38. Rose Gold Bridesmaid Embroidered Satin Short Set - £18, Boohoo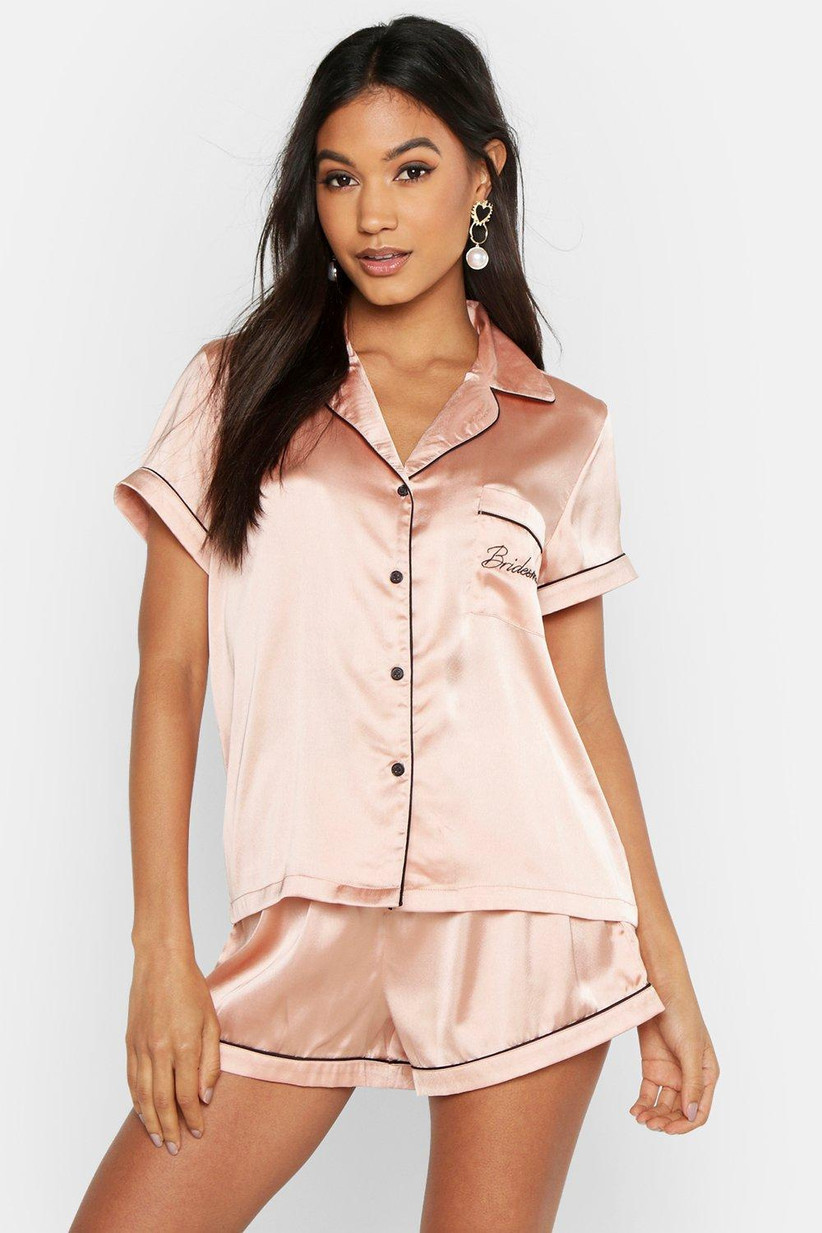 If in doubt, go for rose gold - it's a flatter-all shade that pretty much everyone is happy to wear. These Boohoo bridesmaid pjs certainly look like crowd-pleasers, with black piping contrasting beautifully with the pretty hue.
READ MORE: 10 Bridesmaid Proposal Boxes (and How to Make Your Own)
39. Bride & Bridesmaid Pyjama Sets - from £20.50, Etsy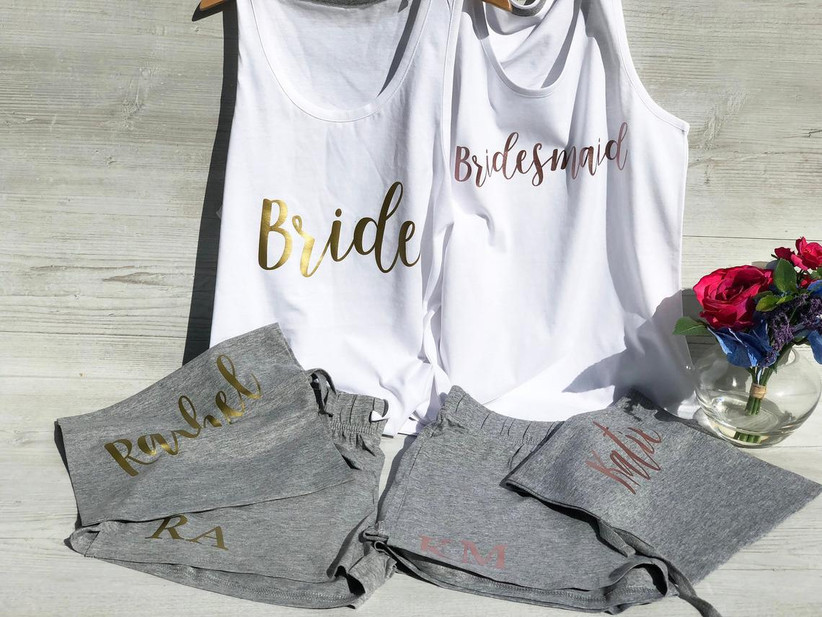 These cute bridesmaid pyjamas are available as shorts or long trousers, and come in tote bags with your girls' names on, making for a lovely, personal gift.
40. Ella Bridesmaid Pyjamas - £16, Lovelei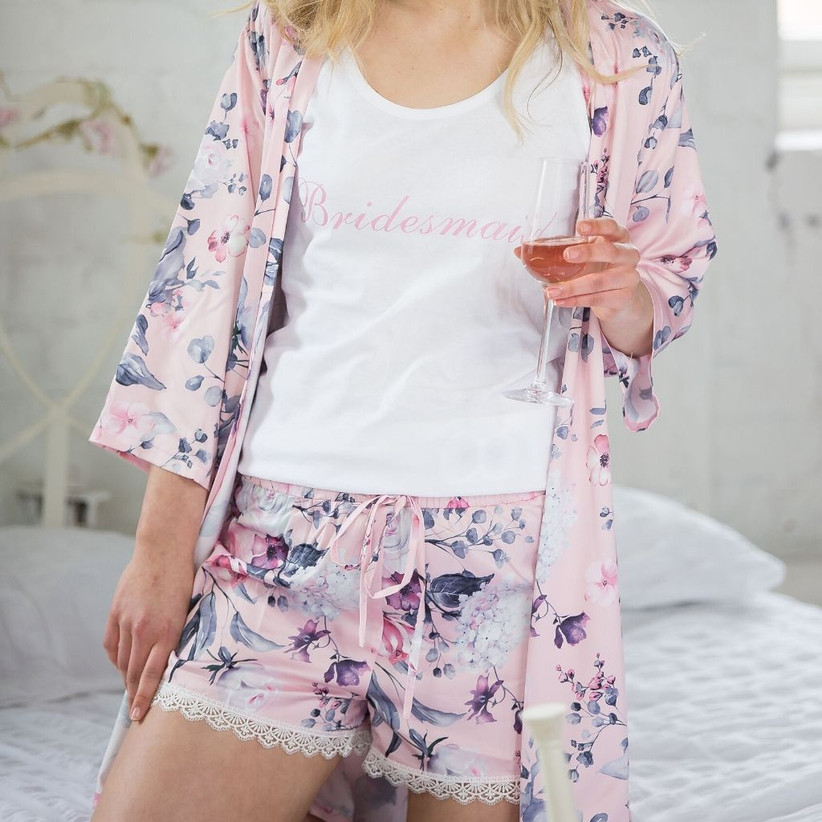 You can customise the top of this pretty bridesmaid set by changing the font style and colour. Want to say something more specific than 'bridesmaid'? No problem - the PJs are available for all sorts of wedding party role, from 'bride's bestie' to 'sister of the bride'.
41. Team Bride Pyjamas - from £16.99, Etsy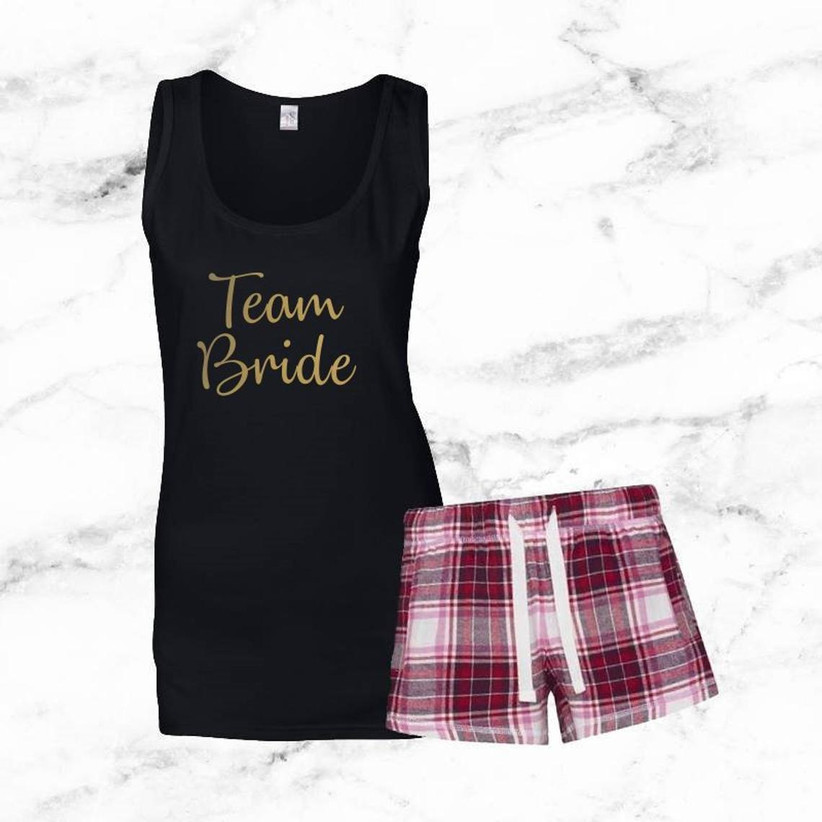 We love the checked PJ bottoms in this cute set for a bridesmaid wedding-morning look that's a bit different. You can also get the top in 'bride squad' and 'bride tribe' - and 'bride' if you want to match!
42. Bride's Squad Satin Trouser PJ Set - £12, Boohoo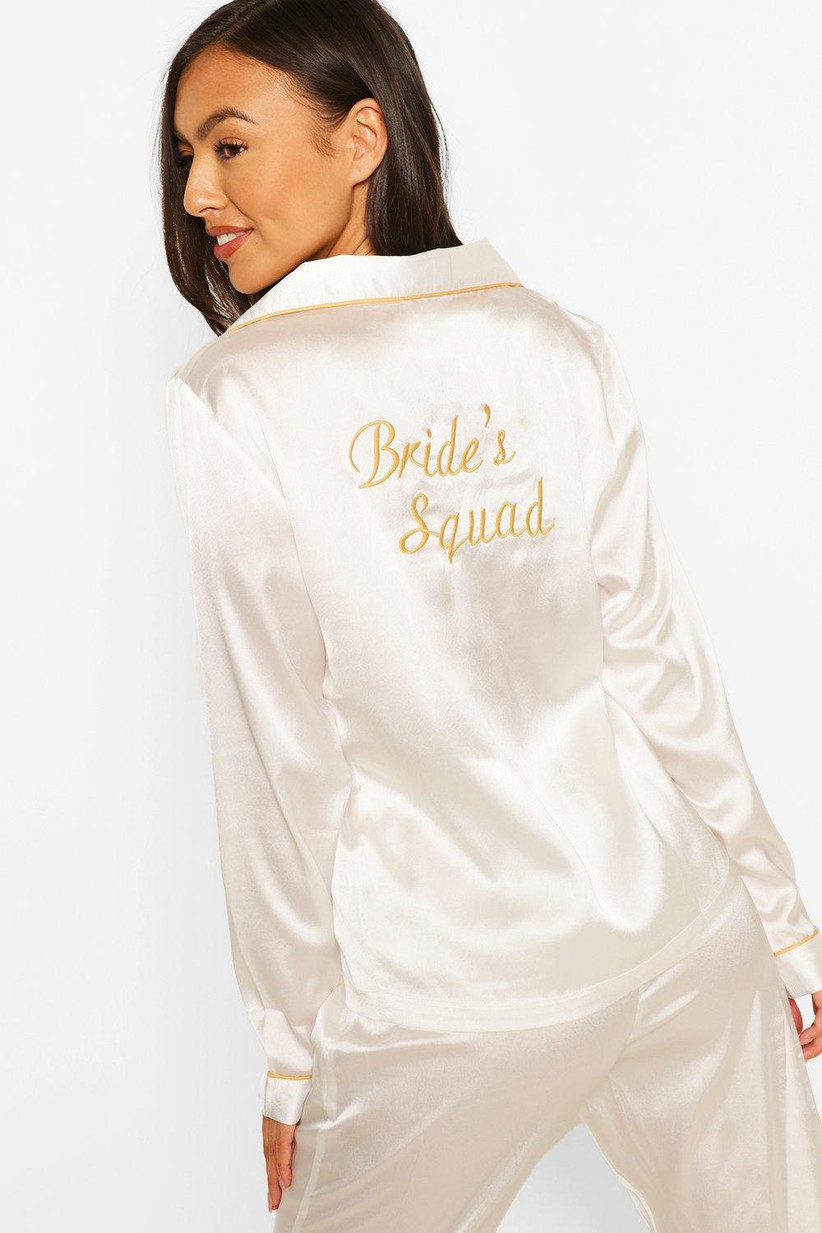 Get all your girls matching in white satin with these bargainous Boohoo PJ sets. 'Bride's squad' makes life simple if you've got a mix of people getting ready with you who all have different wedding party roles.
READ MORE: 32 Gorgeous Wedding Nail Ideas (That Aren't Just 'Nude')
43. Wedding Party Pyjamas - from £16, Etsy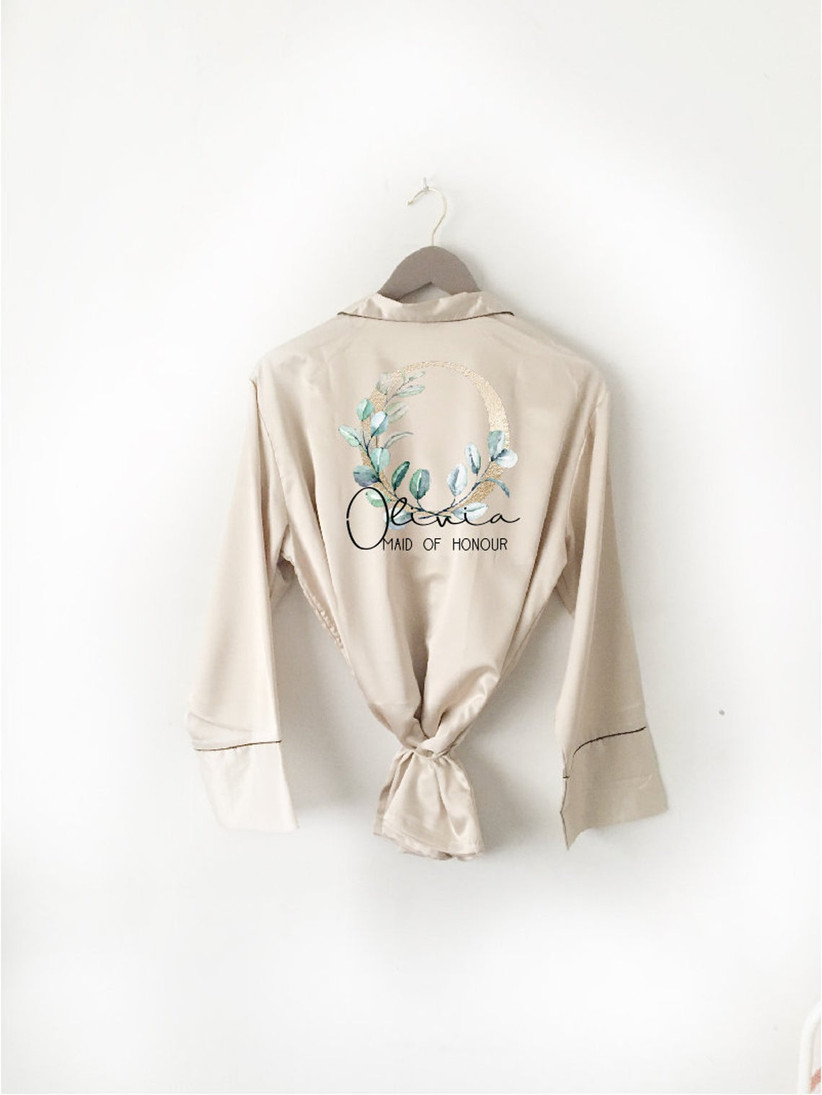 Whether you choose to order these beautiful pyjamas in the short or long version, we reckon your maids will be pretty thrilled with their wedding-morning looks. The PJs are available in different colours, but we think gold is a stylish choice.
44. Team Bride Pyjama Set - £24, Hunkemöller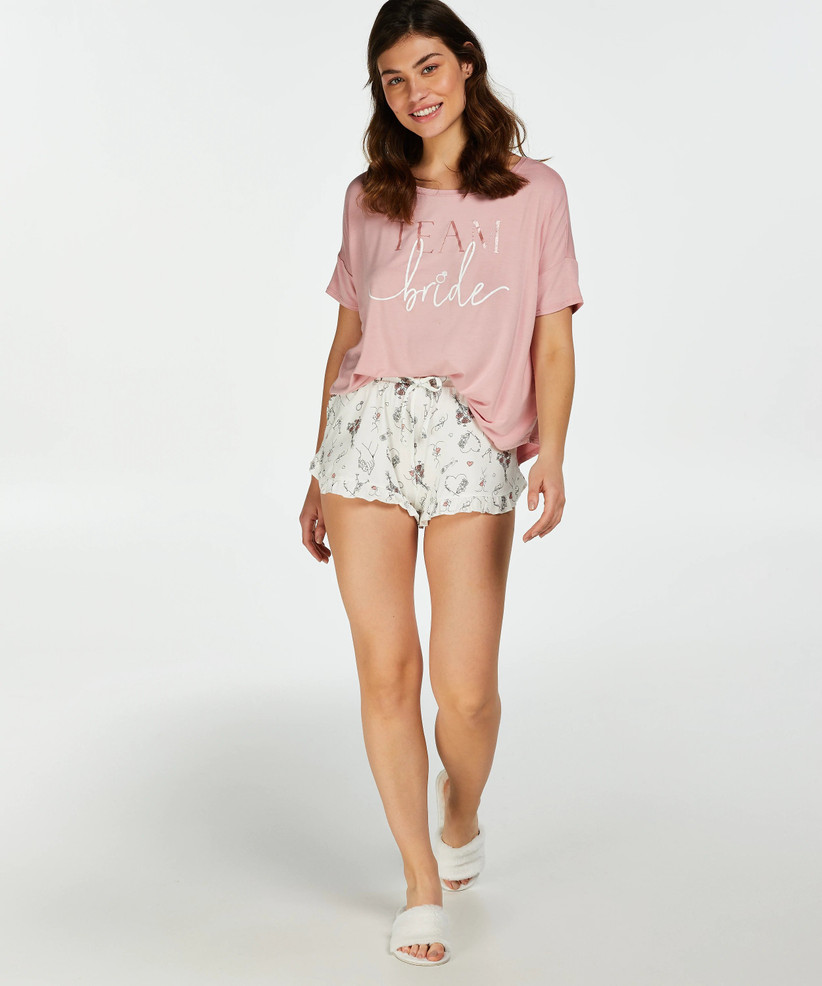 How cute is this Hunkemöller 'team bride' set? The illustrations on the pyjama shorts are pretty, and make for a real point of difference from other bridesmaid PJs.
45. Leanne Cotton Wedding Pyjamas - from £20.90, Etsy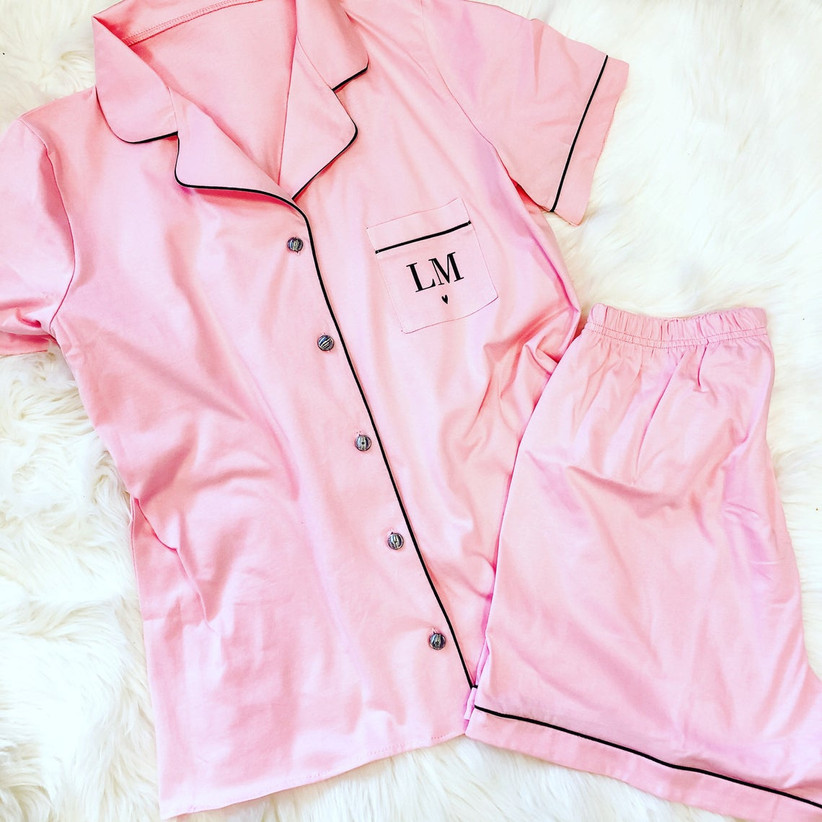 Want a co-ordinated look without the word 'bridesmaid' everywhere? These super-soft short pyjamas could be the answer. You can have them personalised with your girls' initials.
You may want to pair the bridesmaid pyjamas and robes with another thank-you present - if so, we have 30 bridesmaid gift ideas to suit every budget.
We have included third party products to help you navigate and enjoy life's biggest moments. Purchases made through links on this page may earn us a commission.