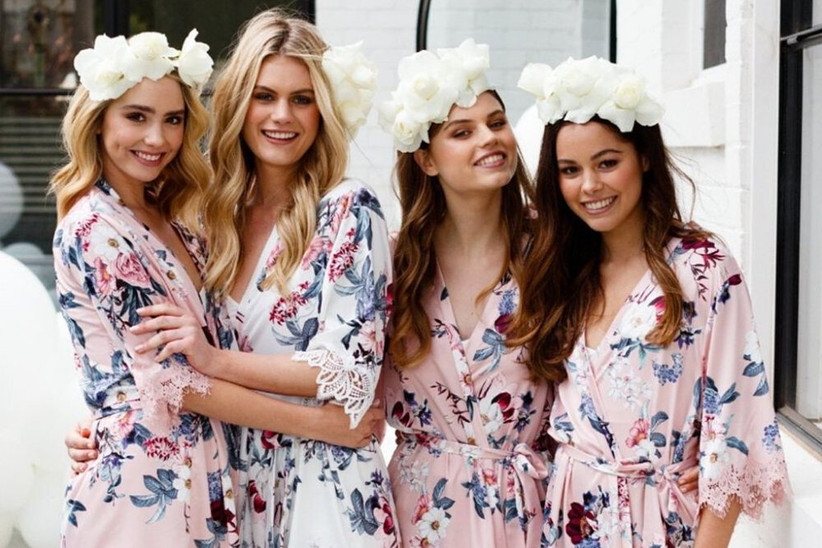 You might have found the perfect wedding dress and chosen some gorgeous bridesmaid dresses, but the party starts long before you put them on.
Photographers now arrive much earlier in the day, snapping all of the girly moments that happen as you perfect your wedding hair and make up. It's no surprise you're going to want a cute outfit to get ready in.
Bridesmaid and bride dressing gowns and pyjamas are the perfect solution, and there are so many options available.
Once you've found your dream bridal robe, treat your bridal party to anything from a personalised bridesmaid dressing gown to cute and chequered bridesmaid pyjamas. As well as looking great in the wedding album, they'll be the perfect gift to show your girls how much you appreciate them which they'll be able to treasure forever.
Here are our favourite bridesmaid and bride dressing gowns and pyjamas which you and your squad will be itching to strike a pose in.
Bride Dressing Gowns
Georgina Keeley White Bridal Robe, From £95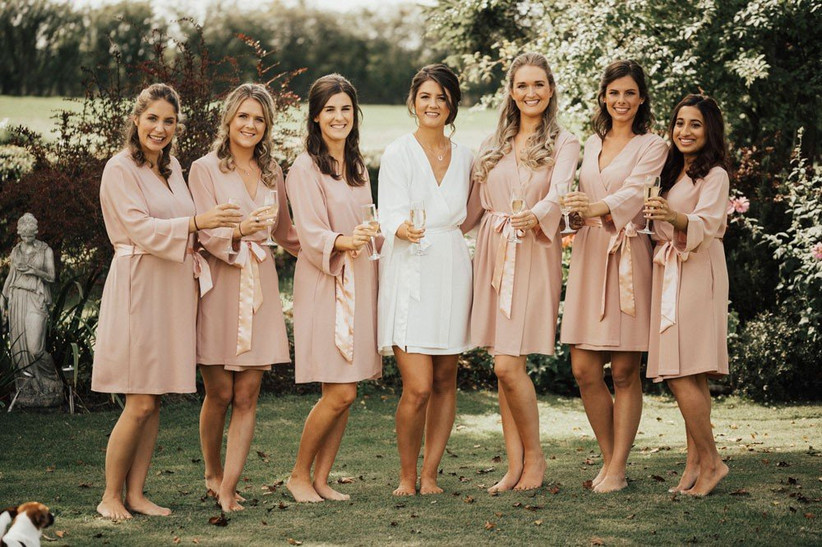 Emerging British designer Georgina Keeley's collection has been created to completely transform how you feel on the morning of your wedding. And we couldn't love this gorgeous white bride dressing gown more.
It is silky soft with an elegant satin sash, and can be embroidered with stunning gold lettering. This is one of the most sophisticated personalised dressing gowns we've come across in a while. Keep reading, because Georgina has plenty of matching options for your bridesmaids too!
Victoria's Secret Satin and Lace Kimono, £34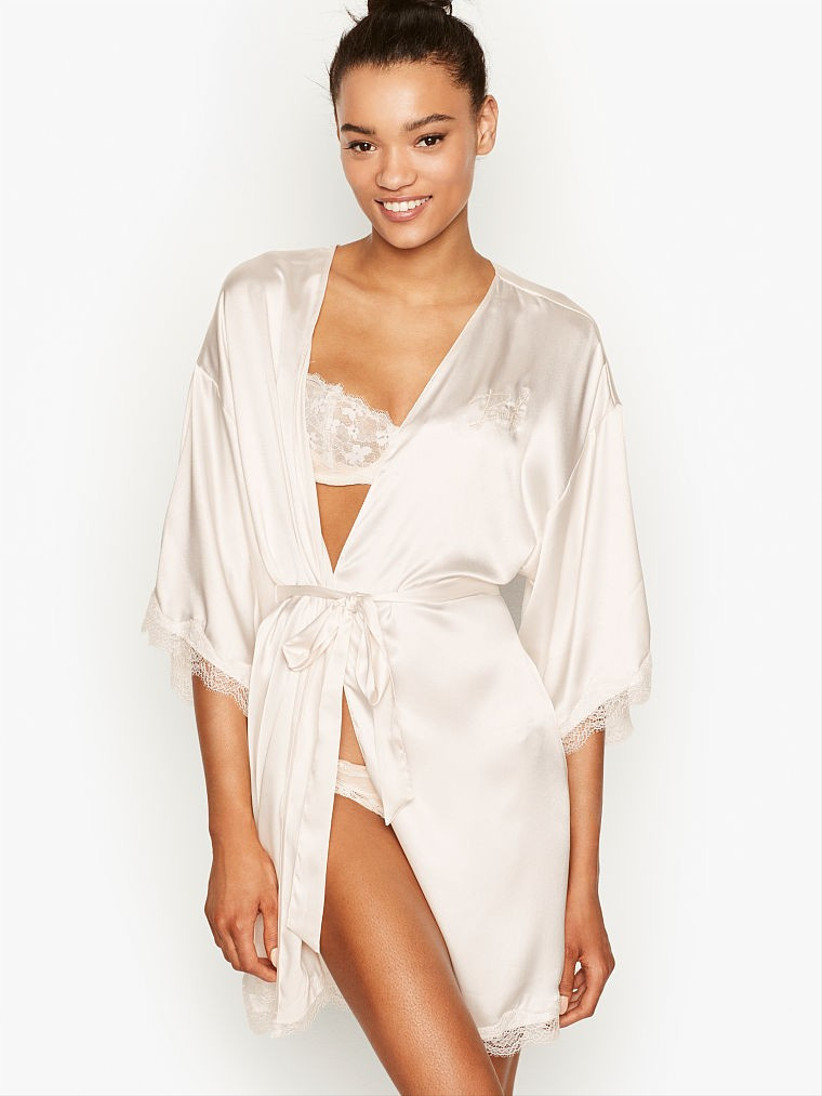 For the lavish brides amongst you, this sexy lace-trimmed bridal robe by Victoria's Secret is your only choice. It is a silky smooth wrap-style bride dressing gown which cuts off mid-thigh for a super flattering fit.
Love Lei White Bridal Robe, £15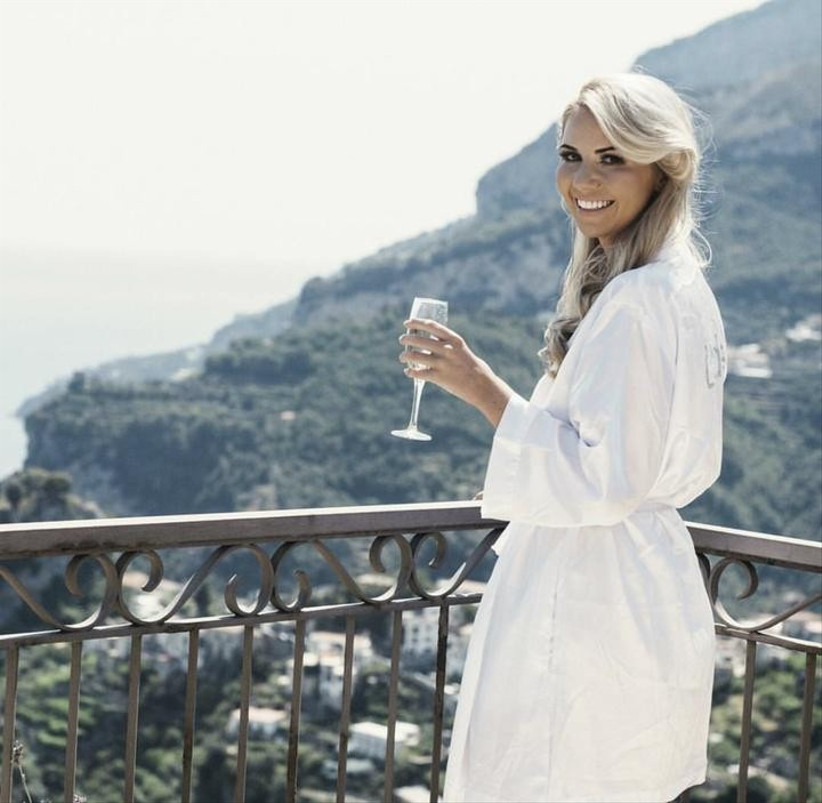 Love Lei is one of the leading bridal party robe brands in the UK and traditional brides will love this simple bridal dressing gown. The classic white silk design is flattering and can also be personalised on the front and back. You'll be sure to feel a million dollars on your wedding morning in this.
H&M Satin Kimono, £19.99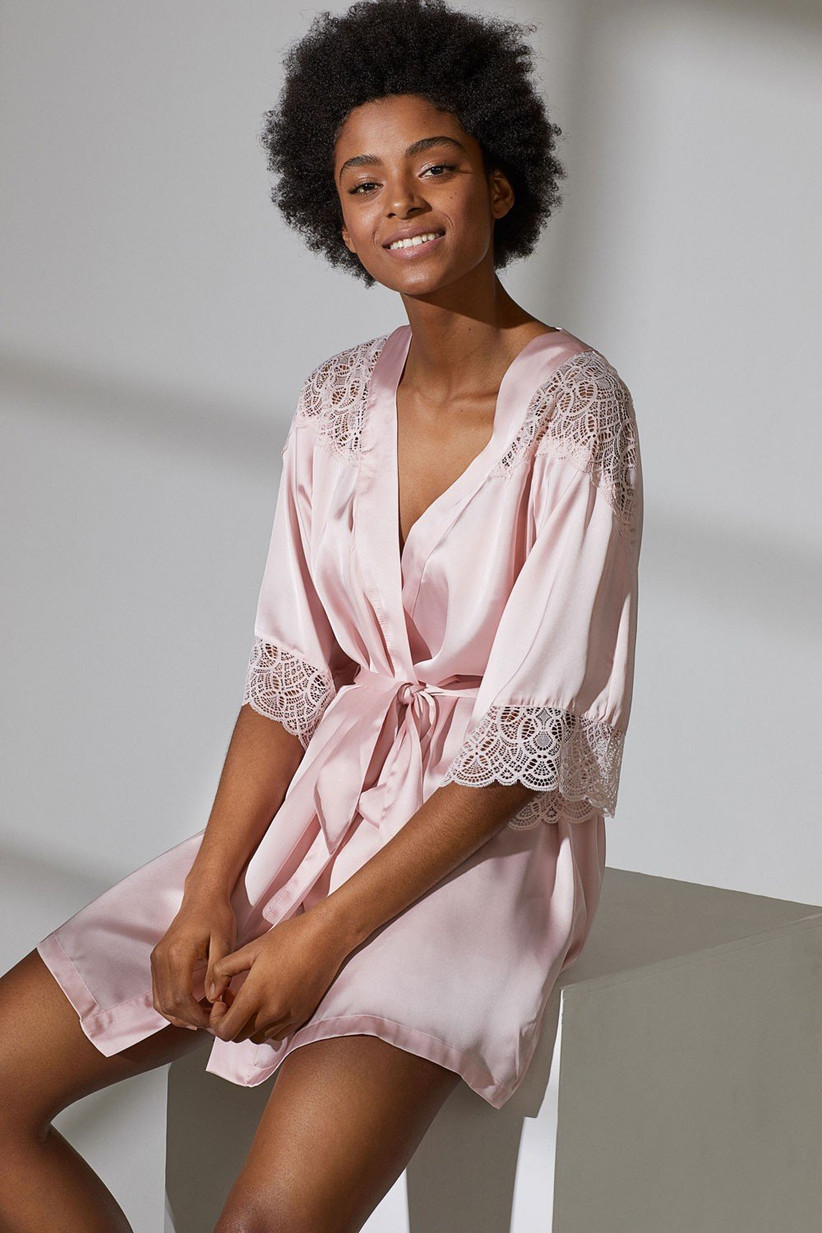 You've gotta love a lace trim! Take it to the high street and dress yourself in this gorgeous (and super affordable) satin kimono by H&M. We love the blush shade for a classic and feminine look, but it also comes in black if you're one for breaking those traditional wedding rules. This is such an elegant style.
Figleaves Gigi Galloon Lace Robe, £50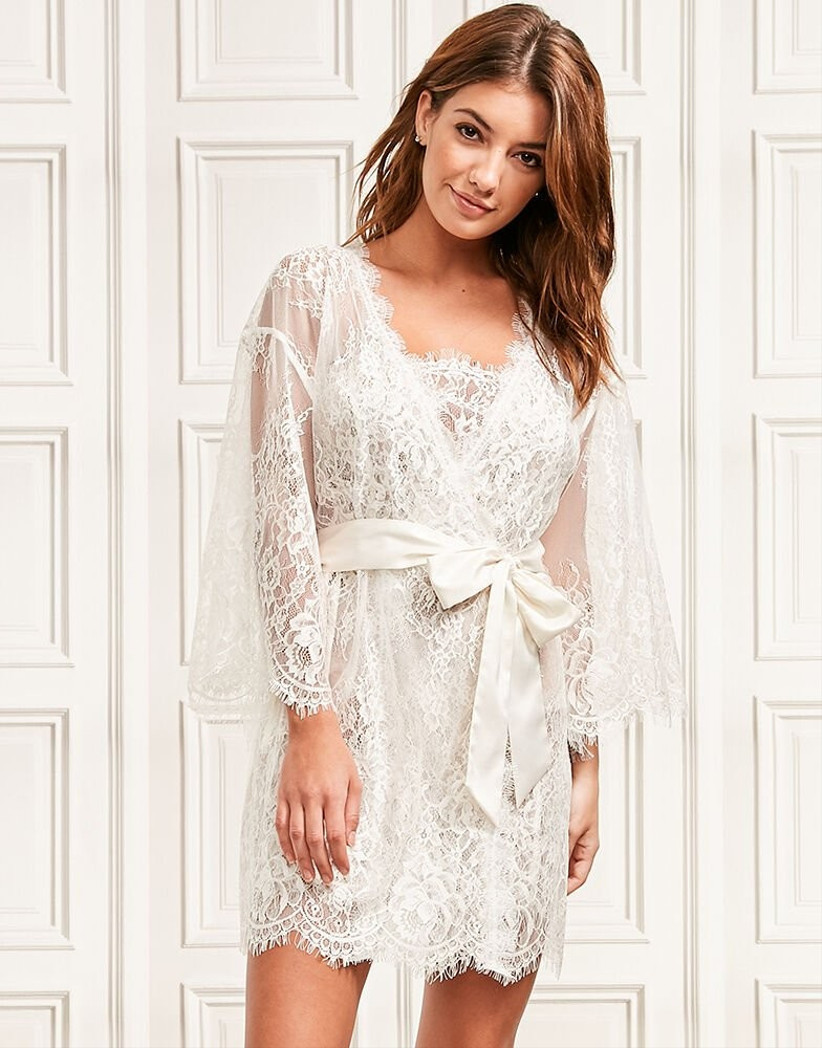 If you want to feel extra special on the day then this Gigi Gallon Lace Robe is perfect. The all-over sheer lace look and silk trim will make you feel sexy and glam as you get ready with the girls.
CrystalsRus Varsany Ivory Rhinestone Bridal Set – £25.99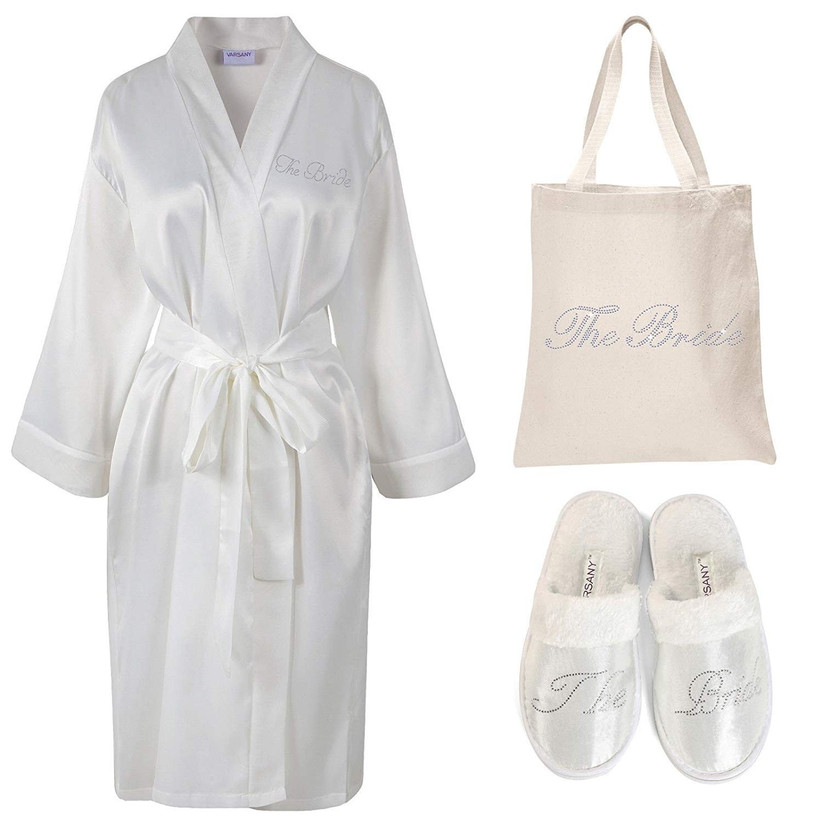 What's better than just a gorgeous ivory satin robe? A robe set with slippers and a tote bag, all with 'The Bride' written on them in crystals! You'll love getting ready with these fluffy slippers keeping your toes warm and you can store all the things you need to take to the venue – like your emergency bridal survival kit – in the tote.
Bridesmaid Dressing Gowns
Georgina Keeley Blush Bridesmaid Robes, £95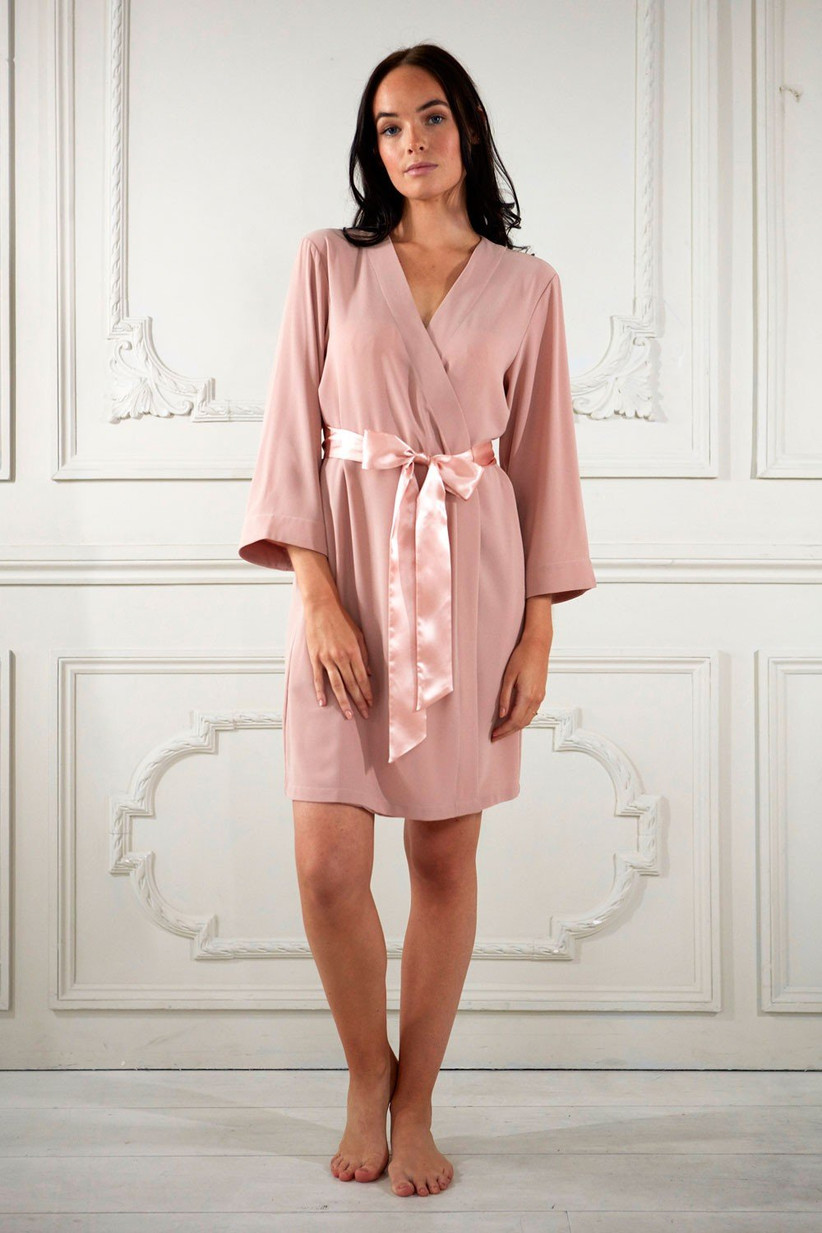 Nothing says 'thank you for being my bridesmaid' quite like a classic and feminine robe by emerging British designer Georgina Keeley. This blush pink design is perfect for your squad. Georgina's designs are super soft on the skin, and can be delicately embroidered with gorgeous lettering for that lovely, personal touch.
Boohoo Candy Stripe Bridesmaid Robe, £18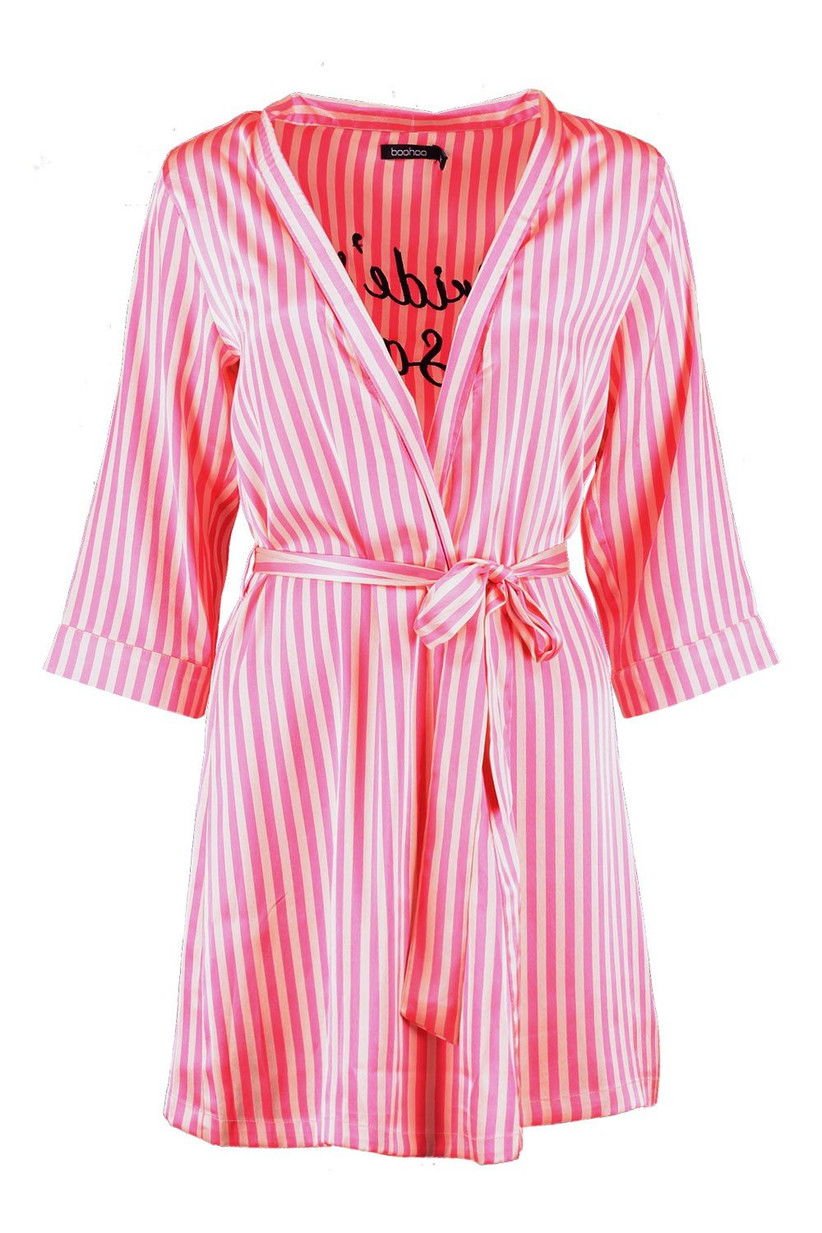 If you're watching where you spend your pennies, these super affordable and equally as cute bridesmaid dressing gowns are a great option. We love the pop of coral and striped detailing – they'll really make your bridesmaids stand out in the wedding snaps!
Love Lei Laila Floral Pink Robe, £20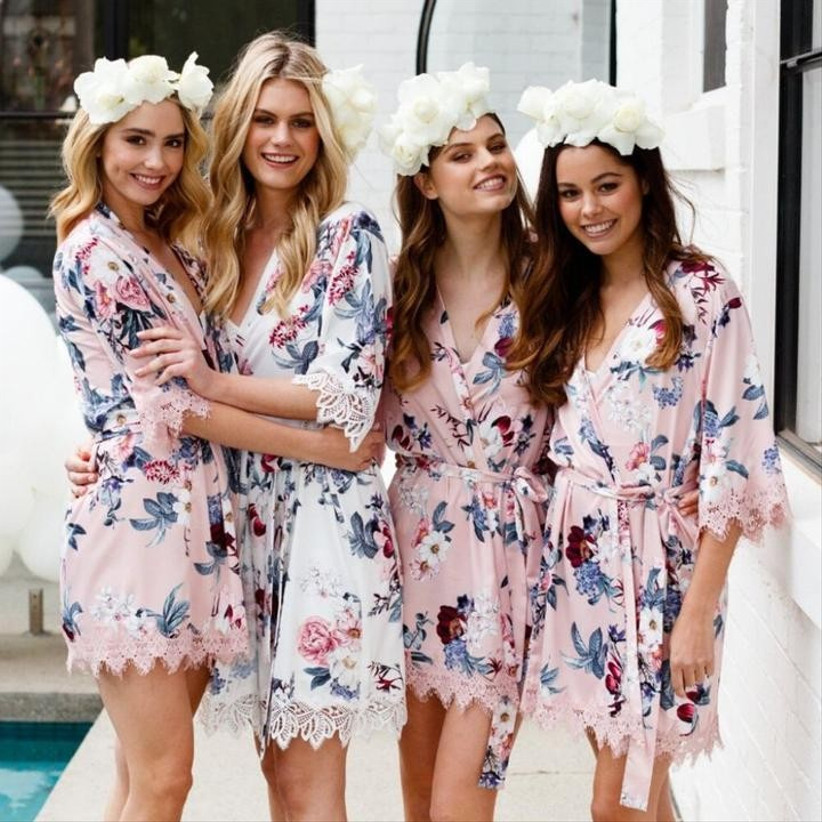 If you're getting married in the spring, then this floral design for your bridesmaids is the perfect option. Phones and Champagne flutes at the ready, because these personalised dressing gowns are screaming to be Instagrammed!
Boux Avenue Lace Trim Kimono – £48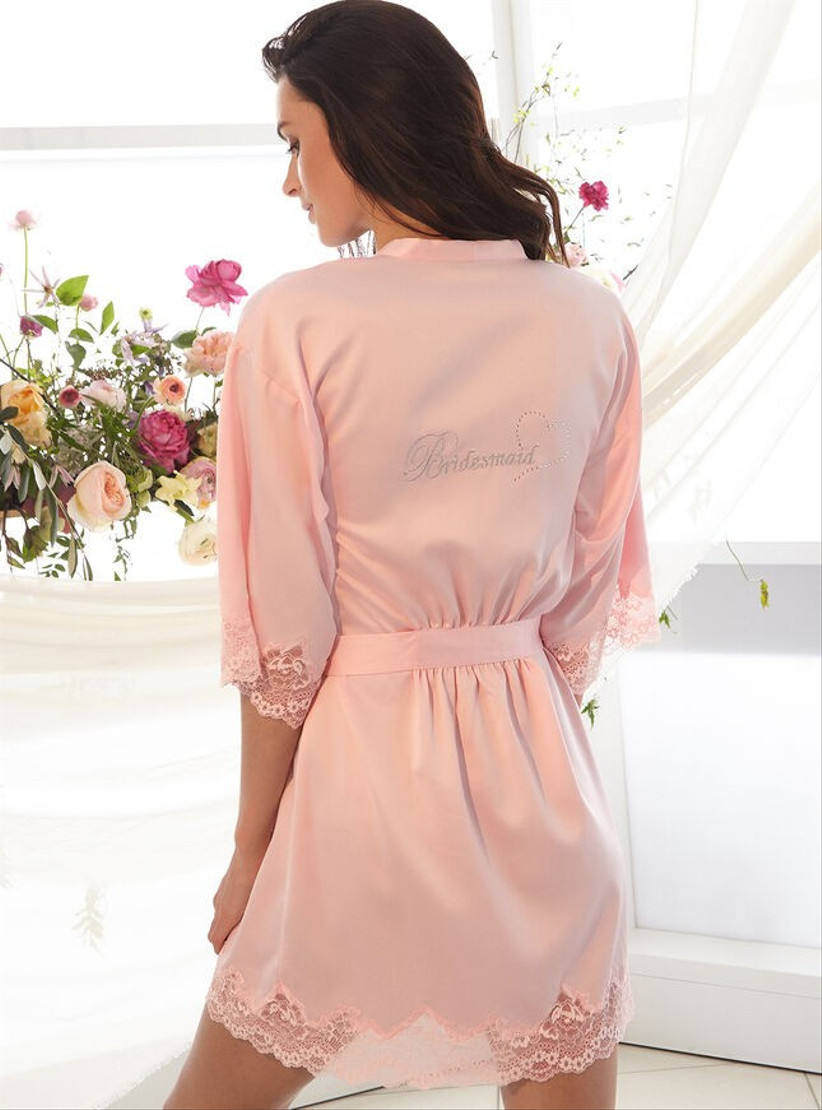 This pretty bridesmaid robe has silver lettering on the back, making all your bridesmaids feel special on the big day. The lace on the arms and skirt gives it that extra special touch and will look great in the wedding snaps.
Bridal Party Gowns
Fancy buying your bridal party gowns together to make sure you match with your bridesmaids? Look no further than these gorgeous designs which work for both the bridesmaids and the bride.
We love these bridesmaid robes for their endless personalisation options. You can mix up the font, the floral print and the design to create something completely unique to your day.
If you're getting married at a unique wedding venue, then these individual designs will be the perfect pairing. Choose white for yourself and a lovely pastel shade for your girls. It'll make sure you stand out.
Baby Yorke Wedding Day Dressing Gowns, £35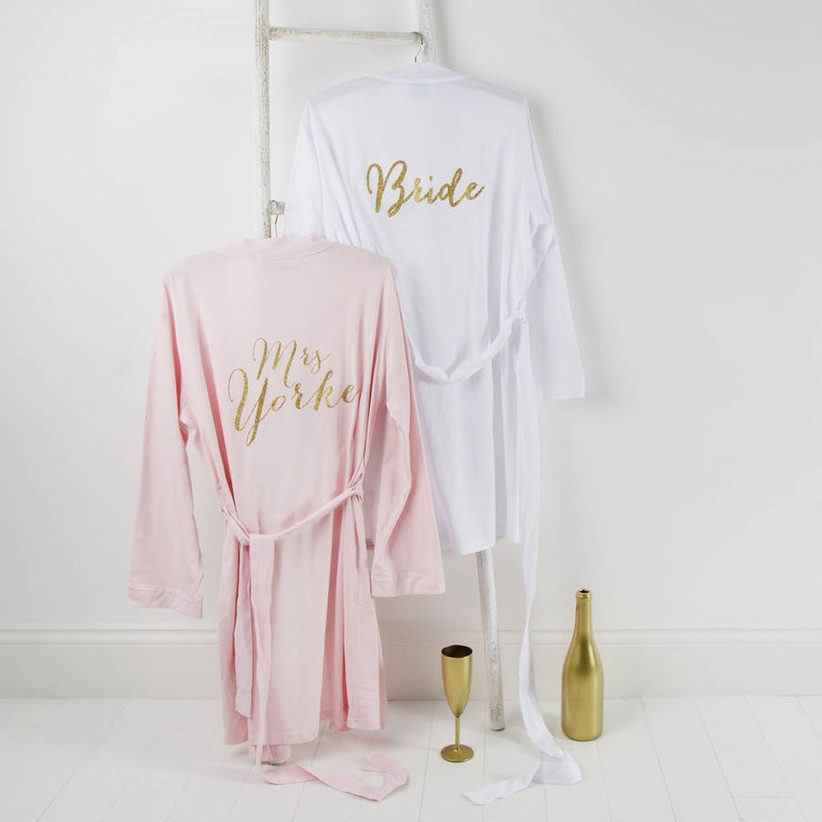 The gold lettering on the back of these Baby Yorke personalised dressing gowns adds a certain touch of glamour to the design, perfect if you're planning a glamorous celebration.
They come in two colourways (we think white would be perfect for the bride), and we love that you can incorporate your new surname into the lettering for your own gown! Personalise the gowns of your bridesmaids with their names or simply "Bridesmaid".
HA Designs Personalised Gowns, £55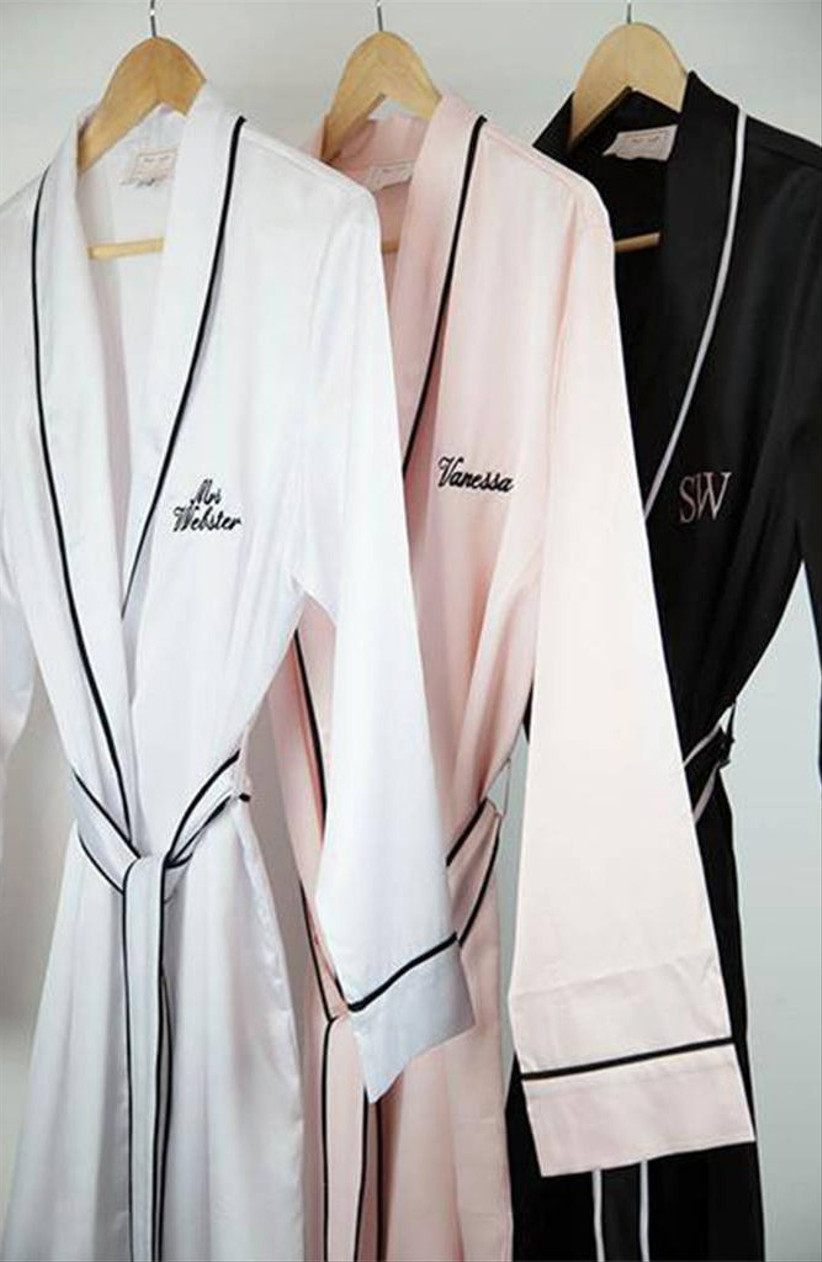 If you're looking for more traditional gowns, these are perfect. Trimmed with black lining on the sleeves and collars, the long robes come in an array of colours. They can also be personalised for you and your bridal party.
Holly and Fred Prints Personalised Robe, From £15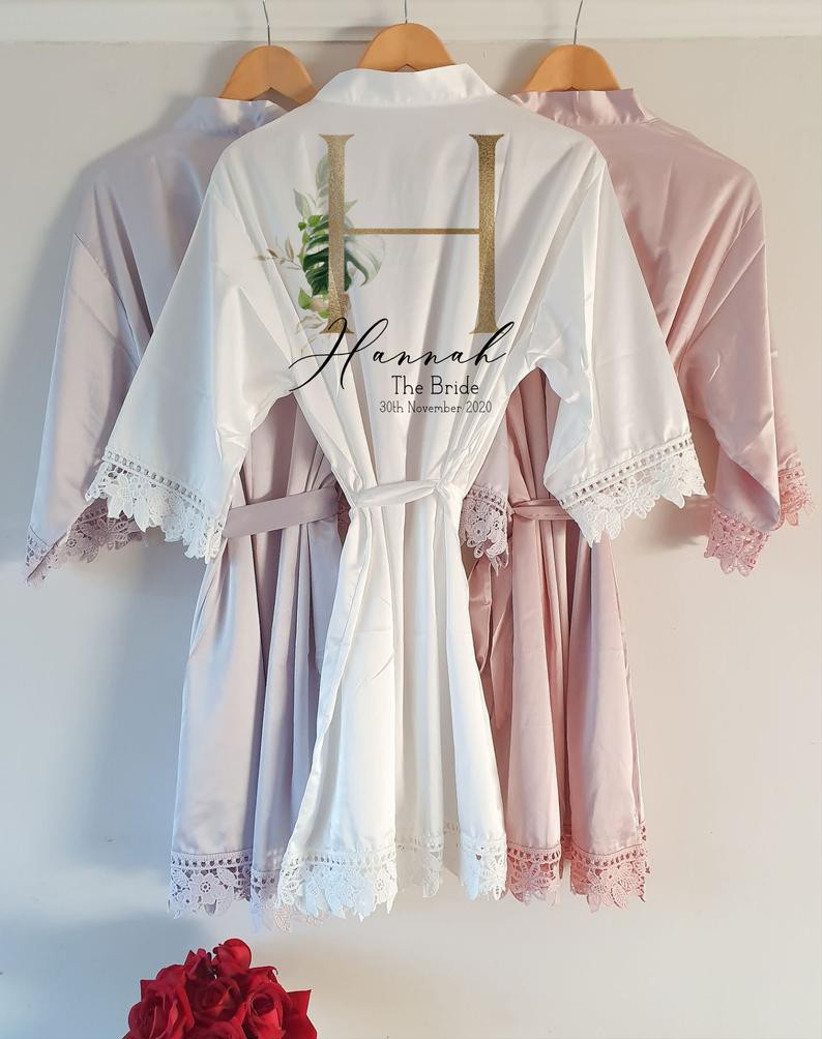 We never fail to find something super cute and unique on Etsy and when we stumbled across this gorgeous bridal dressing gown by Holly and Fred Designs, we were immediately sold!
The lace trim detailing is super cute and the large initial on the back makes for a nice touch. What's more, this design comes in an array of colours, from dusty rose to sage green. Whatever your colour scheme, there will be something for you and your girls.
YAOMEI Glitter Bride Kimono – £14.99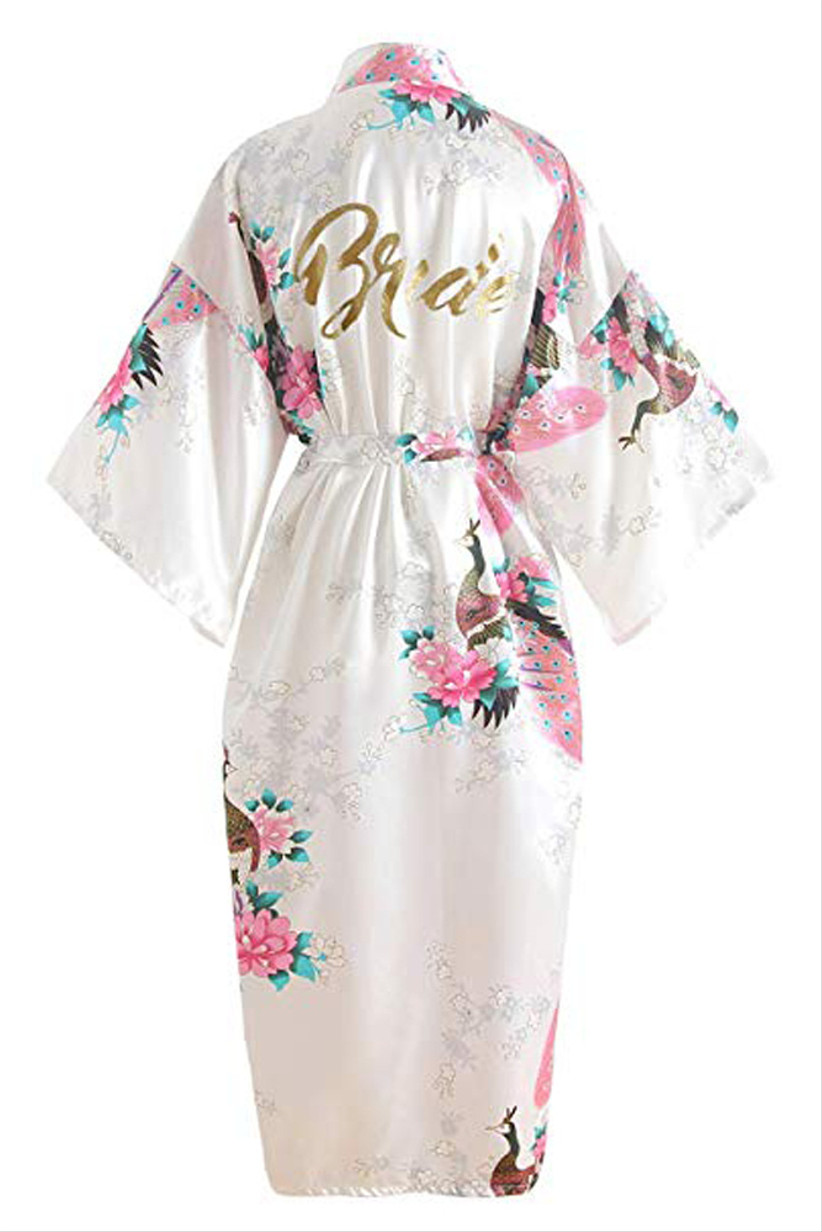 This bargain robe from Amazon looks much more expensive than its price tag. Coming in 18 different colours, there's guaranteed to be one that suits you and your wedding colour scheme. These come with Bride or Bridesmaid written in glitter on the back so each person in your party can get one. We love the Japanese-inspired print and chic cherry blossoms.
Bride and Bridesmaid Pyjamas
Keep Life Simple Tropical Bridesmaid Pyjamas, From £34.42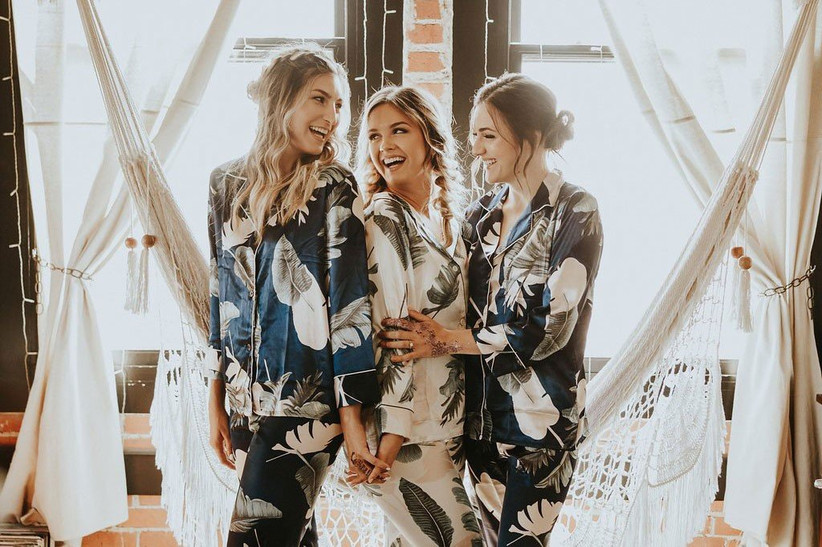 You don't need to get ready in robes to start your day right. How about treating your bride squad to some super-cute bridesmaid pyjamas instead?
These bride PJs by Keep Life Simple Designs are totally gorgeous and a little different from the usual pink colour palette. We love the tropical print because it is totally on trend but still super pretty and feminine!
SS Weddings Bridal PJs, From £33.21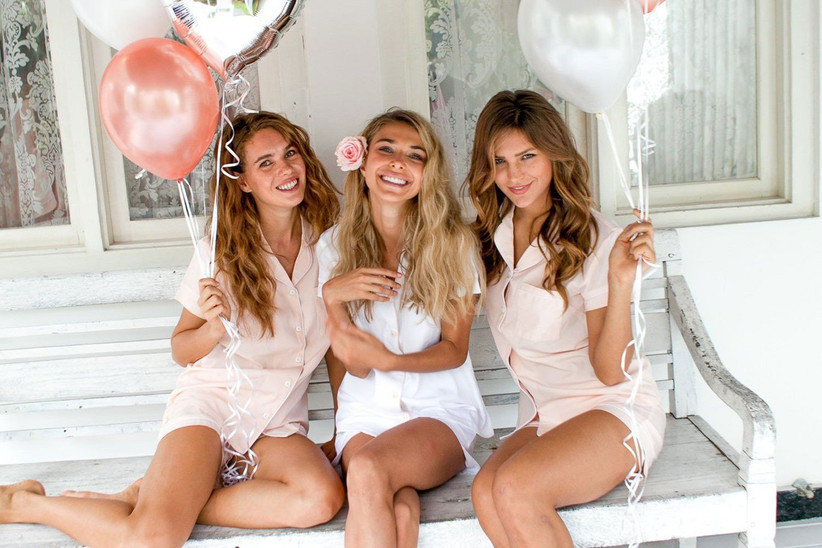 If a cute shirt and shorts set is what you're after, then look no further than these gorgeous cotton bridesmaid PJs by SS Weddings. Choose the sleeve and leg length, mix up the colours to fit your colour scheme, and get every set personalised. This style is so cute!
Keep Life Simple Bridal Party Pyjamas, From £34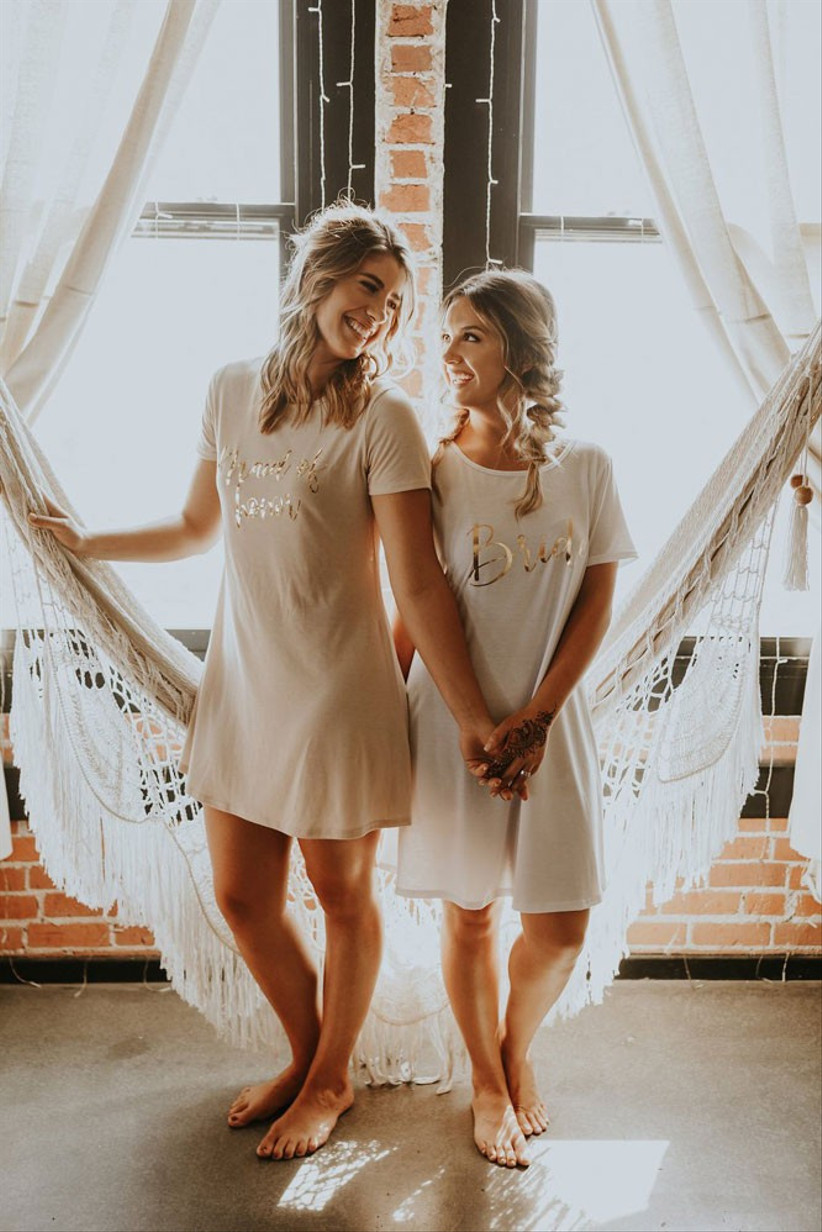 Get ready in style with super cosy and super comfy sleep shirt dresses. These come in every colour from champagne to burgundy, and we love the gold lettering for a glamorous finishing touch.
SS Weddings Plaid Pyjama Set, From £36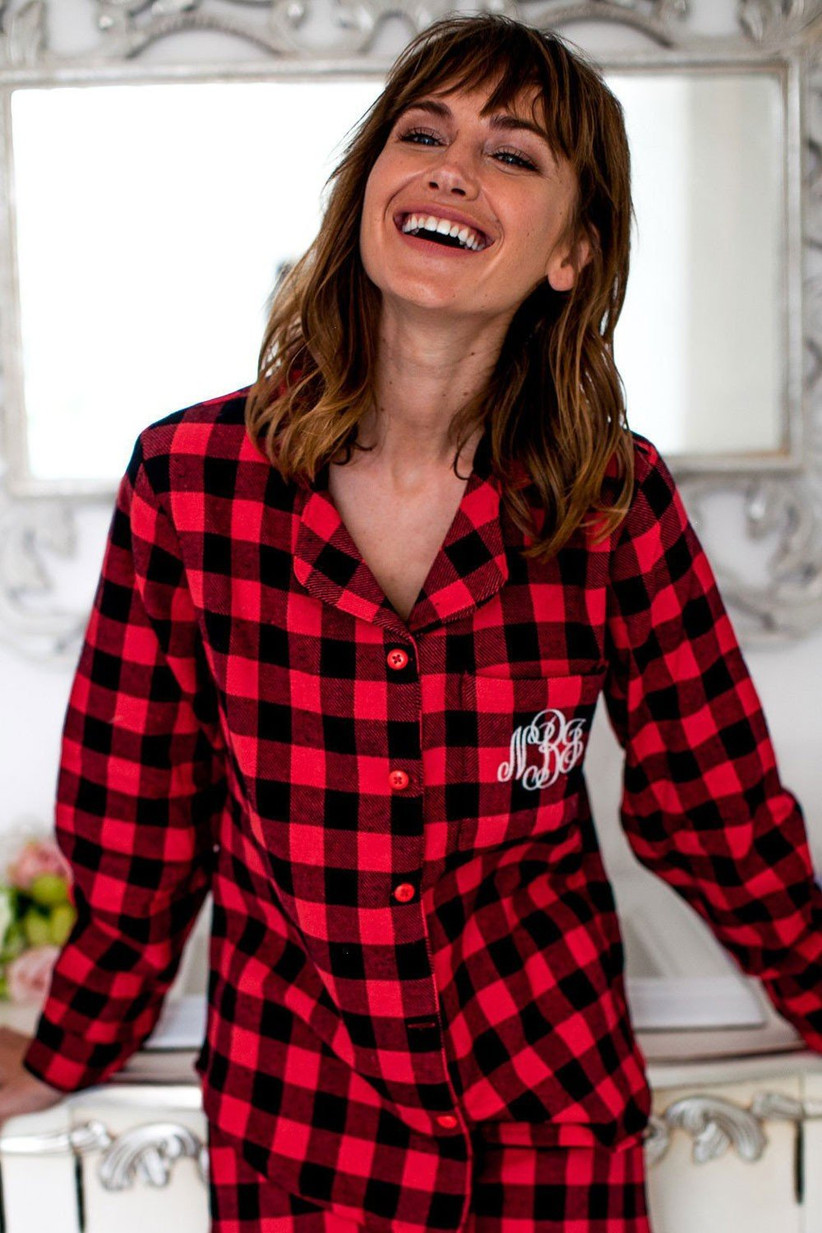 Getting married in the winter? These gorgeously festive plaid pyjamas by SS Weddings will be the perfect option to keep you and your bridesmaids cosy whilst you get ready.
The luxurious flannel material will feel super soft next to your skin from the moment you wake up on your big day. Have the pockets embroidered with the initials of your girls, and choose a different colour for the bride's choice to set yourself apart from the rest.
Your bridesmaids will love getting ready in whatever robes or pyjamas you choose. If you really want to push the boat out, pair their pyjamas with another little gift – we have plenty of options which won't break the bank!