75 Father Daughter Songs Perfect for Your Wedding Day
The father daughter dance is a special moment for the bride and her Dad to share together after the excitement of the day. Here are 75 of the best father daughter dance songs - and a handy Spotify playlist!
We have included third party products to help you navigate and enjoy life's biggest moments. Purchases made through links on this page may earn us a commission.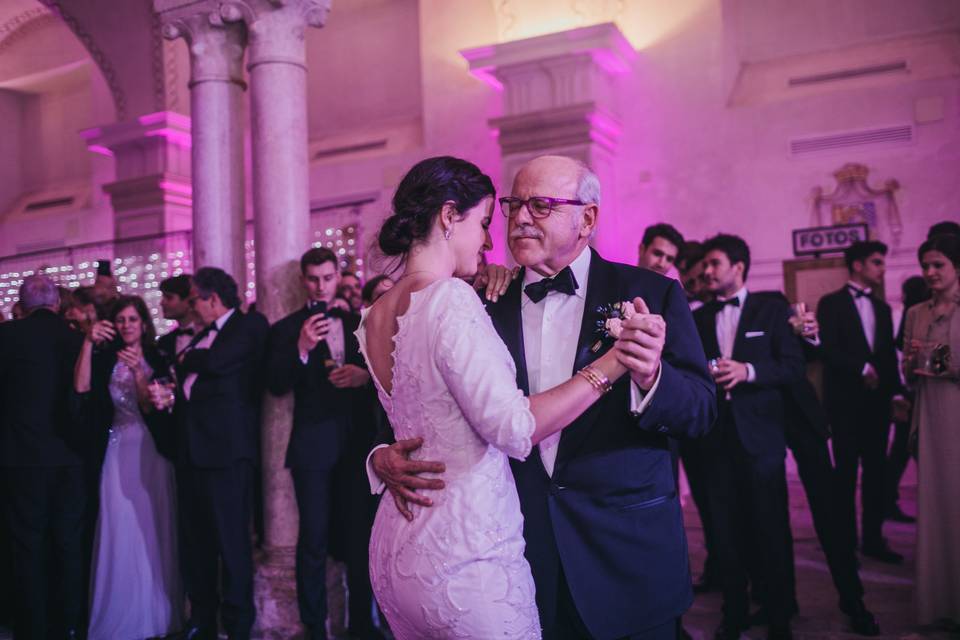 The father daughter dance comes just after the couple's first dance. It's a touching moment between you and your Dad, remembering him as the first special man in your life as you start a new future with your partner. After all, there's no relationship quite like the father-daughter one.
It can be tricky to get the right father daughter wedding song. You want something tender and showing how much you love each other, but nothing that gets a bit awkward halfway through when you realise it's about an altogether different kind of love… The father daughter dance songs below are guaranteed to have everyone tearing up when you take to the floor with your Dad for the right reasons.
Unlike the first dance song which is advisable to practise in advance with your partner, the father daughter dance can be a little less polished. Let your Dad lead and just have fun.
You don't have to go for a slow song – some of the best father daughter dances we've seen have been choreographed ones that have come as a total surprise to everyone watching. But if you just want to do a simple slower dance, go for it. It's all about treasuring that special moment with your Dad.
It's becoming more common for grooms to ask their Mum to dance during this second song too. If you're both going to be dancing, make sure you both like the song you pick.
The 75 Best Father Daughter Dance Songs
If you're looking for a way to thank your Dad and a cherished moment to remember forever, try one of these father daughter dance songs below. We've put them into this handy Spotify playlist and then you'll find the full breakdown of the 75 below.
1. Daddy's Girl – Katey Sagal
2. Isn't She Lovely – Stevie Wonder
3. You'll Be In My Heart – Phil Collins
4. My Little Girl – Tim McGraw
5. Sweet Pea – Amos Lee
6. Changes – Ozzy Osborne & Kelly Osborne
7. Dance With My Father – Luther Vandross
8. Wind Beneath My Wings – Bette Midler
9. Forever Young – Bob Dylan
10. My Girl – The Temptations
11. I'll Be There for You – The Rembrandts
12. Daughters – John Mayer
13. Lean on Me – Bill Withers
14. You've Got A Friend In Me – Randy Newman
15. Ain't No Sunshine – Bill Withers
16. There She Goes – Sixpence None the Richer
17. You Are My Sunshine – Johnny Cash
18. Father and Daughter – Paul Simon
19. Father's Eyes – Amy Grant
20. When My Little Girl Is Smiling – The Drifters
21. The Blower's Daughter – Damien Rice
22. My Little Girl – Kyle Johnson
23. Thank You – Dido
24. Gracie – Ben Folds
25. Daddy – Beyoncé
26. Daddy's Little Girl – The Shires
27. That's How Strong My Love Is – Otis Redding
28. The Best Day – Taylor Swift
29. I Loved Her First – Heartland
30. It's For My Dad – Nancy Sinatra
31. You've Got a Friend – James Taylor
32. You're My Best Friend – Queen
33. Dance Like Yo Daddy – Meghan Trainor
34. I'll Be Your Man (Song For A Daughter) – Zac Brown Band
35. How Sweet It Is (To Be Loved By You) – Marvin Gaye
36. Wonderful Tonight – Eric Clapton
37. Always On My Mind – Willie Nelson
38. Father Daughter Dance – Wayne Jacobs
39. Hero – Mariah Carey
40. Never Tear Us Apart – Inxs
41. Song for Dancing (feat. Rylee Sage Walker) – Free Man
42. Two Steps Behind – Def Leppard
43. Here Comes the Bride (Wedding Version) – Dannie Marie
44. Love of My Life – Queen
45.You're the Best Thing – The Style Council
46. Make You Feel My Love – Adele
47. Where You Lead – Carole King
48. Never Grow Up – Taylor Swift
49. Songbird – Fleetwood Mac
50. My Old Man – Zac Brown Band
51. Landslide – Fleetwood Mac
52. Stairway to the Stars – Ella Fitzgerald
53. I Just Called To Say I Love You – Stevie Wonder
54. What a Wonderful World – Louis Armstrong
55. Butterfly Fly Away – Miley Cyrus and Billy Ray Cyrus
56. Right By You (For Luna) – John Legend
57. Tiny Dancer – Elton John
58. Somewhere Over The Rainbow – Israel Kamakawiwoʻole
59. Sweet Child O' Me - Guns N' Roses
60. You Raise Me Up – Josh Groban
61. Three Little Birds – Bob Marley
62. Daddy's Hands – Holly Dunn
63. Come Fly With Me – Frank Sinatra
64. This Will Be (An Everlasting Love) – Natalie Cole
65. You Are The Sunshine Of My Life – Stevie Wonder
66. My Wish – Rascal Flatts
67. Can You Feel the Love Tonight – Elton John
68. Constellations – Jack Johnson
69.Michelle – The Beatles
70. How You've Grown – 10,000 Maniacs
71. You Are So Beautiful – Joe Cocker
72. Because You Loved Me – Céline Dion
73. The Wonder of You – Elvis Presley
74. I Hope You Dance – Lee Ann Womack
75. I'll Stand By You – The Pretenders
Want to know what other duties your Dad has to do in the run-up and on the big day? Here's a list of all the things the father of the bride is expected to do (don't worry, most of them are very fun!).