2019 Wedding Trends: What's Hot for 2019?
We spoke to the leading wedding industry experts about what is hot for 2019
We have included third party products to help you navigate and enjoy life's biggest moments. Purchases made through links on this page may earn us a commission.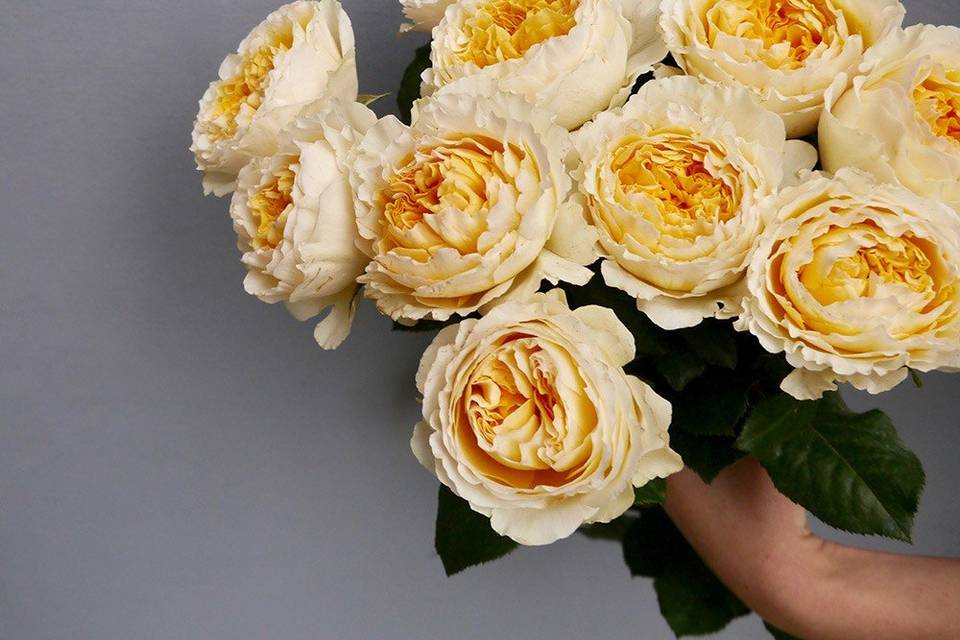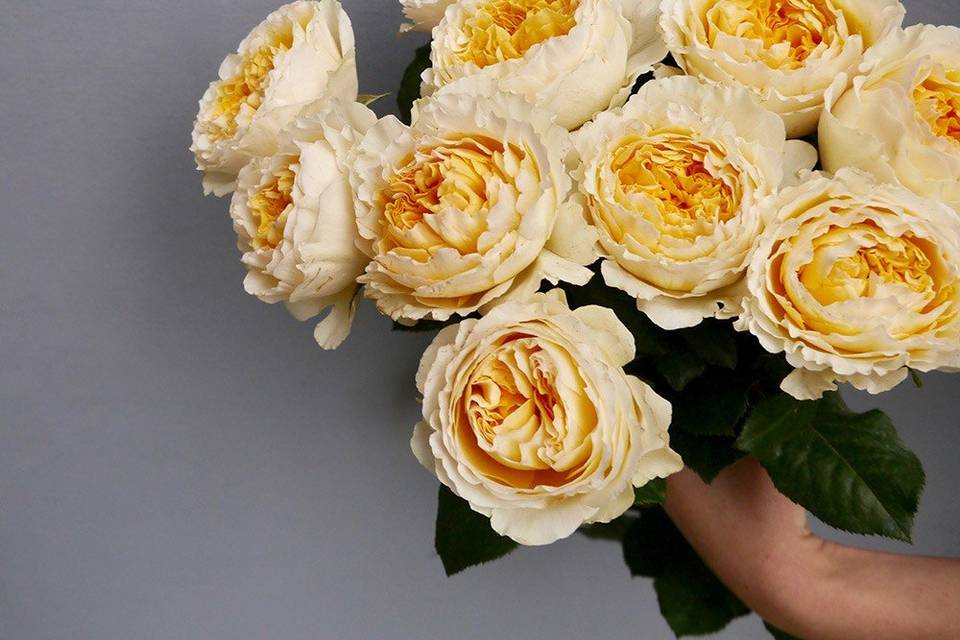 If you're planning a wedding in 2019 and not sure where to start then our list of the hottest wedding trends for 2019 is a great place to begin.
READ MORE: Wedding Dates to Avoid in 2019 and 2020
Take a look at what is going to be on-trend for the next year with our round-up of the best 2019 wedding trends.
Wedding Venue Trends for 2019
When it comes to wedding venue trends our very own editor Sarah Allard is the one in the know about everything that is hot for getting married in 2019.
Stripped-Back Barns
Image: Cripps Barn
While barns are anything but a new wedding venue trend, next year we're going to see a lot of couples reinventing and revolutionising the traditional barn venue. "Brides and grooms are going to adopt a more natural and minimal look for their barn weddings" says Sarah. "By contrasting the rustic nature of the barn surroundings with clean, modern finishes from acrylic chairs, green and white florals and simple lighting, couples can achieve an elegant, sleek and contemporary look for their big day".
READ MORE: The Most Beautiful Barn Wedding Venues
Industrial Spaces with Rustic Finishes
Image: Lucie Watson Photography
"For 2019 the rustic theme is still going to be very much on trend, but with a new twist", Sarah continues. "Moving away from shabby chic hay bales and crates, couples will be opting for a much more refined rustic look – leaving room for elegant touches and stylish décor. Think metallic, industrial and raw spaces, warmed up with rustic touches from greenery and deeper, richer florals."
Boho-Themed Outdoor Escapes
Image: Minnehaha Events
Perhaps encouraged by the incredible summer we've had in the UK, it comes as no surprise to see that lots of wedding couples will be stepping outside for their big day in 2019. "We're going to see a big increase in boho-inspired outdoor weddings, with brides and grooms opting for trendy tipi celebrations and nature-inspired settings", Sarah explains. "Many will bring a lot more nature inside too, moving away from cut flowers in favour of potted plants and palms."
READ MORE: Outdoor Wedding Venues – Our Favourite Places to Say I Do Outside
Wedding Dress Trends for 2019
We spoke to editor-at-large and bridal fashion expert Peta Hunt from You & Your Wedding as she shares some of the key wedding dress trends for 2019.
READ MORE: The Hottest Wedding Dress Trends for 2019
Lace
Image: Grace Loves Lace
Lace is always popular with brides but Peta explains how this traditional fabric has had a 2019 makeover. "The eternal romantic bridal fabric but used in a much more stylish way, no twee old lady styles here, and with the introduction of stretch lace it is a really easy to wear look for any location." Peta explains.
READ MORE: The Most Beautiful Lace Wedding Dresses
Going Large
Image: Naomi Neoh
Princess bride alert! Peta tells us: "Big dresses are back but they are not heavy and solid, the new ballgown is light and airy and allows you to move with ease and dance the night away. Strapless is an ongoing evergreen trend but long sleeves are really romantic and perfect for winter weddings."
Bows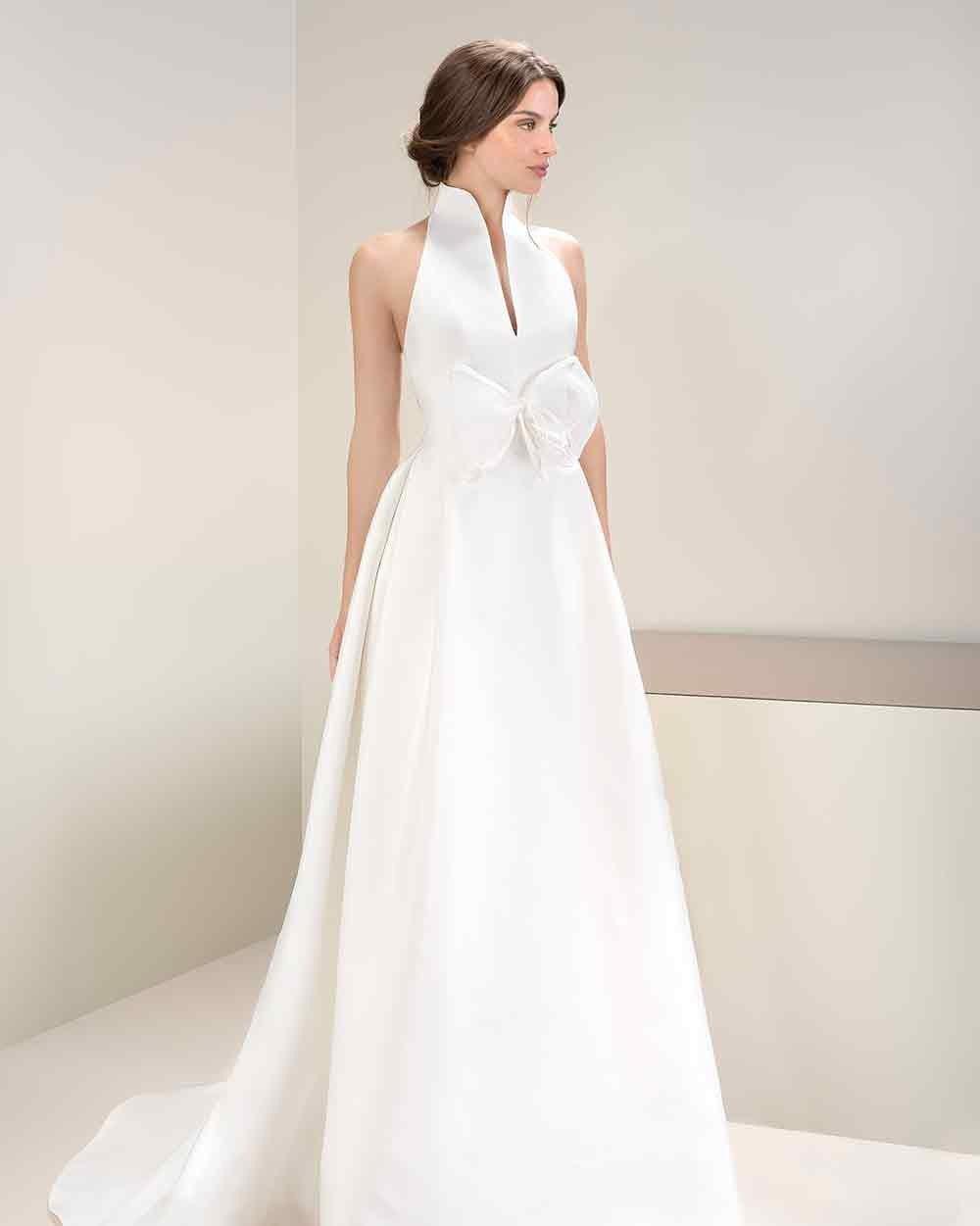 Image: Jesus Piero
The mini trend that we love! Peta shares more: "Whether a huge bow at the back of your dress or a simple one on your neck, shoulder or waist the bow was the trend that fashion editors loved at the latest shows, be prepared to see a lot in the future."
READ MORE: 17 Stunning Wedidng Dresses with Bows
Wedding Flower Trends for 2019
If you're planning to say 'I do' in 2019, there's no doubt you took note of every little detail you saw during this summer's wedding season. But, what are the top floral trends to know about for summer 2019? Caroline, Bloom & Wild's Lead Florist and florist Rosie Conroy from Lavendar & Rose are here to reveal all.
Nudes and Ice Cream Pastels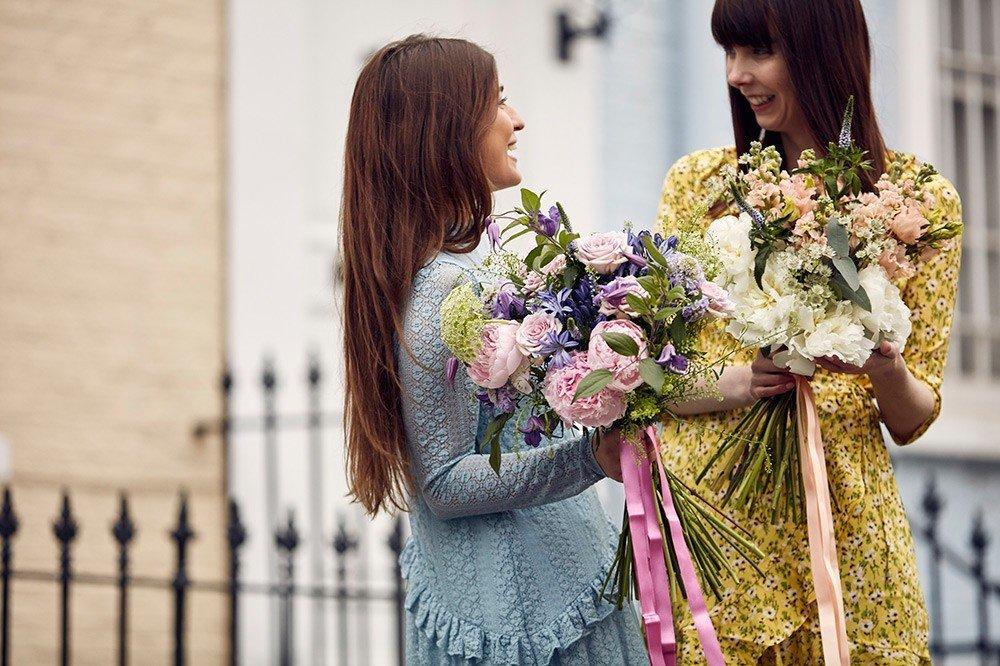 Image: Bloom & Wild
With couples throwing wedding traditions out the door, pale pink, blush and taupe flowers are increasingly replacing classic white blooms as a bride's wedding flower of choice.
Caroline explains, "Fragrant garden roses, stocks and sweet peas (in whimsical and rustic shades) are some of the most popular summer blooms set to appear in a big way next year."
Pretty Peonies
The peony is a timeless wedding flower that's always a popular bouquet choice, so you can expect to see lots of these in 2019, too. Caroline tells us more:
"As a very versatile flower, peonies can be crafted into bouquets that suit any style of wedding, from very formal affairs to rustic garden parties.
"However, as the peony season begins in April/May and only runs through to late June, their availability is limited. If you have an early summer wedding and your heart set on peonies then you will be able to get your hands on them. But if your wedding is later in the year, then beautiful alternatives include garden roses (for summer), dahlias (for late summer) or ranunculus (for winter and spring)."
Dramatic Floral Instalments
Floral installments have always been popular, but the unforgettable floral arch at the wedding of Prince Harry and Meghan Markle is sure to inspire couples getting married next summer.
Caroline tells us: "Whether it's an extravagant arch, a floral chandelier or hanging flower hoops – these are some of the things sure to add real wow-factor to many weddings next year."
British Grown Flowers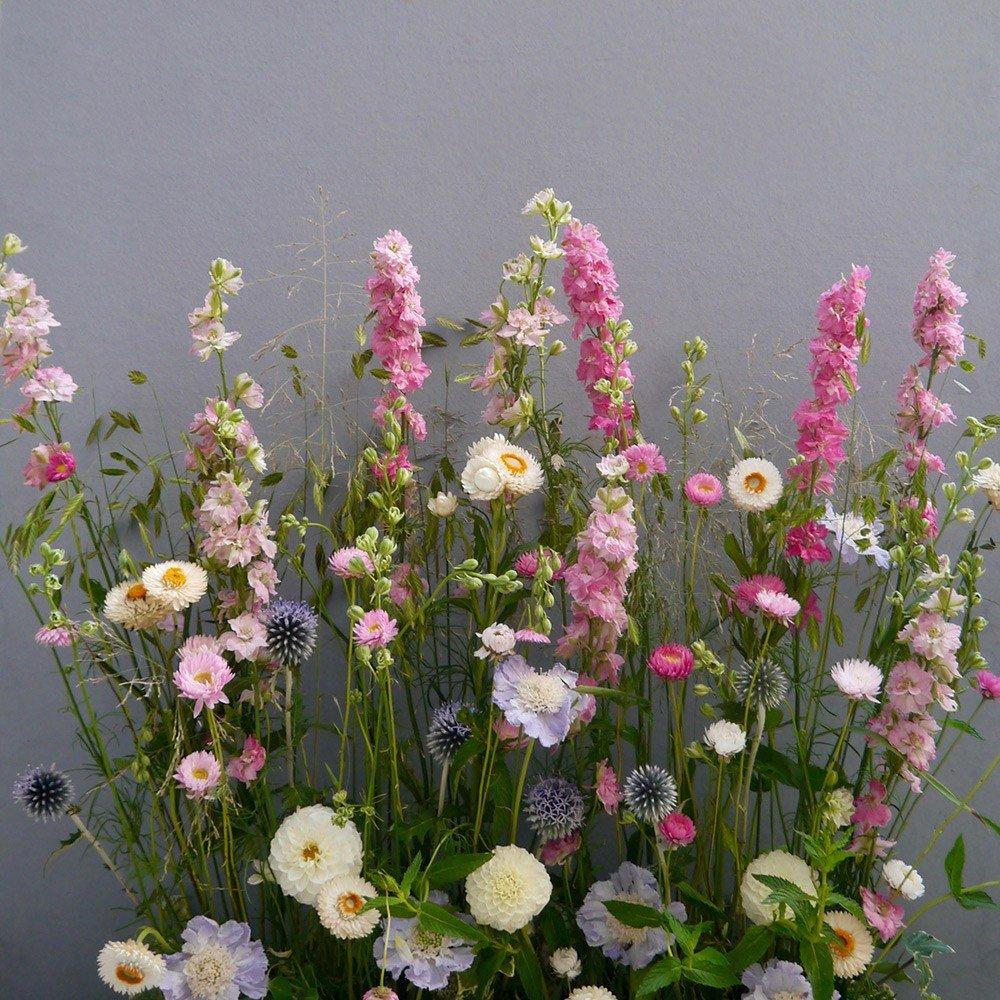 Image: Lavender & Rose
Increasingly our brides are looking for a more relaxed feel in their wedding flowers, Rosie explains how they are achieving this.
"British grown florals suit this undone look perfectly, with their irregular shapes, splashes of colour and amazing movement. We've accommodated the use of homegrown flowers in lots of our 2019 weddings and can only see this trend becoming more prominent throughout the next few years.
"Not only are customers getting a beautiful product, with flowers that are often scented as a bonus, we're also supporting other small locally bases companies."
Foam Free Floristry
Rosie tells us more about how to plan an eco-friendly wedding. "As an industry floristry definitely doesn't have the most eco-friendly reputation. Flowers are often flown half way round the word for one day and then disposed of. In this aftermath of any event there is typically bags full of floral foam, which is the basis of lots of large-scale floral displays as it's a material that holds stems in place while keeping them hydrated.
"It is made from a chemical concoction that doesn't break down in landfill. It's this that has created a conversation around the impacts of floral foam on the environment and a factor that has pushed lots of florists to work on a 'foam-free' basis. Slowly but surely this has trickled down to consumers and we expect more brides to specify that they'd prefer not to use floral foam at their weddings."
READ MORE: How to Have an Eco-Friendly Wedding Day
Fruits, Seeds and Grasses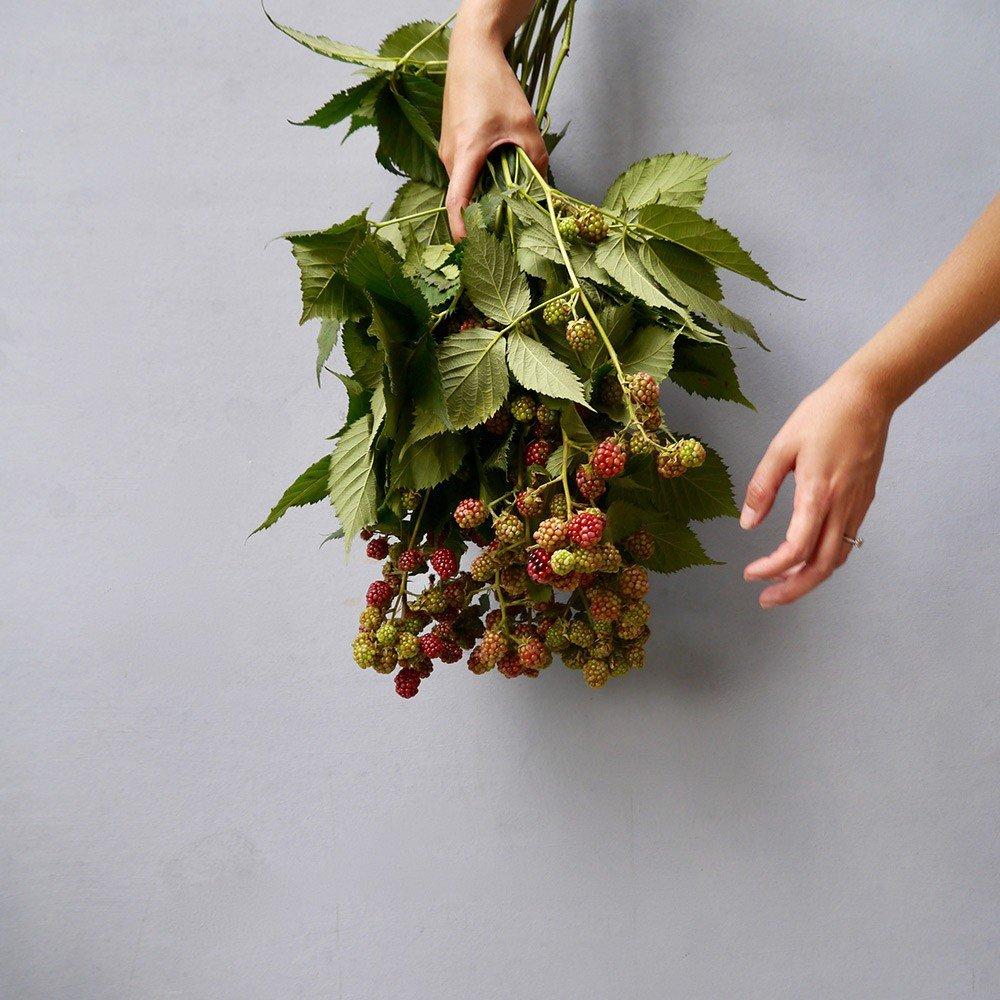 Image: Lavender & Rose
Previously perceived ideas of perfection are out and organic, irregular shapes are in. Rosie tells us "We've seen an increase in brides sending us pictures of really textured bouquets and buttonholes which include fruits, seeds and grasses. It's these small details that make your décor really individual, something we think people will be looking for increasingly in 2019 and beyond."
Garden Roses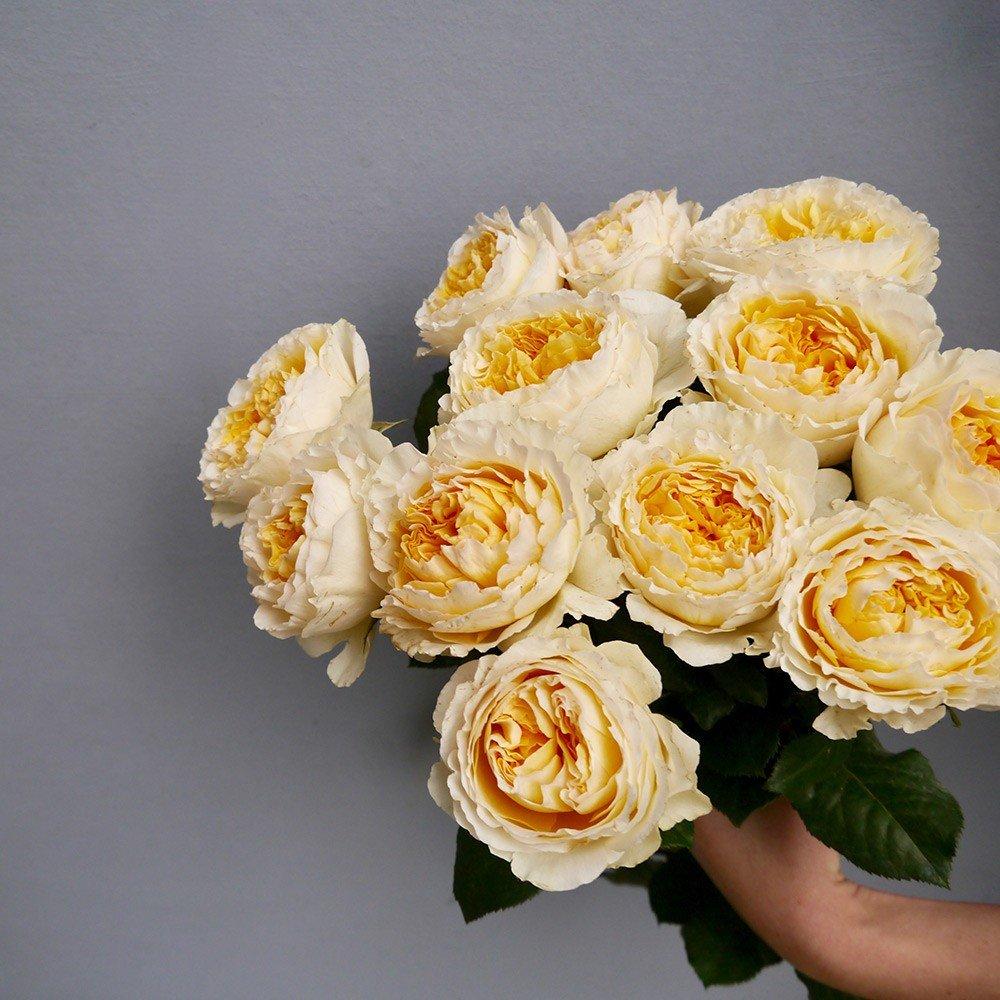 Image: Lavender & Rose
Rosie explains how roses continue to be a popular choice but with a modern 2019 makeover. "Couples want everything to be that little bit more extra special for their big day. To get that high-end feel lots of our brides and boys are enquiring about using speciality garden roses in their wedding floral work and we're sure this is a trend that will only increase in 2019.
These roses typically have extra petals, lots of ruffles and come in all sorts of amazing shades and scents. Be warned though, they do also come with a pretty hefty price tag, as they're harder to grow and less disease resistant to some of the more commercially-grown roses."
Shower Bouquets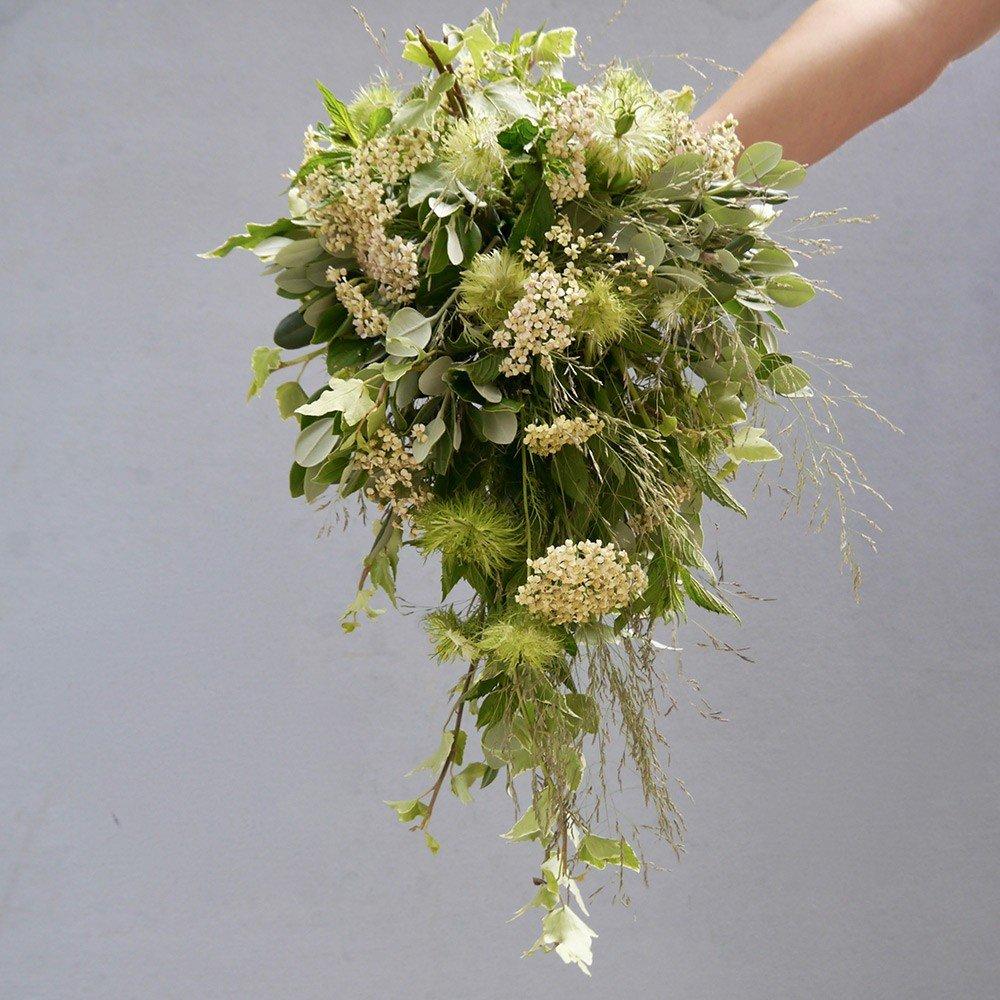 Image: Lavender & Rose
There's nothing new about a shower bouquet, in fact Princess Diana was rocking it way back when. Rosie explains how shower bouquets are making their return. "This rigid over-the-top style fell out of favour over the past decade or two, but it's back now with a new fresh face. Shower bouquets are wired to create their signature look and can take hours to make, so be prepared to pay a little extra. To stay ahead of the curve ask for a small, greenery-only or wild-flower style."
Silk Ribbons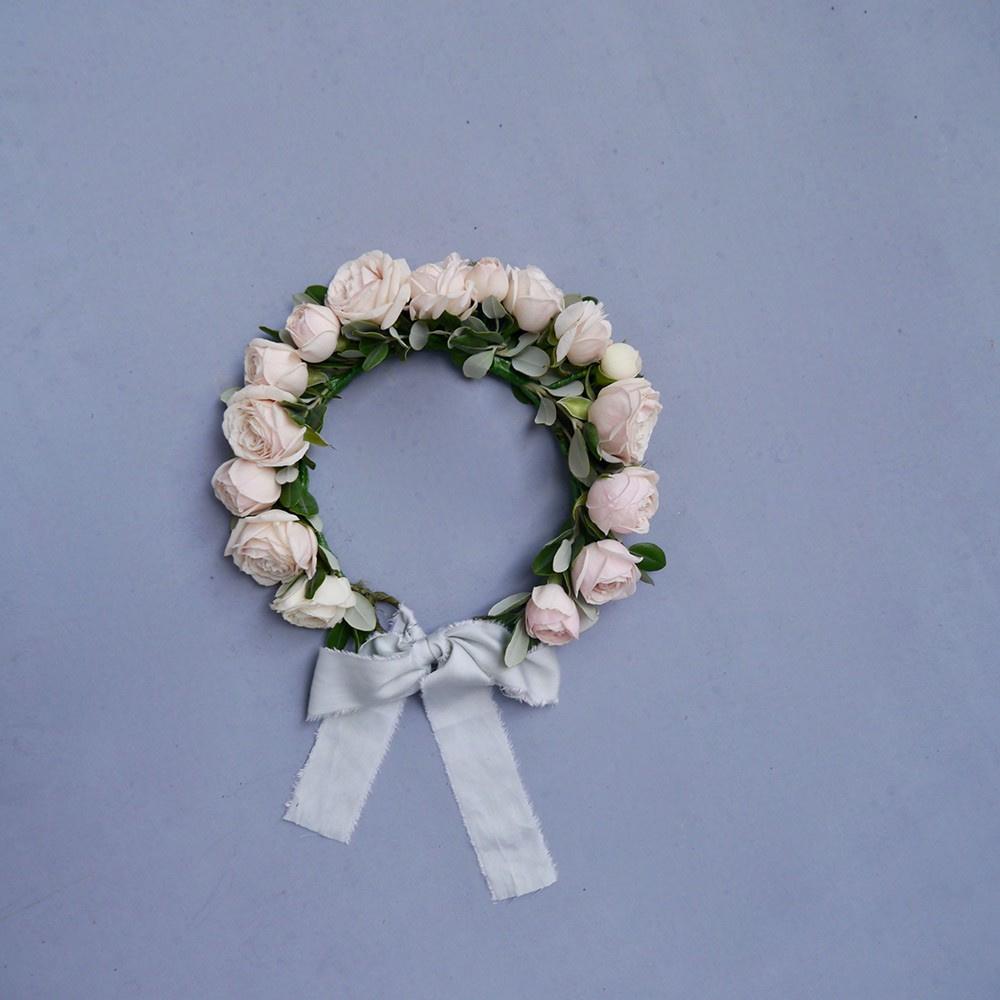 Image: Lavender & Rose
It's not just the flowers that we think will change in 2019, it's how people are finishing their bouquets too, Rosie tells us how silk is a big trend for bridal bouquets and flowers in 2019. "Silk ribbon is getting more and more popular, and we think requests for beautiful hand-dyed ribbons will only increase. It's the small things that make the elements of your wedding feel luxurious, and this little upgrade can really elevate your bouquet. Ask for a trailing finish for presence, or pick out a contrasting colour to your bridesmaids' dresses for impact."
Wedding Hair Trends for 2019
Blow LTD are the experts when it comes to fabulous wedding hair and they have shared all the latest wedding hairstyles that are going to be present in 2019.
Chic Chignon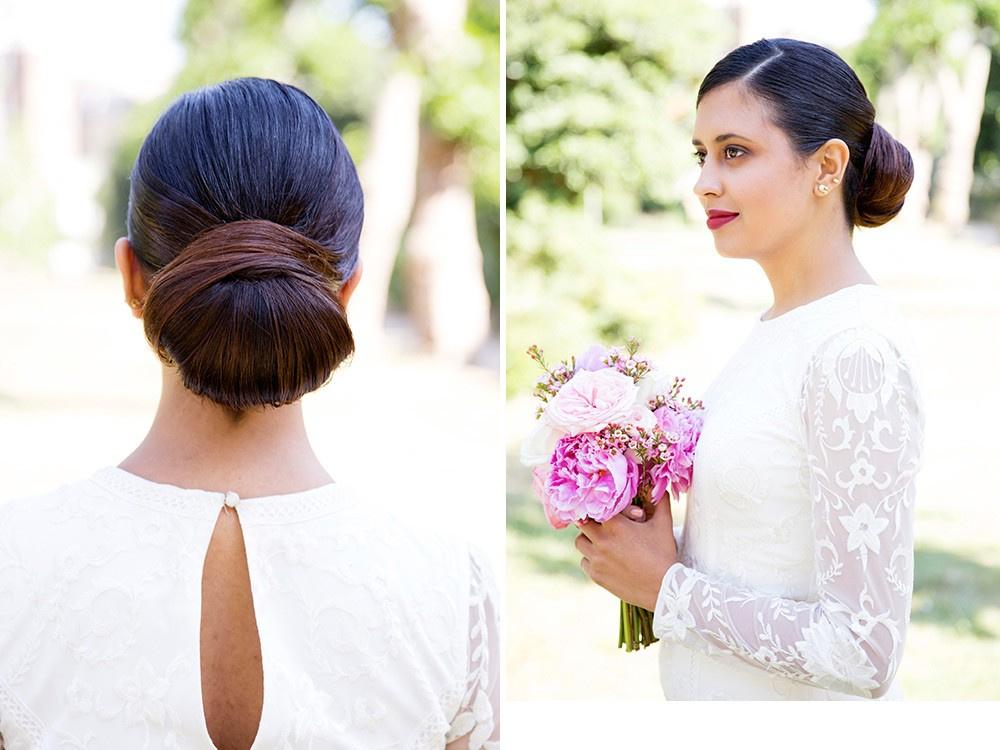 Image: Blow LTD
The chignon is a timeless bridal hairstyle. By keeping things sleek and sophisticated you'll tap into the trend for "royal" looks. The trick to this style is to keep the bun low and don't be afraid of product to keep flyaways at bay.
Tendrils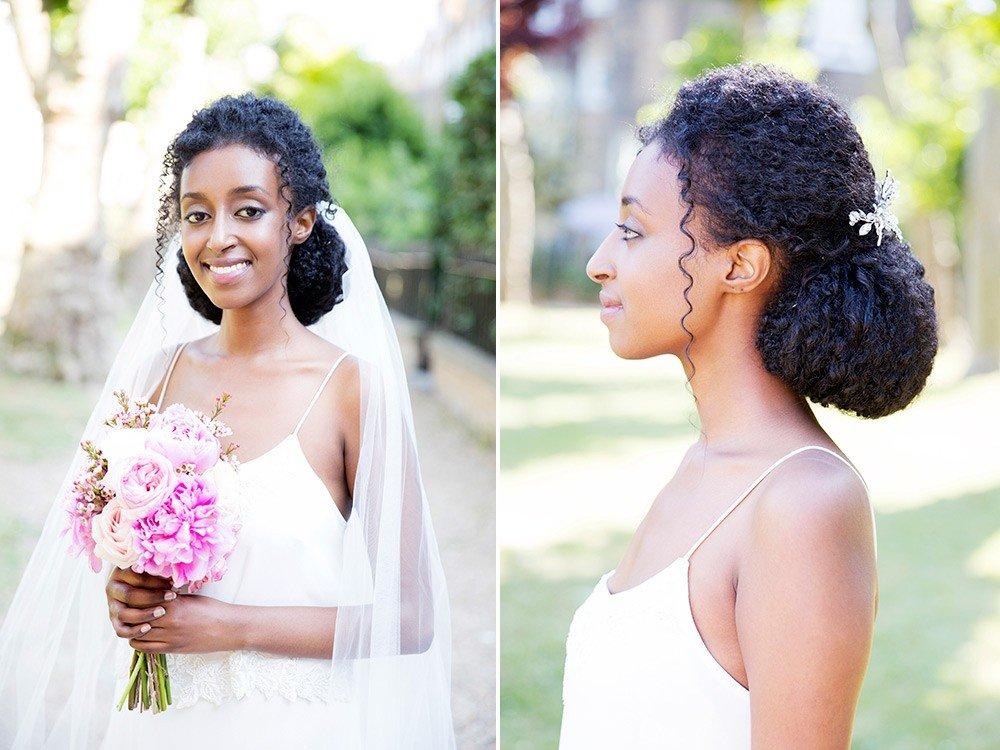 Image: Blow LTD
Meghan Markle has, of course, been a big influencer for 2019 hair trends and a great take away from her bridal style are tendrils. These face framing pieces of hair soften updos and bring a more casual feel to a classic style.
Half Up / Half Down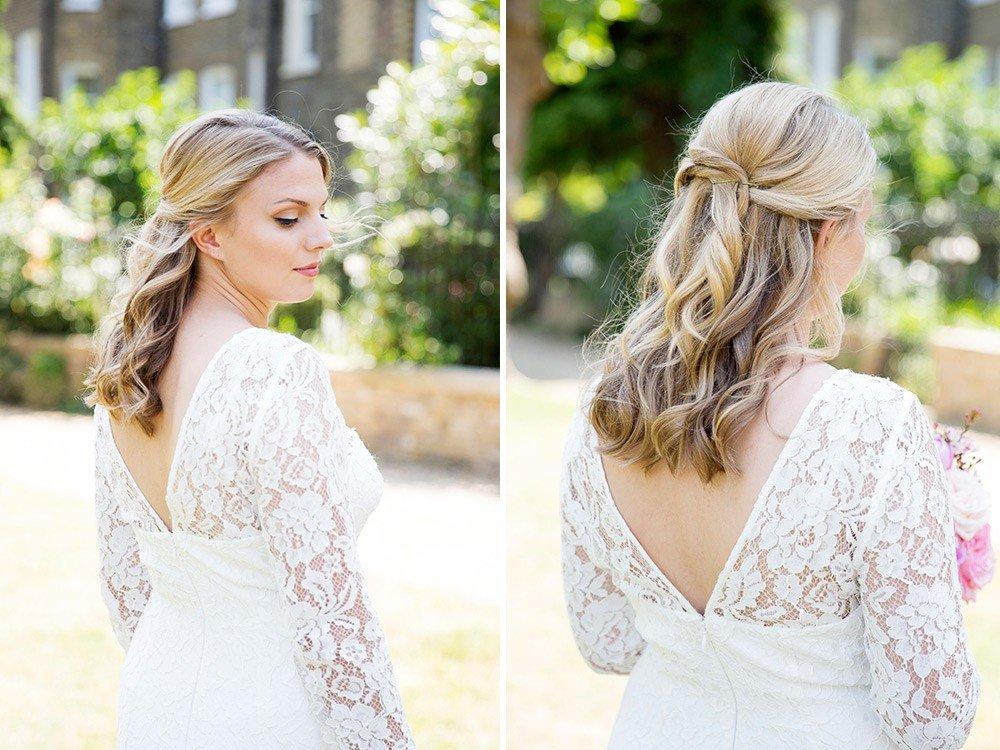 Image: Blow LTD
It's time to take half up half down styles back to basics in 2019. Pulling the front sections of hair to the back, twisting them slightly and simply pinning them at the back provides a sleek yet whimsical finish for brides who want to keep things simple.
READ MORE: Half Up Half Down Wedding Hairstyles
Floral Features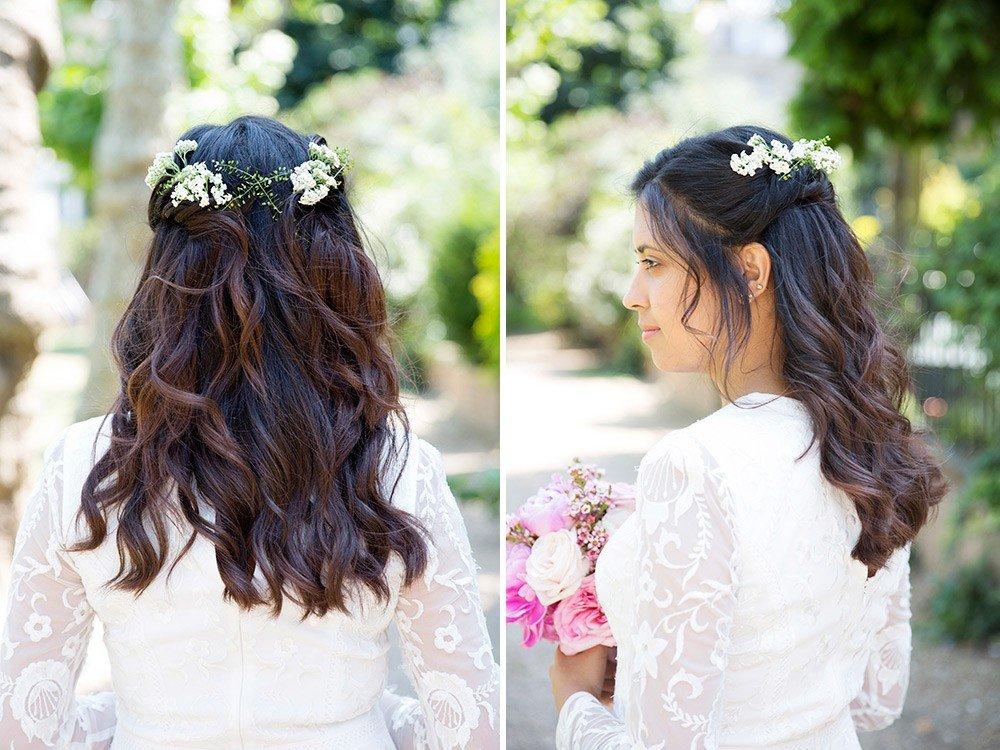 Image: Blow LTD
Take inspiration from the dramatic flower headpieces which graced the Spring 2019 catwalks and rather than using a single flower, take things up a notch. Opt for larger blooms and experiment with greenery to bring up the ante of your floral wedding accessory.
Bridal Lob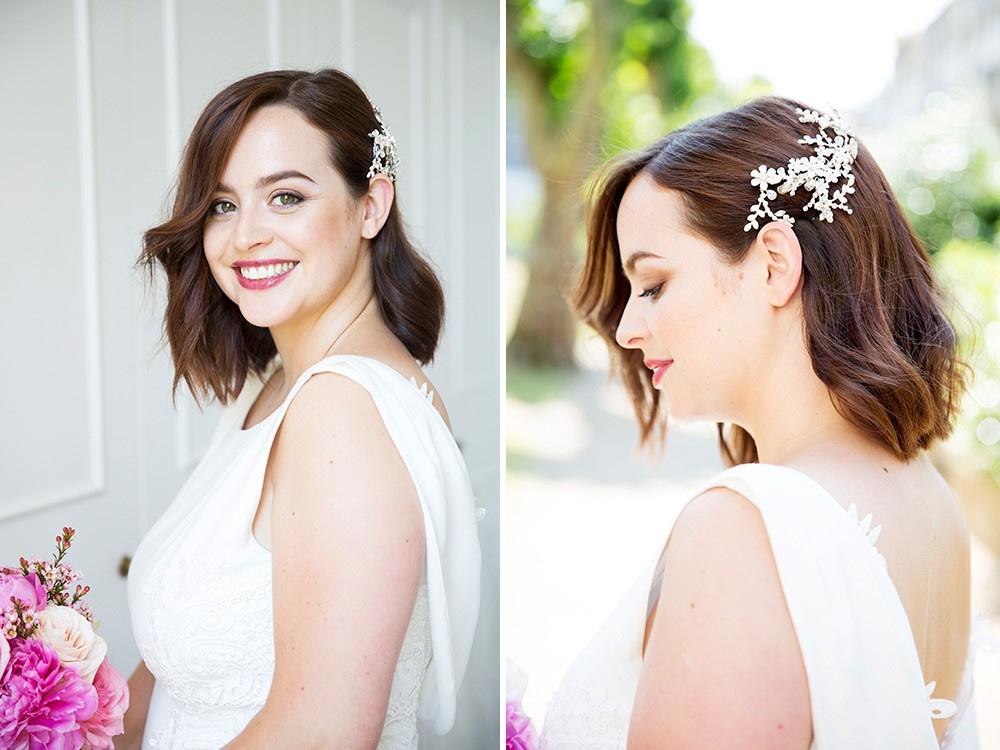 Image: Blow LTD
If you're looking for a big bridal transformation, why not consider going for the chop? The lob is bigger than ever, looks effortlessly cool and doesn't mean you're restricted when it comes to styling. Loose waves match the casual cut and if you want to glam things up add in a unique accessory.
Wedding Etiquette Trends for 2019
We spoke to Caroline Bradley – wedding expert at Sorella + Co – as she explains the latest wedding etiquette trends.
Breaking the Rules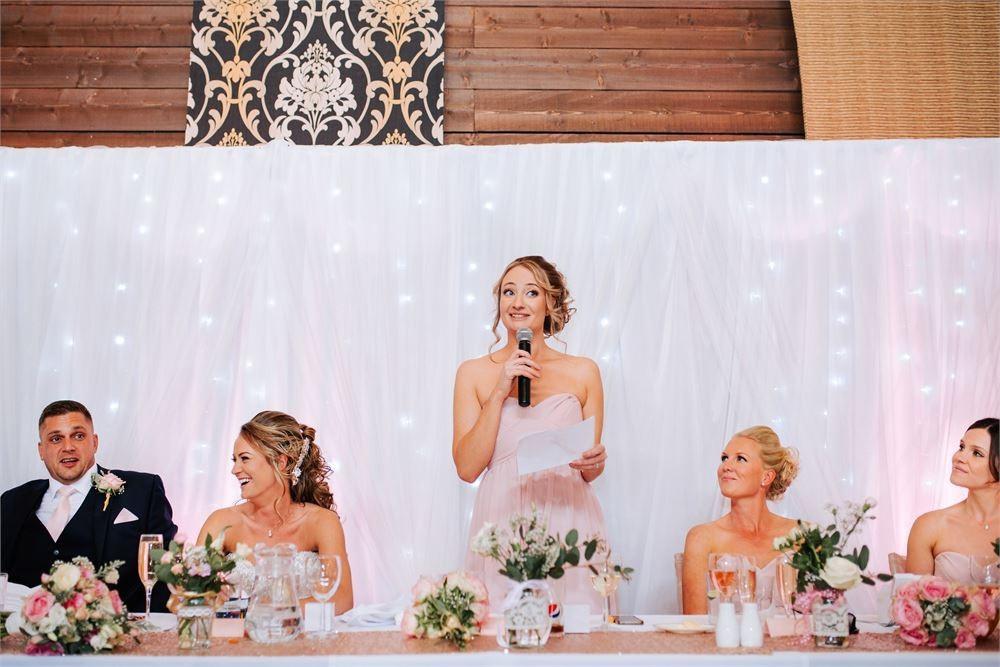 Image: Sally Rawlins Photography
Caroline tells us "Weddings are shrouded in tradition and I love that, but I also love it when couples break the rules so the wedding feels more like their own. Speeches before dinner, bridesmaids wearing white dresses, bride and maid of honour speeches, these are all non-traditional wedding ideas that work beautifully."
READ MORE: Maid of Honour Speech Examples
Guests Upstaging the Bride
"Ok, not really upstaging the bride! But guests are really putting so much effort into their wedding guest style and treating the big day as an occasion to go all out with an amazing dress and gorgeous hairstyles. I love how fantastic wedding photos look when all the guests have really gone out to look utterly fab for the big day."
READ MORE: The Best Wedding Guest Dresses for Summer
Looking for more ideas for your 2019 wedding day? See our full rundown of 2019 wedding dress trends.