When it comes to picking your wedding venue, getting the initial location right is key to achieving your dream day and one of the most versatile areas to choose is Cornwall.
Cornwall offers some seriously romantic and charming choices to host your big day thanks to its diverse scenery. You have the option of soaking up the sunset over sandy beaches and crashing seas, or spending the day in the tranquil surroundings of historic grounds and gardens.
From stunning castles and quaint farm houses, to candle-lit beaches and private secludes coves, there's nothing a wedding venue in Cornwall can't offer you and your partner.
Start planning your picture-perfect wedding with our round-up of the best Cornish wedding venues that we guarantee will leave you spoilt for choice.
READ MORE
1. Trevanna – Liskeard
Nestled in the picturesque Cornish countryside lies Trevanna, a stunning cluster of rustic barns surrounded by wooden farm gates and leafy meadows.
Take your pick of a romantic outside ceremony, or inside the glass Garden Venue room which offers breathtaking views of the scenery.
For a more traditional ceremony, the beautiful St Neot church is located just a mile away.
Set within 142 acres of countryside, the venue can cater for 120 day guests and 150 in the evening. It's even available to hire for up to three days – perfect for couples who want a weekend-long celebration.
READ MORE: Outdoor Wedding Venues: Our Favourite Outdoor Spots to Say 'I Do'
2. Treseren - Trerice
Planning an intimate celebration? Treseren is a magical country house that will feel as if you've stepped into the Secret Garden.
Perfect to cater for you and up to 22 guests, this wedding venue includes bed and breakfast accommodation for 12 people.
They also offer a welcome feast, so your wedding party can settle in before the big day.
Ideal for sunny, summer weddings, you can say 'I do' in the elegant Wedding Room where French doors lead out onto the terrace or the charming garden. Then pop down to the beach located only 5 miles away for those all-important wedding day pictures.
READ MORE: Small Wedding Menu Ideas: How to Cater for a Small Wedding
3. Lusty Glaze – Newquay
Lusty Glaze in Newquay is the ultimate beach wedding venue in Cornwall, in fact it was even awarded Britain's Best Beach by The Sunday Times.
Equipped with its own private beach and sheltered cove, the crashing waves and impressive sunsets make for a spectacular place to get married.
The venue holds a maximum capacity of 250 evening guests, so no one needs to be left off the invite list when it comes to weddings at Lusty Glaze.
With prices starting from just £1,500, this affordable wedding venue and incredible surroundings seems almost too good to be true!
READ MORE: 33 Cheap Wedding Venues in the UK: The Best Affordable Venues
4. The Orangery - Rame
Built in 1775, The Orangery is an elegant wedding venue bringing a taste of Italy to Cornwall on your special day.
Boasting magnificent floor to ceiling windows, you can enjoy your meal whilst looking out at amazing views of the water fountains and Italian gardens.
Once the sun starts to set, take the celebration to the opposite end of The Orangery where a dance floor awaits you and your guests.
Need to rest your feet? Escape to the Italian garden, which has seating for up to 50 people.
READ MORE: How to Throw an Amazing Wedding After Party: 20 Fun Ideas
5. Trenderway Farm - West Looe
It'll be hard to find a more delightfully rustic wedding venue in Cornwall than 200-year-old listed Cornish stone barn Trenderway. Think solid oak floors, rustic white-washed walls and swinging barn doors.
Overlooking lush farmland, whimsical woods and stunning lakes, you can invite up to 150 guests to your dreamy day with 14 people staying in the beautiful accommodation.
Dine on the finest three-course menu or tuck into a laid-back barbeque and hog roast, before spilling out into their spacious marquee for evening celebrations.
We think this venue will look stunning adorned with twinkling fairy lights.
READ MORE: 21 of the Best Rustic Farm Wedding Venues in the UK
6. Carbis Bay Hotel – St. Ives
Carbis Bay Hotel is another incredible Cornish wedding venue that makes the most of the breathtaking Cornish shoreline.
It has its own private beach – and a beautiful one at that.
With 12 separate areas on the estate licensed for weddings, the opportunities for couples planning a wedding here are endless.
It's not just beach settings they offer here either. Carbis Bay Hotel also has terraces, lawns and award-winning sub-tropical gardens for you and your wedding party to celebrate in, as well as Ocean Lodges for overnight stays (many of which are kitted out with hot tubs and plunge pools!).
7. Eden Project - Par
Looking for a truly unforgettable and unique wedding venue?
The world-renowned Eden Project is a spectacular eco-park with biomes full of plants from all around the world, allowing you to tie the knot in either the warm Mediterranean or the exotic Rainforest biome.
Plants being their speciality, a team of resident florists are available to create your perfect wedding posies.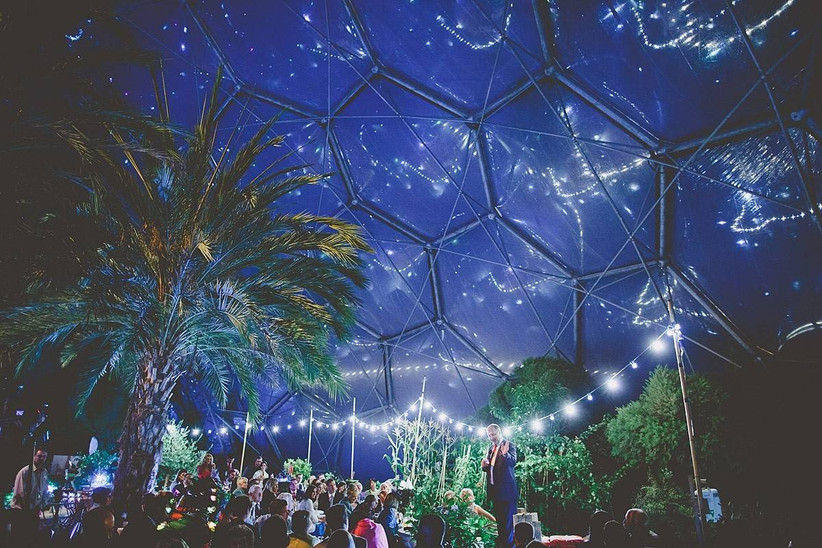 After dark, low lights on the paths will reflect on the ceiling creating the illusion of a stunning starry sky, perfect for an atmospheric evening reception.
Fancy a winter wedding? You can even marry on ice October-March with the venue's very own ice-rink.
READ MORE: 75 Unusual Wedding Venues: The Best Unique Wedding Venues Across the UK
8. Boconnoc – Lostwithiel
If it's a stately home wedding venue you're after, why not consider the fantastic Boconnoc house?
This gorgeous Cornish wedding venue has undergone a 12-year restoration project and has so much to offer engaged couples who want to get married in Cornwall.
Complete with a private church onsite for up to 250 guests and a civil ceremony room for 80 guests, this wedding venue is suitable for all weddings no matter what size.
Their versatile house can accommodate any kind of theme, from a glamorous celebration to a chic festival-themed do – the possibilities are endless.
READ MORE: Stately Home Wedding Venues: 21 Elegant Places to Tie the Knot
9. The Cow Shed - Rame
Set within the rolling Cornish hills, The Cow Shed is a quaint wedding venue specialising in relaxed and laid-back weddings of up to 80 people.
Whether you choose to elope or say 'I do' in front of family and friends, you can marry in the ambient restored Cow Shed or the charming Old Milk Parlour.
The Cow Shed is all about providing the little details that make your day even more special. Look forward to a homemade luxury wedding hamper and a complimentary couple's massage.
As for the all-important wedding photographs? The grounds provide a gorgeous, natural backdrop, featuring enchanting archways and rustic greenery.
10. St Ives Harbour Hotel & Spa – St Ives
St Ives Harbour Hotel and Spa offers, in their own words, 'a destination wedding without leaving the country' – and we have to agree.
This gorgeous coastal wedding venue overlooks the golden sands of the award-winning Porthminster Beach, but it's not just the setting that is spectacular.
The venue also ​has incredible facilities including the HarSpa and private pool for you to kick back and relax in. We think it's ideal for a bridal party pamper before the big day.
Able to host up to 250 evening guests and 160 day guests, this is a truly luxurious wedding venue in Cornwall with plenty to offer.
READ MORE: 17 Beautiful Natural Wedding Makeup Ideas
11. Scorrier House - Redruth
Located down a winding driveway, on 400 acres of private parkland and amongst historic gardens, is Scorrier House - a fairytale venue fit for royalty.
With only bespoke designs offered, your special day at Scorrier House will be a truly unique experience, tailored to your exact needs.
Choose to marry in the Grand Hall in front of 120 guests, or on sunnier days under the gazebo opposite the botanic conservatory.
The best bit? The sweeping staircase upon arrival into the Grand Hall will take your breath away.
Fabulously adorned with your choice of florals and candles, it's a sure spot for that perfect Instagram-worthy snap.
READ MORE: Disney Has Launched a Line of Fairytale Wedding Dresses and It's Gorgeous
12. Nancarrow - Truro
Nancarrow is an organic family farm proving barn wedding venues are anything but basic.
If you're hosting a larger wedding the Oak Barn can seat up to 130 guests, plus there's plenty of outdoor space including beautiful wild flower gardens and fruit orchards.
From April-October there's even an additional four furnished bell tents to accommodate a further eight guests.
An atmospheric winter wedding would also work wonderfully here as the venue provides a large wood burner in the Oak Barn.
Top the day off with a delicious meal for you and your guests. You'll be treated to a bespoke wedding feast with organic produce from the farm and local suppliers.
READ MORE: 50 DIY Wedding Centrepieces You Can Easily Copy
13. Trevibban Mill Vineyard - Wadebridge
We absolutely adore Trevibban Mill Vineyard - with 11,000 beautiful vines and apple trees on site, it makes the perfect location for your Cornish wedding day.
There's not just the private vineyard and orchard to explore, up to 40 of the 250 guests able to attend can stay in tipis beside their stunning private lake.
This venue will be a big hit with wine lovers, as the vineyard boasts over 20 national and international awards for their outstanding estate wine. The vines surround the Upper Deck and winery bar so you can sip whilst enjoying the scenery.
READ MORE: Why You Should Consider a Vineyard Wedding Venue (Plus 10 of the UK's Best)
14. Ta Mill – Launceston
Set within a charming 45 acre estate, Ta Mill is one of the most romantic places to get married in Cornwall.
Oozing style and sophistication, the wedding venue is within an 'Area of Outstanding Natural Beauty' and will look incredible in your wedding pictures.
This Cornish wedding venue offers overnight accommodation for 60 people and even has spa facilities for you and your guests to enjoy, not to mention wildlife walks and gorgeous grounds.
You and your partner can spend your first married night together in the stunning honeymoon cottage, enjoying a delicious bespoke breakfast in the morning.
15. Fowey Hall – Fowey
If grand, elegant and glamorous is what you picture your wedding to look like, why not consider Fowey Hall?
They have everything a couple could want and more, including a spa, pool, croquet lawn and outdoor hot tub!
This beautiful wedding venue in Cornwall pairs the elegance and grandeur of a stately home with the romance and magic of a coastal venue to create something truly unique.
If your wedding party includes children, the hotel even offers an Ofsted registered crèche where little ones can take part in activities overseen by the venue's nannies.
READ MORE: 37 Romantic Love Song Lyrics to Use in Your Wedding
16. Pencarrow – Bodmin
Couples who want to plan a wedding that will really impress their guests will love Pencarrow in Bodmin, Cornwall.
There are a variety of locations on site where you can host your celebrations including both inside the house and in their permanent marquee and gardens.
This beautiful Georgian mansion is beyond impressive and despite being able to host weddings of up to 250 guests, they welcome the idea of much smaller, intimate weddings at their venue too.
Make the day even more memorable by hunkering down for the night in the luxe campsite yurts complete with a woodland bar for a relaxing nightcap.
READ MORE: Wedding Colour Schemes: 15 Beautiful Palettes for Every Season
17. Pentillie Castle – Saltash
Pentille Castle in Cornwall is a castle wedding venue like no other.
The décor both inside and out manages to combine contemporary with elegant, making it the perfect wedding venue for a modern day fairytale wedding.
Nestled within a 1,500 acre estate, this 17th century castle isn't short of space for couples and their guests to explore, along with plenty of gorgeous land for those all-important wedding pictures.
Whether you fancy saying 'I do' under the romantic wisteria-covered pavilion, or the Victorian Bathing Hut overlooking the banks of the River Tamar is more your style, Pentille Castle is a romantic wedding venue that definitely has the wow-factor.
18. Tredudwell Manor – Lanteglos by Fowey
Recently renovated Tredudwell Manor is a beautiful spot to get married in Cornwall.
The magical Queen Anne manor house is nestled amongst three acres of perfectly manicured gardens filled with seasonal flowers and Cornish stepping stones.
This adorable wedding venue is perfect for celebrations all-year round, looking just as beautiful in the height of summer as it does in the middle of winter. The neutral décor provides the perfect blank canvas, making it easy for couples put their own individual stamp on the day.
The house itself can accomodate an intimate wedding guest list of up to 50 people, or enjoy a large marquee celebration with up to 300 guests in the grounds.
19. Greenbank Hotel – Falmouth
For a modern and sleek water-side wedding venue take a closer look at the Greenbank Hotel in Falmouth.
With a backdrop of crystal clear waters and idyllic coastline, you can exchange your vows in front of up to 120 seated guests, with stunning views of the harbour all while listening to the sounds of the sea.
The modern and beachy décor makes for a relaxed feel, and thanks to the venue's private pontoon and quay your wedding pictures will look incredible if you tie the knot here. We recommend heading down while the sun is setting for a breathtaking backdrop.
20. Polhawn Fort – Torpoint
Polhawn Fort is an undeniably romantic wedding venue, nestled on the tip of where the land meets the sea on the south east corner of Cornwall.
This historic fort has been transformed into one of the most gorgeous coastal wedding venues in the South West, looking out across the dramatic waves below.
As you make your way over the drawbridge and down the granite spiral staircase leading to the Grand Napoleonic Hall you'll experience the wow-factor that makes this venue so special.
Offering exclusive hire and a range of tempting packages, Polhawn Fort also has a choice of incredible bedrooms for up to 20 people to stay overnight, and they're pretty impressive!
READ MORE: How to Choose a Wedding Photographer: 8 Foolproof Steps
21. Launcells Barton – Bude
Oozing charm from every corner, Launcells Barton is a Cornish wedding venue not to be overlooked.
The Georgian venue combines rustic and glamorous décor to create a truly modern yet authentic setting for a wedding day.
For your reception, up to 200 guests can eat and dance the night away in the Events Barn, before 15 family and friends can retire for the evening in the Georgian house.
Wedding venues in Cornwall tend to have beach themes, so if you're looking to steer clear of a seaside venue and want more of a rustic barn feel, this could be the wedding venue for you.
READ MORE: 16 of the Best Asian Wedding Venues in the UK
22. The Green – Liskeard
If we had to sum up The Green in three words, it'd be bright, summery and fun.
Perfect if you're planning a summer wedding and have your heart set on finding a wedding venue in Cornwall.
Share your wedding day with up to 140 guests, 32 of which can stay for up to three days in the venue's luxury 5 star self-catering cottages.
This playful and outdoorsy wedding venue is surrounded by orchards, wild meadows, woodland and lakes allowing it to accommodate a range of wedding themes, whether it's cosy DIY weddings or huge festival parties. You name it, they can pull it off.
For more gorgeous wedding venue inspiration, be sure to check out our full list of beautiful wedding venues in Cornwall!