How to Throw an Amazing Wedding After Party: 20 Fun Ideas
The final dance at the disco needn't mean your celebrations are over, keep the fun going for longer with one of these amazing wedding after party ideas.
We have included third party products to help you navigate and enjoy life's biggest moments. Purchases made through links on this page may earn us a commission.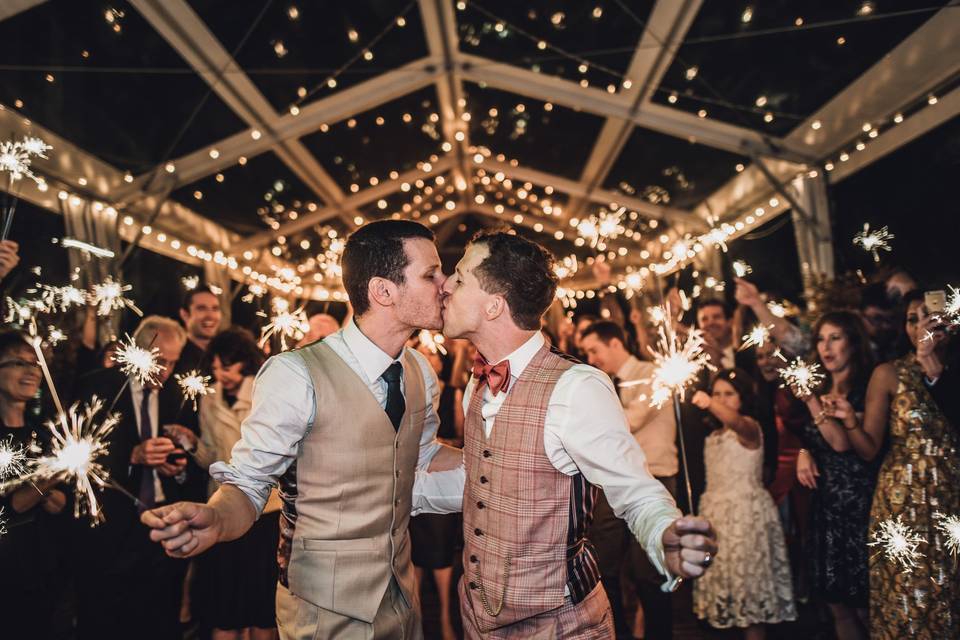 Speak to any married couple you know, and they'll probably tell you that their wedding day went by in a flash. Your reception is an evening you'll never forget - so no wonder you don't want it to end too soon.
Plenty of couples like to continue the celebrations, whether you want to continue dancing into the night, love the idea of a chilled out night-cap or want to extend the festivities into the next day. It's by no means an obligation, but if it sounds right for you, there's so many different ways you can throw your after party and make it unique to you.
We've rounded up the best ideas for an incredible end to the night, fun after party venues and entertainment, and some lovely ideas to get a little more quality time in with your loved ones the next day.
For every budget and type of couple, you'll find the ultimate wedding after party inspiration you need here.
READ MORE:
Why Have a Wedding After Party?
"Many venues, particularly in the UK, have licensing-related time restrictions on how late drinks can be served and music can be played," says Valentina Ring, Head of Storytelling at wedding and elopement planner The Stars Inside.
"This is one of the primary reasons why many couples who love the idea of continuing the celebrations into the early hours might hire an area of a bar or club for an intimate after party. Many of the couples I'm working with love the idea of a post-wedding bash, particularly if their guest list includes a younger crowd made up of friends they haven't seen in a long time.
"Hosting an after party is another opportunity to make memories with their loved ones, to personalise and elevate the guest experience, and to have a fun time together when everyone is relaxed and letting loose!"
If you love nothing more than shaking it into the early hours, then without an after party you might feel you've missed out on what you consider to an essential part of the day. However, you risk losing momentum if you don't have a plan - which is where planning one ahead of time comes into its own. Of course, if one emerges naturally that's great too!
Bear in mind that if your venue has a late license until 1am or 2am, an after party that day might not be worth it - you're bound to get lots of guests sneaking off to bed. If you're going to save some budget for an after party, how about spending it on a post-reception celebration the next day? The festivities can continue with either the whole guest list or a closer knit group of friends and family. It's another opportunity for you to continue your big day, create more memories and round off a lovely weekend.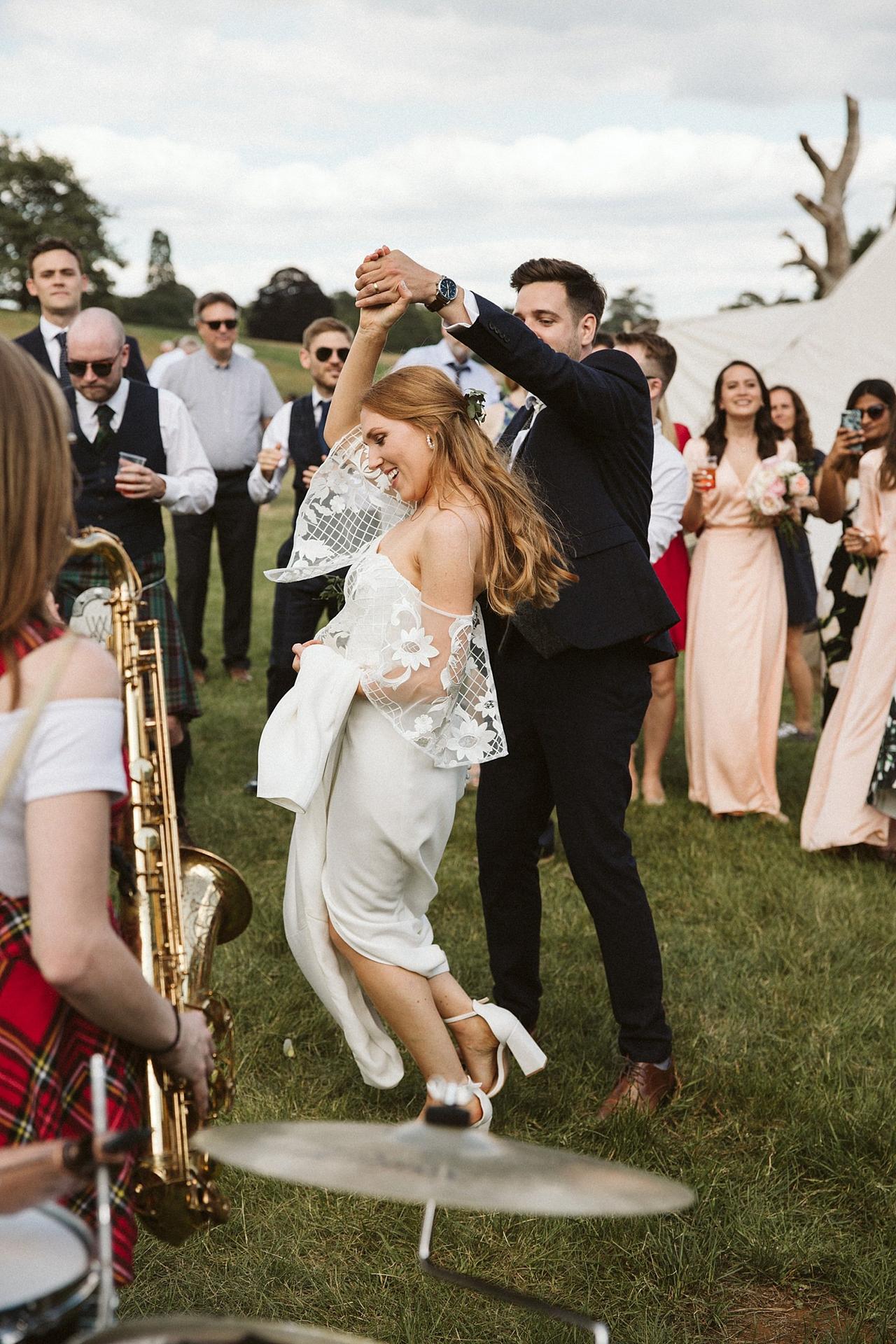 Who Do You Invite to Your After Party?
Ultimately you shouldn't really be picking and choosing who you invite. It'll sour the whole day for guests if they feel they've been left out of the after party. Instead Valentina recommends making sure everyone is on the invite list.
"It's really important to make sure your guests are informed that an afterparty is on the agenda - otherwise they may head home and miss it, without even knowing! Many couples add a small insert to the wedding invitation with details about this, or alternatively send a group email closer to the time, once the bookings and decisions have been made," she says.
If a plan forms organically during the evening, you could ask your DJ to make an announcement on the mic, or tell your wedding party to go round the tables and spread the word.
Make sure your guests know they have options too. Some might feel in desperate need to putting their party feet up and getting into bed, so ensure everyone knows it's absolutely fine to skip the after party if it's not for you.
Where Should You Throw Your After Party?
"The most important criteria for your after party venue are that it's easily accessible from your reception venue, and that it's suitable for the number of people you expect to have with you," says Valentina. "I always recommend finding somewhere intimate and cosy, so that it feels exclusive and private for your partygoers.
"The sky is the limit when it comes to the actual venue style - it could be a friend's house, a private room in a bar or hotel, or even a chartered boat! You could even just keep one area of your wedding venue closed off and reveal it as a secret after party space when the time is right. Silent discos are a really fun and popular option for having an after party at a wedding venue where there are sound restrictions beyond a certain time.
"There are no set rules when it comes to the location, the décor, or the food and drinks, and most after parties are fairly informal and laid-back. You can do whatever feels right for you - try to consider what would excite YOU the most!"
Image: Rebecca Carpenter Photography; Planner: The Stars Inside
Should You Book Somewhere For Your After Party?
"Whether or not you should book ahead depends on how many of your guests you think will be joining you, as well as what kind of venue you'd like your afterparty to be in (and how flexible you are on that!)," advises Valentina.
"If you have your heart set on a particularly stylish and hip club in London on a weekend, then booking ahead is definitely a good idea! If you are having your celebrations in an area where there are lots of nice locations for drinks and music, and you like the spontaneity of seeing where the night takes you, that's fine too - but do keep in mind that your guests may disperse if there isn't one clear destination for them to head to after the wedding reception.
"Leaving things to chance can really pay off sometimes, but of course there's also a risk that you don't find a place you love!"
How Much Budget Do You Need?
This really depends on what style party you have. Guests are already going to be in a great mood following the ceremony and reception, so they won't be expecting you to splash out on another whole amazing party. The key things will be having good music, drinks available and somewhere to dance. You might have to put down a deposit for an area at a pub or table at a club, but you can also throw an after party on a budget - you'll find lots of ideas below.
The Best Reception Send Off Ideas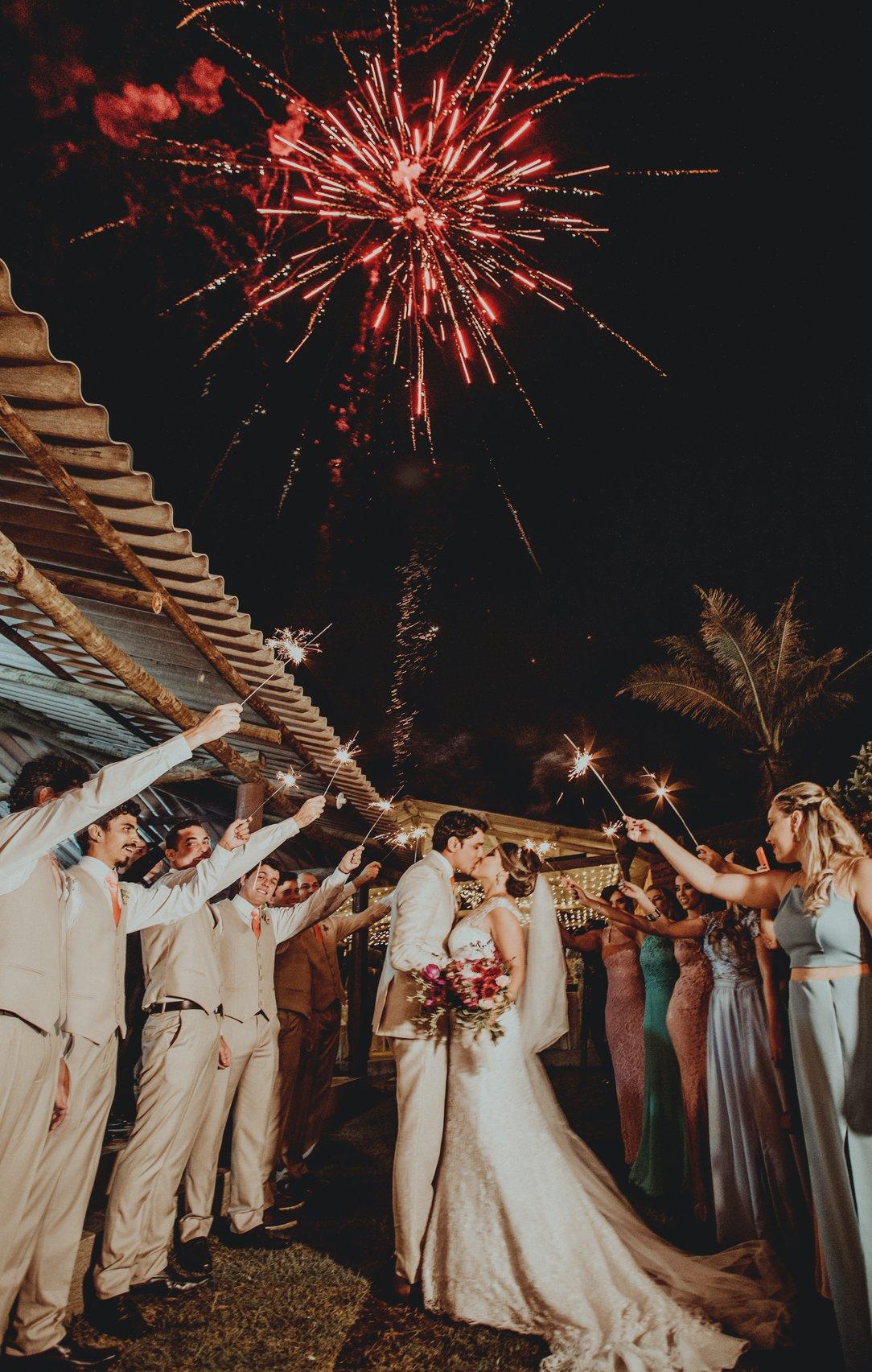 You'll want to throw an epic end to your wedding celebration that goes out on a high for those heading off to bed and gets everyone else excited for what's to come.
1. Fireworks Display
Is there a more magical end to a wedding than a fireworks display in the grounds of your venue? Have your wedding DJ or master of ceremonies tell everyone to gather outside before surprising them with a spectacular display. Add sparklers for an extra fun element and a beautiful wedding photo opportunity.
2. Sparkler Send Off
"Sparkler tunnels are still a firm favourite when it comes to send-offs at the end of the night, and do make for gorgeous photo opportunities too," says Valentina.
3. Live Music Procession
"If the location is nearby and can be reached by foot, you could ask a live musician to lead the way to the post-reception revelry," she suggests. A saxophonist is incredible for creating a party atmosphere.
"You could also have snack packs, hangover kit stations, a glitter bar, or light-up dancing props (hello glow sticks!) waiting for your guests to discover on their way to the party, and maybe even surprise them with a sparkly confetti and balloon drop!" It's a great way to signal the change from the reception to the after party.
The Best Wedding After Party Ideas
After the reception has officially ended, the after party begins! There's so many different ideas you can do - whether it's something more relaxing like a late-night movie showing or a boozy visit to a club. See which one of these feels right for you and your guests.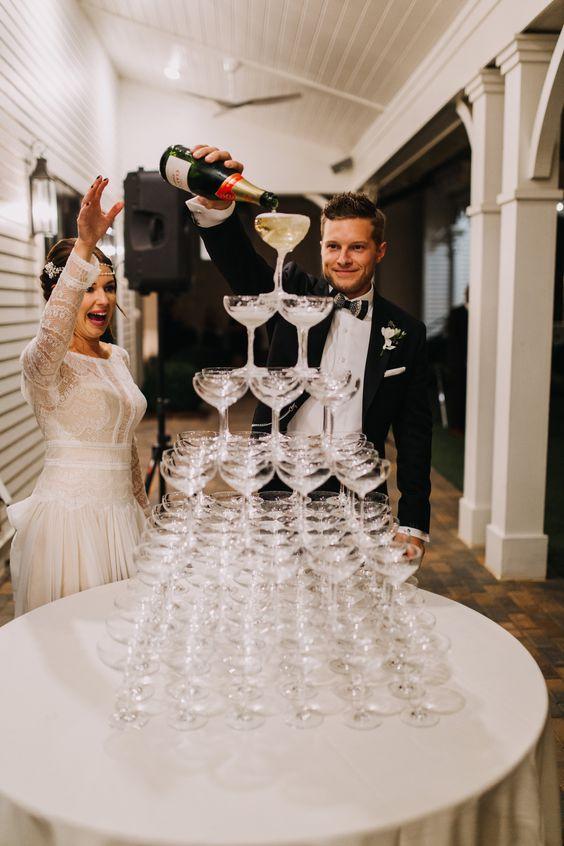 4. Night-cap
If you've got exclusive use of your wedding venue, chances are there are plenty of spaces on-site for you to utilise. Why not invite guests to join you in a drawing room, library or separate tipi for a chilled-out night-cap? It's a great chance for you to finally sit down and catch up with guests after a hectic day or simply enjoy a drink with your new spouse.
If all your guests are heading to the same hotel for the night (you could even be at a hotel venue), see if the hotel bar can stay open later for you. Alternatively book out an area of nearby pub or bar. You may need to put a deposit down for this, but there's no necessity for you to make it an open bar situation. Do what fits within your budget.
5. Movie Screening
If your venue requires you to cut the music early due to its location or local regulations, why not create an after wedding disco screening space? Guests can cosy up with a drink, rest their dancing feet and chill out in front of a movie. Make it one of your favourite movies as a couple, for an extra personal touch.
6. Karaoke
If your guests are in the mood to sing and perform, Karaoke is a fun way to turn the spotlight onto them for the balance of the evening. Hire a DJ who offers karaoke if you can stay on late at your venue or make a reservation at a karaoke bar. Alternatively, what about hiring a pop-up karaoke booth, like this one Lucky Voice?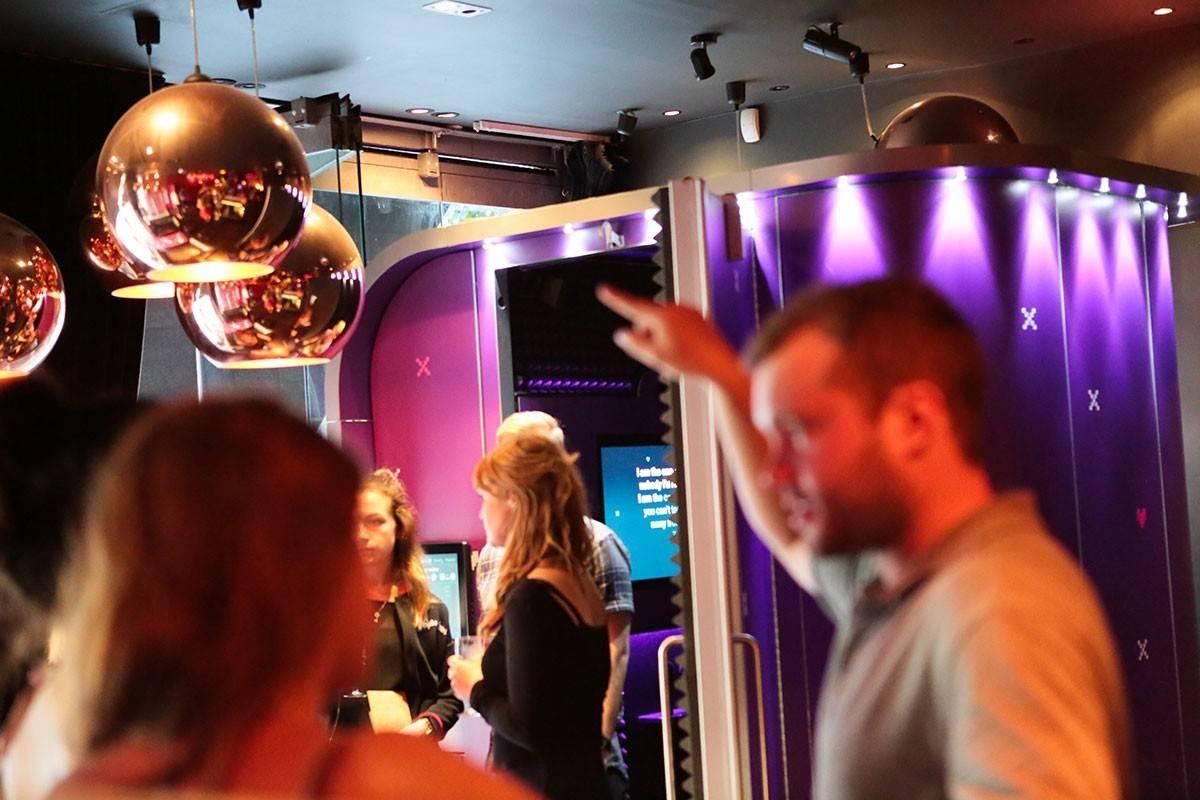 7. Club Night
If you're getting married in a city centre location or are within easy reach of a nearby town or city, you could always head out to a club post-wedding. Put the idea out there ahead of the day and see who might be up for continuing the celebrations elsewhere and then book a VIP table. Lots of clubs will be open until 2am or 3am on a Saturday night so there'll be plenty of time to keep dancing.
8. Food Van
Just like at the end of a regular night out, you'll probably be feeling peckish and ready for something a little bit naughty and delicious when the dancing is over! Why not hire a street food van or two? You can enjoy late-night pizza, burgers, hot dogs or anything you fancy as you chat to your guests at the end of the night.
9. Silent Disco
If you want to stay at your venue but can't play music out loud, a silent disco is the perfect compromise. You'll each get a headset with different channels of music and you can dance to your favourite genre.
10. Stand Up Comedian
Why not take the weight off your feet and sit down to a comedy show at the end of the evening? Hiring a comedian is a unique and unexpected wedding after party idea that guests will love. It's a great idea if your venue won't let you continue playing loud music but you aren't ready to stop the laughter and fun.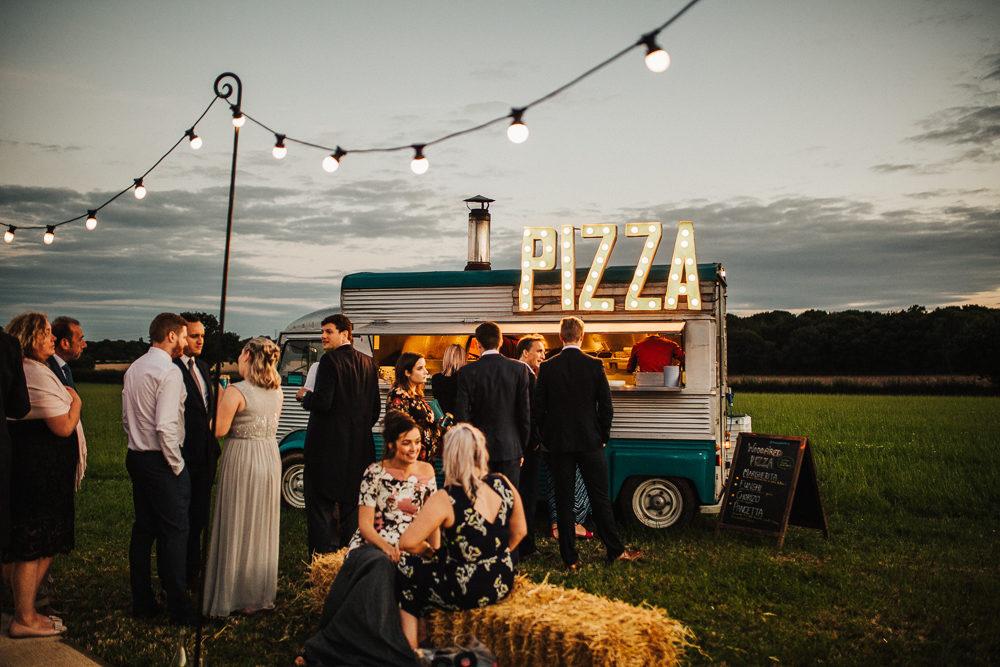 11. Speakeasy
Hire out a little speakeasy bar with a secret message or code to get in. Guests will love working out an (easy - we've all had Champagne!) clue to get in, and it works so well after a vintage themed wedding. You could even hire a mixologist and turn your hotel suite into a mini bar.
12. Party Bus
If you're getting hitched in the city, taking guests on a tour around the bright lights with some quality tunes is a great way to end the night! Serve up drinks and get the disco lights going too.
13. Throw a House Party
If there aren't large numbers of you, you might be able to go back to someone's house for your after party. This is an excellent budget option as you can supply your own alcohol and throw on a Spotify playlist. If you're having at back at your house and you know it could go on late, it's only polite to warn your neighbours first - they're unlikely to mind, it's your wedding day!
Day After Wedding After Party Ideas
Not considered doing something the next day? "Hosting multiple-day wedding celebrations is definitely becoming increasingly popular amongst couples, particularly if they are having a destination wedding or an intimate wedding where the focus is on the quantity and quality of time spent together," says Valentina.
"Late morning brunches, pool parties, and barbeques are wonderful ways of spending that little bit of extra time with your loved ones, and listening to all the stories from the night before! You could also arrange for some low-key, relaxing activities, like massages, spa treatments, or food tasting for guests to opt into if they wish."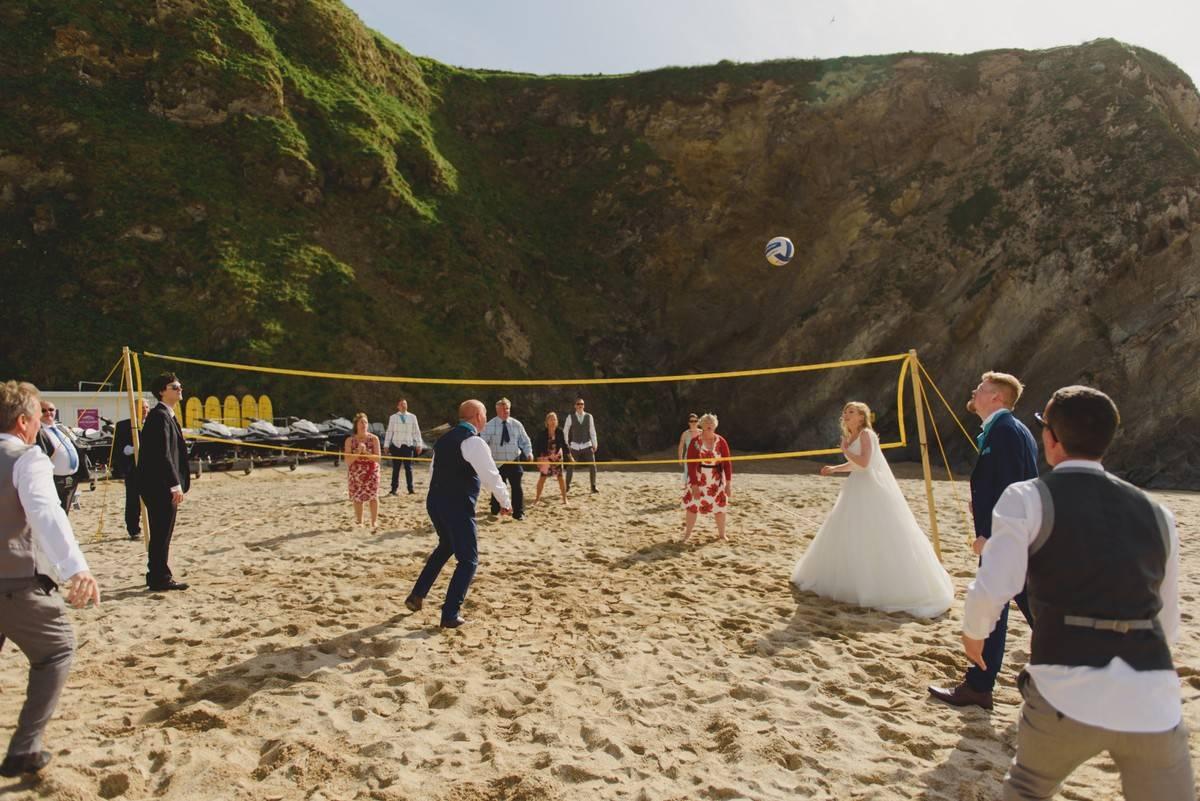 14. Brunch
If you fancy going straight to bed after your wedding disco (we wouldn't blame you, it's been a long day) then why not invite guests to reconvene the following morning for post-wedding brunch? Whether you arrange it with the venue or head to a local café, it's a great chance to catch-up with guests, feed those hangovers and say your goodbyes before you head off on your honeymoon.
15. Sunday Lunch
The good old British Sunday lunch has been bringing families together for decades, so it's a total winner for post-wedding get togethers. Ask your venue if they're able to organise it or head to the best local pub.
16. Spa Day
After months of wedding planning, a busy build-up and a full-on day, a spa day could be just the thing you need. Treat your bridal party or your closest family members to a relaxing wedding after party at your local health and wellness centre. Enjoy treatments, a dip in the pool and a spot of lunch – bliss!
17. Picnic
We think an after party is a must for a wedding abroad, guests will likely be sticking around a little while longer to enjoy the destination, so putting on plenty for them to do is a great idea. Make the most of the weather in sunnier climes with a picnic on the beach or in the grounds of your venue. Make sure to pack plenty of local produce to give guests a true taste of the area!
You can turn it into a pool party too, if your venue or hotel has a pool. Set up a BBQ picnic, put loads of fun floats in the pool and play relaxed music until the sun sets.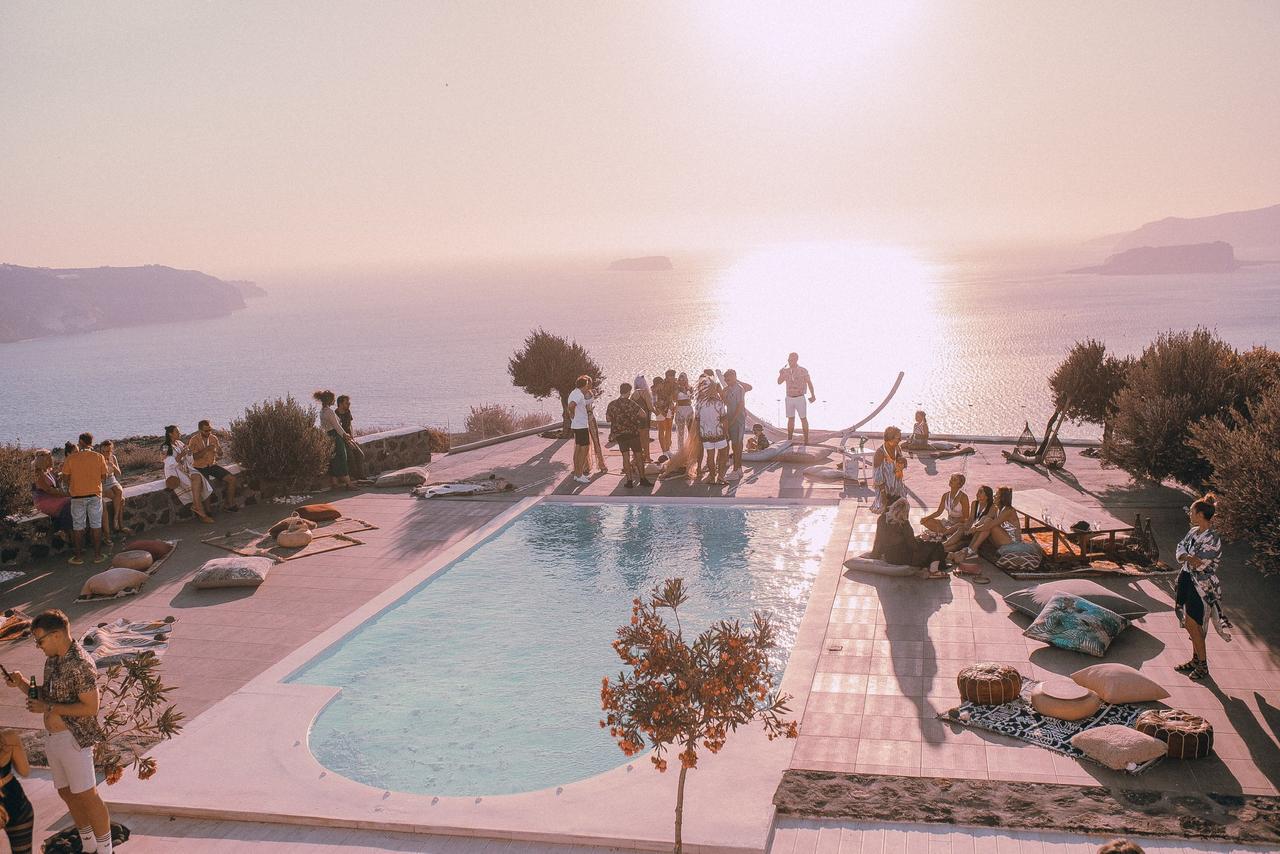 18. Hike
If you're an active kind of couple, a refreshing walk around a local beauty spot could be a great idea for you. If you're getting hitched in a rural location, ask your venue for hike suggestions, they may even have grounds of their own for you to explore.
19. Afternoon Tea
Who doesn't love little tiny sandwiches, scones and tea? Booking afternoon tea at your venue or a nearby hotel is a sure winner with your wedding guests, especially older relatives who may not have been able to stick around for the night time wedding antics.
20. Outdoor Games
Got a very competitive group of friends and family? Why not throw a sports day? You can put on a range of outdoor games like croquet, ring toss and giant Connect 4, or organise a big team game of rounders. Those less physically-minded can cheer on from the sidelines with glass of Pimm's.
Like the idea of outdoor games? Find the 25 best outdoor game ideas here.