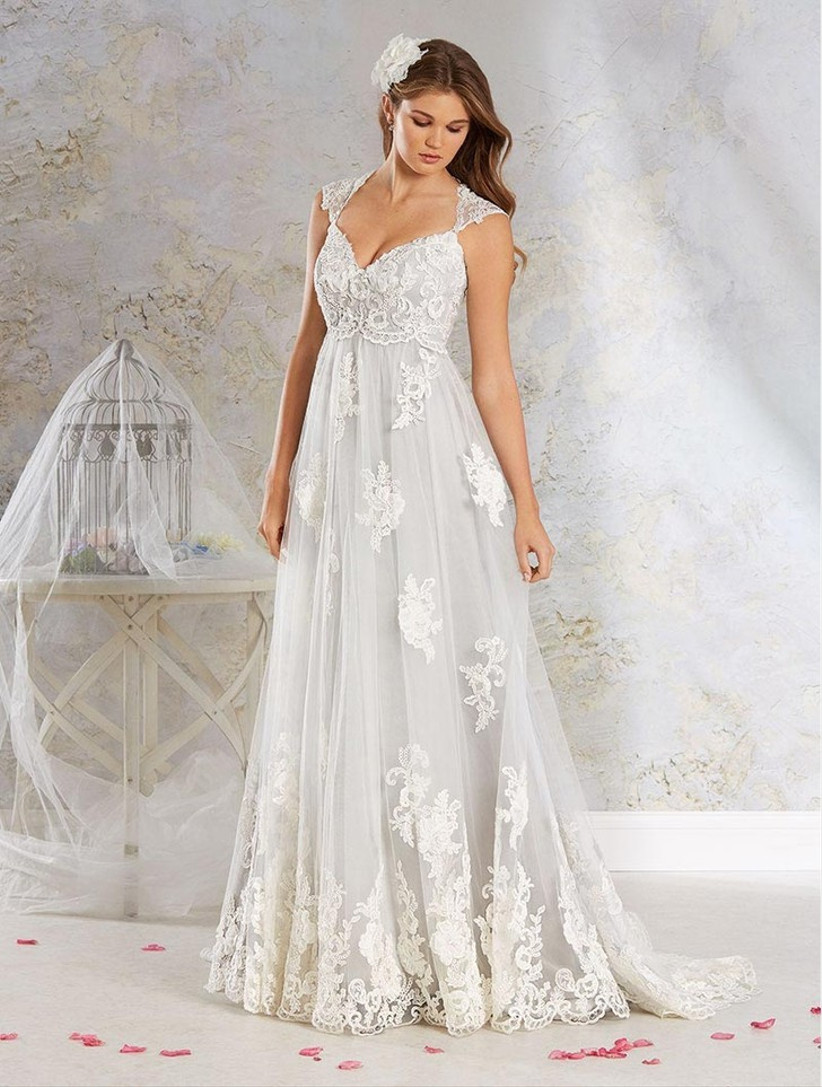 Every bride wants to be a princess on their wedding day, and it's even better if you can be a Disney princess! We've rounded up our favourite Disney-worthy wedding gowns to suit your favourite Disney princesses – which fairytale wedding dress will you choose for your happily ever after?
If you're planning a Disney day, don't miss our round up of the best Disney wedding cakes too!
Cinderella
Cinderella is one of the classic Disney princesses – in fact, she is the 2nd Disney princess and featured in the 1950 Disney film of the same name. Go for a 1950s ball gown to channel her classic style, just avoid casting your bridesmaids as the ugly stepsisters as you marry your Prince Charming.
We love the 262 from Alfred Angelo's Disney wedding dress collection, which is inspired by Cinderella. It's a classic bridal ball gown with a sweetheart neckline and sparkling metallic embroidery designed to catch the light as you move. You can choose the detailing in gold or silver to match your colour scheme.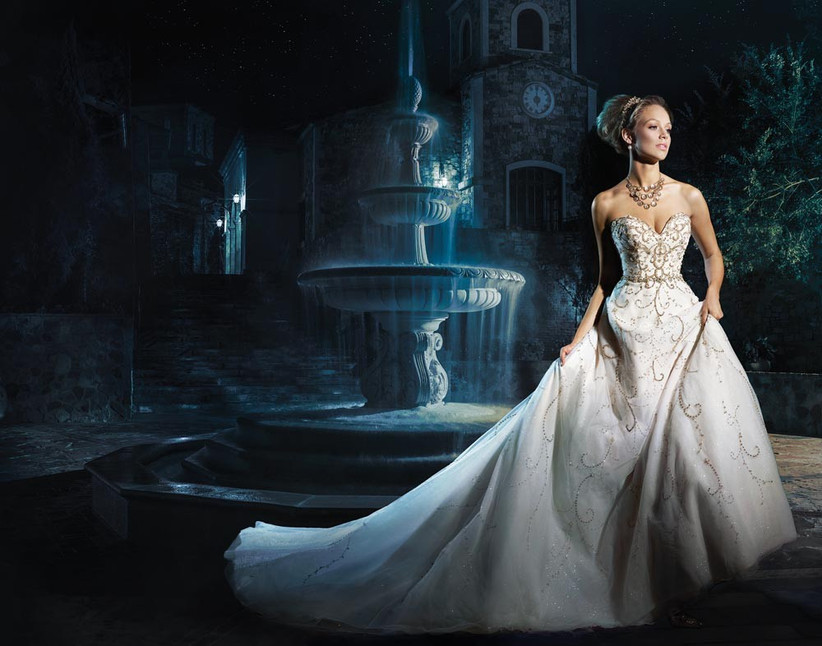 The key to channelling Cinderella's style is a big skirt and shoulder detail, much like this beautiful gown from Ivory & Co's latest collection. The lace neckline gives the gown a romantic feel.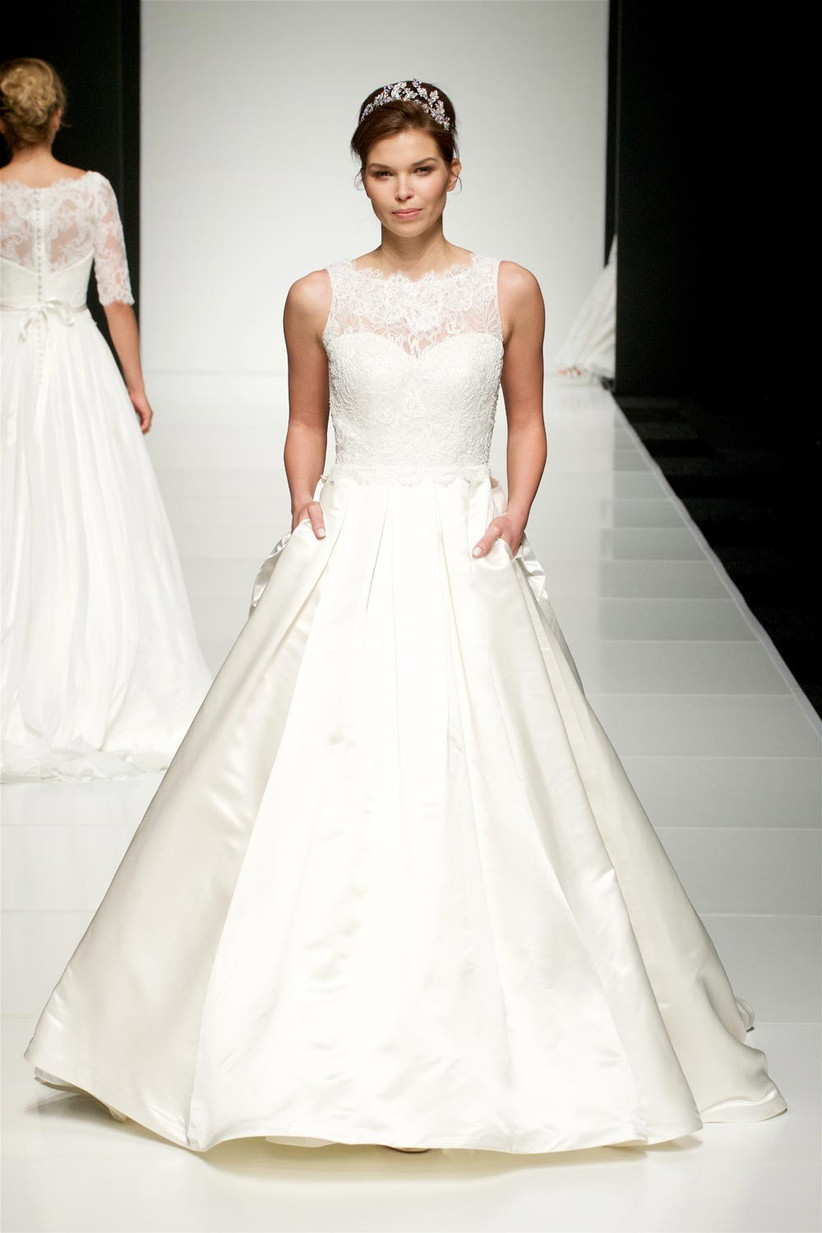 This full-skirted wedding dress from Allure Bridals is also a great choice if you want to give your wedding day look that Cinderella feel. The glittering detail will sparkle under the lights all day, adding a really magical touch to your gown. It's the ideal option if you're looking for a church wedding dress too.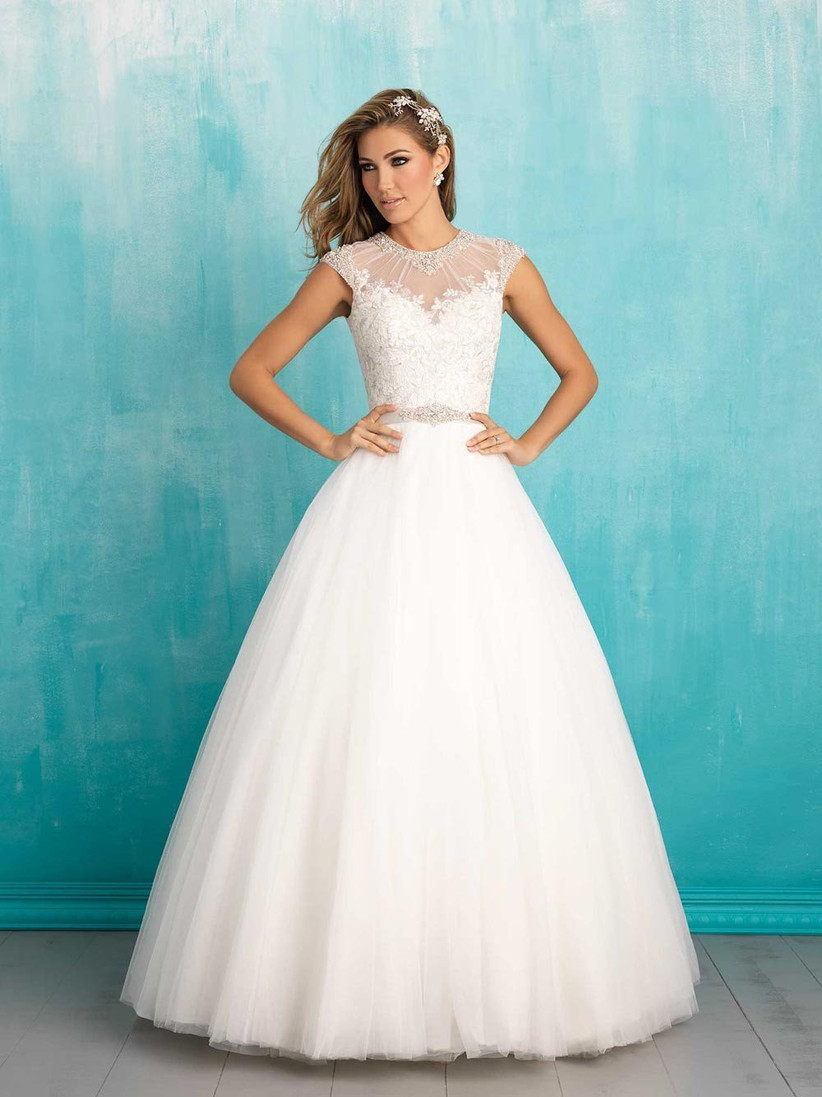 Snow White
Snow White was the original Disney princess, so she's a great icon to emulate on your big day. She's also the fairest of them all, so if that's your aim then it's her style you need to steal. Why not have seven bridesmaids (you could dress them in mismatched bridesmaid dresses) to reference Snow White's entourage?
Alfred Angelo nailed Snow White's elegant, feminine style with the 256 which was inspired by the princess herself. We love the pleated gold cummerbund, which will accentuate your waist, and the glitter floral detail on the skirt.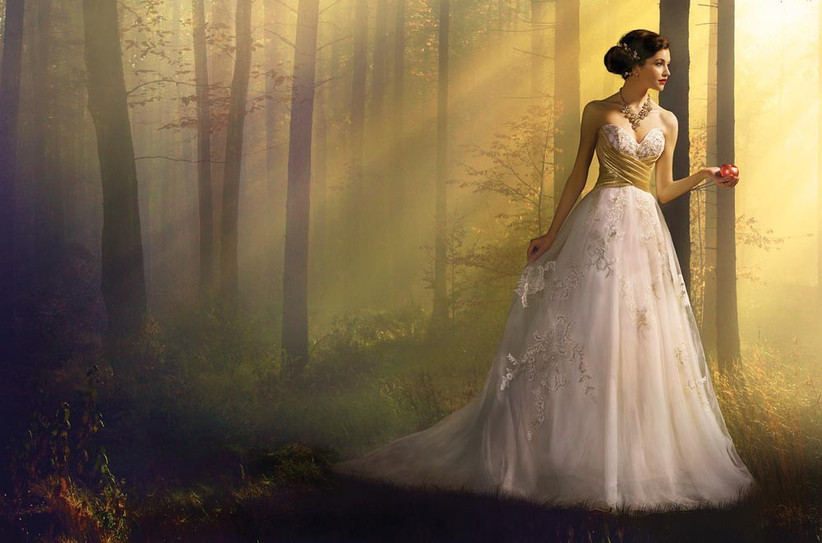 In the fairytale, much is made of Snow White's rose red lips, and she also wears a red cape which matches her hair bow and sleeve detail. Channel this with this super glamorous red gown from Eliza Jane Howell – we're obsessed with the matching floral coat.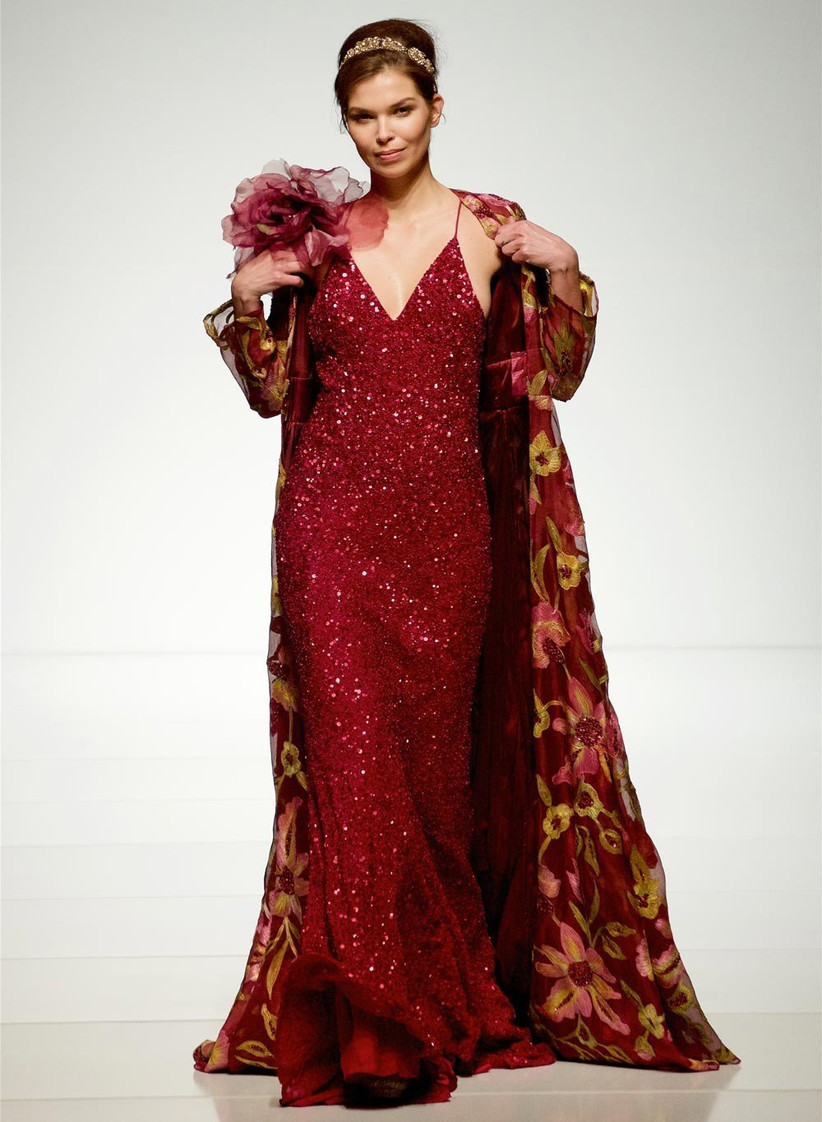 Snow White's swishy skirt that shows off her shoes is one of the best bits of her look. The 8815 from Justin Alexander is a great choice if you love tea length wedding dresses and want to show off your shoes.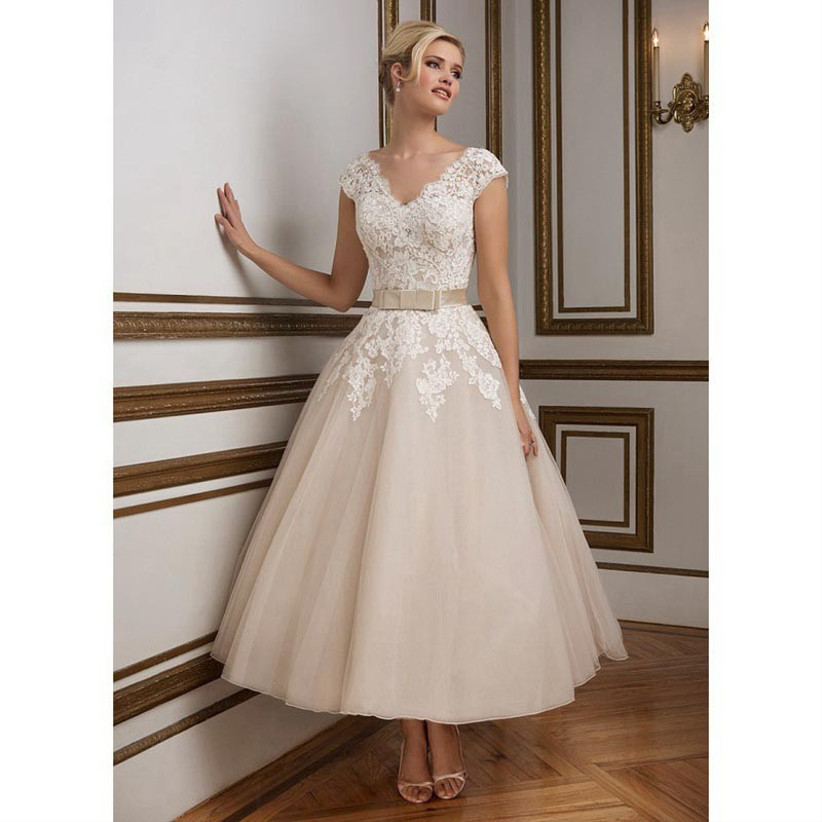 Rapunzel
Rapunzel was given the Disney treatment fairly recently in the film 'Tangled', where everyone fell in love with her long hair, lilac dress and the super-charming Flynn Ryder/Eugene Fitzherbert. Don't miss our guide to having a Rapunzel themed wedding if she's your favourite Disney princess.
This A-line wedding dress from Alfred Angelo's Disney collection features gorgeous gold detailing that trails all the way down the dress, inspired by Rapunzel's long locks. It comes with silver detailing too if you'd prefer a more subtle shimmer.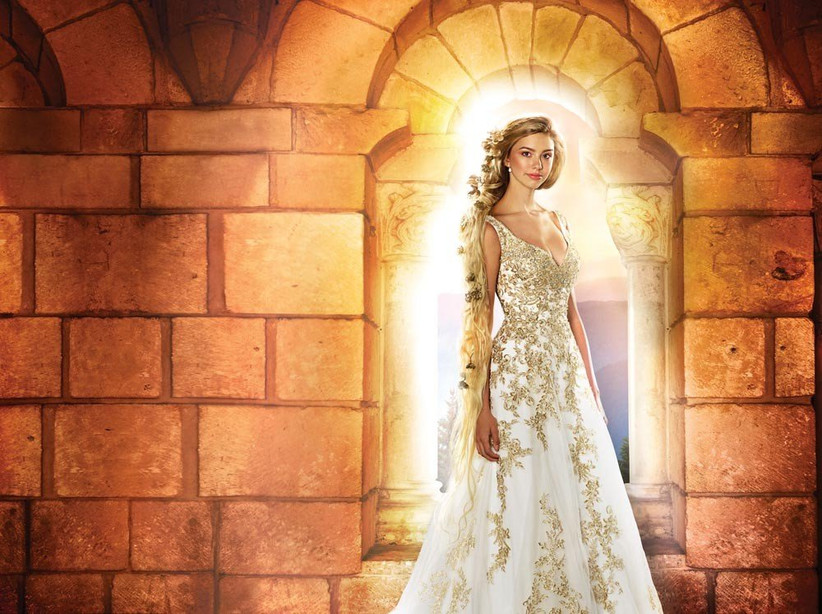 The Bleu gown from Monique Lhuillier could be the dream dress for the Rapunzel obsessed bride. We love the lilac-blue hue and the romantic lace detailing – perfect for a princess who's not afraid to stand out. Why not pair it with some blue wedding shoes?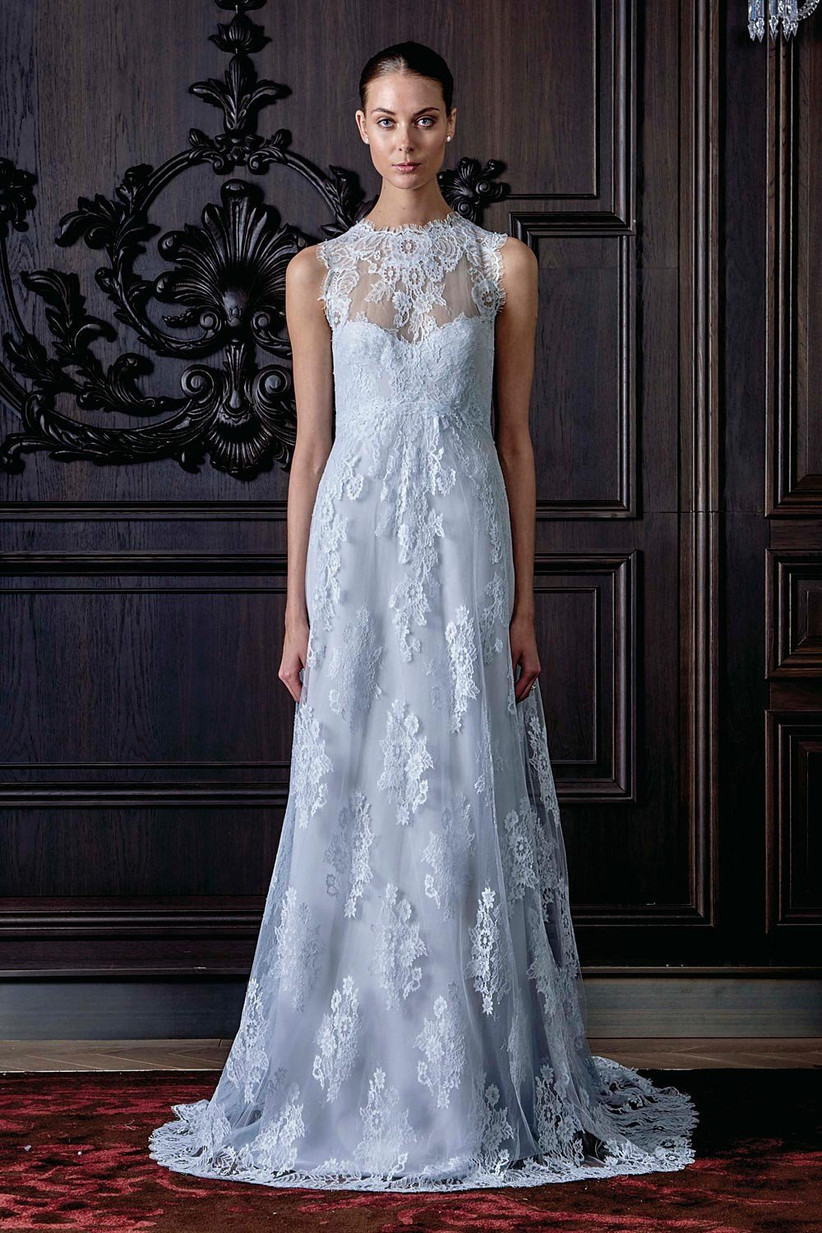 This subtle grey toned gown from Alfred Angelo's Modern Vintage collection is also fit for a princess, and we think that princess is Rapunzel – the flowing skirt allows for lots of movement and the soft grey-silver colour is so unusual.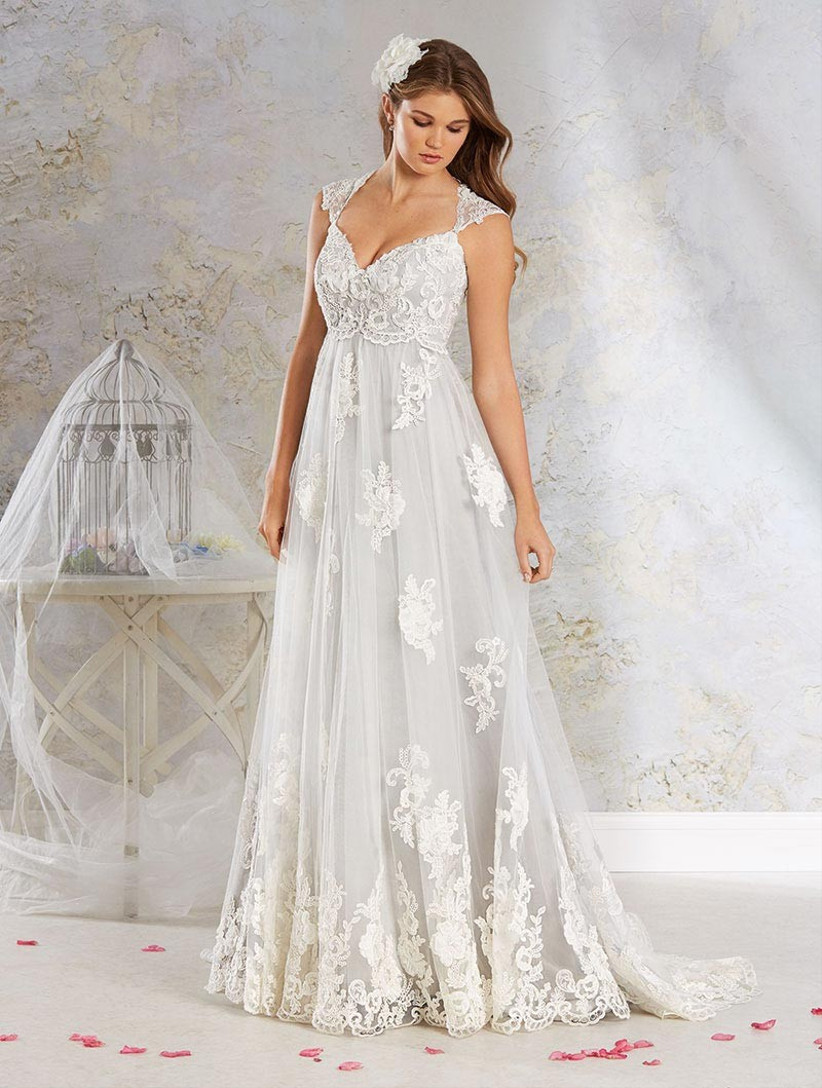 Belle
If you're the kind of bride who's been lusting over library wedding venues, then it's safe to say Belle is your Disney princess bride inspiration. Belle is the Disney princess who gave brides everywhere first dance goals when she and Beast waltzed around the ballroom whilst she wore that yellow-gold ball gown.
Alfred Angelo's take on Belle's dress, the 254, references the gathered skirt and has a more subtle take on the gold colour of her original gown, with glamorous golden embroidery. Wear this wedding dress with a half up half down wedding hairstyle for serious Disney wedding dress style.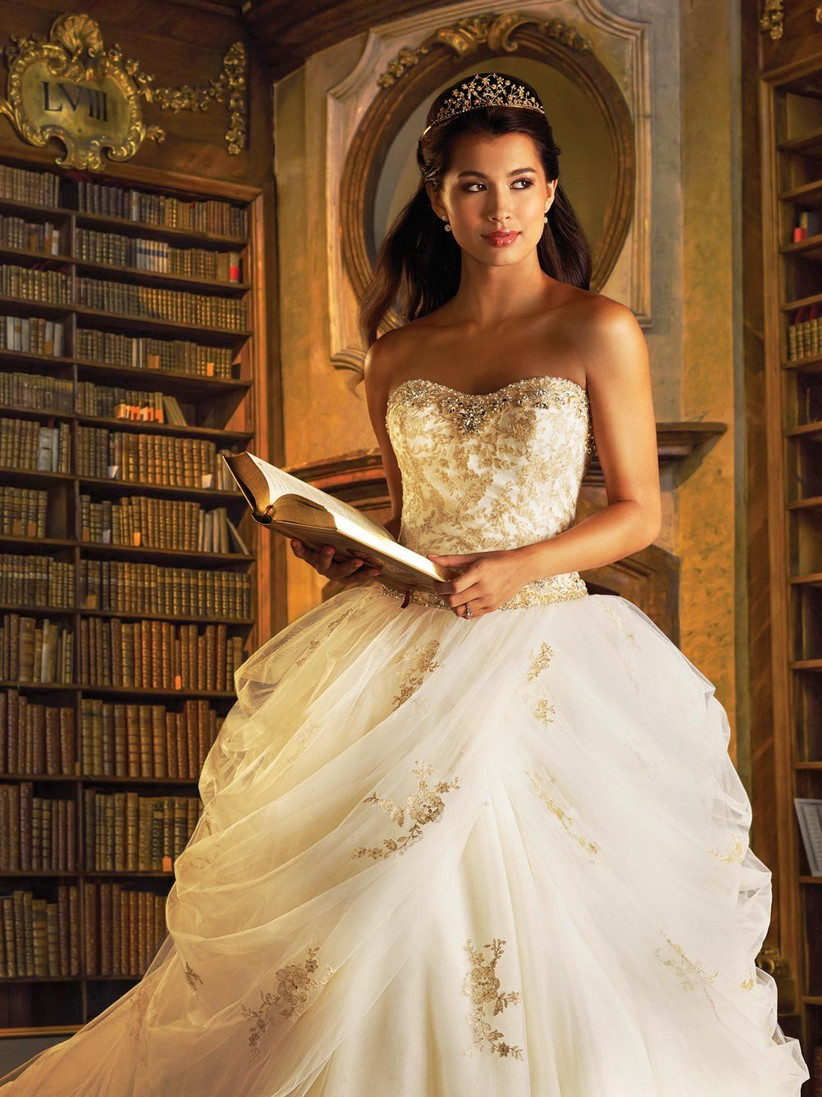 If you love the idea of a traditional white wedding dress, consider the 11453 from Ellis Bridals, which Belle would definitely approve of. The full, ruffled skirt and subtle glitter detail will ensure all eyes are on you.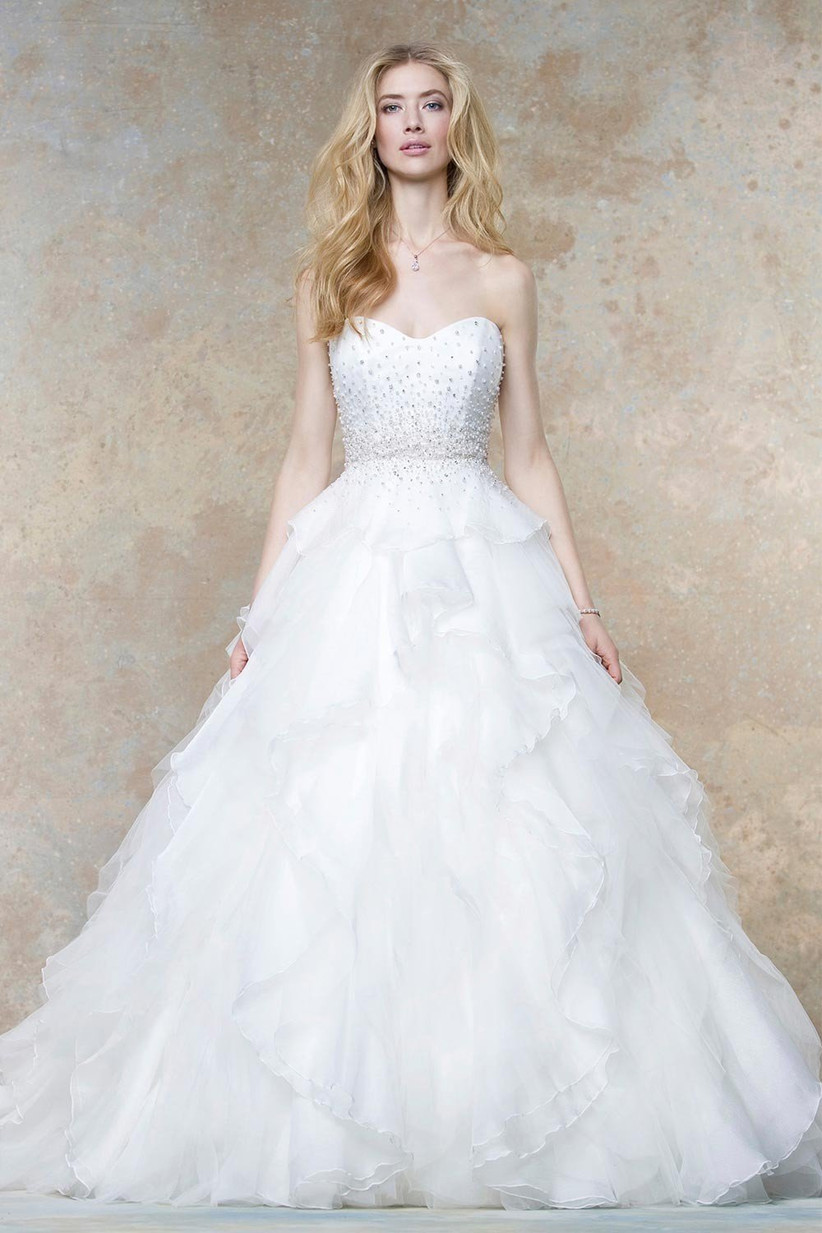 This glamorous gown from SAVIN London is a dream come true for a fairytale bride. The creamy colour will work on all skin tones and is a more contemporary take on Belle's classic gown.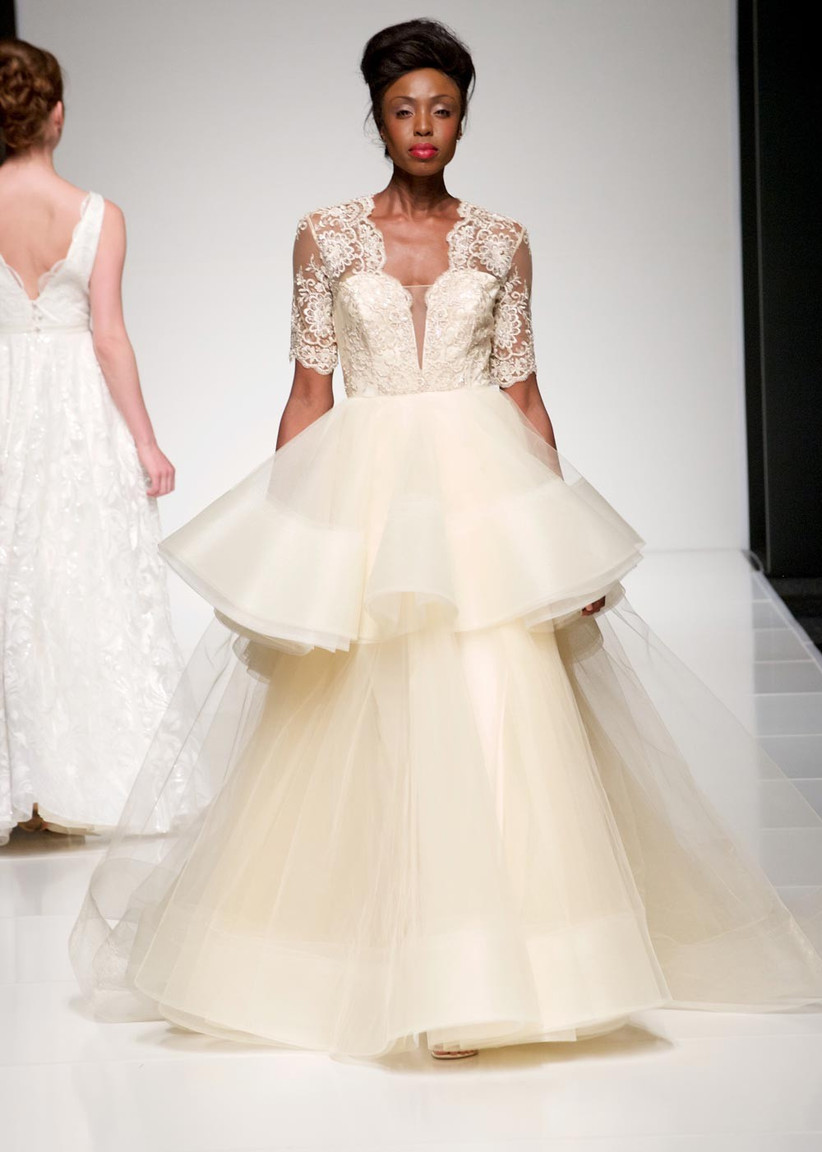 Ariel
The Little Mermaid is an unforgettable love story. If Ariel's determination and stubbornness resonates with you, why not go for an Ariel inspired wedding dress? You can honour her mermaid heritage with a fishtail gown, or go for big sleeves if you want to emulate her bridal style.
The ruffled skirt of the 263 is designed to resemble the waves of the ocean, and the pearl, crystal and rhinestone embellishment has been used to represent Ariel's ocean treasures. This is definitely a statement wedding dress, perfect for a glamorous bride.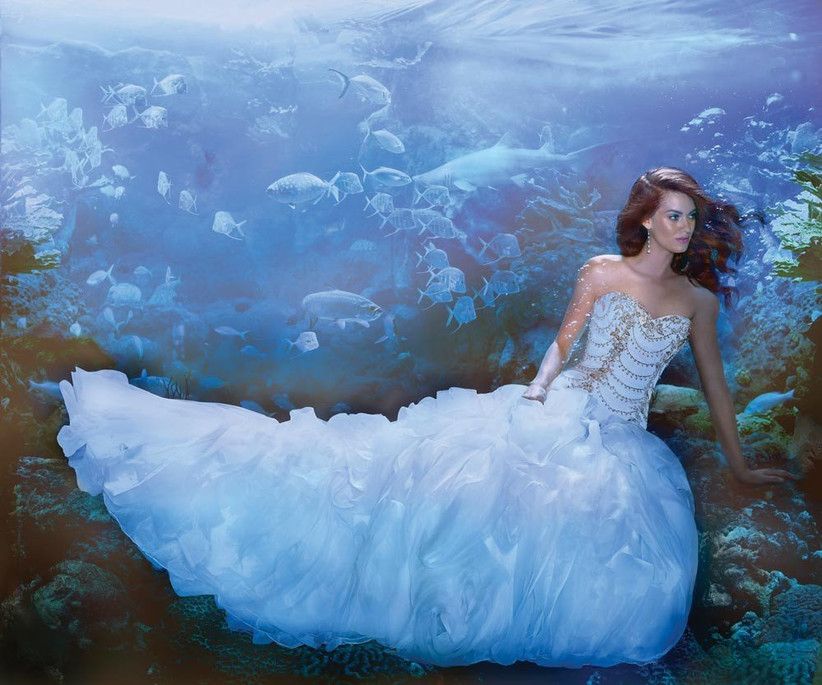 This shimmery satin gown from Sassi Holford represents Ariel's bridal gown, with its bold sleeve detail and dramatic full skirt. We love the chunky necklace it's been paired with, but a dramatic hair accessory would also work.
Anna Campbell's wedding dresses are designed with the boho, beachy bride in mind. The Sierra is perfect for brides who want a contemporary take on Ariel's sea-inspired style.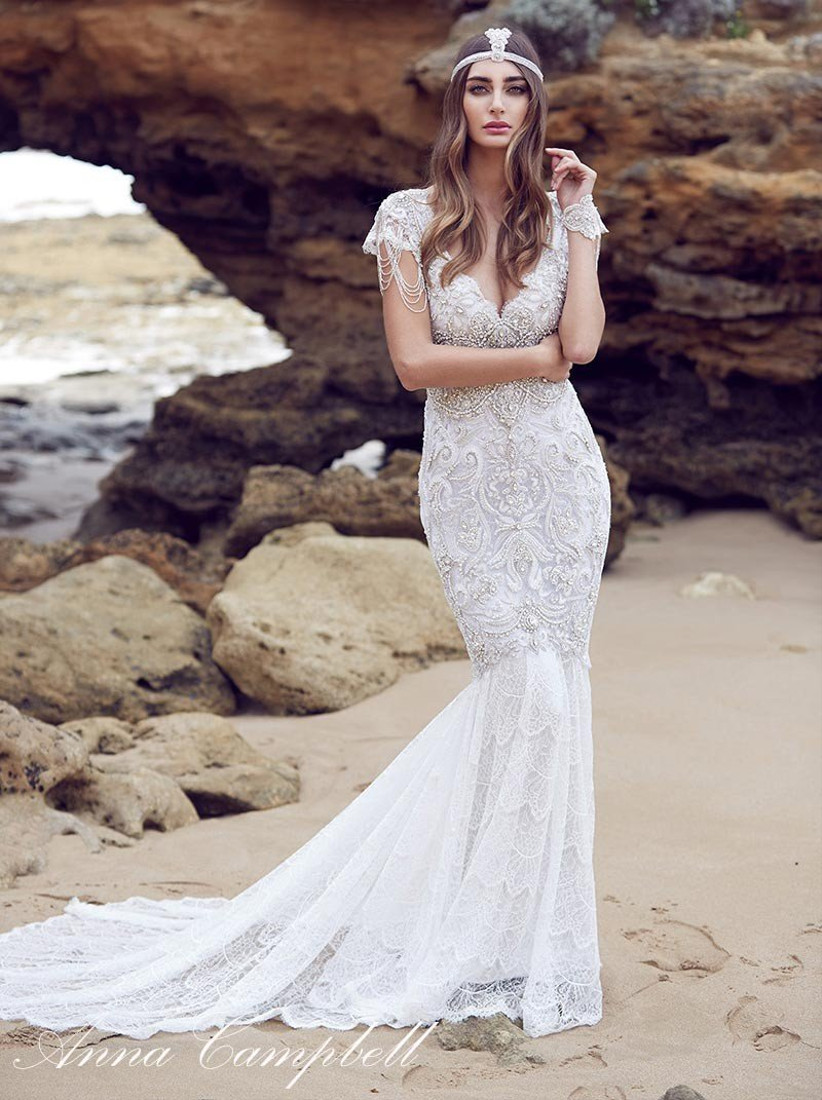 Elsa
Elsa burst on to the Disney scene in 2013 in Frozen, and changed the way we viewed Disney princesses. She didn't have a happily ever after with a Prince Charming, but she had a seriously amazing dress and made capes cool again.
The Alfred Angelo 258 Elsa dress was designed to glisten and sparkle like fresh snow. It features full length sheer sleeves and a Watteau train (which is detachable) for those that want to match Elsa exactly.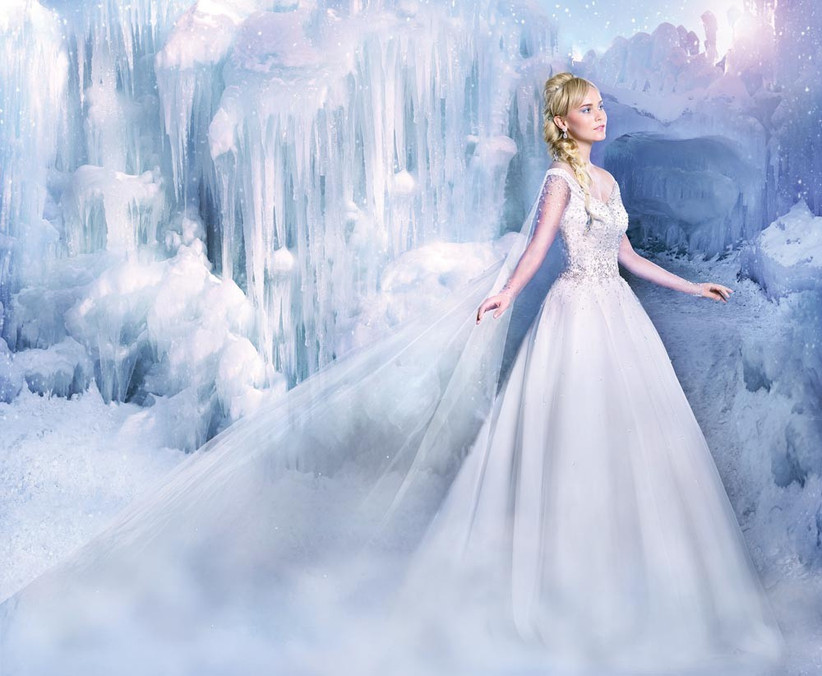 If you want a more subtle take on the cape trend, consider this gown from Annasul Y, which comes with a bridal cover up in the form of a vintage inspired lace capelet.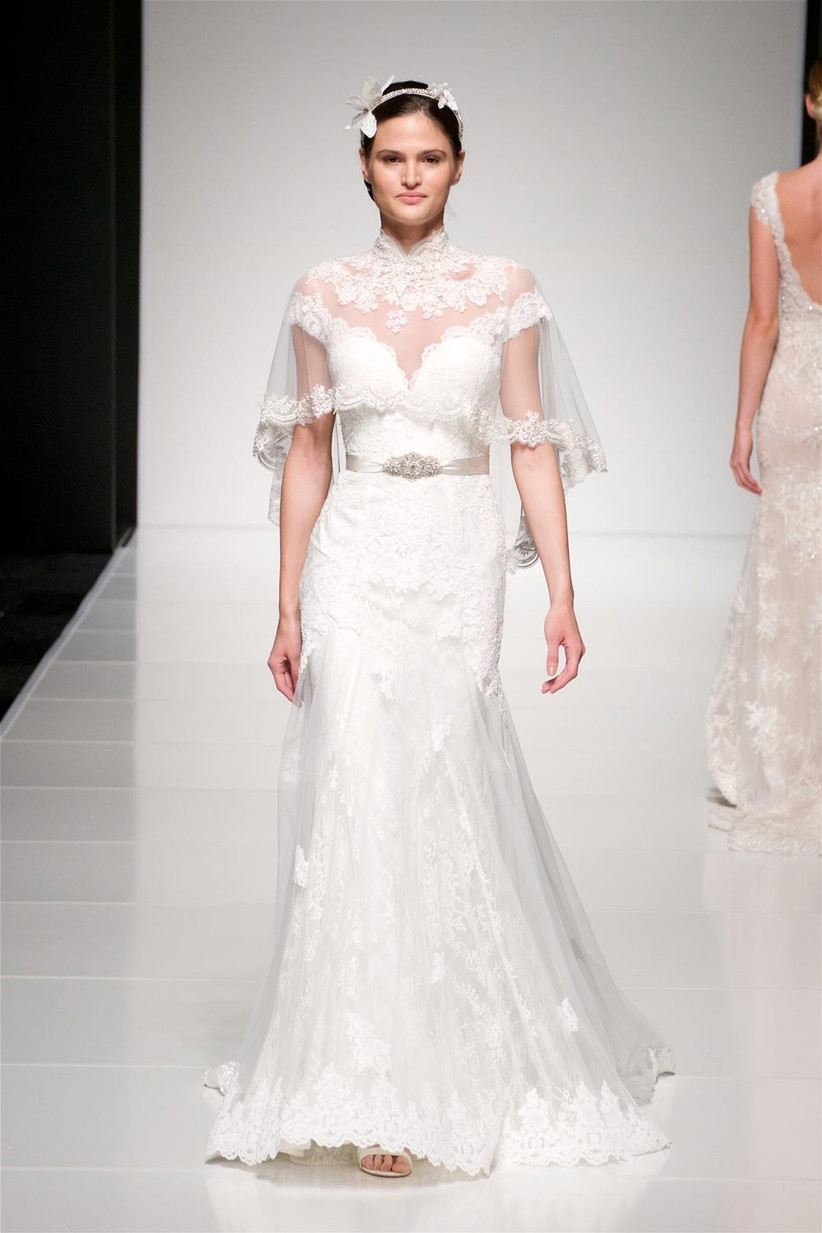 Start practising your best Elsa strut – you'll need it if you choose this amazingly fashion-forward gown from Monique Lhuillier, which has an amazing detachable feathered skirt. Remember how Elsa cast off her dark cape (as the cold never bothered her anyway)? You could do the same with a two in one wedding dress like this.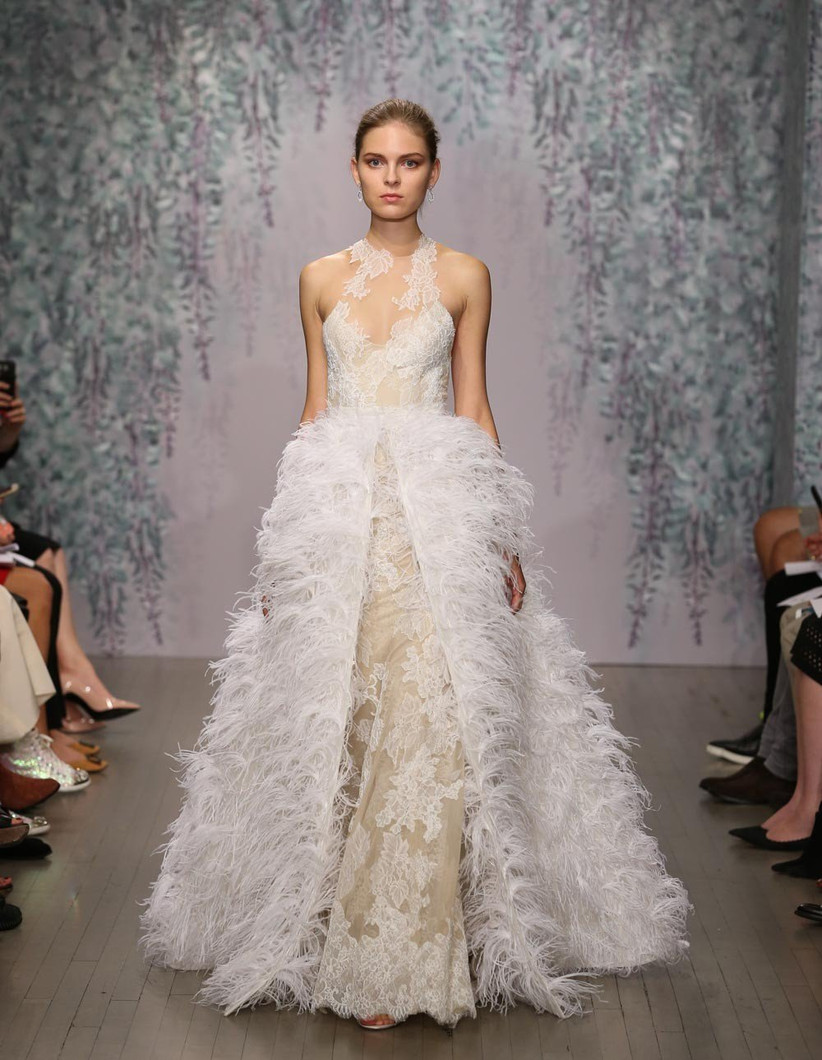 Tiana
Everyone remembers Tiana for her striking green-hued ball gown which resembles a lily pad. She's hard working and smart, and is a trailblazer too as she was Disney's first African American princess.
Alfred Angelo chose to draw on the 1920s setting of the film when they created the 253, rather than the green colour palette of the princess's fairytale dress. The mermaid shaped gown has glamorous detailing and a sultry shape inspired by the jazz music of 20s New Orleans.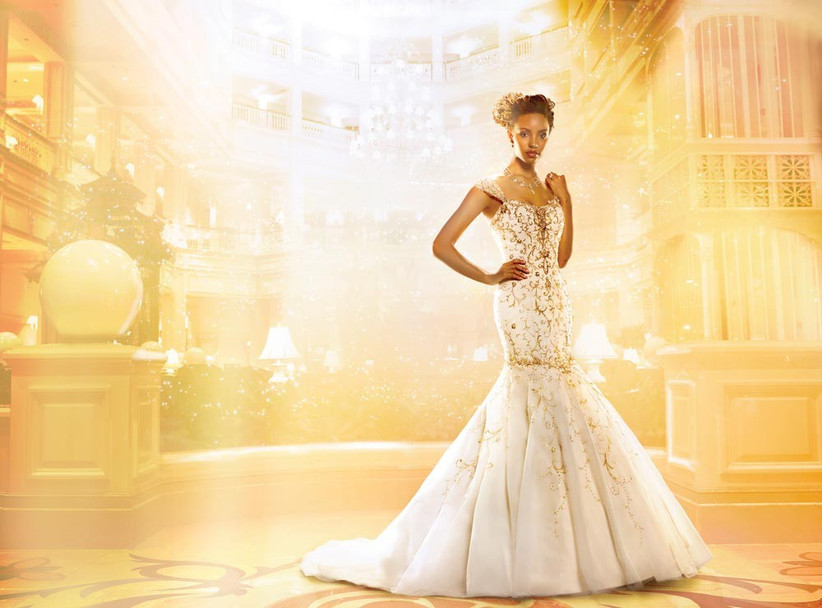 For those that can't see themselves in a green-tinged wedding dress, how about the 4715 from Paloma Blanca? This gown has a classic vintage feel and a full skirt that's perfect for twirling the night away.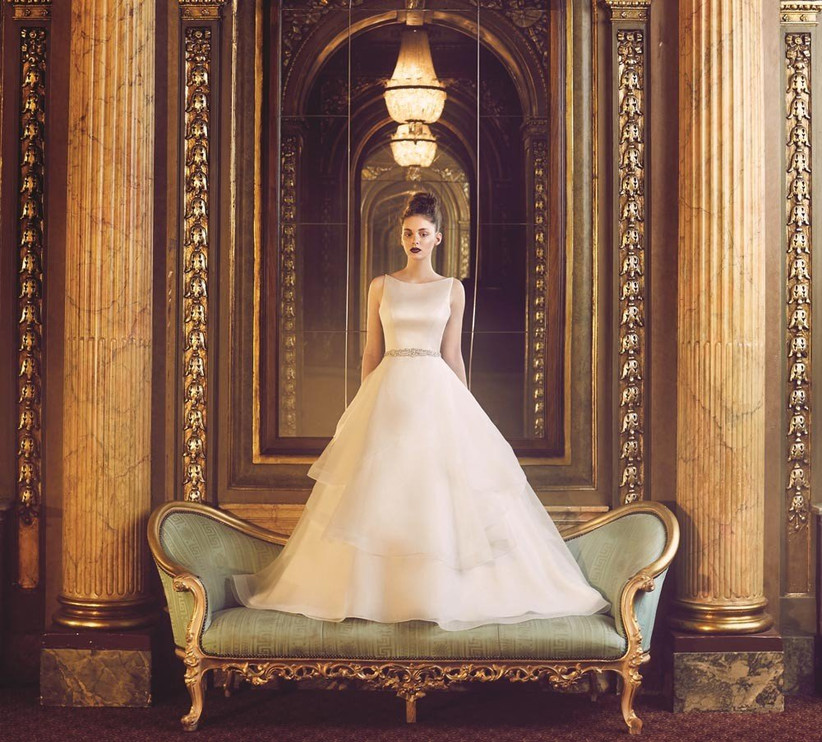 If you don't actually mind the thought of a green wedding dress (and why not!), consider the Apache in celadon from Jenny Packham, which has a spring-green colour palette and beautiful floral detail.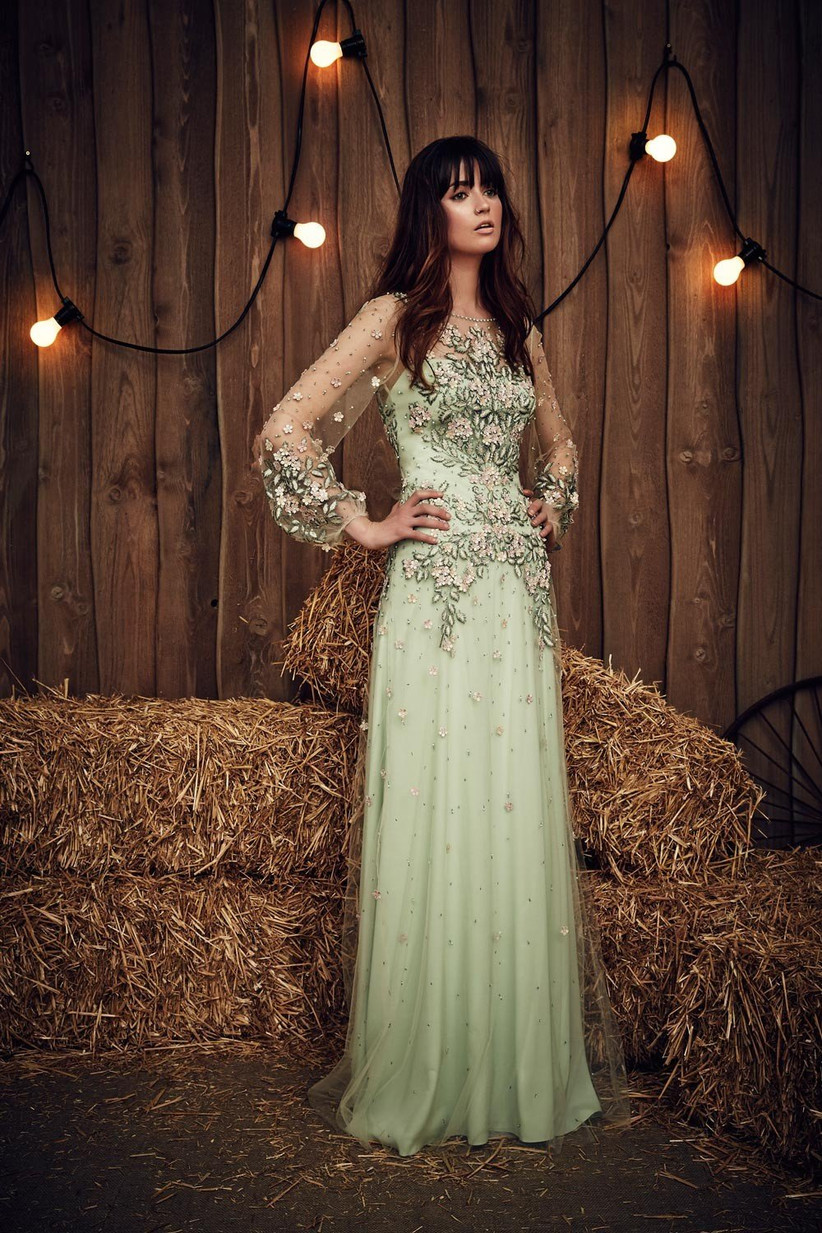 Jasmine
Jasmine was a Disney princess who knew what she wanted and wasn't going to be messed around. We liked that about her – and that she was a princess that could rock trousers too.
Alfred Angelo designed the 261 with Jasmine in mind. The fitted shape is sensual but the glitter detail on the neckline is fierce and bold. The beautifully draped skirt matches the draping on the fitted bodice.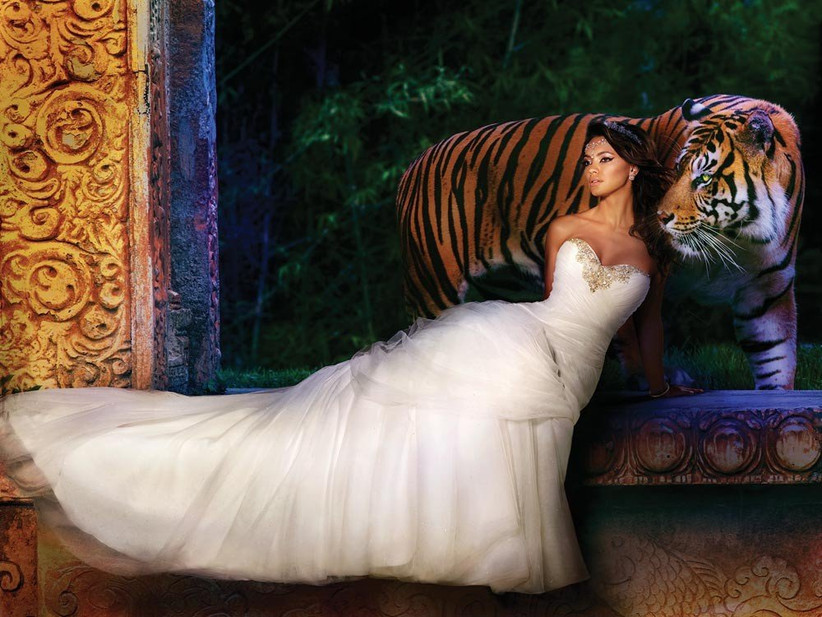 As mentioned above – Jasmine was a princess who knew how to wear trousers. So it makes sense she'd choose a bridal jumpsuit. We love this wedding jumpsuit from Gemy Maalouf which has a pretty lace top and daring open back.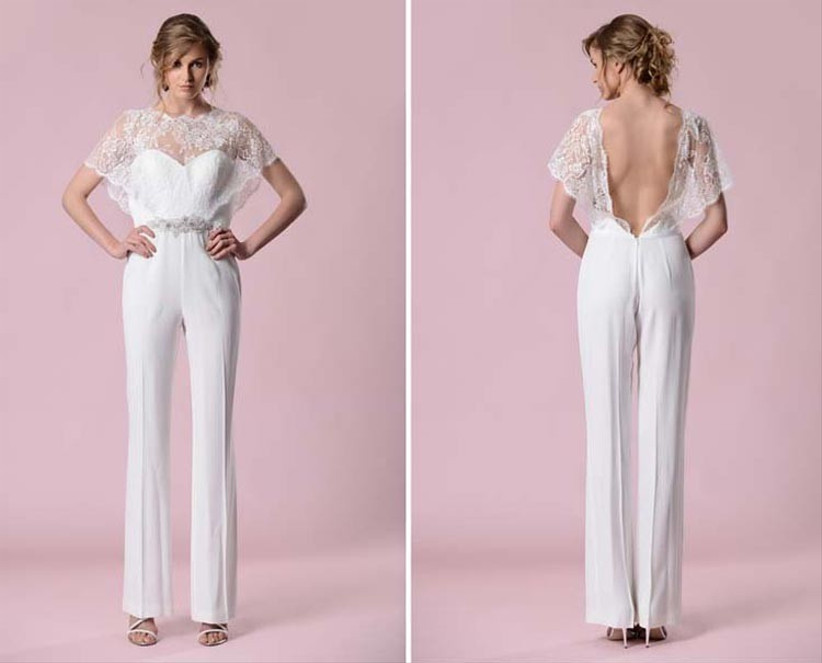 If you don't fancy wearing trousers on your wedding day, then channel Jasmine's opulent glamour with this irresistibly sparkly gown from daring designer Ruth Milliam.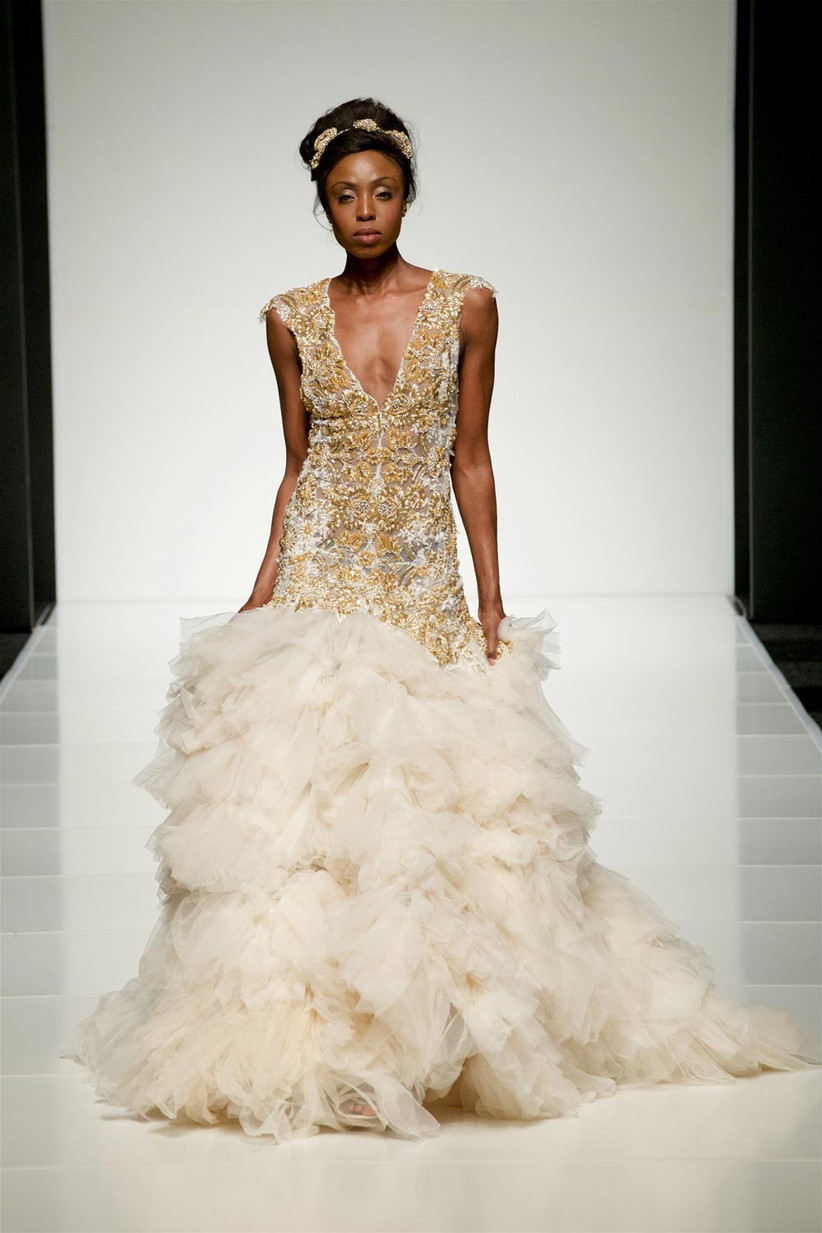 Sleeping Beauty
Last but not least is Aurora, more commonly known as Sleeping Beauty. She was the last Disney princess in a fairytale adaptation in Walt Disney's lifetime. Brides who love their bed might identify with the sleepy princess!
Alfred Angelo created the 260 as a homage to Sleeping Beauty – it has a voluminous skirt with gathered detailing and a sheer neckline with subtle glitter detailing. The way it floats as you wear it will leave you feeling as though you're in a dream come true.
Choose a wedding dress that's decorated with stars from the night sky as a tribute to Sleeping Beauty's slumber. The Jolene from Jenny Packham is adorned with breath-taking glittering stars.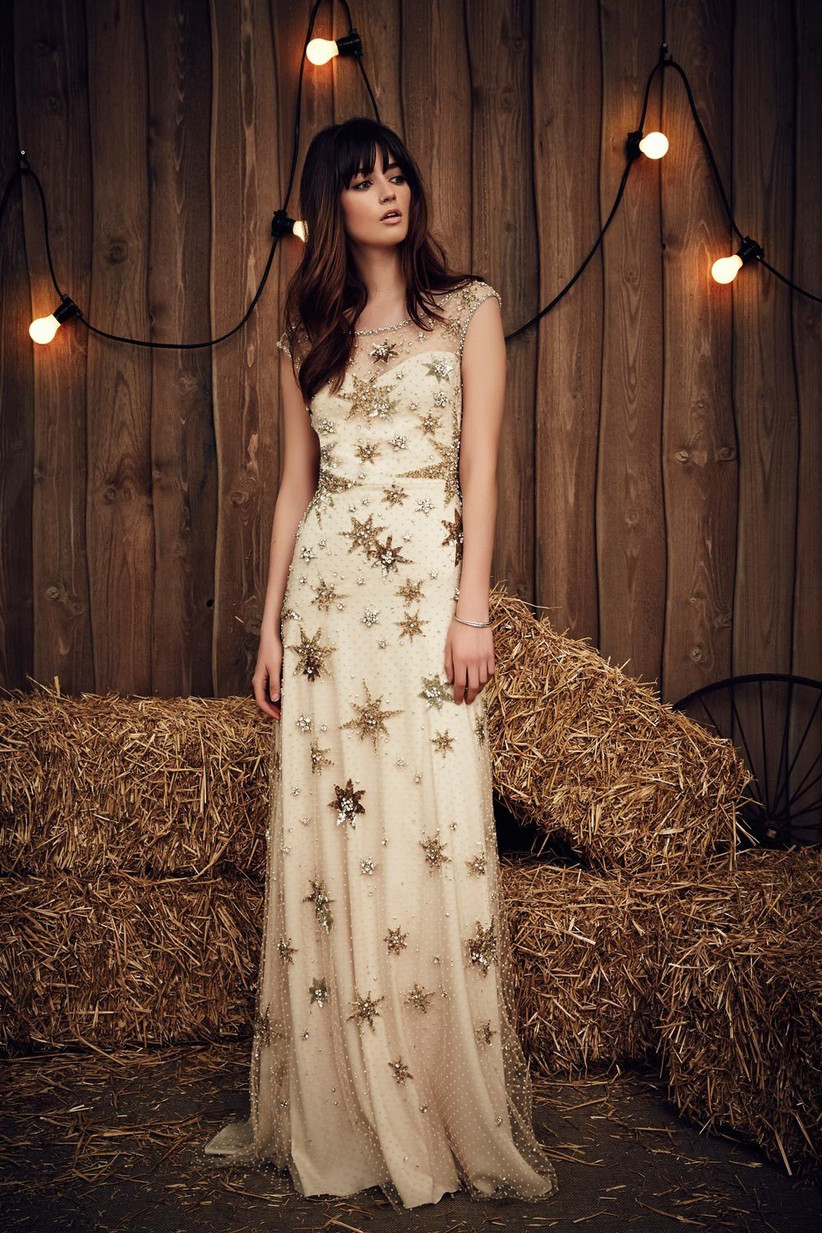 Remember in the film where the fairy godmothers argue over whether her dress should be pink or blue? If you were team pink, you'll love this floral lace pink wedding dress from SAVIN London!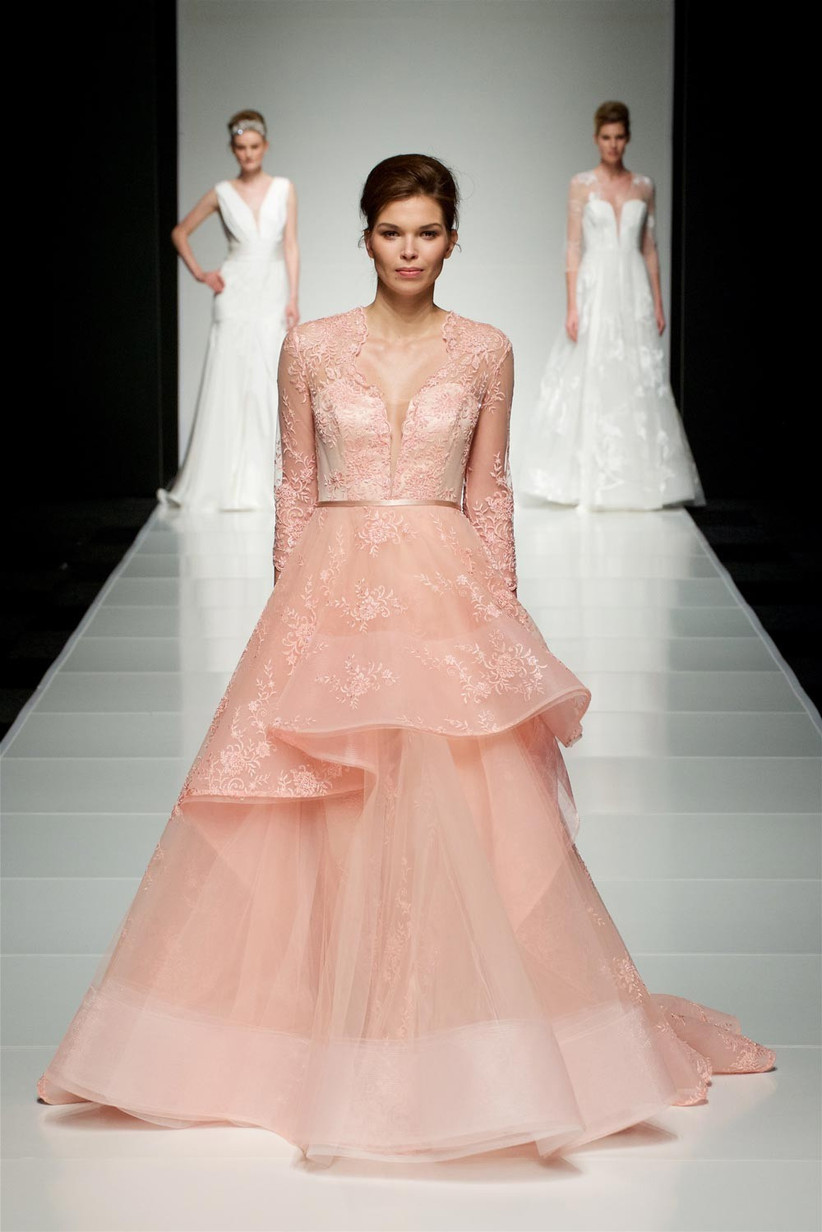 If you want to marry like a Disney princess, why not consider doing it in a castle wedding venue?