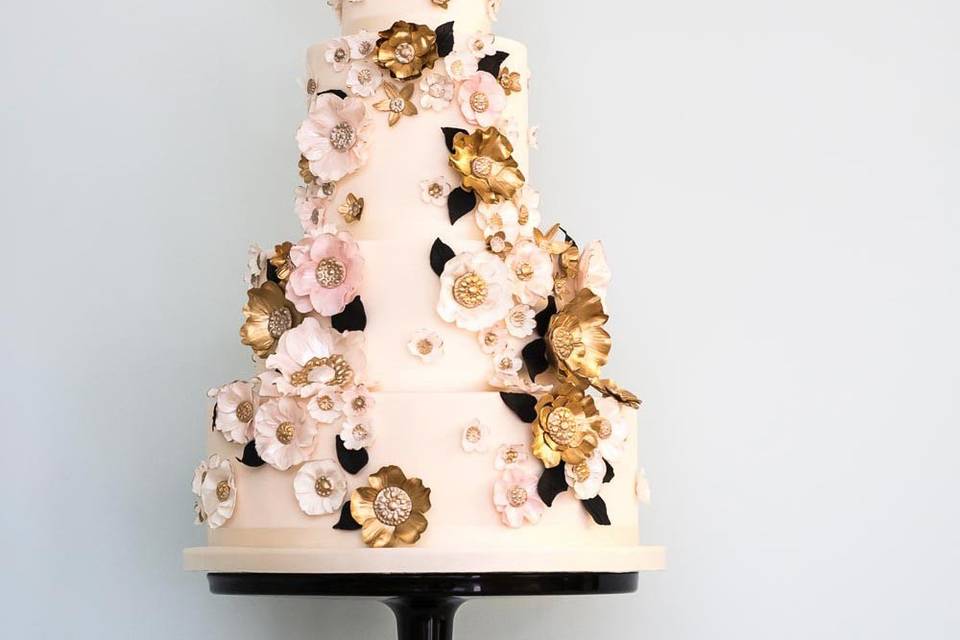 Your wedding cake is a great way to add to your wedding theme – as well as providing a delicious snack for your guests, a beautiful cake can really enhance your décor.
We've rounded up 43 of the most amazing wedding cakes ever to inspire you. Not a cake fan? Don't miss our edit of awe-inspiring wedding cake alternatives…
Rosalind Miller
Award winning cake maker Rosalind Miller creates breath-taking cakes that are perfect for glamorous couples. This striking trio of wedding cakes features gorgeous gold detailing and hand-painted flowers, as well as intricate sugar work. Even just one of these cakes would steal the show on your big day.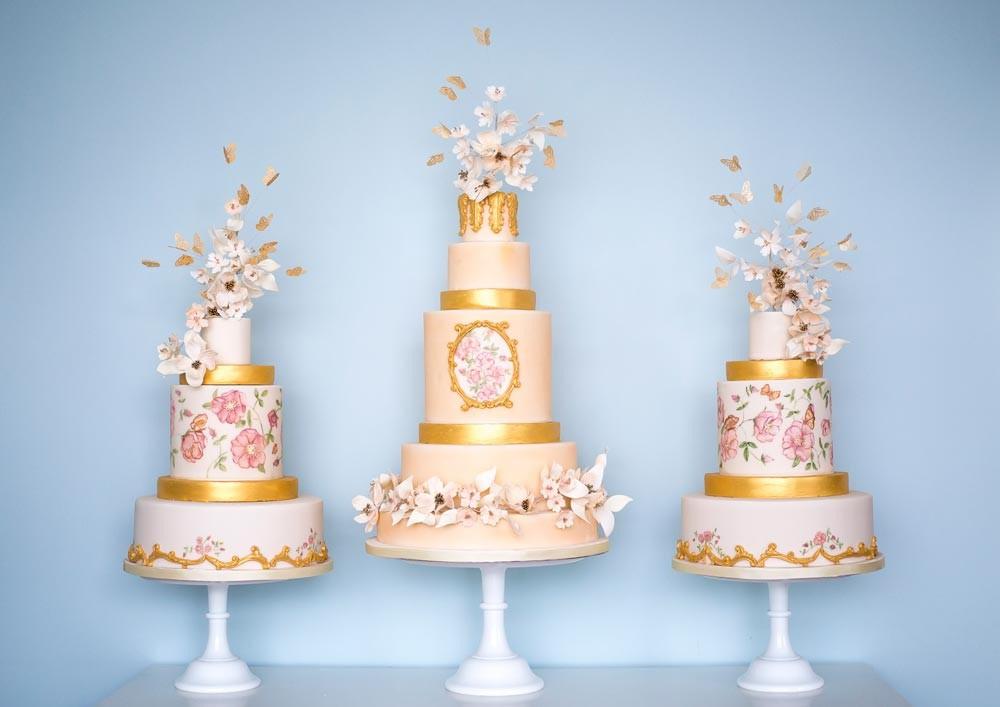 Enchanting Cakes
This fabulous creation from Enchanting Cakes features an intricate room within the cake, complete with a tiny chandelier. How amazing would this wedding cake look in a stately home wedding venue, on display in the ballroom under the full-sized chandelier?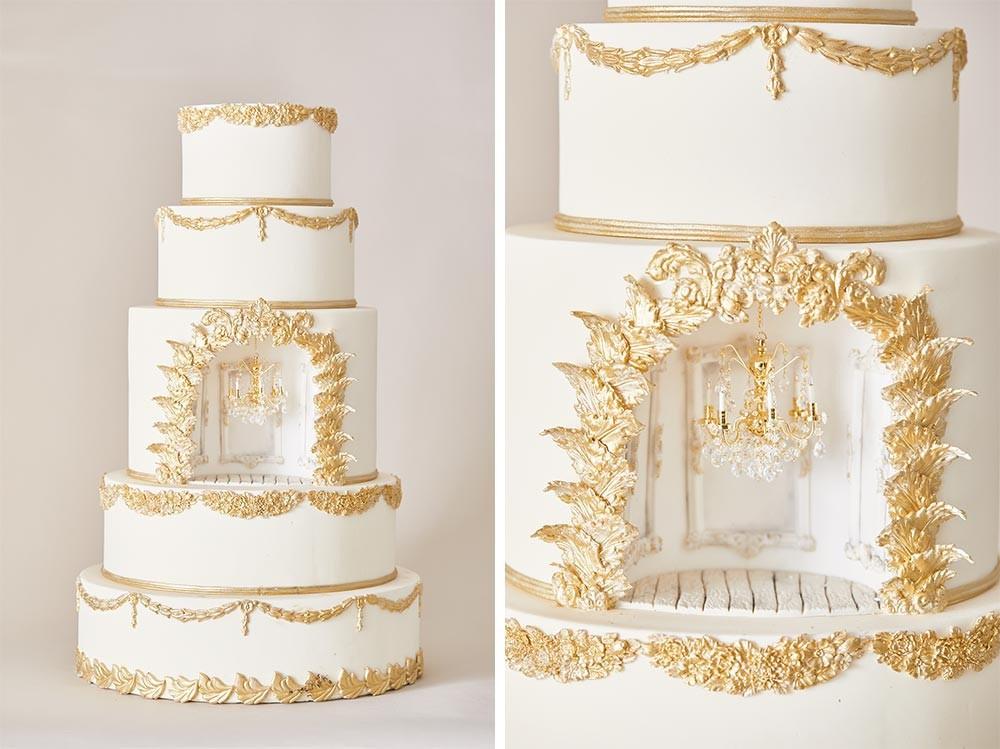 Caked by Carissa
If you want something a little simpler, a single tiered wedding cake can still be really effective. This rose gold beauty from Caked by Carissa is gorgeous – especially the way it has been displayed, alongside a rose gold vase and lots of beautiful decorations.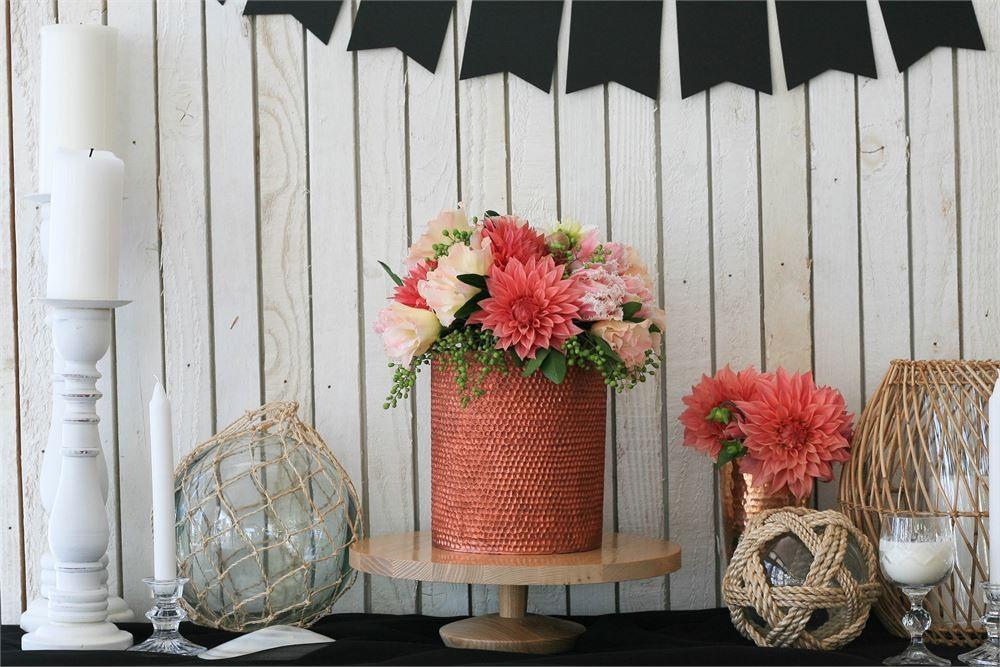 Ann's Designer Cakes
White and gold will never not be a regal combination, and when used on a six-tier cake, the result is totally majestic. We also love the monogram detail on this cake by Ann's Designer Cakes – if you want to be seriously fancy, monogram your wedding cake.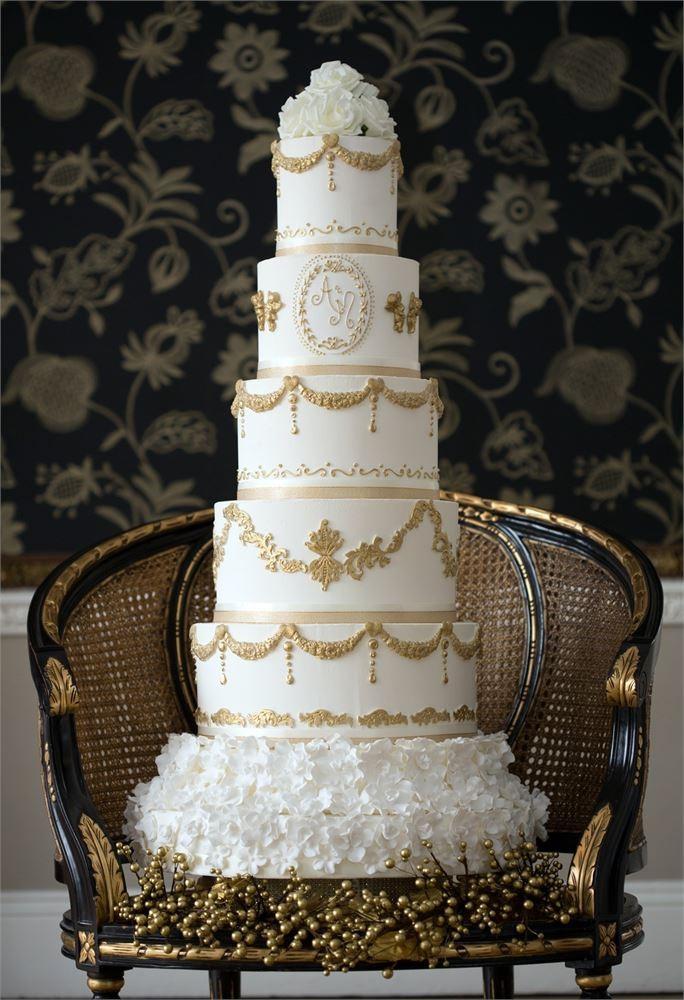 Jelly Cake
If your garden is your happy place and you love nothing more than spending time tending to your plants, reference that on your wedding day with this terrarium inspired Modern Marble wedding cake from Jelly Cake – we love the subtle greenery detail!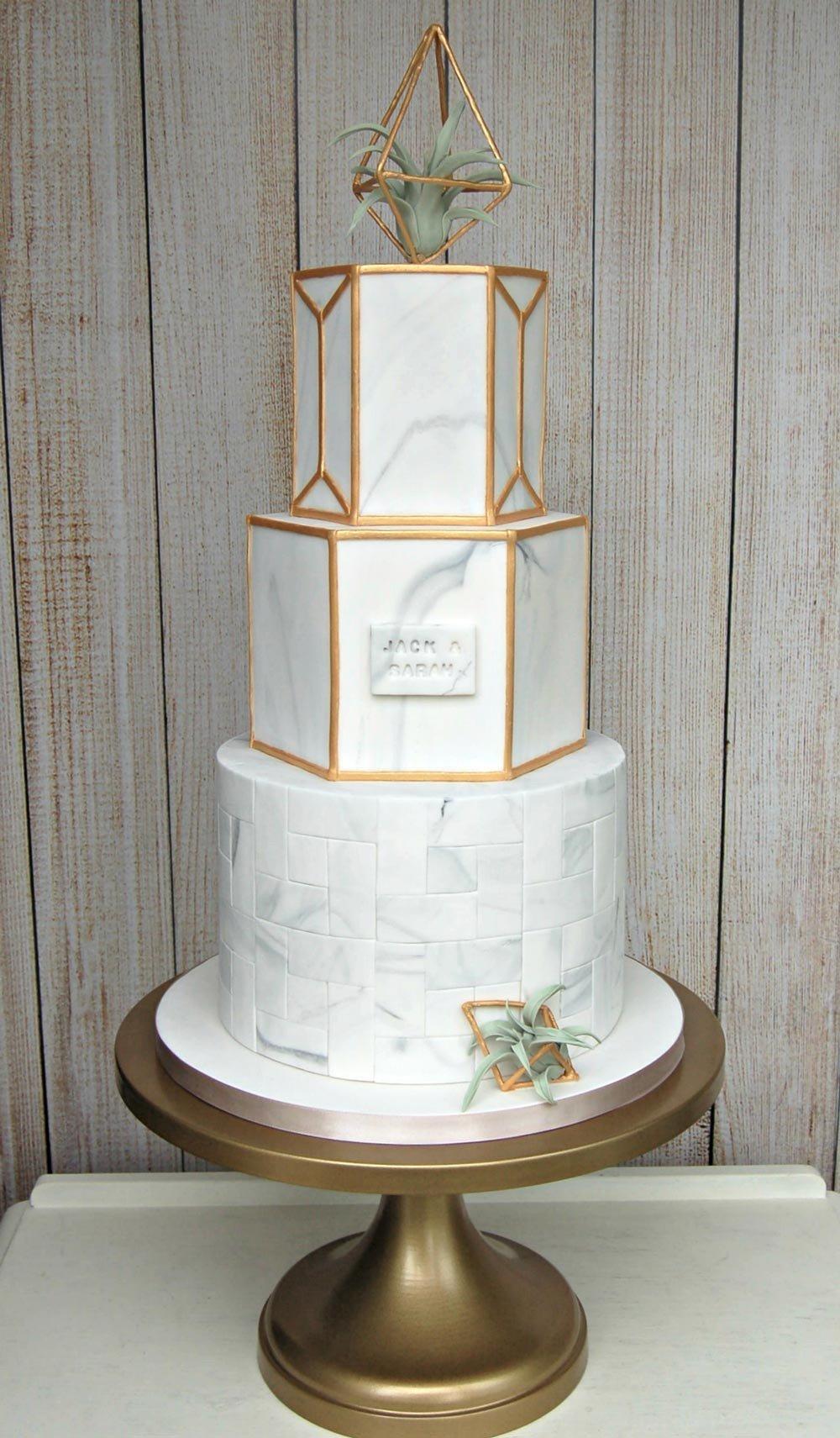 Cookie Delicious
We can't get enough of the marble wedding cake trend – it's so pretty. Cookie Delicious has complemented a cool grey marble effect on the base tier of this cake with a rich blue tier and an irresistibly shiny gold top tier – this is a seriously awesome choice for an understated wedding.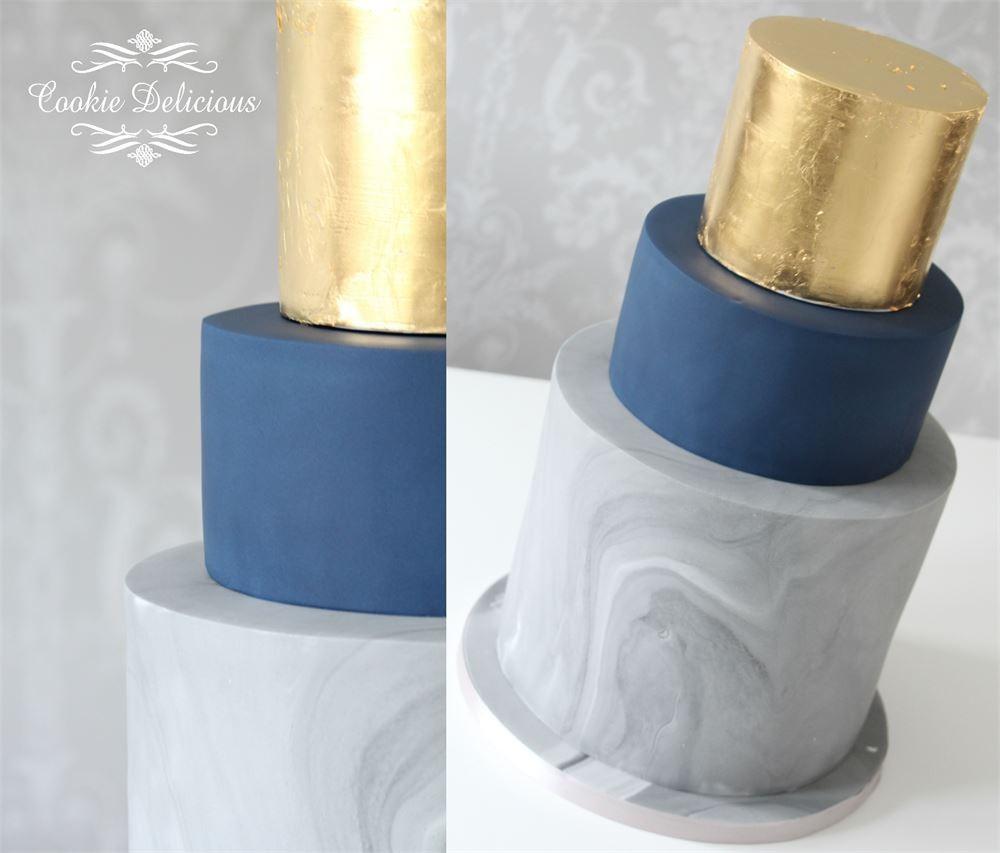 Apple of Gold
Blue and gold is a winning colour combination – how about this show-stopper pictured by Apple of Gold Events? The intricate detailing on each tier is a total work of art – we love how it matches the bride and groom's wedding outfits!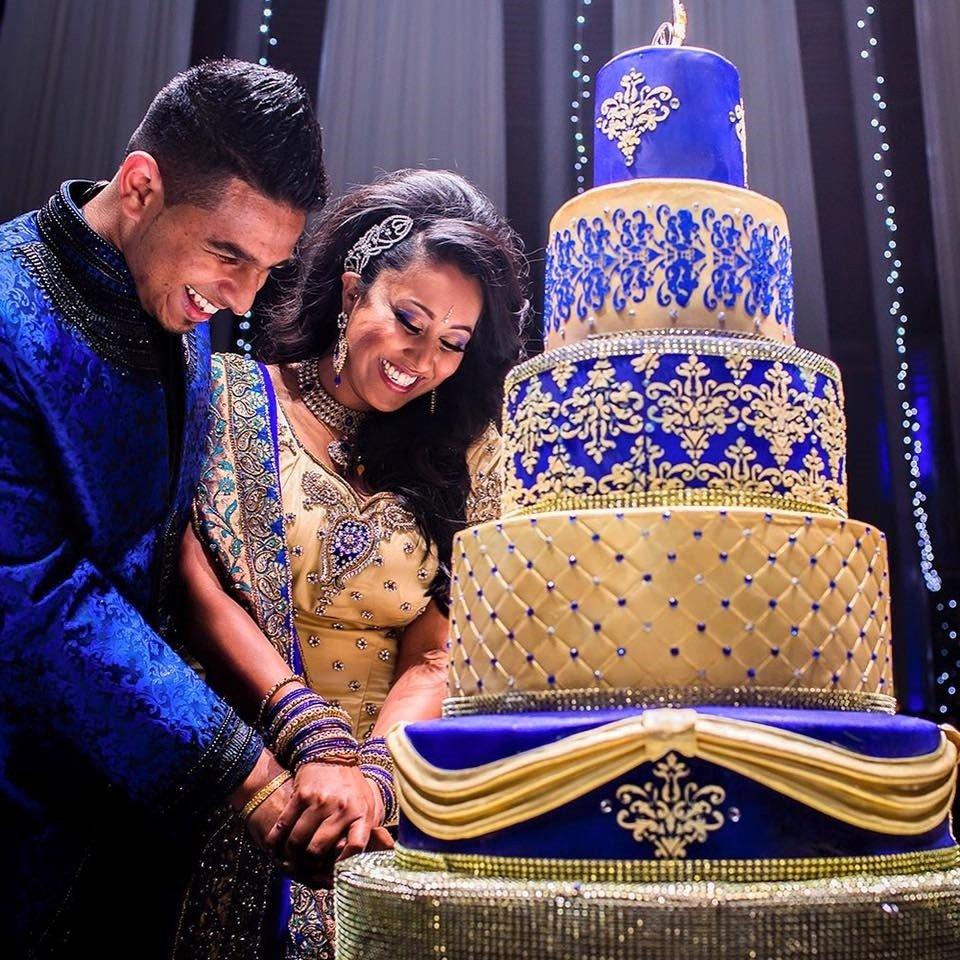 Dollybird Bakes
Looking for doughnut wedding ideas? If you don't fancy a stack of doughnuts, what about a few to decorate your wedding cake? This pink drip wedding cake from Dollybird Bakes is made all the more adorable with the addition of tiny doughnuts, macarons and meringue kisses.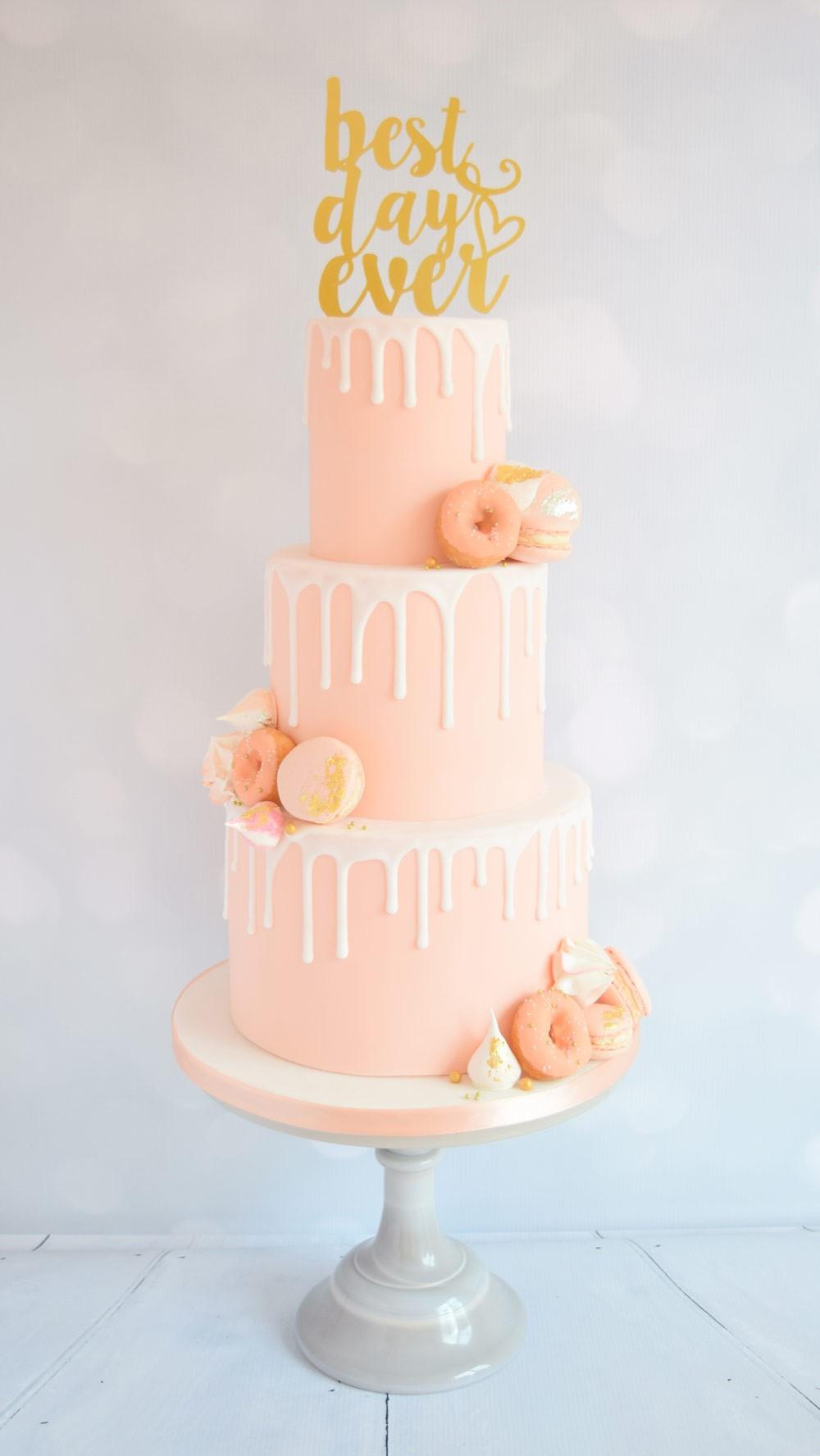 Meadowsweet Cakes
This green wedding cake from Meadowsweet Cakes is totally on trend – it matches the Pantone Colour of the Year! We love the delicate white decorations, especially that elaborate ball of sugar flowers on the top of the cake – who needs a cake topper?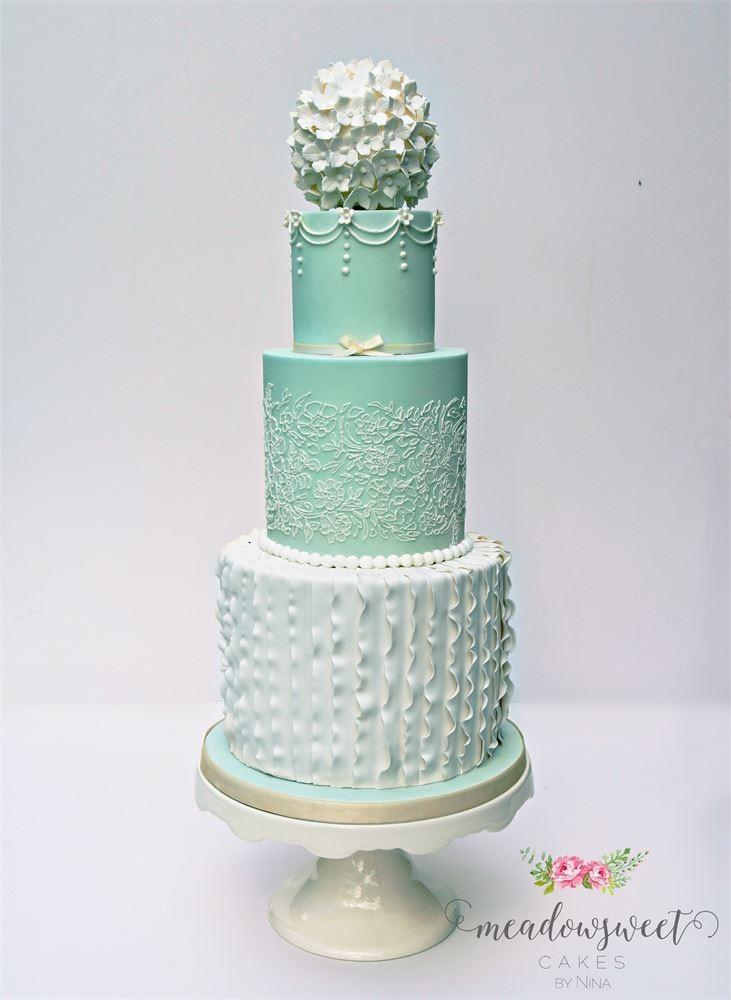 Boucakez
Fancy an elaborate cake that's perfect for a vintage-style tea party? This awe-inspiring creation from Boucakez could be the one for you. It features an amazing display of sugar work, including 3D cups and saucers, bowls of sugar cubes and flowers and biscuits. You almost won't want to cut into it.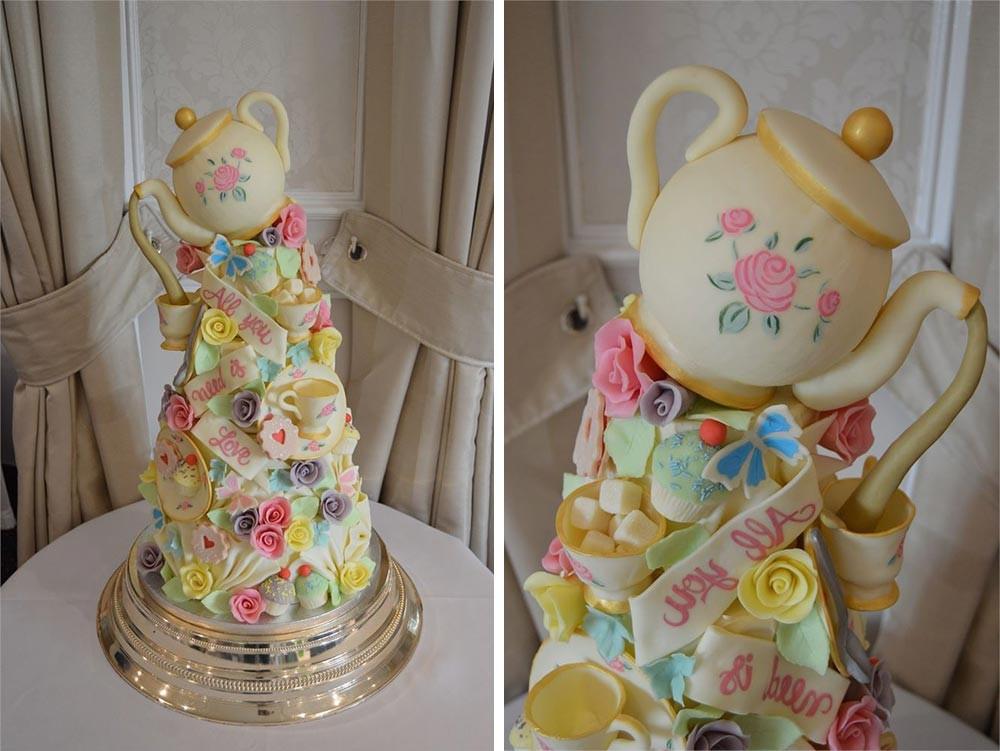 Cakes Alouisa
Want to really make a statement with your wedding cake? Go for one that towers over the both of you. This beauty by Cakes Alouisa stands at 8ft tall and features lots of incredible floral detail and an elaborately swirly monogram bearing the cake-loving couple's initials.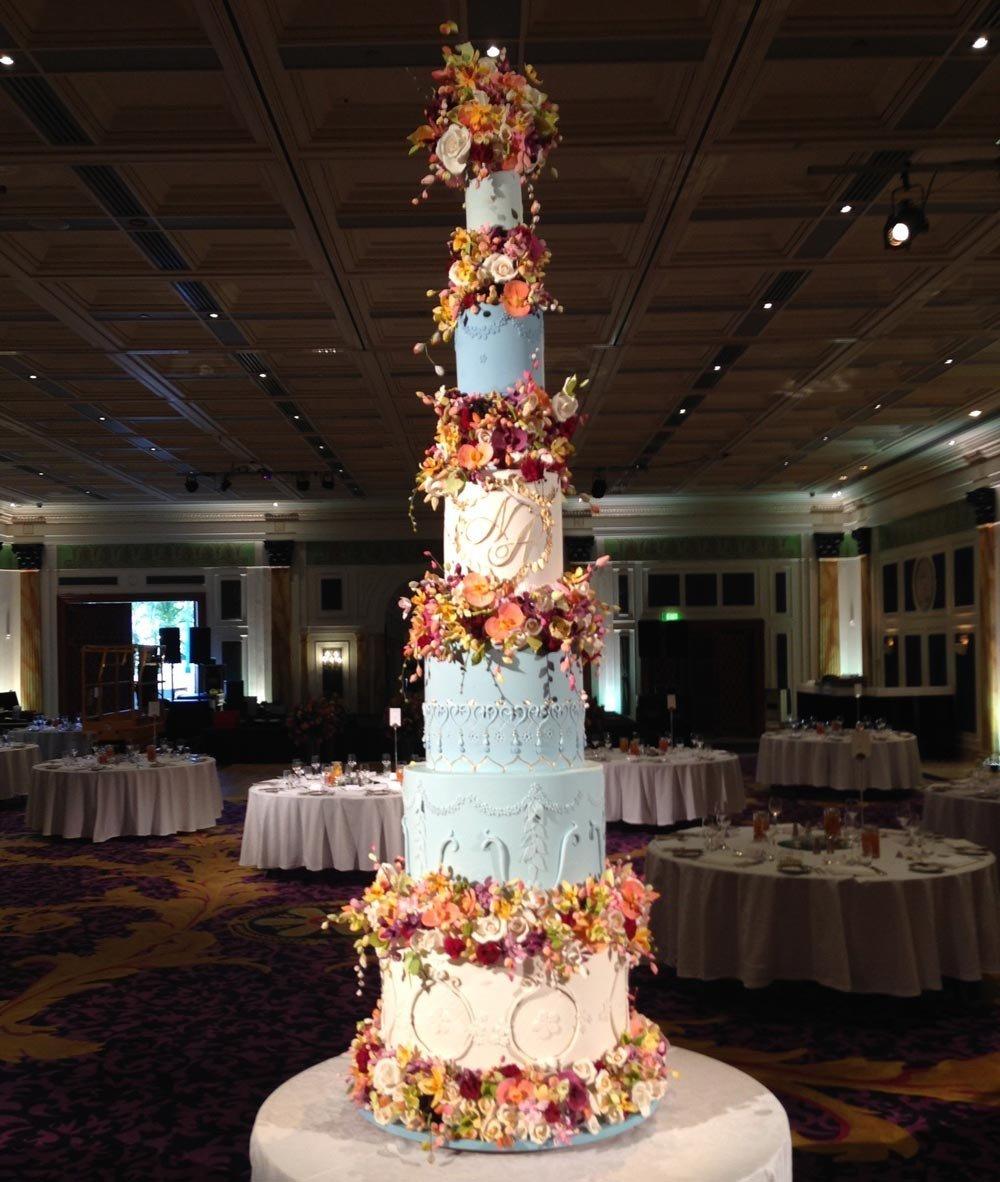 Elizabeth's Cake Emporium
Could you bear to cut into this golden wonder from Elizabeth's Cake Emporium? We love the luxe gold finish and the richly-toned floral adornments. Choose a cake like this, and it's guaranteed to be Instagrammed by all your guests.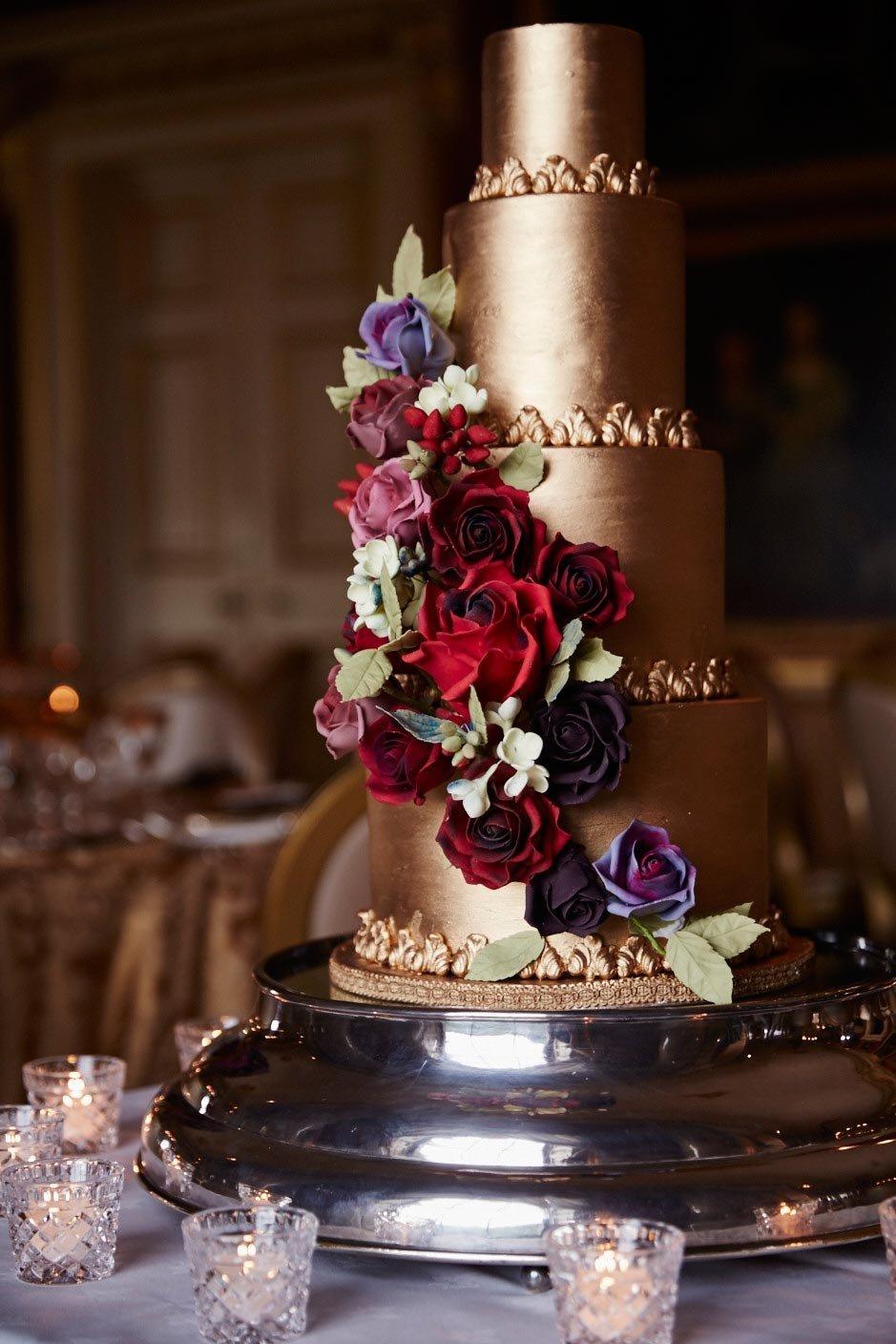 Fancie Buns Cakery
How incredible is the decoration on this pale blue wedding cake by Fancie Buns Cakery? The detail on this four-tiered beauty must have taken hours to complete and will totally capture everyone's attention at your wedding.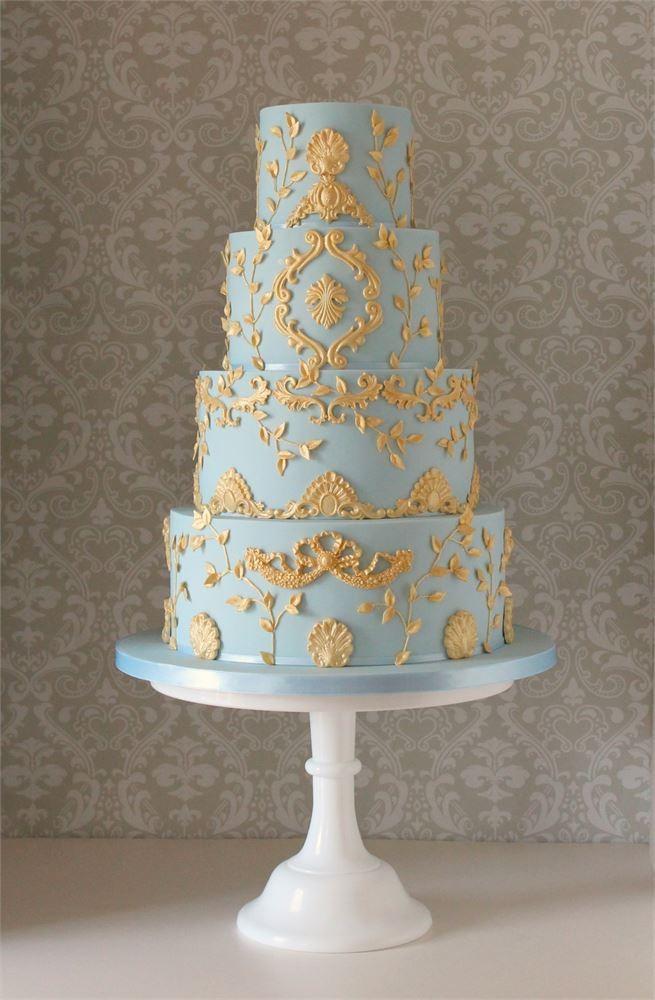 Immaculate Confections
Have some fun with your wedding cake – be inspired by this cute carousel cake from Immaculate Confections. Each layer features a beautifully detailed element, and that carousel top tier is totally irresistible.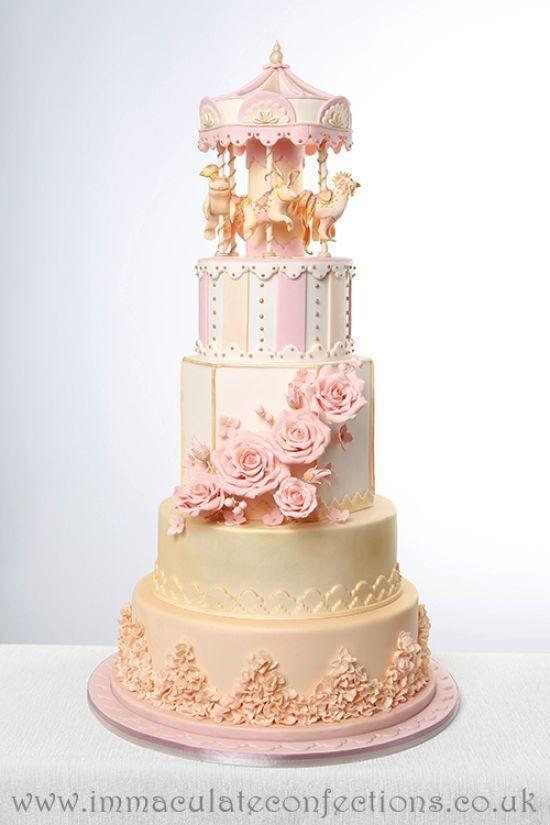 Jeannette's Great Cakes
If you have classic takes, what about this ivory beauty from Jeannette's Great Cakes? The six-tiered creation is fairly simple, save for a cascade of sugar roses that run from the very top of the cake all the way down to the bottom.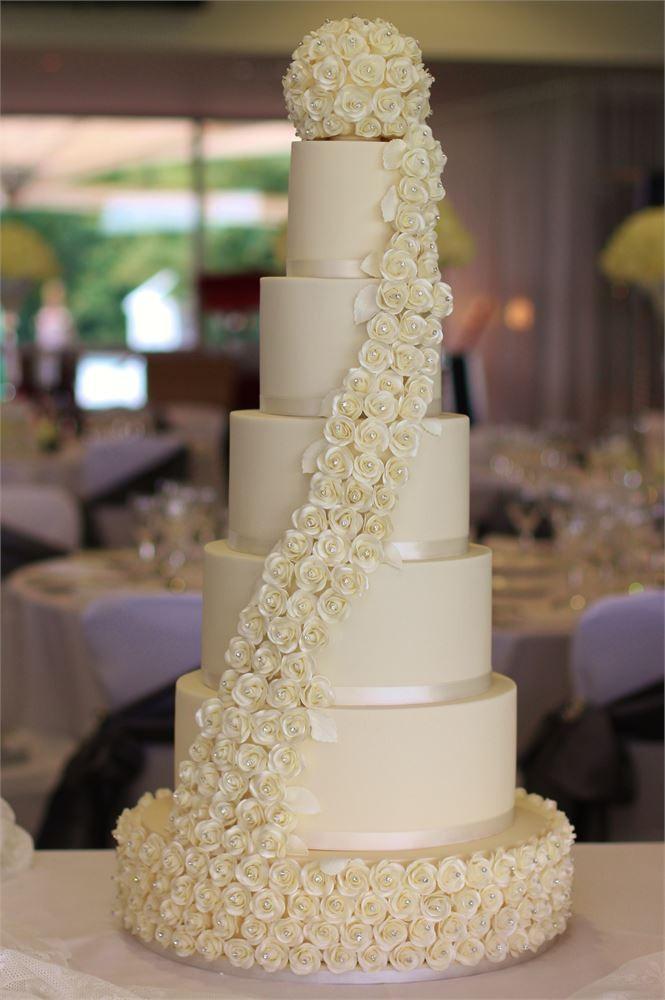 Abigail Bloom Cake Co
We can't tear our eyes away from the Molly cake by the Abigail Bloom Cake Co. There are eight tiers to this beautiful creation, but it's made even taller with the addition of pink and cream roses on the base, in the middle and around the top of the cake.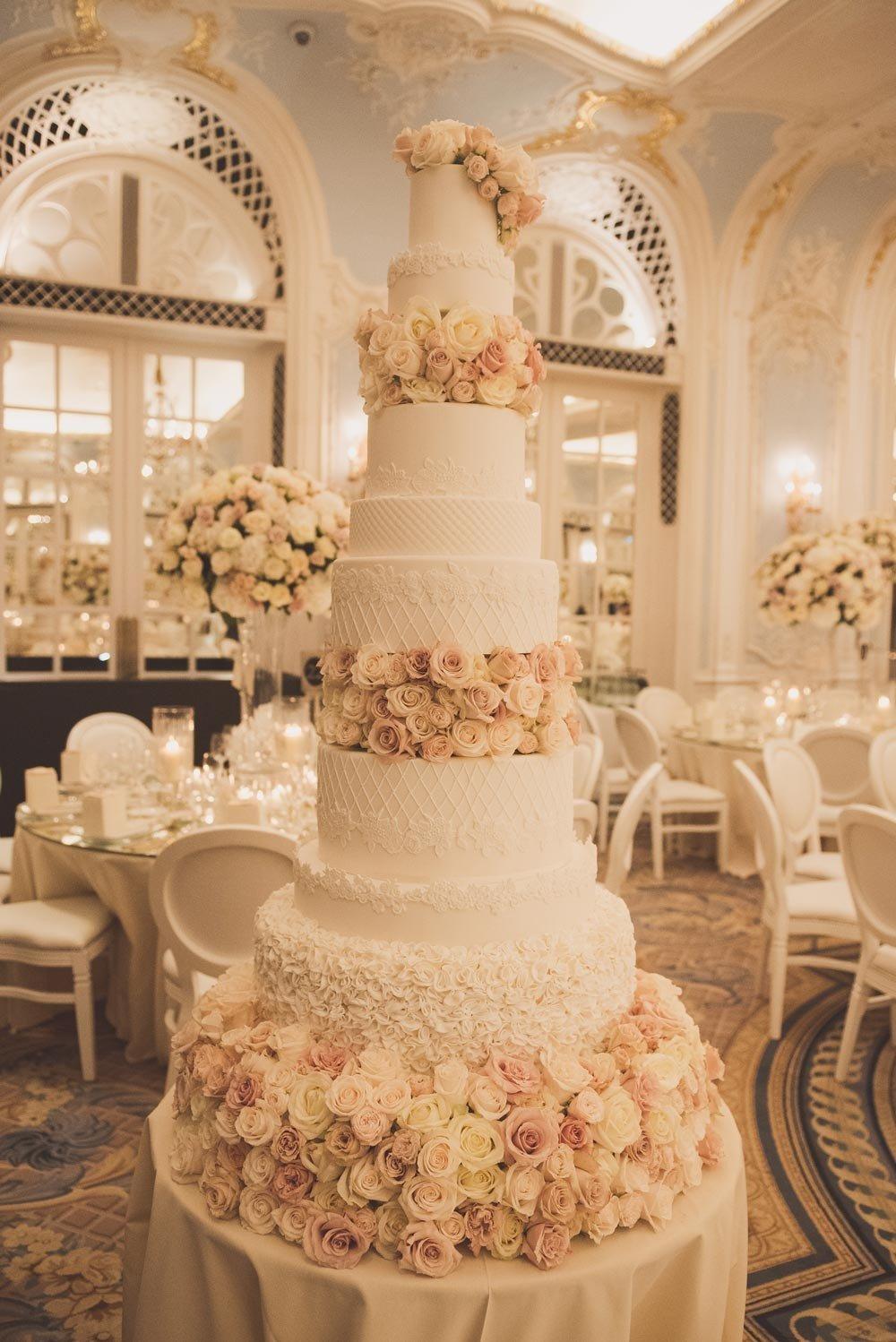 Jelly Cake
Have you been considering a Disney wedding cake? This amazing creation from Jelly Cake is a stylish way to reference Snow White – the pretty all-white cake provides the perfect backdrop for that eye-catching red apple cake topper.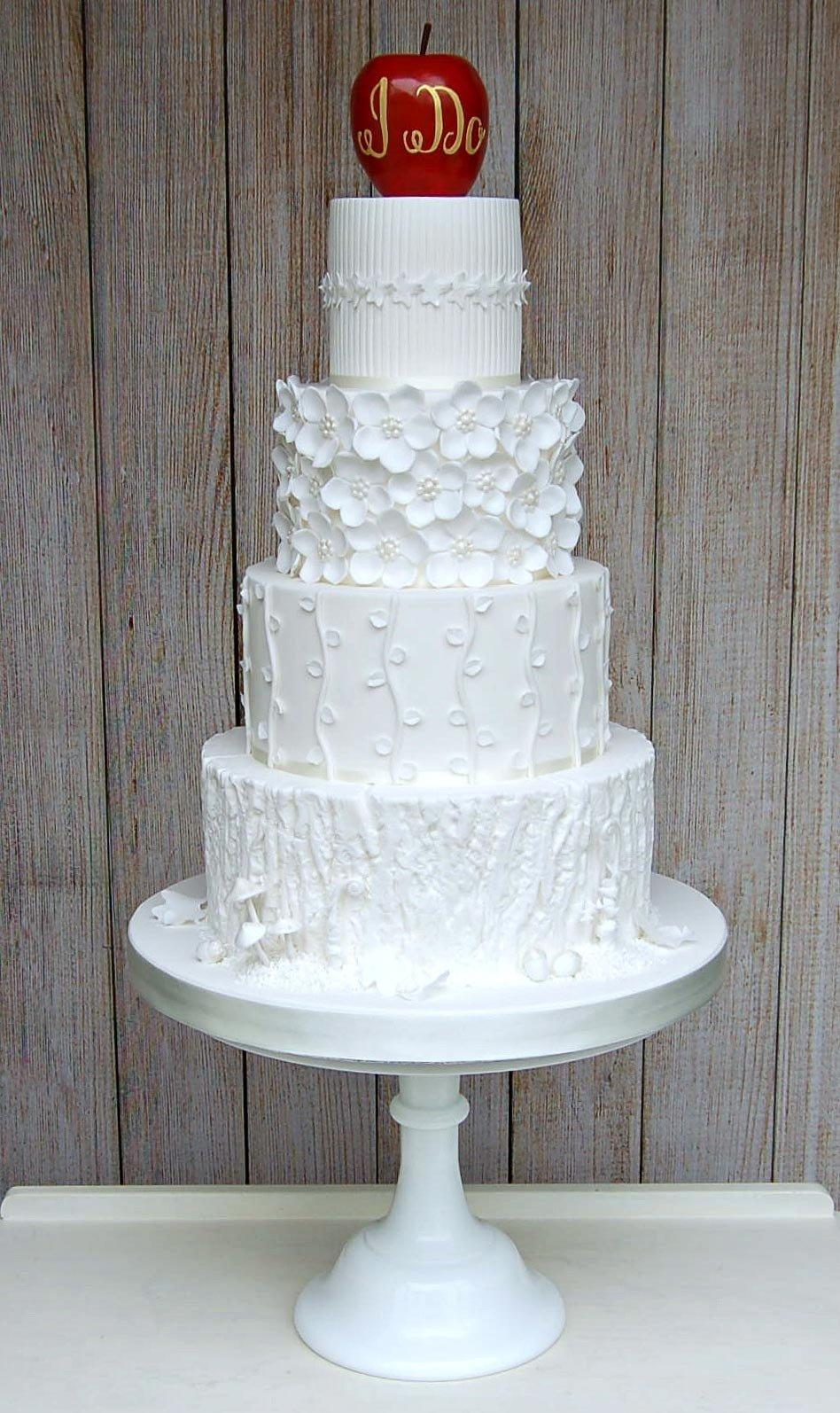 Cowley Manor
Brides who love a bit of glamor will adore this metallic pink and gold wedding cake pictured at Cowley Manor. It's super simple in its design, but those gorgeous colours make it look really effective. Also – those surroundings, including the amazing lights, definitely add to it.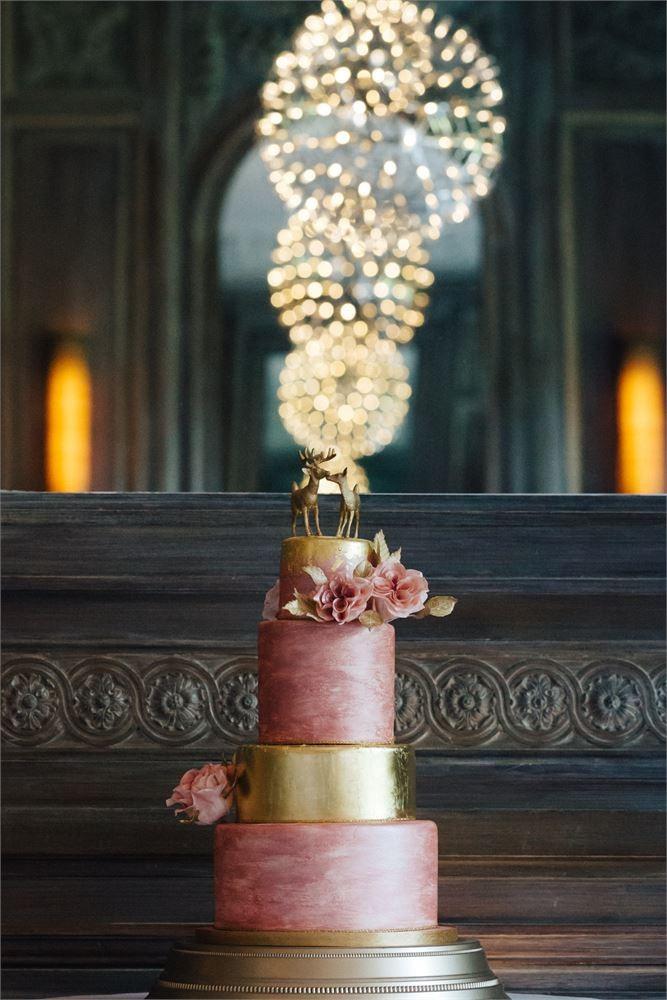 Boucakez
If you have your heart on a classic wedding cake, whilst your partner wants a super-hero themed wedding, why not go for a compromise cake? This clever cake from Boucakez is super pretty on one side, but has a kick-ass superhero side too so both of you can be happy.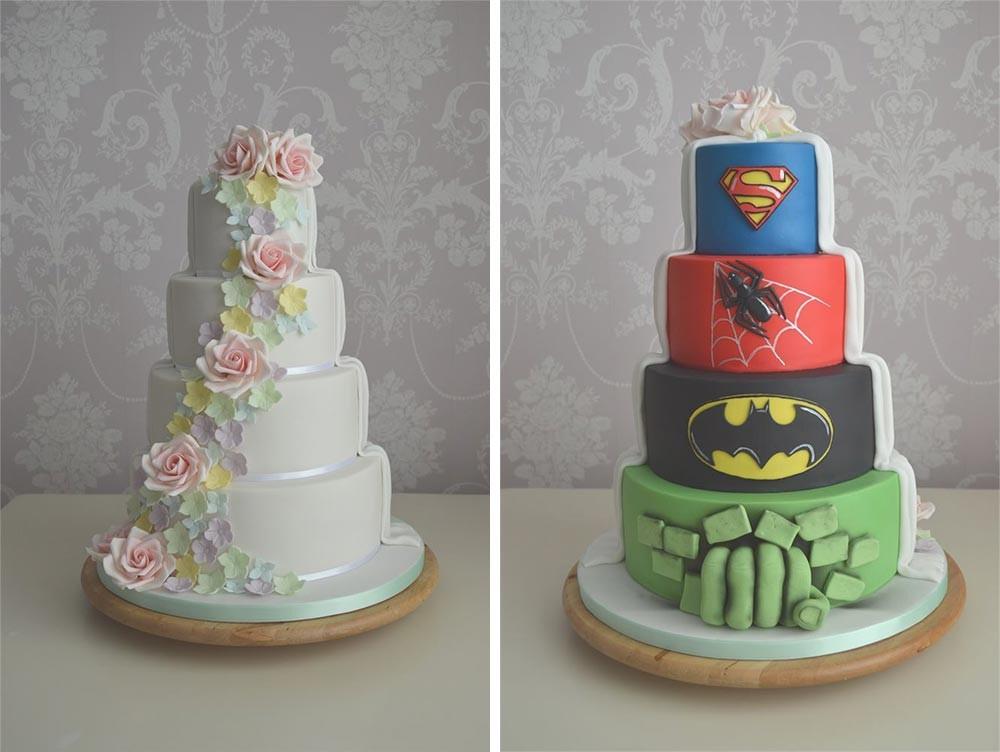 Sweet as Sugar
Choose a hand painted wedding cake and you'll have a delicious treat that doubles as a piece of art. This beautiful cake from Sweet as Sugar cakes features intricately painted waves and stand out flowers made from icing.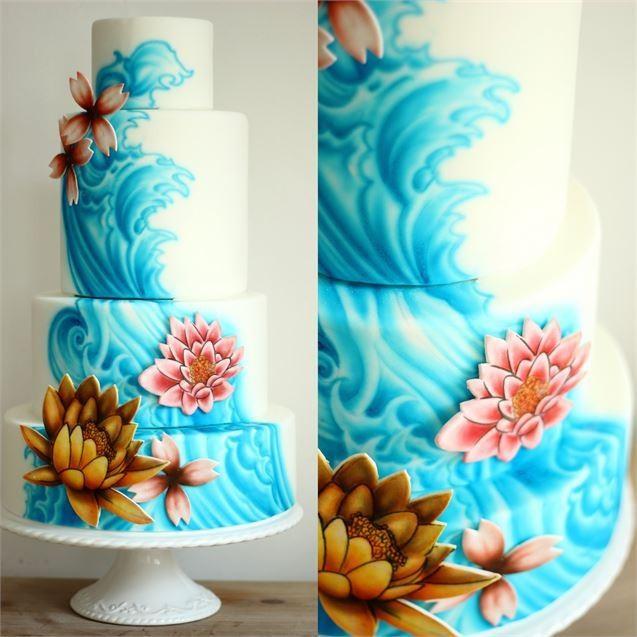 Jill the Cake Maker
Birdcages are a timeless wedding trend, but we love how Jill the Cake Maker has added a twist on the trend with a floral painted backdrop behind the icing bars of the cage. Your guests won't be able to stop checking it out!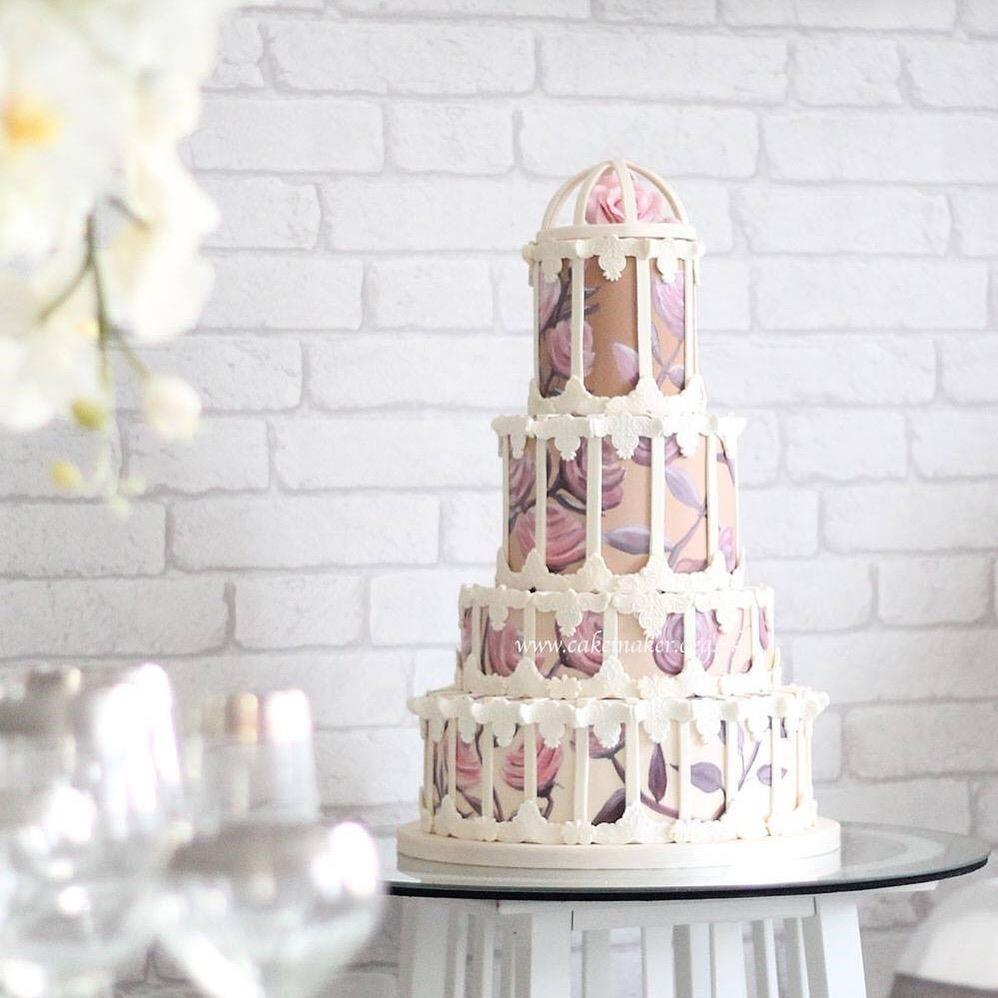 GC Couture
This frosty blue wedding cake from GC Couture would look perfect at a winter celebration. There are seven tiers and layers of pretty white sugar flowers which gives the cake an impressive height. It'll look amazing in your wedding pictures!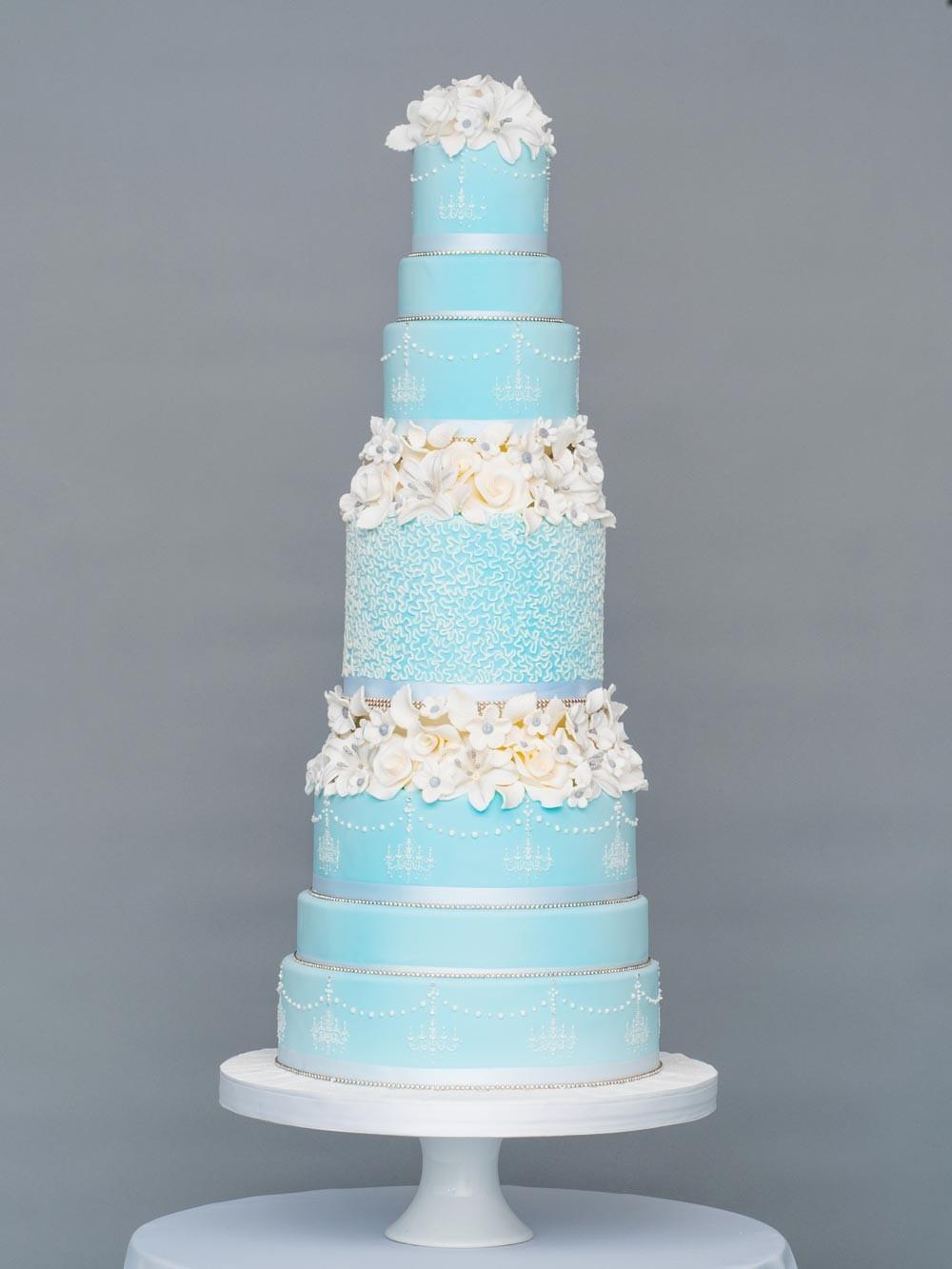 Sweet as Sugar
Want a wedding cake that will have all your guests doing a double take? How about this elaborate creation from Sweet as Sugar which looks like it's been swathed in silk fabric and adorned with gems.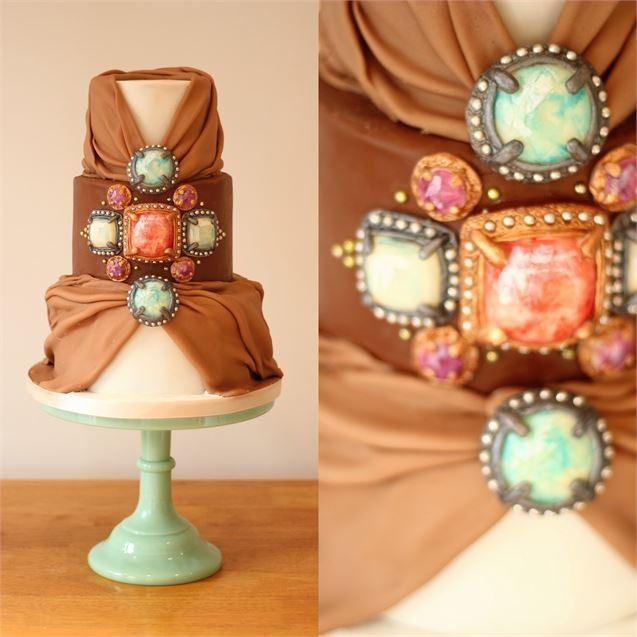 Rosalind Miller
We have been obsessed with geode wedding cakes for some time now and this Rosalind Miller beauty is a subtle way to include the trend at your own wedding. We love the blue and gold marble effect tier, as well as all the pretty gold detailing across the rest of the cake.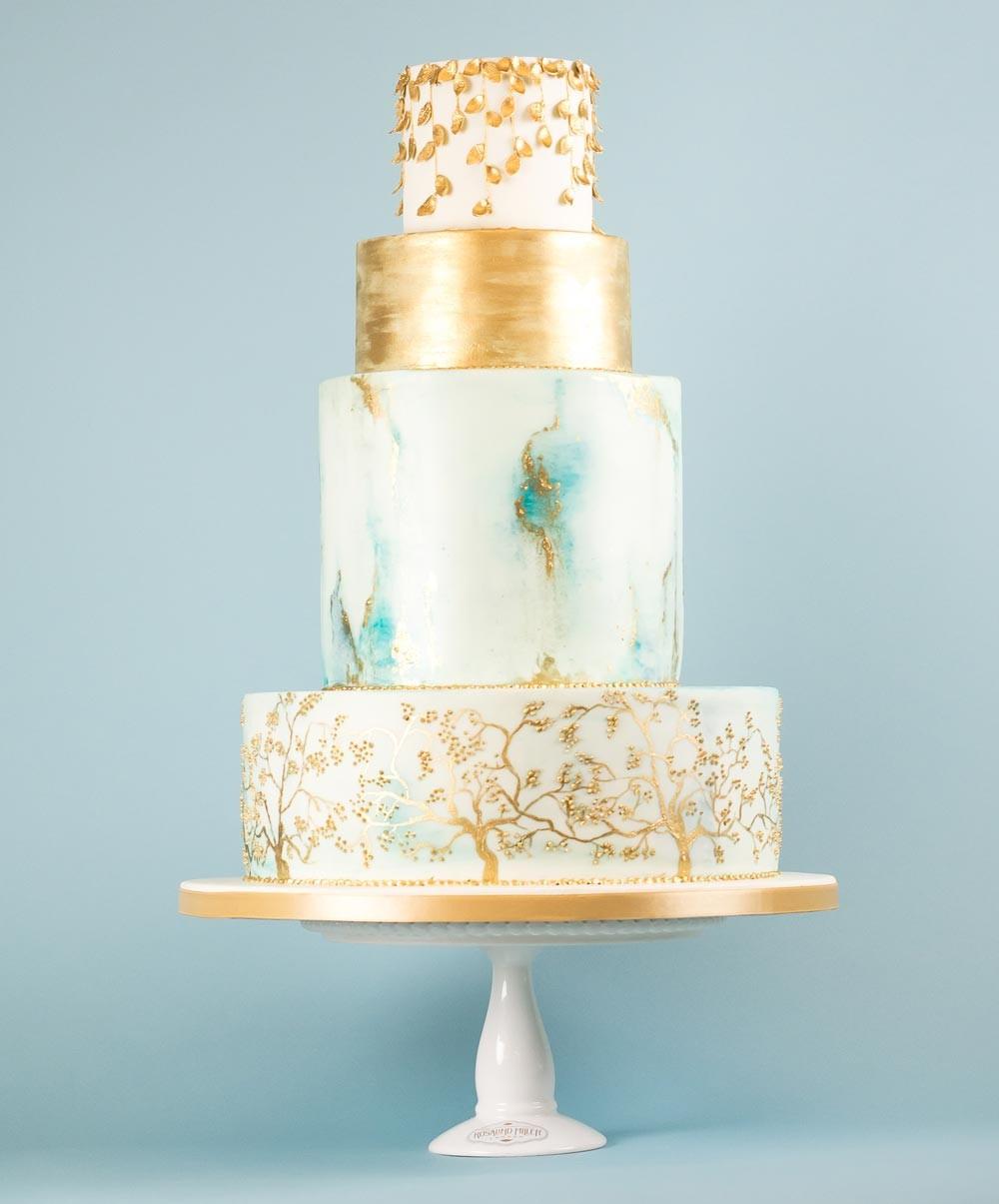 MurrayMe Cakes
This pretty little cake from MurrayMe Cakes is a real show stopper. We love the painted floral detail and the text, but also the cascade of gold stars from the top is so beautiful and unusual – it really will take your breath away.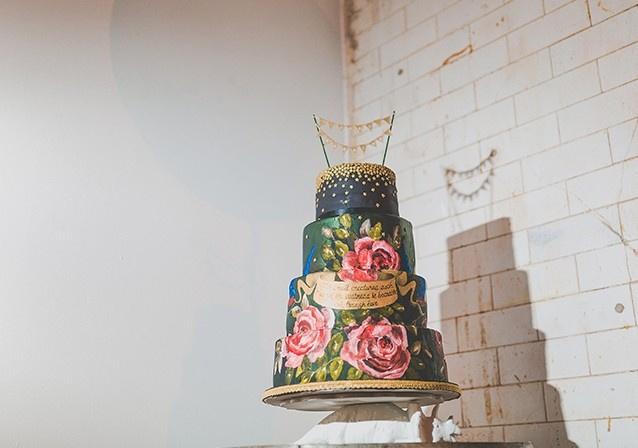 Dollybird Bakes
Wedding cakes with a pearly sheen always look really high-end, and this pale pink and gold creation from Dollybird Bakes is no exception to that rule. We love the gold sequin effect on the bottom tier, it's so sparkly!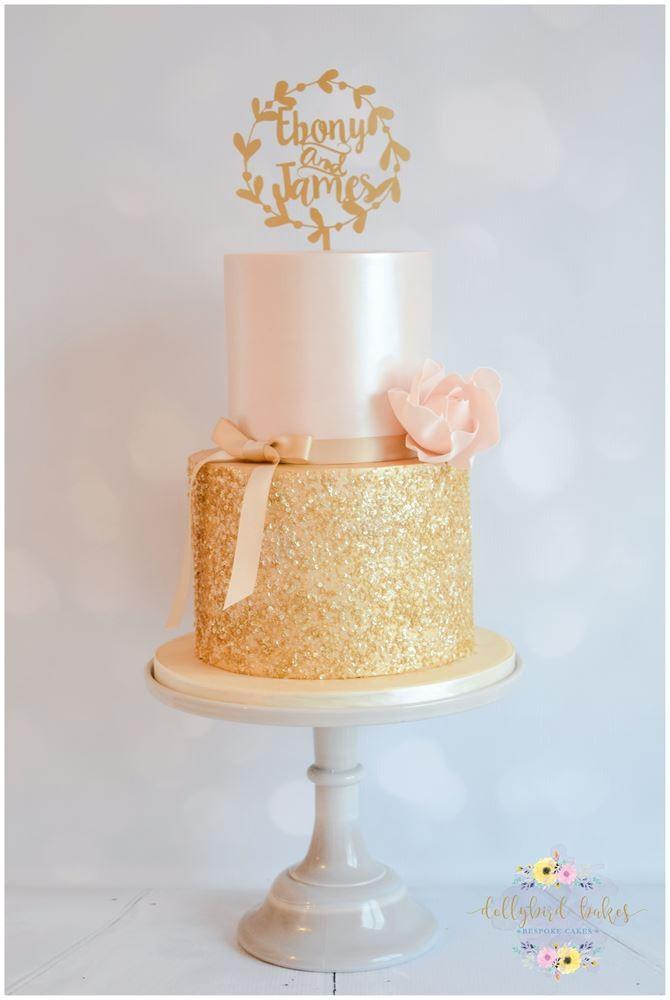 GC Couture
Want to give your wedding cake a royal feel? The Marilyn wedding cake from GC Couture can do exactly that. This seven-tiered wedding cake looks as though it's been draped with pearls and features mock sapphire sugar work too.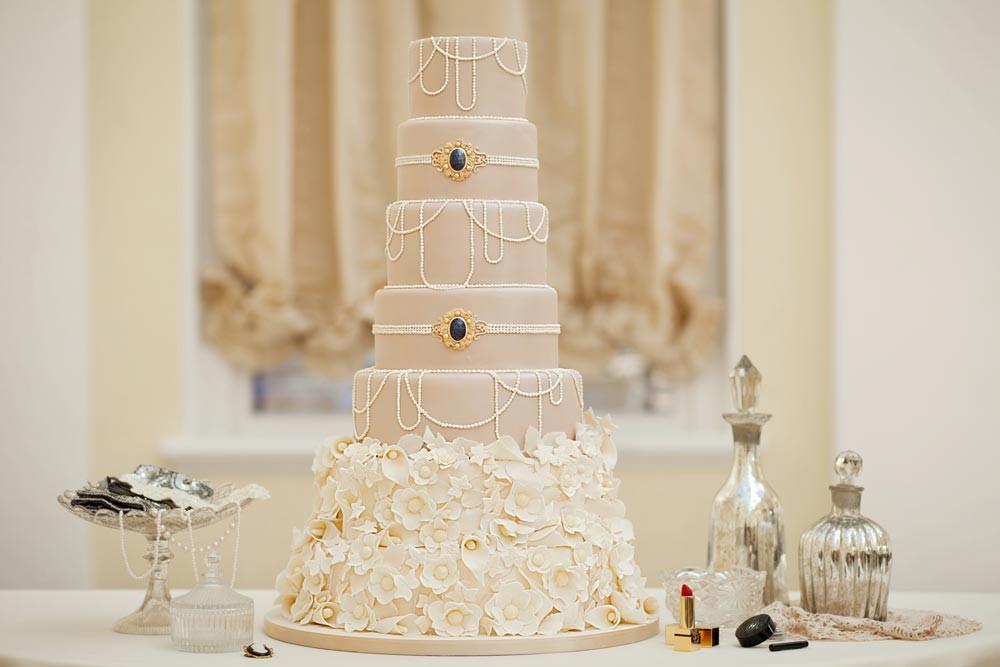 Elizabeth's Cake Emporium
This rose gold wedding cake from Elizabeth's Cake Emporium is seriously stylish and unique. How elaborate are the sugar flowers?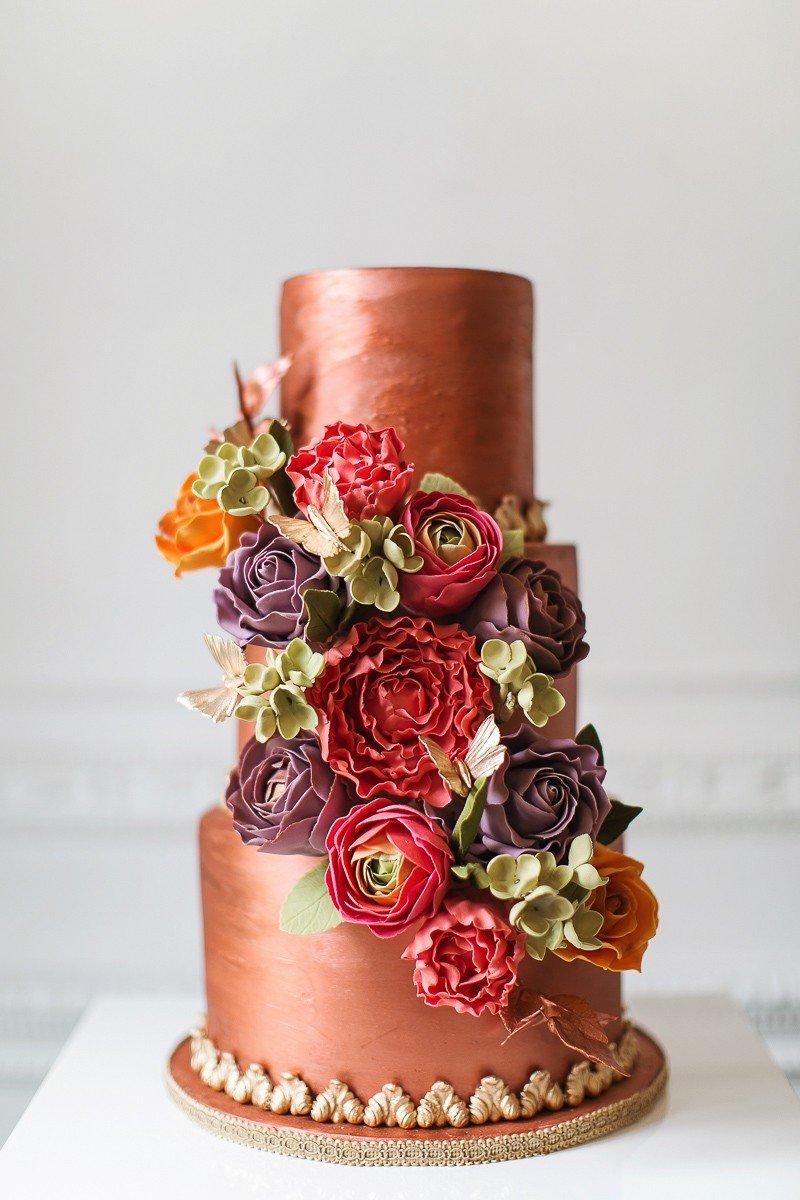 The Willows
The alternating colours of the tiers on this elaborate wedding cake, snapped at the Willows, really make it remarkable. We love how it's displayed as well, on a sparkling gold table cloth that matches the cake and its glittery stand. Find out more about how to display your wedding cake.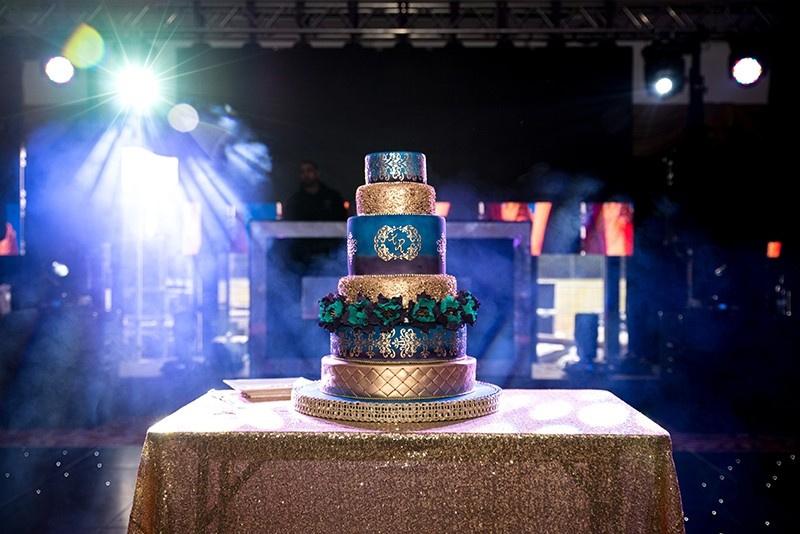 Sweet as Sugar
This hand-painted wedding cake from Sweet as Sugar is pretty on its own, but take in the 3D flowers and the super cute dragonfly detail and it's totally irresistible.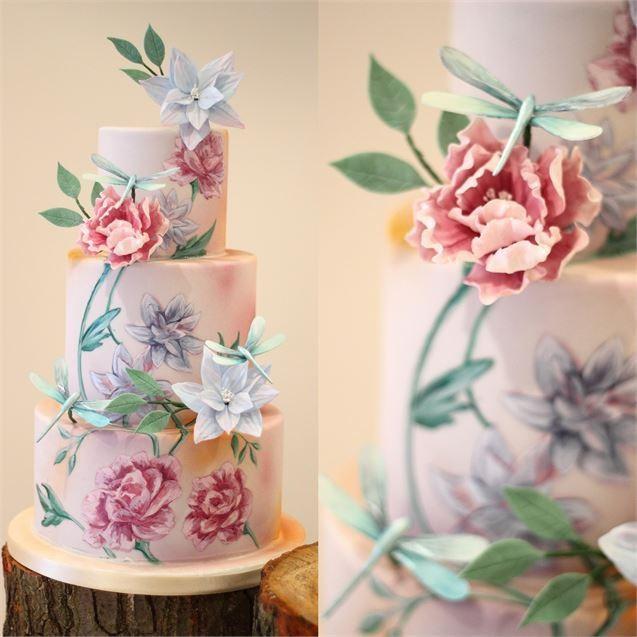 Abigail Bloom Cake Co
How pretty is this five-tiered wedding cake from Abigail Bloom Cake Co? We can't get over the watercolour middle tier and the delicate gold detailing.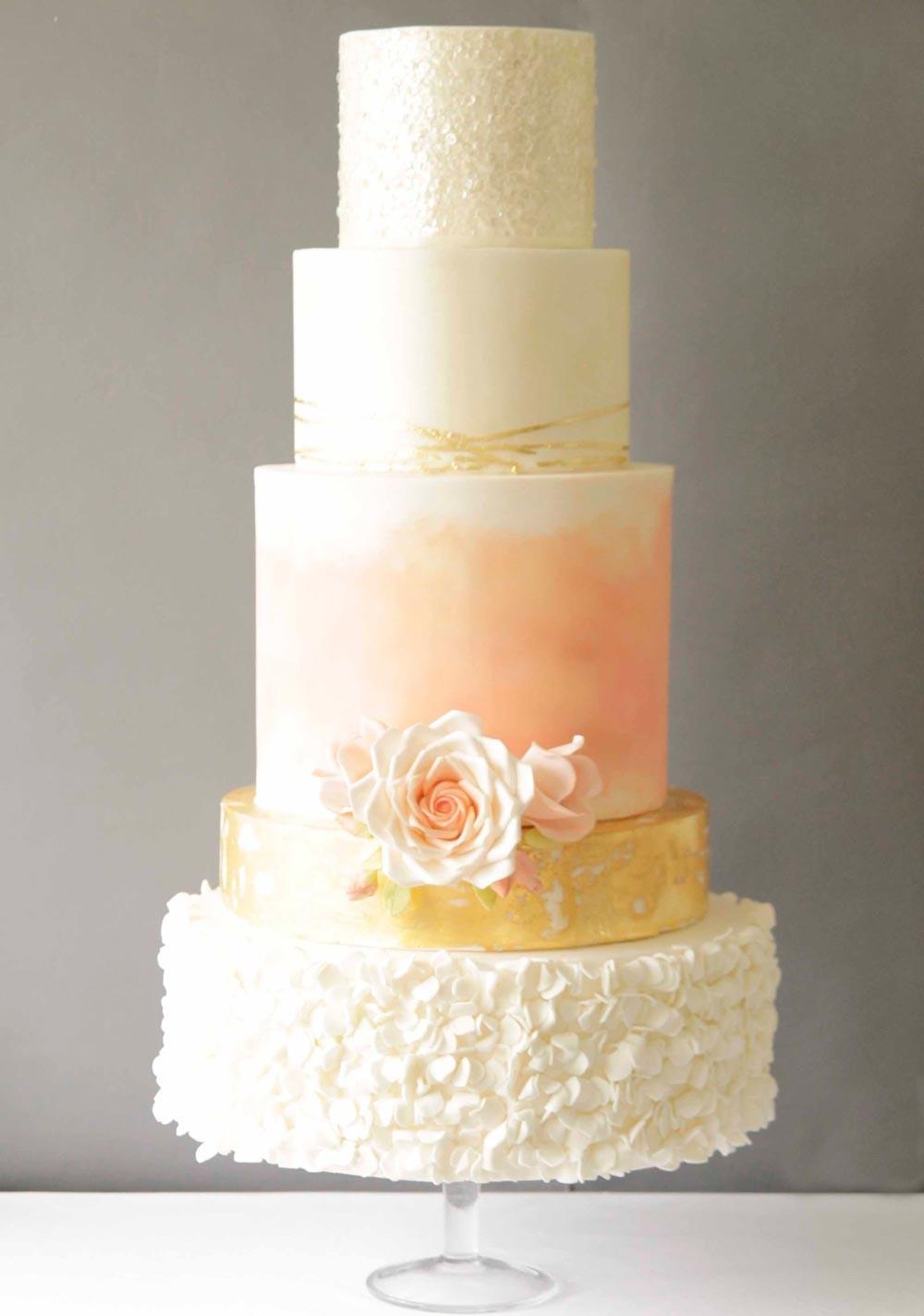 Sylvia's Kitchen
Do you and your other half love to travel? Consider this incredible map-themed wedding cake from Sylvia's Kitchen – that level of detail on the map tiers is awe-inspiring, and the ruffled layers keep it suitably wedding worthy.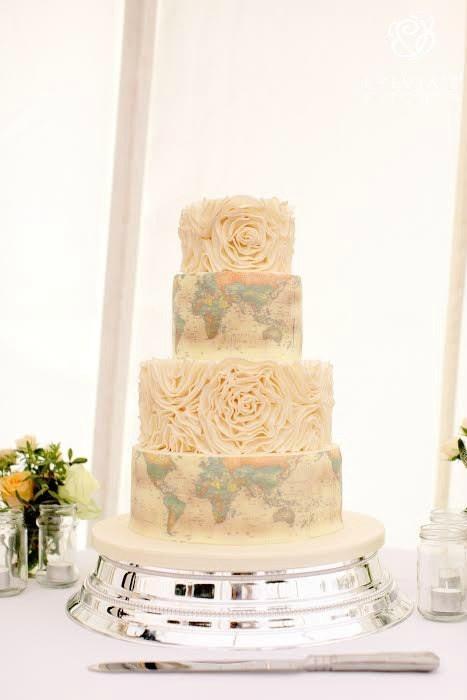 Rosalind Miller
Gold sugar flowers take a glamorous wedding cake to the next level, as you can see from the Rosalind Miller work of art. We love how the sugar work continues all the way up on to the top of the floral wedding cake as a gravity-defying cake topper.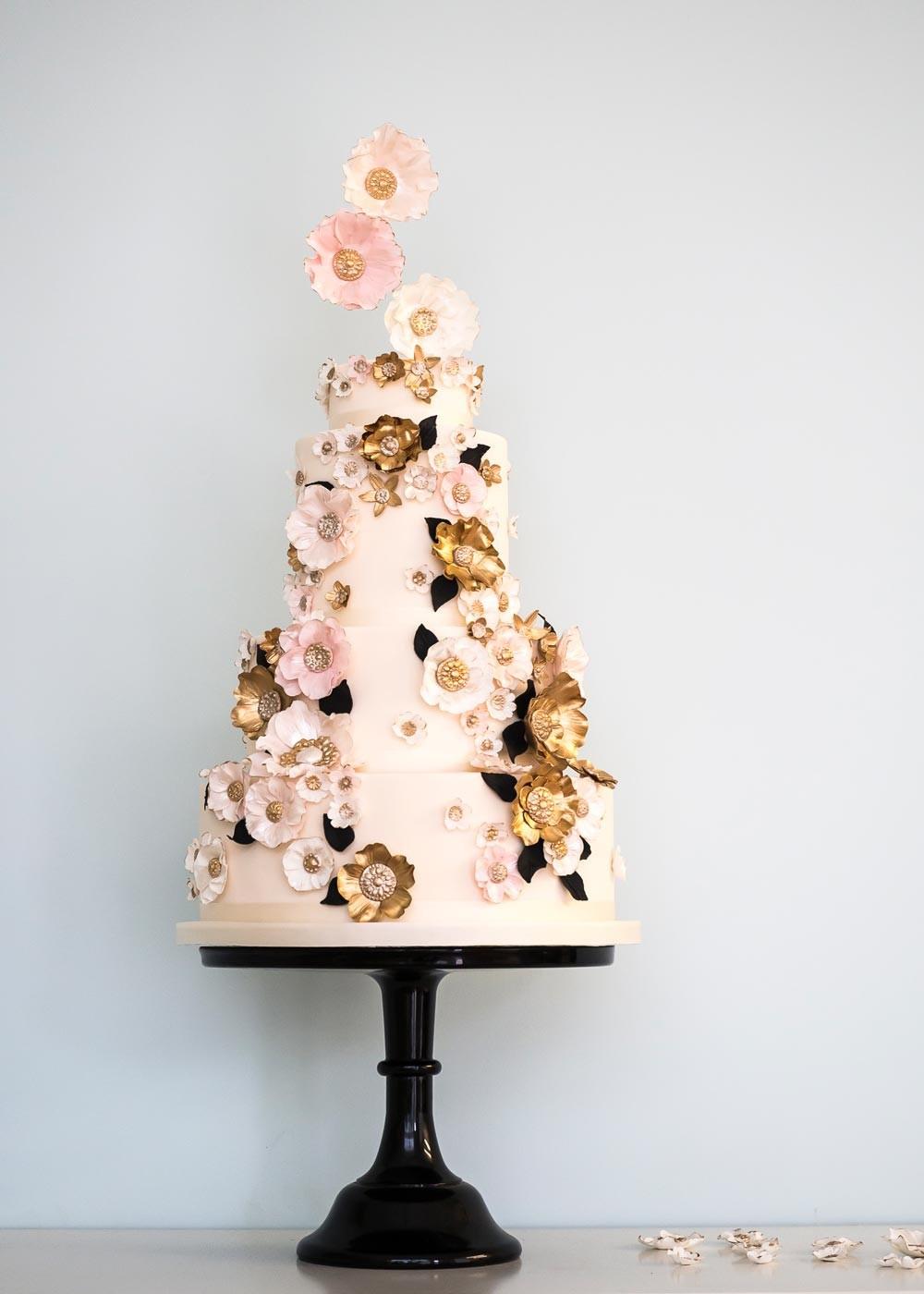 Willow & Bloom
Can't choose between stripes, ruffles or florals? Go for all three. This breath-taking cake from Willow & Bloom effortlessly combines three gorgeous cake trends and the result is fabulous.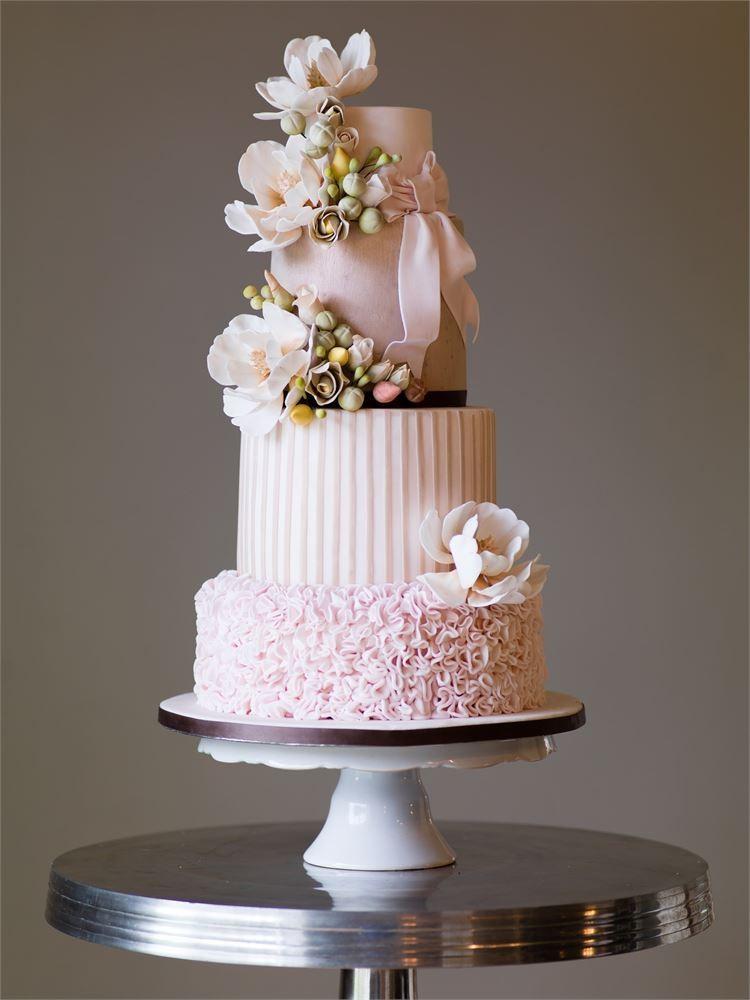 Jelly Cake
We all know about feathered wedding dresses, but what about a feathered wedding cake? The subtle peach colour of this Jelly Cake creation is so charming, and that feathered bottom tier is just beautiful.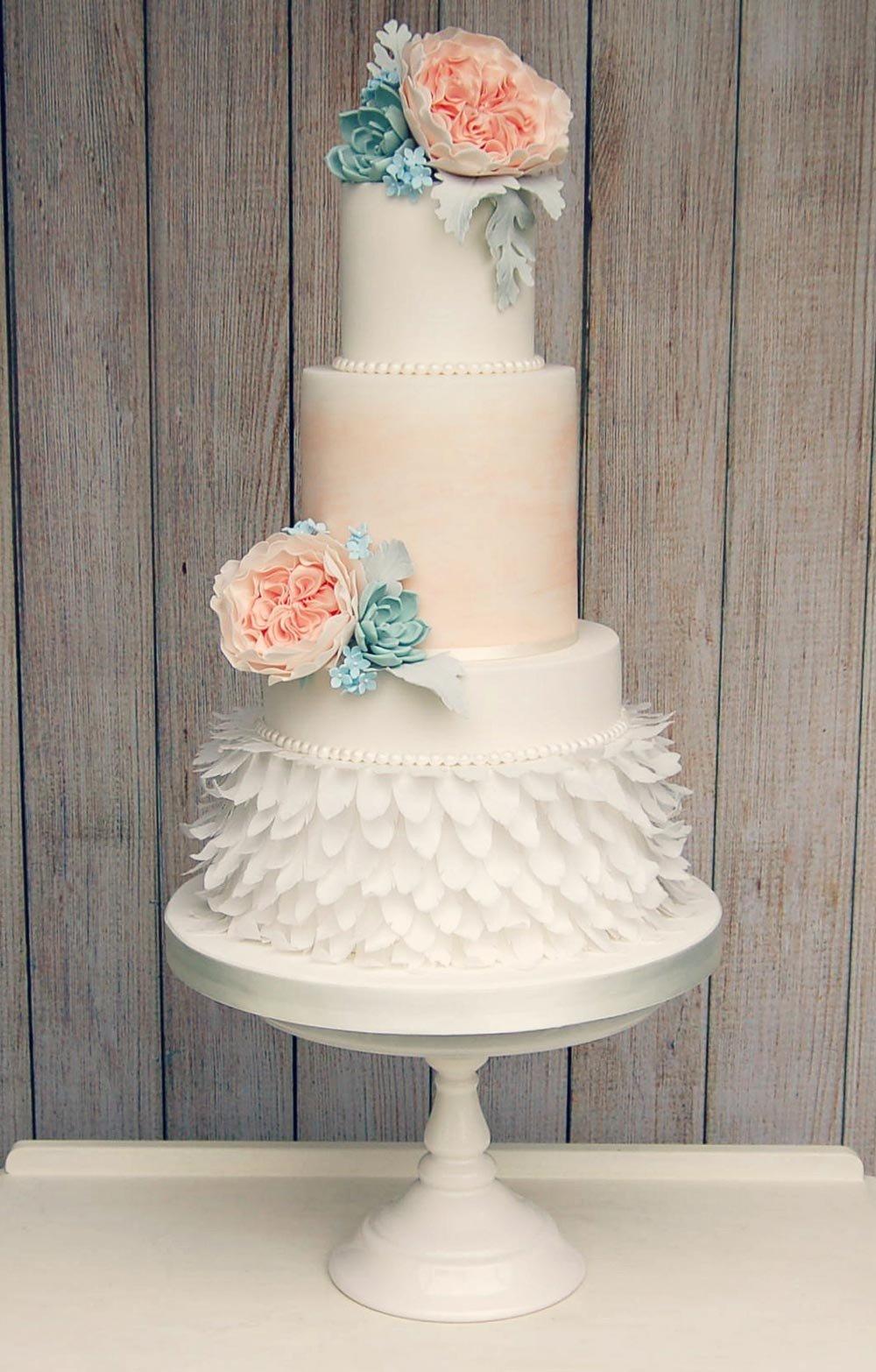 Melissa Woodland Cakes
A cake that blends tradition with fantasy, the carousel at the top of the beautifully crafted Alice Cake by Melissa Woodland Cakes actually rotates. Like this unusual wedding cake? We've got plenty more for you to browse on Hitched!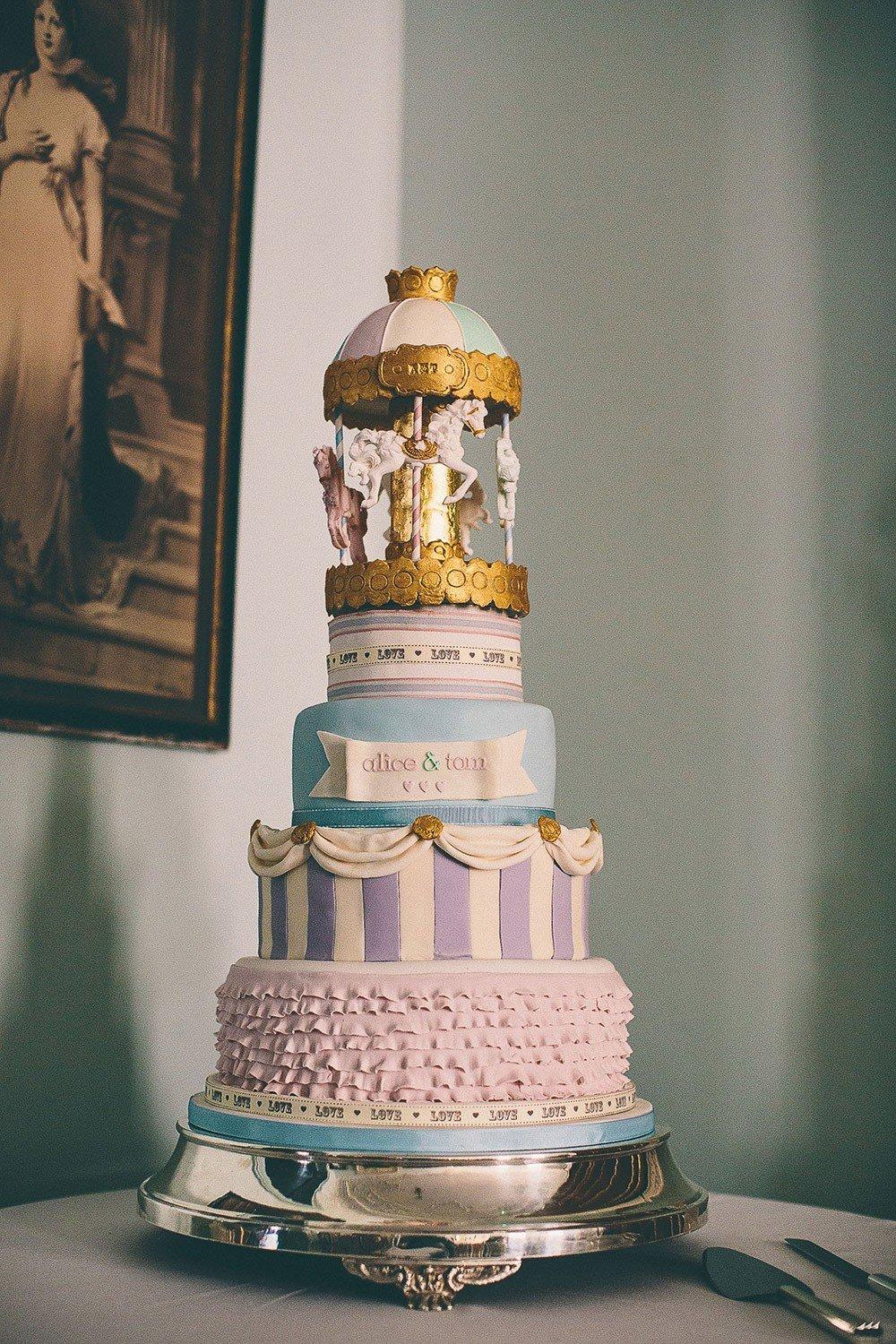 Choccywoccydoodah
An unmistakable Choccywoccydoodah creation, the Old Master is a feast of floral delight. So beautifully crafted it could be made of porcelain, this delicious confection is totally theatrical.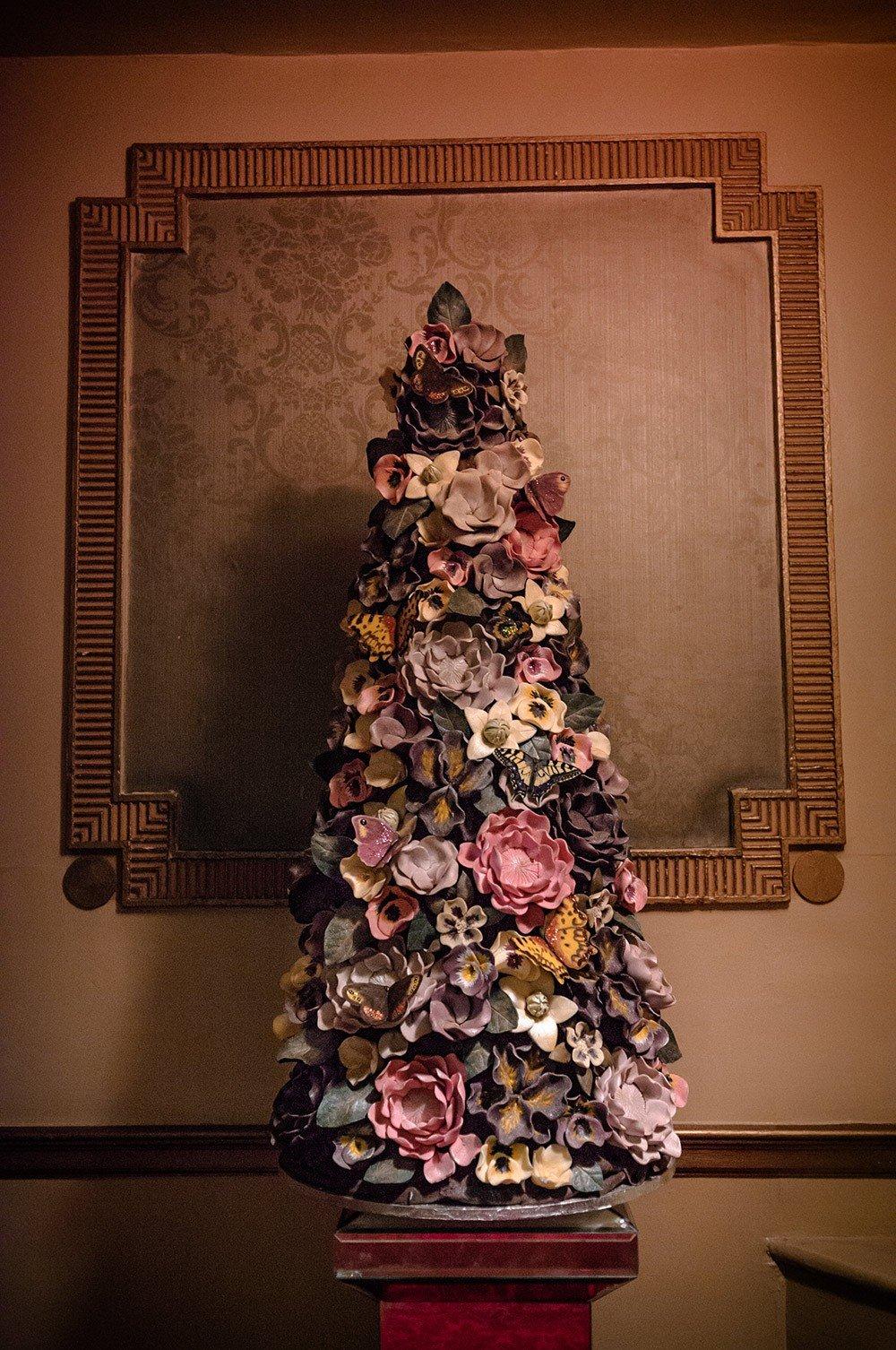 Krumblies
If you are looking for superhero inspired wedding ideas, this stunning cake by Krumblies is fun, colourful and bound to give your guests super-powers once they've eaten it…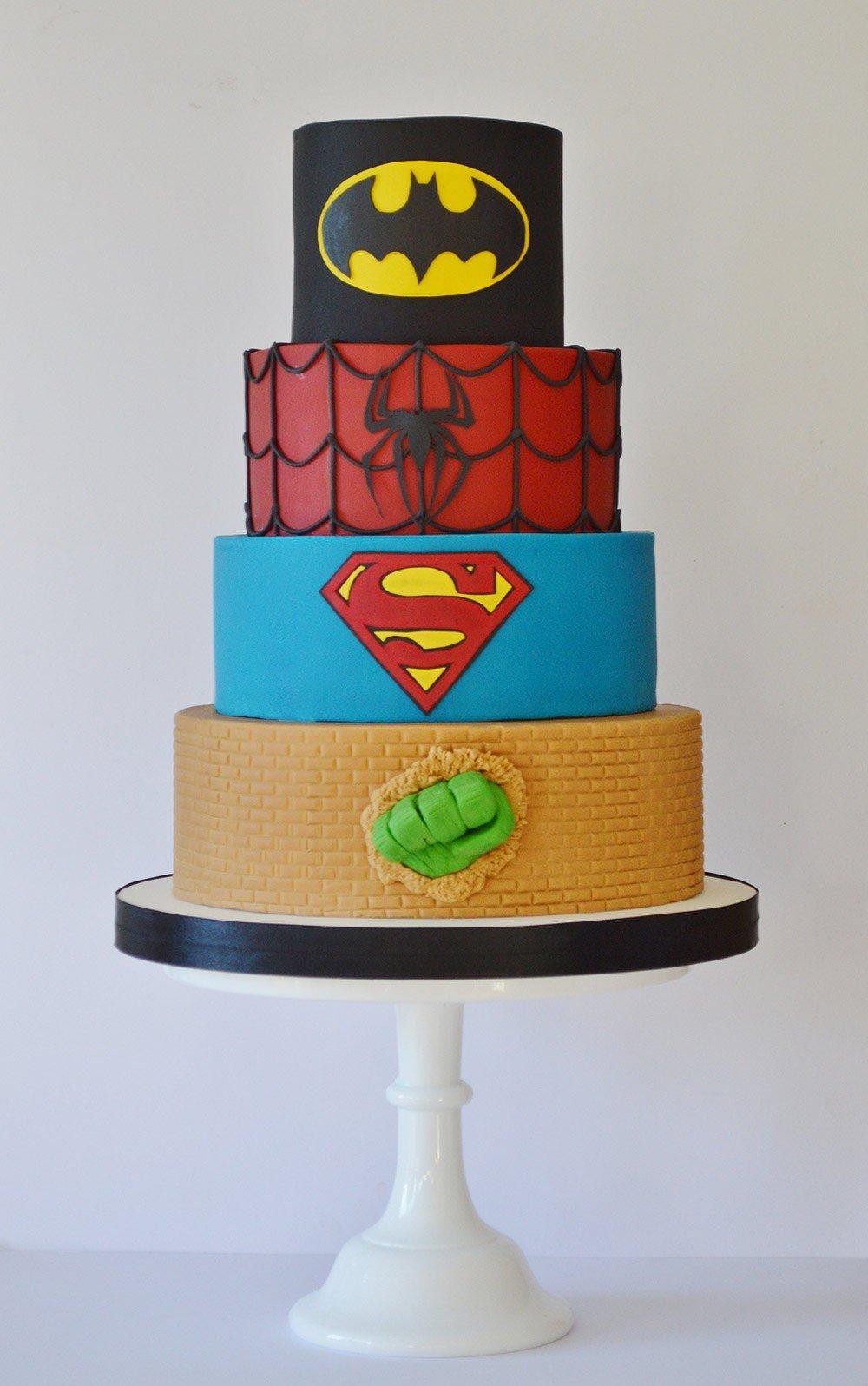 Sweet as Sugar Cakes
Into the Woods by Sweet As Sugar Cakes is completely edible. Made using four tiers of different flavour sponges, each butterfly is hand painted, with the toadstools, branches and vines all made from chocolate. The background is a mixture of hand painted foliage and roses with an airbrushed sky.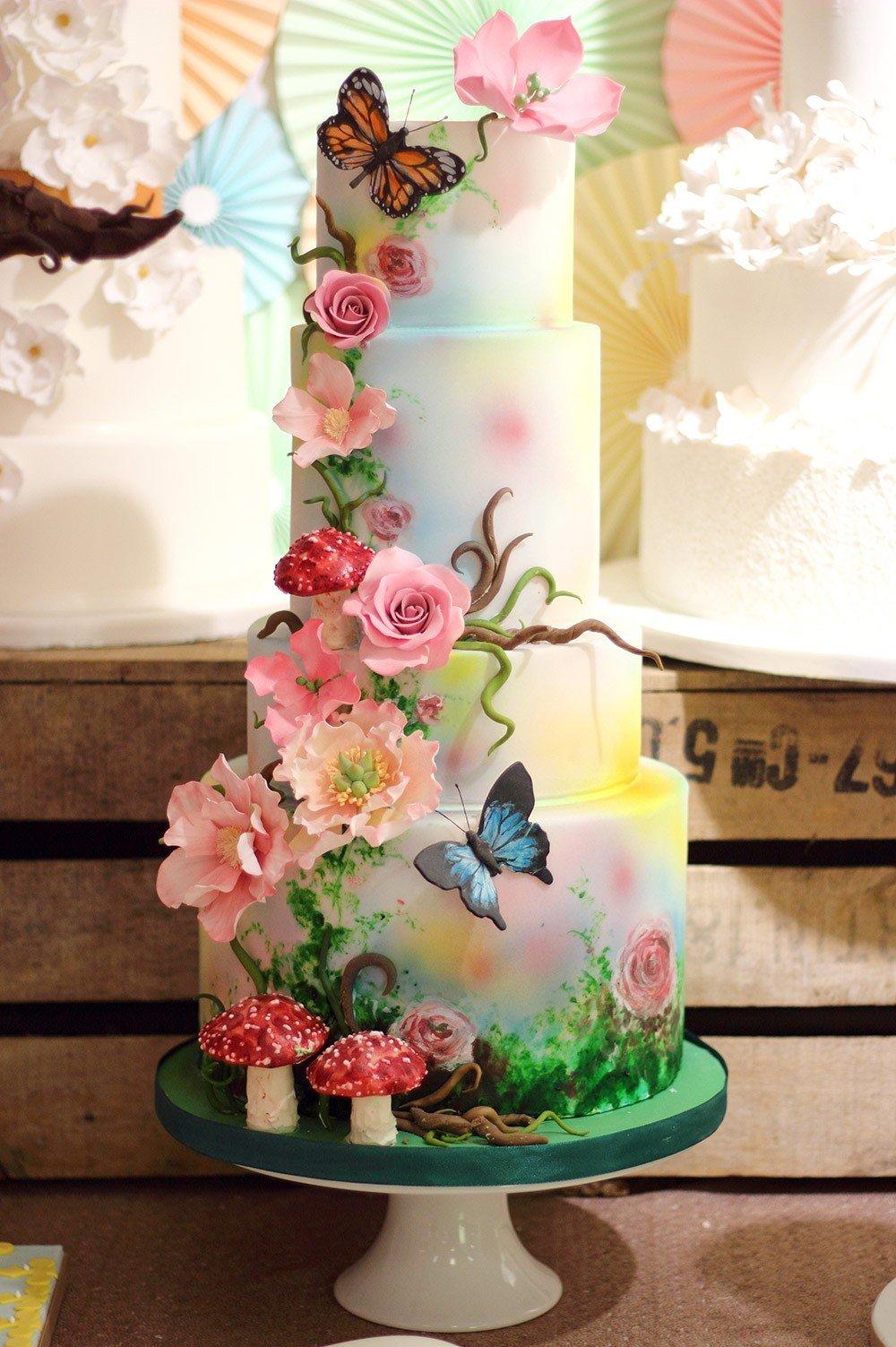 Sweet Hollywood
The Floral Decadence cake by Sweet Hollywood was created for a secret garden themed wedding with 800 guests. The cake stood seven tiers tall with flowers at the base, creeping up the cake, and a statement crown.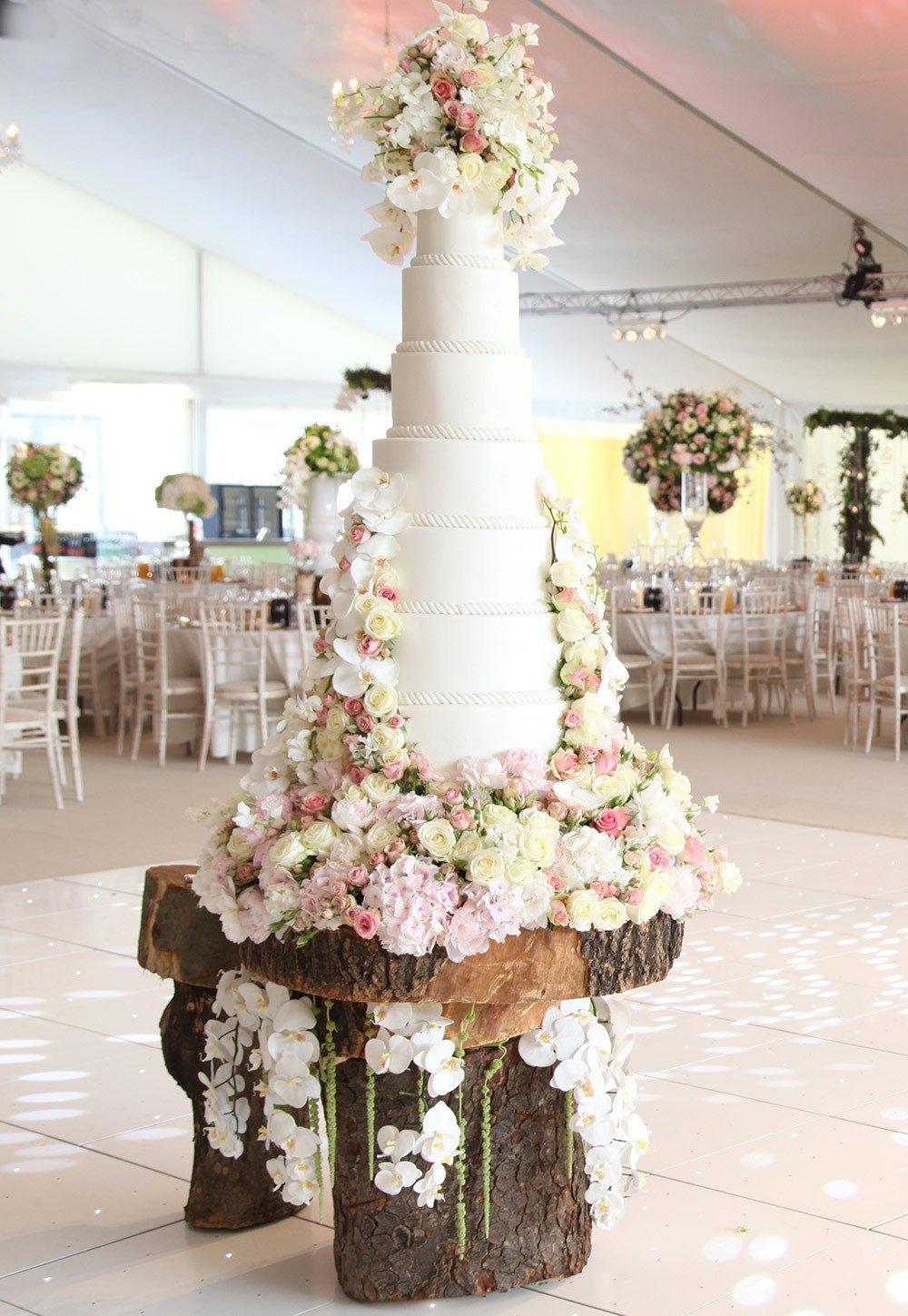 Once you've picked the perfect look for your wedding cake, why not choose a mouth-watering flavour? We have 50 fabulous wedding cake flavours for you to browse.