The Ultimate Wedding Hair Accessories Guide: 53 Gorgeous Ideas
Put the finishing touches to your bridal look with these stunning wedding hair accessories. We've got 53 stunning ideas for you to browse and shop!
We have included third party products to help you navigate and enjoy life's biggest moments. Purchases made through links on this page may earn us a commission.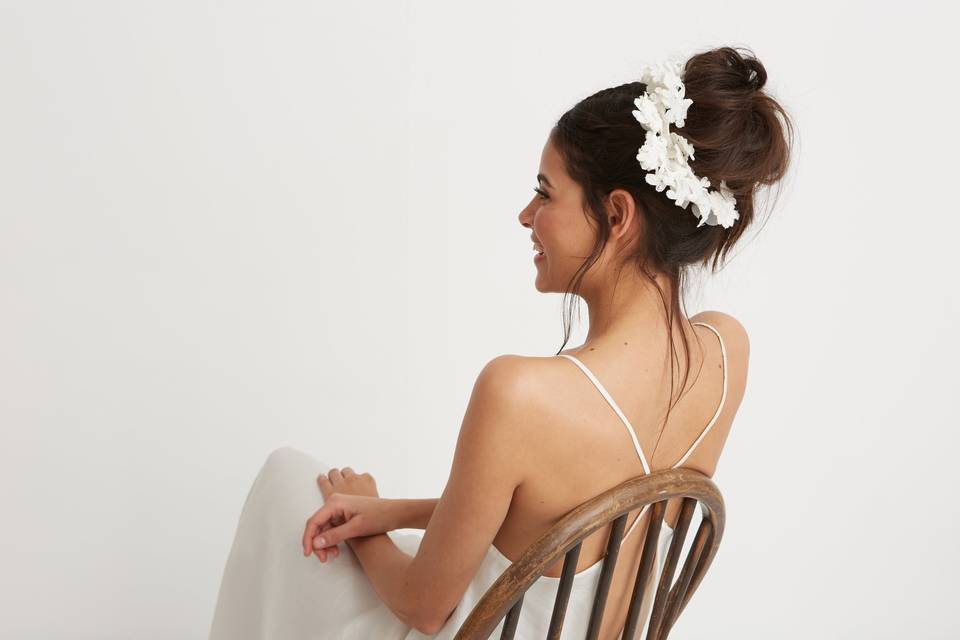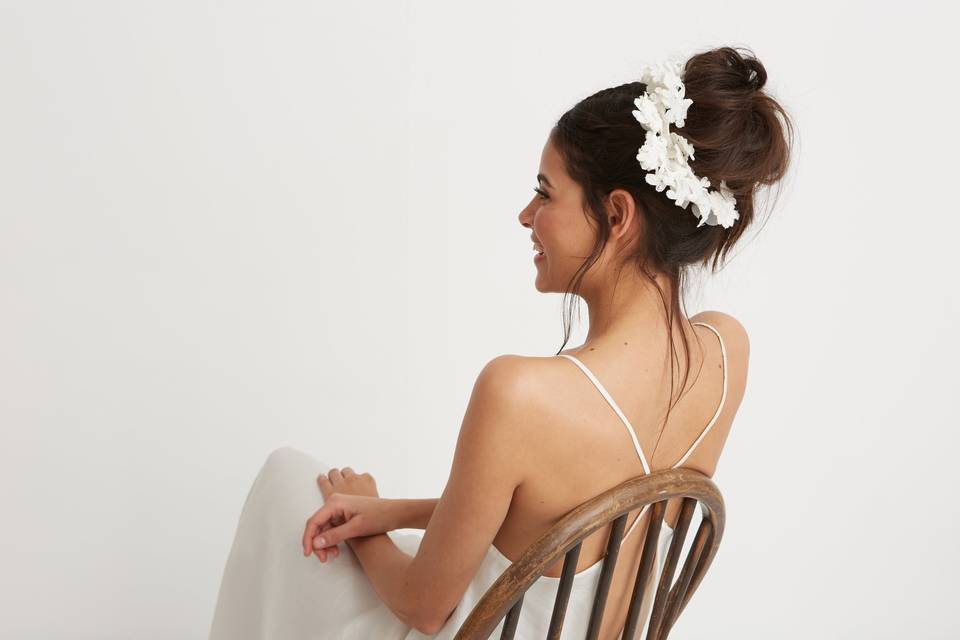 It's all well and good choosing a beautiful wedding hairstyle, but no bridal look is complete without a gorgeous wedding hair accessory to pull everything together.
With so many different styles available, choosing one can be a little overwhelming. But don't worry! We've sorted all the best wedding hair accessories into styles, from bridal headbands and wedding hair clips to wedding hair combs and tiaras.
Whether you're leaning towards a flower crown or you think that some dainty hair pins might be more your style, get ready to feel inspired by these lovely wedding hair accessories.
NB: We have included third party products to help you navigate and enjoy life's biggest moments. Purchases made through links on this page may earn us a commission.
You can't go far wrong with a classic wedding headband. Here are the best bridal headbands to shop now…
1. Jannie Baltzer Dasha Silk Headband - £234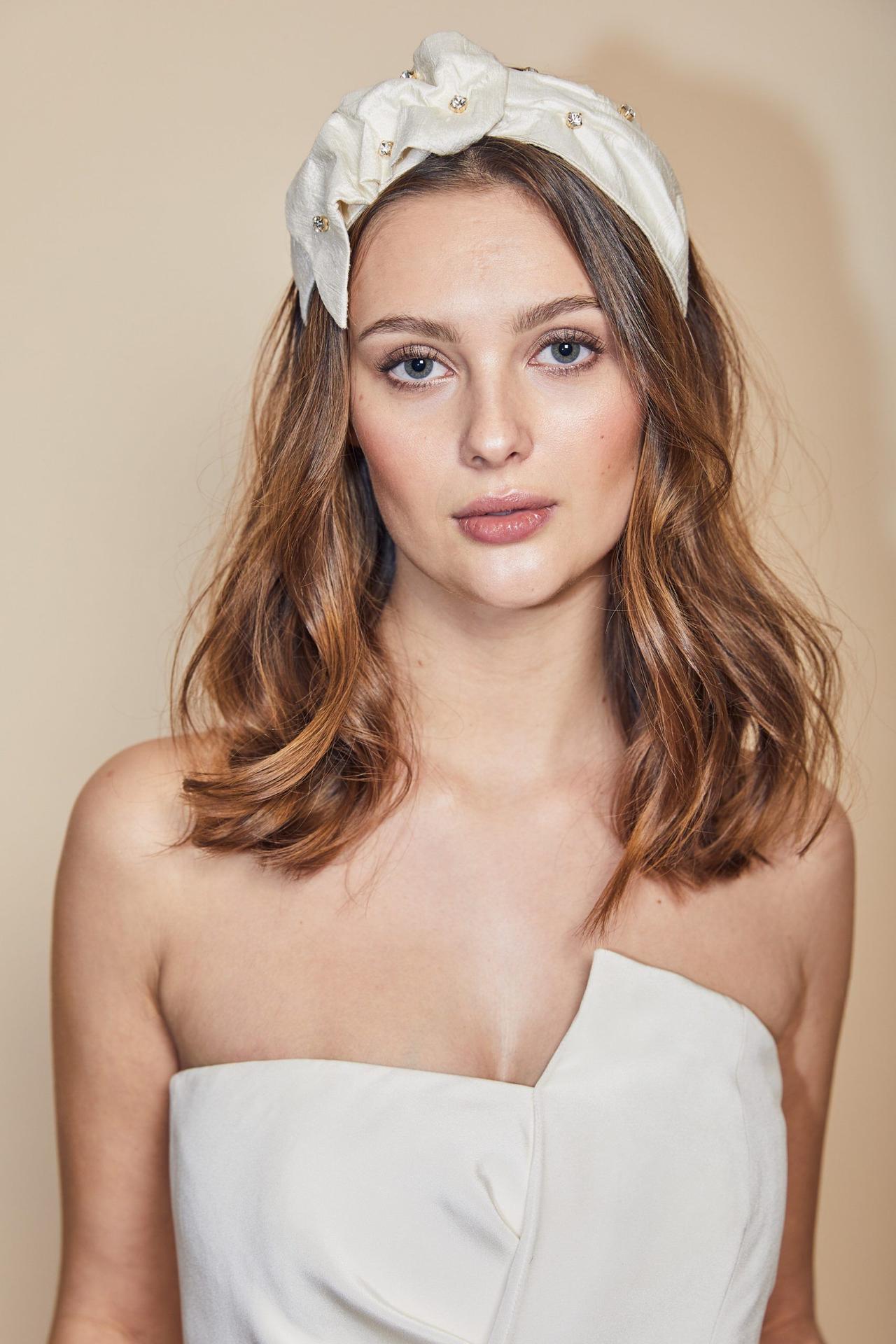 If your bridal look is fashion-focused, you need cool Danish brand Jannie Baltzer on your radar. Their bridal headbands, like the silk Dasha, are a fresh take on classic bridal looks. You should also check out their veil collection.
2. New Look Silver Diamanté Double Wire Headband - £4.99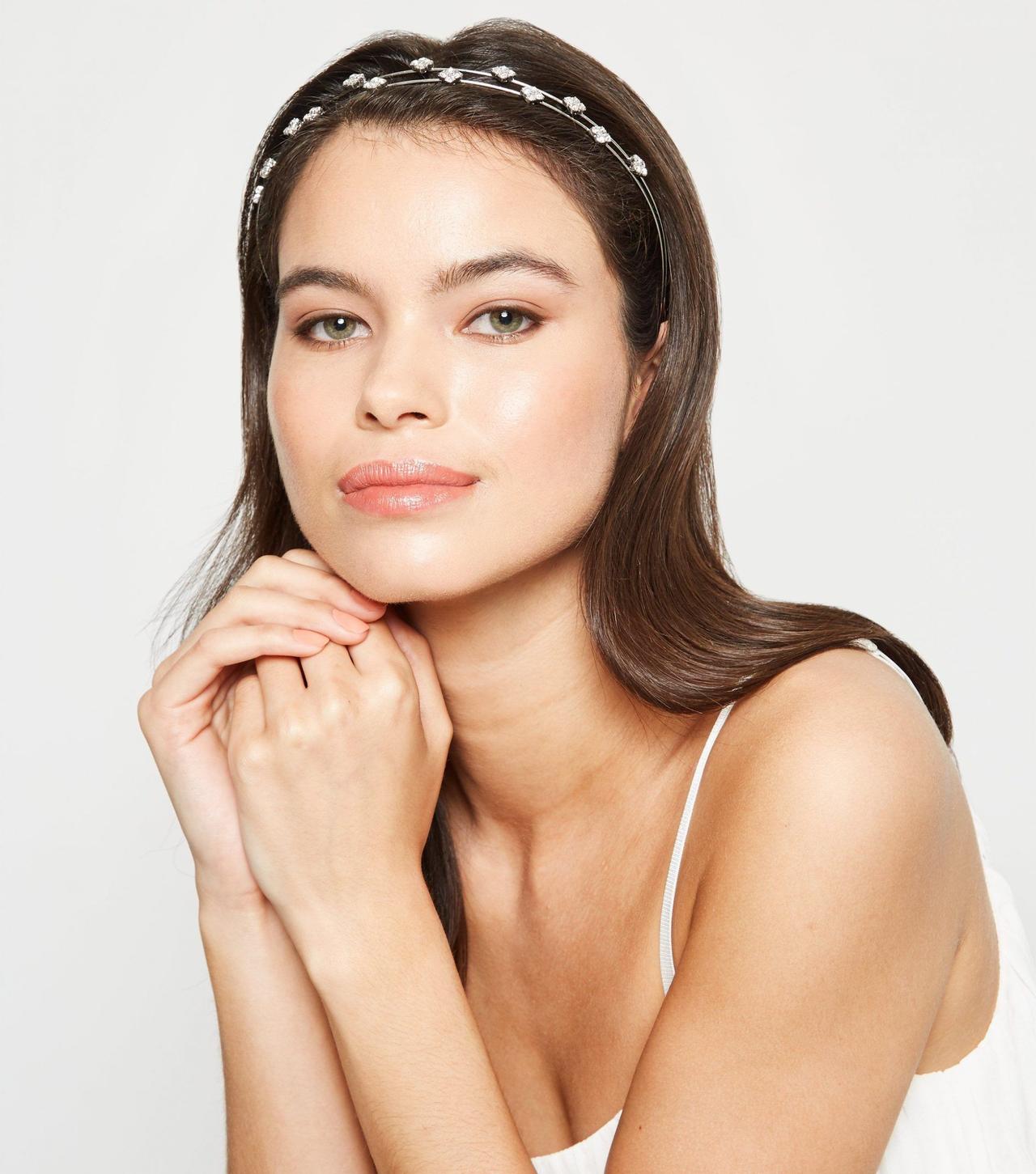 Proof that you don't have to spend a fortune to look chic, New Look's diamanté-embellished headband has a delicate ballerina vibe. We can picture it working beautifully against a light-as-air tulle wedding dress - avoid earrings to keep the look understated.
3. Liberty in Love Renata Head Piece – £165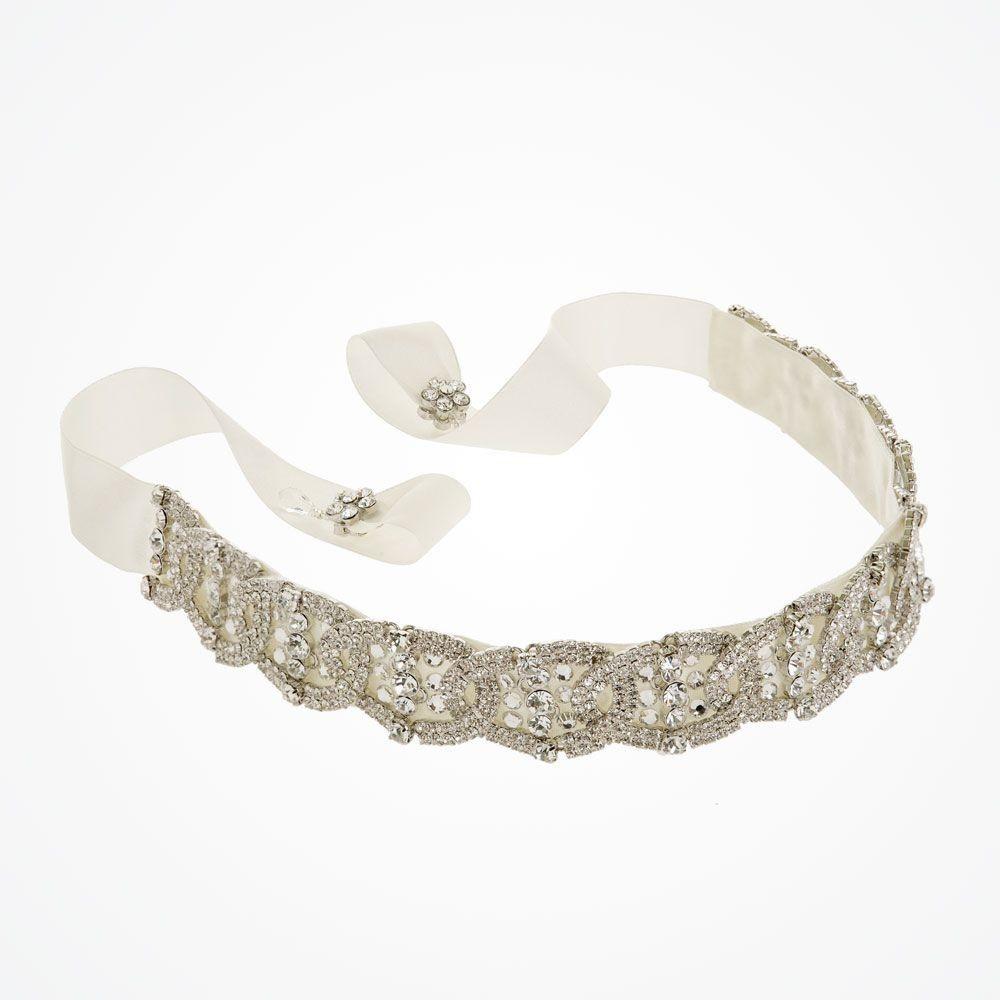 This headband by Liberty in Love is not only super pretty but really easy to wear, too.
A band of crystals and brilliantly-cut stones sit on an ivory satin ribbon, meaning every time you turn your head, it'll sparkle.
This headband would look just as beautiful with your hair down as it would sitting in a wedding updo.
4. Jennifer Behr Brinn Gold-Tone Swarovski Pearl Headband – £165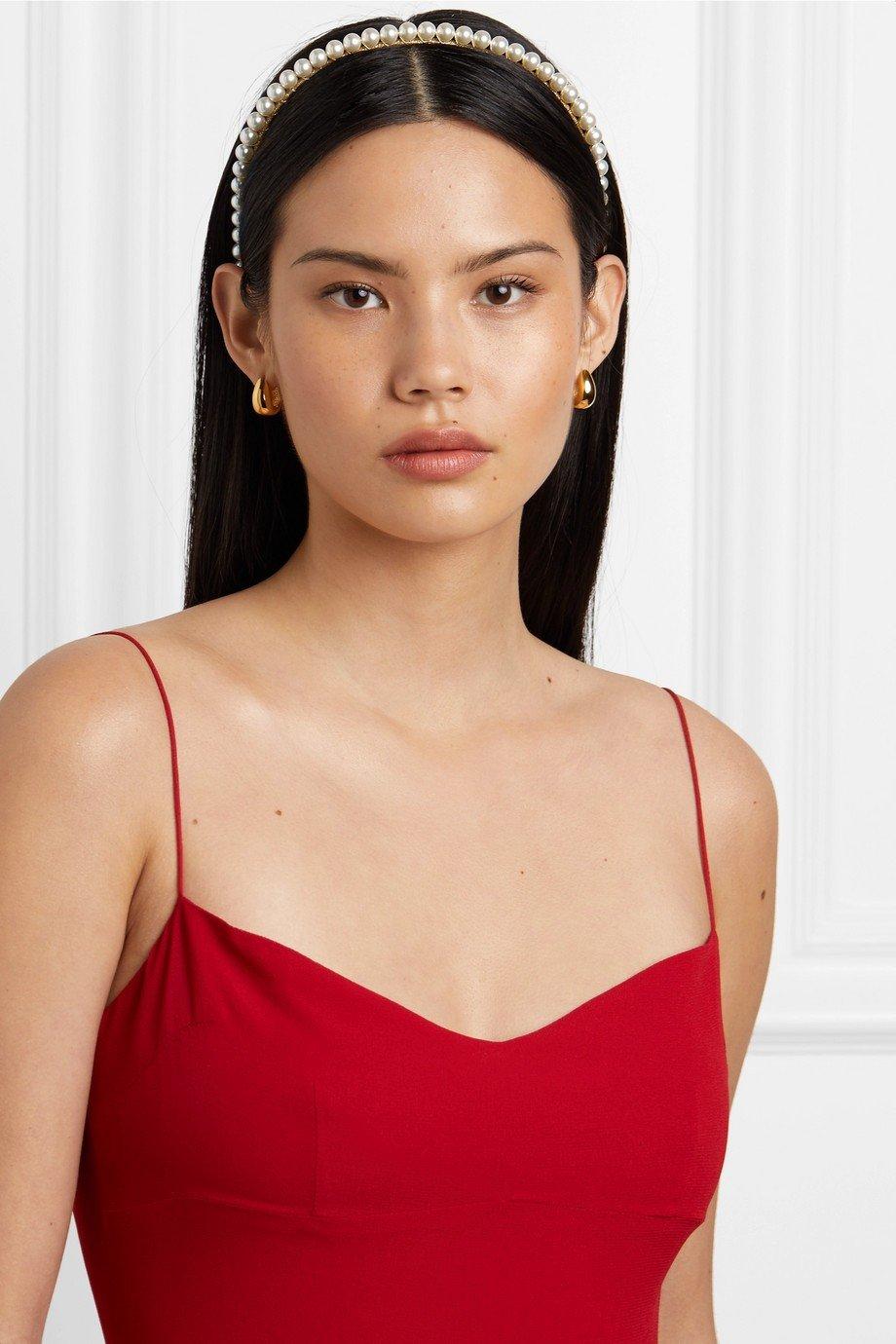 Jennifer Behr specialises in intricate accessories which would look dainty and pretty on your wedding day.
This gold-tone style is outlined with gleaming Swarovski pearls secured by tonal wire. It's perfect for sliding into tousled locks on your wedding day.
5. Debbie Carlisle Star Swarovski Crystal Wedding Headband and Hairpins – £225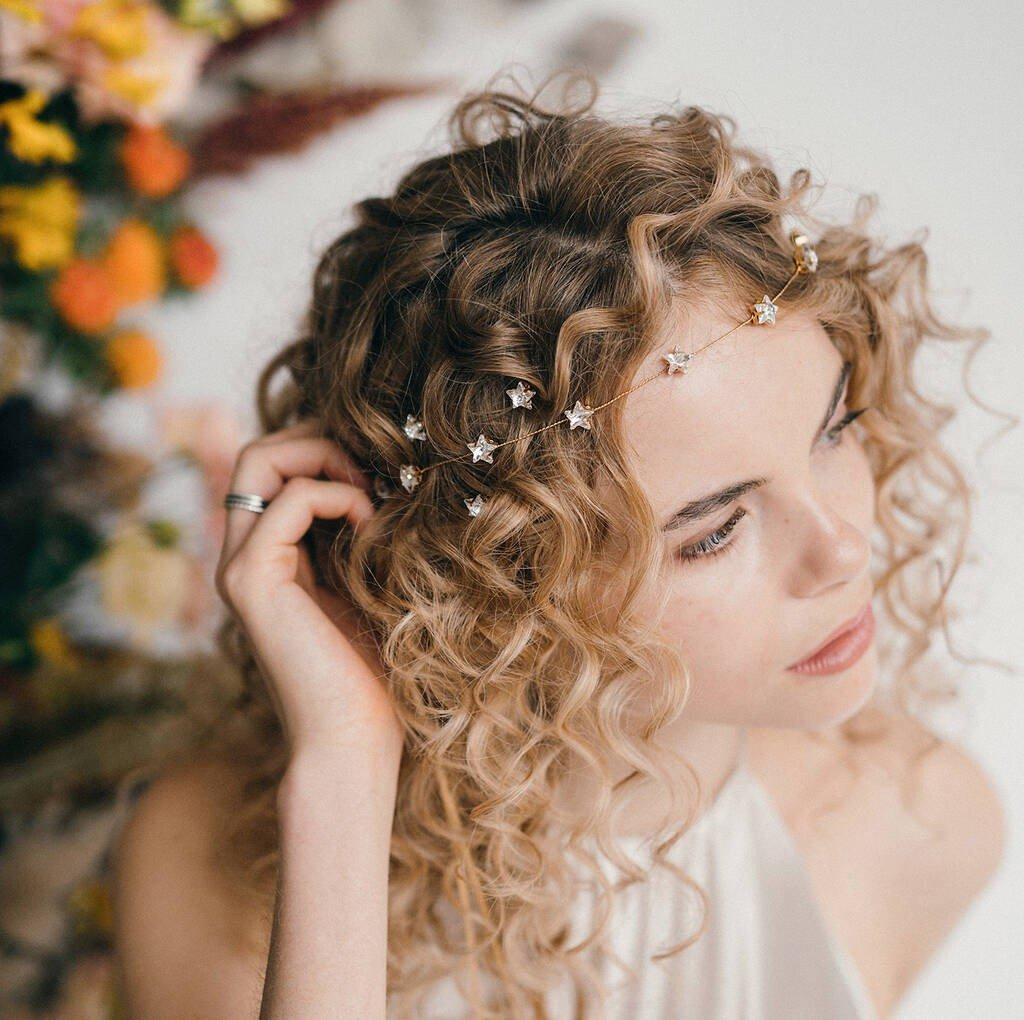 Just how stunning is this star crystal wedding headband by Debbie Carlisle? It'd be perfect for any bride hoping to nod towards her celestial wedding theme with her wedding accessories.
The handcrafted star vine can be worn as a headband or forehead band and is created from silver or gold plated wire, with nine single star crystals spaced along it. It also comes with matching hairpins so you can create your very own bridal look.
6. Lelet NY Swarovski Crystal-Embellished Headband – £150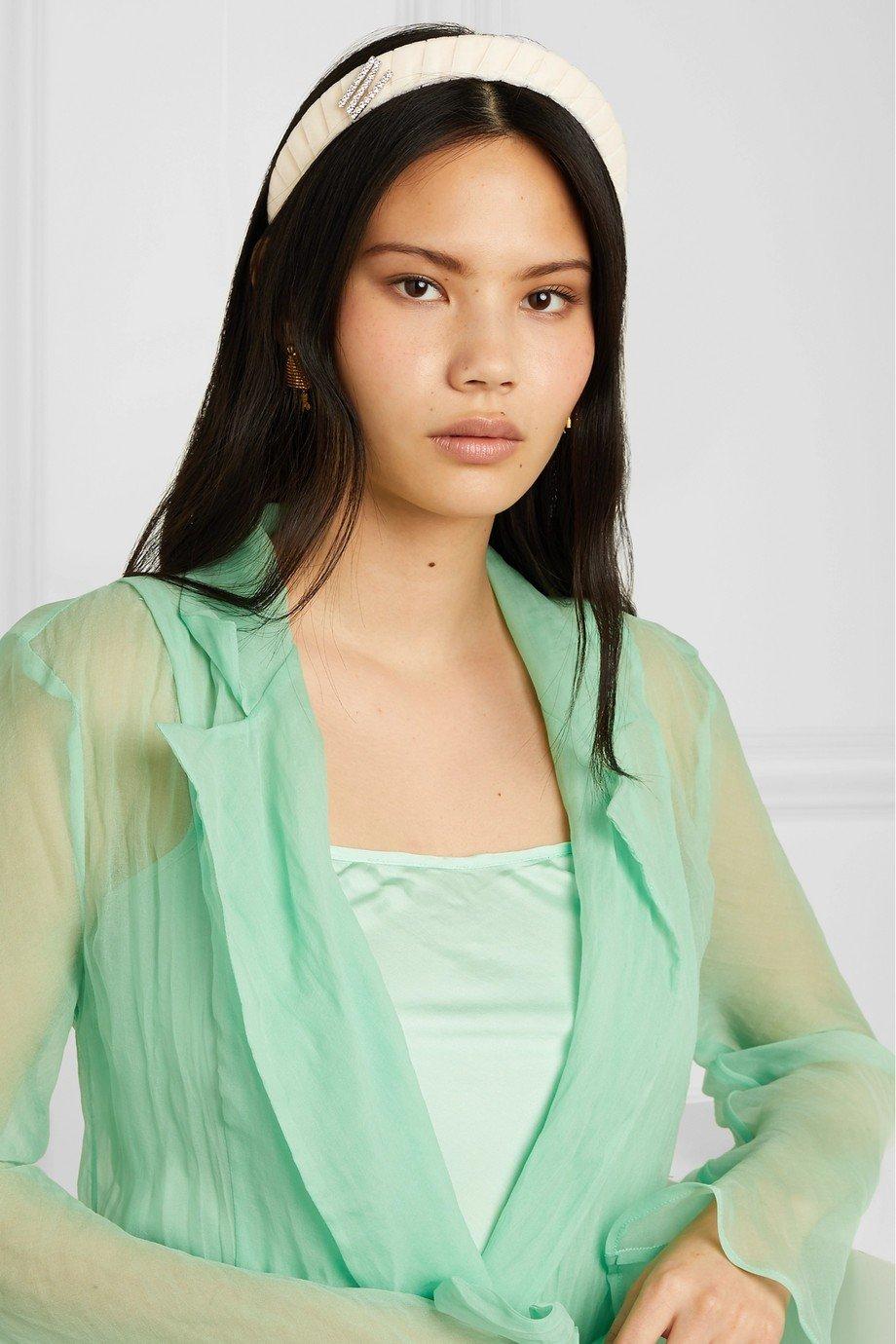 We're always on the hunt for new and on-trend ways to personalise your bridal get-up, and a headband embellished with a crystal initial is exactly that.
Wrapped in plush velvet, this gorgeous wedding hair accessory is understated and minimal, saving itself for the shimmery Swarovski capital letter that studs one side.
READ MORE: The Ultimate Bridal Beauty Countdown
Wedding Hair Combs
Traditional brides should look towards the classic and sophisticated option of a wedding hair comb. These beauties can be worn in all manner of ways…
7. Ivory & Co Madeline Hair Comb - £135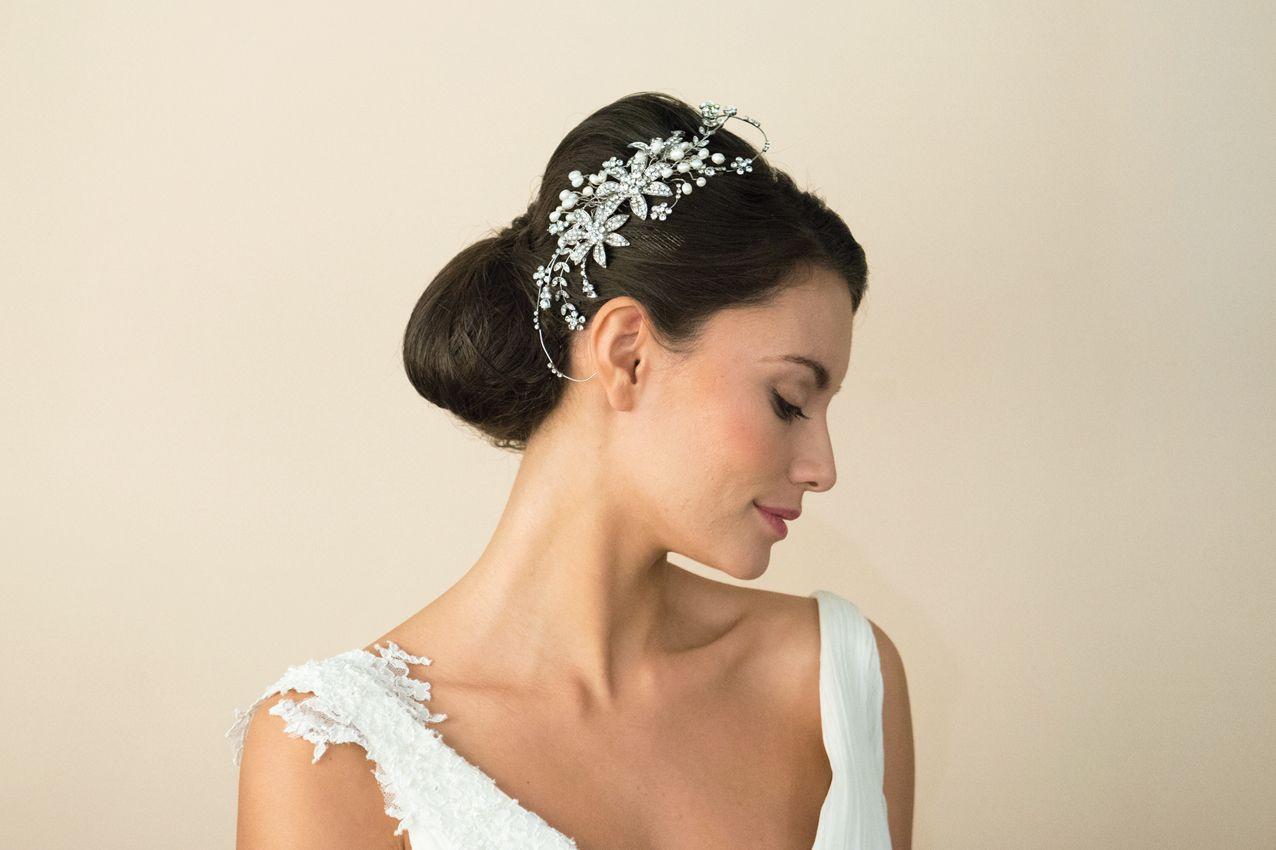 Ivory & Co.'s Madeline is a fairy tale of a hair comb, all dazzling crystal flowers and intricate vines, set off my freshwater pearl detailing. It's perfect if you want to create a romantic, vintage-inspired look.
8. Not On The High Street Personalised Starry Lace & Silver Bridal Hair Comb - £45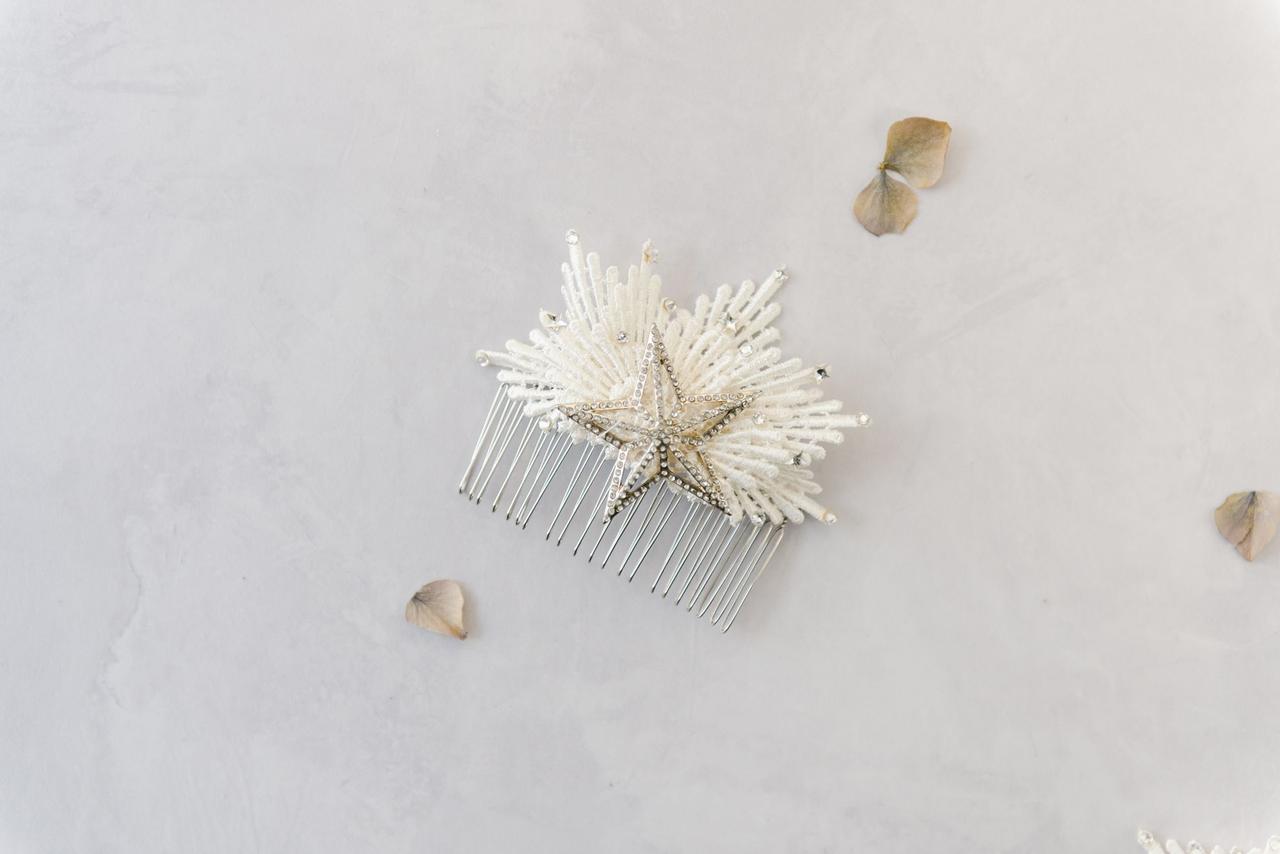 This bridal hair comb from Silver Sixpence In Her Shoe would be a pretty addition to any wedding hairstyle, and would also work well with a veil. It comes in a personalised box, which will make putting it on feel even more special on your wedding morning.
9. Twigs & Honey at Etsy Petite Opal Blossom Burst Comb - £161.16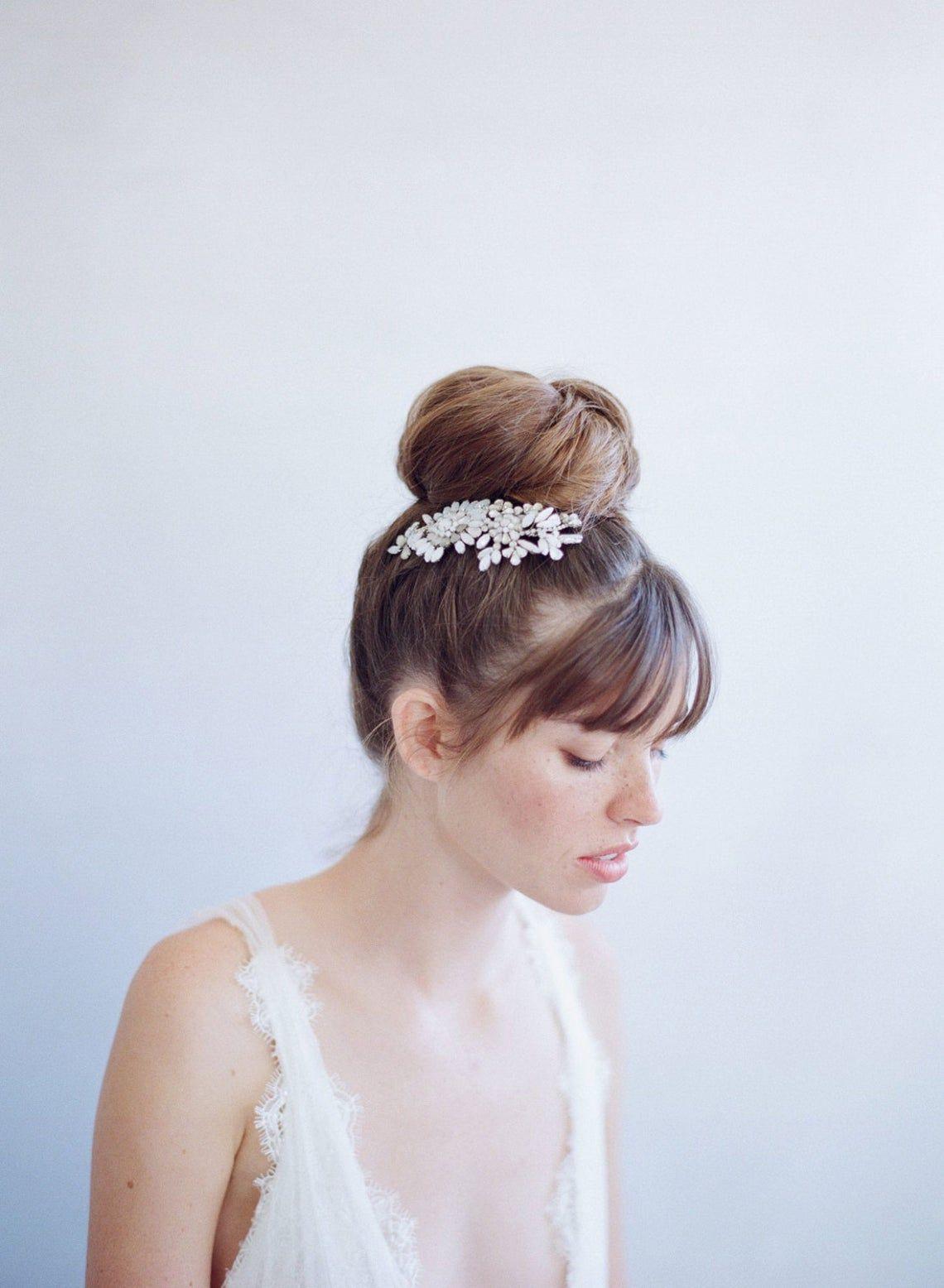 This intricate hair comb will add wow factor to your outfit without overwhelming your look. The opal crystals are an elegant touch.
10. Liberty in Love Venus Trio of Stars Crystal Hair Comb – £177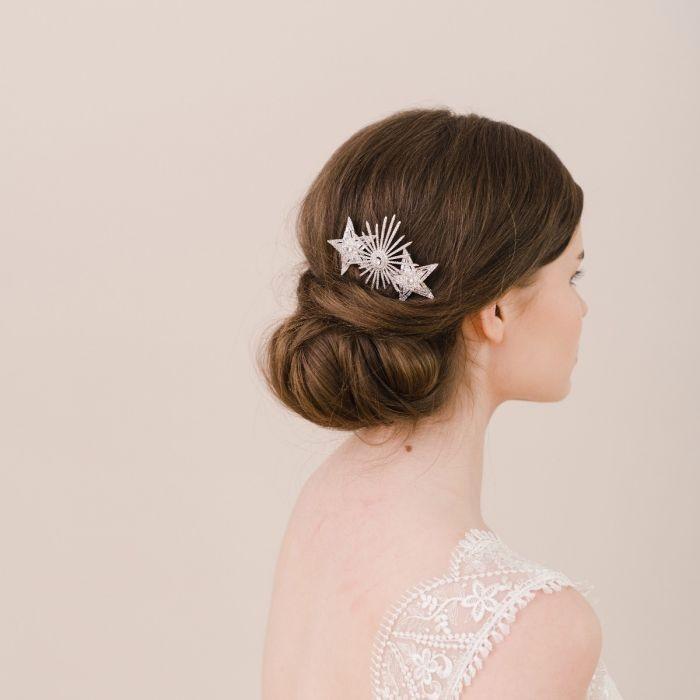 Beautiful, feminine and reminiscent of star-lit skies, this art deco-inspired hair comb will add a glamorous touch to your bridal hairstyle.
Each star is hand-set with scores of crystals to ensure you sparkle as you walk down the aisle.
11. Liberty in Love Shanti Floral Pearl Sprig Hair Comb – £40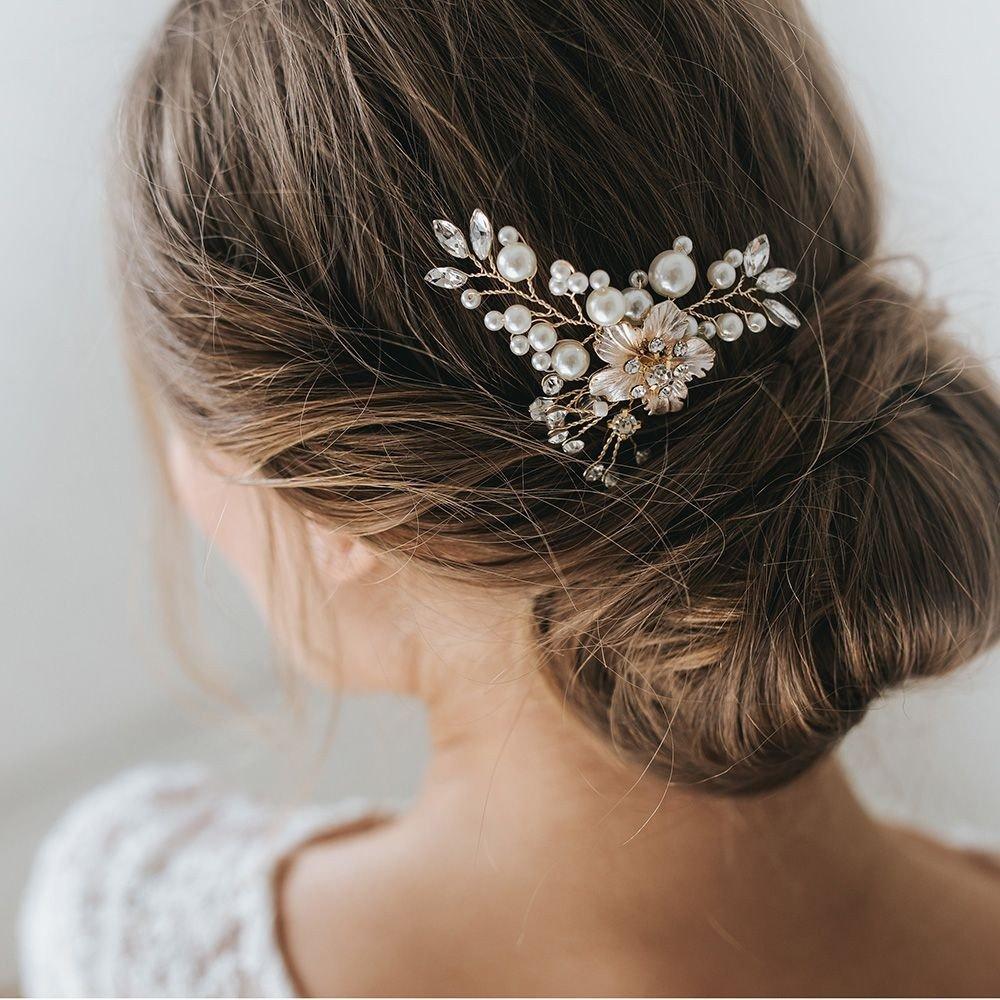 At just £40, the Shanti Floral hair comb by Liberty in Love looks endlessly more expensive than it actually is.
Perfect at a rustic wedding day, it features a singular hand-painted flower to add a romantic flourish to your tresses. How about treating each of your bridesmaids to one too?
12. Luna and Wild Ava Rose Berry Hair Comb – £34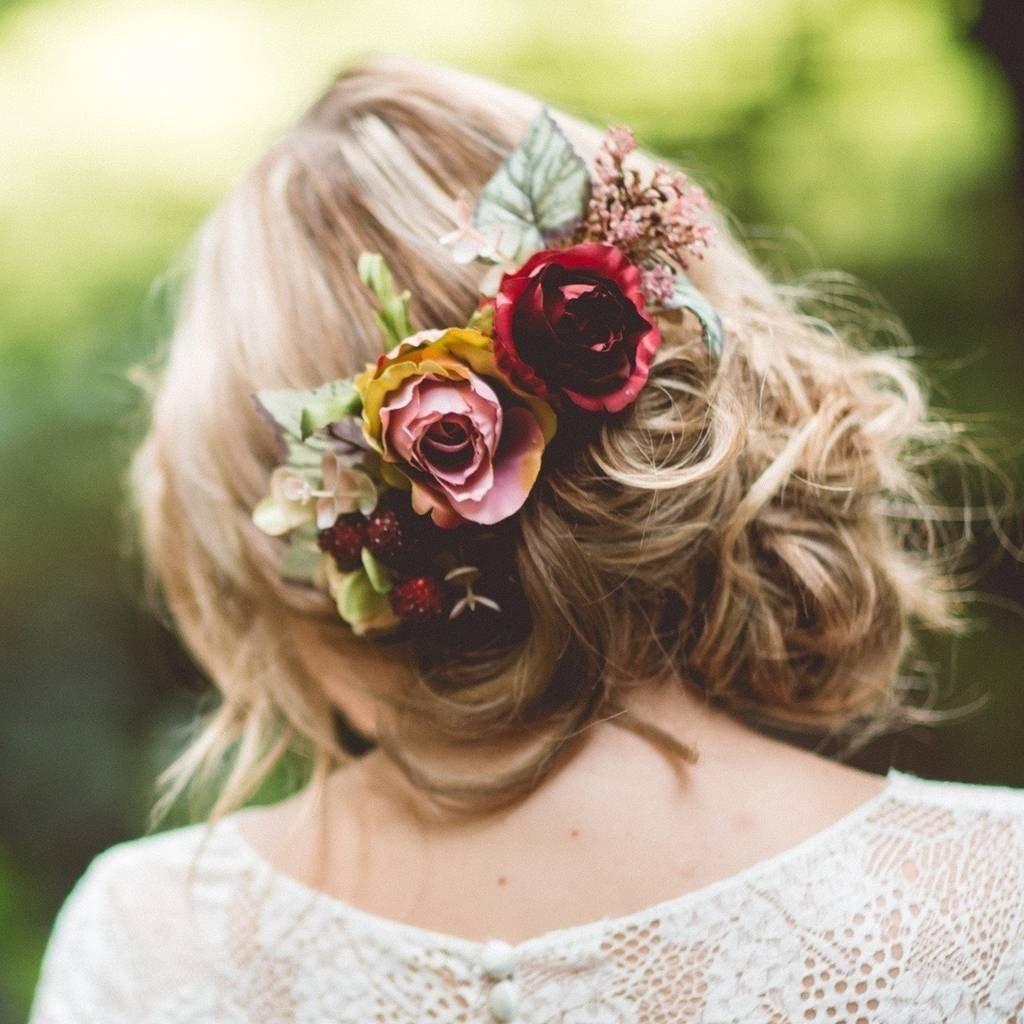 There's nothing to say your wedding day hair accessory needs to be delicate and pearl-adorned.
How about opting for a statement hair comb like this floral design? Perfect for the bohemian bride at her festival wedding celebrations, it's hand-crafted using artificial silk flowers, berries and foliage.
13. Liberty in Love English Violet Crystal Blossoms and Sprigs Comb – £180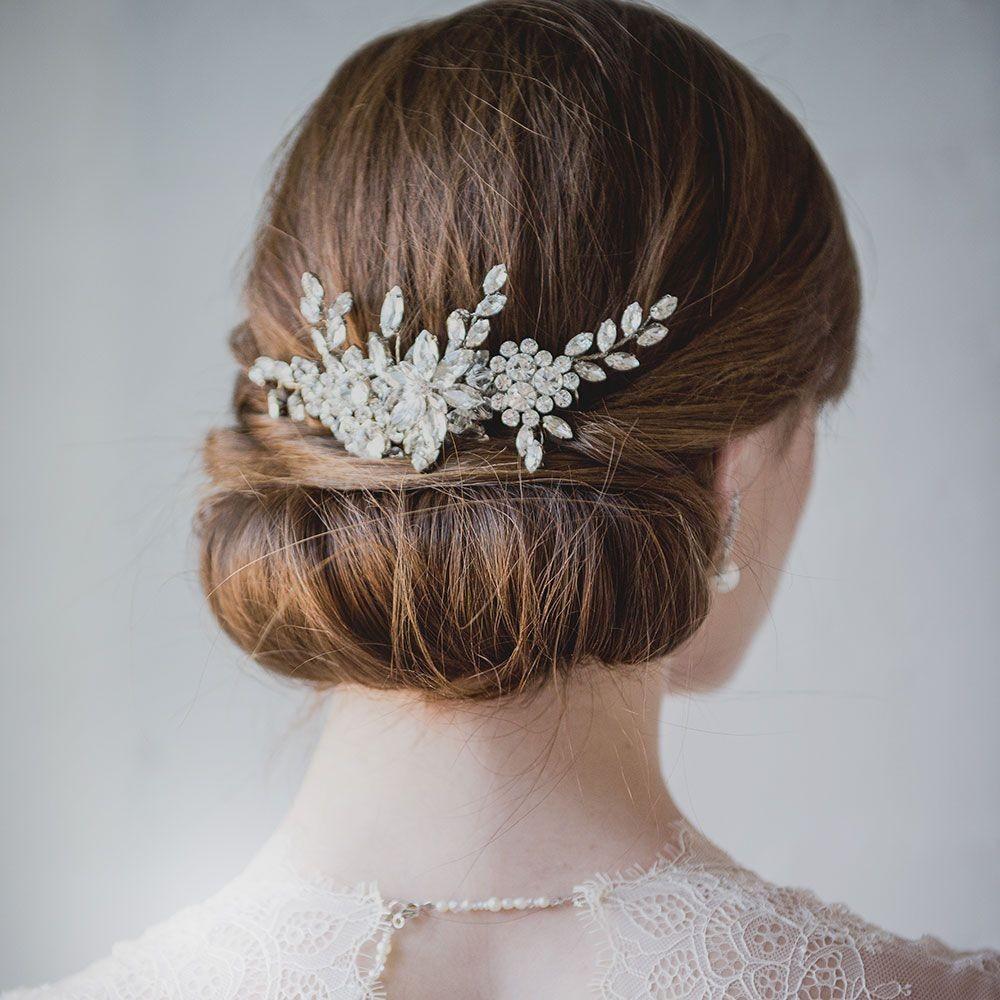 Radiant with celestial-like sparkle, this heavily embellished gold-tone hair comb glistens thanks to its clustered Swarovski crystal blossoms and sprawling sprigs.
If your hairstyle of choice is a low chignon, this handmade hair piece would look graceful nestled just below your crown.
READ MORE: 15 Wedding Themes for Every Style
Wedding Hair Clips & Pins
Hair clips are a huge Pinterest trend for 2020, so jump on board and snap up some of these gorgeous wedding-worthy hair accessories. We'll race you to the checkout…
14. Britten Weddings Eve Hair Pins - £68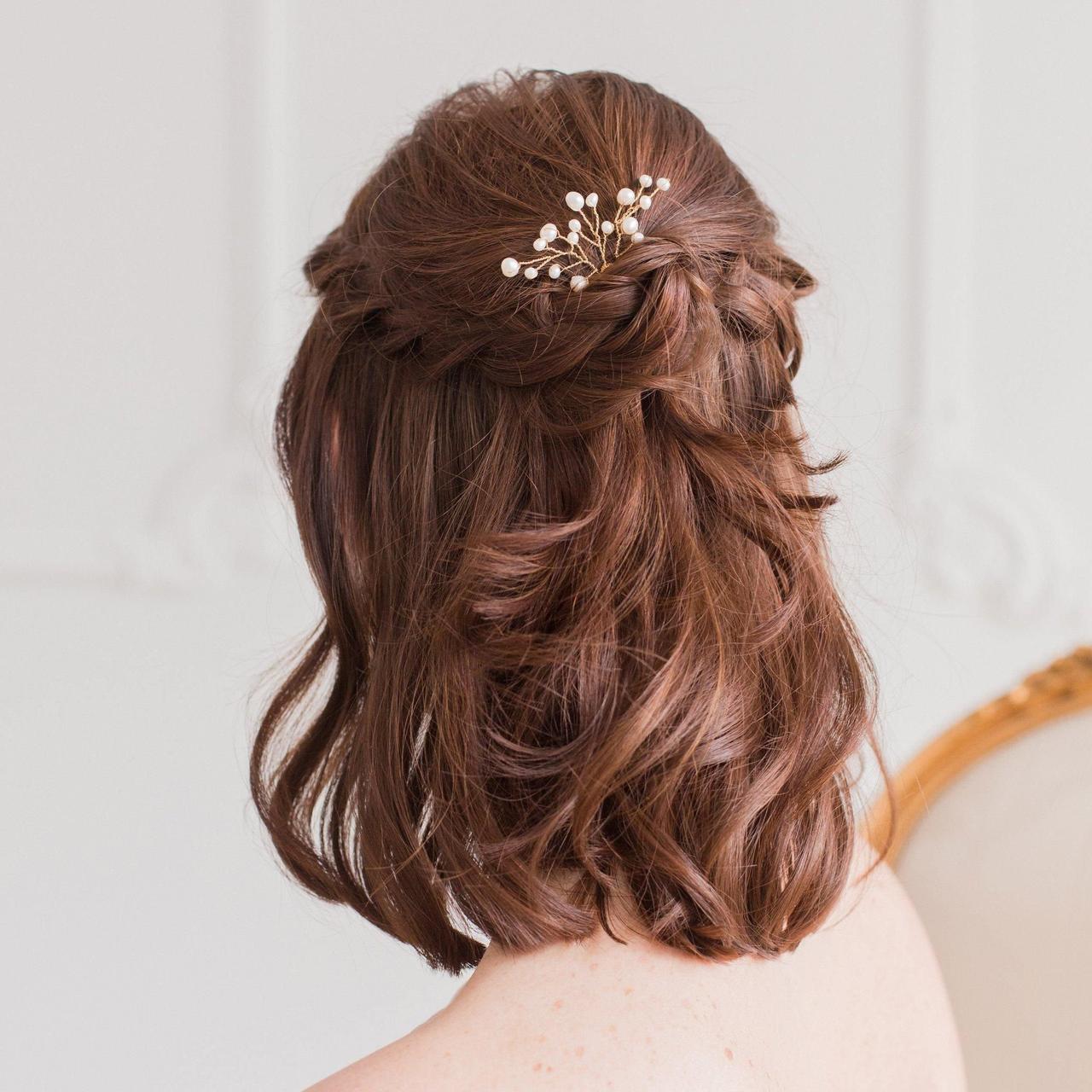 If bling isn't your thing, keep your accessories chic and discreet - like these Britten Wedding hair pins. These delicate handmade beauties can enhance a whole range of hairstyles, for understated prettiness.
15. Victoria Percival Sweetpea Pearls - £175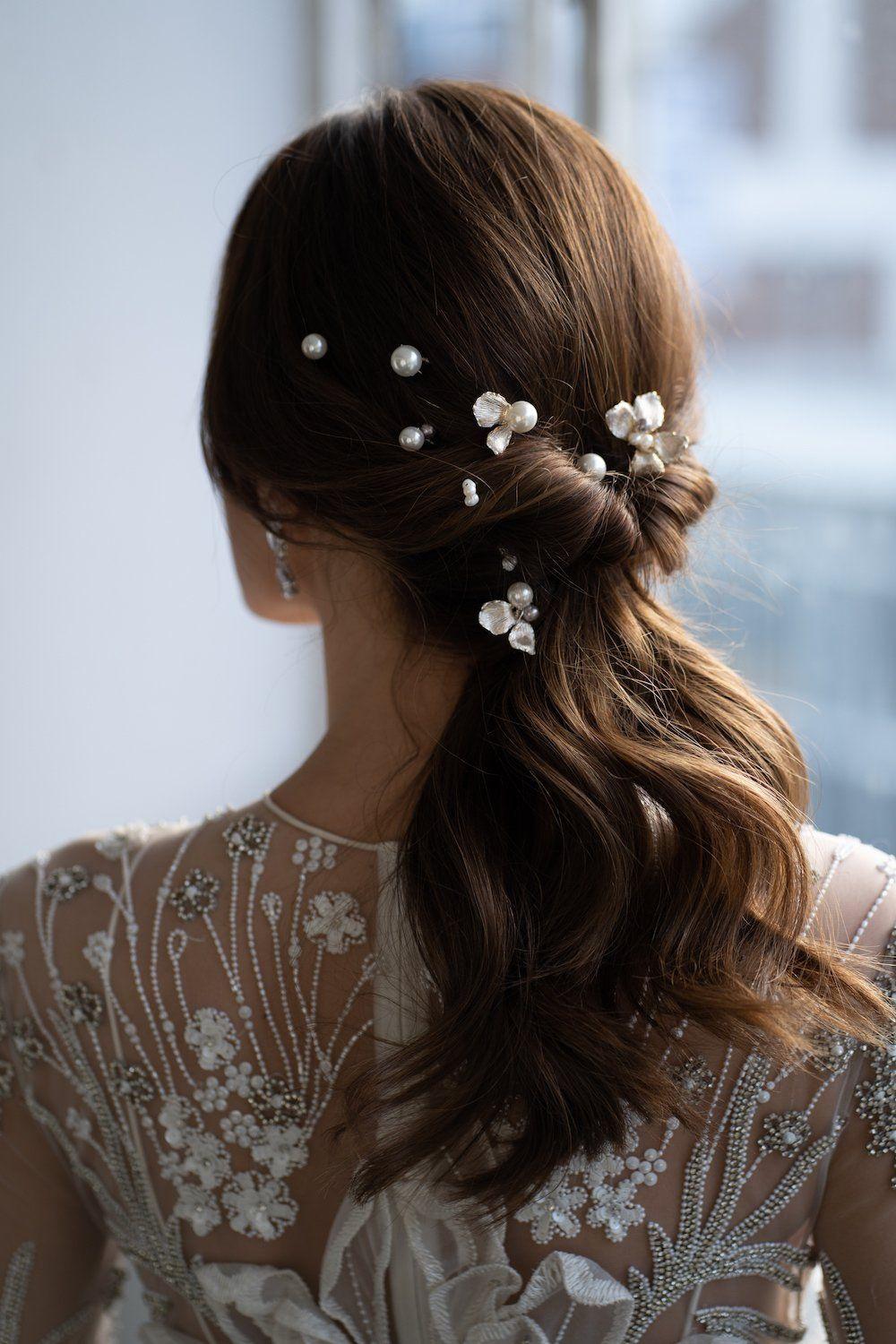 A hair style studded with pearls is the epitome of chic - and you can get the look with Victoria Percival's set of eight pearl pins. Handmade in her UK studio, the gorgeous pins come in different shades and sizes so you - or your hairdresser - can combine them to produce your own unique style.
16. Topshop Daisy Slides - £10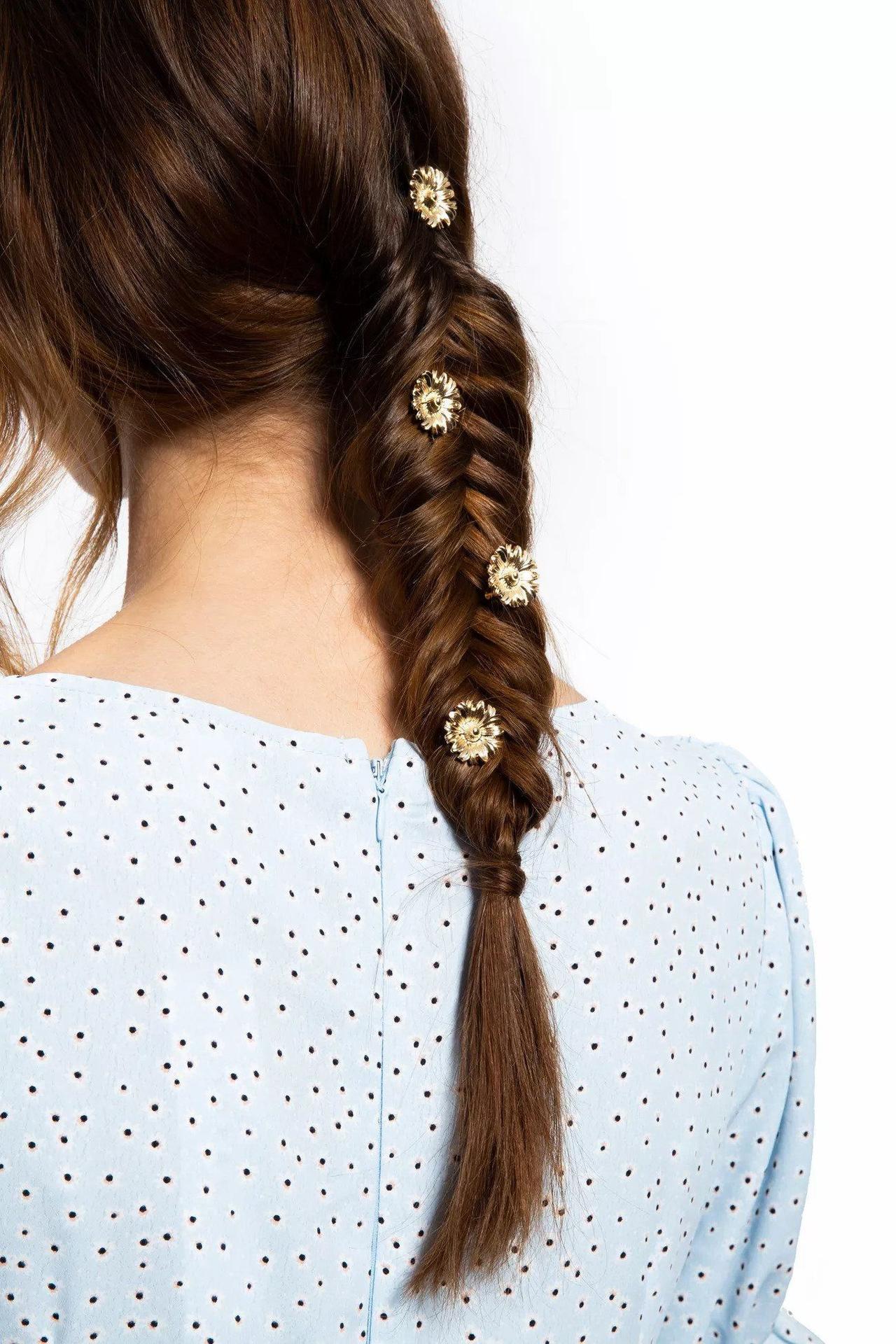 For a luxe wedding festival vibe, add Topshop's daisy slides to your 'do. Pops of metallic are ideal for giving a laidback style some extra glamour.
17. Les Couronnes de Victoire Gemma Hair Pins - £158 (approx.)
What could be more romantic for a wedding than red roses? This set of eight floral hair pins by Les Couronnes de Victoire is made even more special by the fact that they're not faux - they're made of preserved English roses.
18. Whichgoose at Etsy Mini Wildflower Clips - £56 (approx.)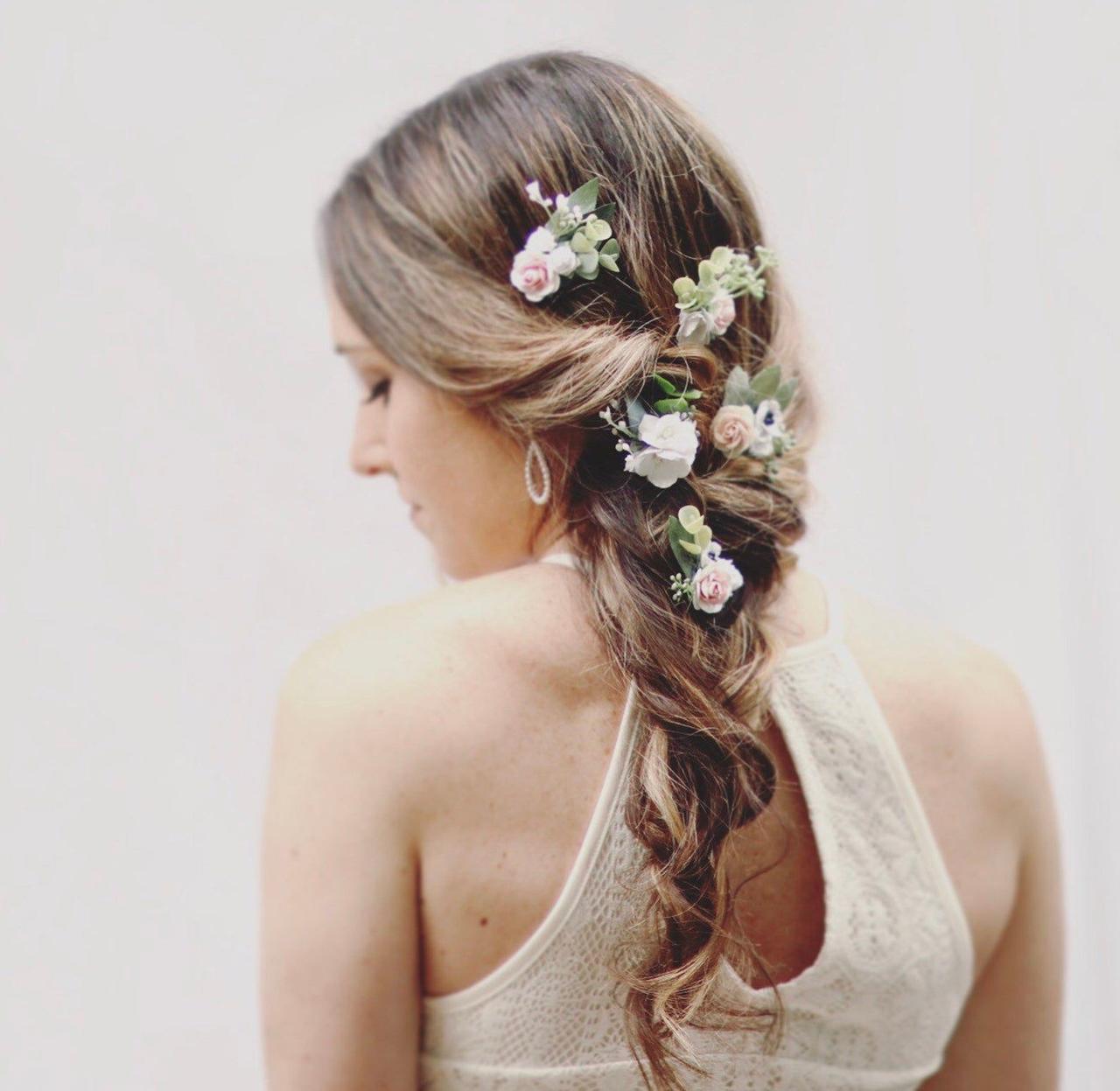 Wildflowers are fast becoming a staple at laidback country weddings, making these mini wildflower clips ideal for any brides planning to rock a rustic-luxe look. The placement is entirely up to you (and your hair stylist): flowing through a loose style or grouped together within an updo, they'll look equally lovely.
19. Silver Sixpence in Her Shoe Ivory and Silver Hairclip – £25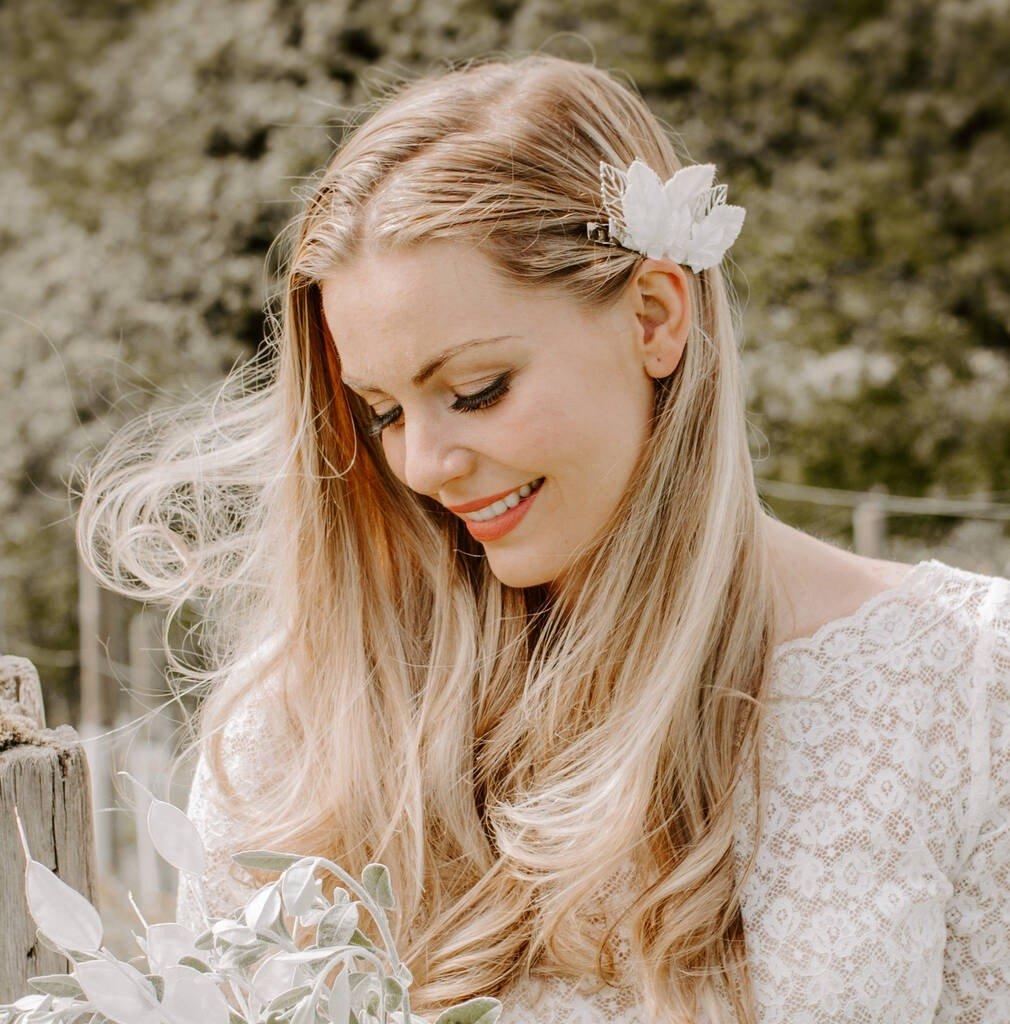 Whether you're wearing your hair down or styled in a bridal updo, this pretty hairclip would look lovely.
It's made from three upcycled ivory, vintage millinery and silver metal leaves attached to a satin-wrapped croc clip. We're obsessed!
20. Lovely Littles and Co Circle Gold Hair Clip – £12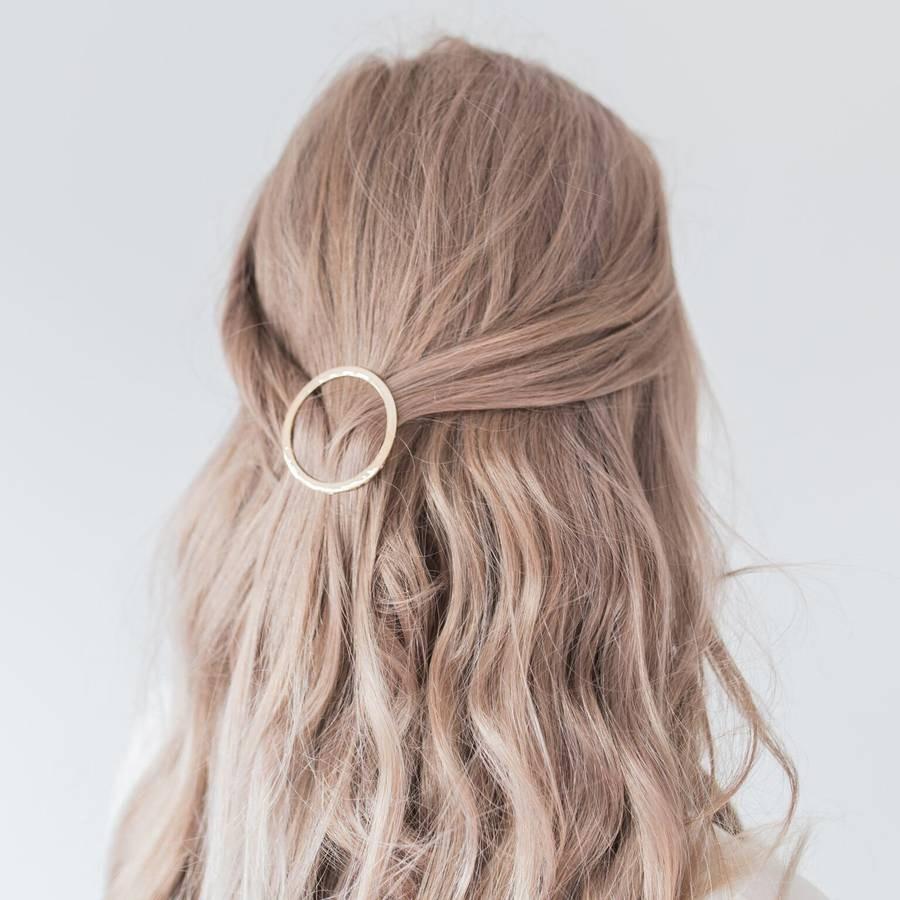 Elegant and stylish, this circular gold hair clip would be the perfect finishing touch to your half-up-half-down bridal hairstyle. It'll stay all day, even in the finest of hair.
READ MORE: 23 of the Best Bridal Lipsticks for Your Wedding Day
21. Tilly Thomas Lux Selene Hair Clip – £160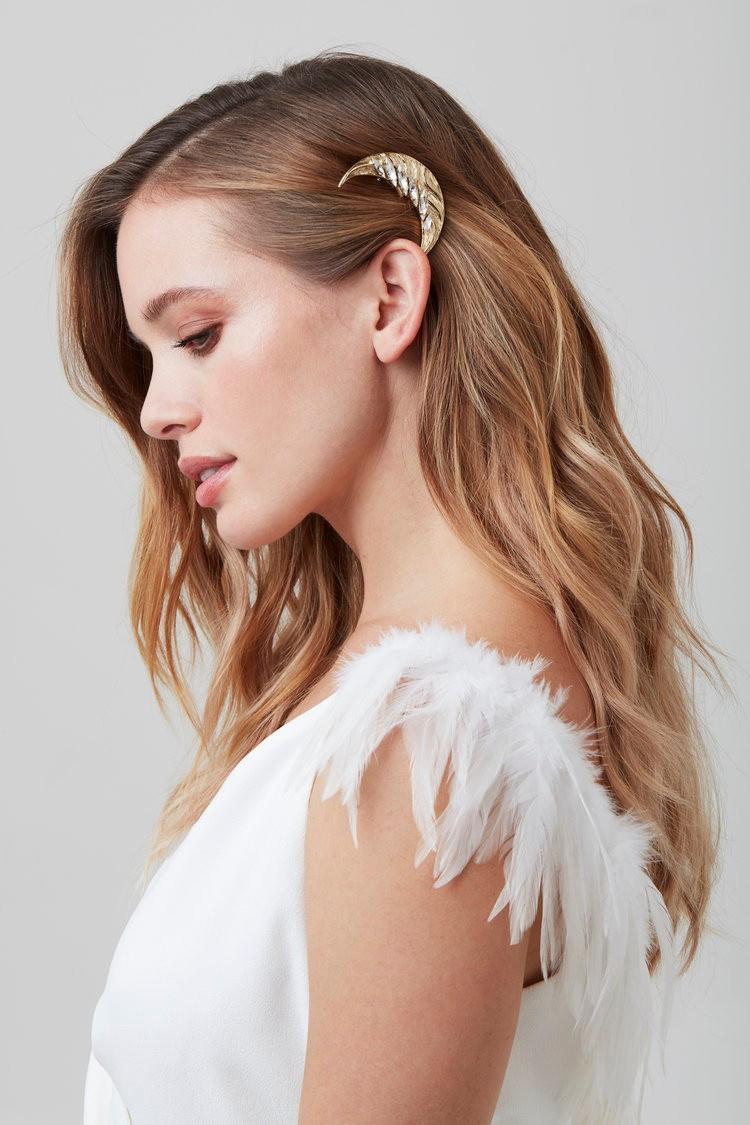 Crafted by one of our favourite bridal hair accessory designers, Tilly Thomas Lux, the Selene hair clip is up there with the most stylish of accessories that you could choose to wear on your wedding day.
It's adorned with Swarovski crystal skinny navettes and plated in pale 18 Carat gold.
22. Luna and Wild Hettie Gypsophilia Hair Pins – £3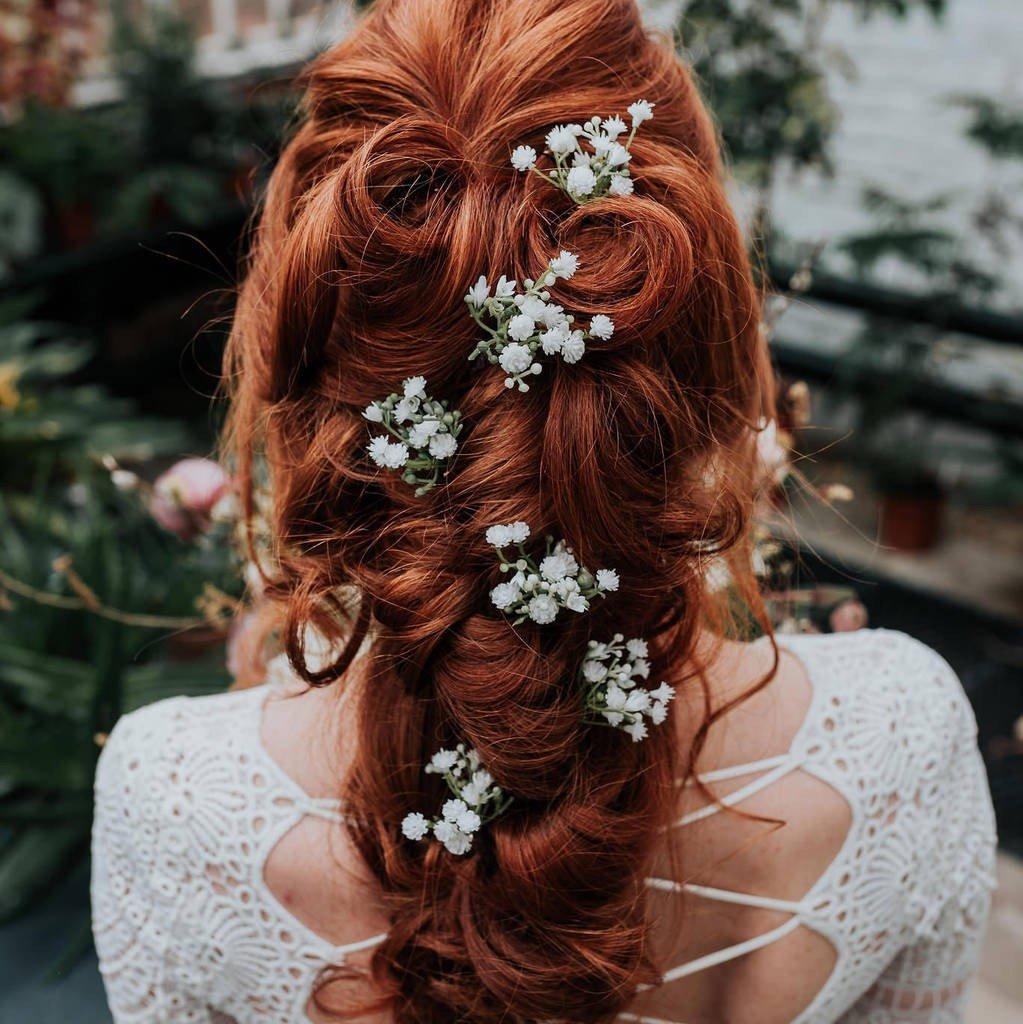 Coming in at just £3 per clip, these beautiful bohemian wedding hair accessories would be perfect for the bohemian bride.
Try styling your hair in a loose fishtail plait before adding sprigs of gypsophilia to the lengths.
23. Collections by Hayley Triple Star Hair Clip – £11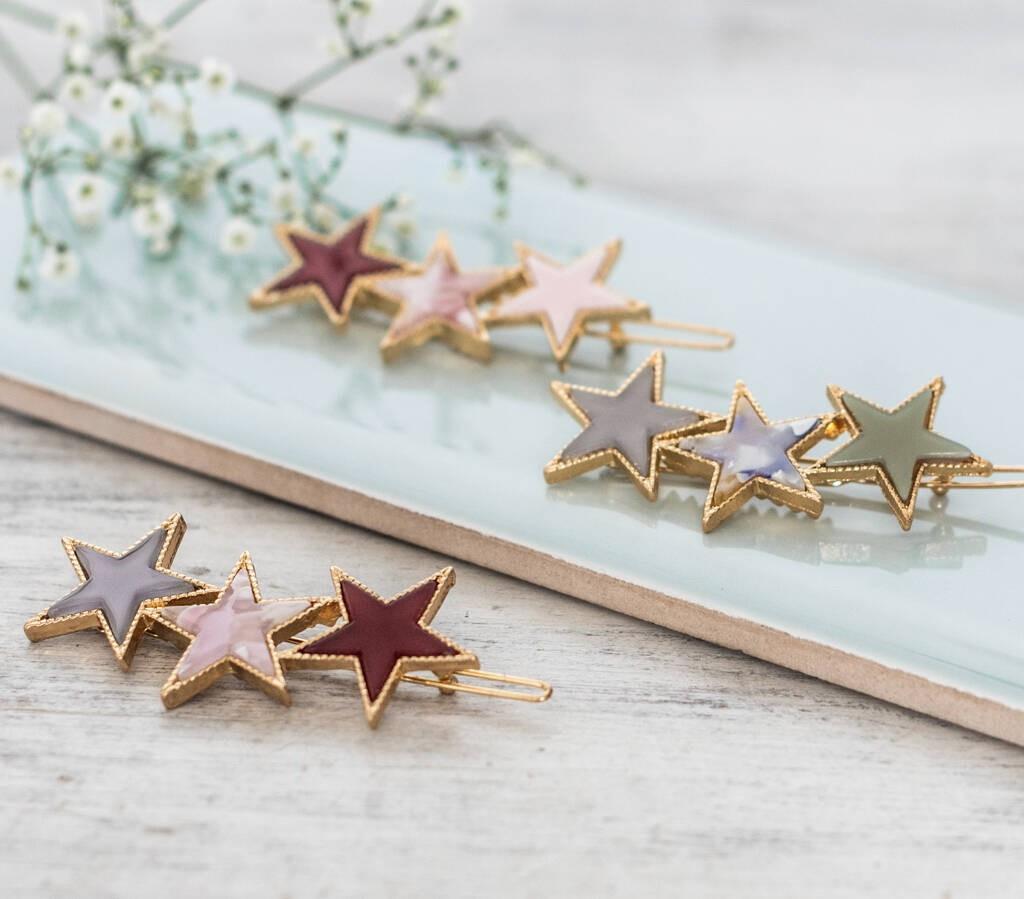 If you're on the hunt for a wedding hair accessory which you'll be able to wear time and time again, consider snapping up these hairclips from Collections by Hayley.
Each hair clip holds three twinkling stars and you can choose from three colour ways. They're stunning!
Wedding Tiaras
Feel like a total princess on your wedding day with one of the best wedding tiaras. Here are some of our favourite picks…
24. Ivory & Co Gold Jacinta Tiara - £105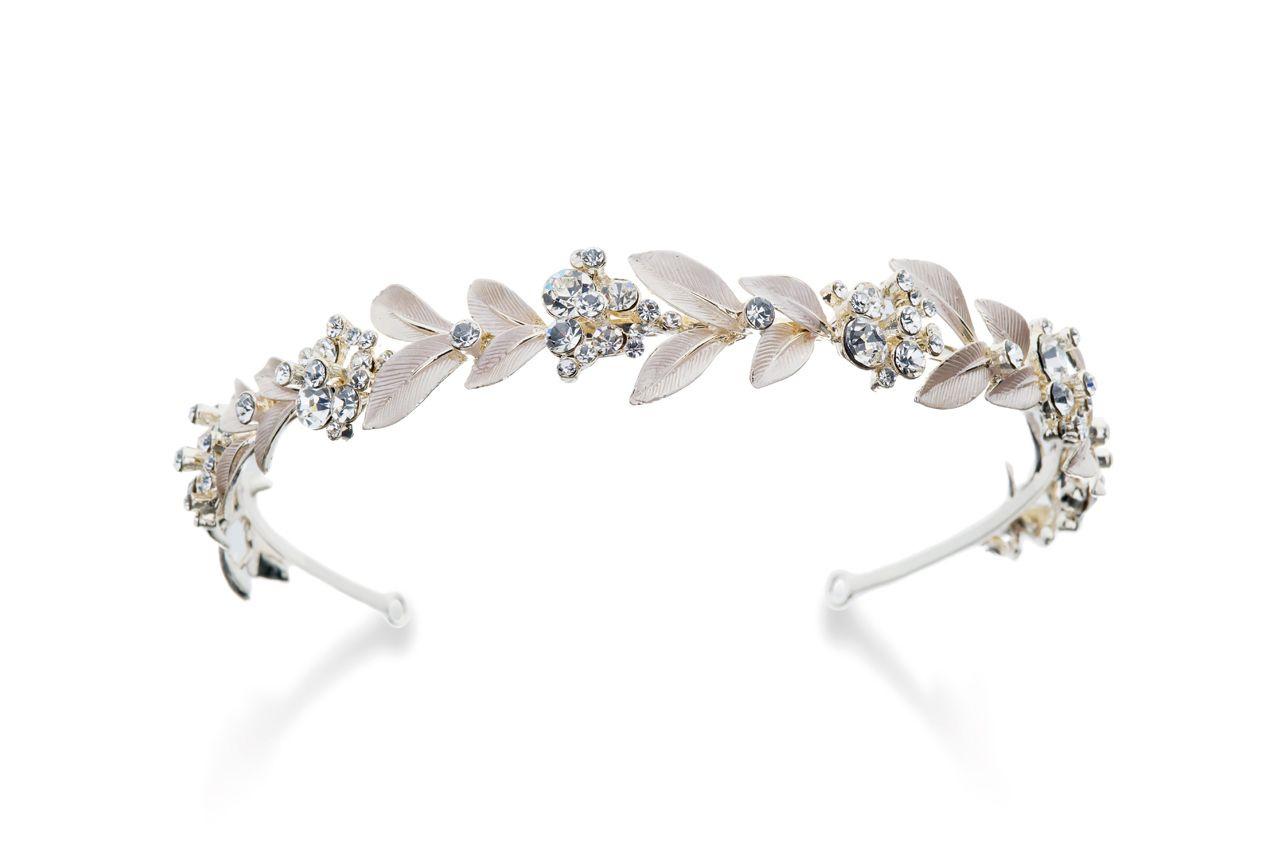 We're very taken with this delicate bridal tiara. The flower and leaf design gives it a beautifully boho-luxe feel. If gold isn't your favourite metallic, you're in luck - it's also available in silver, as the Lucretia design.
25. What Katy Did Next Betula Tiara - £190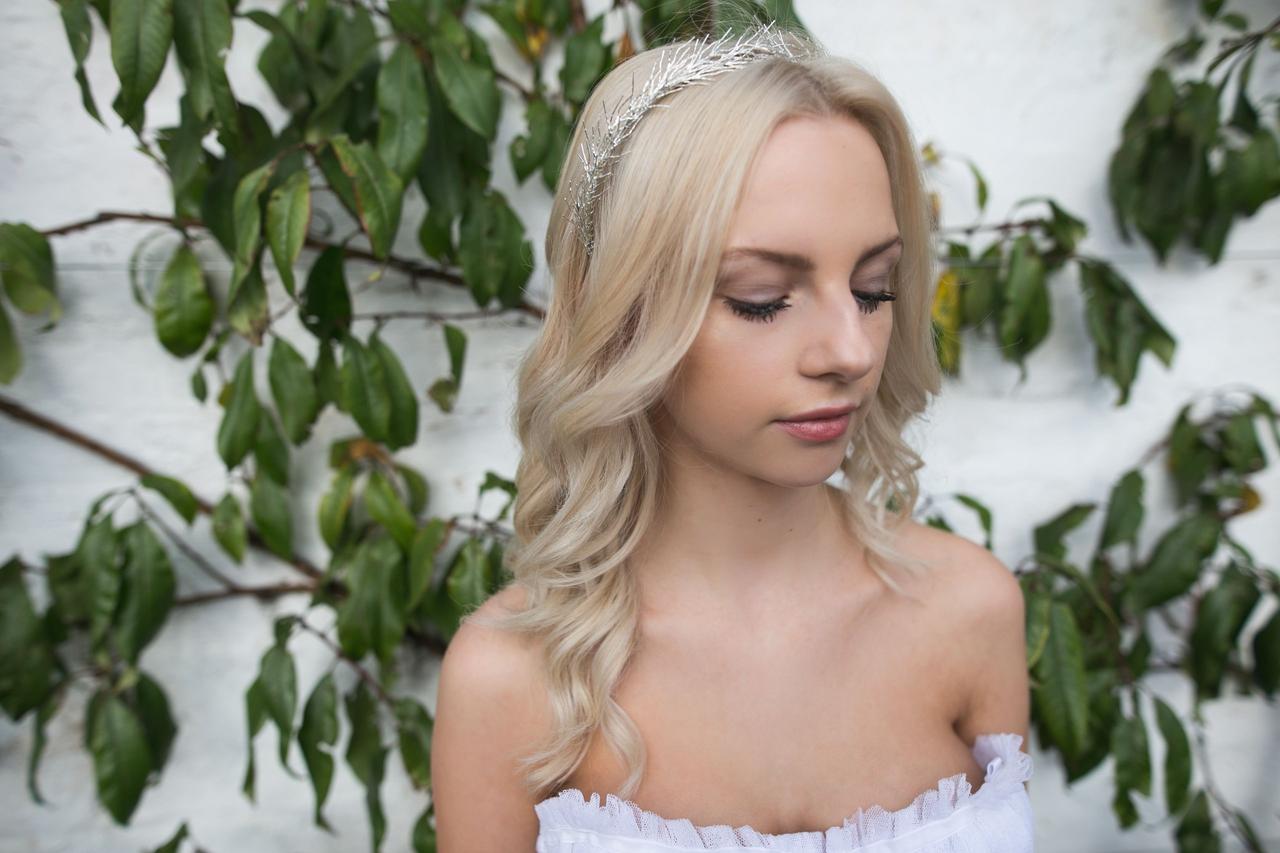 The perfect alternative to florals, this twig-inspired headpiece is giving us chic winter wedding vibes. The intricate design is also available in gold.
26. Johnny Loves Rosie Gold Lorelei leaf & flower crown - £36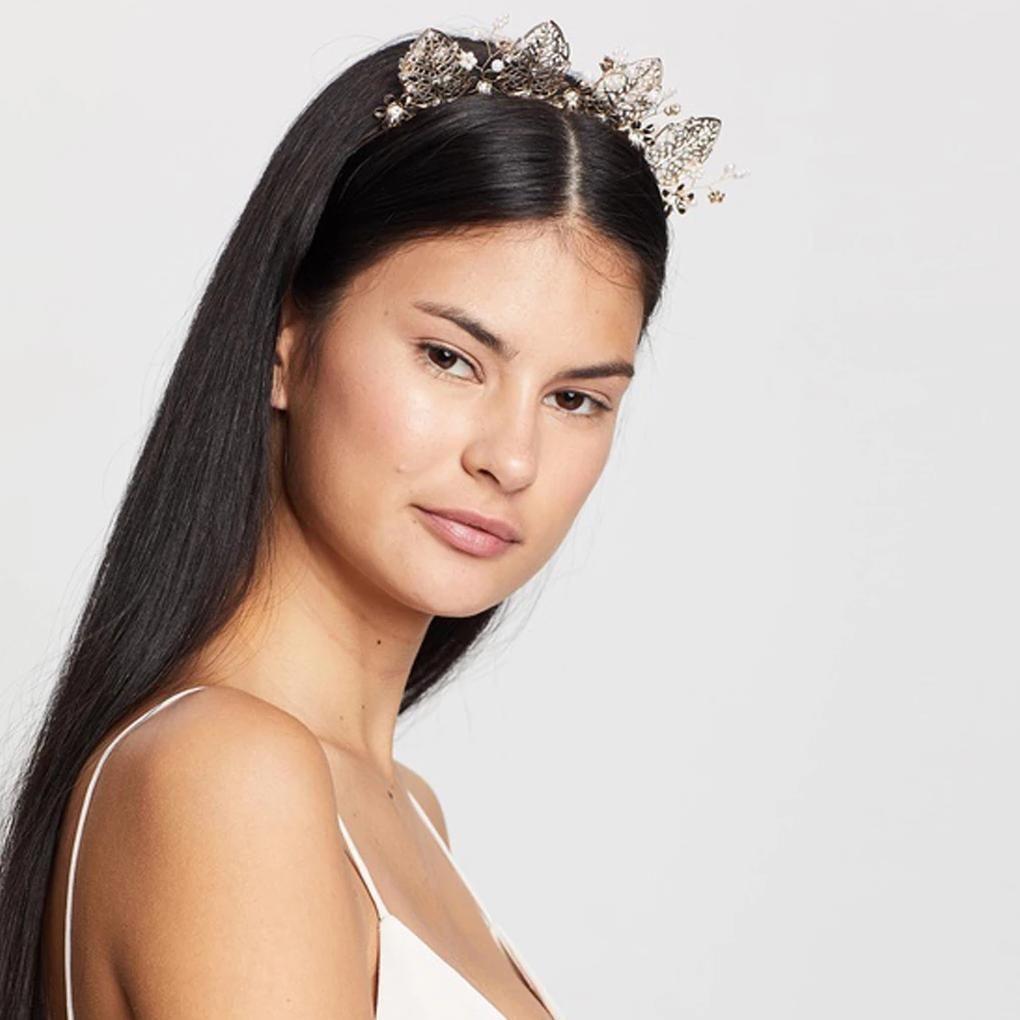 The thought of wearing a crown on your wedding day may sound a bit over-formal if you're planning a laidback celebration. But you don't need to be marrying into royalty. Johnny Loves Rosie's Lorelei puts a gorgeously boho spin on the whole crown concept, with an intricate leaf and flower design that would be as at home in a tipi in a field as at a castle's ballroom.
27. Tilly Thomas Lux Athena Crown – £495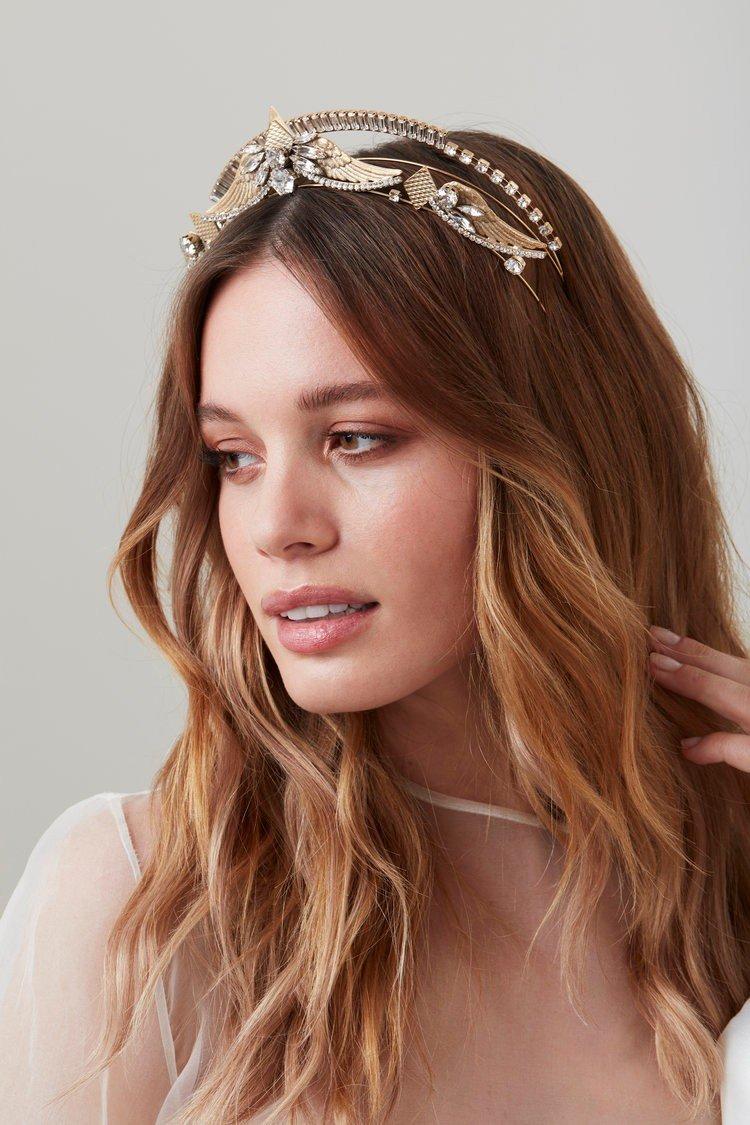 An ode to the wise Greek goddess Athena, this wedding tiara comes in the form of a warrior-like headband.
Lightweight and easy to wear on your wedding day, the wings sit comfortably alongside graphic shapes and the sparkliest Swarovski crystals. Your guests will be in awe!
28. Tilly Thomas Lux Nefertiti Crown – £390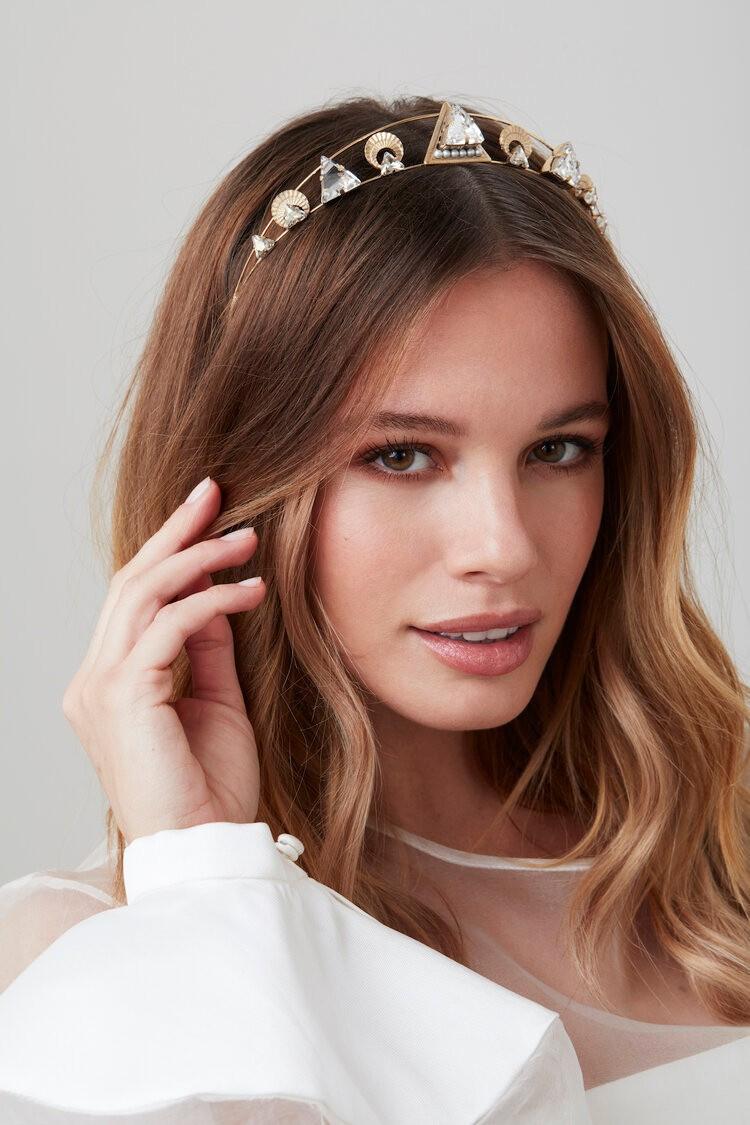 On the gorgeous Nefertiti crown by Tilly Thomas Lux, gold discs sit either side of a sparkling central crystal.
Modern yet elegant, we love the addition of the Swarovski triangle stones and 18 Carat gold-plated pearls.
READ MORE: 15 of the Best Charlotte Tilbury Products That Are Worth Buying for Your Wedding Day
29. Debbie Carlisle Bohemian Crown Style Katarina Wedding Hair Vine – £235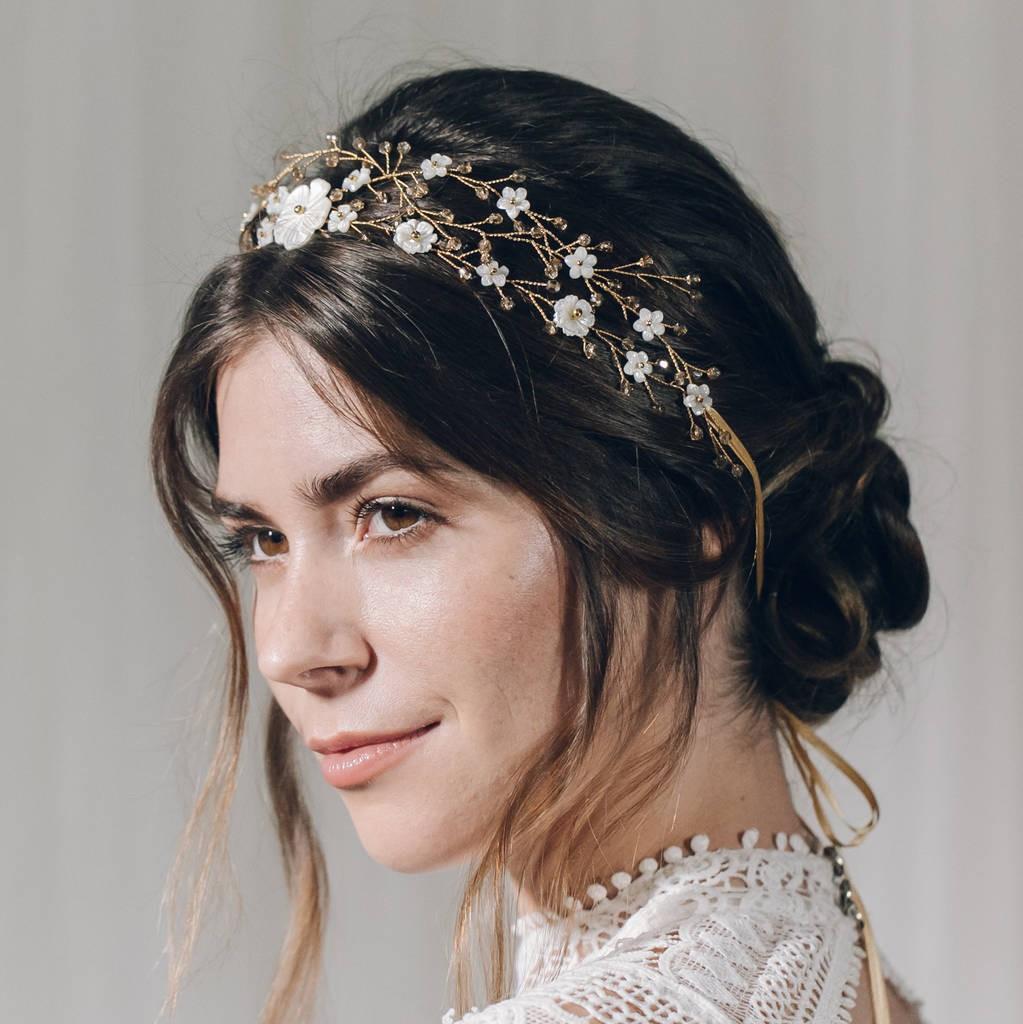 This bohemian bridal hair vine can be worn as a wedding crown, bridal tiara or pinned to the side or back of the hair.
Perfect if you're wearing a bohemian wedding dress, it's made up of delicately carved mother of pearl flowers, dusted with gorgeous crystals and, in the silver version, tiny freshwater pearls.
30. Liberty in Love Princess Aria Rose Gold Crystal Embellished Tiara – £295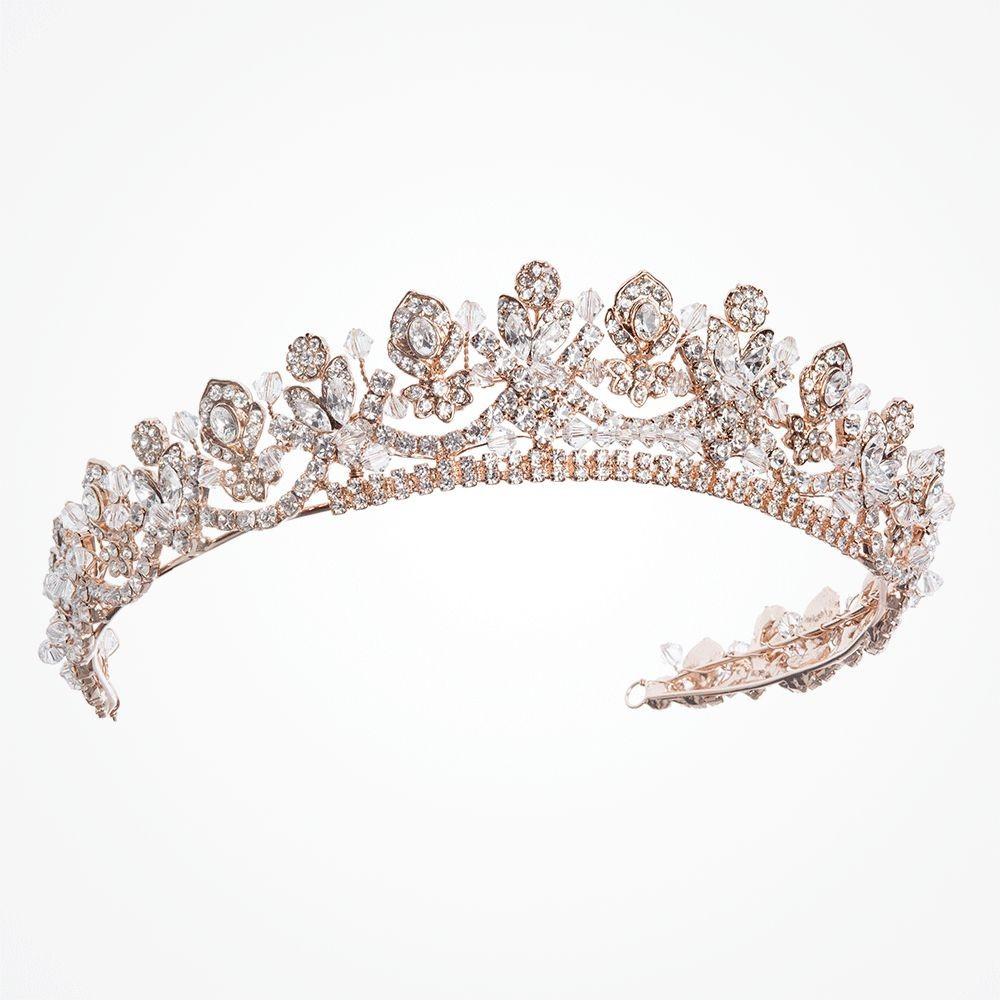 Look utterly regal on your wedding day in the Princess Aria tiara from Liberty in Love.
Crafted with elaborate rose gold, it's embellished with scores of Austrian crystals 'cut in facets to sparkle like real diamonds' says designer, Ivory & Co.
Wedding Headpieces
If a wedding tiara seems a little too much, consider wearing one of these headpieces on your big day.
31. OlgaDelice at Etsy Bridal Crystal Hair Piece - £194.17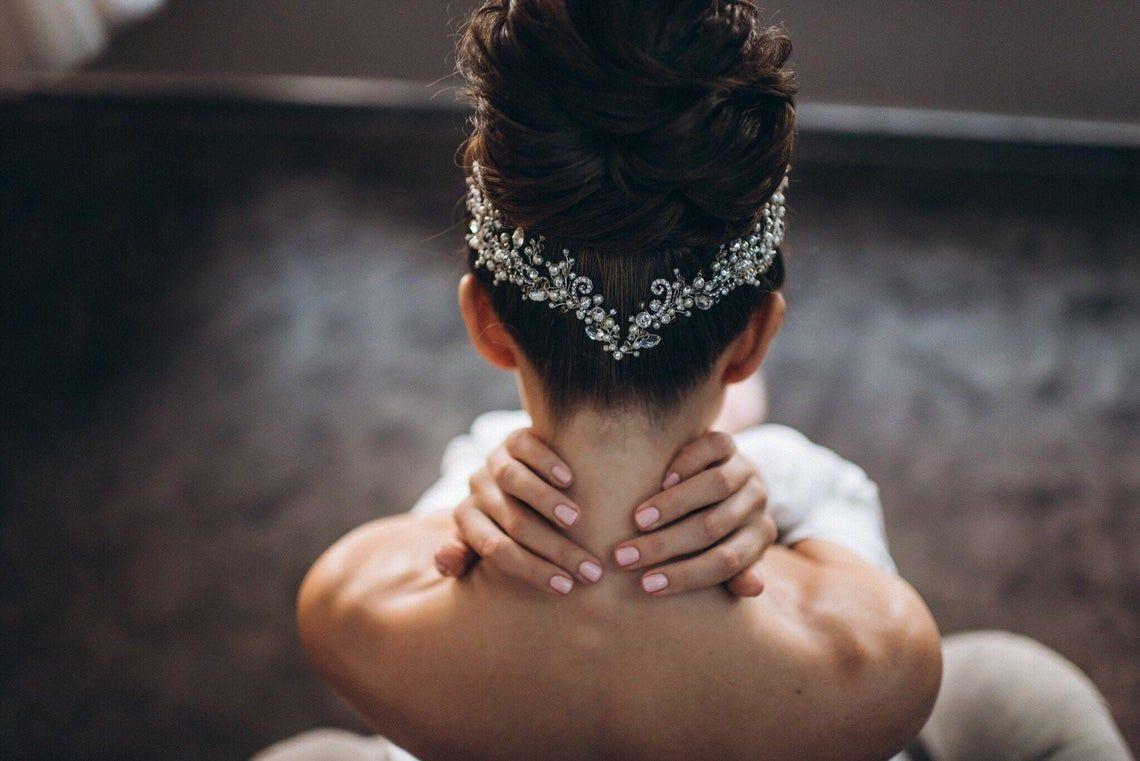 If you don't want to take away from the front of your wedding dress - whether that's because it's highly embellished or has a showstopping neckline - why not try a half-crown accessory? This crystal hair piece is a twinkling delight, and the colour can be customised to suit your style.
32. Ann-Marie Faulkner Matilde Headpiece - £300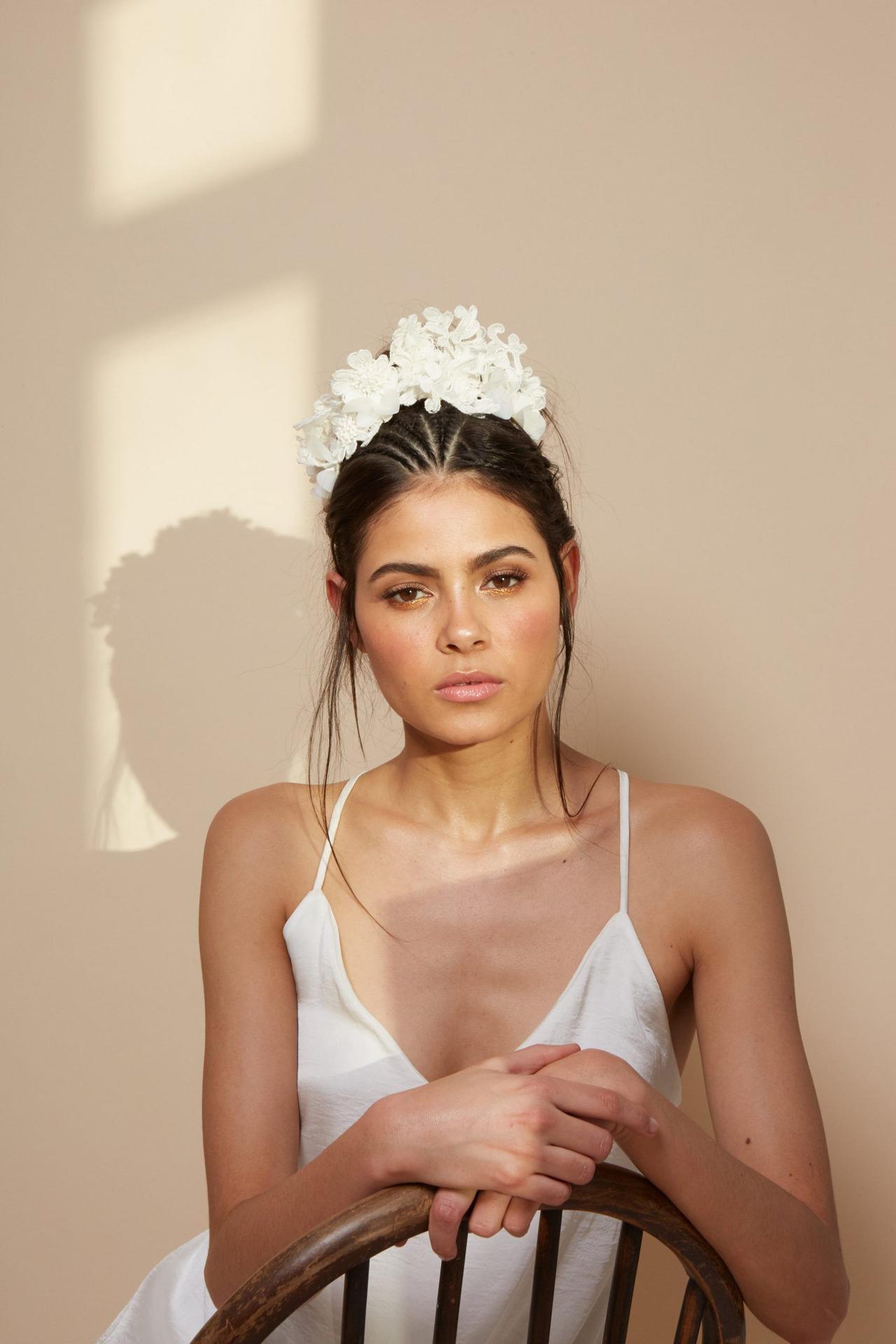 Ann-Marie Faulkner is the brand to know if you're looking for bridal accessories you won't have seen at a million other weddings. The Matilde head piece is a case in point. A wonderfully fresh, creative take on the flower crown, this features French corded lace and knot blooms, with sequins for subtle shimmer.
33. Ann-Marie Faulkner Sequin Crescent – £220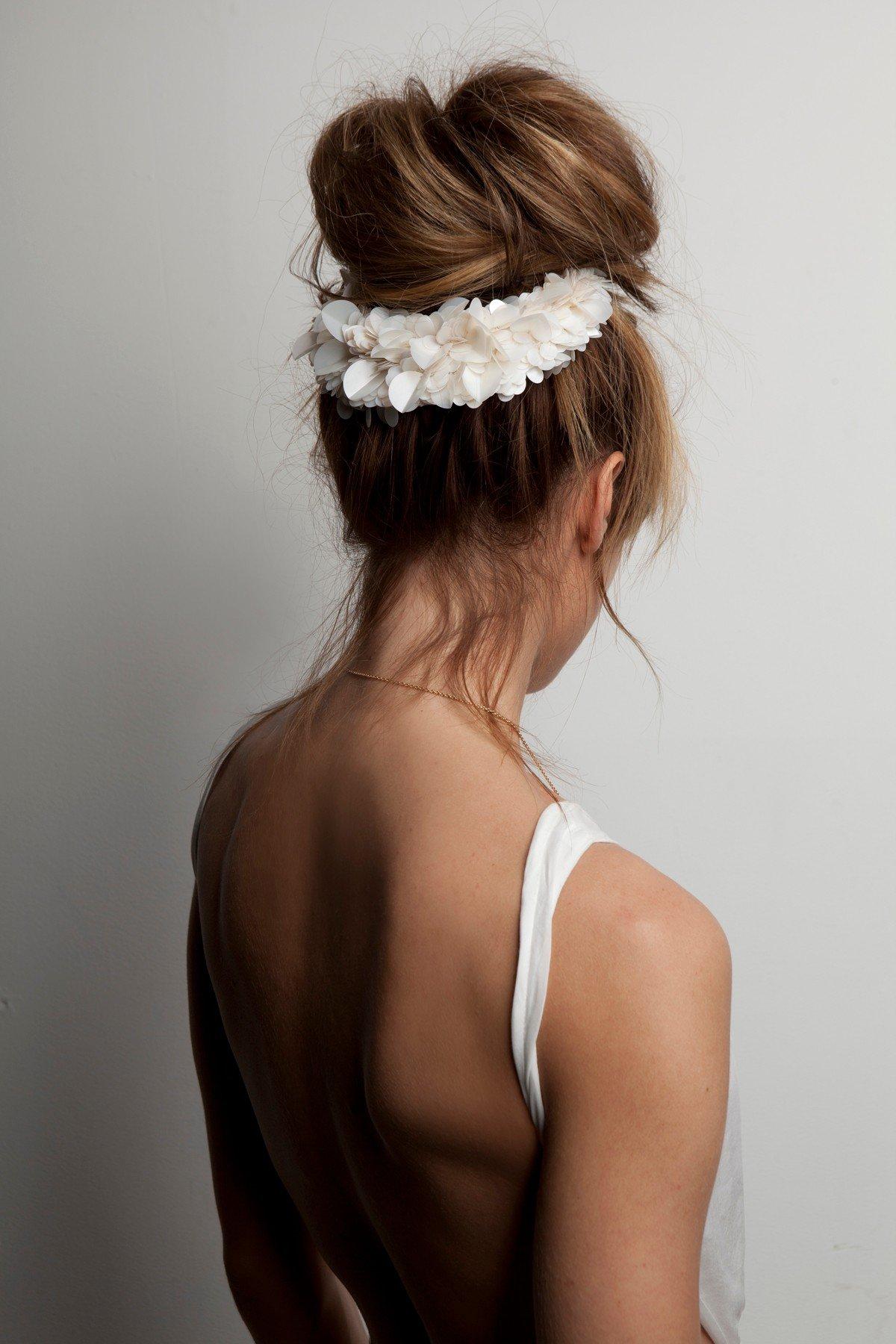 From Ann Marie Faulkner's "Night Blooms" collection comes this gorgeous sequin crescent headpiece.
Hand embellished with sequins and glass beads, this piece works best with bridal updos and can be worn in a multitude of ways.
34. Liberty in Love Ibiza Crystallised Gold Floral Headpiece – £145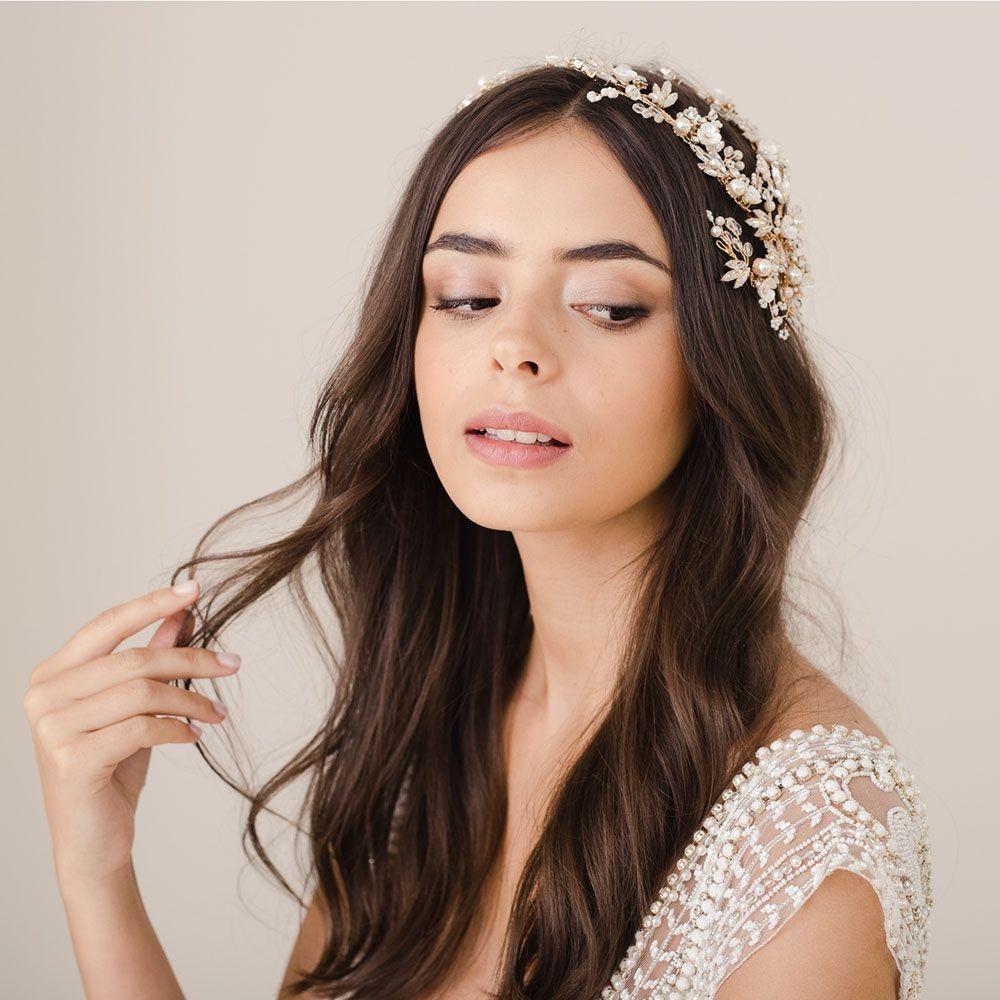 Crown your wedding day locks with this dazzling floral-inspired bridal headpiece.
Beautifully detailed with small ivory blossoms, pearl buds and spiked marquise crystal leaves in sweeping branches, this headpiece will make a glorious statement as you walk down the aisle.
35. Denifery Makeup Crystal Headband – £12.98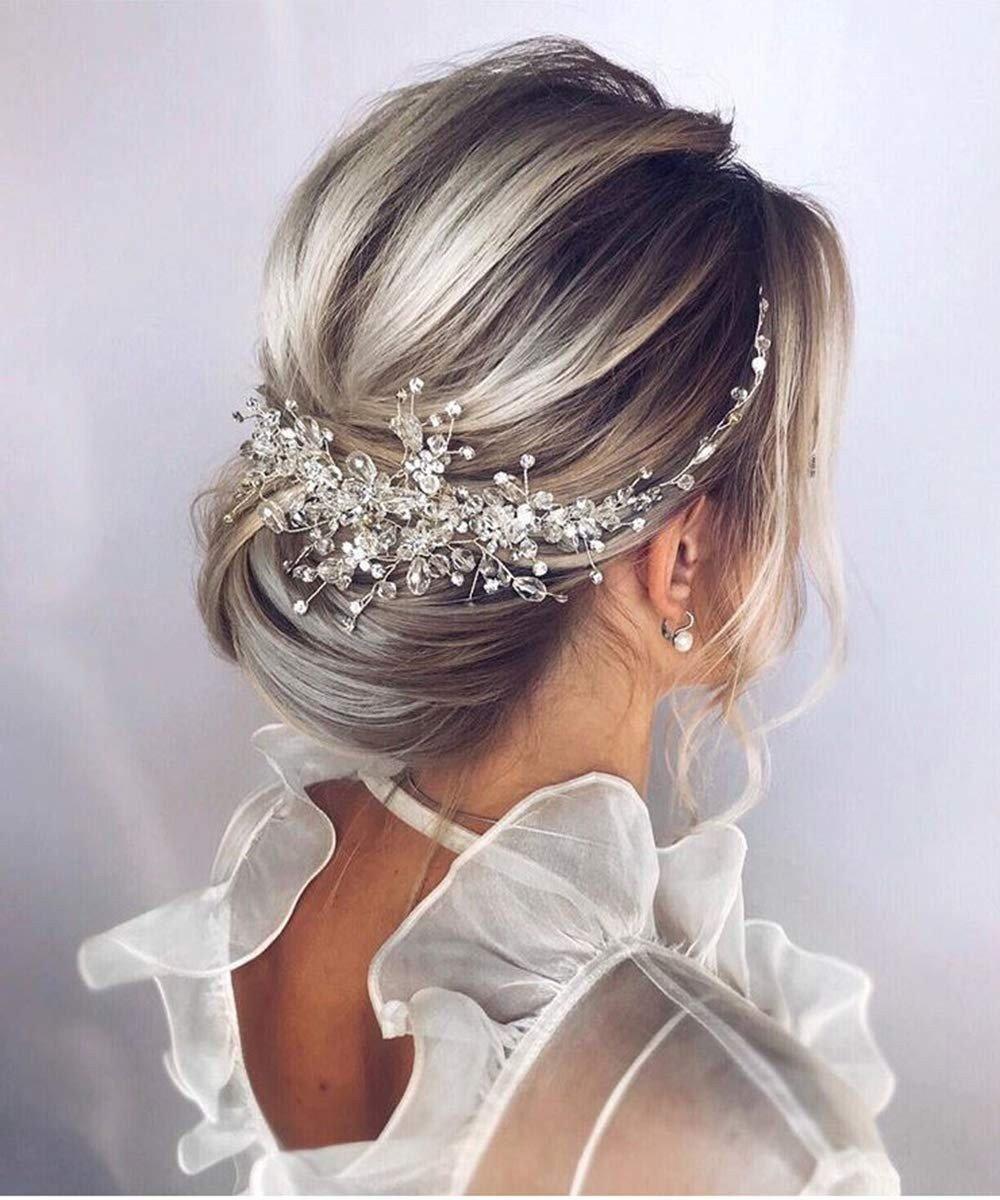 Who'd have known you could get the bridal headpiece of your dreams (and for less than £13) from Amazon?
This delicate crystal hairpiece would be fitting for brides of any style, and can be worn in an updo or long, tousled locks. It's so dainty!
READ MORE: 15 Beauty Habits to Start Now Before Your Big Day
36. Liberty in Love Iona Crystal Embellished Floral Gold Headpiece – £60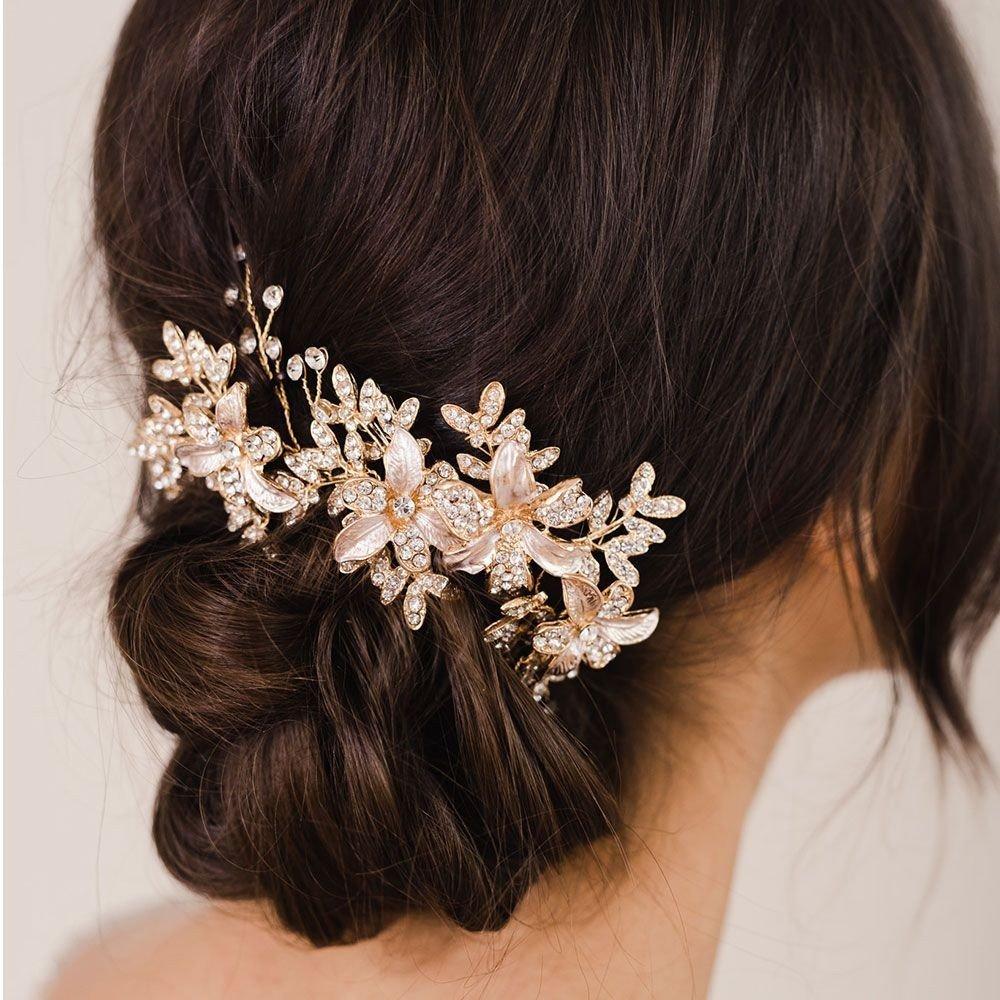 Allow your wedding hair accessories to be inspired by nature with the Iona headpiece from Liberty in Love.
It can be pinned into your hair easily using the loops which sit at each end, and the short vine of metal flowers are covered in dew-like glimmering crystals.
37. Liberty in Love Kendall Opal and Crystal Gold Hair Comb – £255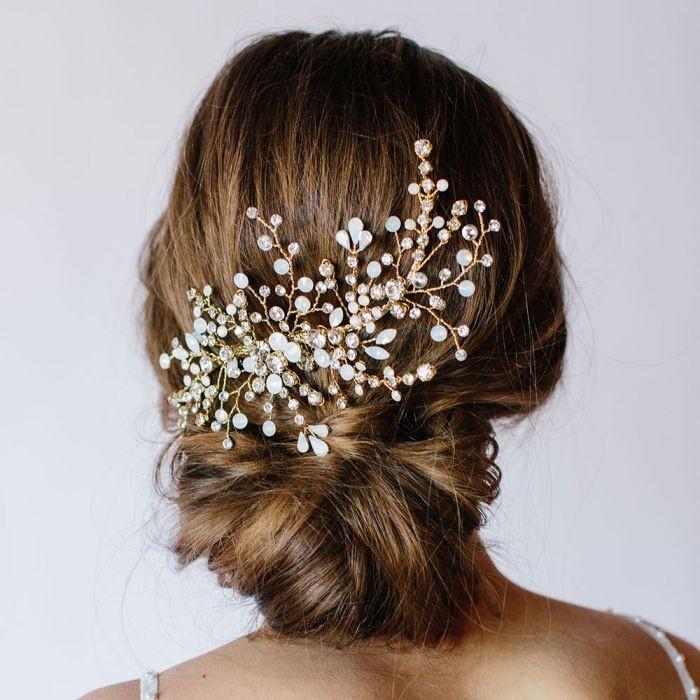 Hair combs are a perfect choice when it comes to versatile wedding hair accessories, as they can be worn in a multitude of hairstyles.
This beautiful design from Liberty in Love is meticulously hand-wired with sprawling crystals. It'll dance with light as you make your way down the aisle.
Wedding Flower Crowns
Hosting a festival or woodland wedding? There's no better hair accessory than a bohemian flower crown. If you don't want to make your own flower crown, take a look at these beautiful yet affordable flower crowns to shop now…
38. Rock 'n' Rose Delaney pink orchid crown - £29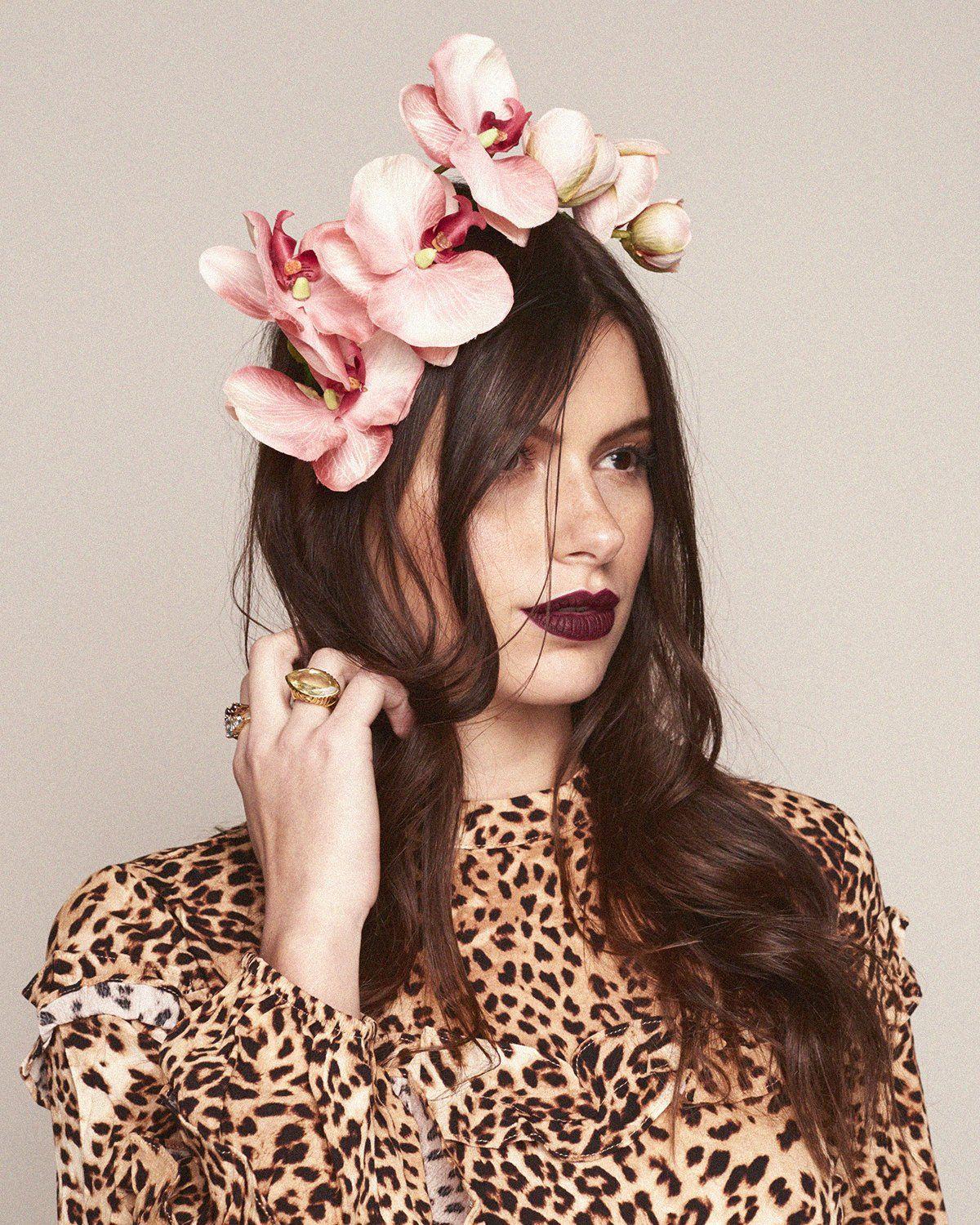 Wedding hair accessories don't have to be about sparkle and shine - faux blooms may suit your look better, like this romantic orchid crown. Made from silk blooms, this would go fabulously well with boho styling.
39. Etsy Whimsical Forest Herbs Flower Crown - from £6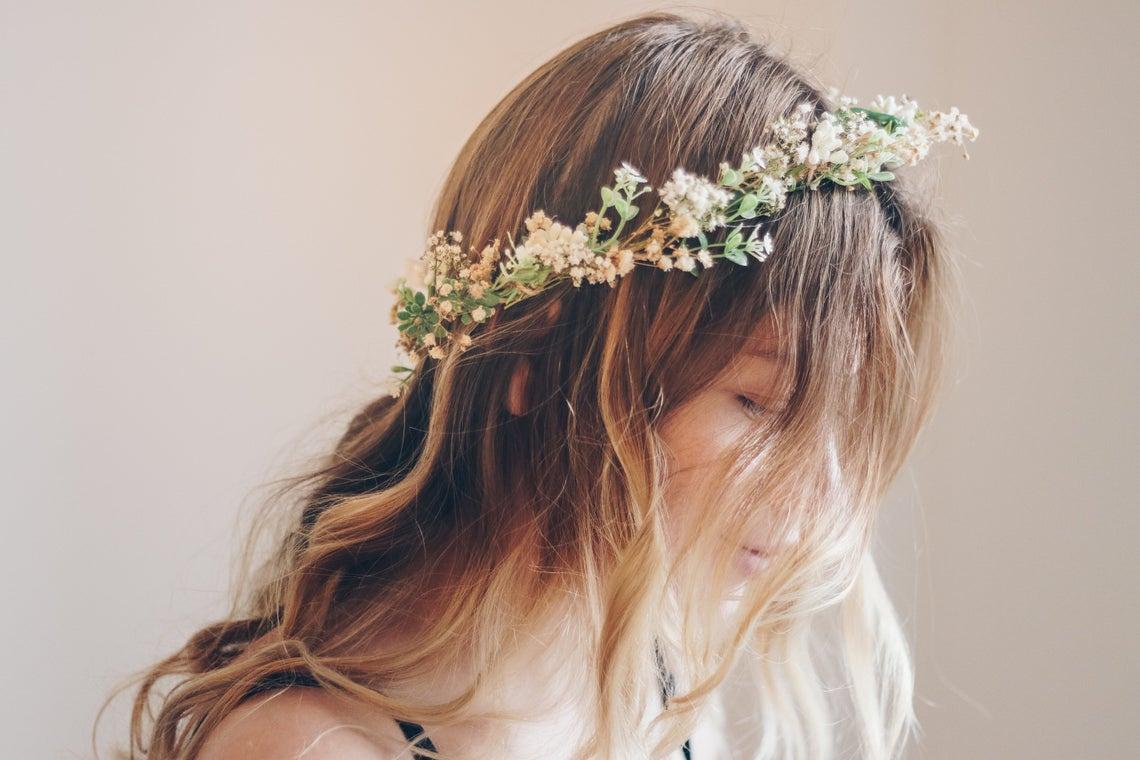 Made from dried flowers and artificial leaves, this delicately pretty flower crown is an excellent budget option, ideal for a rustic bridal look.
40. Etsy Pampas & Prairie Crown - £19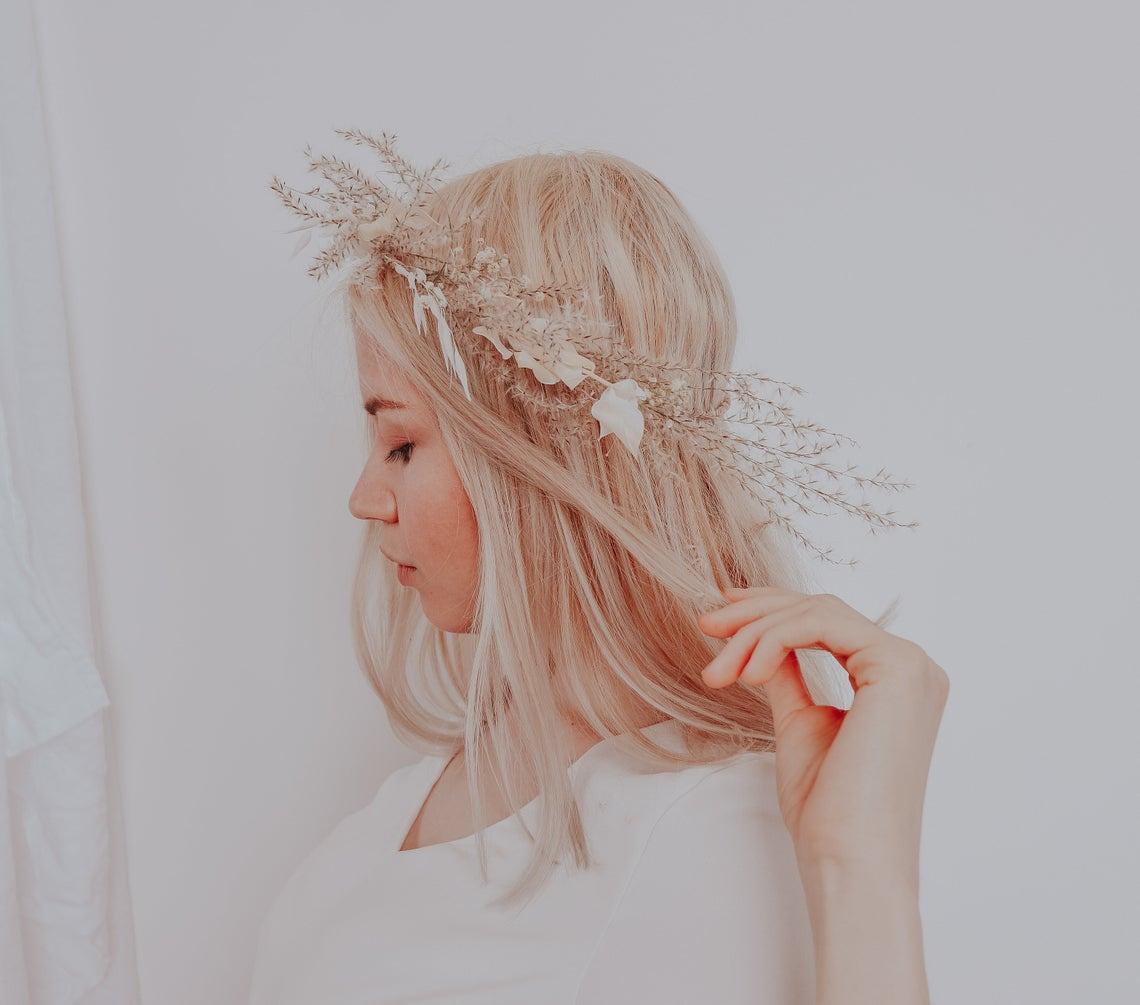 Looking for an alternative flower crown? Featuring on-trend pampas grass, this boho accessory is cool and unusual.
41. Etsy English Meadow Dried Flower Crown - £40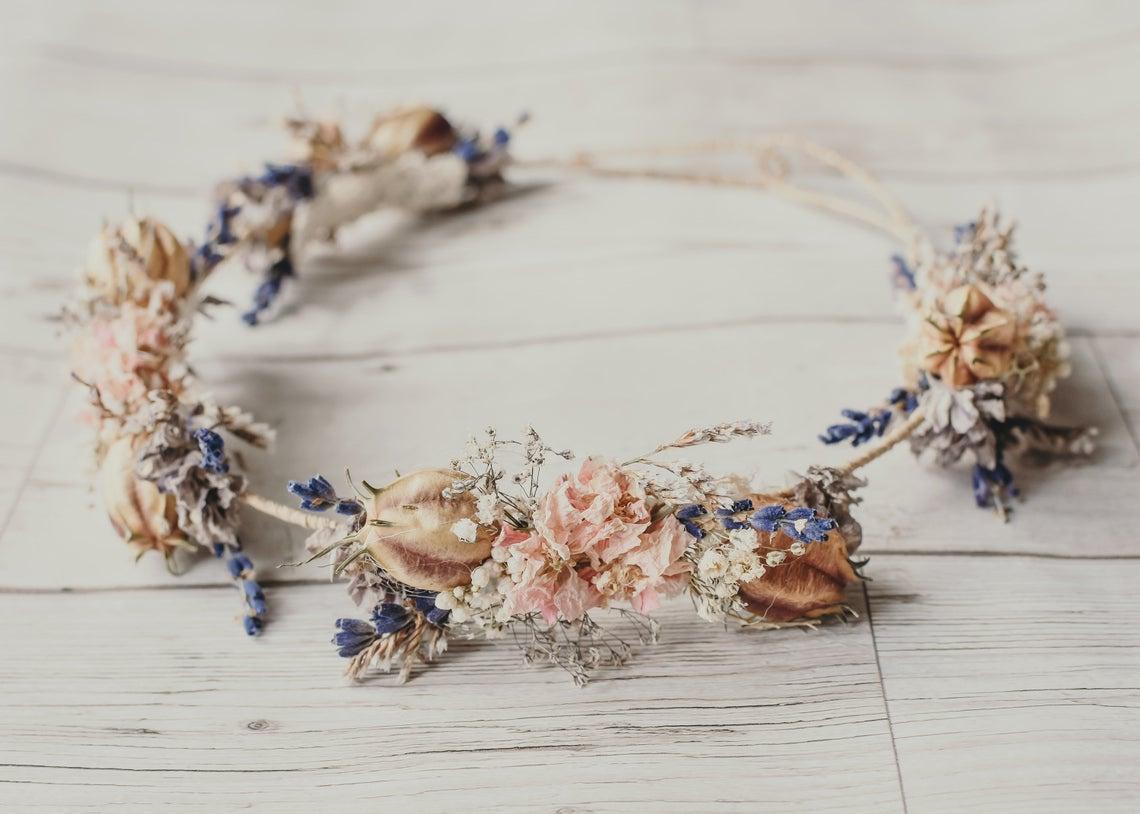 Handmade to order, this dried flower crown feels so romantic, with pretty pink larkspur against lavender, gypsophila and nigella pods.
Wedding Hair Vines
Bohemian brides should look towards hair vines on their hunt for the perfect wedding day accessory. These wedding hair vines can be worn in a multitude of ways.
42. Not On The High Street Elise hair vine - £495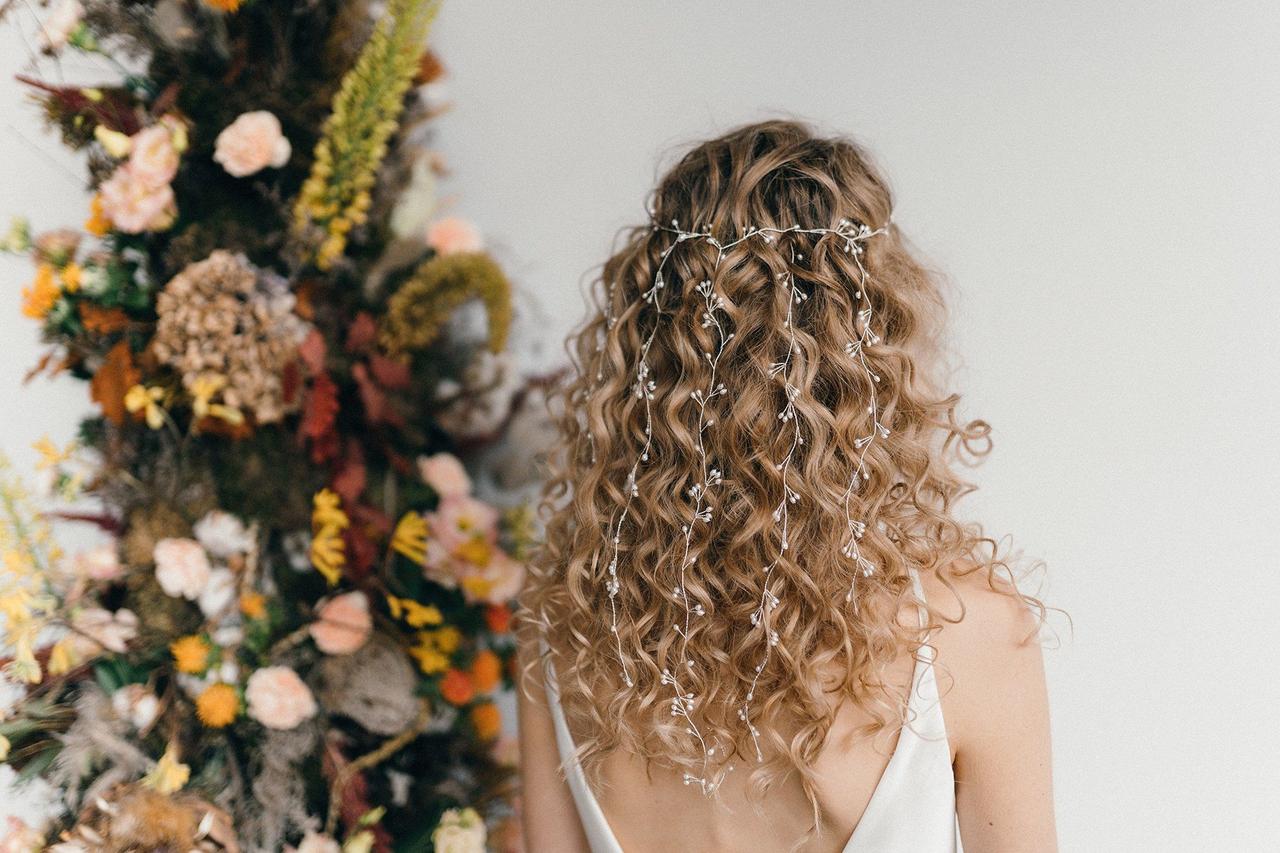 For a unique take on wedding hair accessories, Debbie Carlisle's Elise hair vine is a delightful choice. You can either wear it loose, as in the picture, or twist the freshwater pearl strands around your updo.
READ MORE: 53 of the Most Stylish Wedding Guest Accessories
43. Ivory & Co Kallea hair vine - £145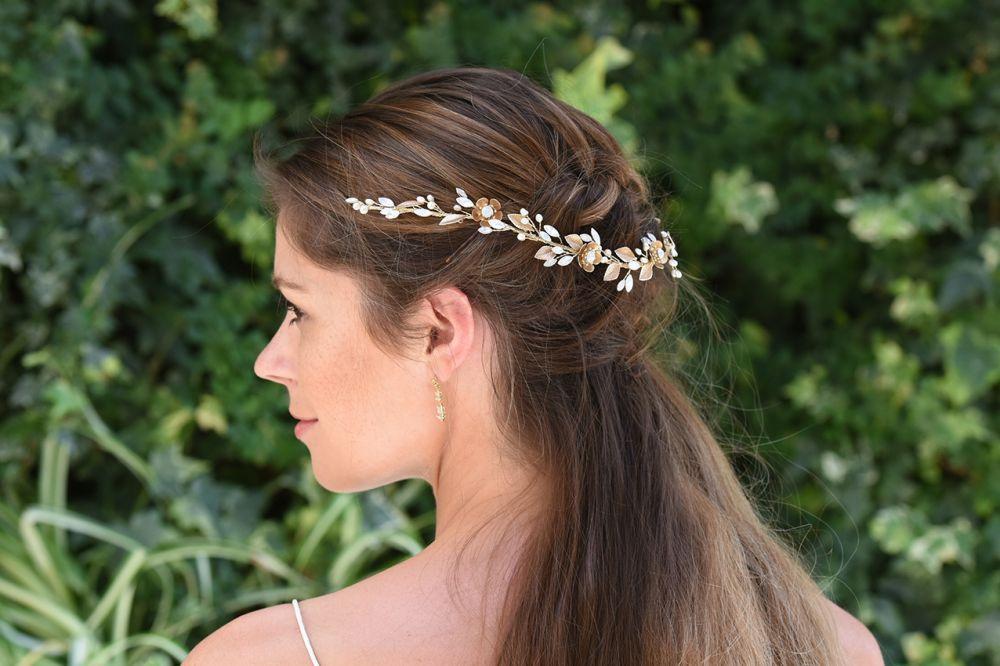 Gold and silver will always be bridal favourites, but we also love the warmth of bronze - as in this stunning Kallea hair vine from Ivory & Co. This is a versatile piece and can be worn as shown or integrated into a hairdo, or across the forehead.
44. Liberty in Love Alessia Enamelled Blossoms and Leaves Gold Hair Vine – £70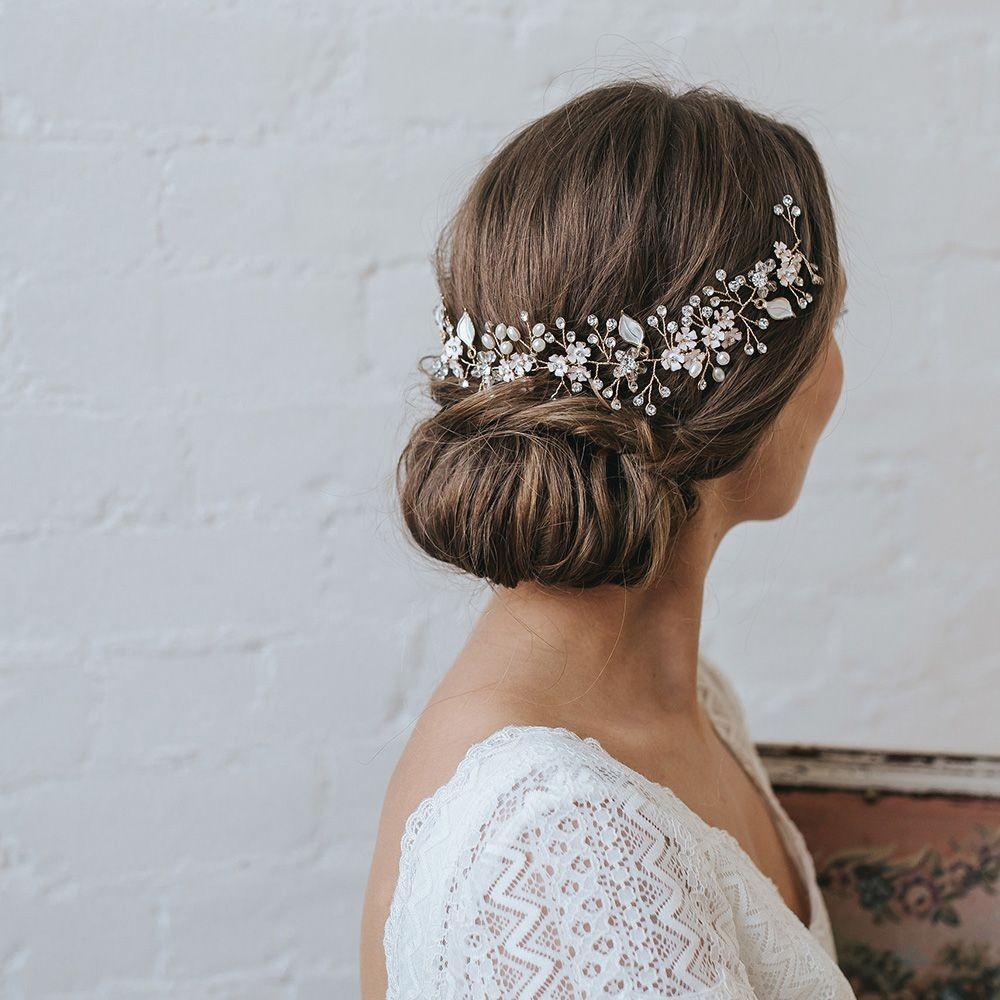 Adorned with crystals, pearls, and dainty painted blossoms and leaves, this nature-inspired gold hair vine has delicate sparkle and shine in abundance.
It has been designed on a flexible wired vine and can be worn either at the front of the head or set against a soft chignon.
45. Bella Via Designs Gold Baby's Breath Hair Vine – £25.97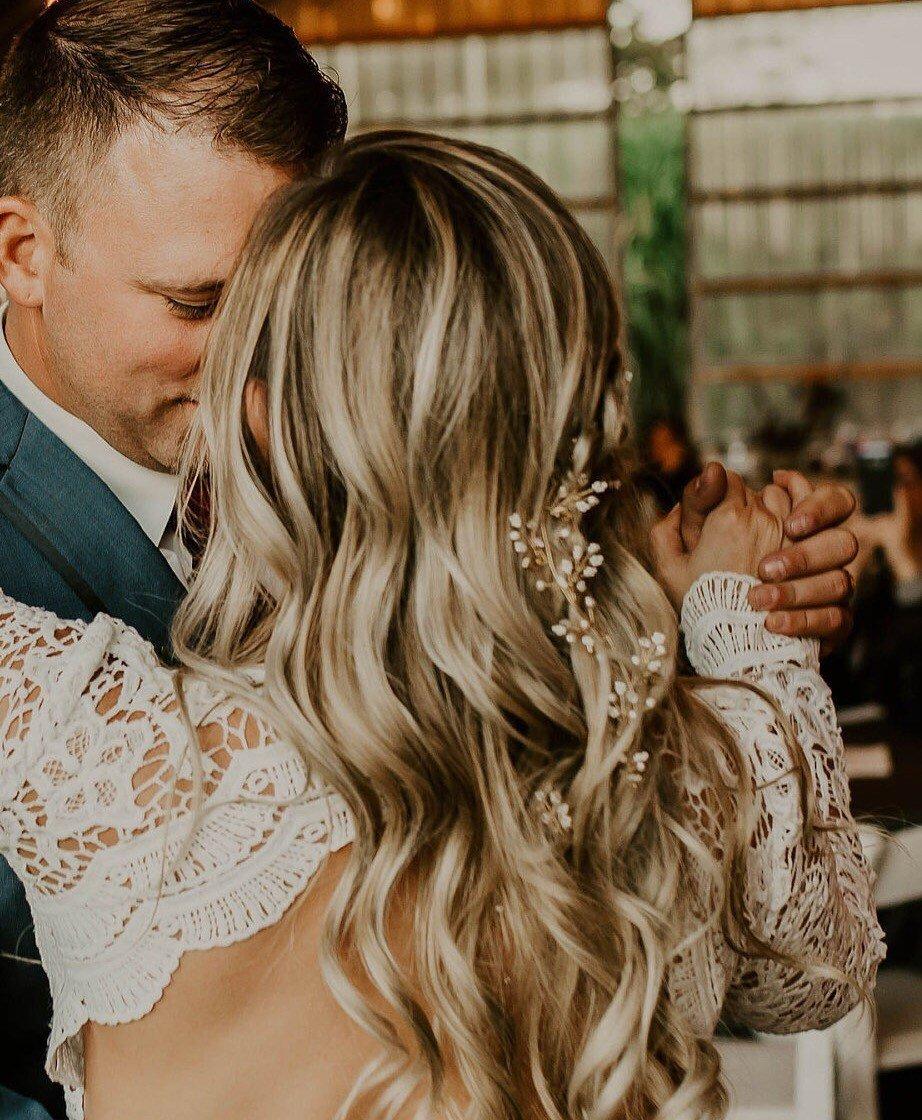 Perfect for your romantic boho wedding day, this gold hair vine is as delicate as it is eyecatching. It's light-weight, bendable and very versatile, meaning it can be styled into the hair in many different ways.
READ MORE: The Best Boho Bridesmaid Dresses
46. Liberty in Love Gaia Crystal Embellished Leaves and Pearl Buds Gold Hair Vine – £75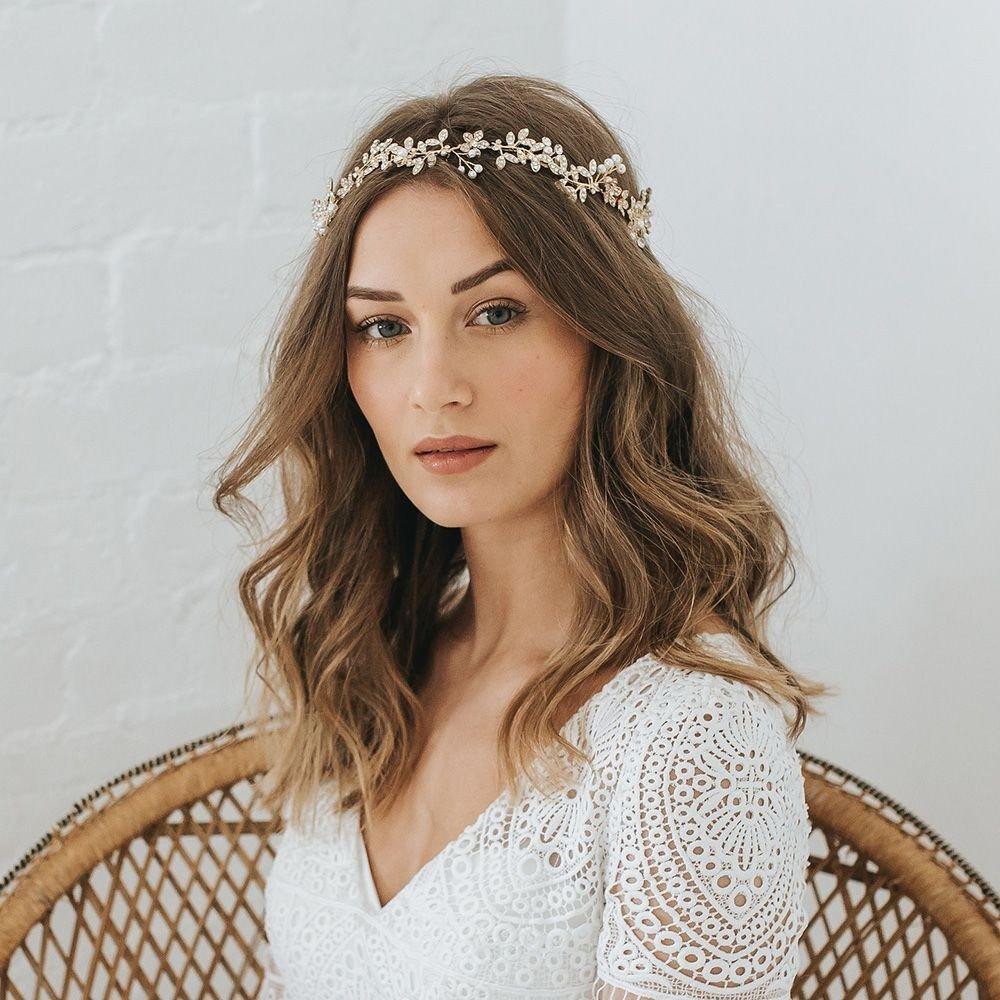 Embellished with crystals, this hair vine will add no end of sparkle to your wedding day locks.
It features loops at each end for securing the piece into your hair effortlessly, and it's crafted with dainty pearl and crystal buds.
47. Liberty in Love Mariella Golden Buds Headpiece – £228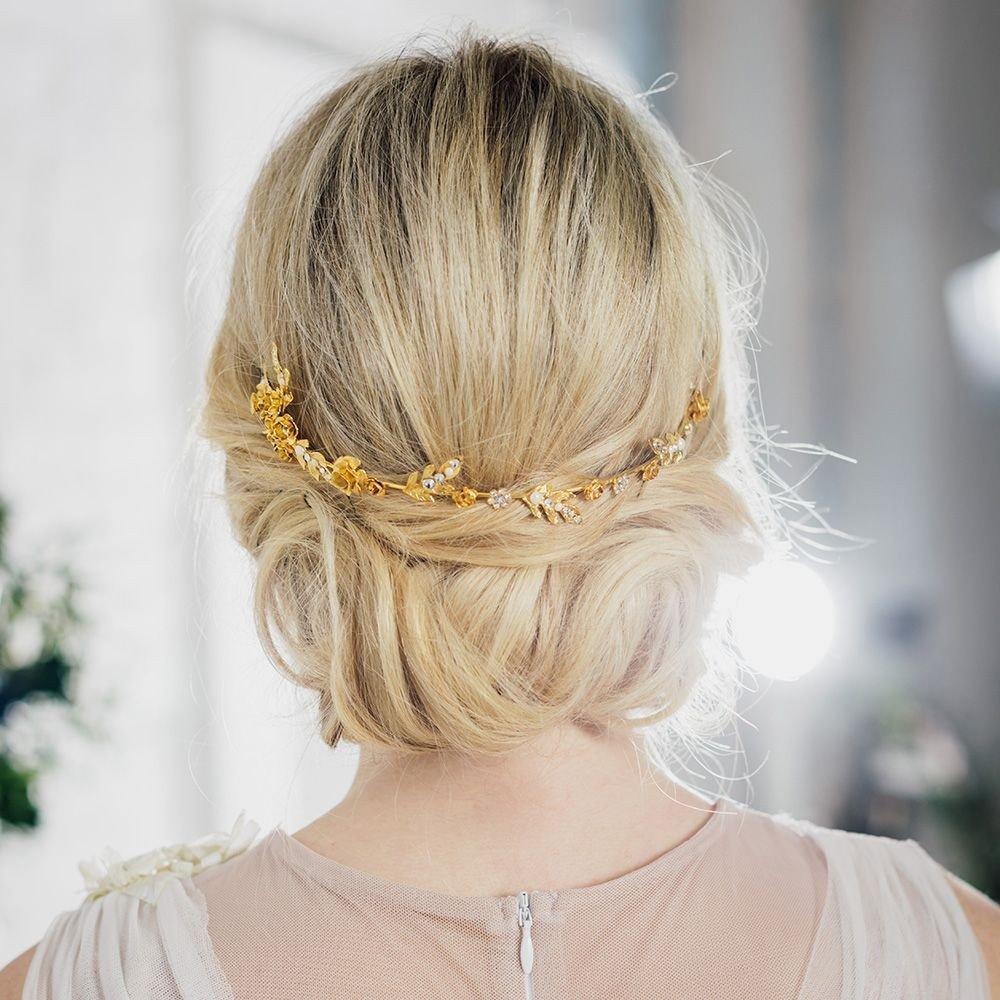 Handmade in Wales, this gold floral headpiece features gilded rose buds and daisies that sparkle daintily with Swarovski crystals and ivory faux pearls.
It's a head piece which is both striking and delicate, and would look particularly lovely on red and auburn hair tones.
48. Liberty in Love Blix Gilded Leaves Hair Vine – £30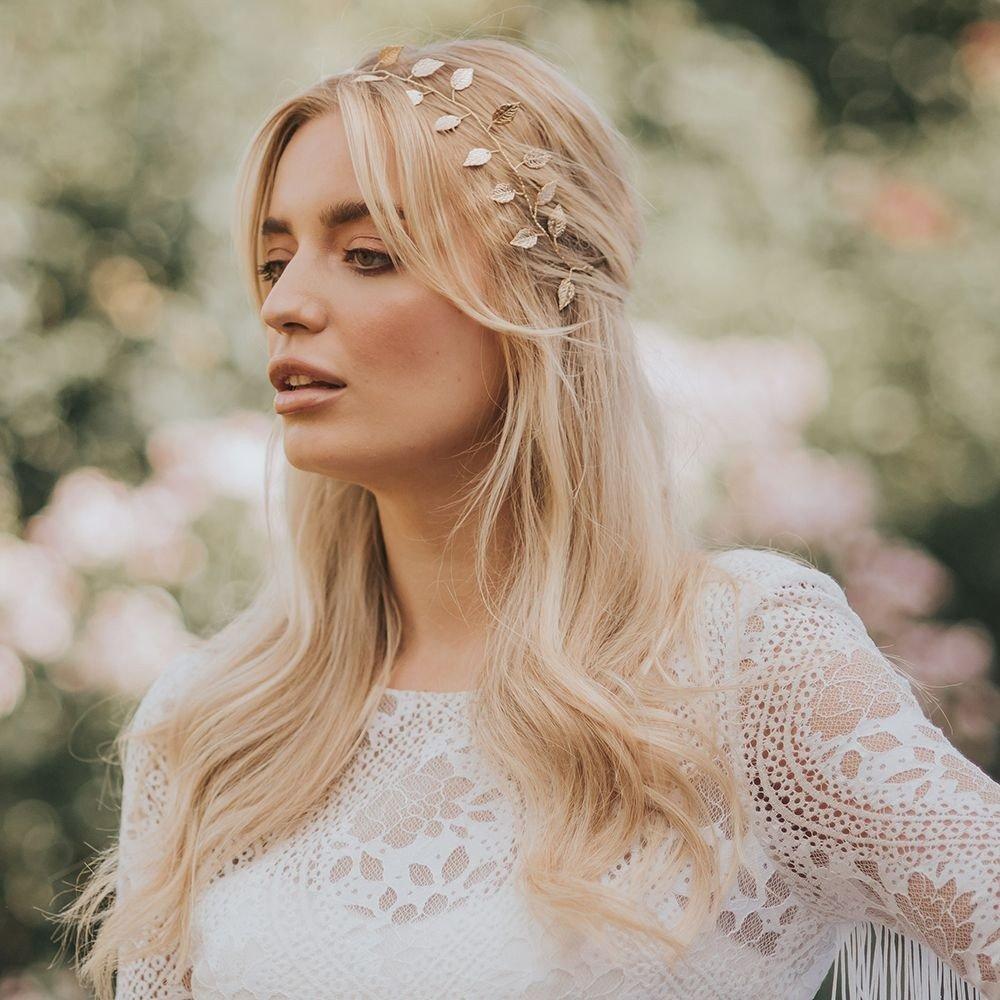 Beautiful in its simplicity, this gold leaves hair vine adds a nature-inspired finish to your look.
It's a versatile piece that can be worn at the front or embellishing an updo at the back of tresses.
Vintage Wedding Hair Accessories
Hosting a vintage-inspired wedding? You'll need one of these vintage wedding hair accessories to tie your outfit together…
READ MORE: 47 Stunning Vintage Wedding Ideas
49. Liberty in Love Lottie Crystal Beaded Draping Strands Headpiece – £160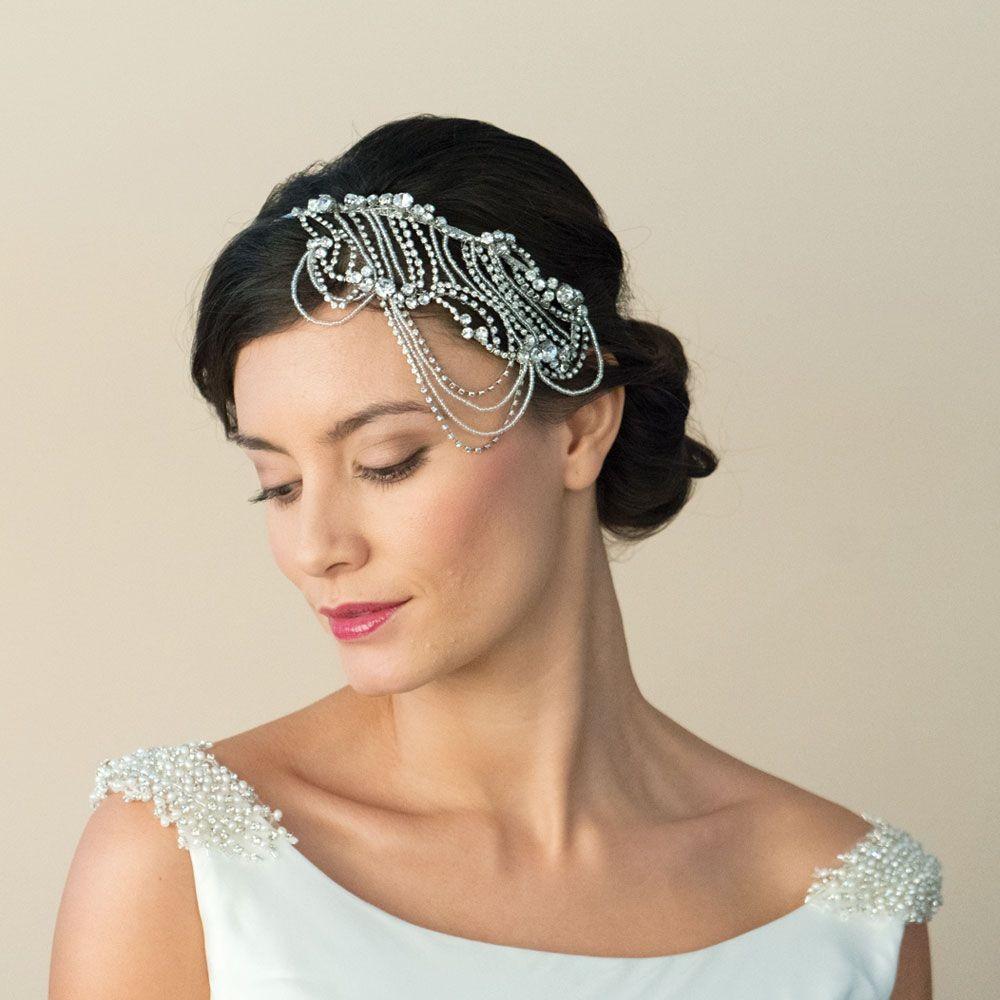 This hair piece looks like it's straight out of the 1920s.
Unique, stylish and decadent, this bridal headpiece features rows of tiny luminescent beads and brilliant cut crystals.
50. Azure Jewellery Esme Vintage Comb – £225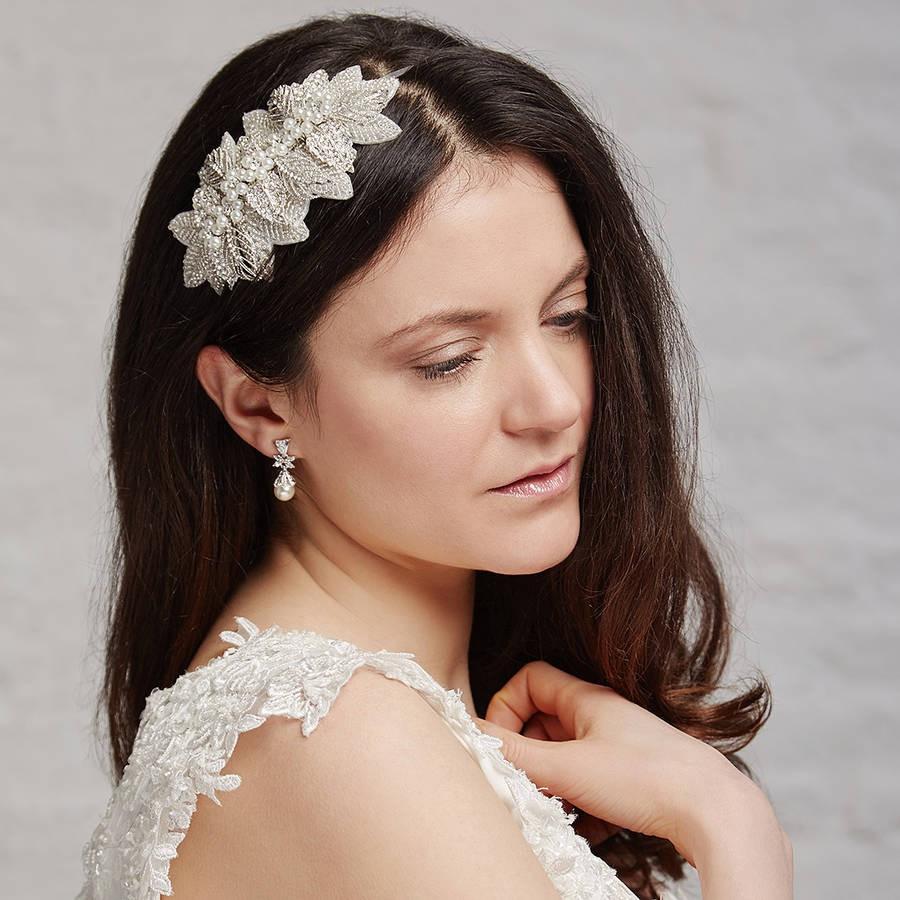 Hair combs are reminiscent of the era this this piece was inspired by.
Made up of appliqué leaves with silver bead detail, Swarovski crystal leaves and pearl flowers, this piece is available on either a hair comb or a headband.
51. Azure Jewellery Vintage Spray Comb – £65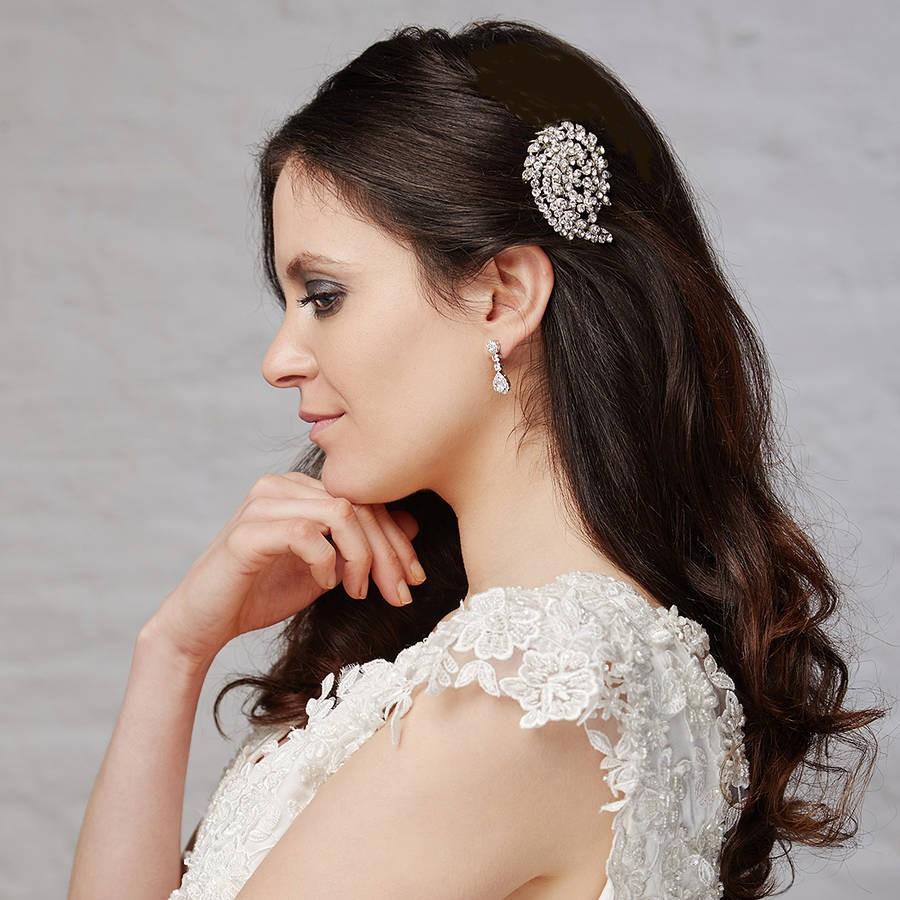 We are so in love with this pretty vintage hair piece by Azure jewellery.
Perfectly statement, this vintage style, art-deco inspired collection of combs sits gracefully with most hairstyles, whether you leave your hair down and sweep it to the side or use it to life an updo.
READ MORE: 17 Beautiful Vintage-Inspired Wedding Dresses
Unusual Wedding Hair Accessories
After a wedding hair accessory that is a little out of the ordinary? One of these unusual wedding hair accessories will do nicely!
52. Gold Layla love hair slide - Johnny Loves Rosie, £12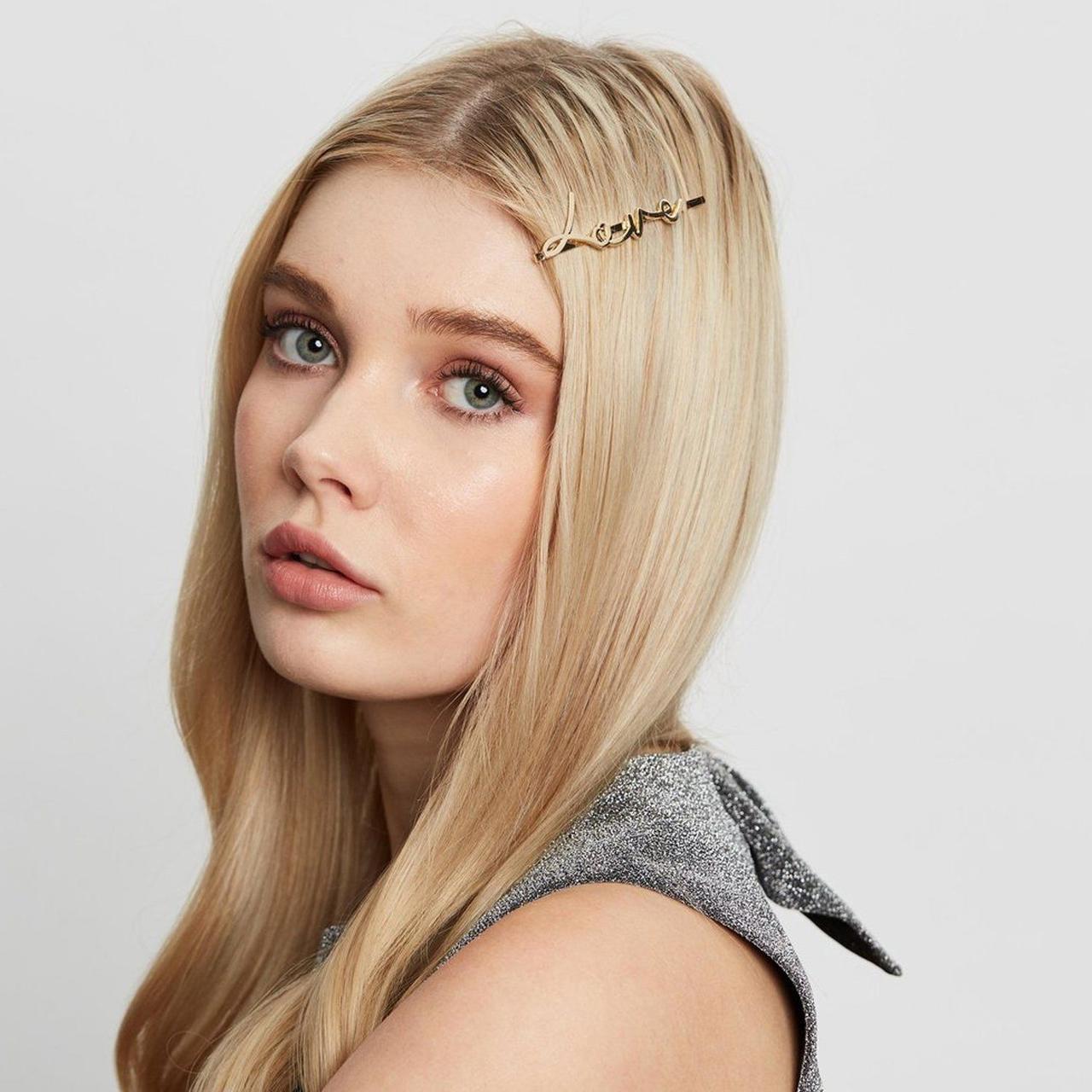 The Layla hair slide manages to be both non-traditional and wholly bridal-appropriate - after all, what says wedding more than the word 'love'? It's a beautifully simple statement piece that's perfect for cool brides.
53. Lovely Littles and Co Rainbow Multi Colour Hair Clip – £8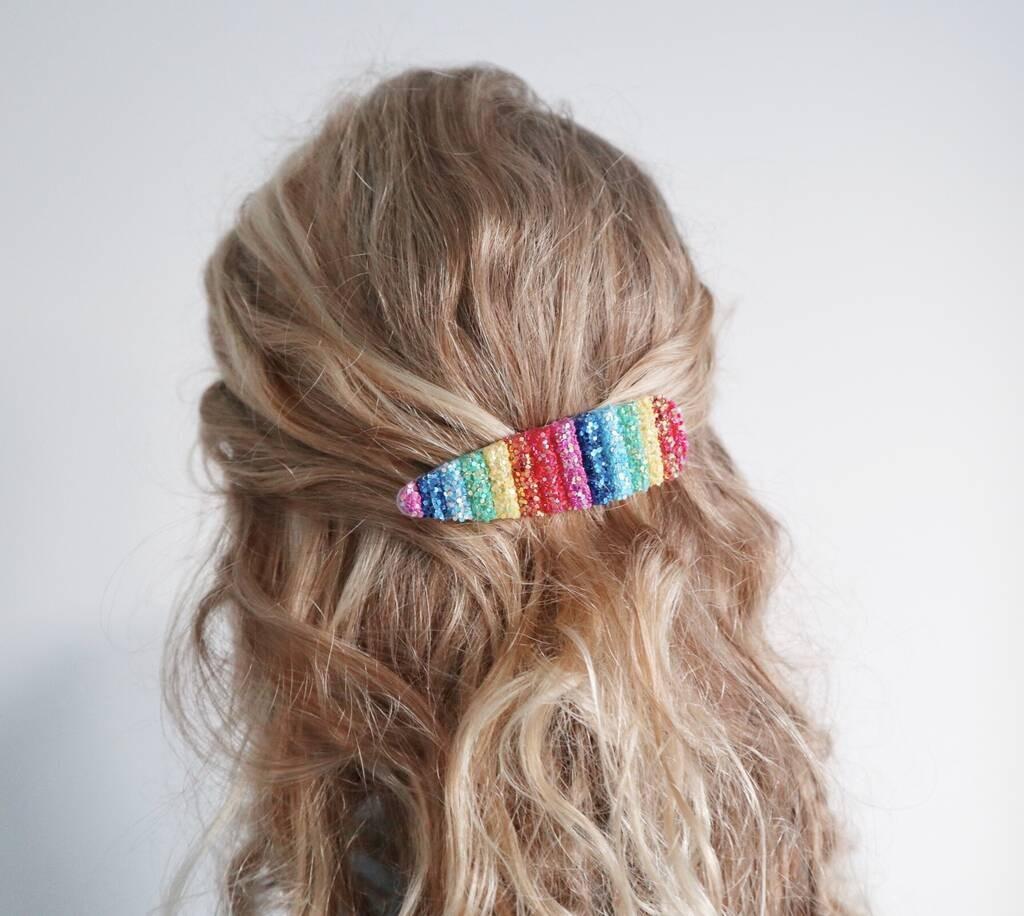 At just £8, this rainbow hair clip from Lovely Littles and Co is the perfect, affordable unique wedding hair accessory. Go bright or go home!
Now you've chosen your wedding day hair accessories, you'll need to think about the finishing touches to your outfit. Check out our round-up of the most stylish bridal clutch bags to carry on your big day.