Wedding Table Numbers: 47 Unique Ideas
Help guests find their seats and complete the look of your wedding reception with these original wedding table number ideas. There's something to suit all themes and we've even included some easy DIY options

Making sure everyone is seated where they should be for your wedding reception is one thing that you don't want to be worrying about on the big day. If you've got your wedding table plan sorted, (or if not, we have a seriously handy wedding table planner tool), you're still going to need wedding table numbers to avoid any confusion.
Practical doesn't have to mean they can't look pretty, so we've compiled a list of 47 creative wedding table number ideas to give you some inspiration. There's trendy terrazzo styles, eco-friendly bottles, plus a whole host of DIY options if you're feeling crafty. Yes, you can even make a wedding table number out of an old brick and some chalk, and it'll look gorgeous!
Don't believe us? Keep scrolling to check this brilliant idea out and lots more.
READ MORE
1. Terrazzo Wedding Table Number
Hailing from Italy, terrazzo is a material made up from chippings of marble, granite, quartz, shell and glass resulting in a speckled, unique design. Jump on the terrazzo trend by having your wedding table numbers printed on a stylish slab.
2. Wooden Block Wedding Table Number
This wooden block wedding table number with white writing would be the perfect fit for a barn wedding. Using square wood blocks and painting on the numbers would be a great DIY project.
3. Tree Slice Wedding Table Number
If you're decking out woodland wedding tables a rustic tree slice would work wonderfully. You can pick up natural wooden slices from Hobbycraft for as little as £5 for 8 and paint on the white numbers yourself - chic and affordable!
4. Copper Wire Wedding Table Number
Delicate and dainty, a copper wire table number nestled among flowers will let your guests know where they are sitting without taking away from the floral centrepiece itself. These ones from Le Rustic Chic are available in a whole host of different colours to match your theme.
5. Mirror Wedding Table Number
Glamorous couples will adore a mirrored wedding table number. Not only will they look gorgeous, they'll actually create the illusion of a larger room too. If you want to go down the DIY route, charity shops often sell bargain second hand mirrors which you can write on with a glass marker pen.
6. Rose Gold Wedding Table Number
Clear acrylic combines with rose gold mirroring to create these stunning wedding table numbers from Z Create Design. They almost look as if they are floating on their own, creating a lovely ethereal effect.
6. Twine Wedding Table Number
If you're having a rustic wedding, ensure your wedding table numbers don't clash with the décor by considering brown twine decorations. They'll blend right in but still make a big enough of a statement to ensure your guests don't miss them.
READ MORE: 40 Gorgeous Rustic Wedding Cake Ideas
7. Crocodile Clip Paper Wedding Table Number
Simple wedding table numbers can be just as effective as larger, more intricate options. We love the sleek look of this crocodile clip holding a monochrome print - available to download here!
8. Copper Foil & Black Paper Wedding Table Number
Switch up traditional white or ivory card wedding table numbers by opting for a darker hue instead. The copper lettering contrasts beautifully next to the black card and adds a touch of glamour to the table.
9. Wine Bottle Card Holder Wedding Table Number
This set of 10 wine bottle table numbers from Party Delights costs less than £2 so you'll have more money for booze! As well as a beautiful table number print, if you look closely there's a little message written on the card saying 'drink for love'. Don't mind if we do...
10. Couple Photograph Wedding Table Number
Having picture frames as your wedding table numbers is a really sweet and personal touch. You could have a funny photo of you and your partner, a recent image or even a cute throwback if you've known each other a long time. The possibilities are endless!
11. Pet Photograph Wedding Table Number
If your pet is the second love of your life you won't be able to resist having them as the shining star in the centre of your wedding tables. Cue lots of oohing and aahing from your guests while they find their seats.
READ MORE: 40 Gorgeous Rustic Wedding Cake Ideas
12. Tile Wedding Table Number
Have you seen a more beautiful wedding table number than this gorgeous printed tile? It reminds us of walking down pretty mosaiced paths in sunny climes and would be brilliant if you're planning a destination do.
13. Light Bulb Wedding Table Number
How about considering this bright idea (sorry) and having a light bulb as your wedding table number? You could even have them light up if you're planning an evening reception in order to create a lovely soft ambience.
14. Crystal Wedding Table Number
You've probably seen celestial-themed weddings all over Pinterest and crystal table numbers are so fitting if that's what you're planning. They'll look fabulous on the day but also make a lovely ornament to keep in your home after the wedding.
15. Plant Pot Wedding Table Number
Plant pots are a great way to include colour on your wedding tables if you're not a fan of floral arrangements. We love the idea of having a fragrant herb as the centrepiece - just imagine your reception area smelling of fresh mint!
16. Festive Wedding Table Number
Gold accents add a special touch to winter wedding décor. We're obsessed with the sweet festive illustrations on this wedding table number card that slots perfectly into a metallic frame.
READ MORE: 30 Winter Wedding Cakes Perfect for Your Festive Day
17. Dried Flower Frame Wedding Table Number
Another gorgeous rustic option - we love this simple, sweet and delicate design. If you want to dry the flowers yourself, place parchment paper between the pages of a heavy book and lay down your chosen flowers. Add more weight on top of the book to press the flowers down and leave for two to four weeks.
18. Eucalyptus Wedding Table Number
Illustrative designs look so elegant on wedding table numbers and we adore the way this drawing of a eucalyptus stem contrasts against the crisp white card.
19. Perspex Hexagon Wedding Table Number
This geometric acrylic wedding table number is a little more unique than a square or circular shape, plus a splash of pink will add a beautiful touch to your wedding day and catch every guest's eye.
20. Modern Wedding Table Number
Make your wedding tables modern and stylish by choosing monochrome lettering and a simple design on the wedding table numbers. This set up with black feathers and bronzed candlesticks is seriously glam if you're after inspiration!
21. Wooden Cut Out Wedding Table Number
Sometimes less is more, and this wooden cut out wedding table number is just the ticket if you're after something simple and stylish. You could even jazz it up by adding glitter or coloured paint to match your colour scheme.
22. Map Wedding Table Number
Perhaps you're having a destination wedding, or maybe you and your partner have a special place together that you want to nod to on your special day? Map wedding table numbers can have so many different meanings and they'll all add a sweet and personal touch to the day.
23. Embroidered Wedding Table Number
If you're a dab hand at sewing, or perhaps you know a family member or friend who is, an embroidered wedding table number is an excellent idea. This example has been stitched onto fabulous feathered fabric but even plain cloth would work.
24. Wood & Gold Wedding Table Number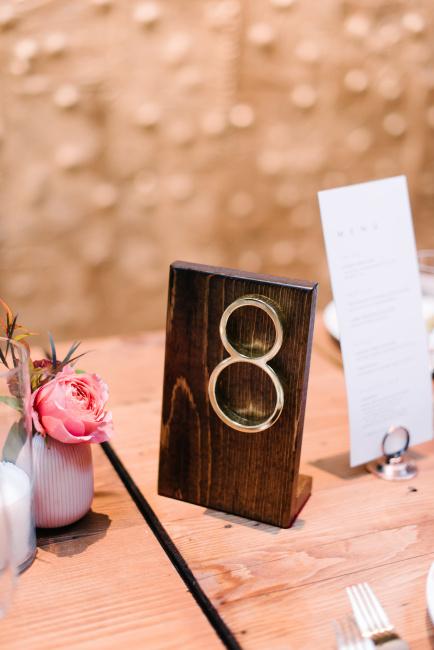 Incorporating natural materials such as wood into your wedding décor can add a really romantic touch to the day. This wood and gold wedding table number is rustic while still having a modern feel to it.
25. Message in a Bottle Wedding Table Number
We can't think of a better addition to a beach wedding than message in a bottle wedding table numbers! You could even leave little pads of paper and pens on the the table for your guests to write their very own messages to leave in the bottle for you to read after the special day.
26. Gin Bottle Wedding Table Number
Re-using old bottles for your wedding table numbers is an easy and eco-friendly idea that also looks gorgeous. Bombay Sapphire gin bottles are brilliant thanks to their vibrant blue hue but you could drink your way through whatever tipple takes your fancy in order to make them.
READ MORE: 15 Eco-Friendly Wedding Venues in the UK
27. Stone Triangle Wedding Table Number
With the help of elegant white calligraphy this stone triangle has been transformed into a stylish wedding table number. The wooden board it's placed on completes the look.
28. Blue Watercolour Wedding Table Number
There's something so stunning about incorporating a wash of watercolour into your wedding table décor. This example uses blue to emulate ocean waves but we think green, pink or lilac would look lovely too.
29. Copper Pipe Wedding Table Number
We love how this copper pipe wedding table number complements the surrounding neutral décor. It would work just as well at a warehouse wedding venue as it would at a country house wedding.
30. Candlestick Wedding Table Number
When deciding on your wedding table number you need to ensure you opt for a design that's as practical as it is pretty. After all, they're there so your guests know where to sit! A long candlestick offers just that as it will peek over the top of any other table decoration you might have.
31. Cork Holder Wedding Table Number
The key to affordable wedding decorations is making use of what's around you! This simple wedding table number is only three corks tied together with a piece of brown string holding a hand-drawn card, yet it looks really beautiful.
32. Wine Bottle Wedding Table Number
A multi-purpose wedding table number is a stroke of genius. These wine bottles double up as fabulous water vases to hold floral decorations as well as letting your guests know who will be seated on which table.
33. Cotton Paper Wedding Table Number
Cotton paper is a soft alternative to stark white card and an old type face inked on creates a brilliant effect. We've even got a guide to calligraphy if you fancy doing the lettering yourself.
34. Brown Flag Wedding Table Number
If you're having rustic bunting adorning the ceilings on your big day you can match them to these rustic brown paper flag wedding table numbers. They're available from Ginger Ray at only £7.99 for 12 and include both the card and the wooden stick.
35. Gold Frame Wedding Table Number
This wedding table number just oozes glitz and glamour. Intricate and luxe, they'll take your wedding table décor to the next level. Plus, you can even re-purpose the frames after the wedding by popping photographs from the day in them.
36. Glass Dome Wedding Table Number
Did somebody say Beauty & The Beast? Disney lovers look no further, this glass dome wedding table number idea is romantic and gives a subtle nod to that magical movie.
READ MORE: Everything You Need to Know About a Disney Wedding
37. Book Page Wedding Table Number
Book worms will adore this sweet wedding table number that looks like it's literally been ripped from the pages of a fairy tale. We think it would be a lovely idea to use pages from a romantic novel such as The Notebook.
38. Brick Wedding Table Number
You really can find wedding décor inspiration from the most unexpected of places and this red brick proves it! With a simple chalk number written onto it, it's rustic, cool and contemporary. Plus, if you're having your tables outside it'll make sure the table cloths don't get blown by the wind.
39. Slate Wedding Table Number
Slate is a stylish alternative to brick that creates a modern effect. It would look lovely if you're getting hitched in an area with a lot of natural slate surroundings or on a shingle beach.
40. Glitter Wedding Table Number
This rose gold glitter wedding table number from Ginger Ray definitely makes an impact. Big, bold and beautiful, your wedding guests won't be unsure of where to sit if you opt for these.
41. Laser Cut Floral Wedding Table Number
Clear acrylic makes for an understated wedding table number that will fit with any colour scheme. We love the floral laser cut patterns on this example.
42. Notebook Wedding Table Number
Save money on a guest book and use a notebook as your wedding table numbers! Super easy to make yourself and a lovely keepsake after the wedding day.
43. Sail Boat Wedding Table Number
If you're getting married on a boat, these sailing wedding table numbers will surely appeal! They're so unique and will be a brilliant talking point for guests.
READ MORE: 16 of the Best Beach Wedding Venues in the UK
44. Textured Plank Wedding Table Number
Experimenting with different textures is a great way to add interest to your wedding tables. This rough wooden plank contrasts wonderfully against the smooth lettering creating a chic look.
45. Lace Coaster Wedding Table Number
Lace and weddings are a classic combination, and this frill effect coaster wedding table number is subtle yet effective. It pairs perfectly placed on top of the rustic books.
46. Vintage Wedding Table Number
It really is the little details that'll bring your wedding décor together and this mini block table number will be the cherry on top if you're planning a vintage-themed wedding day.
47. Hummingbird Wedding Table Number
This playful hummingbird wedding table number idea is so sweet and something we've never seen before! If you're having children at the wedding, we guarantee they'll love these.
Now you've done the fun part, it's time to get down to business with our easy guide on how to arrange your wedding tables.