How to Create a Beautiful Balloon Wall in 5 Easy Steps
Contrary to popular belief, balloons are not just for kids' birthday parties. Here at Hitched HQ, we're obsessed with balloon walls, so we've rounded up our favourites and shared the secrets to making your own...
We have included third party products to help you navigate and enjoy life's biggest moments. Purchases made through links on this page may earn us a commission.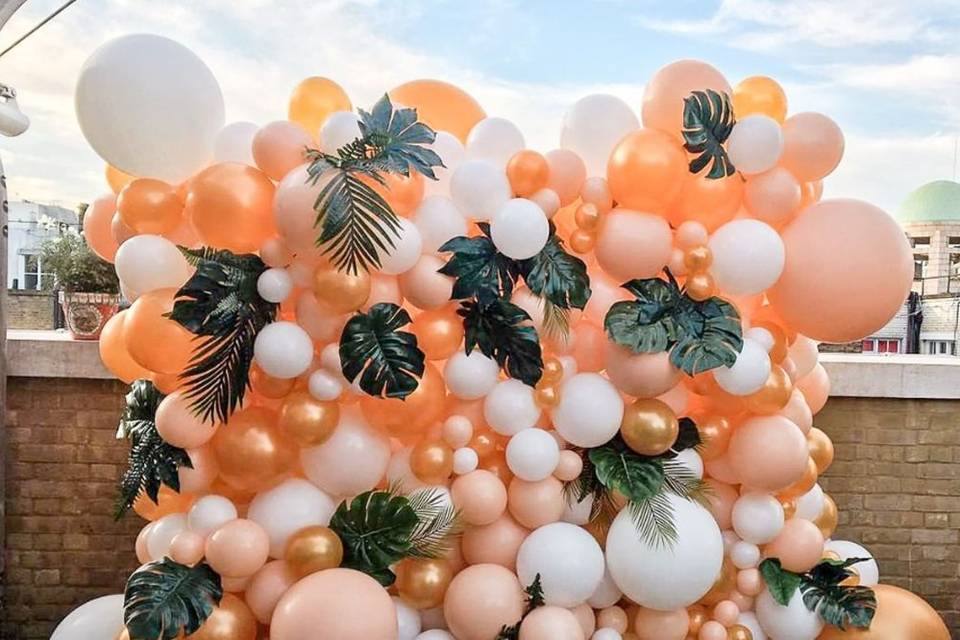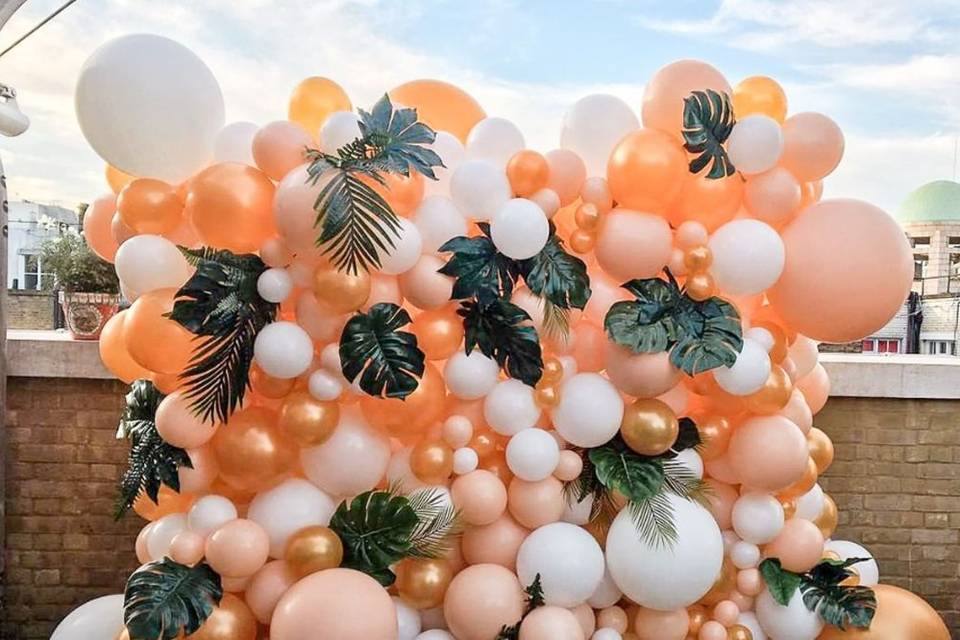 Here at Hitched HQ we're huge fans of balloon walls. Not only are they a great wedding décor idea, but they make a fabulous photo backdrop too.
If that wasn't enough, balloons are really affordable to get your hands on, and balloon walls are pretty easy to make yourself. Keep reading for our guide to how to make a balloon wall at home, plus the best balloon walls we've seen on the web. Oh, and there are a few ready-made balloon walls to shop at the bottom of the page if you're a little short on time…
How to Make a Balloon Wall in 5 Steps
Planning and Design: Novelty Events; Balloon Arch: Stars Above Balloons; Florals: Irises Designs
You Will Need:
A low temperature glue gun. It's really important that you use a low temperature gun like this one, because if it's a high temperature gun, the balloons will pop
As many balloons as you can get your hands on! Latex ones work best like this pack of 100 pastel-coloured latex balloons
A hand pump
A piece of foam board (or a large piece of wire mesh if you can't stick decorations to the walls of your venue)
Streamers, foil tassels, pampas grass, flowers or foliage to decorate
Step 1: Inflate Your Balloons
First thing's first: you need to inflate all of your balloons using your hand pump. For the best effect, inflate them to various sizes – some small, some medium and some large.
It's much easier to inflate your balloons before you start than to have to keep stopping to blow them up!
Step 2: Create a Foam Board Base
Next, create the shape of your balloon wall using pieces of foam board. Then attach the foam board to the wall using double-sided gorilla tape.
If your venue aren't keen on you attaching things to the walls, you may wish to hang a piece of wire mesh from the ceiling instead.
If you want something large and statement,you could cover an entire wall in foam board. If you're after something a little more understated, try arranging your pieces of foam board into an arch or semi-circle shape. You may need to cut through the foam board to create the desired effect. Just remember – once the balloons are attached, you won't see the foam board anyway, so it doesn't need to be super neat.
Step 3: Start Attaching Your Balloons!
Now for the fun bit: it's time to start attaching your balloons to your wall! Add your largest balloons first, then fill in the gaps with the smaller ones.
You can do this in one of two ways: either by gluing the balloons directly onto the wall, or by gluing each balloon to the previous adjoining balloon. The more balloons you add the less of the foam board you will see.
If you're using mesh instead of a piece of foam board, attach them using ribbon or string.
Before attaching your balloons, think about how you'd like your balloon wall to look when it's finished. Do you want the balloons arranging in colour blocks, or are you trying to achieve something more random? Would you like to see a gradient effect? The answers to these questions will determine where you place your balloons.
Step 4: Add Your Extras
Once all of your balloons are attached to the wall, you can play around with decorative extras.
Your wedding theme will largely determine what else you might like to add to your balloon wall. For a woodland wedding, foliage would be a lovely addition, while pampas grass would work beautifully at a bohemian celebration. Take a look at our ideas below for inspiration.
Step 5: Take a Step Back
At this point, you're pretty much finished, but we'd recommend going to do something else for half an hour before returning to look at your balloon wall with fresh eyes.
Doing so will enable you to see where you want to add more balloons or extra decorations like tassels, flowers, fairy lights or foliage. You may find that you don't want to add anything!
READ MORE: How to Make a DIY Flower Crown
TOP TIP:
Construct your balloon wall in a place where there's space for it to double up as a photo backdrop! We love a DIY photo booth…
The Best Wedding Balloon Walls
One word: obsessed. At a winter wedding, jewel tones add no end of opulence and glamour.
The rich pink and blue shades seen here contrast against delicate pampas grass and fabric tassels.
Oh, and if you look closely, you'll see this entire installation has been built from a piece of wire panel, so you could definitely recreate it yourself!
READ MORE: 17 Dreamy Ways to Include Pampas Grass in Your Wedding
Hosting a rustic wedding in a barn wedding venue? You can't go wrong with a rose gold colour scheme.
This pink and gold balloon wall really is a work of art. We love the "Mrs and Mrs" calligraphy detailing and the juxtaposing white roses.
READ MORE: Our Pick of the Best Barn Wedding Venues in Essex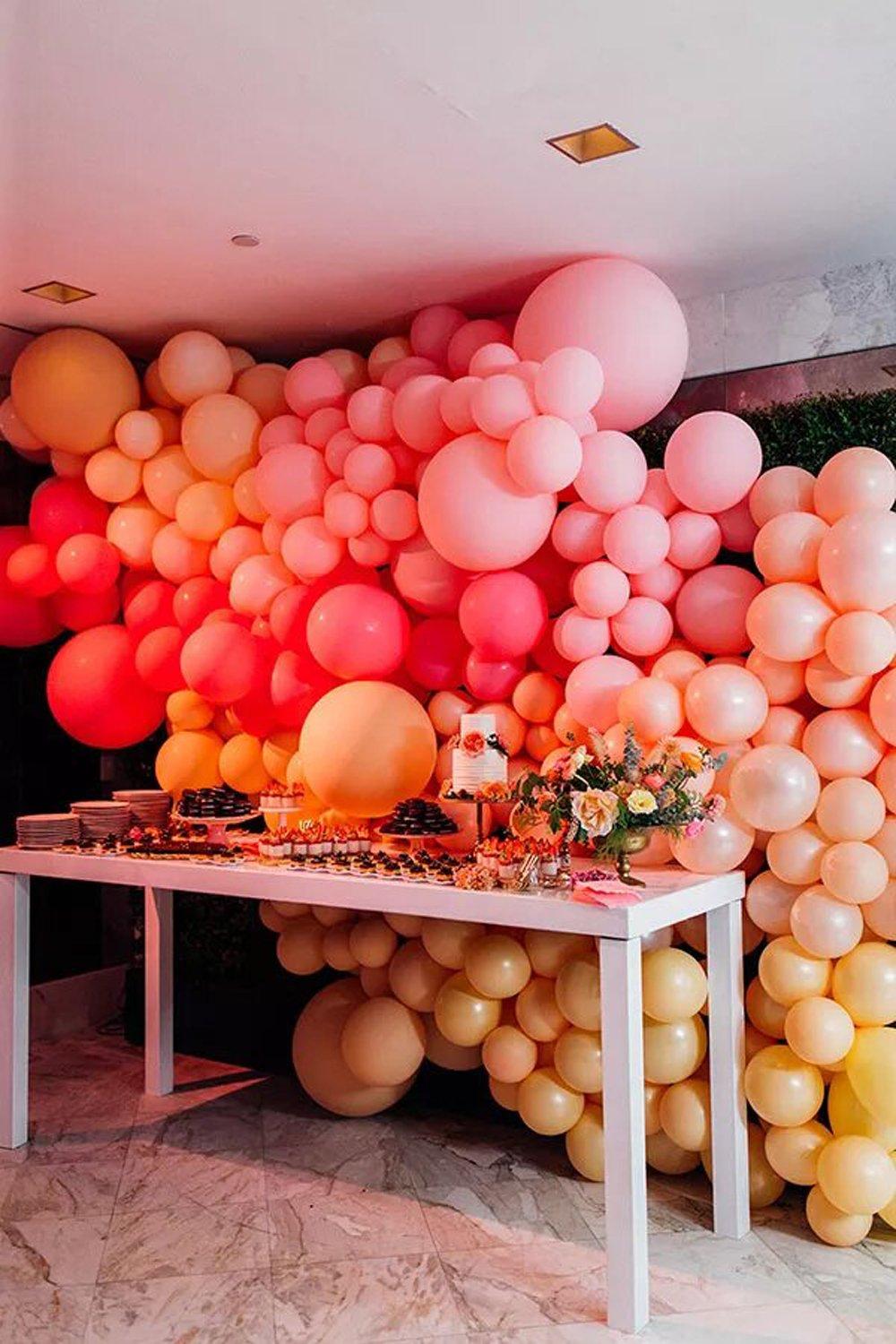 Image: Pinterest
We bet no one missed the dessert table at this wedding thanks to the stunning ombré balloon wall installed behind it!
Bright and vibrant pink, orange and yellow shades like these are the perfect choice for any modern celebration.
If you're channelling a tropical theme in your wedding decorations (or if you're hosting a destination wedding), recreate this amazing balloon wall by Bubblegum Balloons.
The addition of palm leaves is really on-trend and would work with a whole array of base colours.
READ MORE: 50 of the Best Simple Wedding Dresses for Modern Brides
Go big or go home and cover an entire wall in balloons.
Add an extra edge to your balloon wall by mixing metallic accents with muted, pastel shades. It works perfectly!
Whoever said your balloon wall had to go on the inside of your wedding venue?
Go all out and create an exterior balloon wall like this one. The addition of flowers or foliage will really help it blend in with its surroundings.
Hosting a Halloween-themed wedding?
This pastel take on Halloween décor is totally wedding appropriate. We'd actually go as far as saying the ghost balloons are pretty cute…
READ MORE: 42 of the Best Couples Halloween Costumes
Wow! This rainbow balloon wall is quite something.
Build your balloon wall from an elevated piece of flooring to make sure no-one misses it.
Have you considered using a balloon wall to frame your wedding cake? These peach-toned and metallic balloons make this couple's wedding cake the star of the show!
READ MORE: The Best Wedding Cakes in London
The Best Ready-Made Balloon Walls to Shop
Had enough of DIY and fancy buying a ready-made balloon installation? All you need to do with these amazing balloon walls is blow them up! But which is your favourite?
1. Ginger Ray Ombre Pink Wall Decoration – £19.99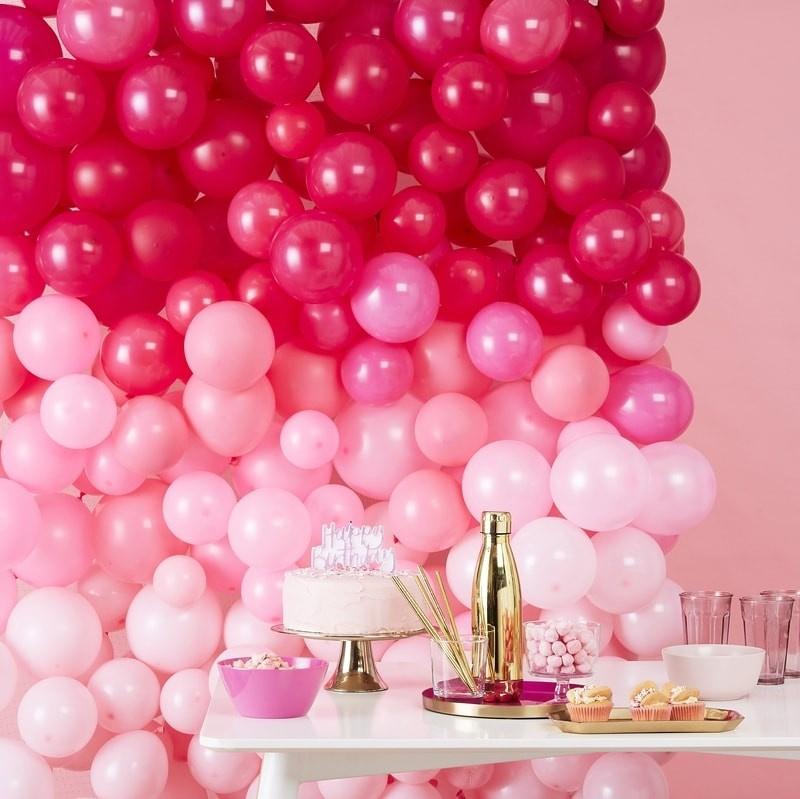 Think pink with this stunning ombré balloon wall by our go-to for bargain party decs, Ginger Ray.
If you've gone for a pink wedding theme, this balloon wall is the finishing touch your wedding reception needs. Trust us.
2. Party Woo White and Gold Balloon Arch – £10.58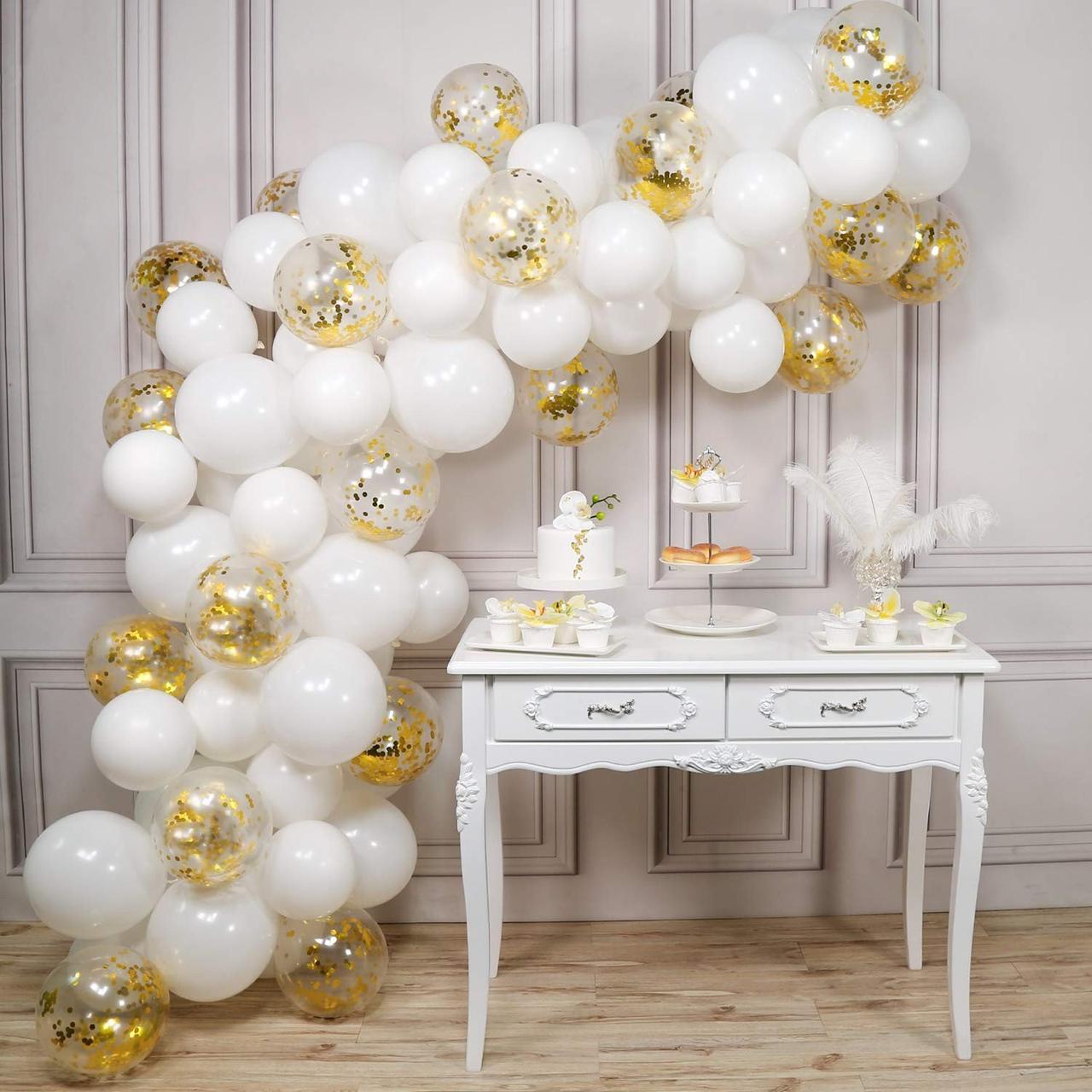 How about opting for a balloon arch instead?
We love this white and gold balloon installation – it's available from Amazon and will only cost you a tenner!
3. Amazon Balloon Arch Kit – £13.99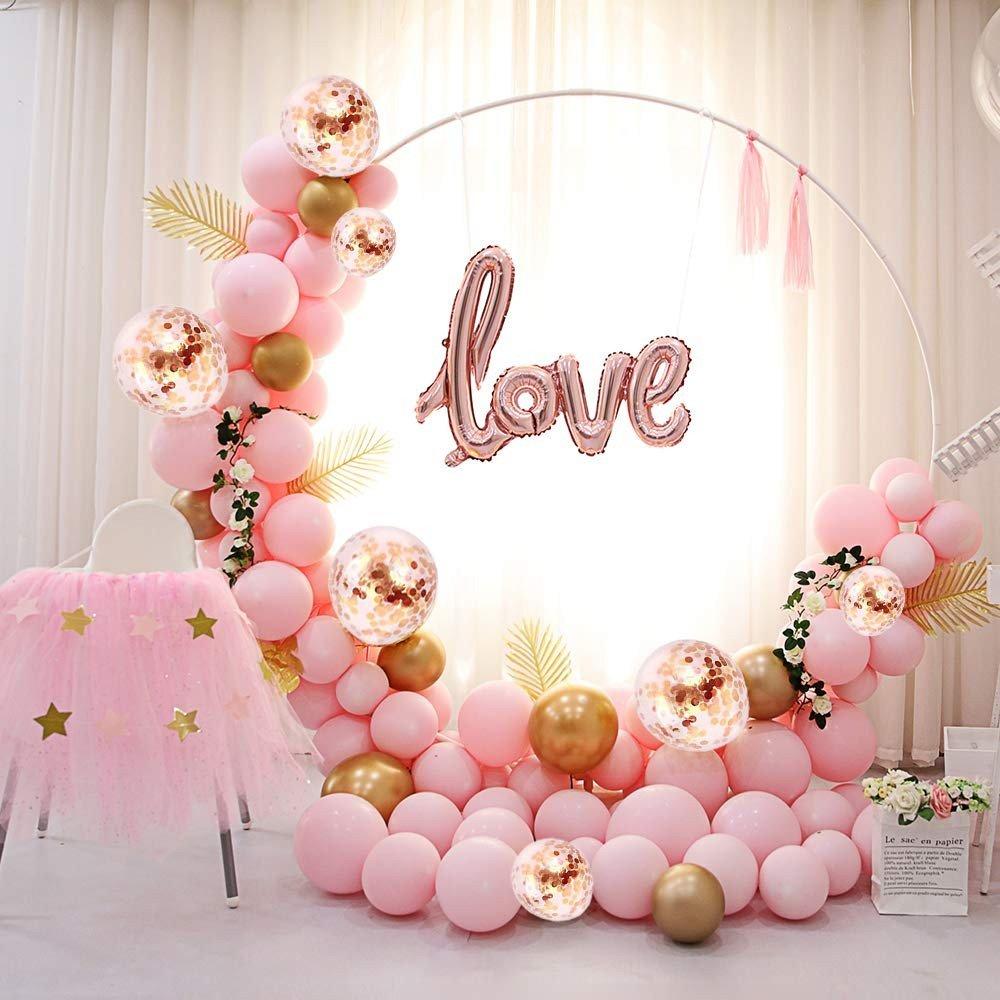 Cameras at the ready – this pink balloon arch from Amazon is Instagram-worthy and then some.
For just £13.99, you'll get 100 pink balloons, 10 rose gold balloons and five gold metallic balloons… plus the pretty "love" gold foil balloon to sit in the middle! It's super easy to assemble, too.
READ MORE: The Best Wedding Instagram Accounts to Follow for Inspiration
4. Party Woo Gold and White Butterflies Balloon Arch Kit – £15.43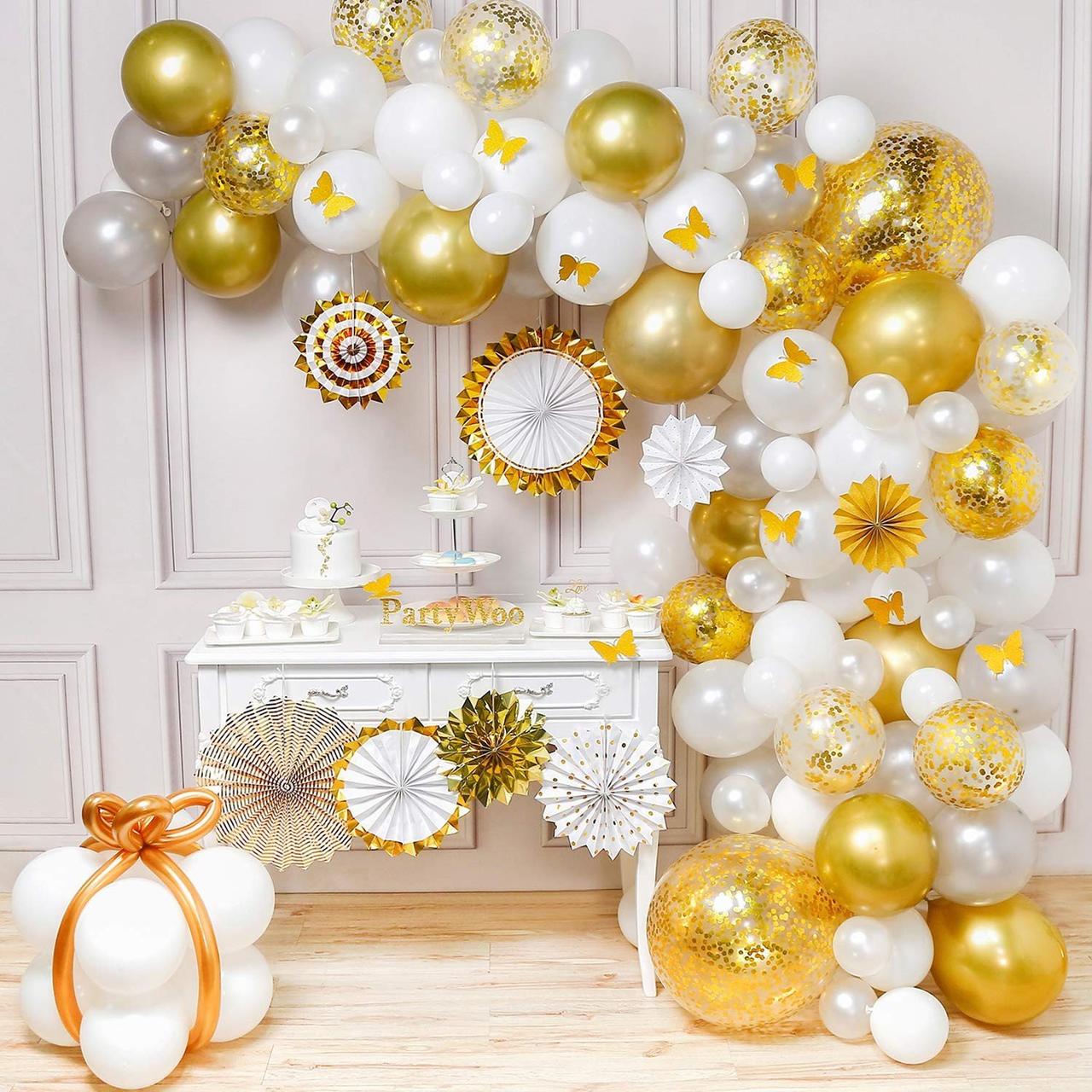 Keep your balloon wall classic by opting for a white and gold colour scheme.
Decorated with metallic butterflies, this balloon arch would look beautiful at a woodland wedding.
5. Ginger Ray Rainbow Balloon Arch Kit – £24.99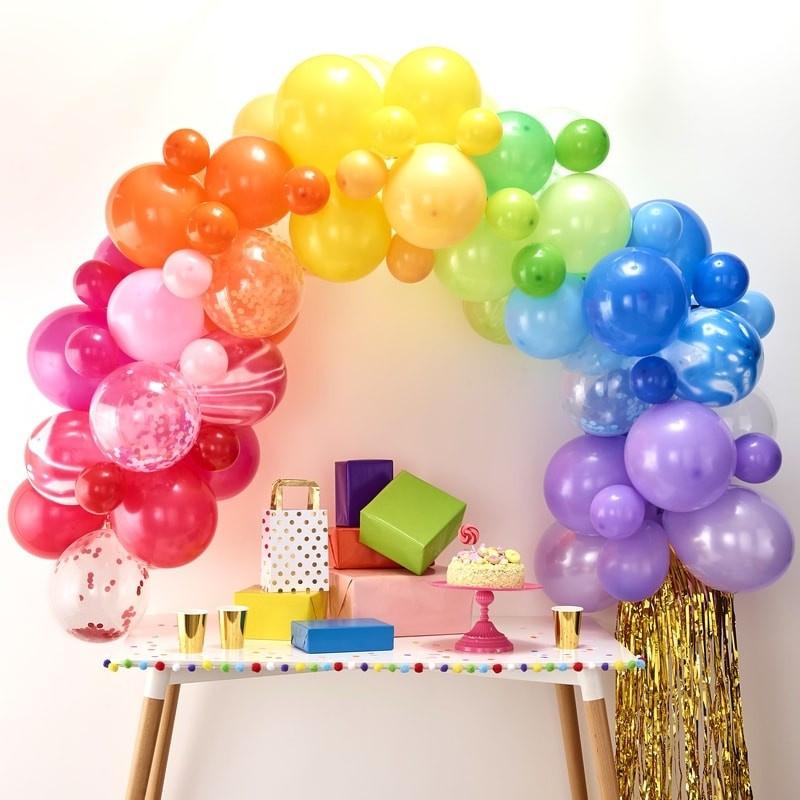 Up next is another balloon installation from Ginger Ray that most certainly won't be missed by your guests.
We're obsessed with this rainbow balloon arch which includes a mixture of original, metallic, confetti and marble-effect balloons.
6. Etsy Custom Balloon Wall – £68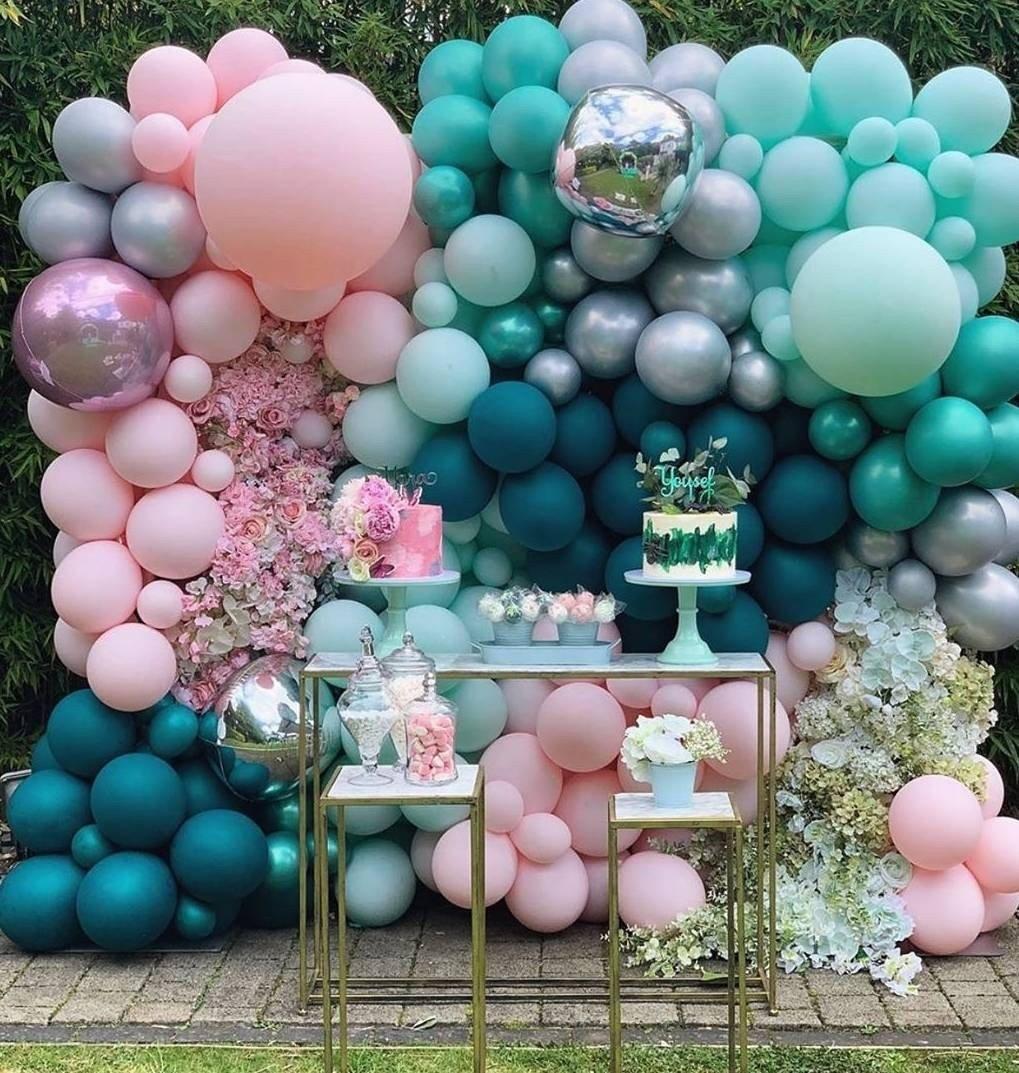 Go all out and create a balloon and flower wall hybrid. We love the juxtaposition of the pastel-coloured balloons and beautiful flowers in this fabulous installation.
Snap it up before everyone else does!
7. Etsy Custom Pastel Balloon Wall – £68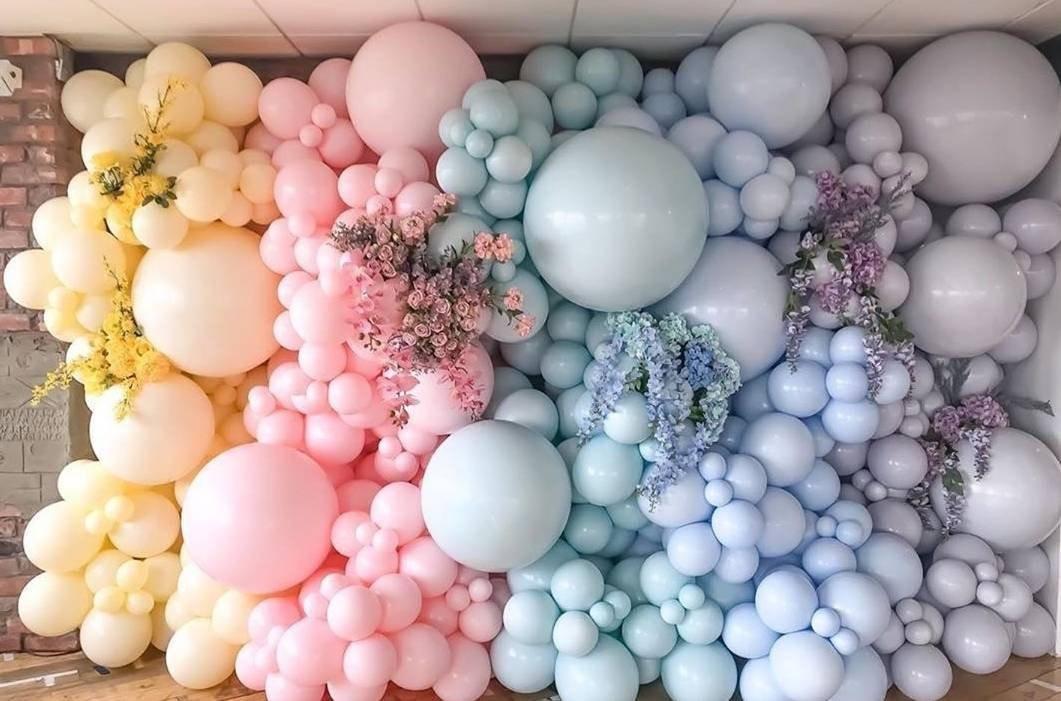 This custom-made pastel balloon wall is three meters wide and two meters high, so it's be perfect if you've got a lot of space to fill.
We love how the balloons fade from lemon yellow right through to lilac with some flowers thrown in for good measure.
READ MORE: 55 Beautiful Pastel Bridesmaid Dresses
Not convinced by balloons but still after a backdrop which your guests can take photos in front of? Check out our guide on how to make a DIY wedding photo booth.