Wedding Earrings: 24 of The Prettiest Pairs to Shop Now
Wedding earrings can pull together your look, add drama and draw attention to your wedding makeup, making them an important addition to your bridal ensemble. To help you find the right pair, we've rounded-up the best pieces to buy now.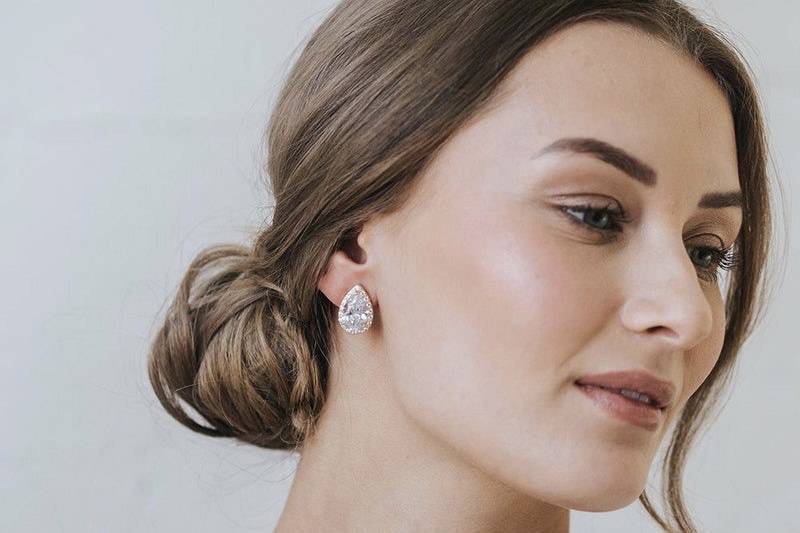 When it comes to enhancing your wedding day ensemble, little is more impactful than wedding earrings.
Adding earrings to your look can complement your wedding hairstyle, draw attention to your wedding makeup and draw the eye down to the neckline of your gown – all without taking away from your wedding dress.
Selecting this all-important piece of wedding jewellery can be a daunting task – especially with so many stunning designs out there – but finding the wedding earrings that pull your look together can also be seriously exciting.
On that note, we've gathered the most beautiful wedding earrings on the market – from dangling, statement pieces to simple studs and hoops. We also chatted to renowned wedding makeup artist – and our beauty Instagram obsession – Hannah Martin, who told us all about her collaboration with indie jewellery brand, Scream Pretty, and gave us her best tips for selecting the perfect wedding earrings.
Pearl Wedding Earrings
1. Hannah Martin Waterfall Pearl Stud Earrings – £175, Scream Pretty
We love the contemporary cool feel of these waterfall earrings. Giving the illusion of a simple pearl stud with a row of dangling cubic zirconia drops, we think these would look amazing with an up-do wedding hairstyle.
2. Marjorie Ruffle Pearl Drop Earrings – £58, Pijouletta London
[AD] Contemporary with a nod to the traditional with a freshwater pearl dangling from a stunning ruffled gold disc, we think these earrings are modern yet unmistakably bridal and will look gorgeous with just about any neckline.
READ MORE: 23 of the Prettiest Pearl Wedding Dresses & Accessories For an Elegant Bridal Look
3. Hannah Martin Pearl Ear Cuff – £35, Scream Pretty
If you're looking for an alternative to traditional wedding earrings or simply an edgy addition, may we suggest this pearl ear cuff? It's perfect for brides wanting to experiment with additional piercings without the commitment, plus you can totally rock this long after the big day.
4. Rachel Jackson Freshwater Pearl Earrings – £95, Selfridges
Hoop wearers rejoice! This bridal take on the perennial favourite is a great choice for brides looking for something subtle and simple.
5. APM Monaco – £138, Selfridges
These sterling silver pearl drop earrings are classic bridal with a botanical twist. We love the intricate leaf detailing encrusted with cubic zirconia stones.
READ MORE: 30 Gorgeous Garden Wedding Dresses Perfect for Outdoor Celebrations
6. The Alkemistry – £195, Selfridges
These 18ct gold earrings will look elegant and sophisticated with a delicate pearl drop – we'd totally pair them with a Bardot or strapless dress.
7. Mayzee Pearl Cluster Chunky Hoop Earrings – £18, Oliver Bonas
Encrusted with pearls, these hoop earrings are perfect for brides. We love the traditional look of the pearls contrasting with the modern clustered hoop design.
8. Lynsey Earrings – £54.78 Approx., BHLDN
Tiny pearls sit on the end of gold branches on the Lynsey earrings, making them a soft and delicate wedding earring choice. Pair them with a matching hair vine or let them do all the talking and wear them alone.
Crystal Wedding Earrings
9. Lariat Deux Diamond Earrings – $1,450 approx. £1,176, Or & Elle
Strung with two brilliant diamonds between 18k recycled white gold, these gorgeous luxe earrings by Or & Elle are sensational. The brand was recently spotted at the Met Gala so they are certainly celebrity-approved!
10. Alexandra Bridal Statement Teardrop Earrings – £140, Liberty in Love
These striking green teardrop earrings are giving us major Princess Eugenie vibes. Since HRH exited her wedding car in a stunning emerald tiara, we've been obsessed with the idea of adding rich greens to bridal ensembles and we think these beauties are a great pick.
11. Boho Wedding Drop Earrings – £24, Twilight London
Are you rocking a boho wedding dress on your big day? These drop earrings would make the perfect finishing touch. Covered in glittering crystals with a unique shape, we reckon these beauties will attract plenty of admirers.
12. Dannijo Garbo Earrings – £201.53 Approx., BHLDN
Elegant and eye-catching, these crystal encrusted earrings can be paired with high necklines without distracting from the dress.
Silver Wedding Earrings
13. Hannah Martin Star Ear Climber Stud Earrings – £35, Scream Pretty
We love a celestial wedding dress here at Hitched HQ and so we fell head over heels for these star ear climbers. Encrusted in clear cubic zirconia stones, these beauties will add a subtle touch of sparkle to your ensemble. Available in silver and gold, you can match them with the rest of your wedding jewellery.
14. Venus Green Amethyst Statement Earrings – £150, Carrie Elizabeth
Lovers of vintage styling will fall head over heels for these stunning statement earrings. With bags of old school glamour and a 44mm drop, these will make an elegant addition to your bridal ensemble.
15. Handmade Flower Drop Earrings – £49, Shropshire Jewellery Designs
Simple yet pretty these sterling silver drop earrings are a subtle and classy take on the floral theme, ideal for minimalist brides wanting to add a romantic touch to their look.
16. Silver Plated Crystal Round Stud Earrings – £12.99, Brand X
Loved Meghan Markle's simple and sophisticated wedding styling? Us too! Which is why these classic studs that look near identical to the pair Meghan wore on her big day have made our edit.
Gold Wedding Earrings
17. Hannah Martin Art Deco Star Stud Earrings – £65, Scream Pretty
These starry drop earrings are crying out to be worn at a winter or festive wedding. Available in gold and silver, these earrings look gorgeous paired with huggies, studs and ear cuffs.
18. Large Pear-Cut CZ Earrings – £50, Liberty in Love
Pear shapes are totally on-trend right now and with sparklers like these, it's no wonder. Sat in 18k gold plated settings, these cubic zirconia stones will add glitz to your look without taking away from your dress.
19. Kate Spade New York – £50, Selfridges
Sweet and simple, these heart stud earrings would look super cute alone or paired with cuffs and huggies.
20. Simple Moonstone Earrings – £70, Carrie Elizabeth
Set in gold vermeil, these simple moonstone earrings are a great non-traditional choice for brides looking for alternatives to pearls and crystals. We love the rainbow colours that catch the light as you move.
21. 9ct Gold Open Flower Stud Earrings – £50, Katherine Swaine
How cute are these delicate stud earrings? With a single cubic zirconia at the centre of the cut-out petals, we think they'd look perfect paired with a flower engagement ring.
22. Blue Chalcedony Teardrop Earrings – £29, Baronessa
Sort your wedding earrings and your something blue in one purchase with these teardrop earrings. We love the contrast of the pastel blue with the warm gold setting.
23. Elizabeth Cole Esme Earrings – £159.12 Approx., BHLDN
Want to make a statement with your wedding jewellery? These gold and crystal earrings should do the job. We love the unique drop design and whimsical daisy shape.
24. Made by Maddie Ete Earrings – £87.08 Approx., BHLDN
How adorable are these floral drop earrings? We love the tiny white flowers set onto gold metal and would totally pair them with a floral lace wedding gown.
Everything You Need to Know About Wedding Earrings
We caught up with Instagram sensation and TV makeup artist, Hannah Martin, to ask her all of our burning wedding earring questions and find out more about her collaboration with Scream Pretty.
Can You Wear Hoop Earrings to a Wedding?
"Everything about a wedding look is so personal and should be a true celebration of individuality so if you want to wear hoop earrings, wear hoop earrings! I personally love how versatile hoop earrings are, particularly how a charm hoop can elevate any look. As a make-up artist, I love how the lustre of pearls complement all skin tones and so almost all of the hoops I've designed with Scream Pretty feature pearls in some form, from statement charm baroque pearls, classic drop pearls and our brand new pearl huggies that are layered with touches of sparkle"
Can You Wear Both Earrings and a Necklace to a Wedding? Do Your Wedding Earrings and Necklace Need to Match?
"Of course, if there's ever a time to go all out, it's a wedding! I like to mix-and-match my jewellery but one of the most important considerations for any wedding accessory is that it complements the dress. Diamonds and pearls are like salt and pepper, they are a timeless, classic duo that work effortlessly together – why not wear a classic pearl necklace and opt for something more opulent across the ear? Or, if you're wearing your hair up, curate an 'ear party' for maximum impact."
How Do You Pick Your Wedding Earrings?
"This is something Scream Pretty and I worked really carefully on when designing our new collection, as there are so many factors which can affect the style of earrings you'd choose. From the 'drop length' of an earring and how that can alter an overall look, both style and make-up to how you're wearing your hair – are you wearing it up?"
Do You Need to Match Your Jewellery with Hair Accessories?
"If anyone is unsure I'd recommend sticking to something delicate and classic, but if you're someone who likes to make a statement with your jewellery in your everyday, then why not bring that to your wedding day? Play with different options from chandelier drop earrings, pearls, charm hoops, huggies and studs to find the perfect fit. Jewellery can be very sentimental and I think ultimately it's about wearing what suits you and your style!"
Finish your wedding accessory search with our edit of the best bridal clutch bags.