Celestial Wedding Invitations: 16 Designs Perfect for Star-Obsessed Couples
Pick a wedding invitation that is out of this world with one of these starry designs. Celestial wedding invitations are the latest trend you won't want to miss out on
We have included third party products to help you navigate and enjoy life's biggest moments. Purchases made through links on this page may earn us a commission.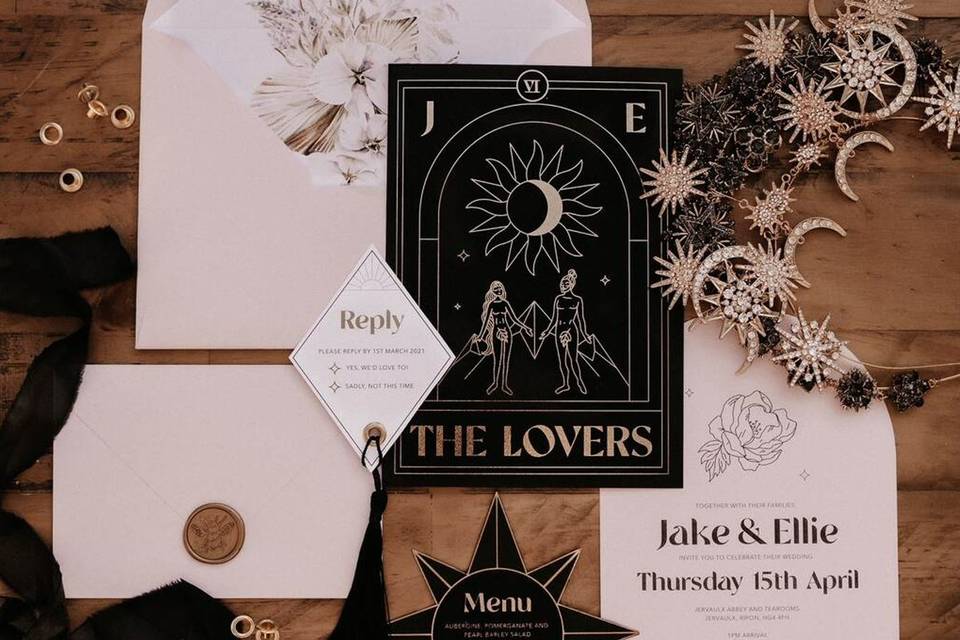 Wedding stationery is the perfect way to give your guests a taste of what to expect at your wedding. Celestial wedding invitations are the perfect pick if you're after a style that's both romantic and modern. This dreamy theme is versatile, stylish and adds a hint of metallic glamour to your wedding theme.
When searching for the perfect wedding invitations, there's a lot to consider. From finalising the invitation wording and researching how much invites should cost, to telling people they're not invited (we have an article for that…) and knowing when to send your save the date cards, there's heaps to remember.
Admin aside, choosing your wedding stationery look is one of the most enjoyable tasks on the wedding planning to-do list. If you're half as obsessed with star-themed weddings as we are, you'll adore our round-up of the most dreamy celestial wedding invitations.
Celestial Wedding Invitations: 16 Starry Designs
Prepare to fall madly in love with these magical star-themed wedding invitations. The celestial wedding style has never looked so good.
1. Simple Gold Foiled Star Wedding Invitation - £POA, Otto & Nibs
Those who love the celestial wedding theme but want a set of invitations that are more understated and simplistic will love this minimalistic design by Otto & Nibs. The simple wedding invitation is classy and modern, perfect if you're after invites that complement a muted colour scheme.
2. Celestial Cotton Paper Wedding Invitations - From £4, Page & Co
Paige & Co offer a luxurious celestial wedding stationery set that is just breathtaking. The handmade wedding invitations are made using cotton paper, embossed lettering and gold foiling. The texture of the paper really elevates the design and we love the hand deckled edges.
READ MORE: Glamorous Foiled Wedding Stationery Designs
3. Tarot Celestial Wedding Invitation Design - Set From £25, Mama Inc. Studio
Calling all spiritual couples, these starry tarot wedding invitations from Mama Inc Studio could be the design for you. The marriage between celestial stars and floral illustrations is one we can totally get on board with - two gorgeous themes in one design, what's not to love?
4. Starry Night Celestial Wedding Invitation - £POA, Somers Creative
This starry night wedding stationery design brings the gorgeous night's sky to life. The perfectly placed detail and contrast between the dark background and gold font make this star-themed wedding invitation a dreamy pick for a special celebration.
5. Night Sky Wedding Invitation Design - From £0.86, Hitched
Ever since the Hitched wedding stationery launch, we've been obsessed with this design. The luxurious colour palette and unique paintbrush effect are reminiscent of a night's sky. The design offers a nod to the celestial theme and is less literal than other star-themed wedding invitations.
READ MORE: 9 Ways to Save Money on Your Wedding Invitations
6. Moon and Stars Celestial Wedding Invitation Pack - From £5, No Ordinary Gift
Celebrating the celestial wedding theme perfectly, this sample wedding invitation pack from No Ordinary Gift is super easy on the eyes. The gold foiled design comes as a non-personalised sample pack, and at just £5, is a cheap try-before-you-buy option for those who want a tester before committing to a full order.
7. Simple Stardust Celestial Wedding Invitation - From £2.30, Lilac and White
Minimalist wedding invitations have never looked so good. The modern cursive font is super chic and we love Lilac and White's take on the celestial design. Pencil-drawn stars are an alternative way to pay homage to the theme - it's an ideal pick for couples who want a starry theme without the metalic and sparkle. In this instance, less is definitely more.
8. Celestial Night Sky Wedding Invitation Set - From £2, Sincerely May
Nestled comfortable at the opposite end of the spectrum is this celestial wedding stationery set from Sincerely May. The galaxy theme has been fully realised here and we're a tad obsessed. There's something really romantic and magical about a starry galaxy.
READ MORE: 28 Super Unique Wedding Invitations
9. Gold and Black Celestial Wedding Stationery - £POA, Letters From Emily
Black and gold is a glamorous colour scheme that really works with this celestial wedding invitation. The shooting stars and moon details are super cute and we love the contrast between the white and black backgrounds for the different inserts.
10. Gold and White Starry Wedding Invitation - From £1.29, Feel Good Wedding Invitations
Nothing says luxury quite like gold foiled wedding invitations. This starry wedding stationery set takes the celestial design one step further with the added detail of an envelope insert. Finished with a personalised wax stamp, your guests will be beyond excited for your special day when they receive these in the post.
11. Botanical Starry Wedding Invitation Set - Set of 20 From £15, Mama Inc. Studio
Another vellum design, and it's a beauty. Mama Inc Studio are so good at blending stars and botanical designs to create unique and elevated wedding invitation looks. Couples after something a little different will love this style. The invitation is bound by a gold buckle which is adorned with an adorable gold star charm and you can alter the foil colour if silver or rose gold is a better fit for you.
READ MORE: Beautiful Floral Wedding Stationery
12. Starry Sky Gold Foiled Celestial Wedding Invitation - From £0.86, Hitched
You can't go wrong with gold and navy - it's a tried and tested colour pairing that will just never go out of style. This sleek design is embellished with gold specks that are reminiscent of stars in the sky. Similarly to the above design, Hitched stationery allows you to edit the background colours as well as the foiling to tailor the design to suit your style.
13. Cosmic Love Celestial Wedding Stationery Set - £POA, Paper Swan Stationery
How pretty is the cosmic love set from Paper Swan Stationery? The gold lettering is stylish and really stands out against the dark backgrounds. What better way to celebrate a star themed wedding than with this celestial wedding invitation set?
READ MORE: How To Make Your Own Marble Wedding Invitations
14. Foiled Vellum Moon and Stars Save the Date Invitations - From £1, No Ordinary Gift
How beautiful are these starry save the date cards? The vellum style is luxurious and chic and we love that it comes with a 'pencil us in' token. Your guests get a gorgeous star themed wedding invitation and an early pre-wedding wedding favour all in one. What a nice touch!
15. Starry Night Wedding Stationery With Moon Detail - £POA, Letters From Emily
Shooting stars, golden foil, an enchanting sky background - we could spend hours listing all the things we love about this celestial wedding invitation set. There's something so mystical and enchanting about this wedding invitation design - we can't take our eyes off it.
16. Blue and Silver Starry Wedding Stationery - From £5, Project Pretty
While most star wedding invitations have taken on a gold colour scheme, this celestial design has gone for a silver and pastel blue palette that we just love. Perfect for a winter wedding, this metallic design has a festive feel to it and would suit a Christmas-themed wedding in the colder months.
READ MORE: Gorgeous Christmas Wedding Invitations
If you're looking to order your wedding stationery online, check out our round-up of the best websites for ordering wedding invitations.