15 Irish Wedding Traditions to Include on Your Big Day
From handfasting and locking the church door, to wearing a blue wedding dress and wearing your hair in braids, here are 15 Irish wedding traditions
We have included third party products to help you navigate and enjoy life's biggest moments. Purchases made through links on this page may earn us a commission.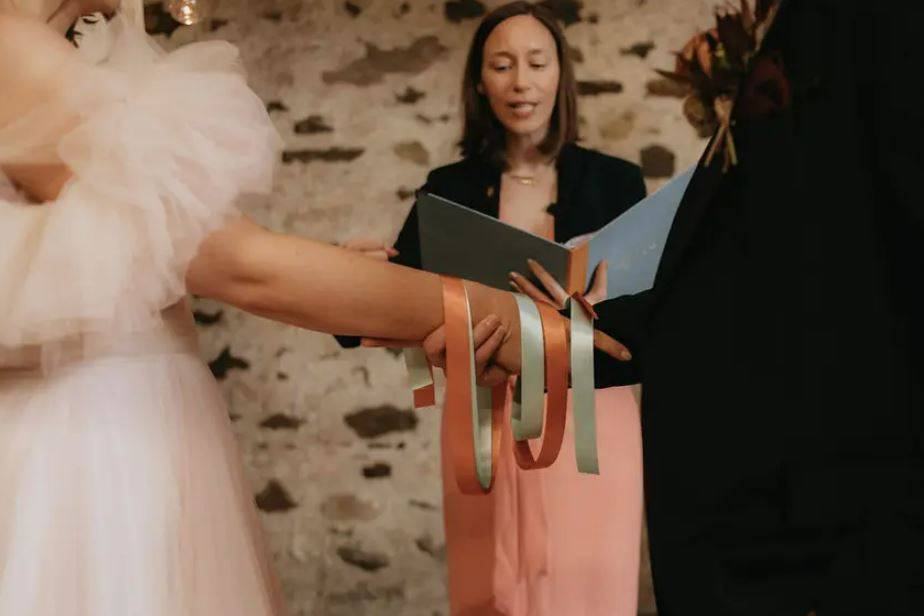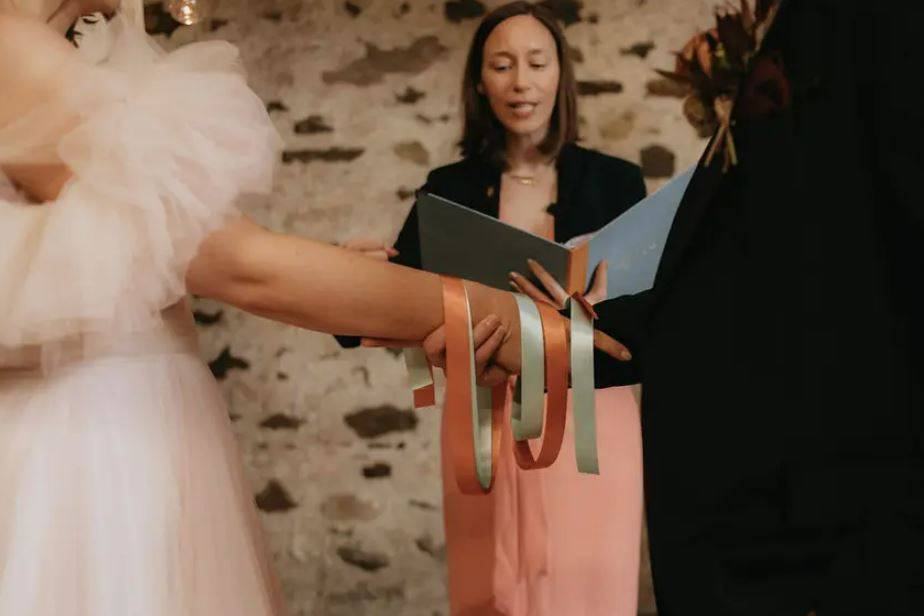 If you or your partner have Irish heritage, or live in Ireland, you may want to consider incorporating some Irish wedding traditions into your special day.
Whether it's just one or two nods to your Irish background, or you're planning on having a wedding filled with unusual Irish wedding traditions, we have the low-down on what they are and some great advice on how you can modernise the old classics to suit a 21st century wedding.
On the list are some heartfelt wedding traditions you'll love, and some crazy wedding traditions you can definitely skip.
What Are Irish Wedding Traditions?
With some dating back centuries, Irish and Irish Catholic wedding traditions are things that were historically done in Irish weddings because of superstitions or rumoured omens. Some of the wedding traditions in Ireland are fairly easy to incorporate in a modern wedding with little or no tweaking.
Others, however, are much more rare and are more likely to be seen in more rural parts of Ireland where traditions play a much bigger role in day-to-day life.
15 Irish Wedding Traditions You Can Modernise
If you're planning on paying homage to your Irish roots, consider including one or more of these well-known Irish and Irish Catholic wedding traditions. From blue wedding dresses and Irish tipples, to Irish kilts and Celtic symbols of luck, there's bound to be an Irish wedding tradition or two that you'll want to include in your wedding day.
1. Handfasting
We've all heard the expression 'tying the knot', but did you know this originated from the Celtic tradition of handfasting? Handfasting ceremonies are an ancient Irish tradition where the couple hold left hand to left hand and then right hand to right hand with their wrists crossing over. A ribbon is then wound around their wrists and over their hands to symbolise the couple being bound together.
Interestingly, the personification of 'tying the knot' is commonly associated with modern-day humanist wedding ceremonies and you can choose ribbons or ties that match your wedding colour scheme. If you want to combine two Irish wedding traditions, why not opt for using Irish lace, or fabric made from your county's tartan?
2. Wearing Celtic Symbols
Traditionally, brides would have their Irish wedding dresses made-to-order with Celtic symbols embroidered onto their gown. Using white lace and stitching, nearlyweds would embellish the gown with knots, shamrocks or crosses. If a specially made Irish wedding dress isn't for you, but you still want to invoke this tradition, choose a simple wedding dress and have a seamstress adorn it with your favourite Celtic symbols.
This tradition can also be used on alternative wedding dresses and outfits such as wedding suits, jumpsuits and non-binary wedding outfits.
3. Wear a Claddagh Ring
A well-known Irish wedding tradition is for couples to wear a Claddagh Ring. This significant Irish ring was first produced in the 17th century and the design is named after the fishing village of Claddagh near Galway. The wedding ring is a symbol of friendship, love and marriage which is so fitting for a wedding day.
Traditionally, the Claddagh ring is passed down through the female generations of the family and if you are single then you wear the ring on the right hand with the point of the heart facing the fingertips. If you are in a relationship then the ring is worn with the heart pointing towards the wrist. Once engaged, the ring is worn on the left hand with the heart pointing towards the fingertips and once married it will be worn on the left hand with the heart pointing towards the wrist.
Of course, if you don't have a Claddagh heirloom in the family then there are a number of jewellers and brands who sell modern and traditional takes on the ancestral Irish ring.
4. Lock the Church Door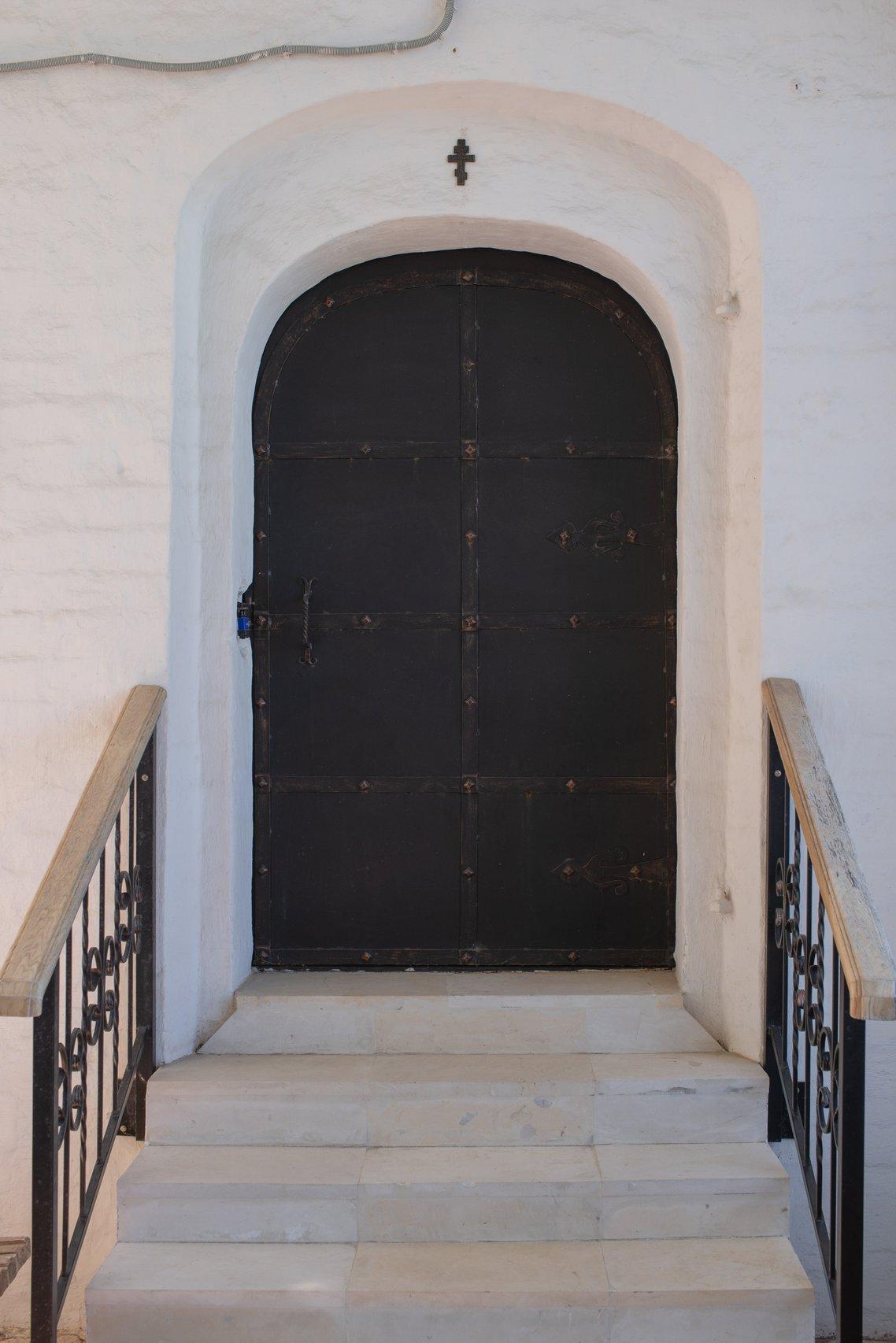 Irish grooms were traditionally thought to get cold feet on their wedding day so when the bride arrived at the church the wedding guests would lock the happy couple in the church so the groom had no chance to escape (eek!).
Cold feet on the wedding day are not unusual - getting married is a huge commitment! Whilst we're not recommending that anyone be locked in with no escape - this could be quite a funny Irish wedding tradition to incorporate into your wedding ceremony. You could make a big thing about the door being locked and 'throwing away the key' so no one can change their mind. This old tradition could be a great way to get your guests laughing.
Sorry to be a snooze - we don't want to spoil anyone's fun - but make sure you check with the church's health and safety policy to ensure you're actually allowed to lock the door...
READ MORE: How to Deal with Wedding Day Nerves
7. Play Traditional Irish Wedding Songs
A great way to play homage to your Irish heritage is through music. You can incorporate traditional Irish wedding songs such as 'The Wedding March', 'Wild Mountain' or 'The Kingdom Come'. These can be used as recessional songs, the first dance song or even in your wedding video. You may also want to include some traditional Irish hymns if you're having an Irish Catholic wedding or a religious Irish wedding.
A modern alternative to this would be a trendy Irish folk band or more recent Irish music such as The Corrs rendition of 'Haste to the Wedding' or Ed Sheeran's 'Galway Girl' - we all know Ed Sheeran does a great wedding song!
6. Wear a Blue Wedding Dress
Do Irish brides wear a blue wedding dress? The traditional answer is yes. The colour blue has historically been associated with purity in Ireland, so many Irish brides would choose this meaningful hue for their wedding day. You could opt for a beautiful coloured wedding dress, there's plenty of blue bridal gowns to choose from nowadays.
However, if you want a more subtle nod to the 'something blue' tradition, consider blue undergarments, accessories or even a blue veil to match a white dress.
READ MORE: Totally Unique 'Something Blue' Ideas
Considering this is an old Irish tradition, wearing a blue dress or accessory could be seen as a rather modern and quirky touch for most people, as white is widely known as the traditional colour for bridal gowns in the United Kingdom.
7. Incorporate Lucky Symbols
In Irish tradition, there are a number of symbols deemed as 'lucky'. The horseshoe is a symbol of good luck but if you choose to use it as décor or as part of your wedding outfit, ensure it is pointing upwards as that is said to stop the luck from running out. Along with the horseshoe, there are a number of other Irish symbols of good luck such as shamrocks, knots, crosses, rainbows and harps.
Traditionally, couples would incorporate these in the form of hanging decorations or as part of their wedding jewellery. If you're after a more modern take, why not consider using these symbols in your wedding stationery design, or delicately-shaped confetti? You could also have dinnerware with one of the symbols on, or have some embroidered into accessories such as your veil or designer wedding shoes.
8. Have Your Hair in Braids
One of the Irish wedding traditions that is super easy to incorporate into a more modern wedding is wearing your hair in braids. You could easily take a leaf out of Millie Mackintosh's book and don a gorgeous braided wedding hairstyle. Braided hair is traditionally a symbol of power and luck in Ireland so many Irish brides chose to wear this hairstyle on their wedding day in the hope that it brings them the same well wishes.
No matter what your wedding and personal style is, your wedding hair stylist will be able to find a braided wedding hair style for you, be it a traditional style or a modern take on the look.
If you aren't a huge fan of braided hair and prefer a simple wedding hairstyle, consider using this Irish good luck charm for members of your wedding party.
9. Wear Wild Flowers in Your Hair
Another stylish tradition that can be given a modern twist is wearing wild flowers in your hair. This Irish wedding tradition is a super pretty one that can be tailored to suit any theme or colour palette. Traditionally, Irish brides would wear a wreath of wild flowers in their hair in place of a more formal wedding veil.
If a flower crown is not your vibe, consider other ways of incorporating fresh wild flowers into your wedding look such as a wreath around your wrist, a cute floral hair accessory, wild flowers in your bouquet or having just a few added to your hair look without using the traditional wreath shape.
10. Have a Magic Handkerchief
The 'Magic Hanky' is a sentimental Irish wedding tradition that dates back centuries. The newlywed would historically carry an embroidered handkerchief on her wedding day and when the couple's first child is born, that same hanky will be sewn into the baby's bonnet or become part of the Christening gown.
Another tradition that is really easy to replicate in modern Irish weddings, the handkerchief could be sewn into the lining of your dress if you didn't want to carry it around, or be kept in your pocket if you have a wedding dress with pockets or opt for a wedding suit or jumpsuit.
11. Wedding Bells
The sound of ringing bells is traditionally said to keep evil spirits away, restore harmony and to give couples a reminder of their wedding vows. You could have your wedding celebrant or toast master ring bells at important points throughout the ceremony or wedding breakfast to honour this tradition.
For a more modern take, consider music with bells as part of its make-up or wear a bracelet of tiny bells that you can then wear again and again after your wedding.
12. Irish Tartan Kilts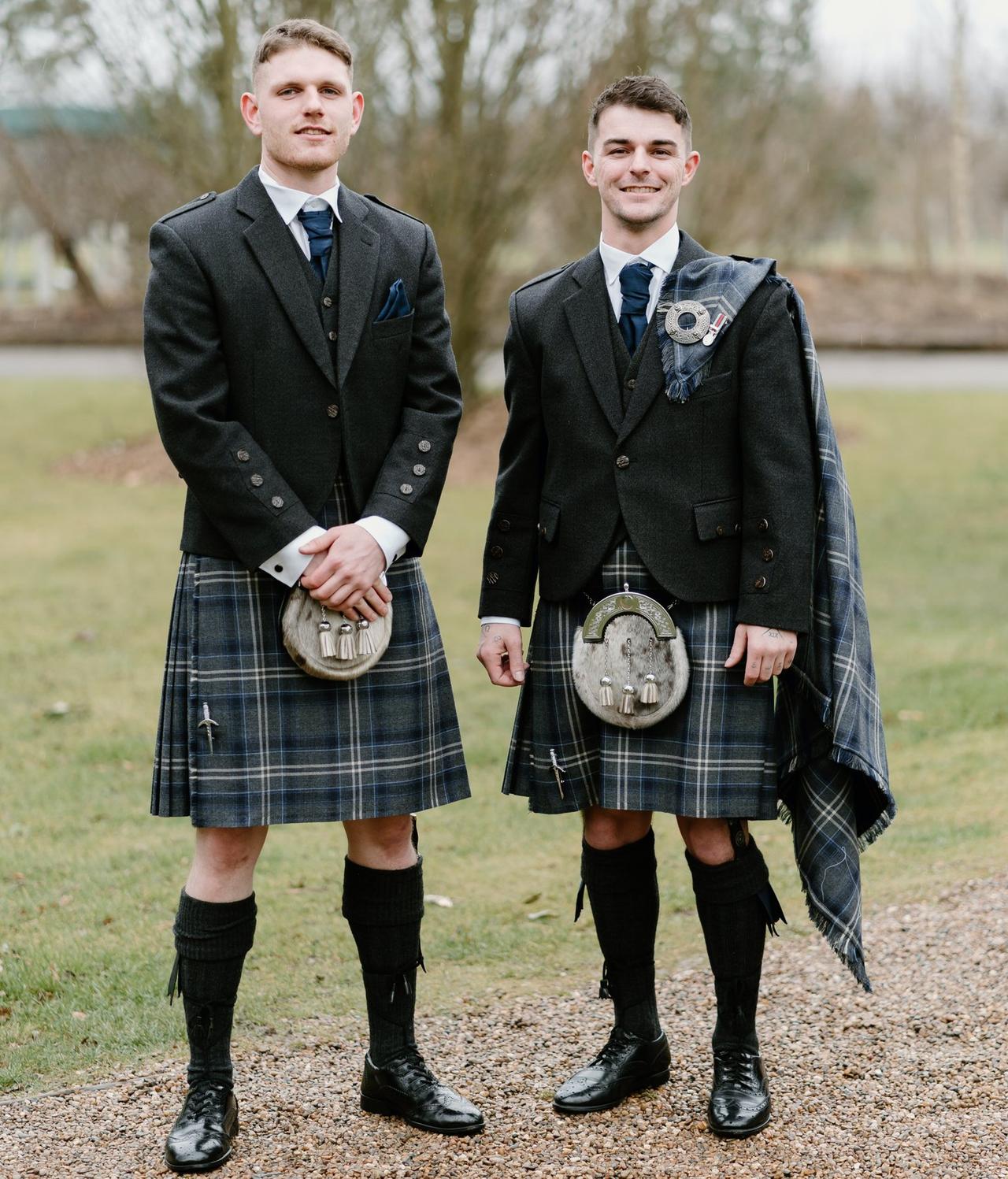 Traditionally in Ireland, kilt tartans represent the different counties and districts, as opposed to Scottish kilts which represent different clans. As well as the county-specific tartans, there is also an Irish national tartan which can be worn.
For a classic take on the Irish wedding kilt, members of the wedding party can wear a Brian Boru jacket with a bow tie, tux shirt and knee-length socks with matching ribbons along with a Ghillie brogue shoe and a Sporran with shamrock design.
For a more modern take on the look, consider wearing your county's tartan or the national design as a trouser suit in lieu of the kilt style, or have the tartan material sewn in as the insert to your classic wedding suit. Irish tartan can also be incorporated into your wedding stationery, table runners and even on your wedding accessories. Tartan-bottomed shoe anyone?
13. Announcing the Dowry
This is one of the most ancient Irish wedding traditions that, for many, won't be relevant. A tradition that was historically well established in rural Ireland, families would announce the land that belonged to the bride - the land she was effectively 'bringing' to the marriage.
It'll come as no surprise that this tradition has been almost wholly relegated but in some rural parts of Ireland, it is still noted if someone brings land with them to the marriage - how very Bridgerton!
READ MORE: 23 Regal Bridgeton Inspired Wedding Ideas
14. Giving Blessings
Most Irish wedding receptions, both traditionally and today, will have several rounds of blessings and wedding toasts. The people delivering this traditionally include family members, members of the wedding party, friends, and almost anyone else who wants to give well-wishes to the happy couple - and this is all before the traditional toasts begin. Browse more Irish wedding poems here.
You'd need to make sure you had a full glass and take small sips to survive all of those 'Sláinte!' moments.
Modern-day couples may want to include a small handful of traditional Irish blessings and those who want to keep timings tight could even use the blessings in lieu of wedding readings. Here's an example of a lovely Irish blessing that you could use.
'May your mornings bring joy and your evenings bring peace.
May your troubles grow few as your blessings increase.
May the saddest day of your future
Be no worse than the happiest day of your past.
May your hands be forever clasped in friendship
And your hearts joined forever in love.
Your lives are very special,
God has touched you in many ways.
May his blessings rest upon you
And fill all your coming days.'
15. Irish Tipples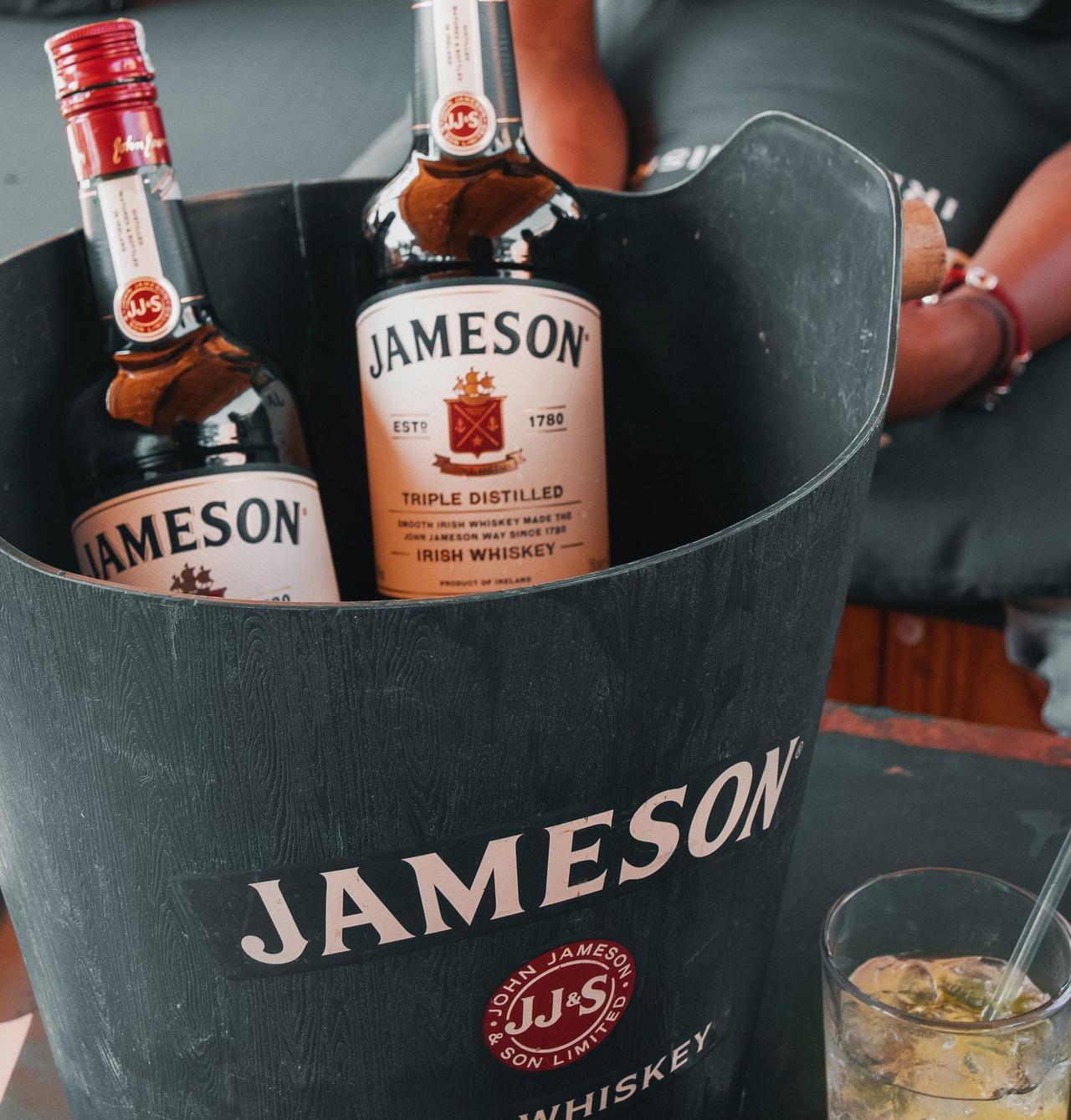 Easily incorporated into any wedding, you can sip on traditional Irish drinks all day long at your wedding. Meade is the oldest drink in Ireland and, in Medieval times, the married couple would toast each other with goblets full of the old Irish drink - and they'd do this every day for a month (or one cycle of the moon - which is where the term 'honeymoon' originated).
Those who want to incorporate more mainstream Irish drinks into their wedding day can opt for Irish whisky, Irish cream liqueur, Irish coffees cocktails, and of course, popular Irish ciders and beers such as Guinness. Couples who want to take this wedding tradition one step further can choose to give out alcoholic wedding favours like miniature bottles of Irish whiskey or cocktail kits for a traditional Irish coffee.
7 Ancient Irish Wedding Superstitions
If you're a spiritual couple who believes in good omens and superstitions, you'll want to hear these ancient Irish wedding superstitions and know what the do's and don'ts are to ensure the best of luck at your Irish wedding.
1. Eating Salt
Couples would eat some salt with oatmeal on their wedding day to warn off evil spirits.
2. Tossing Shoes
We've all heard of rice or confetti being thrown over couples as they leave their ceremony as a wedded couple - but in Ancient Irish times, it was seen as tradition to hurl shoes over the newlyweds. We're not sure what's lucky about being knocked out by a pair of stiletto heels, but that's what they did!
READ MORE: Gorgeous Wedding Confetti Photographs We Absolutely Adore
3. Lucky Birds
It was rumoured in Ancient Irish times that hearing a cuckoo bird or seeing three magpies together would give a couple good luck. Whether it's true or not, we'll never know.
4. The Child of Prague Statue
Putting a statue of the Child of Prague in the garden of newlyweds before the wedding was said to ensure the couple's wedding was blessed with good weather - a tradition much needed in the United Kingdom. Some would take this tradition even further and bury a statue in their garden.
READ MORE: 14 Genius Ways to Make Rain on Your Wedding Day Work
5. Breaking The Cake
One tradition that could end in the food fight to end all food fights was mother-in-laws breaking a slice of wedding cake over their new daughter-in-law's head. It was said to guarantee a good relationship between the two as they become family. We're not sure how cake crumbs in the bride's gorgeous wedding hair would encourage anything positive.
6. Get Hitched During Harvest
It was said, historically, that getting married during a time of 'plenty' such as a harvest would offer good luck to any couple getting married. This was thought to be because a time of new beginnings and prosperity would offer the same good omens to newlywed couples.
7. Washing Hands Separately
Whilst washing hands on your wedding day is never to be discouraged (germs and all that!), it was said that the couple should never wash their hands together in the same sink on their wedding day otherwise they'd curse themselves with misfortune and bad luck. So remember, separate sinks at all times.
Still need to book your venue? Take a look at our round up of the best wedding venues in Northern Ireland.