Wedding Hairstyles: 61 of the Best Bridal Hairstyles for Every Hair Type
From bouncy blow dries and Hollywood waves, to braided buns and sleek styles, these wedding hairstyles are the best around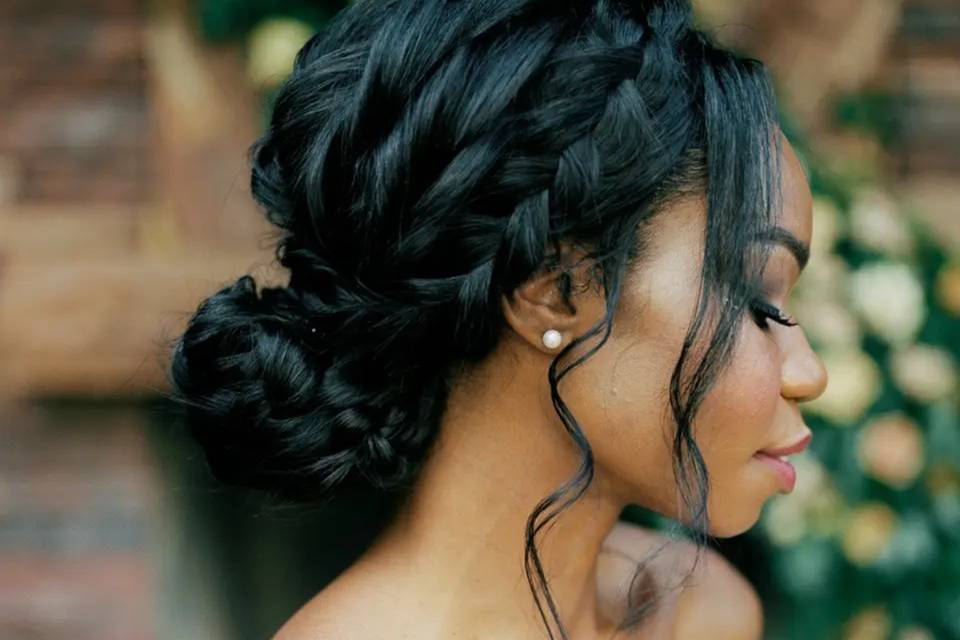 Before booking your hair and makeup artist, you first need to decide which kind of wedding hairstyles you like, and which ones will suit you on your big day - and making that decision isn't easy. Wedding hairstyles are so diverse these days, and the only limit to what you can have is your imagination, so how do you choose a wedding hairstyle that's perfect for you?
Well, the first step is to gather as much inspiration as possible - and for that, you've come to the right place. Having hundreds and thousands of beautiful bridal hairstyles to browse takes far too long, especially when you have a wedding planning checklist to get through, so we've decided to help you out.
For this roundup, we've gathered a selection of the best bridal hairstyles out there, with everything from wedding hairstyles for long hair, to medium length ideas, and expert advice on how to dress up a bob hairstyle for a wedding. We've literally covered everything so you don't have to.
Wedding Hairstyles: 61 of the Best Bridal Hairstyles for Every Hair Type
Starting with updo hairstyles for weddings and moving through every hair length possible, here you can browse the 61 best bridal hairstyles for every style of nearlywed. Whether you're having a rustic wedding and want a boho hairstyle to match, or you're keeping things classy and need a bridal hairstyle that'll keep your look elevated - our guide has something for you.
In a hurry? No problem! Skip to the bit you need with the links below, and don't forget to check out the expert tips and advice we've sourced from wedding hairstyle experts, who certainly know what they're talking about.
Updo Hairstyles for Weddings
If you're having a summer wedding and want your hair up, or want a detailed do, consider updo hairstyles for your wedding day. From formal buns and braided styles, to loose curls and twists, these updo wedding hairstyles will leave you spoilt for choice.
1. Braided Low Bun With Loose Curls
If you're after a soft, romantic updo wedding hairstyle, use this low braided bun by Chris Becks as inspiration. The braids add gorgeous texture and continue into the bun, and the lose curls which hang at the front add an additional softness and frame the face beautifully.
2. Twist & Fold Pearl Bun Updo
Combining twists, curls and folds is this chic wedding updo hairstyle created by Emma Forlettas. The scattered pearls are perfectly positioned to add glamour to the look, and the bun sitting at the nape of the neck shows off all of that lovely texture at the crown of the head.
3. Casual Wedding Updo Hairstyle With Natural Curls
If you have naturally curly hair or hair with texture, don't be afraid to show it off with your wedding updo. This low bun has been swept back carefully so as to not disguise the curly texture of the hair. We also love that the fringe and front hairs haven't been over-styled, and look natural and effortless. Jessica Short has not disappointed here!
4. Boho Braided Updo With Flowers
Yass braids - that's what we're talking about. Victoria Louise Bridal have nailed this braided updo. It's so intricate and detailed, yet still feels relaxed and beachy. Although this look probably took hours to create, it has an effortless feel to it, exacerbated by the lose hairs and gorgeous visible roots.
5. Celestial Pearl Updo Wedding Hairstyle
Elevate a simple wedding updo with a pearly hair accessory like Something Blue have done here – pearls look especially lovely contrasted again brunette hair. You can browse our favourite pearl wedding dresses here if you love the pearlcore trend as much as we do. We also love the celestial look of the hair accessory, perfect for star-obsessed nearlyweds with an eye for style.
6. Braided Wedding Updo With Love Clips
Add statement clips to a braided bridal updo for an ultra-modern take on wedding hair. We love, love, love this look from Something Blue - the thick braids make such a statement and we're obsessed with the 90's high bun. Let's bring it back people!
7. Low Loose Bun With Pearl Details
A scattering of pearls in a loose, slightly undone updo makes for a relaxed yet glamorous look, perfect for those looking for a boho wedding hairstyle who also want their hair to look and feel glamorous at the same time. We love this style by Something Blue - they have balanced this style so well.
8. Regal Curly Updo With Crown
This curly updo wedding hairstyle is giving us serious Bridgerton vibes, and we're not at all mad about it. The looseness of the curls and the way they've been pinned brings this regal hairstyle into the modern day, and pairing it with a crown as simple and stylish as this one was a genius move by stylist James WIlson.
9. Braided Wedding Hair & Bun
If braids leading into a low bun aren't your style, why not opt for a do like this which sees braided hair wrap the top of a low-hanging bun? It's a really nice twist on the popular look and the addition of gypsophila makes it stand out even more. The look was crafted by Jessica Short and it's been executed perfectly.
10. Twisted Wedding Updo With Foliage
Continuing the theme of bringing the outdoors, in, is this whimsical wedding updo styled by Katie James Hair. The amount of effort and level of skill that's gone into this style is undeniable, and the addition of foliage makes it perfect for a rustic or woodland wedding.
11. Confetti-Themed Updo Hairstyle
Hairstylists Lipstick and Curls have shown us something we've never seen before - and that never happens. But we can safely say this is the first time we've seen confetti incorporated into a wedding hairstyle - and we love it! It's so fun and such a unique idea. Admittedly, it's probably taken after the confetti photos were shot, but we say add the confetti first thing - look how pretty it looks!
12. Twisted Wedding Updo With Glamorous Accessory
This stylish twisted bun by Francesca Bridal Hair is a romantic look that would suit a multitude of hair colours and wedding styles. The hair accessory is beautiful, but could be swapped for something more modern or eclectic if that better suits your style. The curls hanging from the bun add a more relaxed feel to what usually is a fairly modern hairstyle.
13. Boho Updo With Full Flower Crown
For a summer wedding theme, flower crowns are pretty much non-negotiable, especially when styled as beautifully as this one. This wedding updo by Fai Archer brings the flower crown all the way around the head, resting just above the low-hanging bun, and the curls at the front help to shape the face in a really flattering way.
14. Formal Sleek Side Bun & Fringe
How glamorous is this wedding updo styled by Chris Becks? Nearlyweds who want more of a formal, sleek style can use this as inspiration. The design combines Hollywood curls which frame the face, with a beauty-pageant-style side bun - all adorned with glamorous sparkly hair clips. How beautiful!
15. Rose-Style Twisted Wedding Updo Hairstyle
If you're planning on having a wedding bouquet filled with roses or peonies, why not opt for a hairstyle which emulates their petals? This updo styled by Imperial Hair has twisted and manipulated the hair so it looks like a literal flower - absolute genius!
16. French Twist Classy Wedding Updo
On the topic of wedding hair that looks floral, how much does this classic French twist hair by Francesca Bridal remind you of a sweet tulip? This classy wedding do is one of our favourite wedding hairstyles because of its simplicity - it's one that'll never go out of style.
17. High Folded Bun Updo
If a low bun isn't your style, why not take the classic chignon and bring it up to the centre, like Emma Forlettas has? The way the hair has been scraped up in this wedding updo really showcases the beautiful back of that wedding dress, and a single loose curl has been let down at the front to add softness to the style.
18. Loose Twisted Wedding Updo
Pair a bold wedding hair colour with a low-key, relaxed wedding hairstyle and a subtle accessory for a pretty suits-all hairstyle, perfectly demonstrated with this look by NB Wedding & Bridal Hair. The hair has been twisted inwards to create gorgeous folds and we love the wisps that have been intentionally left out.
19. Braided Wedding Updo Hairstyle With Gypsophila
Having gypsophila in your wedding bouquet? If so, why not add some to your wedding hair? The floral touch really goes well with this braided bun hairstyle. The braids add texture to one side of the head and even the bun itself had folds that replicate those in a plat. Gorgeous work from Hair Creations by Colette.
20. Classic Wedding Chignon Hairstyle
Nothing says 'wedding-day hair' quite like a chic chignon and we love this one by Hair Creations by Colette. Leave face-framing tendrils loose to soften the look, and as you can see here, this style of do works perfectly for those with a fringe.
21. Low Curly Bun With Sparkly Clip
This nearlywed actually has fairly short hair, which sits above her shoulder. Her stylist, Fai Archer Hair & Makeup, used padding to create her messy bun, proving even the shortest hair can be teased into impressive wedding styles.
22. Vintage Beehive Updo Hairstyle
If you're a retro bride who wants a vintage wedding hairstyle, why not take tips from this striking beehive hairdo created by Le Keux Vintage Salon? The bright colour really makes it stand out, but the do would look just as cool on any hair colour. We particularly love the curl and height in the fringe - such a nice touch.
23. Curly Vintage Pinned Updos
While we're talking vintage, we just had to show you these brides' vintage updos, created and styled by Lipstick and Curls. Though different in style, both brides have opted for vintage-inspired hairdos which see their hair curled and pinned in the most striking way - and the vintage-style headbands complete the looks perfectly.
Short & Bob Hairstyles for Weddings
Having short or bob length hair gives you so many options for a really striking, bold wedding hairstyle. Don't let a lack of length restrain your vision - whether it's loose waves or a retro curl, these short wedding hair ideas are bound to impress you.
24. Sleek Short Wedding Hair With Headband
If you want to embrace your short hair on your wedding day, why not slick it down for a sleek and fashionable look? Headbands like the one used here add the perfect amount of detail, and look great when a side parting is used. This style was created by Lucille & Co and pairs so well with a simple veil and dress.
25. Slicked Bun for Short Hair
Another slicked-down wedding hairstyle is this one created by James Wilson, proving that nearlyweds with slightly longer hair, or bobs can rock the sleek style as well. This bridal hairstyle uses a side parting, but if you prefer a middle one, it'll look just as nice.
26. Straight & Simple Bob Wedding Hair
Modern, stylish nearlyweds should embrace their bob hair with a simple and straight do. This bride has been styled by Ruby Peacock, and the middle parting and straight blow-dried hair give her the most sophisticated and classy look. You could go for one side tucked behind the ear, or let both sides frame your face - the choice is yours.
27. Choppy Short Wedding Hair
Lucille & Co have absolutely mastered the art of styling short bridal hair. Take this hairstyle for example, the choppy cut has been styled so well, with every strand positioned perfectly to shape the bride's face in a flattering way. The bright blonde looks so good in this sort of style, but brunettes and redheads could also rock this for a bold look.
28. Bouncy Bob Bridal Hair With Curly Finish
Another one of our favourite Lucille & Co designs is this bride's natural wedding hair. By pinning back a fraction of the hair on one side, they have made the rest of the bride's beautifully curly hair look and feel even more bouncy and voluminous. We do love a curly wedding hairstyle.
29. Glamorous Hollywood Curl Bridal Hair
Don't let anyone tell you that bob hair can't be styled into glamorous Hollywood curls. Lipstick and Curls have done an amazing job at styling this bride's short hair into soft curls. It's less structured than traditional Hollywood waves, but you could go tighter if that's the look you prefer.
30. 1920's Short Bridal Hairstyle
Another retro-inspired bridal hairstyle is this 1920s vintage look styled by James Wilson. The curls are bouncy and run the same wave, but again, they are less structured than traditional 1920s hairstyles, and we actually really like that.
31. Big Bouncy Wedding Hair
If you have naturally voluminous, curly hair, embrace it on your wedding day! We love the texture and natural feel of this wedding look, styled with the help of Millie Makeup.
32. Bob Wedding Hair With Soft Curls & Fringe
This bride has opted for soft curls and a tousled look for her bob hair, and we think she nailed the decision. Styled by Lipstick and Curls, they have masterfully designed the hair so her fringe leads seamlessly into the loose curls. It looks bouncy and ever so shiny.
33. Soft & Simple Natural Curls
Having short bob or shoulder-length hair means that when you curl it, it adds so much volume and bounce to your final hairstyle - as shown here. Styled by The Bridal Stylists, this curly wedding hairdo is simple and soft, embracing natural-looking loose curls.
34. Curly Ponytail With Headband
Short wedding hairstyles look so good when paired with bold accessories, and Adele Artistry definitely understood the brief here. Pairing this slicked-back ponytail with an art-deco style headband creates such a striking wedding-day look. And you can remove it for the evening if you want a more relaxed feel.
35. Curly Wedding Bob With Side Pinned
You know by now how much we love when one side of the hair is pinned back, and this hairstyle styled by Samantha Price proves why. Pinning one side makes the rest of the hair look even more voluminous and tight curls on a choppy bob gives us all the feels.
36. Textured Short Wedding Hair With Headband
How striking is this short wedding hairstyle by Unveiled Glam? They have ensured that the curly texture of the hair stands out, and pairing such a short cut with a sparkly wedding headband lets it really stand out become a hero piece.
37. Twisted Curly Bob With Pearls
Light waves, a subtle twist and a delicate hair accessory creates a pretty short wedding hairstyle, as seen with this look created by Jessica Short Hair & Makeup.
38. Loose Curls With Real Flowers
Real orchids and softly defined waves add a delicate touch to this short-length wedding hair, proving that your hair doesn't have to be super thick or long to look amazing in curls. This style by Something Blue would go perfectly with a beach wedding dress, too.
How to Dress Up a Bob Hairstyle for a Wedding?
"Bobs are definitely in this season, and I love the idea of embracing natural beauty with short hair and something that requires effort and skill, but looks effortless at the same time. Be it defined ringlets, or beach waves, with a dash of volume and shine - nearlyweds with bobs shouldn't feel constrained to certain styles!" says Nitasha Christian from Imperial Hair.
Adding to this, Nancy Mobhe from Unveiled Glam says, "For styling bobbed wedding hair, I'd advise you to give it texture first and foremost. Then, when it comes to the style, you could create a vintage retro look with waves, or make it sleek or, !+(my absolute favourite!) pin the hair behind the ear on the side add volume on the other."
Giving another take on bob hairstyles for weddings, Brides by Becky says, "My favourite way to dress up a bob is to have a gorgeous braid coming round one side and to give the hair some texture and movement with a GHD wave. This is very pretty and stylish."
Wedding Hairstyles for Long & Medium Length Hair
With a little more length, there are some pretty cool things you can do with your barnet. These wedding hairstyles for long hair and medium alike prove just how much can be done with a bit of extra hair. From braided ponytails to Hollywood waves, long wedding hair has never looked so good.
39. Pink & Purple Long Ombre Hair
Who says wedding hair has to be traditional? If you've long had pink or blue hair, keep it that way for your big day so you feel like the best version of yourself. We love this look by Something Blue. For more ideas like this, see our favourite half up half down wedding hairstyles.
40. Long Hair With Highlights & Braids
If you have ombre or highlighted hair, we strongly suggest you consider having it braided. The warm tones will stand out so much in a boho-style braid, like this one by Hair Creations by Colette. The beachy waves match the braids perfectly and the jewels add glamour to the look - but the hair would still stand out without them.
41. Simple Loose Waves on Long Bridal Hair
Just because you have really long hair, doesn't mean you need an elaborate bridal hairstyle if that's not really your thing. This bride, styled by James Wilson, has opted for loose beach waves and they look amazing on her!
42. Fishtail Braided Long Wedding Hair
From simple to something that's far from it, take a look at this quirky style by Lara Stokes. The hairstylist has created a long fishtail braid with lots of different textures to it, and left the rest of the hair naturally straight. It's a super boho look that'll look amazing on nearlyweds who have that taste.
43. Loose Curly Wedding Ponytail
Perfectly suited to long wedding hair or medium length hair is this loose curly ponytail, also styled by Lara Stokes. The long-form curls have been curled from the top of the hair, giving the crown texture as well as the end of the pony - and you could match the ribbon colour to your colour scheme or bridesmaid dresses for a cohesive look.
44. Medium Length Half up Half Down Wedding Hair
If you're after medium length wedding hairstyles that'll suit any theme or style, this design from Wildflower Hair Company is just the ticket. The hair has been loosely plaited into a half up half down style, and the addition of leafy clips makes it perfect for a rustic or autumn wedding - but switch them to something else to suit a different season or style.
45. Naturally Curly Medium Length Wedding Hair
Pinning back one side of the hair (as you know by now!) is perfect for adding volume, especially if your hair is short or medium length. This curly wedding hairstyle by Jessica Short is naturally beautiful and looks effortless.
46. Big Bouncy Waves on Long Hair
If you're more into big waves than loose ones, you'll love this long wedding hairstyle from Hair Creations by Colette. The curls are much larger and structured than other styles in this round up - similar to the Hollywood curl but not fastened to the head.
47. Long Wedding Hair With Side Ponytail
If you want long wedding hair with a difference, why not add layers to your side ponytail like Lucille & Co have done here? By bunching up sections of the ponytail, and adding a vine through it, this bride has been left with a magical wedding hairstyle that matches her dress.
48. Long Bridal Hairstyle Low Bun & Side Ponytail
From one side pony to another, and this one has a difference, too. Jessica Short's take on a side ponytail begins with a low-hanging bun which leads onto a braided ponytail. The attention to detail here is so impressive and we really like how much volume the hair still has.
49. Slicked Long Bridal Hairstyle With Headband Detail
Long and medium length wedding hair can benefit from a slicked back look just as much as shorter hair can. Ruby Peacock has slicked back this bride's natural middle parting and gently curled the bottom half of the hair to create this pretty bridal hairstyle. Accompanying any slicked hair with a headband is always a good idea, and adds height to what could be a flat finish.
50. Simple Hollywood Waves on Long Hair
Super long wedding hair like this style designed by Jessica Short looks gorgeous teased into long sleek waves and tucked behind your ear with a delicate clip - it would look perfect with a 1920s style wedding dress!
51. High Bunched Ponytail on Long Hair
We're back with another ponytail, but this one was too good to not include. The Bridal Stylists have taken a style which is usually used for low ponytails, and given it height. Having a mid or high ponytail with this sort of volume creates a really memorable bridal hairstyle, and the addition of your wedding flowers will only elevate it further.
52. Blow Dried Medium Length Wedding Hair
Medium length and long hair looks so gorgeous when naturally blow-dried, and it's a great option for those who aren't really into curly styles, but want some volume and shape. The Bride's Makeup worked on this bride's look and we can't stop staring at her shiny blow-dried hair.
53. Hollywood Curls Ponytail
Long wedding hairstyles really don't come more elegant than this look from Hair Creations by Colette. This is the kind of bridal hair that only works on fairly long locks, as the longer the hair is, the more of those big, bouncy Hollywood curls you can get in your ponytail.
54. Loose Fishtail Braid Waves
Embrace your hair's natural texture with this loose fishtail braided hairstyle styled by Wildflower Hair Company. You can even highlight the beautiful braids with a flower or two, or any other hair accessory that catches your eye.
55. Braided Wedding Hair With Gold Clasps
We love a braid moment and this braided wedding hairstyle by Something Blue is no different. The braids look amazing on long and medium length hair and the addition of gold clasps adds a touch of glamour - match your jewellery to them for an all-out look.
56. Naturally Curly Long Wedding Hair
Forget what you heard about wedding hair needing to look ultra-polished without a tendril out of place. Curly hair looks particularly lovely in a relaxed style with strands left loose, just like it does in this hairstyle by Something Blue.
57. Long Bridal Hairstyle With Large Braid
Loose waves and a thick half up half down braid make for a gorgeous woodland wedding hairstyle, like this look by Hair Creations by Colette. The volume of the braid makes it stand out and adds an extra dimension to regular curly wedding hair.
58. Soft Wave Low Ponytail Bridal Hair
Whether you have medium-length or long hair, this chic style by Ruby Peacock is sure to suit your beautiful tresses. This style is an aesthetically pleasing option that's sure to look great in person and in photos.
59. Simple Half up Half Down Curly Wedding Hair
Let your dress do the talking with a simple yet gorgeous hair-down wedding look, like this one by Jessica Short Hair & Makeup. The curls are perfect for shortening super long hair and we do like an accessory - who doesn't?
60. Boho Wedding Fishtail Braids
This beautiful style by Victoria Louise is ideal for nearlyweds who love their hair down but want a touch of texture for their wedding-day look. If you're planning a boho-chic bash, this hairstyle is sure to match your celebration's aesthetic.
61. Glam Medium Length Wedding Hairstyle
Emphasize your natural beauty on your big day with this soft glam hairstyle. This enchanting look by Siren Hair Art is ideal for nearlyweds with medium length hair and would perfectly complement a fairy-tale inspired wedding dress!
How to Choose a Wedding Hairstyle?
Nancy Mobhe from Unveiled Glam explains the first questions any bride should be asking themselves when it comes to choosing a wedding hairstyle: "Firstly, nearlyweds should decide whether they want their hair up or down. Next, they have to consider the theme and season of their wedding. Based on that they will know whether they want to go with texture or not.
"Then it's about the smaller, finer details. Do they want a veil? Will they wear any accessories? These are all things that can be discussed in their wedding hair trial, which I'd highly advise, especially if you're someone who isn't too sure what they want."
Adding to this, Brides by Becky says, "I'd encourage nearlyweds to take into consideration their usual style, whether they wear their hair up or down normally, and whether they want something different for their wedding. Next, I'd think about whether or not you want your hair off of your face or not, especially if you're not used to it.
"I'd then move onto thinking about the style of your dress and overall wedding. With the dress, are there certain aspects you want on show, do you want to showcase the back of the dress with an updo? They should also consider the weather, if it's going to be really warm and you're not great with heat, a hair-down style may not work.
"Finally, consider the length of your hair and whether or not the style you want is achievable. You can always wear hair extensions or a piece, but if you want to rock natural hair, speak to your stylist about ways your desired style can be adapted to suit your hair. Any talented stylist will be able to create a version you love with your natural hair."
Experts Share Their Most Unique & Popular Wedding Hair Ideas
Nancy Mobhe from Unveiled Glam explains the bridal hairstyle trends she has seen rise in popularity as of late. She says, "The half up half down wedding hairstyles are definitely in this season, but the low, effortless bun with wispy fronts and a bit of "je ne sais quoi" texture are creeping their way up to number one. And I for one gladly welcome them!
"They look elegant and simplistic, whilst still feeling fun, and leave just enough room from character and romance. Another one I'm really excited about are the sleek buns and Hollywood ponytails. This year we've seen them in high demand, as well as the ever-popular half-and-half hair."
Adding to this, Nitasha Christian from Imperial Hair tells us about some of the most unique wedding hairstyles she's worked on during her career, "The most unique designs I've worked on have often been for themed weddings. They have stretched my own imagination and skill set and have been so fun to create!
"One example of this would be the woodland wedding hair I worked on. I'd been asked to include the use of chains and ropes into the bride's naturally fiery red hair, which was also waist length and very curly. The real challenge was establishing a good structure; ensuring that the chains and ropes were comfortable enough to stay in her hair for the day.
"I was able to create a headband structure that dropped down and sat on her shoulders, which carried the weight of the props, ensuring it didn't pull throughout the day. If I hadn't, the result could've been headaches and potential hair loss. Suffice to say, the bride had enough confidence in me to achieve the design and she was overjoyed with the outcome.
Speaking about her favourite designs, Francesca Bridal Hair explains, "I love anything boho as there is so much potential to create unique hairstyles with different braids, curls as your foundation, and a range of options from half-up half-down, to all up or all down . Each look looks different on different hair colours and they always have so much depth and detail with the amount of texture added."
Now you've got your hair sorted, what about the makeup? Here's 20 questions to ask your makeup artist, and you can browse all of our hitched hair and makeup artists here.