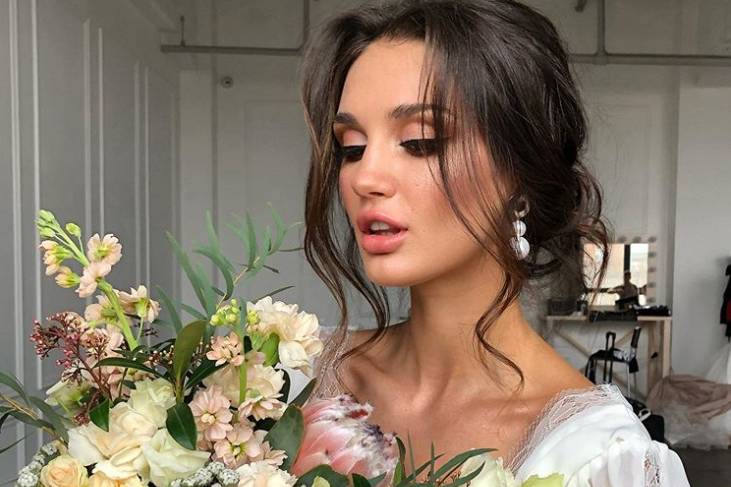 Knowing how to wear your hair on your wedding day can be really tricky. It's important to go for something a little different to what you wear everyday, but you'll also want to stay within the realms of your own personal style.
From half-up half-down wedding hairstyles to tousled curls and low chignons, there really are so many styles to choose from. That's why we've scoured Instagram for the best bridal hairstyles of the bunch. All you need to do is scroll, save your faves and show them to your hairstylist at your wedding hair trial.
Oh, and if you're trying to save money doing your own wedding makeup and hair can be a fun and simple way to cut costs. Luckily, these 53 wedding hairstyles won't need years of experience to master yourself!
Keep reading to see our top tips for wedding hair at the bottom of the page – you'll have breathtaking bridal locks in no time…
READ MORE: The Ultimate Bridal Beauty Countdown
The Best Wedding Hairstyles
1. Tousled Low Updo
Say hello to the tousled bridal 'down do': a total classic which suits a whole host of bridal styles. If this is the hairstyle you choose, wash your hair the day before the wedding as opposed to the day of. It'll hold much better!
READ MORE: Wedding Trends That Are Hot for 2019
2. Curls & Braids
Braids are a boho bride's best friend, and this messy, curly half-up half-down hairstyle will look beautiful with your floaty lace wedding dress.
3. Something Super Simple
We think this bouncy, sexy blow-dry would make the perfect bridal hairstyle… don't you agree?
4. Low Chignon
We are so here for this low chignon updo which is both classic and elegant. Hair is parted in the centre and slicked back before being folded into a beautiful bun. Pair with some statement earrings and you'll look a million dollars.
5. A Bug's Life
How cool are these bug-inspired hair clips? They add a whole new dimension to an otherwise simple updo – perfect for your country garden themed wedding, if you ask us.
Shop some similar hair clips here.
READ MORE: The Ultimate Guide to Wedding Themes
6. Halo Braids
This halo braid is all about showcasing your beautiful, signature highlights. If you've got balayage, a pretty halo braid will not only look endlessly romantic but will show off the tones in your hair, too.
7. Slip 'n' Slide
Slides are back, and they're back with a bang. Twist back the front two sections of your hair, secure them with your pretty pearly hair clip and loosely curl the lengths. This look is so romantic.
8. Embellished Ponytail
A delicate, embellished hair pin is the perfect finishing touch for a low-key ponytail. Keep your hair looking slicked-back and polished with a generous spritz of hairspray, then tie your hair so it sits just above the nape of the neck.
READ MORE: The Most Elegant Wedding Dresses of the Moment
9. Twists & Twinkling Stars
We'll happily get on board with anything celestial-inspired, and this dazzling bridal hairstyle is certainly no exception. It strikes the balance between playful and elegant perfectly.
10. Double Trouble
There's only one thing better than a single messy bun, and that's two messy buns. This bridal updo is the perfect way to incorporate accessories into your hairstyle if you want to keep things fairly understated.
Shop the Void Baguette Barrette by Lelet NY to achieve the same look.
11. Embellish That 'Fro
Brides with curly hair should get following FreshLengths blogger Lesley, pronto. After our hours spent insta-stalking, we settled on this gorgeous bridal hairstyle. It'd look insane in your wedding snaps.
READ MORE: 23 Wedding Photos You Need to Capture
12. Timeless Elegance
This gorgeous, classic updo is right at the top of our bridal hair lust-list. Leave a few strands of hair loose to frame your face and ensure the look remains soft.
13. Pearly Pony
Modern brides will adore this cool, statement pony tail. Pearl embellishment is the look of the moment, and this hairstyle will look fab paired with a simple wedding dress.
Shop similar pearl hair pins here.
14. Vintage Hair Piece
If you're a lover of all things vintage, why not don a statement vintage hairpiece on your wedding day? Part your hair on one side, pin the side with less hair back, and wave the lengths with a flat iron styling tool.
READ MORE: 47 Stunning Vintage Wedding Ideas
15. Messy Updo
How gorgeous and natural is this bridal updo? Keep things delicate by leaving a few strands of hair loose.
Shop a similar bridal hair piece here.
16. Bejewelled
A great way to jazz up a simple down-do is with pretty bejewelled accessories. Brush through tightly curled hair to create a soft wave before pinning your clips in random spots.
17. Pin Art
Rochelle Humes is our girl crush forever, and this updo is giving us all the wedding hair inspo. Curly hair? Check. On-trend hair grips? Check. Pretty loose tresses to frame the face? CHECK.
READ MORE: The Biggest Celebrity Engagements of 2019
18. Twisted Updo
A sleek and twisted updo will always be chic. This style is perfect for the low-maintenance bride, because once it's up, it won't require any attention throughout the day. Oh, and don't you think a red lip would be this hairstyle's best friend?
READ MORE: The Best Tried & Tested Lipsticks for Your Wedding Day
19. Hair Scarf
Bold but fabulous, this hair scarf is any bohemian bride's perfect accessory. Sweep your hair back into a low messy bun and cover with Grace Loves Lace's luxurious Loyola Hair Bun. The best thing about this wedding hairstyle is it requires next to no effort.
20. OTT Roses
Are you having a festival-themed wedding? Give your simple bridal get-up a bit of edge with an OTT floral hairpiece. We're obsessed.
READ MORE: The Best Festival Wedding Venues in the UK
21. Beautiful Bob
If you're a bride-to-be with shorter hair, keep things simple on your wedding day. A loosely waved bob parted slightly to the side will look ever so stylish, particularly if you treat yourself to a spot of balayage ahead of the day.
READ MORE: How Long Before my Wedding Should I Get my Hair Dyed?
22. Mid-Length Glory
Another hair slide! Can you tell we're completely obsessed? This Ocean Pearl Ring Barrette by Lelet NY is totally gorgeous, made that little bit more bridal thanks to the scattered pearls.
23. Delicate Tiara
If your wedding is set to be fit for a princess, a delicate hairband or tiara will have you feeling extra regal.
24. Slicked Back Top Knot
Who said you can't wear your go-to top knot on your wedding day as well as every other? Jazz things up a bit with some embellishments around the base of the bun.
25. Tinker Bell Top Knot
This messy top knot is wedding ready and then some. Scrape your hair back into a loose bun which sits just above the crown, then pull some strands out around the face and neck.
26. Put a Ribbon in It
Reminiscent of your pre-school days, ribbons are pretty, nostalgic and totally perfect for a wedding. Tie loosely curled hair back into a low pony and tie into a bow around your hair elastic. Adorable.
We love the Loyola Pope Silk Scarf by Grace Loves Lace.
READ MORE: 23 Designer Wedding Shoes That Are Worth Blowing the Budget For
27. Bed Head
Calling all self-proclaimed lazy girls! This "woke up like this" down-do is effortless and chic – just make sure your makeup is flawless if you want to pull it off.
28. Folded Updo
Presenting: the bridal updo of dreams. Seriously – we can't get enough of this folded updo which is elevated by the contrasting tones in the bride's hair.
29. Cool & Carefree
You can't get a hairstyle much more romantic than this. And the best part? Imperfections are what make it, so you don't need to stress about everything being perfectly in place.
30. Something Sleek
You can't go wrong with a slicked-back 'down do', and this one is particularly elegant. Hairspray will be your new best friend when it comes to banishing baby hairs.
READ MORE: The Bridal Jewellery Trend We Can't Get Enough of
31. Pearls & a Pony
OMG! How beautiful is this embellished low pony? Tie the look in with that of your bridesmaids by treating them to some pretty pearl pins.
32. Classic Half-Up Half-Down
Can't decide whether to have your hair up or down? This half-up half-down curly hairdo ticks both boxes.
READ MORE: The Best Half-Up Half-Down Wedding Hairstyles
33. Wonderful Waves
Ditch your go-to daily curls in favour of vintage-inspired waves. This style is fabulously dramatic and would look great paired with a bold lip and paired-back eyes.
34. Loose Fishtail Braid
If you're bored of regular braids, try a fishtail plait on your wedding day. This one is super pretty.
35. Pearly Queen
As if you hadn't seen enough pearls already… Paired with a simple, dewy makeup look, this pearl headband looks fabulously regal.
Shop our favourite pearl headband here.
READ MORE: 37 Gorgeous Wedding Makeup Ideas for Every Bride
36. High Pony
You can't go wrong with a high ponytail, particularly if your hair is long and thick. This bridal hairstyle is effortlessly cool.
37. Lovely & Luscious
Glamorous brides should consider this sleek and simple 'down do' which will ensure your hair remains off your face for the entirety of the day. What's not to love about it?
38. Messy Halo
Look angelic on your wedding day with this glorious halo braid. You can't get a more romantic hairstyle! Keep things loose and let a few strands of hair frame your face.
READ MORE: The Best Eyebrow Kits for Brides
39. Lion's Mane
Don't be scared to go big and bold on your wedding day. This soft, side-swept look will never date.
40. Tightly Curled Updo
This is the dreamiest of bridal styles for girls with curly hair. Scrape your luscious locks onto the top of your head then let a few strands drop loosely towards your shoulders.
41. Unicorn Ponytail
The devil really is in the details with this unique unicorn ponytail. And how much do her cheekbones pop? Make sure your bridesmaid has your highlighter on hand for regular top-ups.
READ MORE: The Dos & Don'ts of Wedding Etiquette Explained
42. Embellished Head Chain
There's nothing to say your bridal accessories need to be gold, silver or ivory. Add a pop of colour into your wedding hairstyle with a bejewelled head chain like this one.
43. Sparkling Low Chignon
This wedding hairstyle is a classic and with good reason – it's stylish and sophisticated and will always look timeless. It also suits a number of accessories, from tiaras to sparkling slides like these.
A low chignon works well with all kinds of wedding dress, but looks especially good with a gown with a detailed back, as you can show it off without your hair getting in the way. Katy from The Bridal Stylists suggests: "The low chignon is great if you're going for an elegant or sophisticated look. It works well with vintage inspired themes and wedding dresses!"
READ MORE: The Prettiest Vintage-Inspired Wedding Dresses
44. Bejewelled Low Updo
Keep things chic and neat at your Asian wedding with a pulled back style with just a few cascading waves of hair by your face.
We absolutely love the headpiece this bride is wearing. Shop similar here!
45. Loose Wedding Hair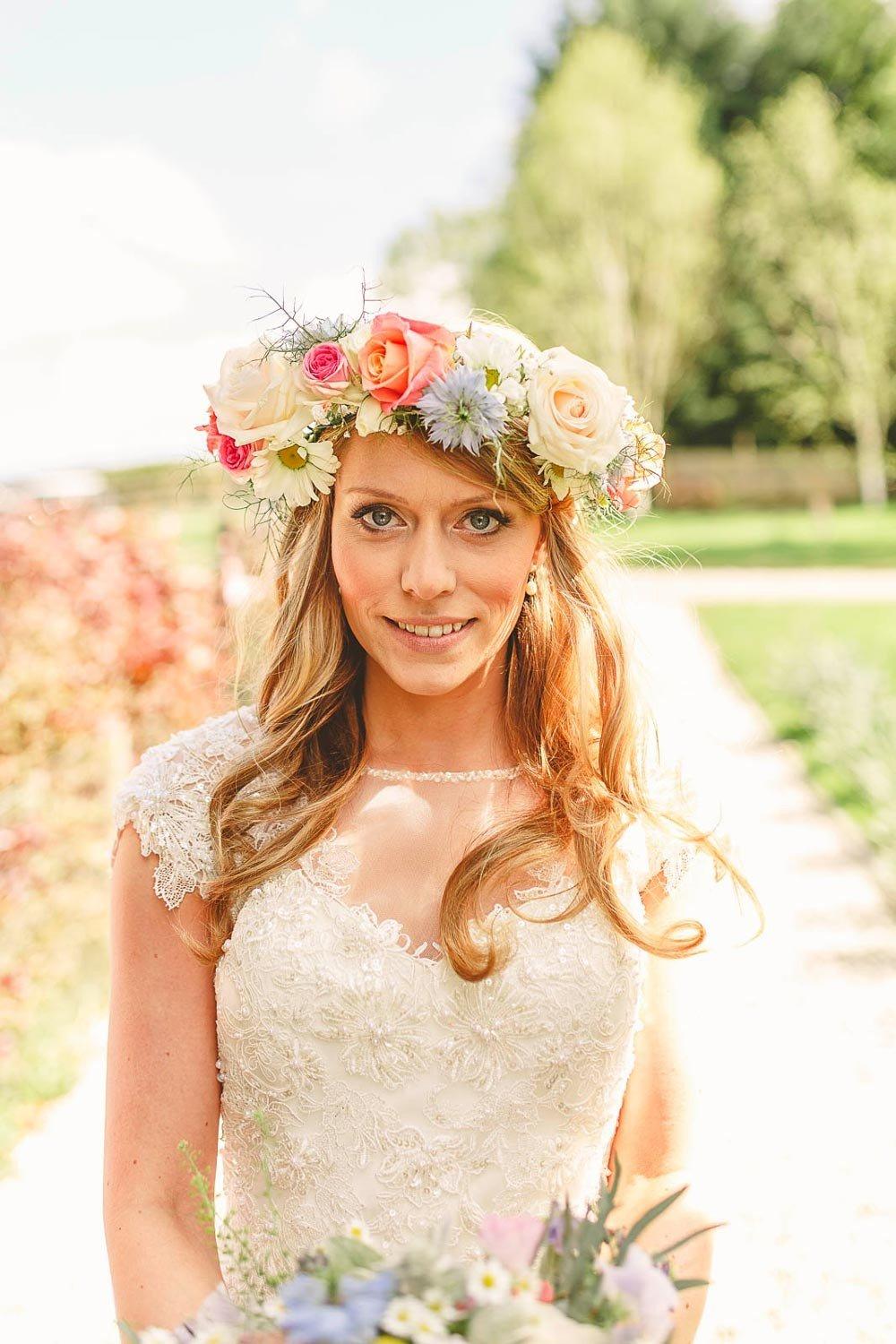 Image: Benjamin Stuart Photography
Loose hair worn down around your face and shoulders is the perfect choice for a bride with a relaxed wedding style. It takes minimum effort and you don't have to worry too much about it slipping or coming out of place during the day!
We love this effortless style that is finished beautifully with a flower crown.
46. Statement Accessory
For some classic sparkle a traditional wedding hair slide at the top of the bun will look beautiful. This updo by The Bridal Stylists is stunning.
READ MORE: 23 Unique Ways to Include the "Something Blue" Tradition Into Your Wedding
47. Vintage Beehive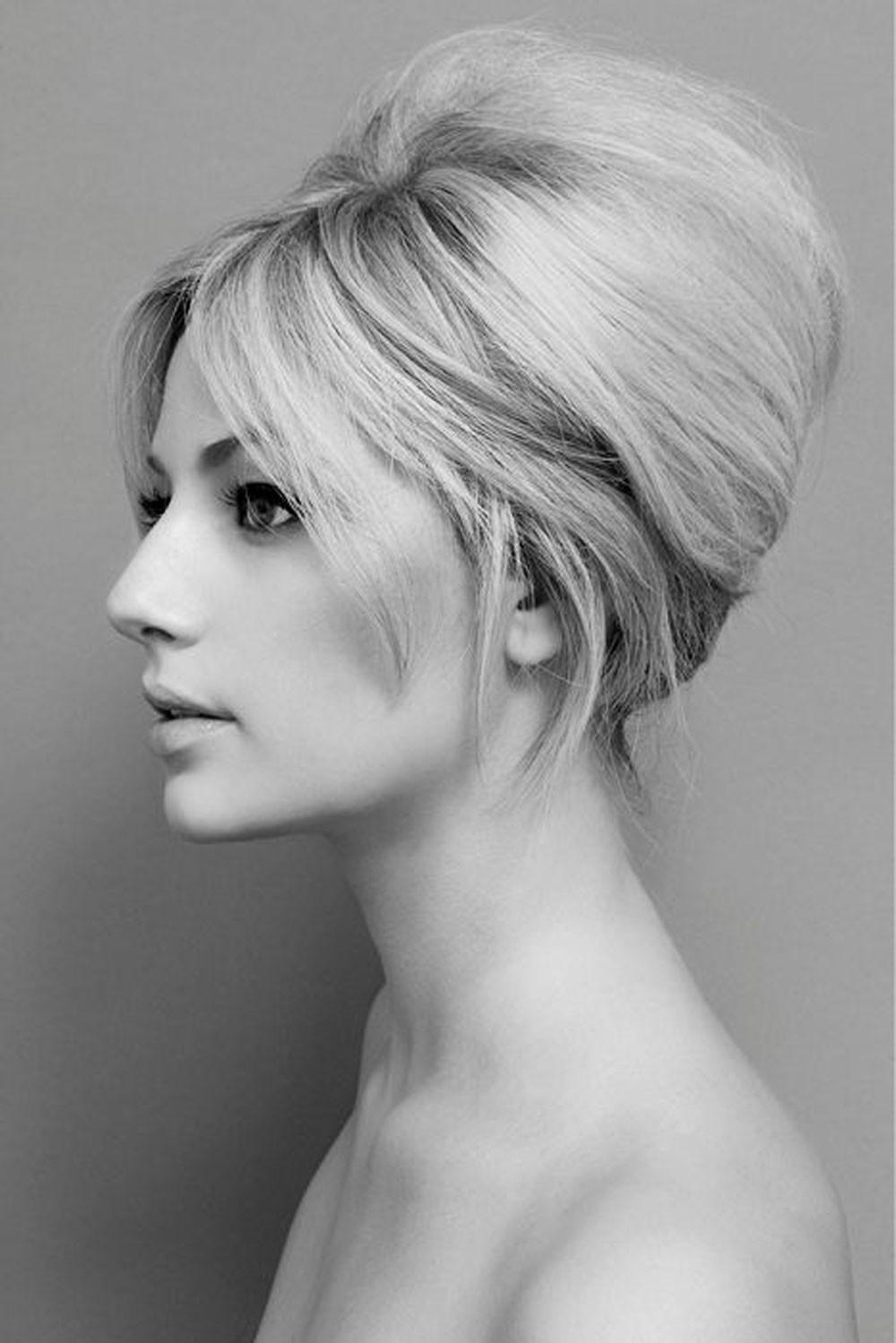 Image: Pinterest
Take inspiration from the 1960s and wear your hair in a beehive on your wedding day.
Paired with statement earrings, this look is totally chic. It also works well if you're a bride with a fringe!
48. Victory Rolls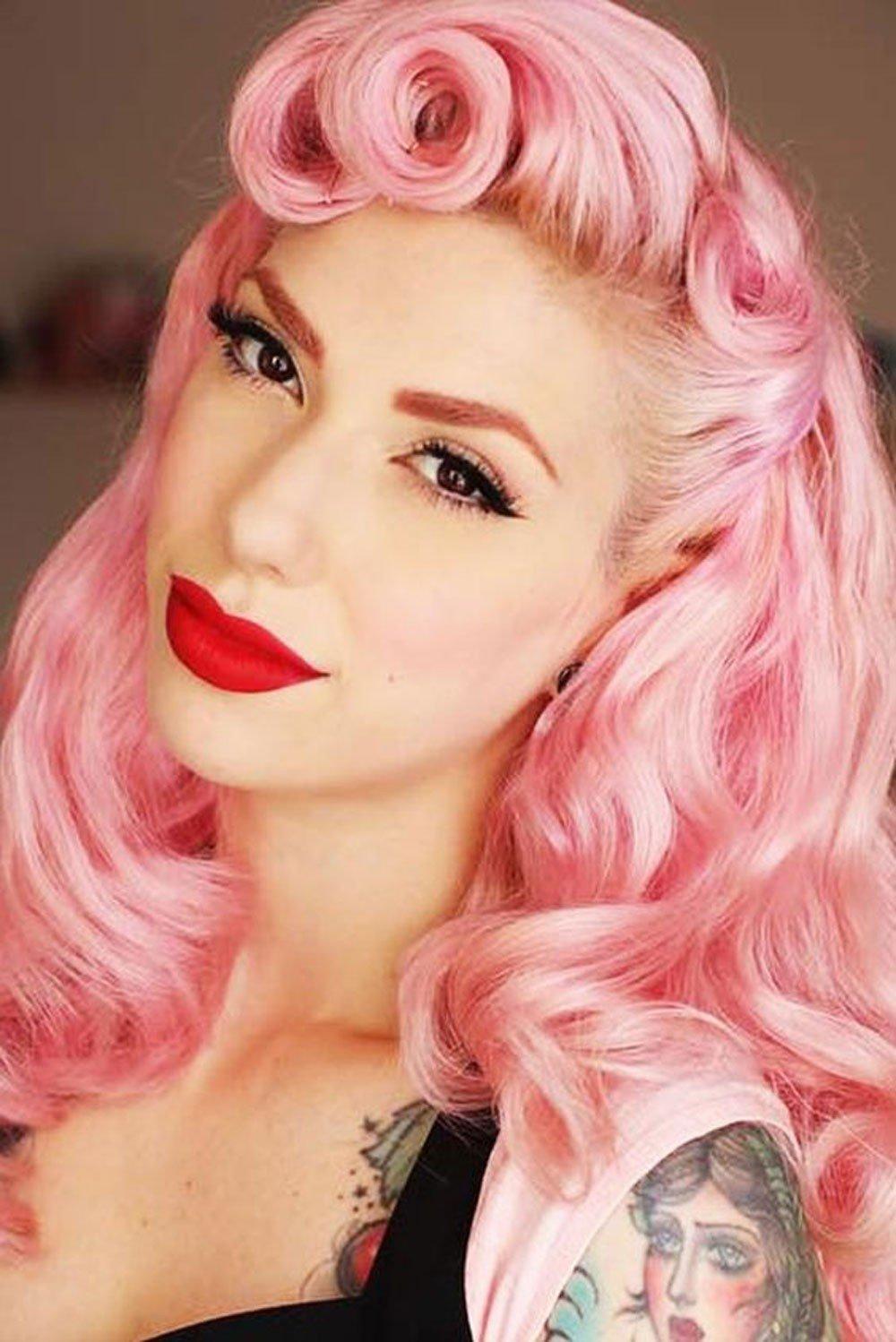 Image: Pinterest
Vintage-loving brides will adore the idea of donning victory rolls on their wedding day. Paired with an eyeliner flick and bold, red lip, you'll look like you've just stepped out of the 1950s.
READ MORE: Our Favourite Retro Wedding Hairstyles
49. Fabulous Finger Waves
If you currently have a pixie-crop and want to switch things up a bit, finger waves are a fabulous vintage hairstyle choice.
They're great for brides with short hair who want to add texture, and if you time things right, they'll last well into your honeymoon.
50. Perfect Pixie Cut
Wedding hairstyles for short hair don't get much more chic than this.
Keep your pixie-cut sleek and simple by styling with hairspray and avoiding accessories. A pair of statement earrings is all you need.
51. Bride with Bangs
If you're on the hunt for wedding hairstyles for a fringe, consider wearing a flower crown.
It'll cover up the point at which your fringe and the rest of your hair meets, and will look fab if the lengths are curled.
READ MORE: The Best Ways to Style a Fringe On Your Wedding Day
52. Short & Sparkly
How fab and super sparkly does this short wedding hairstyle look?
You'll need a mini pair of hair straighteners, plenty of hairspray, gel and as much glitter in your colour scheme shade as you can get your hands on.
What Hairstyle is Best for a Wedding?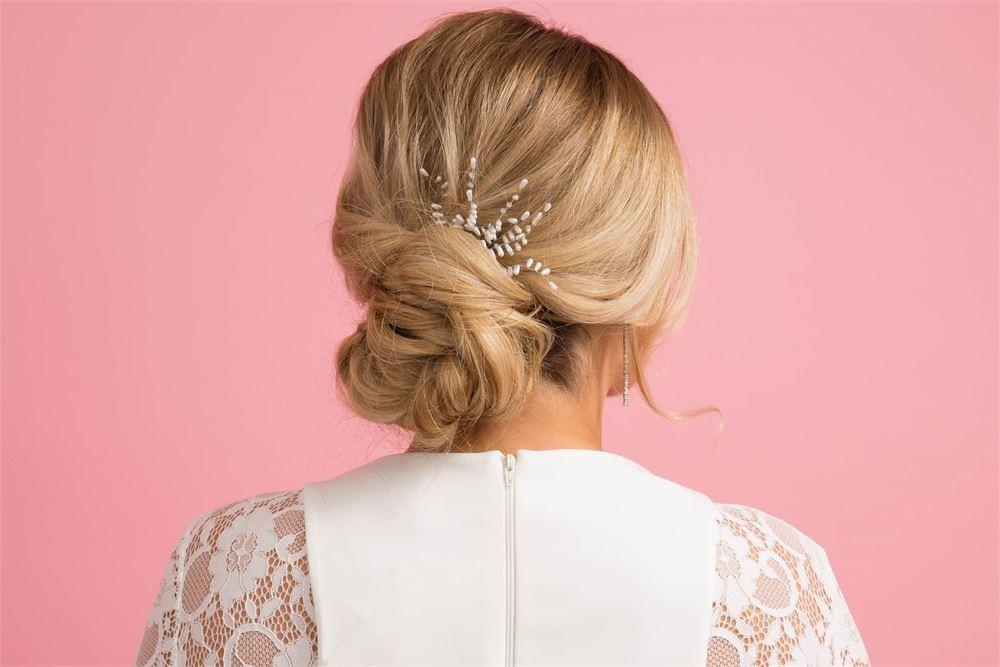 Image: Jessica Short Hair & Makeup
There is only one rule when it comes to your bridal hair: there are no rules! Seriously, you can go for whatever wedding hairstyle you feel the most comfortable with.
Try to consider the theme of your wedding and the style of your dress, as well as chatting to your hairstylist about what will suit your face shape and be easy to replicate on your hair. Besides that, you've pretty much got free reign!
Classic bridal styles include low chignon buns, tousled 'down dos' and half-up half-down curls, but this edit includes plenty of unique and modern hairstyles if you're dreaming of being daringly different.
When Should You Get a Haircut Before a Wedding?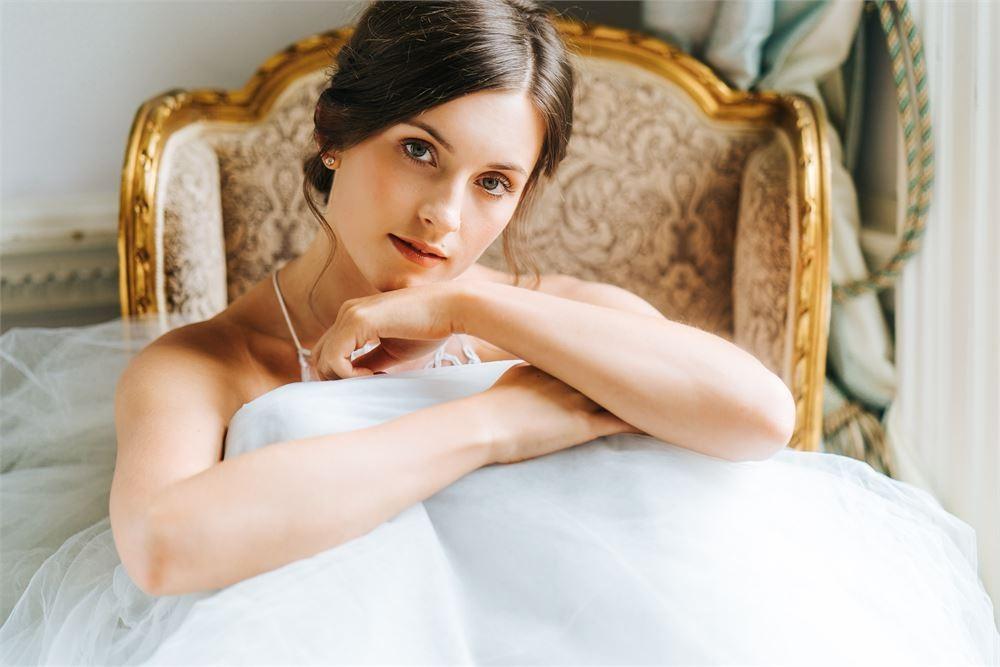 Image: Jessica Short Hair & Makeup
This totally depends on whether you're keeping your hair a similar length to usual or having a bit of a change.
If you want to cut your hair shorter, you should do so six months before your wedding day. If you love it, six months is a good amount of time to maintain the cut for, and if you don't, you've got time to let it grow.
Whatever the length, to achieve healthy and luscious hair, you'll need to get regular trims. We'd recommend getting your first trim (and hair consultation on colour and condition) about six months before, then one every six weeks before the wedding.
How do I Choose a Wedding Hairstylist?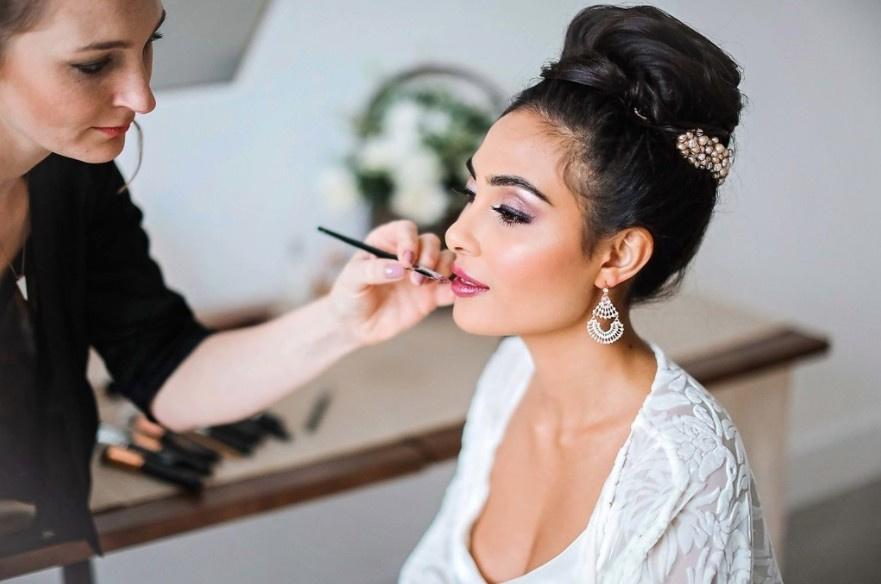 Image: The Bridal Stylists
You should allow plenty of time before your wedding day to choose a hairstylist – it's a good idea to start looking between a year and six months in advance.
Search through our directory of tried and tested wedding hairstylists before shortlisting your favourites. Prioritise those with lots of bridal experience and good reviews.
If you still can't decide, book in trials with all of them and choose the stylist who you gel with the most.
READ MORE: The Best Hair Stylists and Makeup Artists in the UK
How Much Does Wedding Hair Cost?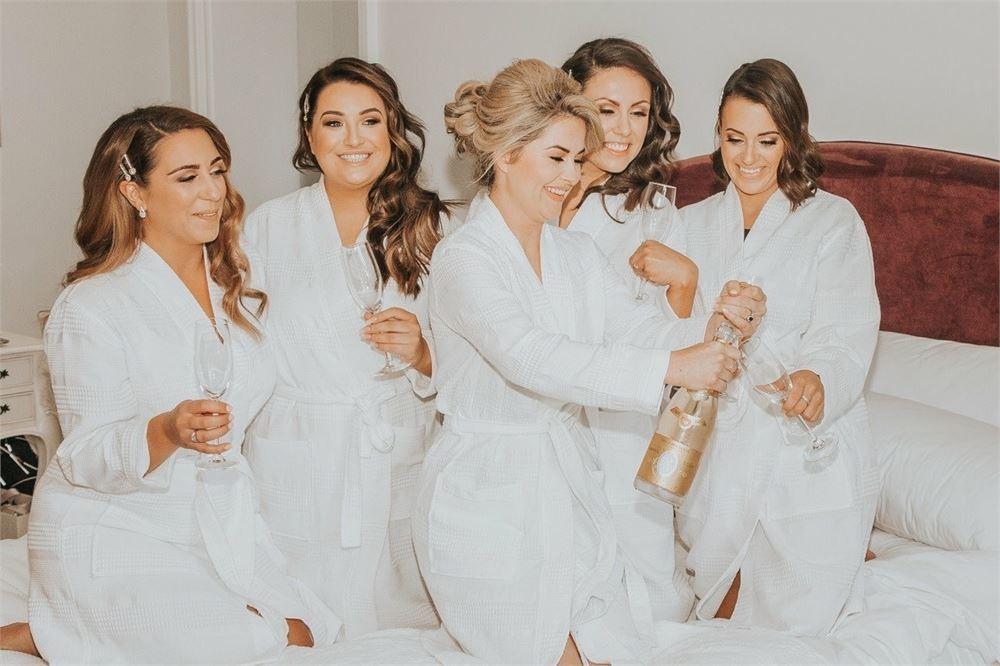 Image: The Bridal Stylists
It totally depends who you choose, what you'd like done (would you like a trial and will your bridesmaids also be having their hair done?), and the stylist's level of experience.
On average, wedding trials should cost between £40 and £70, while on-the-day hair styling is likely to cost anywhere between £90 and £150.
You can expect bridesmaids and mothers of the bride or groom to cost between £50 and £70 each.
That said, if your bridal hairstylist also does bridal makeup, you can often get a combined quote which may work out a little cheaper.
READ MORE: Stunning Bridesmaid Hairstyles Your Girls Will Love
What Hairstyle Goes With My Wedding Dress?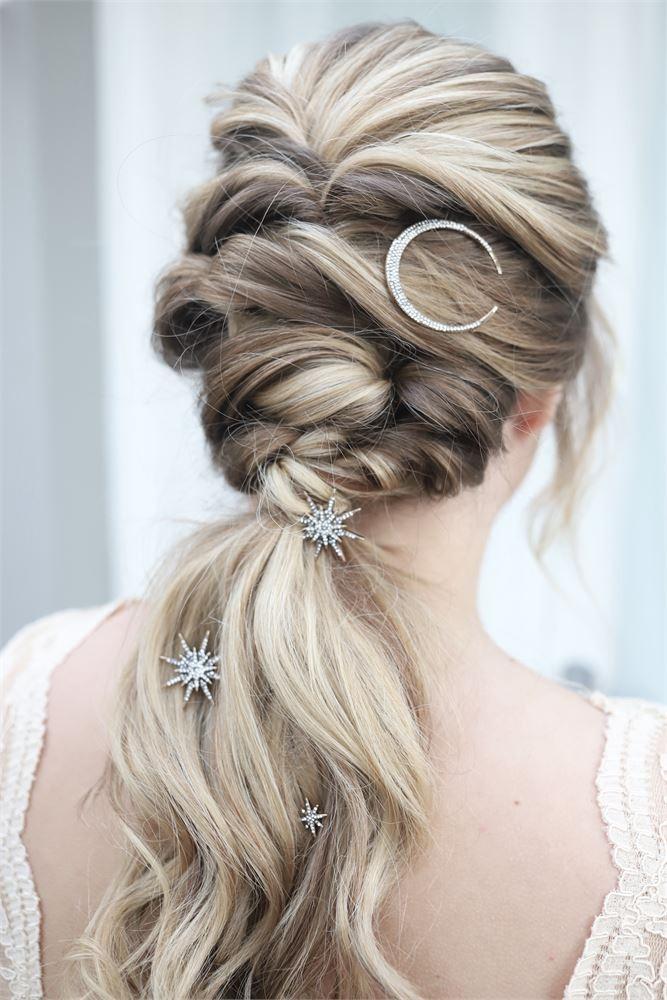 Image: The Bridal Stylists
Again, there aren't any hard and fast rules, but we do have a couple of recommendations.
READ MORE: How to Choose a Wedding Dress
If you're still feeling unsure, why not browse our complete guide to wedding hairstyles for even more ideas?