The Ultimate Guide to Wedding Hair: 45 Beautiful Bridal Hairstyles
Searching for the perfect bridal hairstyle? We've rounded up the best wedding hairstyles to suit all brides!
We have included third party products to help you navigate and enjoy life's biggest moments. Purchases made through links on this page may earn us a commission.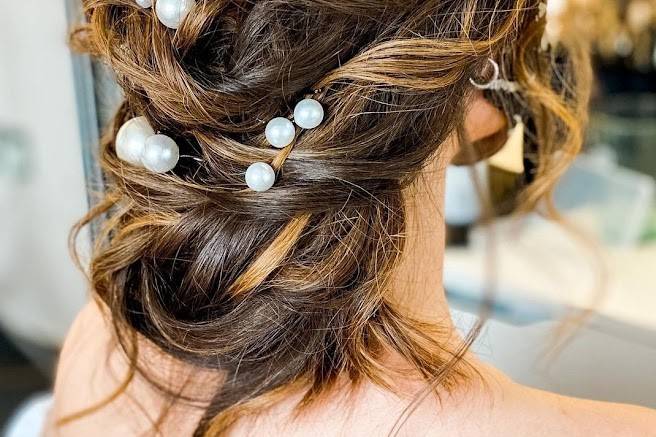 If you're a 'wash and go' kind of person when it comes to your hair, choosing a wedding hairstyle might seem like a daunting task. There's so much to consider when it comes to choosing your big day 'do, and given that it's likely to be the most photographed hairstyle of your life, it makes sense that you want to get it right. We've put together our favourite wedding hair inspiration and products, alongside expert tips for your bridal hairstyle!
If you're wondering how to find a wedding hairstylist to create your bridal hairstyle, make sure you check out all the amazing wedding hairstylists listed on Hitched!
Best Products for Your Wedding Hairstyle
45 Gorgeous Bride Hairstyle Ideas
1. Short Wedding Hair Style for a Bride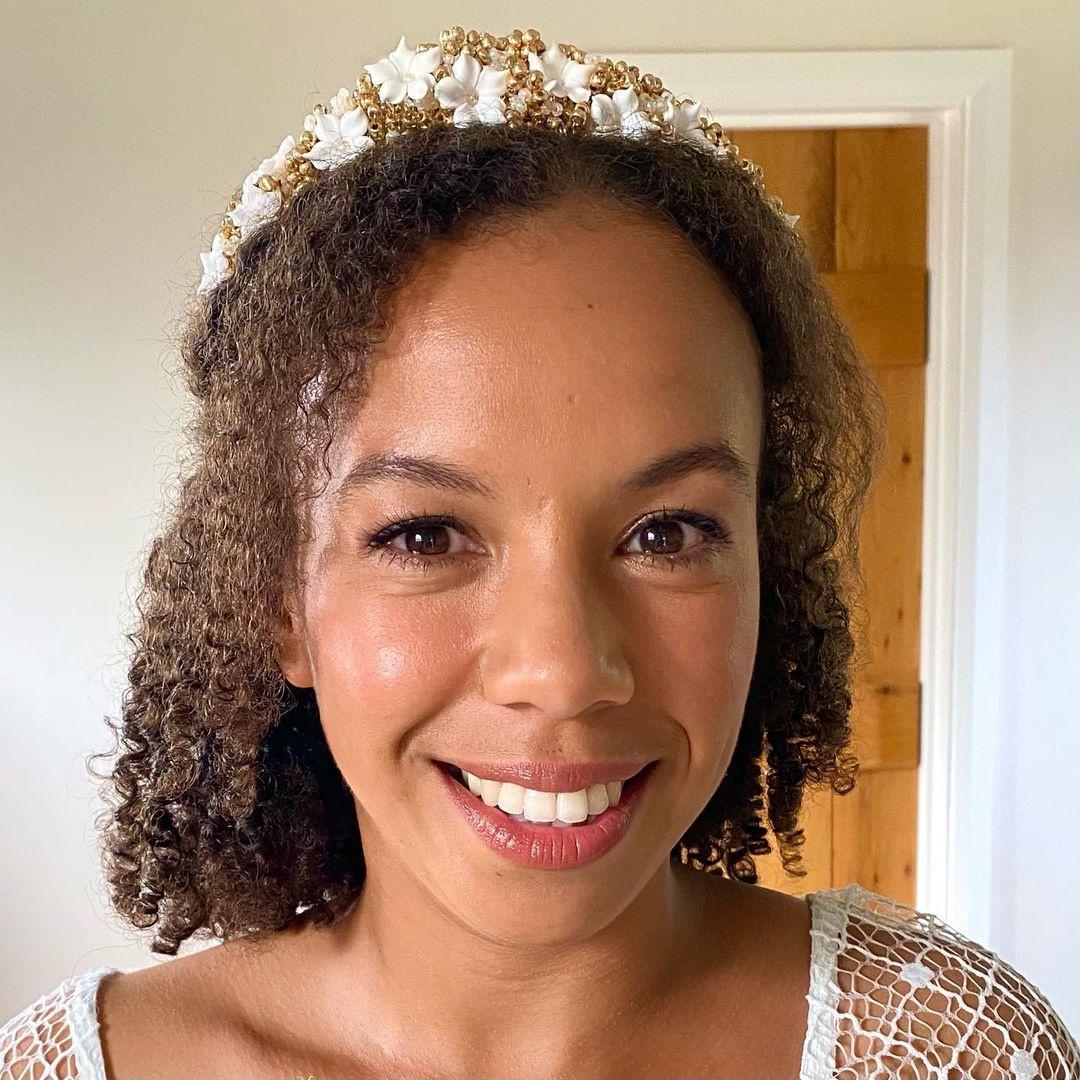 Embrace natural texture with this short, curly haired wedding hairstyle by Something Blue Hair & Makeup, complete with a cute headband and a subtle half-up half-down shape.
2. Coloured Wedding Hairstyle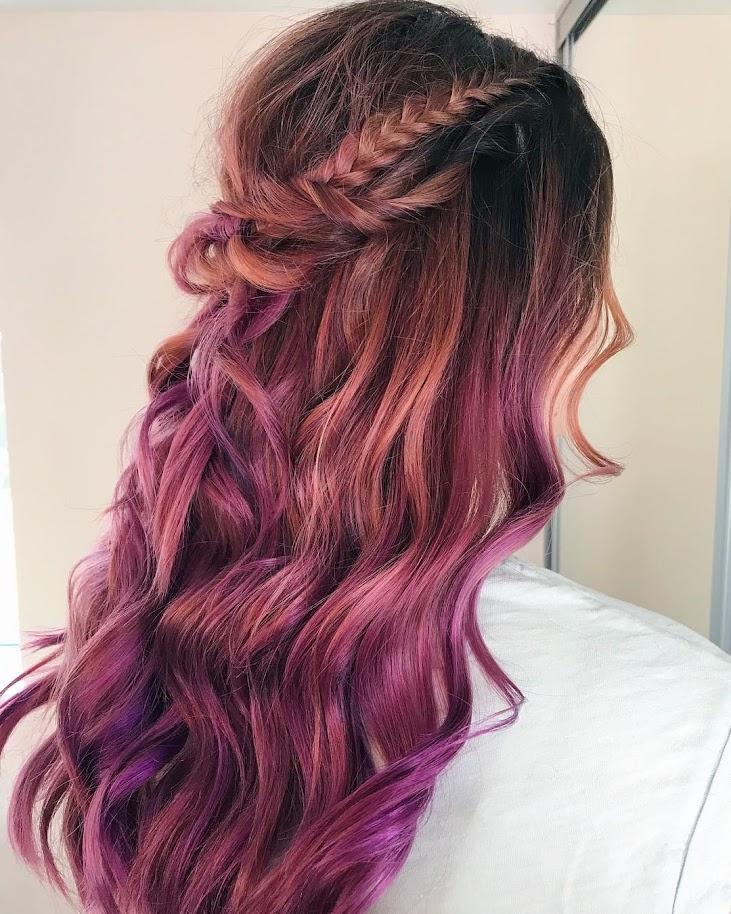 Who says wedding hair has to be traditional? If you've long had pink or blue hair, keep it that way for your big day so you feel like the best version of yourself! We love this look by Hitched supplier Something Blue Hair & Makeup. For more ideas like this, see our favourite half up half down wedding hairstyles.
3. Bobbed Wedding Hair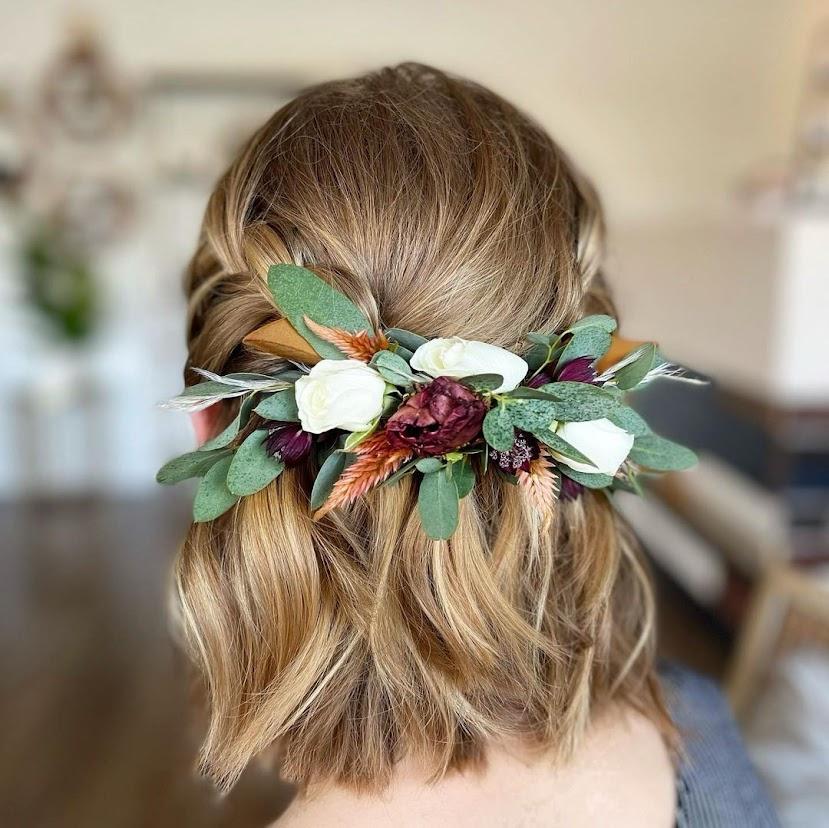 Match your hair accessory to your bouquet to tie your whole wedding look together like this bride has done with her chic, short bridal hair look.
4. Easy Wedding Hairstyle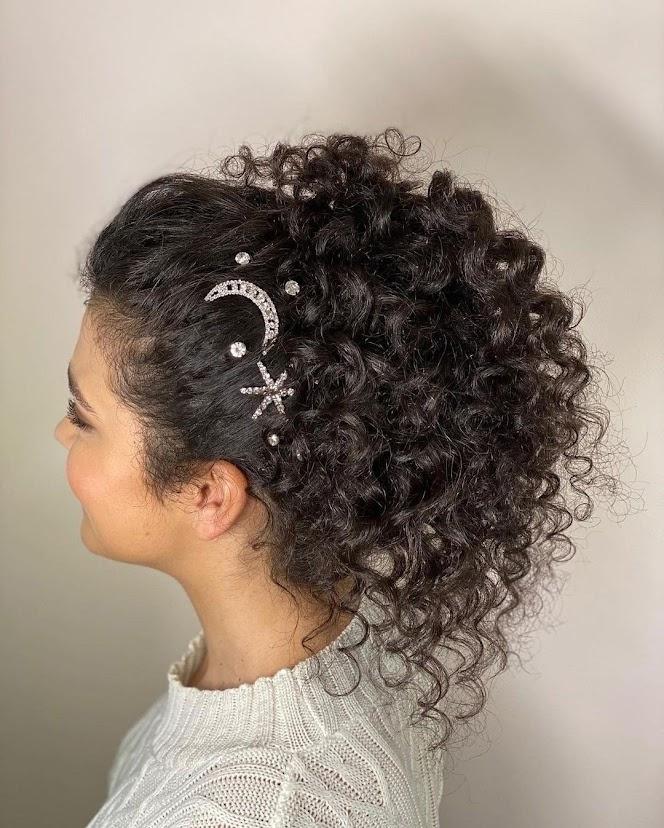 Make a simple ponytail feel ultra-special with moon and star hair accessories. This style by Something Blue Hair & Makeup looks particularly pretty with curly hair with lots of volume, with clips nestled into it. It's the perfect match for a celestial wedding dress.
5. Long Curly Bridal Hairstyle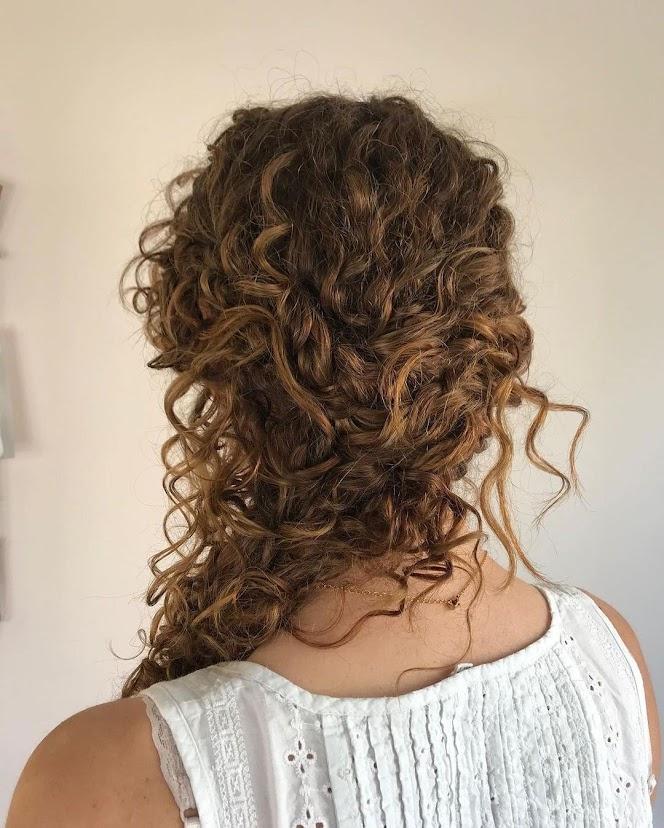 Forget what you heard about wedding hair needing to look ultra-polished without a tendril out of place. Curly hair looks particularly lovely in a relaxed style with strands left loose. Pair with a boho wedding dress for a lovely, laidback look.
6. Braided Bridal Bun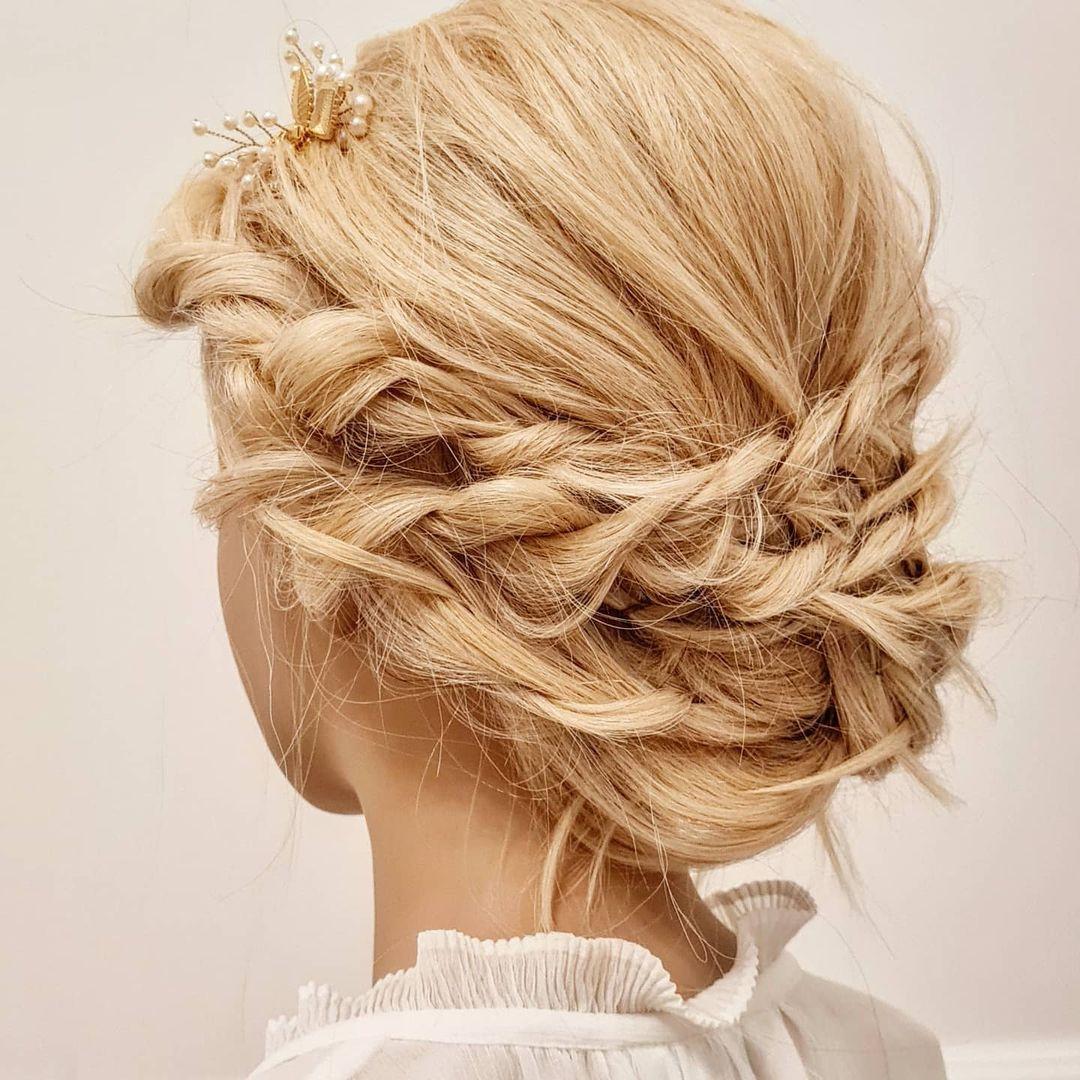 This multi-braided bun by Georgia Claire Bridal is perfect if you've got an off-the-shoulder wedding dress with details you're dying to show off.
7. Medium Length Wedding Hair with Flowers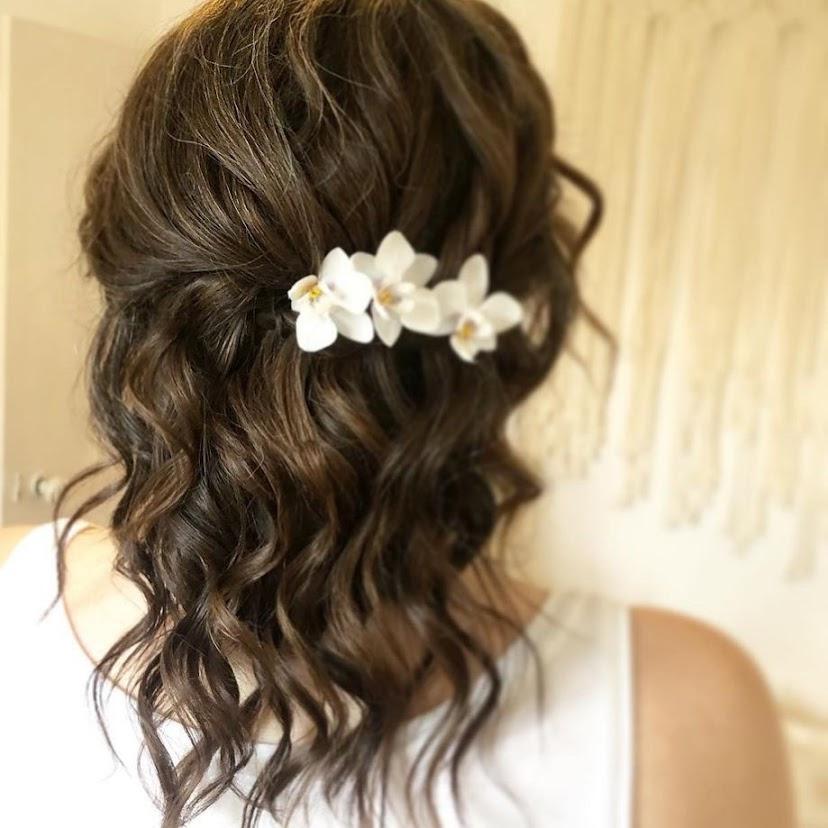 Real orchids and softly defined waves add a delicate touch to this mid-length wedding hair. It'd go perfectly with a beach wedding dress!
8. Simple Wedding Updo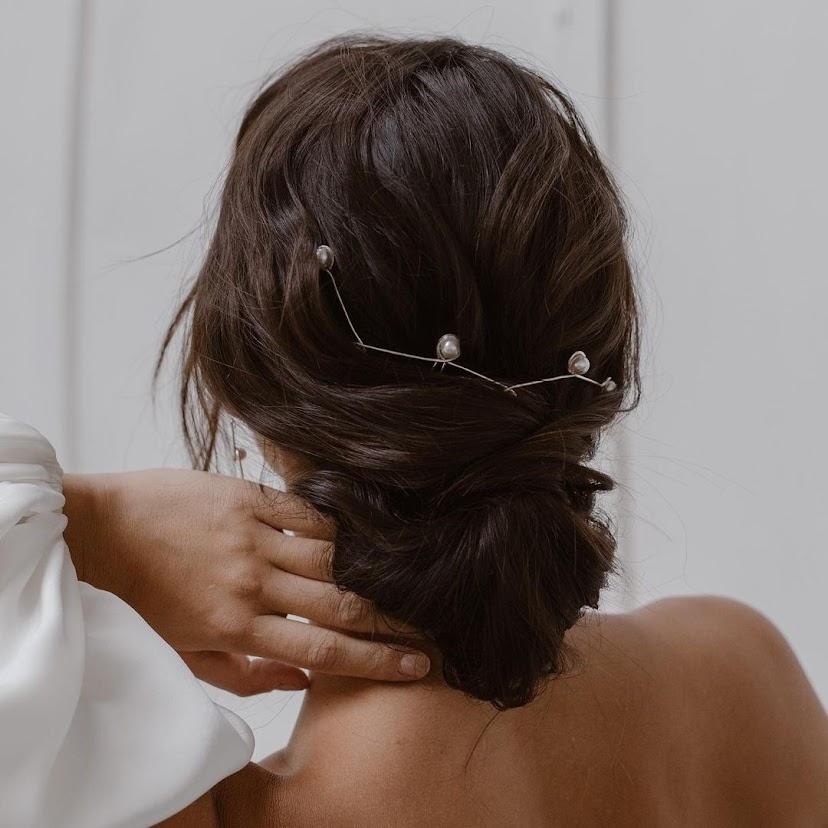 Elevate a simple wedding chignon with a pearly hair accessory – pearls look especially lovely contrasted again brunette hair. You can browse our favourite pearl wedding dresses here if you love the pearlcore trend!
9. Braided Wedding Hairstyle for Brides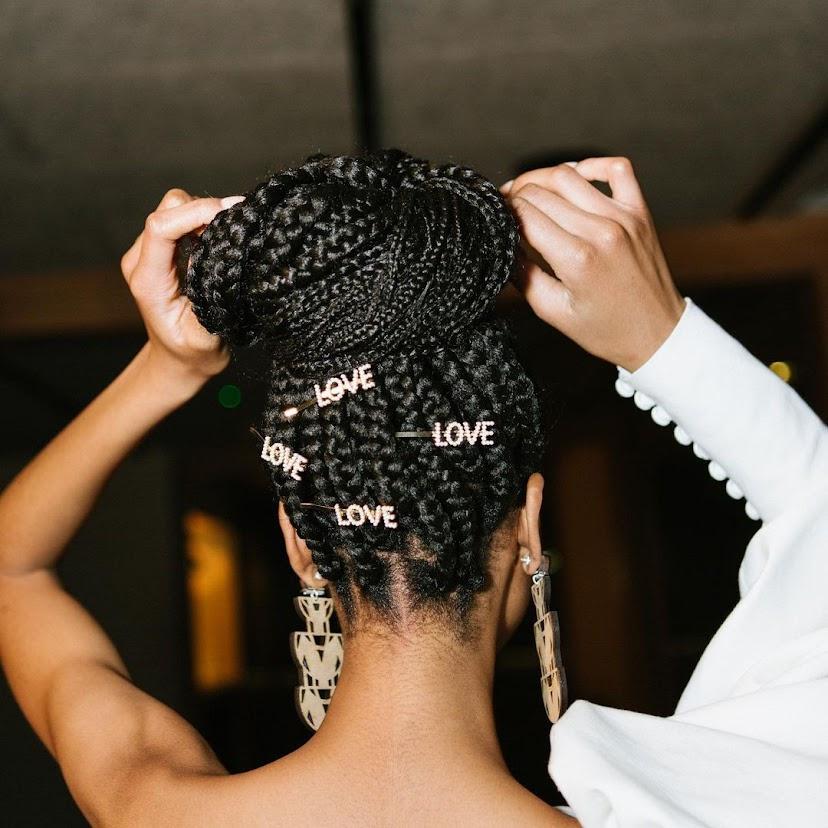 Add statement clips to a braided bridal updo for an ultra-modern take on wedding hair. We love, love, love this look from Something Blue Hair & Makeup.
10. Boho Wedding Hair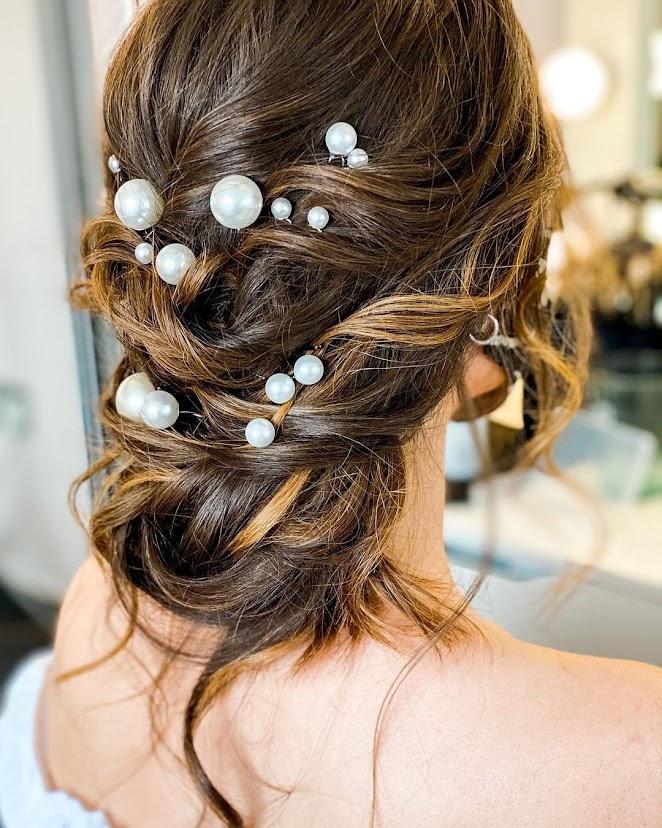 A scattering of pearls in a loose, slightly undone updo makes for a relaxed yet glamorous look, perfect for those looking for a boho wedding hairstyle.
11. Wedding Updo With Flowers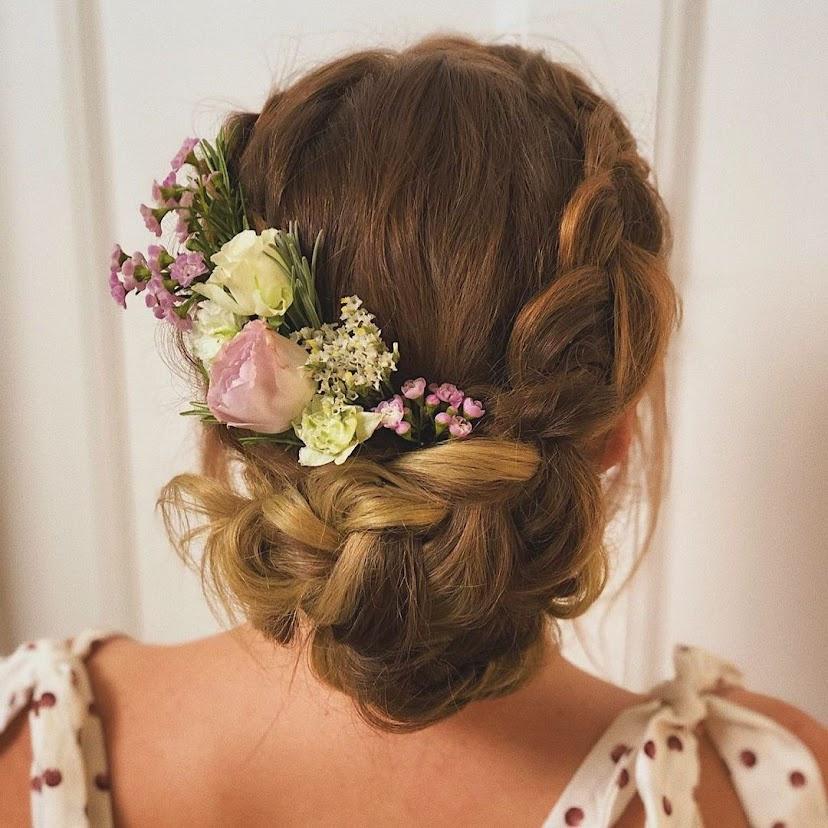 Milkmaid braids plus flowers from your bouquet create a gorgeous summer wedding hair look. This would also be a perfect bridesmaid hairstyle!
12. Low Bun Wedding Hair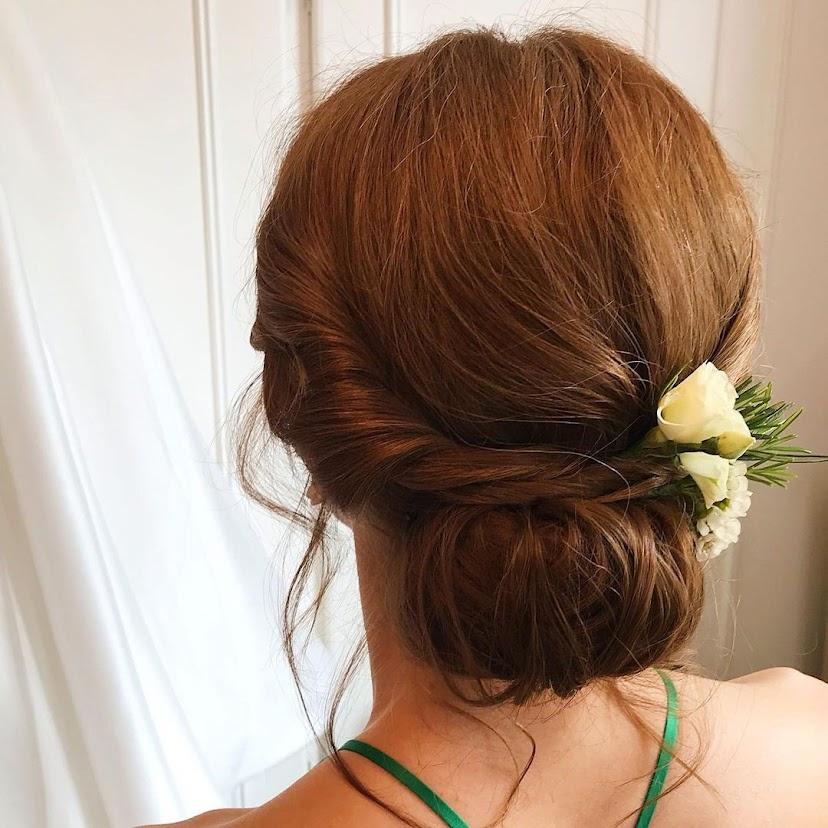 An elegant low bun works just as well for a newlywed as it does for the wedding party. There's a reason it's a classic!
13. Twisted Wedding Hair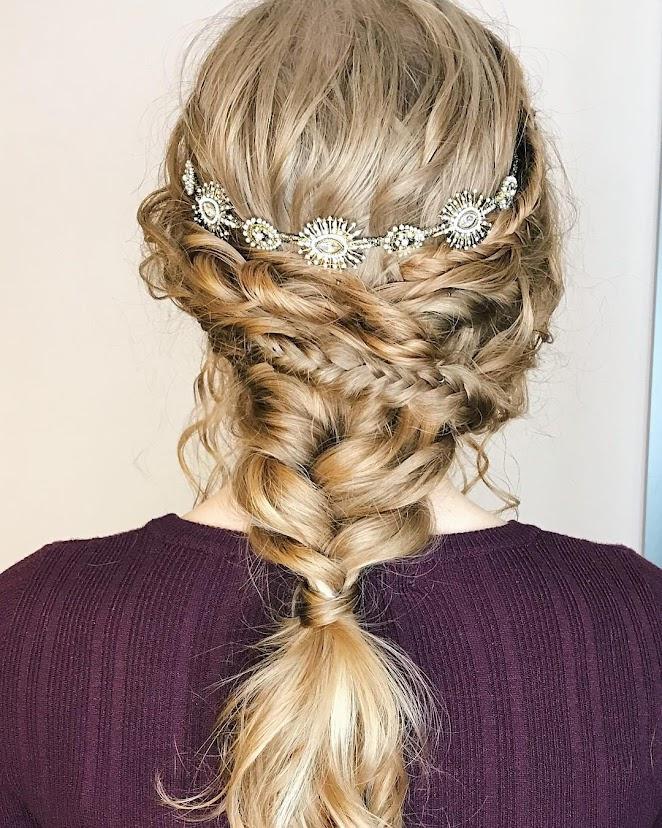 Thin, wide and fishtail plaits all come together in this fantasy-style wedding hairdo.
14. Short Bob Wedding Hair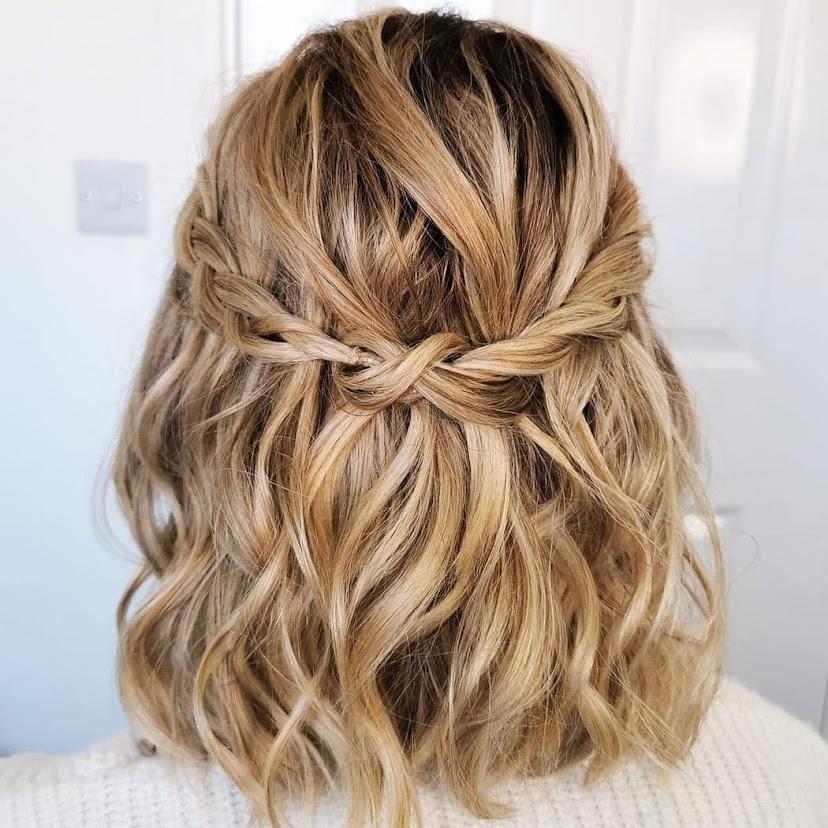 Shorter hair looks beautiful when loosely tonged. Braid the front sections into a twist for an extra pretty touch. See more wedding hairstyles for short hair here.
15. Fishtail Wedding Hair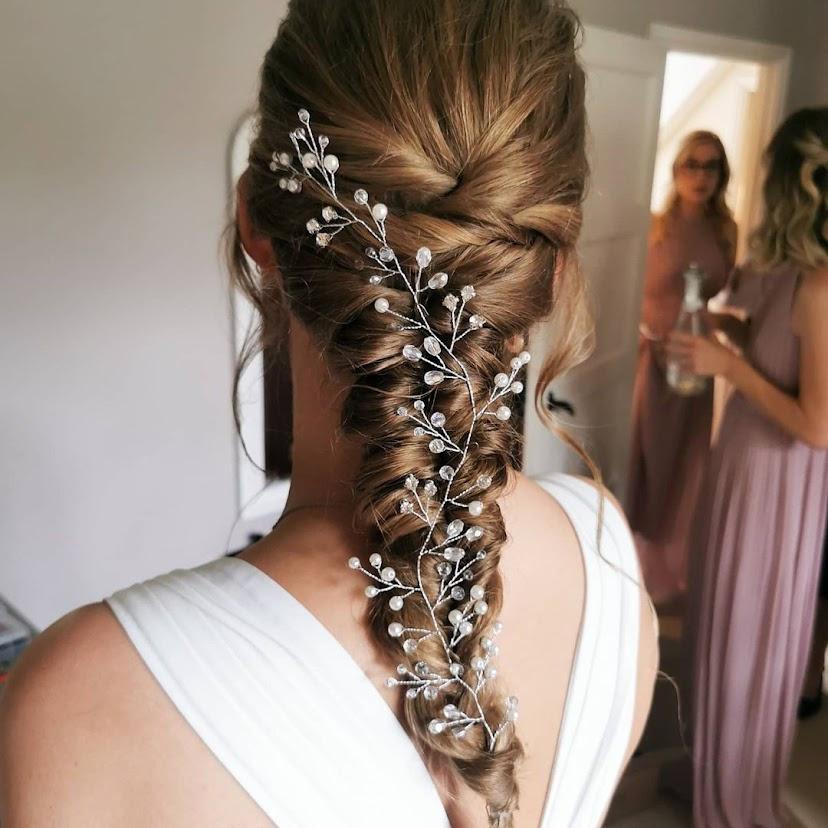 Long, thick hair looks beautiful braided into a thick, fishtail plait, especially when paired with a low-back, sexy wedding dress. Add a hair vine down the length of the plait for outdoor weddings.
16. Infinity Braid Wedding Hair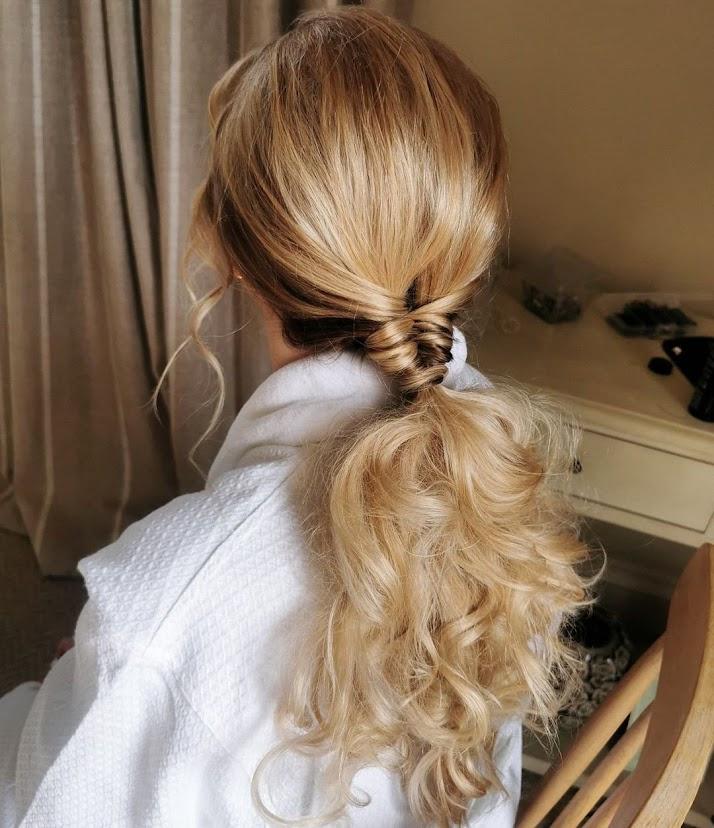 The contrast between the smooth braid and textured ponytail make this an interesting take on classic wedding hair – expect to see much more of this look this year.
17. High Messy Bun Wedding Hair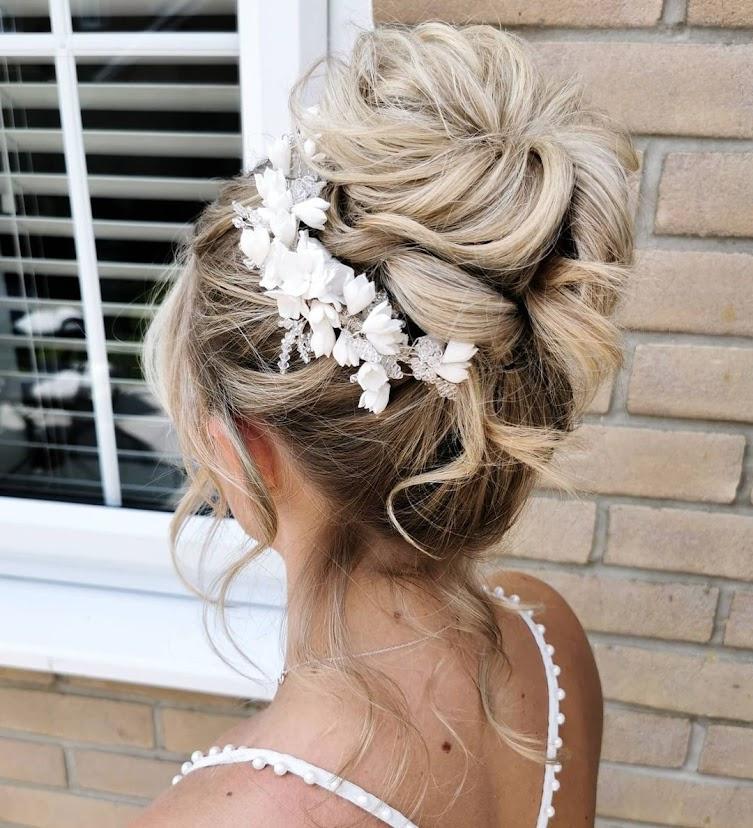 Show off a dress with pretty back detailing with an ultra-high ponytail with hair piled up on top of your head.
18. Loose Messy Bun Wedding Hair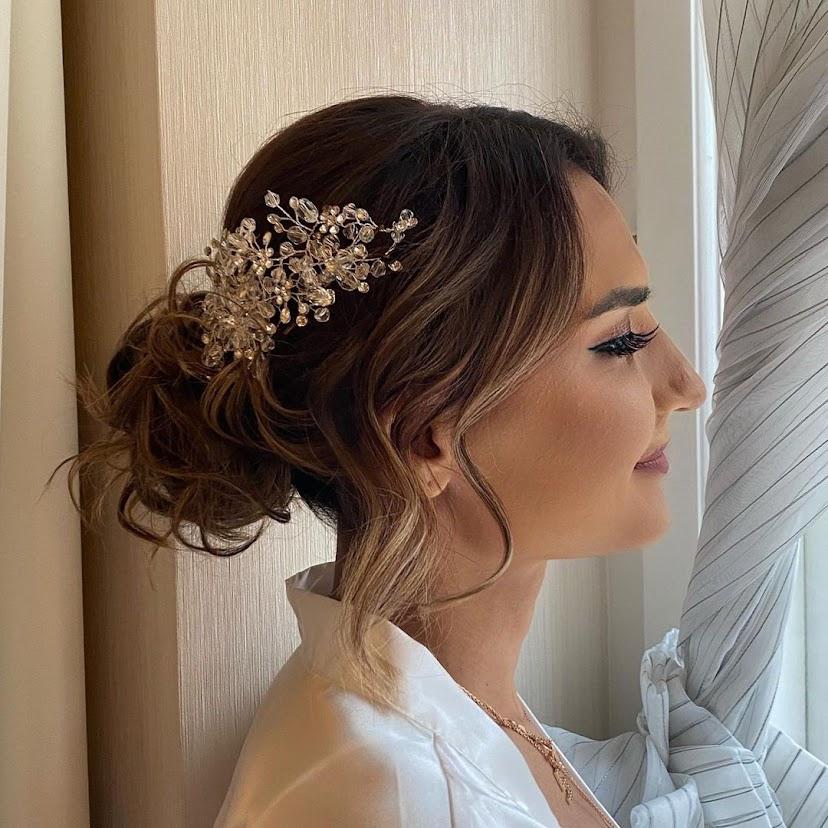 This nearlywed actually has fairly short hair, which sits above her shoulder. Her stylist, Fai Archer Hair & Makeup, used padding to create her messy bun, proving even the shortest hair can be teased into impressive wedding styles.
19. Soft Wedding Updo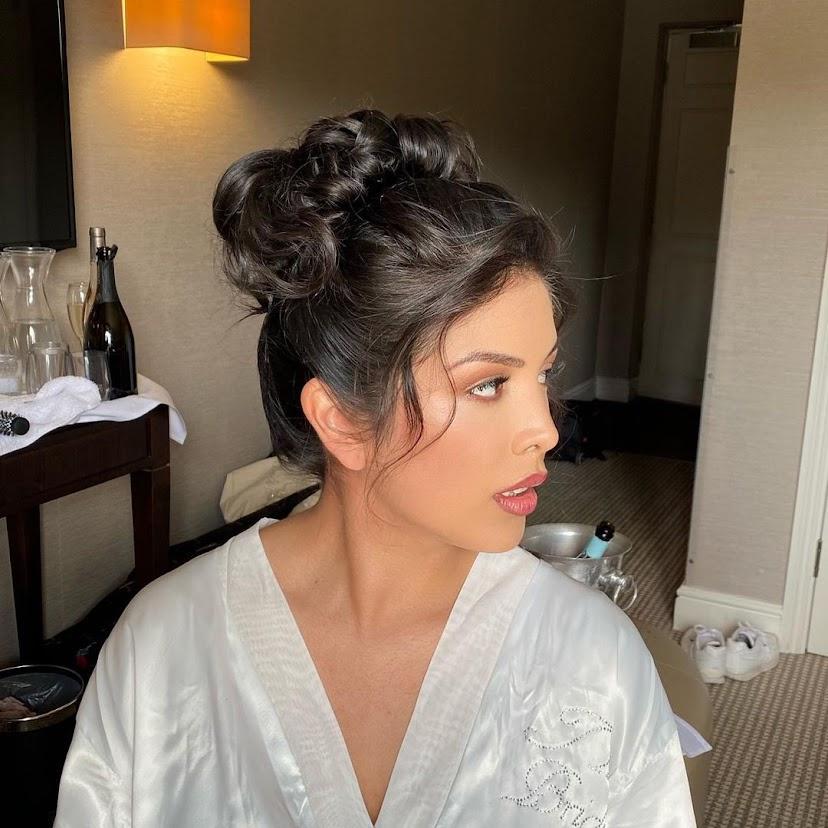 Loose tendrils at the front keep this wedding style by Fai Archer relaxed and soft, stopping the classic updo from looking overly styled. We also adore her bridal robe for a chic getting-ready look!
20. Loose Wedding Hair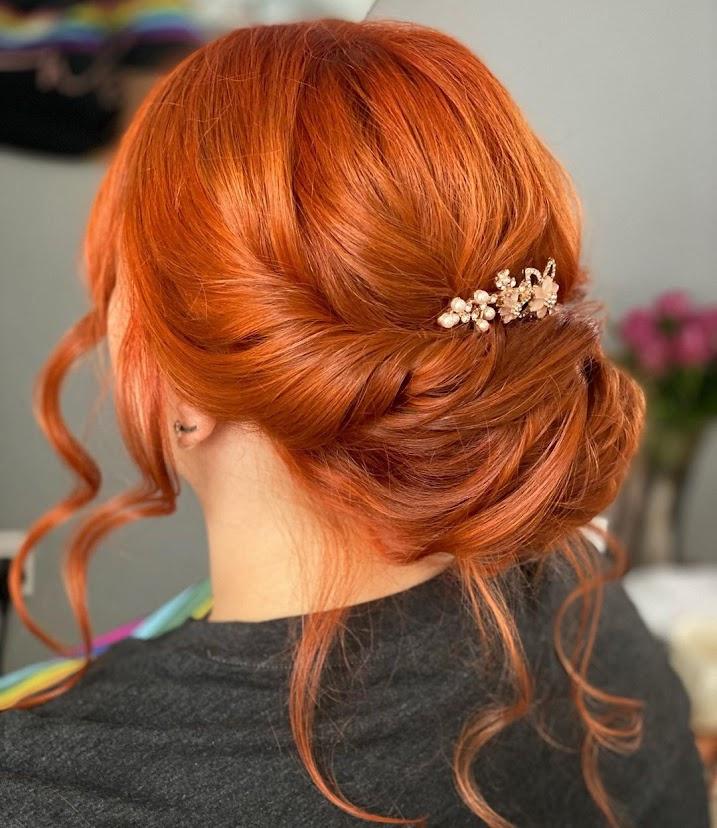 Pair a bold wedding hair colour with a lowkey, relaxed wedding hairstyle and a subtle accessory for a pretty suits-all hairstyle, perfectly demonstrated with this look by NB Wedding & Bridal Hair.
21. Plaited Wedding Hairstyle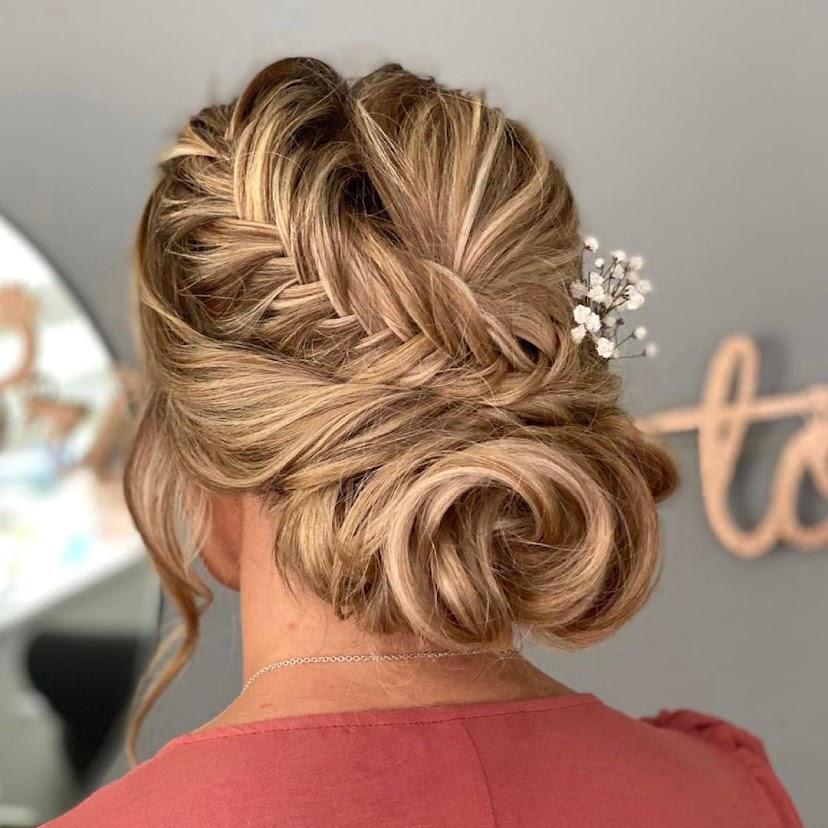 Combine a fishtail braid with a messy low bun for this romantic wedding hairstyle by NB Wedding & Bridal Hair.
22. Half Up Half Down Wedding Hair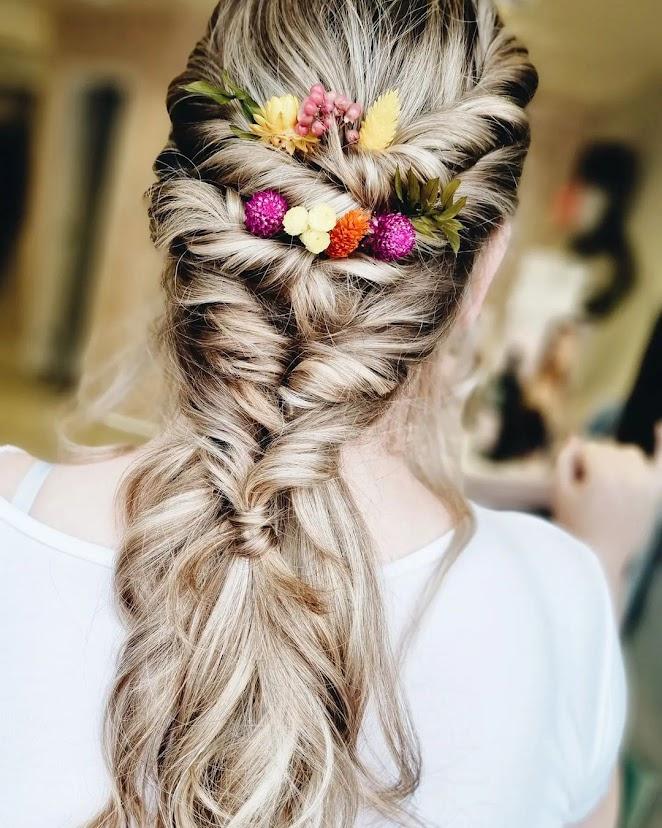 A collection of brightly coloured flowers keep this braided half up half down hairstyle by Victoria Louise Bridal Hair looking fresh and fun.
23. Long Wedding Ponytail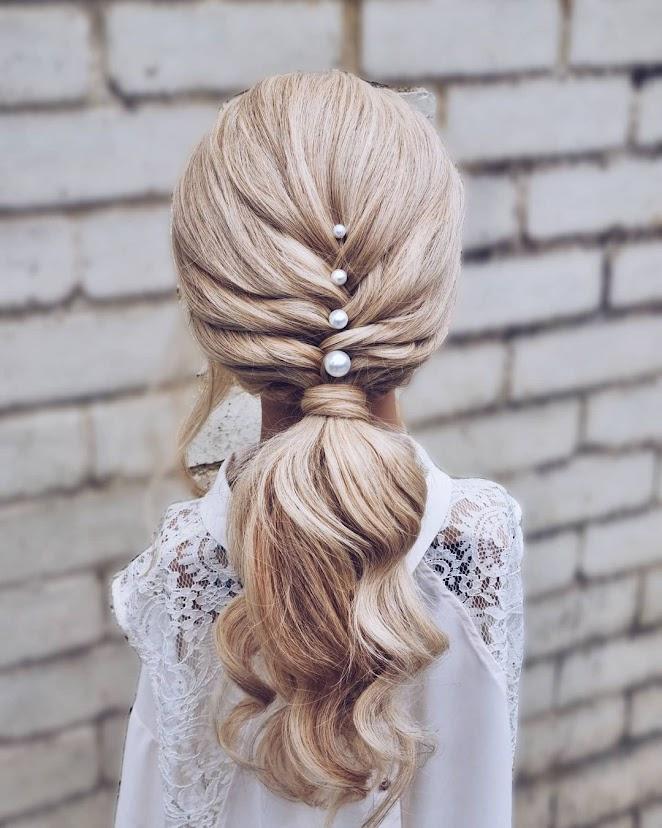 Thick hair looks beautiful teased into a long, princess-style ponytail. Adding in pearl pins makes it an even more glamorous wedding hair look, as proven by Victoria Louise Bridal Hair.
24. Boho Wedding Hair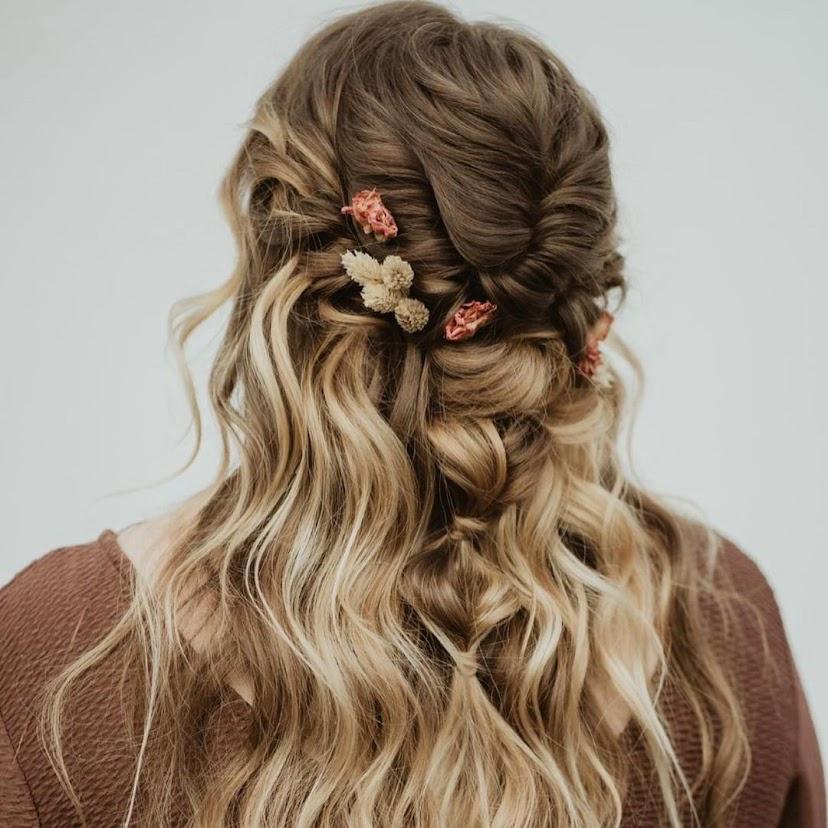 Dried flowers make a beautiful addition to this boho wedding hairstyle.
25. Twisted Wedding Hair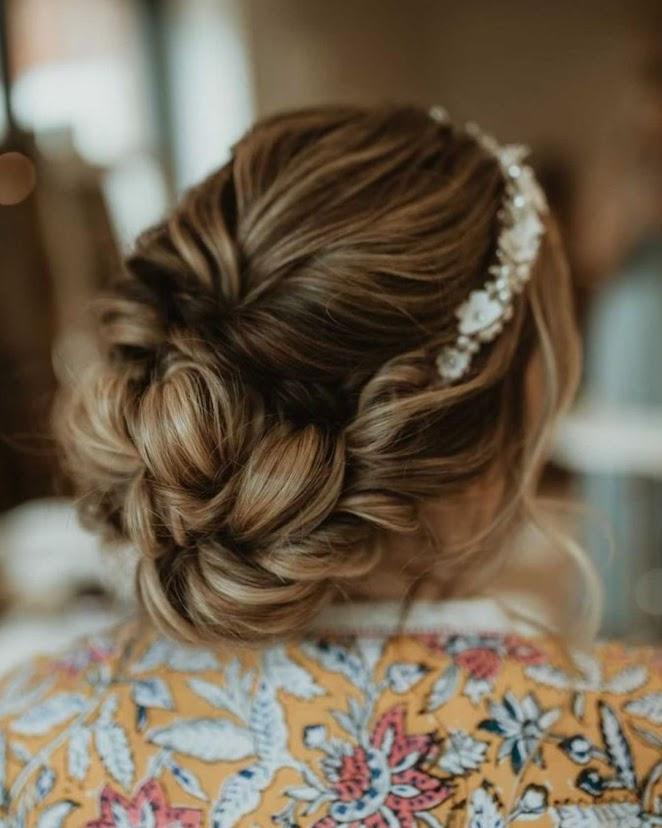 Thick braids look beautifully twisted into a loose, tousled bun.
26. Long Wedding Hair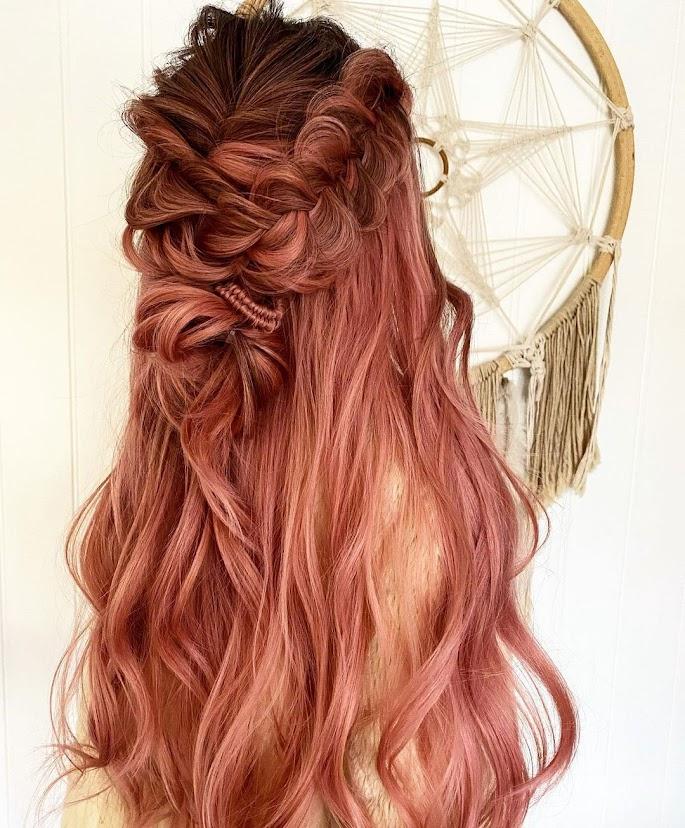 If you're blessed with super long hair, you can combine several wedding hair looks, from fishtail braids, tousled plaits and a half up half down 'do, for a gorgeous combination wedding hairstyle.
27. Textured Wedding Hair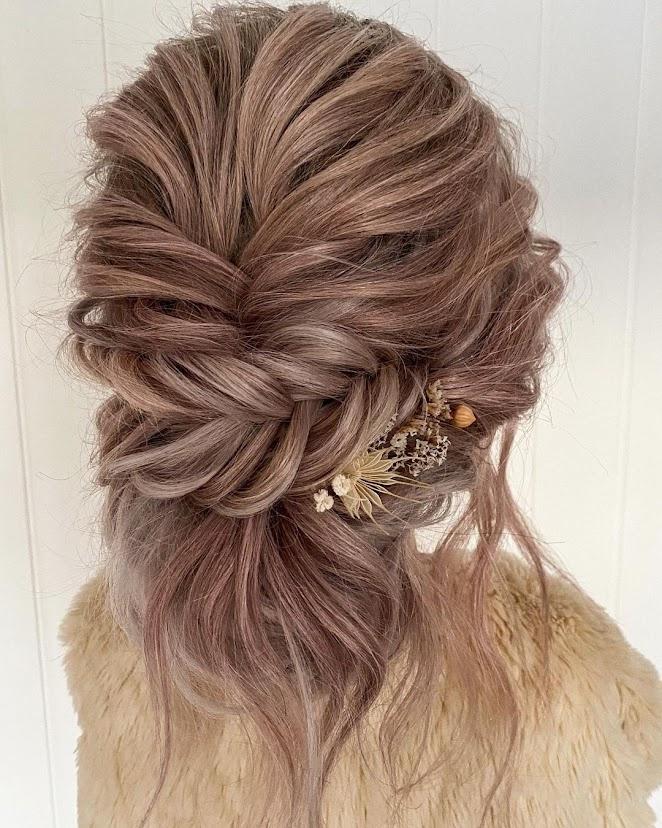 Tease your hair out of a thick braid for this relaxed, boho wedding hairstyle.
28. Shoulder Length Wedding Hair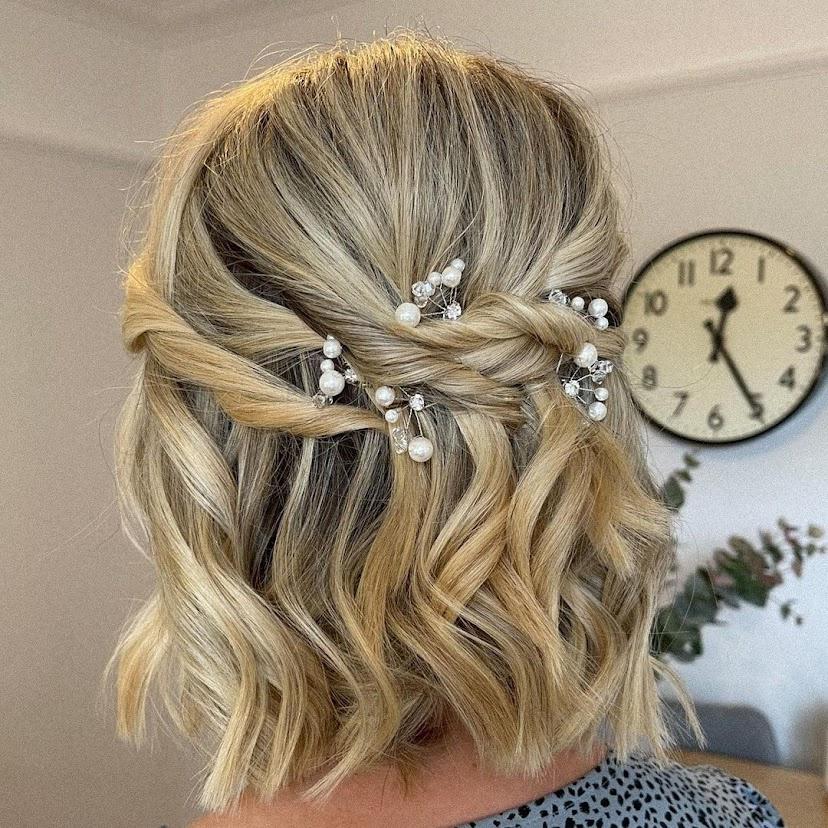 Light waves, a subtle twist and a delicate hair accessory creates a pretty short wedding hairstyle, as seen with this look created by Jessica Short Hair & Makeup.
29. Simple Wedding Hair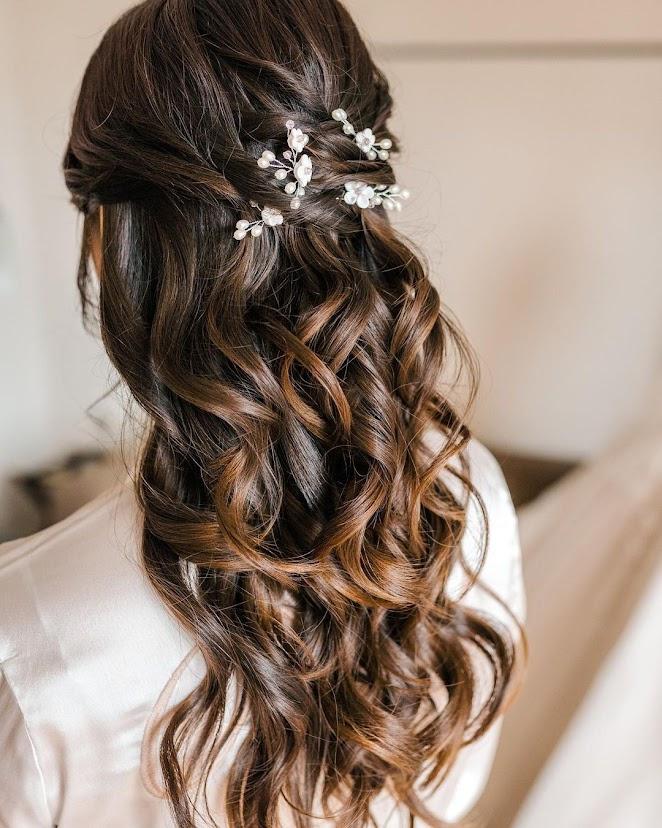 Let your dress do the talking with a simple yet gorgeous hair-down wedding look, like this one by Jessica Short Hair & Makeup.
30. Easy Wedding Hairstyle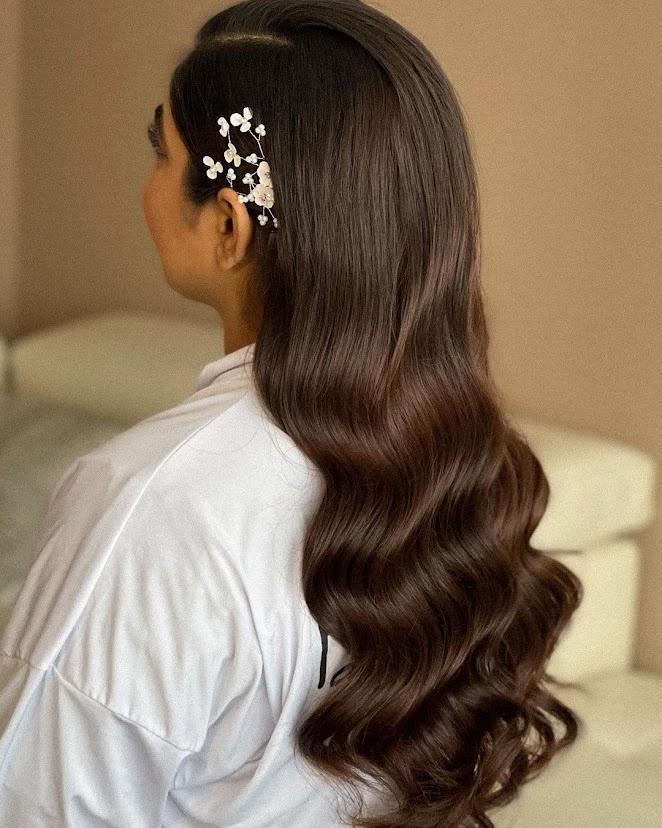 Super long wedding hair looks gorgeous teased into long sleek waves and tucked behind your ear with a delicate clip - it would look perfect with a 1920s style wedding dress!
31. Long Bridal Hairstyle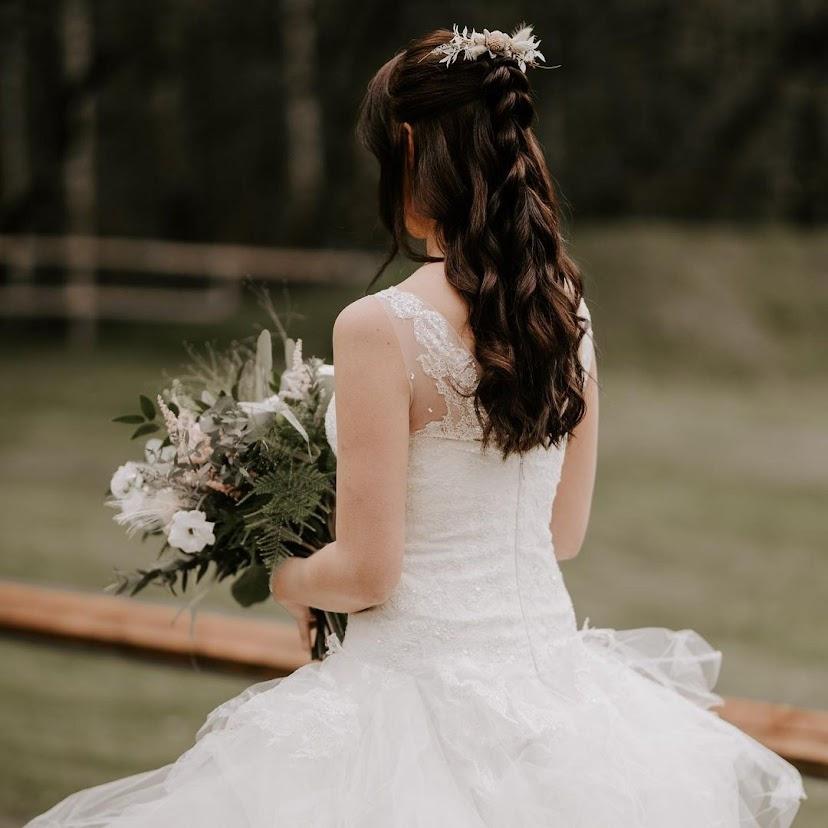 Loose waves and a thick half up half down braid make for a gorgeous woodland wedding hairstyle, like this look by Hair Creations by Colette.
32. Classic Wedding Chignon Hairstyle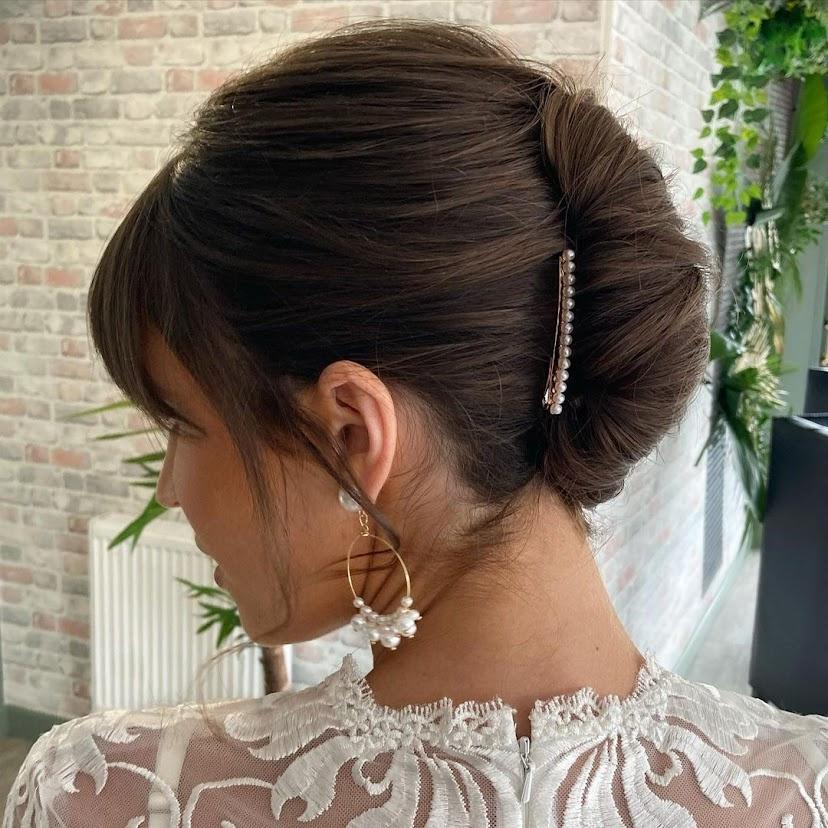 Nothing says 'wedding-day hair' quite like a chic chignon and we love this one by Hair Creations by Colette. Leave face-framing tendrils loose to soften the look.
33. Ombré Wedding Hair
Brushed-out curls look beautiful on ombré hair; the definition makes all the contrasting colours stand out, as you can see here with this striking style from Perfect Marriage. Add in a thick braid for a layered look that shows off the variety of shades in your hair.
34. Glam Side Swept Wedding Hair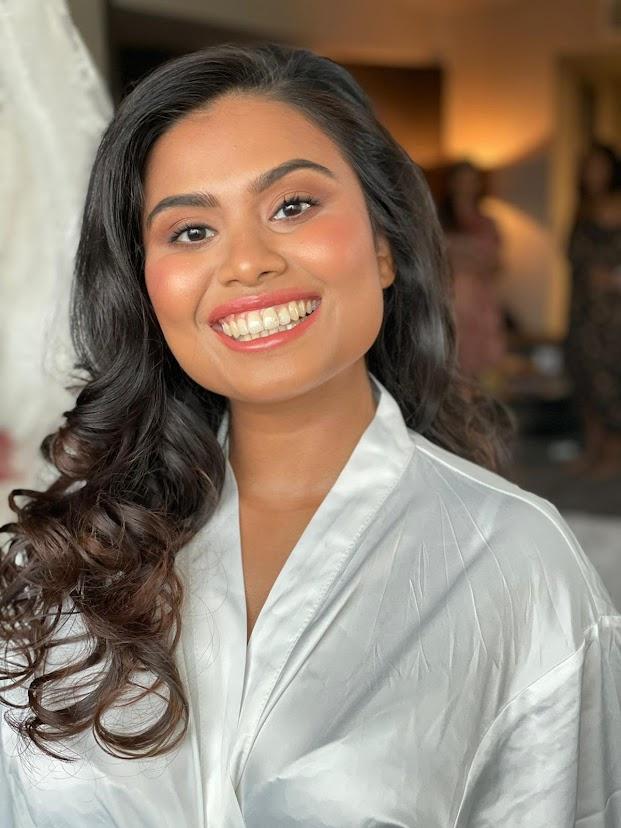 Sweep old-school glamorous curls to one side for an eternally stylish wedding look. We'd wear this with an off the shoulder dress to really show off the gorgeous volume
35. Long Bridal Hair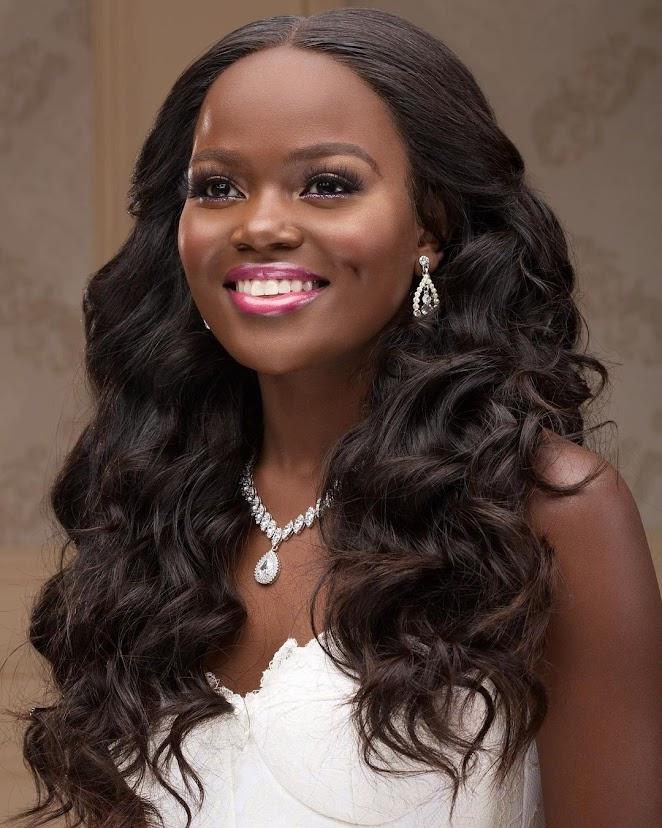 With hair this lovely and thick, it makes sense to wear it down and flowing. Sweep the front sections back to show off your wedding makeup.
36. Wedding Updo Inspiration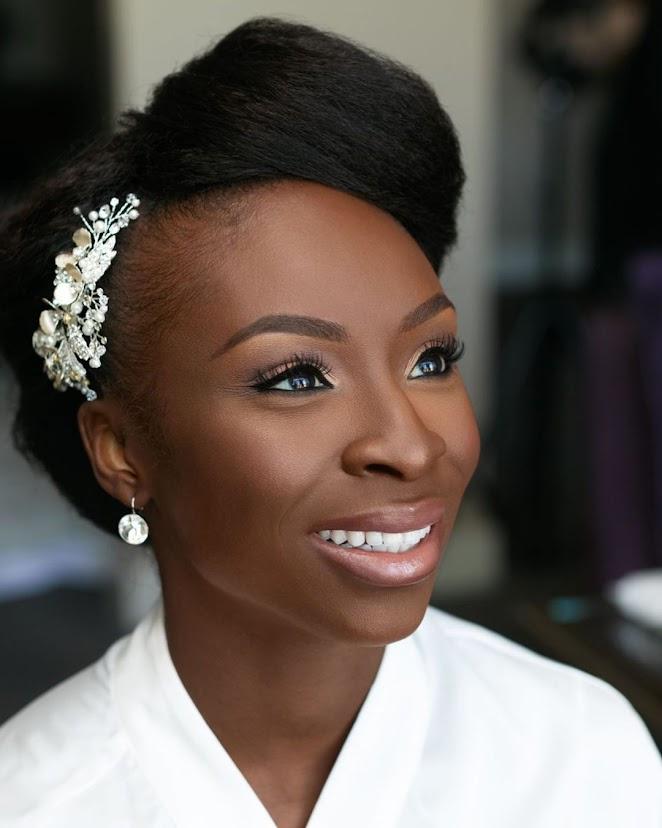 Add a show-stopping accessory that coordinates with your wedding outfit for a glamorous big day feel.
37. Relaxed Wedding Updo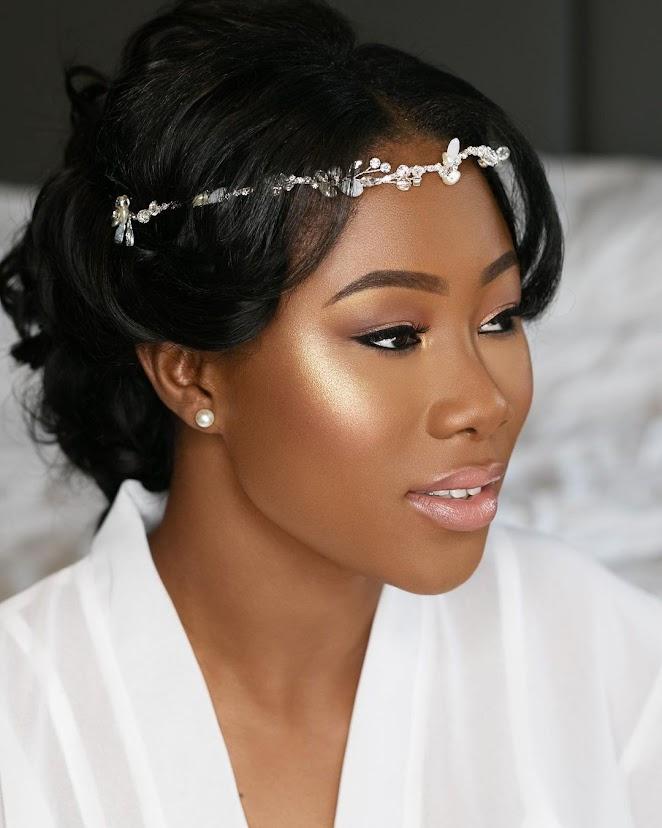 Proving that updos can still be relaxed, loose front sections and a gorgeous headband keep this pretty style laidback.
38. Twisted Updo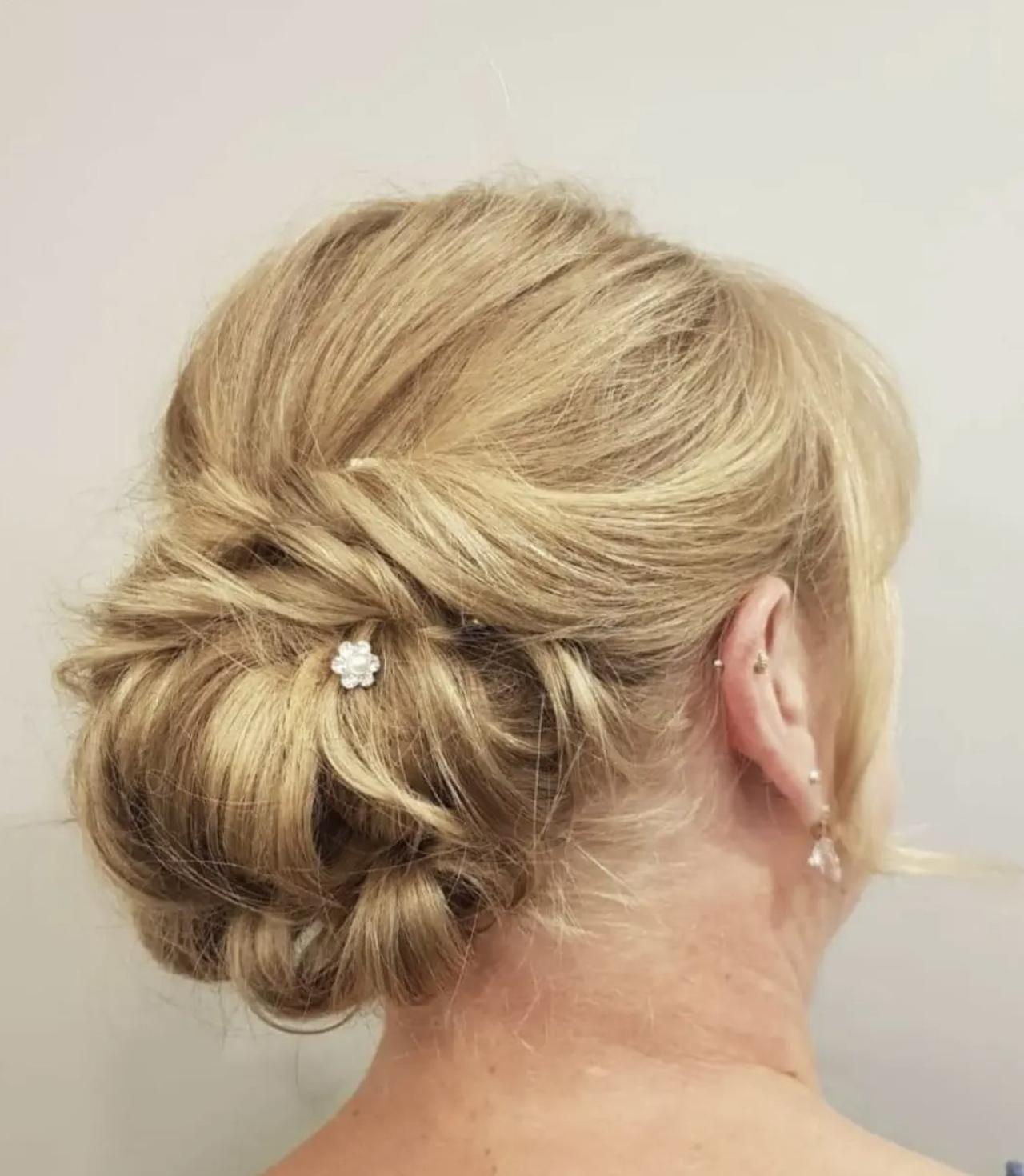 Another rendition of the timeless updo is this twisted style! Personalise the look with hair accessories such as small clips, bejewelled barrettes, or even flowers, depending on your desired aesthetic.
39. Soft Wave Low Ponytail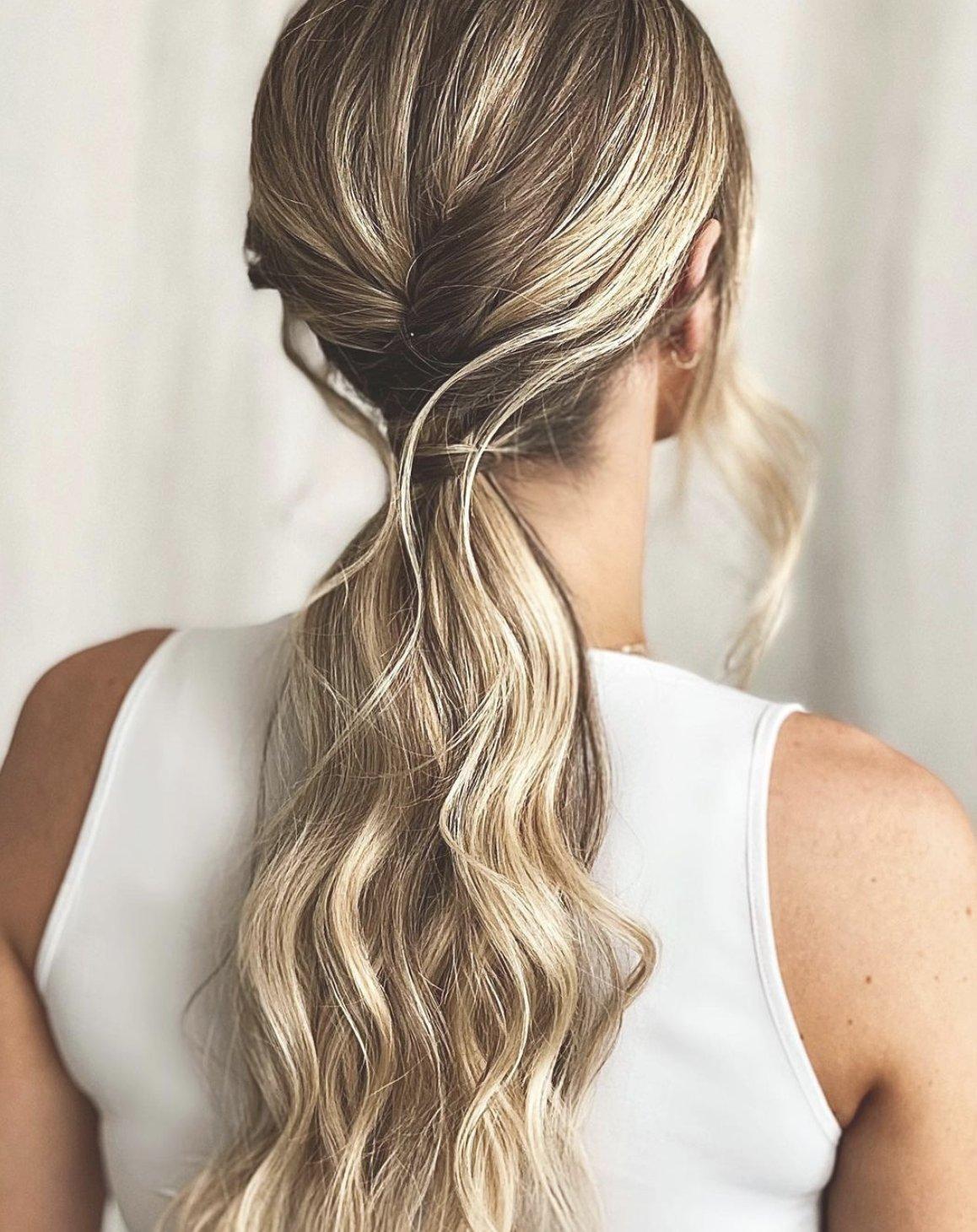 Whether you have medium-length or long hair, this chic style is sure to suit your beautiful tresses! This style is an aesthetically pleasing option that's sure to look great in person and in photos.
40. Fishtail Braid Updo Hairstyle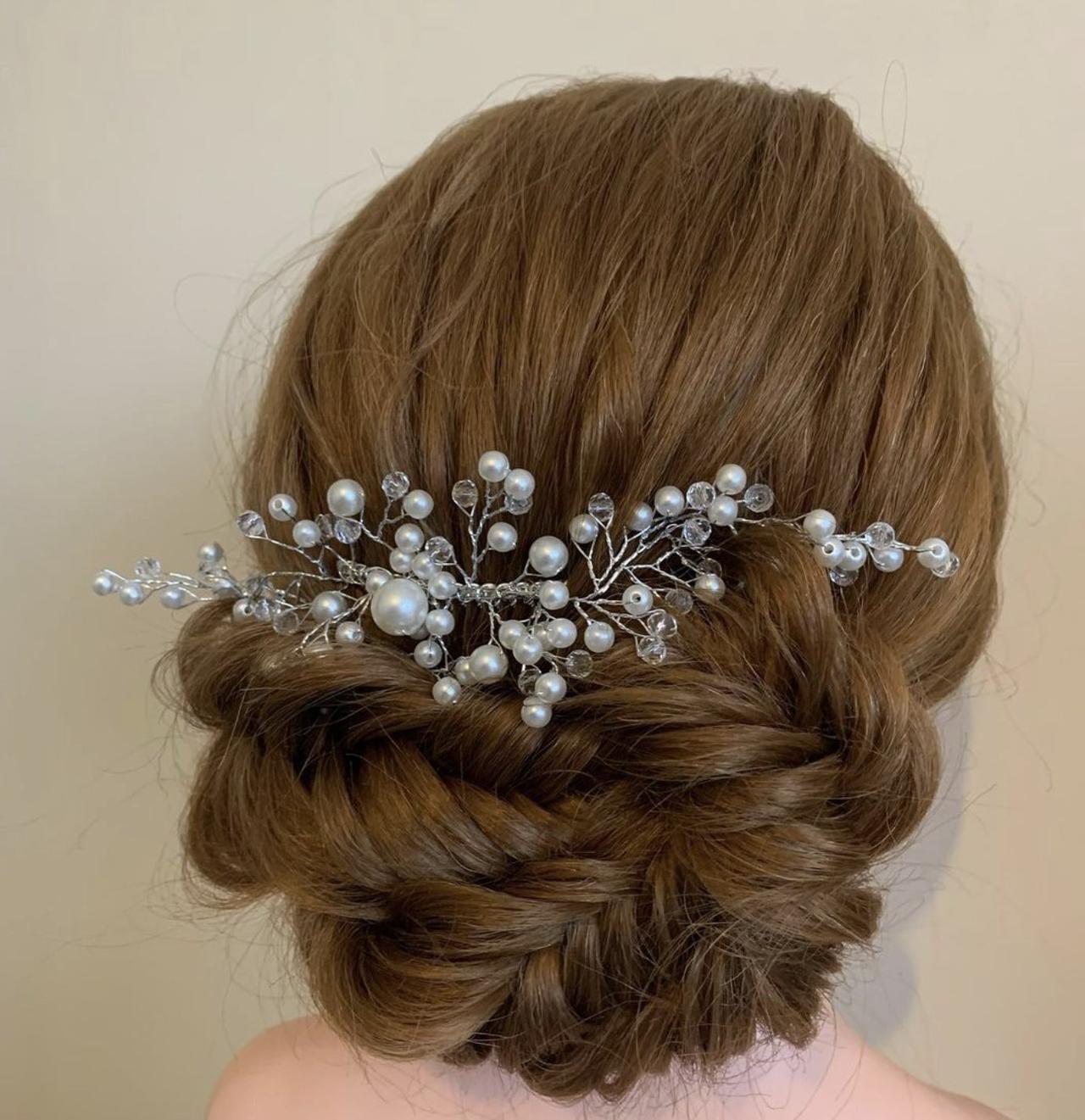 Love the aesthetic of fishtail braids and enchanting updos? With this style, you can have the best of both worlds!
41. Easy Wedding Waves Hairstyle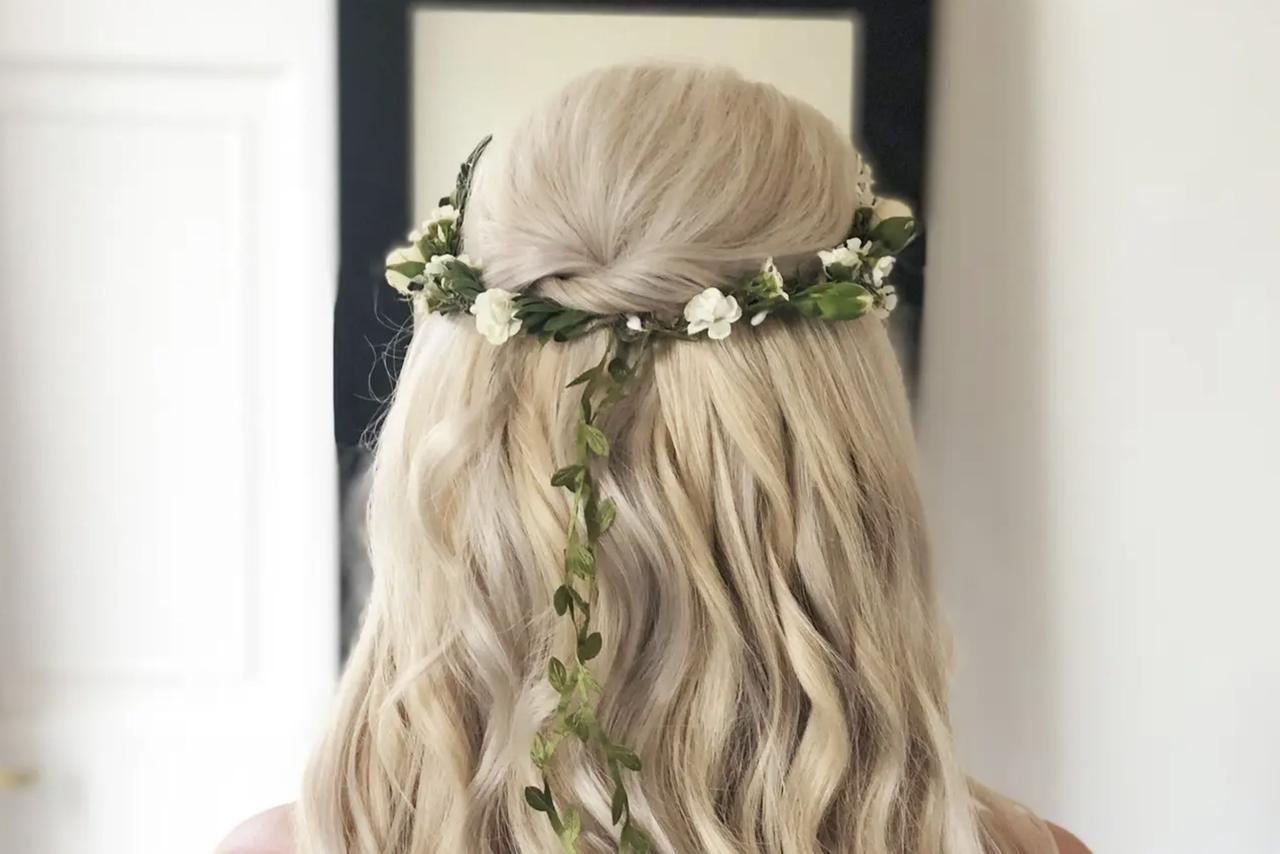 If easy, effortless looks are more your style, be sure to check out this hair creation. These simple waves would be eye-catching on their own or paired with a delicate flower crown as shown above! From short tresses to medium-length locks, this style is sure to suit a wide range of hair types.
42. Boho Wedding Fishtail Braids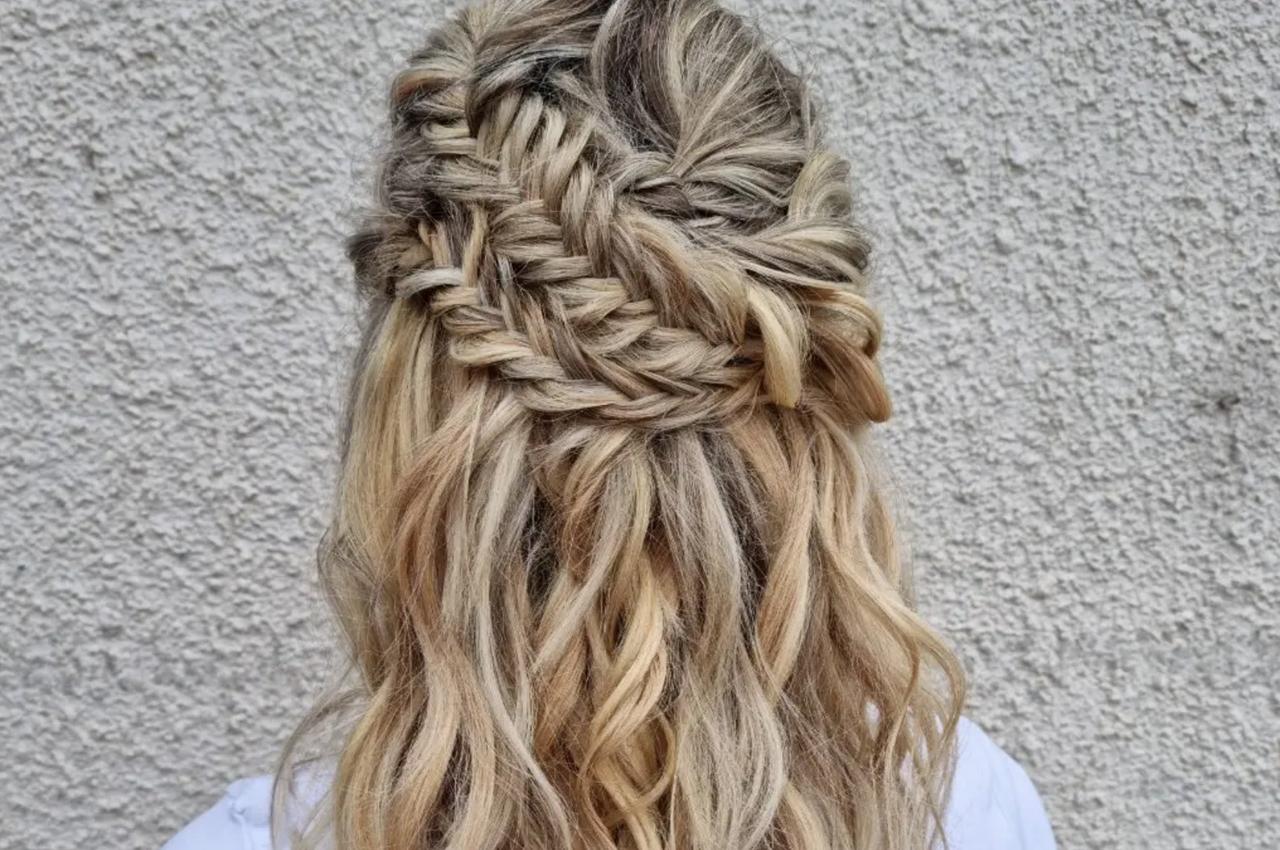 This beautiful style is ideal for nearlyweds who love their hair down but want a touch of texture for their wedding-day look. If you're planning a boho-chic bash, this hairstyle is sure to match your celebration's aesthetic!
43. Minimalist Chic Ponytail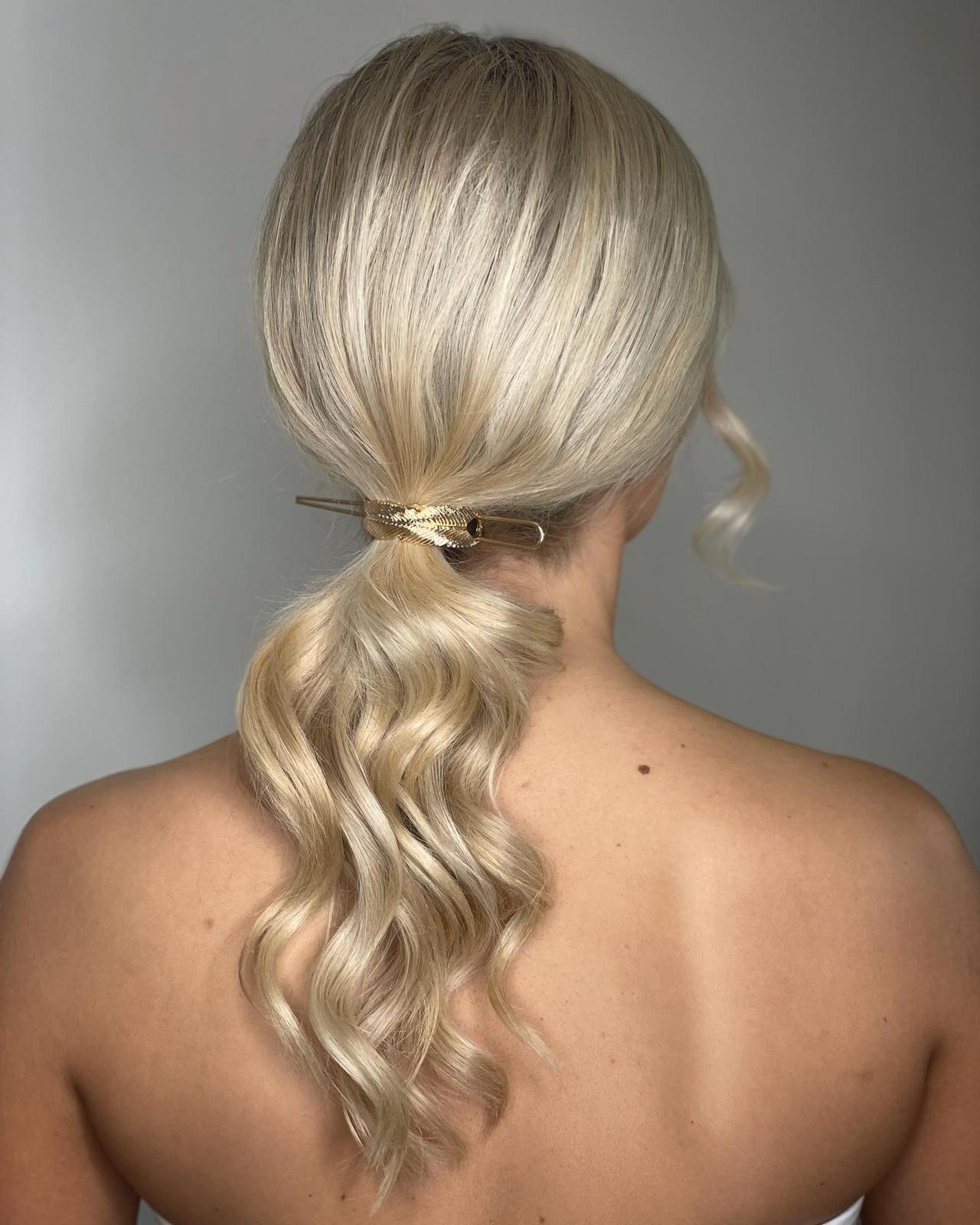 This versatile look will pair well with an array of wedding dress styles. Accentuate the easy, minimalist ponytail with a striking clip as shown above for a touch of added glam!
44. Glam Medium Length Wedding Hairstyle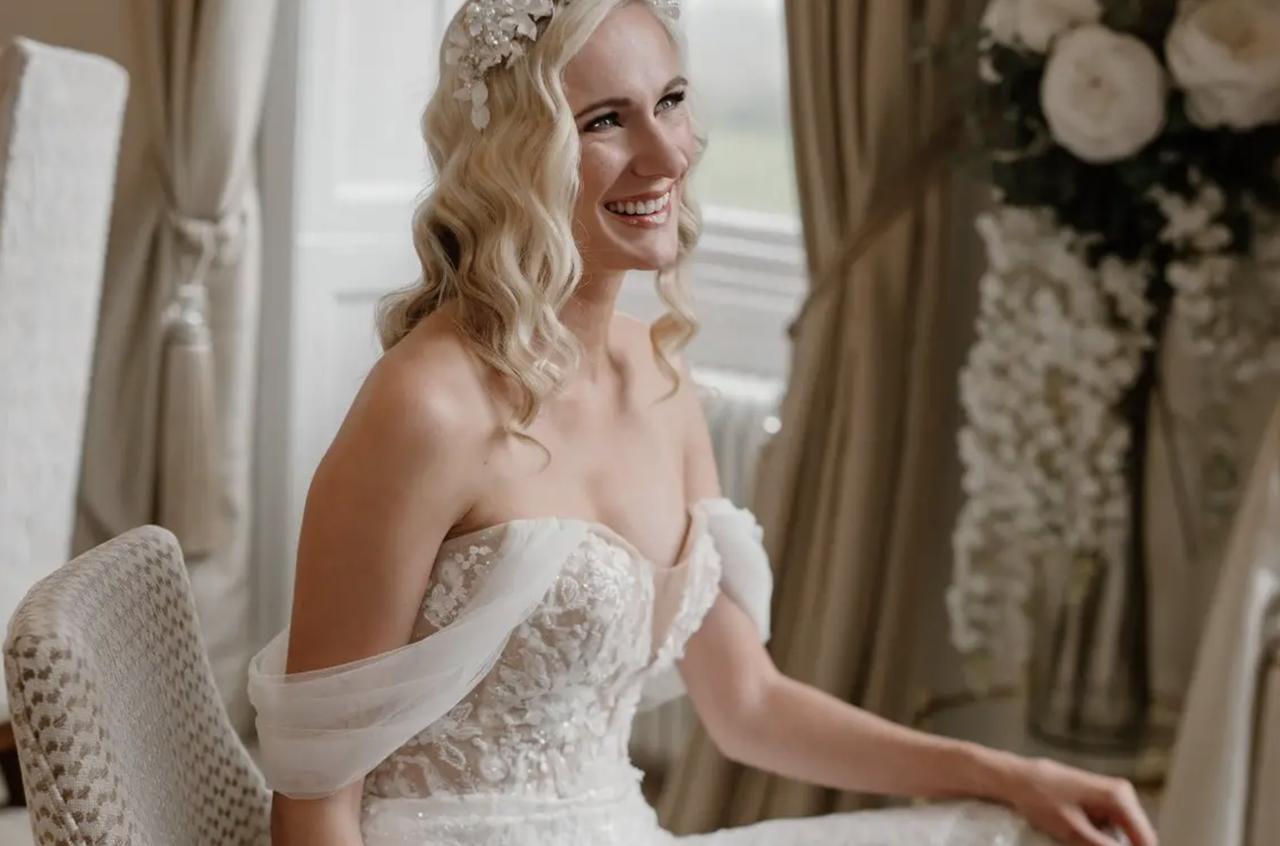 Emphasize your natural beauty on your big day with this soft glam hairstyle. The enchanting look is ideal for nearlyweds with medium length hair and would perfectly complement a fairytale-inspired wedding dress!
45. Loose Fishtail Braid Waves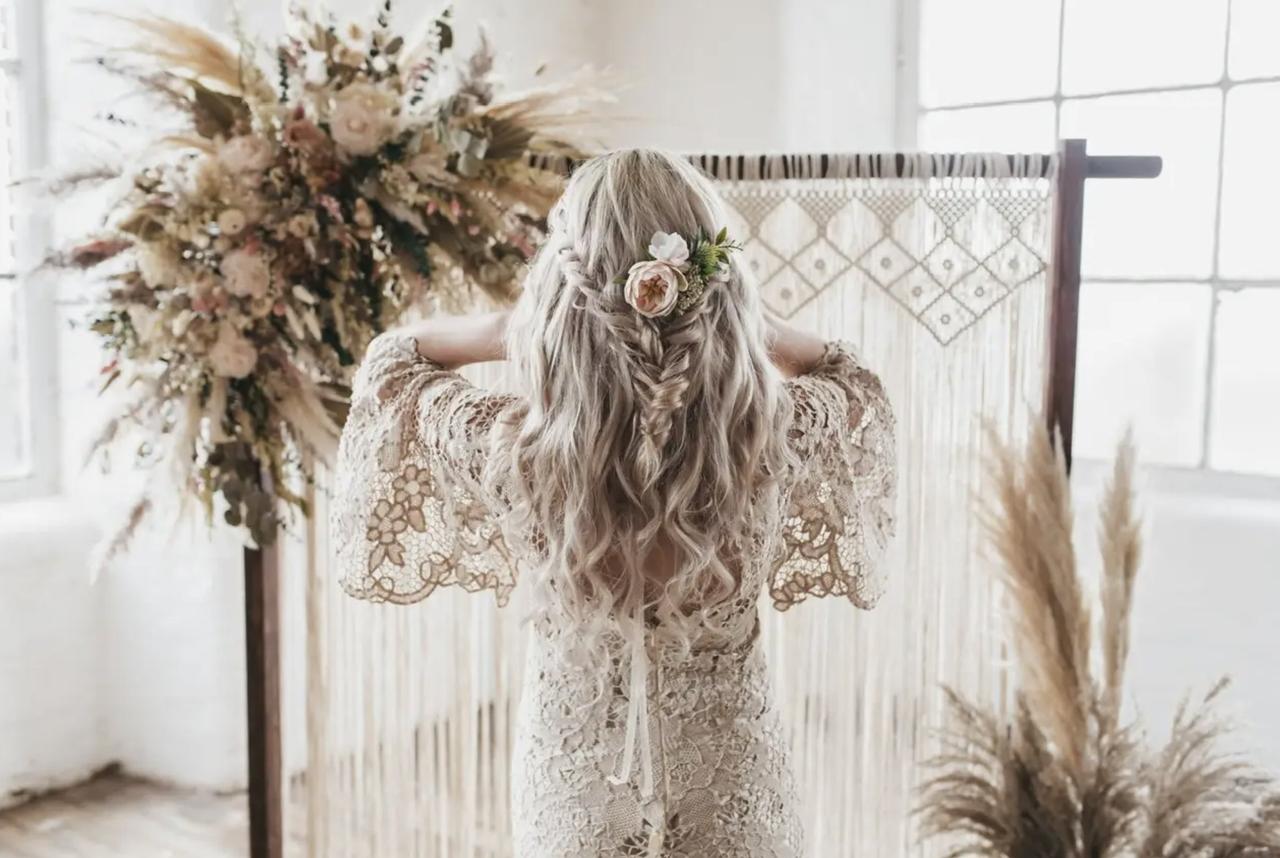 Embrace your hair's natural texture with this loose fishtail braided hairstyle. You can even highlight the beautiful braids with a flower or two, or any other hair accessory that catches your eye.
Seven Expert Tips for Your Wedding Hair
We spoke to three wedding hair experts to get the lowdown on everything you need to think about before saying 'I do' to your wedding hairstyle.
Think About Your Wedding Outfit
"The number one thing to consider when choosing your wedding hairstyle is what you're wearing," says stylist Jason Collier, who has styled the manes of Victoria Beckham and Laura Whitmore "You want to make sure that your hair is highlighting all the right areas of your outfit."
For example, if you've chosen a wedding dress or bridal jumpsuit with intricate back detailing, you're likely to want to wear an updo to accentuate the detailing, while if you're wearing a strapless number, long flowing looks would look perfect.
Consider Your Venue
Along the same lines, think about the wedding venue you've chosen. A laid back barn setting for your wedding would work better with a slightly tousled fishtail braid rather than a super-polished chignon, while a stately home venue is crying out for an intricate princess-worthy updo.
The location of your venue is key too, as Jason points out: "If your wedding is outside, or in a humid climate, you might want to consider wearing your hair in an updo to control the style and prevent it losing shape or going frizzy."
Keep the Weather in Mind
Of course you can't predict the weather, but thinking about the season you're getting married in will help with your 'do decision.
"Is your wedding date in the height of summer and possibly boiling hot? In which case, would it drive you mad to have hair sticking to your neck?" questions stylist Jo Lewis of The Perfect Marriage. "Or if it's likely to be raining, how will your hair cope with being down if it is rainy or damp in the air?
Match Your Wedding Theme
As with the above, try to coordinate your wedding hair with the theme of your day, if you have one.
"Think about your general feel/theme," says Jo. "Are you dreaming of looking boho and whimsical, or classic, elegant and timeless? Romantic and soft, or modern and edgy? Normally once you have chosen this, it gives you an idea of the overall feel you are trying to create."
Choose a 'Do You're Comfortable With
It can be tempting to make a departure from your usual style on your big day, but it might make you feel uneasy. For example, if you wear your hair down every day and always have, switching it up to a high bun is likely to make you feel unlike yourself, adding more pressure to an already somewhat stressful day.
"My top advice is to make sure you feel like yourself and that the style complements your everyday style," agrees Jason. "Your wedding day should be about looking your best self, not like someone else."
Book a Hair Trial
Once you've got your outfit sorted and you've found a hair stylist, book in a hair trial.
"I would always recommend at least one hair trial before the big day and don't just limit it to the style you think you want, try a few things out during this time," says Jason.
Hair Stylist Colette Sudlow, of Hair Creations by Colette agrees on the importance of a hair trial. "Your trial gives you the opportunity to try different hairstyles," she says. "I've had many people have their heart set on a style only to decide it's not the one for them at their trial."
Make sure you take a lot of photos during the trial, from every angle, to make sure you're happy with the overall look of your hair, Jason advises. "This will help you to feel more relaxed on the wedding day, already knowing how it will look," he says.
Speaking of photos, take plenty along to your trial, or even a moodboard of wedding vibes, to give your stylist an idea of the looks you like.
Colette suggests taking along at least three hair inspiration pictures. "I would recommend one of those styles be a hairstyle that is similar to how you would usually style your hair for a special occasion. This helps us to see what you are used to and comfortable with – we can then suggest similar styles that are wedding-y."
A hair trial is about more than just finding the 'do for you, though. It's also a good way to make sure you gel with your hair stylist. "Your trial allows you to meet your stylist and check that they are the kind of person you want in close proximity to you on one of the most special mornings of your life! If you find them irritating, rude or not accommodating then you are not a perfect match," says Jo.
Be Realistic About Your Own Hair
While a stylist will be able to make your hair look its best ever, they aren't miracle workers. "Be realistic about your own hair," advises Jo. "You might love pictures of long flowing waves but have you got enough length and thickness and does it hold a curl?"
Consider if you'd be happy wearing extensions on the day, or if you want to work against your natural texture. Your hair pro will be able to give you the best guidance on how to ensure your hair looks picture perfect whether you keep it natural or opt for a helping hand in the form of extensions.
Best Products for Your Wedding Hair
Once you've browsed all our wedding hair inspiration and found the wedding hairstyle that you love, it's important to make sure your hair is in top condition for your wedding day - here are some of our favourite products for ensuring your hair is at it's best for W-day.
20" Clip In Hair Extensions - Pure Hair Extensions, £109 [Sponsored]
[Ad] Getting hair extensions is a really easy way to make sure your wedding hairstyle looks flawless and perfectly finished - whether you're going for a half-up-half-down wedding hairstyle or a sophisticated updo.
These 20 inch clip in hair extensions are an effortless way to add length and volume to your hair without long-term commitment or lasting damage. They are made from 100% remy human hair and are available in 21 different colours.
Olaplex Hair Rescue Kit - AllBeauty, £52
We all know about the wonders Olaplex can work now, surely? So this Olaplex Hair Rescue Kit from AllBeauty is a great way to give your hair a pre-wedding treat, as it contains four different Olaplex products.
Kerastase: Elixir Ultime L'Huile Originale - AllBeauty, £37.70
This miracle worker provides frizz control for up to 96 hours and you'll enjoy up to 48 hours of increased shine. It also reduces the appearance of split ends, and provides a heavenly scent.
Shu Uemura Art of Hair Ultimate Reset Extreme Repair Masque - AllBeauty £52.65
If you've ever damaged your hair due to colour, bleach, heat, straightening, etc. this Ultimate Reset Extreme Repair Mask is the treat your hair has been crying out for.
Three Month Supply of Chewable Hair Vitamins - Superdrug, £59.97
These chewable hair vitamins will ensure your tresses get all the TLC they need in the run up to your wedding - they'll help you have healthy hair that grows faster. Ideal if you're trying to grow your hair for your wedding.
Olaplex Complete Collection - Look Fantastic, £175
If you want to really get your hair into the best possible condition for your wedding, it's worth investing in the Olaplex Complete Collection. For £175, you'll get seven different hair essentials!
Philip B Peppermint and Avocado Scalp Scrub - Look Fantastic, £81
Make sure your scalp is flake free and truly nourished ahead of your wedding day with this cleansing, restorative scalp scrub.
Slip Pure Silk Turban - Look Fantastic, £70
Hair breakage can often happen overnight - as you toss and turn, your hairs can get caught up in your pillowcase and break. Look after your hair with a pure silk turban - this one from Look Fantastic comes in three different colours.
GHD Bodyguard Heat Protect Spray - GHD, £18.95
The best thing you can do for your hair is to make sure you always use heat protection when drying and styling it - this GHD Bodyguard Heat Protect Spray will save your hair from further damage.
GHD Perfect Ending Final Fix Hairspray - GHD, £9
Have a bottle of this GHD hairspray in your bridal emergency kit on your wedding day! The lightweight spray will ensure your hair stays immaculate, no matter what kind of wedding hairstyle you go for!
Once you've sorted your bridal hair out, it's time to think about your wedding makeup!