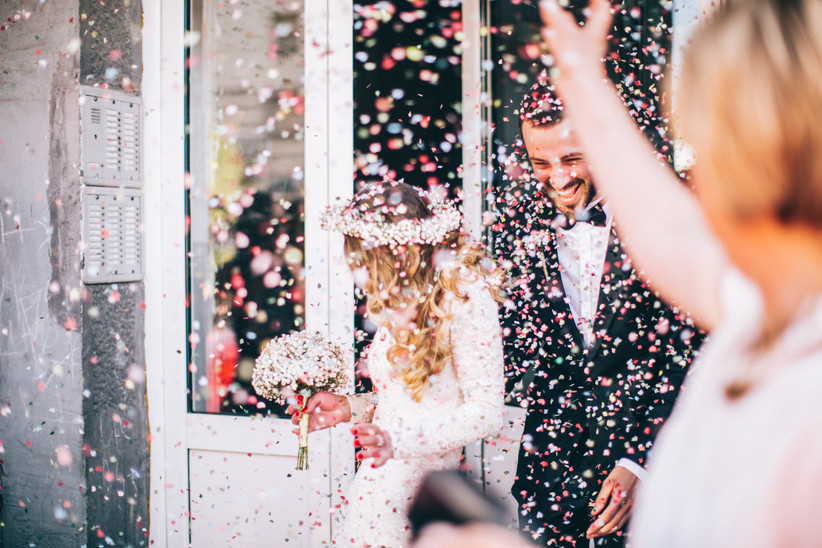 Recessional songs, better known as wedding exit songs, are played as the couple walk back down the aisle as newlyweds and the guests clap wildly. Happy, celebratory and bursting with love, your recessional song should reflect the excitement you're feeling inside. You just got married to the love of your life! We promise you won't stop smiling.
At the top of the aisle, you'll normally wait with your partner and your guests will gather outside to throw confetti. This means you could get away with choosing a couple of wedding songs for the recessional depending on how long you think it'll take everyone to congregate.
How to Choose Your Recessional Song
One of our favourite choices is All You Need is Love. You might remember this Beatles' classic sung by the gospel choir during the wedding scene in Love, Actually. Brownie points to any best man who recreates that! But there are loads of amazing wedding exit song choices from We Go Together from the movie Grease to Taylor Swift's Love Story.
Children's movie actually prove a beloved source of recessional songs. The Lion King and Toy Story make the list, but can you guess which songs? Don't forget classical music choices too, just remember the tone should be triumphant and the tempo relatively upbeat.
The 50 Best Wedding Exit Songs
Our playlist of wedding exit songs to help you pick your favourite from is below. Enjoy listening!
All You Need Is Love – The Beatles
Signed, Sealed, Delivered (I'm Yours) – Stevie Wonder
Arrival of the Queen of Sheba from "Solomon" – Bela Banafalvi & Budapest Strings
It Had to Be You – Harry Connick, Jr.
You Make My Dreams – Hall & Oates
(Your Love Keeps Lifting Me) Higher & Higher – Jackie Wilson
"Ode to Joy" from Symphony No. 9 in D minor, Op. 125: Choral) – Beethoven
Beautiful Day – U2
I Do, I Do, I Do, I Do, I Do – ABBA
Hakuna Matata – The Lion King
Love Story – Taylor Swift
We Go Together – John Travolta & Olivia Newton-John
Love and Marriage – Frank Sinatra
Salut D'amour – Elgar
Walking On Sunshine – Katrina & The Waves
Canon and Gigue in D Major: I. Canon – J.S. Bach Orchestra
Accidentally In Love – Counting Crows
Ain't Nothing Like the Real Thing – Marvin Gaye & Tammi Terrell
Be Our Guest – Angela Lansbury, Jerry Orbach & Chorus – Beauty an
Bring Me Sunshine – Morecambe & Wise
For Once in My Life – Stevie Wonder
Living on A Prayer – Bon Jovi
I Was Born To Love You – Freddie Mercury
If I Fall to Your Heart – Derwent Hannon
Wedding Day – Bee Gees
A Midsummer Night's Dream, Op. 61 Incidental Music: No. 9 Wedding March – Royal Concertgebouw Orchestra & George Szell
She Is Love – Oasis
Eine Kleine Nachtmusik and Posthorn-Serenade – Mozart
Love Lust – King Charles
The Best of Me – Cliff Richard
On This Day – David Pomeranz
Recessional: Rondeau (Mouret) – Wedding Music Experts: The O'Neill Brothers
You've Got A Friend In Me (From "Toy Story"/ Soundtrack) – Randy Newman
Amazed – Lonestar
Any Other Name – Original – Thomas Newman
Up Around the Bend – Creedence Clearwater Revival
Brandenburg Concerto No.1 in F, BWV 1046: 1. (without tempo indication) – The English Concert & Trevor Pinnock
I Was Born To Love You (Extended Version) – Freddie Mercury
Oh My Love – The Score
Bel Air – Lana Del Rey
Best Day of My Life – American Authors
Love You I Do – Jennifer Hudson
Music for the Royal Fireworks – Suite, HWV 351: IV. La réjouissance – Karl Münchinger & Stuttgarter Kammerorchester
Rule the World – Take That
The Edge Of Glory – Lady Gaga
Wind Beneath My Wings – Bette Midler
Evergreen (Love Theme from "A Star Is Born") (Live) – Barbra Streisand
Verdi: Aida: Triumphal March & Ballet – Giuseppe Verdi
Anything Could Happen – Ellie Goulding
What a Wonderful World – Louis Armstrong