100+ of the Best Wedding Recessional Songs to Exit Your Ceremony To
Wedding recessional songs are the music played as the newlywed couple descend down the aisle followed by their guests - and it should be triumphant!
We have included third party products to help you navigate and enjoy life's biggest moments. Purchases made through links on this page may earn us a commission.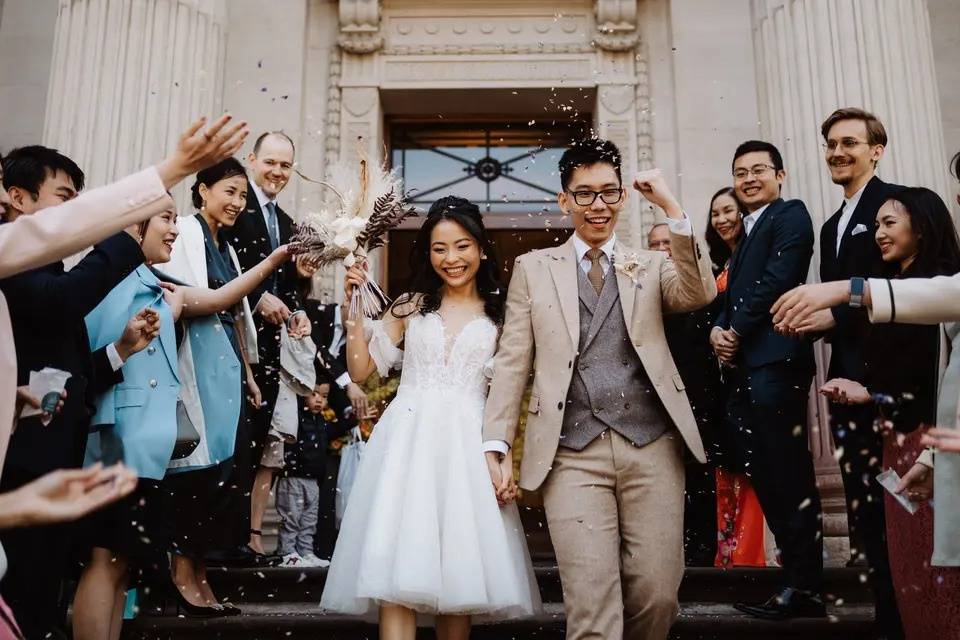 Wedding recessional songs, better known as wedding exit songs, are played as the couple walk back down the aisle as newlyweds and the guests clap wildly. Happy, celebratory and bursting with love, your wedding recessional song should reflect the excitement you're feeling inside. You just got married to the love of your life! We promise you won't stop smiling.
At the top of the aisle, you'll normally wait with your partner and your guests will gather outside to throw confetti. This means you could get away with choosing a couple of wedding songs to walk out of your wedding ceremony to depending on how long you think it'll take everyone to congregate.
Tim Sentance, Director of Boujee Music says: "This is a moment of true celebration, when all your guests will be clapping, whooping and cheering, and pairing it with the perfect song will make it even more joyful and memorable for you and your guests. Our most popular wedding recessional song requests from couples are 'Arrival of the Queen of Sheba' by Handel, 'September' by Earth, Wind & Fire, and '(Your Love Keeps Lifting Me) Higher and Higher' by Jackie Wilson. And of course, the classic 'Wedding March' from A Midsummer Night's Dream by Mendelssohn."
Want even more inspiration? We have over 100 songs to exit your ceremony to, plus, a Spotify playlist with classic wedding recessional songs to help you pick your favourite. Enjoy listening!
108 of the Best Wedding Exit Songs
Tim Sentance of Boujee Music gave us his top wedding recessional song choices no matter what your music taste. Highlighted in bold, there is a song to suit all couples and wedding styles.
Classical Recessional Wedding Songs
Widor's Toccata – Charles-Marie Widor
Hallelujah Chorus from Handel's Messiah – George Frideric Handel
1st Movement from Eine Kleine Nachtmusik – Mozart
Spring – Vivaldi
Waltz Of The Flowers – Tchaikovsky
Trumpet Tune And Bell Symphony – Henry Purcell
One Hand, One Heart – Bernstein
On Wings Of Song – Mendelssohn
Sonata in G Major – Giuseppe Tartini
Ave Maria – Schubert
Up-Beat Wedding Recessional Songs
Can't Stop The Feeling – Justin Timberlake
Love You I Do – Jennifer Hudson
How Sweet It Is (To Be Loved By You) – Marvin Gaye
Sky Full Of Stars – Coldplay
Happy – Pharrell Williams
Dancing In The Moonlight – Toploader
This Will Be (An Everlasting Love) – Natalie Cole
I'm Yours – Jason Mraz
Marry You – Bruno Mars
Electric Love – Børns
Forever And For Always – Shania Twain
Ho Hey – The Lumineers
Sugar – Maroon 5
Here Comes The Sun – The Beatles
Higher Love – Steve Winwood and Eric Clapton
Walking On Sunshine – Katrina & The Waves
Non-Traditional Wedding Recessional Songs
I Believe In A Thing Called Love – The Darkness
Crazy In Love – Beyoncé
One More Time – Daft Punk
Treasure – Bruno Mars
Electric Feel – MGMT
XO – Beyoncé
Sweet Creature – Harry Styles
10,000 Hours – Dan + Shay and Justin Bieber
Better Together – Jack Johnson
Carry Me Away – John Mayer
Yours – Ella Henderson
Over The Rainbow – Israel Kamakawiwo'ole
Sweet Disposition – The Temper Trap
Call Of The Search – Katie Melua
Everything – Michael Bublé
Funny Wedding Recessional Songs
Get Lucky – Daft Punk
I Gotta Feeling – Black Eyed Peas
Hakuna Matata – The Lion King
Hey Ya – OutKast
We Will Rock You – Queen
Don't Go Breaking My Heart – Elton John ft. Kiki Dee
Gold Digger – Kayne West ft. Jamie Foxx
Classic Recessional Wedding Songs
All You Need Is Love – The Beatles
Signed, Sealed, Delivered (I'm Yours) – Stevie Wonder
Arrival of the Queen of Sheba from "Solomon" – Bela Banafalvi & Budapest Strings
It Had to Be You – Harry Connick, Jr.
At Last – Etta James
You Make My Dreams – Hall & Oates
(Your Love Keeps Lifting Me) Higher & Higher – Jackie Wilson
"Ode to Joy" from Symphony No. 9 in D minor, Op. 125: Choral) – Beethoven
Beautiful Day – U2
I Do, I Do, I Do, I Do, I Do – ABBA
Love Story – Taylor Swift
We Go Together – John Travolta & Olivia Newton-John
Love and Marriage – Frank Sinatra
Salut D'amour – Elgar
Walking On Sunshine – Katrina & The Waves
Canon and Gigue in D Major: I. Canon – J.S. Bach Orchestra
Accidentally In Love – Counting Crows
Ain't Nothing Like the Real Thing – Marvin Gaye & Tammi Terrell
Be Our Guest – Angela Lansbury, Jerry Orbach & Chorus – Beauty an
Bring Me Sunshine – Morecambe & Wise
For Once in My Life – Stevie Wonder
Living on A Prayer – Bon Jovi
I Was Born To Love You – Freddie Mercury
If I Fall to Your Heart – Derwent Hannon
Wedding Day – Bee Gees
A Midsummer Night's Dream, Op. 61 Incidental Music: No. 9 Wedding March – Royal Concertgebouw Orchestra & George Szell
She Is Love – Oasis
Eine Kleine Nachtmusik and Posthorn-Serenade – Mozart
Love Lust – King Charles
The Best of Me – Cliff Richard
On This Day – David Pomeranz
Recessional: Rondeau (Mouret) – Wedding Music Experts: The O'Neill Brothers
You've Got A Friend In Me (From "Toy Story"/ Soundtrack) – Randy Newman
Amazed – Lonestar
Any Other Name – Original – Thomas Newman
Up Around the Bend – Creedence Clearwater Revival
Brandenburg Concerto No.1 in F, BWV 1046: 1. (without tempo indication) – The English Concert & Trevor Pinnock
I Was Born To Love You (Extended Version) – Freddie Mercury
Oh My Love – The Score
Bel Air – Lana Del Rey
Best Day of My Life – American Authors
Music for the Royal Fireworks – Suite, HWV 351: IV. La réjouissance – Karl Münchinger & Stuttgarter Kammerorchester
Rule the World – Take That
The Edge Of Glory – Lady Gaga
Lovely Day – Bill Withers
Wind Beneath My Wings – Bette Midler
Evergreen (Love Theme from "A Star Is Born") (Live) – Barbra Streisand
Verdi: Aida: Triumphal March & Ballet – Giuseppe Verdi
Anything Could Happen – Ellie Goulding
What a Wonderful World – Louis Armstrong
How Do You Choose Your Recessional Song?
Songs for recessional at a wedding give you the opportunity to have a little fun, show your personality and break any nerves you may feel walking back down the aisle. Don't forget classical music choices too, just remember the tone should be triumphant and the tempo relatively upbeat.
What is a Good Song to Walk Out to After We Are Married?
"A good wedding recessional song is joyous, it is up-beat, and it instantly brings a happy feeling. It also needs to stay strong or have an impactful intro, so that everybody's mood is lifted the moment it kick in. Of course, it's also important that the lyrics fit the moment, talking about love or happiness - or at least not about anything inappropriate!" explains Tim Sentance, Director of Boujee Music.
What Does Recessional Mean in a Wedding?
When the wedding ceremony is over, it's time for the recessional. "This is the moment that all the planning, preparations, build-up and excitement has been about - you are finally married! The wedding recessional song is played as you and your partner (and your wedding party) exit your wedding ceremony," explains Tim.
Make sure you get an amazing photo of your wedding exit with these magical confetti photo ideas