Our Ultimate Guide to Buying & Wearing a Wedding Kilt
Thinking of donning a kilt but don't know your sporran from your sgian dubh? With the help of an expert, we explain everything you need to know about wedding kilts.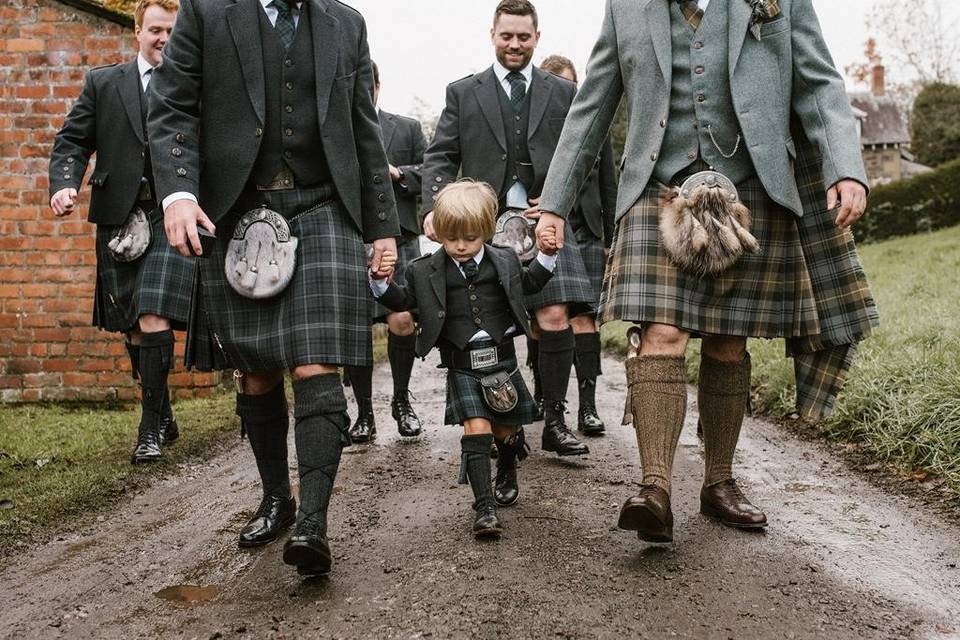 Whether you or your spouse-to-be have Scottish heritage, you're getting married in the highlands or you're attending a wedding in Scotland and would like to look the part, you'll need to get clued up on wedding kilts.
While it may seem simple at first, there's a lot more to wedding kilts than first meets the eye. Do you know the difference between Prince Charlie and Argyll styles? A sporran and a Sgian dubh? If you're feeling confused, don't panic!
We chatted to Ewan MacDonald, Managing Director of Houston Kiltmakers in Paisley, who answered all of our questions. Read through the below and get ready to wear your wedding kilt with confidence.
NB: We have included third party products to help you navigate and enjoy life's biggest moments. Purchases made through links on this page may earn us a commission.
Your Quick Guide to Kilts:
Yardage - how many yards of fabric used when making a kilt
Tartan - a checked fabric often made from wool
Kilt Weight - the weight of the kilt fabric
Sgian Dubh - a small, singled-edged knife
Sporran - a pocket worn on the outside of the kilt, often made from leather
Hose - Long socks worn just below the knee
Garter Flash - a decorative piece of material used to hold up the hose
Kilt Pin - a metal pin used to add weight to the fringed corner of the kilt
What is a Kilt?
A kilt is a knee-length, skirt-like garment made from tartan fabric with pleats at the back. Kilts date back to 16th century Scotland where they were considered casual wear for men and boys. These days, kilts are mostly reserved for special occasions, highland games and sporting events. Kilts are also now worn by men and women.
Can You Get Married in a Kilt if You're Not Scottish?
"Anybody can wear a kilt!" says Ewan. "Almost every country in the world has got some tartan link. In England you have Cornish, Northumberland and Manx (Isle of Man) tartans. The Irish tartans consist of county tartans such as Ulster, Co. Mayo, Galway and Kildare and the Irish national tartan. We also have lots of Welsh tartans."
Which Tartan Can I Wear?
Tartans are the fabric kilts are made from and come in a variety of different colours, checks and weights. Although many people select tartans based on a family or clan connection – either their own name or that of a parent or grandparent – many more choose tartans simply for how they look: "Nowadays people tend to choose a tartan to coordinate with wedding colours or purely for its aesthetic value. Greys in particular are currently in vogue and very popular amongst kilt buyers," explains Ewan. "There are only a few hundred tartans that are privately owned and require permission to be worn."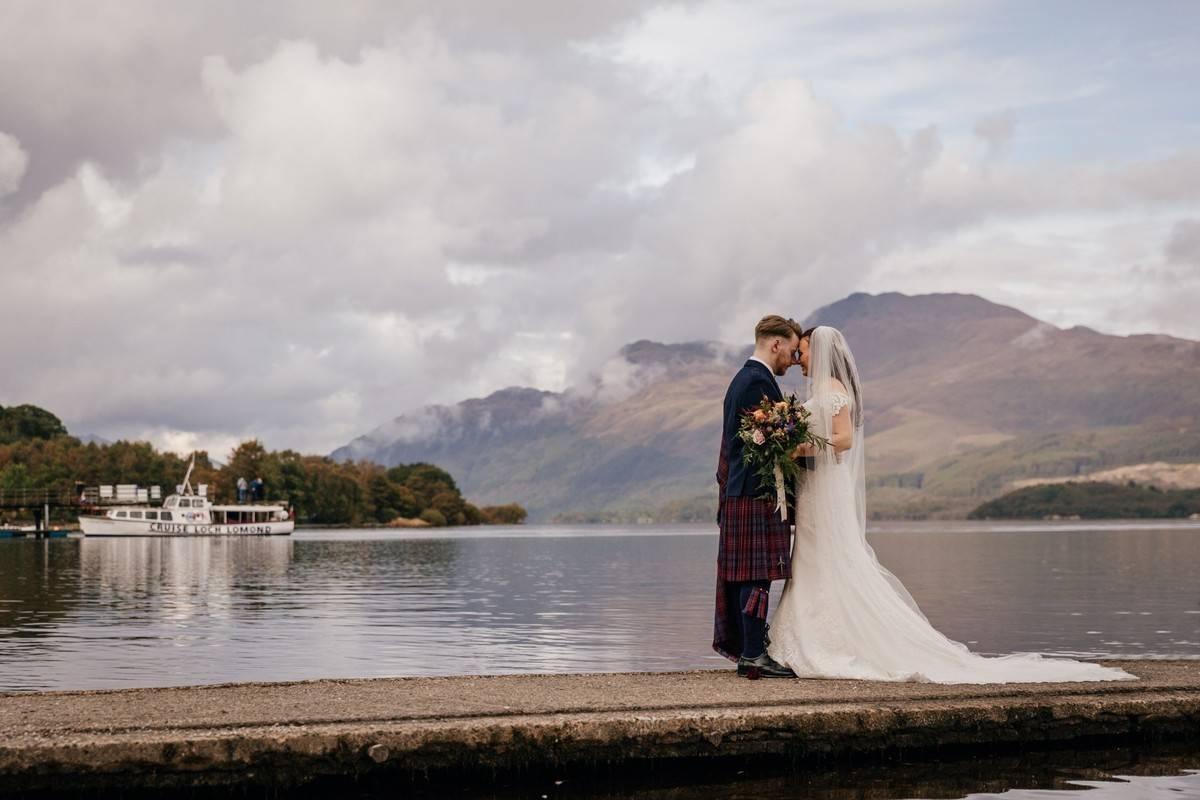 Why do Tartans Come in Different Weights?
A tartan's weight indicates the occasion in which it should be worn, where the tartan is from or what it should be used for. For example, 19oz kilts are generally for regimental wear and come in around six different tartans. 16 and 17oz kilts come in around 14,000 tartans – the largest range by far – and are considered a great choice for most events as the weight sits and swings better.
Irish and Welsh tartans often come in 13oz medium weight and offer a choice of around 100 tartans. 11oz cloth can be used for children's kilts and anything less than this for coordinating bow ties and ladies' dresses.
What is Kilt Yardage?
Yardage refers to how many yards of fabric are used when making a kilt. "The traditional eight-yard kilt is the standard measure of gents' kilts. The kilt sits high on the waist, a couple of inches above the hip bone. This would be worn for formal occasions, and it is recommended that the eight-yard kilt be woven in a 17oz heavy weight fabric as this sits and swings better when worn. Some men's kilts are still woven in six yards of cloth however eight yards is the standard measurement for gents. Six-yard kilts are now more commonly made for women's kilts" explains Ewan.
Which Jacket Should I Wear with My Kilt?
According to Ewan, Prince Charlie jackets are the usual choice for special occasions such as balls, black tie parties and weddings. Traditionally this kind of jacket is worn with a three-button waistcoat, with a black bowtie and a white standard or wing collar pleat front shirt. A Prince Charlie jacket can be worn with antique buttons and silverware and can be paired with a plain or tartan ruche cravat.
"Prince Charlie jackets must be worn with dress sporrans and black or off-white kilt hose or tartan hose. We strongly recommend you wear a belt and buckle as if you take your waistcoat and jacket off for dancing you will not be properly dressed without a belt and buckle."
If a Prince Charlie sounds a little too formal for your liking, Argyll or Braemar jackets are also options for weddings: "Argyll or Braemar can be worn with a black or white plain front shirt with a double cuff and cufflinks, with ruches or long ties. Bow ties must be worn with a pleat, front wing or standard collar shirt depending on the occasion. Ruche cravats worn with plain, standard or spread wing shirts must be worn with a waistcoat. Dress or semi-dress sporrans can be worn or, alternatively, for a day event a leather sporran can be worn. Either black, off-white, tartan or coordinating colour hose should be worn with your outfit", Ewan explains.
Finally, for an even more casual look you may want to consider Tweed Braemar. This can be worn with plain, tweed or tartan ties and a dress, day or semi-dress sporran, depending on your shirt and tie choice. The most important thing to remember is that you must never wear a tweed jacket with off-white hose!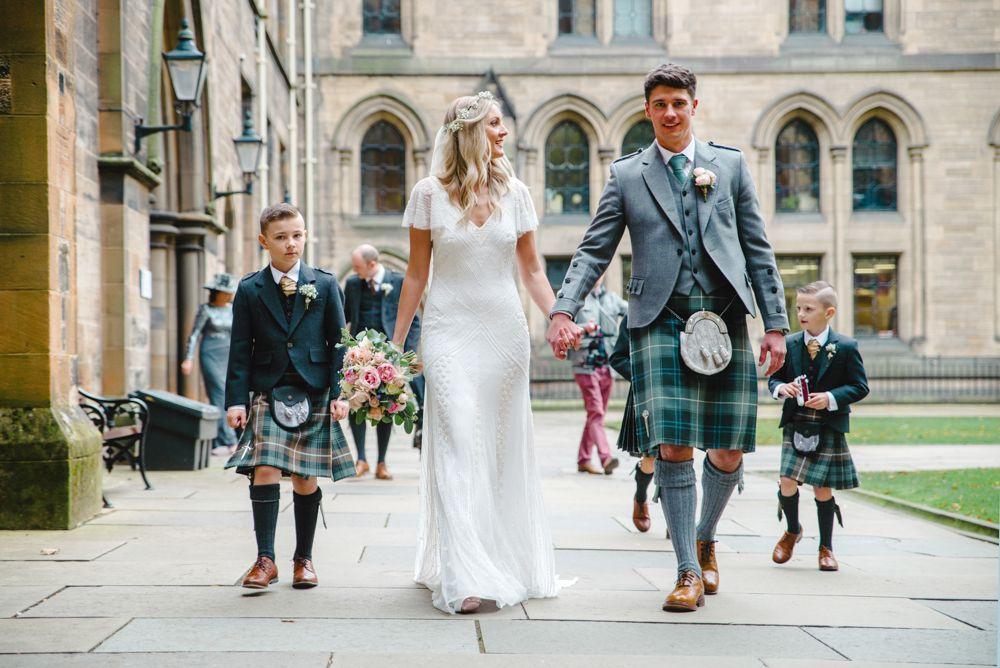 What is a Sporran, Which Type Should I Wear and How Do I Wear It?
A sporran is a pouch that basically acts as a pocket for the pocketless kilt! Made from leather or fur, the ornamentation indicates the formality of the occasion.
"For general dress occasions a semi-dress or dress sporran should be worn. Your sporran should always be centred on the front of the kilt. The only exception to this is when dancing with a partner. The sporran should then be worn to the side upon the hip so not to damage a lady's dress" explains Ewan.
What Is a Sgian Dubhs?
A sgian dubh is a small, single-edged knife in a protective case that is worn inside the hose.
"Sgian dubhs are to be placed in the outside of the right sock, showing only one inch of the sgian dubh. When entering company, raise the sgian dubh to about two inches above the top of the sock - this is to show that you are still partly armed when everyone sees you. There after you should once again conceal your sgian dubh so only one inch is visible."
What Are Hose and What Colour Should I Wear?
Hose are the socks traditionally worn with a kilt. Hose extend to just below the knee and are used to house your sgian dubhs and are held in place using a garter flash.
According to Ewan, you should select a colour that matches the rest of your outfit: "When choosing hose you are best to select a colour that complements and coordinates with the tartan or jacket. Traditional colours are off white, black or navy. Grey should be worn with a grey tweed jacket."
What Are Garter Flashes?
Often made from coordinating tartan fabric, flashes are used to hold up the hose and act as an extra decorative piece. However, once upon a time, they had much more significance: "In the olden days showing your tie or flash symbolised a single status letting ladies know you were available. Flashes that were tucked away were symbolic of married men and men who were courting." Says Ewan.
Do I Need a Kilt Pin?
Kilt pins sit at the open fringed corner of the kilt and subtly add weight, so many see this as an essential item. The design of your pin can be based on clan heritage or simply selected based on the design you like best.
How Much Does a Scottish Kilt Cost?
It depends on the fabric, yardage and whether or not the kilt is made to measure. We've seen kilts crafted from synthetic materials online for as little as £24.99, wool kilts priced at £350 and full outfits for £950. To give you an idea of what you can get for your money, we've included a selection of kilts available to buy now below.
If you don't want to buy a kilt, you can always hire one. There are plenty of kilt hire businesses in Scotland and chains such as Slater Menswear offer kilt hire and have stores up and down the country.
Persevere Flint Grey Tartan 8 Yard Kilt – £60, Kilt Society
This eight yard kilt comes in blue, brown and navy so there's a kilt to match almost every wedding colour scheme! We love the cool grey and black combination the best.
Prince Charlie Outfit – £975, House of Henderson
For a stress-free shopping experience, why not invest in a full outfit all in one go? This Prince Charlie outfit from House of Henderson is an amazing choice for your wedding day. We love the silver buttons and matching sporran!
Modern Tweed Outfit – £950, House of Henderson
For a modern take on the look, choose this Modern Tweed outfit from House of Henderson. The price includes an eight yard, heavy weight kilt, a jacket and waistcoat available in a variety of colours, a semi dress sporran, socks, flashes and a kilt pin.
8-Yard Kilt – £345, MacGregor and MacDuff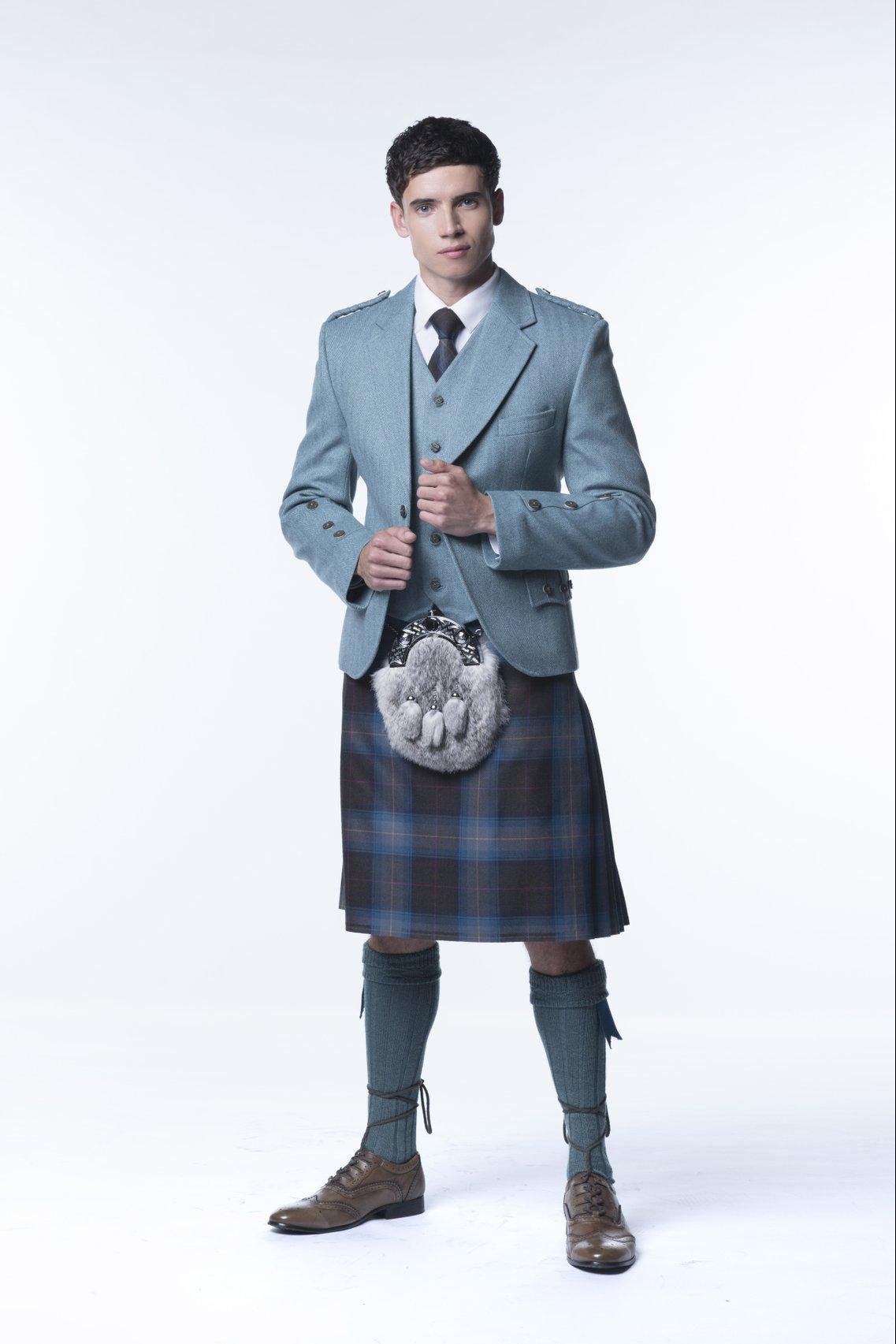 Select your own tartan from a choice of 4,000 and allow the team at MacGregor and MacDuff to craft you an 8-yard kilt. The kilt comes with adjustable straps and a pleated to sett design, meaning that the tartan at the back will be pleated in such a way that it will mirror the pattern on the front.
Starter 5-Yard Kilt – £225, MacGregor and MacDuff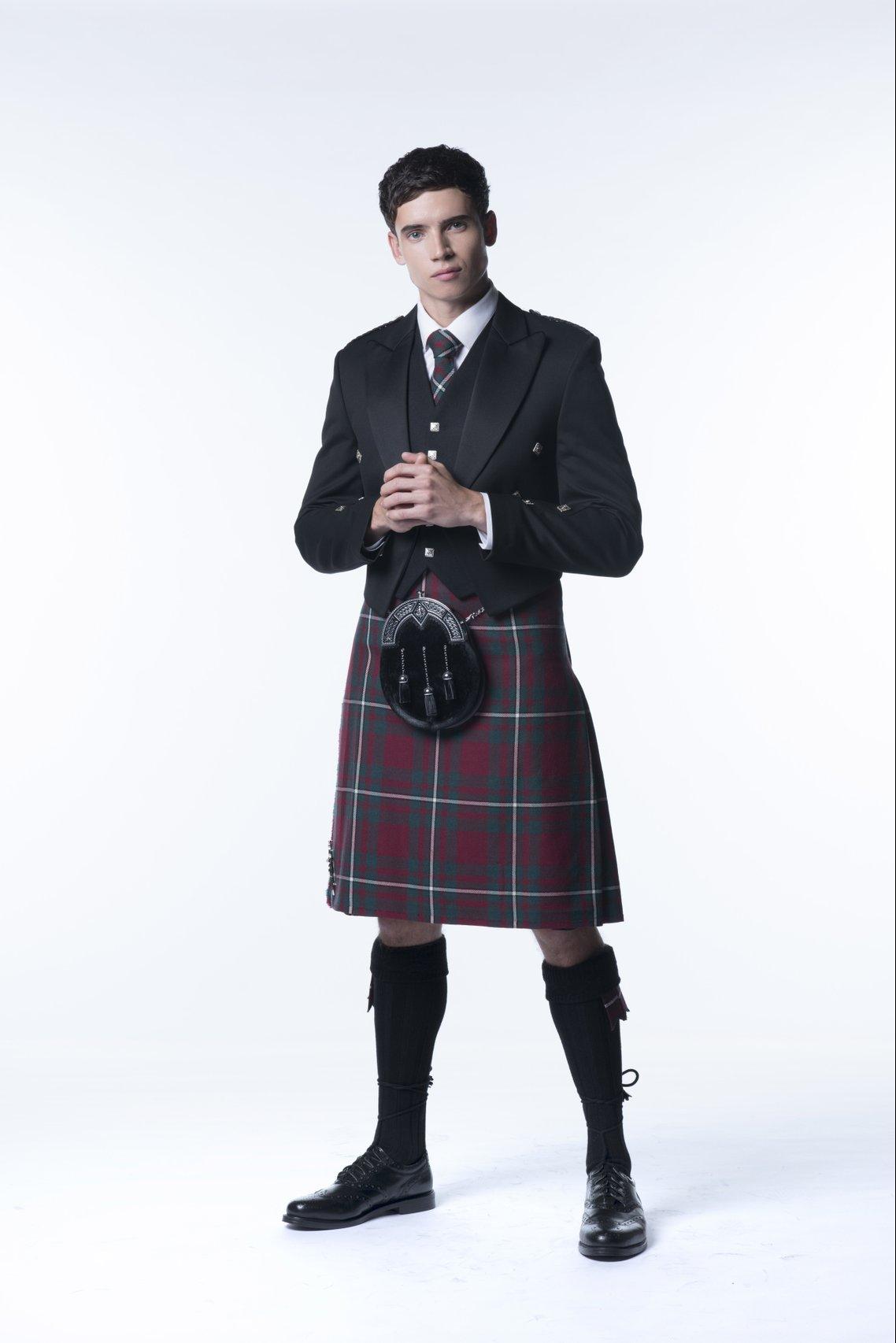 This lightweight starter kilt is a great choice for summer weddings or weddings in warmer climes. You can choose from over 100 tartans and the kilt is designed with adjustable straps so that you can alter the fit for your comfort.
If there's one thing Scotland does very well indeed, it's castles! Check out these dreamy castle wedding venues in Scotland if you're still looking for your perfect venue.