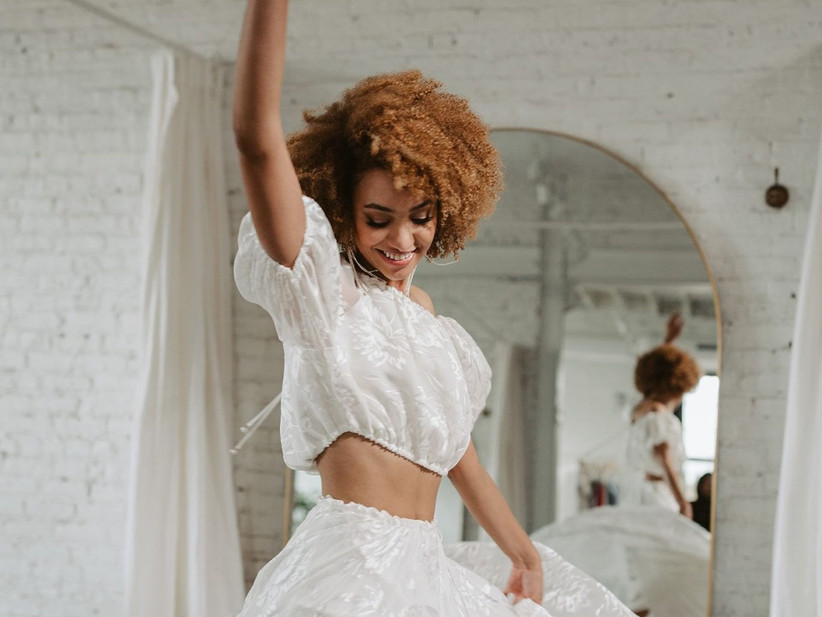 Much as we love classic bridal looks, we know not everyone wants to go traditional. If you're keen to do something different on your big day, there are some amazing alternative wedding dresses - we've rounded up our favourites.
Whether you want to take to the aisle in a colour other than white, go totally boho or rock a unique silhouette, we have a look for you. There are vintage-inspired styles as well as ultra-contemporary, straight-from-the-catwalk dresses. We've also found wedding dresses that allow plenty of customisation, so you can create a unique gown.
When it comes to bridal style, there really are no rules - unless of course you're having a religious ceremony that requires dressing in a particular way. If that's the case, you can always have a different gown for your reception, to switch up your look into party mode.
Whatever your personal aesthetic, there's an alternative wedding dress out there for you. Happy shopping!
READ MORE
Unusual Alternative Wedding Dresses
These bridal looks from the coolest brands will make a real style statement, thanks to their distinctive fashion-led details.
1. Interactive Elliot Dress - Cimone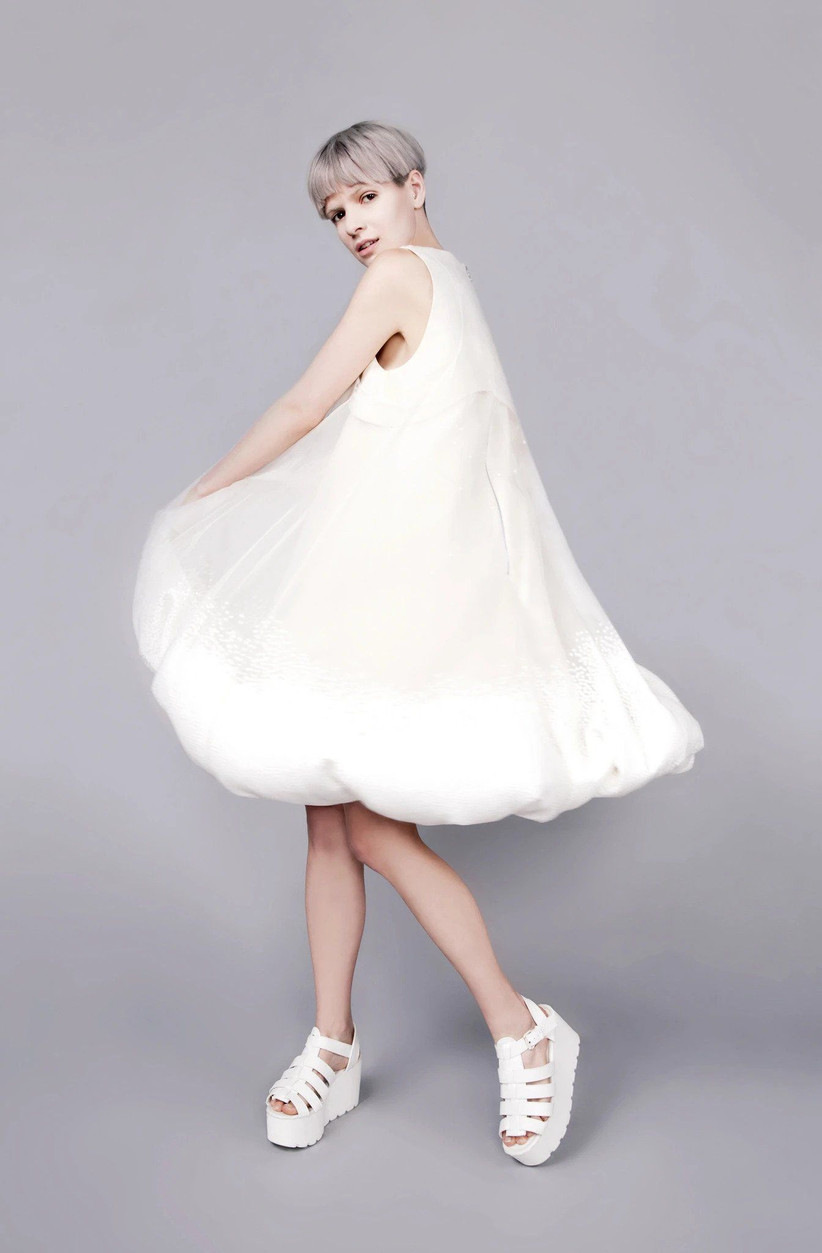 Cimone's aesthetic is based around "disruptive luxury" - high-end looks with unexpected, playful elements. The Elliot dress sums that up perfectly. The hem is filled with polyester balls that create a static charge as they move, giving the dress an ever-changing silhouette. If you're a fashion adventurer, prepare to add this to your virtual basket
2. BB: 06 - Bon Bridé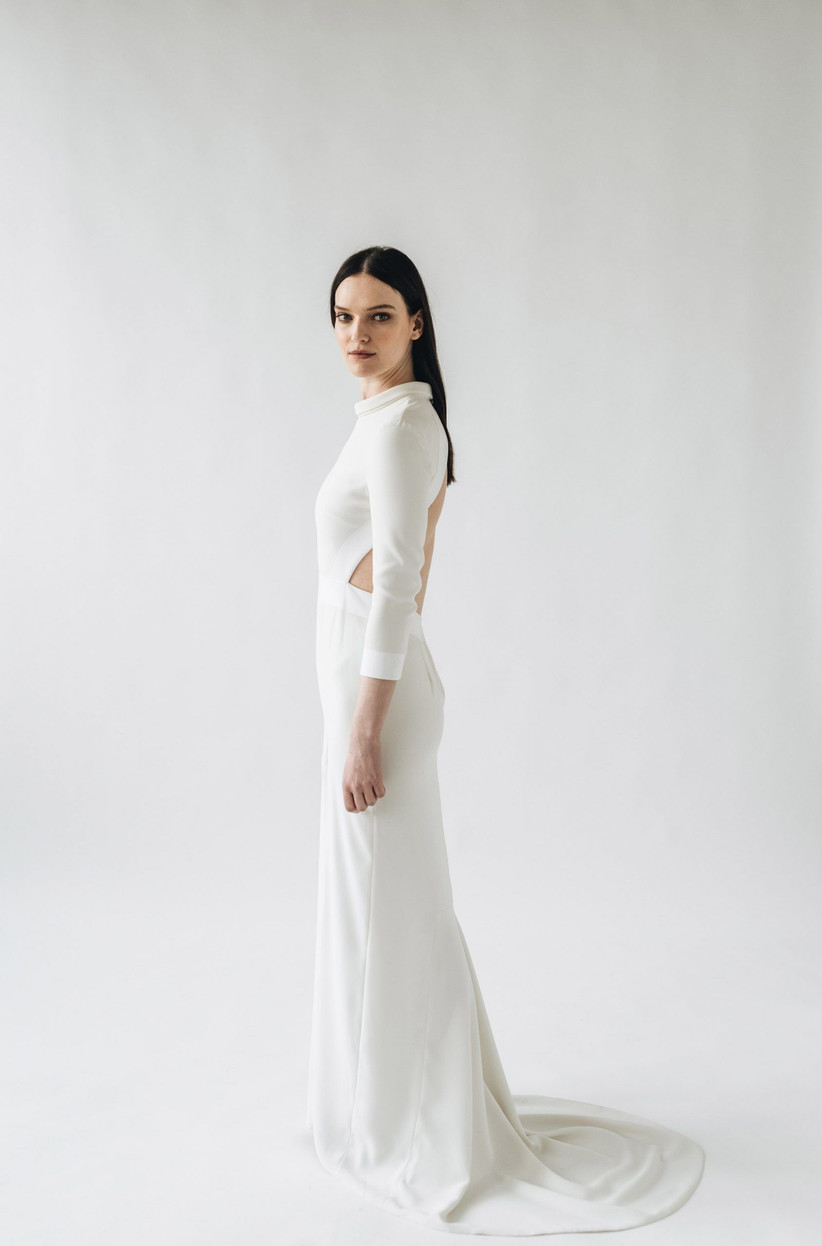 The overall elements of a classic wedding dress are here - maxi length, white. But it's the cool design details of this Bon Bidé gown that make it alternative, from the cut-out waist to the roll neck. Utterly chic, utterly current.
3. Petra Ruffled Ballerina Dress - Needle & Thread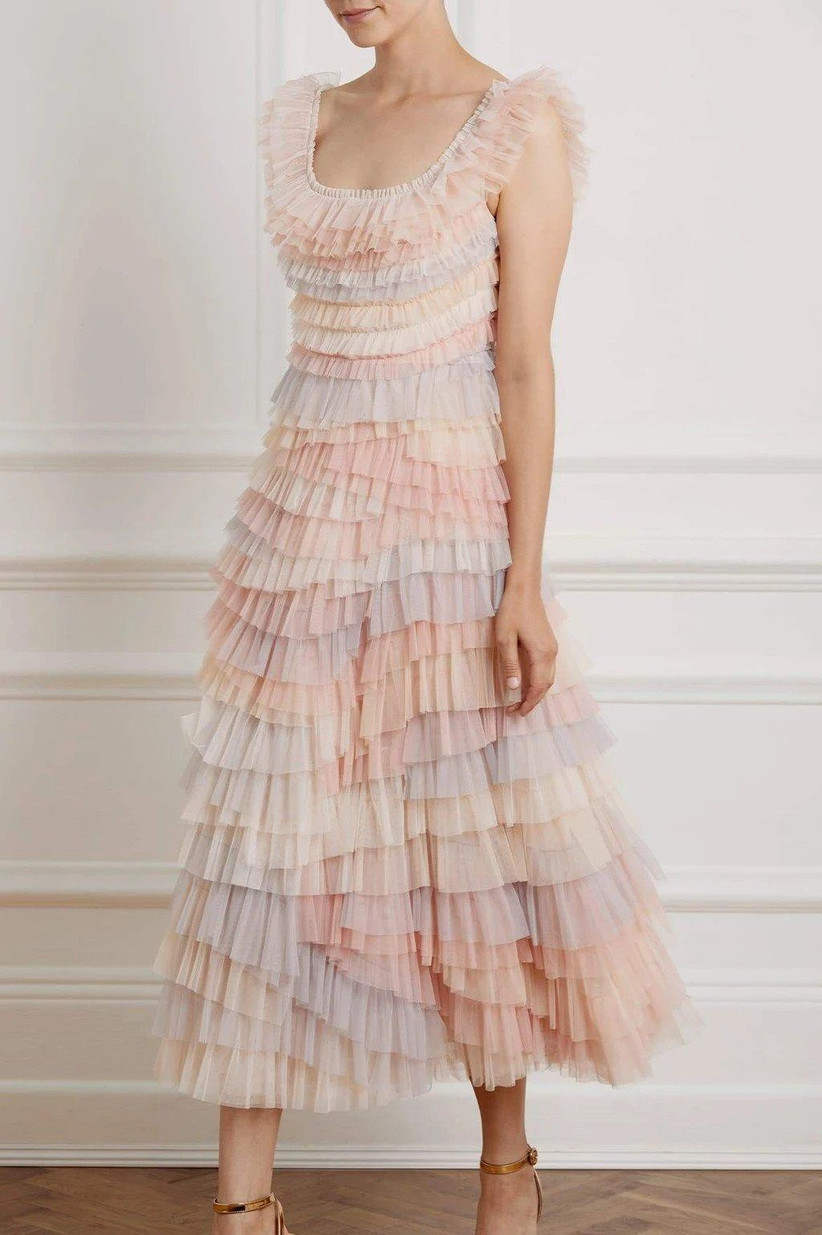 Who says you have to wear white? A bridal outfit is all about making you feel special, and the frothy layers of romantic pastels in this Petra dress are more than worthy of a walk down the aisle.
READ MORE: The 10 Biggest Wedding Trends for 2021
4. Eltarin Jacket & Volantis Skirt - Otaduy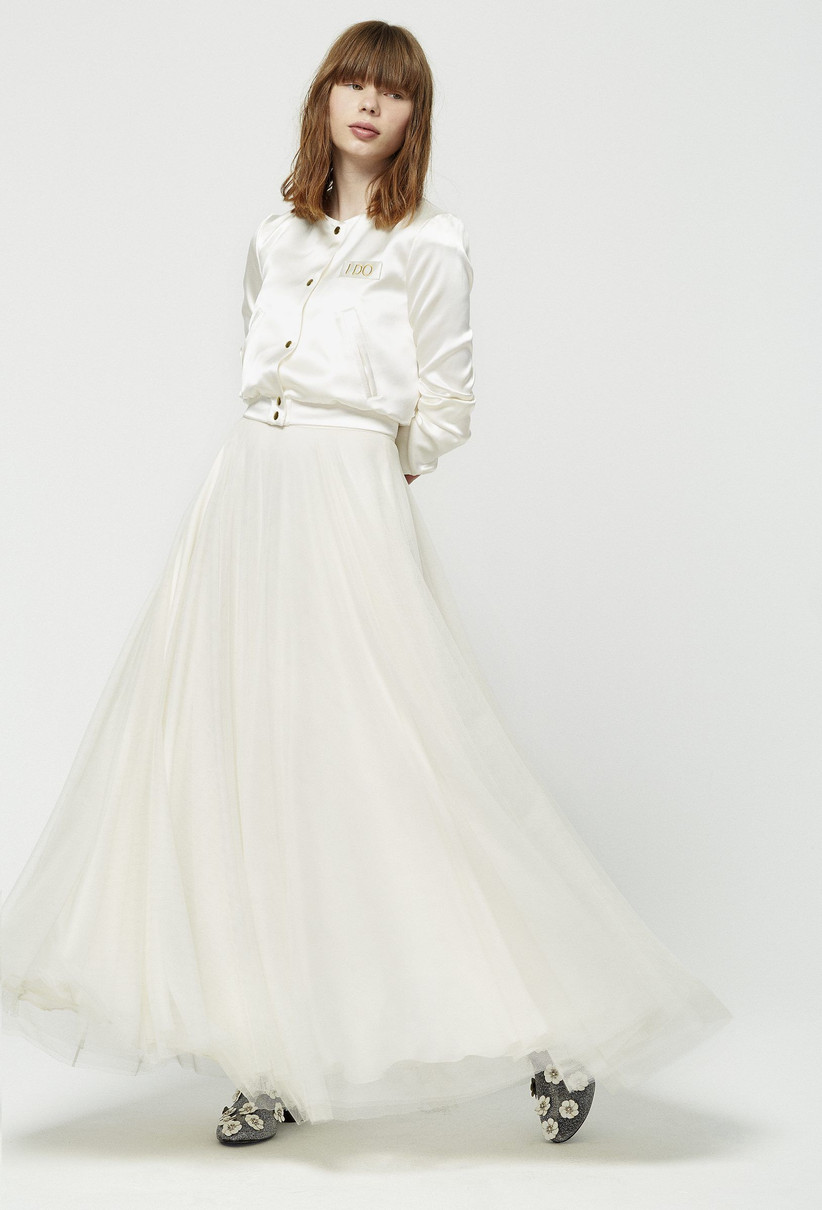 We love the attitude in every Otaduy wedding look - and this bridal bomber and skirt is no exception. The contrast between the slick, on-trend bomber and the romantic tulle skirt is perfectly judged.
5. Cotton Poplin Mini Dress - Self-Portrait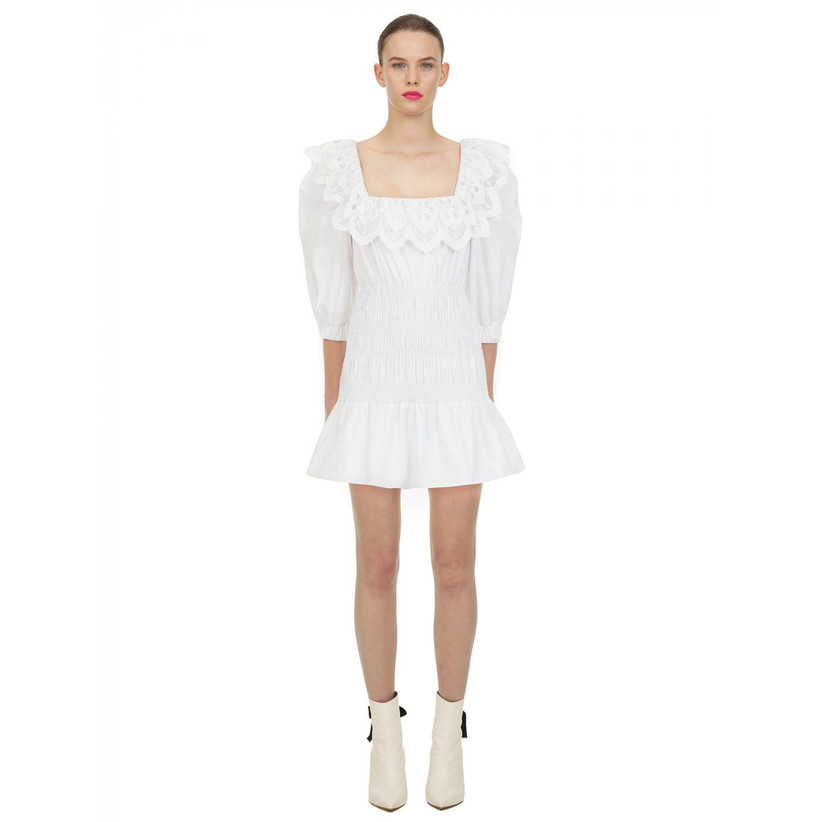 You can always rely on fashion insiders' favourite Self-Portrait for something cool and unusual. Their bridal collection is full of alternative pieces, but as fans of short wedding dresses, we were drawn to this mini. The square neck and volume sleeves make it feel so fresh.
6. Loyola Set - Grace Loves Lace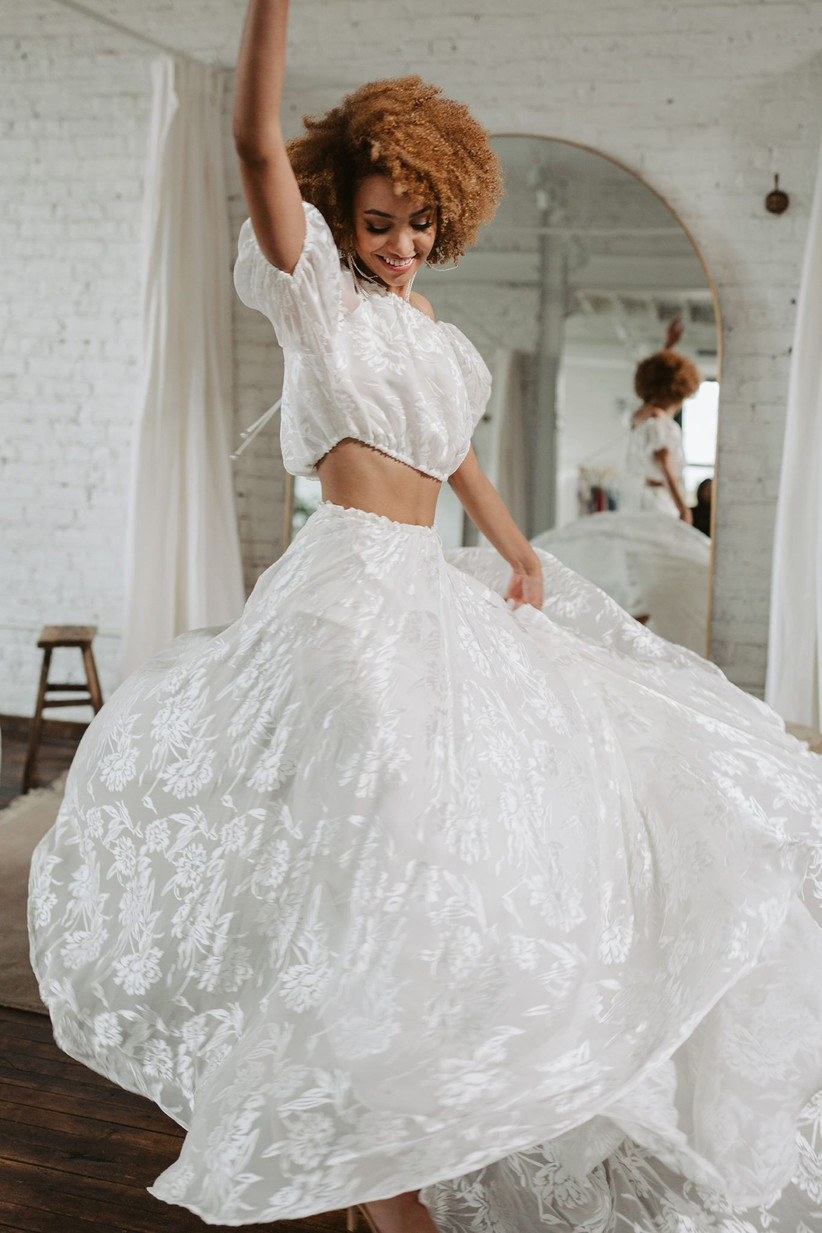 Nobody does boho-luxe quite like Grace Loves Lace. This Loyola two-piece is a case in point. The easy-wearing top is sexy and carefree, and matches perfectly with the exuberant flowing skirt.
READ MORE: 15 Best Two-Piece Wedding Dresses and Bridal Separates
7. Ada - Eliza Jane Howell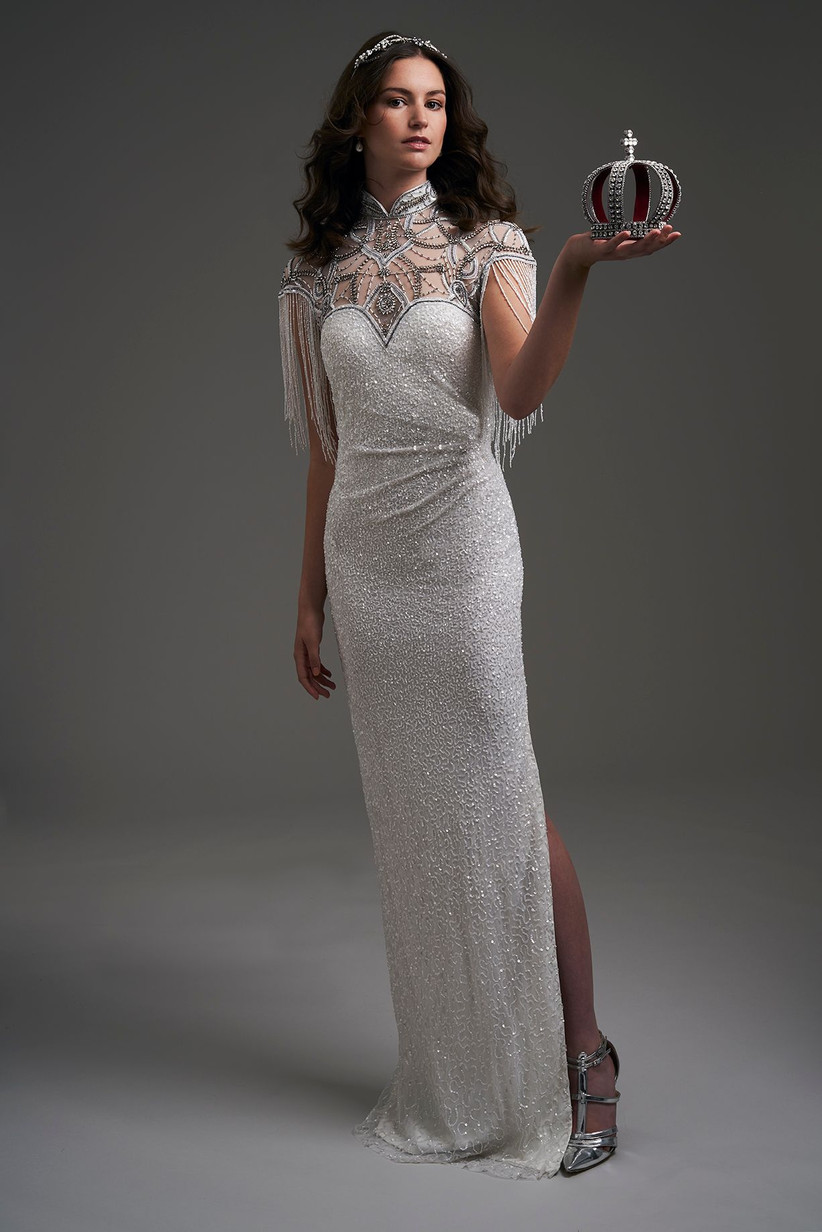 If you're into a vintage look, you need to know about Eliza Jane Howell's Roaring Twenties collection. This features glamorous gowns inspired by - you guessed it - the Jazz Age. Ada is one of our favourites for that Art Deco neckline detailing and the flapper-esque fringing.
8. Eleanora Embroidered Tulle & Crepe Mini Dress - Rime Arodaky at Net-A-Porter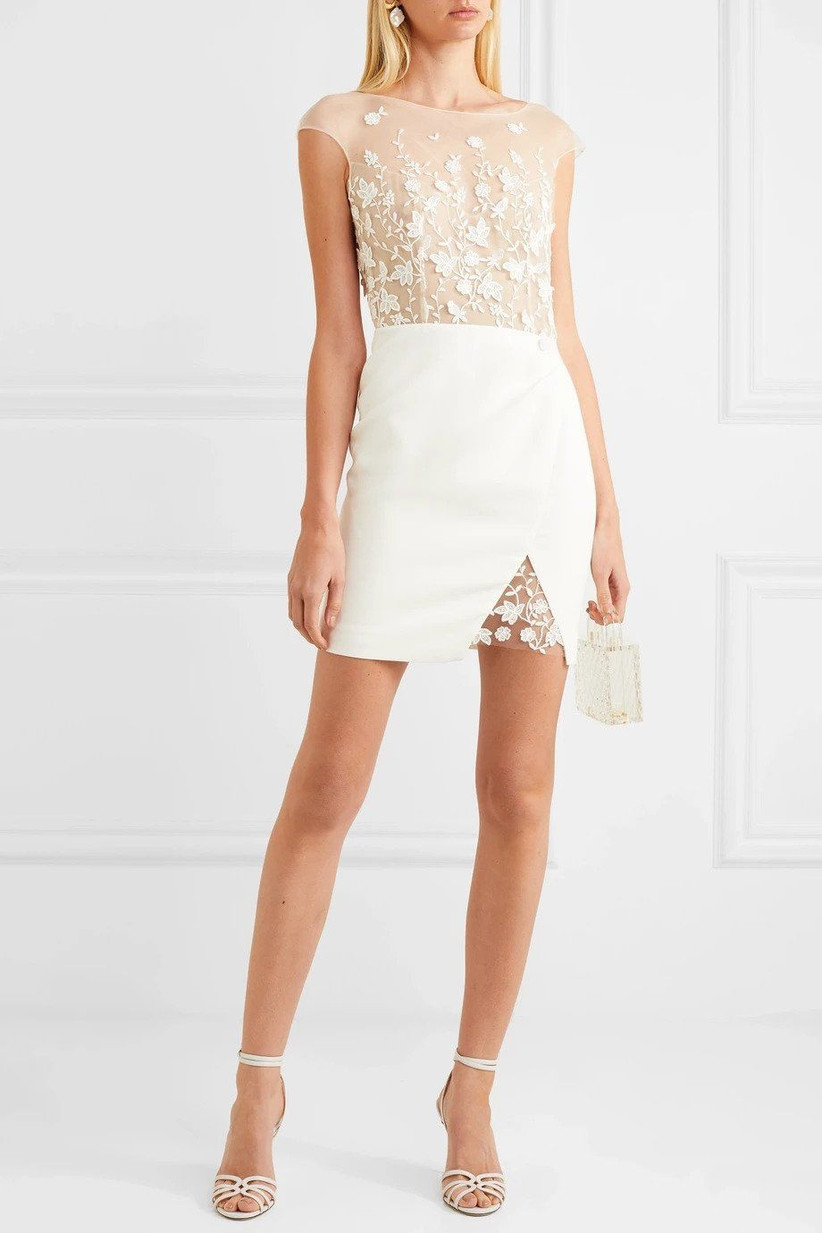 Rime Arodaky is our go-to brand for bridal sexiness - like the Eleanora mini dress. The flower-bedecked tulle bodice is just so pretty, and we love the hint of lace in the skirt.
9. Balloon Sleeve Lace Mini Dress - & Other Stories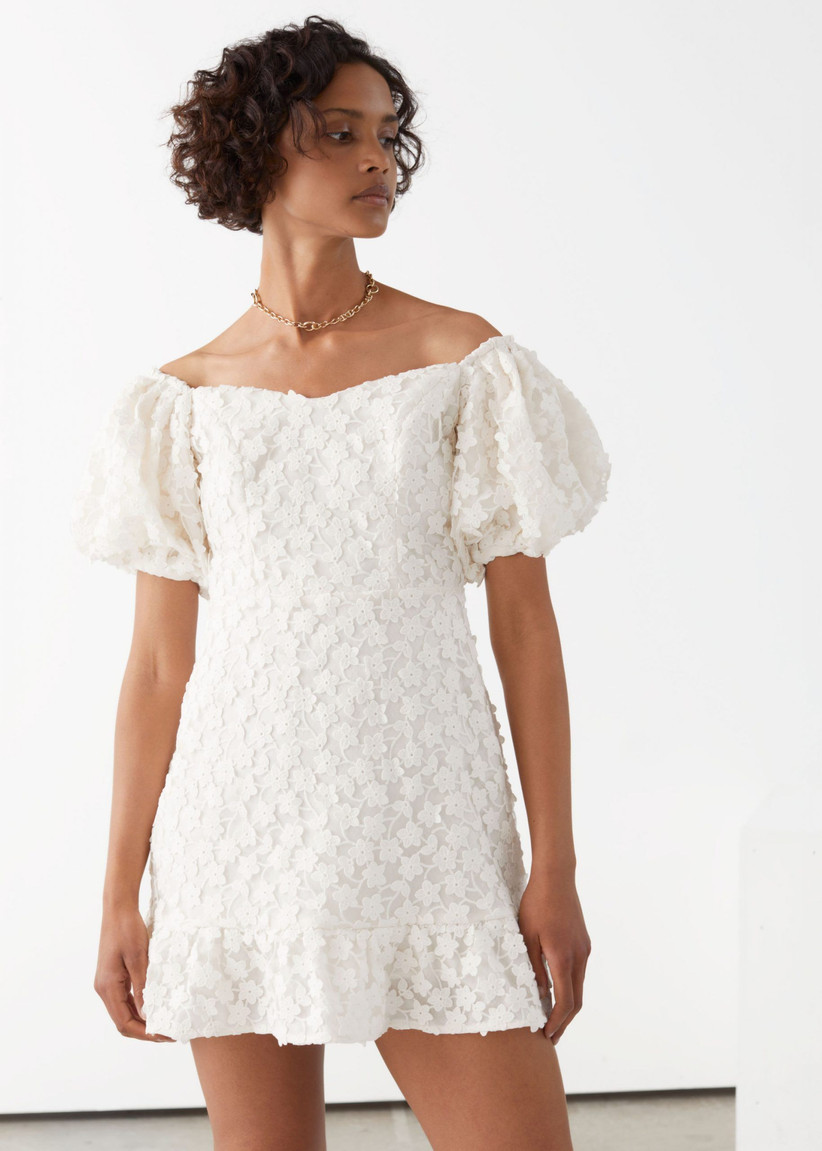 It's contemporary chic all the way with this & Other Stories dress. Pair with some fabulous flats and a red lip for an up-to-date summer bridal look.
READ MORE: Cheap Wedding Dresses: 53 Best Wedding Dresses on the High Street
10. Alexa Dress - Cecilie Bahnsen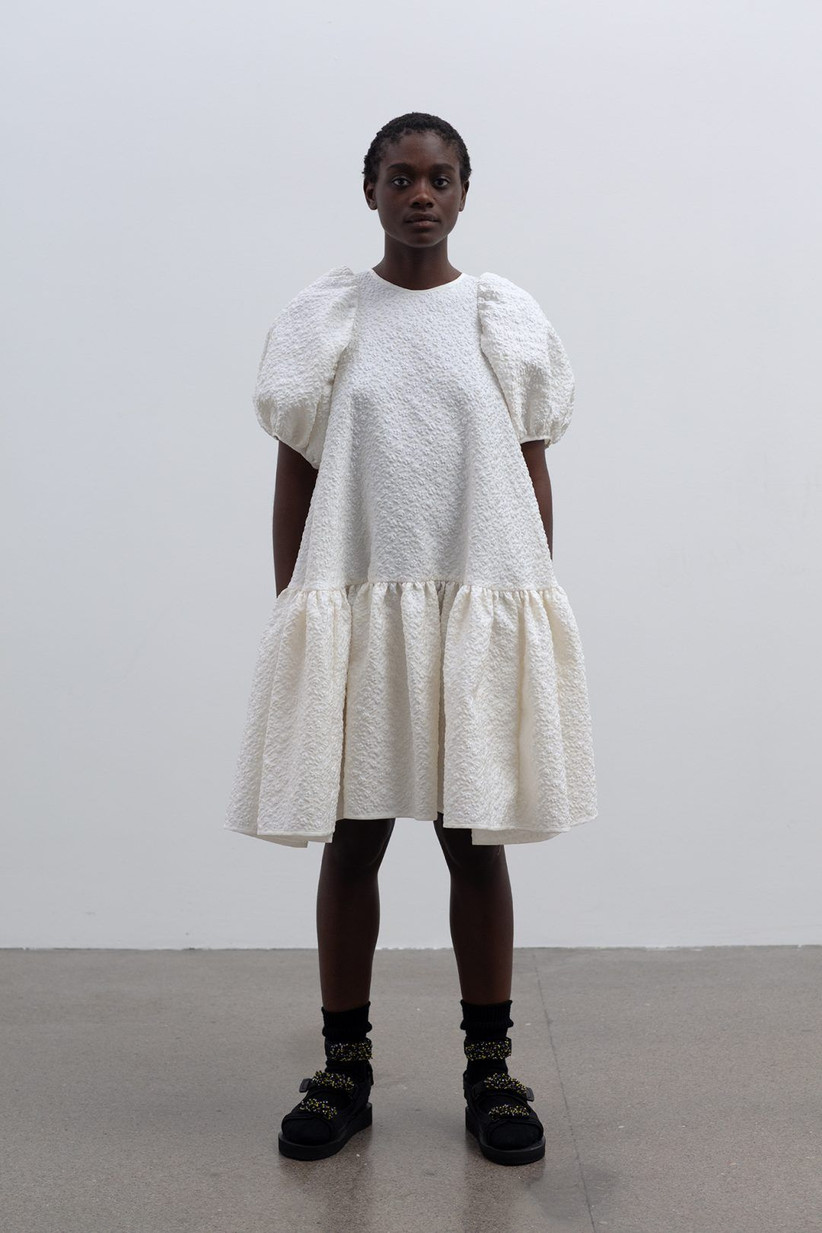 Ignore the footwear in the picture and focus on the loveliness of this Cecilie Bahnsen dress - ideal for brides who love on-trend volume.
11. Yarada Dress - Rodebjer
Sometimes simplicity speaks louder than a showstopping design. Just take this Rodebjer dress. There's no sparkle, no embellishment - just luxe pure silk fabric and a wonderfully slouchy silhouette. Effortlessly cool.
12. Francis - Pronovias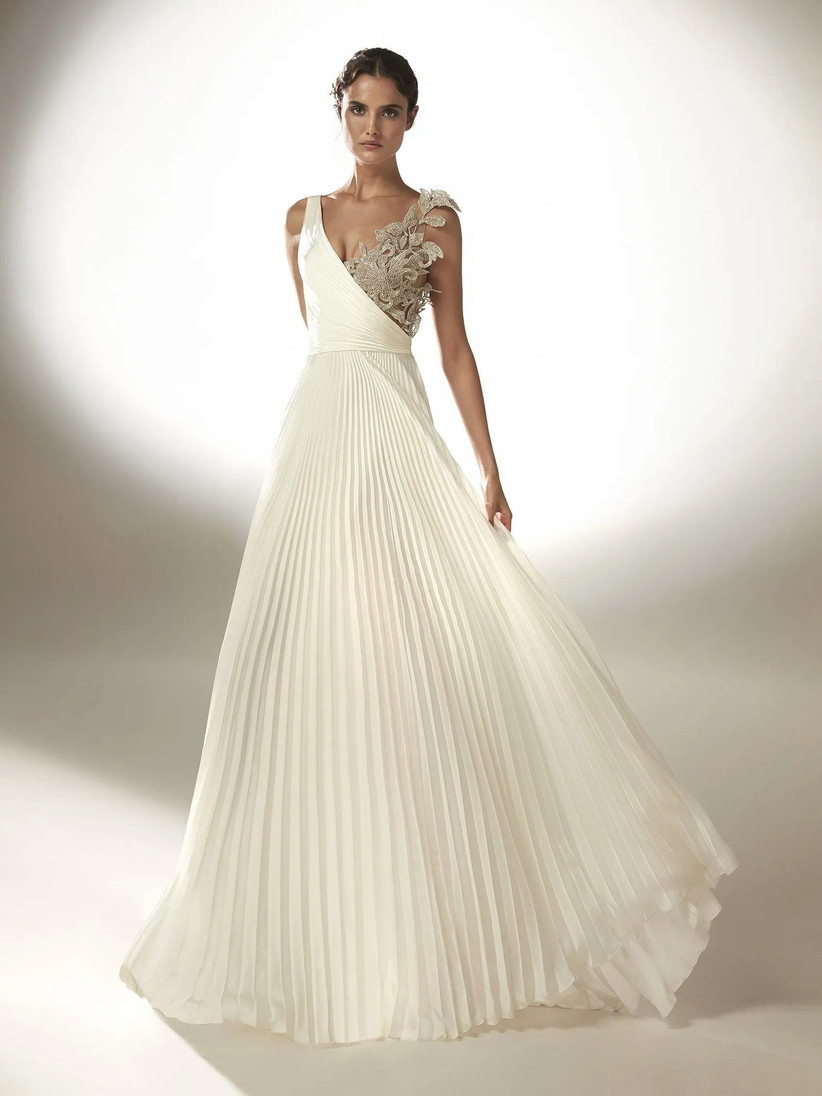 For a look that's alternative but still suffused with bridal glamour, this Pronovias gown is just the ticket. The knife-pleated skirt and asymmetric lace insert put a contemporary twist on the traditional wedding dress.
13. Gardenia - House of Mooshki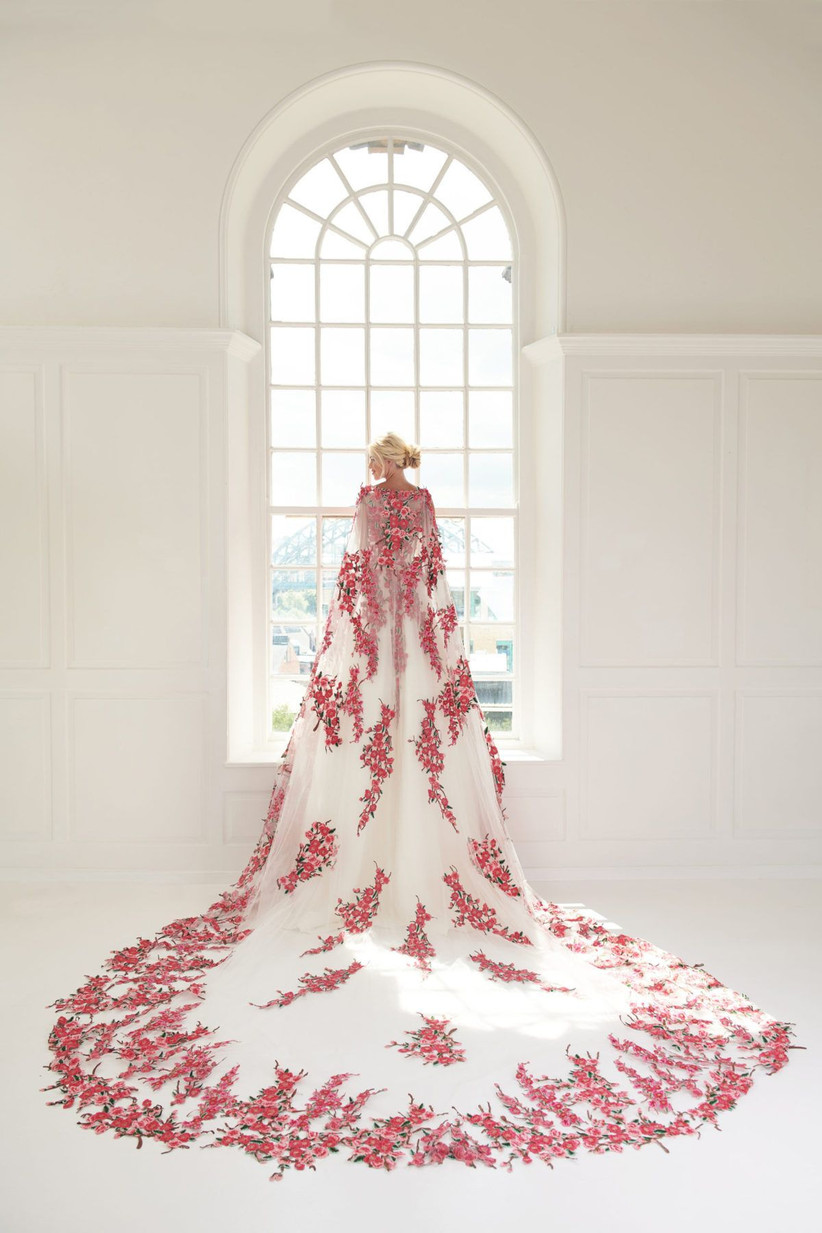 You will definitely make an entrance in House of Mooshki's showstopping floral ballgown and cape. It's a gloriously pretty look, but if you don't feel up to a four-metre cape, you can just buy the beautiful, flower-strewn lace-tulle dress, which makes plenty of impact on its own.
READ MORE: 29 of the Best Bridal Capes: Our Top Picks
14. Estelle - Charlie Brear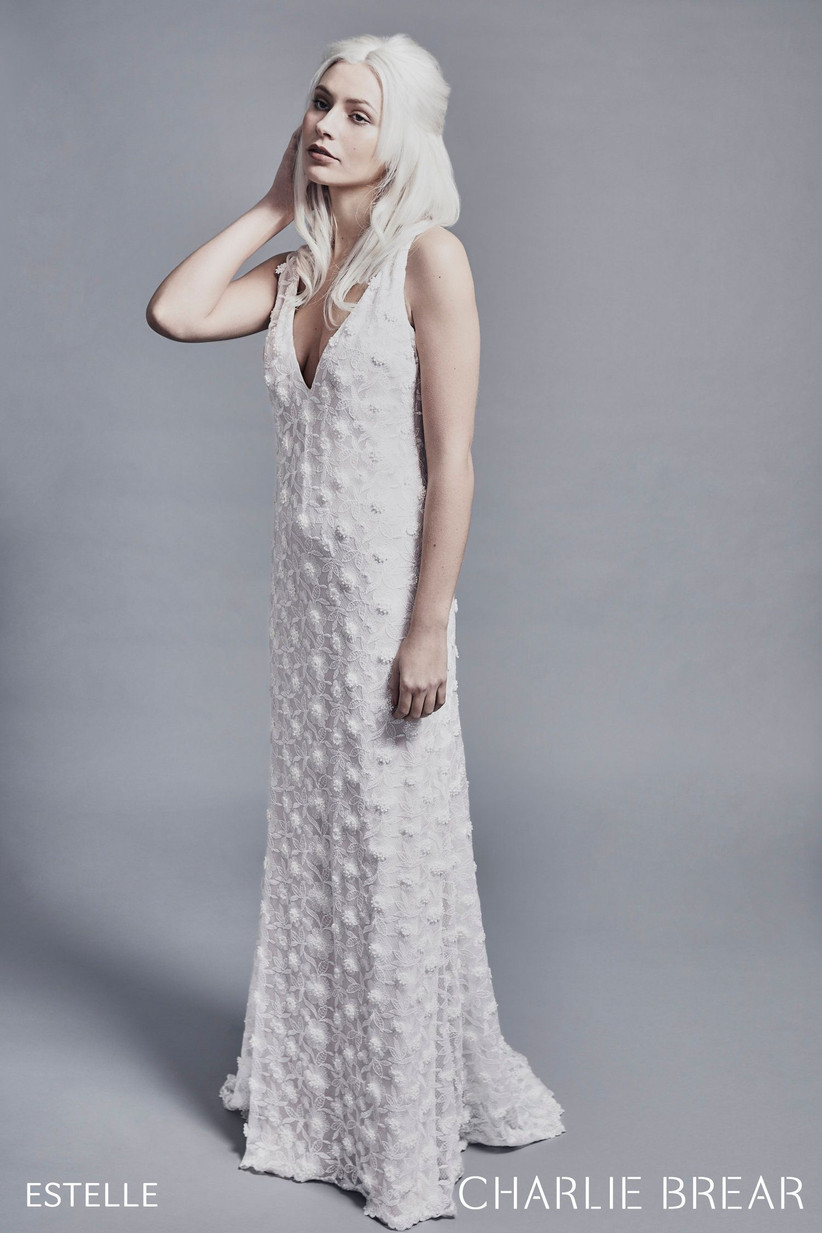 The silhouette of Charlie Brear's Estella dress is a bridal classic; what gives it a twist is the beautiful textured lace fabric.
15. Aegean Gown - Rue de Seine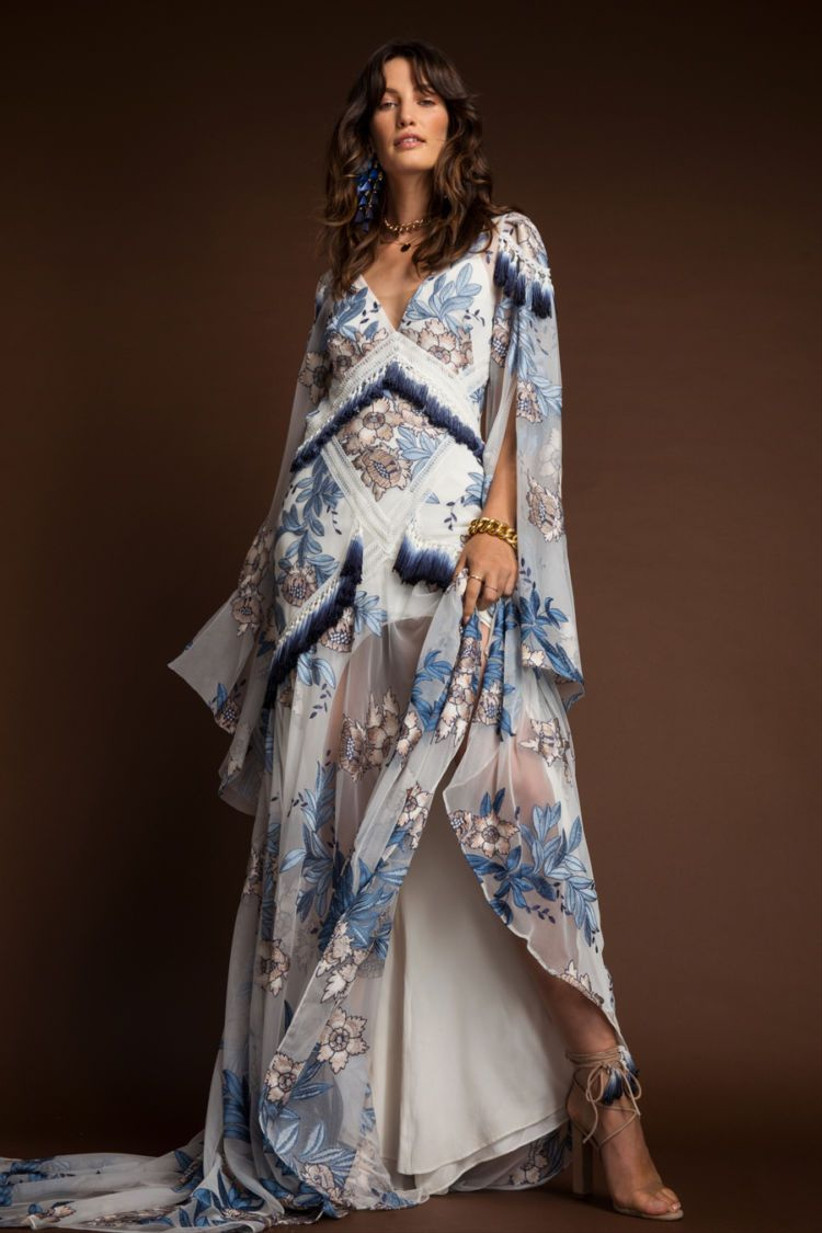 Let your dress be your "something blue" with this bewitching creation from French bridal design house Rue de Seine. The shades and pattern are most alluring, and we love the crochet trim and tassels as boho finishing touches.
16. Ermen - KATYA KATYA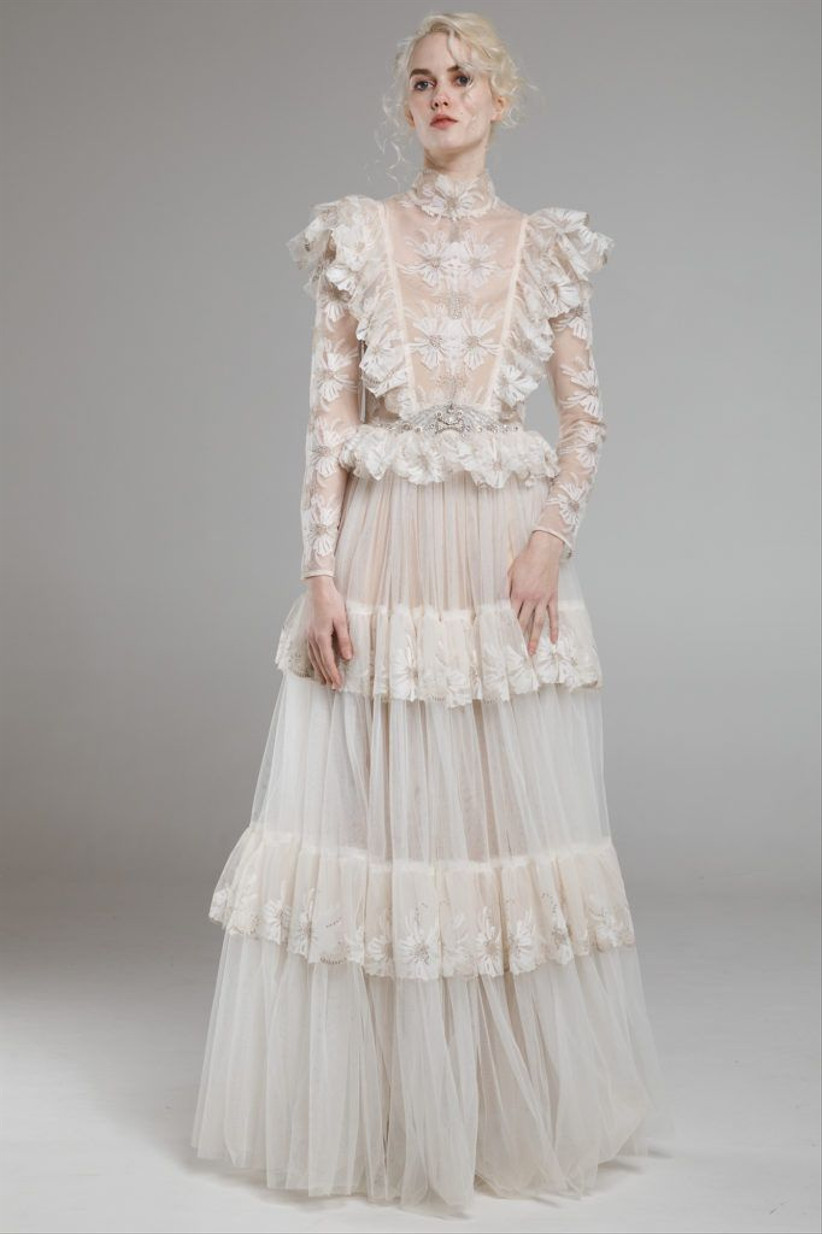 Edwardian meets boho in KATYA KATYA'S fabulous Ermen dress. Romantic ruffles, a Swarovski crystal-embellished waist and that floral high neck combine to elegant effect.
READ MORE: The 21 Best High Neck Wedding Dresses
17. Camellia Dress - Reformation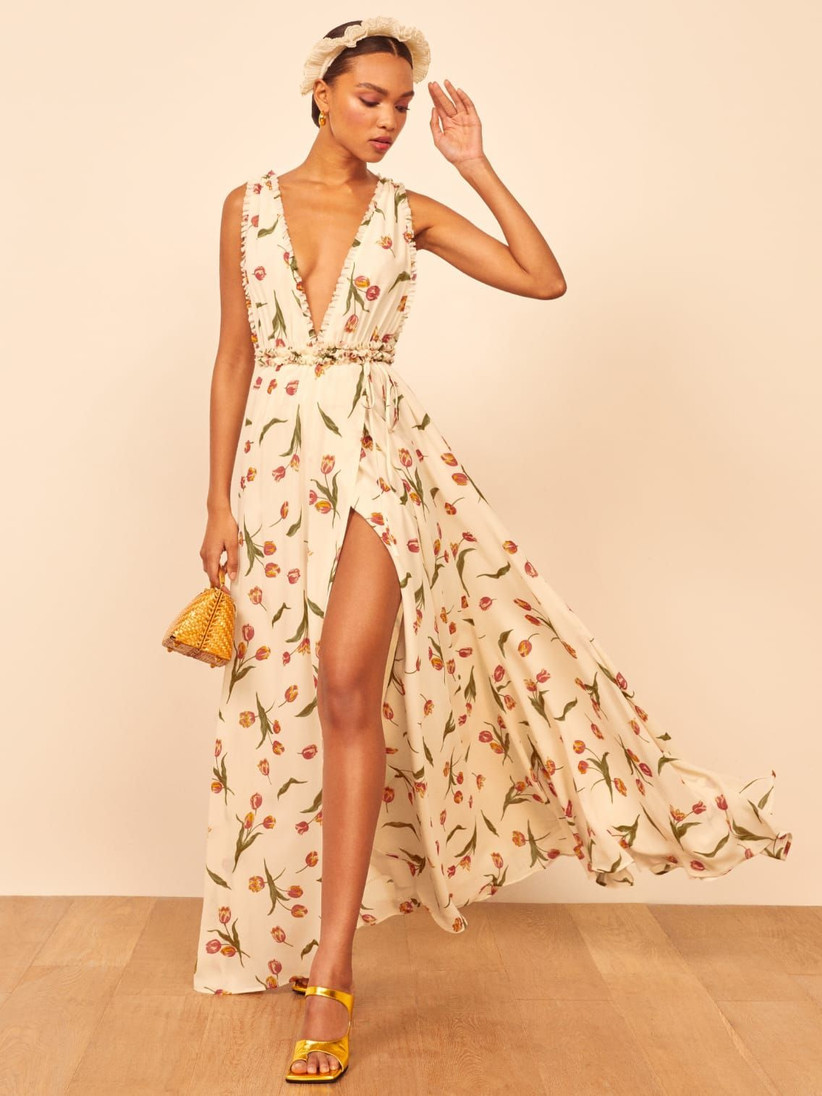 We do love a bridal floral, and the pattern on this Reformation dress is ideal - pretty without being overly sugary.
18. Phoenix Gown - Claire Pettibone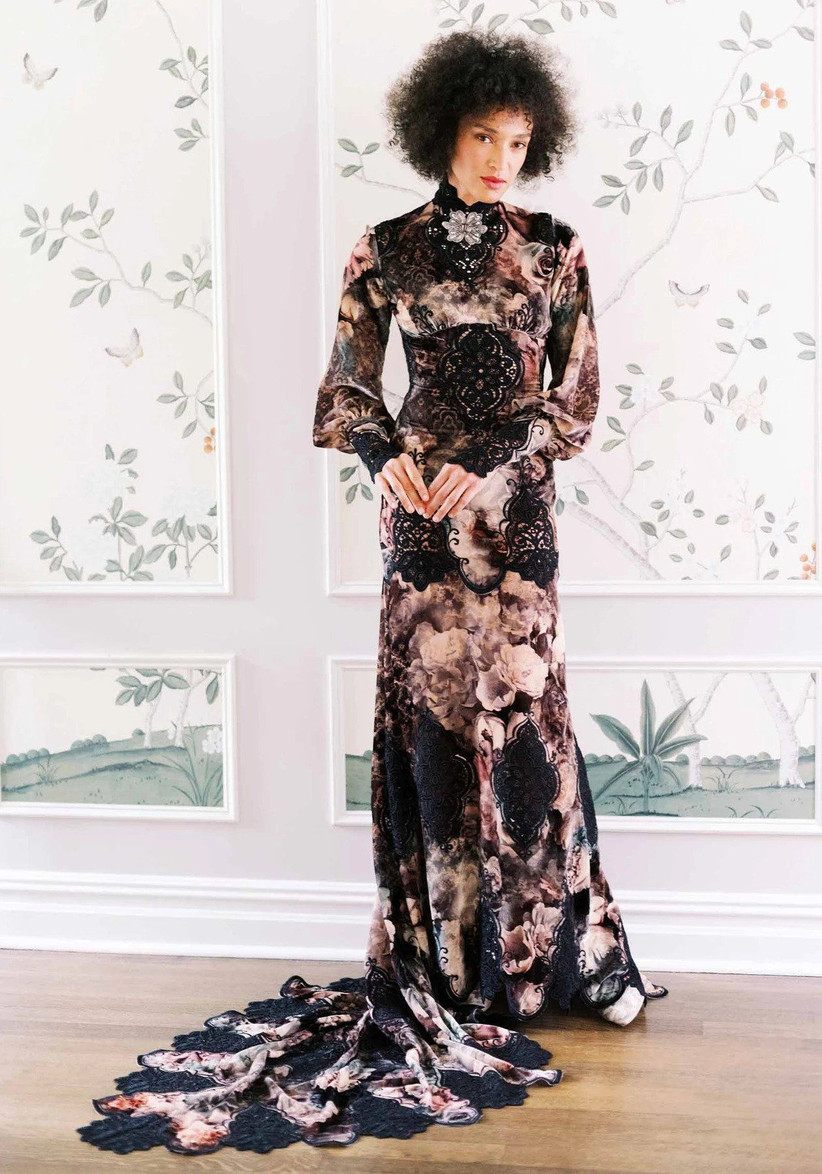 Crafted from silk velvet, we reckon this richly alluring Claire Pettibone dress would work particularly well at a wedding in colder weather. The volume sleeves and high neck give it a contemporary finish.
READ MORE: The Best Winter Wedding Dresses
19. Siren Dress - Jessica Choay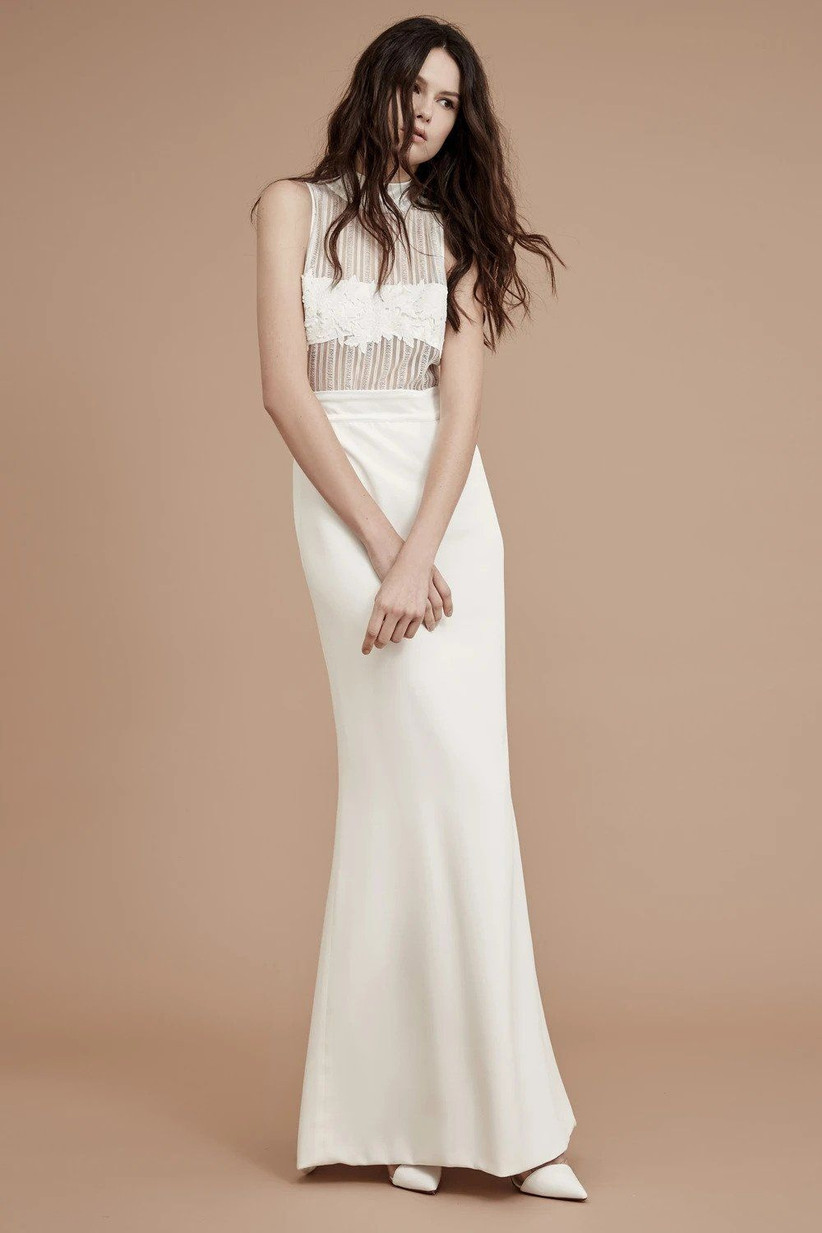 The bodice of this Jessica Choay dress is a cool twist on classic bridal lace, and it pairs beautifully with the fluid skirt.
20. Scarlett Dress - Whistles
The Scarlett wedding dress from Whistles is such an elegant proposition. We love the clean lines of the silhouette, and there's an open back to add a sensual note.
21. Emmy Dress - Sweet Caroline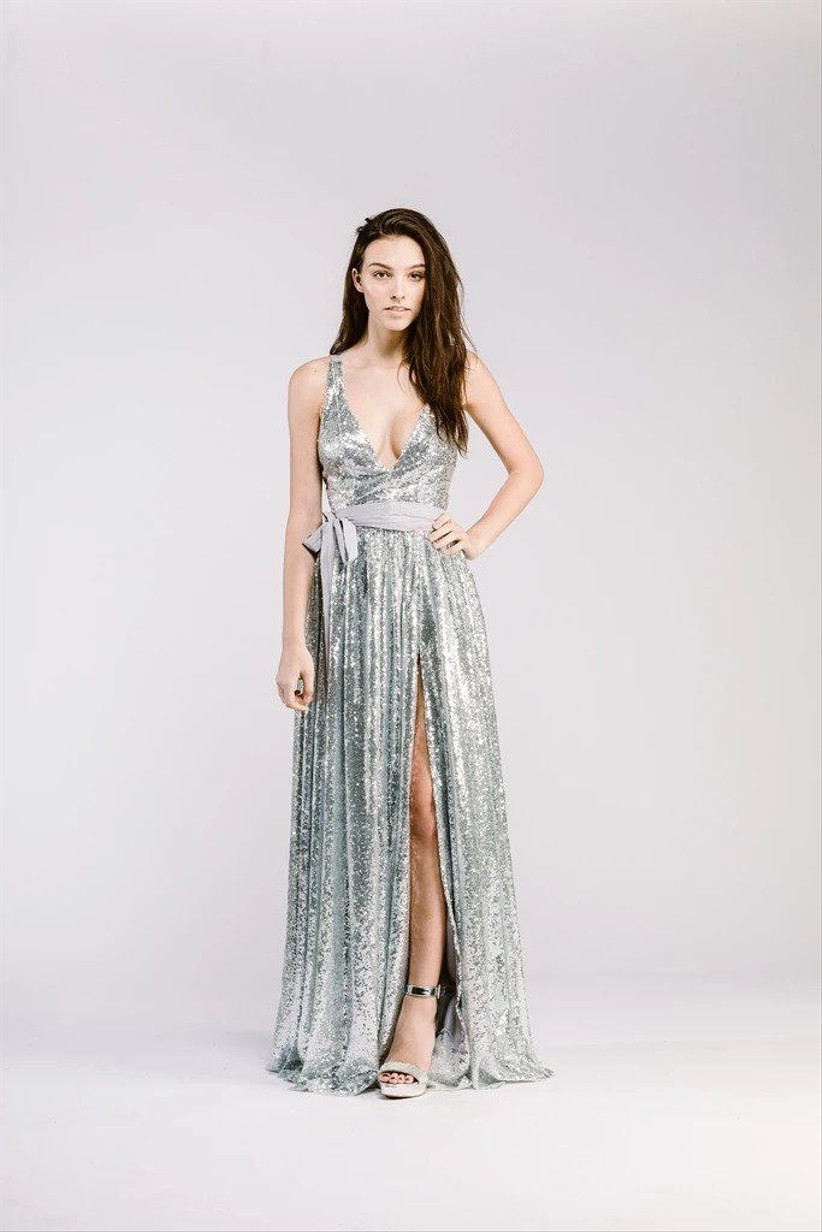 Looking for a showstopper? This Sweet Caroline gown is it. Sparkling sequins meet a plunging neckline and high thigh slit to utterly dazzling effect.
22. Apple Butterfly Dress - Halfpenny London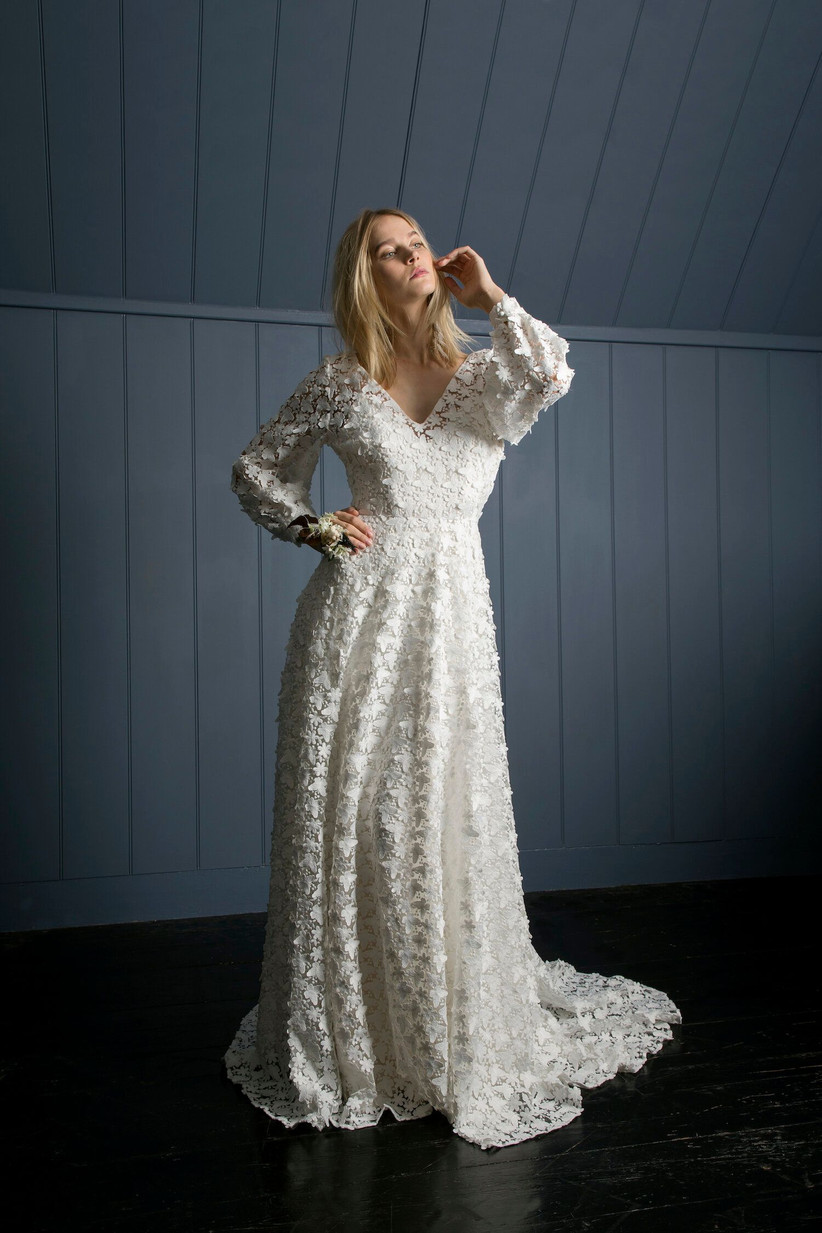 British designer Kate Halfpenny is known for putting a cool but wearable spin on classic bridal looks. With the Apple Butterfly dress, it's all in the fabric choice, with a highly textured lace adding drama.
READ MORE: The Best Wedding Dress Shops in London
23. Volant Empire Gown - Victor & Rolf Mariage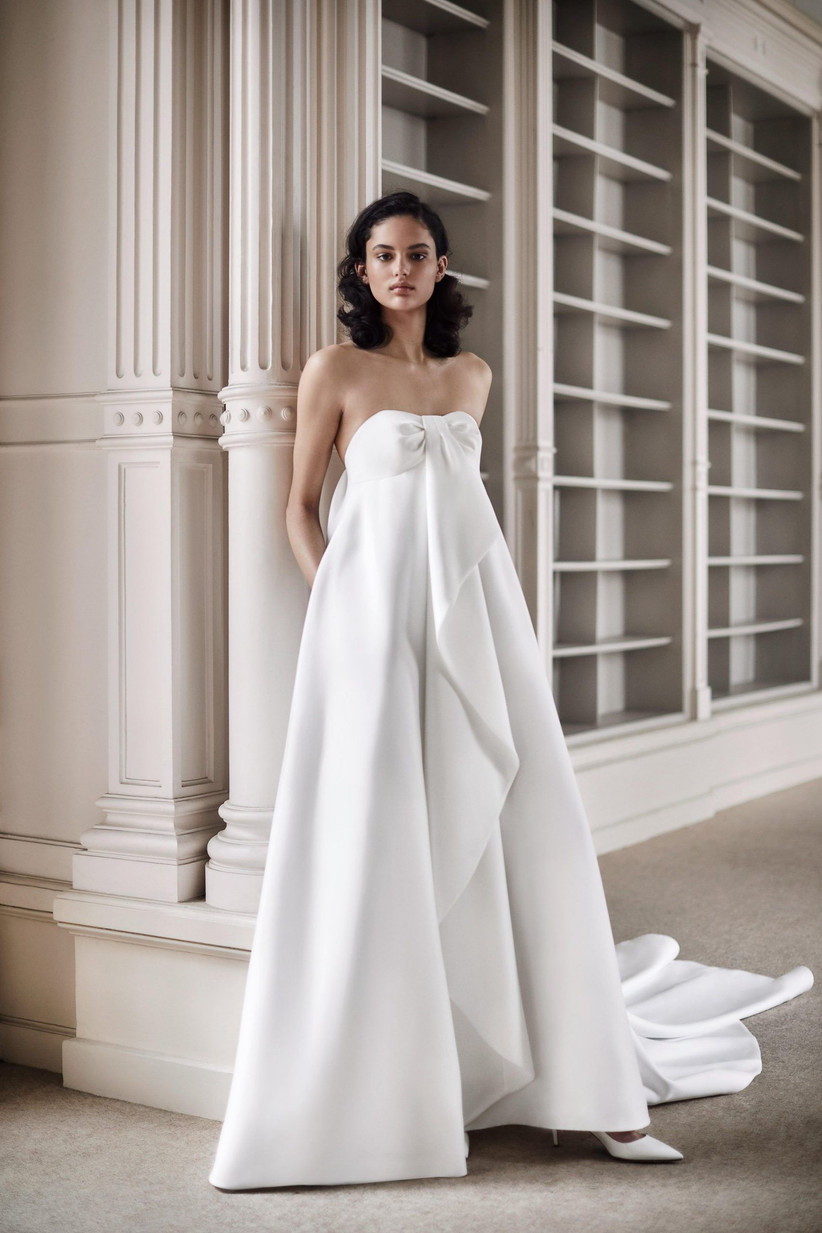 Victor & Rolf have re-imagined that bridal classic: the strapless dress. Their take on the look has an opulent silhouette that finishes in a dramatic train. This is how you do bridal couture.
24. Elecia Fringe Dress - Phase Eight
Give a subtle nod to Twenties style with this chic fringed dress. The look is ideal if you want stand-out glamour but aren't partial to sparkle.
25. Leia - Rita Colson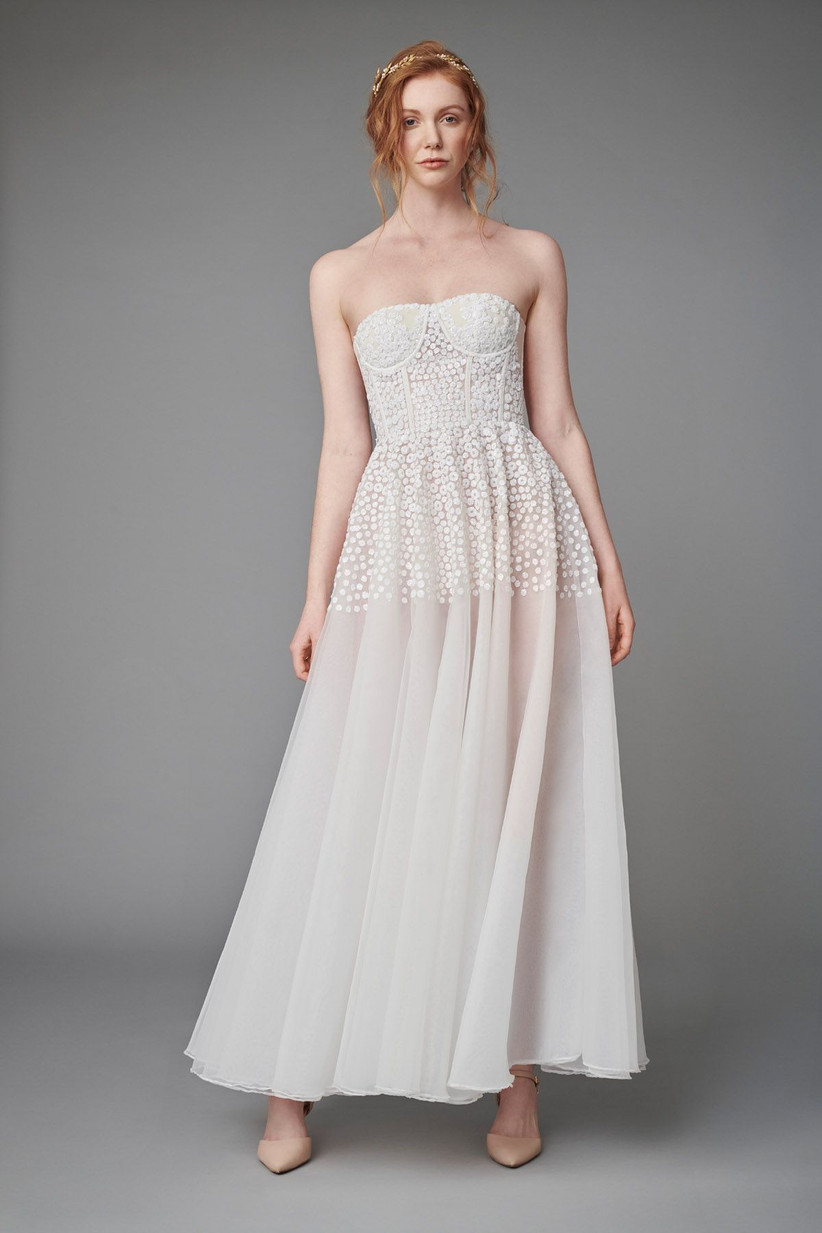 What makes Rita Colson's designs so special is that she knows exactly how to interpret trends to create wedding looks that are precision-engineered to make brides feel amazing. This Leia dress is a prime example. It has beautiful movement, and a bodice design you won't see anywhere else.
26. Style HB6639 - Saja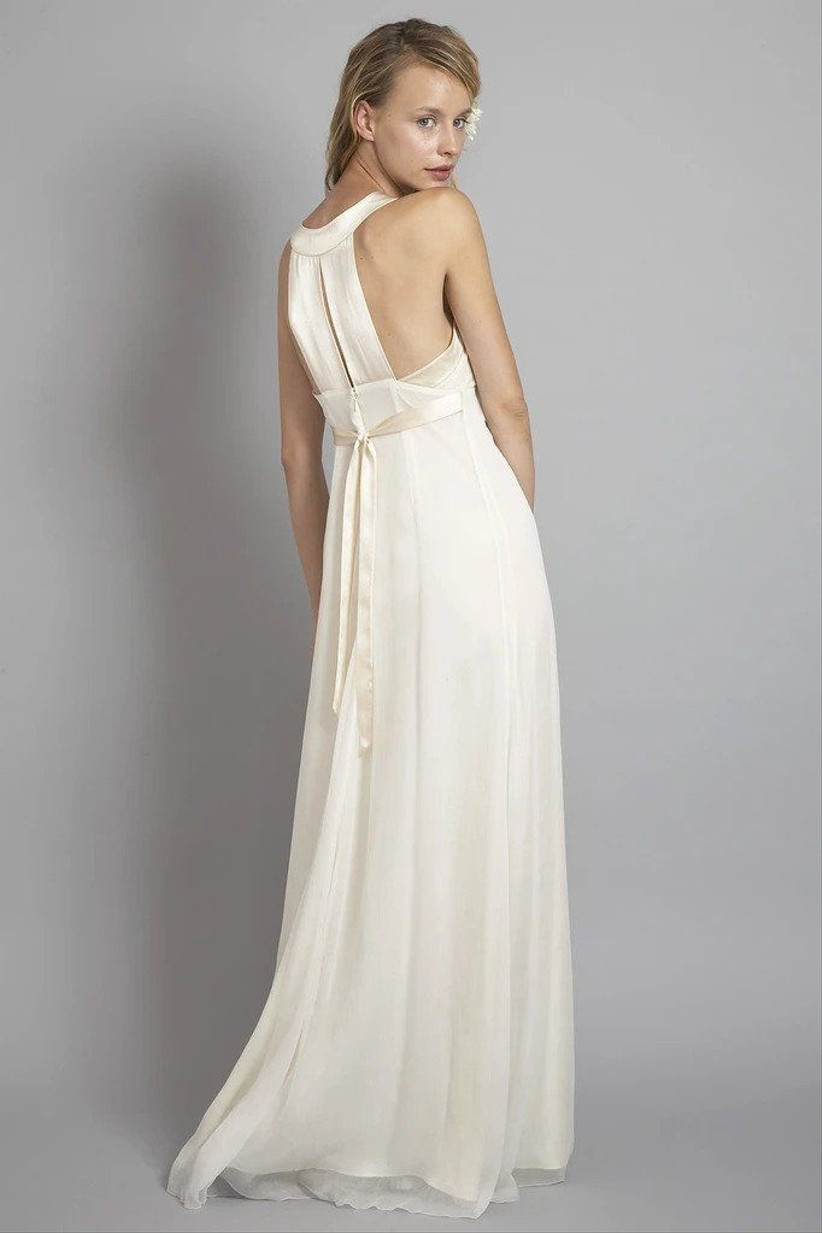 We don't often see a racer back on a wedding gown - but this Saja dress has got us thinking it's a feature we'd like to see more. The look is cool and sophisticated, particularly against the clean silhouette of the dress.
READ MORE: Simple Wedding Dresses: 51 of Our Favourite Gowns for Modern Brides
27. Vera Midi Dress - Michael Costello x Revolve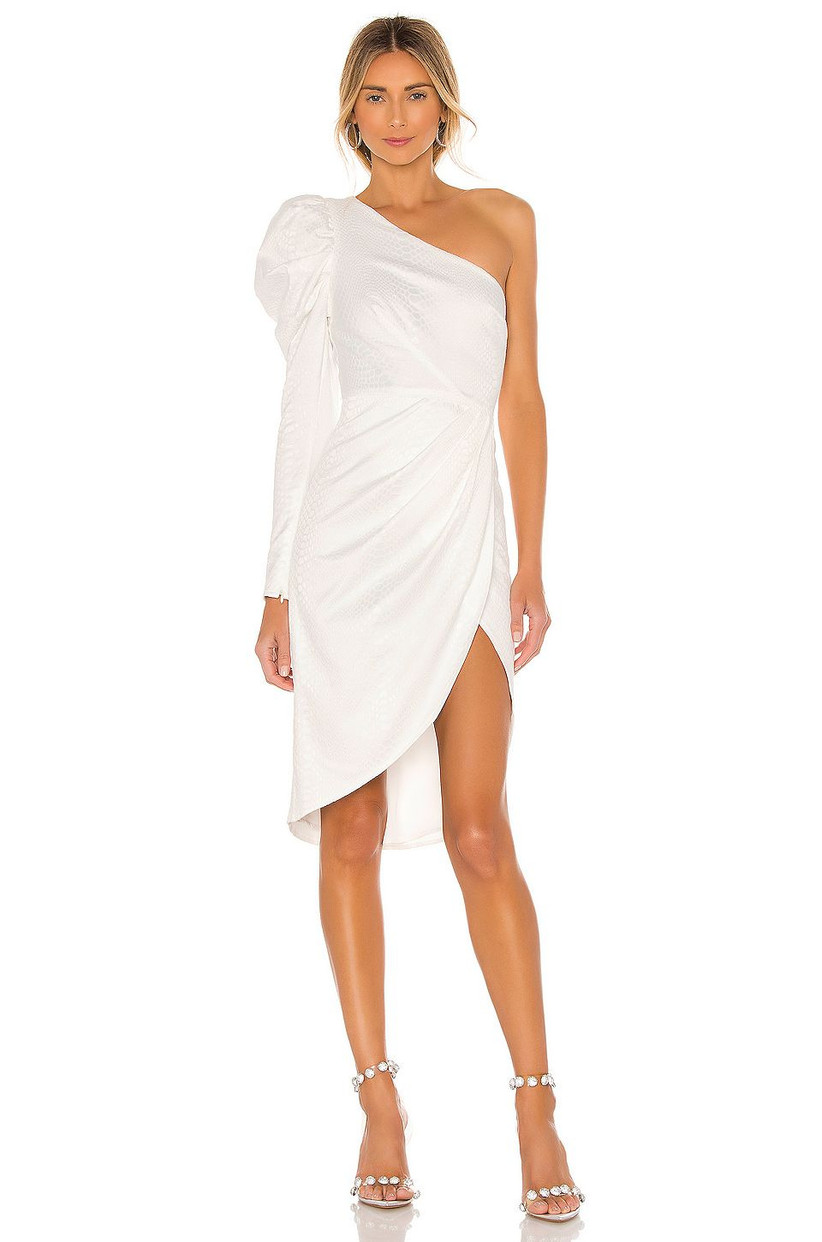 This one-shoulder midi would look so fresh at a summer city wedding. The snakeskin-effect on the fabric gives it a real edge.
28. Pulp Fiction Dress - Lucy Can't Dance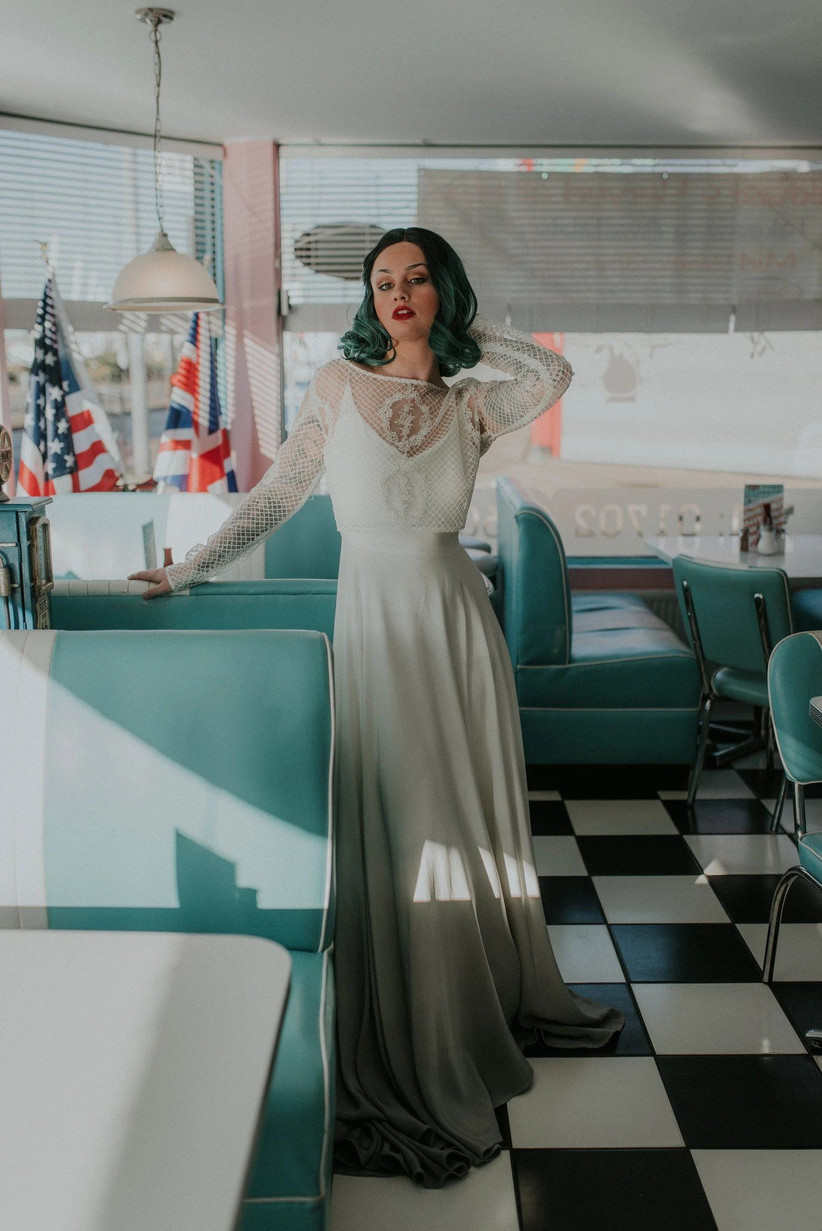 It's easy to see why Pulp Fiction is one of the most popular designs at cool British design studio Lucy Can't Dance. The silhouette is stunning, and the dress is customisable - you can choose the colour of the dip dye and the style of lace top - giving you a unique wedding gown.
29. Aries Cut-Out Dress - Sir.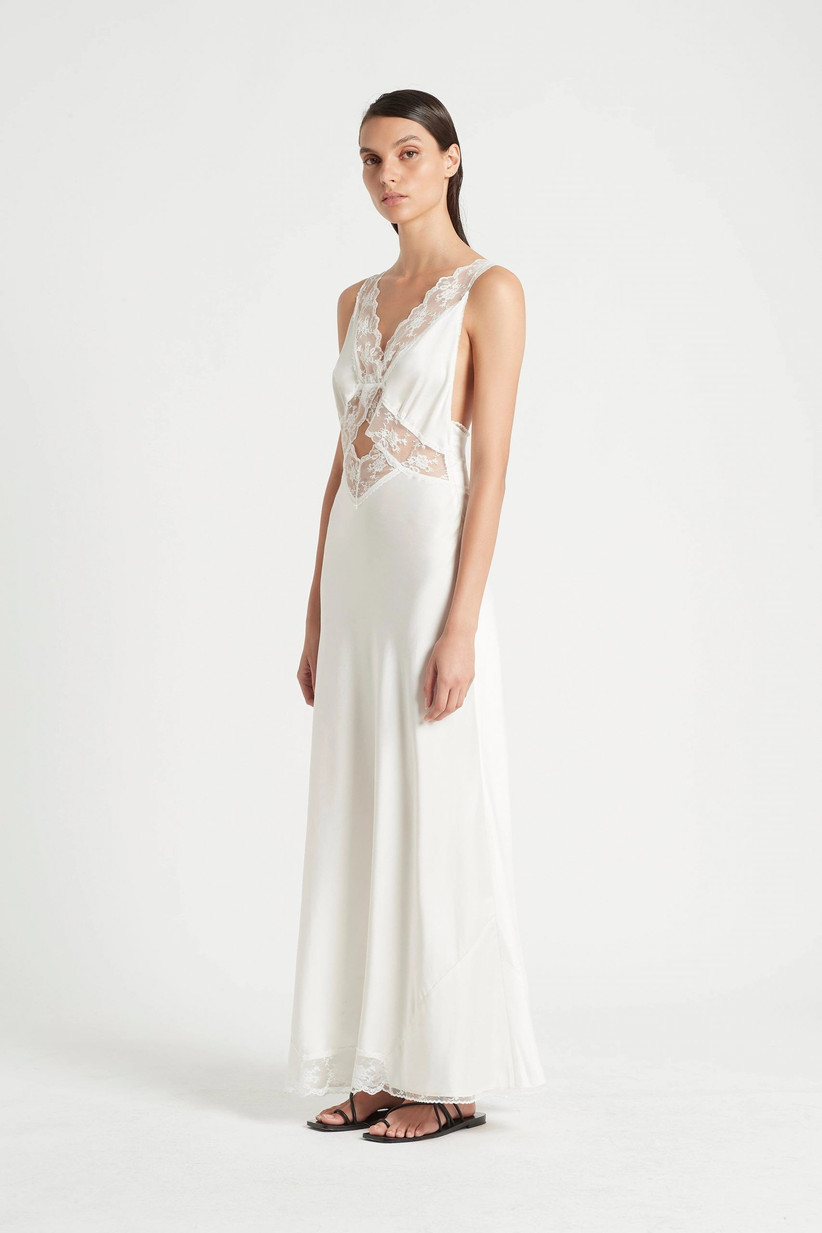 Australian brand Sir. is a real go-to for cool-girl dressing, and we think their Aries cut-out gown is a great boho-inspired wedding gown alternative.
30. Sequoia Print Dress - Leanne Marshall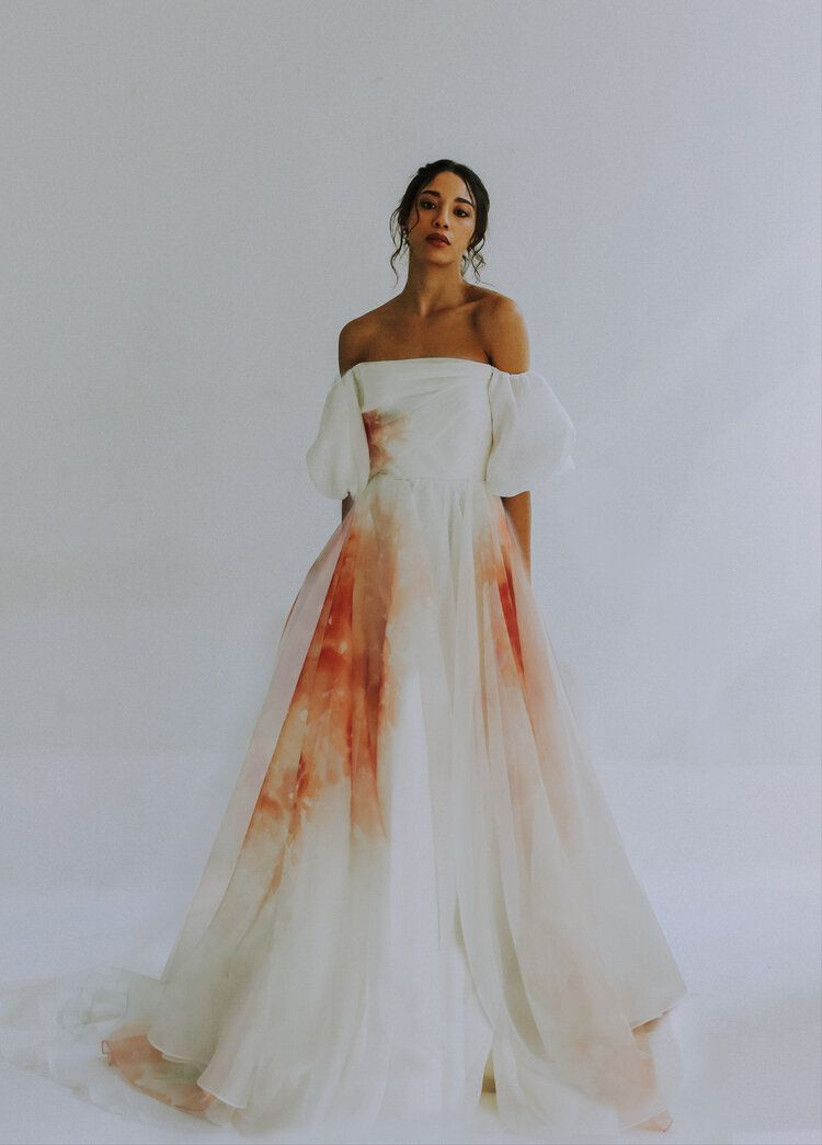 While Leanne Marshall does have some all-white designs, we're particularly enchanted by her watercolour fabrics, like this Sequoia Print dress. The silhouette is lovely, with a beautifully draped bodice.
31. Amida Dress & Lavinia Dress - Solace London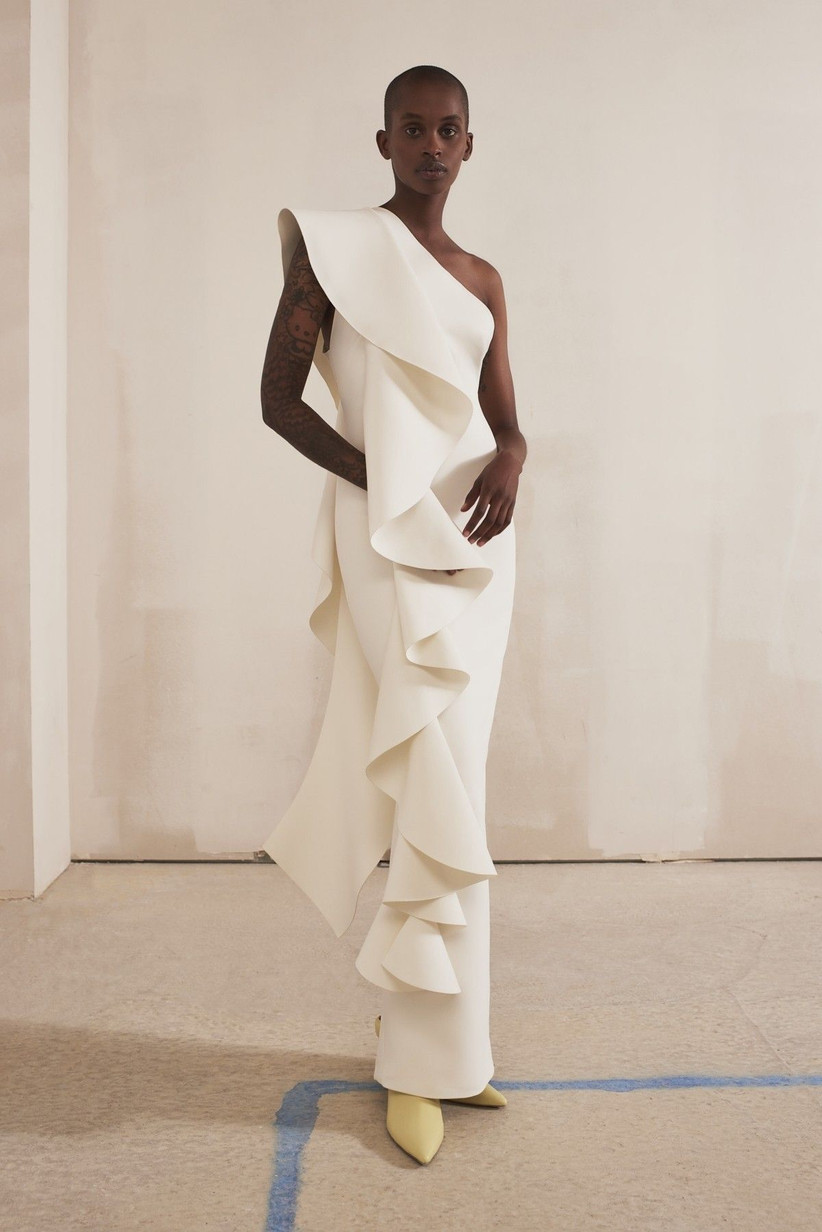 Solace London produces some of the most aspirational architectural bridelwear out there. We really struggled to choose just one dress, so we've cheated and picked two. The asymmetric ruffle on Amida makes the whole look so sophisticated.
Also available in all-over cream, we just love the shape of the Lavinia maxi dress - the way the design plays with contrasts is very clever.
READ MORE: 25 of the Best Bridal Jackets
Black Wedding Dresses
If you are looking for a truly alternative wedding dress then a black wedding dress could be perfect for you. Whether you are looking for some gothic style wedding dress or something sleek and sophisticated, there will be a black wedding dress for you.
32. Zander – Sottero & Midgley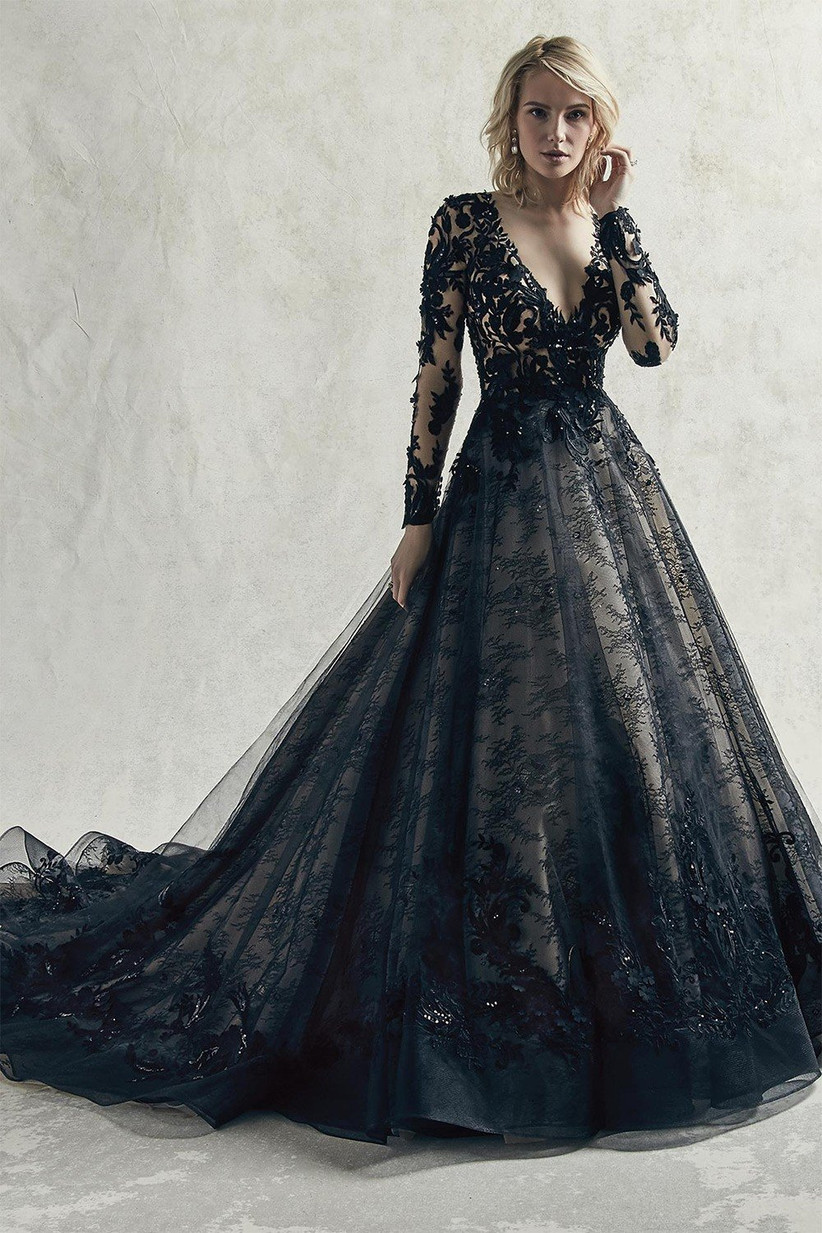 The Zanda dress by Sottero & Midgley is a statement choice and perfect for brides who want to step away from the norm. Contrasting lace and tulle are layered together to create a stunning look, and 3D floral motifs are used throughout the dress to add a textured finish.
33. Style 69375 – Ronald Joyce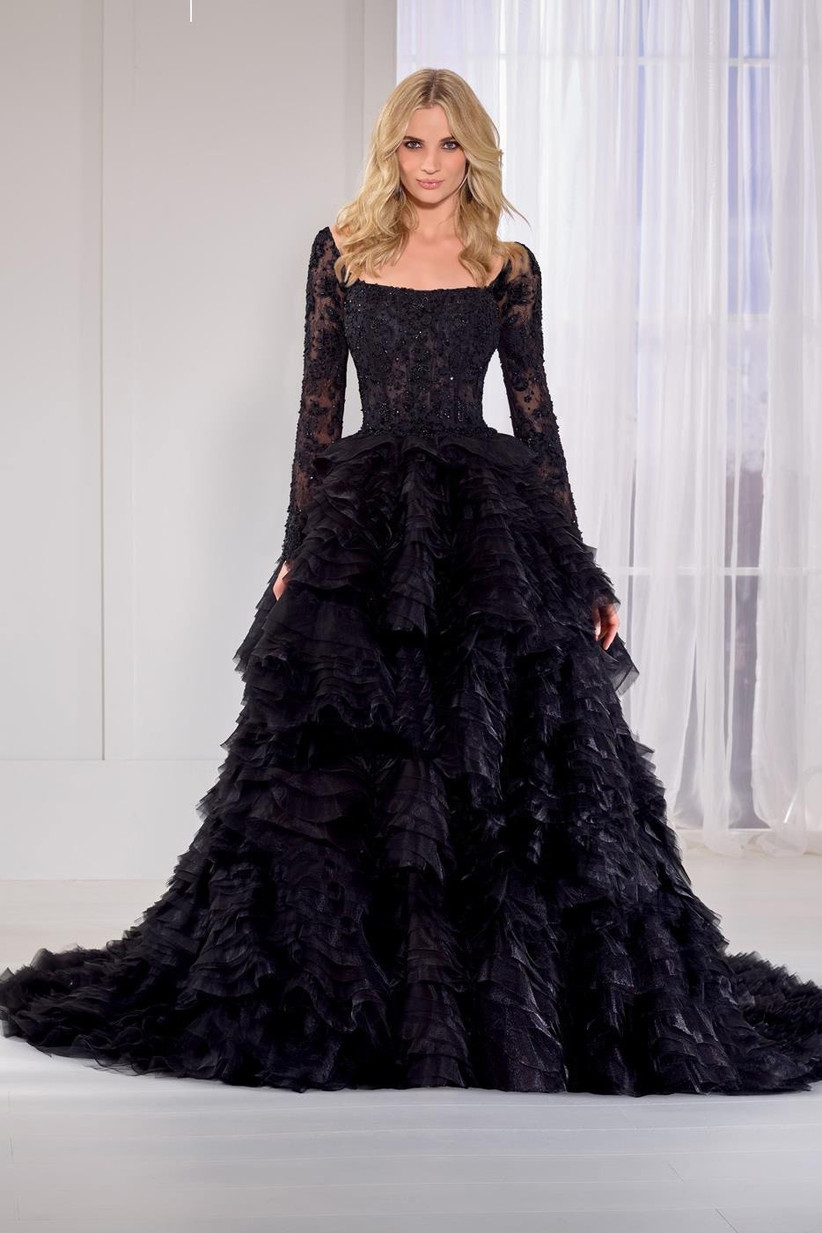 If you are looking for an alternative wedding dress that is full of drama then style 69375 from Ronald Joyce could be the ideal gown for you. Long sleeves and a fitted bodice lead into a ruffled ballgown skirt.
34. Amber Petal Gown – Needle & Thread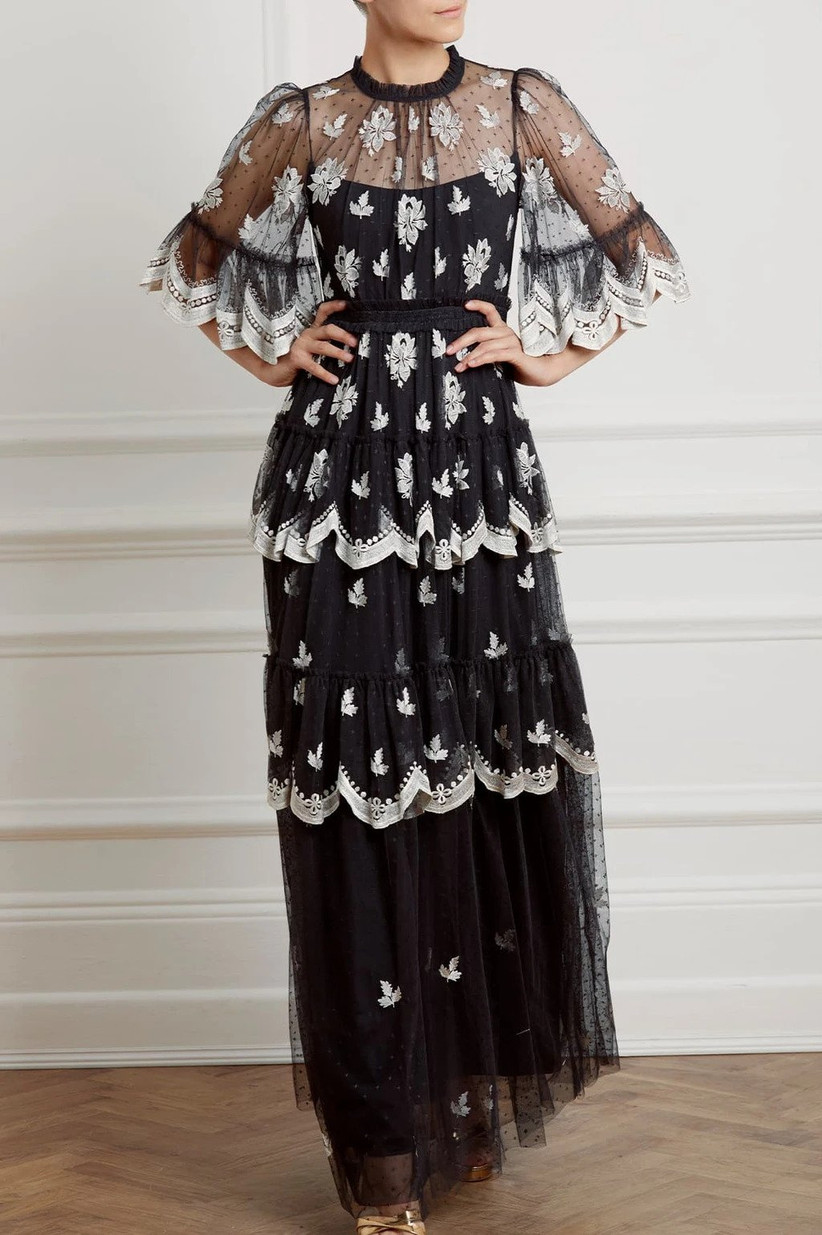 Just because you are choosing a black wedding dress doesn't mean you can't pick something that looks pretty. The Amber Petal gown by Needle and Thread has delicate floral detail and layers of tulle to create a fairytale feel.
READ MORE: 16 Fabulous Black Wedding Dresses for Non-Traditional Brides
Floral Wedding Dresses
Go floral for a fresh, pretty feel with plenty of personality.
35. Flora – Wendy Makin Couture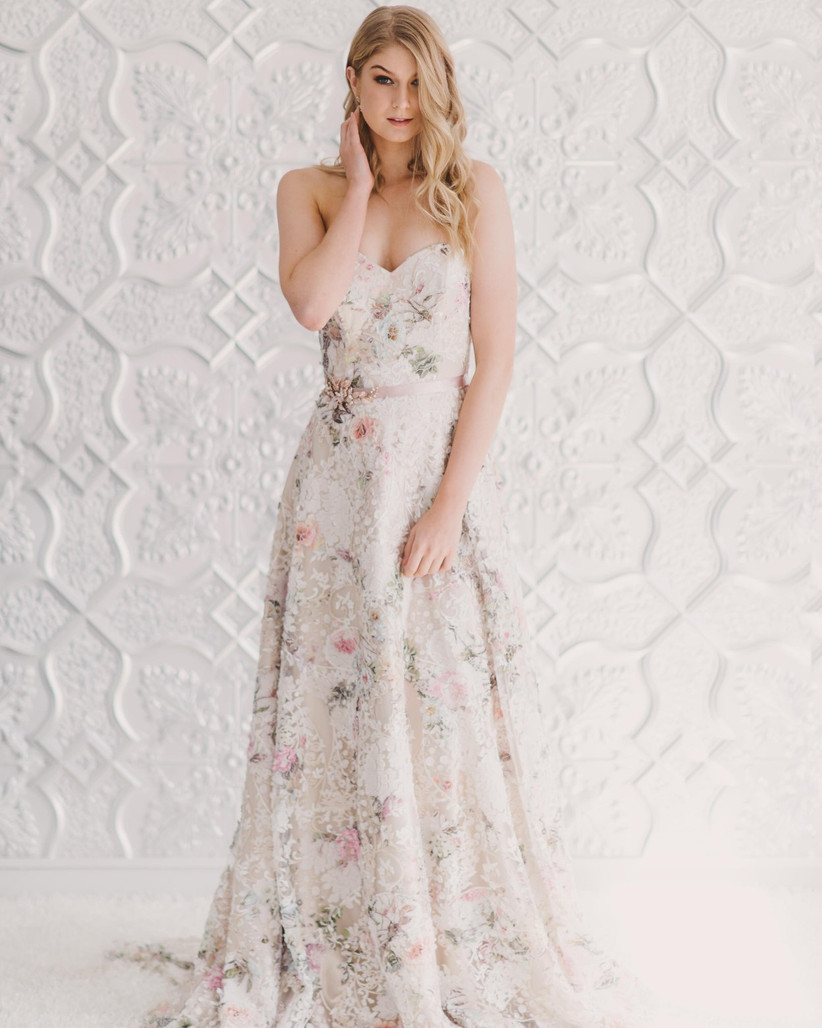 When you think about bold floral wedding dresses you have to think of Wendy Makin Couture - their take on bold floral prints has been a staple within their collection for years. The Flora dress features pretty pink flowers scattered throughout, adding some colour to a traditional silhouette.
36. Jacinta – Pure Bridal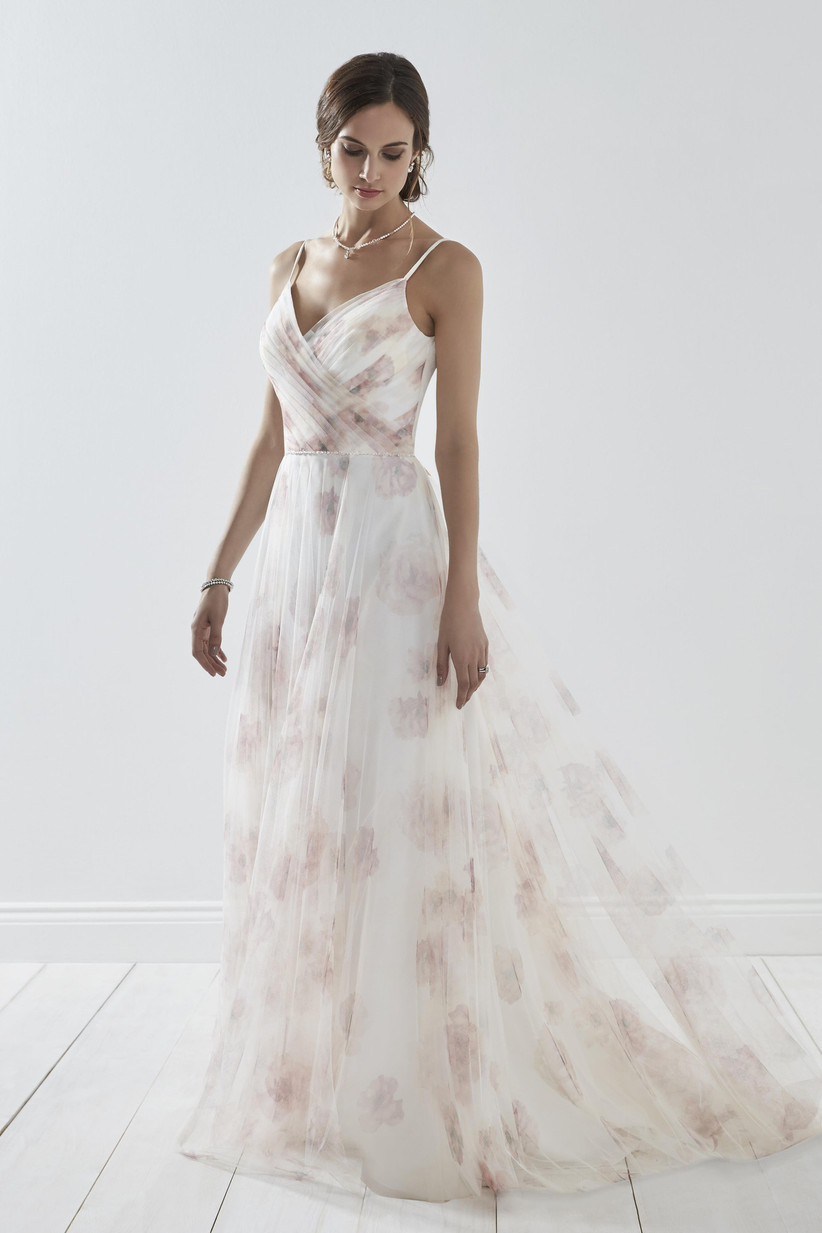 The pink floral Jacinta dress from Pure Bridal is ideal for brides who want something different from the norm but still want to maintain that elegant bridal feel. This flowing dress would be a perfect choice for a summer wedding.
37. Style 69426 – Ronald Joyce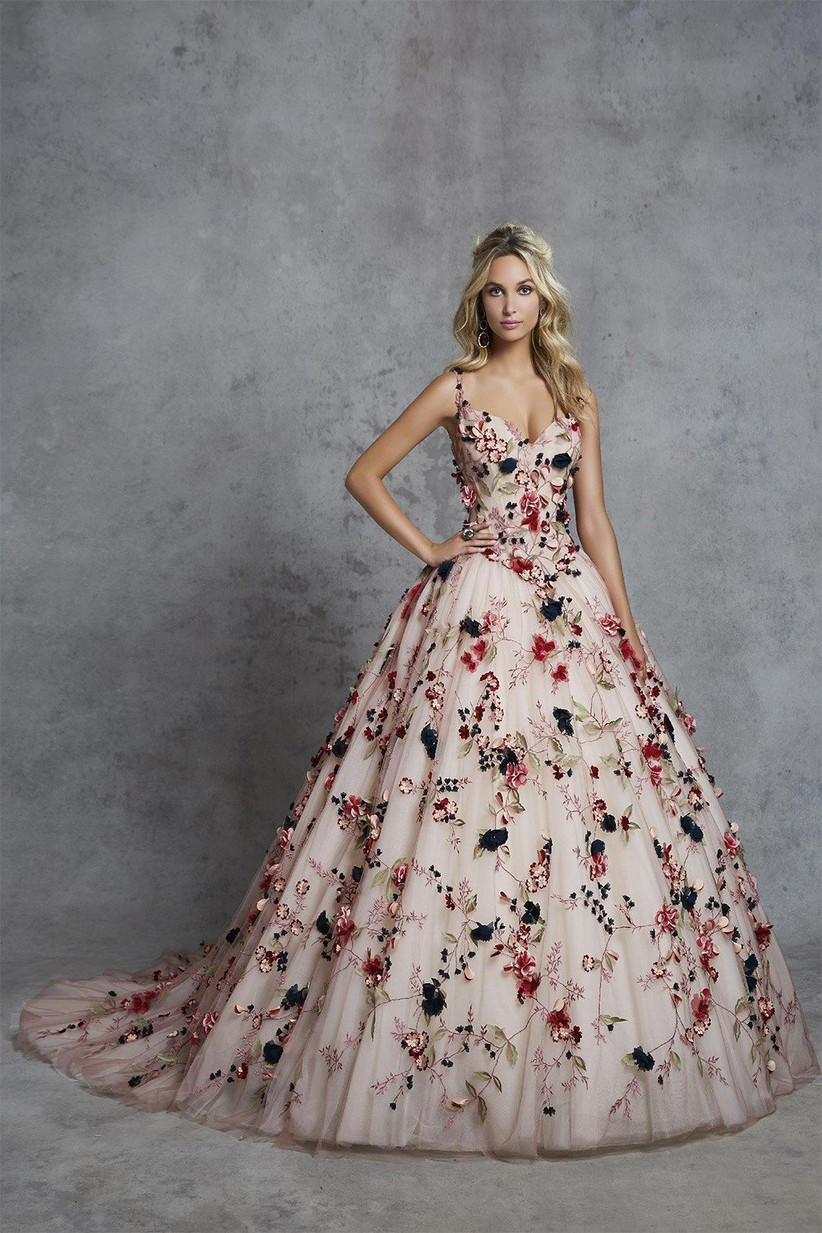 Style 69426 from Ronald Joyce shows how floral wedding dresses can be bright, bold and daring. We love the dramatic print on this ballgown wedding dresses and the fitted bodice and spaghetti straps give a beautiful shape to the dress.
38. Carmen – BHLDN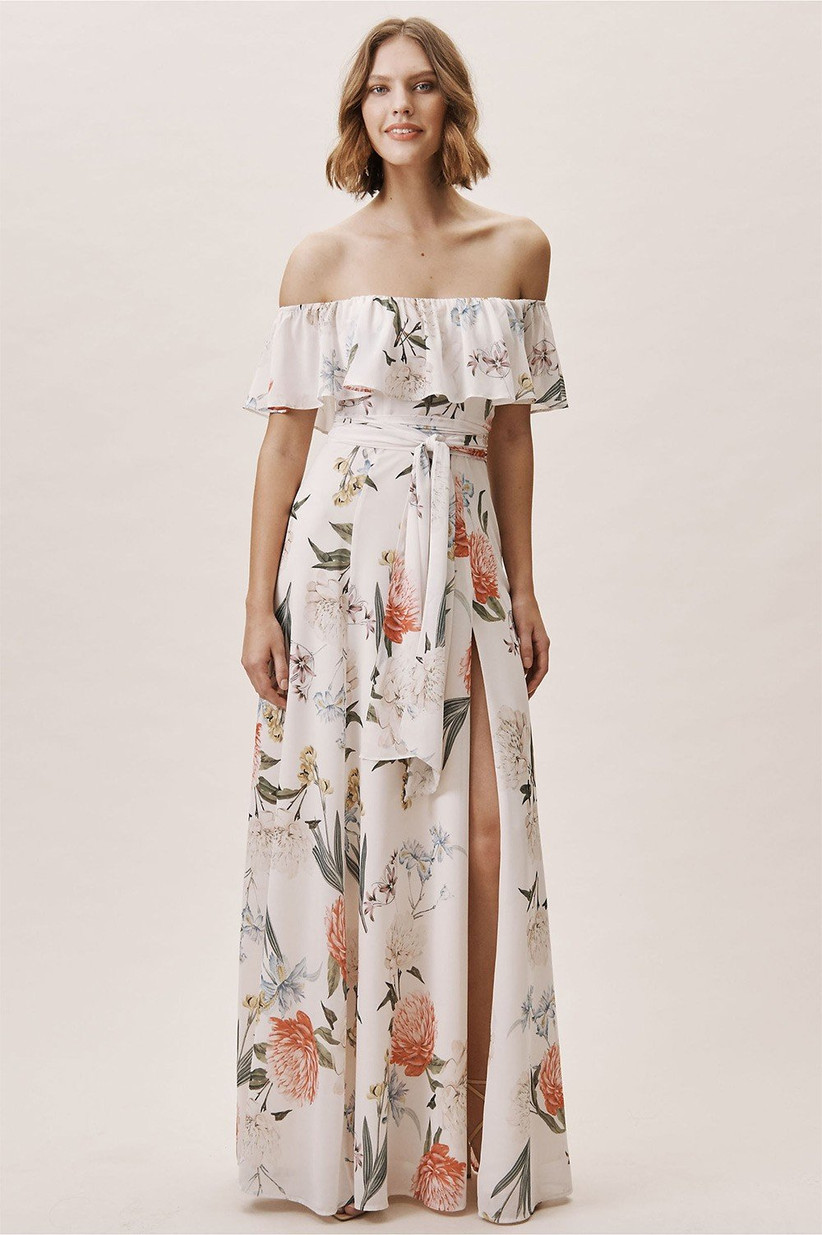 The Carmen dress from BHLDN is the perfect tropical wedding dress for a beach wedding, from the botanical pattern through to the relaxed off the shoulder fit of the gown. We are in love!
READ MORE: 21 Floral Wedding Dresses Perfect for Your Summer Wedding
Colourful Wedding Dresses
Who says your wedding dress has to be white? Alternative brides will love mixing up traditional bridal silhouettes with bold colours and unique fabrics. Take a look at some of our favourite colourful alternative wedding dresses.
39. Style 8295 – Mori Lee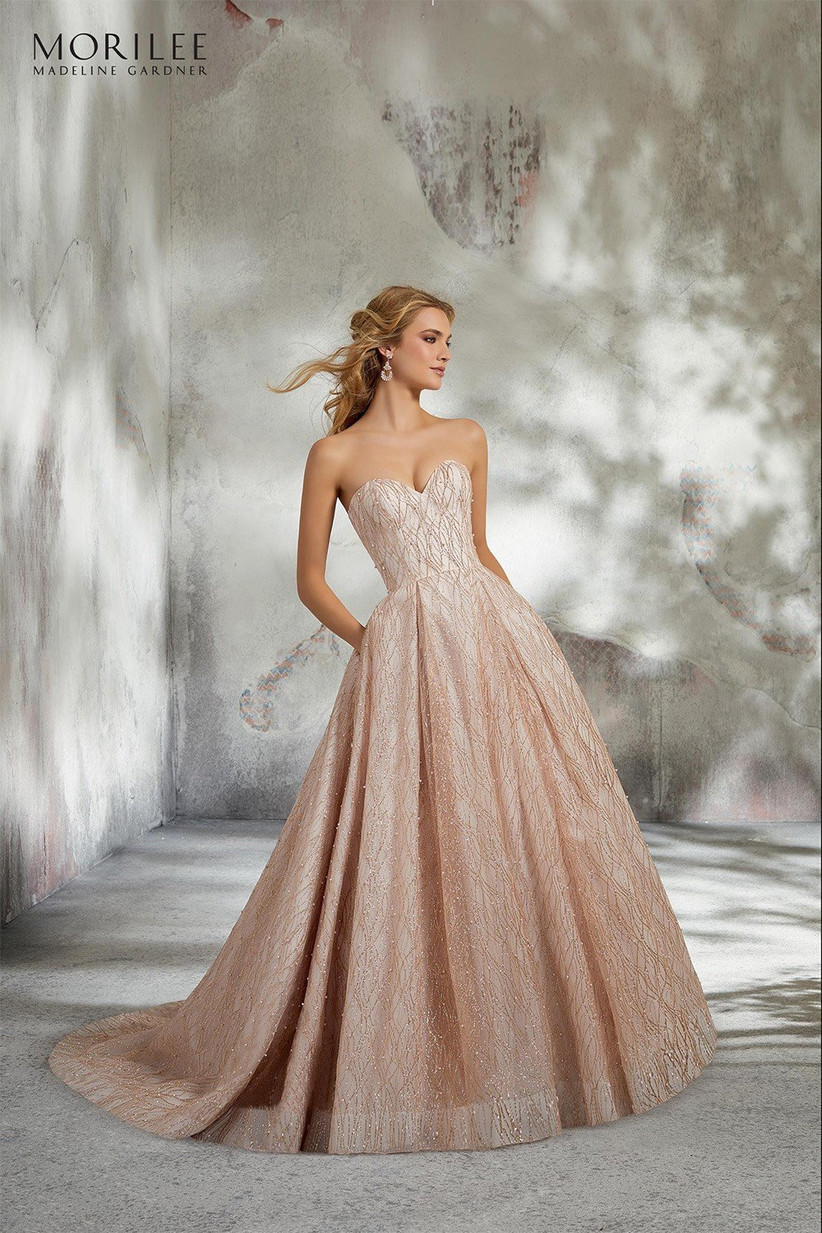 If you want to be pretty in pink on your wedding day, this strapless pink wedding gown from Mori Lee will suit you perfectly. The traditional ballgown style and pretty pastel hue work beautifully together.
41. Style CWG782 – David's Bridal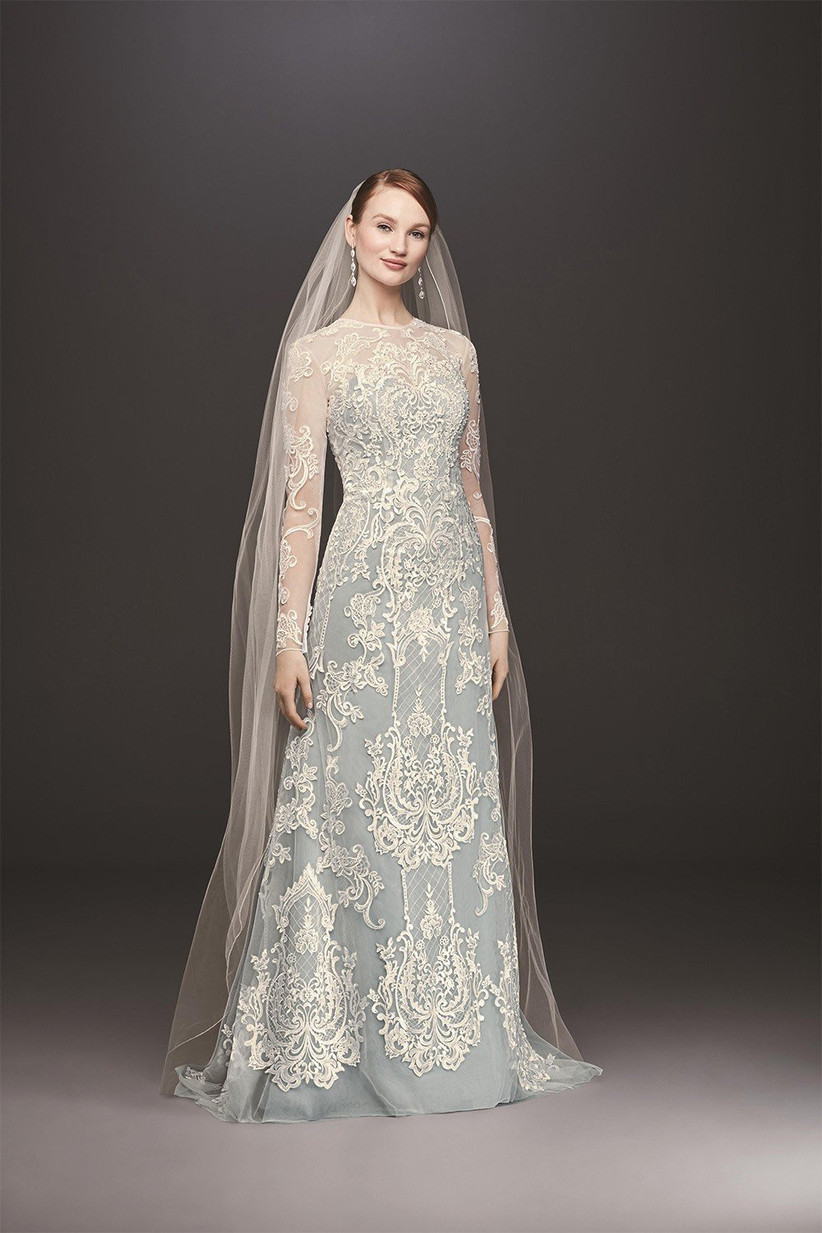 Why not let your wedding dress be your something blue? This lace wedding dress from David's Bridal is made from pale blue fabric with an overlay of traditional lace.
41. Sylvia Dress - Ghost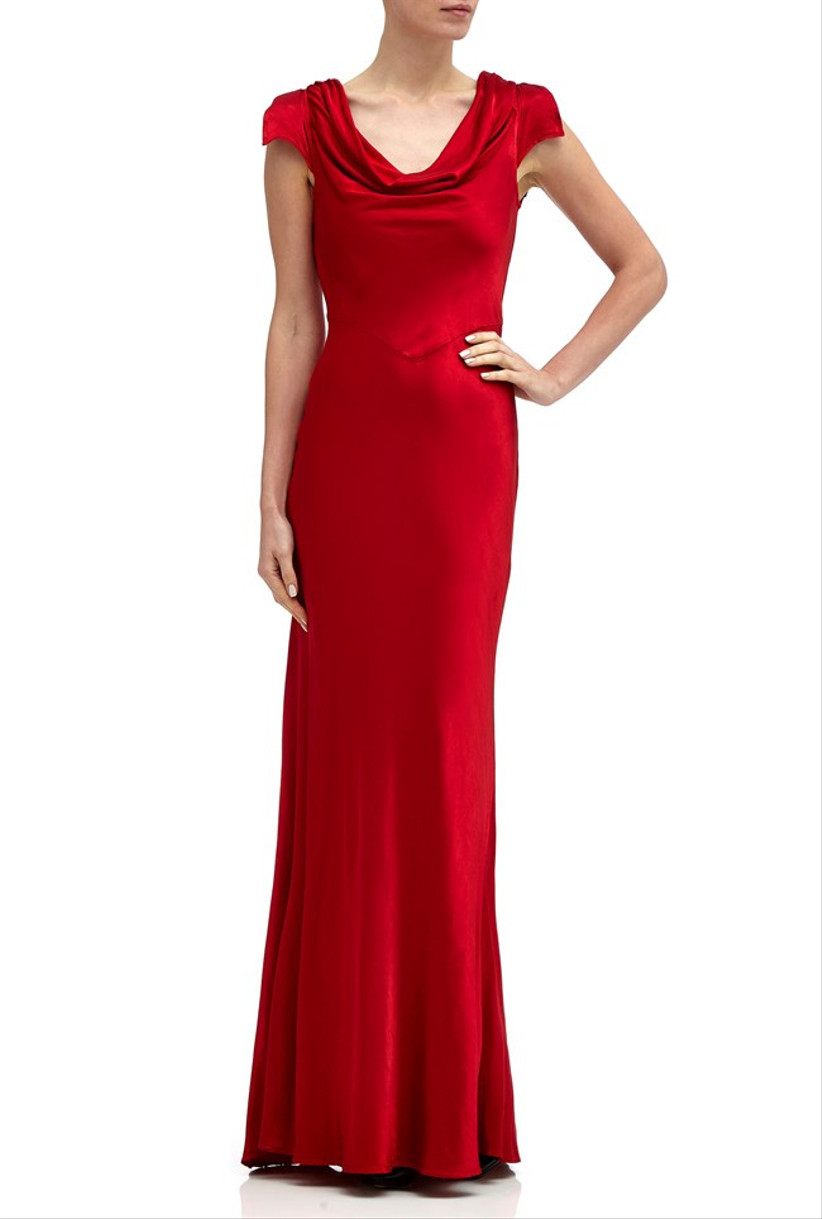 This slinky red dress is a real show-stopper, thanks to the head-turning hue and beautifully cut silhouette.
Looking for another way to put a twist on bridal tradition? Check out the best wedding dresses with secret messages.
We may receive a commission on products or services purchased through links in this article. All the products have been chosen independently by our editorial team.