25 Ed Sheeran Love Songs You Need at Your Wedding
It's no secret that Ed is the king of wedding songs - and we guarantee you'll want most of these tunes played on your special day!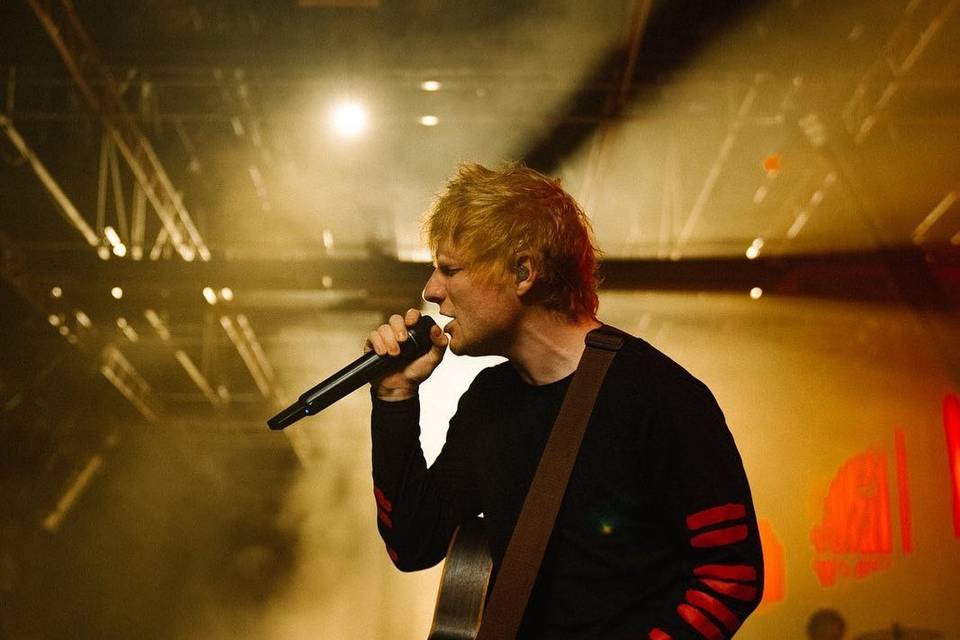 With the release of his latest album, =, Ed Sheeran has done it again. The king of romantic tracks has created an album full of gorgeous love songs that are perfect for your first dance and catchy bangers that will get guests grooving!
From busking on the streets to selling out concerts and winning Grammy Awards, Ed Sheeran has sold over 150 million records to date, but it's not only the music charts he's dominating. His romantic and infectious tunes are super popular choices for wedding songs too, with his faster-paced hits featuring on wedding reception playlists and his acoustic ballads serving as the soundtrack to many a first dance
Whether you're in search of a slow, soft song for your first dance or a dancefloor filler for the reception, we've rounded up the 25 best Ed Sheeran love songs that you should definitely consider for your special day.
READ MORE
1. First Times
Perfect for: Nostalgic couples who have been in love for years.
Why we love it: A soon-to-be classic from Ed's new album, it's basically a rom-com in a song. It'll make you melt into the arms of the one you love.
Best lyric: "I can't wait to see everything that's yet to be, our first child, and then a million more first times."
2. Kiss Me
Perfect for: A couple who are looking for some classic Sheeran, but have heard Thinking Out Loud one too many times.
Why we love it: That beautiful melody and the simple honest lyrics.
Best lyric: "I was made to keep your body warm. But I'm cold as the wind blows so hold me in your arms."
3. Shape of You
Perfect for: A cool couple looking for a more upbeat song that doesn't take itself too seriously.
Why we love it: The funky beat will get everyone dancing – it's a guaranteed crowd-pleaser people!
Best lyric: "Although my heart is falling too. I'm in love with your body."
4. Photograph
Perfect for: A nostalgic couple who have been together for like, ever.
Why we love it: It's just so bloomin' sweet, and once people listen to the lyrics there won't be a dry eye in the house!
Best lyric: "So you can keep me, Inside the pocket, Of your ripped jeans, Holdin' me closer, 'Til our eyes meet. You won't ever be alone. Wait for me to come home"
READ MORE: 31 of the Most Magical Disney Wedding Songs
5. Lego House
Perfect for: A country wedding in a barn or field where the newlyweds can dance in bare feet.
Why we love it: It's cooler than your average love song and has a really genuine feel to it that everyone can appreciate.
Best lyric: "My three words have two meanings. There's one thing on my mind, it's all for you."
6. Collide
Perfect for: An upbeat love song for a mid-tempo moment during your reception that your guests will love.
Why we love it: Oozing good vibes, this is one for every couple at the wedding. A crowd-pleaser with meaningful lyrics.
Best lyric: "We've seen the moon reflect on the rollin' tide, been up at 5am, watchin' the sunrise, because the world looks better when I'm by your side"
7. Lay It All On Me
Perfect for: The couple who couldn't think of anything worse than any of the above being played at their wedding…
Why we love it: Bored of ballads? Don't worry – you can still have a bit of Ed at your wedding without things getting too soppy. This Rudimental track is the perfect upbeat first dance with surprisingly appropriate lyrics about supporting one-another.
Best lyric: "If it hurts and you can't take no more. Lay it all on me"
8. Perfect
Perfect for: The couple who want the PERFECT first dance song.
Why we love it: A gorgeous folksy melody and a perfect swaying tempo. We're pretty sure Ed wrote this with weddings in mind.
Best lyric: "When you said you looked a mess, I whispered underneath my breath. But you heard it, darling, you look perfect tonight"
READ MORE: 50 Modern Wedding Songs You'll Love
9. Thinking Out Loud
Perfect for: A classic couple who wants their first dance song to make them feel like the only two people in the room.
Why we love it: It's got everything a wedding song needs – from dramatic moments for spins and lifts, to beautiful heartfelt lyrics – this song epitomises the idea of having a romantic first dance song.
Best lyric: "Take me into your loving arms. Kiss me under the light of a thousand stars. Place your head on my beating heart"
10. Galway Girl
Perfect for: A folksy first dance with a ceilidh to follow.
Why we love it: It's oh-so-cute and a little bit cheeky – the perfect song to get everyone (including granny) up and dancing along with you.
Best lyric: "Kissed her on the neck and then I took her by the hand. Said, "baby, I just want to dance"
11. Give Me Love
Perfect for: The couple who been with each other through it all.
Why we love it: This tune is mellow and subdued and suggests a complicated relationship between two lovers. While it may not be an obvious wedding choice, it'll highlight how far you and your partner have come together.
Best lyric: "All I want is the taste that your lips allow. My, my, my, my, oh give me love."
READ MORE: 21 of the Best Songs to End Your Wedding To
12. Afterglow
Perfect for: Couples who have children together or are hoping to start a family in the future.
Why we love it: Rumoured to have been written about the arrival of his daughter and how she has left a beautiful mark in the relationship he has with his wife, this song will leave you and your guests emotional.
Best lyric: "Stop the clocks, it's amazing. You should see the way the light dances off your hair. A million colours of hazel, golden and red."
13. All Of The Stars
Perfect for: The ending song at a wedding as the sun sets.
Why we love it: You might recognise this tear jerker from The Fault in Our Stars. Uplifting, inspiring and captivating this tune is seriously underrated as a wedding song.
Best lyric: "It's just another night, and I'm starring at the moon. I saw a shooting star and thought of you."
14. Love In Slow Motion
Perfect for: A first dance song for a couple who've been waiting for this moment for a long time.
Why we love it: A Celtic-inspired track that gets inside your head, it's romantic and cheeky and has a soaring chorus.
Best lyric: "If there's one thing I know, it's this, every moment missed can be restored with your lips. It only takes one kiss."
15. Firefly
Perfect for: Couples who want a simple song with a beautiful meaning.
Why we love it: Full of Ed's trademark guitar techniques, this slow tempo song is all about falling in love featuring some really wedding appropriate lyrics.
Best lyric: "Close your eyes, Lean on me, Face to mouth, Lips to Cheek, Feeling numb, In my feet, Your the one, To help me get to sleep."
16. Tenerife Sea
Perfect for: A soppy couple who love a good sappy song.
Why we love it: With a chorus that repeats the phrase "so in love" could this be any more perfect for your first dance?!
Best lyric: "Should this be the last thing I see, I want you to know it's enough for me, 'Cause all that you are is all I've ever need."
17. Everything Has Changed
Perfect for: Couples who want a female and male singer for the first dance.
Why we love it: Okay, so technically this is a Taylor Swift song featuring Ed Sheeran but it's too good not to include. Nodding to the fact that everything has changed couldn't be more fitting for a wedding.
Best lyric: "All I know is you held the door, You'll be mine and I'll be yours, All I know since yesterday, Is everything has changed."
18. How Would You Feel
Perfect for: A bride or groom who want to do a solo performance to their partner on the big day.
Why we love it: Written as an ode to Ed's wife, not only has does this song have beautiful lyrics, it features John Mayer on the guitar too!
Best lyric: "It's just something that I want to do, I'll be taking my time, Spending my life, Falling deeper in love with you, So tell me that you love me too."
READ MORE: 120 of the Best Wedding Ceremony Songs
19. The Joker and The Queen
Perfect for: A sweet, slow song for a really intimate first dance moment.
Why we love it: That string section sounds like it would feature in an old love movie.
Best lyric: "With a single word and a gentle touch, You turned a moment into forever."
20. Fall
Perfect for: A couple who know they've found their soulmate.
Why we love it: One of Ed's least known tunes, this harmonic song is simply stunning to listen to.
Best lyric: "You and I, Two of a mind, This love's one of a kind, You and I, We're drifting, Over the edge."
21. Best Part Of Me
Perfect for: Couples who want a tender, more thought-provoking song.
Why we love it: With some haunting notes, this song may not be the happiest, but the lyrics represent a deep kind of love.
Best lyric: "Baby, the best part of me is you, Lately, everything's making sense too, Baby I'm so in love with you."
22. Sofa
Perfect for: Couples who appreciate the small things in life with their partner, like watching TV on the sofa.
Why we love it: We're obsessed with this song's clever lyrics. Upbeat and catchy, your guests will be singing along to this tune in no time.
Best lyric: "We could go to Berlin, Tokyo or Jamaica, Through the streets of New York that is where I would take ya, Paris, Rome, to Rio, passing through Las Vegas. We can go where you want, Say the word and I'll take ya, But I'd rather stay on the sofa with you."
23. I Don't Care
Perfect for: Couples who want to dance like nobody's watching!
Why we love it: One of Ed Sheeran's livelier bops, this song is all about you and your partner being a team and helping each other every step of the way. After all, that's what marriage is all about, right?
Best lyric: "'Cause I don't care when I'm with my baby, yeah, All the bad things disappear, And you're making me feel like maybe I am somebody, I can deal with the bad nights, When I'm with my baby, yeah."
24. Hearts Don't Break Around Here
Perfect for: The couple who started off as friends.
Why we love it: This romantic, slow ballad sounds like a diary entry. It's adorable and oh-so-sweet.
Best lyric: "'I feel safe when you're holding me near, Love the way that you conquer your fear. You know hearts don't break around here."
25. Bad Habits
Perfect for: A reception dancefloor filler or end of night track.
Why we love it: More a lust song than a love song, it's a sexy, catchy track that's guaranteed to make your guests dance.
Best lyric: "'Every time you come around, you know I can't say no, Every time the sun goes down, I let you take control. I can feel the paradise before my world implodes, And tonight had something wonderful."
For more inspiration, be sure to check out our list of the most popular first dance songs!