Handfasting Ceremonies Are Seriously Popular - Here's How They Work
Everything you need to know about handfasting – from what it means to how to include it in your wedding day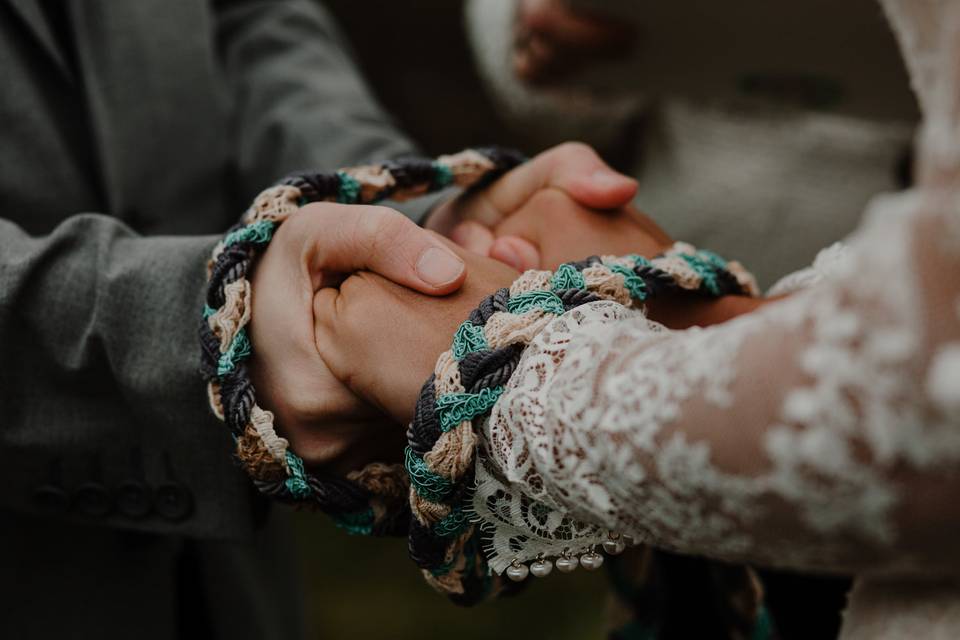 Handfasting is a wedding ritual with some pretty major heritage (some date the practice back to 7000 BC!) and it remains popular today. A recent survey of more than 500 wedding celebrants revealed that it's the third most common wedding service on offer after marriage ceremonies and renewals of vows.
Dublin-based wedding celebrant Yvonne Cassidy says that she's seen handfasting ceremonies become more sought after than ever:
"Handfastings are very popular, especially among Irish couples and those travelling to Ireland to elope. 80% of the couples that I marry include a handfasting ritual as part of their wedding ceremony.
"Irish couples tend to choose a handfasting as a nod to the past and overseas couples typically like to incorporate it because they are eloping for a sense of adventure – embracing an ancient Irish tradition within their ceremony really adds to this. While handfastings have strong symbolic meaning, they're also a lot of fun."
Handfasting ceremonies have boomed in popular culture too, which has led to greater interest in the tradition. Handfasting appeared in Braveheart and more recently Game of Thrones, which introduced the act to those who may never have seen it performed before.
Want to quite literally tie the knot? Here's everything you need to know about handfasting, from the ritual's origins to modern day meanings and how to plan your own.
READ MORE
What Is a Handfasting Ceremony?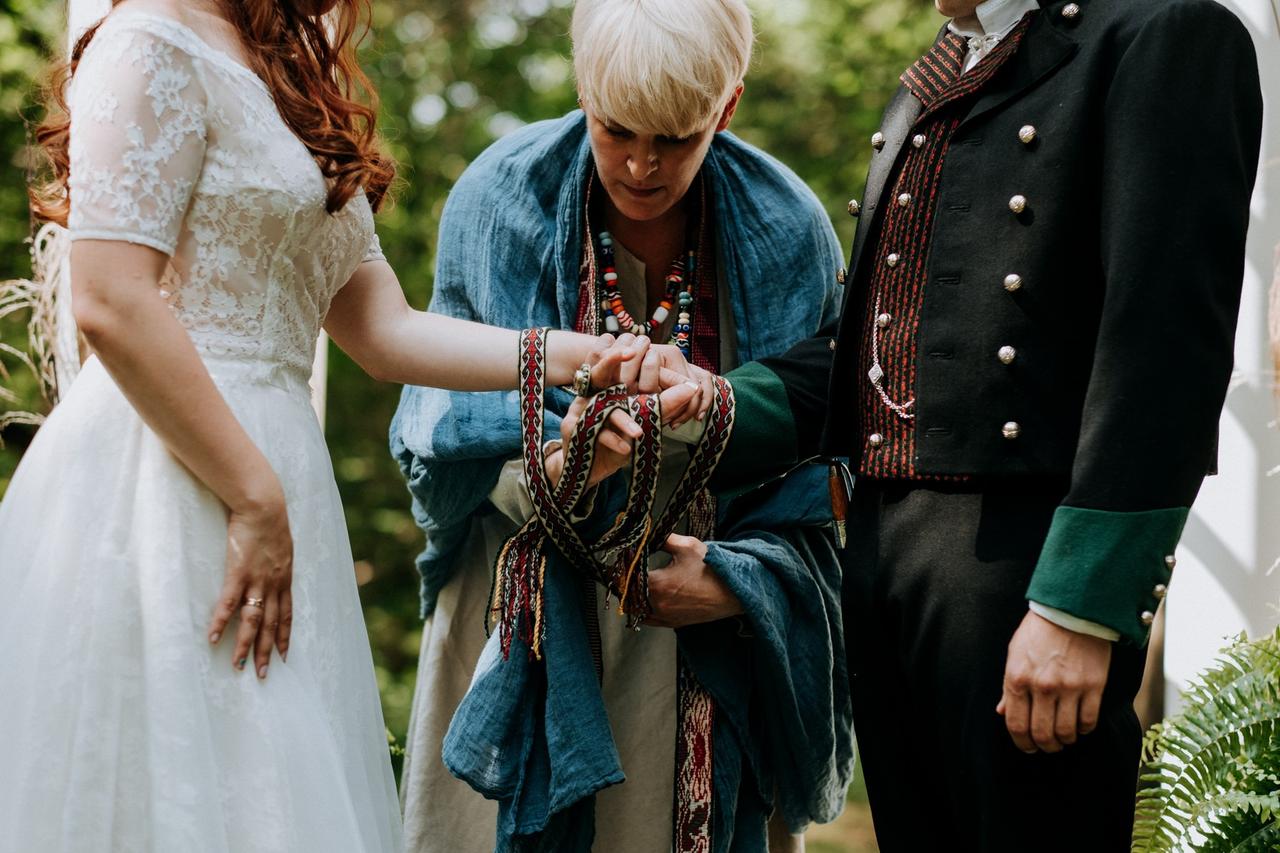 Handfasting ceremonies involve the tying together of a couple's hands or wrists with a cord, ribbon, sash, twine or vines to signify their union. The ritual is highly symbolic and spiritual, and will often take place outdoors and have strong connections to nature.
The tradition has its roots in many cultures and ancient civilisations, from the Mayans to the Celts to Vedic Hinduism. It's practised to this day in many Scottish, Irish, Greek Orthodox, Pagan and Humanist weddings. Traditionally, couples would bind their hands together with strips of fabric or cords at their ceremony and they would be attached until midnight when they would be escorted to the bedchamber to consummate the marriage (not something that still happens in the 21st century, luckily!).
Yvonne explains that, originally in Celtic society, handfasting often represented a more temporary arrangement - like an engagement to be married:
"The handfasting ritual is one of the oldest wedding customs in the world, and it was how engagements and marriages were symbolised and legalised. Traditionally, a handfasting was valid for one year and one day, after which time the couple could continue with the relationship or part ways."
Until 1745, handfasting was a legal act of marriage in England, but in today's society, it is no longer legally binding. Instead it is a symbolic act that is often the focus of the marriage ceremony and takes place after or while vows are being exchanged.
What Does Handfasting Symbolise?
While handfasting is no longer legally binding, it's a cherished modern day practice. It has a time-honoured status and is a beautiful act of commitment and unity.
Handfasting can be practised by all couples, whether you're including it as part of a celebrant-led service, holding a private handfasting before you get married, or renewing your vows.
It still signifies commitment between two people and the union of their love, but it's a 'no rules' ritual that can be tailored exactly to your wishes.
READ MORE: 10 Traditions to Ditch or Reinvent for a Same-Sex Wedding
What Happens During a Handfasting Ceremony?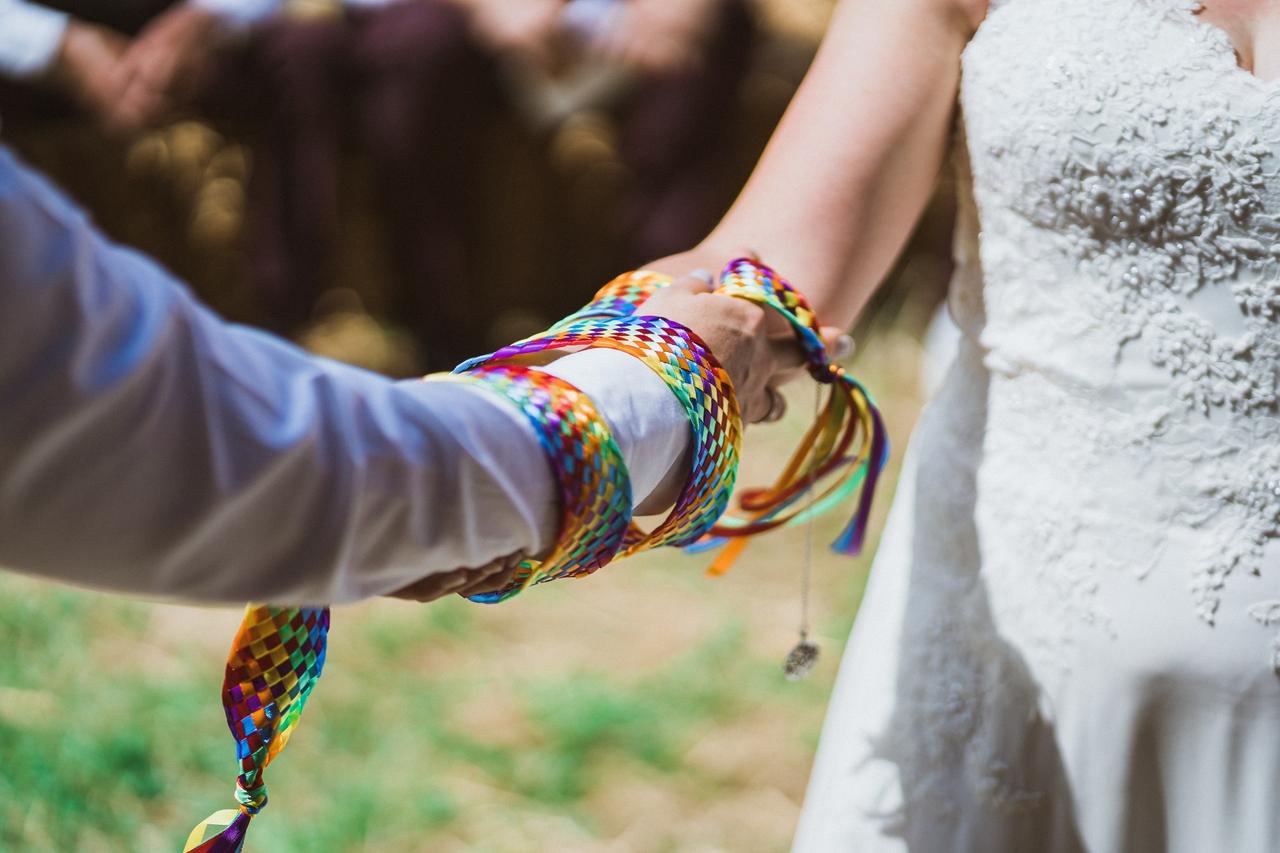 Handfasting ceremonies vary from couple to couple and according to different cultural traditions. In general a handfasting involves a couple joining hands while a celebrant or other figure chosen by the couple says vows as the handfasting cords are wound around the couple's hands.
Couple's usually cross hands but some opt to bind their right hands only. The cords are generally wound around three times and can be tied anyway you like, from a figure of eight 'infinity knot' to a simple bow or a braided 'trinity' knot in Ireland.
A declaration of the couple's union will often follow.
Yvonne almost always performs the handfasting at the end of the service, after the couple has exchanged rings. In modern handfasting a couple will then normally remove the cords at the end of the ceremony and it's customary to try to 'slip' it off without undoing any knots. In medieval times couples would often be tied together for the entire duration of the wedding day – good luck navigating the canapés if you do decide to go old school!
Can Anyone Perform a Handfasting Ceremony?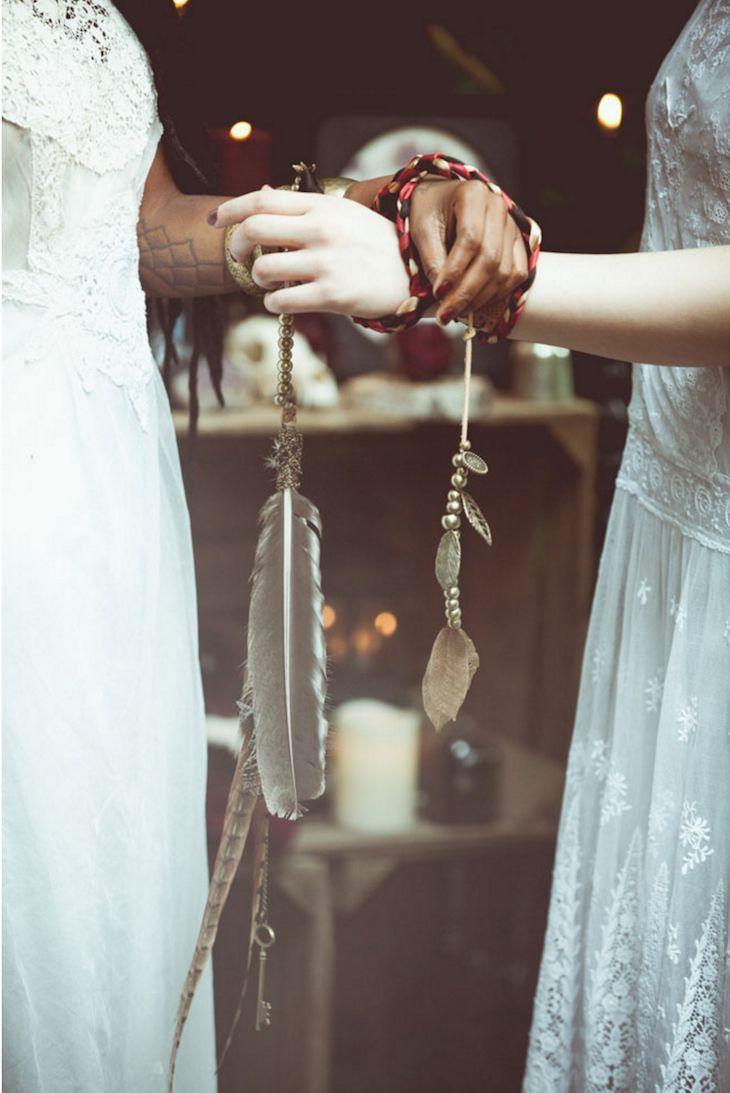 In a word, yes. Yvonne explains the usual drill:
"Handfasting rituals are extremely popular with couples who choose a celebrant-led ceremony rather than a traditional church or civil ceremony.
"The handfasting is usually performed by a trained professional celebrant, although it is a great opportunity to get family and friends involved and inject distinct personality into a wedding service. I have even performed a ceremony within which a couple's close friend took over proceedings to perform the handfasting. I gave him guidance beforehand so that he knew how to lay and tie the ribbons – he did a brilliant job."
You could invite particular friends or family members to help to wind and tie the handfasting cord as a celebrant says your vows or you could quite literally leave it in the hands of a professional - it's your call.
What Do You Say During a Handfasting?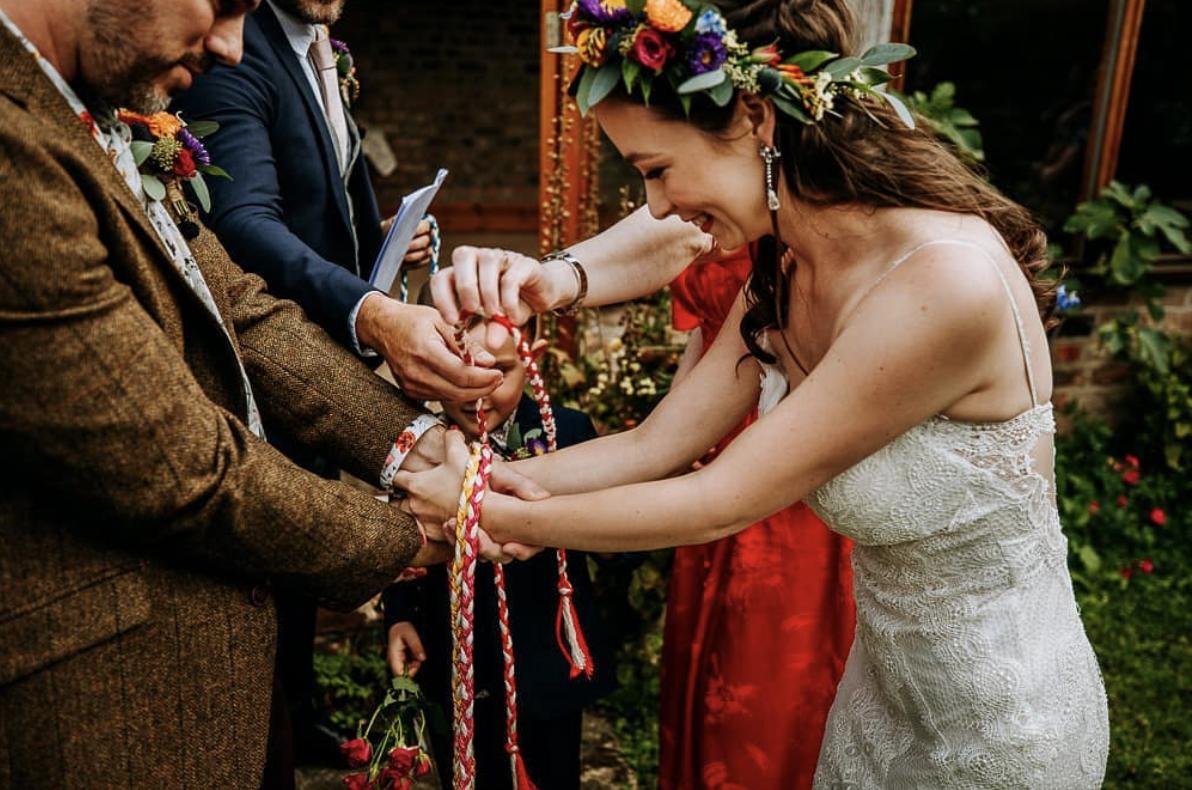 You won't be surprised to learn that vows are very much a personal choice too. Yvonne has a few pointers:
"Every celebrant will have their own preferred words to say during this ritual, and I often find that the couple will leave it to the celebrant to choose what is said.
"There is one particular poem called The Blessing of the Hands by Rev. Daniel L Harris which is often used and it fits in well with the ritual. Some couples choose more traditional Celtic vows. It really is totally up to the couple and the celebrant performing the handfasting ceremony."
READ MORE: How to Write Your Wedding Vows: Traditional, Modern and Personalised Examples
What Is the Handfasting Cord Made of?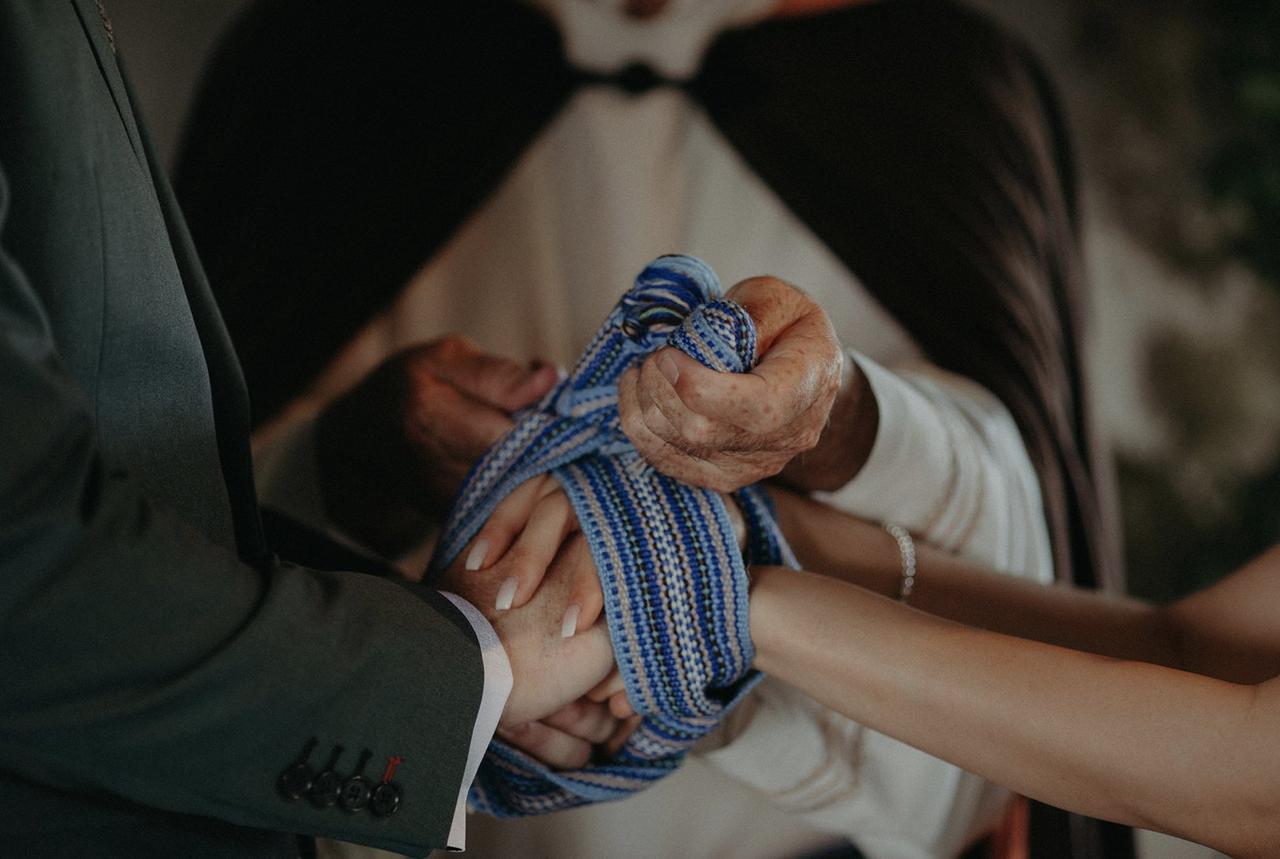 You no longer need to opt for a simple piece of cloth or string – modern day handfasting cords can be as simple or elaborate as you please. They can also be imbued with sentimental importance, as Yvonne explains.
"The actual chord itself can have significant meaning, for example using a scarf, tie or veil owned by someone close to you who has passed away. Many handfasting cords correspond with a family tartan or even football team colours."
Cords can be braided, have interwoven flowers or trinkets and can be as long as you like - although perhaps consider the length of your ceremony before commissioning miles of fabric or ribbon. As long as it can be wound around your hands a few times, you're good.
Most couples then keep their handfasting cords as a symbol of their love and commitment, displaying them at home and often passing them down to their children or other family members. As hand-me-downs go, it probably doesn't get more special than that.
Considering an alternative to a civil or religious wedding? Here's why a commitment ceremony might be for you.