Finding a wedding venue is one of the first boxes you're likely to tick off your wedding planning to do list as the venue you choose will inform everything about your day, from the number of guests invited to the food you eat and perhaps even the wedding dress you go for.
If you're venue hunting in Essex, the good news is you're totally spoilt for choice. Whether you're looking for an elegant stately home, a historic castle or a rustic barn wedding venue, there's a huge variety of wedding venues in Essex, each varying in size and price.
With quaint market towns, a stunning coastline (boasting the world's longest pleasure pier in Southend-on-Sea!), beautiful countryside and enchanting forests, Essex is a county with plenty to offer and all of it located just a short distance from London and its major transport links.
Not sure where to start your search? We've rounded up our favourite wedding venues in Essex to get you feeling inspired.
READ MORE:
1. Gaynes Park – Epping
Gaynes Park is an endlessly elegant barn wedding venue in Epping.
It sits at the end of a long drive which sweeps through park and farmland; despite being in the middle of the countryside, gorgeous views of the London skyline in the distance are a stunning touch!
We love The Orangery for your ceremony – it is built on the site where a Victorian conservatory once stood, and the wooden beams and many windows create a light-filled space which is perfect for saying 'I do'.
Later in the day, The Mill Barn is the perfect place to move to. It can hold up to 150 guests for seated dining and 200 for your evening reception, for your evening reception, plus it has a stunning mezzanine which overlooks the dance floor.
If you're getting married in the summer, you can also access the Gather Barn, a covered outdoor area which would be perfect for an evening hog roast or barbeque.
READ MORE: The Best Barn Wedding Venues
2. The Roslin Beach Hotel – Thorpe Bay
Dreaming of finding the perfect beach wedding venue? Roslin Beach Hotel is a stunning venue which overlooks Thorpe Bay, one of the most beautiful beaches in the county.
Whilst the Grand Ballroom and its surrounding outdoor terrace boast panoramic views and stylish interiors, the bridal suite is the pinnacle of elegance.
What's more, this venue has a dedicated wedding planning team, an in-house Creative Floral Design team, and a group of award-winning, world-renowned chefs who will ensure your guests experience the finest food around.
As far as Essex wedding venues go, this is one of our faves.
READ MORE: The Most Beautiful Beach Wedding Dresses
3. Crondon Park – Stock
As one of the finest wedding barns in Essex, Crondon Park's Tudor/Jacobean Baronial Suite is a truly magnificent place to host your wedding.
You can marry in the Ryder Room or choose to say 'I do' underneath a pretty floral canopy outside – this makes Crondon the ideal spot for a sunny, summer wedding!
With beautiful rosewood flooring throughout the Baronial Hall, your guests will find Crondon Park the perfect place to dance and Instagram the night away.
READ MORE: The Best Outdoor Wedding Venues in the UK
4. The Old Parish Rooms – Rayleigh
The Old Parish Rooms are set in Rayleigh and provide the perfect setting for your small and intimate wedding celebrations.
Originally built as a parish hall and school house, this unique wedding venue has been converted into a bright and modern space ideal for your upcoming nuptials.
The venue is a total blank canvas, meaning it would work perfectly for whatever wedding theme you have in mind.
There are also flexible catering options and mid-week package options for couples looking to save money on their wedding budget.
READ MORE: The Most Affordable Wedding Venue Deals
5. Gosfield Hall – Gosfield
Fancy following in the footsteps of Love Island's Olivia Buckland and Alex Bowen? Say 'I do' at the stunning Gosfield Hall and you can, since this is the venue which they famously married at in 2018!
It is a Georgian stately home wedding venue which really is fit for a princess – it will be exclusively yours for the entirety of your wedding day and is surrounded by gorgeously manicured gardens.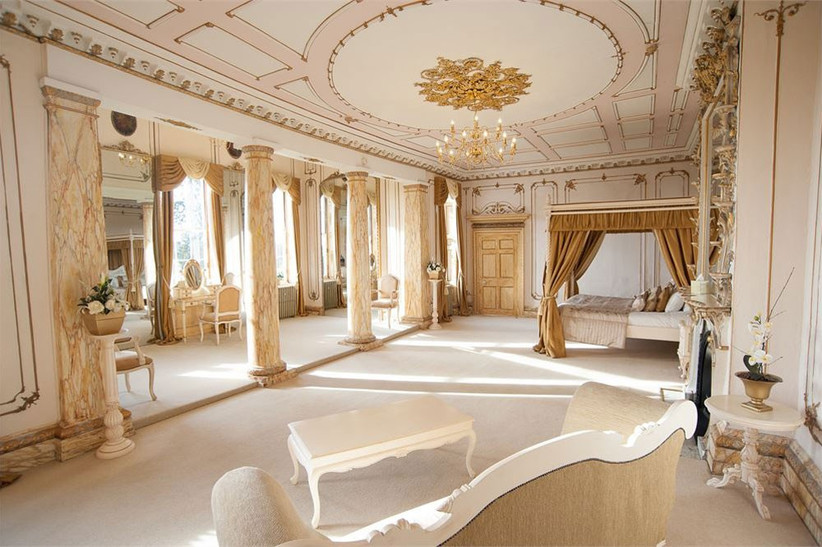 The Queen Charlotte's Oak panelled gallery is a lovely room for your ceremony, thanks to the 120ft-long-aisle. Afterwards, head through to the Marquis of Buckingham's former ballroom for a reception meal for up to 110 guests.
As this venue offers total exclusivity, you can invite up to 250 for the evening reception, and there are 20 newly refurbished bedrooms on site including the jaw-droppingly beautiful bridal suite.
READ MORE: Royal Wedding Venues Which are Fit for a Princess
6. Hedingham Castle – Halstead
This 900-year-old castle is brimming with history and romance.
Say 'I do' in Hedingham Castle's grand banqueting hall before dancing the night away in their marquee (which features its own concealed dance floor and private bar!).
Perhaps our favourite feature of this stunning castle wedding venue is the Garden Cottage, a glorious property for the happy couple's first night together. It is even set within its own private orchard!
With 160 acres of tree-lined estate, Hedingham is the perfect choice of Essex wedding venue for privacy and a totally picturesque day.
7. Wivenhoe House – Colchester
Effortlessly elegant and utterly romantic, Grade II-listed country house hotel Wivenhoe House is a stunning wedding venue choice just outside of Colchester.
Their dedicated wedding team offer excellent service. Not only would a cosy winter wedding here be totally magical, the new garden gazebo is perfect for summer celebrations for those of you wanting to enjoy the gardens.
Inside, there's a huge choice of rooms to hold your ceremony in, and if on-site accommodation is a big draw for you, there's 40 bedrooms so guests can totally relax and enjoy the day.
READ MORE: Wedding Venues with the Most Stylish Accommodation
8. Blake Hall – Ongar
Within the gorgeous grounds of Blake Hall sit two idyllic 17th century barns, perfect for anyone wanting a rustic barn wedding.
You can marry inside the newly restored Hay Barn or outside under the canopy of the Saddlery before joining your guests for a delicious wedding breakfast in the Essex Barn.
This bright and airy space will seat up to 150 people for your meal, and up to 200 for your evening reception.
The grounds provide a lovely backdrop for your all-important wedding photographs, and once the fun of the day is over, the Stable Cottage is available exclusively to all couples for the night of their wedding.
READ MORE: The Most Beautiful Bridal Suites in the UK
9. West Street Vineyard – Colchester
Looking for a totally unique wedding venue? How does getting Hitched in a vineyard sound? We love West Street Vineyard – a wedding venue overlooking River Blackwater and the gorgeous Essex countryside beyond.
You can choose from saying 'I do' outside in the wedding gazebo or inside in the ceremony room, before enjoying a sit-down wedding breakfast for 90 or 120 for a BBQ.
Since an array of delicious, award-winning wines are produced from the grapes grown at West Street, you can choose the perfect accompaniment to your delicious food. It is such a lovely touch!
10. Creeksea Place – Burnham-on-Crouch
This stunning 16th century Tudor mansion offers the perfect setting for your incredibly special day, whether you fancy saying 'I do' by candlelight in winter or under the shade of a pavilion in the summer.
You'll be able to hold your ceremony in one of six stunning locations at Creeksea Place, including the walled garden or orchard if you've got your heart set on a summer wedding in the great outdoors.
The walled garden would also be a great spot for a post-ceremony drinks reception, and as a backdrop for your wedding photographs.
As the sun goes down, the venue will be illuminated with spotlights, oil burners and candles, giving the place a totally romantic and enchanting atmosphere.
READ MORE: The Best Newly Opened Wedding Venues to Say 'I Do'
11. Braxted Park – Great Braxted
Braxted Park will make a lasting impression on you and your guests from the moment you pass through the gates.
It is set at the end of a sweeping, torch-lit drive, and will continue to impress from the moment you approach it.
There is a quaint church in the grounds which is perfect for a religious ceremony, but if that doesn't suit, you could opt for the remarkable Orangery which has breathtaking Roman-inspired decor and views across the lawns.
One of our favourite features of this venue is the newly opened bridal changing room. It is an idyllic spot to get ready with your bridesmaids before your ceremony, with a number of long mirrors and a private bathroom. You'll be sure to start your day in style!
READ MORE: The Best Dressing Gowns & Pyjamas for Brides and Bridesmaids
12. Down Hall Hotel – Bishops Stortford
Down Hall Hotel & Spa are all about the details. From a delicious wedding breakfast using ingredients grown in their own vegetable garden to a resident Toastmaster ensuring your day runs smoothly, every aspect is personal and special.
If you're hosting a large wedding, the hotel has 99 beautifully appointed rooms to choose from. Many of these rooms have panoramic views of the gardens and all are stylish and contemporary. There's even a newly renovated bridal suite for the happy couple!
As if this wasn't enough, there's also an on-site spa which will be perfect to unwind before your big day.
READ MORE: 30 of The Most Amazing Places to Mini-Moon in the UK
13. The Compasses – Pattiswick
A former award-winning gastropub, The Compasses has kept its country pub charm and focus on the finest, locally-sourced ingredients as it has transitioned into a dedicated wedding venue.
Whether it's bangers and mash or a gourmet tasting menu, the chefs at this foodie wedding venue can make a wedding breakfast that is completely personal to you.
Pitch teepees in the garden in the summer if you're planning a festival themed wedding, or warm yourselves by roaring log fires in the winter and watch guests relax and have fun.
If a formal stately home wedding venue isn't your thing, The Compasses just might be.
READ MORE: The Best Pub Wedding Venues
14. That Amazing Place – Harlow
When it comes to this gorgeous Essex wedding venue, they kind of say it all in the name!
Stylish, opulent and contemporary, the Grade II-listed house is a perfect setting for your wedding and reception, and you can have exclusive use of it for 24 hours. This means you can dress it up exactly as you'd like!
That Amazing Place have thought of everything, with pre-wedding pampering available in their fantastic beauty salon, a luxurious bridal cottage and 13 guest rooms so your friends and family can totally relax. Oh, and did we mention the beautiful grounds and lake? There is so much to love!
15. Leez Priory – Chelmsford
This stunning Tudor mansion in Chelmsford makes the perfect backdrop for wedding photos.
With five separate areas licensed for weddings, you can take your pick at Leez Priory. You might choose to get married outside within the 40 acres of parkland, or you could choose to get married inside the Great Tower.
With 25 years' experience of hosting weddings, Leez Priory is an excellent choice for your wedding venue in Essex.
READ MORE: The Most Magical Winter Wedding Venues to Say 'I Do'
16. Greenwoods Hotel Spa & Retreat – Stock
We absolutely love Greenwoods Hotel – it is a tranquil and relaxing complex set in picturesque gardens and will make the perfect setting for the biggest day of your life.
The venue boasts a brand new, multi-million pound Garden Suite which opened in Spring 2017 and has hosted stylish weddings ever since.
Complete with PA system, state-of-the-art lighting, a garden terrace and exclusive bar, it is one of the most contemporary wedding venues in Essex for you and up to 300 evening guests.
The magnificent English gardens are a perfect choice if you'd like to get married outside in the summer. There is space for 150 guests and it's ideal for a drinks reception.
17. High House Weddings – Althorne
This countryside wedding venue is award winning and for good reason. It is set within six acres of landscaped gardens and is a luxurious yet quaint setting which will be exclusively yours on your wedding day.
The grounds of High House are home to an aptly heart-shaped lake, a pond, a Monet-style bridge, weeping willows as well as an abundance of wildlife and pretty country garden flowers.
We love the Orangery which brides will have access to before their wedding day. It overlooks the swimming pool and is luxuriously furnished with comfortable sofas, dressing tables and a stylish ensuite.
You'll spend your first night as a married couple in the Brides Cottage – a property set in its own private garden. How romantic!
READ MORE: The UK's Best Asian Wedding Venues
18. The Barn – Colchester
After a charming rustic wedding venue in Essex? The Barn is a great romantic wedding venue choice for couples who want a stylish yet relaxed big day.
You'll get a dedicated wedding planner from the start to ensure that everything runs smoothly. From your ceremony to drinks in the courtyard and a tailored wedding breakfast, your day will be worry-free and unique to you.
This barn is full of gorgeous finishing touches to delight your guests and help you capture those perfect photos.
19. Houchins – Colchester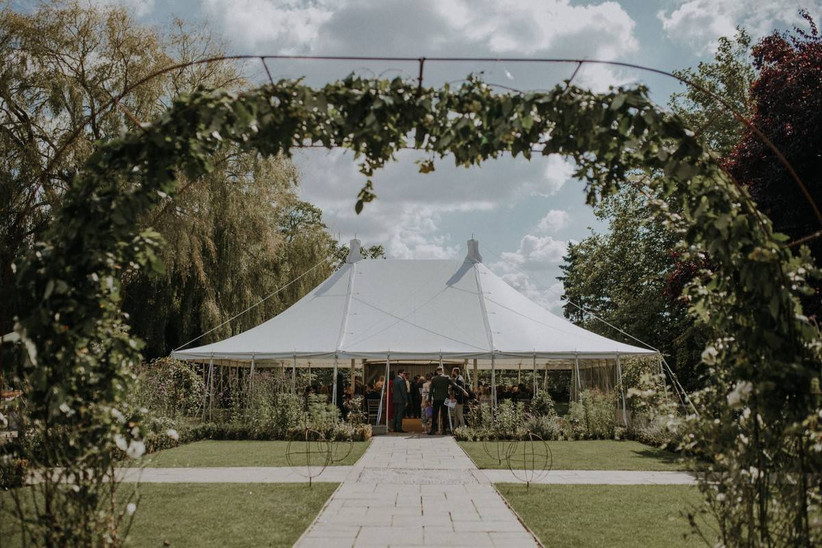 Houchins is a grade II listed farmhouse surround by barns and gardens that make for an idyllic wedding day oasis. You can marry indoors in the Foundry here or outdoors in the Loggia during the summer months.
Staff will then transform the Foundry into an event space for up to 120 people or the Grainstore for up to 150. You can host relaxed drinks in the Chitting Shed or outside in the gardens while the Houchins team work their magic.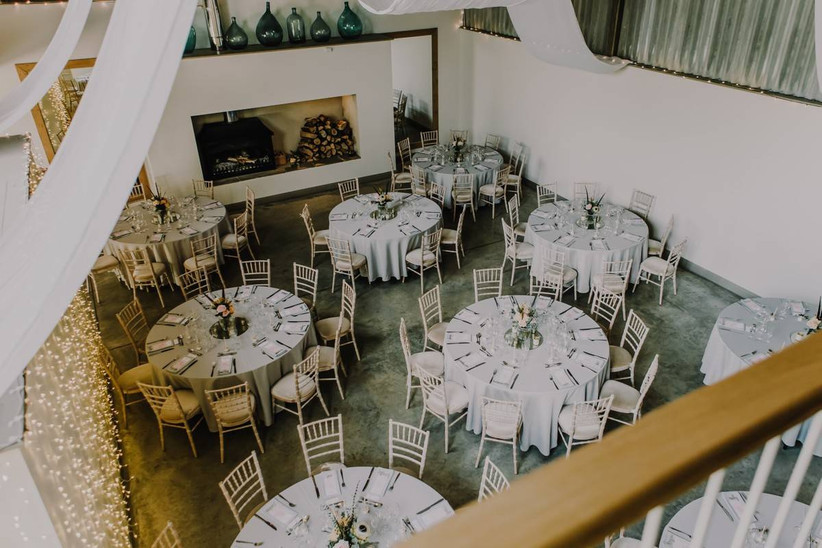 As the festivities draw to a close, you and your bridal party can retire to the elegant farmhouse. Fully restored, the self-catering accommodation provides a comfortable home from home and Houchins will even provide a luxury breakfast hamper complete with fresh fruit juices, artisan breads and cereals - delicious!
20. Parklands – Quendon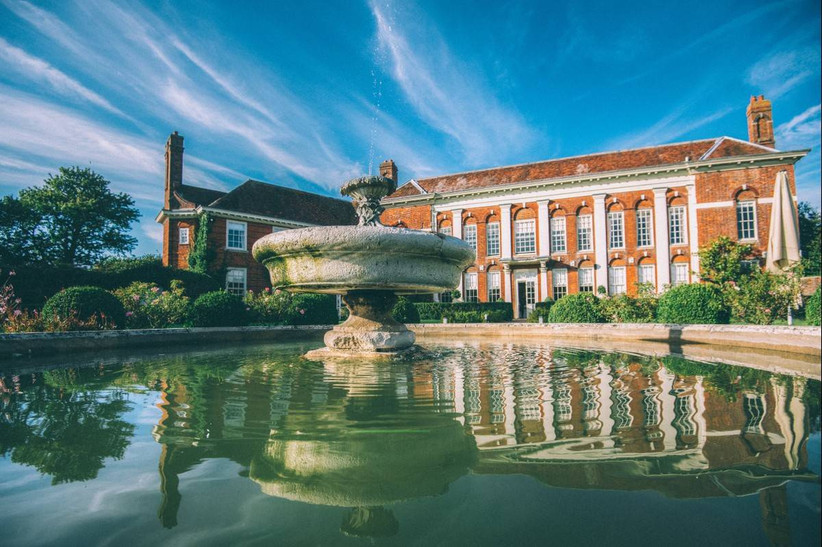 This charming 17th century manor house is nestled within a deer park and sits behind an enchanting water fountain feature, making it a picture perfect wedding backdrop.
Parklands can accommodate weddings of anywhere between 40 and 500 guests and has experience hosting everything from classic English country weddings to traditional Asian ceremonies and celebrations.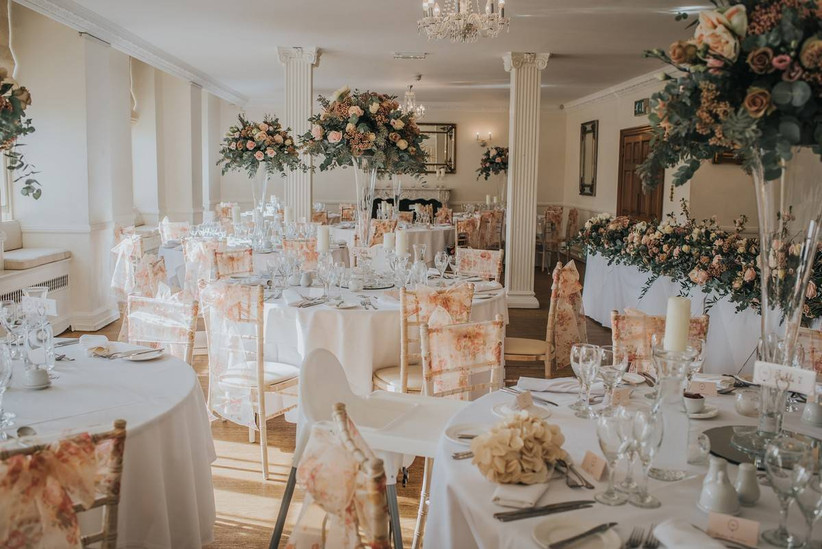 You can marry indoors within one of the licensed spaces or outdoors underneath the licensed pavilion in the summer months. A dressing suite is available before the ceremony, ensuring you and your bridal party can prepare for the day in comfortable and elegant surroundings.
Plus, there are 21 luxurious bedrooms on-site, meaning you won't need to travel very far before kicking off your dancing shoes and enjoying a tranquil night's sleep in this secluded country gem!
Like the look of the more rustic venues in this round-up? Don't miss our edit of the best barn wedding venues in the country! There's some gorgeous choices…