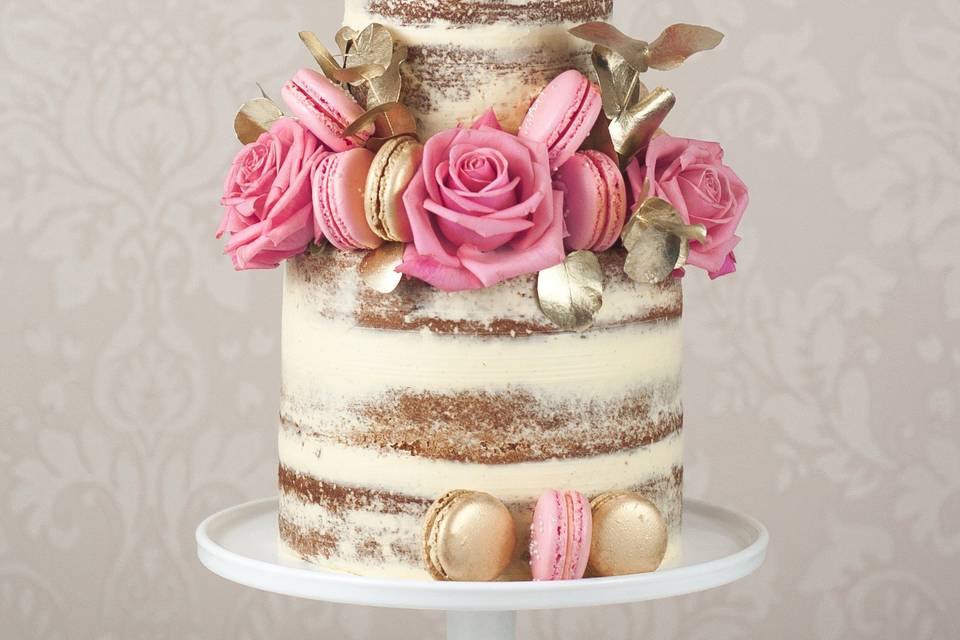 A huge 2016 wedding trend was the rise of the naked wedding cake which took rustic weddings by a storm.
Here at Hitched, we're predicting that semi naked wedding cakes (naked wedding cake's slightly more modest sister) is the next 'almost iced' cake trend to take over and we have the most gorgeous examples to convince you with.
Pink Semi Naked Wedding Cake
Add a bit of colour to your wedding sweet treats with a cake like this fun pink design.
The technical skill is so apparent and we love the unusual combination of such a strong pink colour mixed with green leaves – it really stands out.
If you are having macaron wedding favours, this cake will definitely tie in with that and the two can complement each other.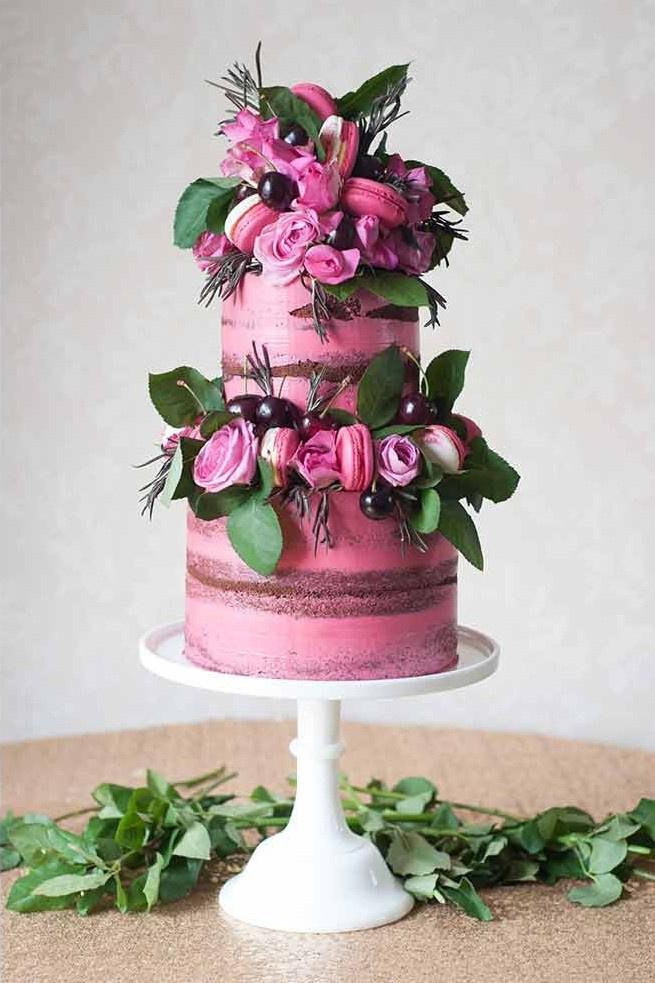 Wedding Cake: Juniper Cakery
Frosty Semi Naked Wedding Cake
If you and your partner are on the hunt for a super stylish winter wedding cake that's ahead of the trends, then this is it.
It has such a crisp finish and the combination of white buttercream icing and peach roses is pure genius.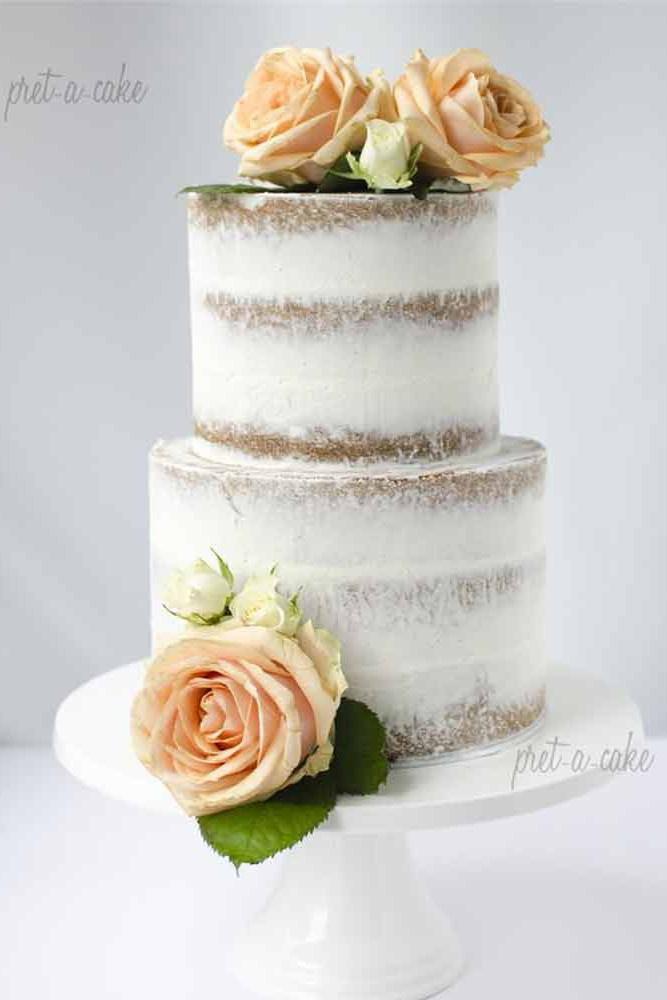 Wedding Cake: Pret A Cake
Lemon and Lime Semi Naked Wedding Cake
Couples having a summer wedding will love this fruity semi naked cake.
The heavy floral decoration is accompanied with lemons and limes which give it a zesty feel and the bed of greenery it sits on sets the scene perfectly.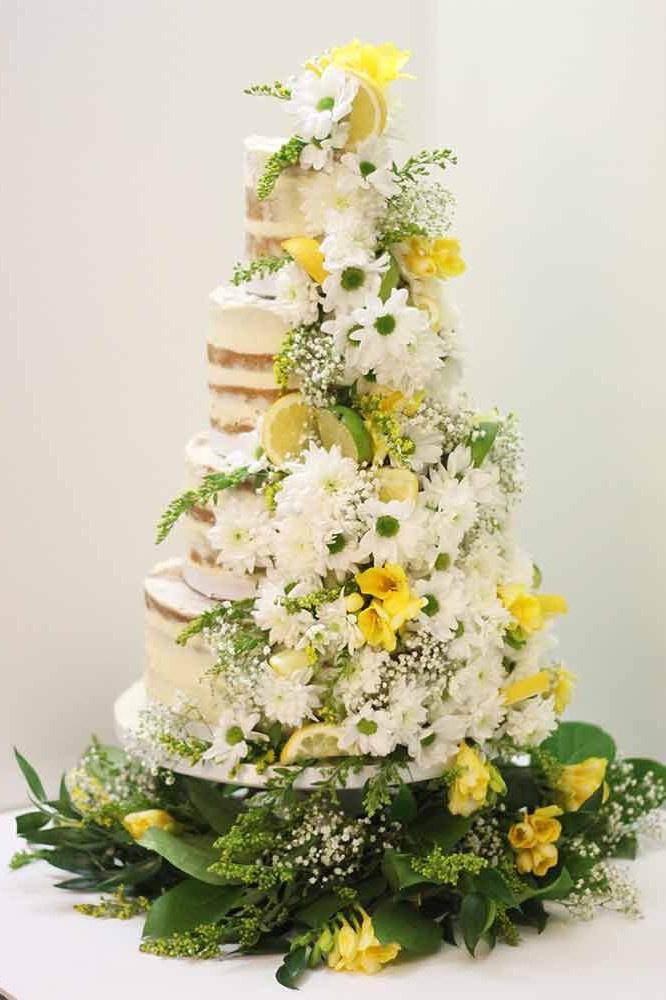 Wedding Cake: Jill The Cakemaker
All White Semi Naked Wedding Cake
If your dream wedding is an all-white theme, this type of cake could be your perfect match.
The way the icing has been spread gives it a slight industrial look whilst the flowers keep it feminine and pretty.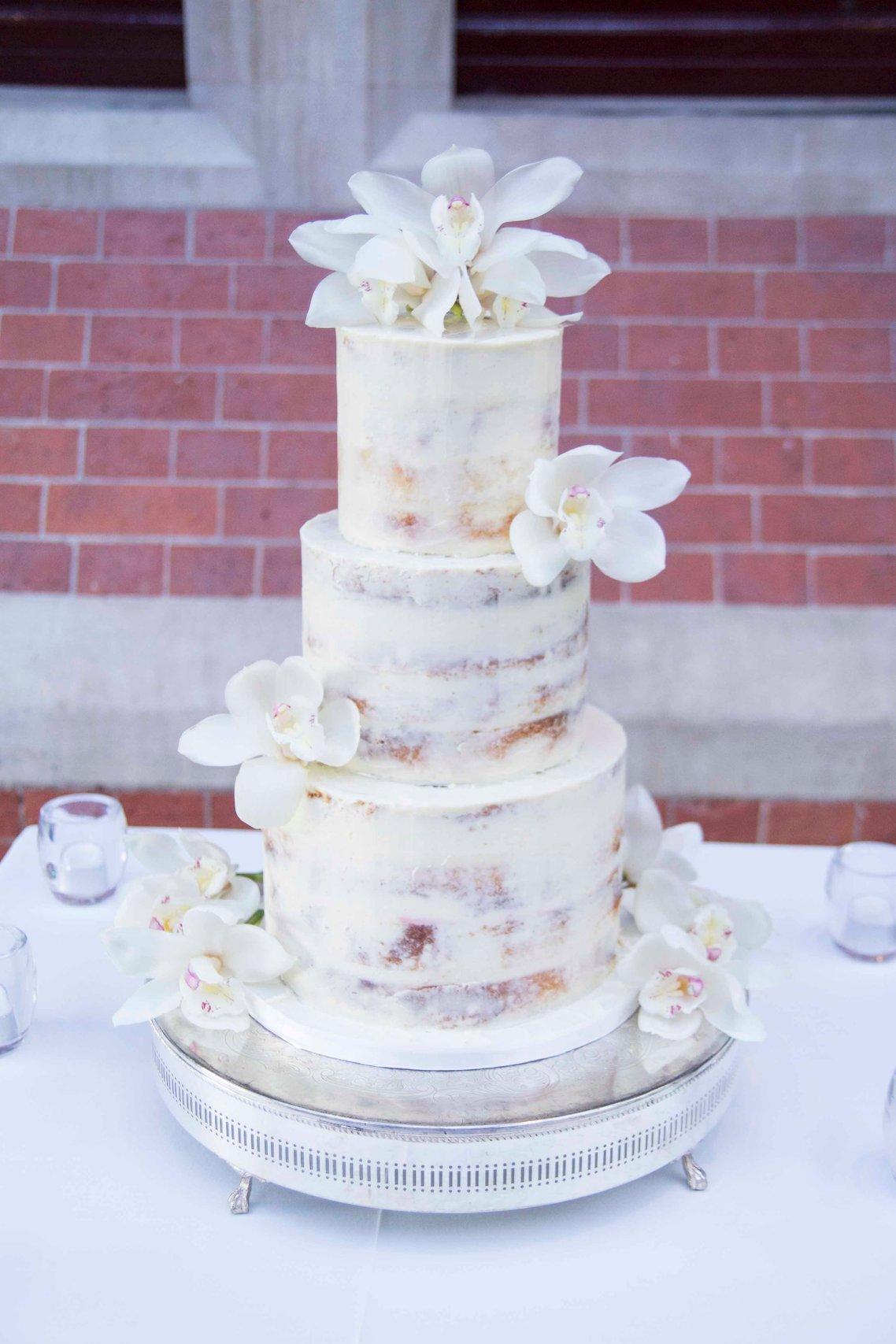 Wedding Cake: The Abigail Bloom Cake Company
Rustic Semi Naked Wedding Cake
This wedding cake has a really rustic feel to it. Everything from the wooden cake stand to the woodland leaves and flowers is perfectly placed and we love the darker tone of the sponge that you can see through the icing – it makes for a really lovely finish.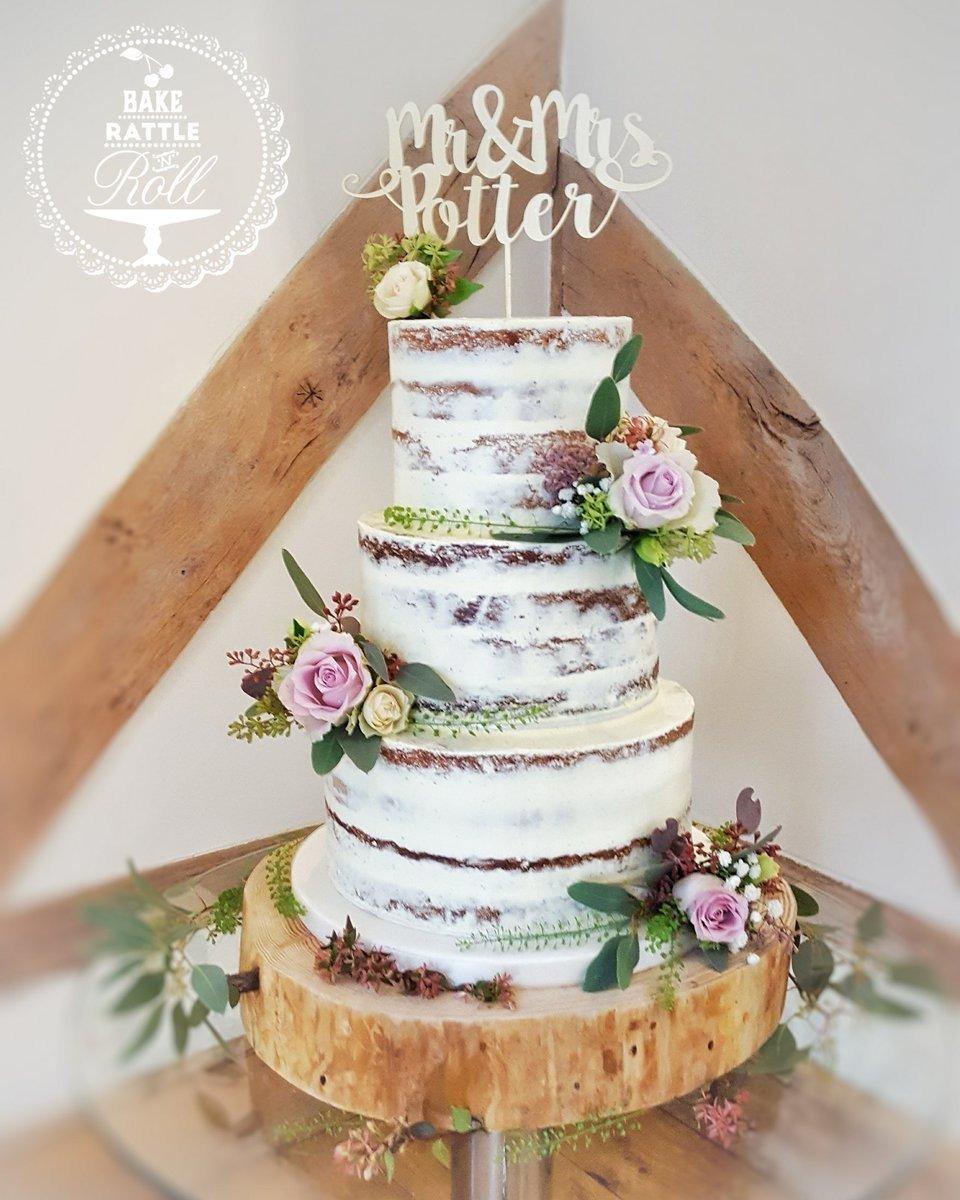 Wedding Cake: Bake Rattle N Roll
Single Tier Semi Naked Wedding Cake
When a cake is this beautifully made, one tier is more than enough.
The gorgeous rose and macaron toppers keep the design looking as pretty and as perfect as ever. What a stunning single tier wedding cake we have here.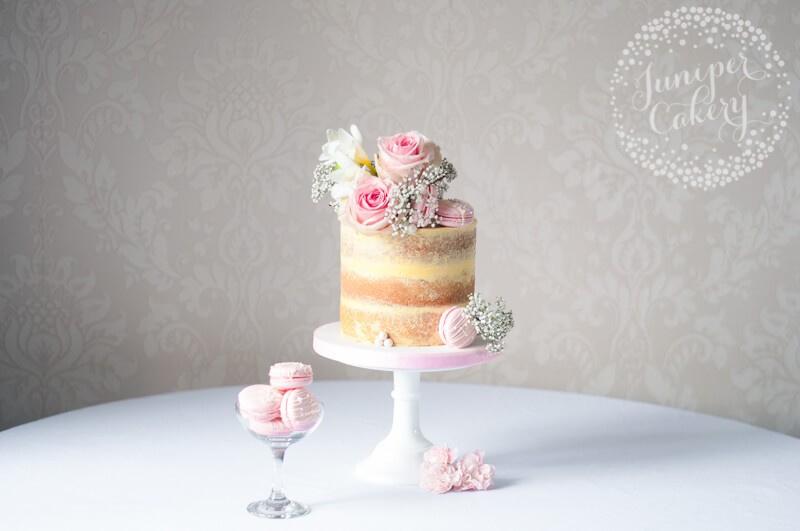 Wedding Cake: Juniper Cakery
Semi Naked Drip Wedding Cake
It wasn't that long ago that we gathered together the best drip wedding cakes for you, and now we've found one that combines the dreamy drip style with our new favourite semi-naked trend.
The cake is mostly covered by a champagne coloured icing that's been very lightly spread with bits of the cake still showing.
The addition of popcorn is just perfect and we can only imagine how incredible the cake tastes!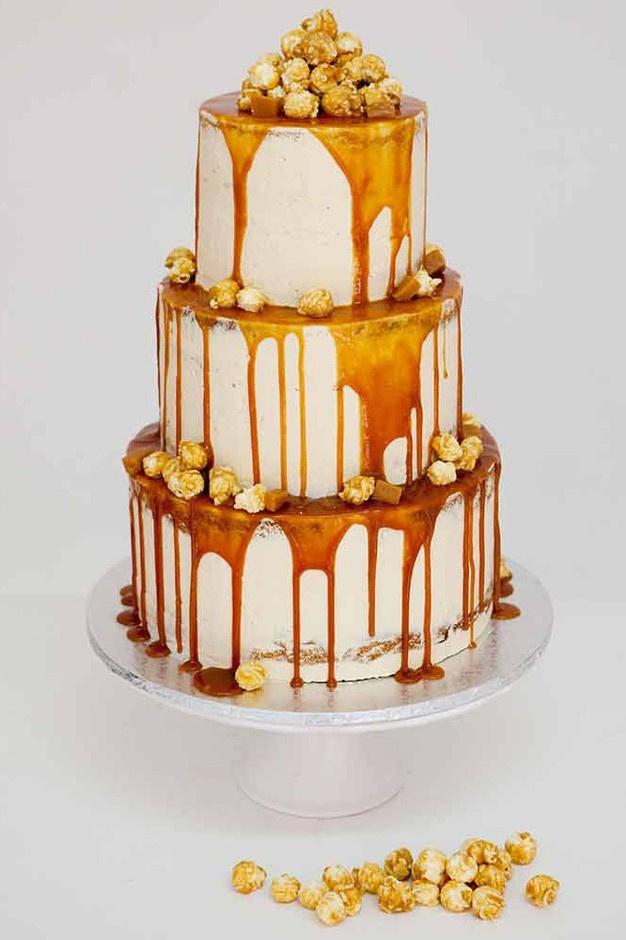 Wedding Cake: Edible Art Cakes
Lace Adorned Semi Naked Wedding Cake
Lace wedding cakes come in all different shapes and sizes, but it's rare you'll find a semi naked wedding cake with lace aspects.
This talented cake maker has managed to infuse the two styles and the result is truly something lovely to look at – and taste!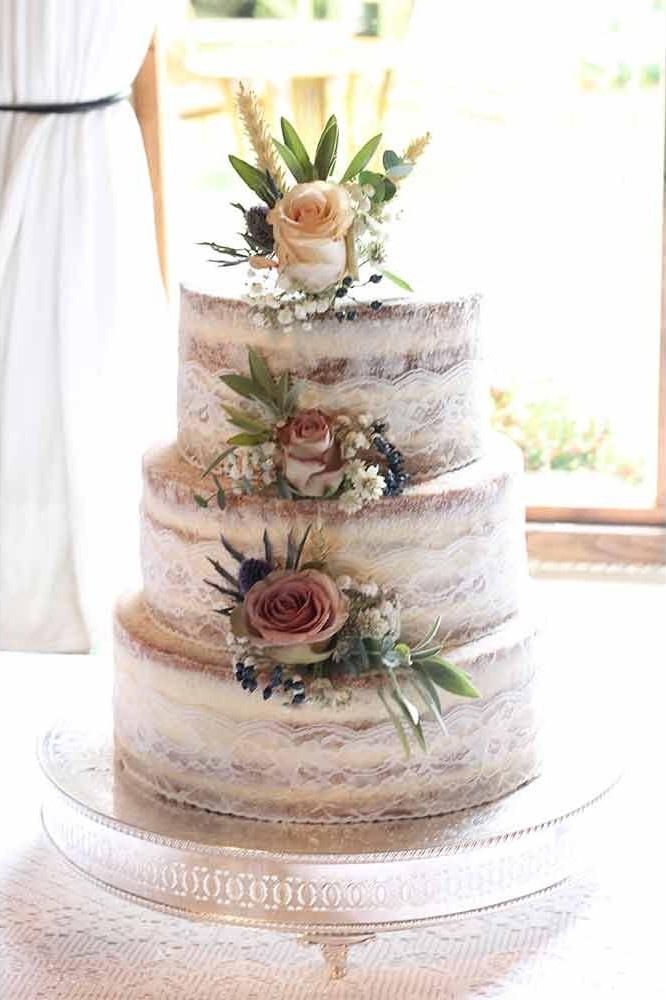 Wedding Cake: Jill The Cake Maker
Blackberry Semi Naked Wedding Cake
We love the simplicity of this cake design. Some cakes have lots of embellishment, floral garments and fruit to balance out the lack of icing but this creation works so well with just a few winter branches and some blackberries.
Spotting the occasional bit of gold foiling is a nice surprise as you look at the cake and we just wish we got the chance to taste it.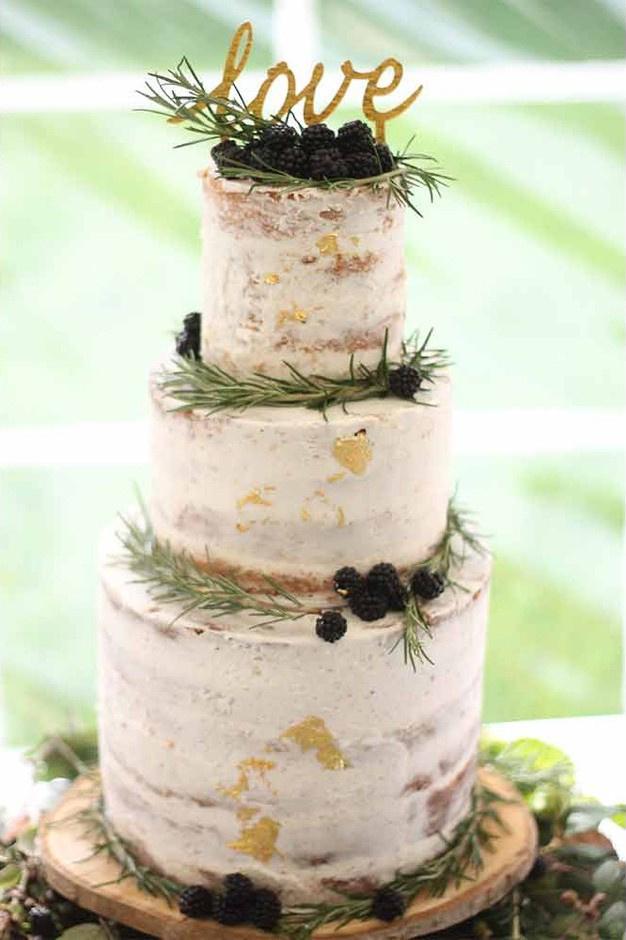 Wedding Cake: Jill The Cake Maker
Semi Naked Wedding Cake With Macarons
This semi naked wedding cake is the perfect combination pretty and glamorous.
The gold gives it the high-end look all brides want, whilst the pink and cream add the chic prettiness that is so wedding-perfect.
We love the addition of macarons, gold leaves and pink roses – we wouldn't change a thing if we could.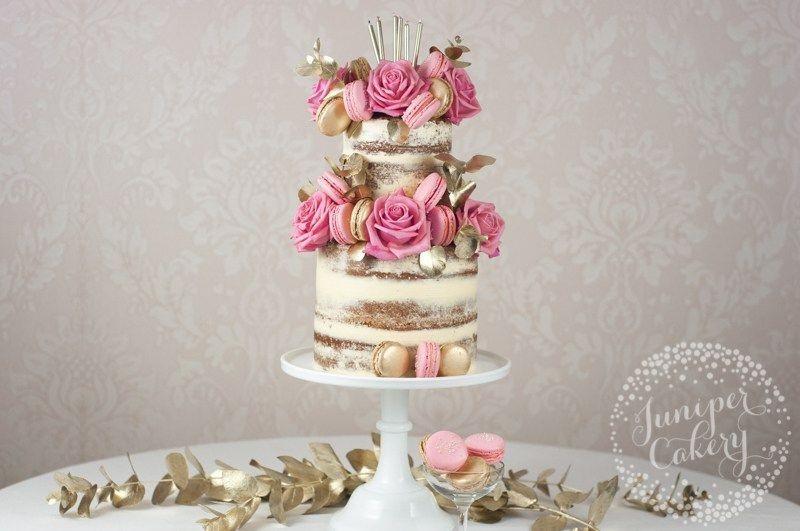 Wedding Cake: Juniper Cakery
Semi Naked Wedding Cake With Rustic Vibes
This rustic wedding cake has been joined by three beautiful autumnal flower arrangements on its body, and an even prettier one as its cake topper.
The red and orange tones in the flowers are warm and the overall look of the cake would look perfect in a woodland wedding venue.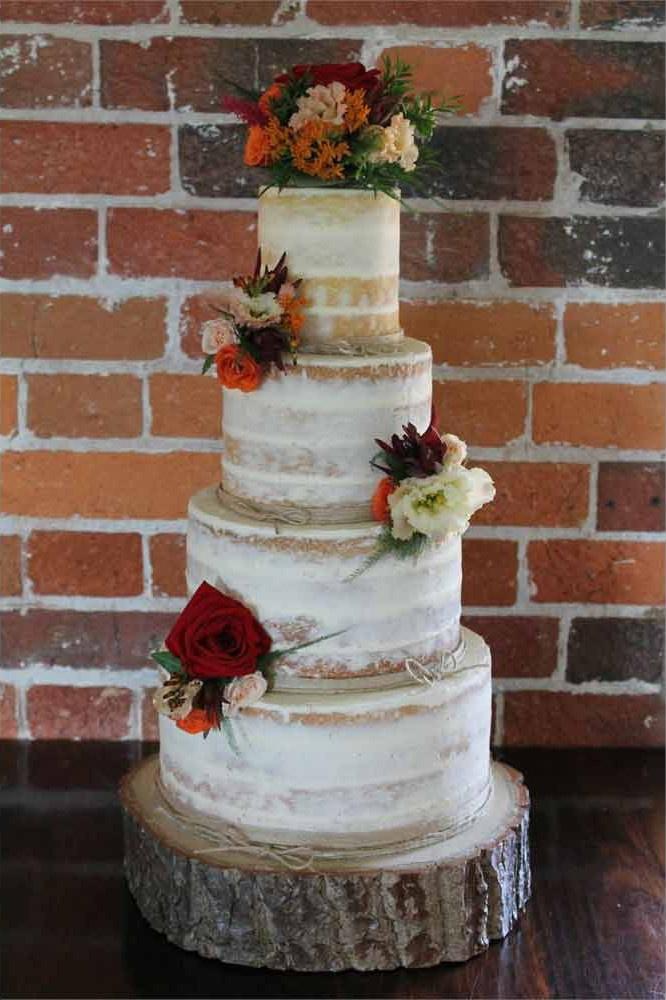 Wedding Cake: Fancie Buns Cakery
Two Tier Semi Naked Wedding Cake
Cute as a button, this two tier wedding cake is neatly semi-iced and it looks like perfection.
The cake stand is an exquisite design, a very tasteful choice for such a demure cake that looks absolutely delicious.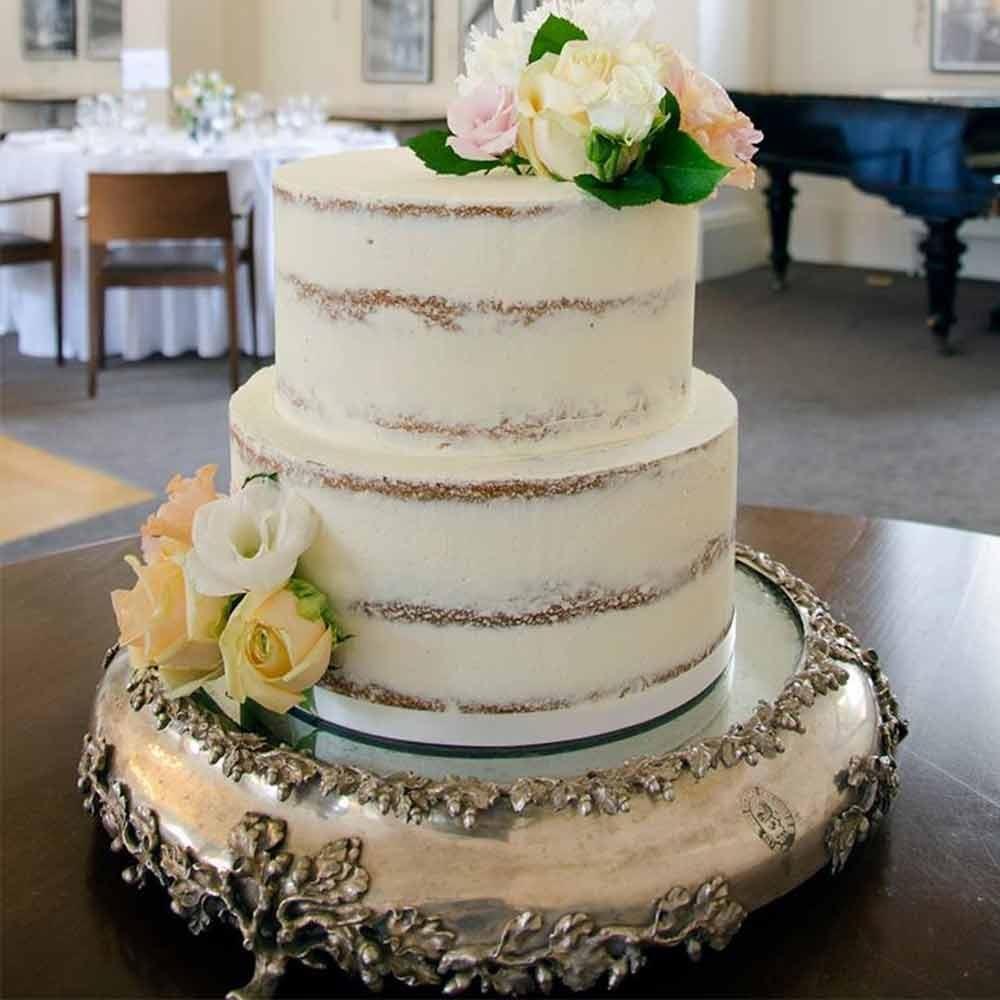 Wedding Cake: Pret A Cake
For more amazing inspiration, be sure to check out our incredible gallery of wedding cakes with thousands of exciting ideas.