The Complete 14th Wedding Anniversary Gift Guide: 29 Thoughtful Present Ideas
Discover the most romantic and thoughtful present ideas for celebrating 14 years of marriage with an elephant-inspired gift, or gold jewellery!
We have included third party products to help you navigate and enjoy life's biggest moments. Purchases made through links on this page may earn us a commission.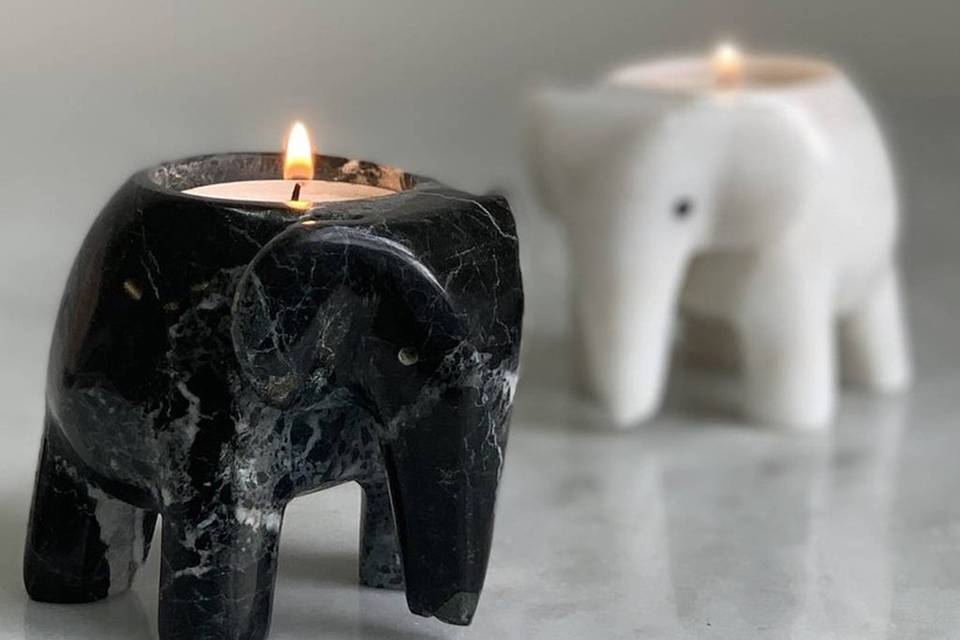 Congratulations on celebrating your 14th wedding anniversary! Your wedding anniversary is that special time where you can pause and really take in the amazing life you have built together.
The traditional gift to celebrate 14 years of marriage is ivory. Genuine ivory is, of course, not something that you would want to give to your loved one due to the controversial ways it can be sourced. Instead show your love for elephants and nod to the tradition with an elephant-inspired gift. Elephants represent loyalty and kindness so they are a lovely way to represent the years you've spent by each other's side.
Alternatively, the modern anniversary present for a 14th anniversary is gold jewellery, making the gift possibilities endless. We've helped narrow down the search with 29 thoughtful gift ideas that your partner will no doubt adore.
READ MORE
Ivory Wedding Anniversary Gifts
Keep things traditional and explore some of our favourite elephant and ivory-inspired gift ideas – from adorable anniversary cards through to sentimental keepsakes.
1. 14th Anniversary Card – £3.25, Momo & Boo
This adorable elephant card is perfect for your partner or to give to a couple you know who are celebrating their 14th wedding anniversary. Printed onto thick white card and made right here in Britain, you can also have your own romantic message or quote printed inside.
2. Elephant March Duvet Cover Set – from £50, John Lewis
Available in single, double, king and super king sizes, this elephant print duvet set from John Lewis is playful yet stylish. We love how it looks on a rattan bed but it'll work equally well in any bedroom.
3. Haryali London Men's Shaving Kit – £39.99, Amazon
Your husband will love this retro men's shaving kit – compatible with Gillette razor blades. The ivory colour is the perfect nod to your anniversary theme and it is something that will last for many years.
4. Roman Bust Candle – £46, Anthropologie
This Roman bust candle from Anthropologie comes in a beautiful ivory shade, ticking off the main gift criteria. It adds a classic look to any space, so it also makes for a great decoration.
5. Traditional Ivory Album – £54, Be Golden
Whether it's a revamped version of your wedding album or a collection of the best memories over the past 14 years, a photo album will always be a sentimental gift that shows that you have put the thought and effort in when finding a present.
READ MORE: 55 of Our Favourite Romantic Quotes
6. Enamel Bracelet – £85, Aspinal of London
This enamel bracelet is also available in black, soft taupe and burnt sienna but it's the ivory tone that we think would be a pretty anniversary gift. The modern alternative gift to celebrate a 14th wedding anniversary is gold jewellery so this is the ideal mix of contemporary and traditional.
7. Adopt An Elephant – £24.95, Nest
What sweeter way to nod to your 14th anniversary than by gifting your partner an elephant adoption package? They'll receive a welcome letter, an African vs. Asian fact sheet, an elephant infographic, a poster, postcard and the registration sheet.
8. Marble and Wood Cheese Board – £35, The Rustic Dish
If the love of your life is a lover of cheese, then this marble cheese board from The Rustic Dish is sure to please. It will add a touch of sophistication to your next wine and cheese night. We are pretty sure your partner will brie very impressed…
9. Elephant Print – from £12.50, Paw Print Illustration
This detailed elephant print would be a thoughtful alternative to an ivory gift and can be personalised with the names of the couple and their wedding date. We think it would make a lovely anniversary present idea for a couple you know.
10. Elephant Tealight Holders – £26, Marble Tree
Carved out of marble, these elephant tealight holders are an adorable gift and can be ordered in matching colours or one white and one black elephant. They will be a cute reminder of your 14th wedding anniversary for years to come.
11. Elephant Fine China Cake Tray – £25, Yvonne Ellen
Gold edging, millennial pink and elegant elephants – this fine china platter ticks a lot of style boxes. Ideally present this 14th anniversary gift accompanied by a lavish cake and pot of tea or bottle of Champagne for additional kudos.
12. Elephant Pouch – £550, Loewe
This elephant bag may be cute but it also means business. It can be customised with personalised charms, it's large enough to hold an XL smartphone and can be worn as either a cross-body bag or clutch.
READ MORE: Anniversary Gifts for Him – 57 Unique Ideas Your Husband Will Love
13. Avenida Home Elephant Placemat – £18, Liberty London
If you've got a special anniversary meal at home planned make it all the more memorable by dining on this elephant-patterned placemat. The detailing is opulent but the muted colour palette ensures that it'll provide a beautiful backdrop to many meals to come, both celebratory and day-to-day. Because that's what marriage is really.
14. African Dream Bracelet – £45, Harvey Nichols
Elephants are renowned for their wisdom, loyalty and long memories and this grey and black bracelet adds luck into the mix too. Made with stone beads, it'll look striking when worn alone or layered with other jewellery.
15. Elephant Bottle Opener – £39, Georg Jensen
Designed in Denmark in 1987, this weighty aluminium elephant has been serving at-home bars for over 30 years so we'd say it's also the ultimate symbol of longevity. It's sure to raise a smile when cracking open a beer at the end of the day too.
16. Asian Elephant Lip Veil – £42, Chantecaille
Celebrate your 14th anniversary by gifting your partner this lovely watermelon pink Lip Veil lipstick, crafted in Italy and enriched with FairWild-certified organic baobab oil, wild mango butter, and argan oil. Better still, every sale supports the work of Elephant Family, an organisation working to protect Asian wildlife.
17. Ivory Shallow Casserole Dish – £245, Le Creuset
A classic cast iron pan will last for decades. Ivory may be a risky shade to opt for but hopefully any discolouration will just remind you of the delicious meals you've cooked for each other over the years. You can add to your Le Creuset ivory collection as the years go by if you're keen foodies.
18. Felt Fedora in Ivory – £60, Reiss
A distinctive ivory fedora with a grosgrain ribbon trim is a classic addition to every wardrobe - it'll look distinguished at weddings and picnics alike. Just pray it doesn't rain.
Gold Jewellery Anniversary Gifts
The modern alternative for a 14th wedding anniversary is gold jewellery. If your partner loves receiving jewellery then consider giving this instead of ivory.
19. Solid Gold Initial Necklace – £349, Chupi
For a sentimental piece of jewellery we think this solid gold initial necklace from Chupi is a timeless choice that your partner will love. Choose to have one initial on a larger disc or have both of your initials together on smaller discs.
20. Alta Capture Charm Bracelet – £295, Monica Vinader
Instead of choosing something small and subtle, we love the idea of buying a piece of bold statement jewellery like this yellow gold bracelet from Monica Vinader, shown here with the green onyx charm (£55). You could then buy additional charms to celebrate other anniversaries and milestones.
21. Gold Signet Ring – £375, Liberty London
This 10ct gold signet ring comes with a high-shine finish and that makes for an eye-catching take on the gold jewellery theme. The subtle style means it can be worn every day and will pretty much go with every outfit and style.
22. Yellow Gold Plated Watch – £125, Tommy Hilfiger
A watch is a thoughtful gift that can be worn every day as a reminder of a special anniversary. We love the romantic notion of giving the gift of time to the one you love and this gold watch is ideal for the jewellery theme.
23. Gold Plated Cufflinks – £81, Aspinal of London
These gold plated cufflinks from Aspinal of London can be engraved with your partner's initials to make their gift unique, perfect if you are looking for a personalised anniversary gift.
24. Swarovski Double Bracelet – £90.25, Amazon
Who doesn't love a gift with plenty of added sparkle? This double strand, gold bracelet is adorned with clear Swarovski crystals and is an extra special anniversary gift.
25. Yellow Gold Cluster Eternity Ring – £900, Goldsmiths
If you haven't bought your partner an eternity ring, then what better time than now? This yellow gold cluster ring includes differently sized diamonds to add plenty of sparkle.
26. Origami Elephant Gold Plated Pendant – £32, Oliver Bonas
Another nod to the traditional ivory anniversary gift, this origami gold plated elephant necklace is a thoughtful gift and we adore the dainty style. At just £32, it is also ideal if you are looking for a thoughtful anniversary gift on a budget.
27. Alex Monroe 22ct Gold Vermeil Elephant Trio Necklace in Gold – £156, John Lewis
If you're looking to spend a little more than the above, this gorgeous gold necklace by Alex Monroe is pretty and sophisticated. The elephant trio necklace is subtle enough to be worn everyday and adds style to any outfit.
28. Alex Monroe Indian Elephant Hoop Earrings in Gold – £174, John Lewis
Elevate a simple pair of gold hoop earrings with a very 14th anniversary appropriate pair of elephants. These 22 karat gold plated hoops are special occasion appropriate but will also look polished with a pair of jeans.
29. Wishbone Ear Cuff in Gold – £39, Astrid & Miyu
This diamante-encrusted, double bar ear cuff makes for an affordable jewellery gift with an edge. Slide it on while you whisper sweet nothings. Or just box it up beautifully and give it to your partner with a nice cup of tea. Whatever works.
Are you still looking for more anniversary gift ideas? Take a look at our favourite personalised anniversary gift ideas for something truly unique.