45th Wedding Anniversary Gift Guide: Our Favourite Sapphire-Inspired Ideas
Browse these beautiful sapphire-inspired anniversary ideas that would be perfect to celebrate a 45th wedding anniversary
We have included third party products to help you navigate and enjoy life's biggest moments. Purchases made through links on this page may earn us a commission.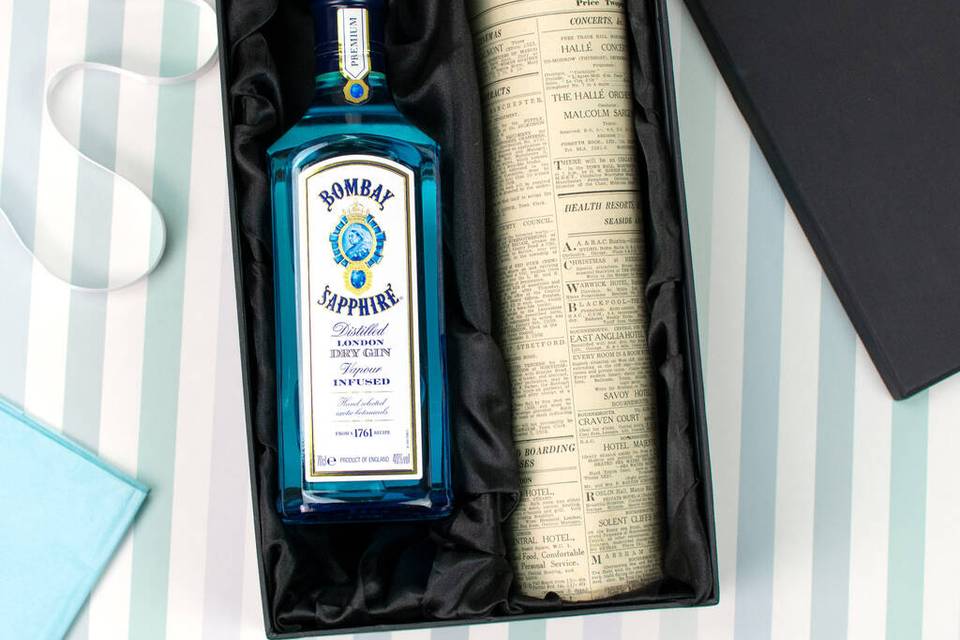 If you are about to celebrate your 45th wedding anniversary, also known as your sapphire wedding anniversary, then congratulations! We have to admit, 45 years of marriage is an amazing achievement.
Whether you're buying a gift for your partner or perhaps for a couple close to you that are about to celebrate this milestone anniversary of 45 years married, we have plenty of sapphire anniversary gift ideas that would be perfect for couples.
From framed prints and cards to sapphire jewellery and coloured glassware, our list has a range of amazing 45th wedding anniversary gifts that will suit any couple's style.
Sapphire-Inspired Anniversary Gifts
Just because it's a sapphire anniversary, it doesn't mean you have to splash out on the semi-precious stone. We've found plenty of sapphire-inspired wedding anniversary gift ideas for all budgets.
1. Personalised Sapphire Wedding Anniversary Print – From £22, Sweet Dimple
Designed by Sweet Dimple, this anniversary print features a whimsical design of sapphire-coloured buttons. It's the pop of blue everyone needs in their lives!
2. Set of Four Sapphire Blue Tumblers – £18, Dibor
45 years of marriage certainly deserves a glass of wine to celebrate – and it will be even more meaningful if the happy couple can toast to their marriage with these sapphire blue tumblers from Dibor.
3. Bombay Sapphire Splash Art Canvas – From £12.99, Creations Canvas
This Bombay Sapphire print from Creations Canvas could be perfect if your other half loves a G&T. We love the idea of buying your partner a piece of art to celebrate your anniversary as it's something that can hang in your home as a happy reminder.
4. Bombay Sapphire Gin and Original Newspaper Set – £125, Jonny's Sister
The only thing better than a print of Bombay Sapphire gin is the real thing (though it may not last as long). With this thoughtful gift set, you can also gift your spouse an original newspaper from the day you got married.
5. Sapphire Button Print – £25.99, Etsy
This sapphire wedding anniversary print from Leo Loves Co would make a great 45th wedding anniversary gift for a couple. Sapphire coloured buttons are scattered into a heart and you can personalise the design with a special message.
6. LSA International Sapphire Lantern Candle Holder – £75, John Lewis
We adore the deep blue hue of this sapphire-coloured candle holder from John Lewis. It's a subtle nod to the sapphire theme and you will get bonus points if you also buy a romantic candle to go with it.
7. Sapphire Wedding Anniversary Crate – From £51, Plant a Box
How beautiful is this vibrant sapphire wooden crate from Plant a Box? The crate can be personalised with the names of the couple and their wedding date, making it a unique and personal gift.
8. Sapphire Anniversary Family Tree – £49.95, A Type of Design
If you are looking for a 45th wedding anniversary gift for your parents then this sapphire anniversary family tree from A Type of Design is a thoughtful gift. Seeing all their loved ones plotted into the family tree will be something to treasure.
9. Sapphire Landscape - Abstract Framed Canvas Print– £150, John Lewis
If your partner loves art, this is the perfect gift for them. This abstract print can complement a range of interior designs. It'll look so nice in so many places, you won't know where to put it first!
10. Breitling Watch – £3,880, Goldsmiths
If you want to give an extra special gift to celebrate this milestone anniversary then this Breitling watch from Goldsmiths with its sapphire blue face would be a fantastic gift.
11. Unique 45th Wedding Anniversary Sundial Gift For Couples – From £64.95, TheMetalFoundry
Designed by TheMetalFoundry, this handmade sundial is the perfect way to commemorate all the time a couple has spent together. It is a touching way to show a couple how much you care or to show your partner you love them.
12. Personalised Sapphire Wedding Anniversary Cushion – £37.95, A Type Of Design
This gift, a plush throw pillow, is both beautiful and practical. It features elegant and simple text that can be personalized, helping to make it extra special.
13. Personalised 45th Anniversary Candle – £10.99, TheGiftExperienceLtd
The flame has flickered this long, so why not honour it with a candle? Designed by TheGiftExperienceLtd, this creative gift can be personalized with names and dates and is ideal for your parents, grandparents, and even your own special someone.
Sapphire Wedding Anniversary Gifts
If you want to buy your other half a real sapphire to celebrate your anniversary then take a look at our favourite sapphire jewellery ideas.
14. Silver Sapphire Ring – £165, Mabel Hasell
This stunning ring features an understated design that your partner can wear with everything. And we wouldn't blame them for wanting to wear it every chance they get!
15. Yellow Gold Men's Sapphire Ring – £450, Ernest Jones
This yellow gold ring from Ernest Jones includes diamond accents with a princess-cut sapphire in the centre. If you are looking for a subtle sapphire theme for your anniversary gift then this could be it.
16. Sapphire And Gold Vermeil Antique Style Drop Earrings – £75, Roche Jewels
You can't go wrong with a pair of vintage-style earrings like these for your 45th anniversary. These gorgeous earrings feature classic-cut sapphires in a romantic 18-karat gold setting.
17. Diamond and Sapphire Eternity Ring – £1,000, Goldsmiths
If you haven't already bought your other half an eternity ring then now could be the time. This gorgeous eternity ring from Goldsmiths features a white gold band that is home to alternating sapphires and diamonds.
18. Sapphire Scattered Row Bracelet – £175, Kate Wood Jewellery
This pretty scattered sapphire bracelet from Kate Wood is subtle enough that it can be worn every day. If your other half has a sapphire engagement ring then this sapphire bracelet would be the perfect finishing touch.
19. Chunky Cufflinks In Sterling Silver And Sapphire – £250, Be. Alice
These gorgeous cufflinks feature sapphire stones and a unique design that is sure to stand out. They are just what's needed to finish off an outfit.
20. Nine-Carat Yellow Gold Sapphire Pear Stud Earrings – £180, Goldsmiths
There is something stunning and understated about these sapphire earrings. They can easily be paired with a variety of styles, from everyday dress to more formal wear, making them wearable and practical as much as they are pretty!
21. Vera Wang Diamond and Sapphire Butterfly Pendant – £325, Ernest Jones
Does seeing your partner still give you butterflies in your stomach? This butterfly necklace might be a fitting gift for them then! Not to mention it's sure to look gorgeous with everything!
22. Men's Nine-Carat Gold Sapphire And Diamond Signet Ring – £650, H. Samuel
This stunning ring features a striking, geometric design with both sapphires and diamonds. Your partner is sure to love the way it glitters and gleams on their finger!
23. Personalised Sapphire Necklace – £26, Lucent Studios
These pendant necklaces are made from rough-cut sapphires and we think they are the perfect choice for a 45th-anniversary gift. You can even have your loved one's initial added to the clasp of the necklace to make it even more special.
Sapphire Wedding Anniversary Cards
Whether you are looking for a 45th wedding anniversary card for your partner, for a couple or for your parents, we have found something to suit.
24. Sapphire Wedding Anniversary Card 45th Anniversary – £2.99, OccasionsCardsGB
This card may just make your partner's heart take flight! Designed by OccasionsCardsGB, the card has a beautiful illustration of two hummingbirds and 'Happy Sapphire Anniversary' message.
25. Happy 45 Years – £3.86, Hunts England Store
This cute card from Hunts England Store would be ideal for a couple or for your other half to celebrate your own anniversary. It's blank inside so you can write your own romantic message.
26. William Morris Anniversary Card – £5.54, ChauartPapercut
This card features a William Morris pattern over sapphire blue. It's a pretty and thoughtful way to show how you care.
27. Sapphire 45th Wedding Anniversary Map Heart Card – £14, Bombus
This charming card by Bombus can be personalised with the couple's name and wedding date. You can also choose a meaningful place on the map to make it extra special.
28. Sapphire Wedding Anniversary Card – From £2.95, Bold & Bright
We love the adorable sapphires holding hands on this card from Busy Being. If you are sending a card from afar then you have the option of writing a special message that will be handwritten into your card.
29. Sapphire Wedding Pop-Up Anniversary Card – £9.84, LittlethingsbyG
If you're looking for a card that will really impress, we'd suggest this pop-up card from Etsy. It even features the sparkling sapphire colours that the 45th wedding anniversary is known for!
30. Personalised Sapphire Wedding Anniversary Card – £8, JoHerbertMakes
We're obsessed with this hand-drawn card from JoHerbertMakes. Each card can be customised and the artist can even write your message inside for you.
Are you looking for more sapphire ideas? Browse our collection of gorgeous sapphire rings.