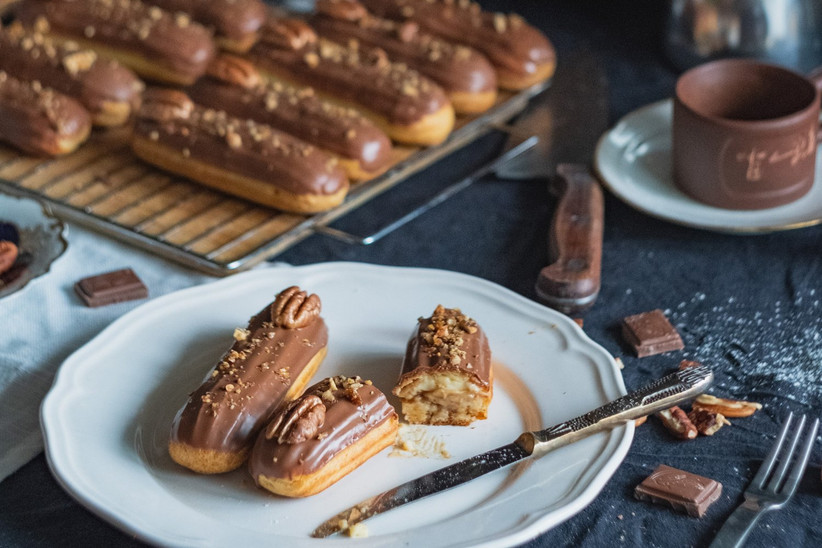 The traditional gift for your sixth wedding anniversary is sugar. Life after six years together is sure to be pretty sweet and a sugar-inspired gift is the perfect way to celebrate this.
Whether you want to honour this traditionally with something sugary to eat (such as cookies or sweets), or you want to interpret the theme a little differently (with a sugar bowl or sugar scrub), we have plenty of ideas to get your creative juices flowing.
If your partner doesn't have much of a sweet tooth then you might want to go for the modern sixth wedding anniversary gift, which is iron. Iron represents the solid strength of your marriage, and paves the way for many more years to come. This is actually a great theme as it opens up many doors; whether you'd like to buy something decorative or practical, there are many iron present ideas out there. We've collected some of the very best below.
Whether it's sugar or iron you're opting for, our sixth anniversary gift guide will help you choose your perfect gift.
Sugar Wedding Anniversary Gifts
A sugar themed wedding anniversary gift might mean you need to get a little bit creative! Rather than passing your partner a packet of caster sugar with a bow on it, take a look at our favourite ways to celebrate six years of marriage.
READ MORE: Wedding Biscuits: How to Make Your Own Cookie Favours
Personalised Love Letter Cookies - Biscuiteers, £11.95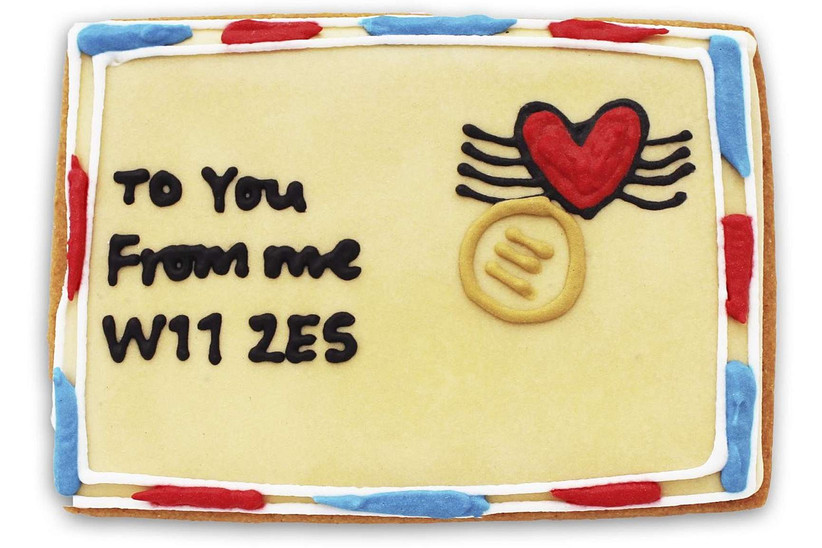 There's nothing simpler than a batch of delicious sugar cookies. If you don't fancy making them yourself, a special personalised love letter biscuit is a lovely option that's under £12 and looks amazing. You can buy them from Biscuiteers.
Brown Sugar Body Polish - Fresh, £35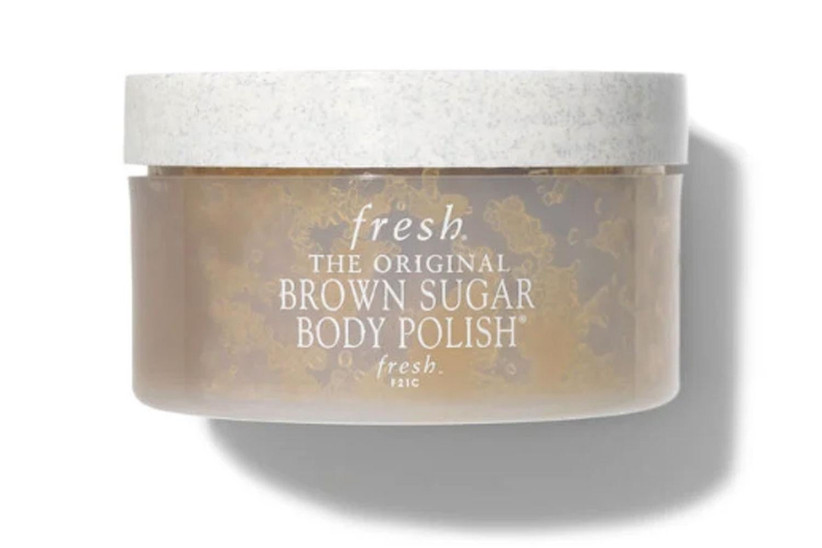 Keep things simple and opt for a sugar body scrub instead of something sugary to eat. This scrub by Fresh is one of the very best out there; it sloughs away dead skin but still leaves a hydrating, nourished finish, and of course, smells totally amazing.
Patisserie Day Cooking Course - Ashburton Cookery School, £185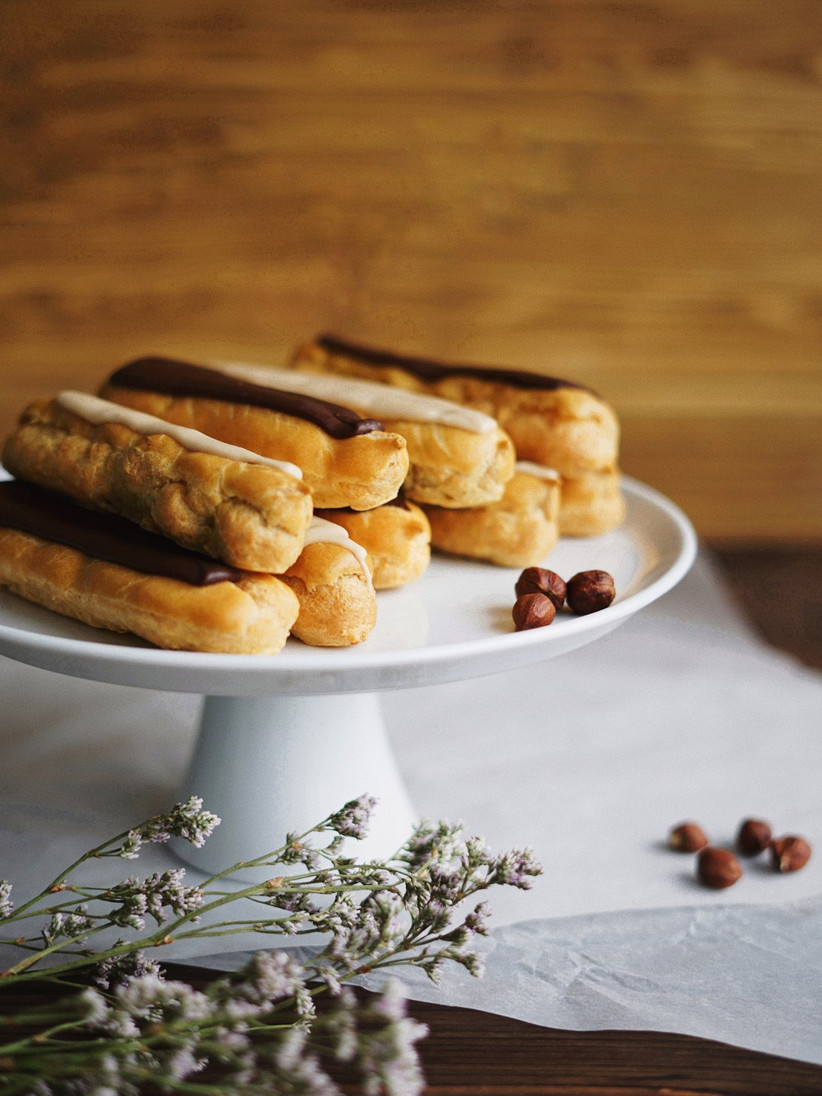 Give baking fans the ultimate sugary treat and gift them a day of cooking at a professional school. During this amazing experience, you will learn to make a whole host of sweet snacks, including profiteroles, chocolate eclairs, and glazed fruit tarts.
Anniversary Biscuit Gift Box - Katie's Biscuit Shop, £30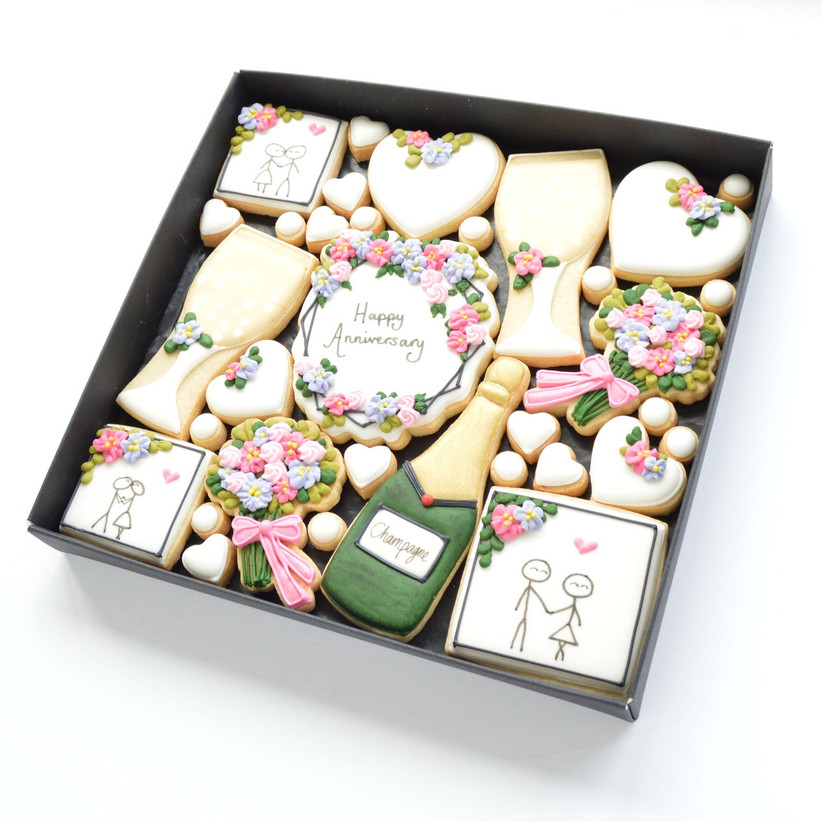 If you want to dial it up even more than some cute little handmade biscuits, this huge box of goodies may just do the trick! Featuring different sized biscuits, the collection will delight any recipient with a sweet tooth.
Personalised 6th Anniversary Chocolates - Cocoapod Chocolates, £17.25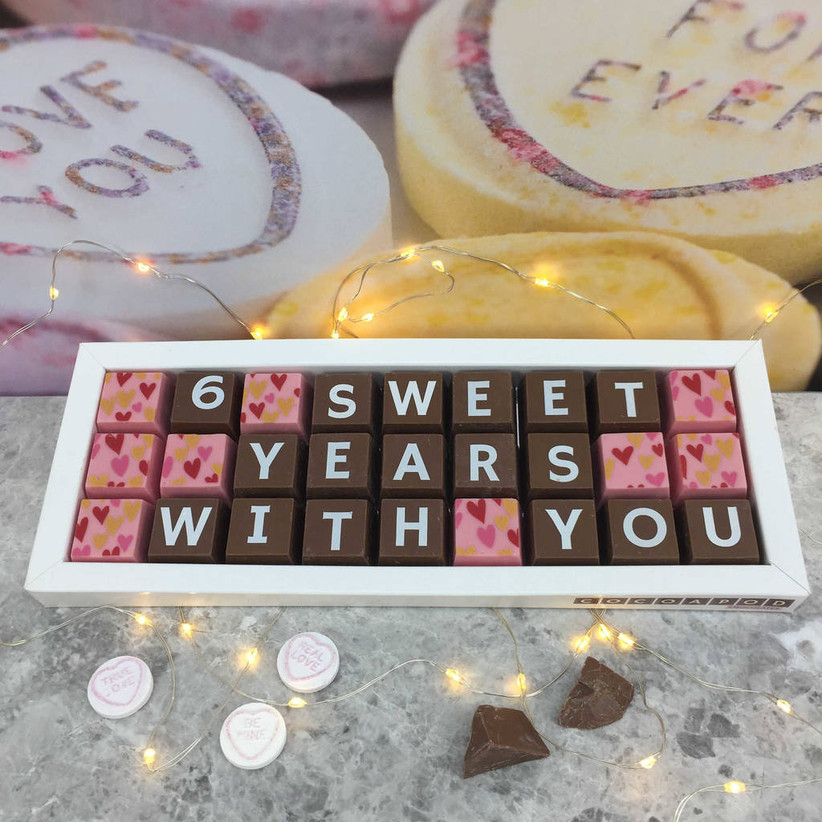 Is there anything better than delicious Belgian chocolate? Absolutely: personalised delicious Belgian chocolate! This sweet present idea is an ode to the sixth year of marriage, and it comes in both milk and dark chocolate, as well as raspberry or orange flavours.
Perfect Match Chocolates - Choc On Choc, £10.99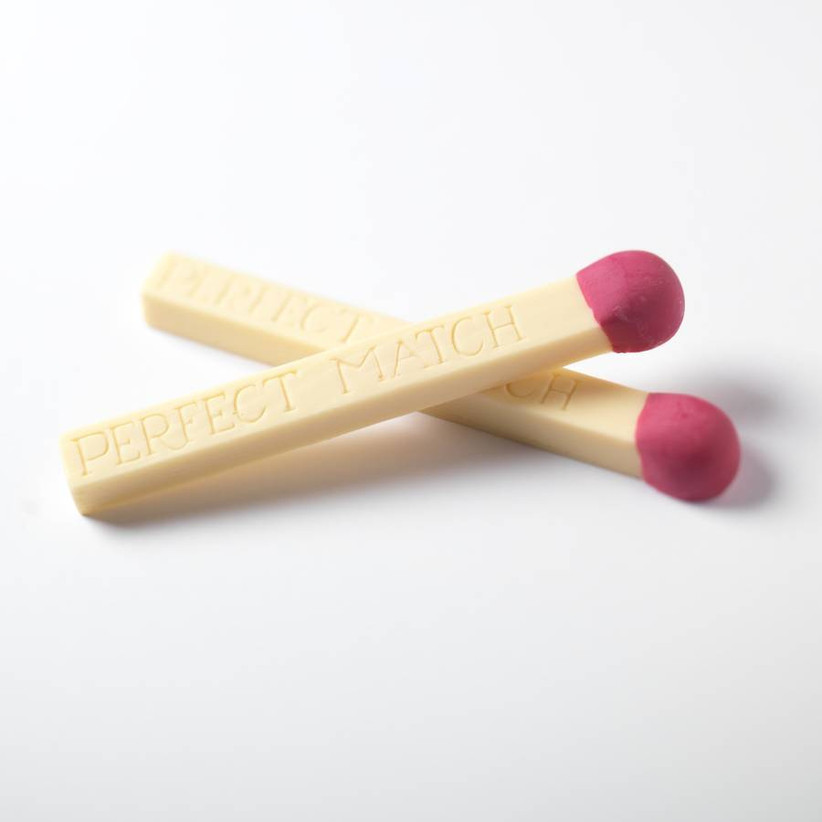 A lovely little extra gift for just over £10, these chocolate matchsticks are both lovely to look at and are delightfully sentimental. And because there's two, that means one each, right?! We all like presents that benefit the gift-giver as well as the receiver!
Personalised Haribo® Sweet Tree - Sweet Trees, £22.99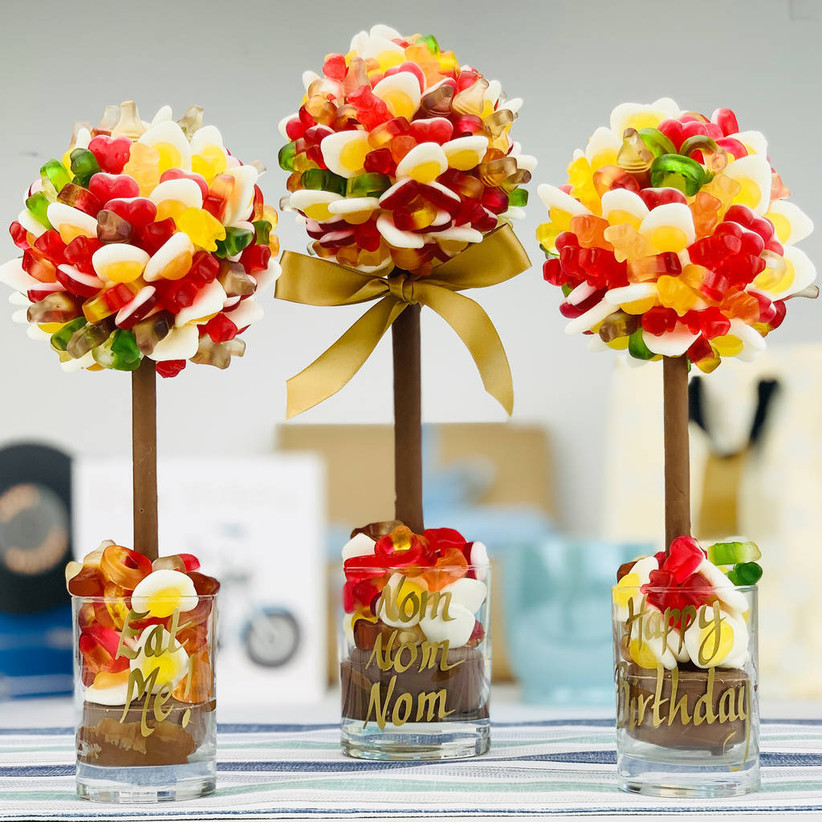 A huge sweet tree is the ultimate gift idea for those with a sweet tooth - and we can't think of a single person who wouldn't enjoy receiving this! As well as the huge number of sweets that'll last you a good while, the tree also features a chocolate stalk to snack on afterwards.
Heart Pewter Sugar Bowl And Heart Spoon Set - Glover And Smith, £55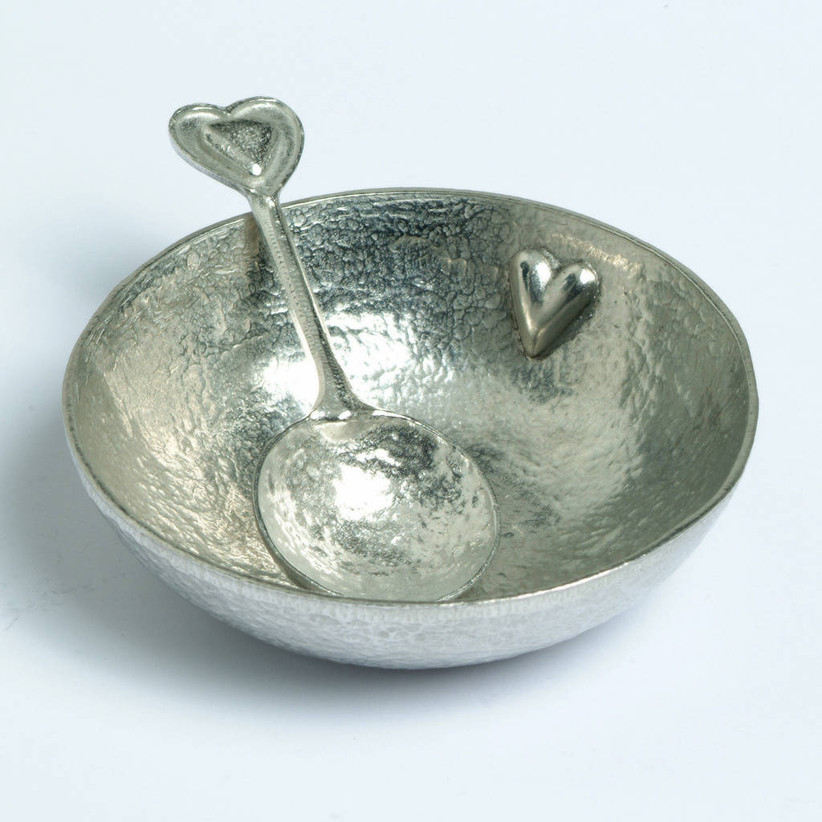 This glorious little sugar bowl is perfect for the romantics among us. The British-made bowl and spoon are both pretty and practical, and come packaged in a special presentation box.
Fig & Sugar Candle - Peregrine Candles, £12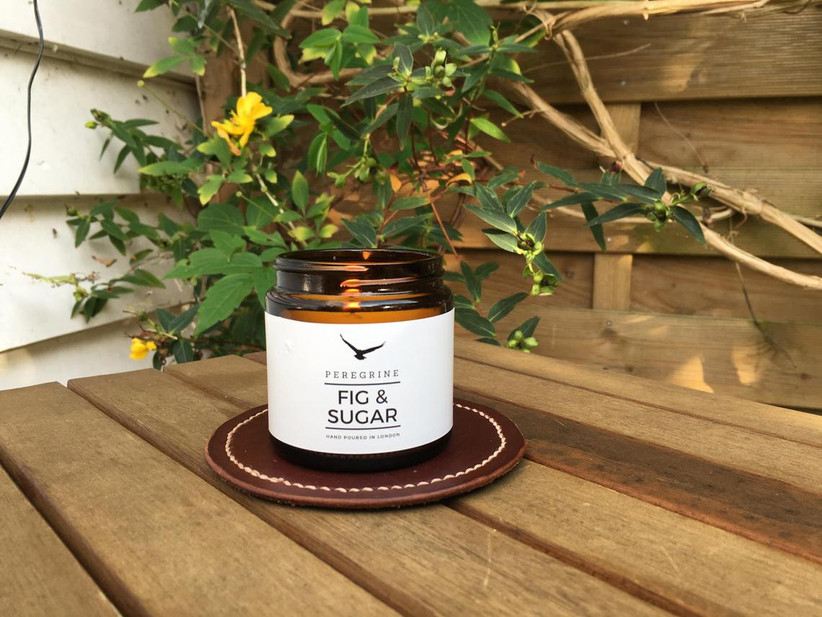 Partner not got a massive sweet tooth? Invest in this gloriously rich, hand-poured candle. As well as plump, sweet figs, it has hints of warm sugar that'll transport you to a summer morning in Spain. Trust us, you won't want to stop burning this!
UK And Ireland Map Sugar Pot - Ali Miller London, £32
Made from fine bone china, this lovely sugar pot will make you smile every time you use it. It features a hand-applied design of Britain and Ireland, along with several old world sailing ships. A charming take on the 'sugar' theme.
Wooden Sugar Scoop – Qasa Qasa, £15
These elegant sugar scoops from Qasa Qasa are handcarved from Mninga wood and are the perfect gift for your food-loving partner. They will make a beautiful addition to your kitchen and are an unique take on the sugar wedding anniversary gift theme.
Gingerbread Coffee Sugar Spoons – Perkulatte, £8.50
If your other half likes something sweet then these gingerbread coffee sugar spoons from Perkulatte are a cute way to sweeten the morning coffee. There are a range of flavours to choose from so if gingerbread isn't their thing then pick from vanilla, cinnamon or salted caramel.
READ MORE: Fourth Wedding Anniversary Gift Ideas
Iron Wedding Anniversary Gifts
If you want to celebrate how strong your marriage is then an iron wedding anniversary gift will be the perfect choice for your sixth wedding anniversary. Take a look at some of our favourite iron gift ideas.
Handmade Iron Bowl – Coach House Forge, £56
This handmade iron bowl from Coach House Forge can be personalised with your wedding date and is the perfect size to hold your wedding rings and other small pieces of jewellery.
Black Iron Clothing Rack – Little Deer Interiors, £110
If your other half simply loves shopping then this black iron clothing rack from Little Deer Interiors will be a beautiful way for them to showcase all their latest purchases! We adore the super stylish matte black finish and this would be a beautiful addition to any bedroom or dressing room.
Le Creuset Cast Iron Casserole Dish – John Lewis, £192
If your partner loves cooking then a stylish Le Creuset cast iron casserole dish could be something they have wanted for a long time! Choose from a selection of colours – we have a little bit of a soft spot for this vibrant orange shade – available from John Lewis.
Hawgood 90cm Wall Clock - Wayfair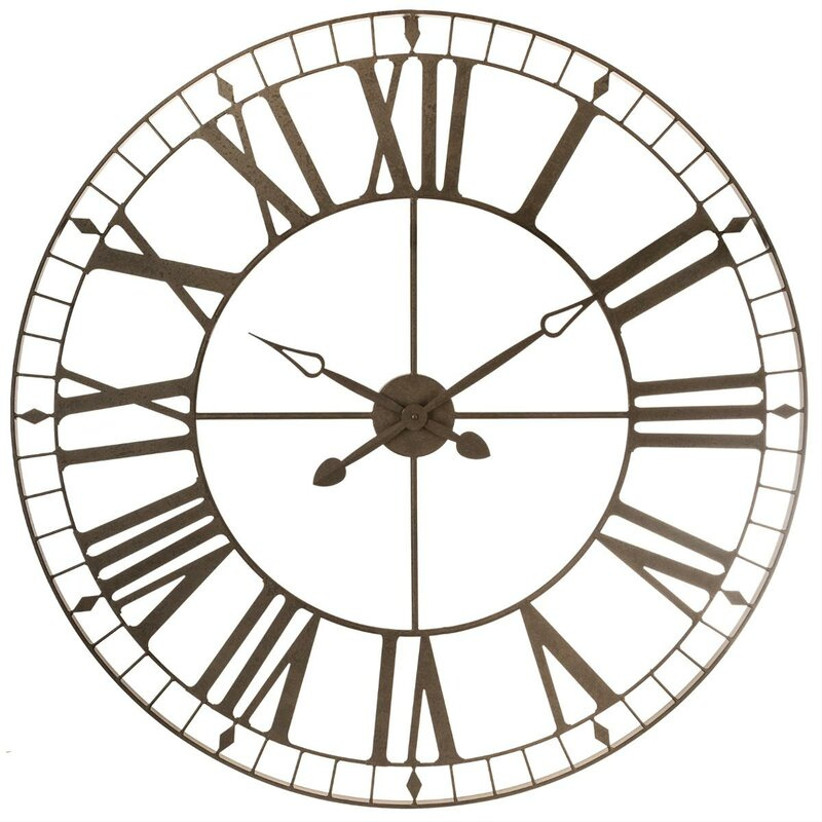 Want to add a retro feel to any room? Invest in this gorgeous clock, which is like a present for both you and your partner! It's incredibly cool as well as practical and useful, of course.
Bottle Stopper with Cast Iron Heart Candle Holder - Dibor, £13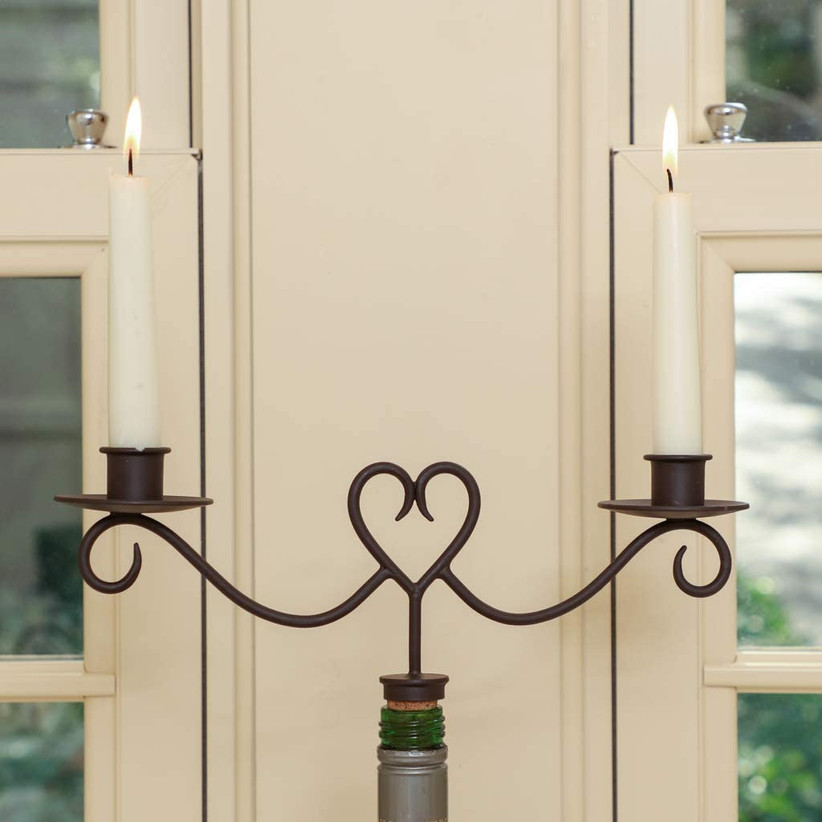 This clever little two-in-one contraption is as unique as iron gifts come. It's both practical (the bottle stopper part), and decorative (as it holds candles). It comes in an antique brown finish, which has a retro, traditional feel.
Hand Forged Engraved Bookmark - Coach House Forge, £19.50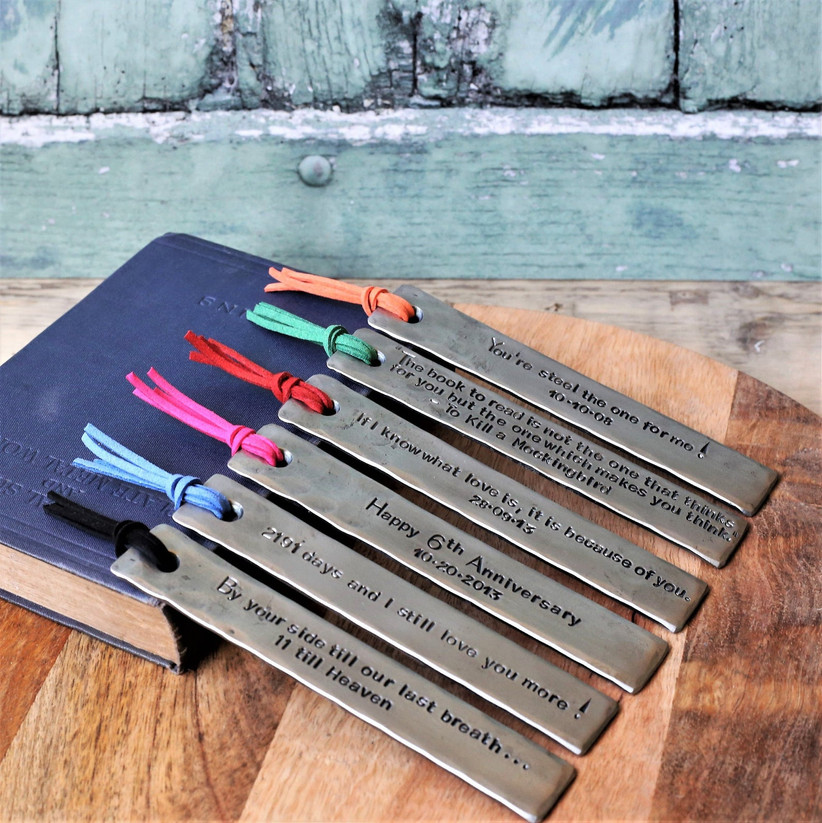 These absolutely lovely iron bookmarks are ideal for the book lover in your life. You can choose to engrave the metal with a quote from one of their favourite books, or simply a loving sixth anniversary message. Choose from one of seven leather tassel colour options.
Personalised 6th Anniversary Cast Iron Gift Set - Dibor, £19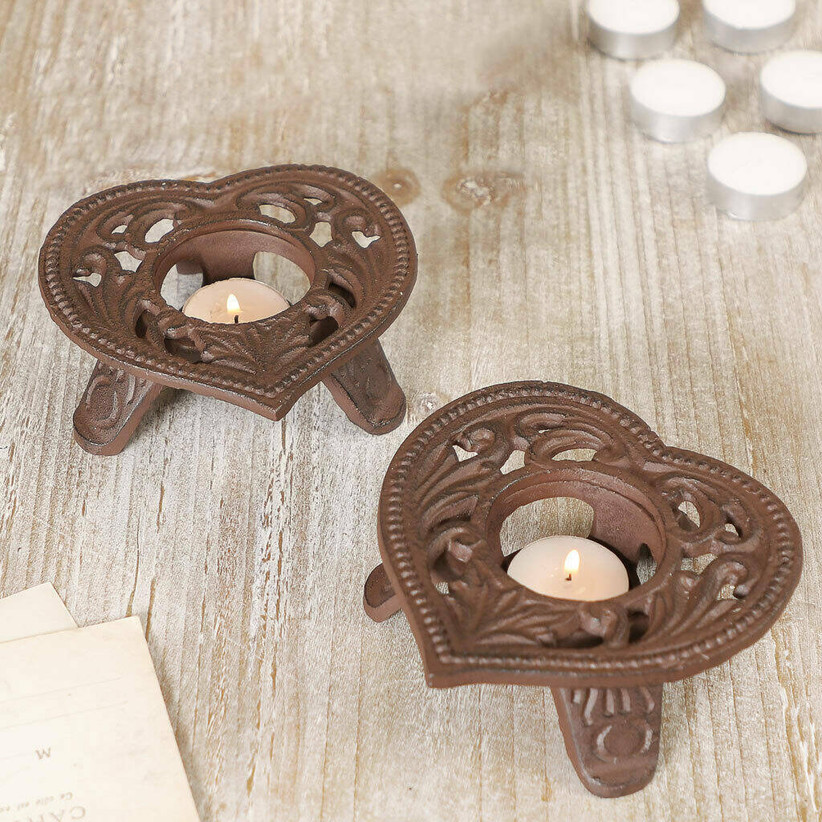 We're head over heels for these adorable cast iron tea light holders, which will last a lifetime. Not only is the gift itself very special, but the gift box it comes in can be personalised with a thoughtful message for your partner.
Forged Iron Dice - Northern Crescent Iron, £19.88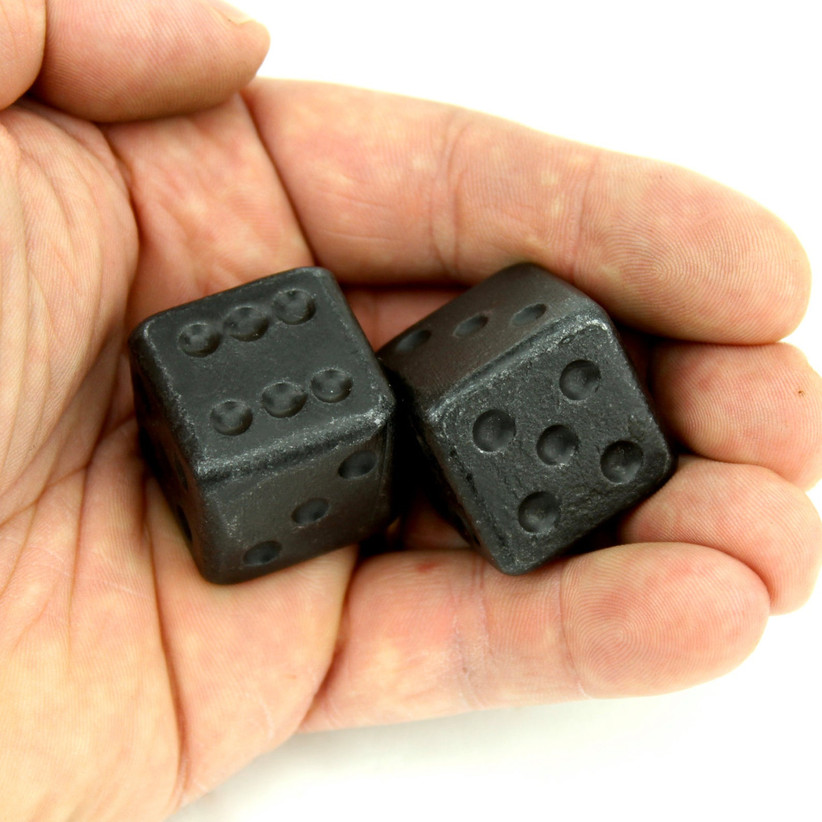 Prove to your partner that you rolled the dice on them and won with these. A unique present, the dice are just as brilliant for playing games as they are for decorating your living room shelf. Weighty and meaningful in equal measure, they come in a chic velvet drawstring pouch.
Cast Iron Cook Recipe Book Stand - Garden Selections, £13.99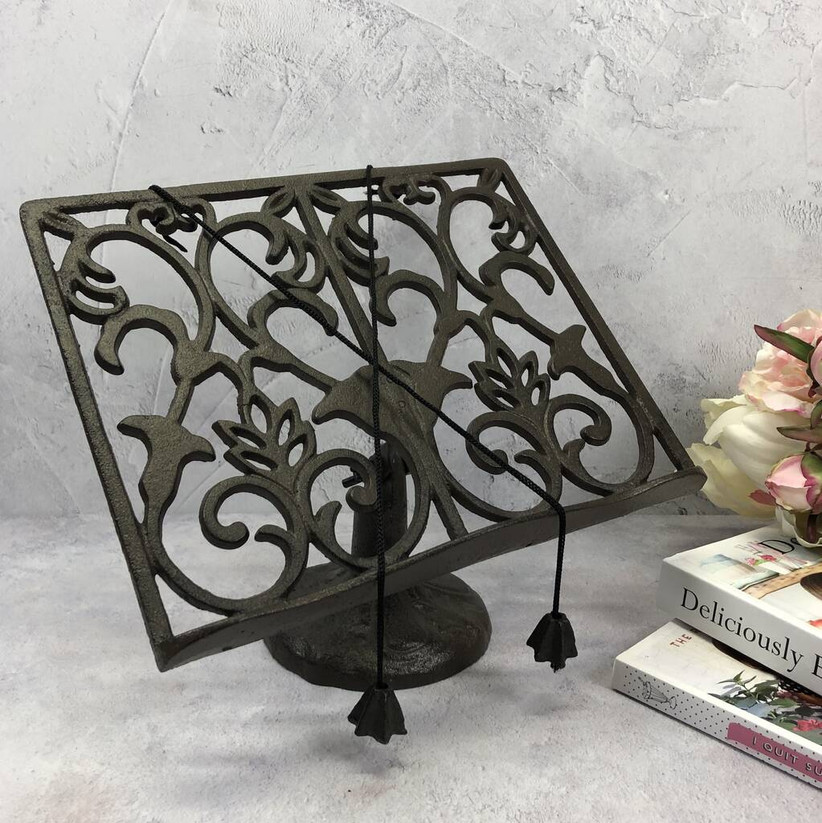 This cast iron finish book holder is perfect for bakers and cooks alike. It comes with an intricate, detailed pattern, and will look glorious in any kitchen. And at under £15, it's a steal!
'I Still Do' Keyring - Cool Keyrings, £12.99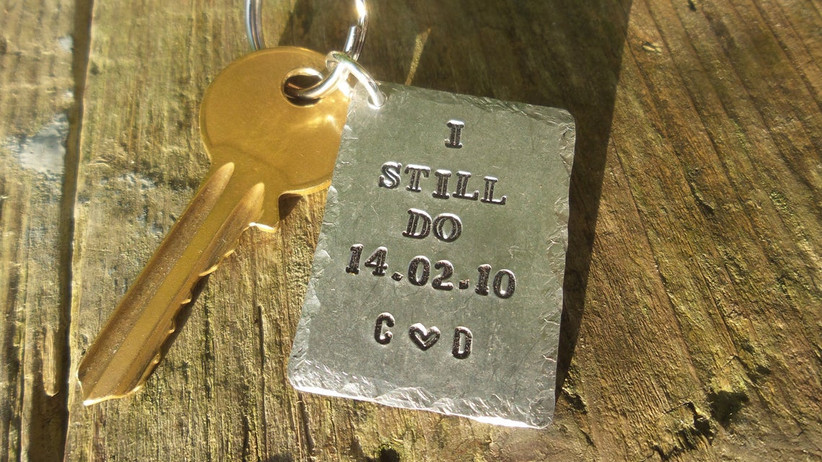 How adorable is the 'I Still Do' keyring? It shows re-commitment to the relationship, while still being faithful to the theme. Personalise this with names, dates, and cute messages to your liking.
Set Of Four Cast Iron Heart Hooks - Dibor, £18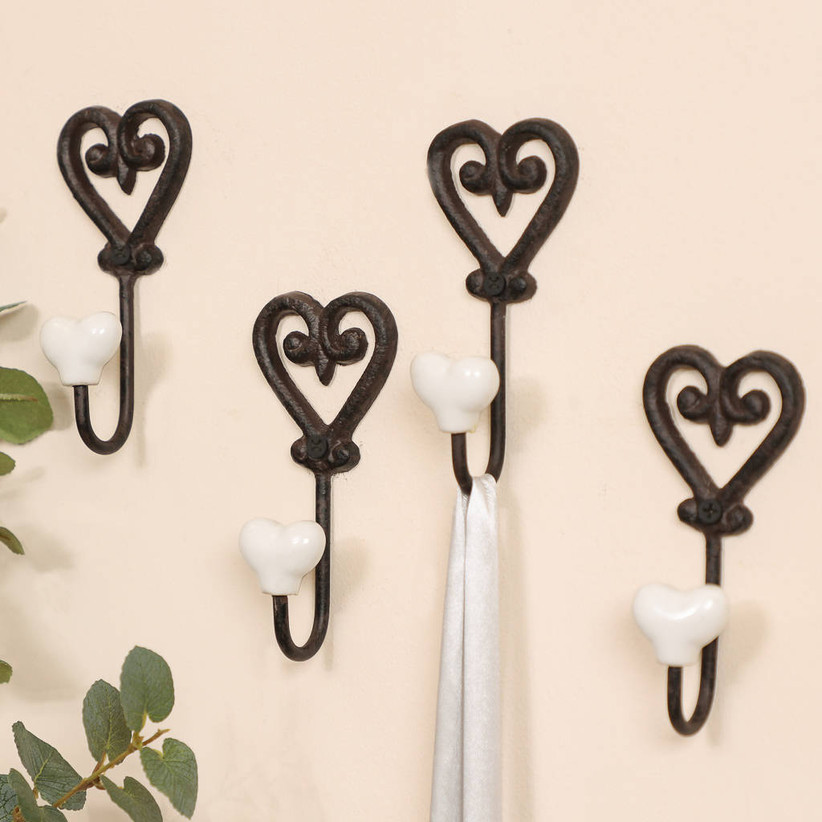 A simple yet charming little gift, these door hooks are one of those presents that will actually serve a purpose while still looking lovely! Additional red gift boxes which are personalised are also optional to add an extra touch.
Iron Roses – We Sell Dream, £41.95
Give the love of your life roses that will last a lifetime. These two iron roses from We Sell Dream are twisted together to represent your strong and eternal love and would make a perfect gift for your sixth wedding anniversary.
6th Anniversary Love Hearts – Jon's Country Ironwork, £42
These interlocking iron hearts are handcrafted by Jon's Country Ironwork and can be personalised with yours and your other half's names.This extra special gift will perfectly represent how long your love is after six years together.
So now you have your anniversary gift sorted, start browsing some of our favourite date night ideas – perfect for your anniversary night.
We have included third party products to help you navigate and enjoy life's biggest moments. Purchases made through links on this page may earn us a commission.