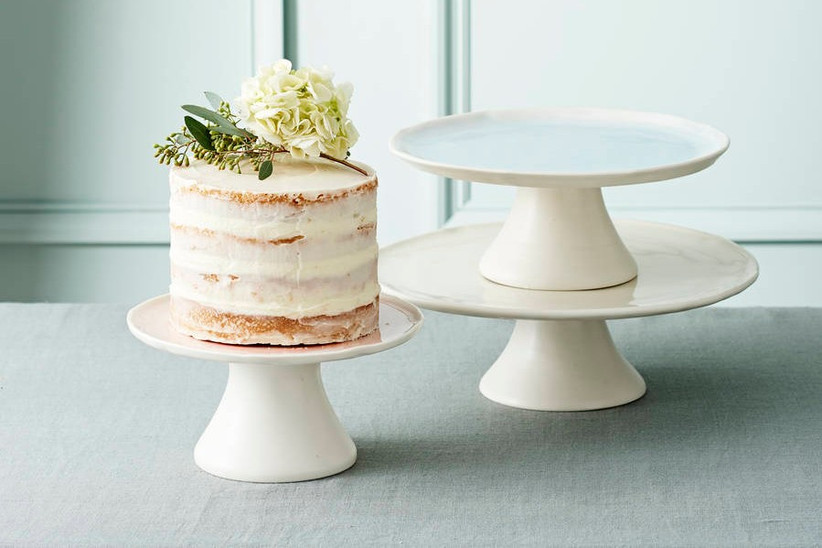 Making it to 18 years of marriage is no mean feat, so it's important to mark your 18th wedding anniversary with a special gift.
If you (or a couple close to you) are celebrating 18 years of marriage this year, choose from these 18th wedding anniversary gift ideas.
Porcelain is the traditional gift for 18 years of marriage, and from porcelain jewellery to home accessories and porcelain dinnerware sets, there are so many ways to get creative with this anniversary milestone! Here are our favourite 18th wedding anniversary gifts to shop now.
Porcelain Wedding Anniversary Gifts
Keep things traditional by opting for the traditional 18th wedding anniversary gift of porcelain. Porcelain is elegant, long-lasting and durable, just like your marriage after 18 years together.
1. Oliver Bonas Kiku Orange Teapot – £34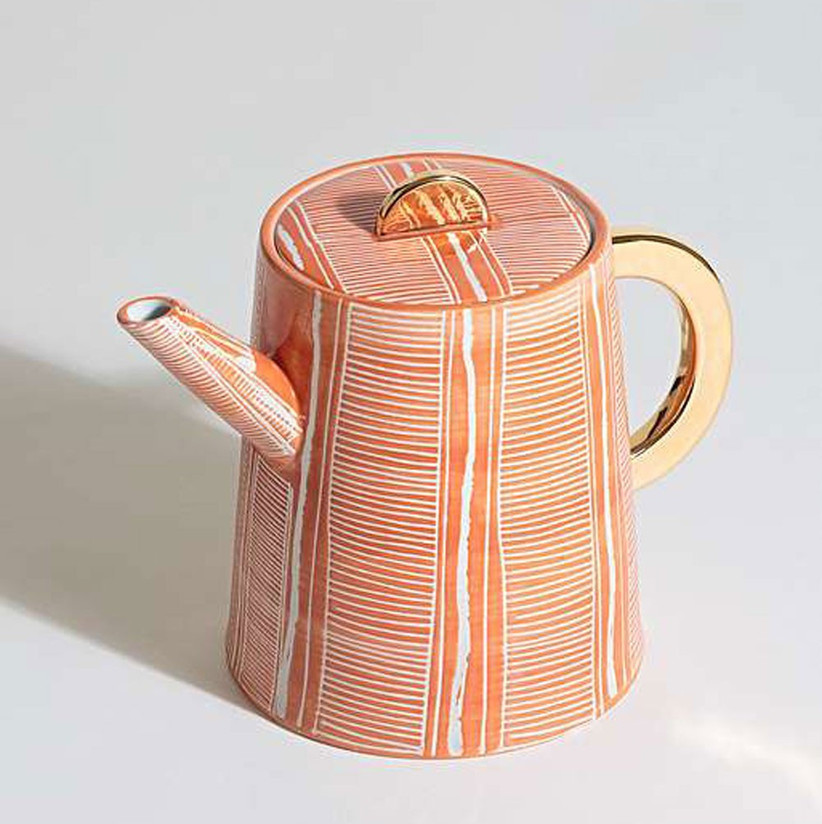 First up, we've got a gift from Oliver Bonas, probably one our favourite interiors brands! Their Kiku Orange Teapot is made from 100% porcelain and costs just £34!
Decorated with a white geometric pattern and with gold-toned handles, this stylish teapot would look gorgeous on your table top. Oh, and there are lots of other pieces available in the same design if you'd like to treat your other half to a set. Oliver Bonas – you've done it again!
2. Dream Believe Achieve Mug – £20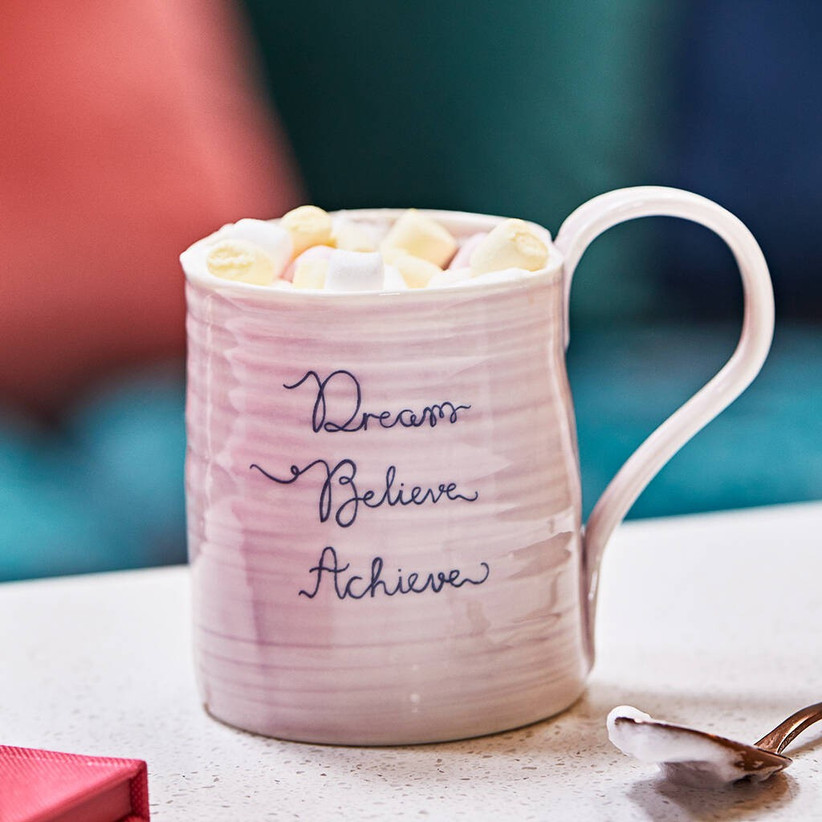 How cute is this "Dream Believe Achieve" mug by Gemma Wightman Ceramics? If your other half is a lover of a positive quote (and tea, obvs), treat them to this gorgeous porcelain mug.
It's available in lilac, turquoise and cream and features hand scribed blue lettering. A lovely addition to any mug collection!
3. Personalised Trinket Dish – £14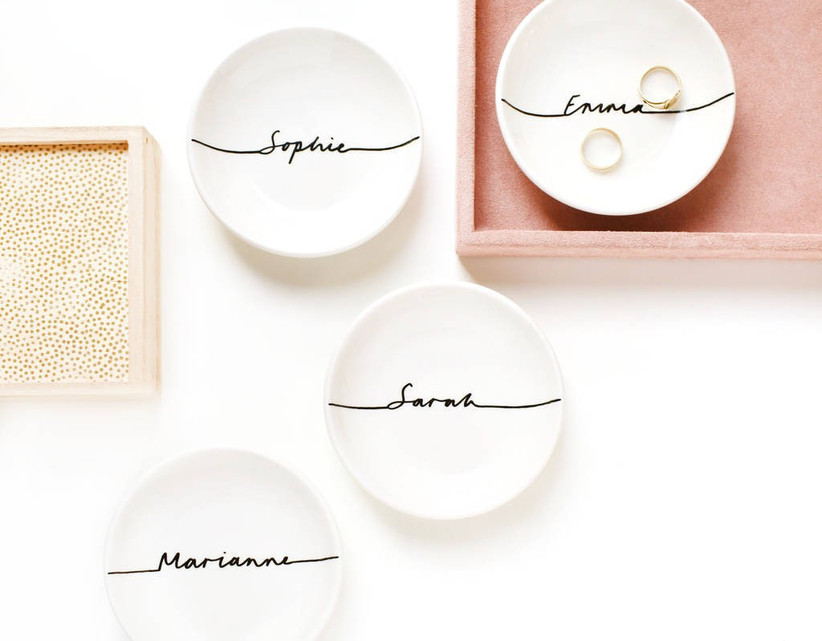 These gorgeous porcelain trinket dishes are the perfect home for earrings, keys or necklaces when the end of the day rolls around.
The dishes can be personalised with the name of the recipient or a special phrase. How cute!
READ MORE: 11 Things You Only Know if You're in a Long-Term Relationship
4. Porcelain Heart Candle – £36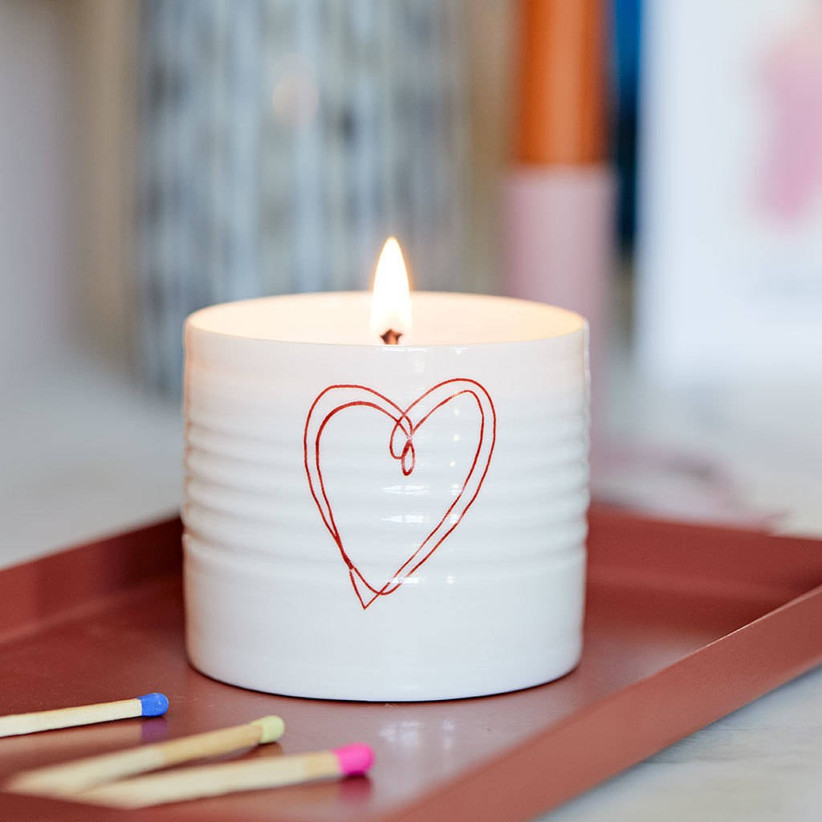 A luxurious candle is the perfect gift for the person who already has everything. You can never have too many candles – and who wouldn't want their home to smell delicious?
This candle by Gemma Wightman Ceramics is hand poured and infused with fig and cassis. The porcelain container comes in either pale pink or cream, and can be used as a storage pot for jewellery or toiletries once the candle has burnt out!
5. Plant Pot with a Gold Heart – £53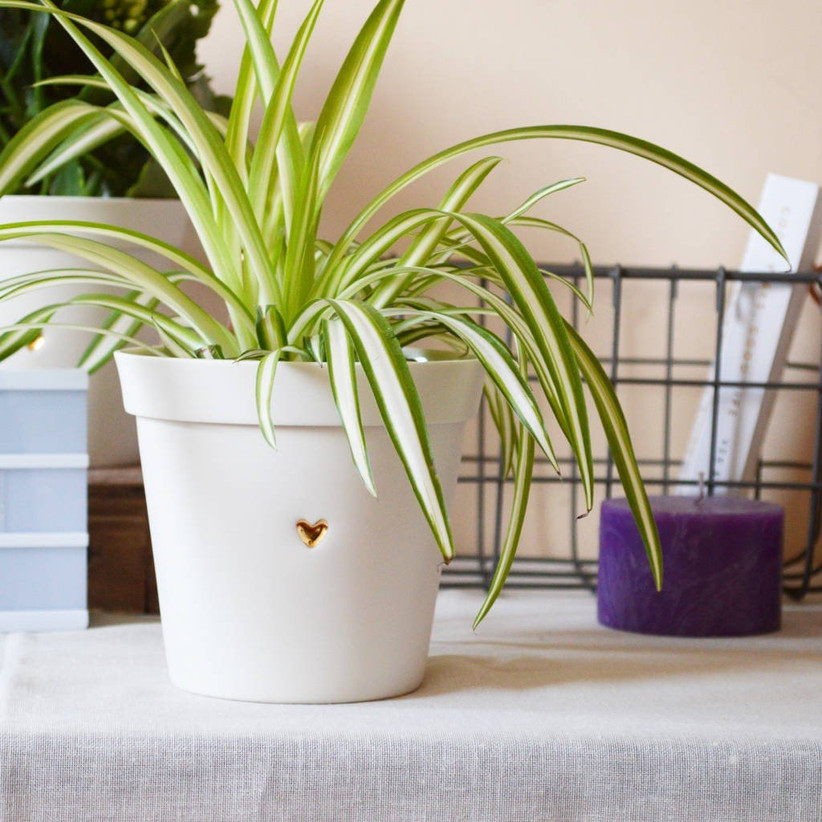 If the recipient of your 18th wedding anniversary gift is a self-proclaimed plant parent, treat them to this gorgeous porcelain plant pot by Sejal Ceramics.
It's embossed with a gold love heart and would look great in any home.
6. Blue and White Ceramic Necklace – £62.99
Treating your other half to ceramic jewellery for your 18th wedding anniversary is a lovely, creative way to incorporate the traditional gift of porcelain into your present choice.
This beautiful necklace has a blue and white porcelain pendant which sits on a 14k gold chain. You can even buy earrings to match!
7. Hubby & Wifey Mug Set – £16.95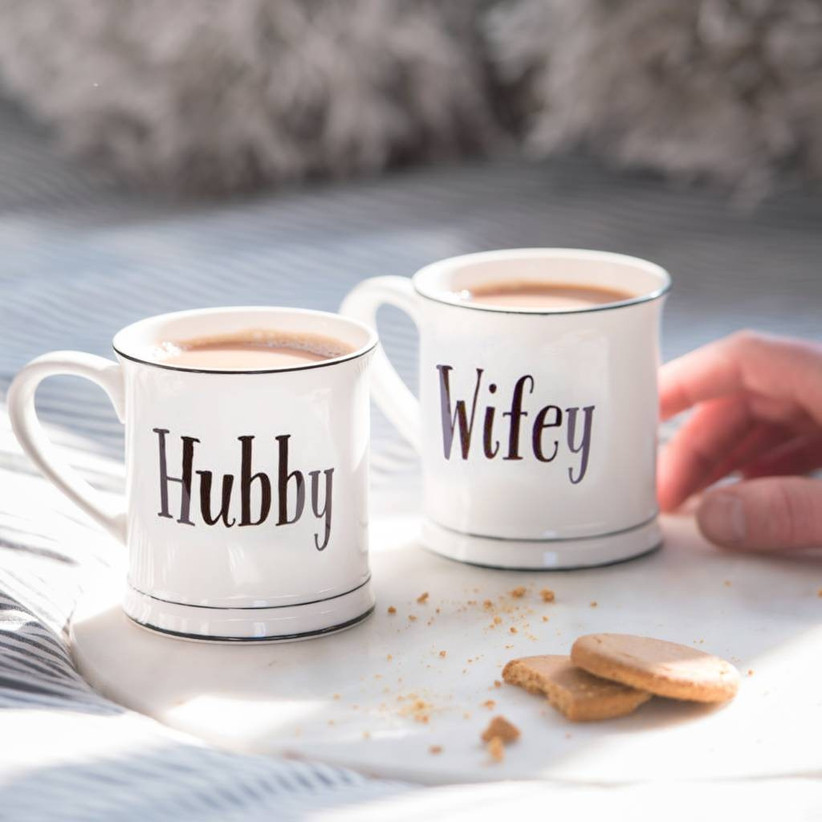 These hubby and wifey porcelain mugs are a simple yet oh-so-stylish 18th wedding anniversary gift idea.
They have a white background and a beautiful black typography design. They'd also be the perfect prop for your 18th wedding anniversary selfie at the breakfast table… #happyanniversary!
READ MORE: 7 Signs You're Already an Old Married Couple
8. Personalised White Stamped Porcelain Cufflinks – £48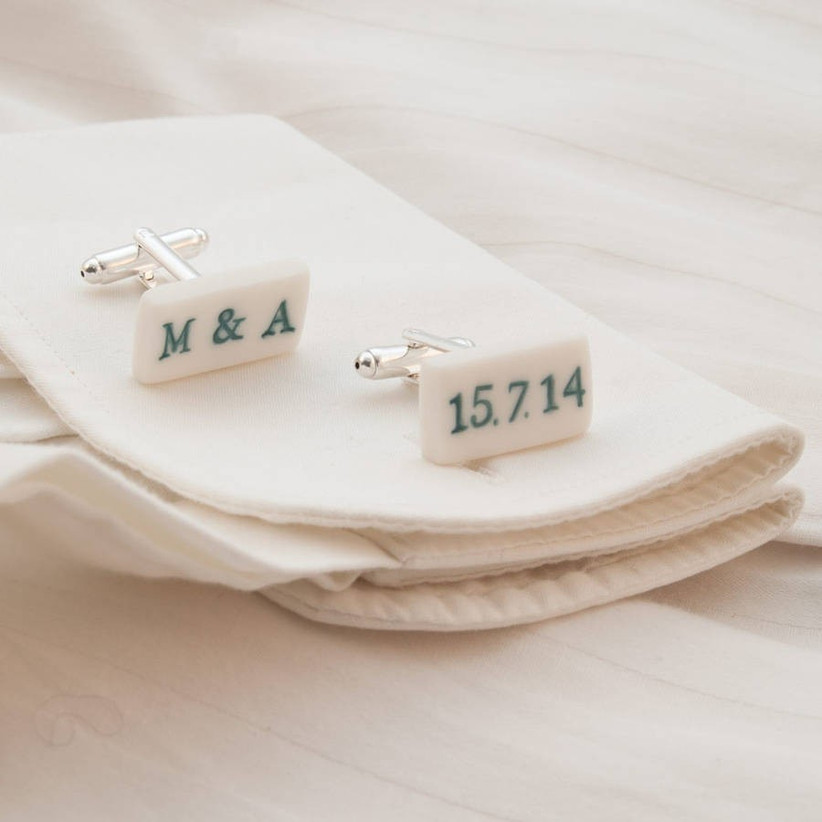 Men can be tricky to buy for when it comes to wedding anniversaries, but these porcelain cufflinks are the perfect present.
They cost £48 but they can be personalised with your wedding date or initials (or both!). He'll love to wear them to work as a subtle reminder of the special 18 years you've spent together.
9. Handmade Porcelain Cake Stand – £48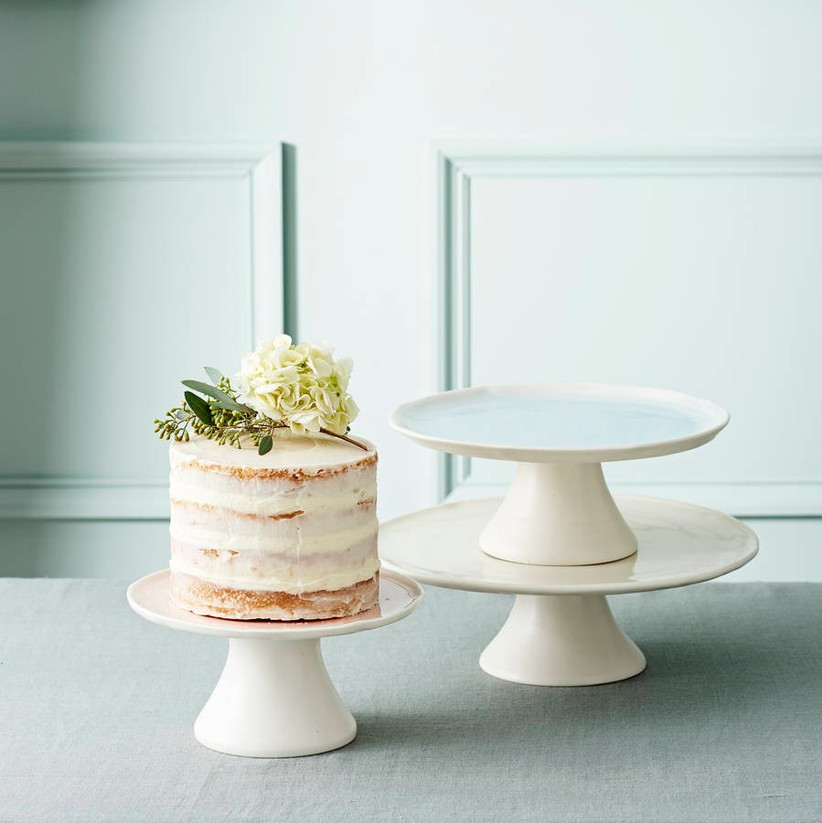 Does your other half love to bake? Then a porcelain cake stand like this one would be the perfect 18th anniversary gift.
Available in three sizes and three lovely pastel colours, this hand painted cake stand would be the perfect display for cupcakes or an entire dessert. It'd also work well as a fruit stand or centrepiece!
10. Porcelain Heart with Quote – £3.96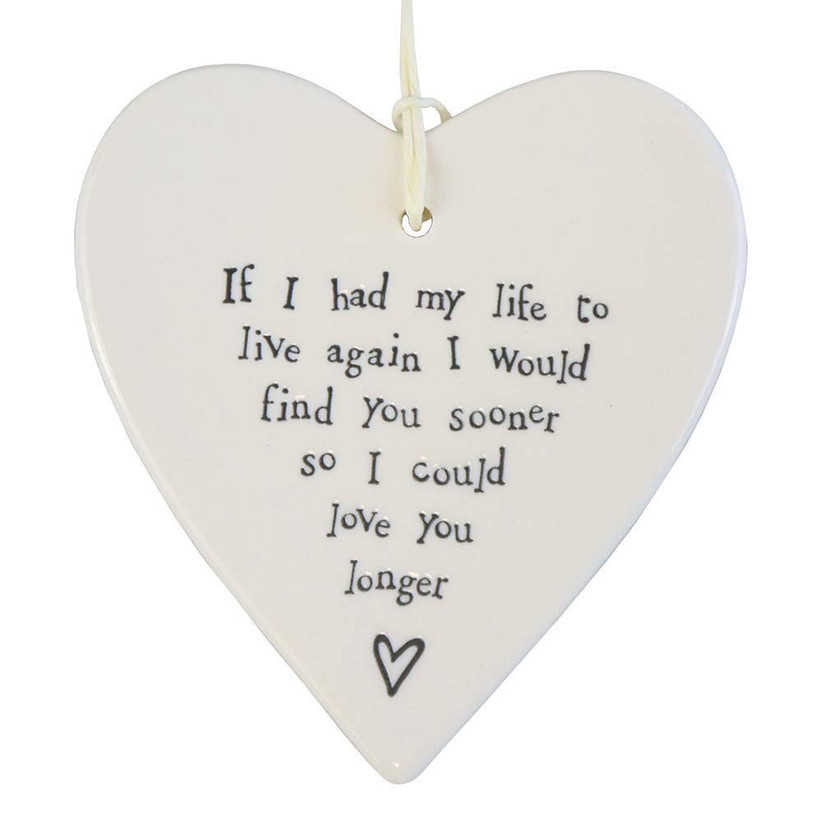 Sometimes, less is more, and a sweet and simple gift like this porcelain heart will be treasured by the recipient forever.
It costs less than £4 and reads: "If I had my life to live again I would find you sooner so I could love you longer." How adorable is that!
11. Porcelain Canal House Tea Lights – £16.50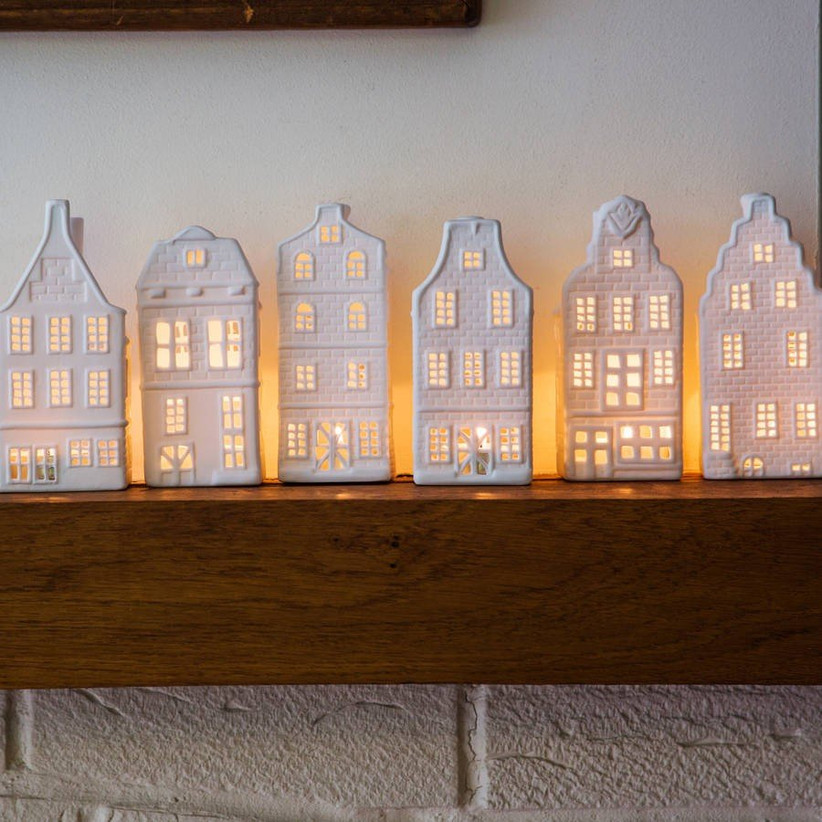 If your anniversary is close to Christmas, these festive Porcelain Canal House Tea Lights would be a lovely choice of gift.
They're designed in the Netherlands and inspired by the houses found in Amsterdam, Utrecht and Delft. They'll look great with any style of house décor and will be particularly meaningful if the Netherlands holds a special place in your heart.
12. Oliver Bonas Kiku Yellow Biscuit Plate – £10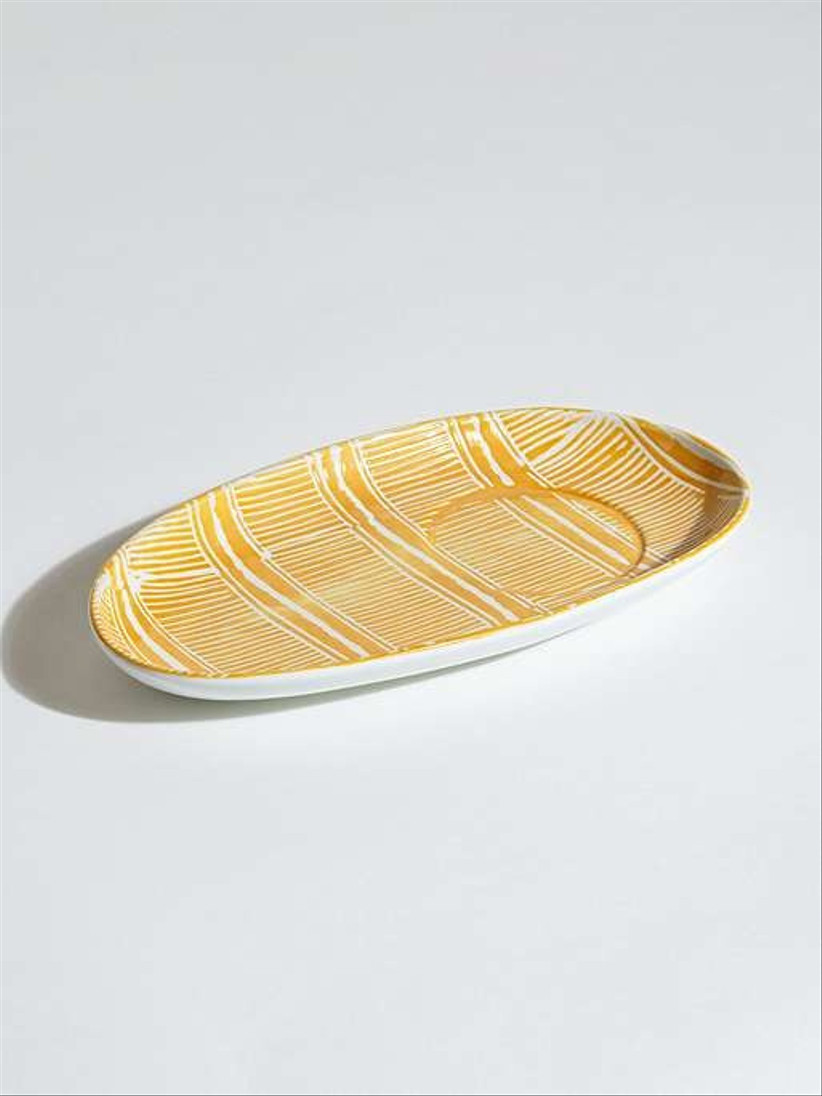 We're so obsessed with Oliver Bonas' Kiku range – it's so stylish and colourful!
This biscuit plate is ideal for tea lovers – it has room for their mug and a custard cream! Or digestive. Or bourbon… or whatever tickles their fancy, really.
READ MORE: 25 Date Ideas to Keep the Magic Alive
13. Blue Porcelain Patterned Table Lamp – £185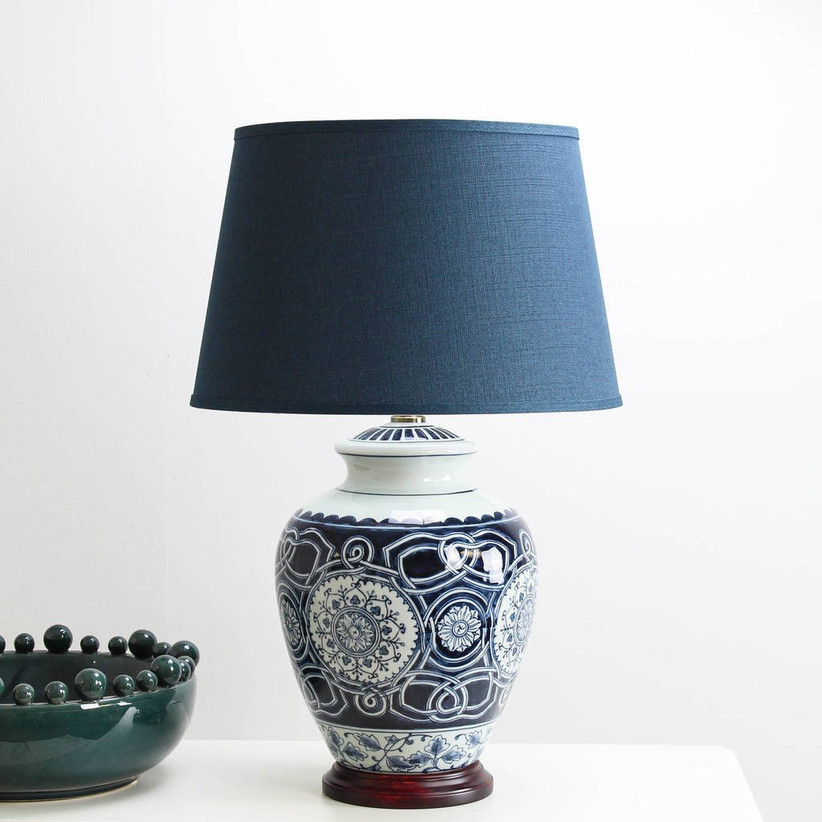 If you really want to push the boat out on your 18th wedding anniversary, surprise your other half with this timeless and ultra-stylish blue porcelain lamp.
This table lamp is crafted using a fine blue and white ornate pattern and is accompanied with a gorgeous deep blue linen shade. It might cost £185, but it'd be a wonderful addition to any home.
14. Coffee, Tea or Sugar Storage Jars – £24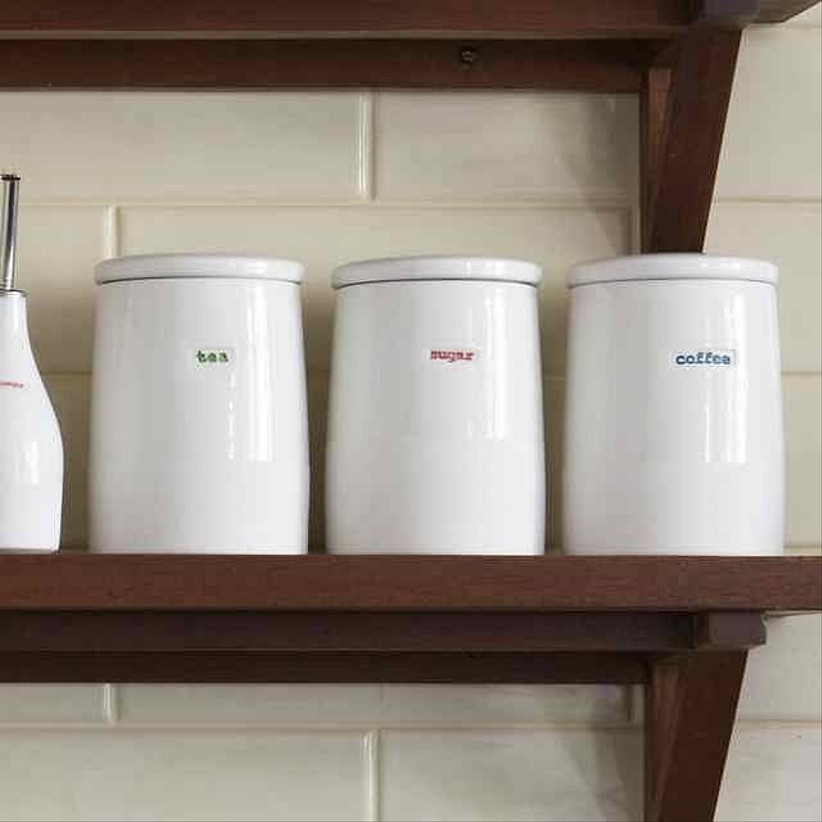 You can't go wrong with sleek tea, coffee and sugar containers – everyone needs them in their home!
They cost £24 each (or you can get all three for £66) and they're engraved with colourful lettering. A silicon seal around the lip of the cover makes for a perfect fit – just like you and your loved one!
15. Porcelain 16-Piece Cutlery Set – £49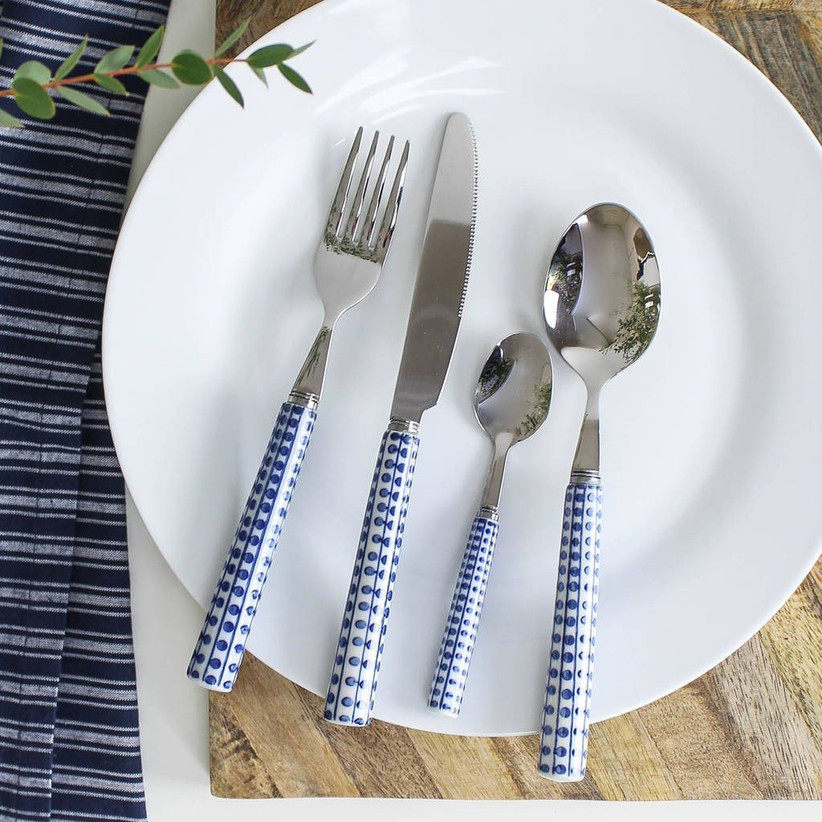 How about updating your cutlery drawer on your 18th wedding anniversary with this gorgeous 16-piece blue leaf porcelain cutlery set?
It's the perfect summer update to any kitchen, ideal for al fresco dining. Bon appetite!
16. Handmade Porcelain Terrazo Bowl – £60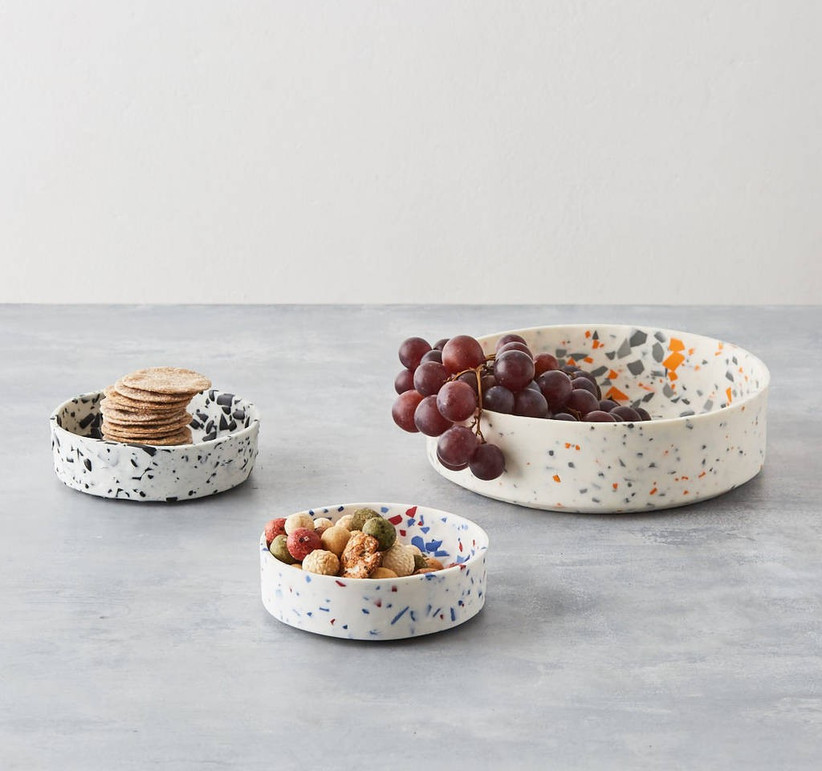 We love this striking and contemporary handmade porcelain bowl. It has a terrazzo style pattern and can be used as a décor piece or to serve food.
This bowl is available in three sizes and there are three colour options. We'll have one of each, please.
17. Porcelain Egg Cup Pillow – £13.75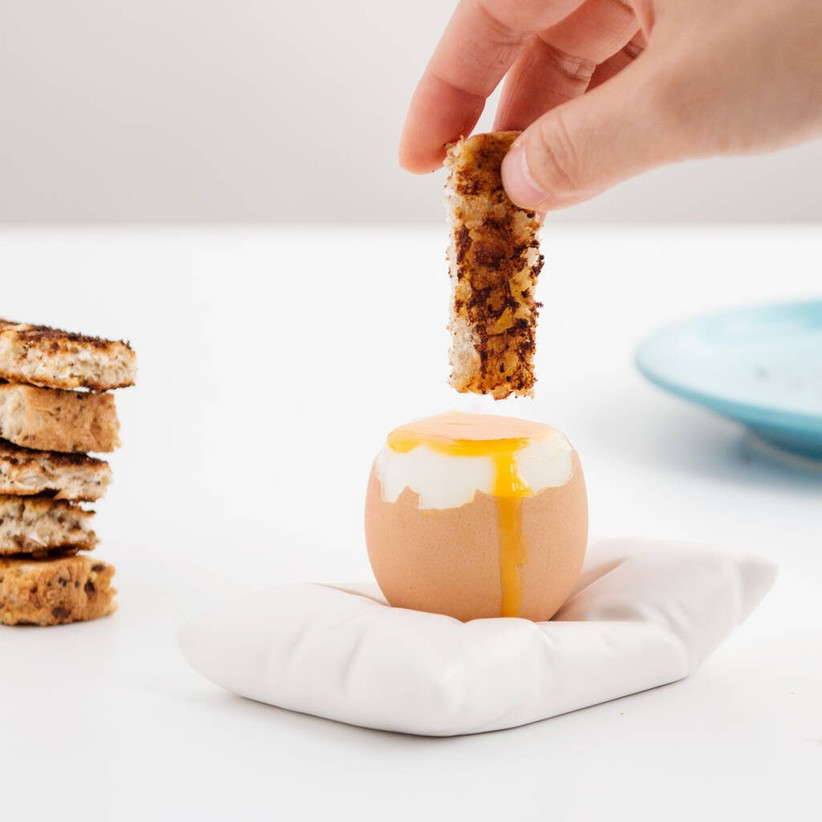 If breakfast in bed is your favourite weekend activity, pay homage to your tradition with this super-cute porcelain egg cup pillow.
Despite the look of this soft and comfy pillow, it's actually made from sturdy stuff so your egg won't move an inch! So cute.
18. Porcelain Dinner Set – £42.89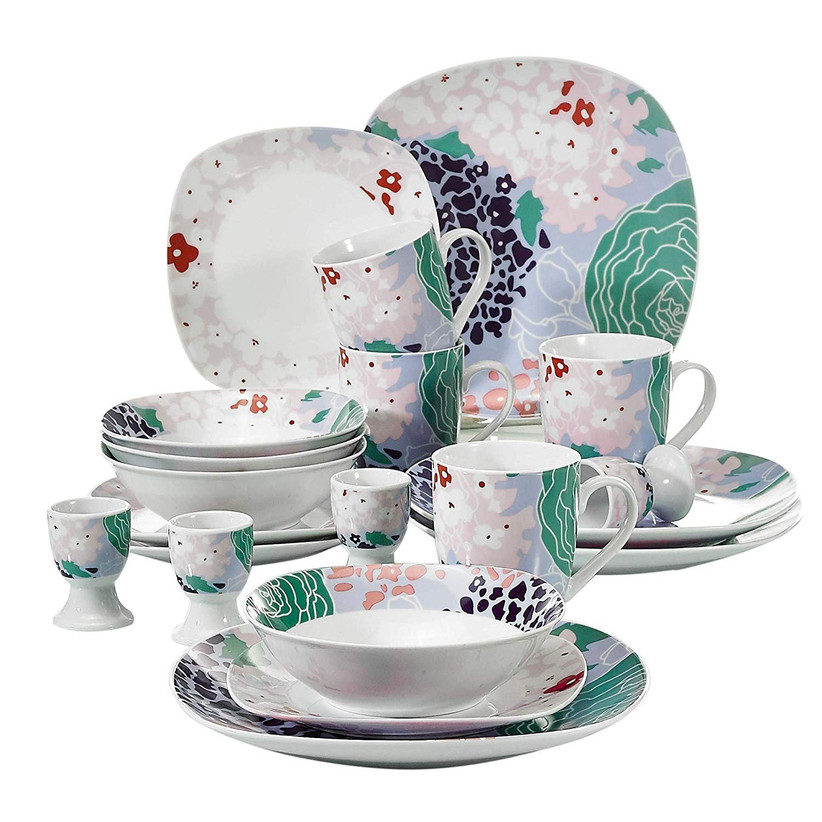 If your kitchen cupboard needs a bit of a refresh, treat your other half to this lovely 20-piece porcelain dinner set for your 18th wedding anniversary.
You'll get plates, egg cups, bowls and mugs – all in a gorgeous, summery design! What a treat.
READ MORE: The Best 20th Wedding Anniversary Gifts
19. Porcelain White Heart Gold Hoop Earrings – £30.50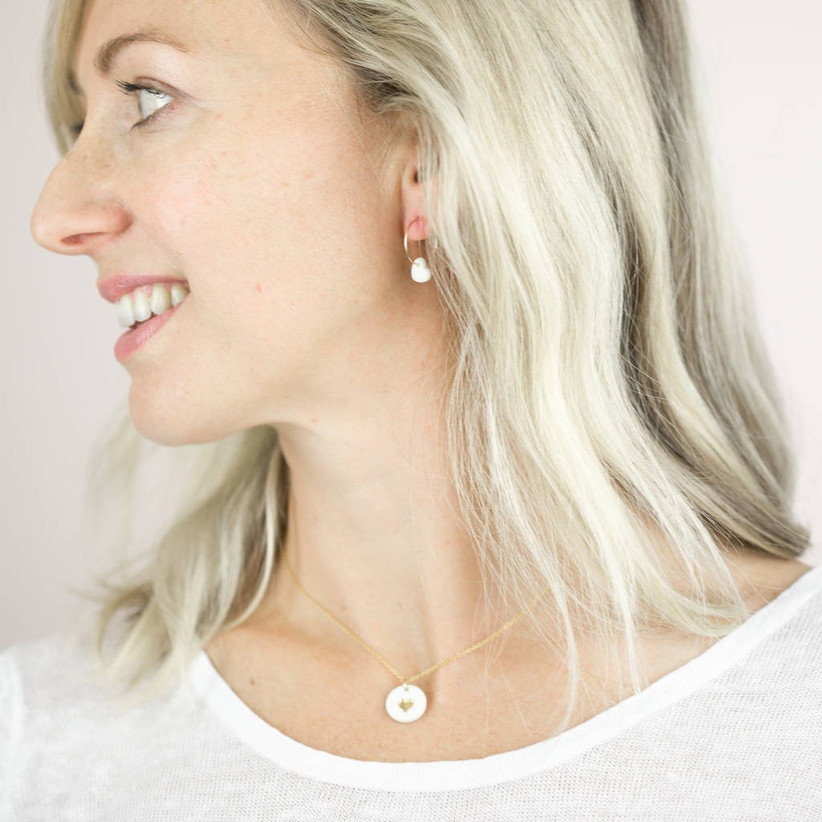 Handmade in Devon, these simple and sweet porcelain heart earrings will be loved by your other half on your 18th wedding anniversary.
They're so dainty and delicate and would look great with any outfit. If you're feeling generous, why not treat her to the matching necklace too?
20. Christmas Love Hearts Pottery Artwork – £48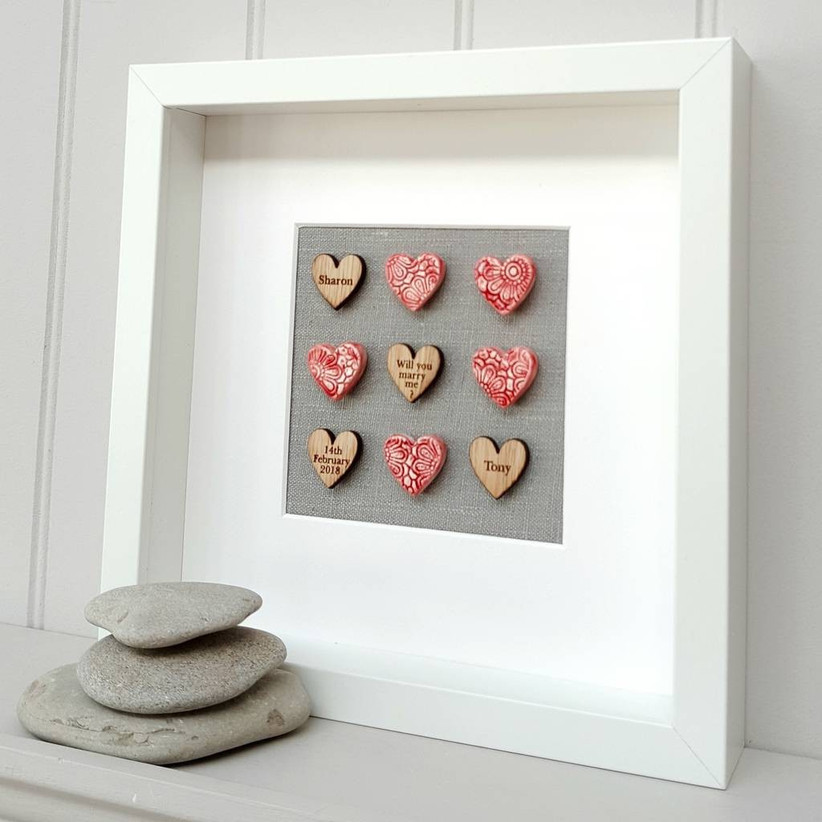 Incoming: another gorgeous idea if your anniversary is close to Christmas!
How lovely is this framed porcelain heart artwork? Each heart is unique with a vintage lace design, except for four hearts which will be engraved with your names, wedding date and a short message. This frame will look lovely standing on a shelf or hanging from a wall in your home.
21. Luxury Porcelain Door Number – £20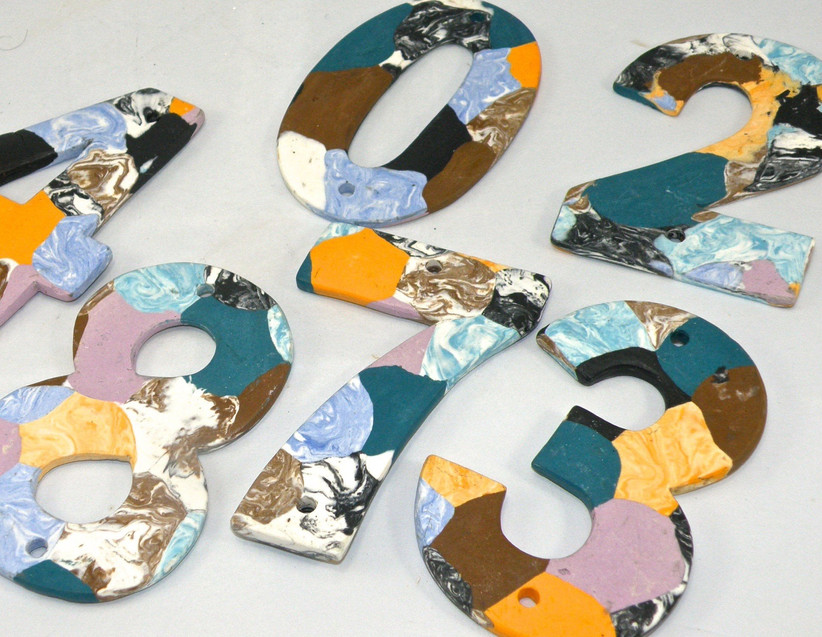 How cool are these luxury porcelain door numbers by Domspottery?
Each number is made bespoke for your home and will look totally unique hanging from your front door. We're obsessed!
READ MORE: Everything You Need to Know About Renewing Your Vows
Now you've chosen your 18th anniversary gift, choose from the best anniversary poems to write in your anniversary card.