18 of the Best Wedding Venues in Edinburgh
From unique spots your guests have never seen before, to traditional fairy-tale castles, these venues prove why Edinburgh is the perfect place to say 'I do'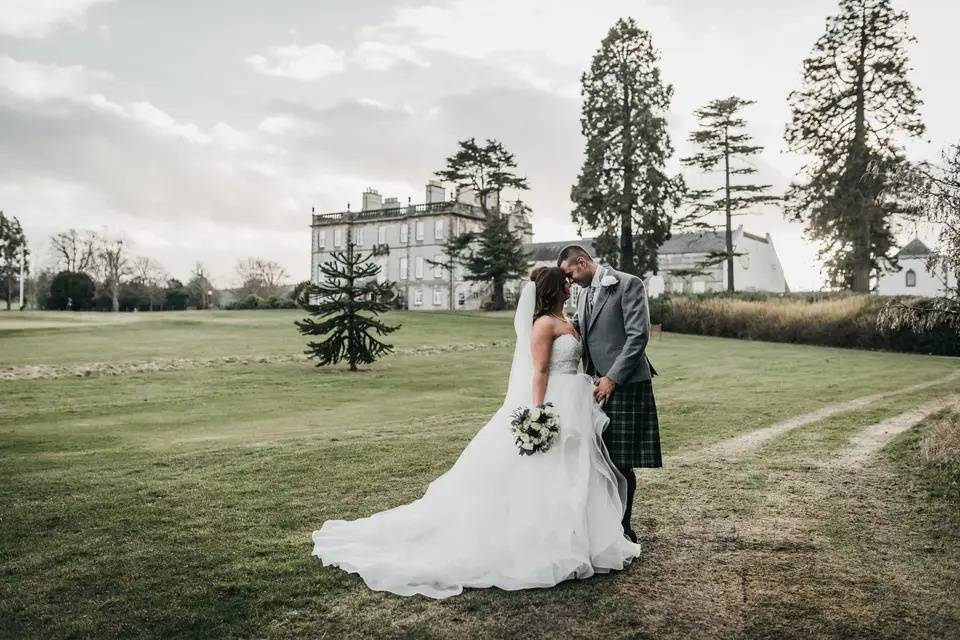 Harry Potter fans and style-lovers alike will be racing to book a wedding venue in Edinburgh after seeing our round-up of swoon-worthy spots.
Luxurious hotels, magical castles and some of the UK's most stunning historic wedding venues make Edinburgh wedding venues some of the most beautiful in the country. Not only is there a wealth of luxury wedding venues and magical castles, you can also find some of the most cool and unique places to get married, too.
18 of the Most Incredible Wedding Venues Edinburgh Has to Offer
This edit of the best wedding venues in Edinburgh includes a super yacht hotel, a grand library, an actual zoo and Edinburgh's answer to the Sistine Chapel - impressive, right? So no matter what your wedding style, we've got something to suit you.
But don't let talks of big boats and luxe venues scare you - there are plenty of budget friendly options too. Many of these Edinburgh wedding venues have deals and packages, offering discounts on your big day and great packages such as children going for free and complimentary anniversary activities.
1. Dundas Castle
What better way to kick off our Edinburgh wedding venues roundup than with a charming castle wedding venue. Dundas Castle gives us all we crave when it comes to traditional Scottish fortresses, from the fairy tale exterior complete with towers and turrets, to the atmospheric Auld Keep with its very own stunning library. If you want to feel like royalty for the day, Dundas Castle is the place for you.
You can marry here in the Auld Keep after ascending the spiral staircase and entering the vaulted hall with ancient stonework and bags of mediaeval charm. If that doesn't take your fancy, you can always opt for an outdoor ceremony with your choice of the serene gardens or elegant courtyard.
Grand castles are only for large weddings right? Not Dundas... This Edinburgh wedding venue offers plenty of options for intimate weddings thanks to its plethora of inviting and cosy spaces. If you're thinking big, the Croquet Room or Pavilion, with space for up to 200, are also available for receptions.
Capacity: Up to 200
Pricing: £POA
Deals: Exclusive winter pricing is available for weddings between January and April, with discounts of between 25% and 35% on offer.
2. The Royal College of Physicians of Edinburgh
Experience an alternative Edinburgh wedding venue within the scholarly interiors of The Royal College of Physicians of Edinburgh. Here lies a mix of Georgian and Victorian rooms which make for an unforgettable, atmospheric wedding setting.
The New Library is a popular choice for most ceremonies with its book-lined walls and balconies, while the impressive Grand Hall has the means and grandeur to host lavish, large-scale weddings.
If you have a micro-wedding on the cards, the Cullen Suite offers the perfect spot for intimate nuptials. You don't need to say 'I do' here to enjoy the historic surroundings. The Royal College is happy to welcome couples marrying elsewhere for a show-stopping wedding reception.
At the end of the night, you can head back to one of the city centre hotels and enjoy a night's stay at preferential rates, exclusive to this historic wedding venue.
Capacity: Up to 170
Pricing: £POA
Deals: There are several wedding packages and deals to be nabbed at this venue, from the Month of Love deal for February 2024 weddings, to the sweet elopement packages.
3. Unusual Venues Edinburgh
Comprising not one but three unique venues, Unusual Venues Edinburgh's The Caves, The Rowantree and Marlin's Wynd is an ideal setting for quirky couples looking for a setting that's a little out of the ordinary.
Nestled in the heart of Edinburgh's Old Town in the depths of South Bridge, these wedding venues are like no other. Think exposed brickwork, stone floors, and arches combined with state-of-the-art lighting - they're everything you could possibly want and more.
Marlin's Wynd is suitable for 20 to 50 day guests and 130 for an evening reception, while The Rowantree can accommodate 30 to 60 during the day and 110 for standing celebrations. Finally, The Caves can hold 65 to 150 day guests and has the capacity for a massive 450 for an evening party. Each space is booked on an exclusive basis and boasts its own unique and fascinating history.
Capacity: Up to 300
Pricing: £POA
Deals: The venue offers late availability prices for remaining dates, perfect for couples who want to tie the knot quickly.
4. Riddle's Court
This 400-year-old former merchant's home has been recently renovated, allowing couples to host city centre weddings within its historic walls. With a history of hosting royal and high society guests for banquets, it's no wonder Riddle's Court lends itself perfectly to fancy wedding celebrations.
You can say 'I do' within its panelled ceremony room before snapping some wedding photographs against the backdrop of this characterful Scottish city. When you return, you can enjoy a feast chosen by the suppliers of your choice before partying the night away with up to 100 guests.
When the DJ stops, you can kick off your dancing shoes and rest your aching feet in the stylishly decorated suite, available exclusively to the happy couple.
Capacity: Up to 80
Pricing: Menus from £45
Deals: You can get a great late availability deal if you're planning to get hitched quickly, as the venue can turn events around in as little as six weeks!
5. Mansfield Traquair
If you're a fan of wildly romantic wedding venues in Edinburgh, look to Mansfield Traquair for a place to celebrate.
This artistic and unique venue is steeped in history and often referred to as Edinburgh's very own Sistine Chapel.
The high ceilings, historic architecture and period art all add to the venue's character, making it an ideal backdrop for a truly unforgettable wedding day.
From saying your vows under the Baldacchino, to dancing for the first time as a married couple in the Nave, the possibilities at this historic venue are endless.
Capacity: Up to 180
Pricing: Menus from £193.75
Deals: Any couple who books before December will receive a 10% discount off of their venue hire price, and this also includes anyone selecting the winter wedding package. Pretty good isn't it?
6. The Signet Library
If the reason you want to get married at an Edinburgh venue is to embrace the hustle and bustle of the city, we highly recommend you consider The Signet Library.
Located just a stone's throw from the Royal Mile (where everything is going on!), you, your partner and up to 180 guests can all celebrate in an iconic library wedding venue.
The Signet Library celebrates Georgian architecture with its period Corinthian columns, classical cupola and grand imperial staircase, offering so many different backdrops for your wedding pictures.
The high ceilings, grand décor and range of characterful rooms make this a truly unique wedding venue in Edinburgh and one of our favourites.
Capacity: Up to 180
Pricing: Menus from £123
7. Fingal
If you thought a library wedding venue was unique, wait until you hear about Fingal, a luxurious boat wedding venue which truly is unlike any other.
Fingal is a floating hotel with grand interiors and all the luxurious amenities you could want from a wedding venue. Inside the magnificent vessel, you will find 21 luxurious cabins for guests to stay in, including the exclusive Skerryvore Suite for the wedding couple, and décor that combines the elevated style of a super yacht, with the glamour of old-world elegance.
As well as hosting larger weddings up to 60 guests, the boat also accommodates for really intimate weddings of up to 12 in The Bridge, the former command centre of Fingal, which can also be used as a getting ready space for you and your wedding party.
Who knew a boat could come with so many options?
Capacity: Up to 60
Pricing: £POA
8. Mansion House at Edinburgh Zoo
Another super unique wedding venue in Edinburgh is the Mansion House at Edinburgh Zoo. Animal lovers can tie the knot in a gorgeous historic house with a number of grand ceremony rooms, and then take off and explore the species that the zoo houses.
We love the fact that wedding guest entertainment is pretty much taken care of when you get married here, as guests will have hours upon hours of things to do around the zoo while you're off getting your pictures taken, and it won't cost you anything extra!
Capacity: Up to 140
Pricing: Menus from £147
Deals: If having children at your wedding is a priority, you'll be delighted to know that children go free at 2024 weddings booked before the end of this year. The venue is also offering a free animal experience for couples who book before the end of the year, which is valid for up to one year after your wedding. Hello anniversary day out!
9. DoubleTree by Hilton Edinburgh City Centre
Imagine saying 'I do' directly in front of one of the best views of Edinburgh Castle that the city has to offer. At DoubleTree by Hilton Edinburgh City Centre, you can do exactly that in their magnificent Penthouse.
The modern space features floor-to-ceiling windows that perfectly frame the famous castle behind you and flood the neutral space with plenty of natural light. You can line the aisle with flowers, adorn the altar with foliage or simply let the view speak for itself – your guests will be wowed whatever venue décor you choose.
Following your ceremony, you can enjoy drinks on the rooftop terrace – available exclusively for you and your guests – before heading back into a transformed Penthouse for an unforgettable wedding reception.
Capacity: Up to 150
Pricing: Menus from £15
Deals: There are a staggering five deals on offer for Edinburgh wedding couples, including an intimate wedding package and off-peak deal, as well as winter and mid-week discounts.
10. Waldorf Astoria Edinburgh - The Caledonian
As a former Victorian railway station, Waldorf Astoria Edinburgh – The Caledonian is packed with character and charm. Its Permian sandstone façade makes it one of the most iconic buildings in the West End and an unbeatable backdrop for wedding snaps.
This venue boasts three licensed spaces: The Boardroom with space for up to 85 guests, The Versailles Suite with a capacity of 35, and The Pompadour Room, which accommodates 140 guests. Following the ceremony, you can enjoy drinks in the Castle Lounge, named after its spectacular Edinburgh castle views, before making your way into your reception in the Castle Suite.
Weddings here aren't all about the day itself. One of our favourite features of this venue is that it's home to the only Guerlain Spa in the UK - the perfect place for pre or post wedding pampering - did someone say spa hen party?
Capacity: Up to 180
Pricing: £POA
Deals: Bag an amazing summer weddings offer here, as this Edinburgh venue is offering couples who book a weekend summer date triple Hilton Honors Points and a free first wedding anniversary afternoon tea in Peacock Alley. How sweet!
11. The Old Dr Bells Baths
If quirky and unusual are keywords on your wedding venue must-haves list, then The Old Dr Bells Baths is well worth a look. This former Victorian bathhouse is located in Leith, just outside of Edinburgh, and features a gorgeous vaulted space flooded with natural light.
You can say 'I do' in the all-white space before allowing the expert team to transform it into an Instagram-worthy wedding reception. When you book here, you'll get the services of a dedicated wedding designer and manager who will be able to get the most out of the quirky space and bring your wedding vision to life.
You can book a package here, although it will be totally tailored to you. Their packages are designed to take the stress out of planning your wedding, but if you fancy going DIY, there's a dry-hire option too.
Capacity: Up to 150
Pricing: Menus from £22.50
Deals: This Edinburgh venue is offering couples a £5,000 winter wedding package valid from November to April, as well as an exclusive Friday wedding deal, enabling couples to host their weddings here on any Friday between now and August 2024 for just £3,000.
12. Carlowrie Castle
Dreaming of saying 'I do' in the great outdoors? You can do just that at Carlowrie Castle. This tranquil oasis, just 20 minutes from Edinburgh's centre, offers you the chance to get hitched within 32 acres of beautifully manicured grounds.
The wedding marquee is truly gorgeous with its exquisite marble bar, crystal chandeliers, and generous interiors fit for 450, making it a large capacity wedding venue not to be missed out on. Boasting clear views of Carlowrie Castle's impressive lawns, this is a wonderful space for a lavish event all year round.
Capacity: Up to 450
Pricing: £POA
13. Carberry Tower
Become Lord or Lady of the manor for the day at Carberry Tower, one of the great mansion houses of Scotland. Established over 500 years ago, the estate stretches across 35 acres of private land and is located less than half an hour from Edinburgh's city centre.
You can marry in the private chapel with up to 150 guests in attendance. The chapel's floor-to-ceiling windows ensure that you and your guests can continue to take in the stunning gardens and grounds even while indoors.
The Champagne Terrace (a gift from the late Queen Mother, no less) is the perfect spot for post-ceremony drinks, while The Banqueting Pavilion is an unforgettable setting for a lavish wedding feast.
Capacity: Up to 150
Pricing: Menus from £99
Deals: Couples who book a winter wedding between January and April at Carberry Tower will receive an exclusive discount of 10%.
14. Dalmahoy Hotel and Country Club
Located within the most enchanting grounds, Dalmahoy Hotel and Country Club is a historic wedding venue set on parkland that stretches over one thousand acres. You will have no shortage of ceremony choices for your Scottish weekend wedding between the 19th-century church and the botanical gardens.
Just a 30-minute drive from Edinburgh, this plush haven features an array of nature trails, immersive woodland, and elite golf courses. Not to mention the 18th-century baronial manor house accommodations that will leave you feeling like royalty on your wedding night.
Alongside a stellar winter wedding package, the Dalmahoy Hotel and Country Club features four function suites for parties of between 20 and 250, allowing you to host every stage of your wedding in one picturesque, private location.
Capacity: Up to 250
Pricing: £POA
15. Season Quayside
Foodies rejoice! Season Quayside is a charming wedding venue boasting traditional Scottish charm with an upscale, edgy atmosphere. Set in Leith, Edinburgh's coolest neighbourhood, this private-hire restaurant offers cosy interiors and fine cuisine for charming and intimate weddings.
Only moments from the bustling Scottish capital, Season Quayside is the brainchild of Chef Aaron Hartman, making it a stellar venue choice for foodie couples. With their sister business, Season Catering, making waves in Scotland for over 12 years, you just know your wedding dinner will be a feast for the senses.
What's more, an onsite event team are available to transform your setting in any way you like, accommodating smaller ceremonies, intimate receptions, and even pre-wedding events. Overlooking the quay and a cobbled stone pathway, this is the perfect place to soak in Edinburgh's unique atmosphere at your own pace.
Capacity: Up to 100
Pricing: Menus from £25
16. Dalhousie Castle
Scotland truly is the castle country, with some of its most impressive relics dating back to the 13th century. Dalhousie Castle is one such structure, boasting over 800 years of incredible history. Set within eleven acres of private parkland, just eight miles from Edinburgh's bustling centre, this wedding venue is the perfect place to host your iconic celebration.
Wooded valleys and garden walks aside, Dalhousie Castle features award-winning cuisine, an Aqueous Spa, and onsite falconry. It's a wedding setting that ticks every box for even the most hard-to-please guests while giving them a taste of Scotland's age-old charm.
The wedding venue is available for exclusive hire while also providing an idyllic honeymoon destination. For the nuptials, you have a choice of indoor and outdoor ceremony settings, including a private chapel. There's even a dungeon restaurant available for intimate rehearsal dinners deep within the castle vaults. Epic right?
Capacity: Up to 100
Pricing: £POA
17. Dynamic Earth
If you prefer a more modern look, Dynamic Earth is an ultra-sleek, undeniably stylish wedding venue that is sure to delight. A winner for science enthusiasts and trendy nearlyweds alike, this contemporary setting offers heritage and style in abundance.
Dynamic Earth boasts an impressive selection of ceremony and reception sites, including the all-inclusive, super flexible Biosphere. The wedding venue is fully licensed for civil, religious, and humanist wedding ceremonies as well as civil partnerships. Plus, you have the option to combine your big day with the Earthscape Galleries for a truly unique experience.
The Ozone is our top pick for an authentic Edinburgh wedding - its floor-to-ceiling glass walls offer stunning views of the Palace of Holyrood House, the Scottish Parliament, and Scotland's Salisbury Crags.
Capacity: Up to 150
Pricing: Menus from £90
18. Village Hotel Club Edinburgh
Originally opened in 2015, Village Hotel Club Edinburgh is a sleek and modern city centre venue with a capacity for up to 200 guests. Licensed for civil ceremonies in its light-filled suite, you can say 'I do' and celebrate your nuptials all under one roof.
After your ceremony, take advantage of the hotel's fantastic location and walk just five minutes to the city's beautiful Botanic Gardens where you can snap those all-important wedding photographs. Upon your return, you'll be greeted with drinks and a menu of your choice.
Why not unwind in style following the celebrations and take advantage of the ESPA spa and leisure facilities? With 120 bedrooms on-site, you can invite as many guests as you like to join you for the weekend!
Capacity: Up to 250
Pricing: £POA
Deals: Enjoy a number of deals here, with packages for winter wonderland weddings and big celebrations, there's a real bargain to be had here.
Think you've found the perfect wedding venue in Edinburgh for you? Make sure you check out the super important questions to ask your wedding venue.