If ever there's a time to rock some sharp tailoring, it's your wedding day. We've rounded up the groom suit ideas that'll get you looking your best on the big day.
When it comes to wedding suits, you want something that feels more special than office-style tailoring. Other than that, it all comes down to choosing a look that makes you feel confident and comfortable. Maybe you're into laidback chic; maybe a James-Bond-hits-the-casino situation appeals to you; maybe your aesthetic lies somewhere in between. Whatever your style, there's a groom look here for you.
When we say 'it all comes down to'... that's perhaps a slight exaggeration; you'll need to take the style of your wedding into account, too. You probably won't feel entirely comfortable at your super-smart country house wedding in a rustic suit, or turning up to your laidback festival celebration in black tie.
Get ready for some serious groom style inspiration, as we bring you the suit ideas we love for 2021.
READ MORE
1. Black Tie
What makes black tie such a strong choice for a wedding? It's both formal and glamorous. That's why so many A-listers go for this look for the red carpet - that and the James Bond association. Classic black tie is a black wool dinner jacket (known as a tuxedo in the US), white dress shirt, tapered trousers and a black bow tie. Unless you're set on going totally traditional, you can play with these elements to keep the overall effect fresh and contemporary. The groom at this real wedding, for example, has chosen a dinner jacket in velvet, while keeping everything else classic.
You can also show your personality through your choice of accessories - we love this groom's monochrome shoes. Other potential accessories include a cummerbund (a sort of sash for men, which is a lot more chic than it sounds) or a waistcoat.
The finer details can make a difference to the overall look - think about whether you want to wear cufflinks and a watch, and whether you want a flash of colour from a pocket square - or from your buttonhole, like the grooms at this stunning chateau wedding.
Of course, you can always mix it up and choose a dinner jacket in a colour other than black. White is popular for men's formalwear in America, although it's more unusual in the UK, or you can make it even more interesting with pink, blue, orange - whatever makes you feel good!
READ MORE: Groom Speech Jokes: 36 Jokes That Will Have your Guests in Stitches
2. Pale Grey Wedding Suit
We're used to seeing grooms in dark grey at weddings, but the paler version is also a stylish option. The Charles Tyrwhitt Sharkskin Travel Suit in Silver is the brilliant option - at £299.95, it looks wildly more expensive and comes in a naturally crease-resistant Merino wool which makes it ideal for destination weddings. Pale blue works perfectly with it in ties, pocket squares and button holes.
For an ultra-slick feel, team your pale grey wedding suit with a black tie or bow tie.
Of course, if you're keen to contrast with your wedding party, you could put your groomsmen in pale grey and choose a groom's suit in a stand-out colour, like the groom at this beautiful destination wedding in Jamaica. The matching pink ties keep the overall look cohesive.
3. Checked Wedding Suit
We've seen a lot of windowpane checks at rustic weddings, for a groom's look that's country-appropriate but still smart.
A muted green works particularly well for a rustic look. The groom at this magical winter wedding added a pocket chain to his suit as a dashing finishing touch.
To take the look in a more formal direction, opt for a smaller check, such as tweed.
READ MORE: 21 of the Best Rustic Farm Wedding Venues in the UK
4. Morning Suit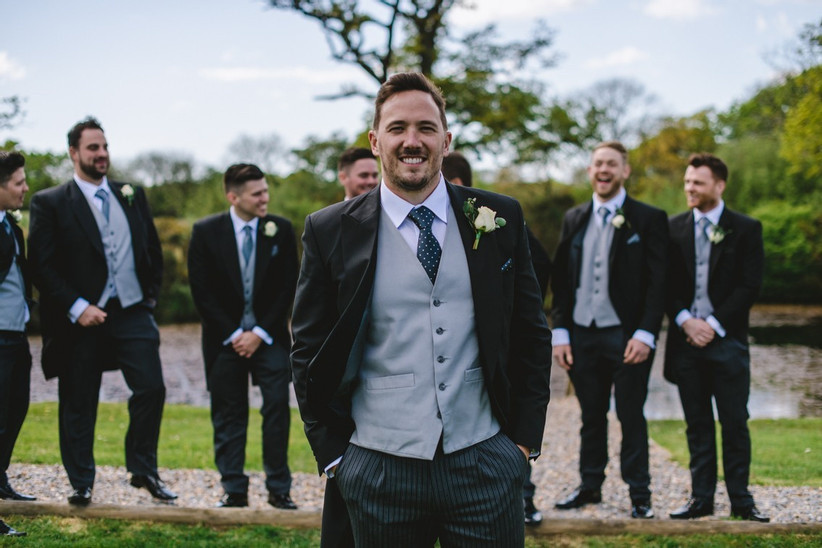 Want to go totally traditional? It has to be morning suit, like the groom at this Welsh wedding. Unlike evening tails, a morning suit is always single-breasted and has one button.
While many choose a waistcoat in a light grey or blue, this combination of black lightweight wool tailcoat with a buff, double-breasted linen waistcoat and striped trousers by Charles Tyrwhitt is a timeless and more statement choice.
Their suit experts recommend a snug fit across the shoulders and tails that fall to the back of your knees for the 'correct' look. If you're ever in doubt, always talk to an expert as there's nothing worse than an ill-fitting suit in all your wedding photos.
Of course, striped trousers are traditional but not compulsory. We love how the tailcoat looks with this checked pair.
5. Pared-Back Jacket and Tie
Strictly speaking, it's not a suit per se, but we're seeing more and more grooms opting for a jacket and tie with contrasting trousers - and it's a look we're very much behind. The couple at this chic elopement were planning to have their main wedding in Thailand a few months after this intimate UK ceremony, so the groom's look was perfect for a laidback yet still special celebration.
READ MORE: Eloping: What Is Eloping and How Do You Elope in the UK?
It's a groom's look that can also work well at a beach wedding, if you choose your colours wisely. Make sure you choose a lightweight fabric, so you don't spend the whole day quietly melting.
You absolutely don't need to be having a destination wedding to pull this pared-back look off. We love the colour contrast on these smart-casual separates, like the tan cotton jacket, that are perfect for an intimate wedding.
Make sure your suit is working with the energy of your wedding: if your partner is going for a boho or rustic look then a formal suit won't pair as well. Sharp separates like these, especially with a tie, could be your best choice.
6. Cream Linen Wedding Suit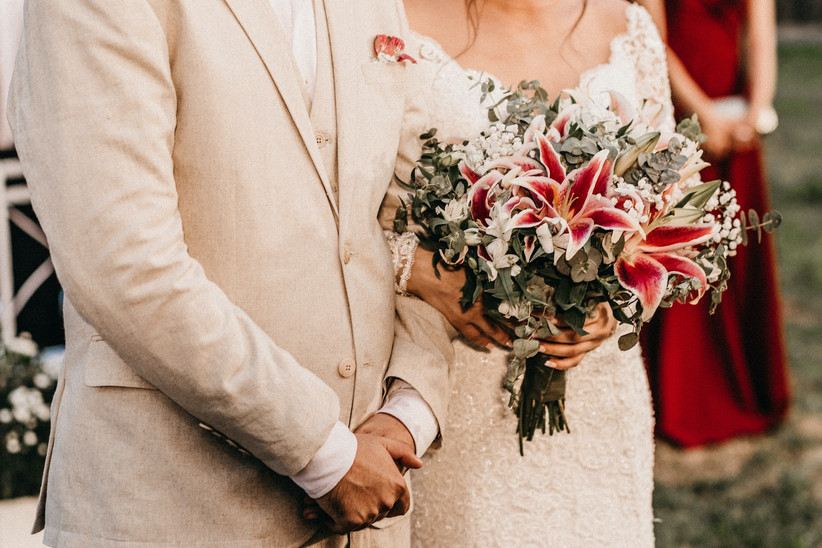 Speaking of lightweight fabrics: linen is popular for outdoor weddings in a hot climate - for good reason. It's a light fabric that'll keep you cool until you can take off the jacket as the festivities get under way. We suggest cream or ivory rather than white, to avoid a Man From Del Monte situation.
Linen creases with wear - lean into it. Slight crumples will suit a beachy, laidback groom's look.
READ MORE: 32 Best Destination Wedding Locations in the World for 2021
7. Blue Wedding Suit
Some grooms-to-be worry that blue isn't 'special' enough for a wedding suit. We beg to differ - blue can be very slick indeed on your wedding day. However, there are some elements to bear in mind if you're going blue. Firstly, you want to avoid veering off into a workwear look. The groom at this real wedding avoided that trap by pairing his suit with a pale blue tie.
A blue suit can also work well at a laidback wedding. As a general rule, the lighter the shade, the more relaxed the look.
READ MORE: Seasonal Groomswear: Styling Tips for Each Season
If you're after an even more summery look, a striped cotton blazer like this one from Charles Tyrwhitt is perfect. It's comfortable, relaxed and ideal for warmer weather, and yet just as sharp and elegant as a block colour suit. This has a gorgeous rowing blazer vibe that works so well for a country garden wedding.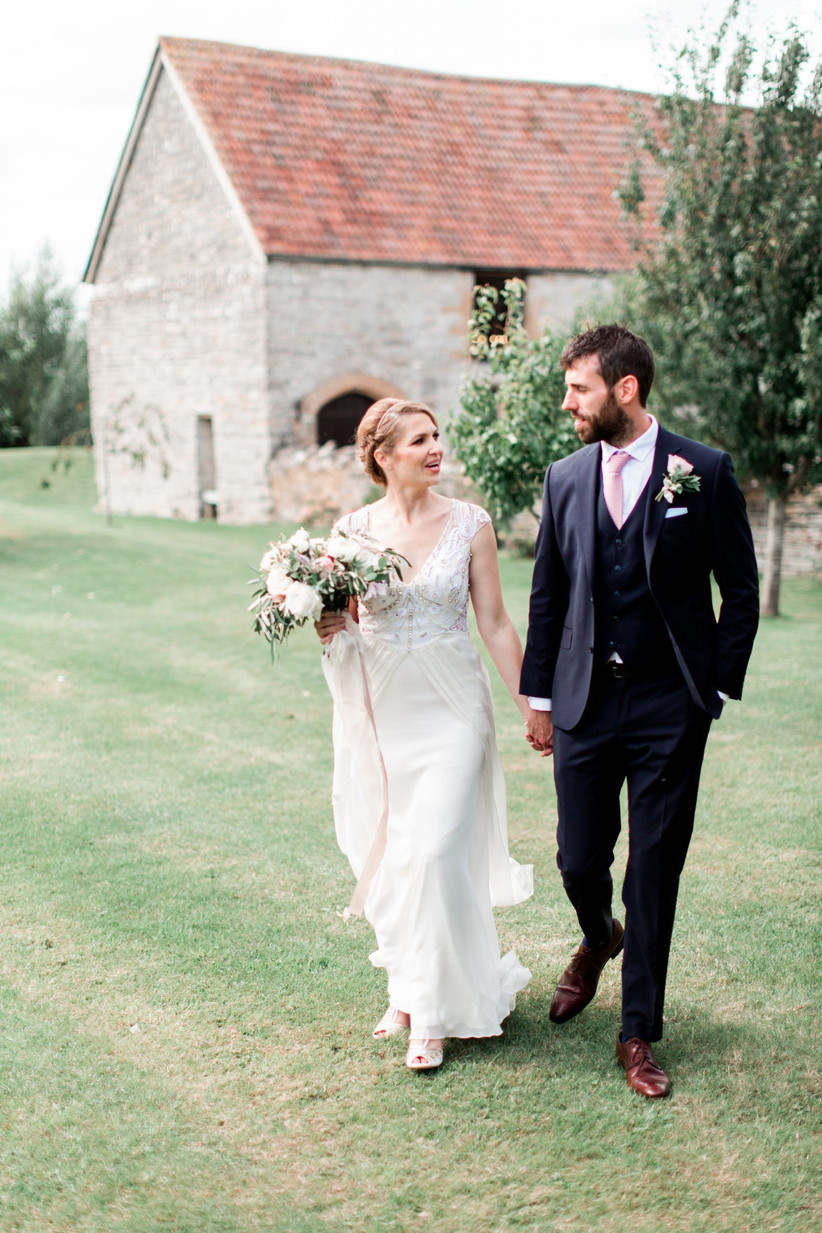 It follows, then, that navy works best at a more formal wedding, but you can soften the look, as the groom did at this real wedding, through your accessories - in this case, a pale pink tie and slick brown shoes did the job.
Discover lots more groom suit options from Charles Tyrwhitt. As well as sorting your suit, you'll need to thank your best man and ushers. Luckily, our groomsmen gift guide has you covered!