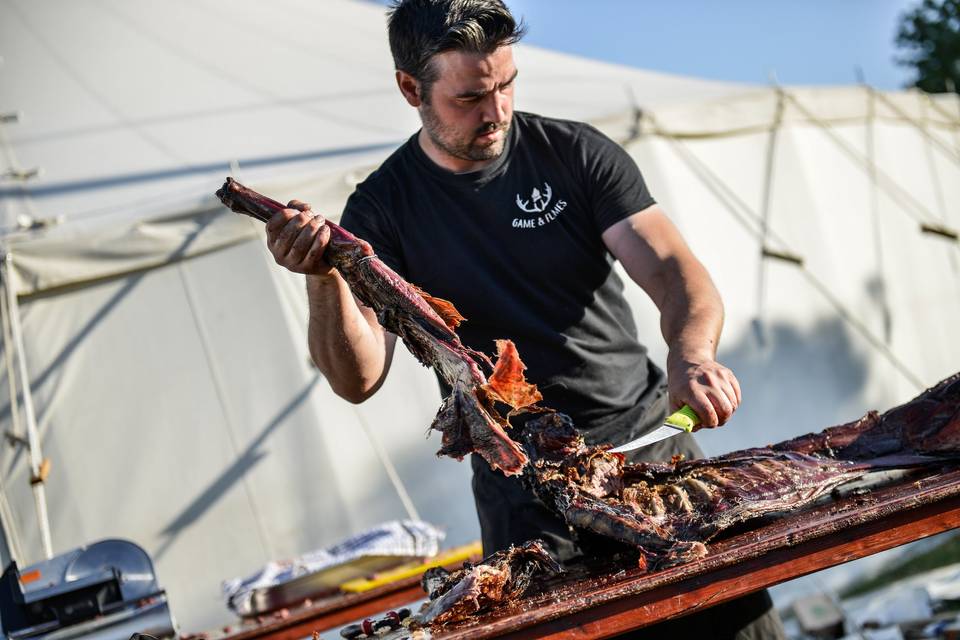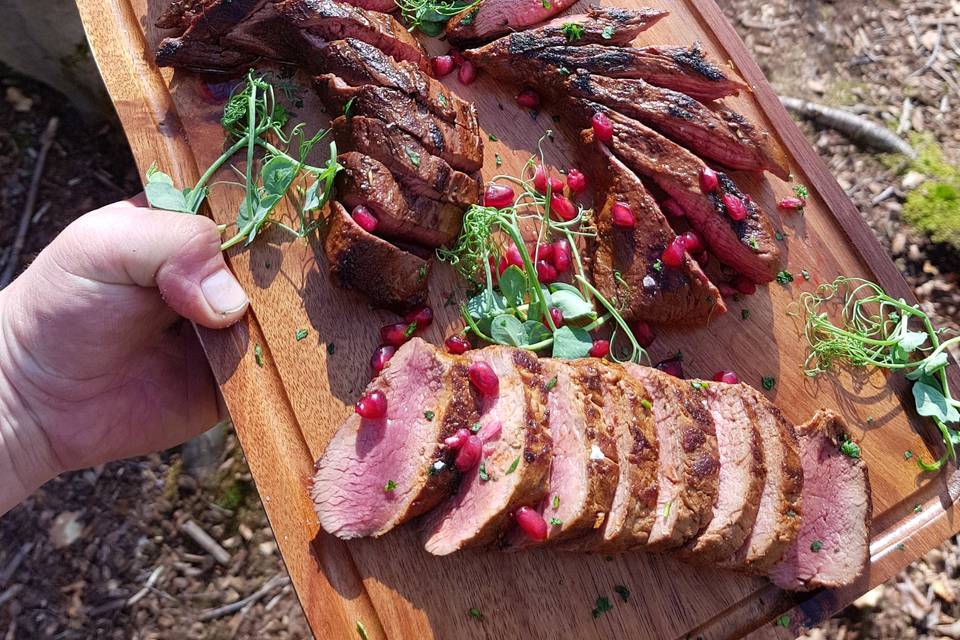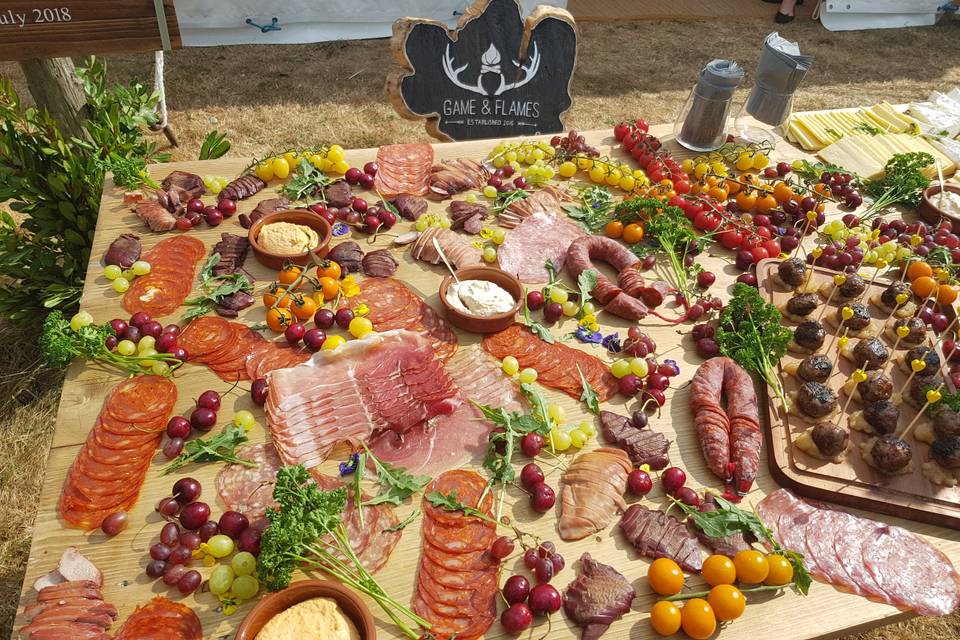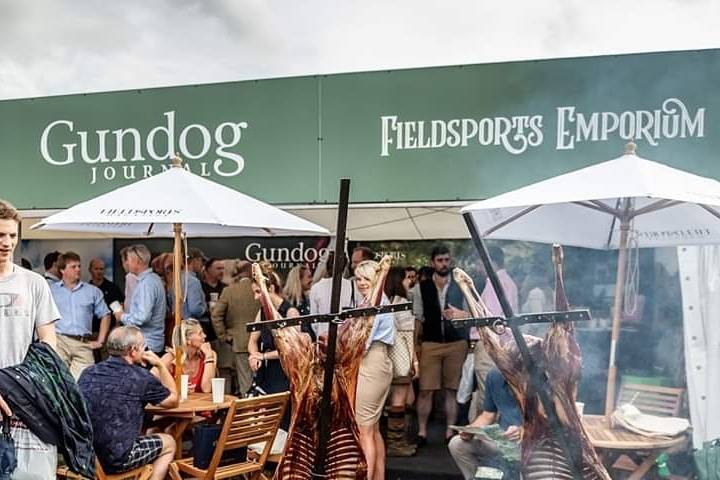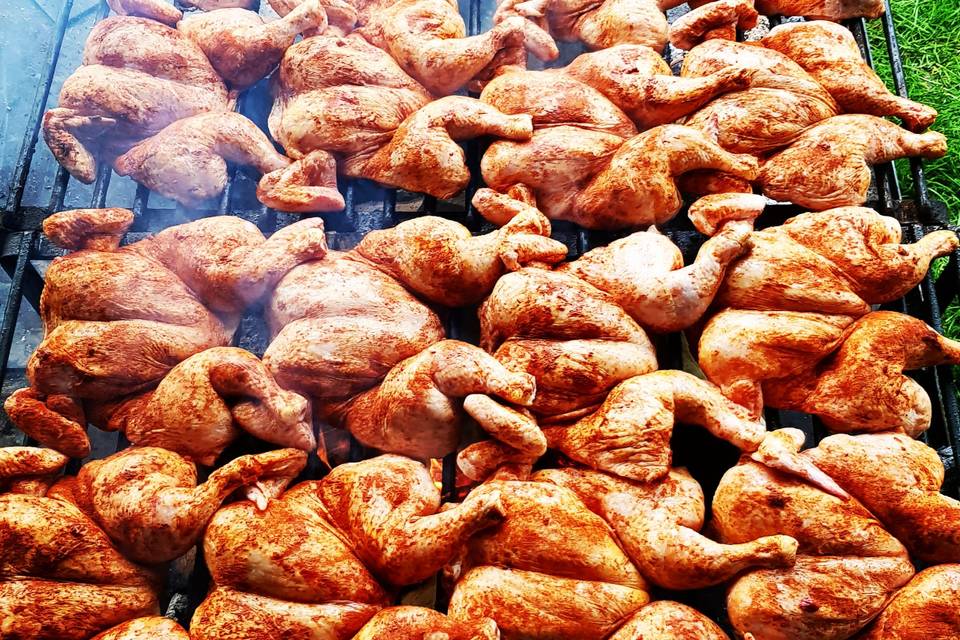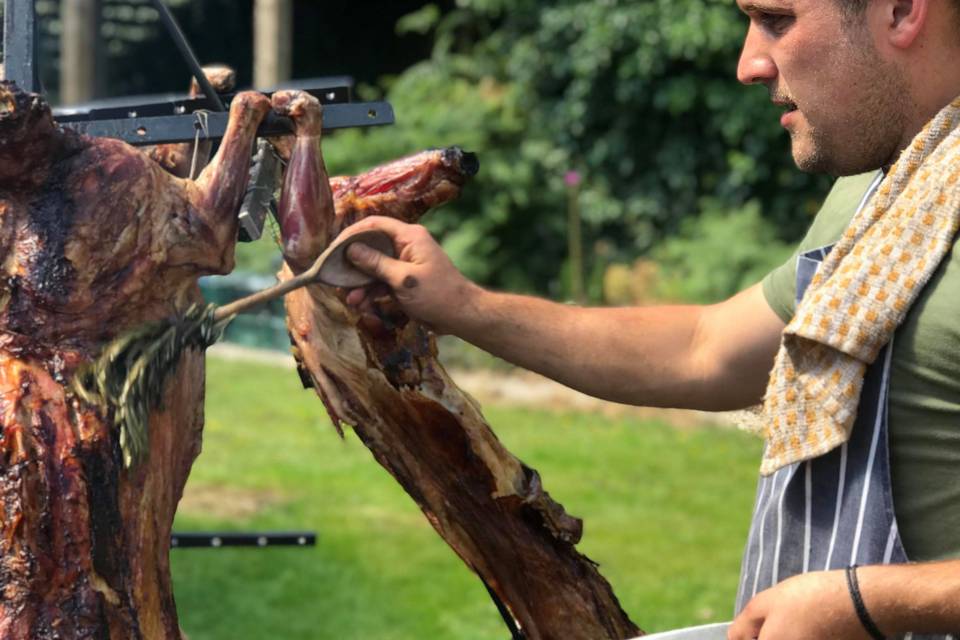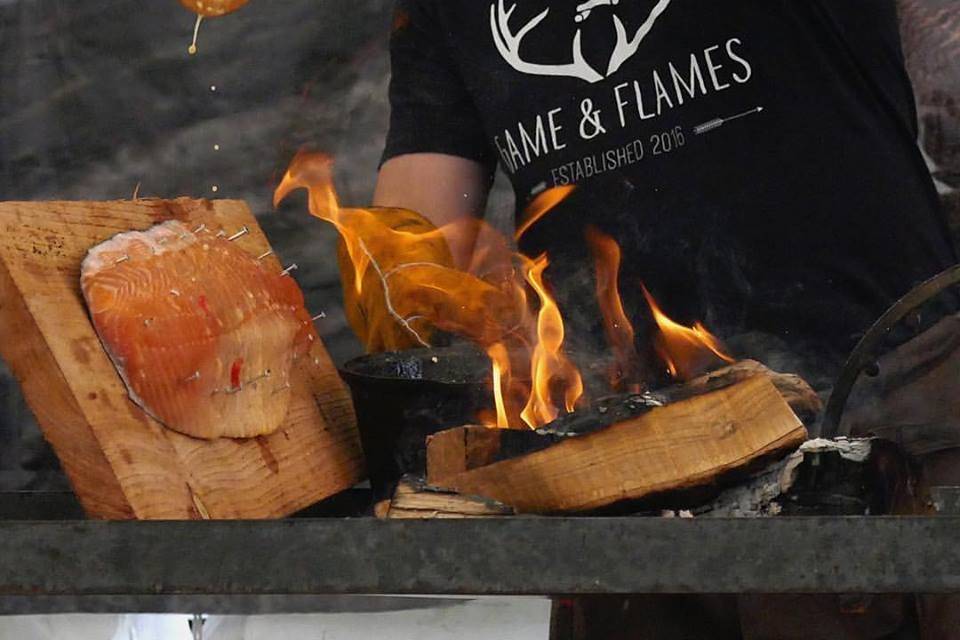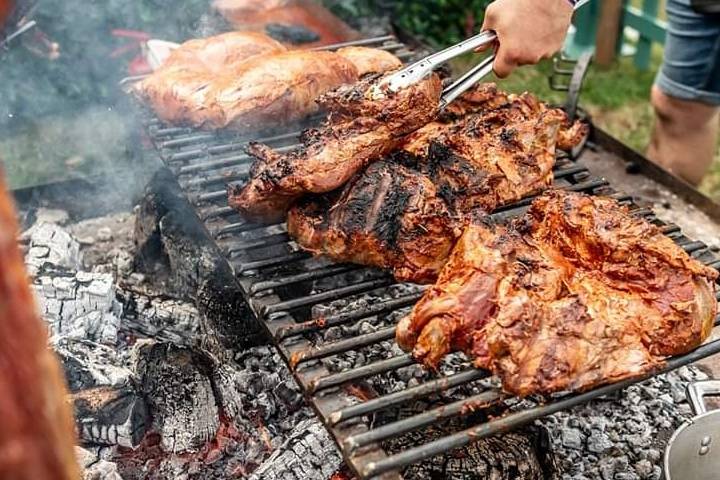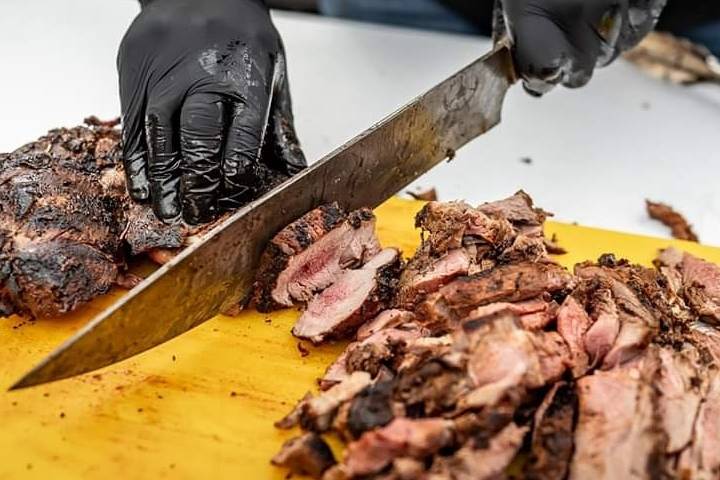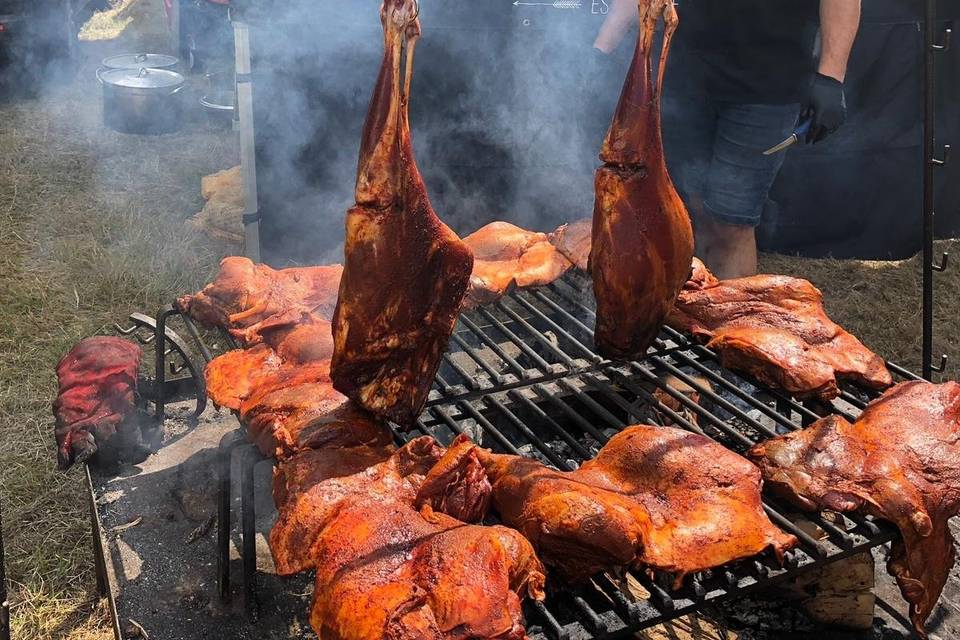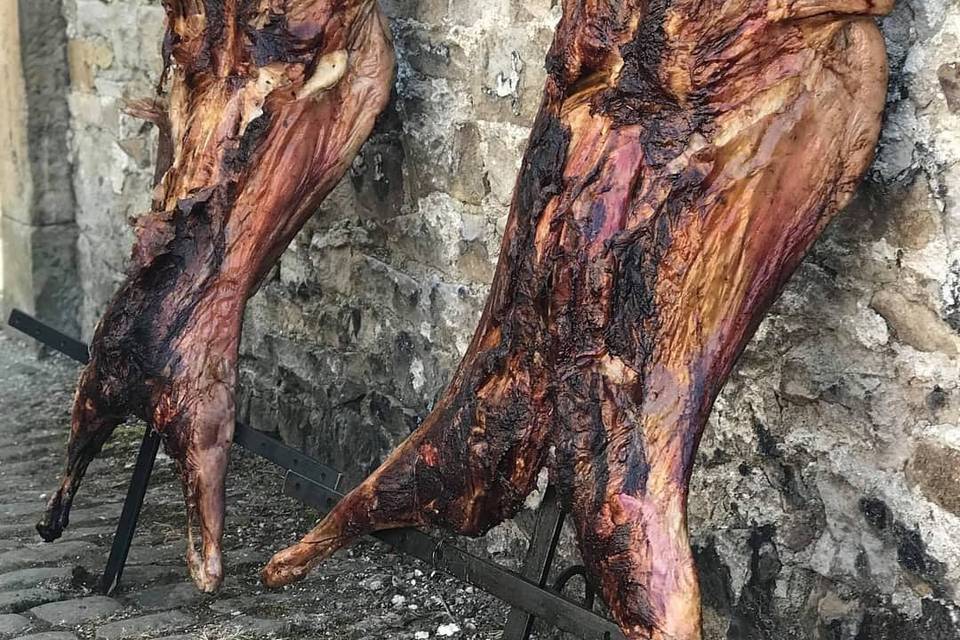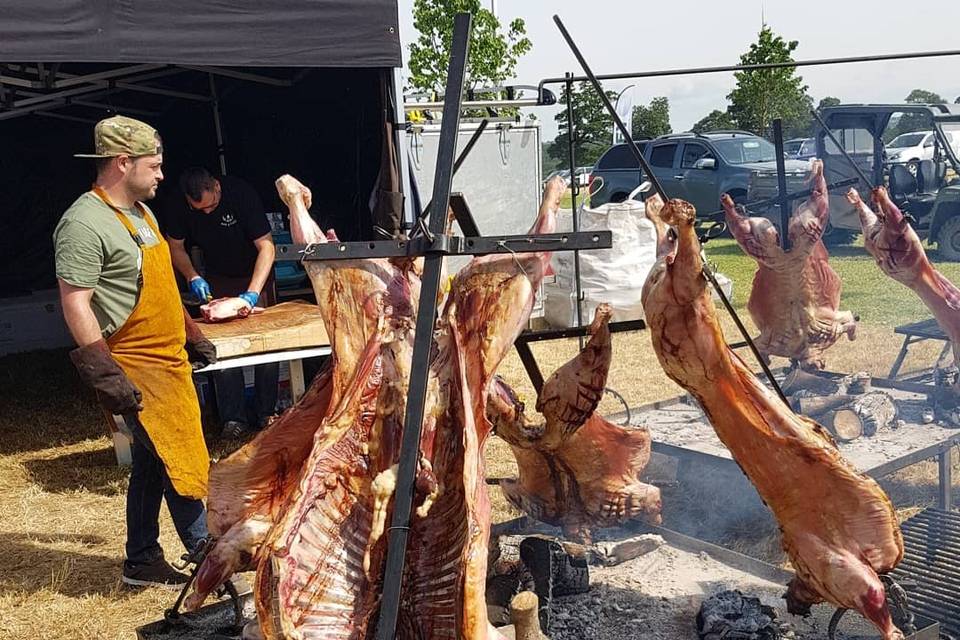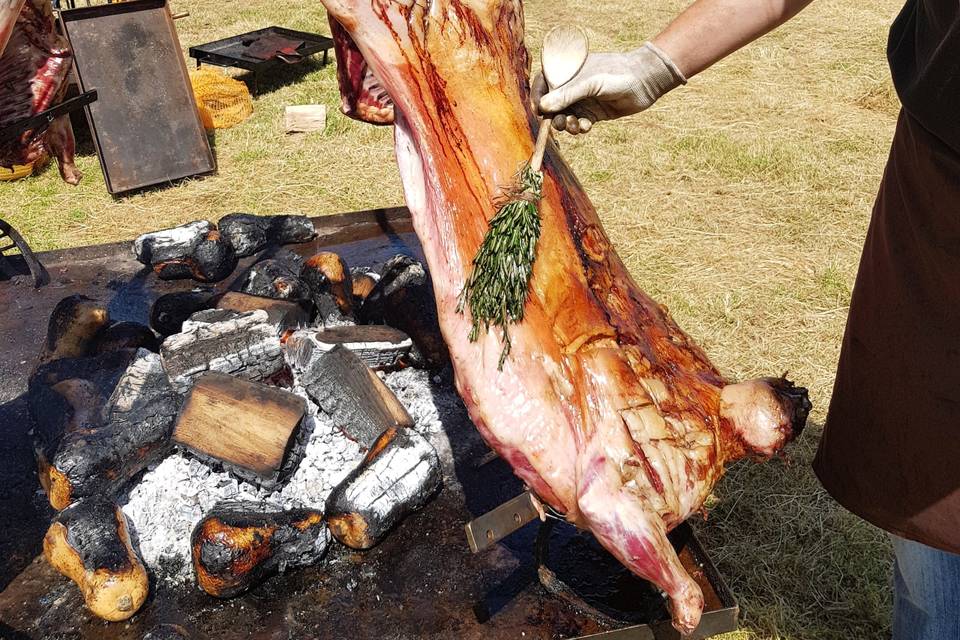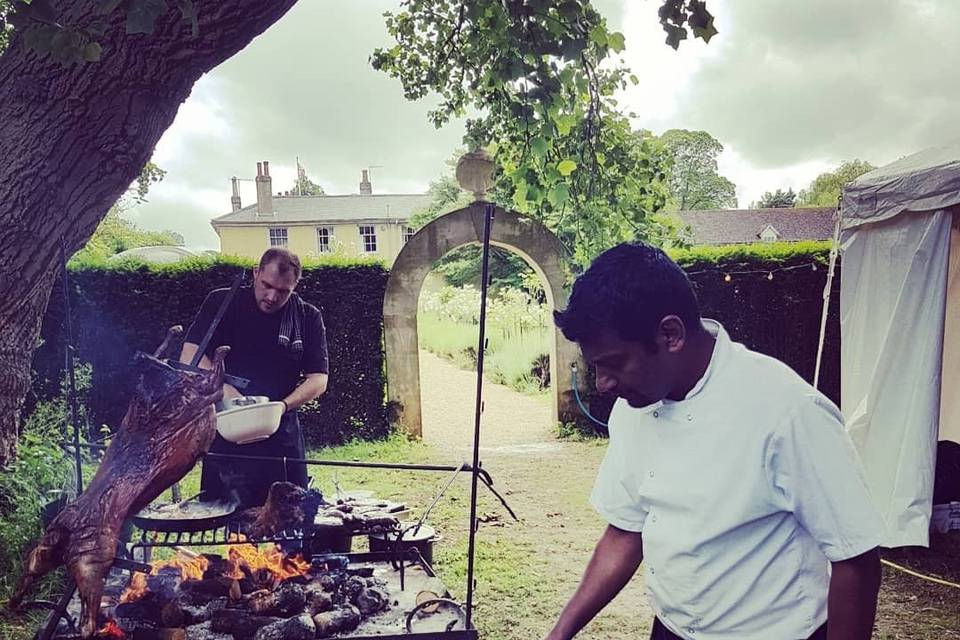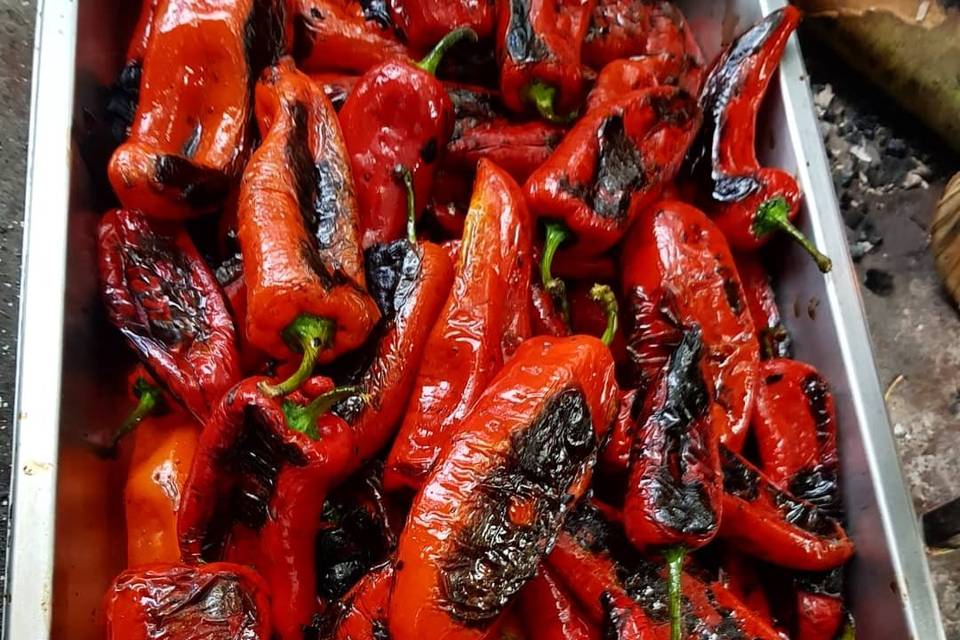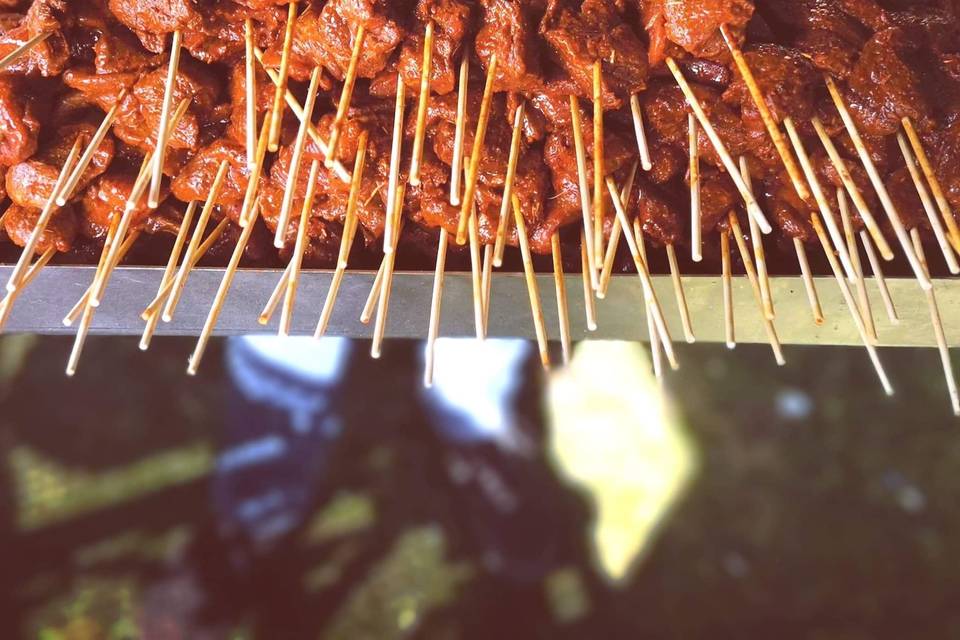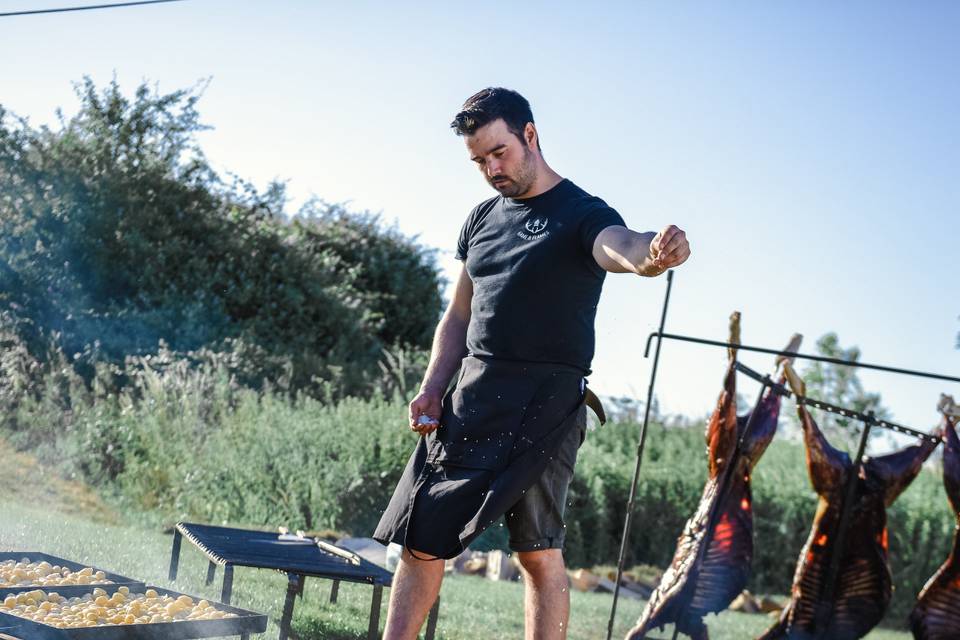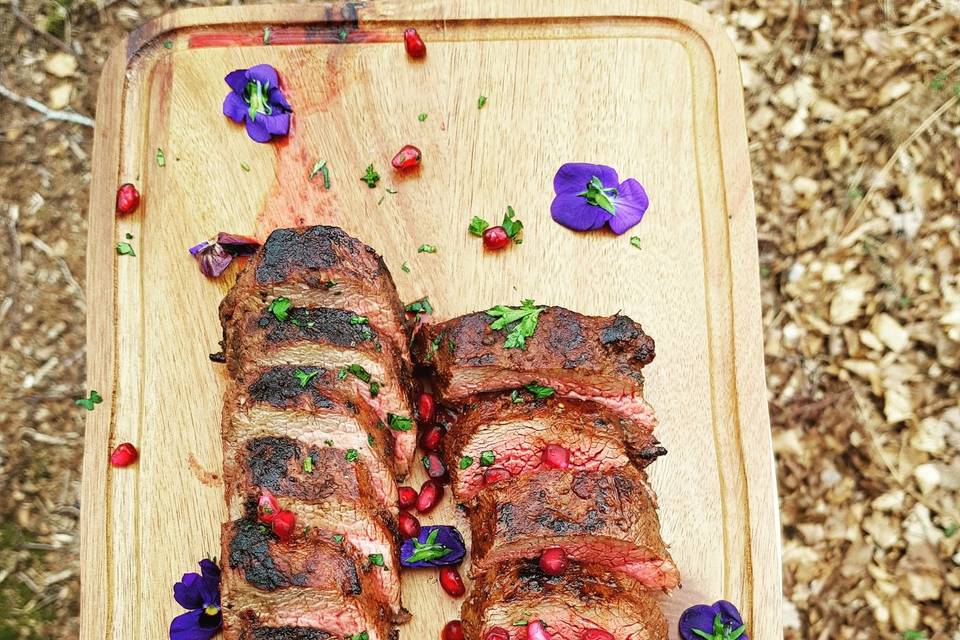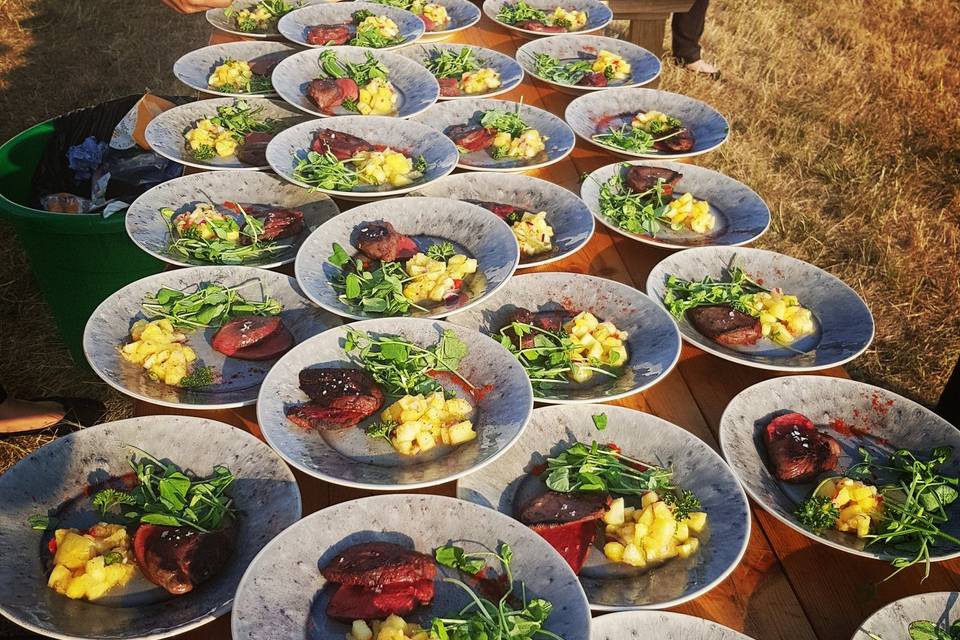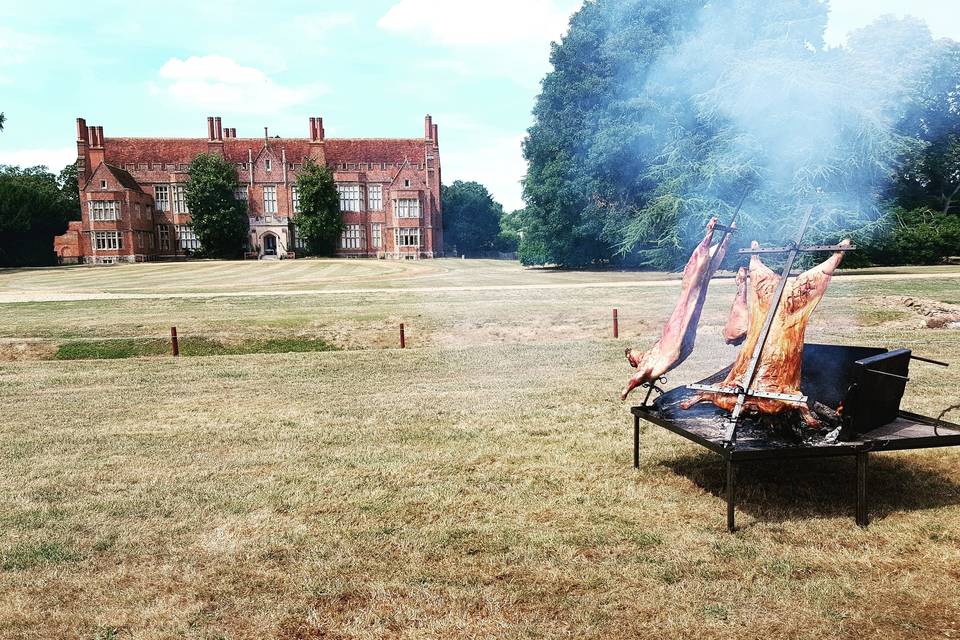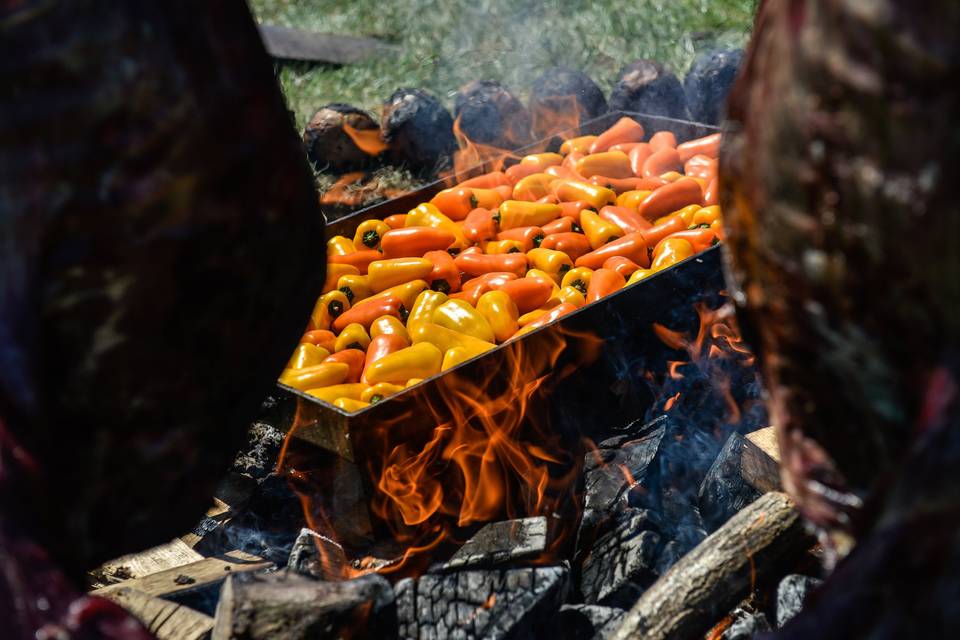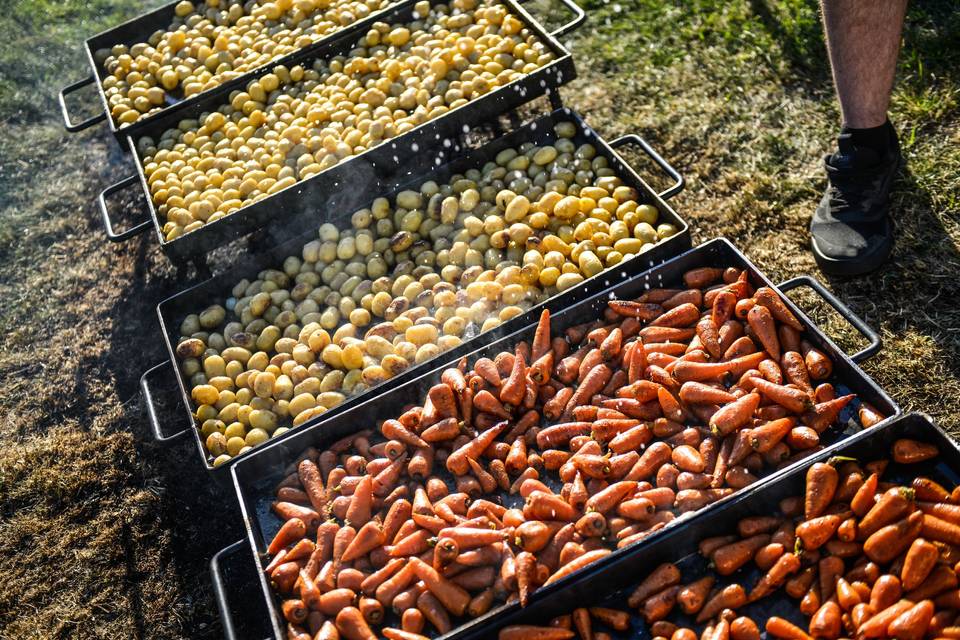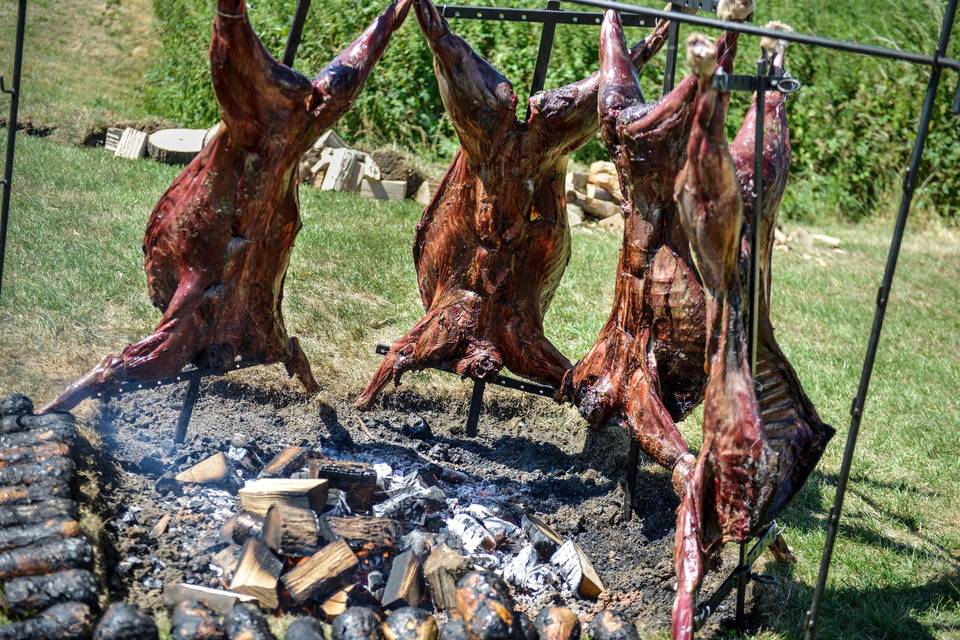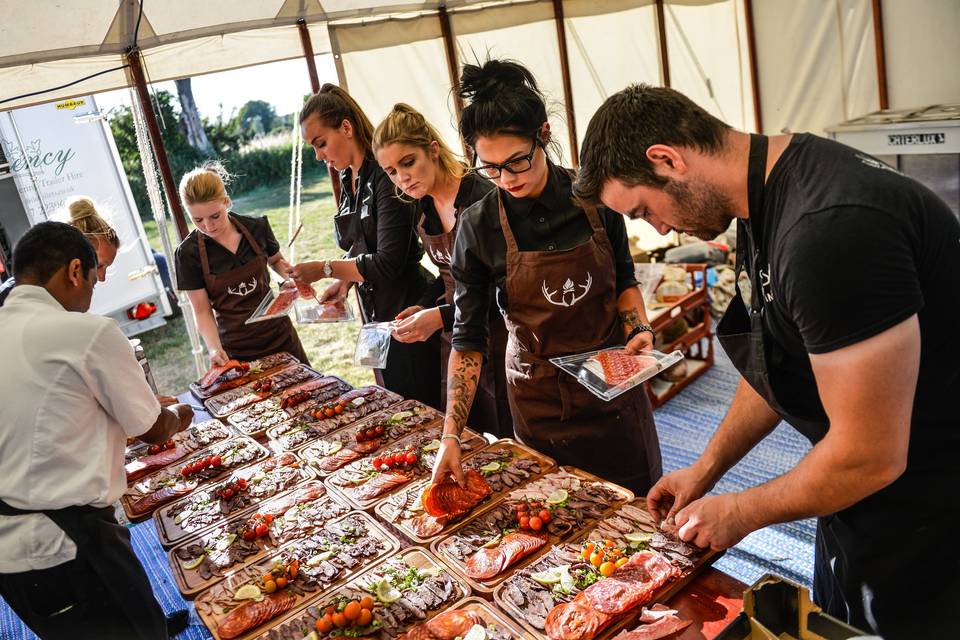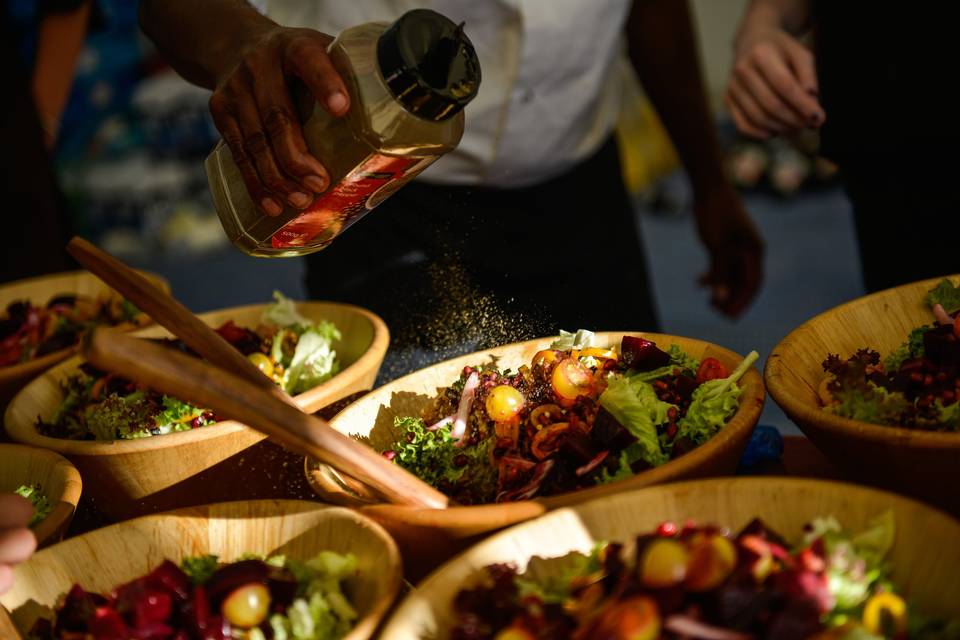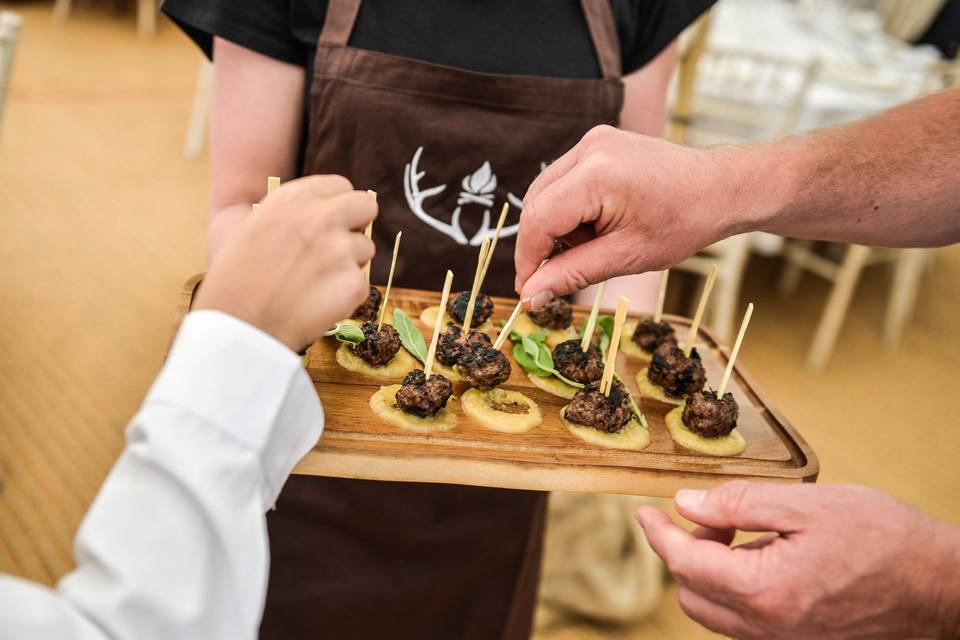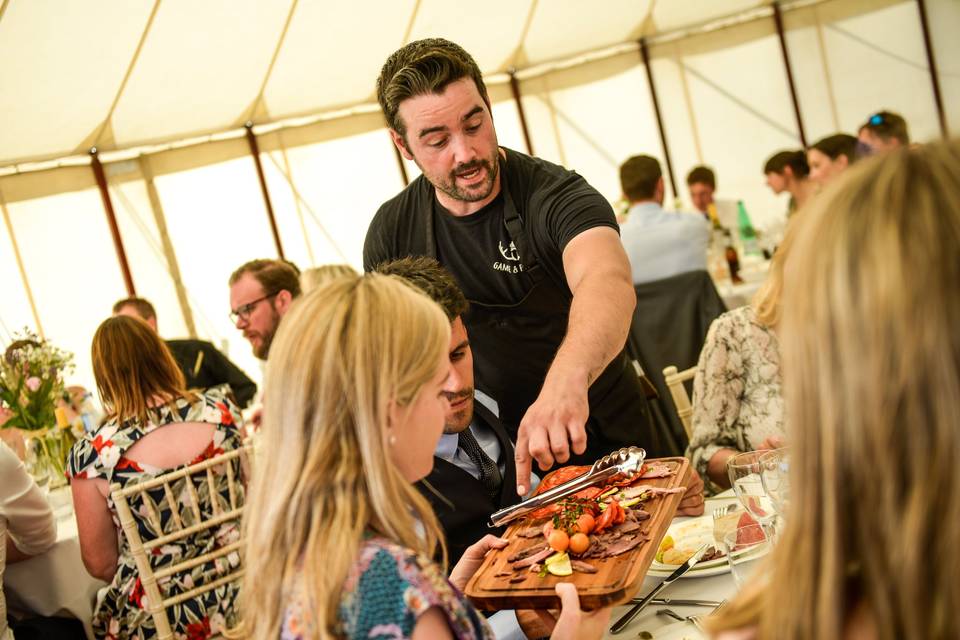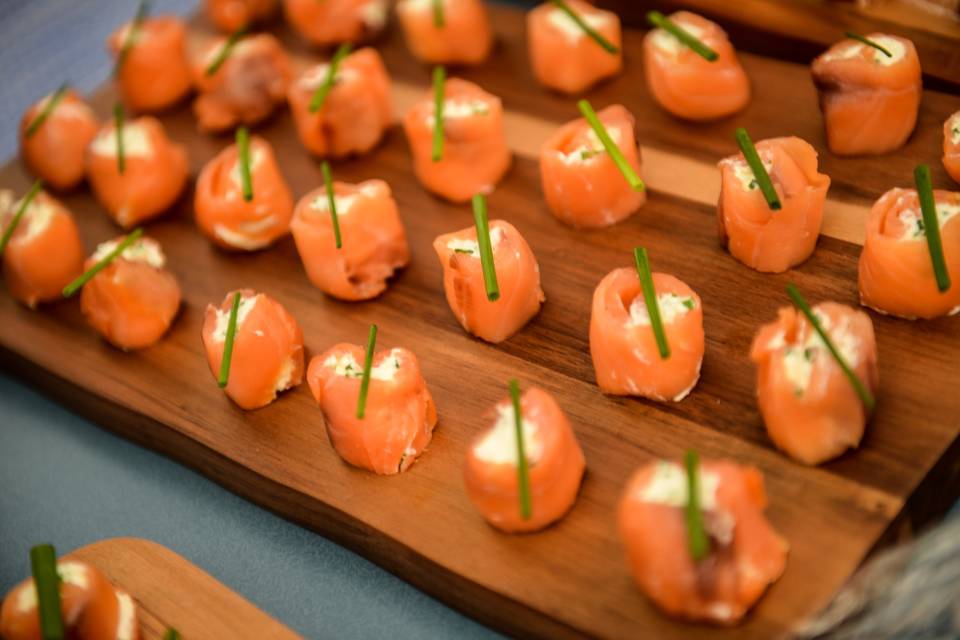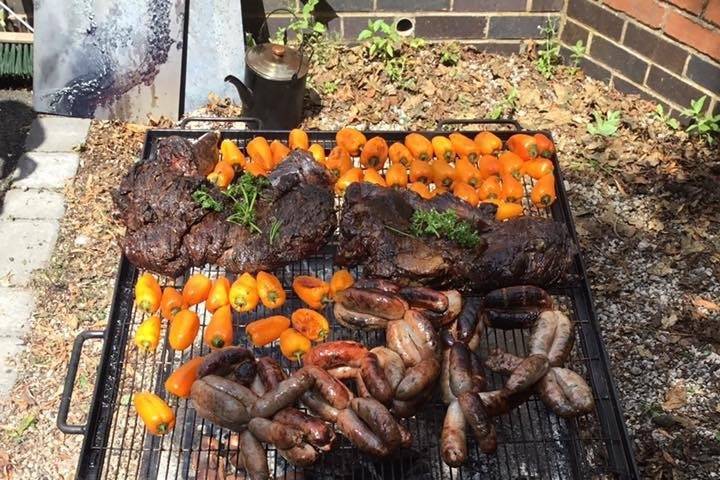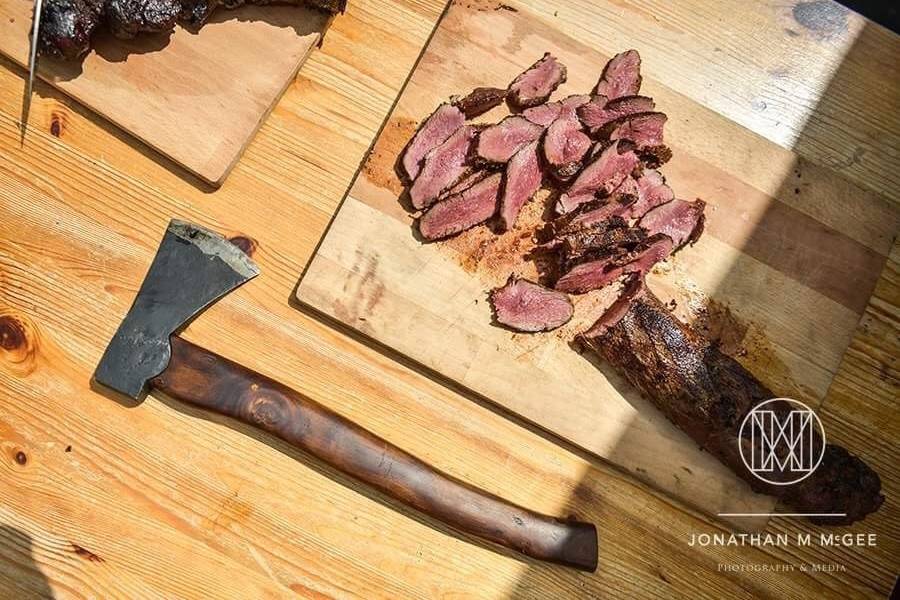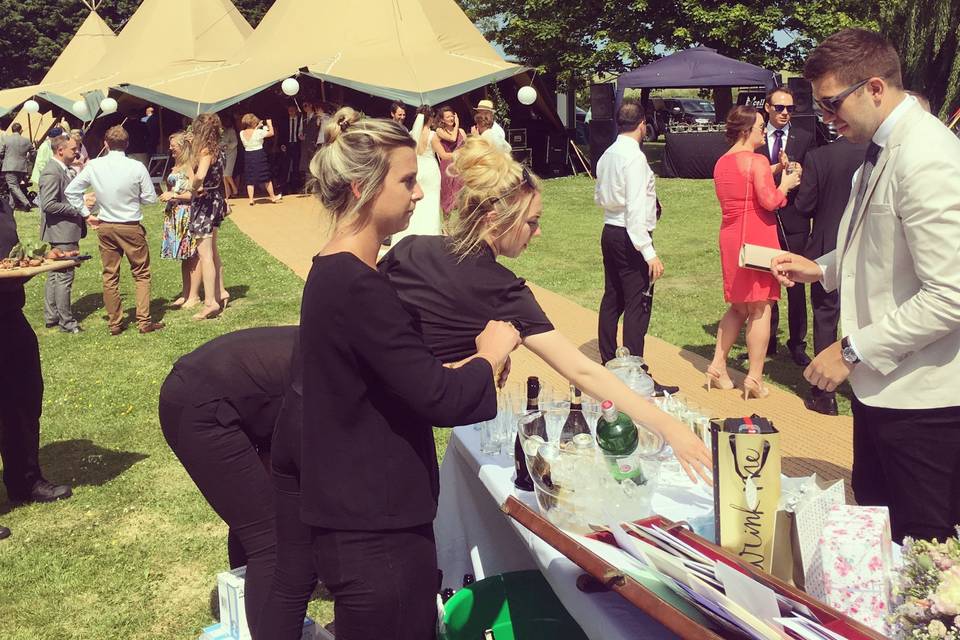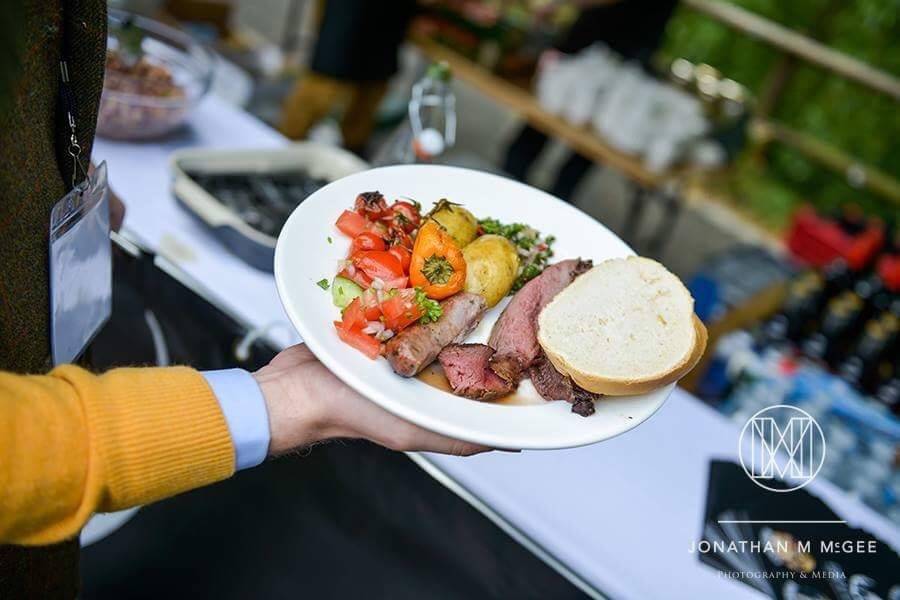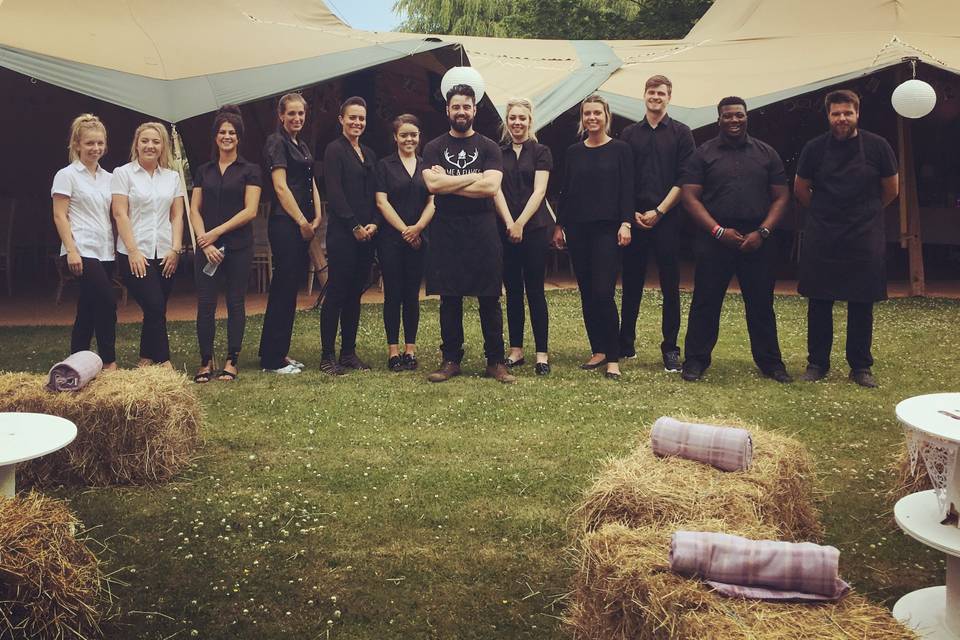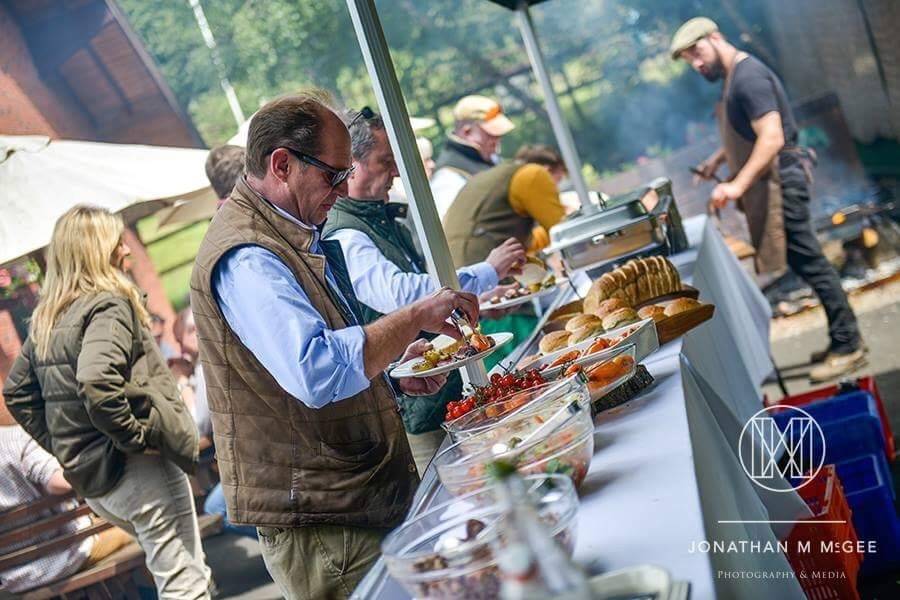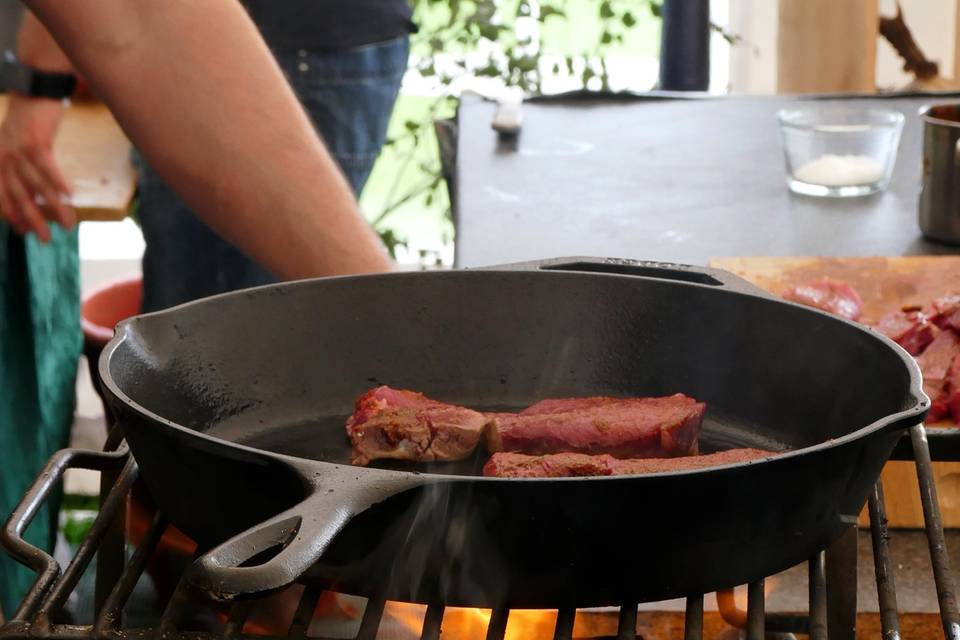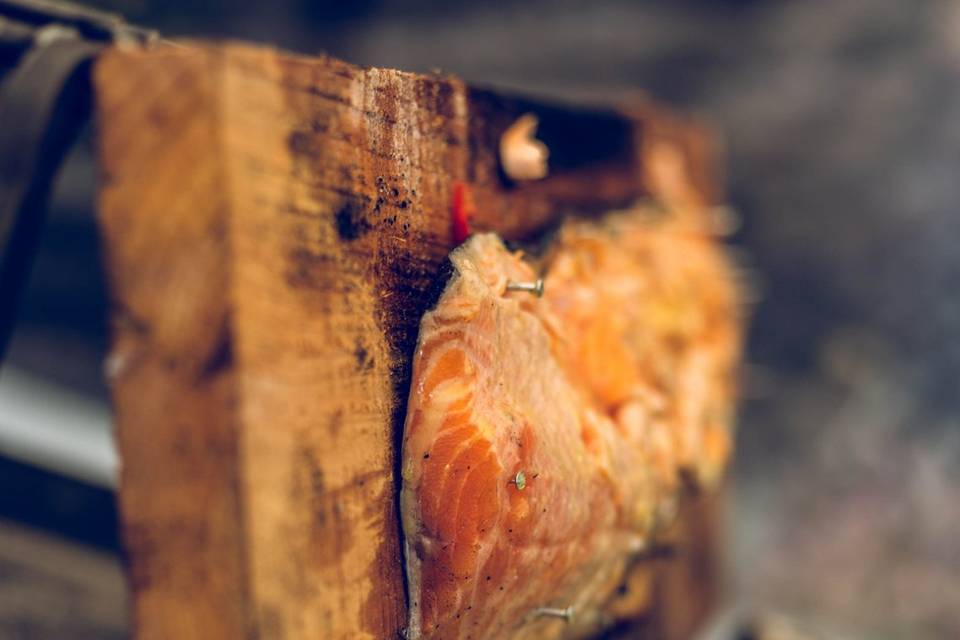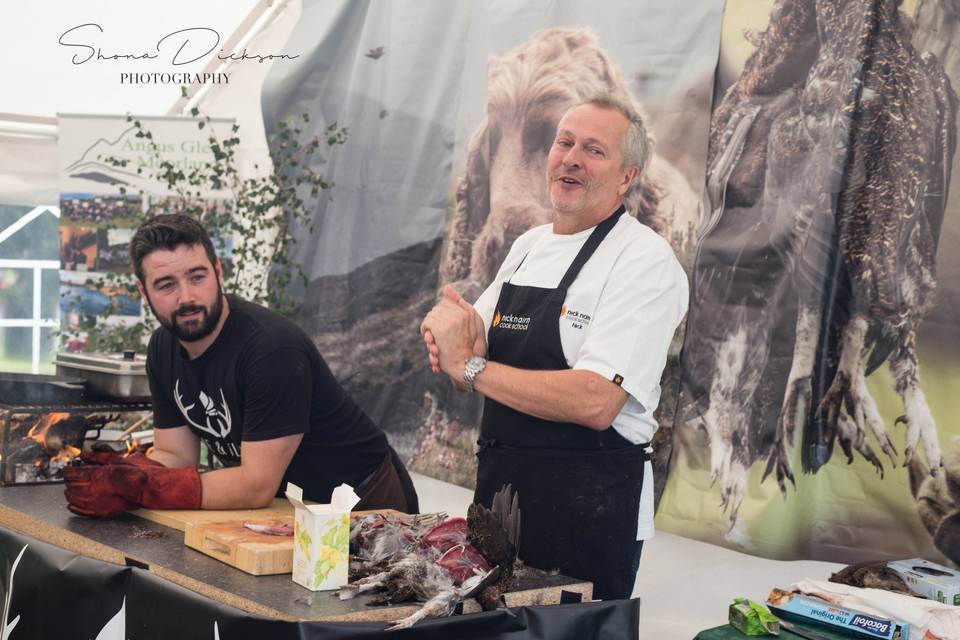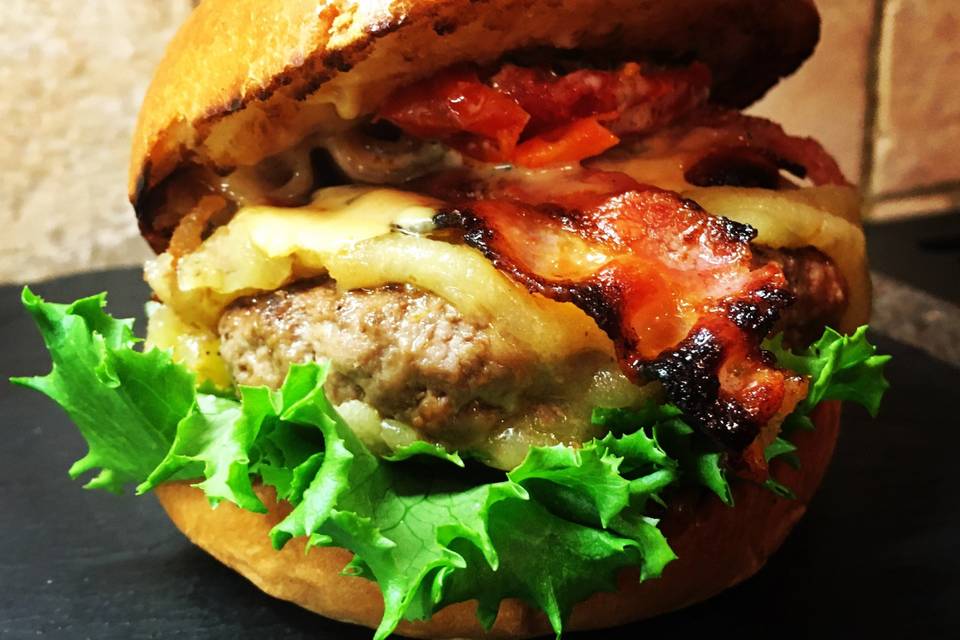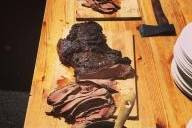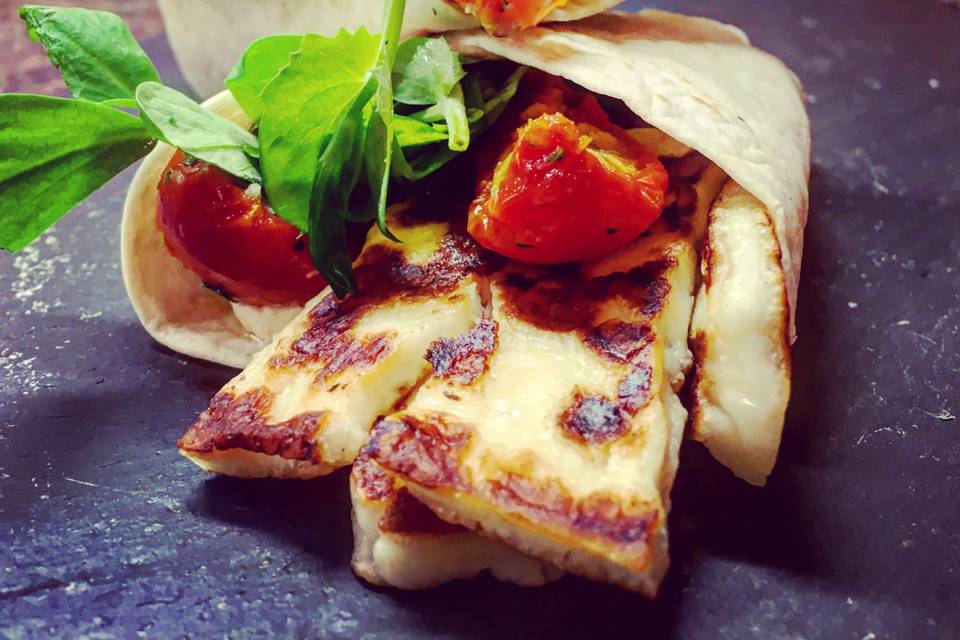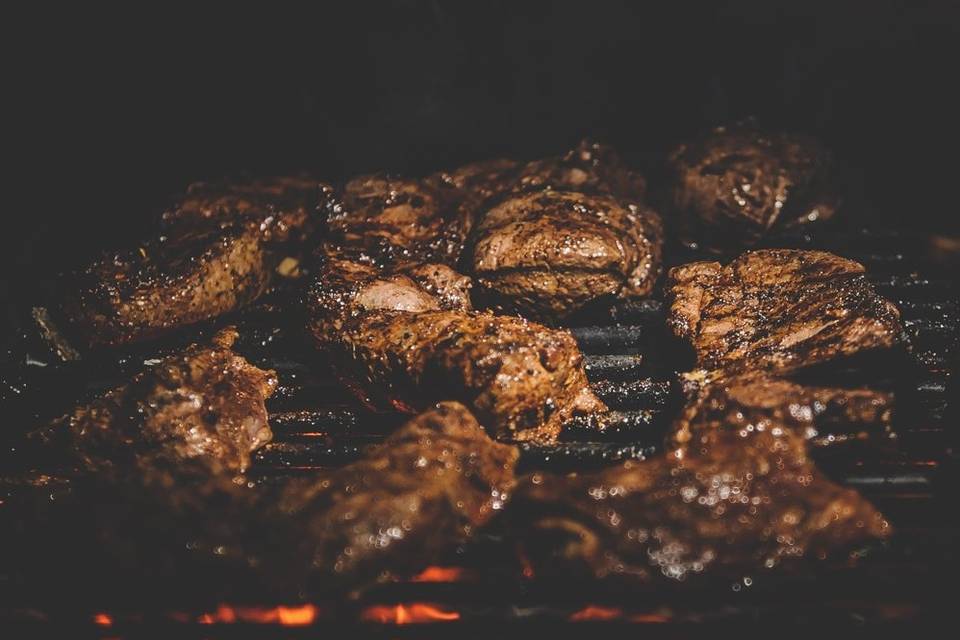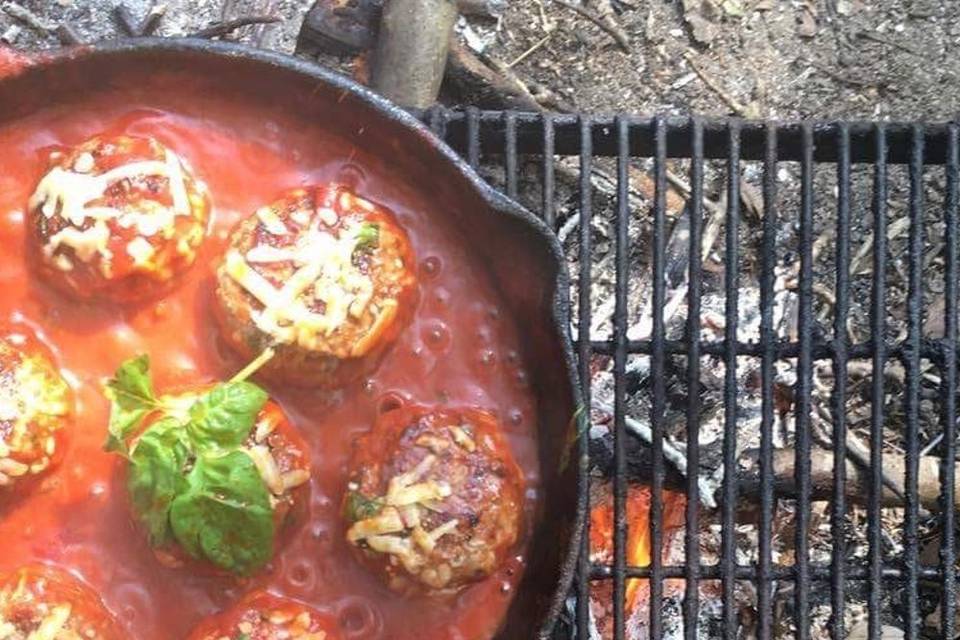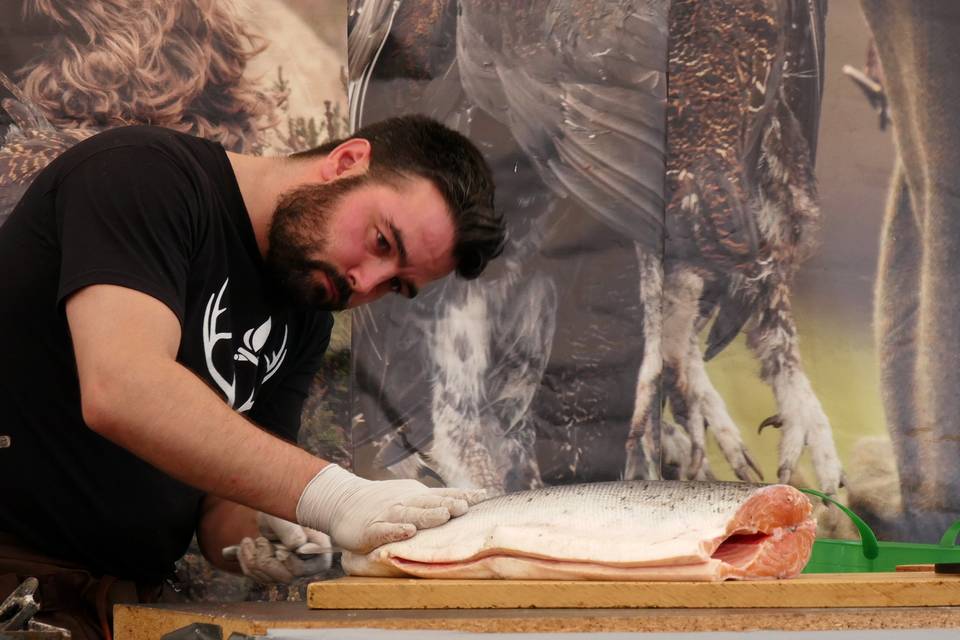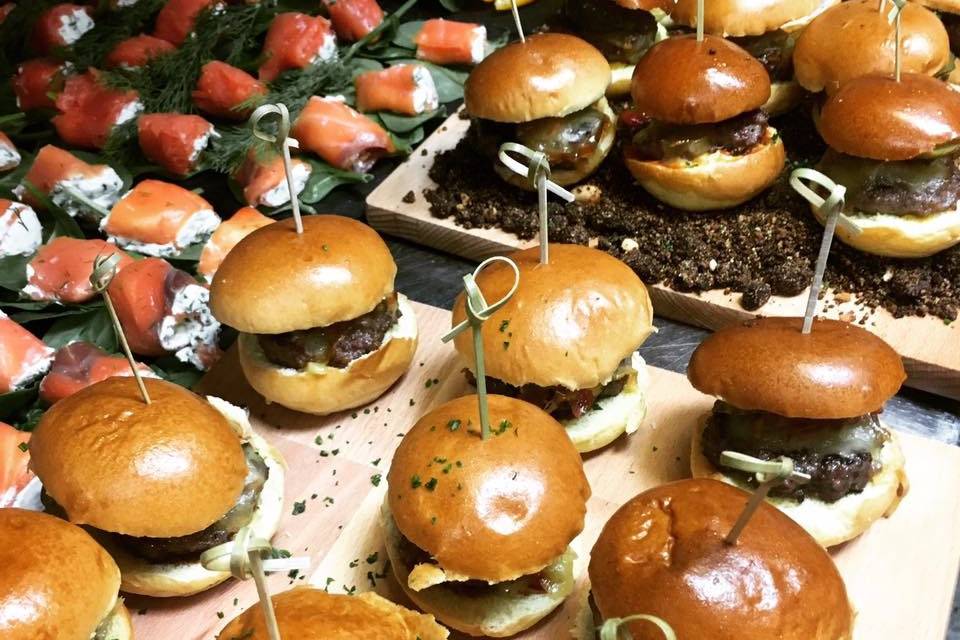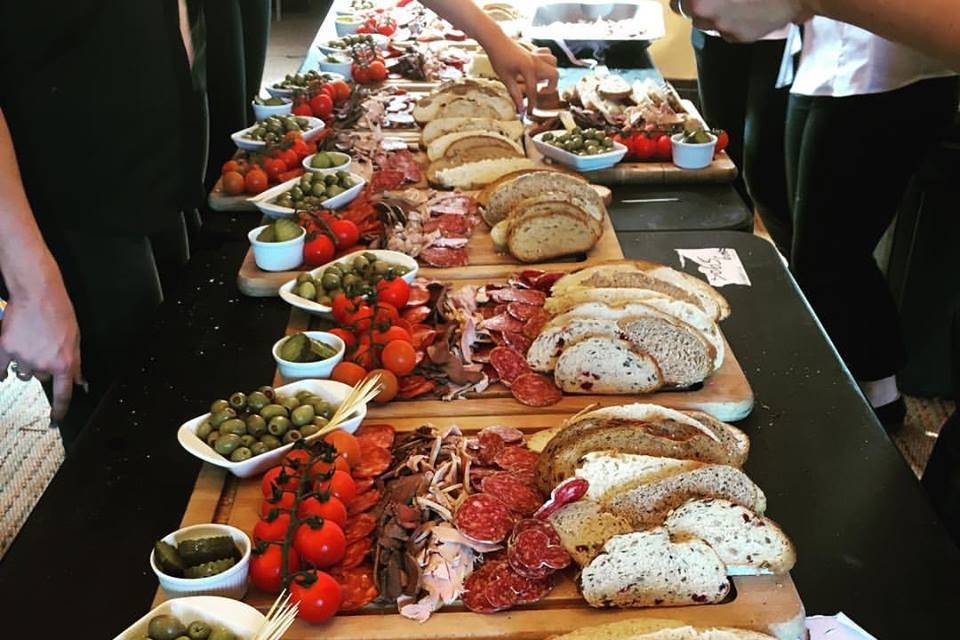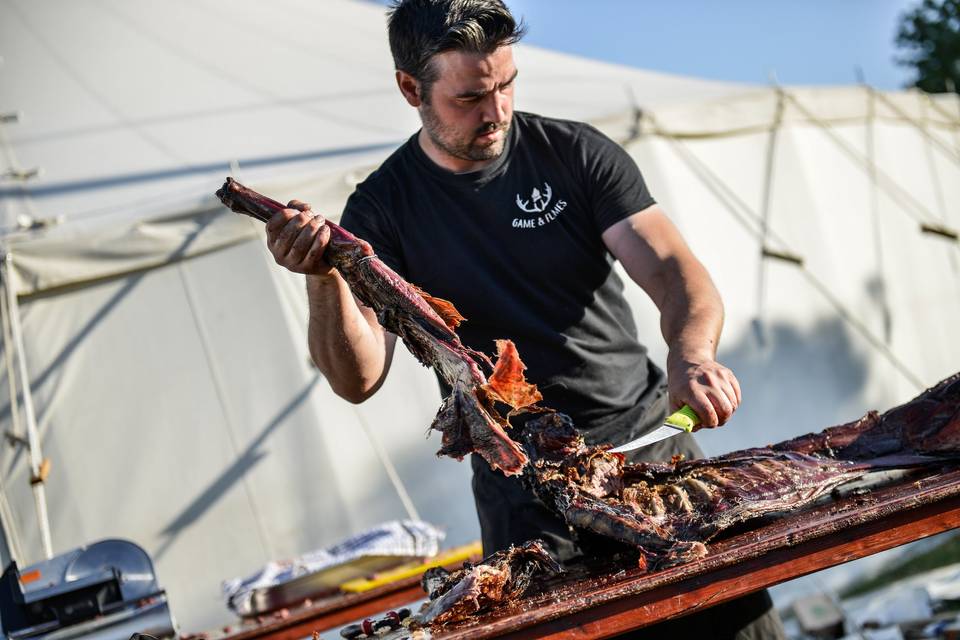 About
Based out of Bexhill On Sea, East Sussex, Game & Flames are a wedding catering company that specialise in cooking wild game over open flames. This experienced team of hunters and chefs have caught and cooked food from all over Europe. They use an Asado style approach to their event catering and take inspiration from Argentina, India, Hungary, and more. They are available to provide their services throughout the UK and beyond upon request.
Cuisine
Game & Flames offer an array of menu options for all tastes. In keeping with their passion for game, they can supply pigeon, venison, wild boar, and more. Firm favourites, such as chicken, beef, lamb, and pork are also available, cooked over a wood fire for enhanced flavour. This caterer also provides a wide range of vegan and vegetarian options, as well as the ability to accommodate a range of dietary requirements. Dishes are typically served sharing-style to encourage a communal and social experience.
Services Offered
Game & Flames strive to provide not only amazing wedding cuisine but a theatrical catering experience. The team typically cooks outdoors over an open fire which allows guests to watch their meal being expertly created before their eyes. For those wishing to add a hint of wilderness to indoor weddings, this company is highly adaptable and can style their setup to suit any event. They offer a wide array of menu options to choose from but are also happy to custom create a menu to match your needs and preferences.
Highlights
Served in
East Central London, East London, East Sussex, Kent, North West London, South East London, South West London, Surrey, West Central London, West London and West Sussex
Recommended by 100% of couples
Quality of the Service

Rating 5 out of 5

Response time

Rating 5 out of 5

Professionalism

Rating 5 out of 5

Value for Money

Rating 5 out of 5

Flexibility

Rating 5 out of 5
James H.

Married on 21/08/2021

Great original food!

When our wedding venue gave us the freedom to choose our own caterer, we knew we wanted something different and more memorable than your traditional wedding meal.

We came across Game and Flames and from my first phone call with Cai, everything ran smoothly and could not have worked out better.

We received so many compliments on the food and given there were more than 100 guests in attendance, Lauren (our contact on the day) and the rest of the team ensured that we didn't have to worry about a single thing during the event.

I would highly recommend Game and Flames to anyone looking for something more exciting than your typical wedding meal.

Game & Flames's reply:

Thank you James, we really appreciate your review. Miles and Lauren said it was a pleasure to work at your wedding, beautiful location too!. Many happy returns to you both.

Cai

Issac J.

Married on 15/02/2020

Outstanding!!

When it came to our big day being a pair of foodies the food needed to be 100% and boy did we get that at a minimum! Unbelievable food, incorporated with the preparation in sight for all to see the skill that goes into it! Highly recommend these guys and the main man Cai to all that need a tasty wedding day!

Lee E.

Married on 08/02/2020

Outstanding

We are over the moon that we found game and flames, our guests were blown away by the food. To see your meal being cooked on open fires to then sitting down and enjoying the feast is still a strong talking point now. My wife is currently thinking of an event just to get them back.

Our advice is don't sleep on these guys. They are worth it!

Hannah C.

Not your standard caterer

Game and Flames recently catered our wedding and it really exceeded our expectations. All anyone could talk about all day was how tasty the chicken was and the dessert went down a storm. As soon as we booked a DIY wedding venue, we knew we didn't want a standard wedding breakfast and Game and Flames definitely didn't give us a standard wedding breakfast. From our customers being able to see their lunch cooking on an open fire to the attentive service of the staff and team behind the scenes, everything was great and we would definitely recommend Game and Flames to anyone wanting something a little bit different at their wedding.

Emily R.

Married on 28/08/2021

Literally the best Caterer ever...

Game & Flames were the caterers at our wedding in Cheshire at the end of August - I cannot fault them! The food is so special, everything from the canapés to the grilled peach dessert are perfection. Cai is an amazing chef and also hunted the venison we ate! The whole cooking process is incredible to watch on the fire-pits and even the food tasting we did before the wedding was an experience in a forest!! 100000% book them!

Adam W.

Married on 07/08/2021

Outstanding on all aspects

I'd like to say a huge thank you to Kai, Deb and the team. From start to finish, they've been great.
Deb was excellent to deal with, always helpful and available.
The tasting experience was a great day in itself.
Kai and his team were brilliant on the day, Kai goes above and beyond.
The theatrics alone were a talking point for our guests. The food was perfect, I could not fault a single thing.
If I can find an excuse, I'd love to use these guys again. And I cannot recommend them enough. Thanks again.

Game & Flames's reply:

Thank you so much for the great review Adam. So glad your wedding day was a success; it was a pleasure to work with you both. Very best wishes, Deb

Jeremy P.

Married on 03/07/2021

Incredible service and food from Cai and his team

We had our wedding in July this year and had Cai in to cater for us. The food quality, from canapés to starters, main and deserts was nothing short of fantastic! the venison, with chimichurri sauce and wood pigeon poppers were a personal favorite. We loved the food, but more importantly our guests absolutely loved it - we keep having people commenting on our delicious it all was. From being a keen huntsman myself and in eating game for at least four meals a week normally, the food really needed to be something special and it really blew us away how Cai was able to cook the game so perfectly.

The service from Cai and Deb from two years ago when we first booked with them to the whole way through the day was just brilliant. Nothing was too much hassle and they quite literally bent over backwards for us.

This is a company my wife and I personally couldn't recommend enough. My family are already in talks with Cai about using him for other events - which should tell you all you need to know. go for them, you wont regret it!

P.S. also with everything being cooked over an open fire for all to see, who doesn't want that..

Thank you Game and Flames!!
Jeremy and Alex

Game & Flames's reply:

Jeremy
Thank you so much, was such a pleasure to cater for you and Alex, not only for your wedding breakfast but also your garden BBQ. We look forwaard to catching up and potentially working with you again. All the best

Cai

Christopher F.

Married on 03/07/2021

Fantastic catering – great team

We have just held our daughter's wedding in a field under five tipis which just shouted for outside cooking!
Great cooking is a very high priority in our household so finding the right caterer was extremely important. Game & Flames not only lived up to but surpassed our expectation.
Cai and Deb were absolutely amazing, super helpful, a pleasure to work with and made the whole experience a real joy.
When the wedding weekend finally arrived Cai, Deb and his team were great, and made sure that every detail was meticulously executed.
Game & Flame not only catered for the wedding reception, (canapés, mains, desserts) but also for a two-course lunch the following day.
The venison for the wedding day main was melt in the mouth and came together with all the other great dishes. On Sunday we enjoyed smoked fish, made in front of us! All the portions were generous and the food highly praised by all of our very satisfied guests!
So, if you are reading this review and want a change from the normal 'hotel' menu offering for your wedding reception, want a caterer with a passion for food (and its provenance), like working with sympathetic and lovely people, receive outstanding service, where nothing is too much trouble, then you should look no further than Cai and Deb and engage Game & Flames. We have no hesitation in recommending them!



Elizabeth B.

Married on 01/08/2020

Absolutely amazing. Made our day!!

So impressed with Cai and his team. We had a small gathering for our wedding and cannot put into words how amazing the food was! The canapés, mains, desserts were so incredible our guests are still taking about it! We had all the food individually plated due to restrictions but it looked and tasted fantastic. I can't recommend Game and Flames enough for the quality of food, passion for the job, professionalism and attention to detail. I didn't have to worry about any detail of the catering as I trusted them completely to serve up delicious food and wish I had another event coming up so I could use them again! Thankyou again for being part of our special day and I hope we can see you again soon! :)

Emily H.

Married on 24/08/2019

Incredible!

We hired Game and Flames to cater our wedding of 150 guests back in August 2019 and it was one of the best decisions we made.
The food was amazing - it looked amazing on the fire and on the table, it tasted amazing, the sharing bowls/platters made for a lovely atmosphere amongst tables, no-one went hungry as there was plenty of food to go round, the guests raved about it, we loved it because it was a bit quirky versus a more traditional wedding breakfast and, as if that wasn't all enough, Cai and team are genuinely nice people who were a pleasure to deal with. Thanks so much for a great job Cai and team!

John

Getting married on 01/06/2022

Catering Brilliance!

I booked Game and Flames for a birthday party for my brother who wanted a caterer with a bit of a twist. Game and Flames did not disappoint! The staff are extremely friendly and professional about they're work. The unusual style of cooking produced food that was out of this world, up there with the best I've tasted! The appearance and quality of the food was exactly what I wanted for my brothers birthday! Game and Flames helped create unforgettable memories for everyone who came to the party and are still talking about you guys 2 months down the line.

Thankyou Cai, and your team for an unforgettable catering service and top quality foods. I will be booking again.

Nathan Tomkinson.

Reece

Married on 07/09/2019

One of the highlights of the day

We had the Asado and the Grazing table at our wedding and it tasted amazing and set up perfectly there was plenty for everyone to have seconds and even a bit for leftovers. The way they cook is also a great way to distract guests while you head off for your photos.

Can't praise the cooking and serving staff enough, they were all super friendly and made sure everyone was happy throughout the day.

The communication was also great and they adjusted to all of our quirky needs including as not having a sit down meal and only having quite a small wedding.

Can't recommend Game and Flames enough, Matt and his team and Deb and Cai made that part of the day so much easier to organise.

Dan

Married on 27/07/2019

Brilliant wedding caterers - choose them, you won't regret it!

Game and Flames (G&F) catered for our wedding at Ampleforth Abbey (27th July 2019). I (the groom) had been tasked with organising the food - I was keen not to have your typical 3 course meal so was very excited when I came across G&F.

From first contact both Cai and Deb were uber responsive and helpful. They were happy to tailor their menu for our requirements - Pigeon / Halloumi for starter, Tomahawk steak and Turbot sharing platters for main and S'mores for dessert (Venison Chilli for the evening meal).

The food was brilliant - I had concerns about how well everything would be cooked over flames (ie would the steak be well done, would the turbot be overcooked) but I needn't have worried. The quality of produce was excellent and the portions very generous – everybody had as much steak and turbot as they wanted and more . We had at least 15 people come up to us at points during the night and say it was the best food they'd had at a wedding.

The cooking was also a real feature (massive tomahawks and turbots cooking over fire metres from where everybody was sat) and helped make the wedding breakfast relaxed and sociable as people were going to see what was happening, speak to the chefs and people from other tables. The sharing aspect was also well received including by, forgive me, the "older generation" - my 85 year old aunt loved it!

The whole G&F team were very committed and passionate - they're based 300 miles away so didn't get to the venue until 3am but were up at 9am getting started!

To summarise - if you're considering G&F for your wedding please, please do so - I promise you won't regret it.

Cayley

Married on 04/08/2018

Amazing food and service that all our guest raved about!

We are both quite foodie people who wanted a say in our wedding menu, so choosing wedding caterers was getting tricky until we came across these guys. We were so pleased we went for Game and Flames - we'd highly recommend them. Especially if you're going for a more informal wedding breakfast style where your guests are happy to serve themselves and get stuck in! It's also quite a spectacle for your guests to see their style of cooking. The service far out-did our expectations. Their staff are friendly, well trained and were always attentive. We had plenty of comments from our guests about the quality of the table service.

Mike

Married on 30/06/2018

Brilliant and Unique Wedding Breakfast for 180 Guests

Game and Flames were superb and made our meal far more interesting than most weddings we've been to. We tried a number of their options at two tastings and everything was excellent. They were fantastic to deal with at all stages. We were VERY pleased that we chose them! Many guests commented about how good the food was.