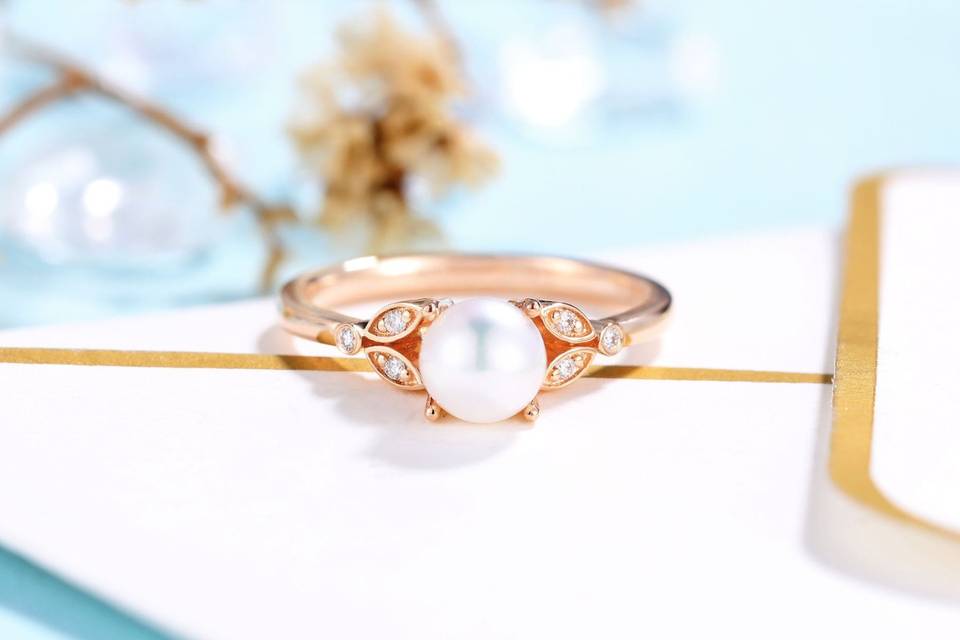 Ever since Emma Stone announced her boyfriend had proposed with a beautiful pearl engagement ring, we've been totally obsessed with the latest trend.
Pearl engagement rings are an eco-friendly and stylish alternative to the traditional diamond ring and other gems like emerald and sapphire. Despite not having that classic sparkle, pearls have an eye-catching shimmering lustre and these iridescent treasures come in colours from white to Champagne, black and lavender.
Plus, pearl rings don't carry the hefty price tag of diamonds, which is a win-win for all (Emma's ring was reportedly under £5,000).
For those wanting to step outside the box and choose an unconventional engagement ring, a pearl is a beautiful and modern alternative that you will be swooning over for the rest of your life.
Explore our choice of the prettiest pearl engagement rings that suit a range of budgets.
NB: We have included third party products to help you navigate and enjoy life's biggest moments. Purchases made through links on this page may earn us a commission.
1. Ernest Jones 9ct White Gold Cultured Freshwater Pearl & Diamond Ring – £399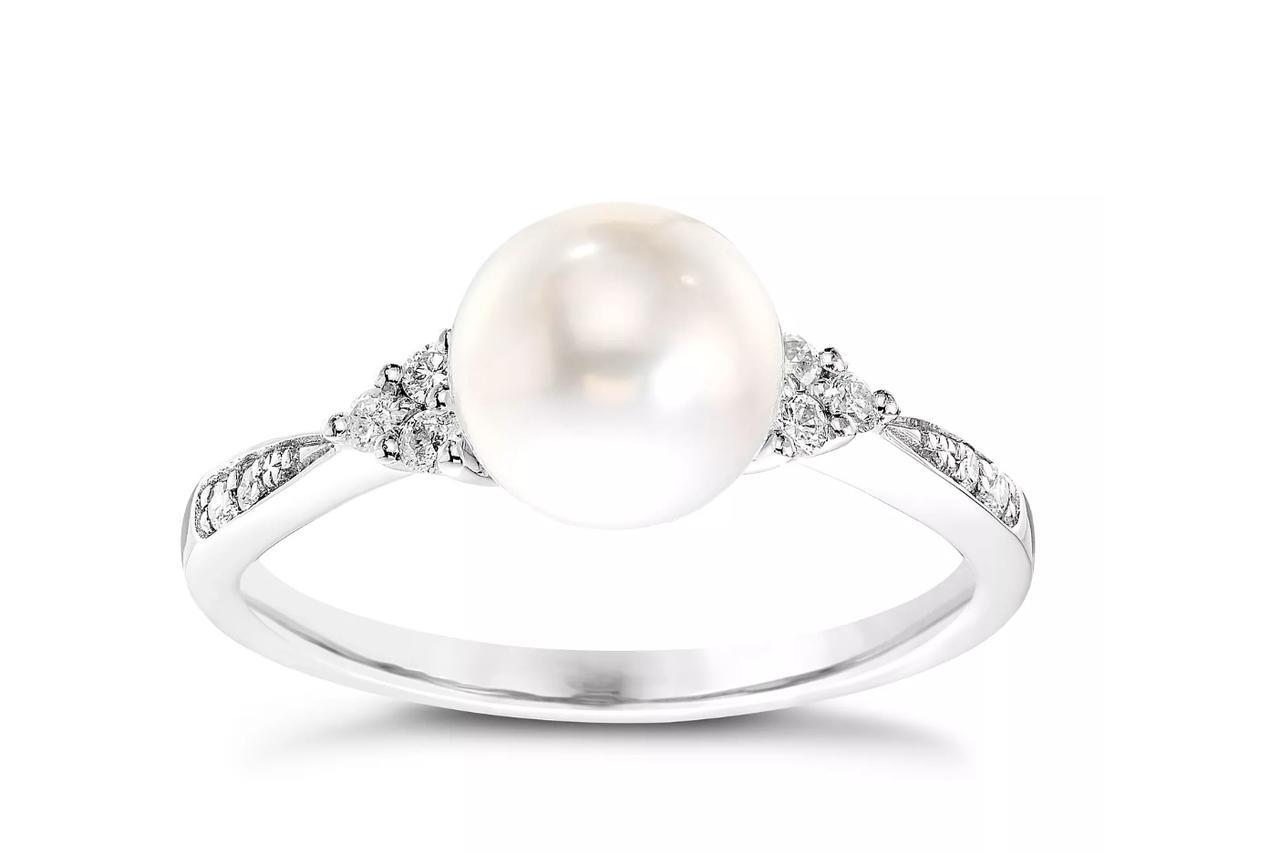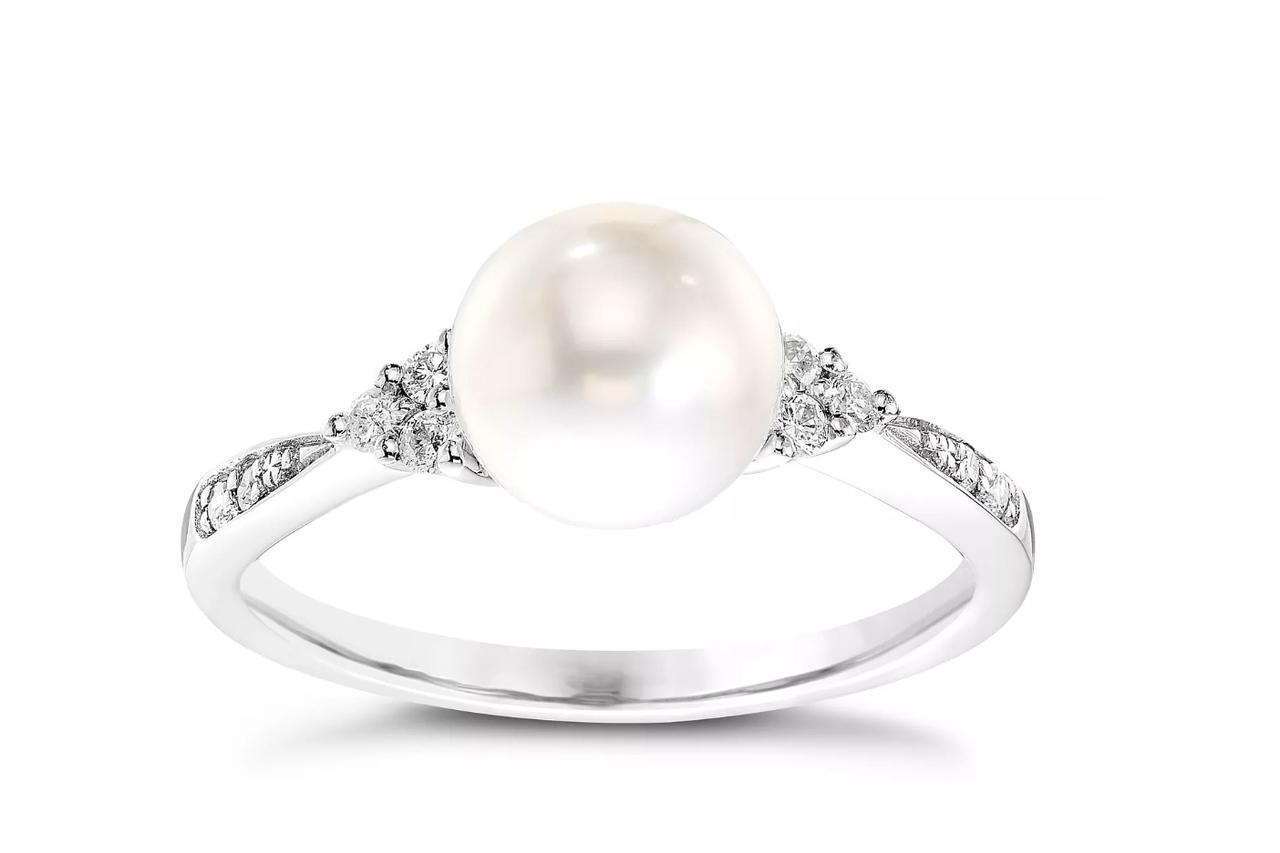 This elegant ring showcases a shimmering cultured freshwater pearl set on a 9ct white gold band, with three sparkling diamonds on both sides. It's simply stunning and amazing value.
2. Tiffany South Sea Noble Pearl Ring – £7,400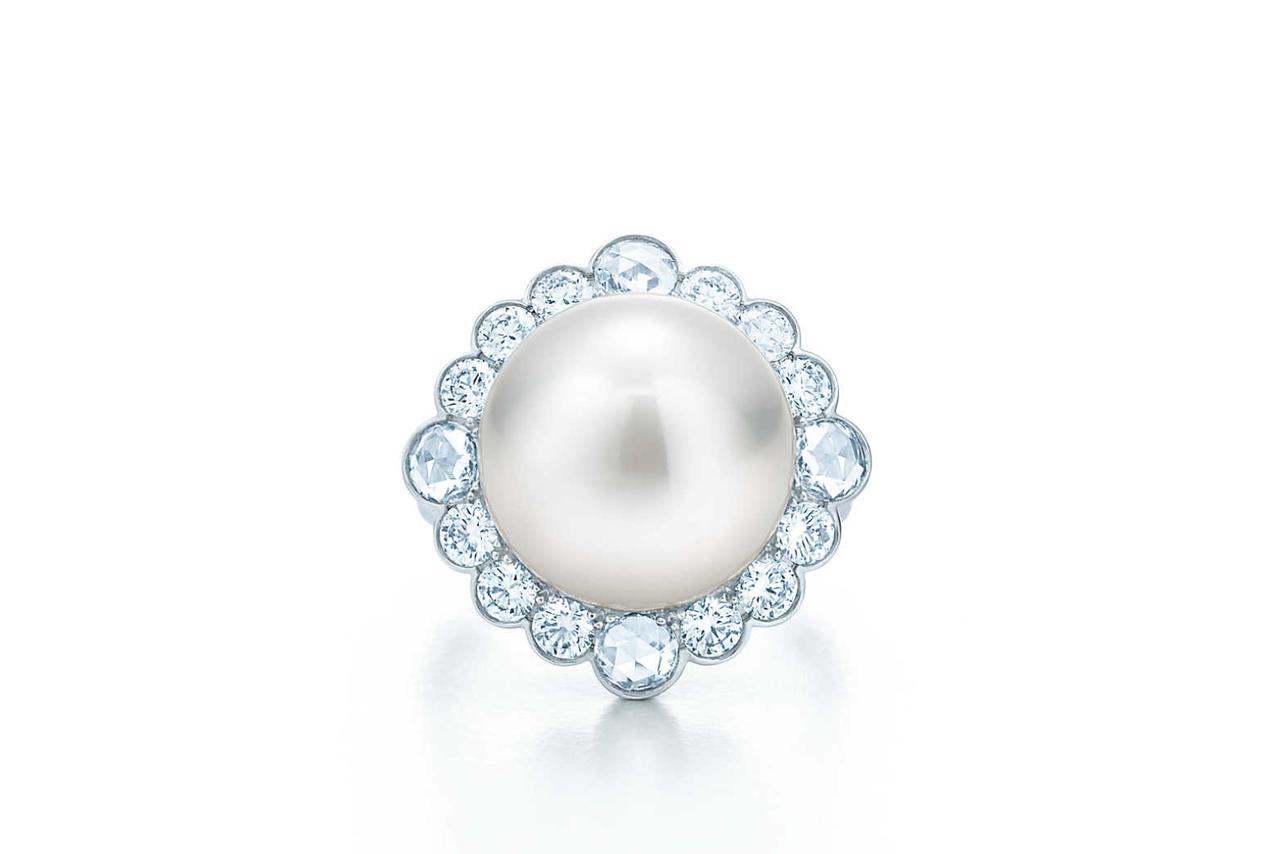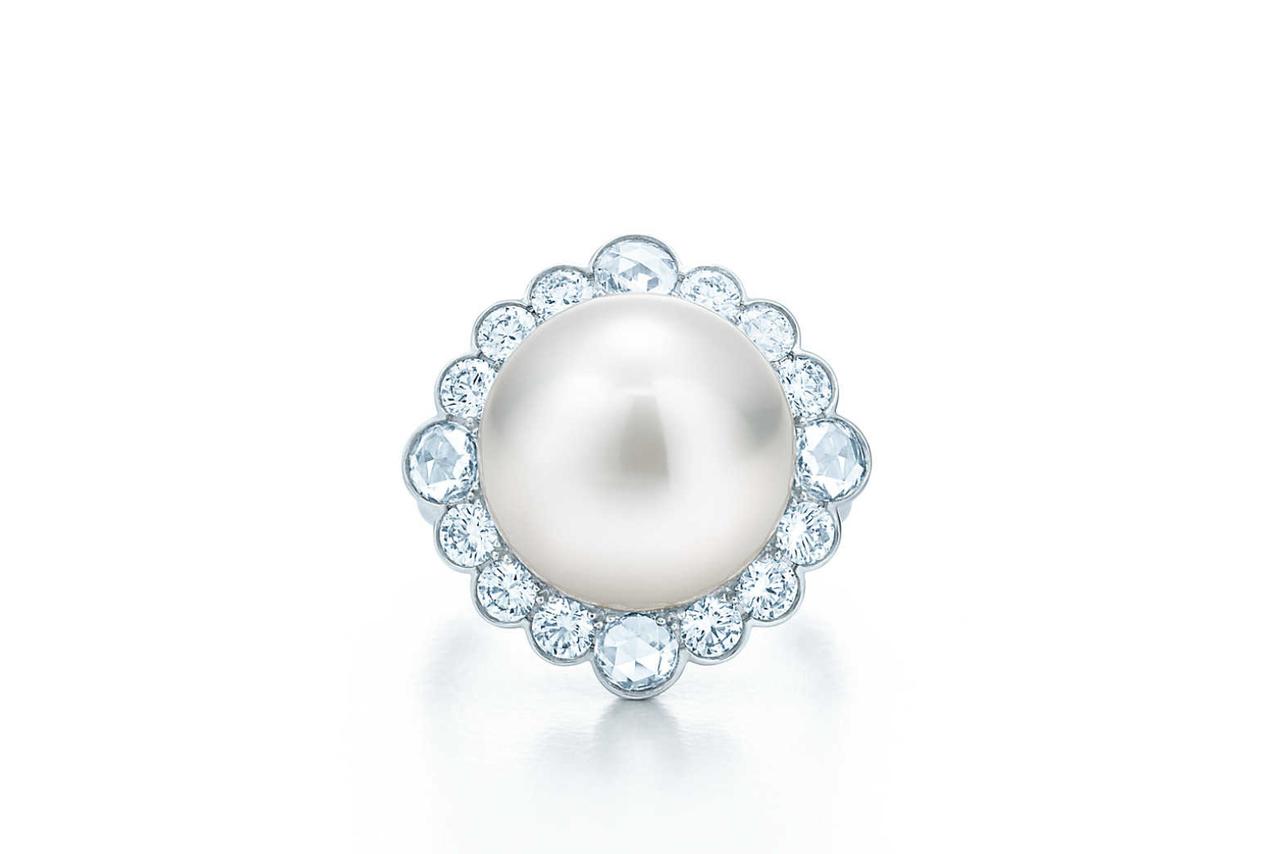 There is something truly romantic about a Tiffany engagement ring. This ring is made with platinum and features a South Sea cultured pearl and brilliant rose-cut and round diamonds. Audrey Hepburn would approve!
3. Mizuki 14-Karat Gold, Pearl and Diamond ring – £400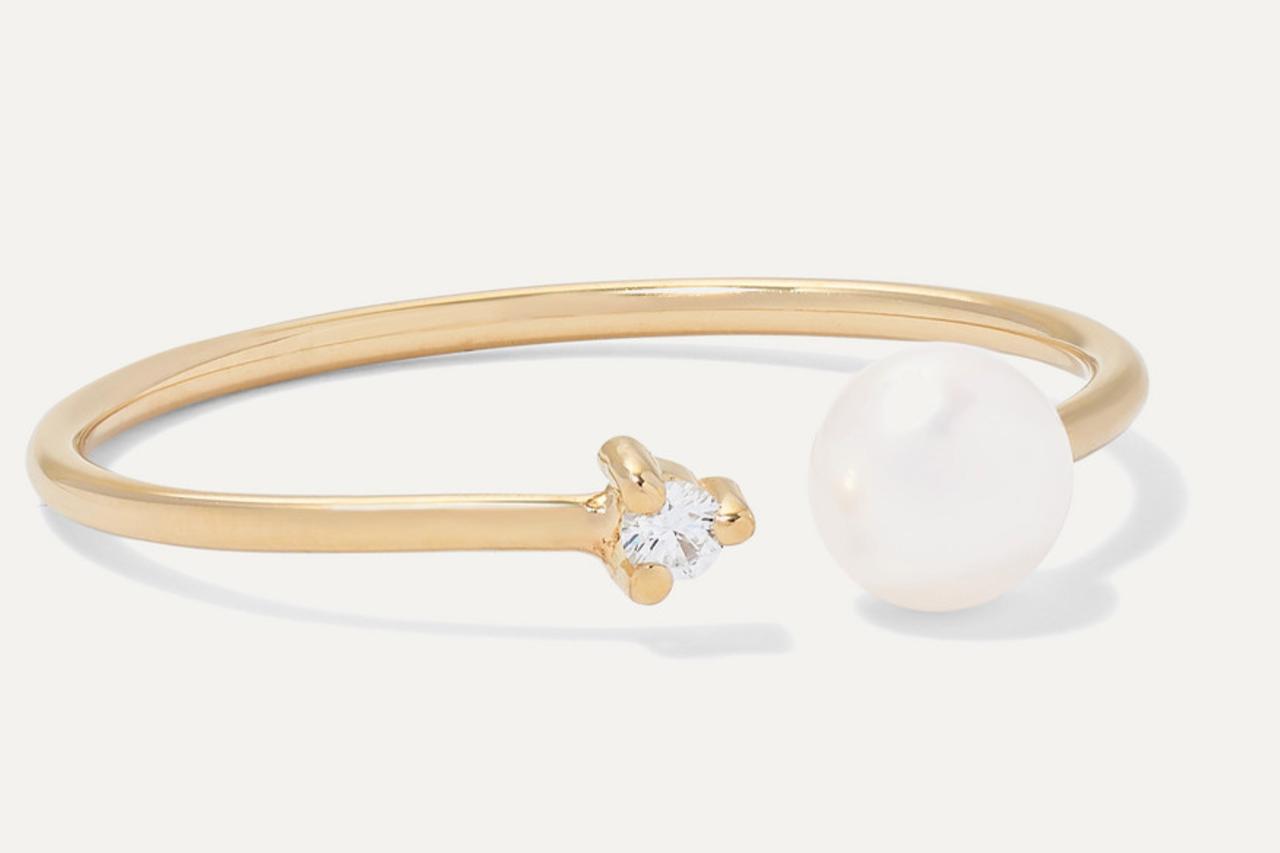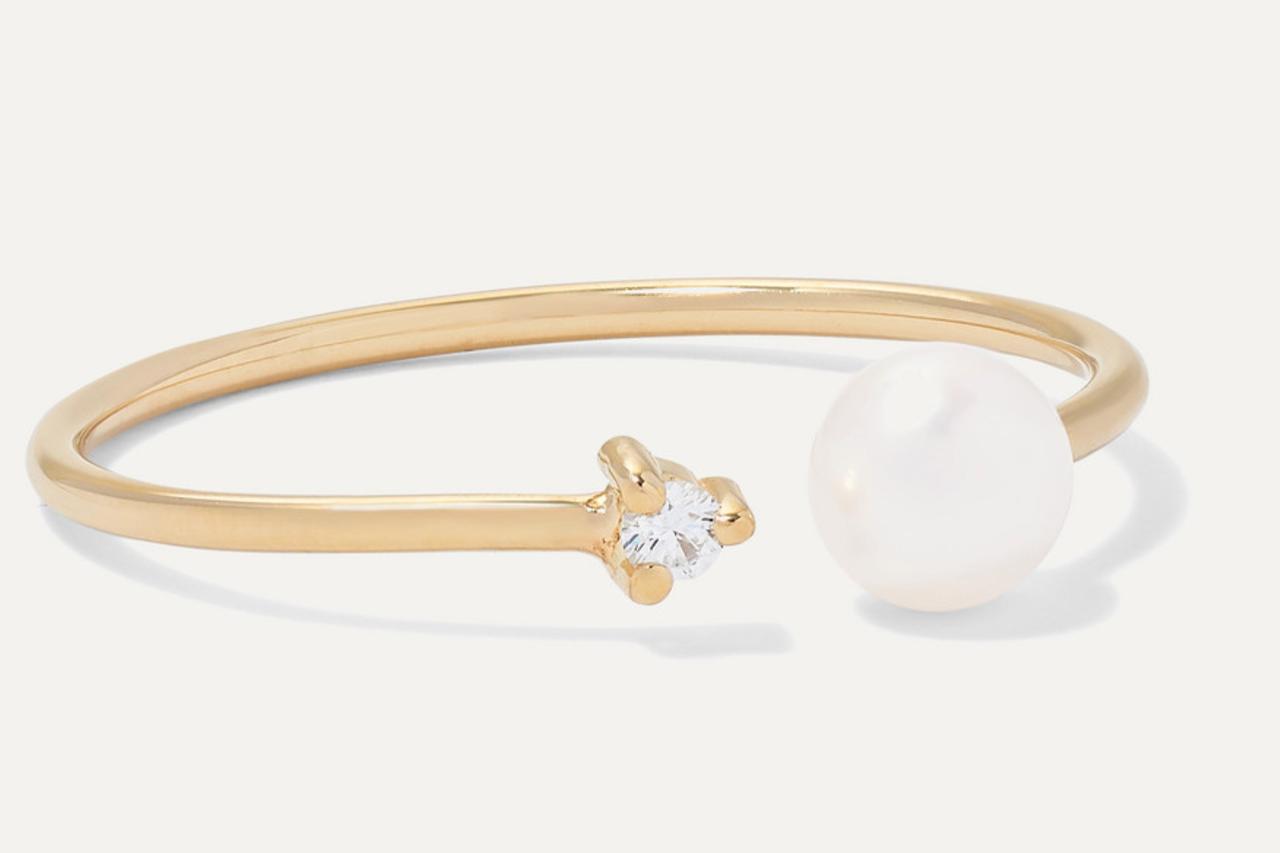 Mizuki is a New York-based designer with a passion for pearls and unique designs. This ring from Net-A-Porter features a freshwater pearl from China, a miniature diamond and polished 14-karat gold. This is the ring for a cool, chic and modern bride.
4. Renna Pearls and Pebbles Diamond Ring – £2,700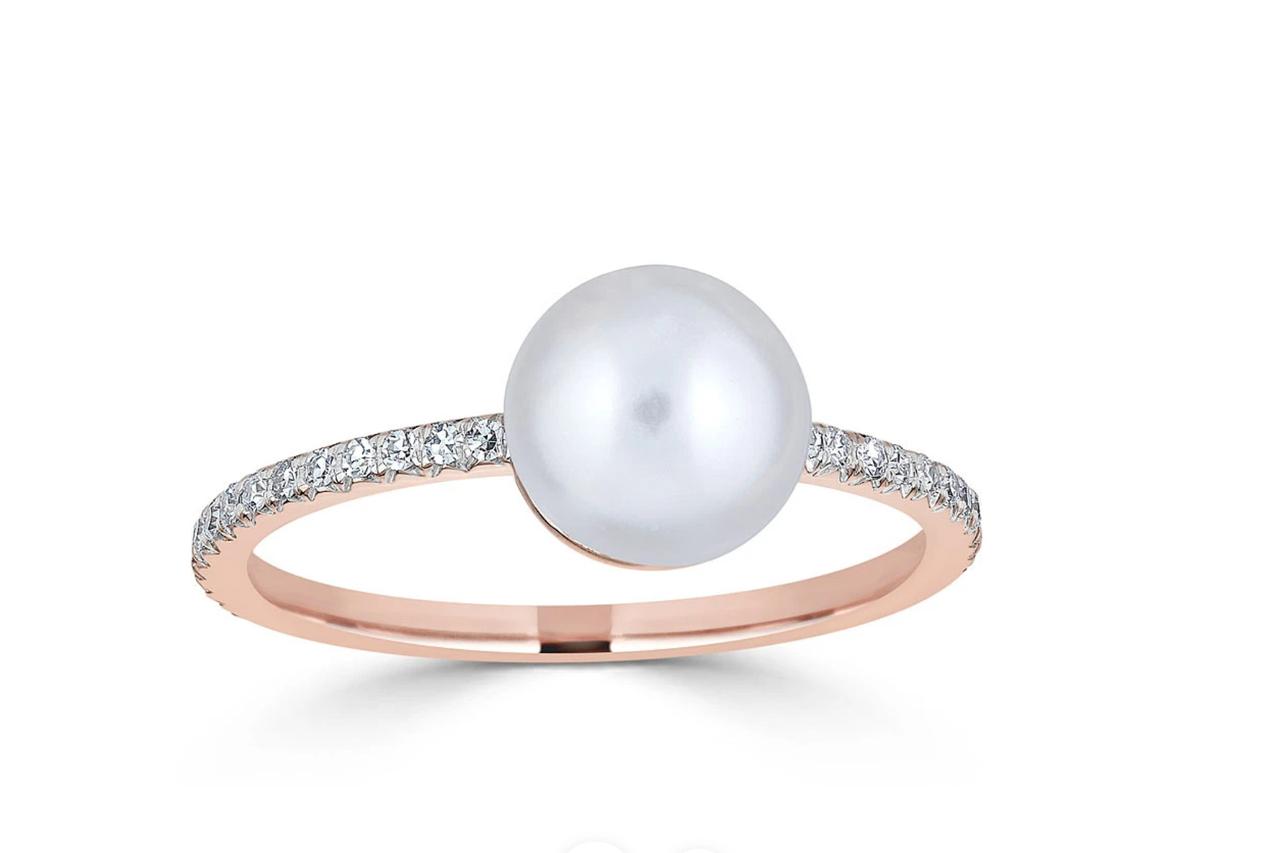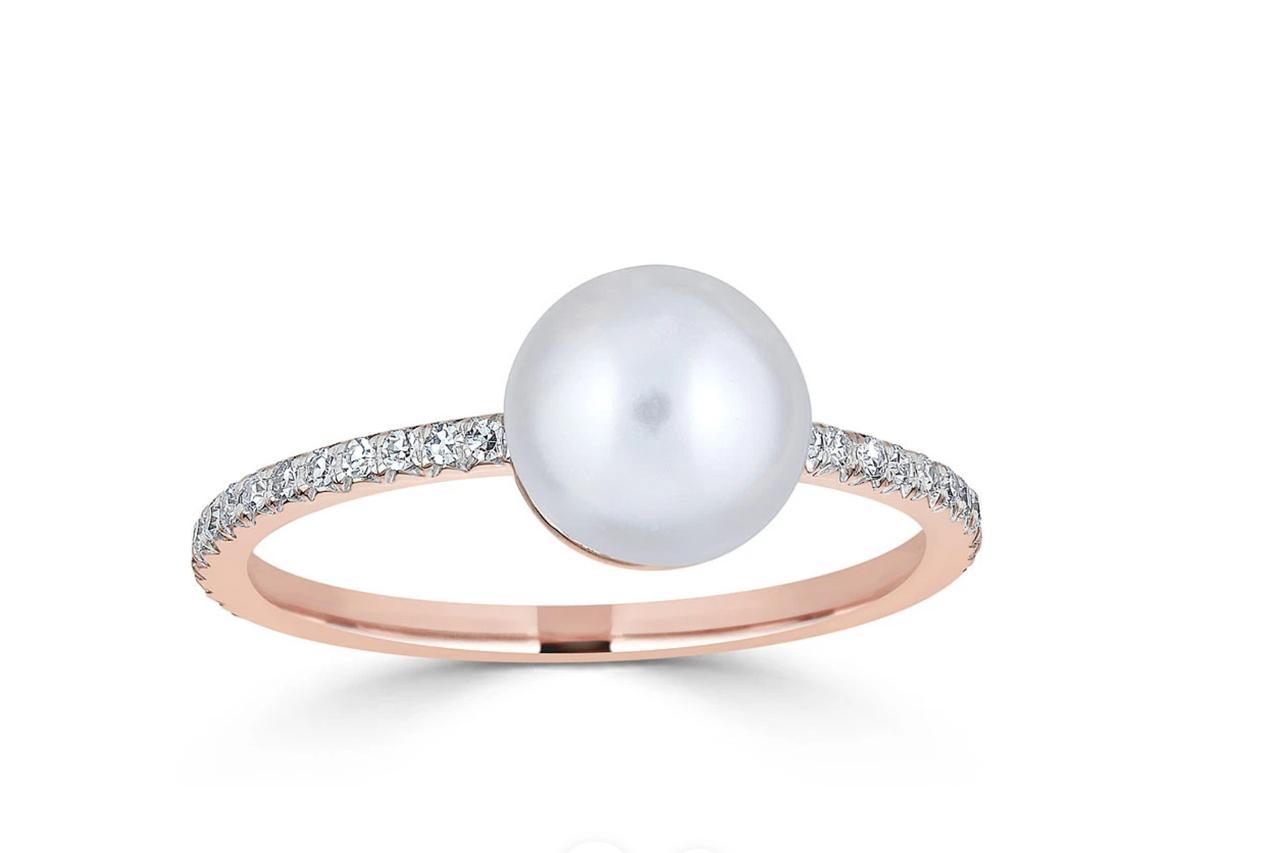 We are truly in love with this ring due to its simple elegance. A light grey pearl is mounted with pave diamonds that will have you saying 'yes' a thousand times.
5. David Yurman Solari Station Pearl, Diamond & 18K Yellow Gold Ring – £701.92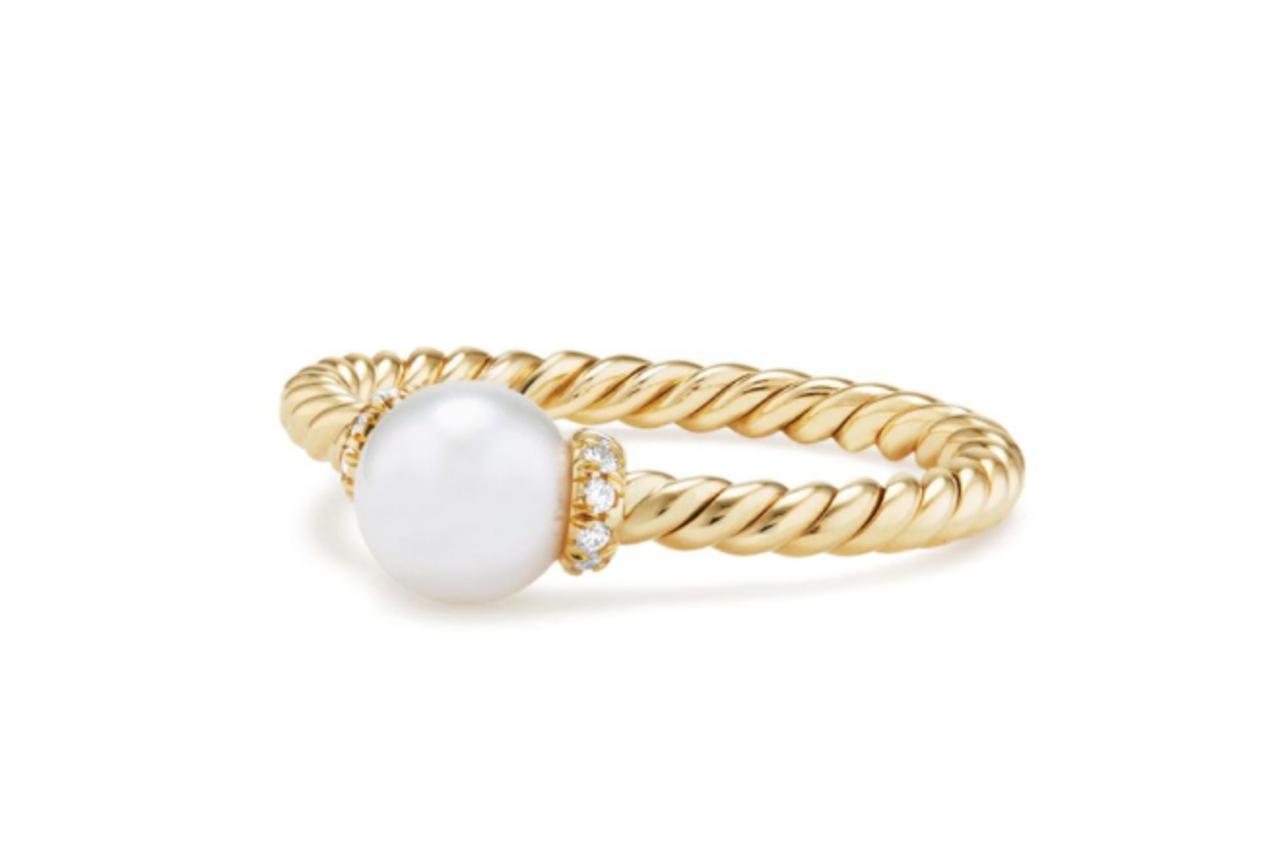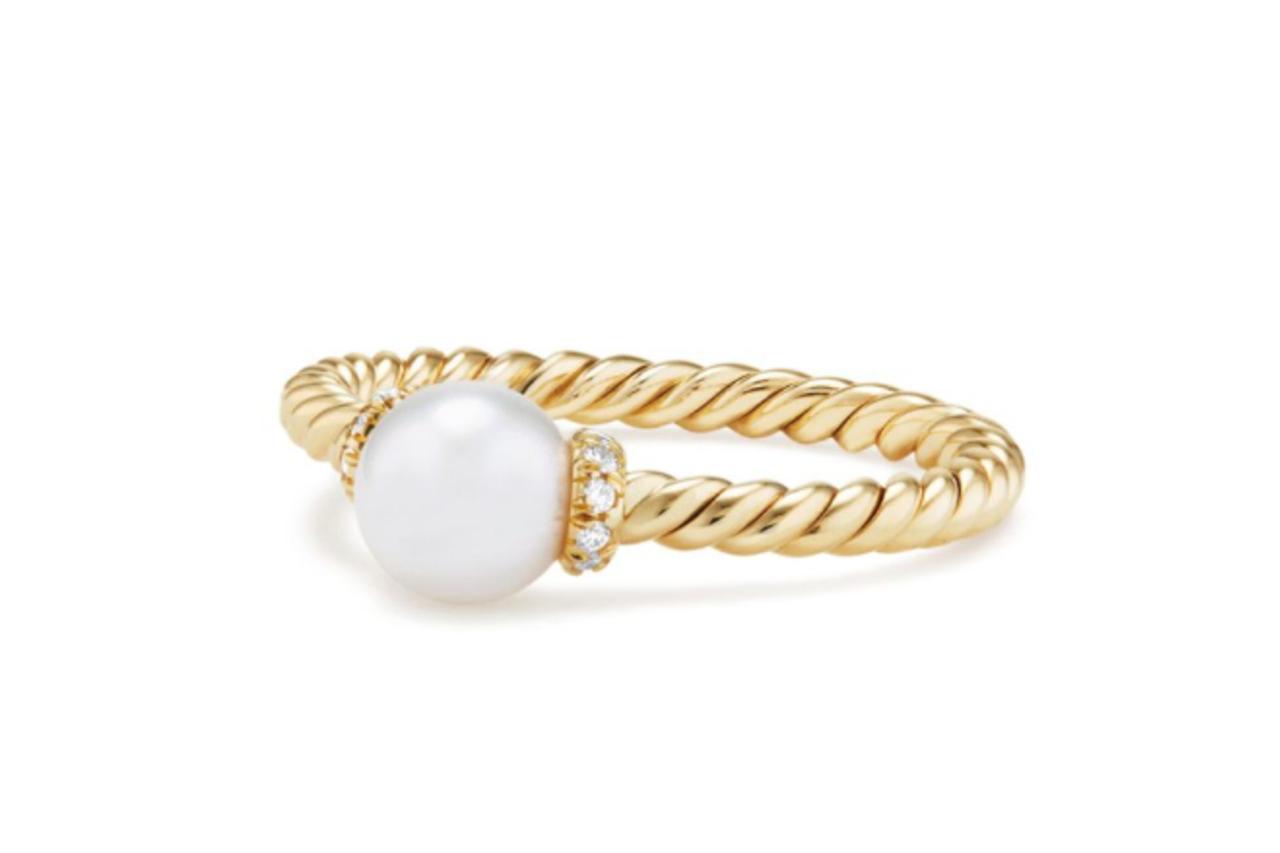 This solid 18-karat gold cablespira band perfectly complements the 6mm cultured freshwater pearl. It has a traditional look with a unique 'twist'.
6. Aurate Simple Pearl Ring – £‌240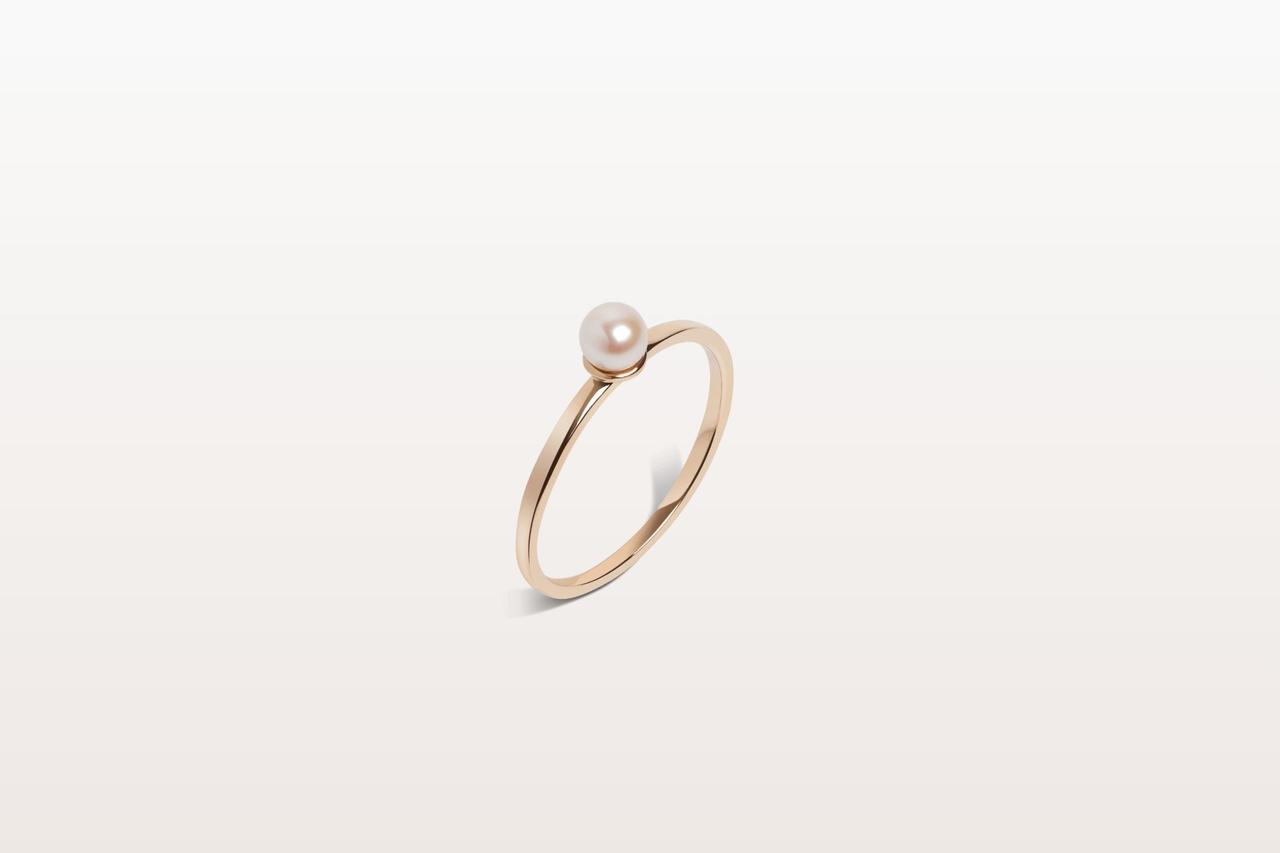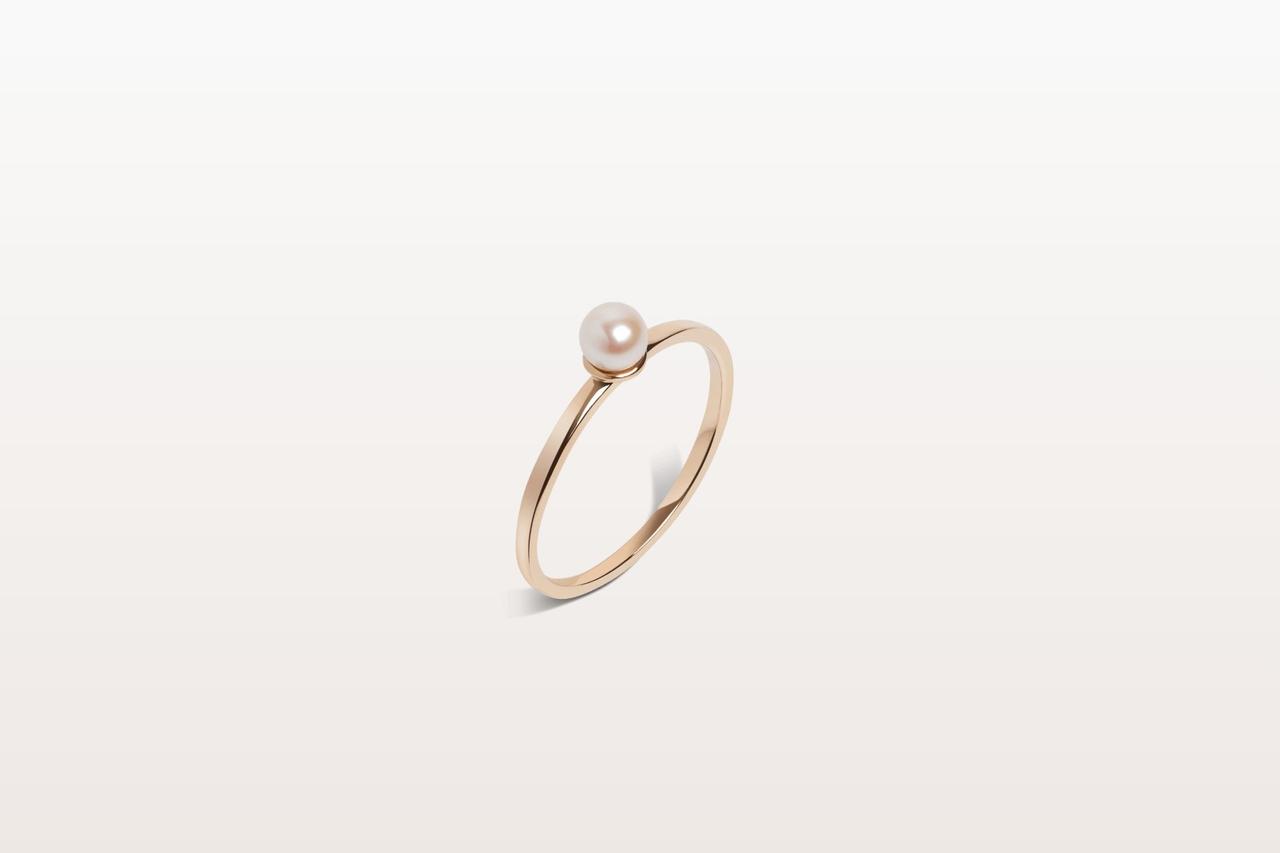 For the modern minimalist, this 14-karat yellow gold ring with a beautifully simple pearl is the perfect understated engagement ring.
7. Yoko London Novus South Sea Pearl, Golden South Sea Pearl and Diamond Ring – £7,000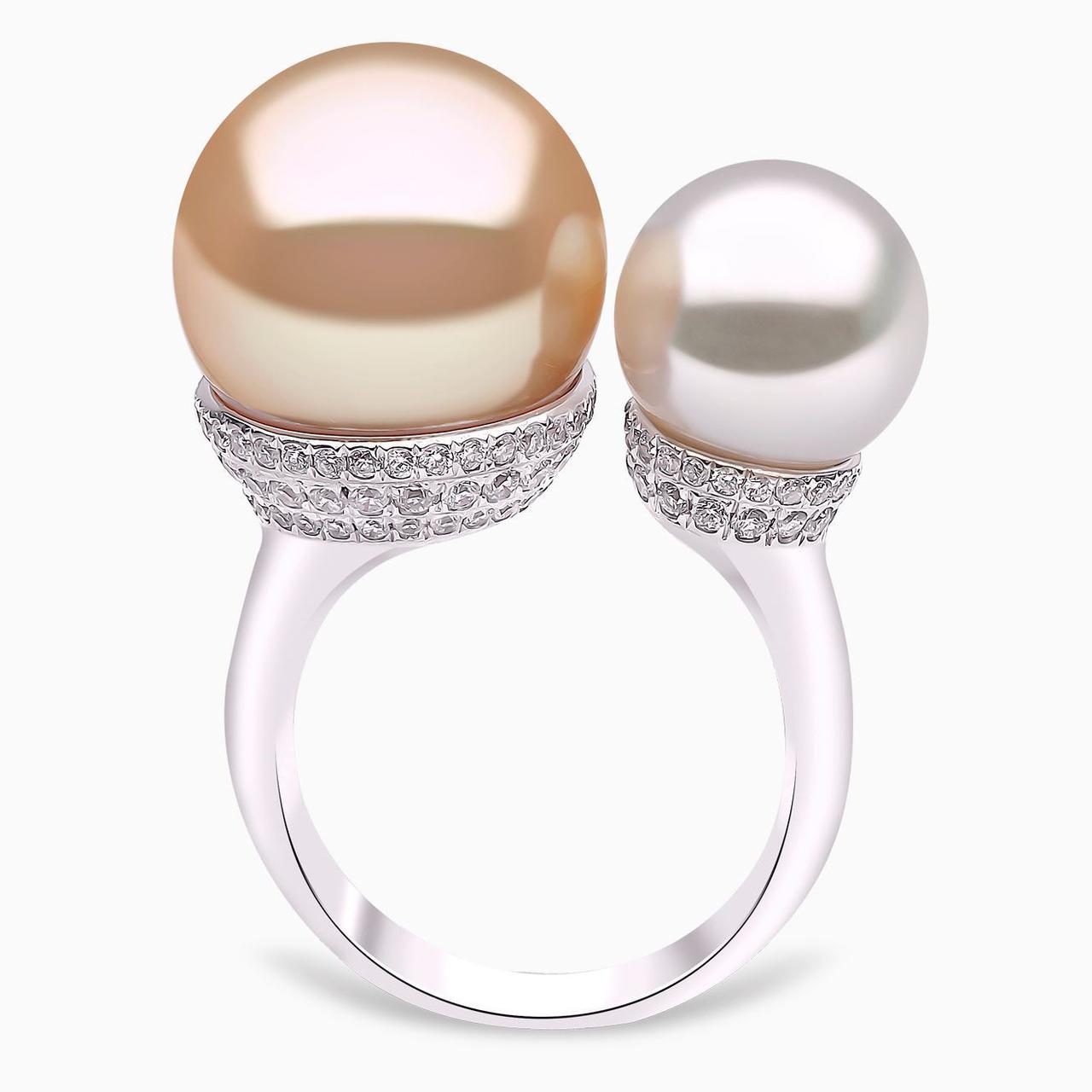 This truly unique ring features two stunning pearls – one white, one golden – sitting on a crown of diamonds. It has a cocktail ring feel so is definitely the choice for an alternative bride who wants a bold, statement engagement ring.
8. Mizuki 14k Gold 3-Pearl & Diamond Ring – £573.93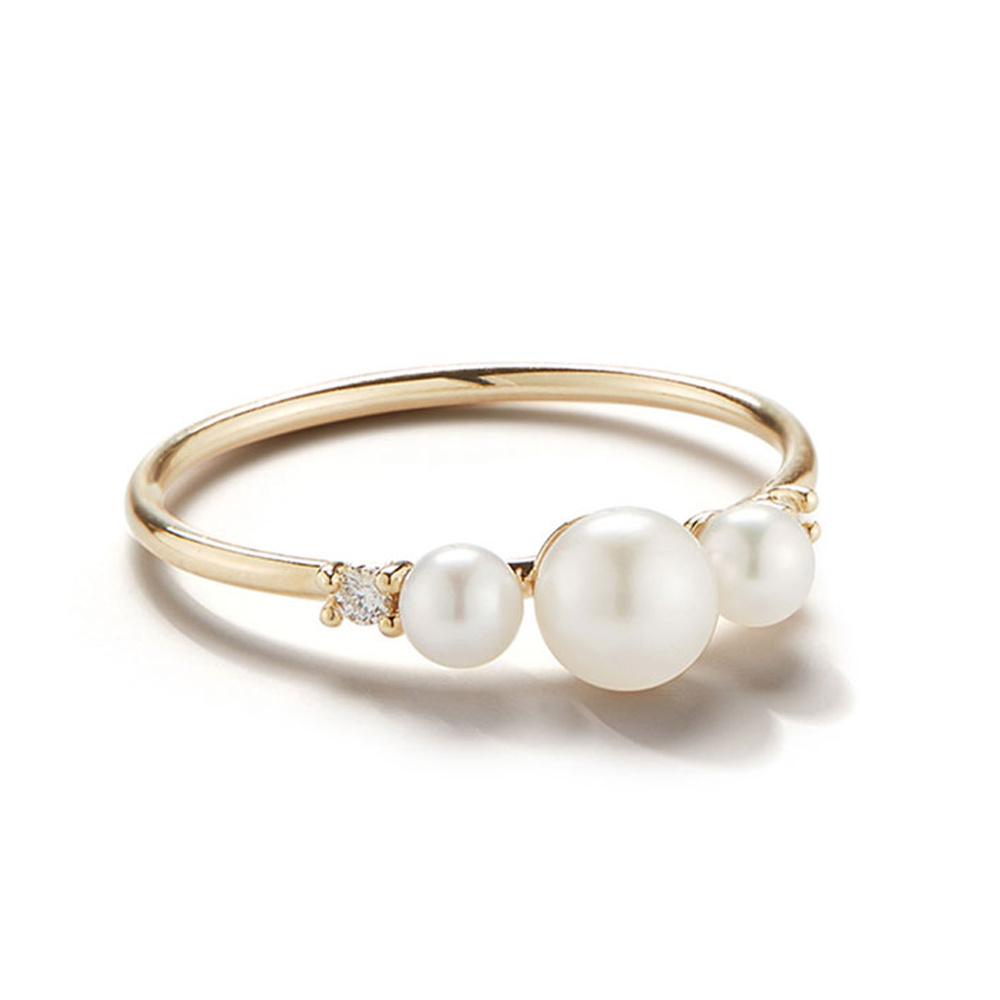 A simple but elegant ring that combines pearls with tiny flashes of diamonds. If you want the best of both worlds, this is a winner.
9. Anissa Kermiche Age of Innocence 14-Karat Gold, Pearl and Garnet Ring – £430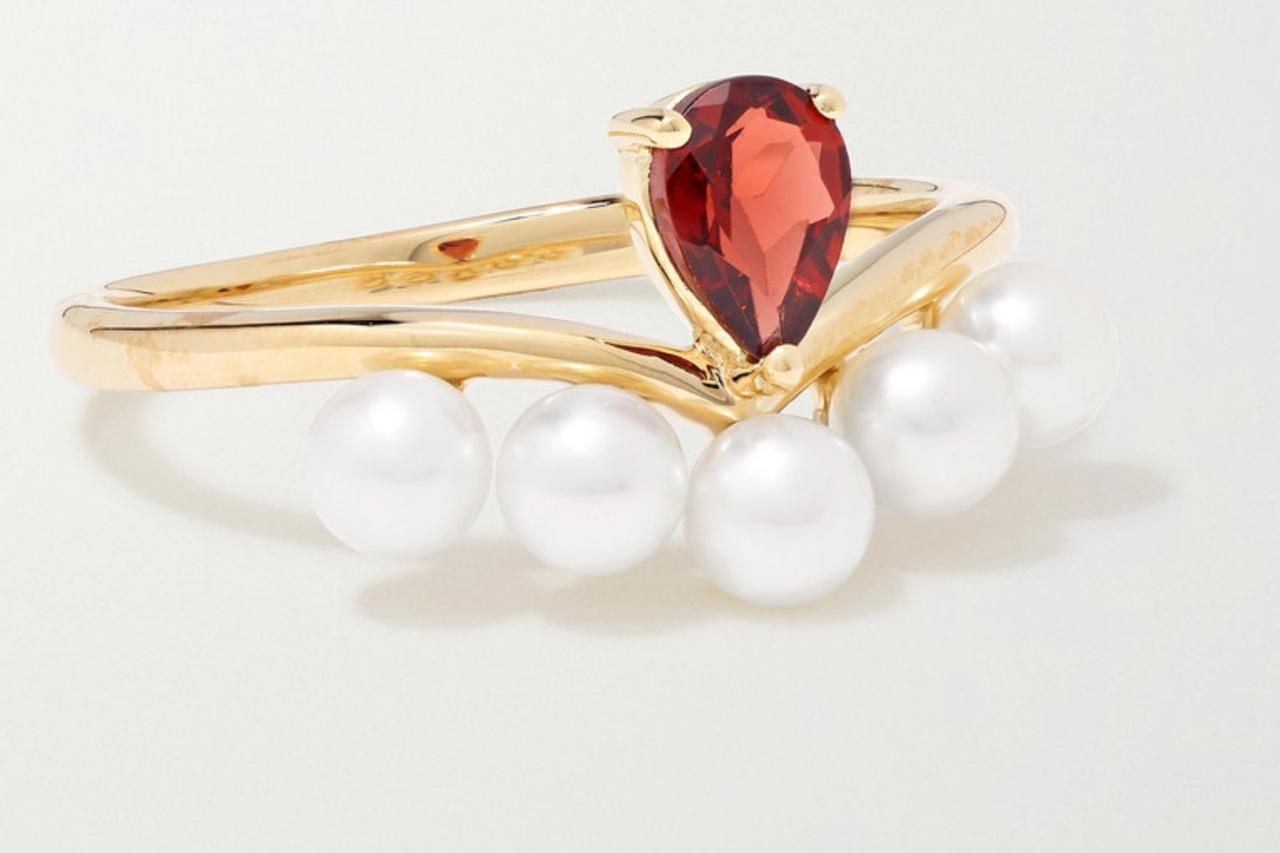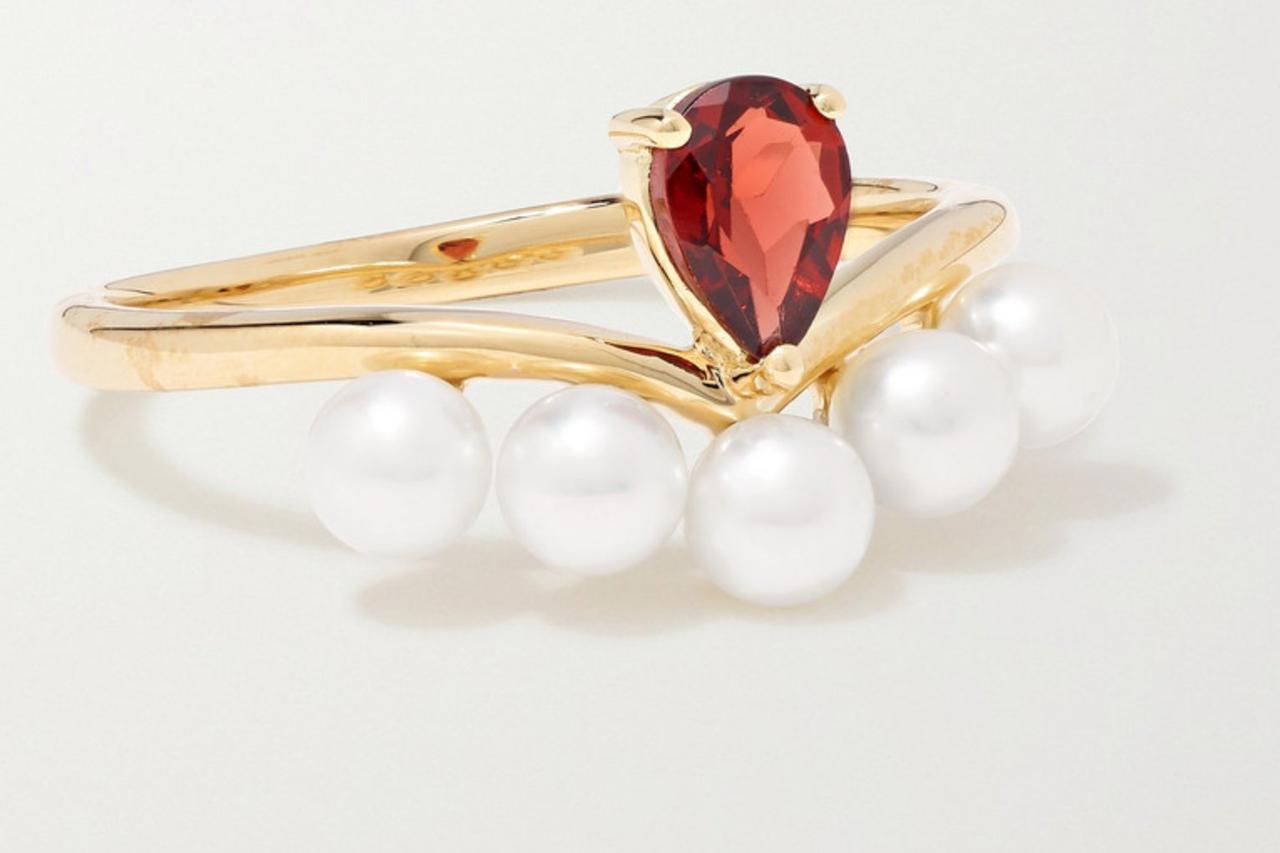 The unique design of this ring makes it a truly special piece that you will love for a lifetime. Named after the romantic Edith Wharton novel, the 'Age of Innocence' ring is handmade with 14-karat gold, with a pear-cut garnet underscored by a row of lustrous pearls. Ideal for brides who love vintage design.
10. Pomaletta M'ama Mon M'ama 18-Karat Rose Gold, Mother-of-Pearl and Diamond Ring – £1,260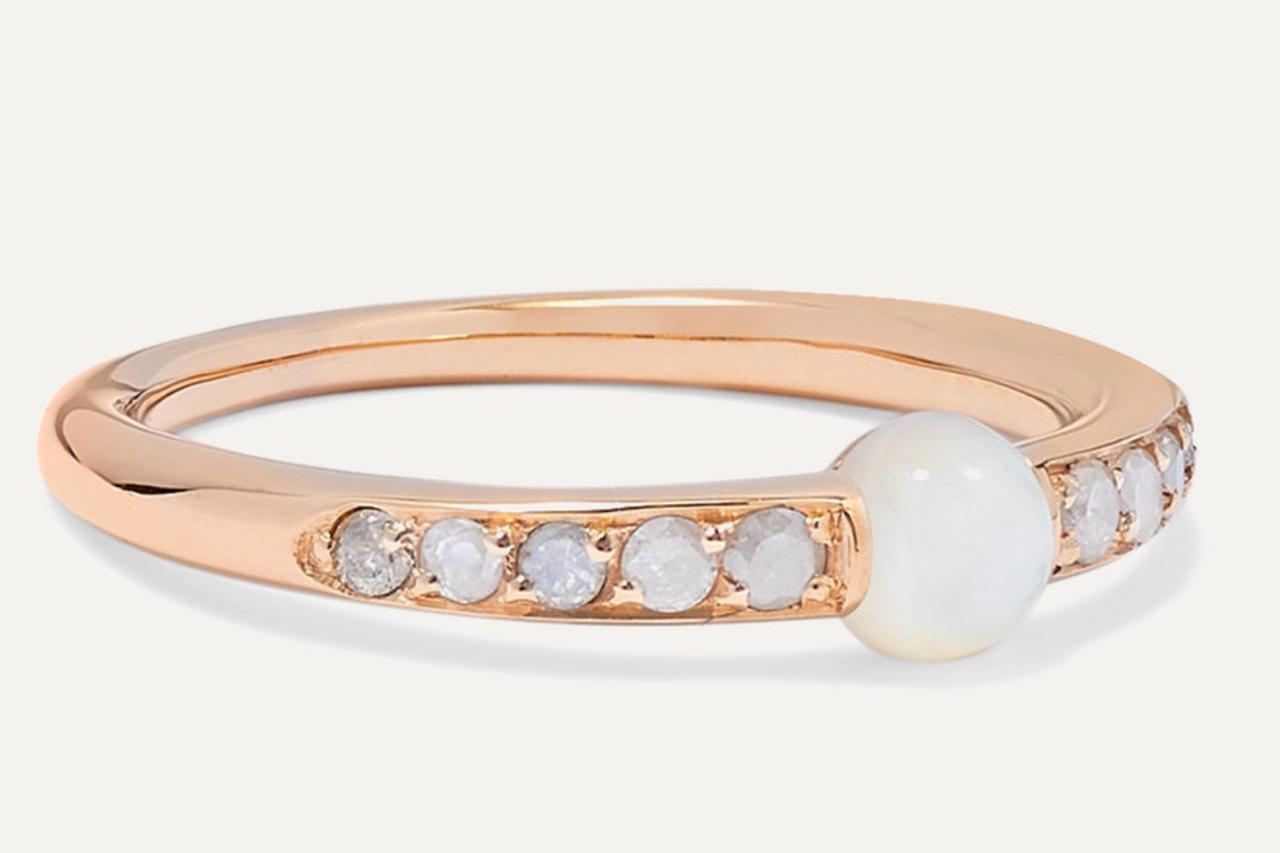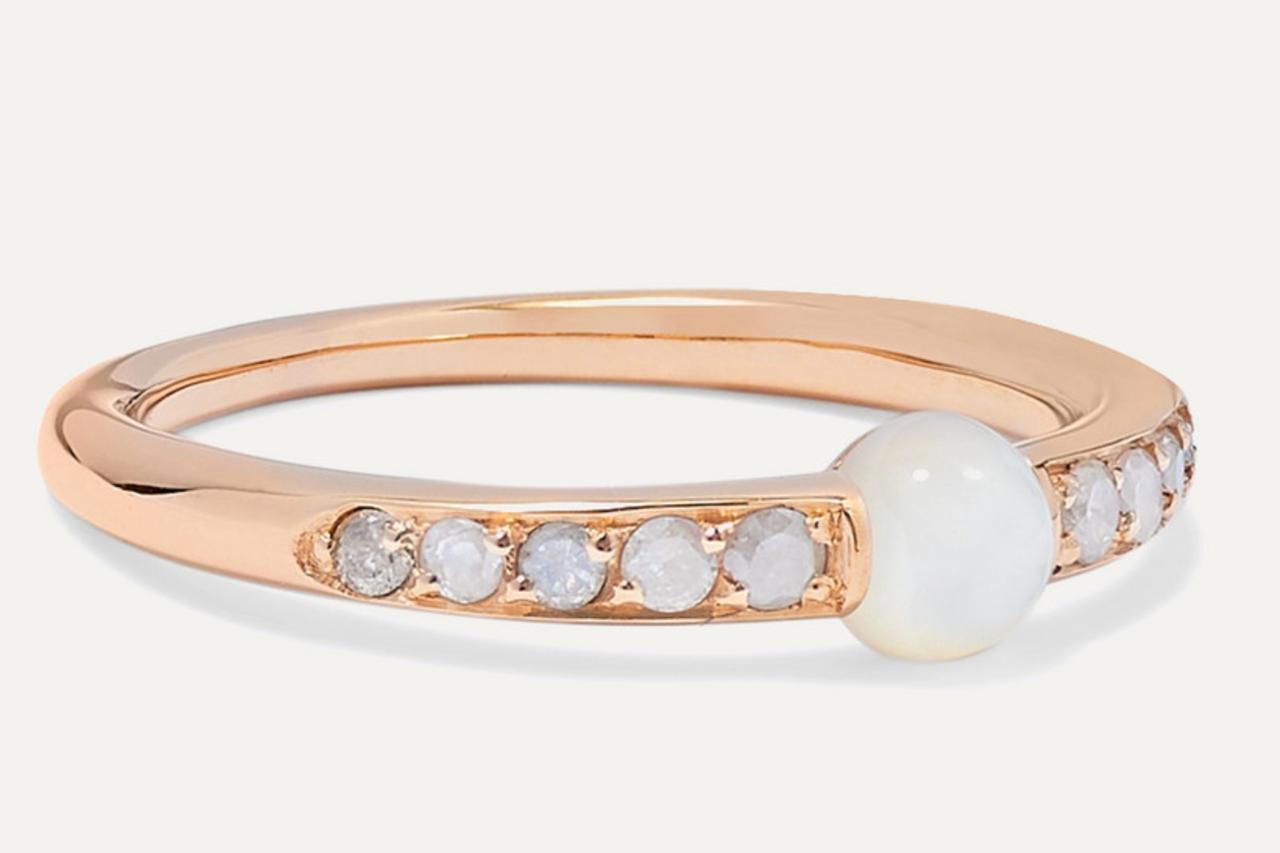 The Pomaletta M'ama non M'ama collection reflects the wearer's emotions. This piece symbolises courage, confidence and love; all essential components to a happy marriage. Handmade by artisans, it has an 18-karat rose gold band set with a mother of pearl centre and brilliant-cut diamonds.
11. H Samuel 9ct Yellow Gold Cultured Freshwater Pearl Ring – £139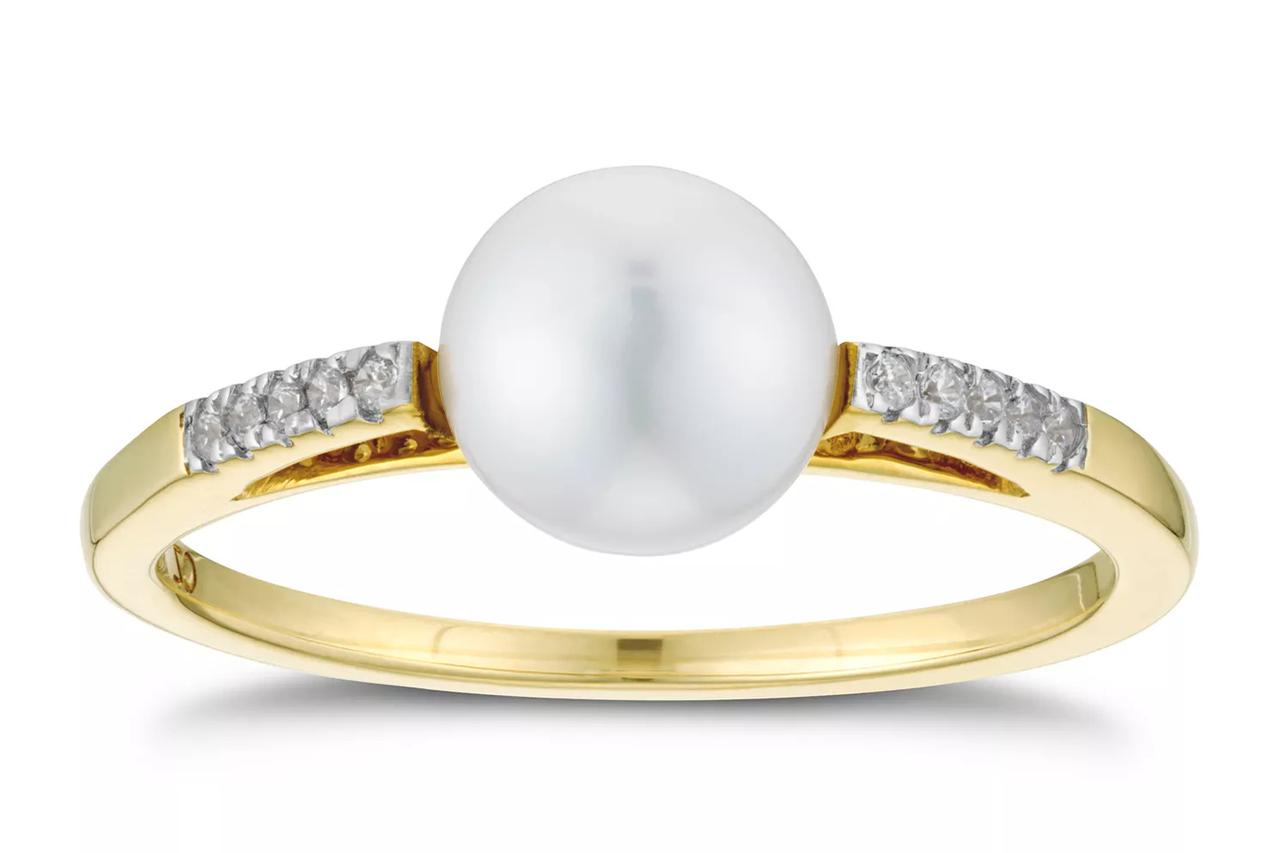 That bargain price tag comes from the fact the rocks on the shoulders are cubic zirconia. But the real centrepiece here is the captivating cultured pearl. Who cares whether you've got real diamond when you have that? It would be ideal too as a placeholder ring if you're planning on saving up for the real thing.
12. Winterson Classic Akoya Pearl Ring in Yellow Gold – £750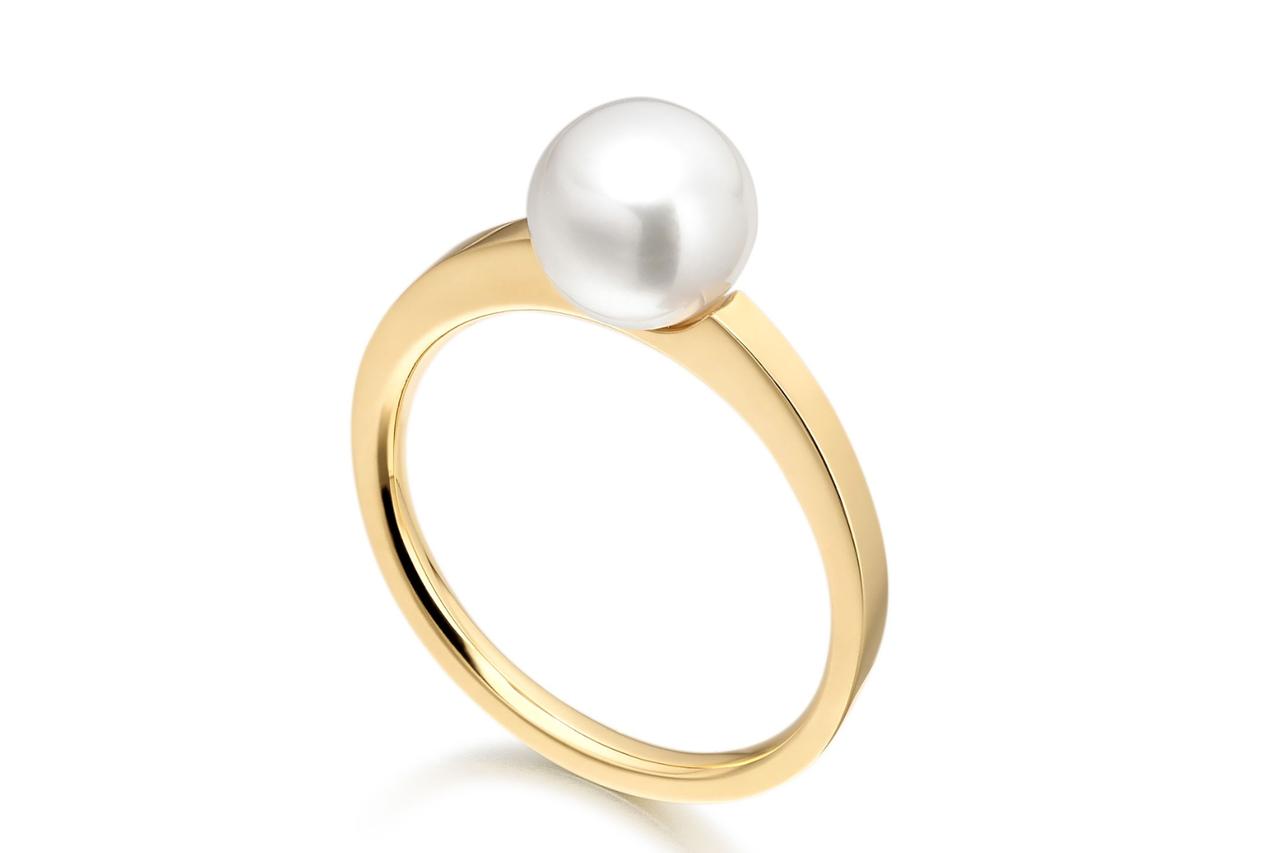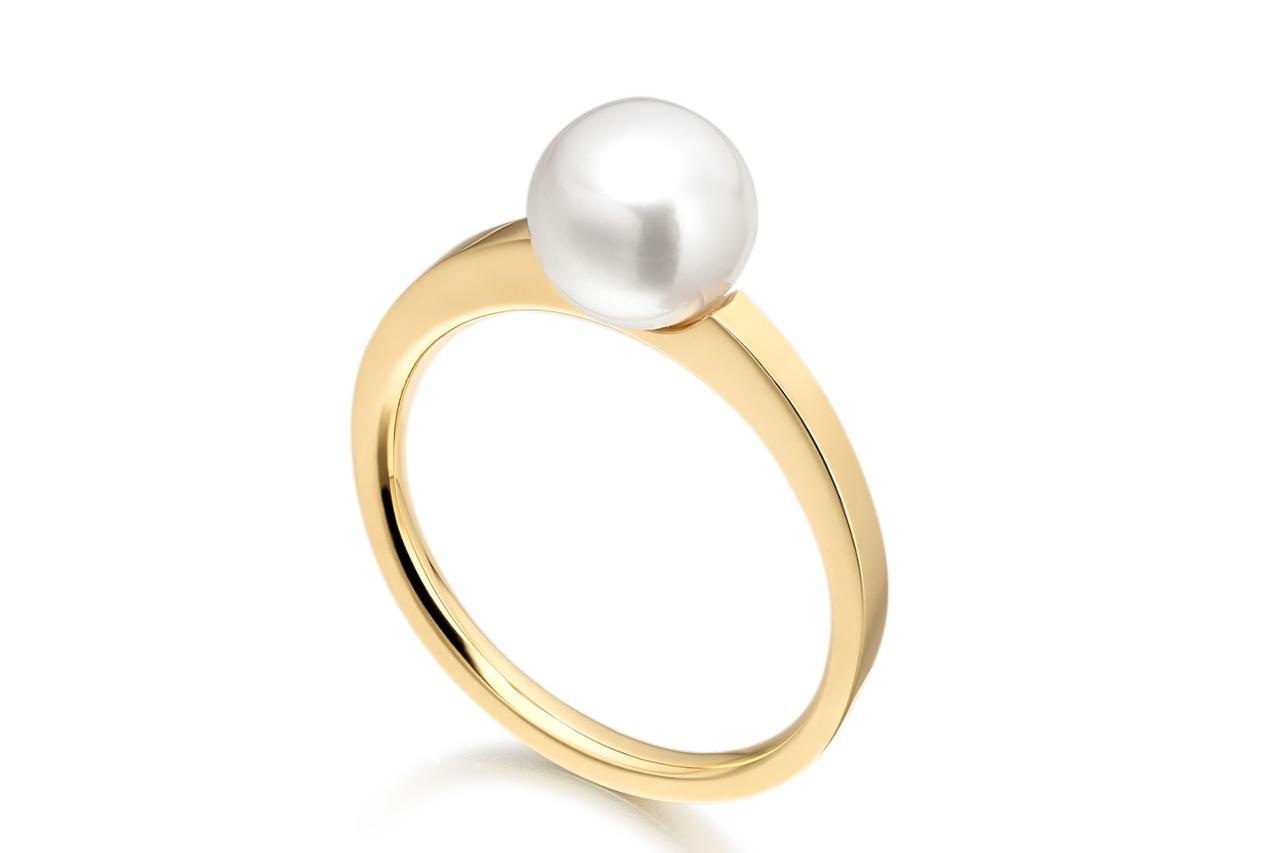 Because sometimes less is more, this is a simple and modern ring with clean lines. The polished band of 18-karat yellow gold is perfect for everyday wear (which is handy, as it's for the rest of your life!).
13. Tiffany Victoria Ring – £4,900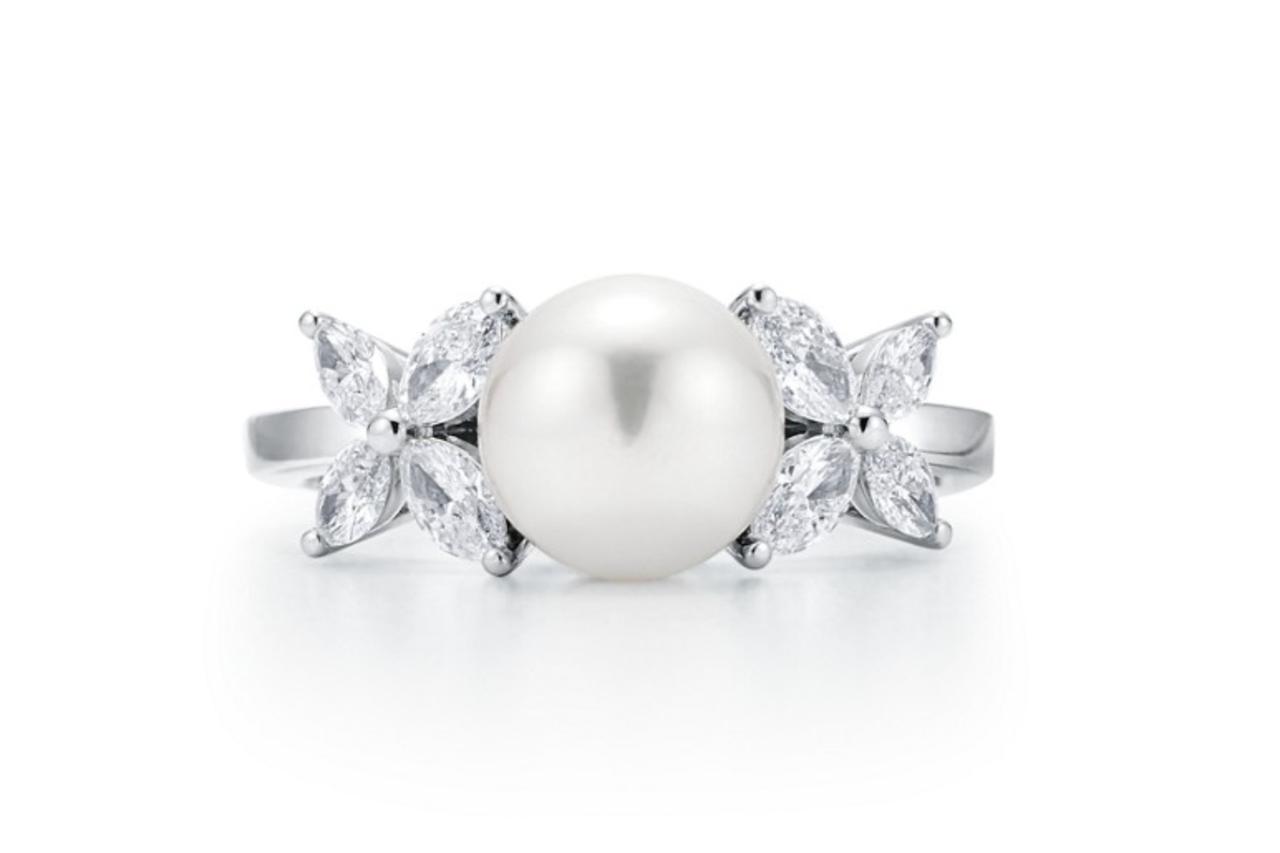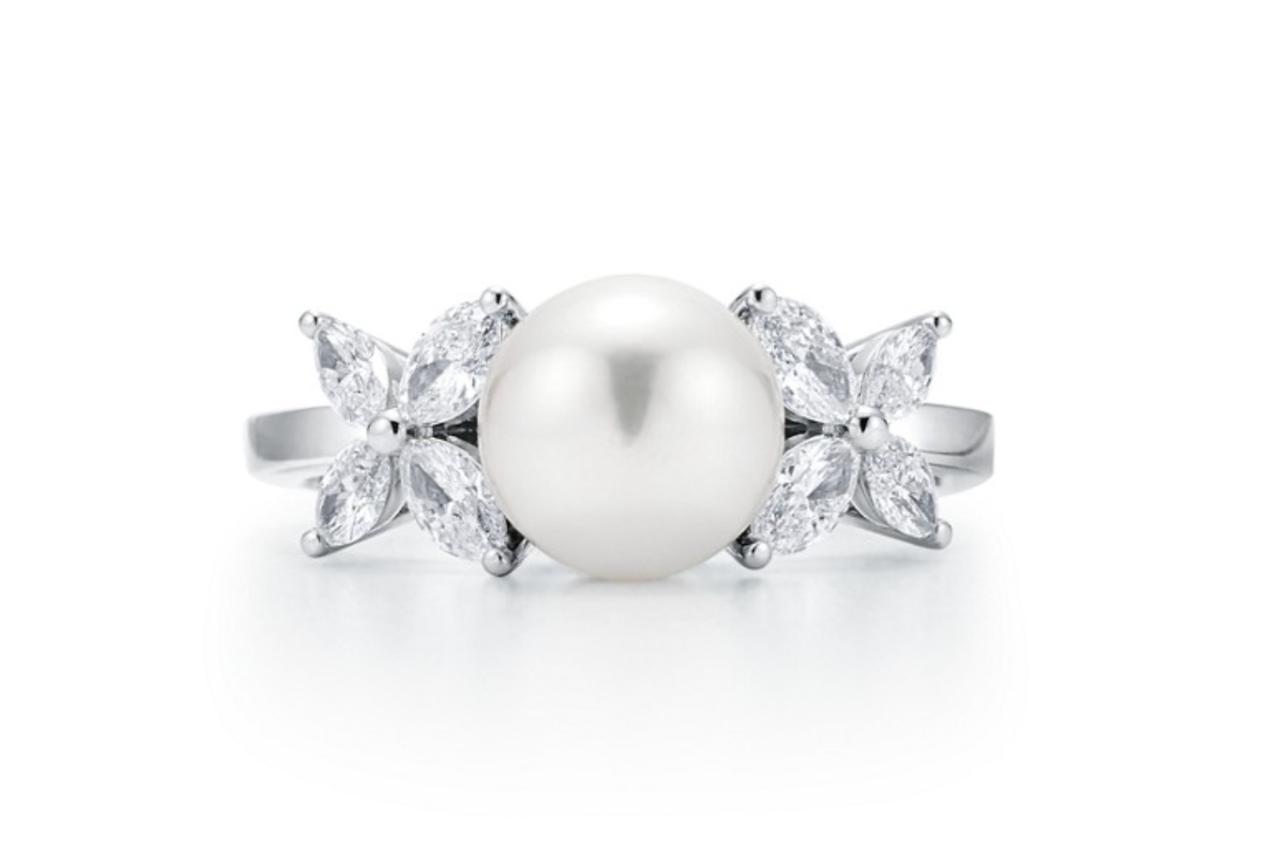 We are absolutely head over heels for this timeless beauty. The dazzling diamonds are accentuated with a central pearl and exude vintage glamour and elegance.
14. Winterson Lily Eclipse Akoya Pearl Ring in Rose Gold – £1,400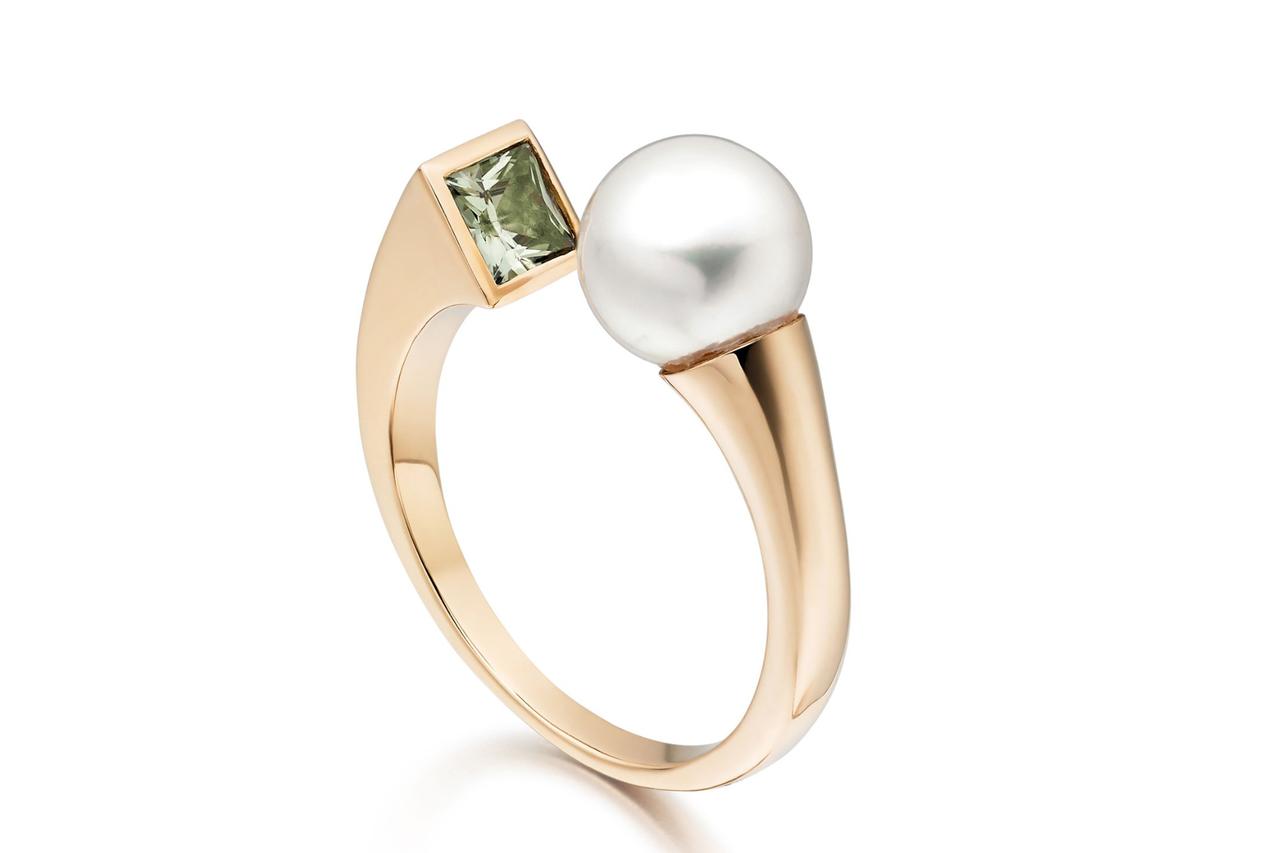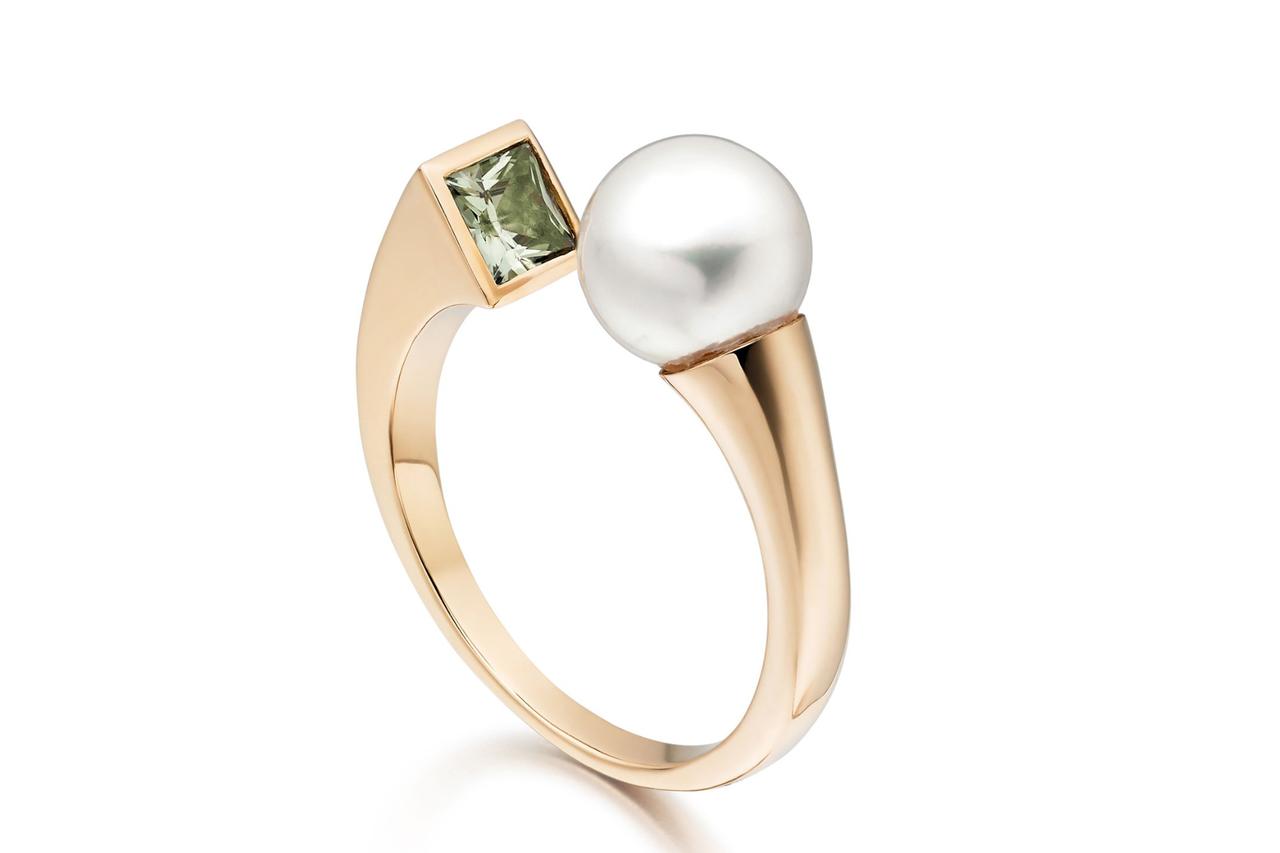 A gorgeous green sapphire subtly reflects off the pearl, representing how two loved ones bounce off one another. Made from 18-karat rose gold, the open torc ring is a contemporary style that is perfect for the modern bride.
15. Alighieri Pearl and 24kt Gold-Plated Ring – £350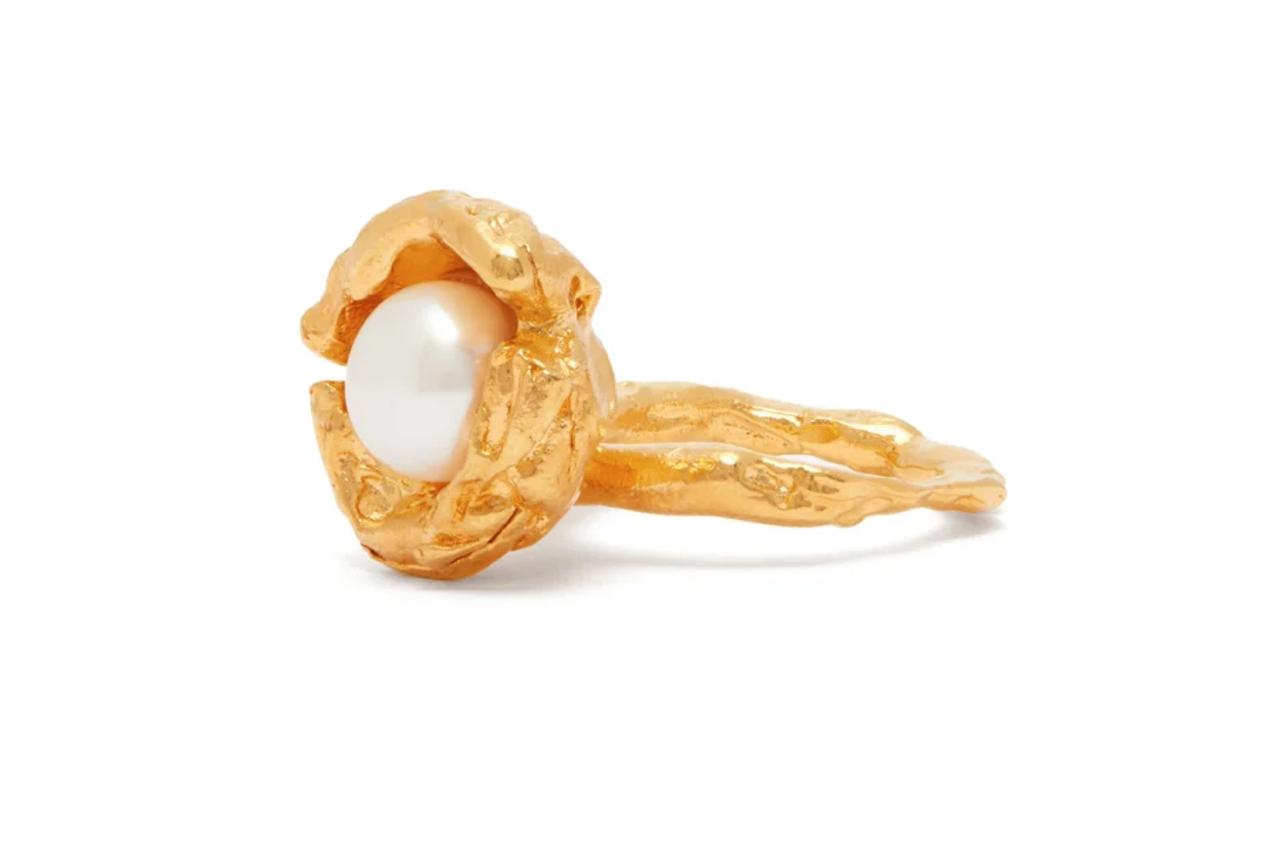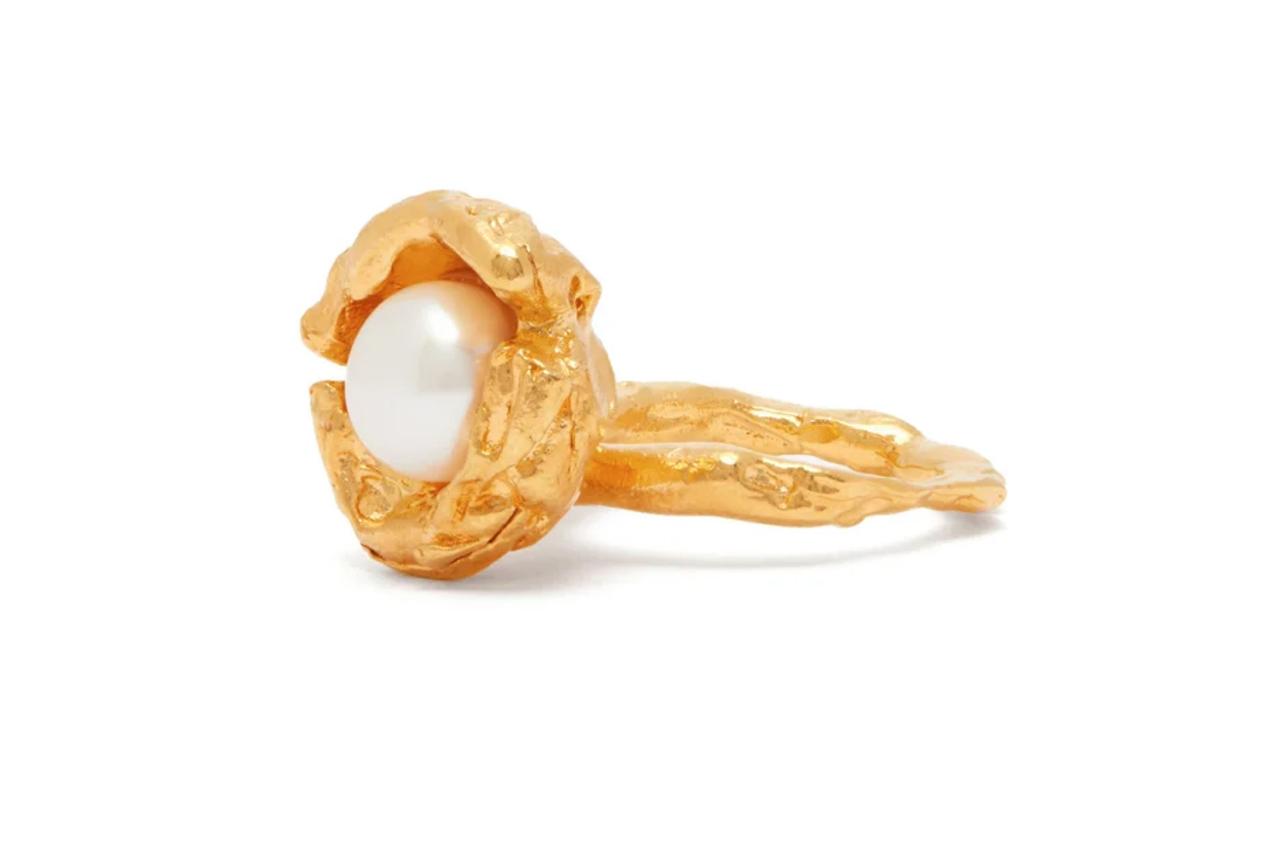 An engagement ring that will be sure to stand out among the crowd! Made in Rosh Mahtani's Hatton Garden studio in London, this textured ring has a wax-cast sculptured band and setting which cocoon a smooth pearl. This is a special ring that you will treasure for the rest of your days.
16. Goldsmiths 9ct Yellow Gold Pearl and Diamond Ring – £230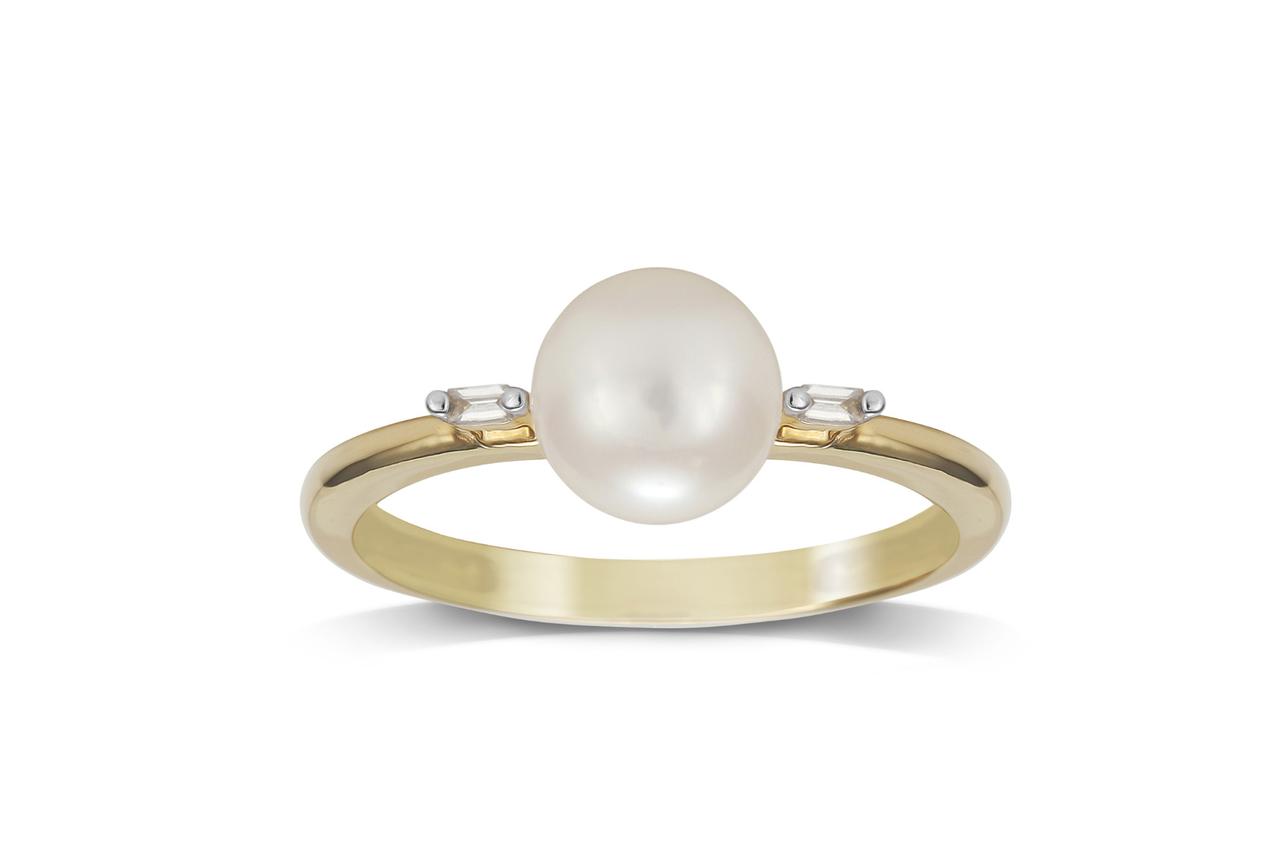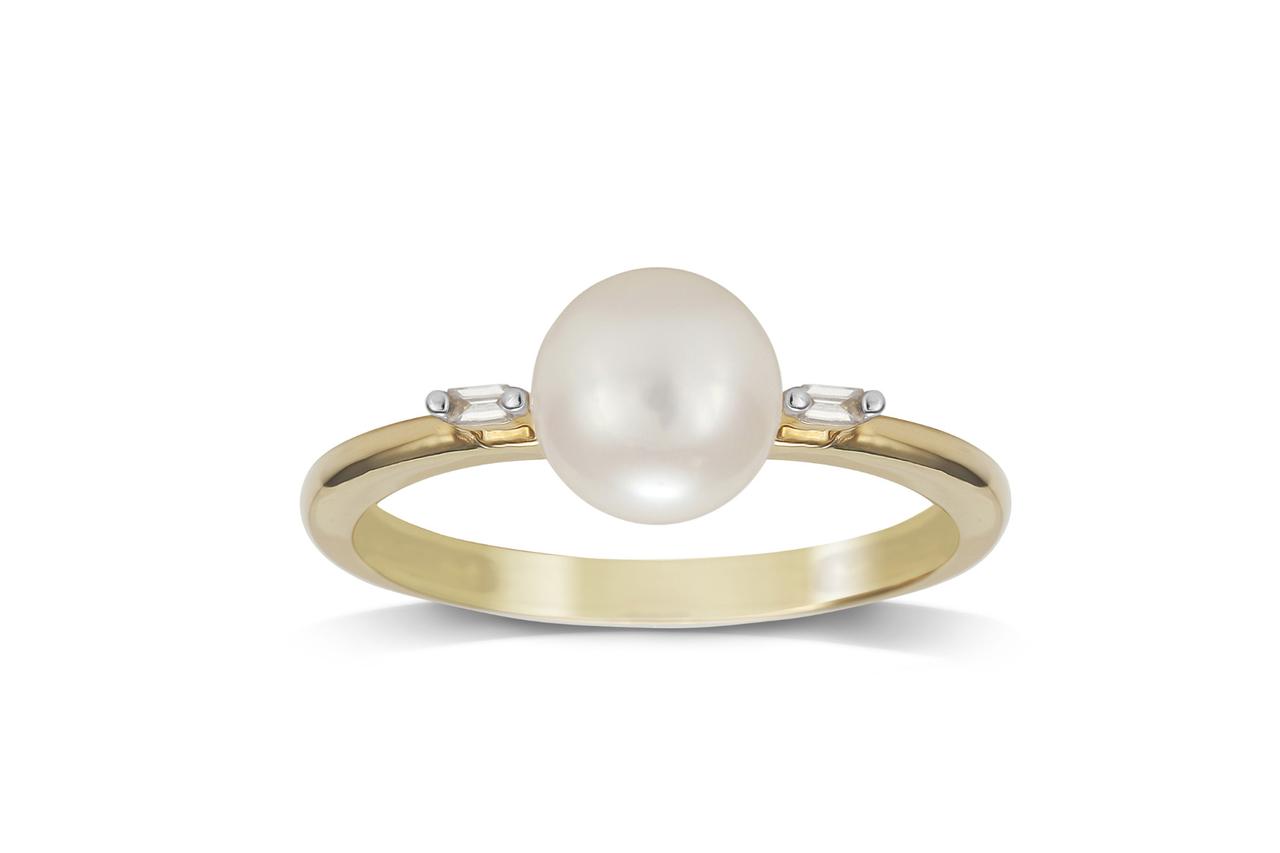 The gorgeous ring is affordable yet luxuriously classic. We love how the pearl is flanked by two sparkling baguette cut diamonds.
17. David Morris Akoya Pearl Diamond Ring – £8,500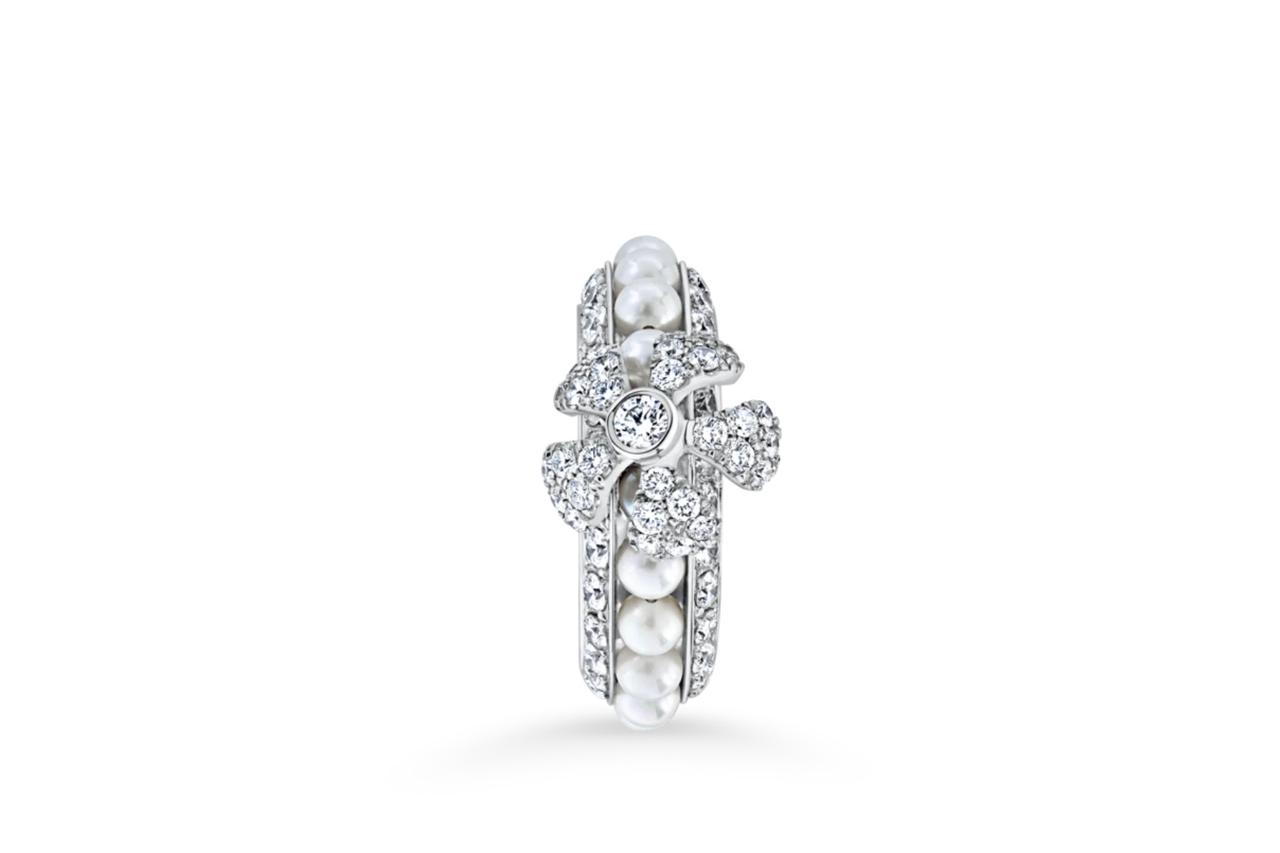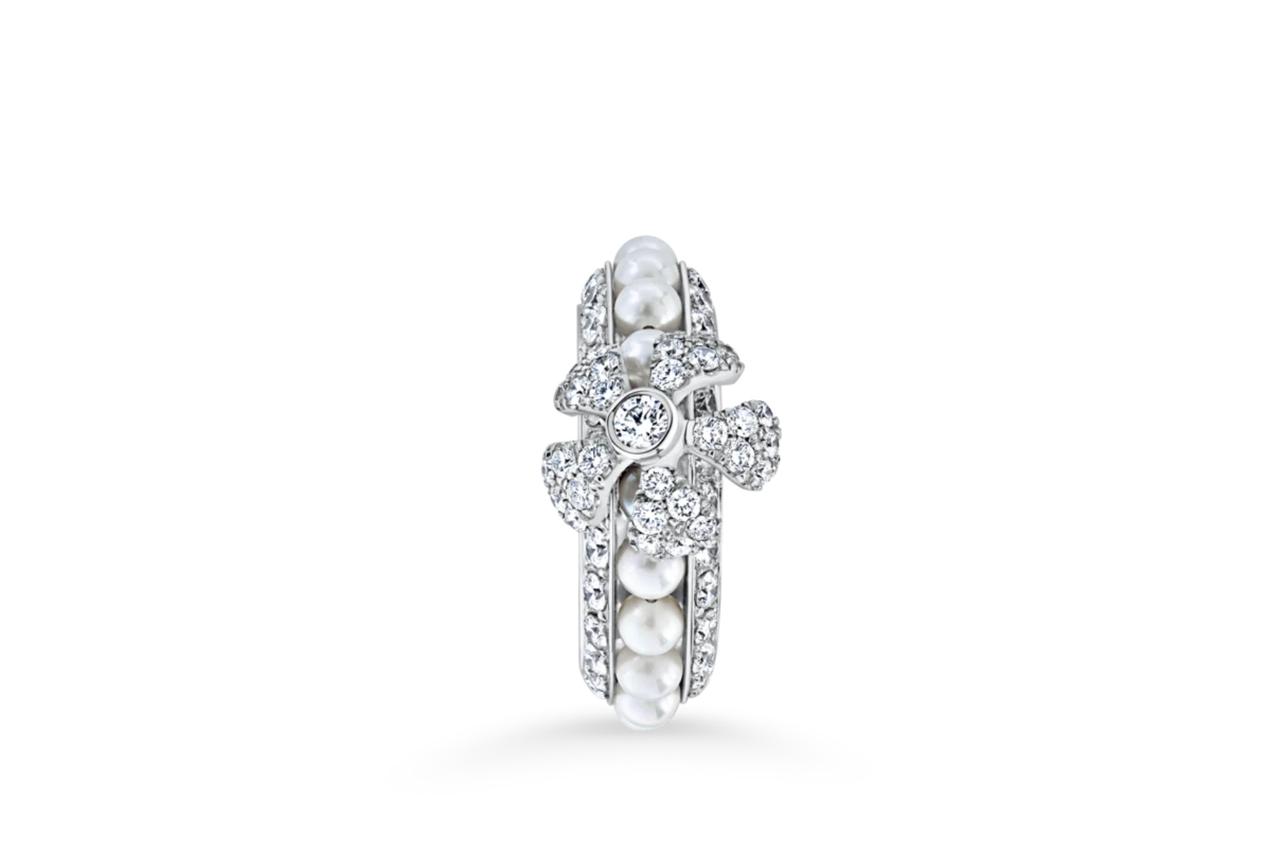 A real showstopper, the handcrafted Akoya pearl and diamond ring was made to stand out. It's a hefty price tag but utterly worth it.
18. Rose Gold, Pearl & Diamond Cluster Engagement Ring Set – £617.95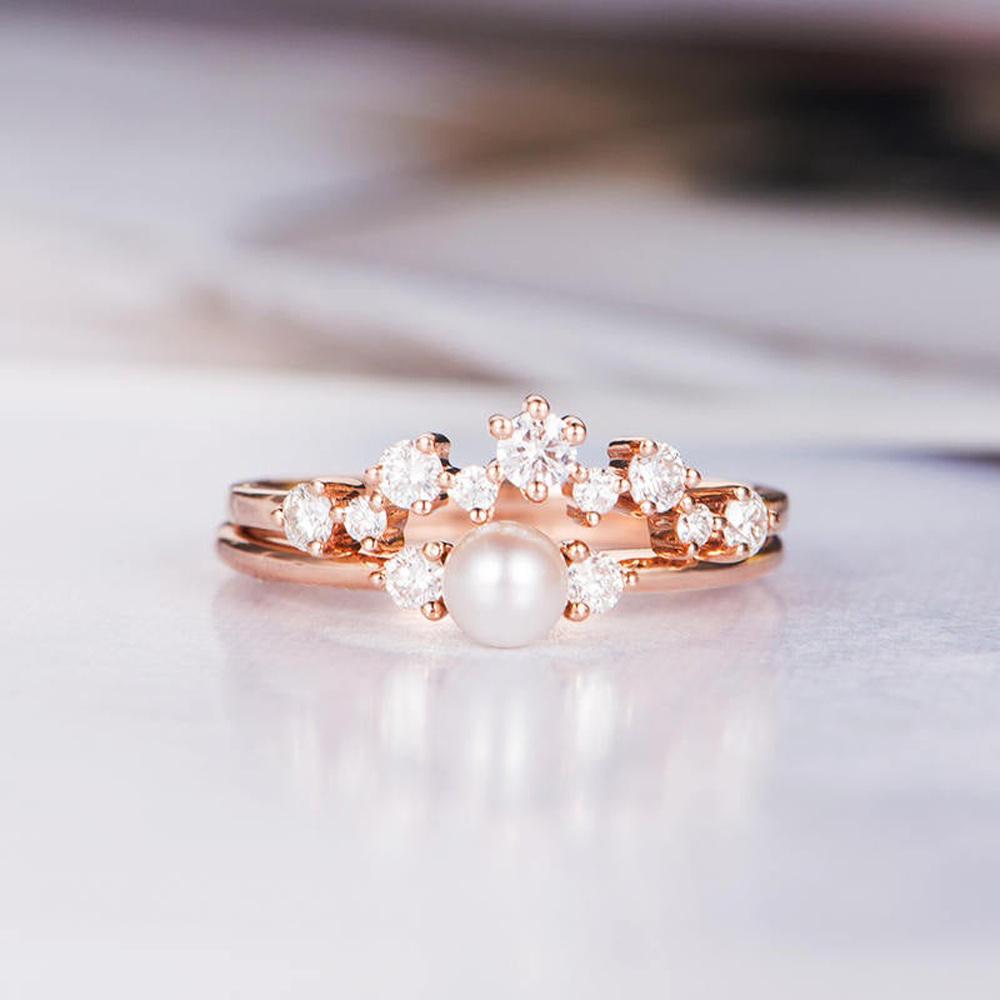 Rose gold jewellery has made a comeback in fashion over the last decade. The pinkish hue is a colour that is both luxurious and fashionable. This pearl and diamond wedding and engagement ring set is so pretty, you won't be able to stop admiring your hand. You can choose which one of the two you use for proposing and which you want as your wedding band.
19. Mikimoto Rose Gold Twist Ring – £1,800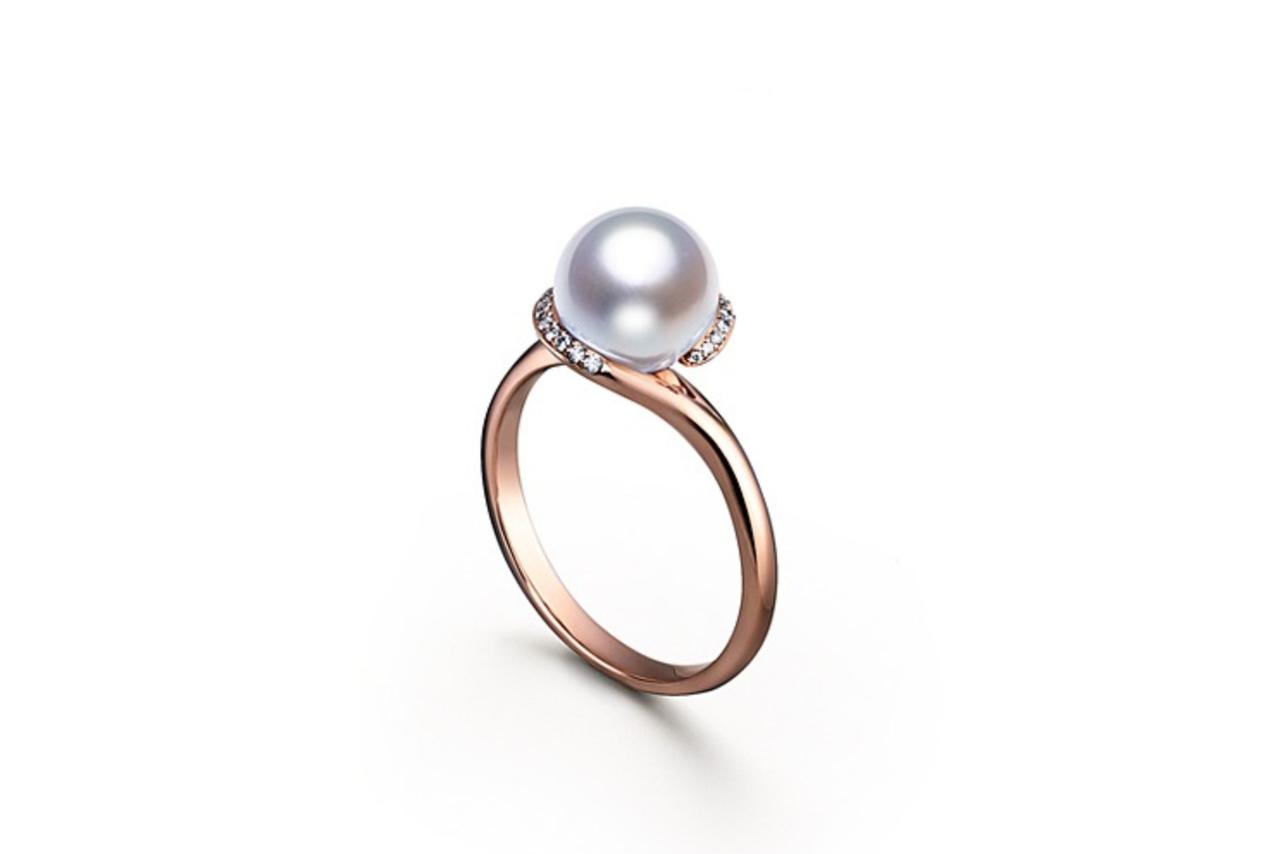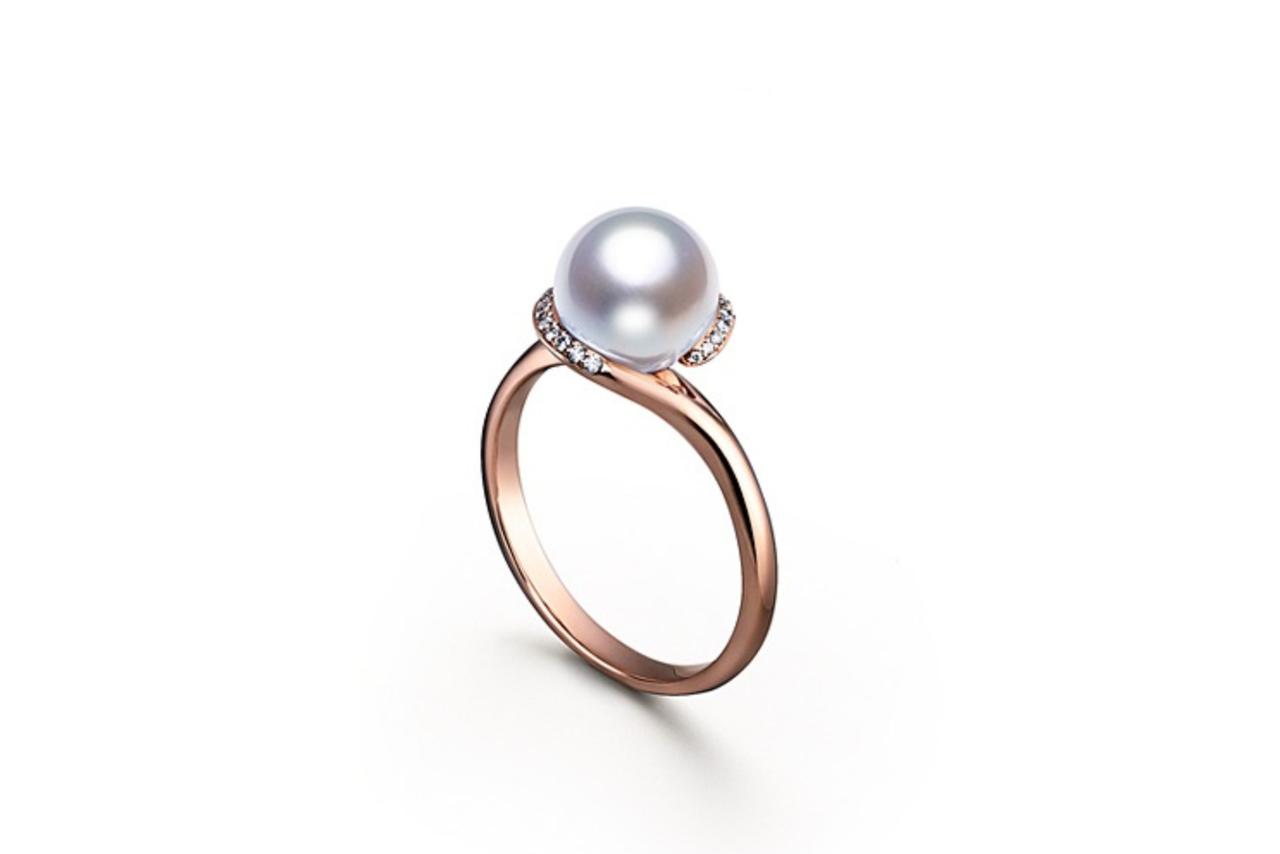 'Yes', a thousand times over! We adore the rose gold band, topped with a cultured pearl and encircled with diamonds. This really is a fairytale ring.
20. Mikimoto White Gold Bubble Ring – £1,400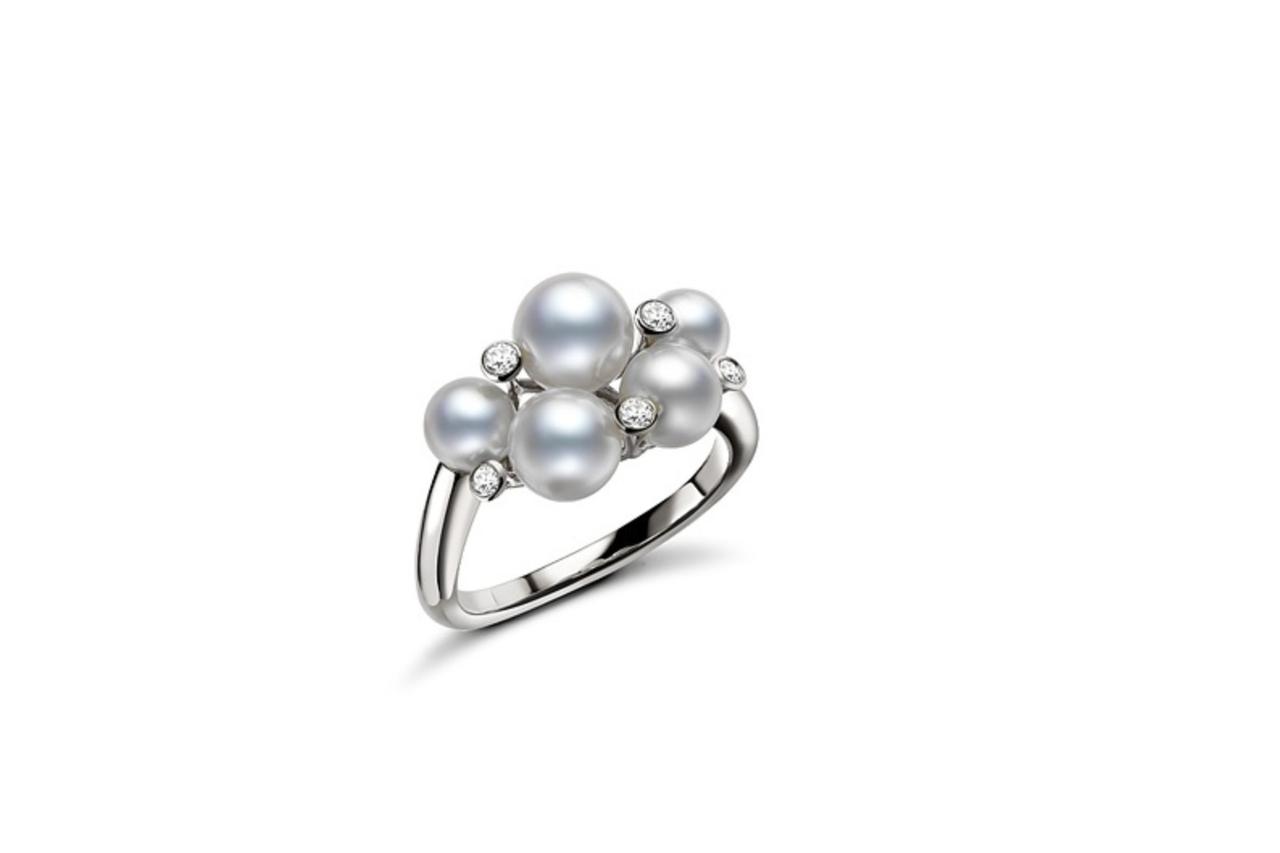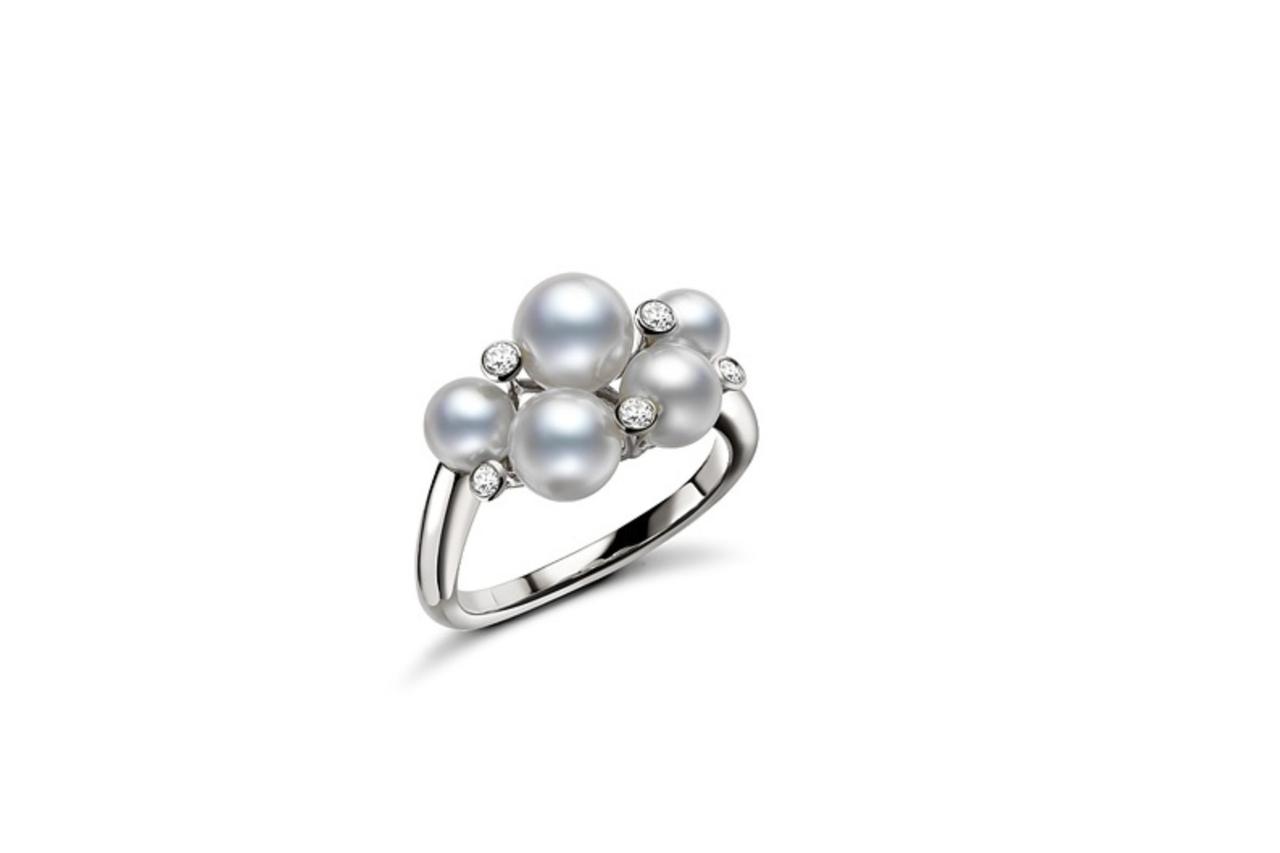 Because sometimes one pearl is not enough. Here, you get five! These pearls are set among five twinkling diamonds on an 18-karat white gold band.
21. Chanel Plume Ring in 18K White Gold, Diamonds and Cultured Pearls – £5,300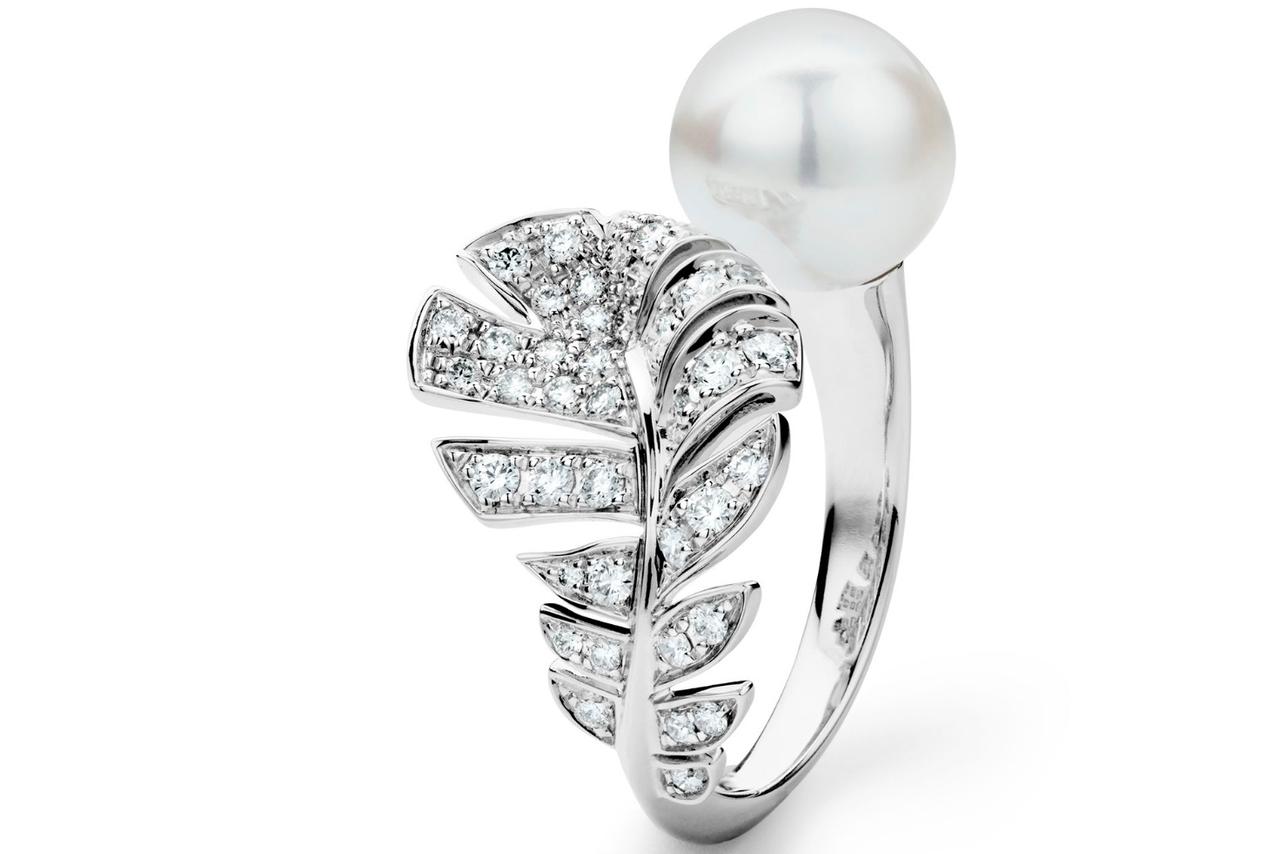 In the words of Coco Chanel herself, "A girl should be two things: classy and fabulous." The Plume de Chanel ring is guaranteed to make you both, with a white gold band that fans into a leaf, diamonds and a shimmering pearl. It oozes bold luxury.
22. Ole Lynggaard Lotus Ring in 18K Yellow Gold with Pearls – £1,150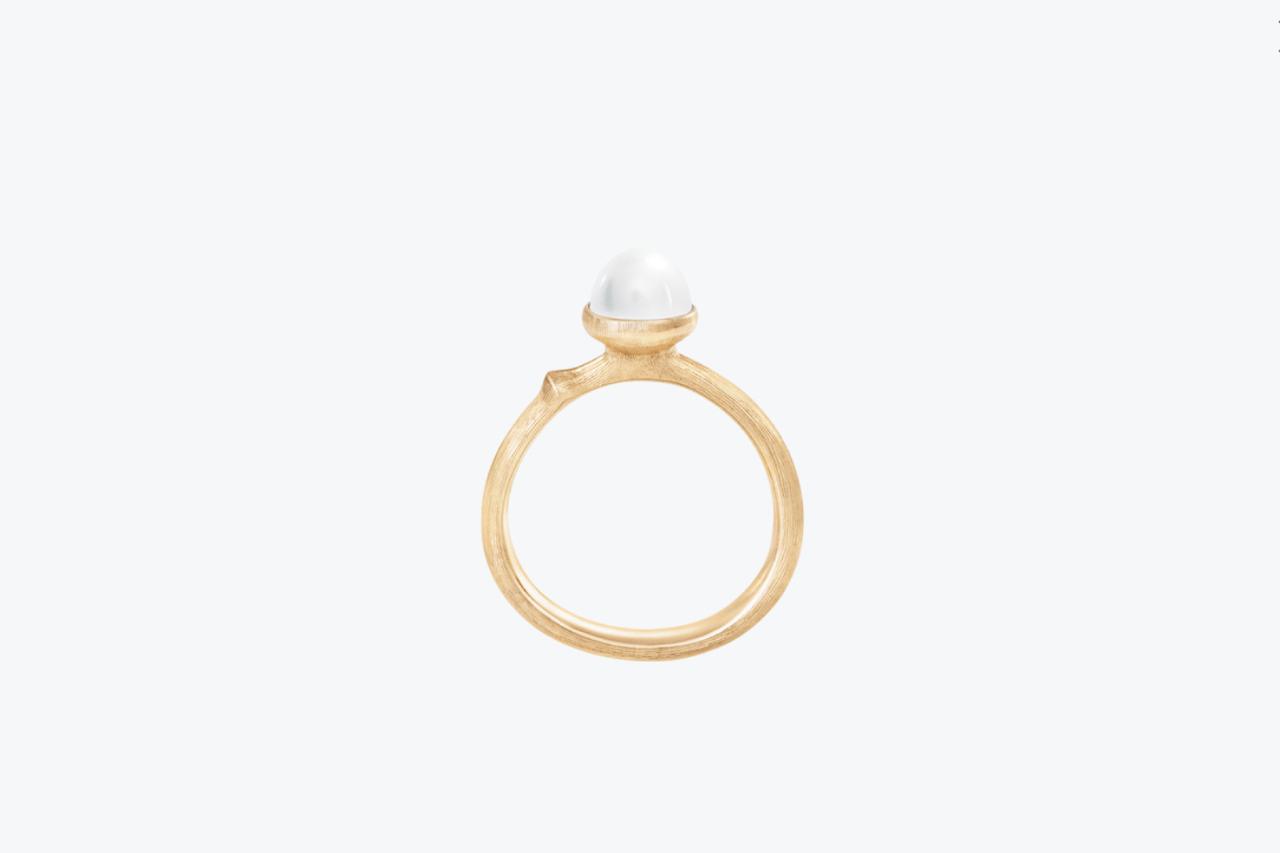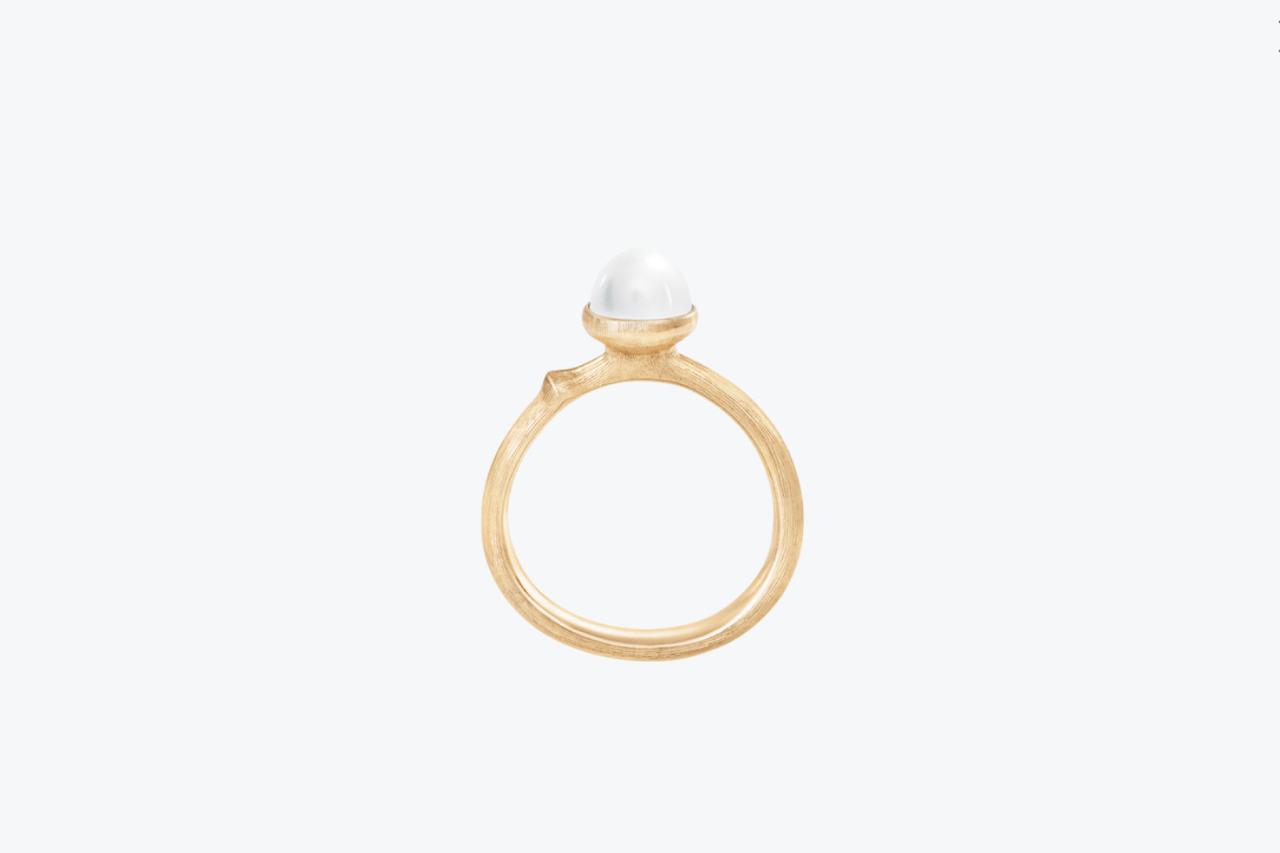 We love how pretty and simple this ring is. With a solitary pearl and 'bumpy' 18-karat yellow gold band, this is the ring for someone who prefers a crafted, understated piece.
23. Shaun Leane Rose Gold Vermeil Cherry Blossom Diamond and Pearl Flower Ring – £550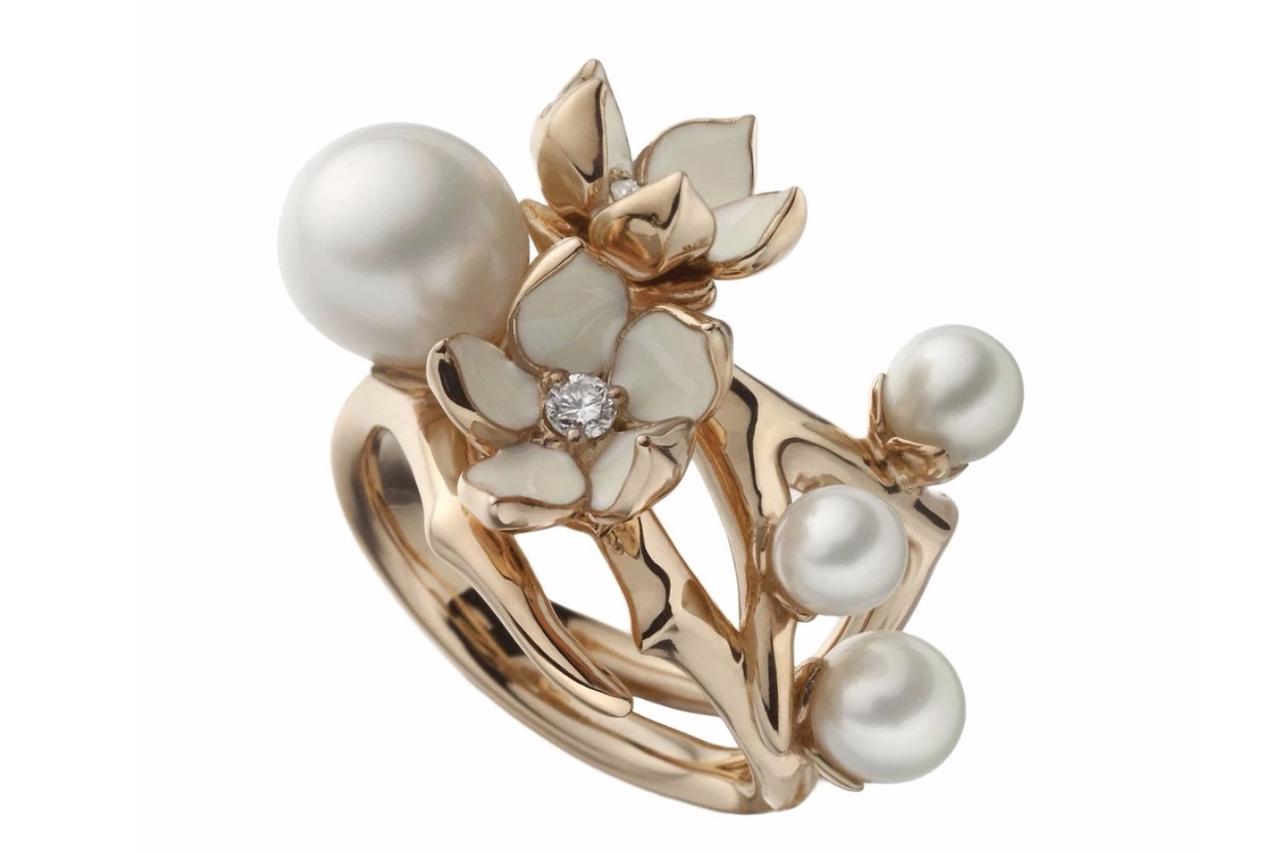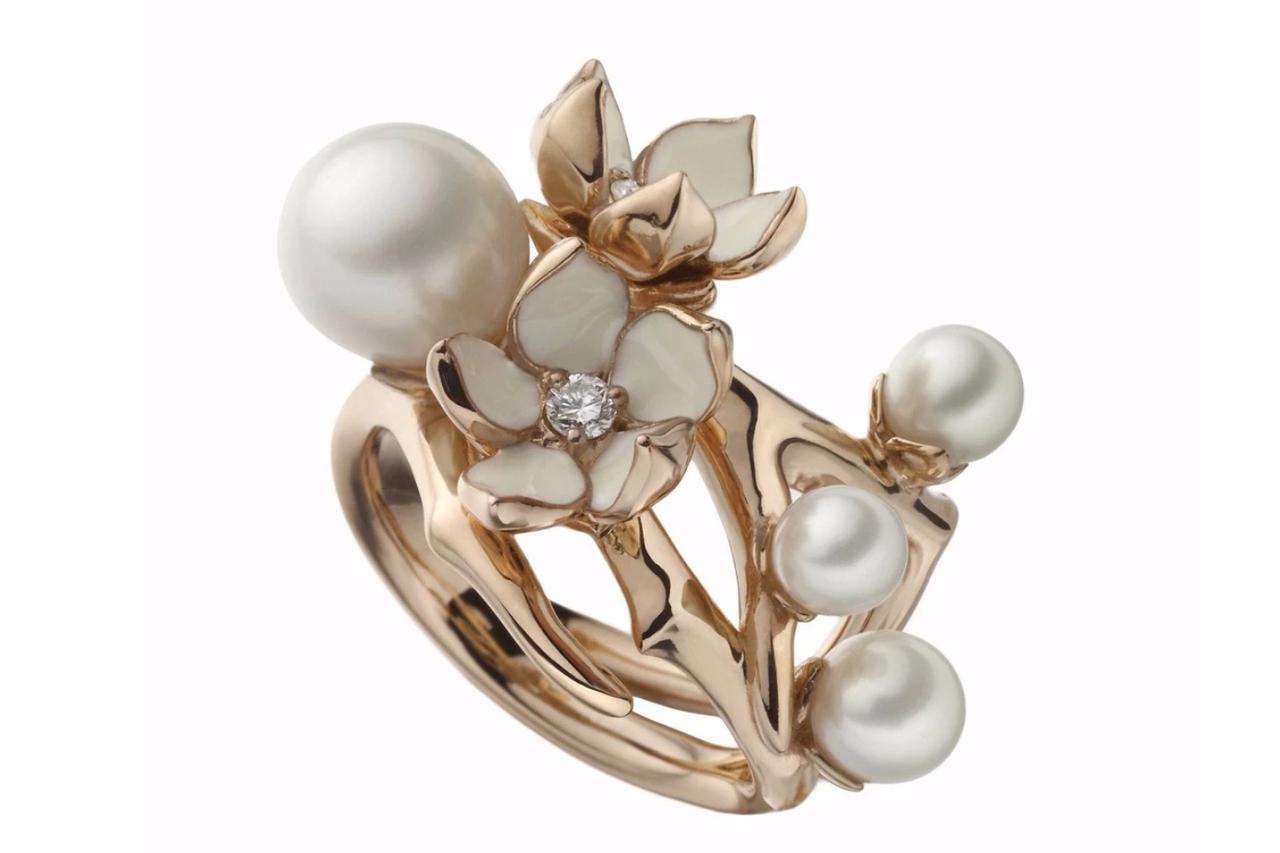 And now for the opposite of understated! This stunning engagement ring comes from the cherry blossom collection and features open flowers set with diamonds among freshwater pearls. This ring catches the different stages of flowering and represents the blossoming romance of a lifelong partnership.
24. The Fine Jewellery Company 18ct Gold Pearl & Diamond Dress Ring – £575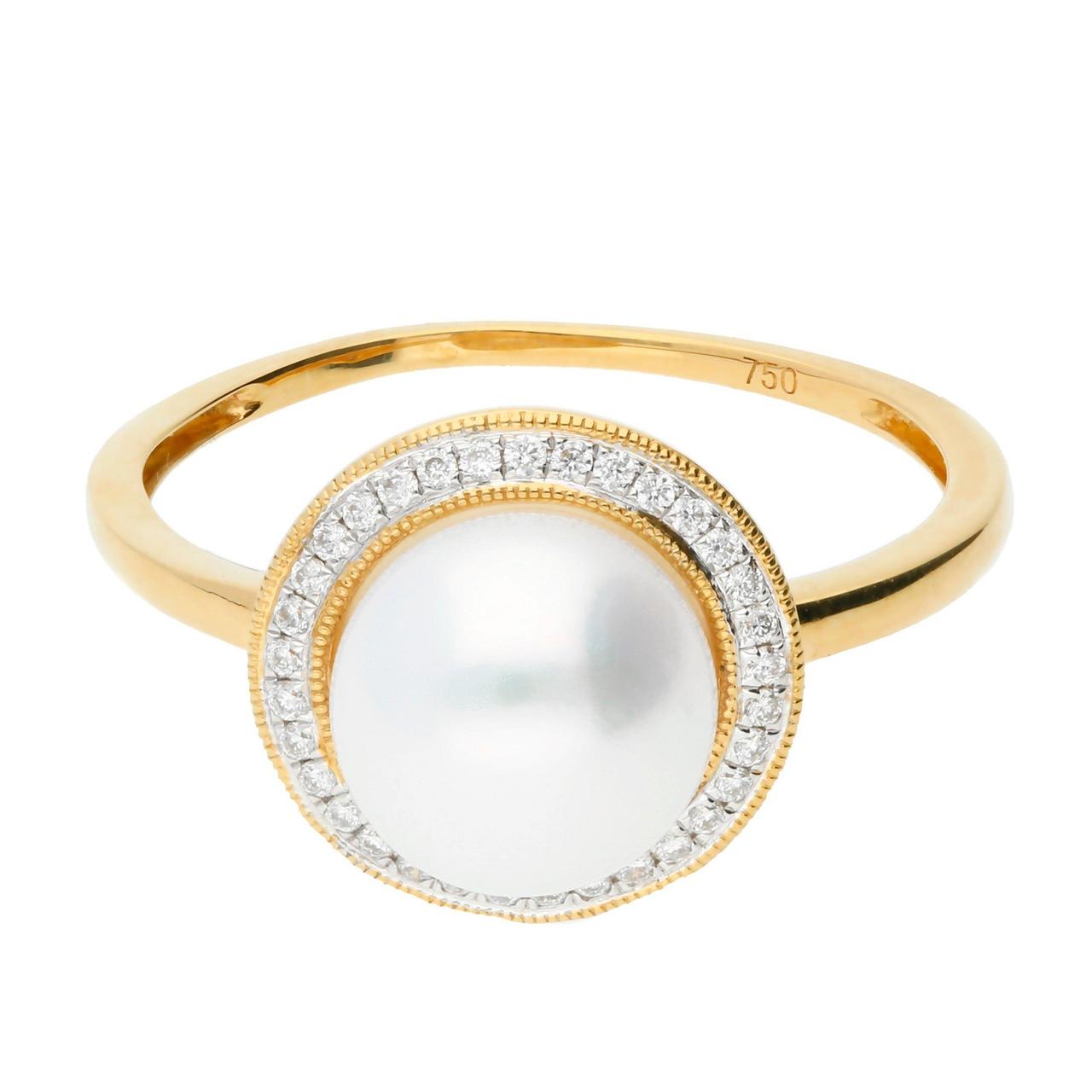 A luxurious dress ring with a creamy white pearl at the centre that shimmers slightly pink. A diamond halo completes this beautiful look.
25. Thomas Sabo Silver & Pearl Ring – £98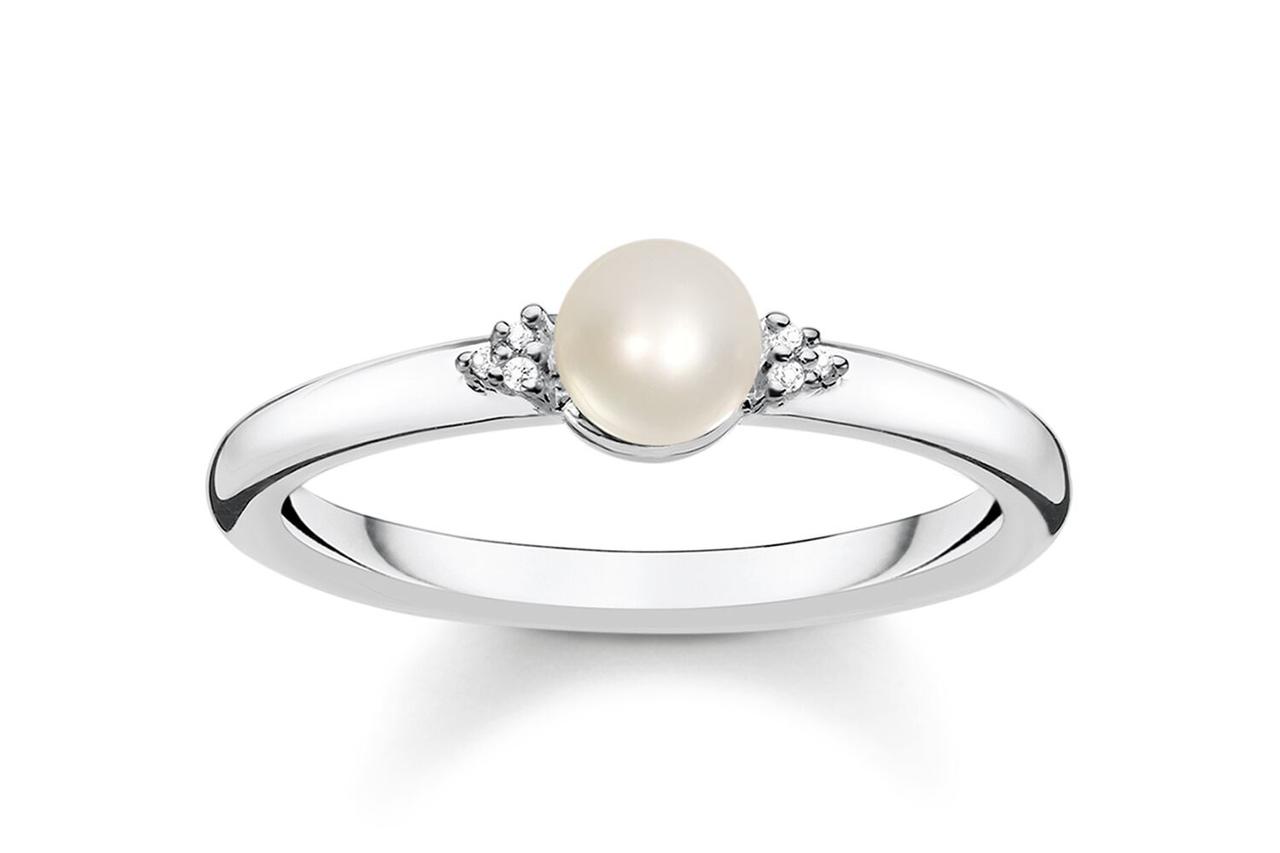 This engagement ring has a luxurious and classic look while being very budget-friendly. Made out of silver and featuring a cultured freshwater pearl set in a diamond pave, this ring has been made for the modern vintage love affair.
26. Tiffany Olive Leaf Pearl Ring – £970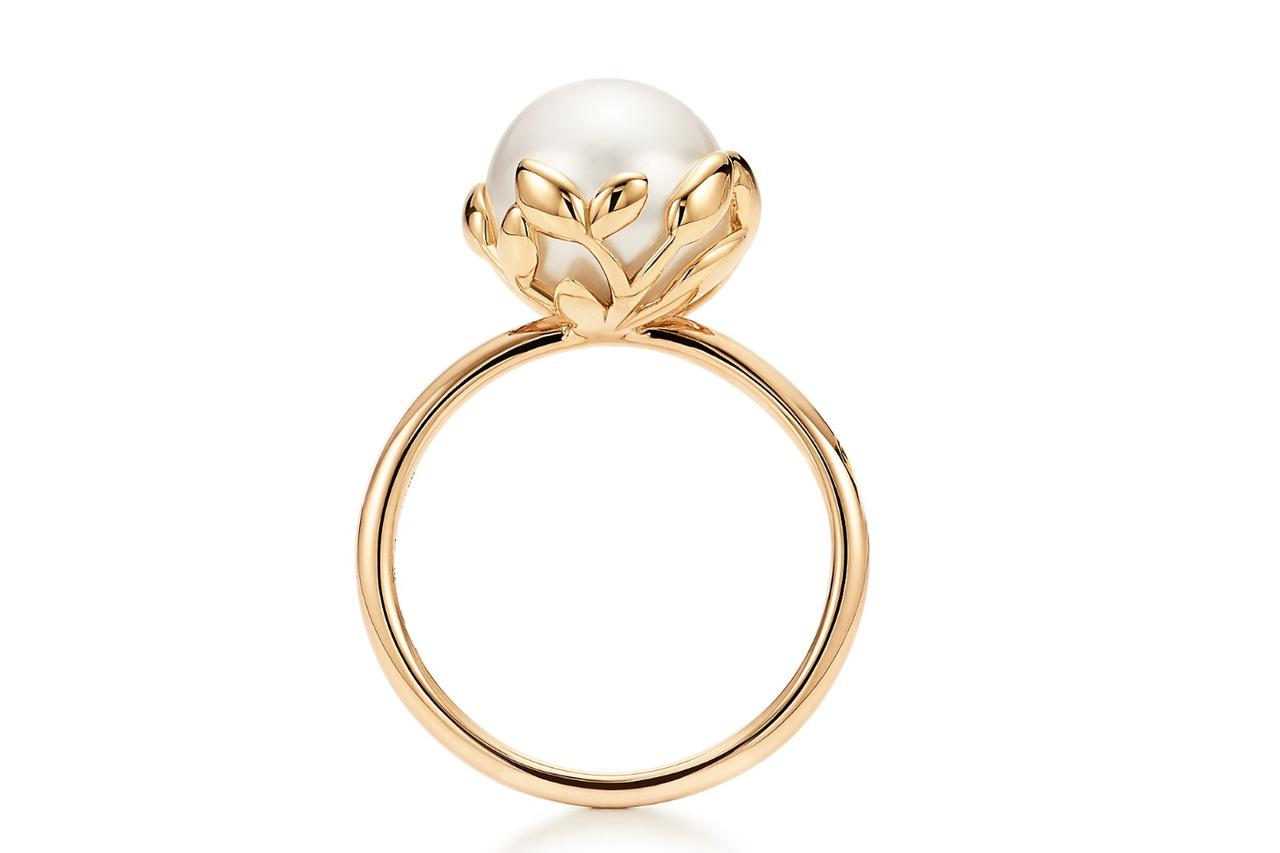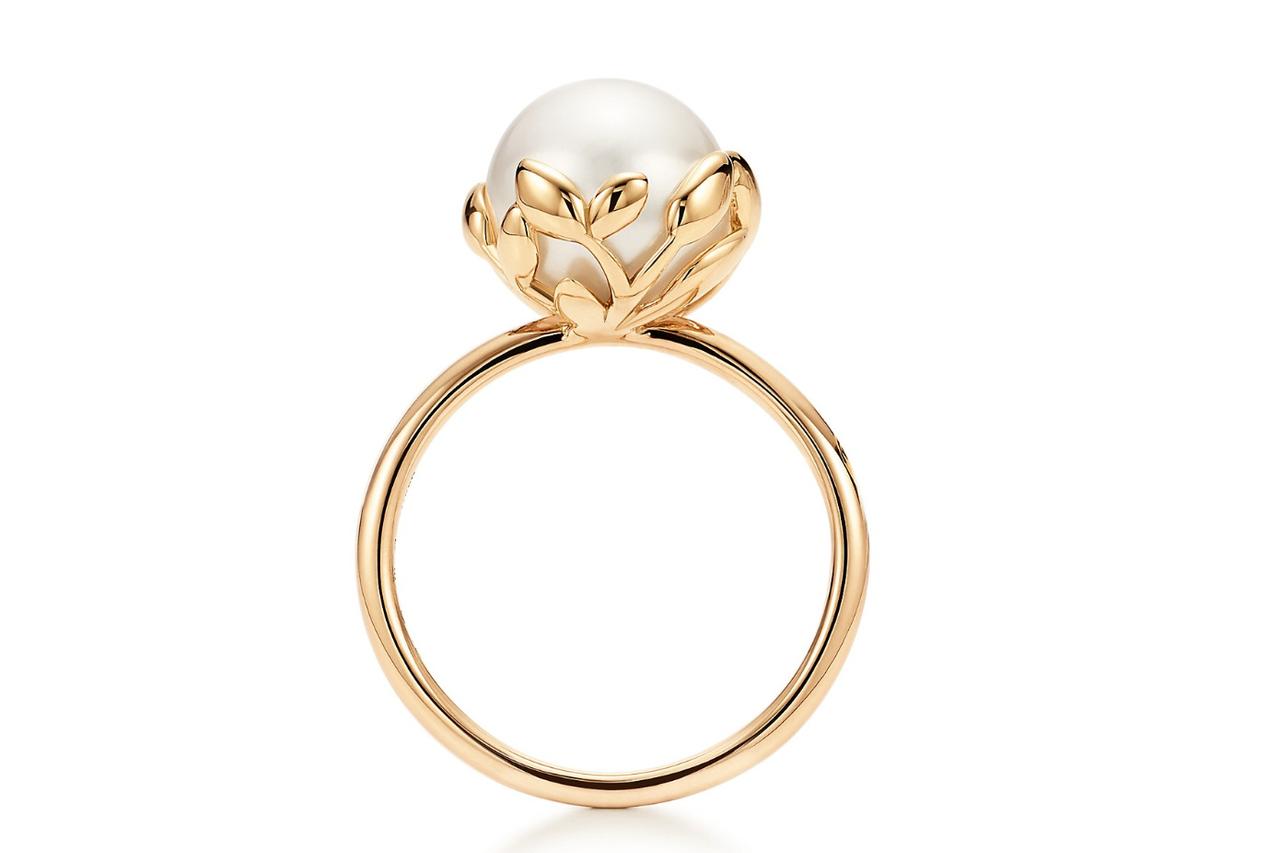 A gorgeous freshwater cultured pearl is set on an 18-karat gold band. Designed by the famous jewellery designer Paloma Picasso (daughter of Pablo Picasso), this ring honours the olive branch, a symbol of peace and abundance. If you want to wear a piece of art on your finger for the rest of your life, opt for this.
27. Tiffany Freshwater Pearl Ring in Sterling Silver – £525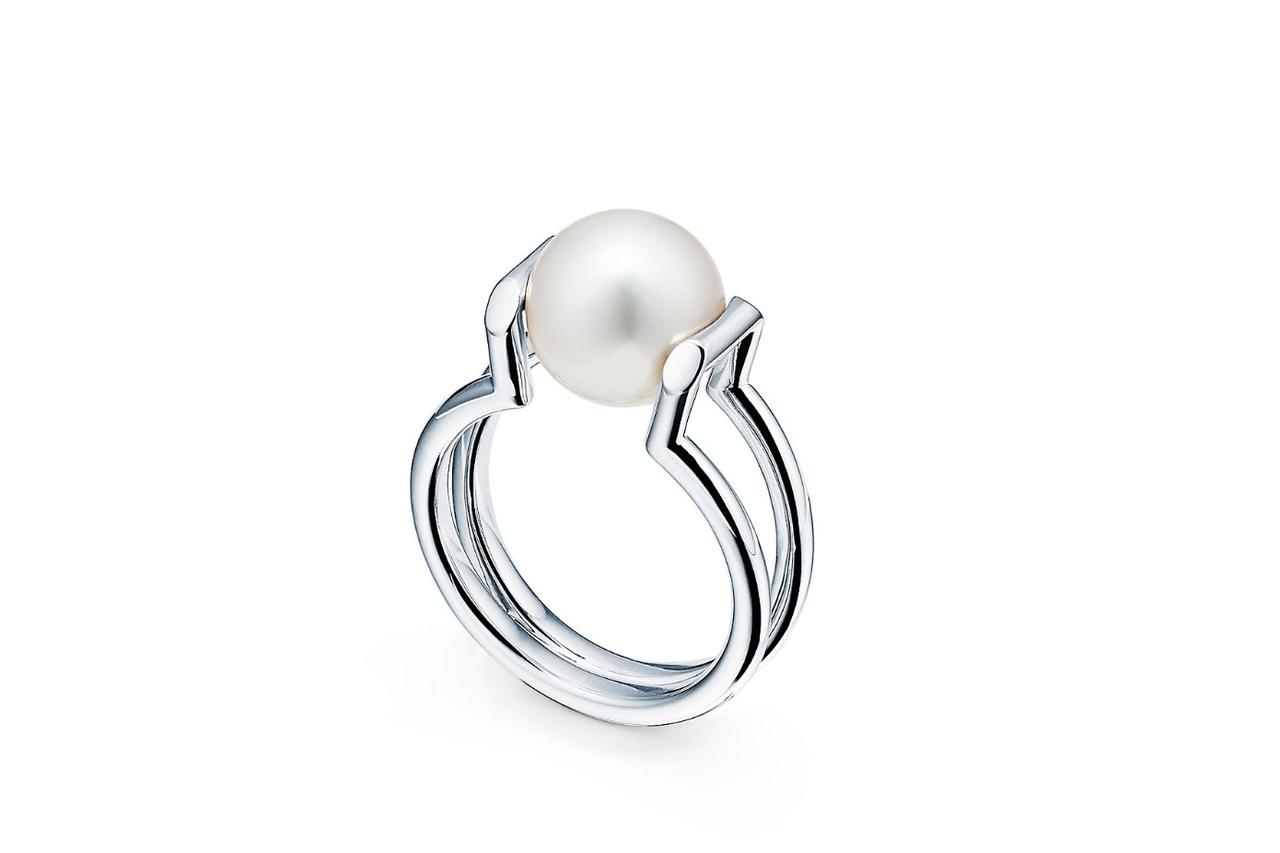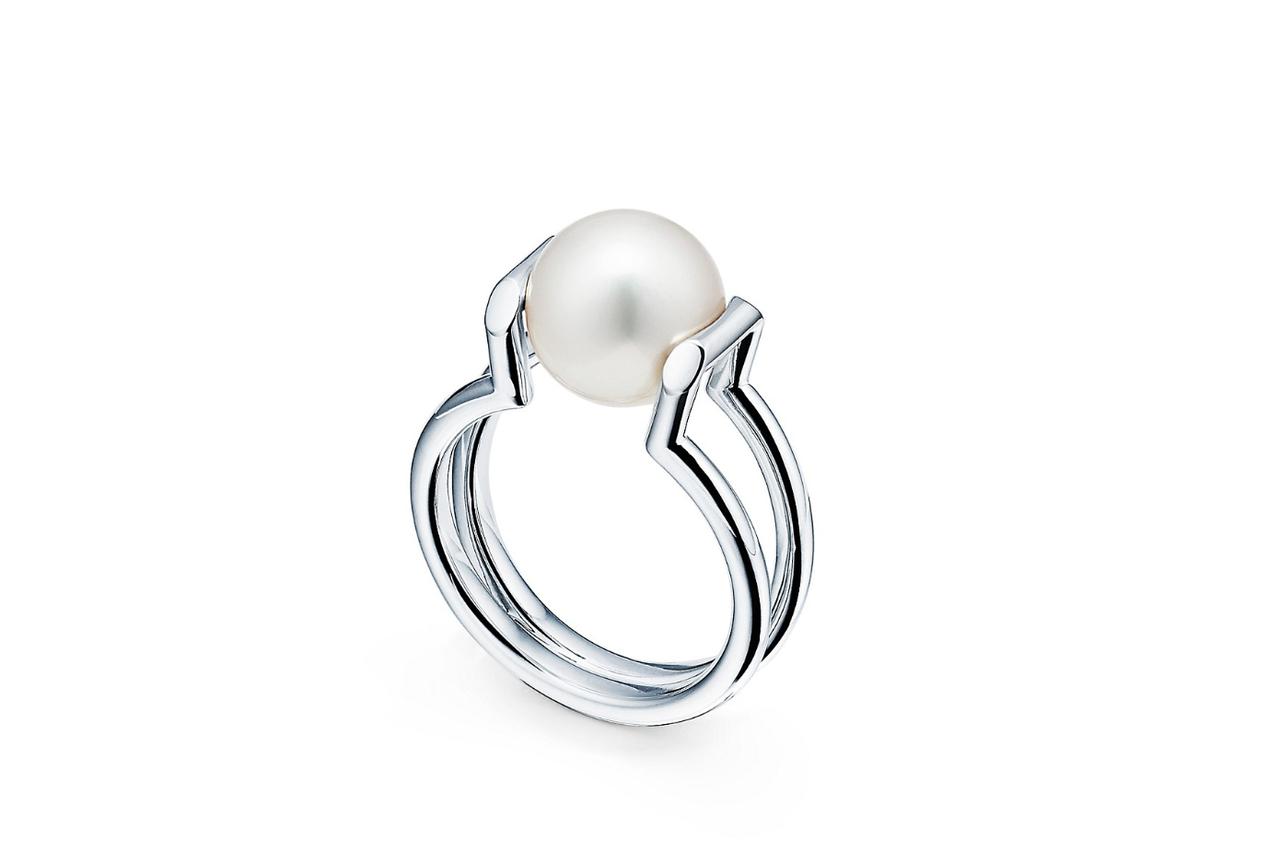 Tiffany offers so many beautiful options, and we love this architecturally-driven piece. The ring is a real conversation starter and completely different from anything you'd expect for an engagement ring. We love its modern, structured shape.
28. H Samuel Sterling Silver Freshwater Pearl & Cubic Zirconia Swirl Ring – £39.99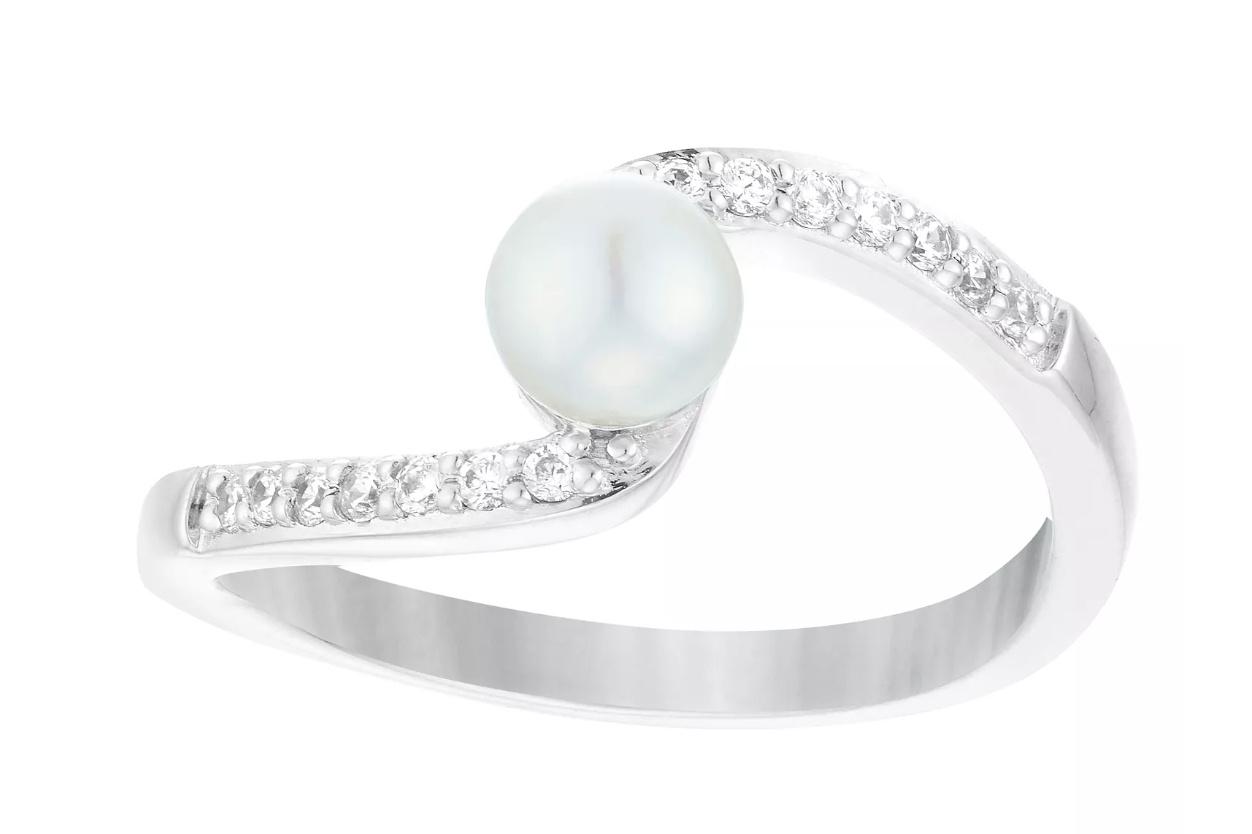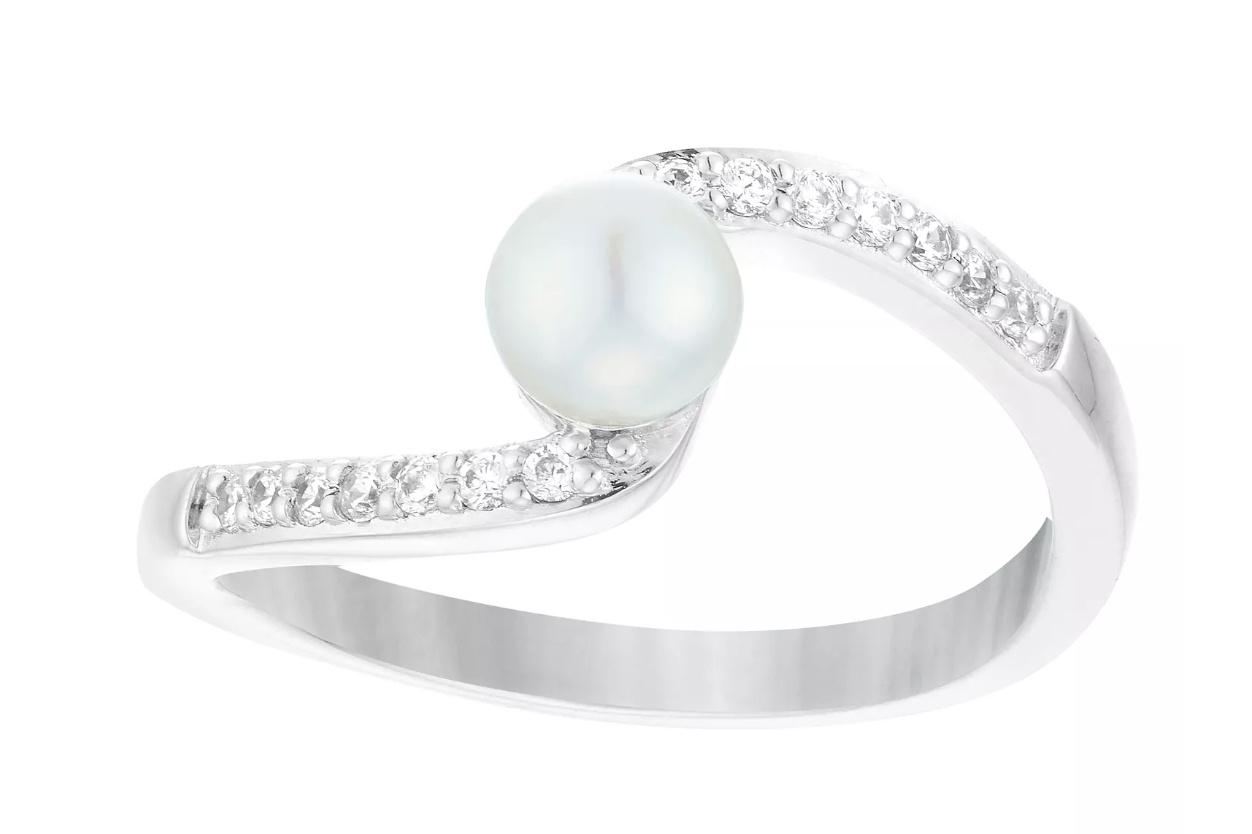 An absolute bargain, but one that looks way more expensive than its price tag! This ring features a single freshwater pearl with sparkling cubic zirconia stones set either side is this contemporary swirl shape. A perfect temporary ring while you're saving for something a bit pricier.
29. Beaverbrooks 9ct White Gold Freshwater Cultured Pearl Ring – £275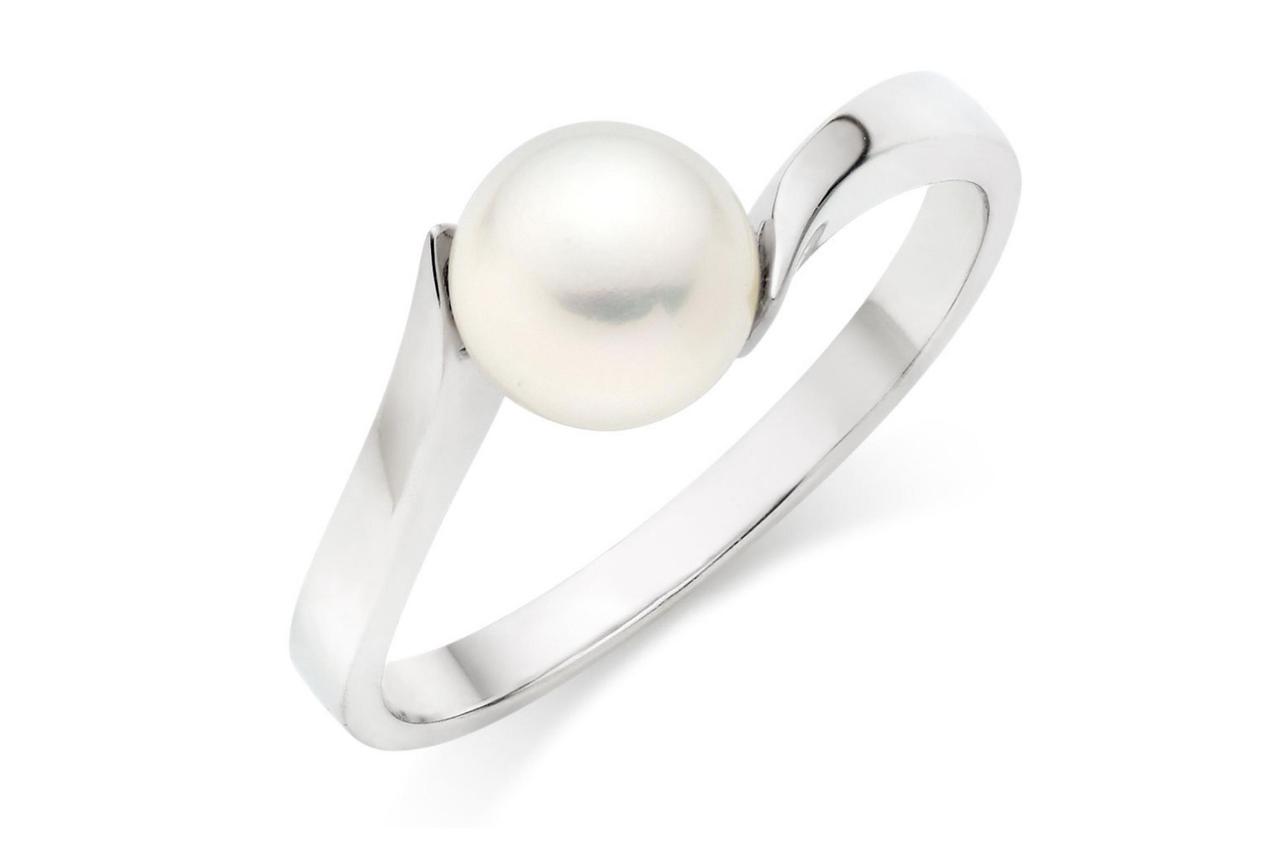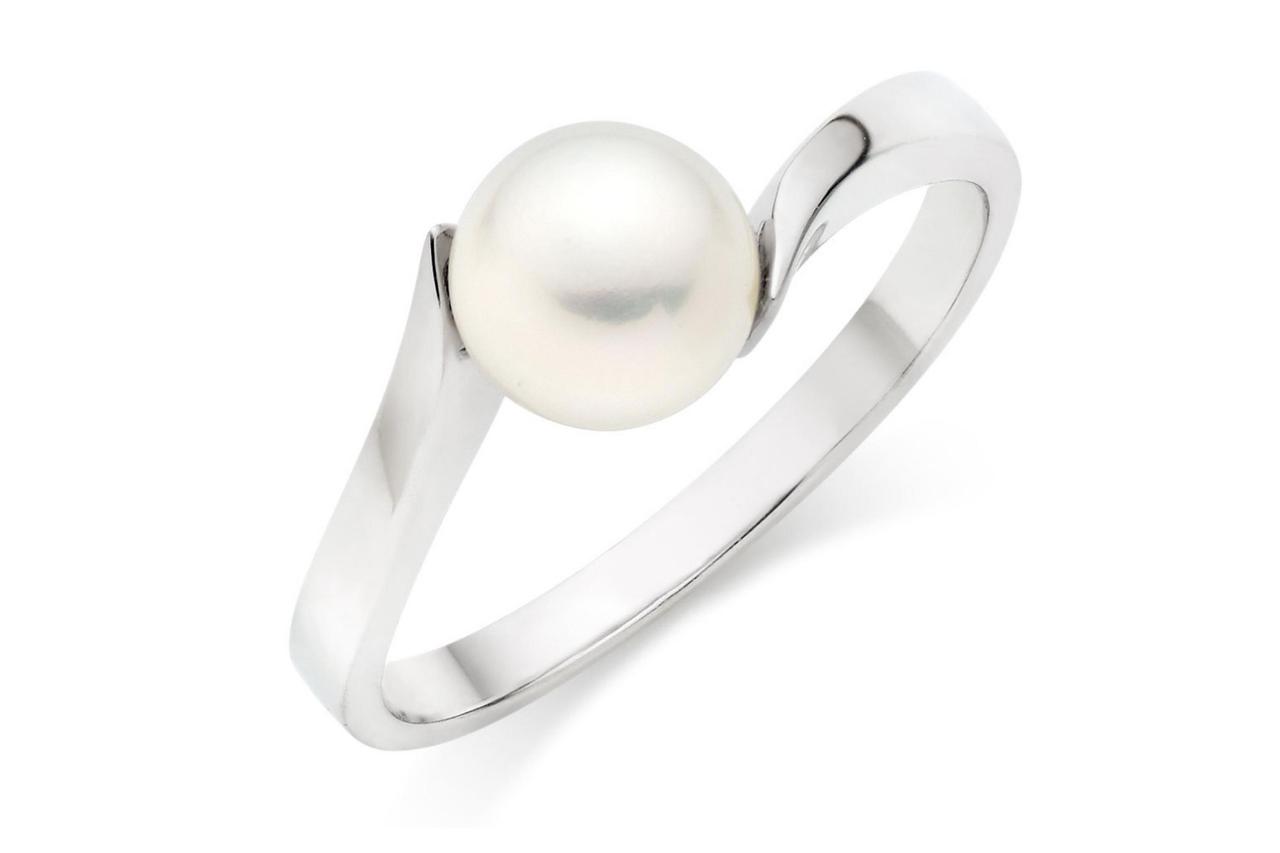 An elegant white gold ring with a freshwater cultured pearl. You can't go wrong with something simple and modern as this piece – especially at that price!
30. Olivia and Pearl Power Pearl Rose Gold Ring – £80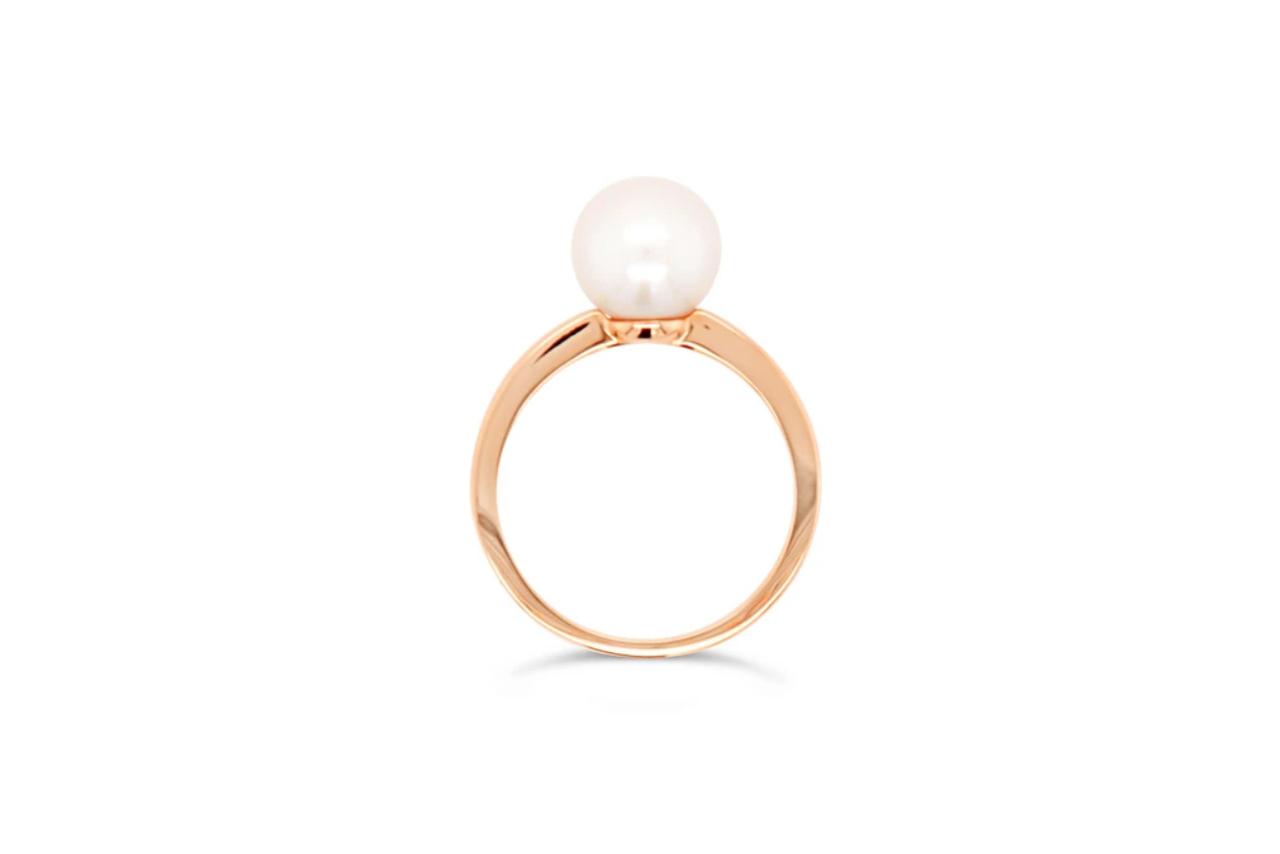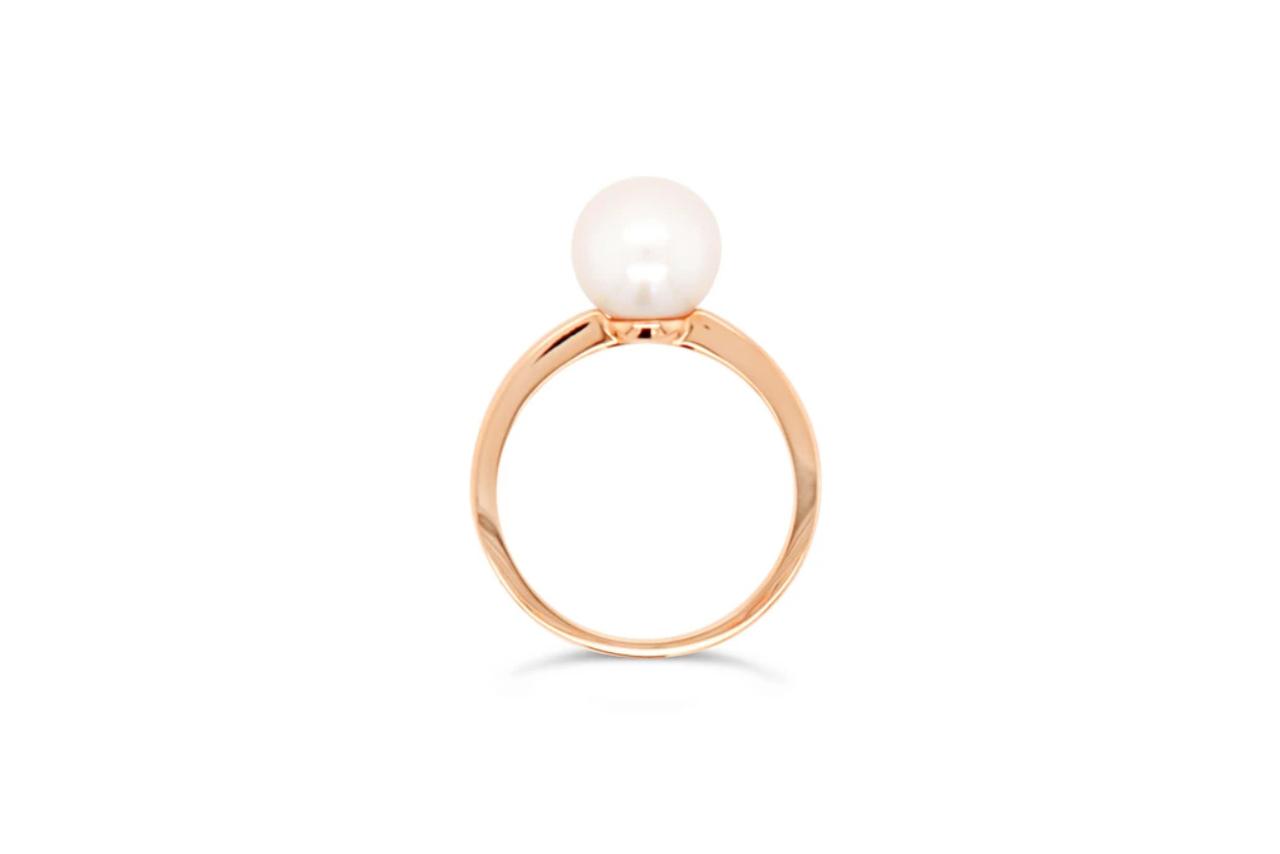 Minimalist engagement rings are always in style. The shimmering single pearl, set on 18-karat vermeil gold, is the central focus point for this eye-catching, barely-there ring. Again, this makes a fab temporary ring.
31.
AmDxD 18K Gold Leaf Pearl Engagement Ring With Diamonds and Emerald – £1,045.99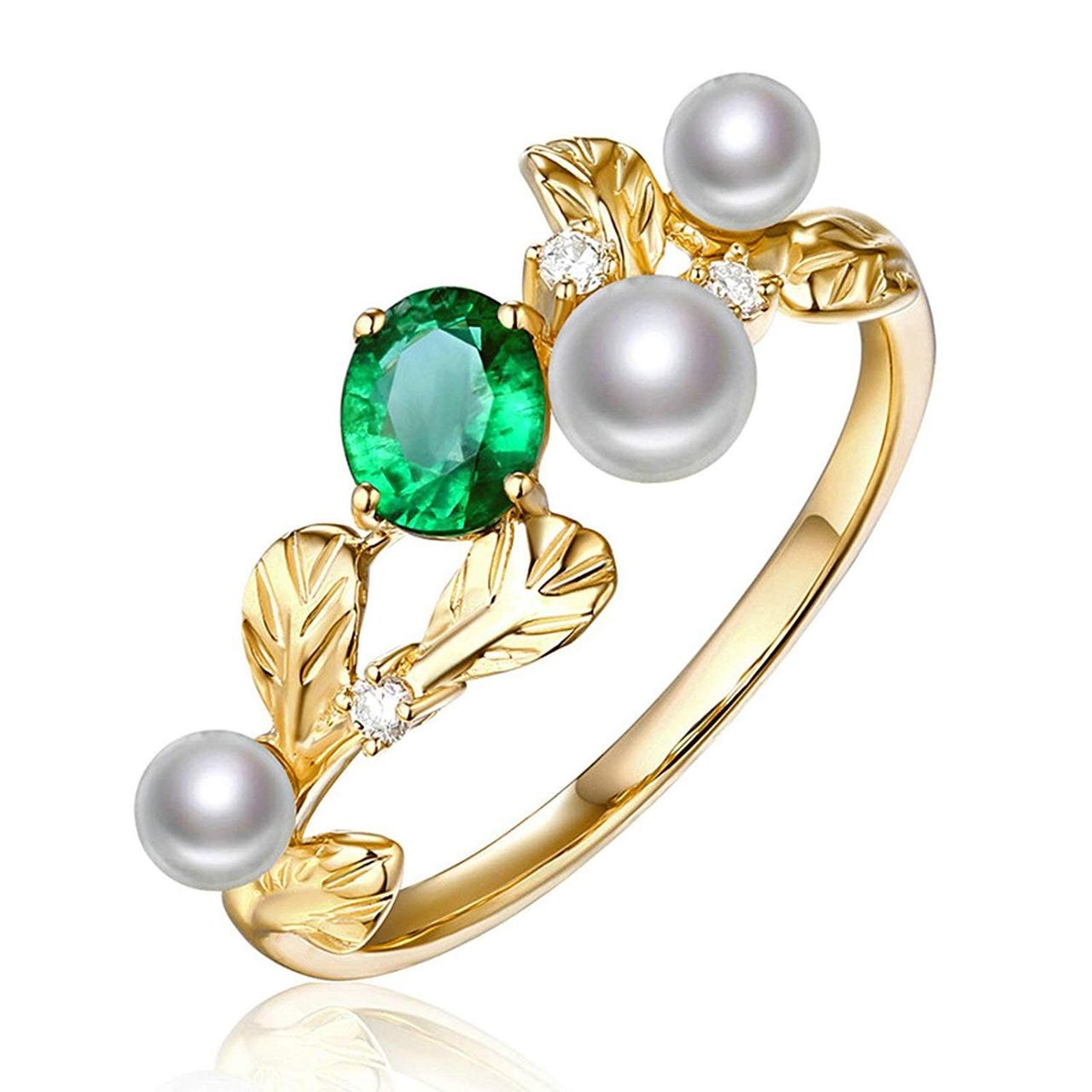 How beautiful is this! Three pearls sit among a crown of leaves, diamonds and a single emerald on an 18k gold band. It's completely different from your traditional engagement rings for all the right reasons.
32. Angara
Fresh Water Cultured Pearl Halo Ring for Women with Diamond Floral – £1,719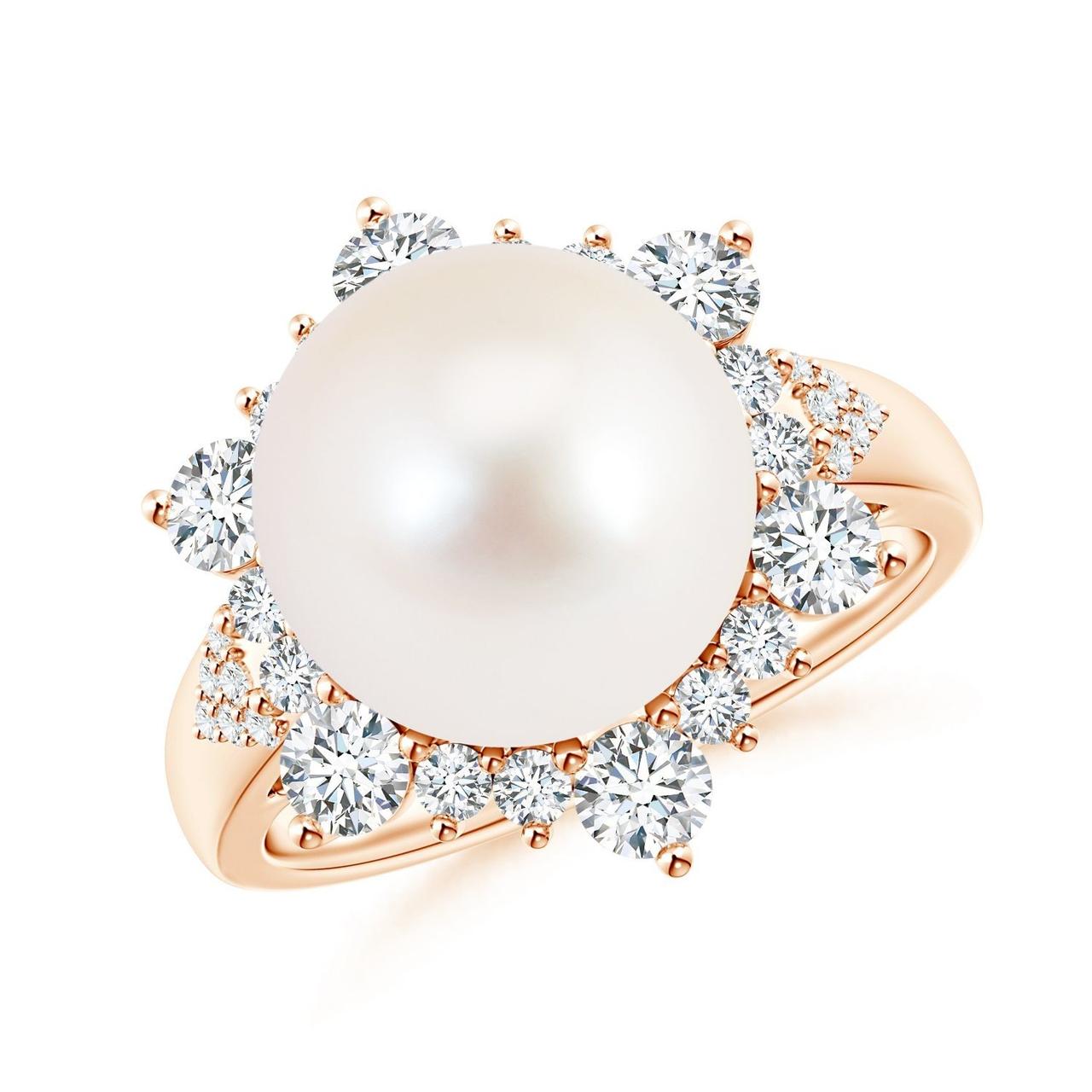 A large cultured pearl sits around a halo of floral diamonds at the heart of this beautiful solitaire ring. You can choose from four types of band: white gold, yellow gold, rose gold and sterling silver.
33. Vintage Rose Gold and Pearl Engagement Ring – £282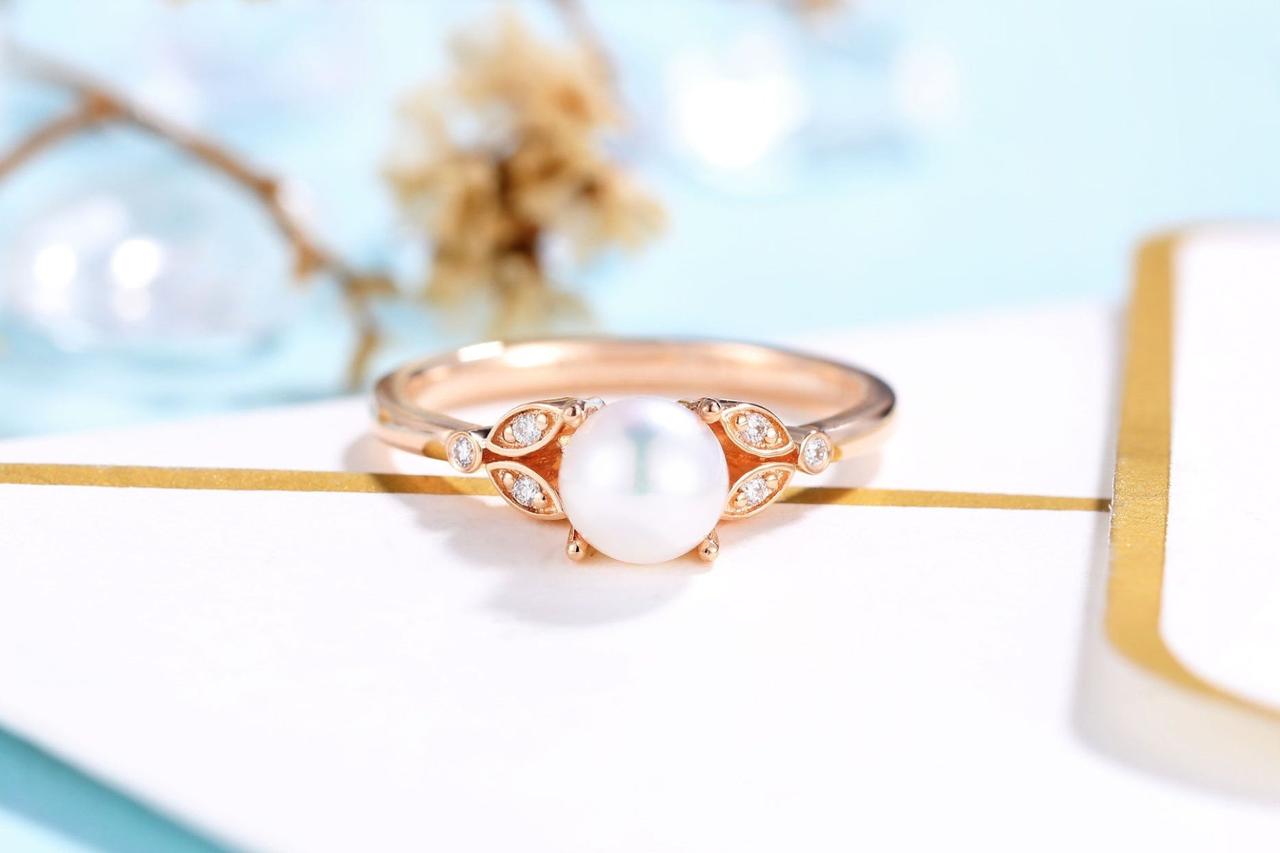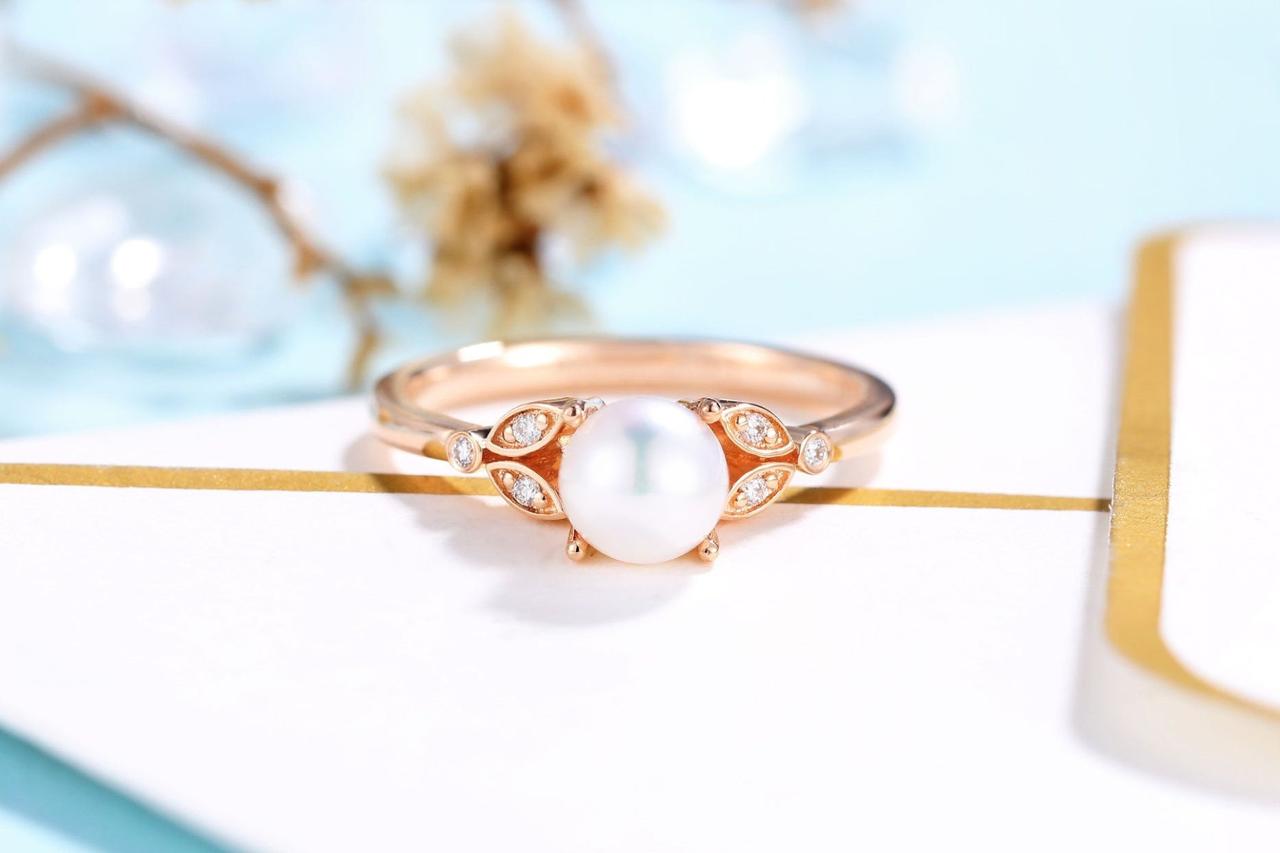 There is something really romantic about Art Deco jewellery. This dreamy vintage pearl engagement ring features round cut diamonds set in handcrafted, shaped leaves on a gold band.
34. Renna Pearls & Pebbles Sapphire Ring – £2,000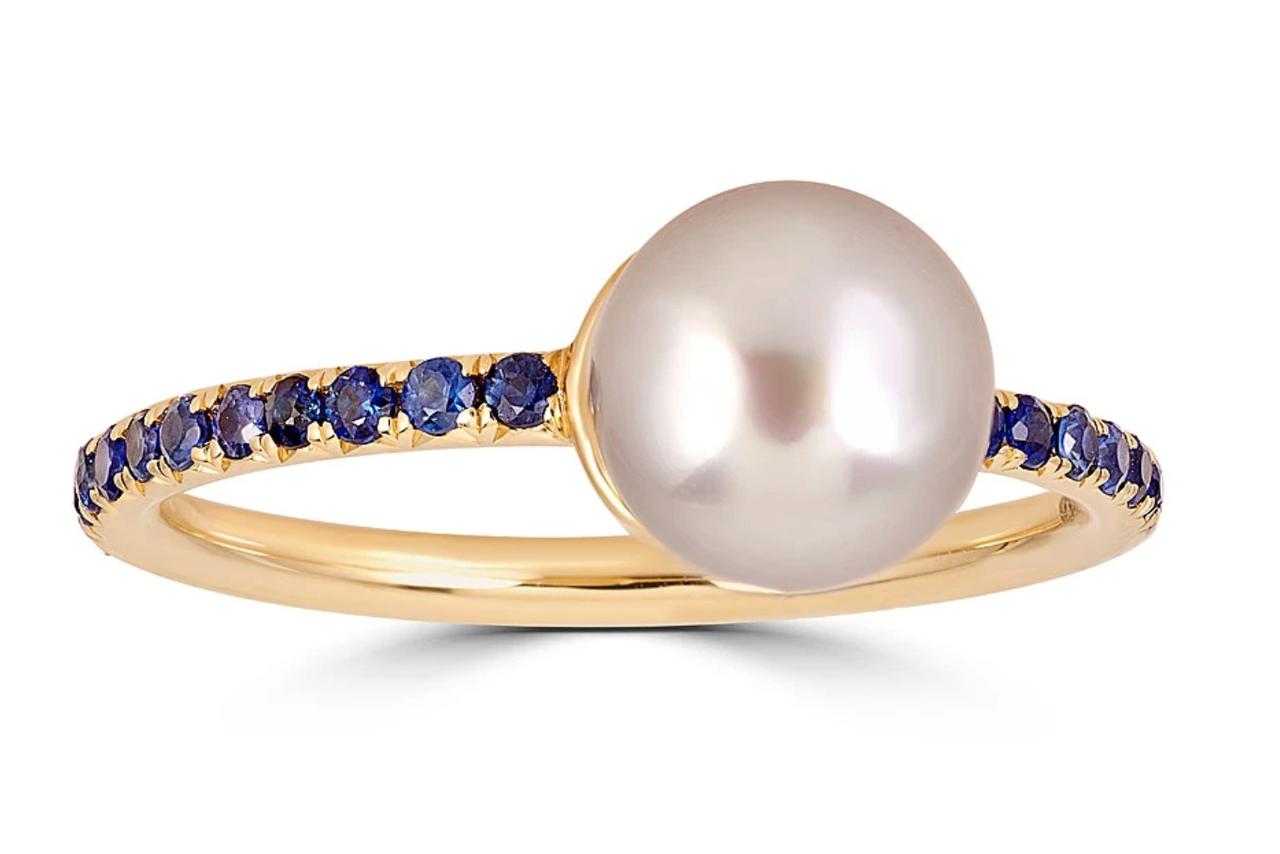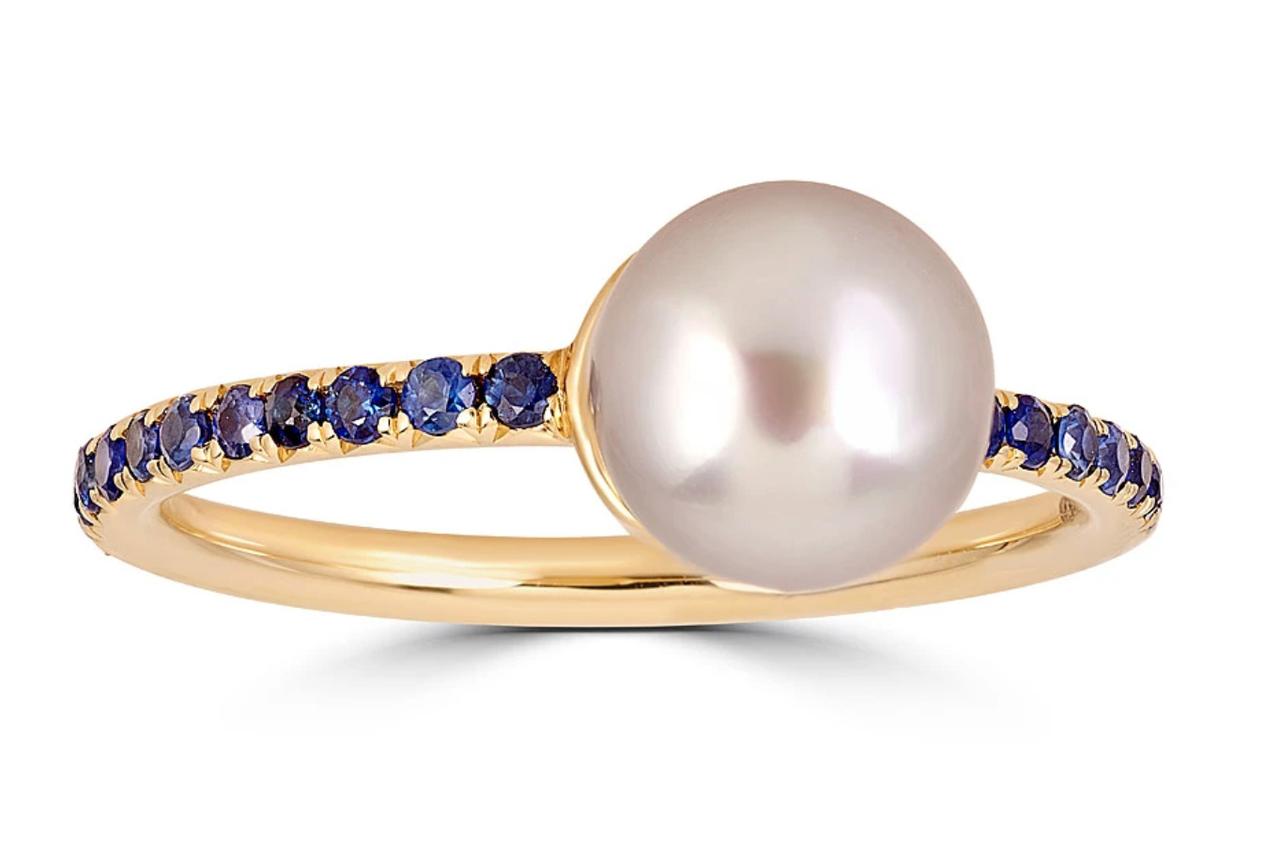 The pave of rich blue sapphires really accentuates the light grey pearl set on a gold band. A luxurious looking ring that is both classic and showstopping.
35. Sofia Zakia Pearl Winter Waltz Ring – £553.74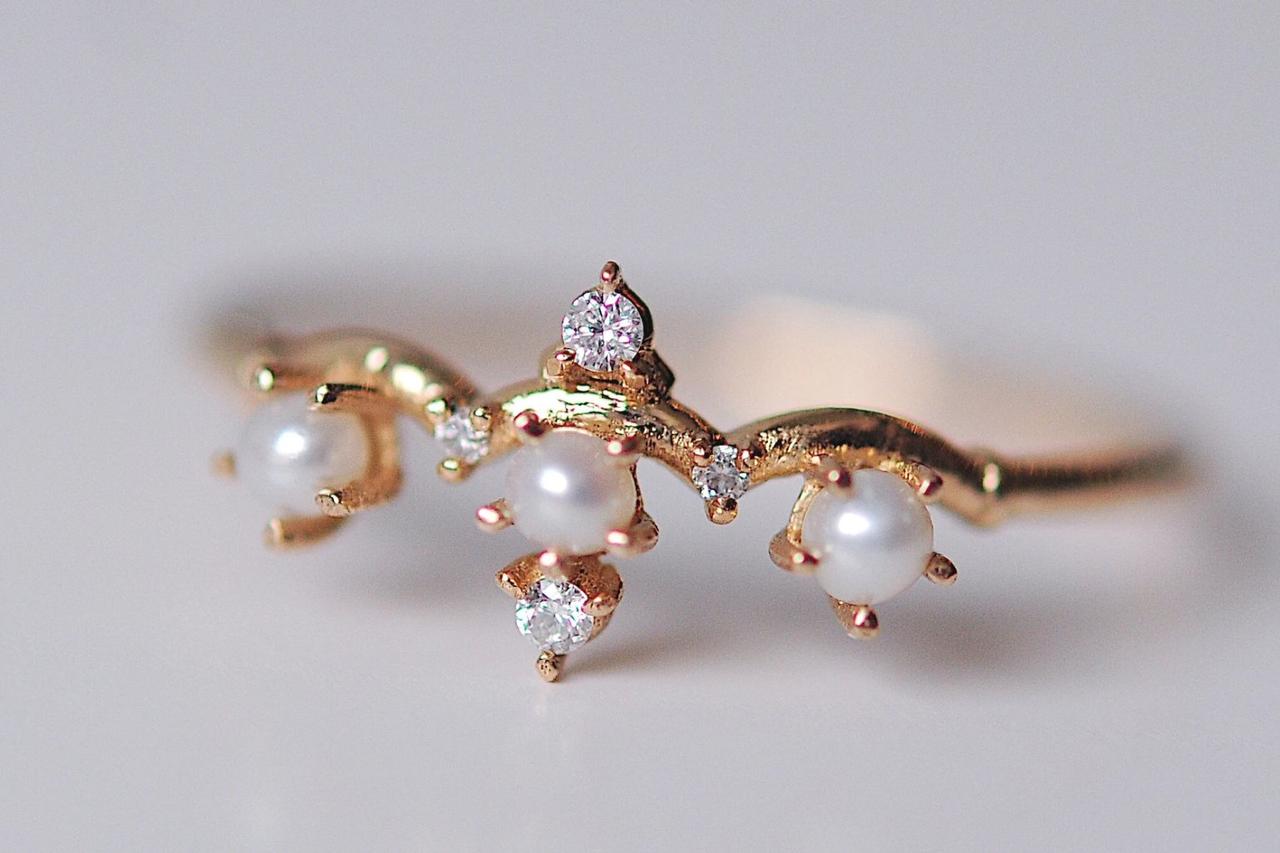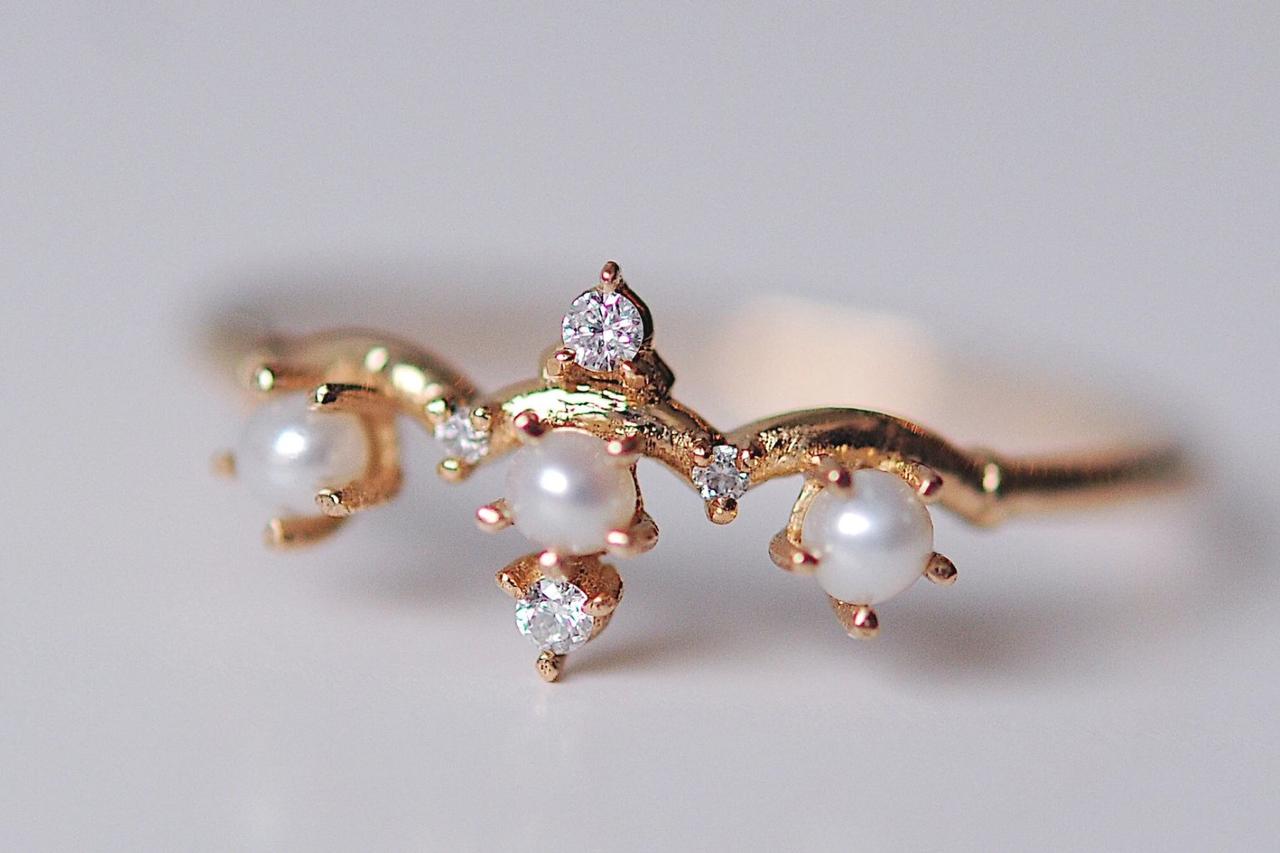 Plucked straight from Tchaikovsky's 'The Waltz of the Snowflakes', these iridescent natural pearls nestle sweetly between arches of gold and diamonds for a truly charming ring.
Pearls look gorgeous as part of the stacking rings trend. Also totally in vogue are opal rings – check out our edit of the best.