30th Wedding Anniversary Gifts: 40 Thoughtful Pearl Anniversary Ideas
Whether you're looking for a gift for a special couple you know or you're celebrating your own 30th wedding anniversary, don't miss our roundup of the best 30th wedding anniversary gift ideas
We have included third party products to help you navigate and enjoy life's biggest moments. Purchases made through links on this page may earn us a commission.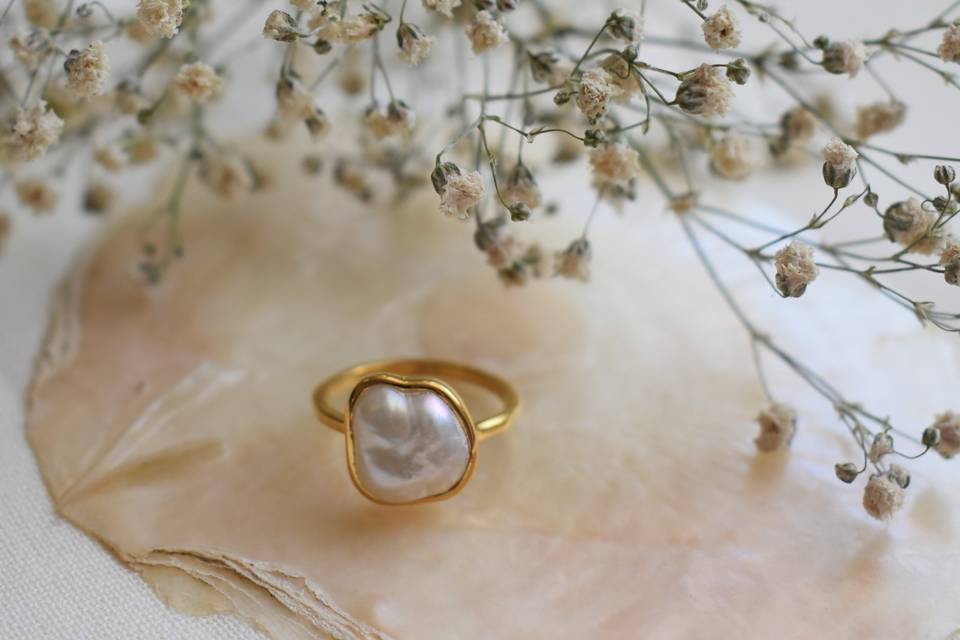 A 30th wedding anniversary is one you really want to celebrate in style - after all, this is a huge milestone to reach!
The traditional gift for 30 years of marriage is a pearl – something extra special that takes time to grow. Pearl makes a lovely addition to homeware and jewellery, so whether it's your 30th wedding anniversary coming up or the special anniversary of someone you know, we have some of the best pearl wedding anniversary gift ideas for every kind of budget.
Oh, and don't forget to check out our selection of cute 30th wedding anniversary cards at the bottom!
Pearl Wedding Anniversary Gifts
The traditional 30th wedding anniversary gift is a pearl – whether you take that literally or use pearl as an inspiration for your gift, we have a selection of the most beautiful pearl wedding anniversary gift ideas.
1. Happy Anniversary Pearls – £5, Marvling Bros
If you're looking for the perfect 30th wedding anniversary gift for a couple then this adorable pair of pearls by Marvling Bros held within an oyster shell in a matchbox would be a lovely keepsake.
2. Illusion Pearls and Crystals Bracelet - £26.99, Hitched Shop
This clever bracelet is created with an invisible filament so it'll look like the pearls and crystals are floating! You can also buy the matching earrings to complete the set.
3. Vintage 1980s NAPIER Pearl Necklace - £55, MAMATER
MAMATER specialises in sustainable and ethically made designs that will last your loved one a lifetime. This gorgeous gold and pearl necklace, part of their vintage collection, is one of our favourites.
4. Vera Wang With Love Nouveau Pearl Photo Frame - £65, Wedgwood
A romantic, delicate gift that has clear sentimental appeal, this four by six-inch picture frame will look divine on your bedside table or dressing table.
5. Mini Oval & Simple Pearl Charm Nine-karat Solid Yellow Gold - £165, Otiumberg

This statement freshwater pearl hoop is perfect for those who like their jewellery to stand out. They are sold as a single piece rather than a pair.
6. Vera Wang Pearl Toasting Flutes - £67.49, Hitched Shop
If you know a happy couple celebrating their 30th wedding anniversary and want to gift them something they'll be able to keep forever, these stunning pearl-lined toasting flutes are a fabulous option.
7. Pearl Ring - £58, Francesca Dot Jewellery

The natural freshwater pearl takes centre stage in this gorgeous ring from Francesca Dot Jewellery. It makes a statement but can still be worn as an everyday ring.
8. Mother of Pearl Letter Opener - £89.99, Perfectly Engraved
With a polished stainless steel blade and a mother of pearl and sterling silver handle, this high quality, special present can be personalised making it the perfect 30th wedding anniversary gift.
9. Isla Mother Of Pearl Necklace - £109, Daisy Jewellery
A pearl necklace with a bit of a difference, this piece will make a statement worn alone or would be the perfect base for layering with lots of other necklace styles.
10. Mother of Pearl Porcelain Bowls - £39.99, Etsy

You don't have to buy jewellery as your pearl anniversary gift. These pearl porcelain bowls make for a unique yet special present that won't set you back too many extra pennies!
11. 18-Carat Yellow Gold and Peacock Pearl Bracelet - £295, The Alkemistry London
Mix things up from the traditional white pearl and opt for a peacock pearl instead. It's one of the most sought after colours of saltwater pearl and this beautiful bracelet proves why!
12. Mother of Pearl Cuff Links - £65, Simon Carter

Suits will look all the more stylish with a pair of these ultra-chic mother of pearl cufflinks. Now to book somewhere fancy enough to wear them!
13. Pearl and Crystal Clutch Bag – £55, Bey Azura
What do you buy the person who has everything? Well, a pearl-encrusted handbag of course! This clutch would be a beautiful and unique 30th wedding anniversary gift idea.
14. Karolina Solar Watch – £169, Skagen
With an iridescent mother of pearl dial and beautiful navy strap, this watch is the perfect accessory to suit every outfit. Plus, it has an eco-friendly battery that is powered by the sun meaning it never needs to be replaced.
15. Pearl & Blue Topaz Petal Drop Earrings – £285, QP Jewellers
These pearl earrings from QP Jewellers are also available with other gemstones, such as ruby and sapphire, to make a lovely personalised gift if you match them to your other half's birthstone.
16. Vera Wang Pearl Cake Knife & Server – £53.99, Hitched Shop
For the couple who loves to host or a partner who adores baking, this pearl decorated cake knife and server is a beautiful keepsake to commemorate a 30th wedding anniversary. After all, what better way to celebrate than with a slice of cake!
17. Hand and Pearl Necklace – £50, Scream Pretty
Made with a white pearl and plated in 18k gold, Scream Pretty's special statement necklace is an ideal buy for your fashion-forward partner.
18. Pearl 30th Wedding Anniversary Personalised Print – £12.50, Not on the High Street
This 30th wedding anniversary print from PaperPaper is a romantic way to celebrate your special anniversary - especially as the print can be personalised with your names. It's the perfect gift for your other half or for a couple you know.
19. Floating Pearl Necklace – £155, Not on the High Street
If you're looking for something a little more simple then this floating pearl necklace on a rose gold chain from Joulberry is perfect. Choose from a black, white, grey or blush pearl for the necklace and you can also add a polishing cloth and have the necklace gift wrapped for an extra special touch.
20. Mother of Pearl Champagne Bucket – £31.99, Amazon
30 years of marriage is certainly something to celebrate, so why not toast your marriage with a bottle of Champagne chilled in this mother of pearl champagne bucket from Amazon?
21. Personalised Pearl Heart Picture – £65, Not on the High Street
This pretty framed picture from Sweet Dimple is a beautiful piece of art that you can hang in your home to remind you of your special anniversary. You can personalise it with your names and your wedding date, too - so romantic!
22. Calla Lily Pearl Bracelet – £95, Not on the High Street
This calla lily bracelet from Emma-Kate Francis is a unique piece of pearl jewellery to celebrate your 30th anniversary. If your wedding bouquet featured calla lilies then that would make this gift even more meaningful.
23. Mother of Pearl Cufflinks – £69, Not on the High Street
These gorgeous mother-of-pearl cufflinks from Posh Totty can be personalised with your other half's initials and also come in a beautiful presentation box. They can then be worn again and again on special occasions to remind you of your special day.
24. Pearl & Crystal Necklace & Earring Set - £21.99, Hitched Shop
What's better than gifting a gorgeous set of pearl earrings to the one you love? Giving them the matching necklace as well, of course! This set is a steal at just £30.
25. Agnethe Two-Tone Mother-of-Pearl Chain Bracelet – £22, Skagen
For those that want a pearl-inspired gift, this mother-of-pearl chain bracelet offers a fresh contemporary take. The luminescent colours are sure to put a smile on your love's face!
26. Pearl & Aquamarine by the Yard Pendant Necklace in Nine-Carat White Gold – £251, QP Jewellers
Does it get any more classic? This necklace glitters thanks to the aquamarine while the pearl pendant completes the overall look. You may just find your partner making every excuse to wear it.
27. Personalised Pearl Keepsake Decoration – £24, Not on the High Street
This decoration by Clouds and Current is a unique way to show your love on your 30th anniversary. The colourful design suits any season as well!
28. Unique 30th Wedding Anniversary Sundial Gift – From £64.95, Etsy
Created by TheMetalFoundry, this personalised sundial is both beautiful and durable, much like your love. It'll look lovely on a mantel or on a bedside table.
29. Pearl Anniversary Wine Charms – From £18, Etsy
As you enter your 30th year as a married couple, there are probably going to be a fair share of wine bottles opened. These personalised wine charms should be all the more fitting then!
Pearl Wedding Anniversary Cards
When you're choosing a pearl wedding anniversary card, not just any off-the-shelf anniversary card will do. Take a look at some of our favourite 30th wedding anniversary cards that are simply stunning.
30. Personalised Pearl 30th Anniversary Sail Boat Card - £9.50, Etsy
What an unforgettable, impressive way to say happy anniversary! There's nothing quite like this unique card with pearl bunting, which your partner will want to keep forever!
31. Pearl Wedding Anniversary Greeting Card – £2.95, Not on the High Street
This pearl wedding anniversary card from Busy Being is so fun and super cute, it's sure to be like no other anniversary card! We love how the two pearls are used to make a happy little couple.
32. 30th Wedding Anniversary Card – £3.95, Not on the High Street
This pearl wedding anniversary card from The Hummingbird Card Company would be perfect for your other half or for a couple you know celebrating 30 years of marriage. The word pearl is mounted on the card to give a 3D appearance and it comes with a dove grey envelope and a heart sticker to use as an extra special seal.
33. Pearl 30th Wedding Anniversary Map Heart Card – £14, Not on the High Street
This unique card from Bombus can be personalised to show a specific location on a map. Add names and a date, and it's one special gift perfect for congratulating two lovebirds on 30 years together.
34. Personalised Anniversary Card – £4.95, Etsy
This laser-cut anniversary card from Pretty as a Picture Gift can be personalised and you can choose from a variety of colours to use for the background. The card is left blank inside so you can add your very own heartfelt message.
35. Sparkle Wedding Anniversary Card – £12.90, Not on the High Street
This 30th wedding anniversary card from Sew Very English is extra special – it is a heart made up of happy and romantic words, complete with a sparkling heart in the centre – in your choice of colours.
36. 30th Anniversary Card – £3.75, Etsy
This charming card is ideal for those that love a bit of humour. Designed by IAmALondon, it features two pearls in a shell and a sweet message of glowing together.
37. 30 Years Down Forever To Go Anniversary Card – £6, Etsy
Created by the DogsCollarsUK, this cute card has little stick figurines with a pearl gem and leather detailing. It makes for a unique and cheerful design that is sure to put a smile on a happy couple's faces.
38. 'Happy 30th Anniversary' Pearl Card – £3.25, Not on the High Street
This card has a simple design that is still cheerful, making it an unfussy way to say congrats to a special couple. Made by Momo&Boo, it can be personalised with a sweet message inside.
39. 30th Pearl Anniversary Card – From £3.45, Etsy
Designed by AnnieMoonStudio, this understated card says a lot! The elegant design can be customised as well, making it even more personal.
40. 30th Pearl Wedding Anniversary – From £4.70, Etsy
An intricate tree with heart-shaped leaves adorns the front of this exquisite card by CardMarketPlace. Add names and your own text and you have the perfect way to say congrats!
If you are searching for even more ideas for your wedding anniversary then start browsing our complete guide to wedding anniversaries.