21 Genius Wedding Budget Hacks from Real Couples
We asked real couples for their best budget hacks they discovered when planning their own weddings - take note, because you're going to be inspired by these ideas!
We have included third party products to help you navigate and enjoy life's biggest moments. Purchases made through links on this page may earn us a commission.
Planning a wedding sometimes feels like you need a finance degree as you try to figure everything out! You're suddenly expected to plan a budget for a huge event when planning the budget for your weekly shop can sometimes feel like a major challenge.
There are lots of ways to manage your wedding budget, including our wedding budget tool which allows you to clearly allocate your budget and stay on top of what you have to spend. Making a wedding budget doesn't have to be difficult - we've got a guide to helping plan your wedding budget - however, it can be difficult to know where to spend and what to skip!
With that in mind, we asked real couples in the midst of planning their own weddings what their best wedding budget hack is.
21 Inspiring Budget Hacks from Real Wedding Planning Couples
1. "DIY or use Etsy for a lot of stuff, like decorations. For the big things, compare the prices from different companies too!"
If you can try a little wedding DIY, it can help save you lots of money! However, if you're not particularly confident in making things yourself, don't feel pressured to do it. The stress it can cause if you find it difficult is not worth it - instead, carefully compare prices and examine what you get for the amount you're spending. This can help you save and sometimes get more than you budgeted for.
2. "Don't do things you don't want to do, just because they're tradition."
There are so many wedding traditions you can skip if you want to - and in doing so, you might save some serious money. You don't need a garter if you don't love the idea, you don't need to pay for favours for everyone, and you don't need to toss your bouquet, especially if you've spent lots on it and you don't want to lob that money into a crowd - why not preserve your wedding bouquet instead?
3. "Ask yourself how important it really is for your day."
We've all seen the amazing photos on Instagram - Champagne towers, cascading floral arrangements and llamas for your guests to pet. These things are all lovely to have, but are they truly important? Don't get caught up in spending money for Instagram likes, unless it's going to improve your experience.
4. "Skip favours, and have corsages instead of bouquets for bridesmaids."
One of the most popular topics in our Instagram Q&As is favours - we've all been to weddings where we've seen the favours discarded on the tables as everyone heads home, so no one wants to shell out for that to happen on their big day. Unless you buy super unique wedding favours, you do run the risk of people leaving them, so don't feel obliged to spend money on them.
Swapping your bouquets for corsages for bridesmaids is a clever wedding budget tip to keep the cost of wedding flowers more manageable too - another great option is to reuse the bridesmaid bouquets as centrepieces at your wedding reception.
5. "Create a wedding website instead of sending invitations."
Creating a wedding website is such a clever way to save money - and we're not just saying that because you can make a free wedding website with Hitched! It also saves you time and energy too, as your guests don't need to bother you with endless questions, instead they can just head to your website and get all the info there.
6. "Take the time to research suppliers instead of picking the first one."
We wholly recommend researching your wedding suppliers thoroughly - you can browse by category on Hitched and read reviews before getting in touch with vendors you're interested in booking. You can also see pricing information, so you can assess whether they are inline with your budget before you get in touch - saves any awkwardness later on!
7. "We had a small cutting cake and then brownie stacks for everyone."
This is a really fun idea and a creative way to make your wedding budget go further! Small wedding cakes are just as beautiful, and you'll still get your magical cake cutting moment, but smaller cakes do have smaller price tags. Brownie stacks or cupcakes or other wedding cake alternatives cost less per head, so you'll save lots!
8. "Budget more than you think you'll need - you might be pleasantly surprised with some cheeky savings!"
This is so sensible. You might think that you can't afford to budget anymore - in that case, scale back on what you plan to spend. You'll be so grateful to have some contingency in case of a crisis, and if you have left over money, you can treat yourself on your honeymoon!
9. "Get married in December - romantic and cosy, yet one of the cheapest times of the year."
Wedding season is a thing - so if you choose to marry outside of peak wedding season, you might be able to benefit from some savings! Winter months can be cheaper as vendors are less busy, and non-typical wedding days like Sunday or Thursday can be more affordable too.
10. "Use digital save the dates and invites!"
There are so many wonderful digital wedding invitation templates out there - you can download them and either send them as digital files, which is a more eco-friendly choice, or you could print them yourself, which gives you more choice and flexibility over price!
11. "Make a list of priority spends, and then get cheaper alternatives for the rest."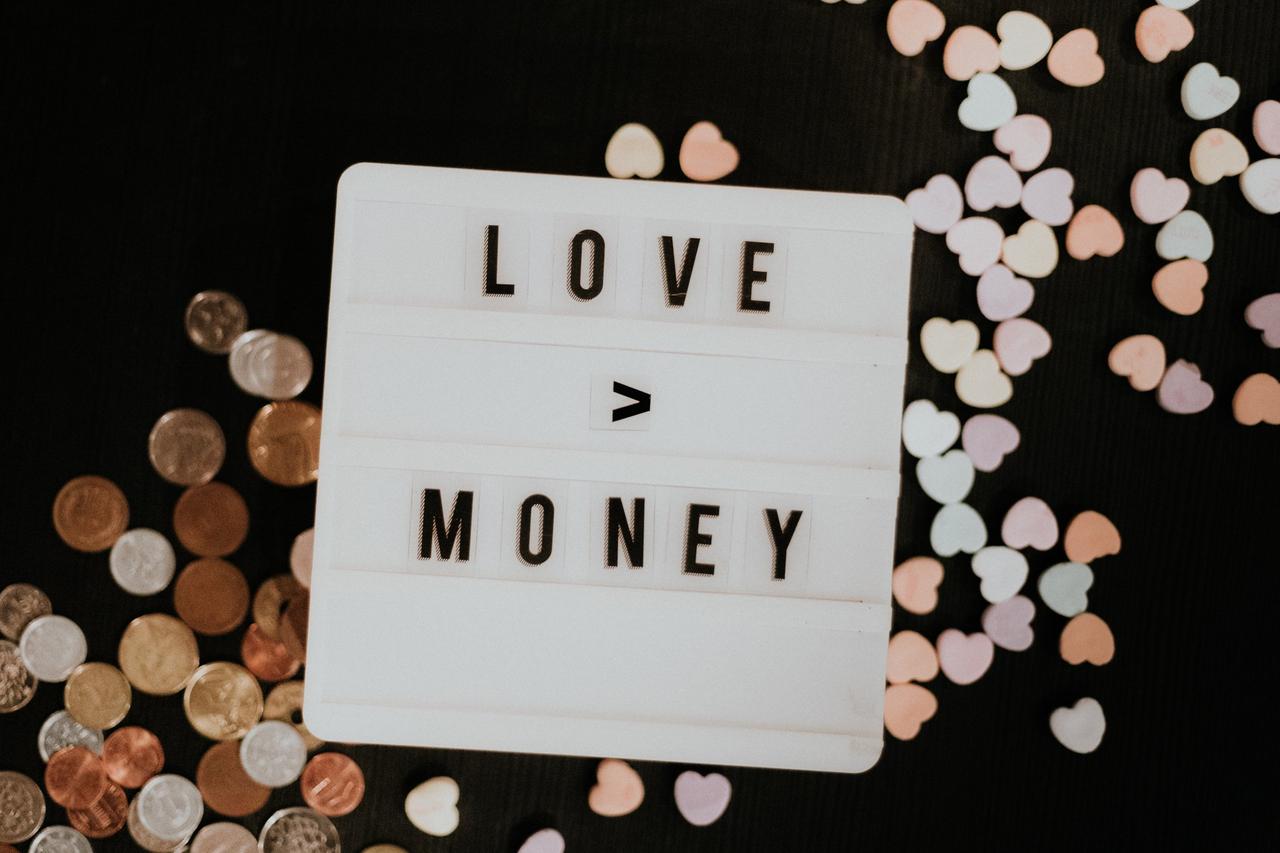 Prioritising your spending is essential to planning a successful wedding budget. Make a shortlist of the things you absolutely have to have at your wedding, and figure out the costs of them, and then decide what you can skip or cut back on to make that happen.
12. "Buy bridesmaid dresses from ASOS - they're beautiful and so much cheaper!"
High street bridesmaid dresses have upped their game in recent years! There are so many flattering and stylish options out there that your best girls will be thrilled with your choices, and you'll be thrilled with the prices.
13. "We made our own confetti. Drying petals and eco-friendly packaging - £10. Pre-made would have been £150+."
If you're feeling creative, you could have a go at making your own eco-friendly dried petal confetti. If that's too much effort for you, you could still make the cones yourself - we've got a guide to making your own confetti cones here. It couldn't be easier!
14. "Entering wedding competitions! We've won £300 off our photography, a free photobooth and more!"
If you're feeling lucky, entering wedding competitions is a great way to try and score yourself some free stuff for your wedding. What have you got to lose? Keep an eye on social media for giveaways and take the time to enter any that are relevant to you.
15. "We had cheese as a wedding cake and served it as part of our evening meal."
Cheese wedding cakes are super practical - not only do they look beautiful, they double up as your evening snack. Once you've cut into it, ask your venue to lay it out with crackers, fruit, crusty bread and other snacky bits for an affordable buffet your guests won't be able to resist.
16. "We had a Thursday wedding which cut numbers down, and second-hand decor."
If you're on a tight wedding budget, look for weekday wedding offers as there's less demand for those, so prices can be lower. It's always worth keeping an eye on local selling pages too, as you can find bargain wedding items that will have only been used for a day!
17. "If you wouldn't buy them a meal any other time, they don't get an invite."
Looking for a brutal but effective way to cut down your guest list? This couple have it nailed. If you wouldn't happily take them out to dinner and foot the bill on a normal day, don't make yourself do it on your wedding day. It's your special day, so you're allowed to be sassy when choosing who attends.
18. "Clubcard points! We exchanged our Tesco points at Goldsmiths and got £400 towards our rings."
Good ol' Tesco! Get savvy with your shopping and you can make some serious savings at your wedding. If you don't currently collect supermarket loyalty points, start now - your weekly shop could transform into your wedding rings!
19. "We hired a venue stylist who had tons of props, so we didn't need to do any DIY or buy any additional decor."
This might look like an extra cost upfront, but if you're short on time or don't know where to start when it comes to styling your wedding, it could actually end up saving you money. Hiring a specialist is a one-off cost and you'll get a professional's input and access to all of their items, which saves you buying or hiring your own (and having to worry about storing them, and what to do with it all after the big day is done).
20. "Sample sales! I got my £1,600 wedding dress for £500."
If you're looking for a wedding dress under £1,000, consider checking out local sample sales. When wedding dress shops get their new stock in, they often hold sales for their existing samples. It won't be a brand new dress in that other people will have tried it on, but it will still be in good condition as the shop will have looked after it well, and it'll be a total bargain.
21. "We steered away from what is expected and only went for what WE like."
This is one of the most effective ways to make sure you save money as you plan your wedding. Make your day truly about yourself and cut out any bits that don't feel right for you, even if you feel like they might be expected. The truth is, your wedding day is a celebration of you as a couple, so only invest in the parts that feel right for you as a couple. It'll make starting married life together so much sweeter!
After more wedding budget advice? Make sure you read up on the hidden costs that come with planning a wedding - you don't want to get caught out!